London is an amazing city that can capture your heart. But taking a break from the urban bustle can be a refreshing experience. Luckily, there are many options for day trips from London that offer a variety of attractions and activities.
In this guide, I've compiled 32 of the best day trips from London, providing an overview of each destination and transportation options, including train, bus, car, and guided tour.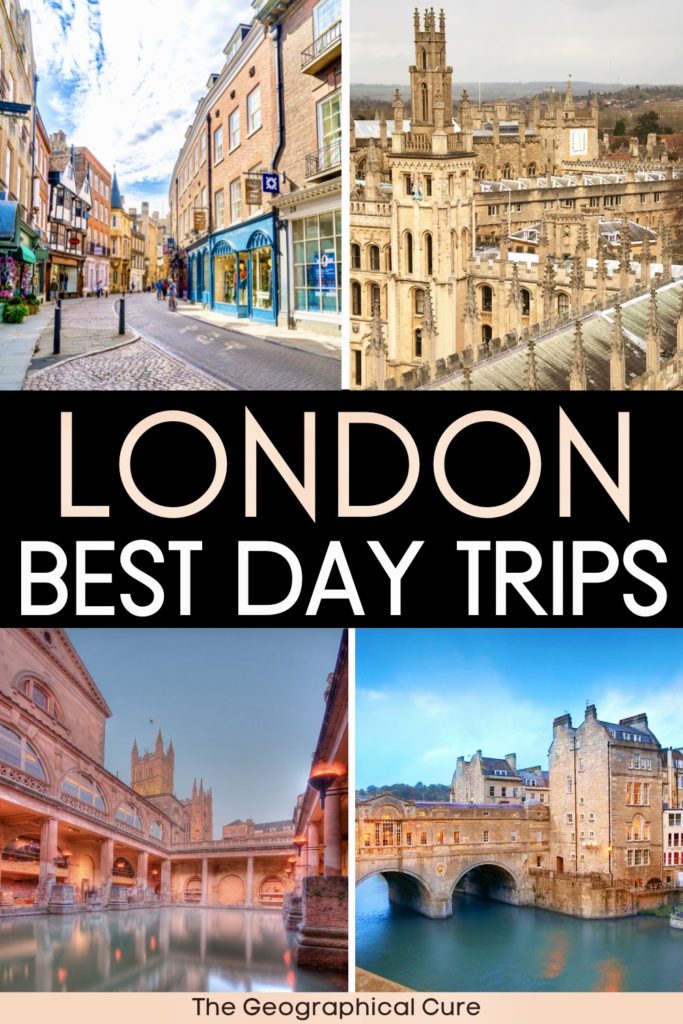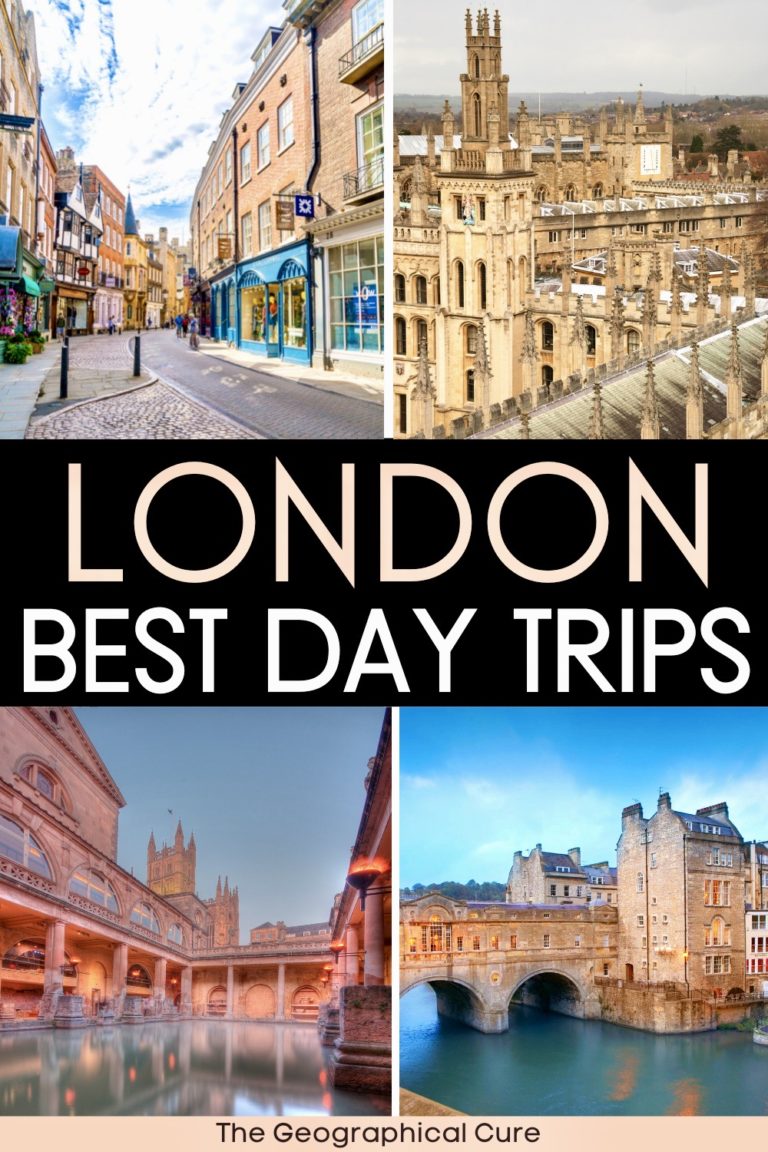 With my knowledge of the city and its surroundings, I've curated a list that includes something for everyone, from world-famous UNESCO sites to hidden gems off the beaten path. And I've visited them all personally over my many years of travel to and living in London.
Popular destinations such as Windsor, Bath, Stonehenge, and Oxford are covered. But I've also included lesser-known locales that offer the chance to escape both the crowds and the city.
Each trip is designed to take under two hours, depending on the mode of transport. So you can enjoy a fairly full day of exploration and return to London in the evening.
Best Day Trips From London
If you're planning a getaway, here's some fuel for your London day trip dreams. For ease of reference, I'm listed these 32 day trips from London in alphabetical order.
I give you an overview of the attractions in each city and tell you how to get there by car, train, or guided tour. Let's hit the road!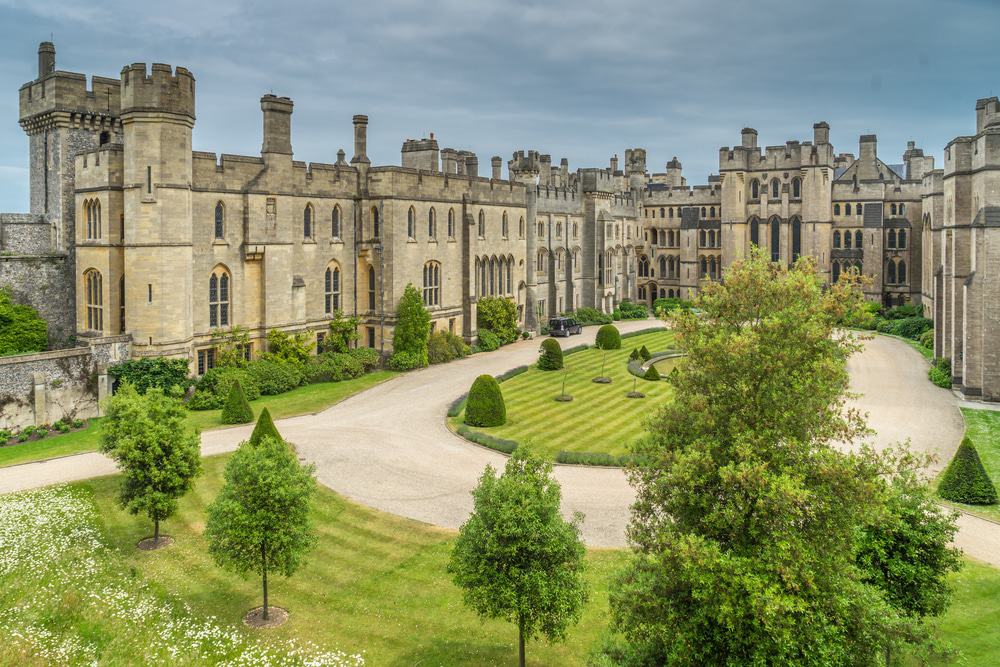 1. Arundel Castle
Arundel is home to one of the best medieval castles in England. Arundel Castle is 1,000 years old. Since Richard III's reign, it's been the Duke of Norfolk's principal home.
The castle fell into ruin after the English Civl War and was later rescued and restored in the 18th and 19th centuries.
The castle follows much the same plan as Windsor Castle. It has a central moat and two baileys to the north and south, curtained with walls.
In 2021, thieves broke into the castle and made off with artifacts valued at over $1.4 million, including rosary beads carried by Mary Queen of Scots at her execution in 1587.
How To Get To Arundel:
By car: 1.5 hour drive
By train: From Victoria Station, a direct train takes 1.5 hours.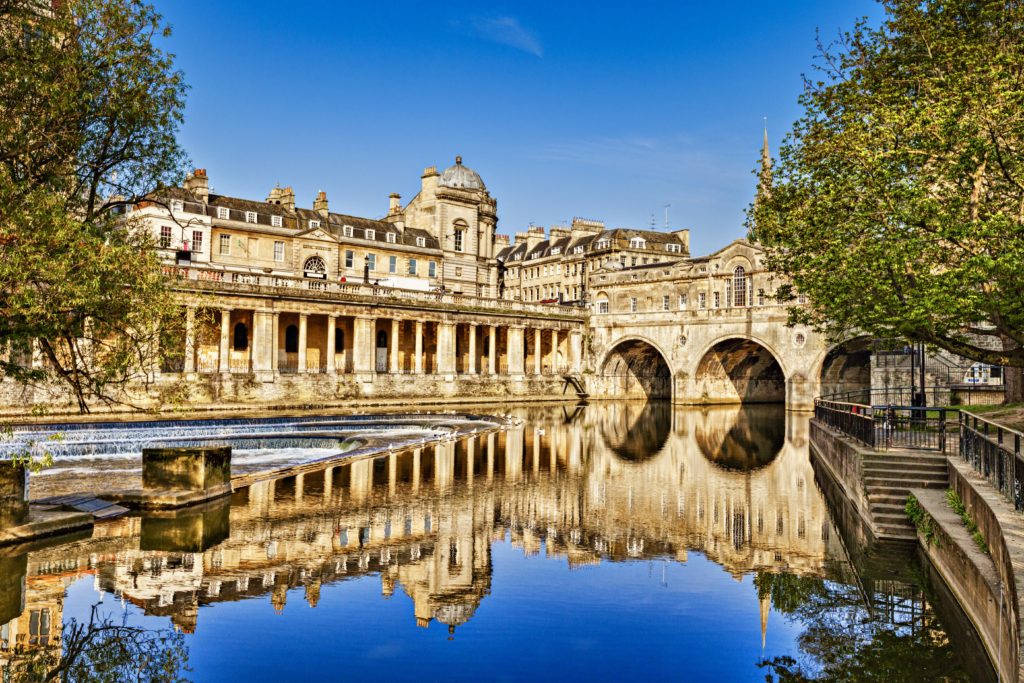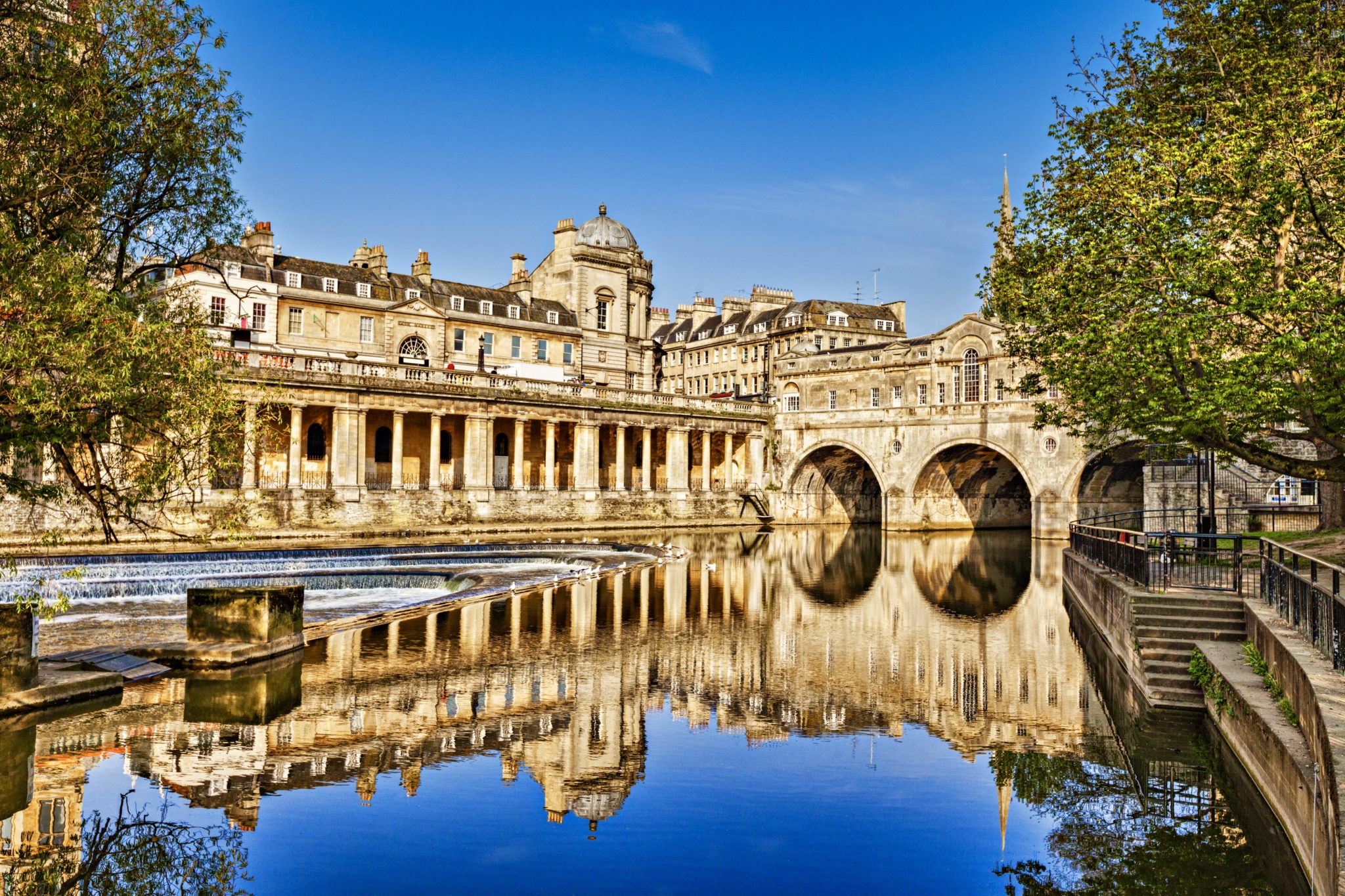 2. Bath
I absolutely love taking day trips from London, and Bath is one of my favorites. Despite being a small city, it's simply stunning.
Bath is nestled amidst the verdant hills of the English countryside. It's been a popular destination for tourists since Roman time. Its quaint beauty is a perfect blend of romance and ruins, with every street corner hiding a unique tale.
What sets Bath apart is its historic center, designated as a UNESCO World Heritage Site. With its stunning Roman architecture and awe-inspiring Georgian buildings, the city is truly a visual treat.
Bath has more protected buildings than any other city in England, most of which are crafted from the iconic "Bath stone" with its creamy honey color. Walking through the streets feels like stepping into a Jane Austen novel, surrounded by the city's timeless elegance.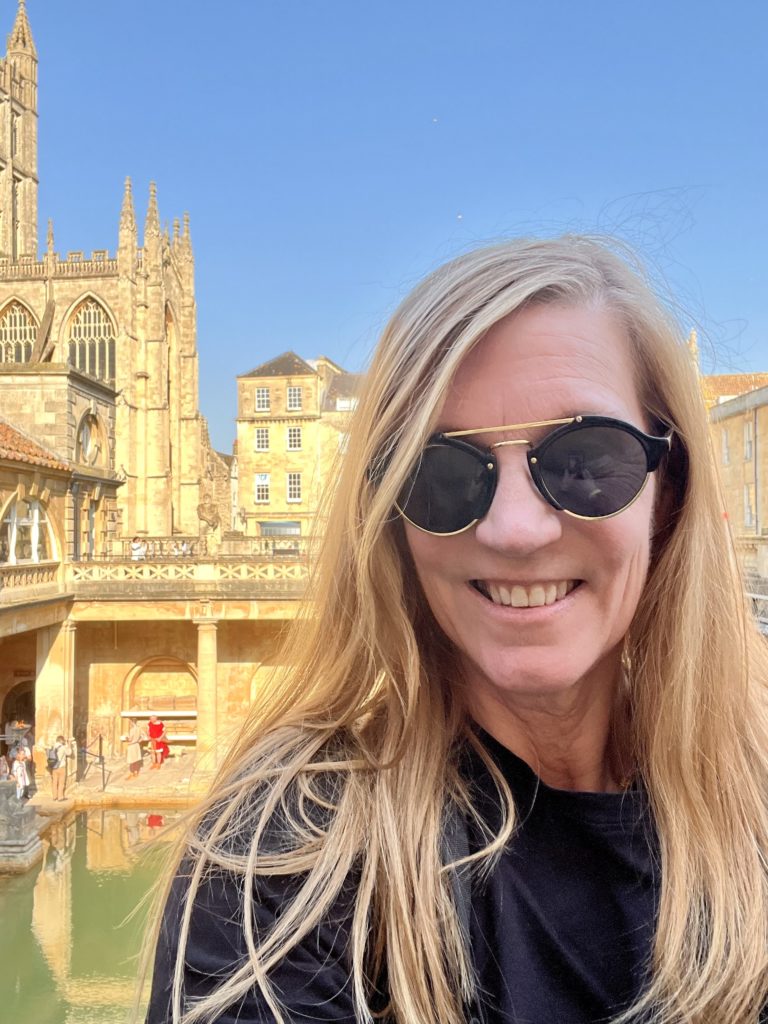 What To Do In Bath:
Historic Center:
Bath's historic center is very pretty. Everywhere you go, there's lovely honey-washed Georgian architecture hugging pristine roads.
You may want to book a 1.5 hour guided walking tour to get the lay of the land. You can also take a guided 2 hour walking tour of Bath that includes an entry ticket to the Roman baths.
Roman Baths: Dating back to 75 A.D., the Roman Baths are the best preserved ancient baths in Northern Europe. The museum is filled with ruins and artifacts. The grand finale is a smoldering open air pool known as the Great Bath.
Bath Abbey: Bath Abbey is a massive medieval church built in an eye catching Victorian-Gothic style. The abbey was the last great church built in England. There's an amazing fan vaulted ceiling and beautiful stained glass windows.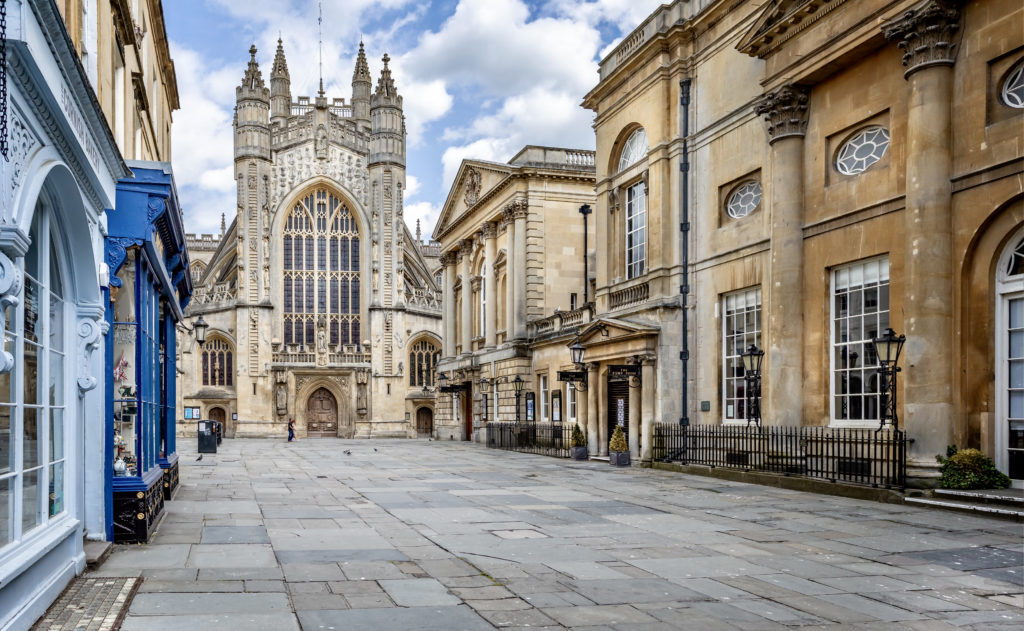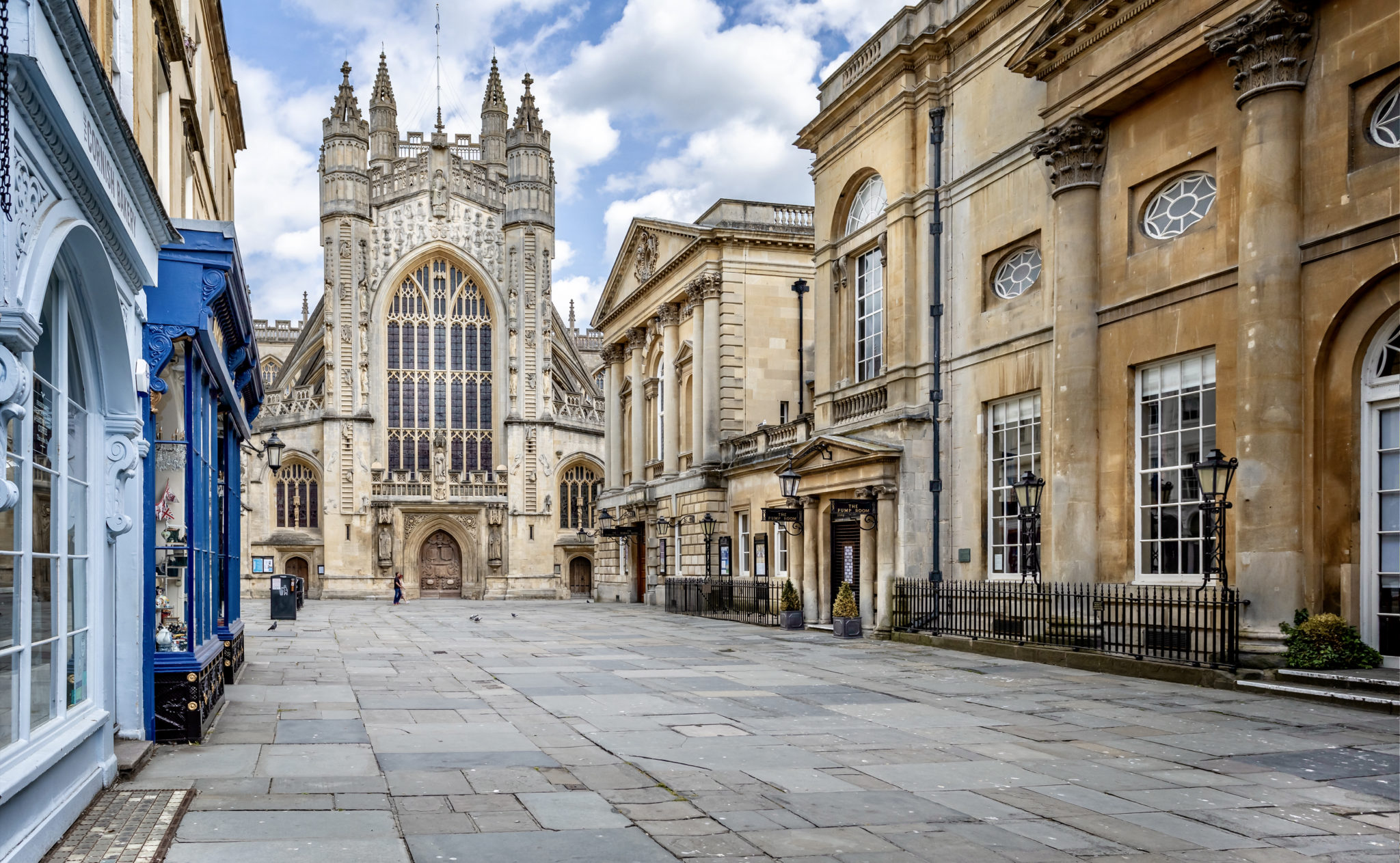 Royal Crescent: The Royal Crescent is one of the great set pieces in Europe. It's a row of terraced Georgian houses, laid out in a graceful 600 foot crescent shape.
Circus: The Circus refers to a semi-circular graceful loop of grand historic townhouses in Bath. The Greco-Roman inspired building has Doric, Ionic, and Corinthian capital decorations. In the Georgian era, the Circus was home to a veritable who's who from world history.
Jane Austen Heritage Center: Housed in a 270 year old Georgian townhouse, the museum is an homage to Jane Austen. It gives insight in the life and work of Jane Austen, who lived in Bath from 1800-06. The guides are actors dressed in period costumes.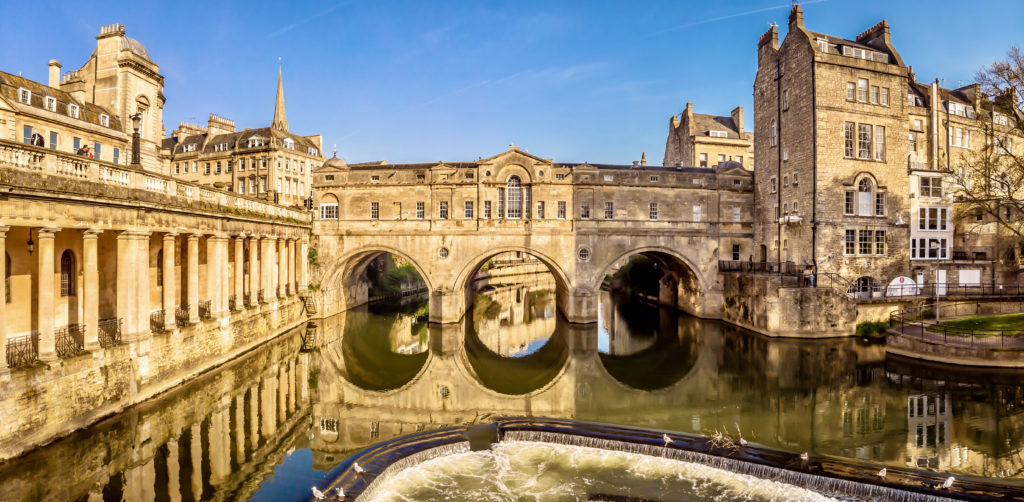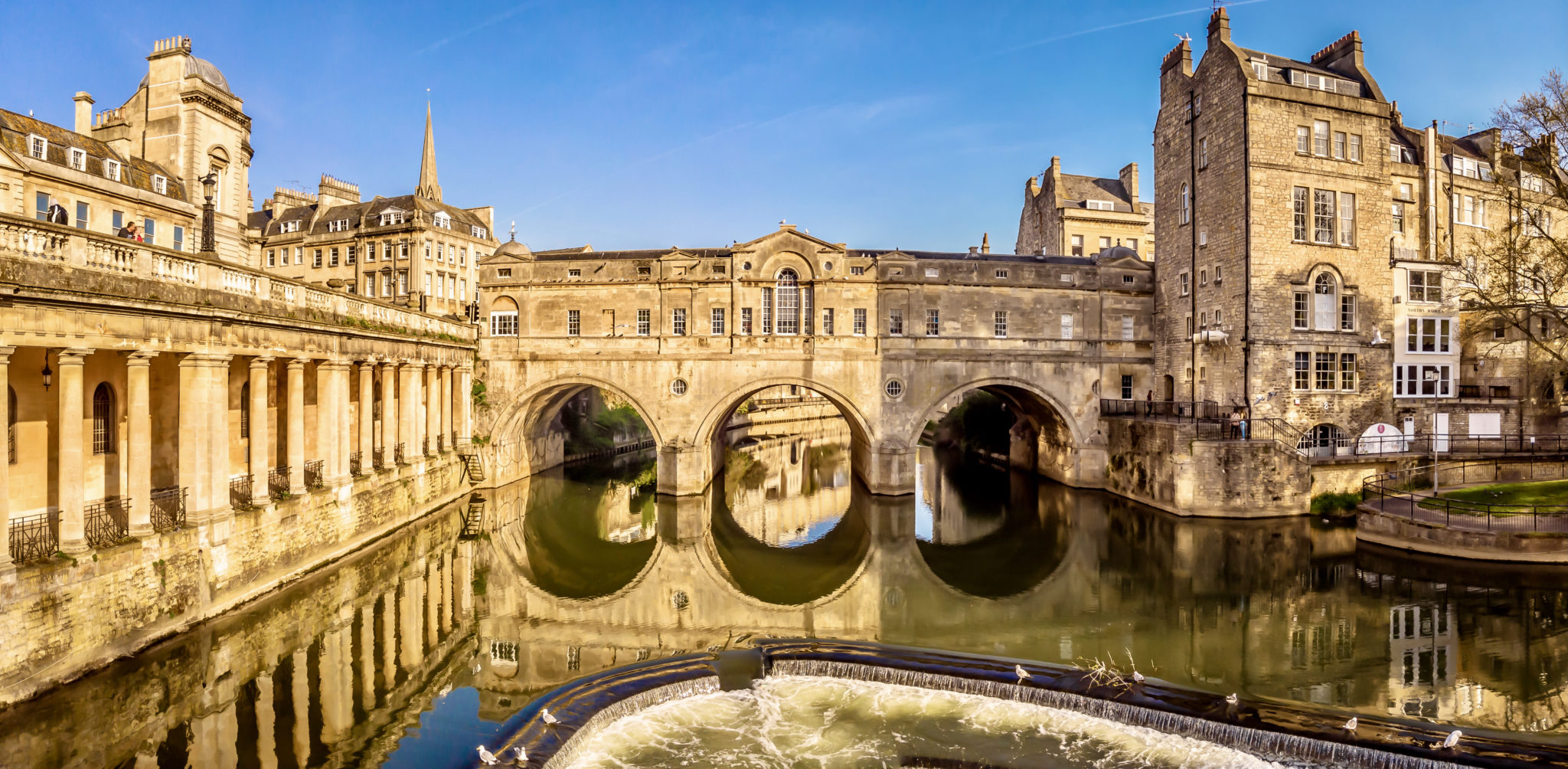 Pulteney Bridge: This is one of very few bridges in the world that is completely lined with shops. Its three graceful arches span the River Avon.
Bridgerton Filming Locations:
Bath was a major filming location for the smash Netflix series Bridgerton. The series is an American fantasy of Regency era London in 1813.
If you, like me, are a massive Bridgerton fan, you can book a 2 hour guided walking tour to the Bridgerton filming locations. Here's my one day itinerary for Bath, to help you have an efficient visit.
How To Get To Bath: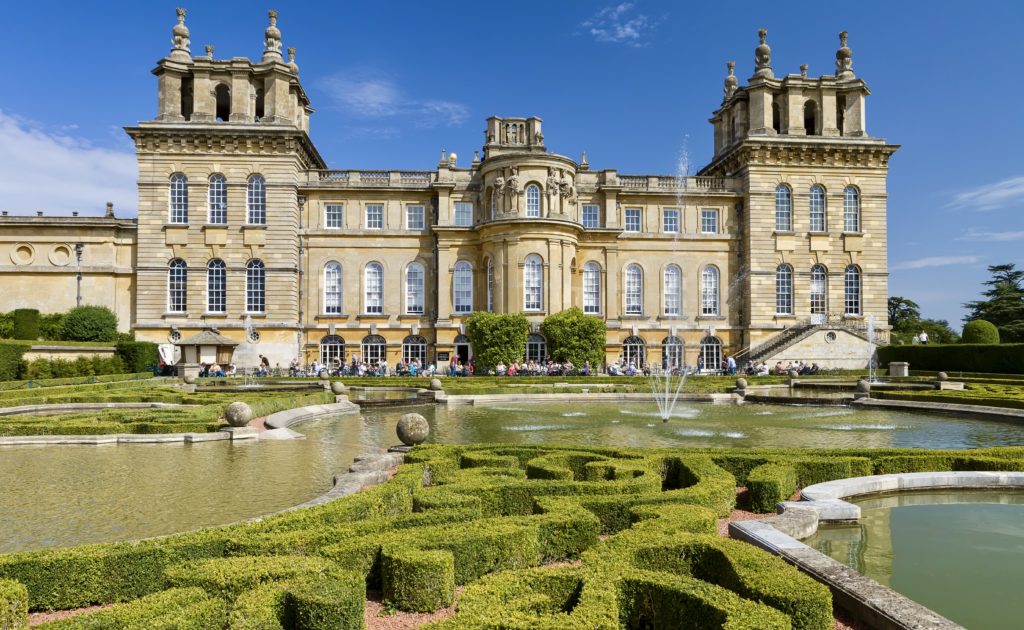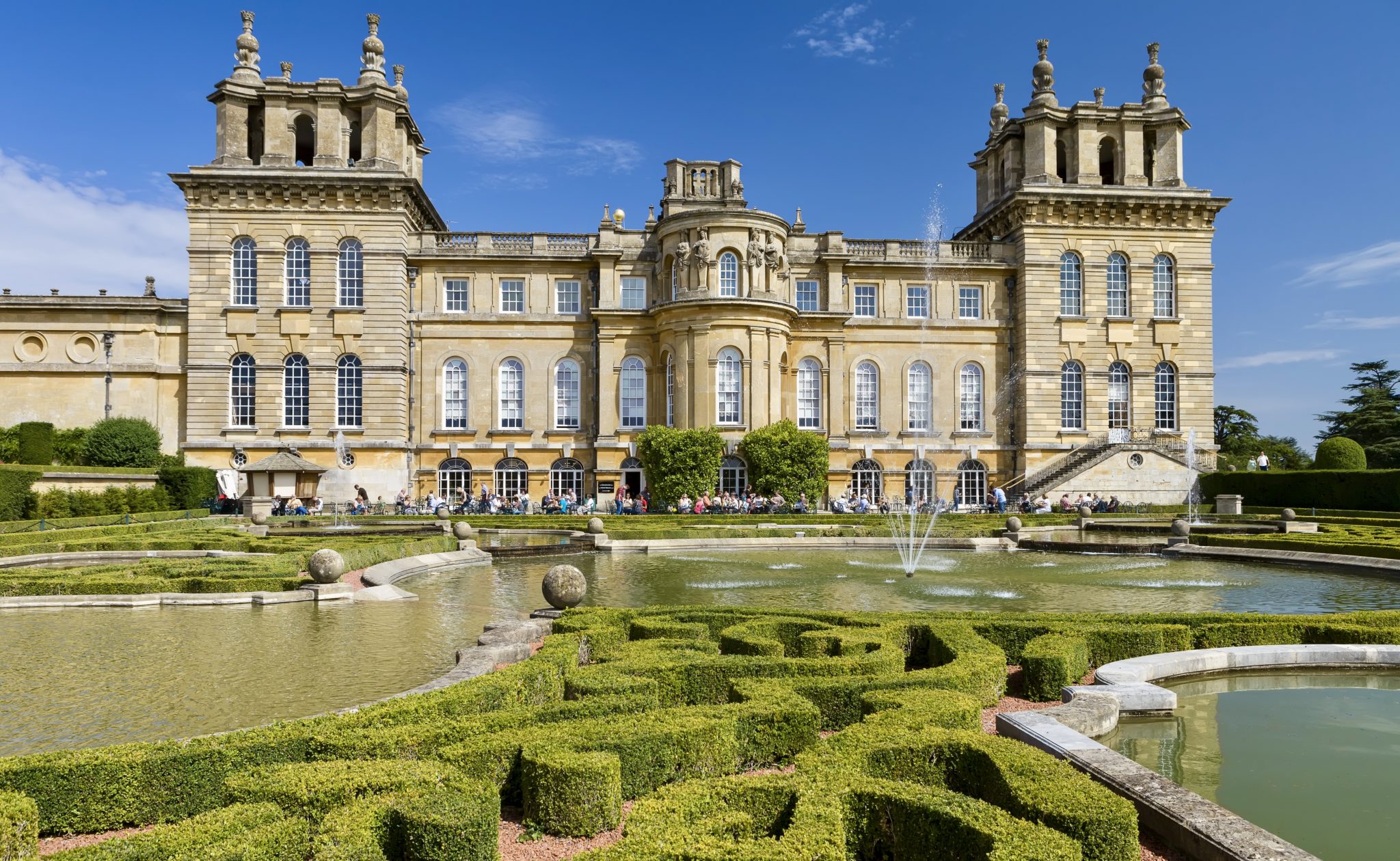 3. Blenheim Palace
If you're following the UNESCO trail in Europe, Blenheim Palace is a must visit destination for a day trip from London. Located in the picturesque Cotswold village of Woodstock, it's often referred to as the "Versailles of England."
The Baroque-style palace, which took over 17 years to construct between 1705-22, is the seat of the dukes of Marlborough. It was also the birthplace of Winston Churchill. The palace features a magnificent great court with long wings that lead to the grand portico, drawing visitors in.
Inside, the palace is adorned with luxurious tapestries, statues, and elegant period furniture that are sure to leave you in awe. After taking in the palace's grandeur, you can stroll through the exquisitely landscaped gardens, which are simply stunning.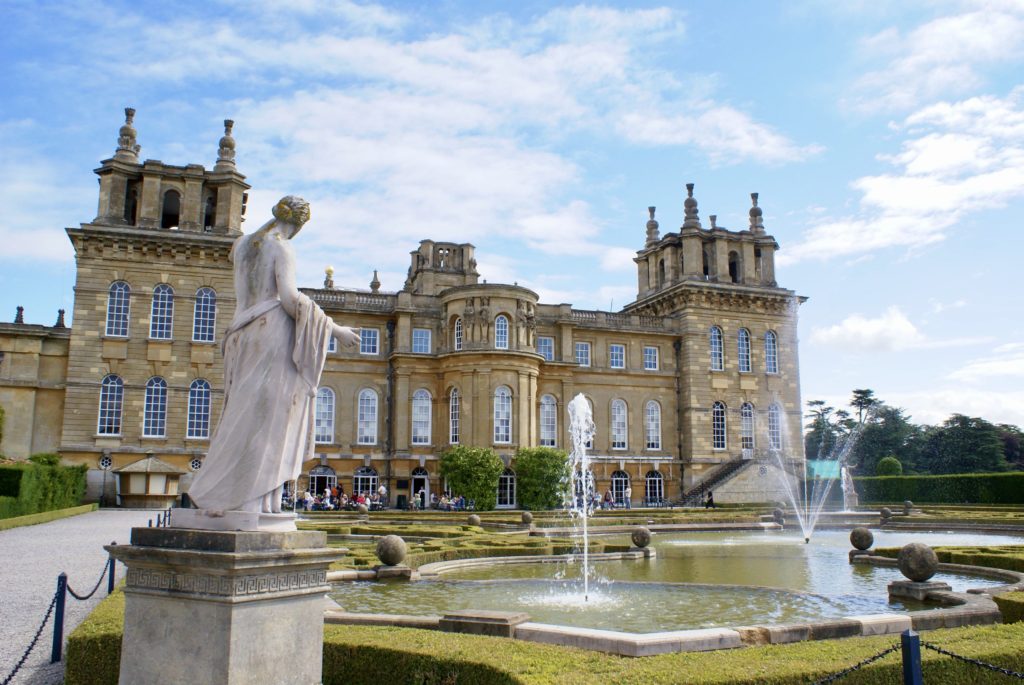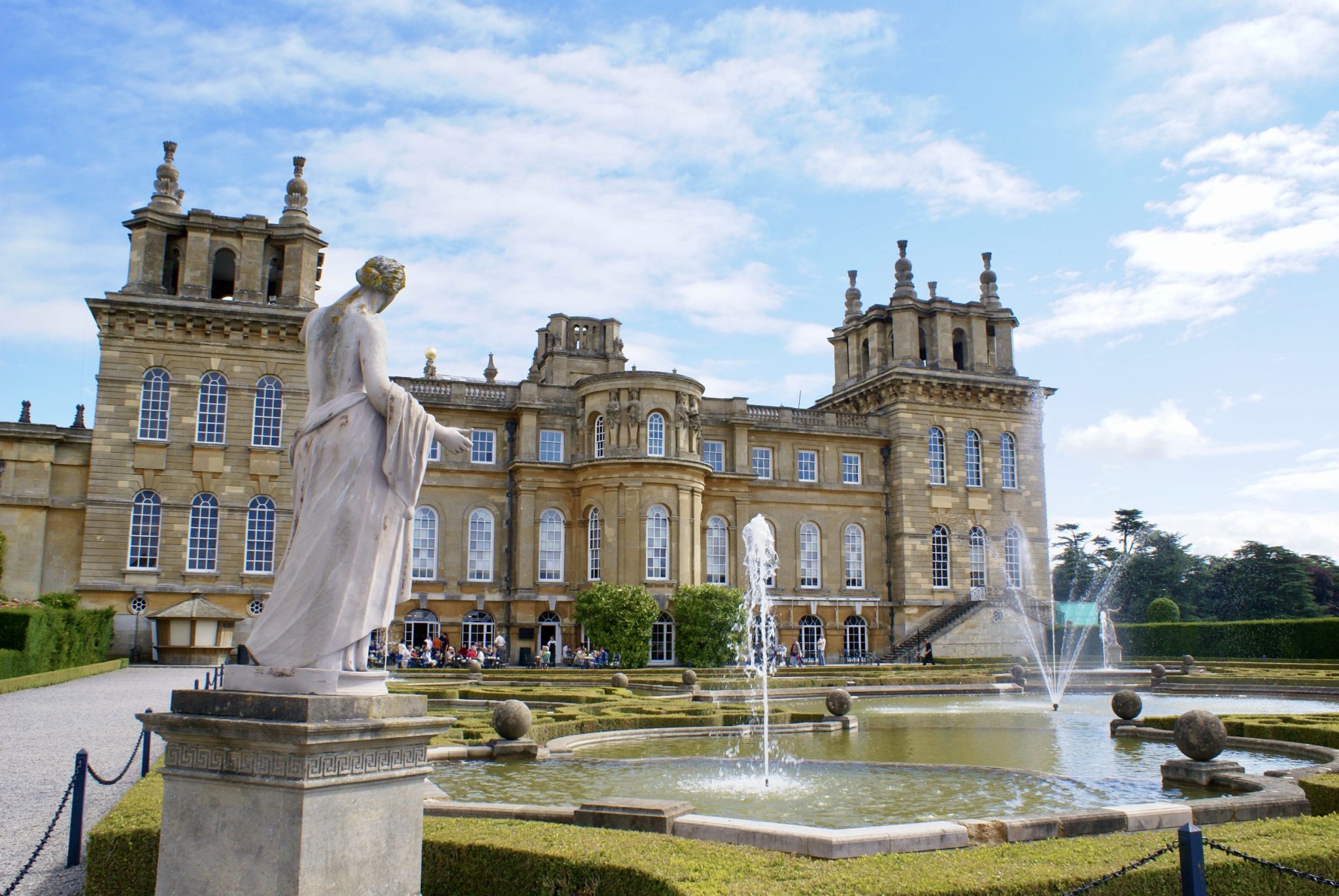 Click here to pre-book an entry ticket to the palace.
How To Get To Blenheim palace: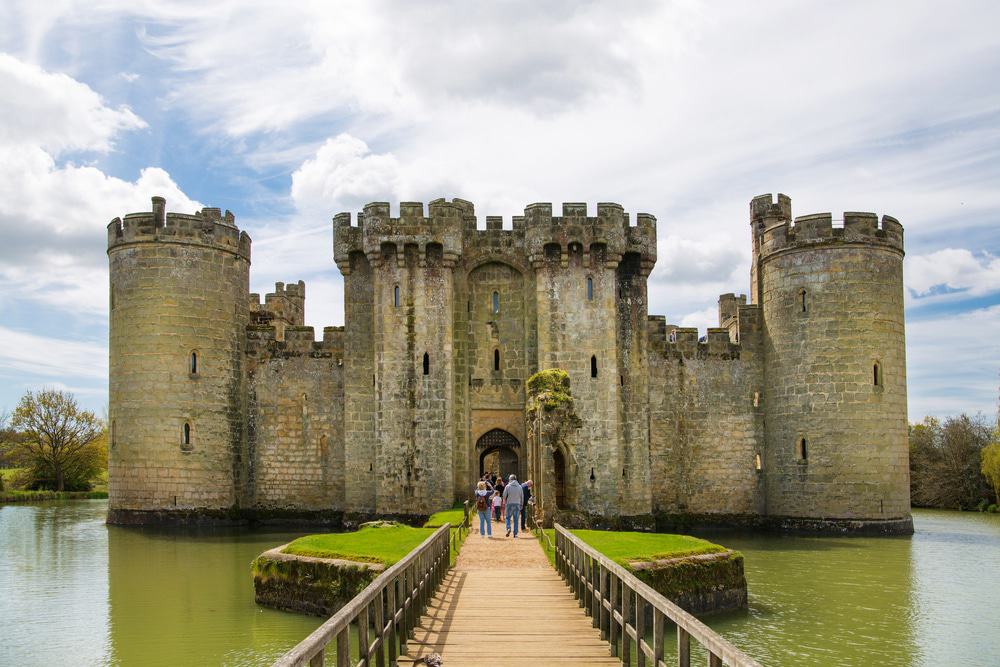 4. Bodiam Castle
Bodiam Castle is a picturesque fortress that seems straight out of a fairytale. The castle makes for a delightful day trip from London. The square castle is surrounded entirely by a massive moat, giving it a unique and impressive appearance.
Sir Edward Dalyngrigge, a wealthy man, built this castle in the 14th century. He gave it a symmetrical design with sturdy towers at each corner and battlements along the walls.
By the 17th century, it had fallen into a state of romantic disrepair, with ivy growing up its walls. However, it was restored in the 19th century, bringing it back to its former glory.
When you visit Bodiam Castle, you can either take a free guided tour or explore every nook and turret on your own. The site has a parking lot, and you pay at the kiosk.
How To Get To Bodiam Castle:
By car: 1:15 drive
By train: It's over 2 hours from London's Victoria Station and you have to change trains.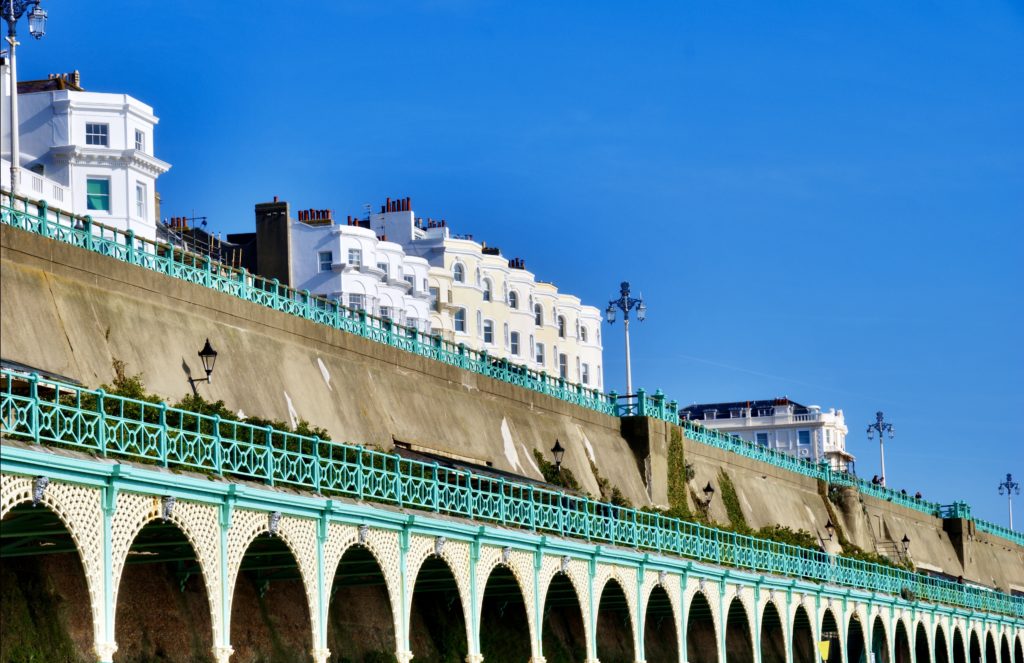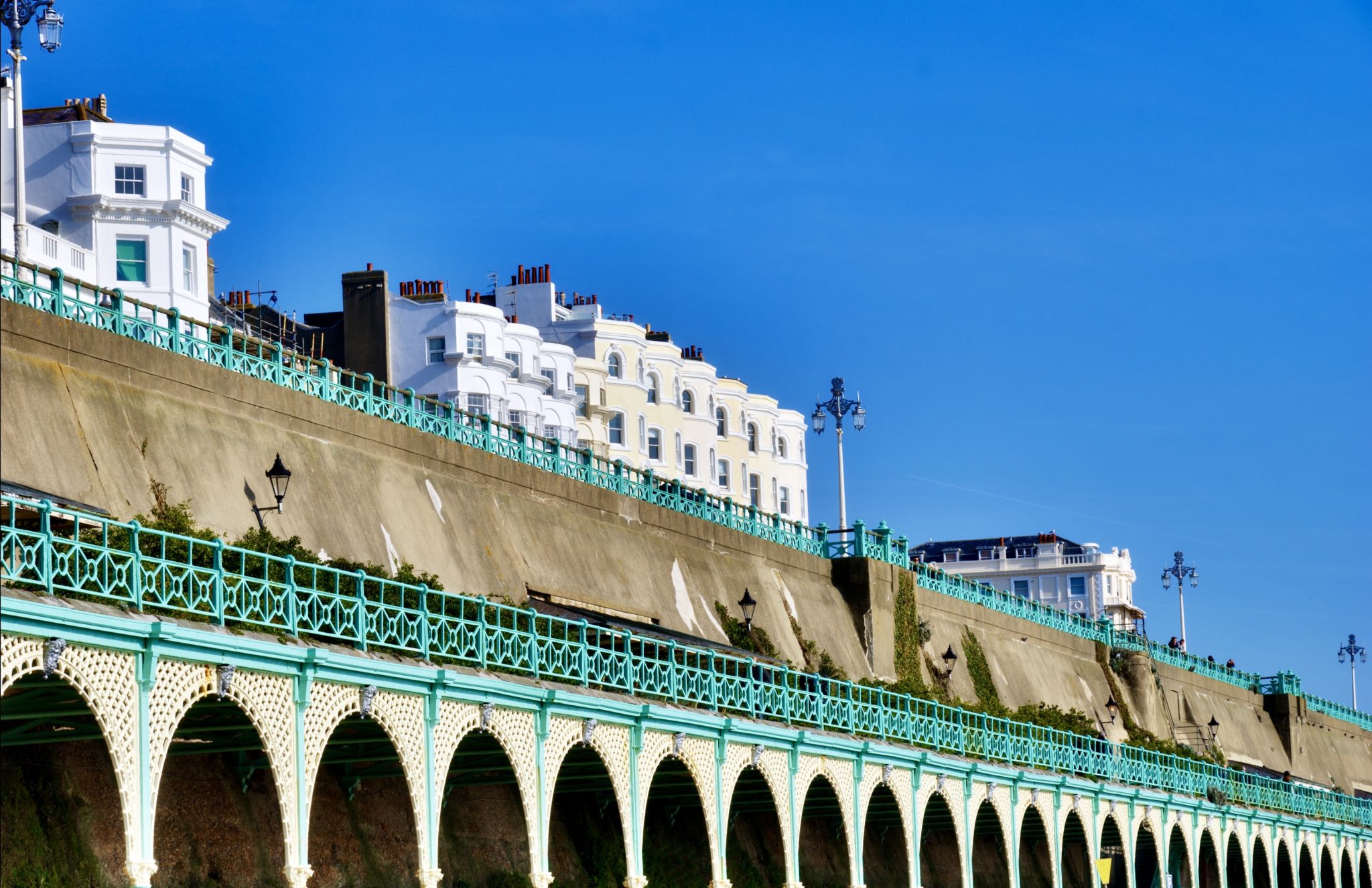 5. Brighton
Brighton is England's most fascinating and popular seaside city. It's a rich and eccentric mix of attractions.
There is beautiful Regency architecture, outdoor cafes, a great art scene, an amusement pier, and the exotic Royal Pavilion.
What To Do In Brighton:
Brighton Pier: Open in 1899, the pier is a classic amusement pier. You'll find fish and chip shops, fairground rides, and arcade games.
Royal Pavilion:
This is the top attraction in Brighton, built by famed architect John Nash in 1815-23. It's a fairytale pavilion of Eastern design with opulent Chinese interiors.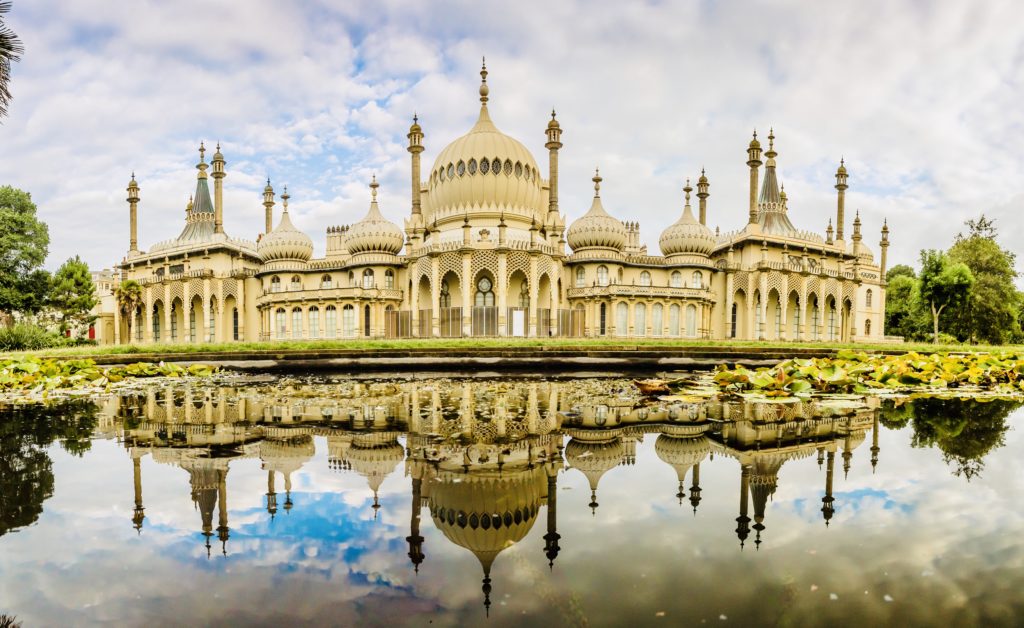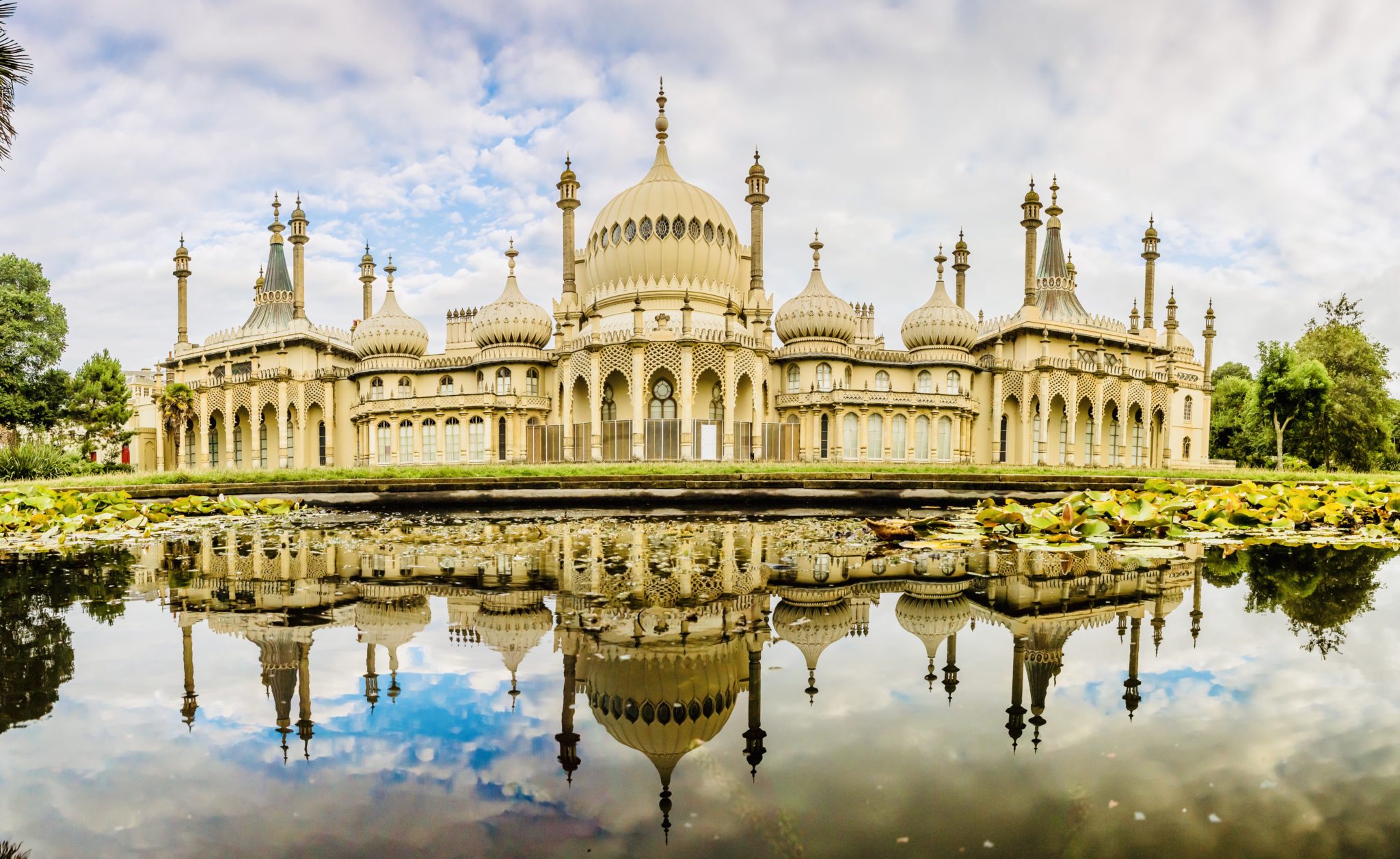 The Music Room and Banqueting Room are especially spectacular. There's also an onsite Tea Room with a balcony overlooking the gardens. You can pre-book a skip the line ticket for the pavilion.
Brighton Museum and Art Gallery: Housed in the pavilion, this museum displays Art Deco and Art Nouveau collections. An interesting piece is Salvador Dali's famous sofa in the shape of Mae West's lips.
Fabrica: Fabrica is an arts venue housed in a converted Regency era church. It commissions contemporary art works and hosts temporary exhibitions and workshops.
Lanes District: The Lanes is Brighton's historic quarter, just a stone's throw from the beach. You'll find twisting lanes and pastel facades. It's an ideal spot for strolling, people watching, and sitting down for a cuppa or pint.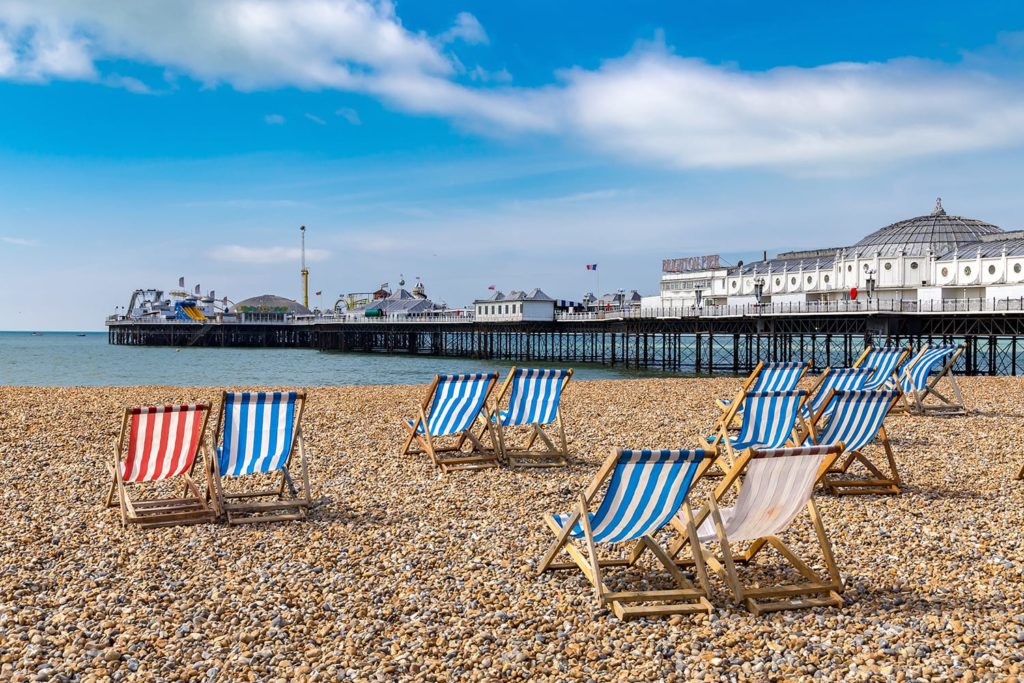 Brighton Beach: On a summer's day, you can lounge on Brighton Beach or go paddle boarding. In winter, you can order a hot chocolate and stroll down the stony beach.
How To Get To Brighton:
By car: 1.5 hour drive
By train: It's a 1 hour ride with trains leaving from Victoria, Gatwick, and St. Pancras stations.
By bus: It's 2+ hours by bus from Victoria Coach Station.
By guided tour: You can visit Brighton on an

8 hour guided private tour from London

.
Getting around: You can take the

hop on hop off bus

.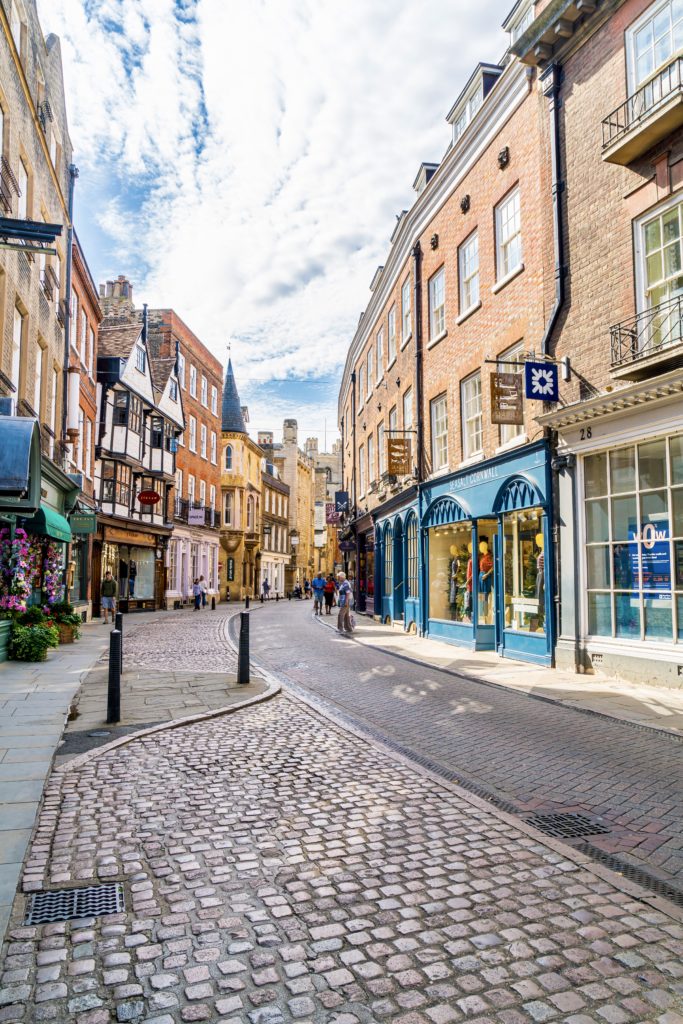 6. Cambridge
Cambridge is a university city in Cambridgeshire England, just a 60 mile day trip from London. The historic town is famous, naturally, for Cambridge University. There are 31 colleges, which act as social communities.
Cambridge is the epitome of an idyllic university town with students buzzing around on bikes, bookshops galore, and stately university buildings.
What To Do in Cambridge:
Visit the Colleges: Some colleges can be visited for free. Others require a ticket. To learn about the famous colleges and alumni, you can book a guided walking tour.
King's College: This college should be at the top of your list. It's one of the greatest examples of late Gothic architecture with the world's largest fan vaulted ceiling. It also has a stunning chapel with Renaissance stained glass and a wooden chancel screen.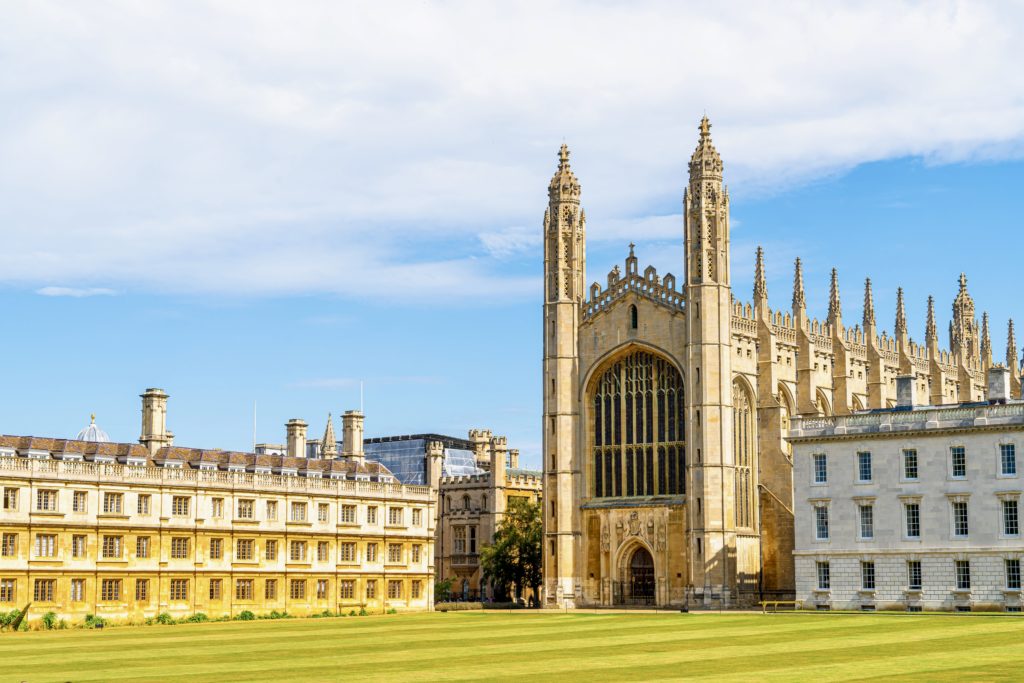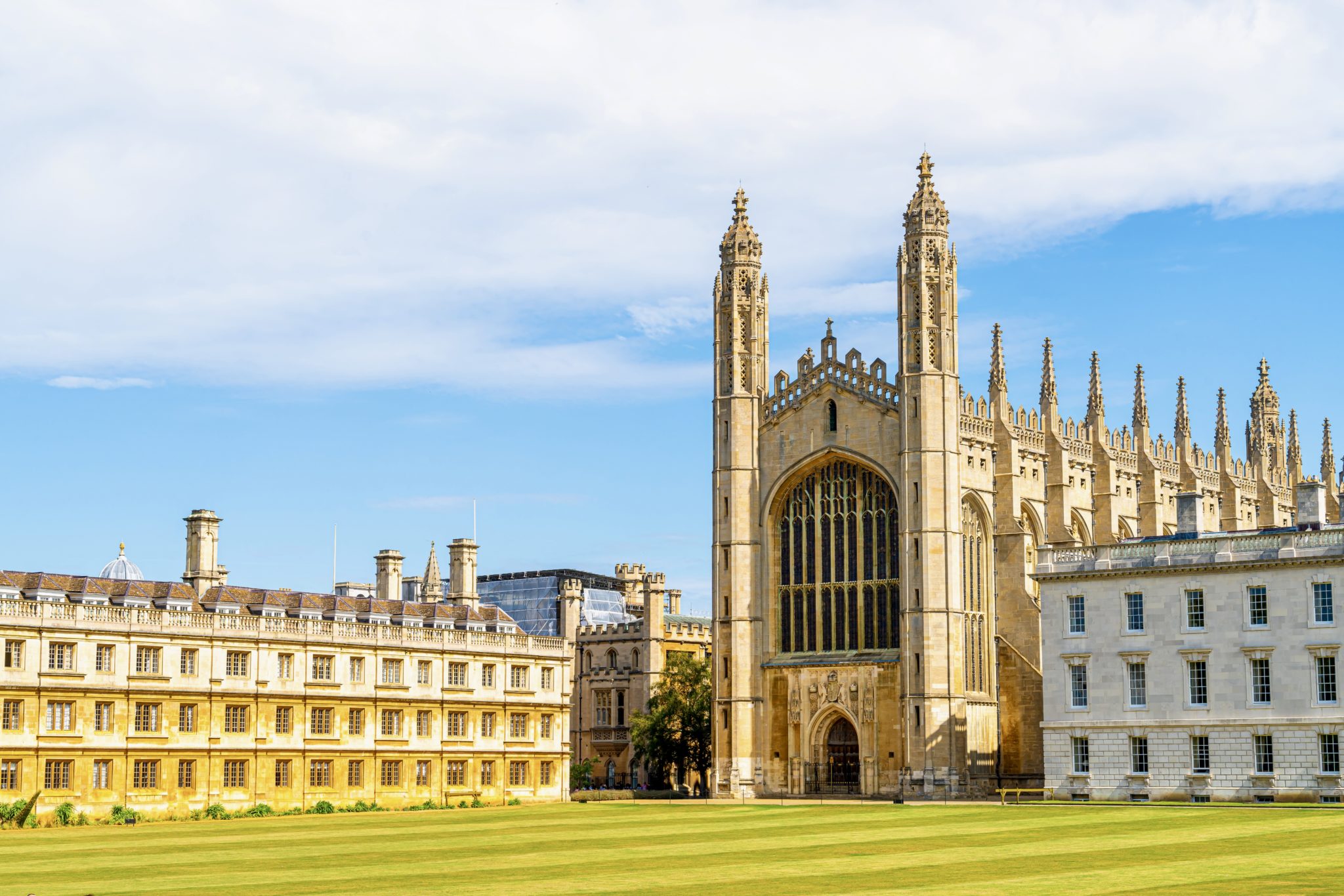 Enjoy the River Cam: The River Cam offers boat tours. If you want some exercise, you can also take a classic punting tour and learn to paddle the iconic flat bottomed boats.
Stroll the Old Town: The town itself is also charming. It offers up pretty medieval streets, art-filled churches, and some splendid museums.
Fitzwilliam Museum: This is the university's main museum, with over half a million art works and antiquities. It's effectively a mini-British Museum that houses everything from Impressionist masterpieces by Monet to Egyptian mummies.
Corpus Clock: This is a distinctive public monument in Cambridge. It's a golden clock designed by Cambridge physicist Stephen Hawking. It's also known as the Grasshopper Clock because a grotesque grasshopper is the timekeeper, eating up time.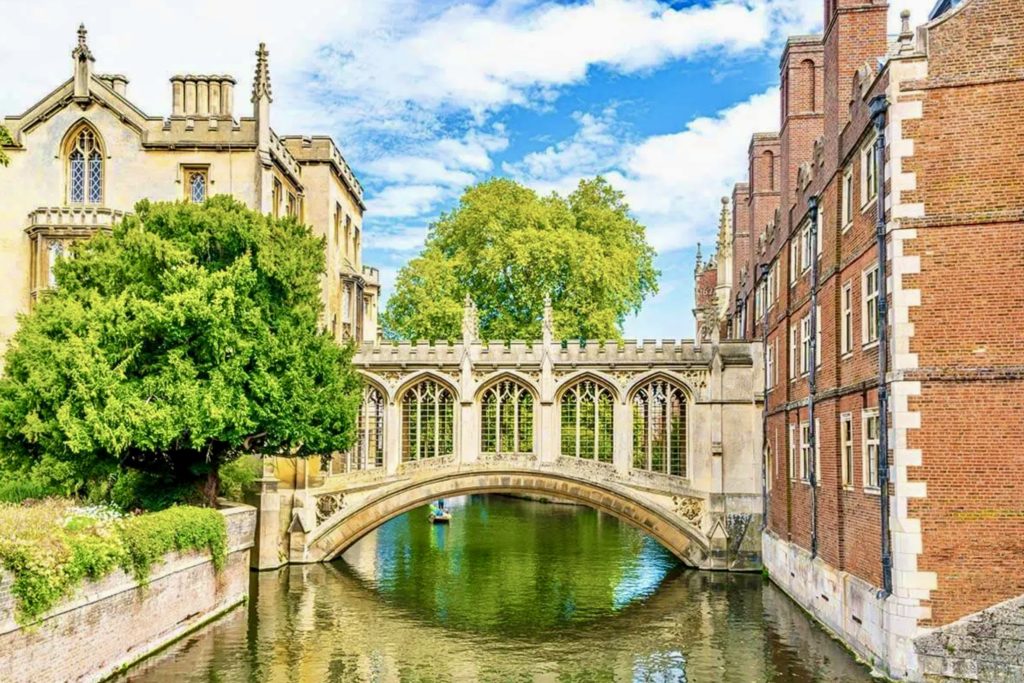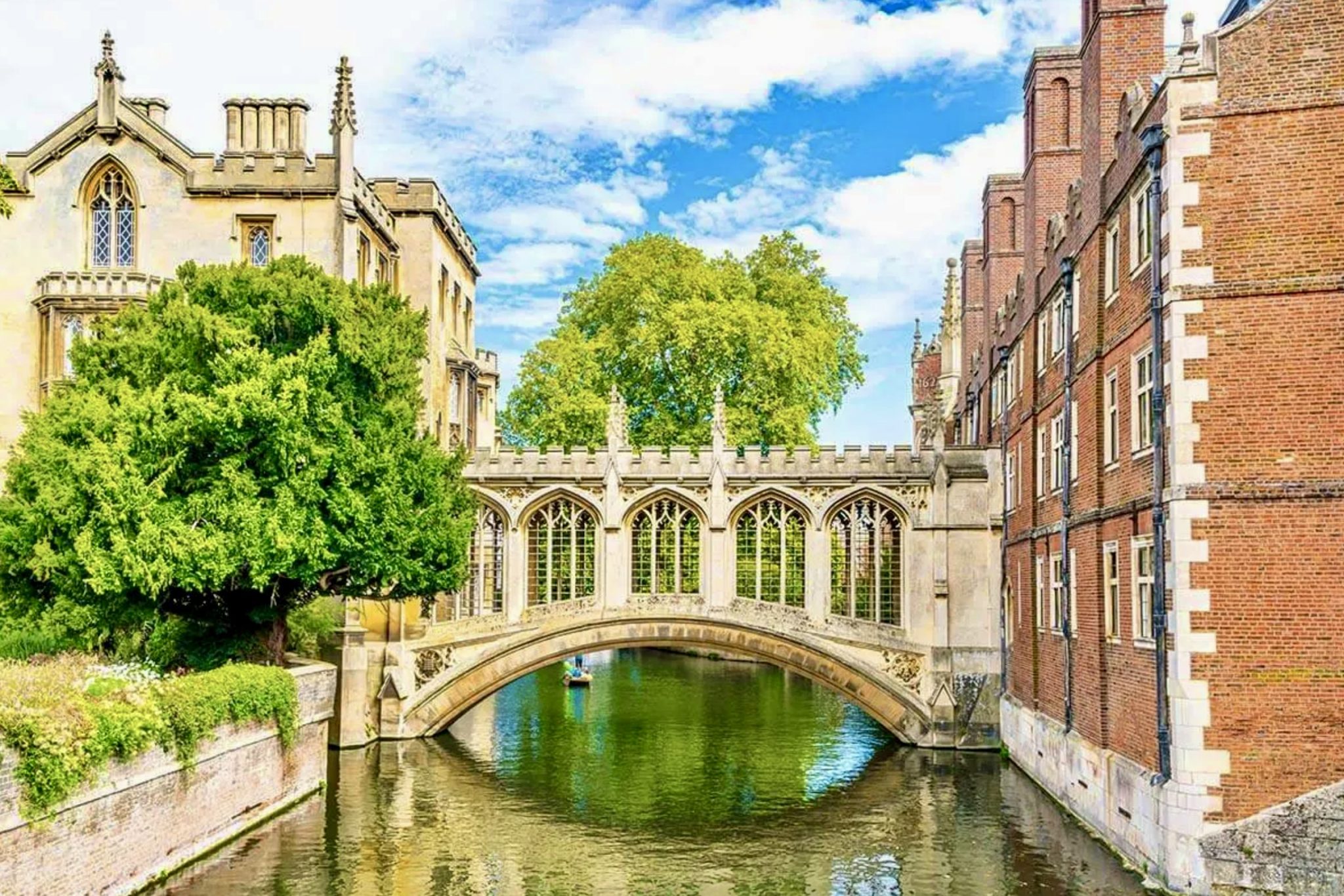 Wren Library:
Completed in 1695, Wren Library in Trinity College was designed by the famous architect Sir Christopher Wren, from St. Paul's Cathedral fame.
The library houses medieval manuscripts, early editions of Shakespeare, and books from Isaac Newton's personal collection. They're in bookshelves topped by busts of great thinkers.
For more information, here's my complete guide to taking a Cambridge on a day trip from London.
How To Get To Cambridge:
By car: 1.5 hour drive
By train: The train is the best option for getting to Cambridge. It's an easy 50 minute train ride from King's Cross Station.
By bus: Buses to Cambridge run from the Victoria Coach Station and take 1:45.
By guided tour: You can book a

9 hour guided day trip from London

. You can also visit both Cambridge and Oxford on an 11 hour guided tour.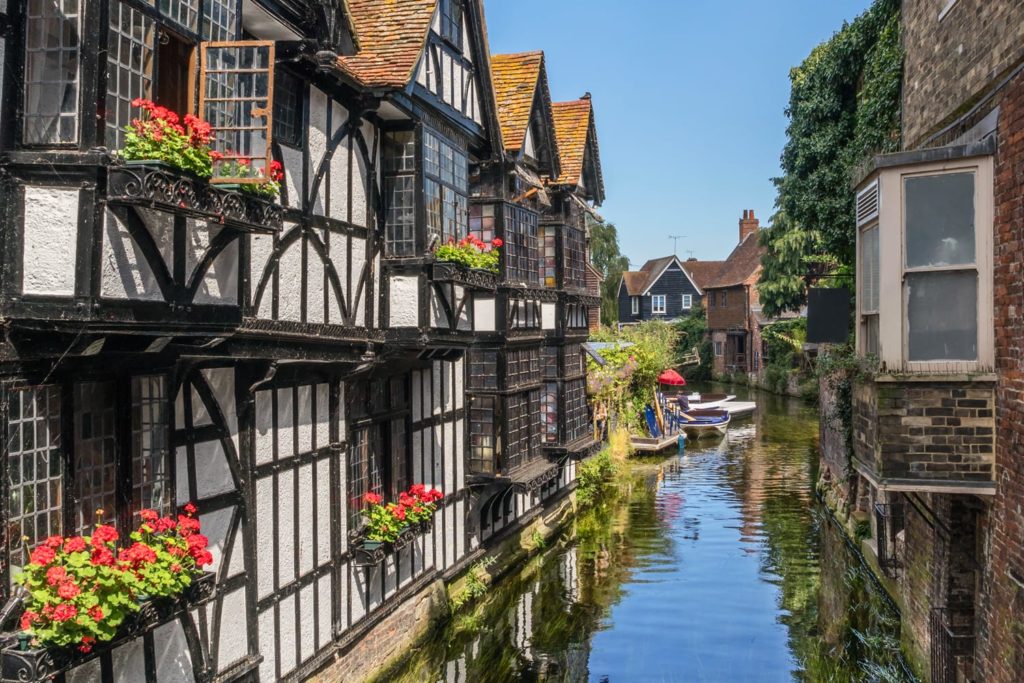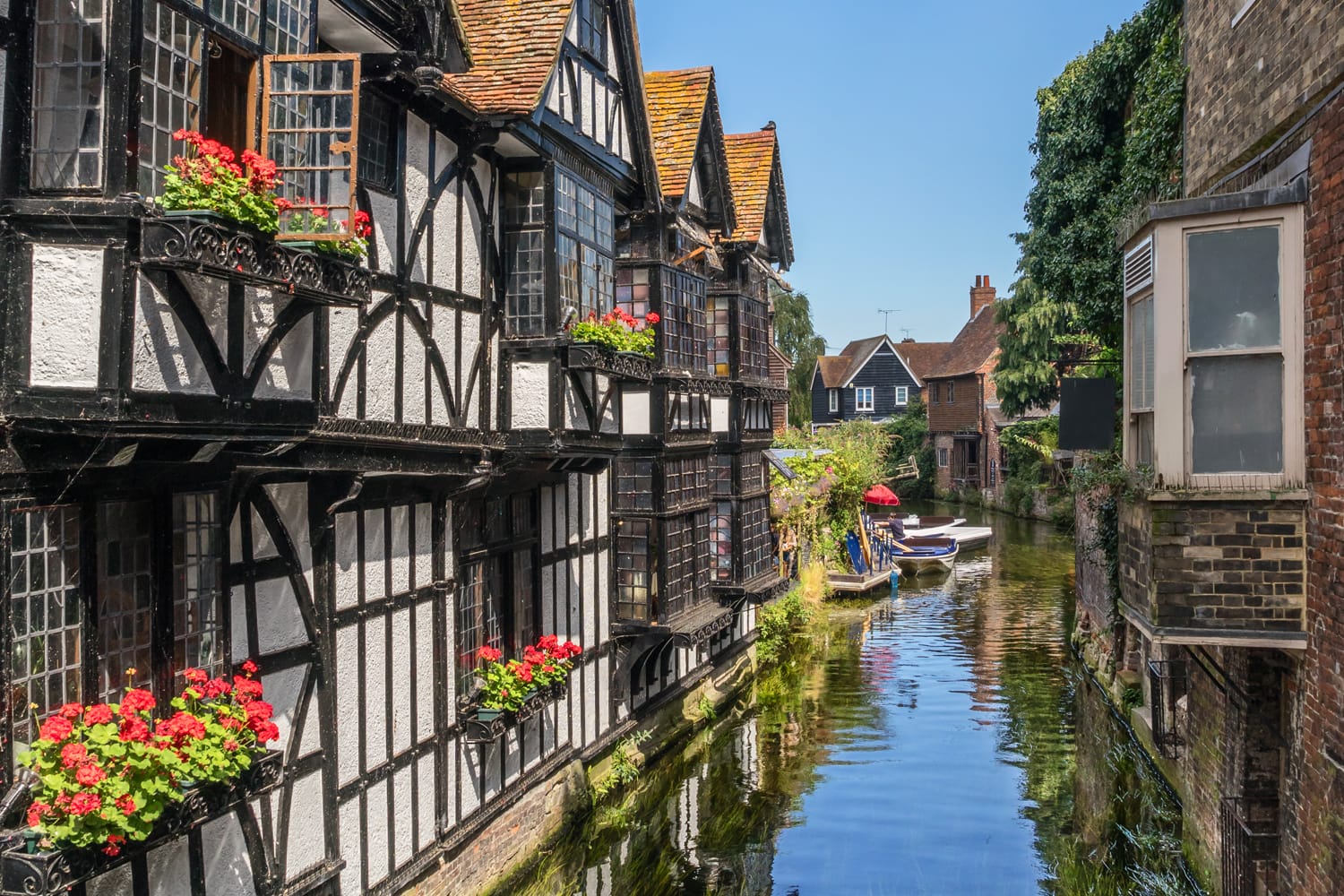 7. Canterbury
It was love at first sight for Canterbury and me. I think it's one of the most beautiful towns you can visit on a day trip from London. It's a mini-Rome wrapped up in half timbered homes with its very own UNESCO sites.
To get oriented, you may want to book a short guided walking tour or a private walking tour.
What To Do in Canterbury:
Canterbury Cathedral:
At the heart of the town lies the UNESCO-listed cathedral, which serves as the city's main attraction. It is the oldest of England's great Norman cathedrals, dating back to the 11th century. It was the first cathedral that I personally fell in love with in Britain.
Aside from its breathtaking Gothic architecture, the cathedral is also renowned as the location where Thomas a Becket was murdered by Henry II's agents in 1170.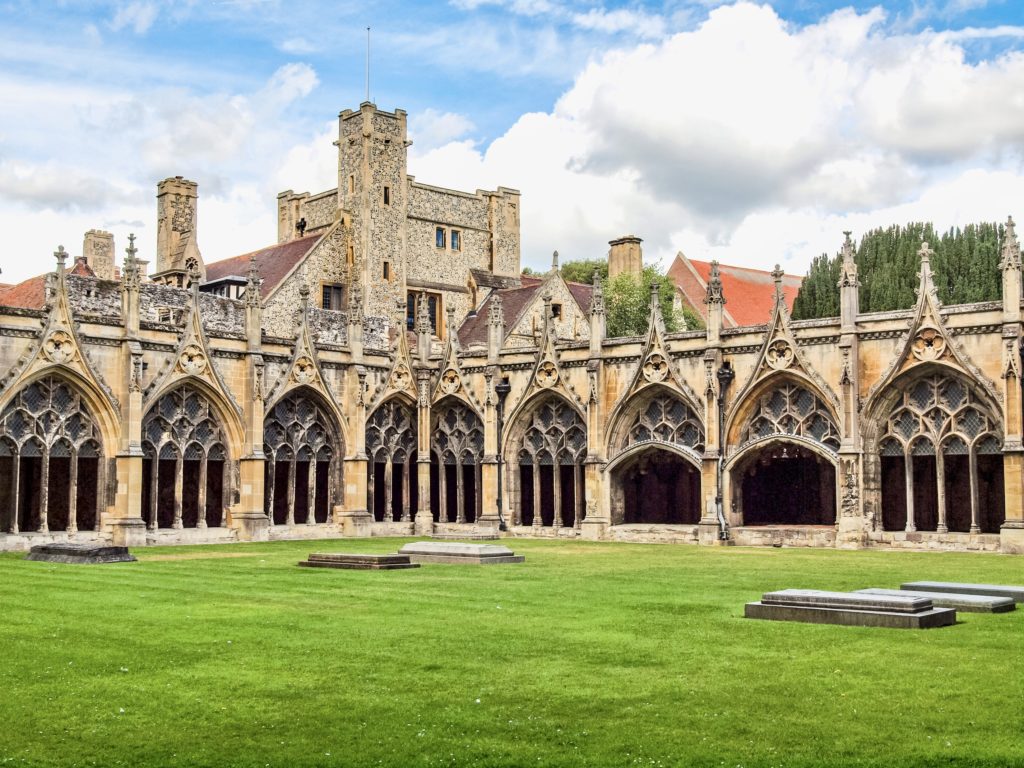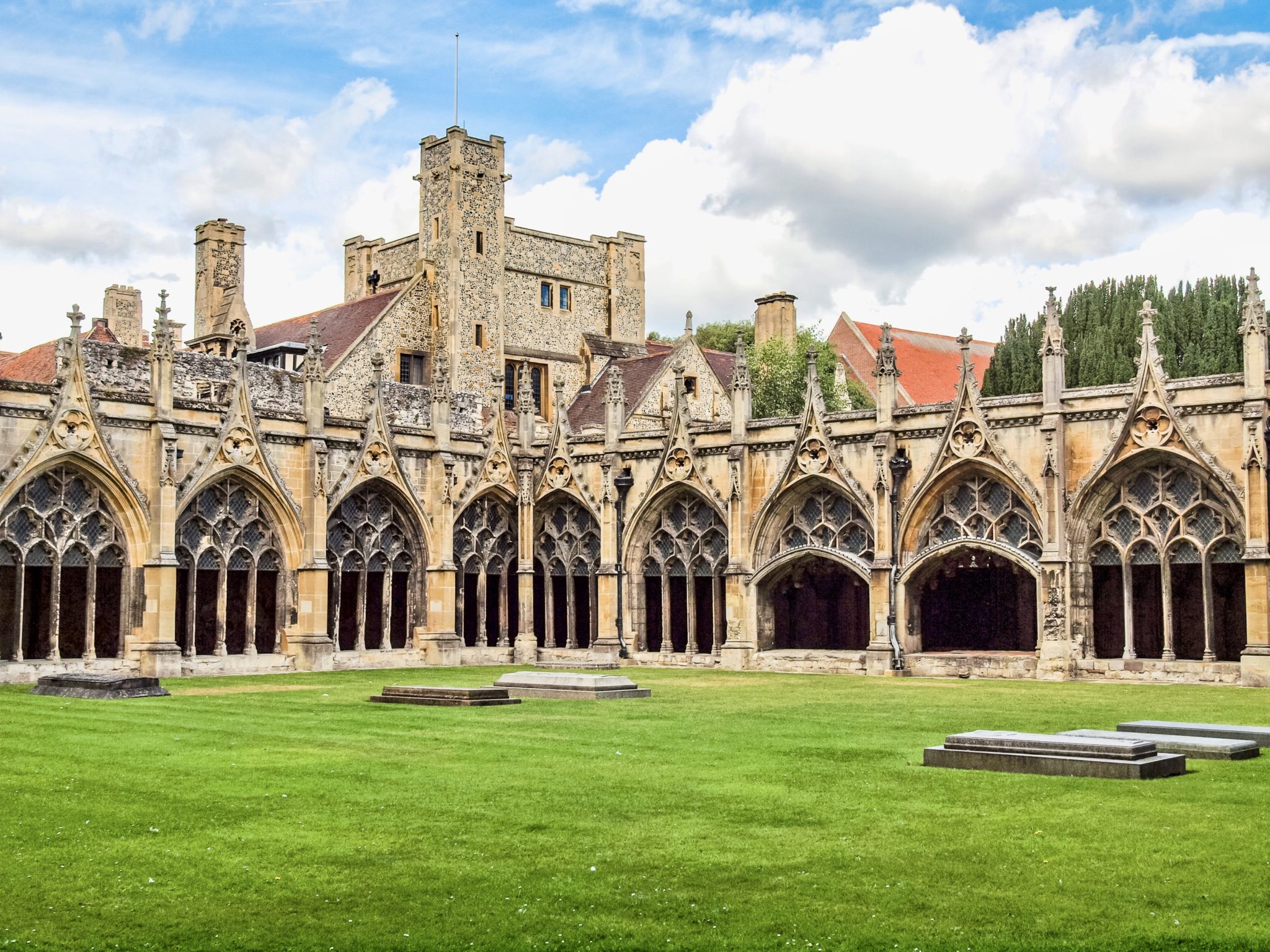 In the Trinity Chapel, you can see a candle indicating what was once a shrine to Beckett. Stained glass windows depicting miracles that occurred after his death.
If you have the time, book one of the cathedral's "Behind the Scenes" tours to get the full scoop on this great edifice.
Christchurch Gate: This ancient gate was built in 1517 and leads to the cathedral. Atop it are the sculptures of Prince Arthur, Henry VIII's younger brother, and his wife Catherine of Aragon. Henry would later, very famously, marry and divorce Catherine.
St. George's Church: This was the place where the playwright Christopher Marlow was baptized. But all that remains of the medieval church on High Street is the clock tower.
In 1868, a 3rd century Roman Domus (home) was discovered and excavated. A century later, a well curated museum opened to show what was found.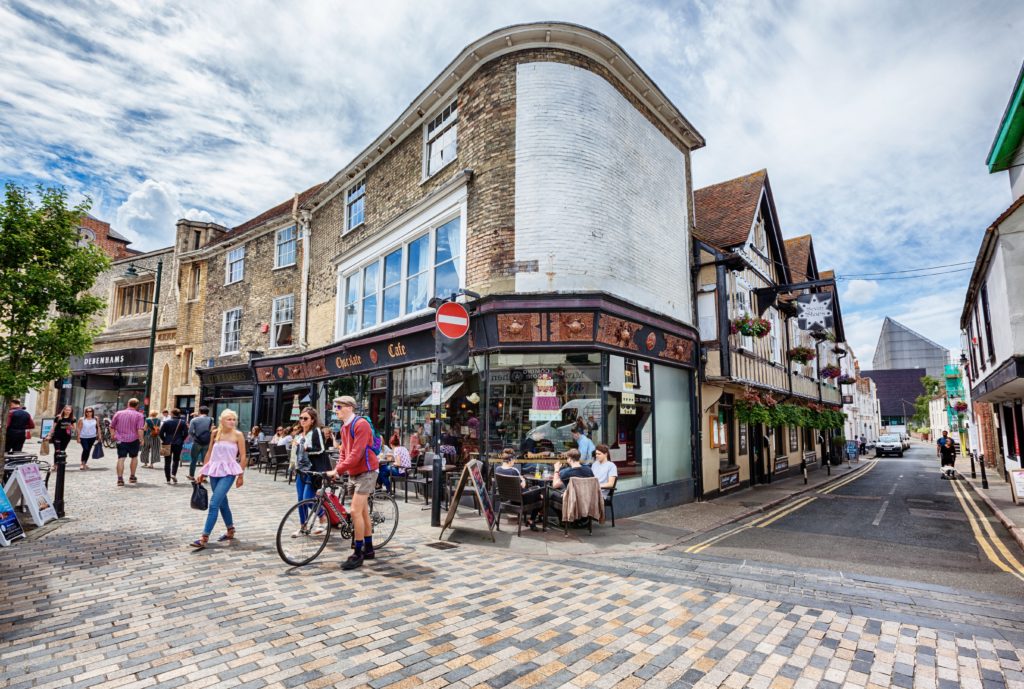 It houses one of the only in situ mosaic pavements from Ancient Rome in England and gives you a peak into Roman Britain.
St. Augustine's Abbey: This is one of England's oldest monastic sites. A greedy Henry VIII seized the abby in the 16th century and turned it into a manor house for his wife Anne of Cleves. You can learn about it on the free audio tour.
Crooked House:
Charles Dickens described Canterbury's Crook House as "A very old building building over the road … leaning forward, trying to see who was passing on the narrow pavement below."
The Crooked House is a skewed 17th century half timbered building perched at the end of Palace Street, near the center of Canterbury.
City Walls: The city's 13th and 14th century medieval walls are a source of pride. You can access them from Castle and Broad streets. Some of the walls are 20 feet high, yielding great views of the town.
For more information, here's my one day in Canterbury itinerary.
How To Get To Canterbury:
By car: 1.5 hour drive
By train: It's a 90 minute ride from London's Victoria, St. Pancras, or Charing Cross stations.
By bus: Bus is the cheapest option. It takes 2:15 from Victoria Coach Station.
By guided tour: You can book a

full day guided tour from London

that includes Canterbury, Dover, and Leeds castle.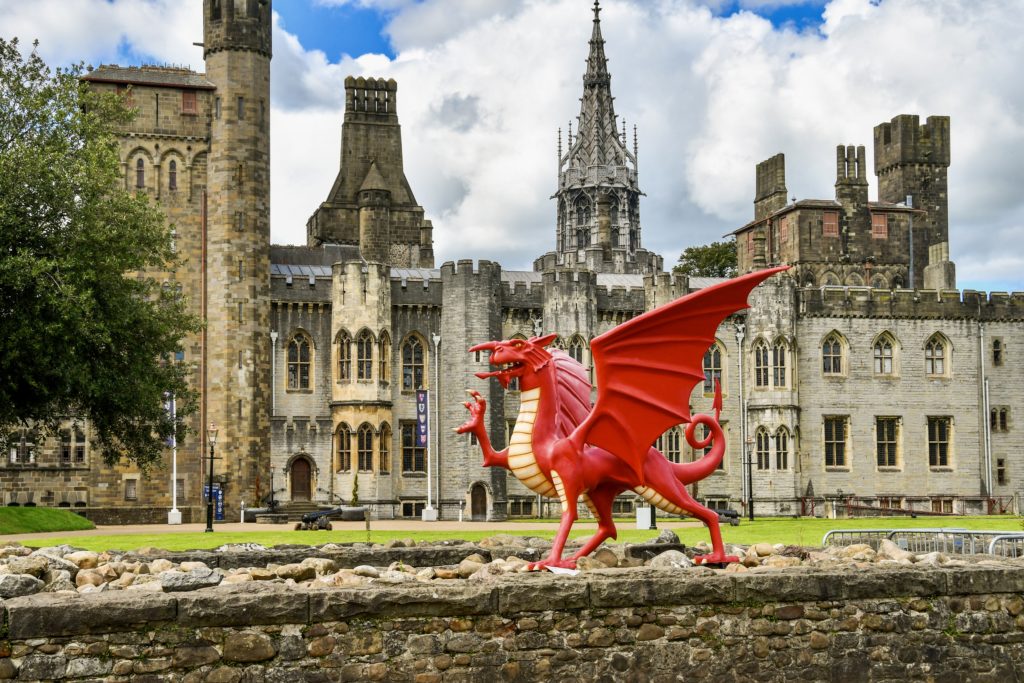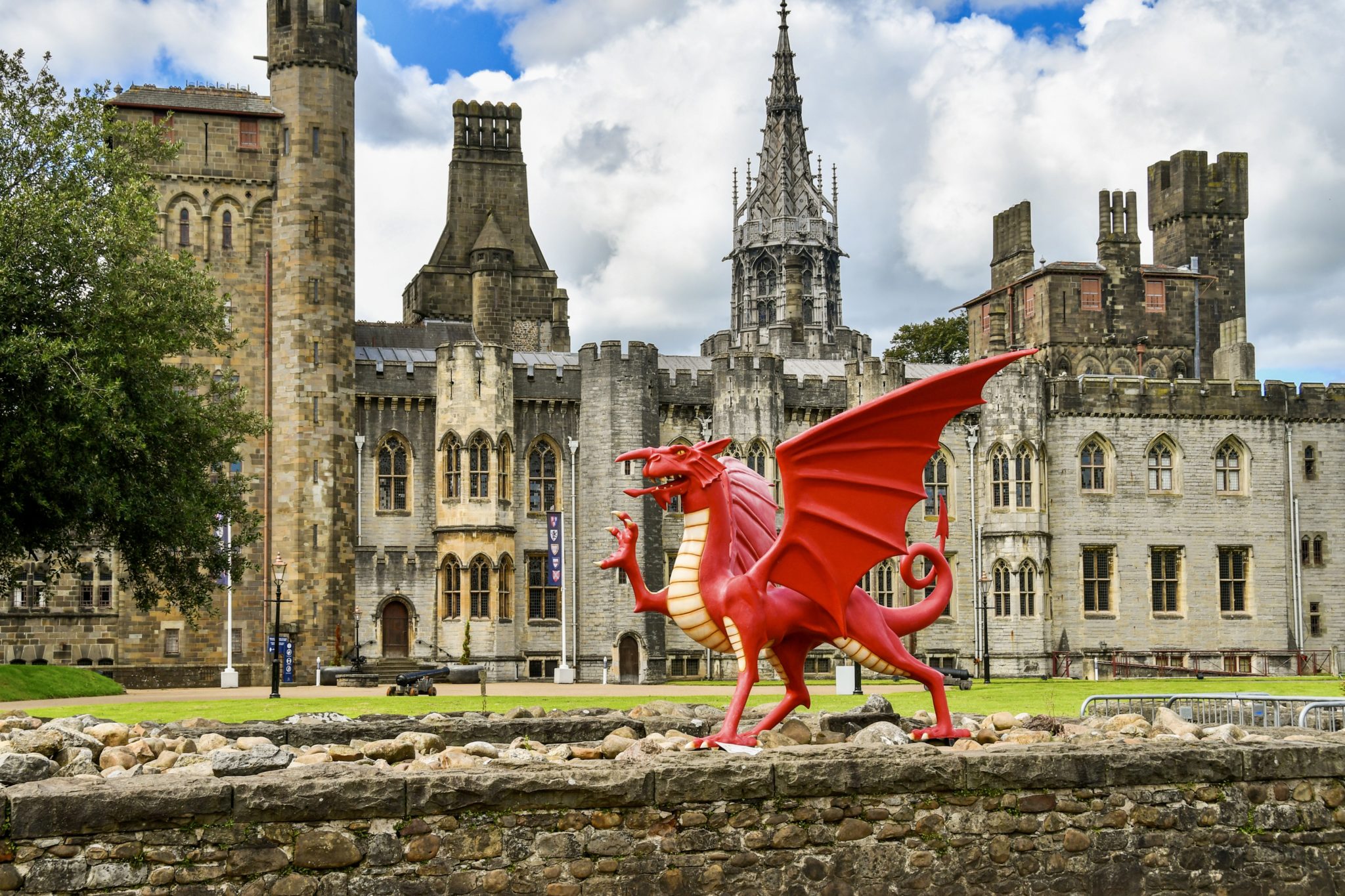 8. Cardiff
The harbor city of Cardiff is located about 150 miles from London. Cardiff was built during Britain's 19th century coal boom, but has since been gentrified.
Cardiff known for its castle, museums, shops, restaurants, and nightlife. You can kick off your visit with a guided walking tour.
What To Do In Cardiff:
Cardiff Castle
The castle was built by the Romans nearly 2000 years ago and is steeped in Welsh history. It boasts Roman ruins, an 11th century keep, and a Neo-Gothic clock tower.
Inside, you'll want to visit the Arab Room, the Norman Keep, and the labyrinth of tunnels from WWII. You can climb the keep's tower for view. But it's a craggy uneven path up.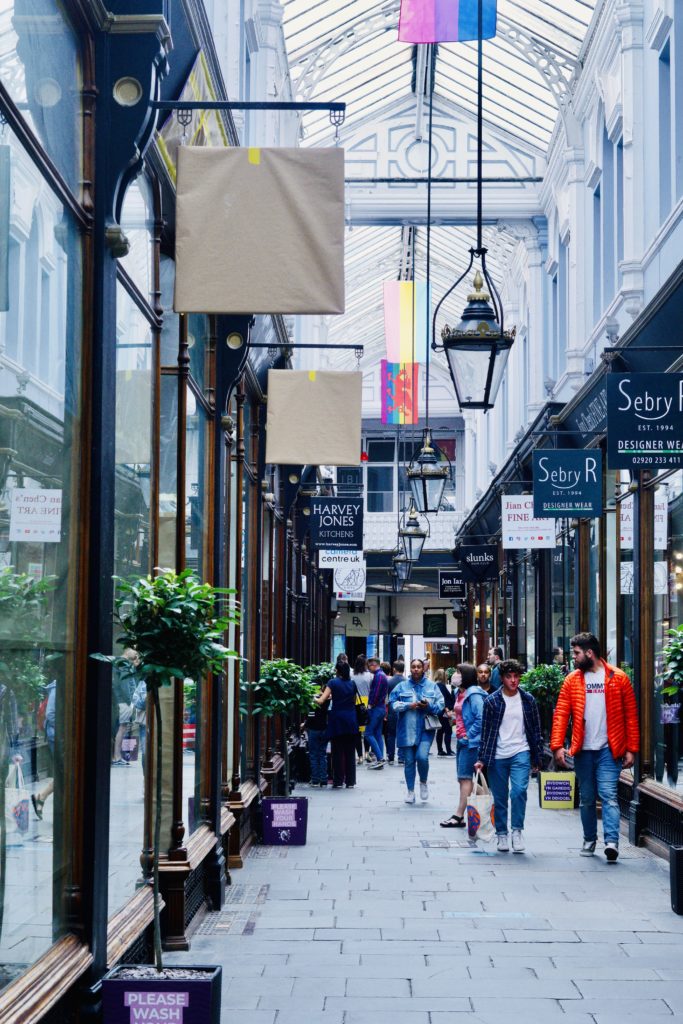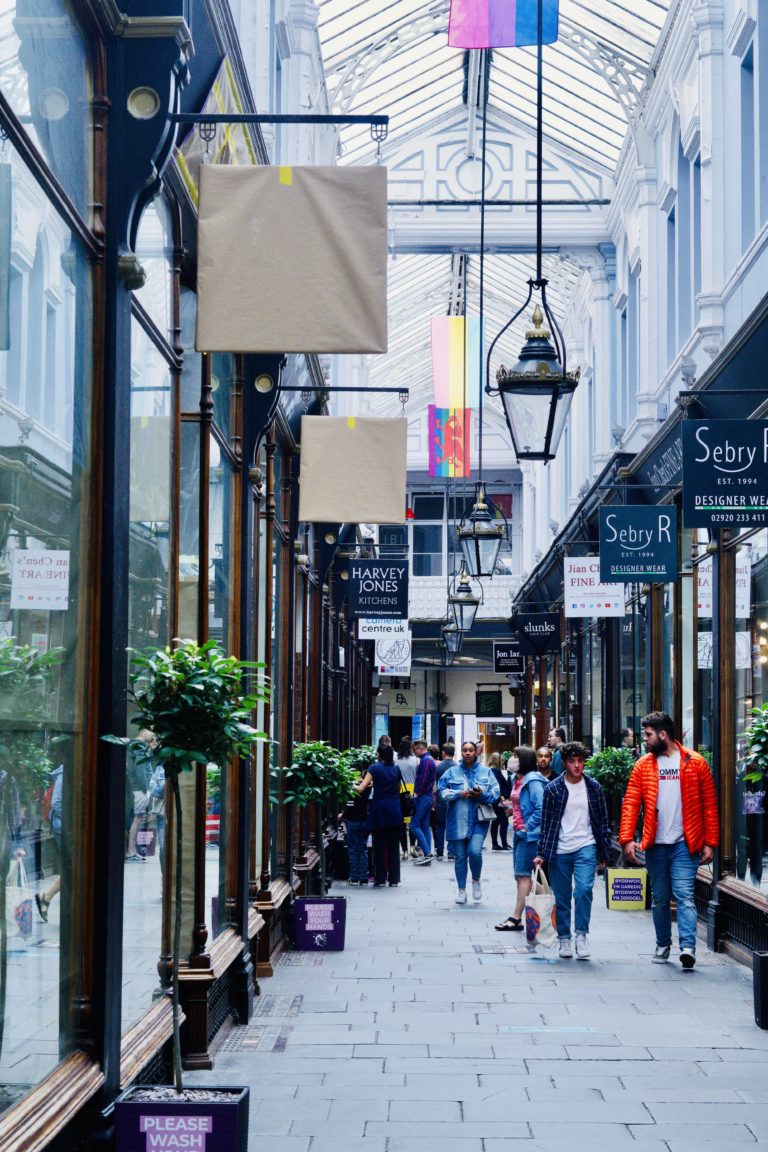 National Museum Cardiff: Situated in the middle of the city's civic center, the National Museum in Cardiff houses an eclectic mix of historical and scientific artifacts.
Cardiff Arcades: Cardiff is nicknamed the "City of Arcades." Its glass covered Victorian arcades are filled with unique boutiques and shops.
St. Mary's Street: This is the main street in Cardiff and one of the oldest streets in Wales. It's the go to place for nightlife. From St Mary's Street, you can also visit the Cardiff Indoor Market.
Dr. Who Filming Locations: The TV series Dr. Who used many filming locations in Cardiff. You can even take a Dr. Who themed walking tour.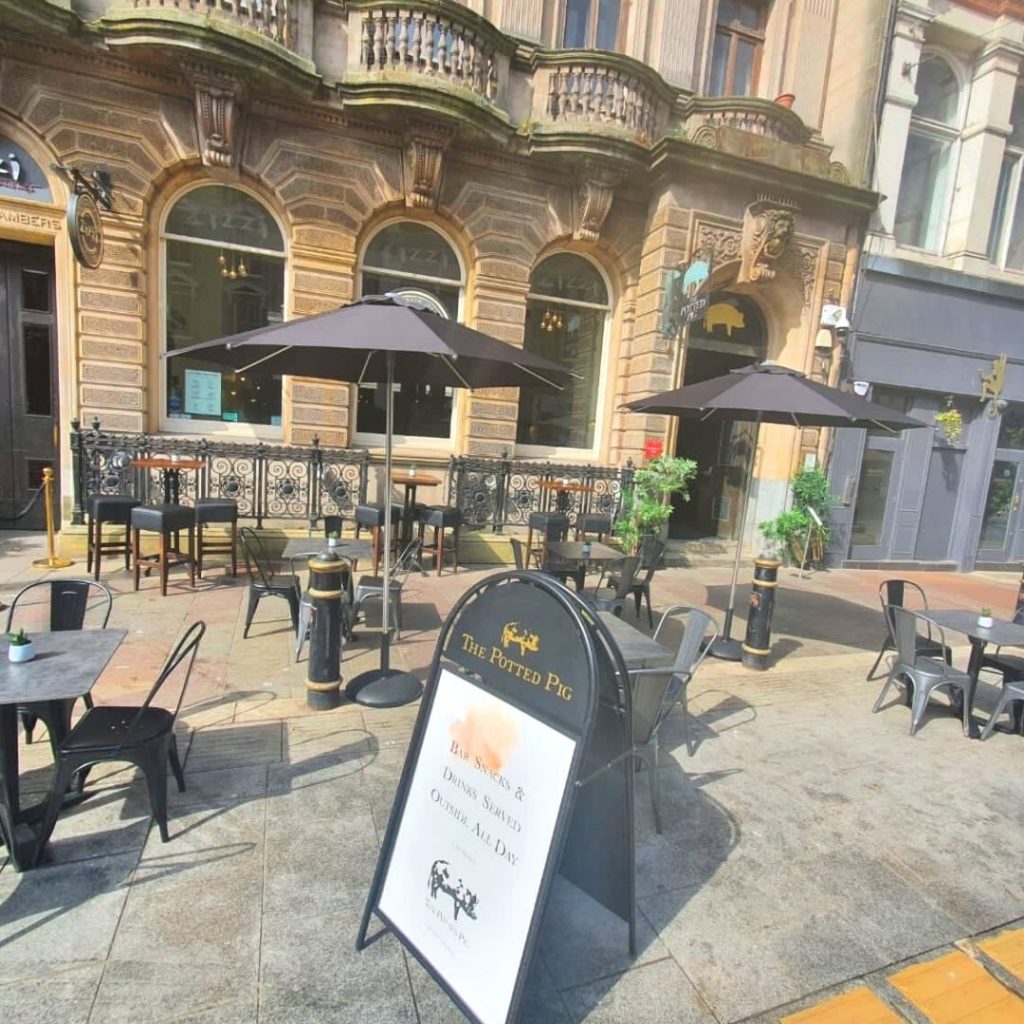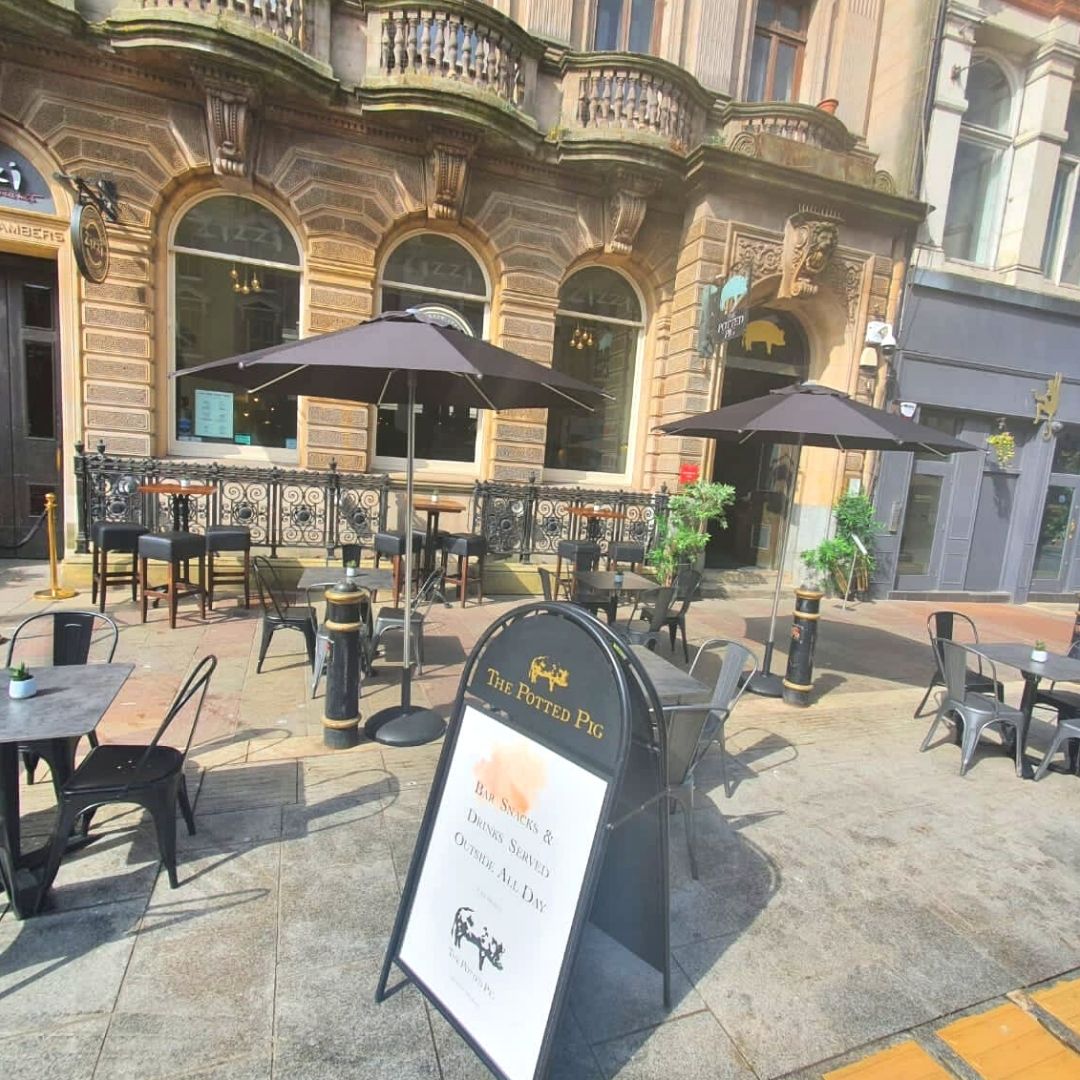 Cardiff Harbor:
The harbor is a polished district crammed with restaurants, bars, and boutiques. It was once one of the world's busiest ports. From here, you can take a spin around the harbor with Open Boat Tours.
How To Get To Cardiff:
By car: 2:45 to 3 hour drive
By train: Trains depart from the Paddington Station and take about 2:15.
By bus: 3:30
By guided tour: From Cardiff, you can book a guided day tour to visit stunning castles all across south Wales.
Getting around: You can take the hop on hop off bus in Cardiff.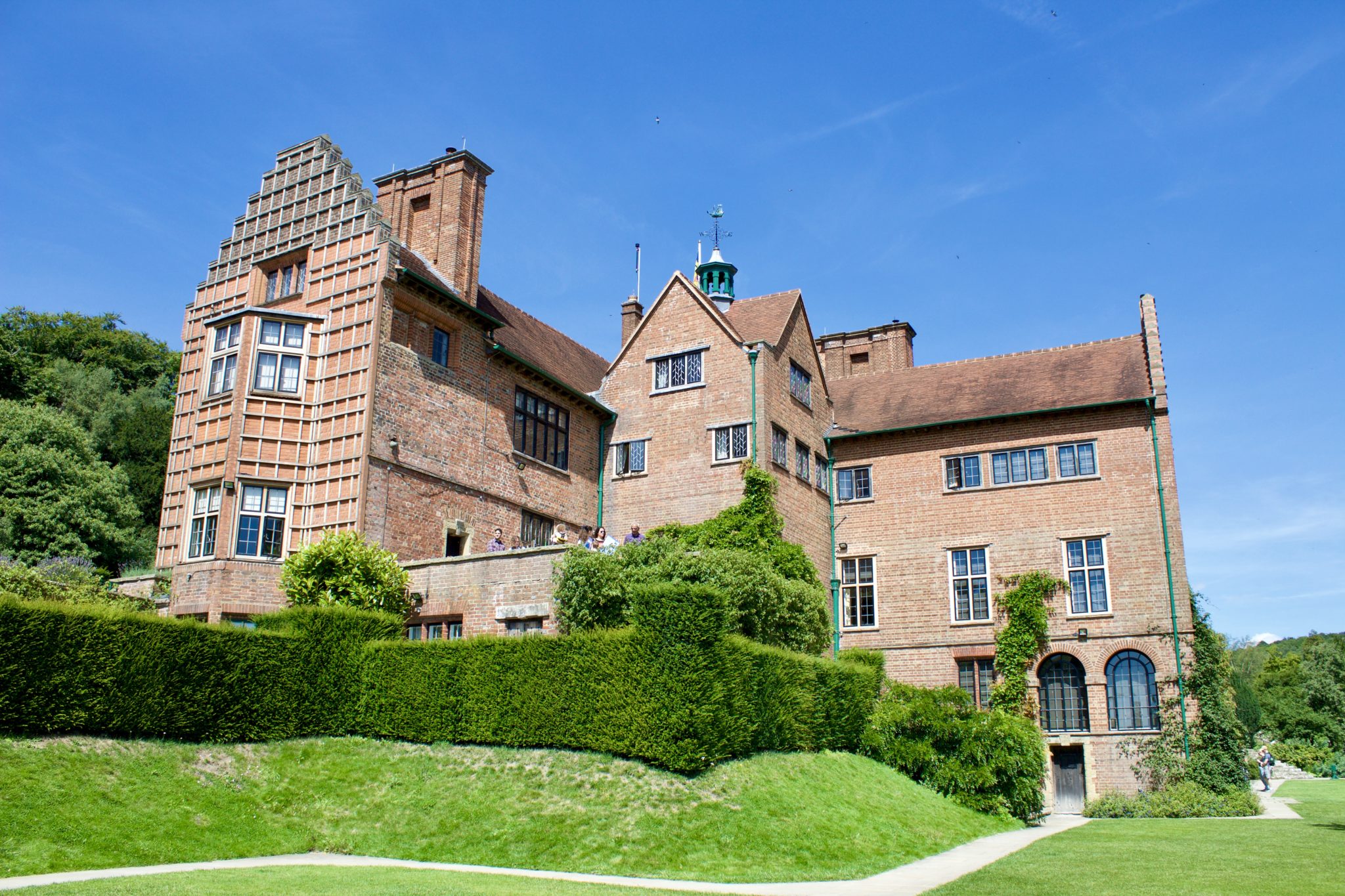 9. Chartwell House
Chartwell House is where Winston Churchill grew up. Just outside London, it was Churchill's country seatfor over four decades. The house was Churchill's sanctuary from the tumultuous political battles in London.
Chartwell House isn't a grand home. Though Churchill could ill afford it, he did try to gussy up the place. Churchill almost lost the house twice because he was broke.
His friends bought the house and presented it to the UK's National Trust. Upon Churchill's death, it opened to the public as a museum.
You can see five rooms where Churchill lived — the dining room, the library, the drawing room, his wife Clementine's bedroom, and Winston's study. Three other rooms are filled with Churchill memorabilia. You can also check out his painting studio.
How To Get To Chartwell House:
By car: 50-55 minute drive
By train: Trains leave from Paddington and Charing Cross stations and take about 2.5 hours.
By guided tour: You can book a guided day trip tour to Chartwell House from London.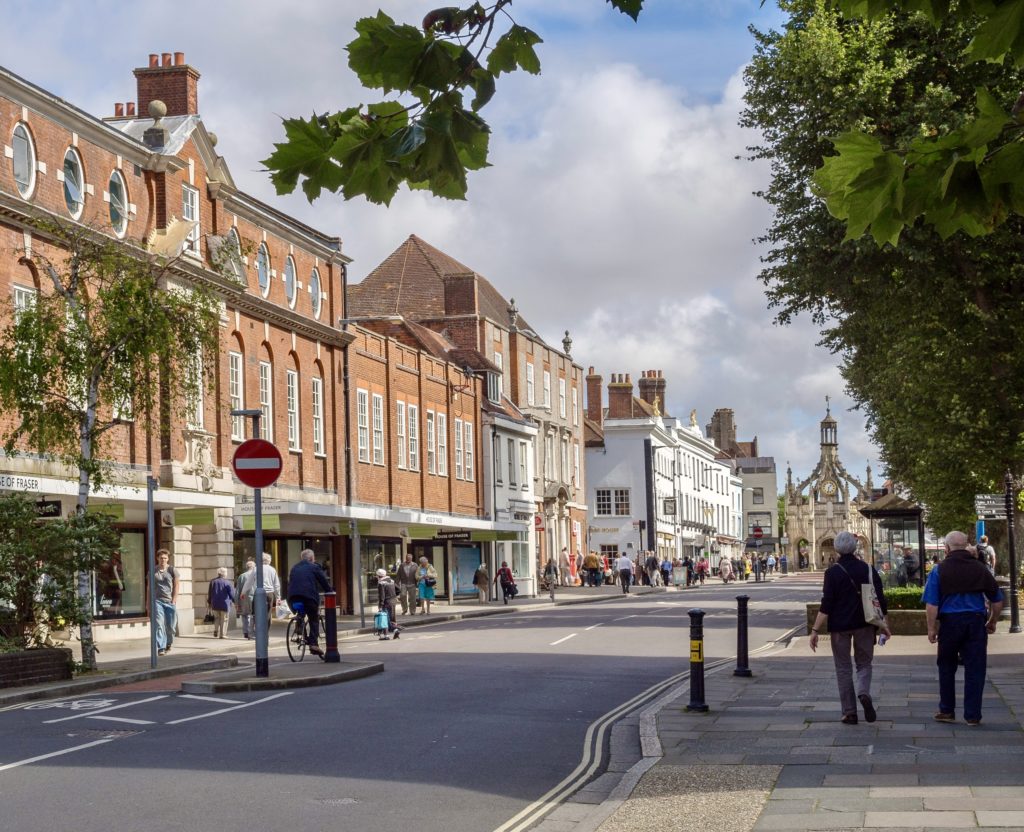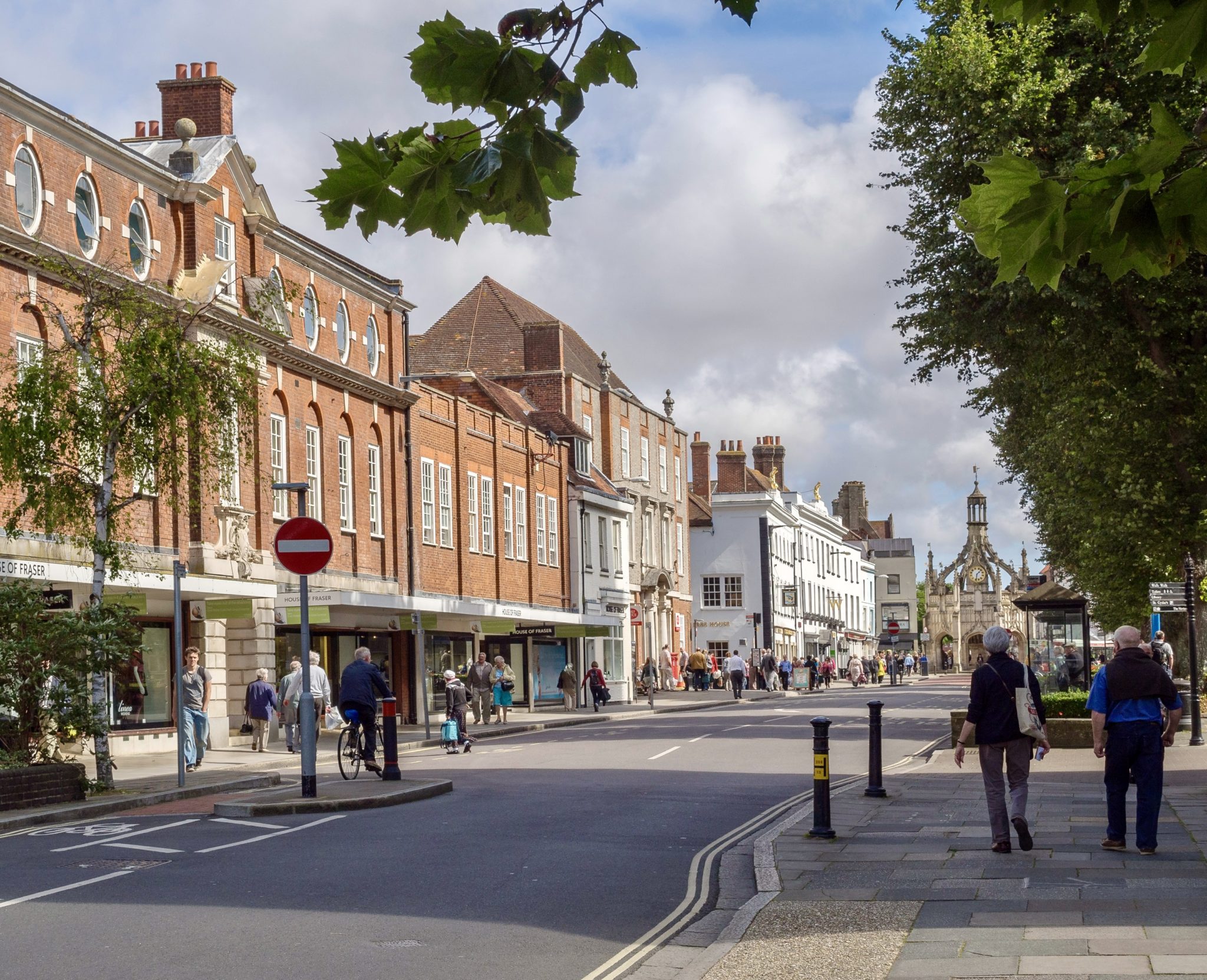 10. Chichester
Chichester is a tiny town 80 miles from London. It's famous for having once been inhabited by the Romans. If you're a history buff or ruin luster, pencil in Chichester on your London day trip bucket list.
What To Do In Chichester:
Chichester Cathedral: The top attraction in Chichester is its cathedral, which is a mix of Romanesque and Gothic architecture. Consecrated in 1108, it's home to both medieval and contemporary masterpieces, including a Chagall painting.
City Walls: Rome built walls to fortify the town against attack. You can take a 1.5 mile walk on the walls. 3/4 of the original walls are preserved.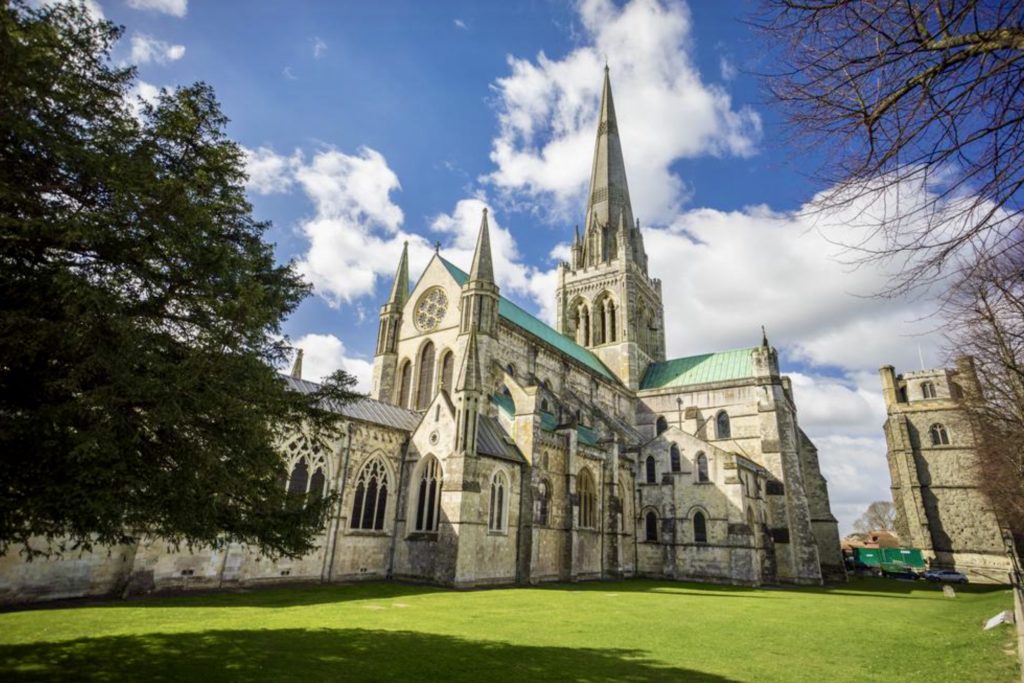 Novium Museum: Opened in 2012, this award winning museum stands on what was once Chichester's ancient Roman baths. You can tour the bath ruins and examine Roman artifacts from mosaic to coins.
Fishbourne Roman Palace: Chichester is home to the largest Roman residence unearthed in England. The palace was excavated in the 1960s and is about the size of Nero's Golden Palace in Rome. You'll see some very beautiful mosaics.
Chichester Cross: The Chichester Cross stands in a spot where two Roman roads once converged. It's a stunning Perpendicular Gothic monument dating from the 15th century. It's an octagon and each side has a pointy Gothic portal.
How To Get To Chichester:
By car: 1:30 drive
By train: A direct train leaves from Victoria Station and takes 1:10.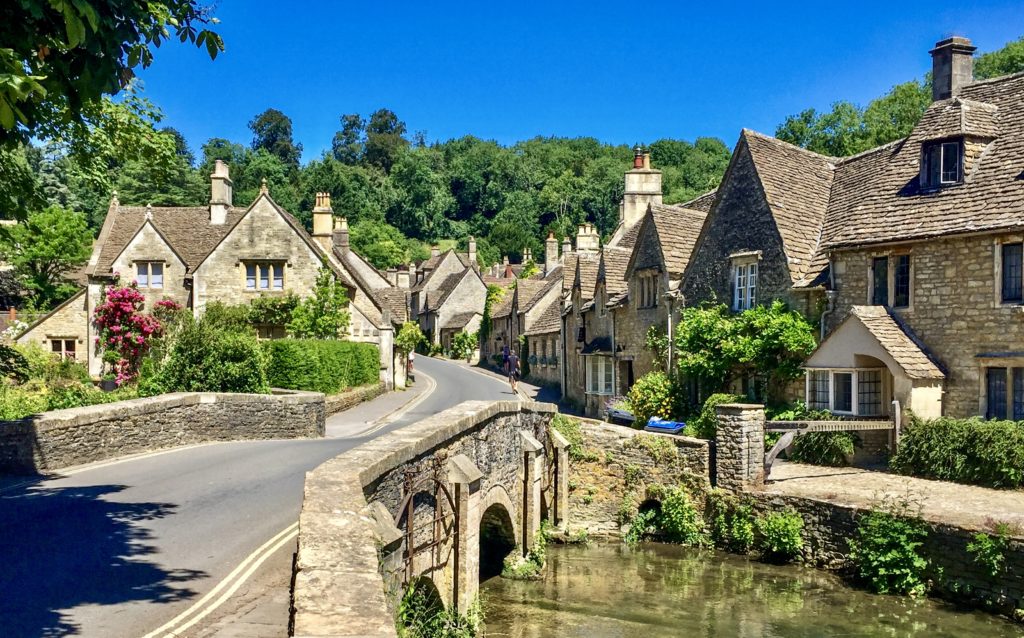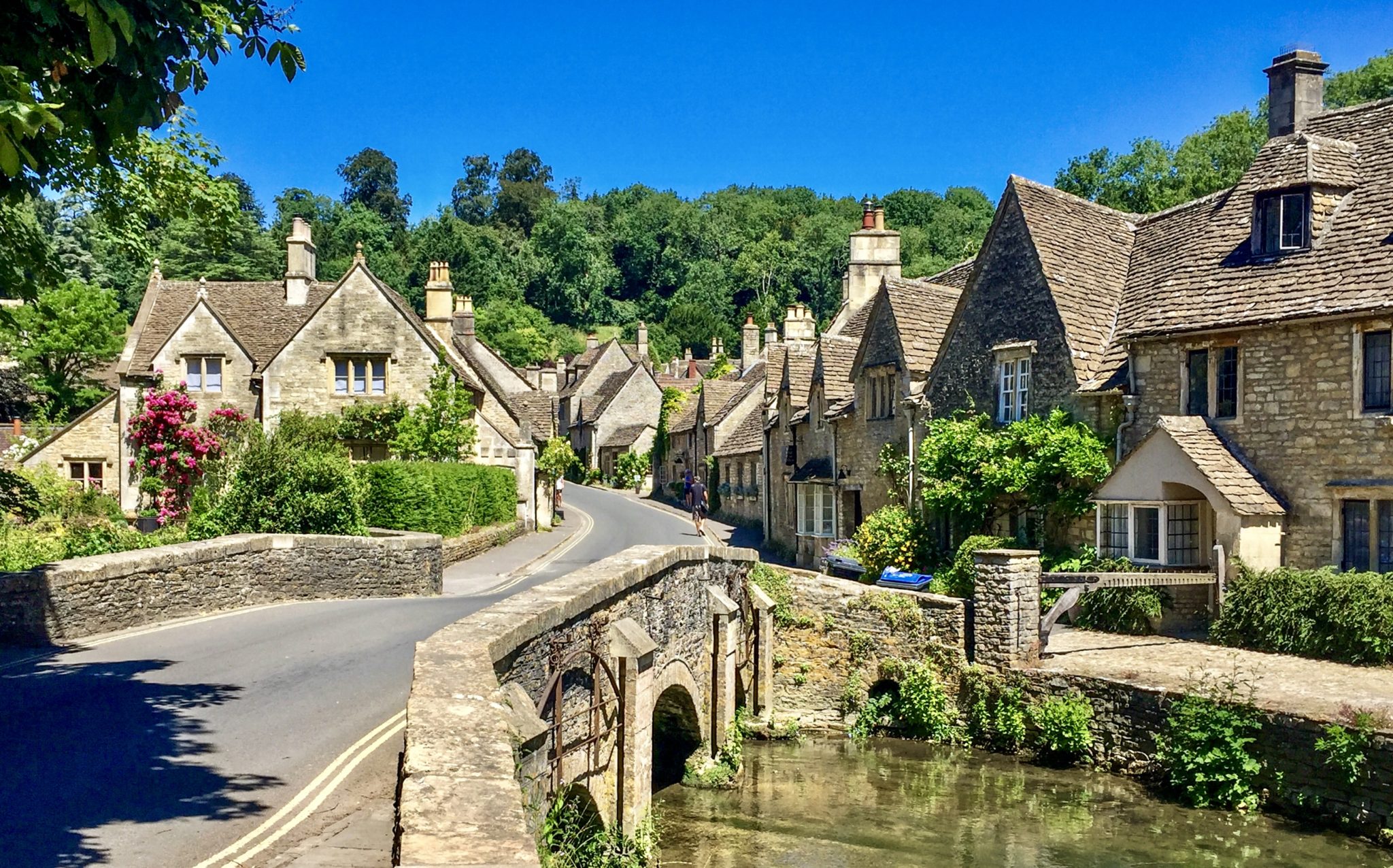 11. Cotswolds
In the Cotswolds, little has changed since the Middle Ages. It's a romantic destination with a beguiling mix of nature and history. This area has tumbling hills, chocolate box villages, and sauthentic thatched cottages.
What To Do In The Cotswolds:
Bibury: This is a cute town on the River Coln. It's home to one of the Cotswolds most famous streets, Arlington Row. It's chock full of appealingly crooked brick cottages.
Castle Combe: This town is an adorable jigsaw‐puzzle painter's vision of an English village. Laid out in a valley alongside a rushing stream, the town has slate roofed stone cottages and picturesque shop signs.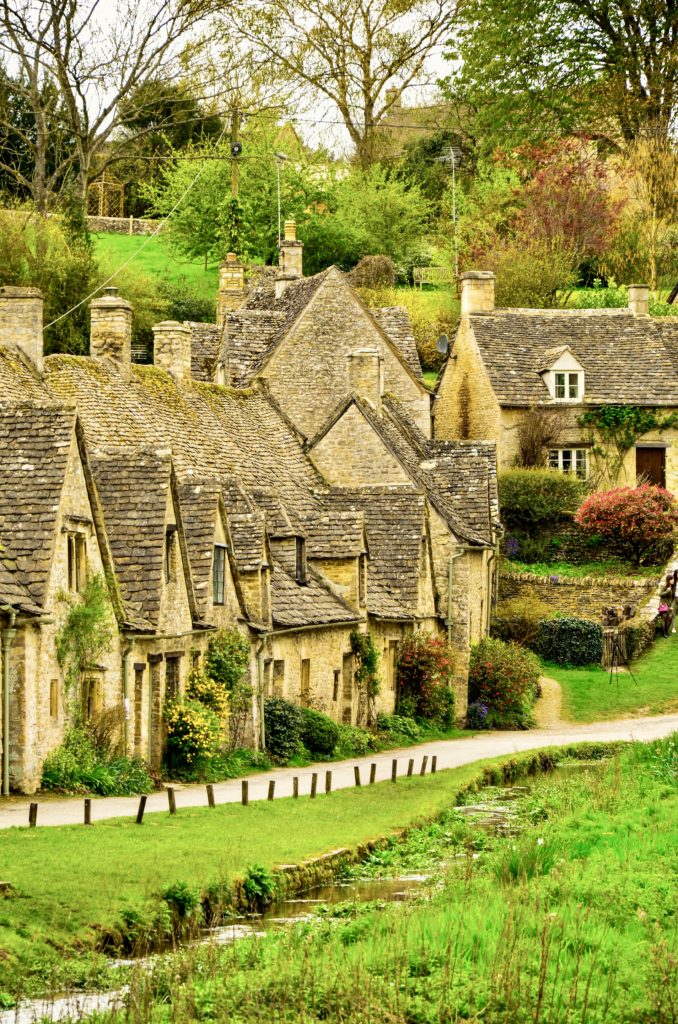 Chipping Camden: This is yet another town with charming thatched roof cottages. You can admire the local wool church, the 17th century marketplace, and take a ramble down Cotswold Way.
Bourton-on-the-Water: This adorable village is quintessential "ye old England." There are loads of historic buildings and tiny bridges cross the water.
How To Get To Cotswolds:
12. Deal
Deal is a charming little town that's often overlooked but definitely worth a visit in Kent. It has all the makings of a perfect day trip from London, with its charming rows of Georgian townhouses, unique boutiques, and relaxed seaside vibe.
Although there isn't a ton of things to do in Deal, that's part of its charm. It's a great place to simply unwind, stroll around, and explore the cute vintage shops and galleries.
One of the main attractions is Deal Castle, a Tudor-style castle built by Henry VIII as part of his ambitious coastal fortification project.
Deal has been dubbed the "new Shoreditch" due to its trendy and quirky art galleries and a thriving foodie scene.
Don't miss out on the town's golden sand beach and fresh seafood. It's a pristine and peaceful beach dotted with wooden fishing boats, and definitely worth a visit.
How To Get To Deal:
By car: It's a 1.5 hour drive from London to Deal.
By train: From St. Pancras Station, it's a 1:25 ride on the high speed train.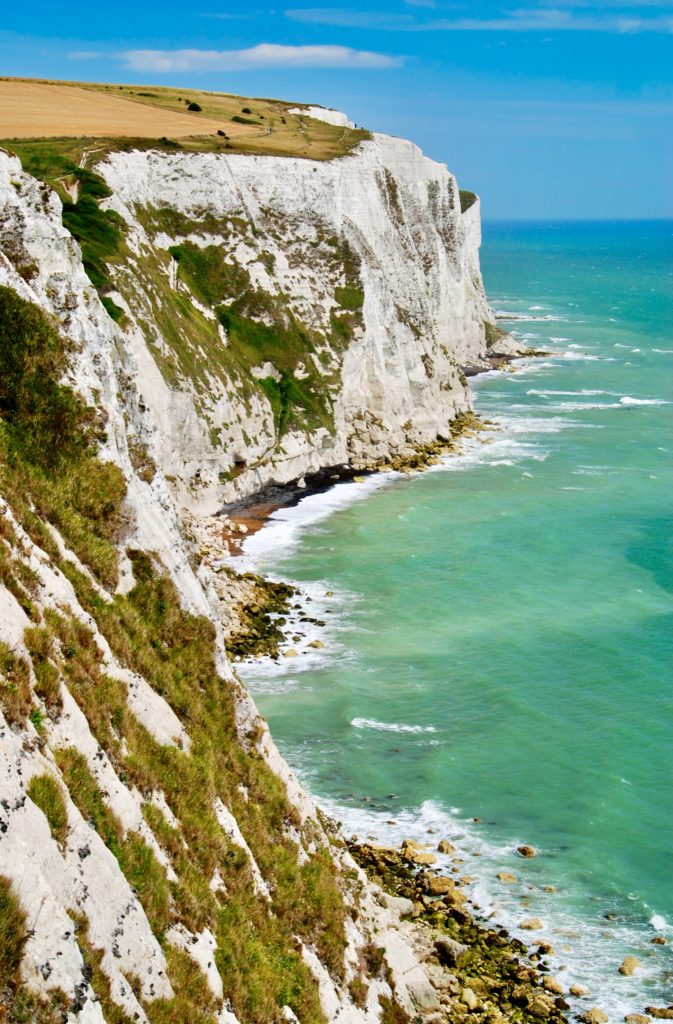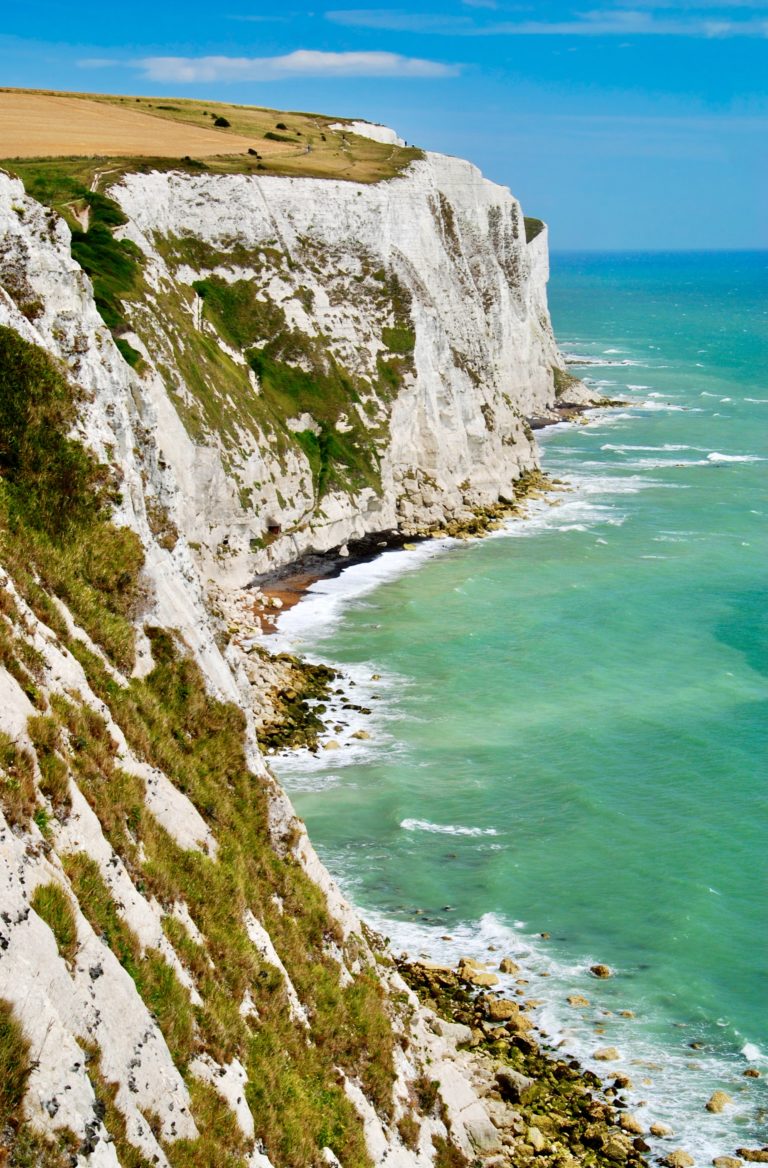 13. Dover
The port town of Dover has been around since Roman times. It's home to the famous White Cliffs that welcome you to England.
Dover itself isn't the prettiest town. But its landscapes and attractions will keep you busy. The ocean breeze on your face is worth making the day trip from London.
What To Do In Dover:
Dover Castle: This is England's largest castle. The castle dates from the 12th century during the reign of Henry II. Henry VII later remodeled it for artillery warfare. You can visit Dover Castle with the English Heritage Pass.
White Cliffs:
The famous towering white chalk cliffs are Dover's trademark. They stretch for 8 miles along Dover's coastline.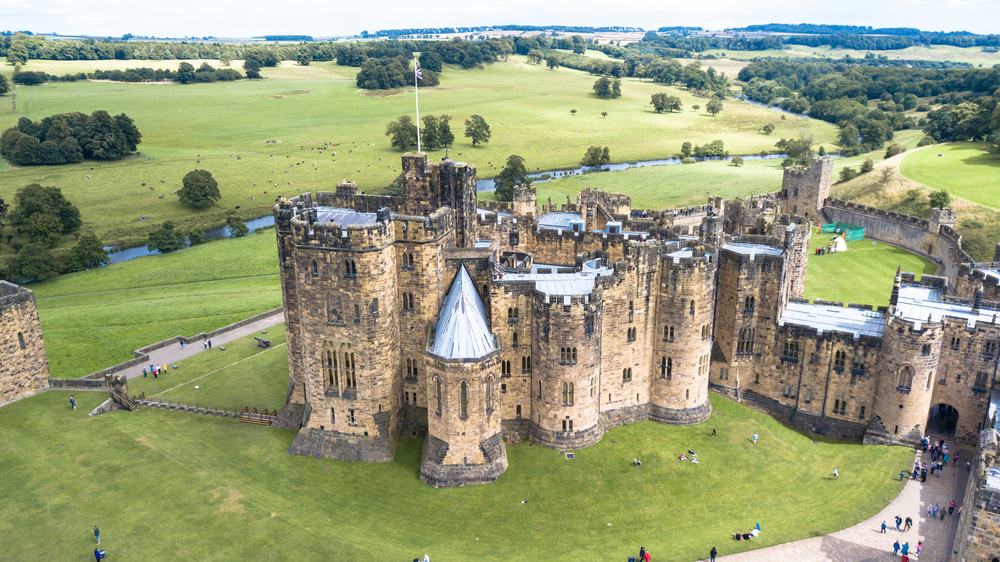 If you're feeling ambitious, you can walk the entire stretch to the picturesque town of Deal. Alternatively, you can book a guided local tour to see the most photogenic spots.
St. Margaret's Bay: This bay is at the midway point of the stretch of cliffs from Dover to Deal. You can reach the bay by descending a not so easy to find set of stairs. You'll have beautiful views of the cliffs.
South Foreland Lighthouse: This is a castle-like lighthouse near St. Margaret's Bay. First lit in 1843, it's a National Trust Monument.
Dover Museum: If you need a dose of culture, head to the town museum. It's housed in a beautiful arcaded building. It displays art and archaeological artifacts. The highlight is a perfectly preserved Bronze Age boat.
Here's my complete guide to taking a Dover day trip from London.
How To Get To Dover:
By car: 2 hour drive
By train: Trains depart from London's St. Pancreas Station and take 1 hour.
By guided tour: You can visit Dover and Canterbury on a

10 hour guided day trip from London

.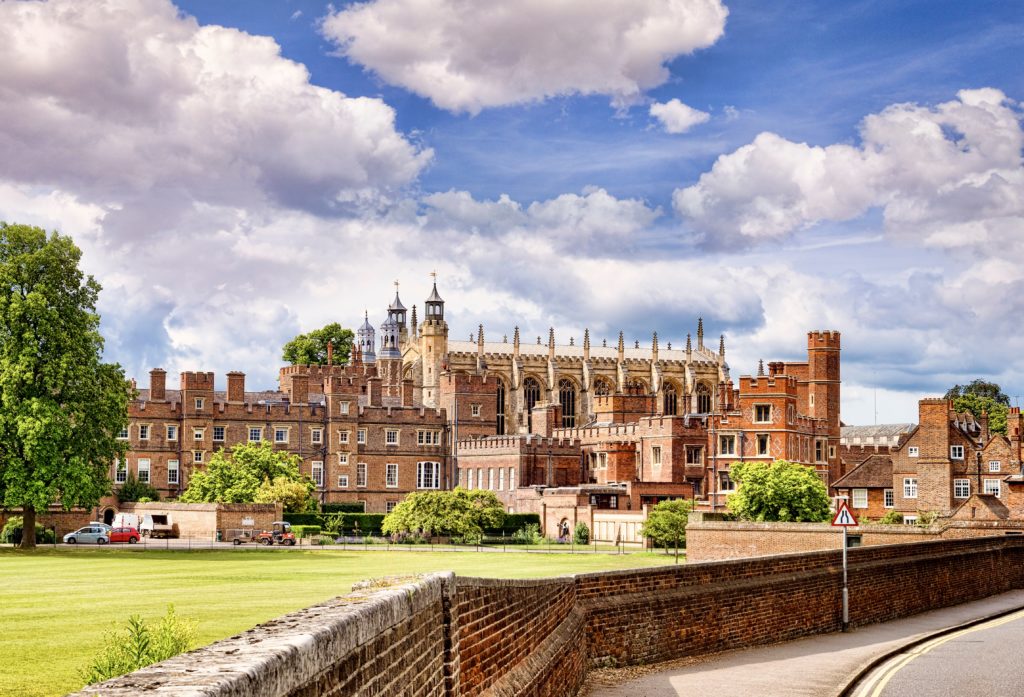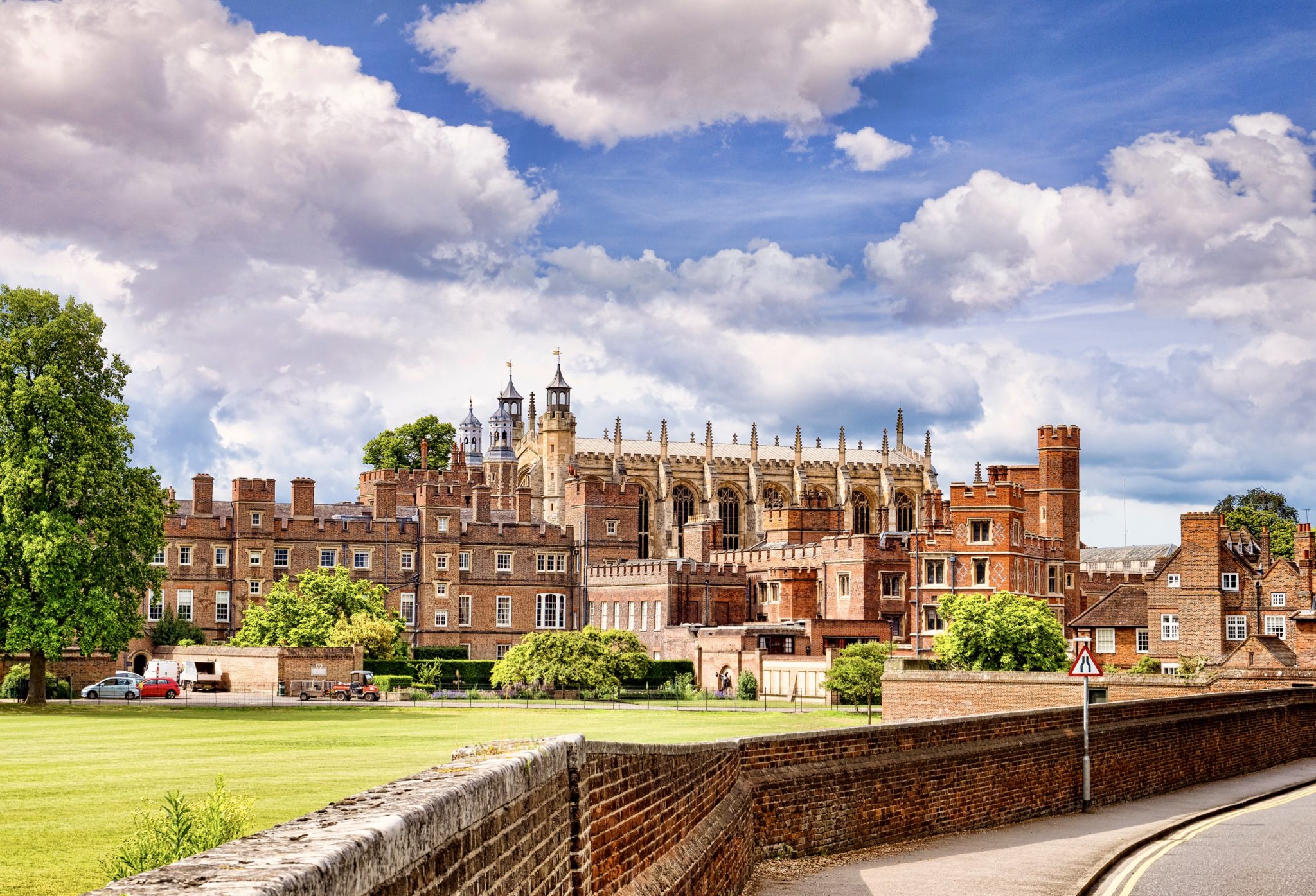 14. Eton
The lovely town of Eton is right next door to Windsor. You could combine both destinations on a day trip from London.
Eton is home to Eton College, an exclusive boarding school in England. It's a magnificent example of Perpendicular Gothic architecture.
Founded in 1440 by Henry VI, the college is known as the "nursery of Englands gentlemen" and is the world's most famous public (i.e., private school. Most recently, Princes William and Harry attended Eton.
All boys wear a uniform of a black tailcoat (or morning coat) and waistcoat, with pin striped trousers and a white tie. This uniform is not for special occasions; it's worn at all times.
You can only visit the college by making a reservation for a guided heritage tour. The tour covers School Yard, College Chapel, Upper School, Lower School, and the Museum of Eton Life.
You should also wander down Eton High Street. It will charm the pants off you with its authentic buildings and old world feel.
You can also take a 1 hour duck boat cruise for classic views of Eton, Eton College, and Windsor Castle.
How To Get To Eton:
By car: 30+ minute drive
By foot: Eton is only a 15-20 minute walk from Windsor.
By train: It's a little over an hour train ride from London's Waterloo Station.
By guided tour: You can book a guided student tour in Eton on a day trip from London that also includes Windsor and Oxford.
15. Hampton Court Palace
Hampton Court Palace is truly a gem of medieval architecture and an iconic destination for history lovers. This palace is filled with great art and has a delightfully scandalous history that you won't want to miss.
The palace was once the favored playground and leisure complex of England's notorious King Henry VIII, as well as other infamous characters from English history.
What makes Hampton Court Palace so unique is that it's really two palaces combined into one. The Gothic Palace of Cardinal Wolsey and Henry VIII was merged with the Baroque Palace built by the Stuart monarchs William and Mary.
Don't miss the highlights of the palace tour, including the magnificent Great Hall, the beautiful Chapel, the opulent State Rooms, the impressive Cumberland Art Gallery, and the meticulously manicured gardens.
Here's my complete guide to visiting Hampton Court Palace. You can pre-book a skip the line ticket to the palace. You also get free admission with London Pass.
How To Get To Hampton Court Palace:
By car: 50-55 minutes drive
By train: Trains run from Waterloo Station every 30 minutes and take 40 minutes.
By guided tour: Click here for a skip the line entrance ticket to Hampton Court Palace. You can book a guided day trip tour from London. Alternatively, if you're traveling on your own, you can book a 3 hour guided tour of the palace.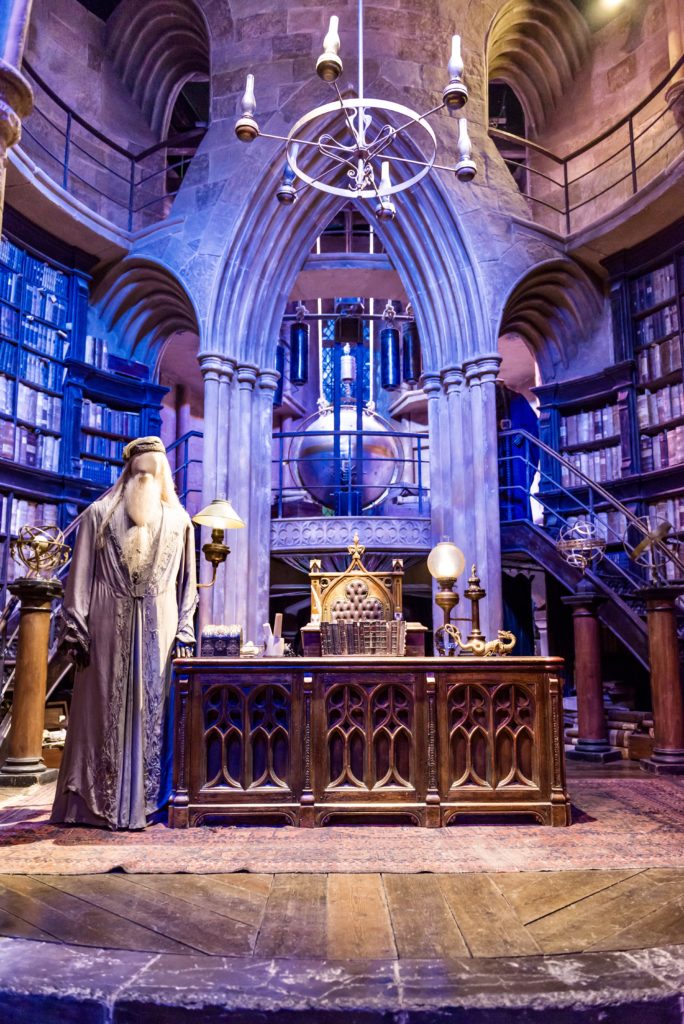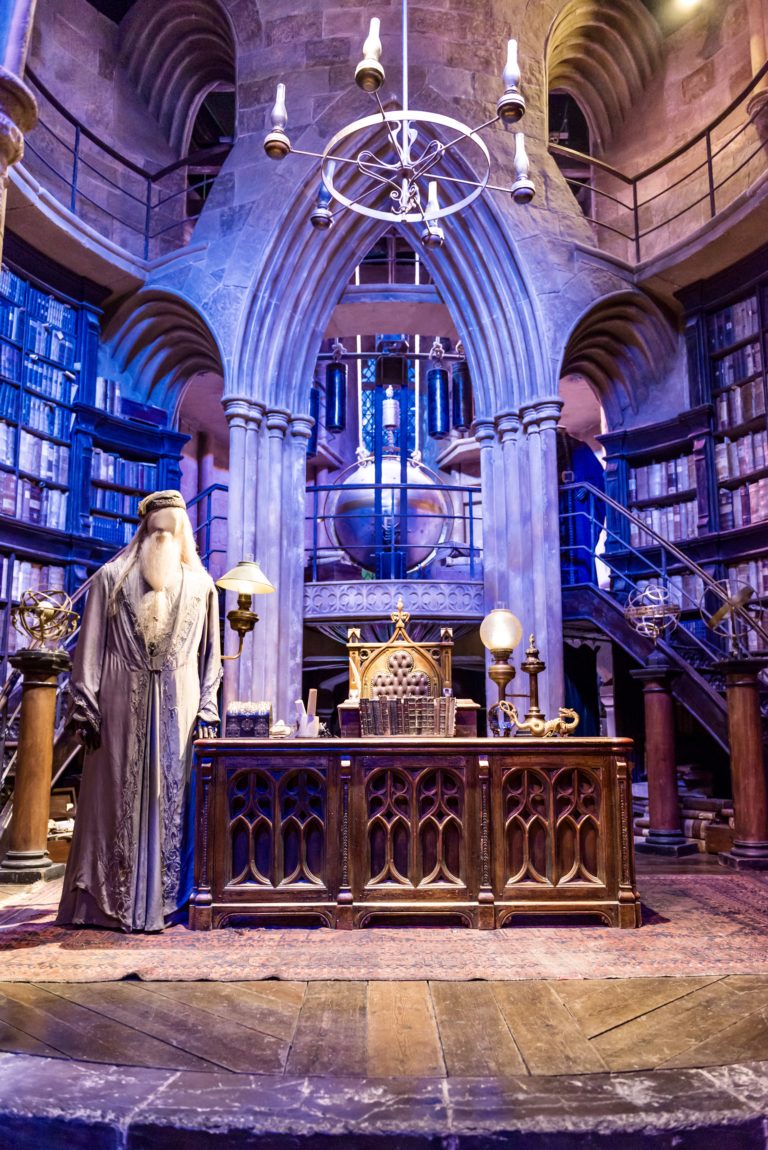 16. Harry Potter Warner Bros Studio
The Warner Bros. Studio is a highly sought-after destination for a day trip from London, especially for Harry Potter fans.
This is where the majority of the eight Harry Potter movies were filmed. Once filming was completed, Warner Bros. transformed the property into an exciting tourist attraction.
For Potterheads, the studio is a magical place. You'll get to see an impressive collection of iconic sets, props, and costumes that were used in the movies.
Among the highlights are the original set pieces such as the Great Hall, Diagon Alley, the Forbidden Forest, and a model of Hogwarts. You can even grab a butterbeer to sip on at the onsite cafe.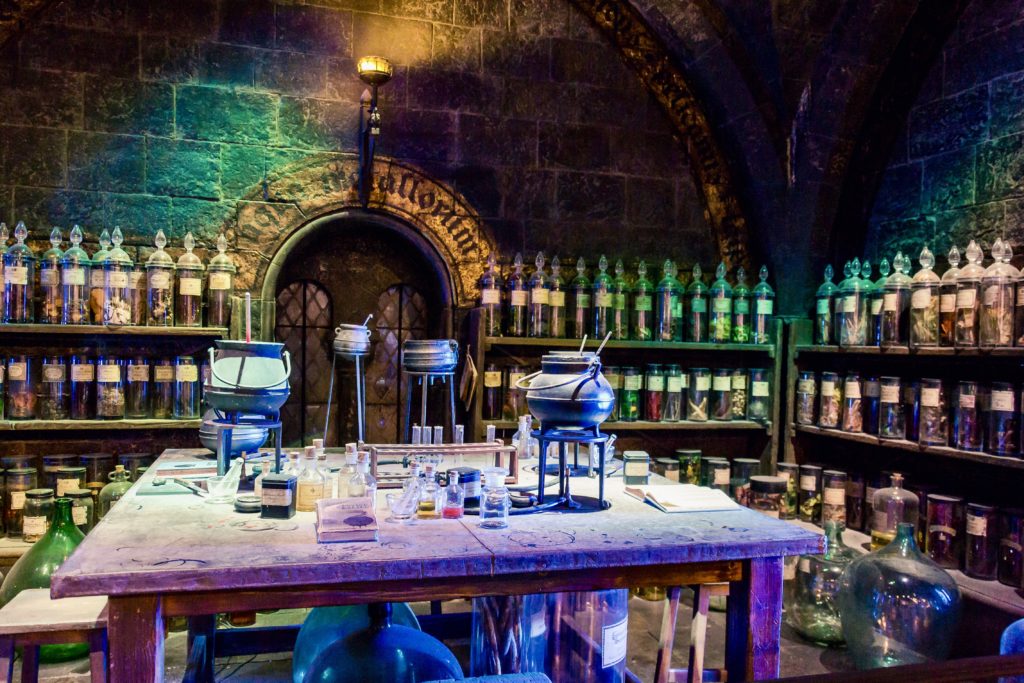 Click here to pre-book a ticket the the studio. They're expensive, but it's an incredibly unique experience.
You can't purchase a ticket onsite. You have to do it online.
How To Get To Harry Potter Studio:
By car: 30 minute drive and parking is free of charge.
By train: From London's Euston Station, you arrive in Watford Junction. The Harry Potter shuttle bus runs every 20 minutes and is a 15 minute ride.
By bus: The bus from Victoria Coach Station takes about 1.5 hours.
By guided tour: On a day trip from London, you can book a 7 hour guided tour from London or a private 7 hour day trip tour from London.
READ: Guide To Harry Potter Sites In London
17. Hastings
Like Deal, Hastings has fast become one of southeast England's hippest seaside resorts.
Hastings used to be a scrappy mix of unrestored 19th century homes and amusement rides. But, in recent years, the town's been gentrified and is an artists' haven, with painters heading to the coast for the incredible light.
The old town has some half timbered homes and Georgian facades. Hastings Contemporary is a respected public art museum. There are also antique shops and quirky boutiques.
Hastings got its name from the historic Battle of Hastings, when William Hastings defeated a pretender to the throne in 1066. The battlefield and the ruins of its abbey are just 15 minutes down the road from Hastings.
How To Get To Hastings:
By car: 1.5 hour drive
By train: 1:45 train ride from London's Charing Cross Station

18. Hatfield House
If you're a fan of the Tudor era, Hatfield House is the perfect day trip from London, both for its charm and its royal connections. Those who have a special interest in Queen Elizabeth I, the Virgin Queen, will find the early 17th century Jacobean palace particularly enchanting.
For more than 400 years, the magnificent country estate has been the home of the Cecils, one of England's most politically influential families. Elizabeth spent much of her childhood in Hatfield's "Old Palace." The newer mansion, though still old, is adorned with some of her most famous portraits, alongside tapestries.
Hatfield is so elegant that it has served as a filming location for many movies. The latest was The Favourite, a darkly comic period piece about the life of the ailing Queen Anne.
For more information, here's my complete guide to Hatfield House.
How To Get To Hatfield House: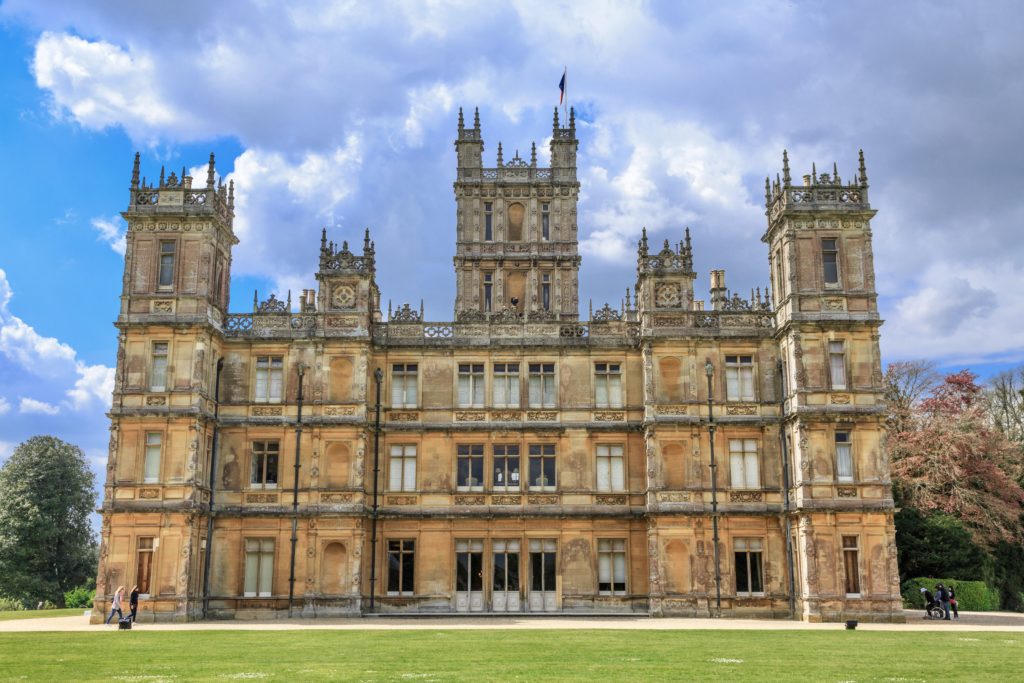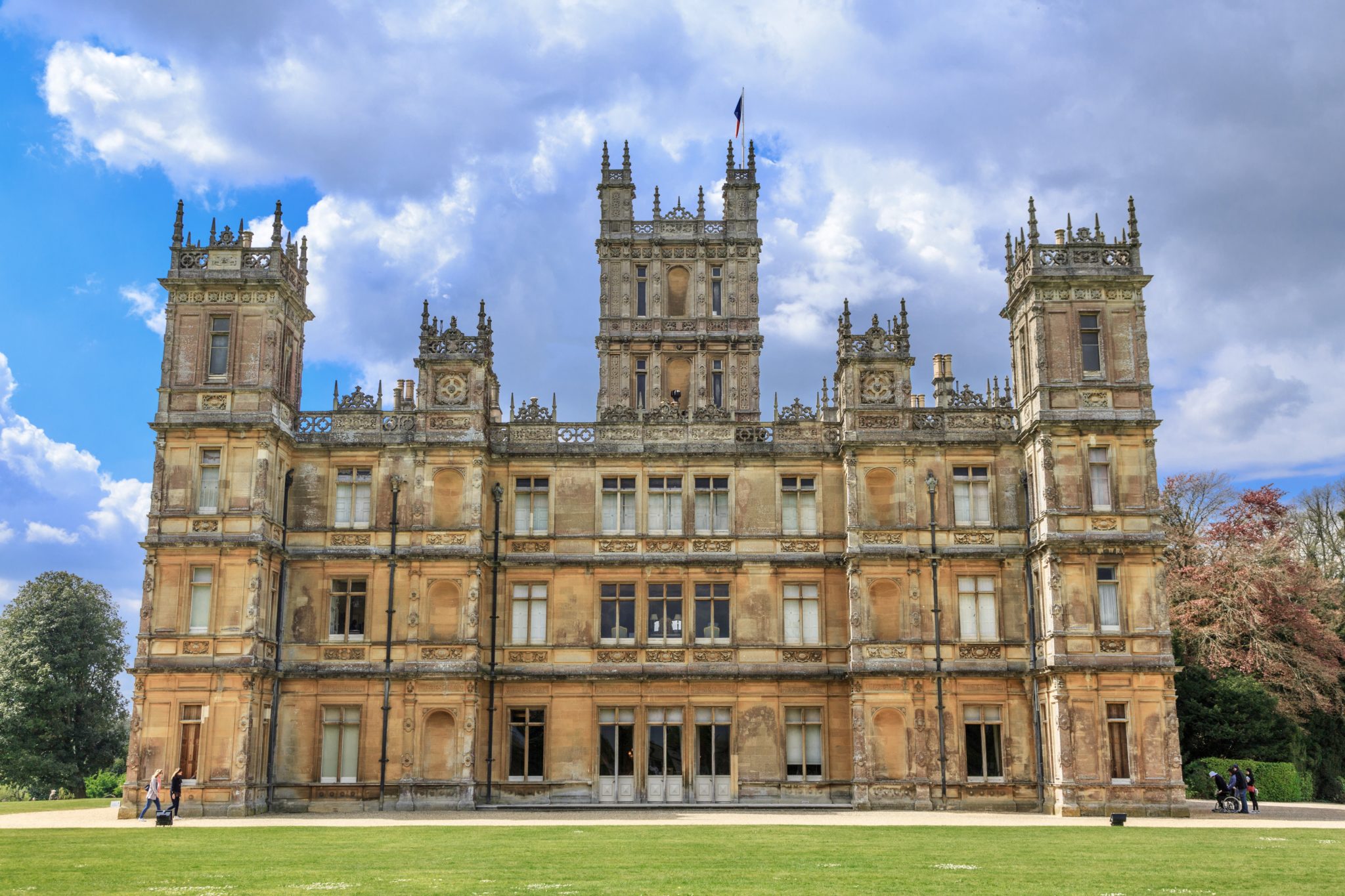 19. Highclere Castle
Highclere Castle is located just 50 minutes away from Windsor Castle, so it's definitely possible to visit both places in a day trip from London.
The castle is the impressive residence of the Earl of Carnarvon and boasts a whopping 300 rooms. However, it's perhaps best known as the filming location for the beloved British TV series, Downton Abbey.
Originally constructed in 1679, the castle underwent a remodel in the 1840s by the same architect who designed London's Houses of Parliament. The gardens, designed by famous landscape architect Capability Brown, are also worth exploring.
If you're planning a visit, make sure to check the castle's website for seasonal opening dates. The State Rooms and the Egyptian Exhibition are must-sees during your visit, as well as the beautiful gardens.
How To Get To Highclere Castle:
By car: 1.5-2 hour drive
By train: Trains run from Paddington Station and take 1 hour. They arrive in Newbury, from which you can taxi 5 miles to the castle.
By bus: You can catch a bus from London Victoria Station to Newbury.
By guided tour:
This guided day trip from London includes a visit to Highclere Castle and other Downton Abbey filming locations. You can also book a guided day trip from London that combines Highclere and Stonehenge.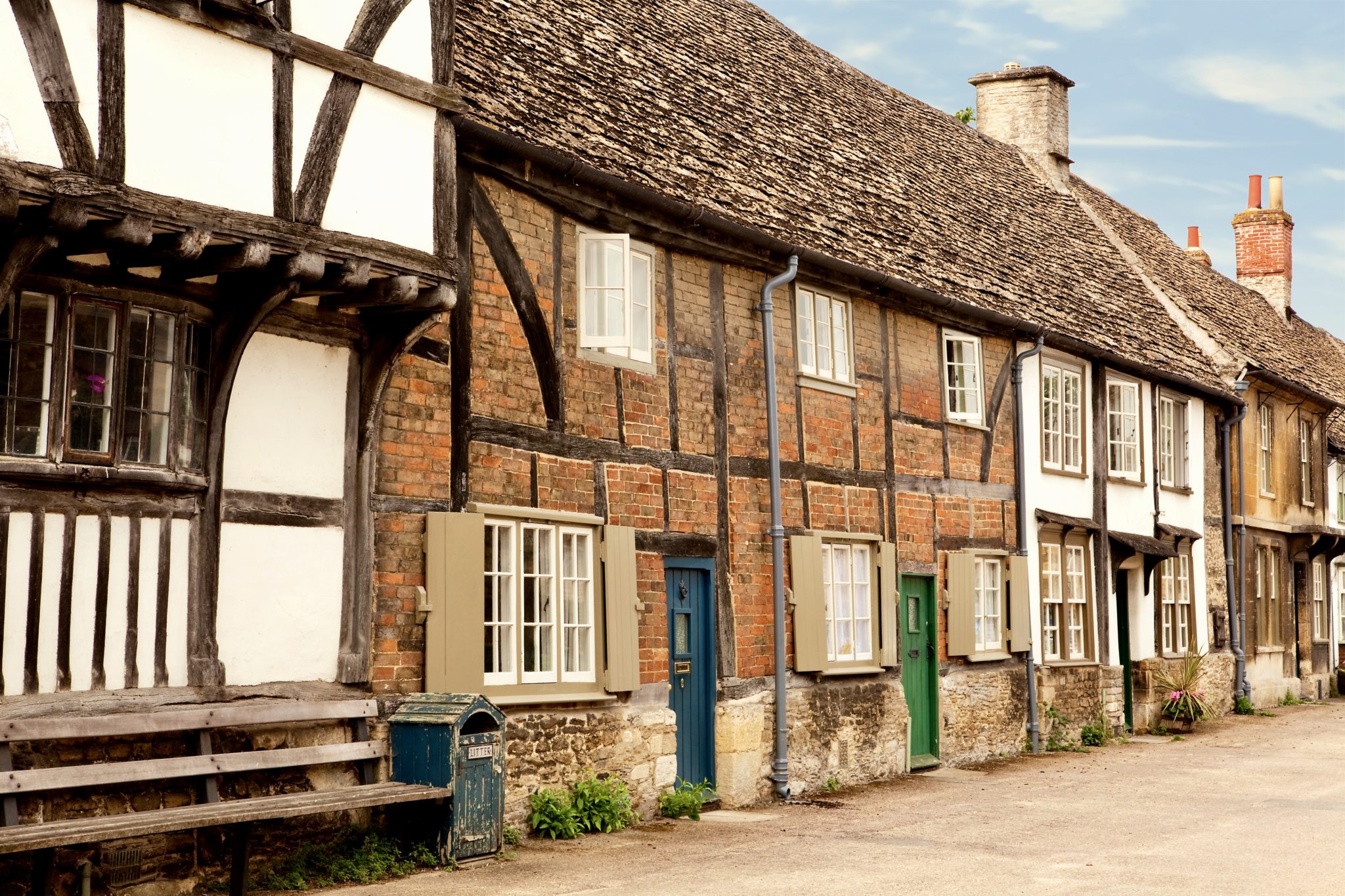 20. Lacock
Lacock is a quintessential trapped-in-time English village. You might never want to leave it's so quaint and cozy.
The bite-sized townscape is dotted with centuries old half timber houses and stone cottages. Lush flower boxes overflow with colorful blooms and climbing roses decorate brick facades.
All this beauty attracted filmmakers. Three of the eight Harry Potter films used Lacock as a filming location, making the idyllic town a pilgrimage site for die hard Potterheads.
Lacock is home to Lily and James Potter's House in Godric's Hollow. Lacock Abbey's scenic cloisters doubled as Hogwarts and Snape's Potions Classroom in several films.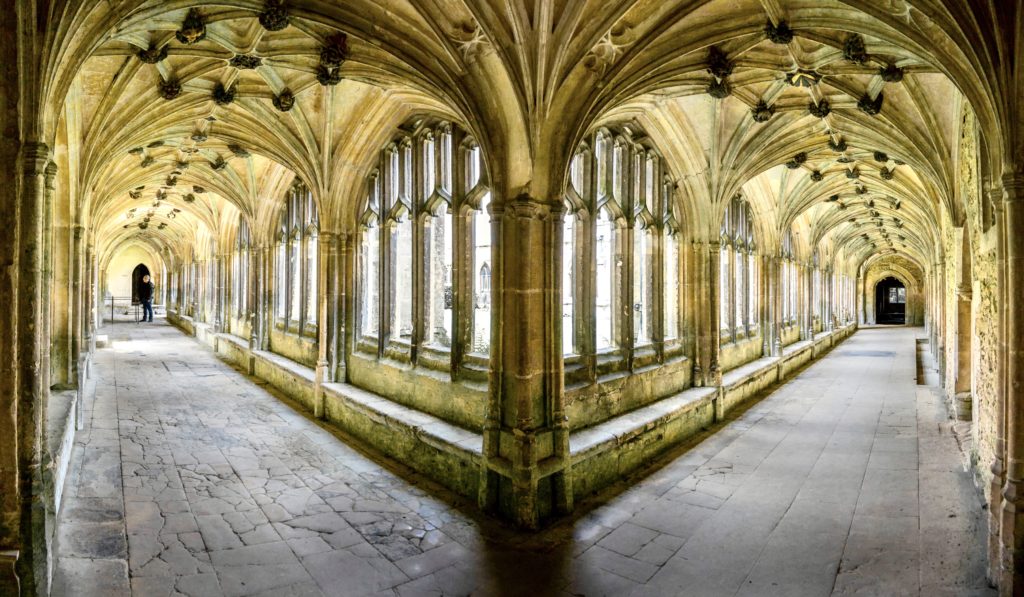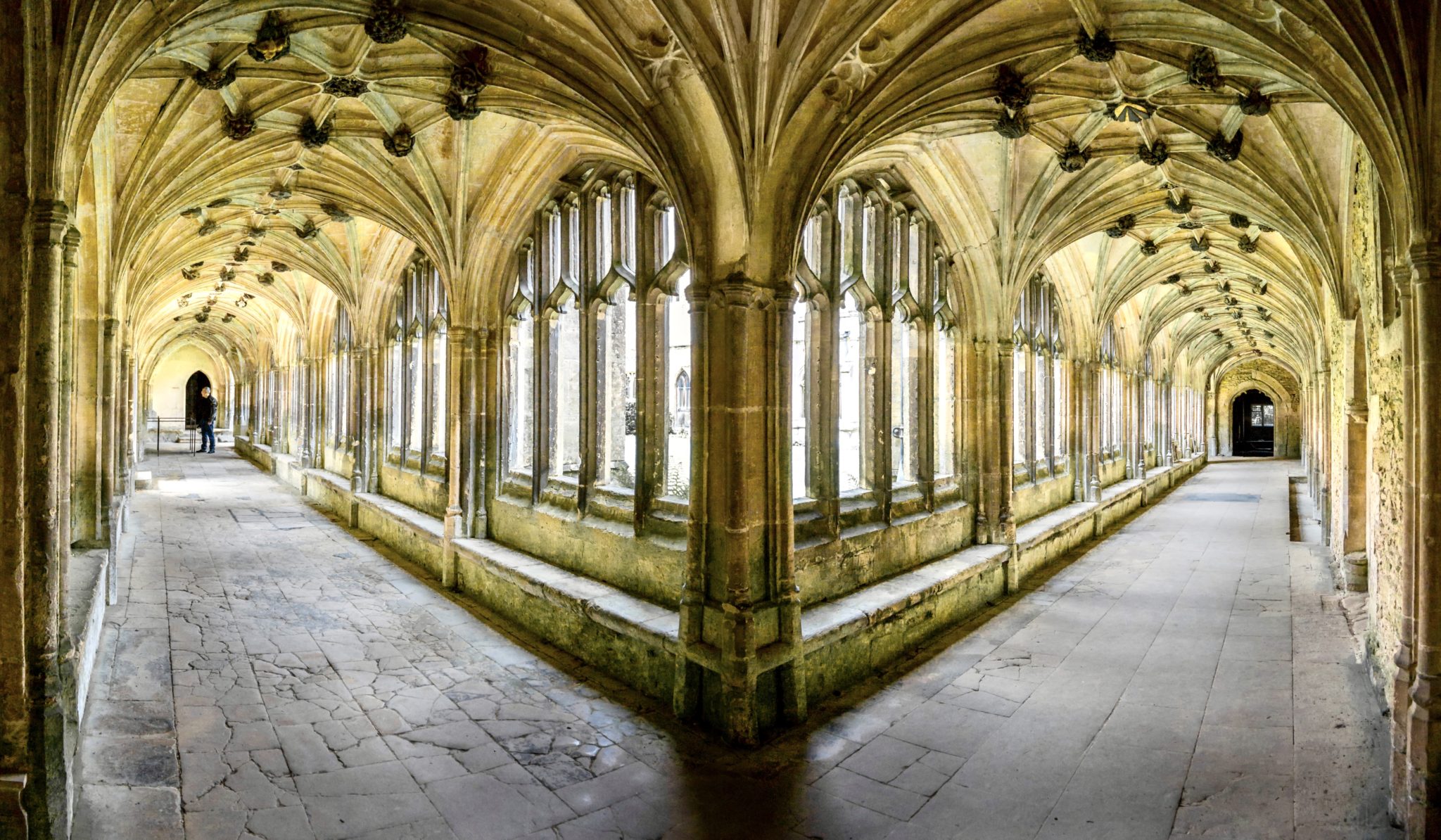 Be sure to stroll down historic High Street. It's a eye catching hodgepodge of historic half timbered cottages and shops. You may recognize this street from the movie Downton Abbey.
Fox Talbot Museum is included in your Abbey ticket. You can learn about the history of photography.
And don't forgot to pop into St. Cyriac Church. It's a small but interesting 14th century country church at the end of a picturesque street
How To Get To Lacock:
By car: 1:50 drive
By train: From London's Paddington Station, it's a 2:15 train ride to Lacock.
By guided tour: You can book an

11 hour small group tour

from London that also includes Bath and Stonehenge.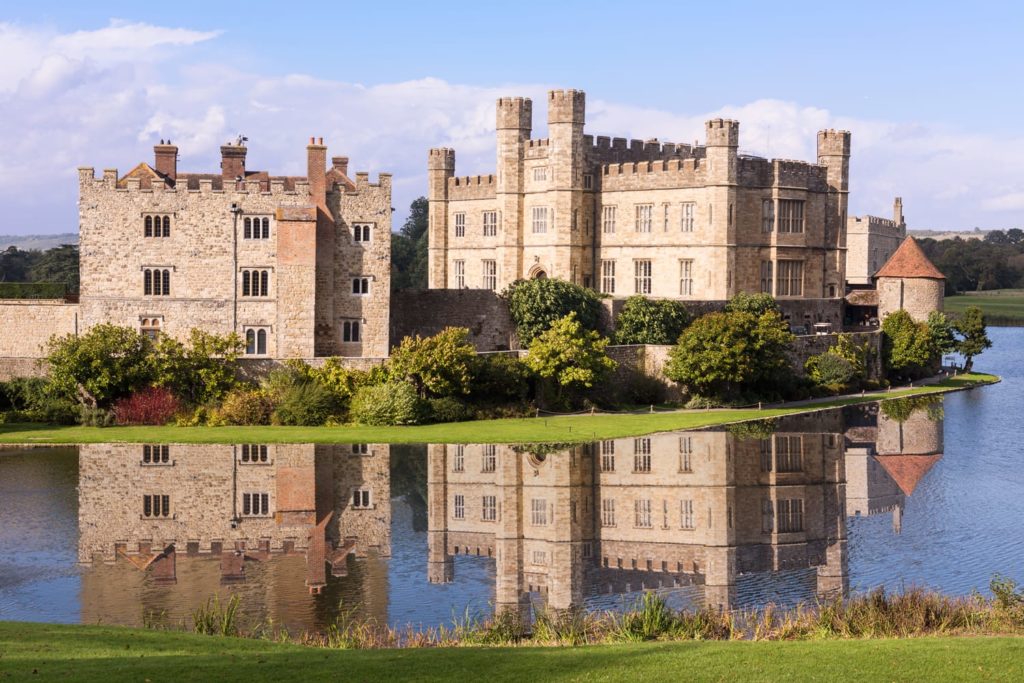 21. Leeds Castle
Leeds Castle is one of theoldest castles in Britain, with a lush backdrop of Kent's wooded countryside. And guess what? It's famous for having rare black swans swimming in its lake.
Built back in the 11th century during Saxon times, Leeds Castle is actually older than the more well-known Windsor Castle. It's got interesting features like outer bastions and ramparts with crenellations. And let's not forget the Gloriette, the royal apartments which happen to be the oldest part of the castle.
Back in the Middle Ages, Leeds Castle was where eight queens called home, and it was more of a royal residence than a fortress.
Fast forward to the 20th century and the castle was in a bad state of neglect until American heiress Olive Lady Baillie came to the rescue in 1926. She brought it back to its former glory and later bequeathed the castle to Britain.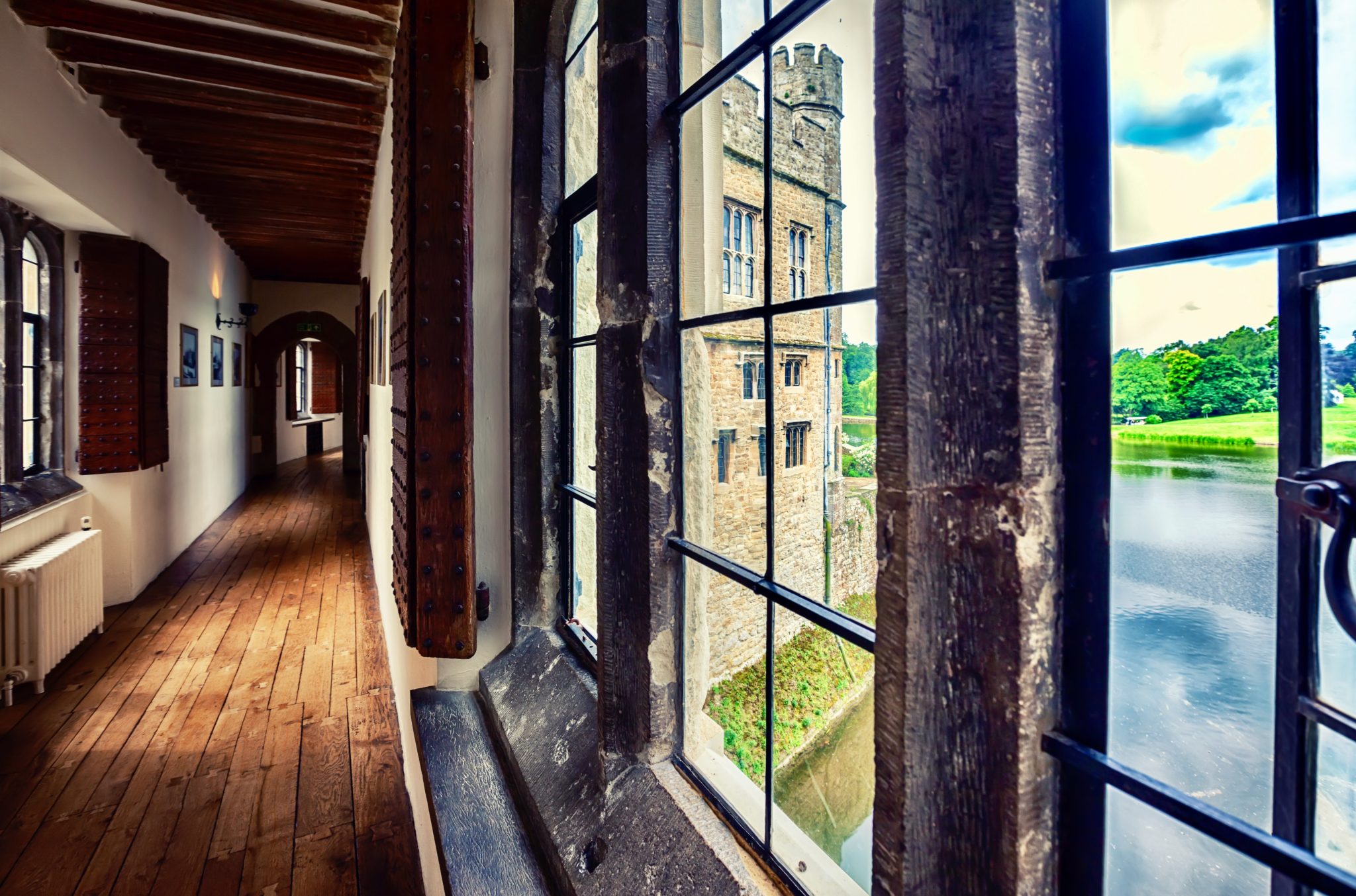 You reach the island castle by a causeway. Thanks to renovations by Henry VIII, the walls are six feet thick and impenetrable.
Here's my complete guide to Leeds Castle. You can pre-book your ticket online.
How To Get To Leeds Castle:
22. Liverpool
Liverpool is a popular day trip from London where you can sample urban England at its most authentic.
Liverpool is best known as the home of the Fab Four and is the hub of Beatles tourism. But Liverpool has more to offer than the requisite Beatles' pilgrimage.
You'll find a pair of magnificent cathedrals, museums, cathedrals, old maritime buildings, and glassy skyscrapers.
You may want to book a guided history + Beatles tour or a 3 hour Beatles themed tour.
What To Do In Liverpool:
Beatles Story: This is a must visit exhibition about the Beatles' lives narrated by John Lennon's sister. You'll learn the musical roots of the band and see replicas of the Casbah Club, Cavern Club, and Lennon's White Room. You can pre-book a skip the line ticket.
British Museum Experience: This is an immersive museum where you can learn about the history of British Music from 1945 to the present. Click here to book a ticket.
Lennon & McCartney Homes: Paul McCartney's childhood home is a well preserved brick townhouse. You can't go in unless you reserve a tour with the National Public Trust. The same goes for Lennon's home.
Beatles Sites: You can walk down Penny Lane, stroll in Strawberry Fields, stand in front of a wall painted with the Sgt. Pepper album cover, see the headquarters of Apple Corp., and pay homage at Eleanor Rigby's tombstone in St. Peter's Church.
Liverpool Cathedral:
Liverpool has not one but two giant cathedrals, located at either end of Hope Street. They couldn't look more different.
Metropolitan Cathedral of Christ the King is a modern building with a striking lantern tower and the famous Lutyens Crypt.
Liverpool Anglican Cathedral is the largest cathedral in Britain and the 5th largest in Europe. There are fantastic view from the top of the tower.
Tate Gallery Liverpool: Art lovers should head to this modern art gallery, which is a branch of the Tate Modern in London. This is the most visited visual art gallery outside London. You'll find works by Matisse, Picasso, and Dali.
Museum of Liverpool: This is a museum for history nerds. It's a well done museum telling the story of Liverpool's history and culture.
How To Get To Liverpool:
23. Norwich
Just a bit north of Cambridge, Norwich is one of the prettiest cities in England and most tourists haven't heard of it. The town is over 1,000 years old and barely shows its age.
Norwich was one of England's most important cities in the Middle Ages. 31 medieval churches have survived the march of time.
The lanes in the historic town are a dream, fashioned out of flint cobblestone. They're filled with medieval facades. Elm Hill is particularly pretty, with its iconic Tudor architecture.
Norwich is a good place for bookworms. It's a UNESCO City of Literature.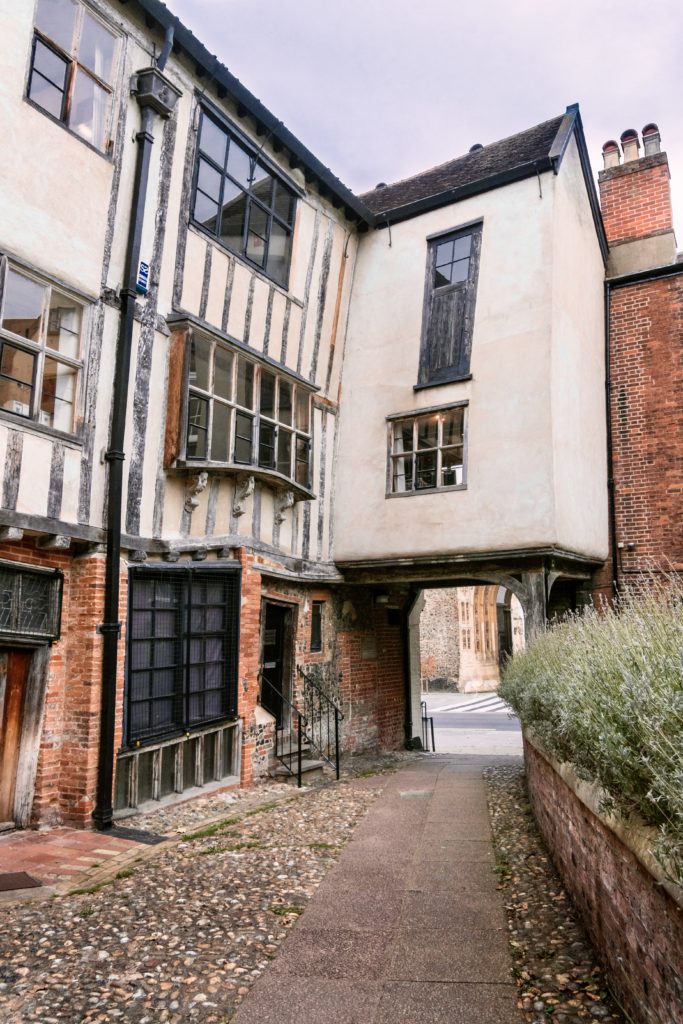 The city is obsessed with books, with Britain's most popular library and a slew of bookstores. One of Norwich's best known restaurants is even housed in a library.
What To Do In Norwich
Norwich Cathedral: The city's cathedral dates from the 12th century. It's home to England's second tallest spire and second largest cloister. Be sure to see Ethelbert Gate, which is an access point to the cathedral.
St. Peter Bancroft: This church was consecrated in 1455. It's a pretty church with clerestory windows and a hammerbeam roof.
Norwich Arts Center: The center is housed in the 15th century St. Swithin's Church. It hosts art exhibitions, readings from local writers, and concerts. Other literary events are held in Dragon Hall.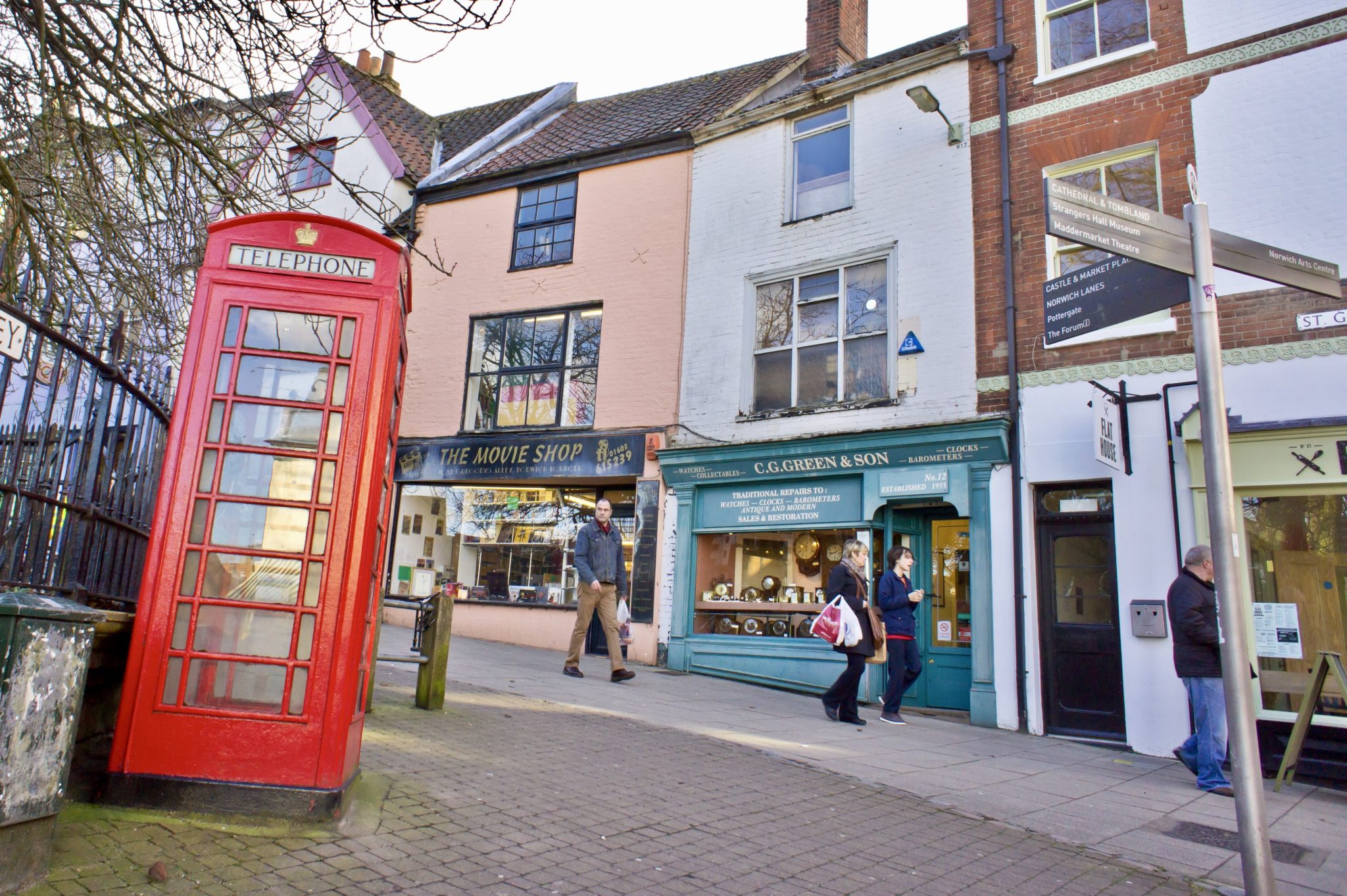 Victorian Royal Arcade: The arcade is a shopping spot enclosed in translucent stained glass, just off Gentleman's Walk. It's stuffed with independent shops and boutiques. This is an especially good place to nip into if you get caught in the rain.
Norwich Castle: Built almost 1,000 years ago, this is another historic spot in the city. There's an onsite museum. The highlight is the Happisburgh hand axe that is 700,000 years old.
Norwich Market: The market has been a fixture on the Norwich scene for over 900 years. The stalls are housed in cheerful colorful buildings with striped awnings. You can explore, grab a snack, or eat lunch.
How To Get To Norwich:
By car: 2 hour drive
By train: Norwich is a 2 hour train ride from London's Liverpool Station.
Getting around: You can take the

Norwich hop on hop off bus

.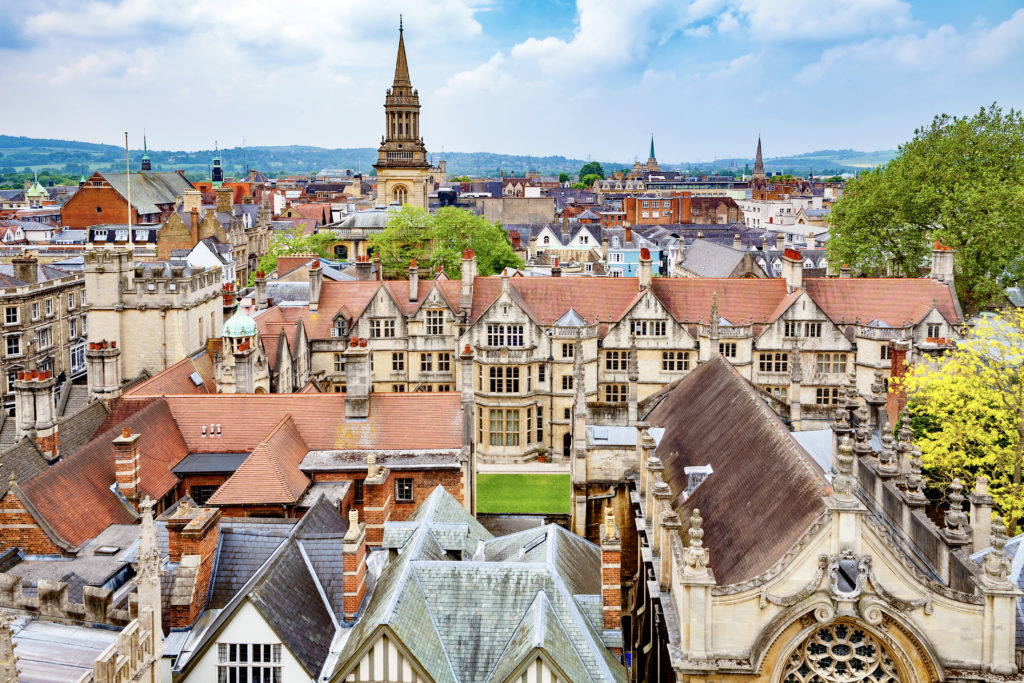 24. Oxford
Oxford is an amazing university town that's one of my favorite day trips from London. The city has been around for a thousand years, so it's got a lot of history and stunning architecture that may make you feel like you're on a movie set.
Oxford is home to the world's oldest English-speaking university. The whole town's got a dreamy, peaceful vibe with its beautiful buildings and scholarly atmosphere.
The university is made up of 39 different colleges, each with their own traditions and culture. It's like a group of small communities that all live and learn together.
The colleges are situated within a square mile, so it's easy to explore them all in a day. You'll be walking around in awe of the stunning stone buildings and spires made of gorgeous Cotswold limestone.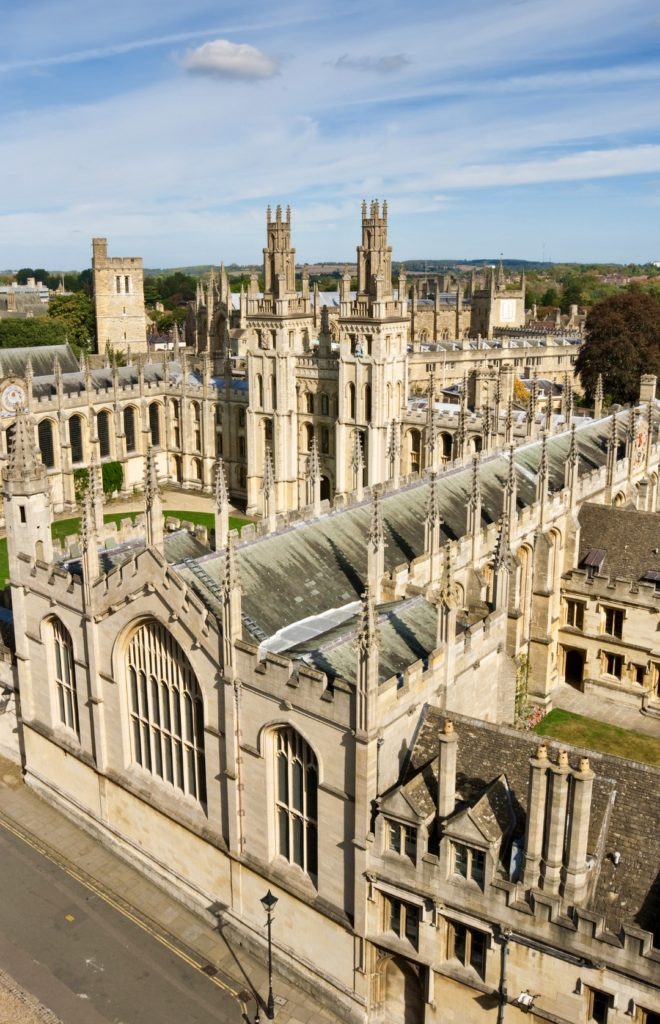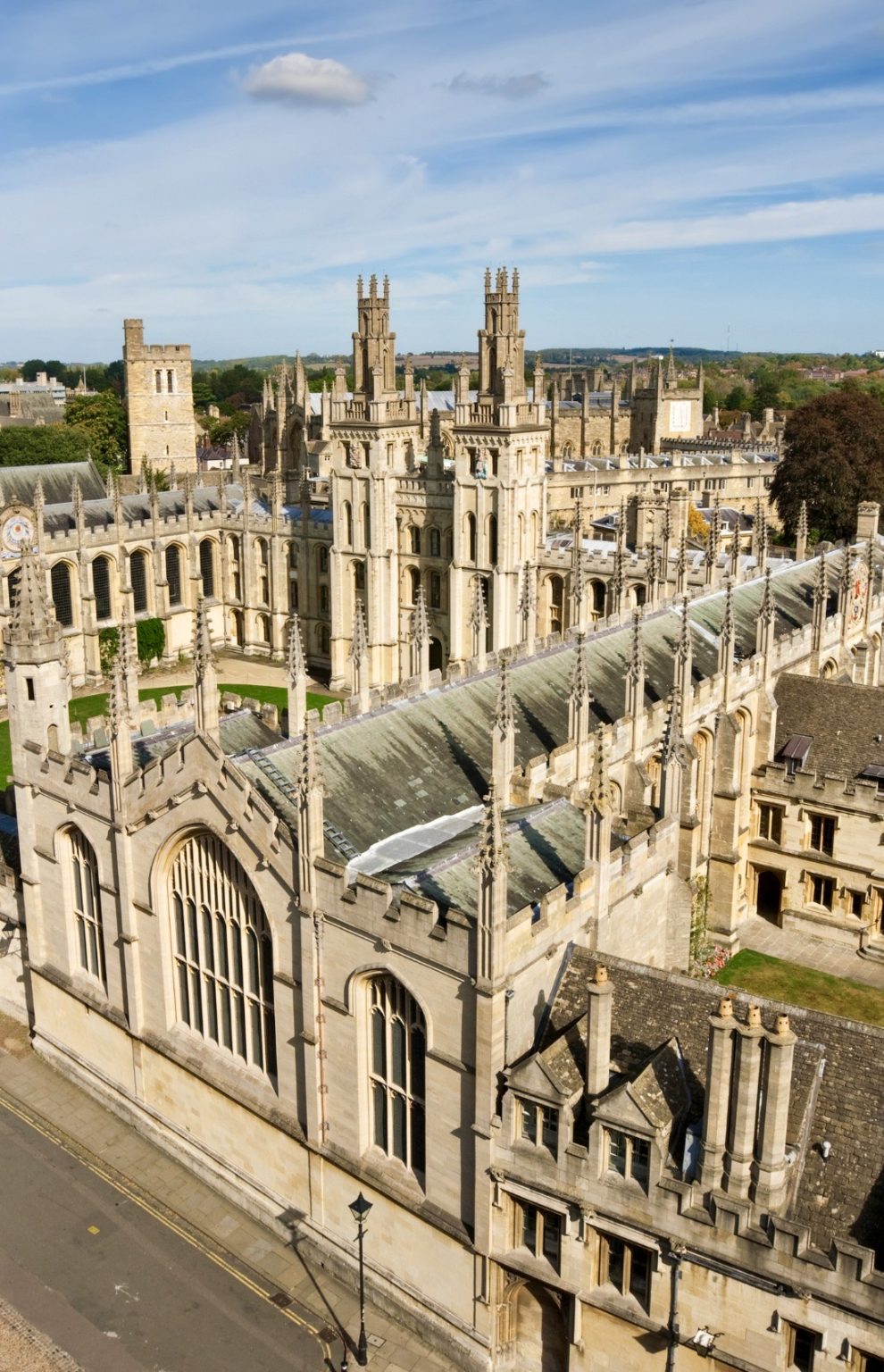 You may want to start your one day in Oxford with a guided talking tour to get the lay of the land. You can book a small group tour with a university alumnus or a private 2 hour guided walking tour.
What To Do in Oxford:
Christ Church College:
This is a stunning architectural gem. It's the largest and most prestigious of Oxford's colleges. It was founded by Henry VIII's chancellor, Cardinal Wolsey. The college is the alma mater of 13 British prime ministers
The Tudor Great Hall is a stunning Renaissance space. It was used as inspiration for the Hogwarts Great Hall in the Harry Potter films.
With its long table and high ceiling, you can see why. It's just missing floating candles.
Sheldonian Theater: This little architectural jewel was one of architect Sir Christopher Wren's first big commissions. The theater is modeled on the Theater of Marcellus in Rome. It has a distinctive white cupola, from which you'll have panoramic views.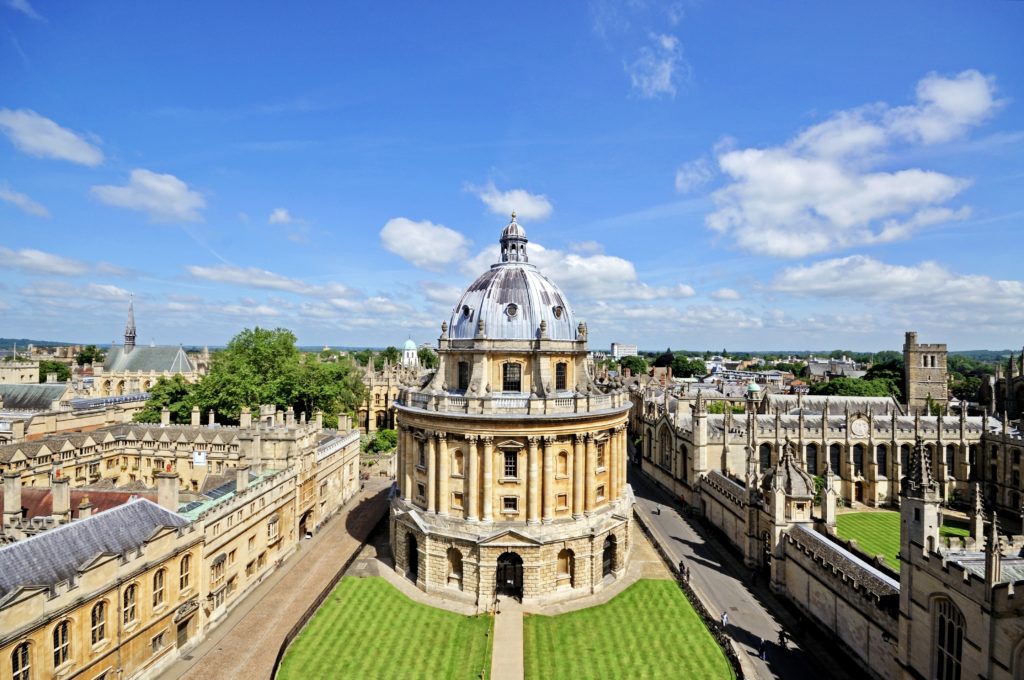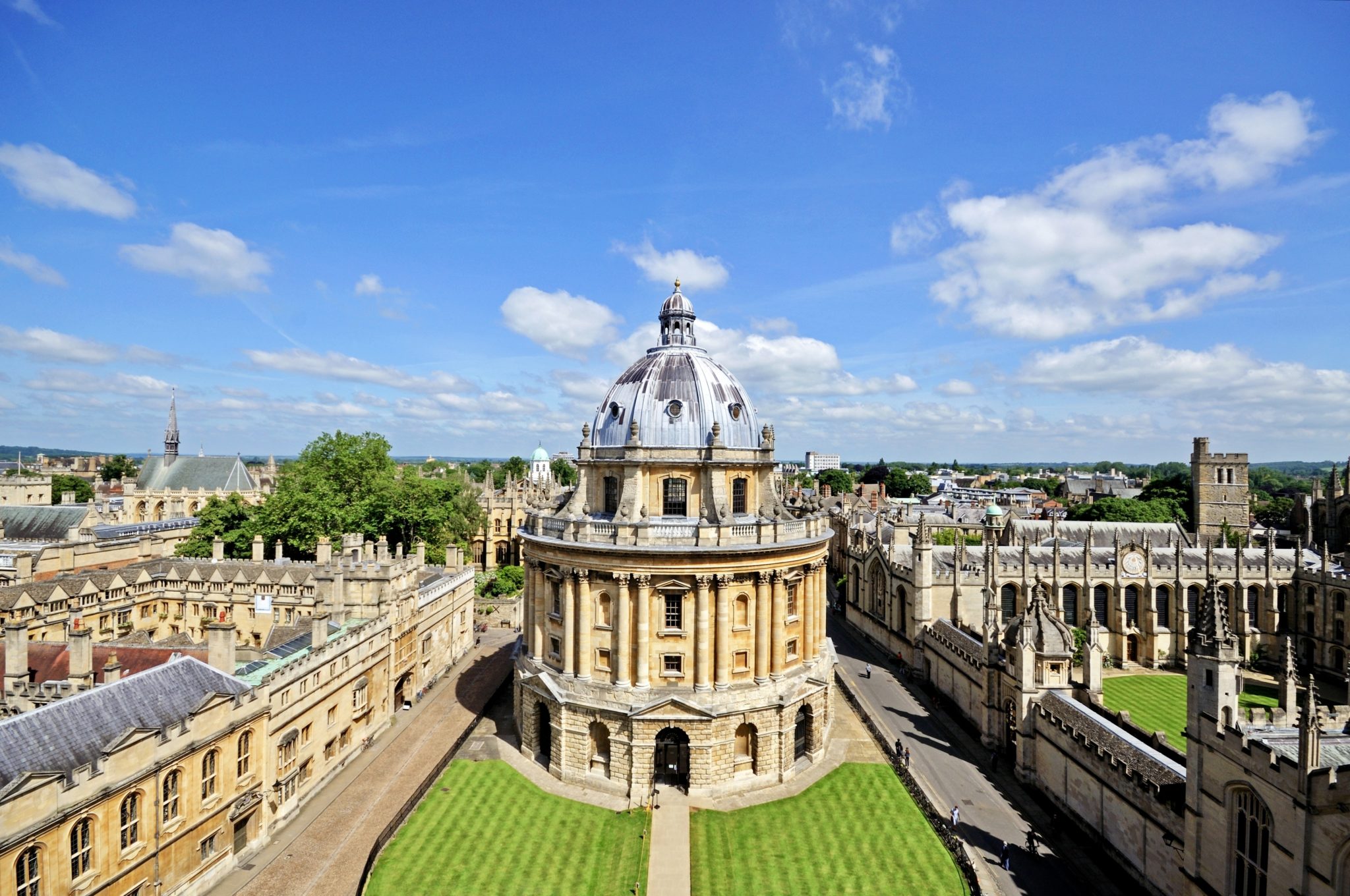 Radcliffe Camera: The Rad Cam is one of Oxford's most photographed landmarks. It has a towering 140 foot rotunda. Inside, you'll find a light-filled circular library.
Bodelian Library: The venerable Bodleian Library is Oxford's spiritual core. It's one of the oldest libraries in Europe. The complex includes the Weston Library, the Divinity School, and Duke Humphrey's Library.
Duke Humphrey's Library: Completed in 1488, this sumptuously decorated library doubled as the Hogwarts Library in the Harry Potter films.
Ashmolean Museum: Established in 1683, the Ashmolean is one of Britain's oldest public museums. Housed in an early Victorian building, it has an international art and archaeology collection spread out over six floors. You'll see everything from Minoan artifacts to sketches by Michelangelo and Raphael.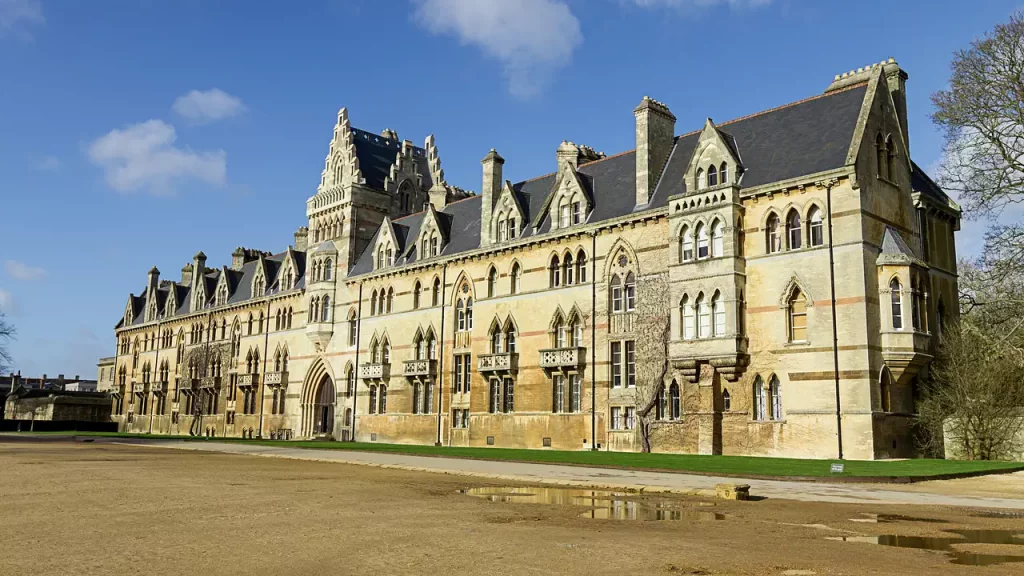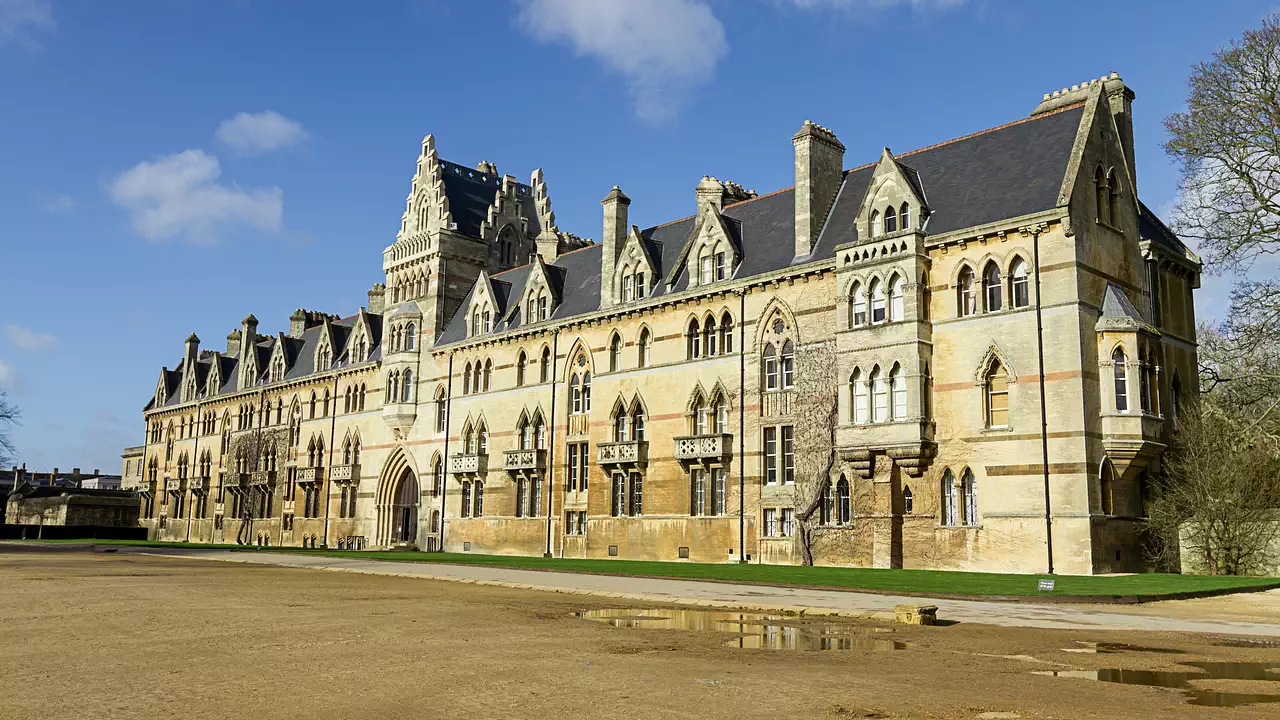 For more information, here's my complete guide to spending one perfect day in Oxford.
How To Get To Oxford: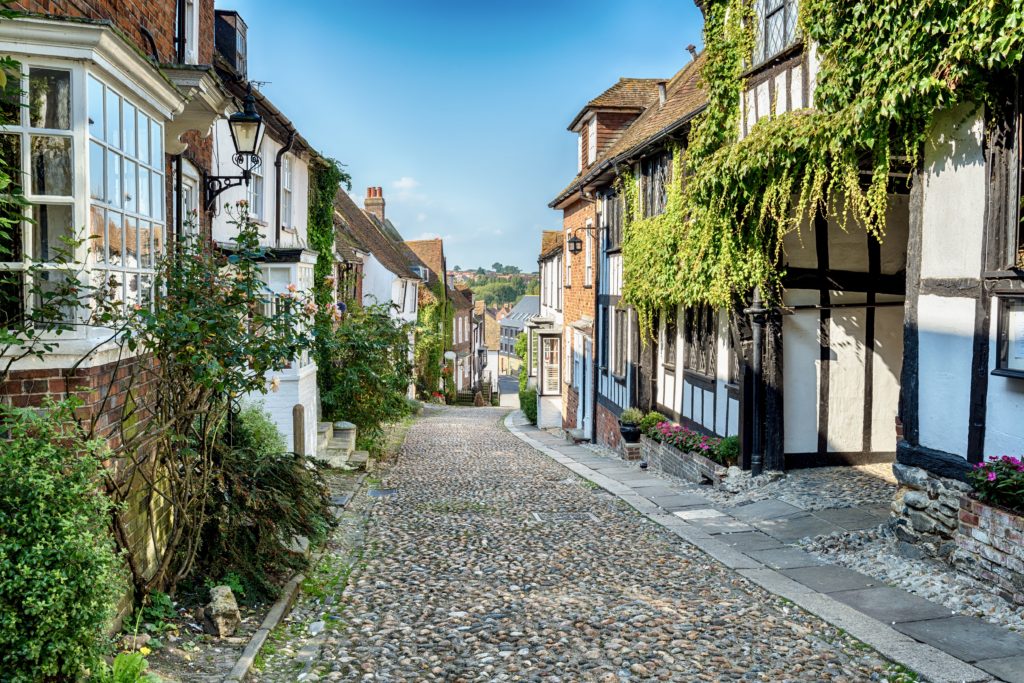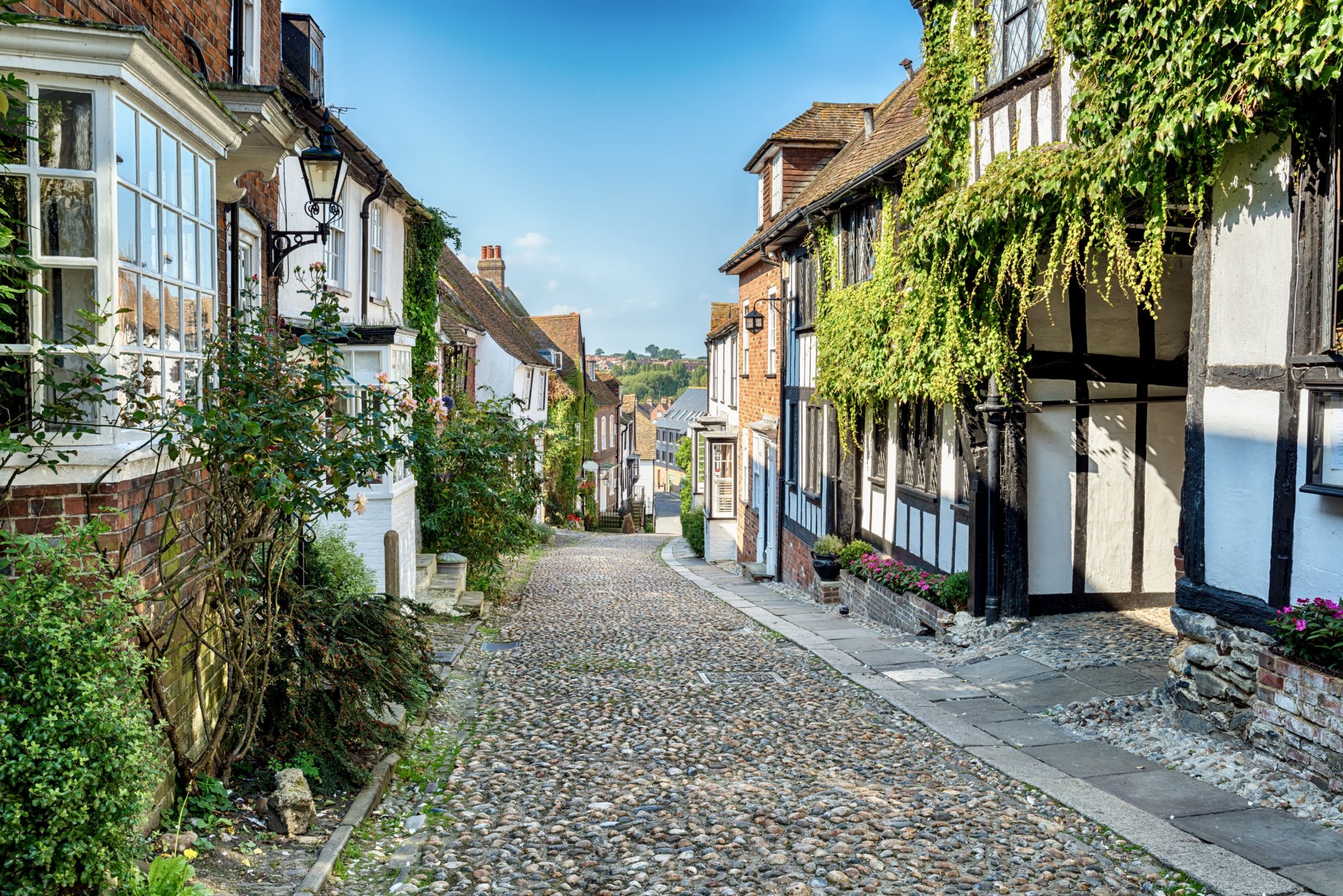 25. Rye
Have you been on a London day trip to Rye? It's this adorable ancient town by the sea that's got cool antique shops and quirky bookstores. The poet Patric Dickinson once said it's like a "beautifully jeweled brooch worn at South England's throat."
Rye has a rich history. It's been around since medieval times. But that's not all there is to it.
There are some seriously amazing restaurants, eclectic shops, and these super cute cobbled lanes that wind all over the place. It's like stepping back in time, but with a modern twist.
What To Do In Rye:
Mermaid Street: This cobbled lane dates from the 10th century. It's the street of your English dreams and a visual delight. It's full of crooked half timbered houses and ivy covered walls.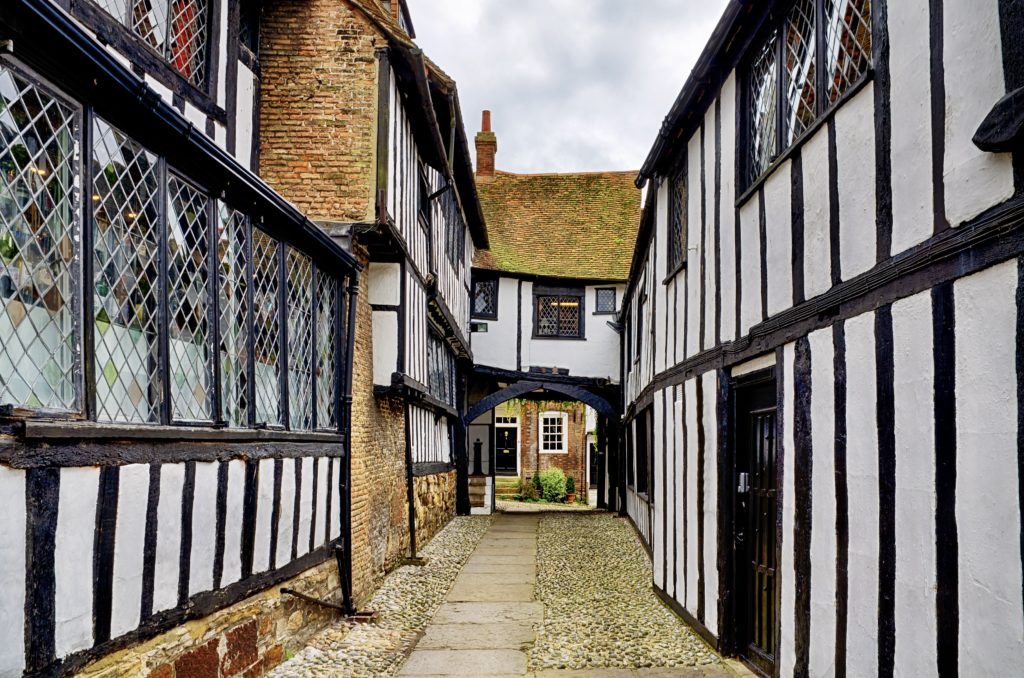 Church of St. Mary: This church has a nave that dates to the 12th century and beautiful stained glass. You can climb the narrow spiraling steps to the bell tower for sweeping views of Rye and the countryside. If you're lucky, you'll see swaths of yellow rapeseed flowers.
Camber Castle: This is a Henry VIII fort right outside Rye. It lies in ruins. You can't go inside, but you can admire the atmospheric exterior.
Rye Castle Museum: The museum consists of two sites: the Ypres Tower and the East Street Museum. Henry III built the tower for defense and it once served as a women's prison. The museum gives you an overview of the history of Rye.
For more information, here's my complete one day in beautiful Rye itinerary.
How To Get To Rye:
By car: 2 hour drive
By train: From St. Pancras Station, it's a just over an hour train ride.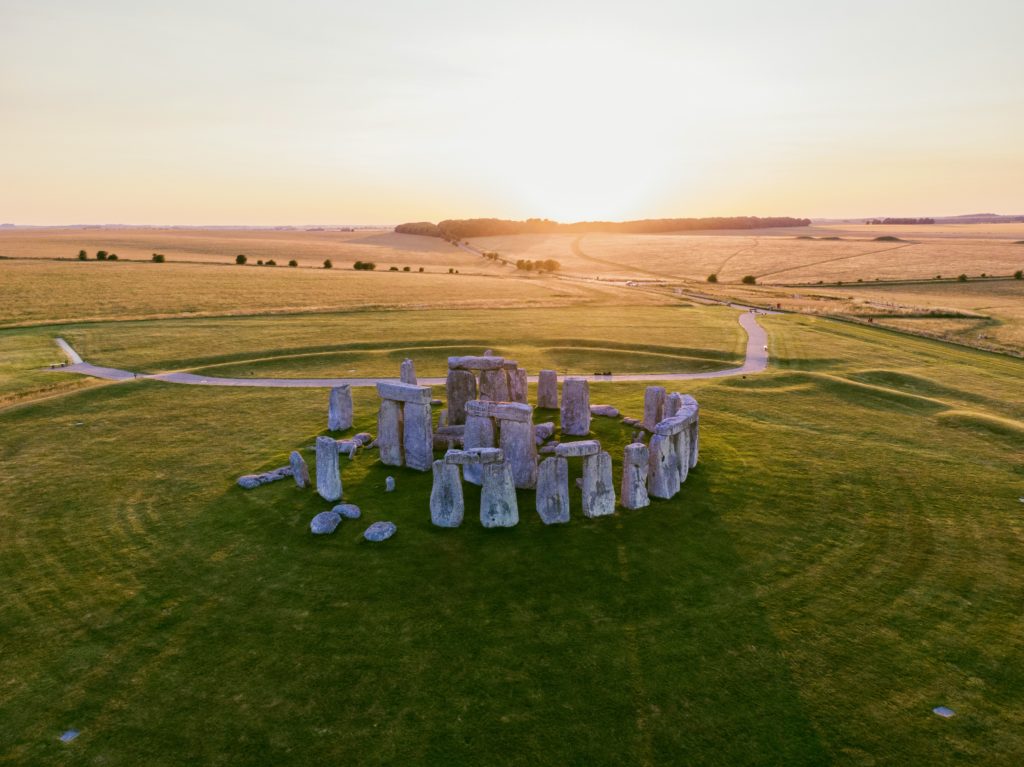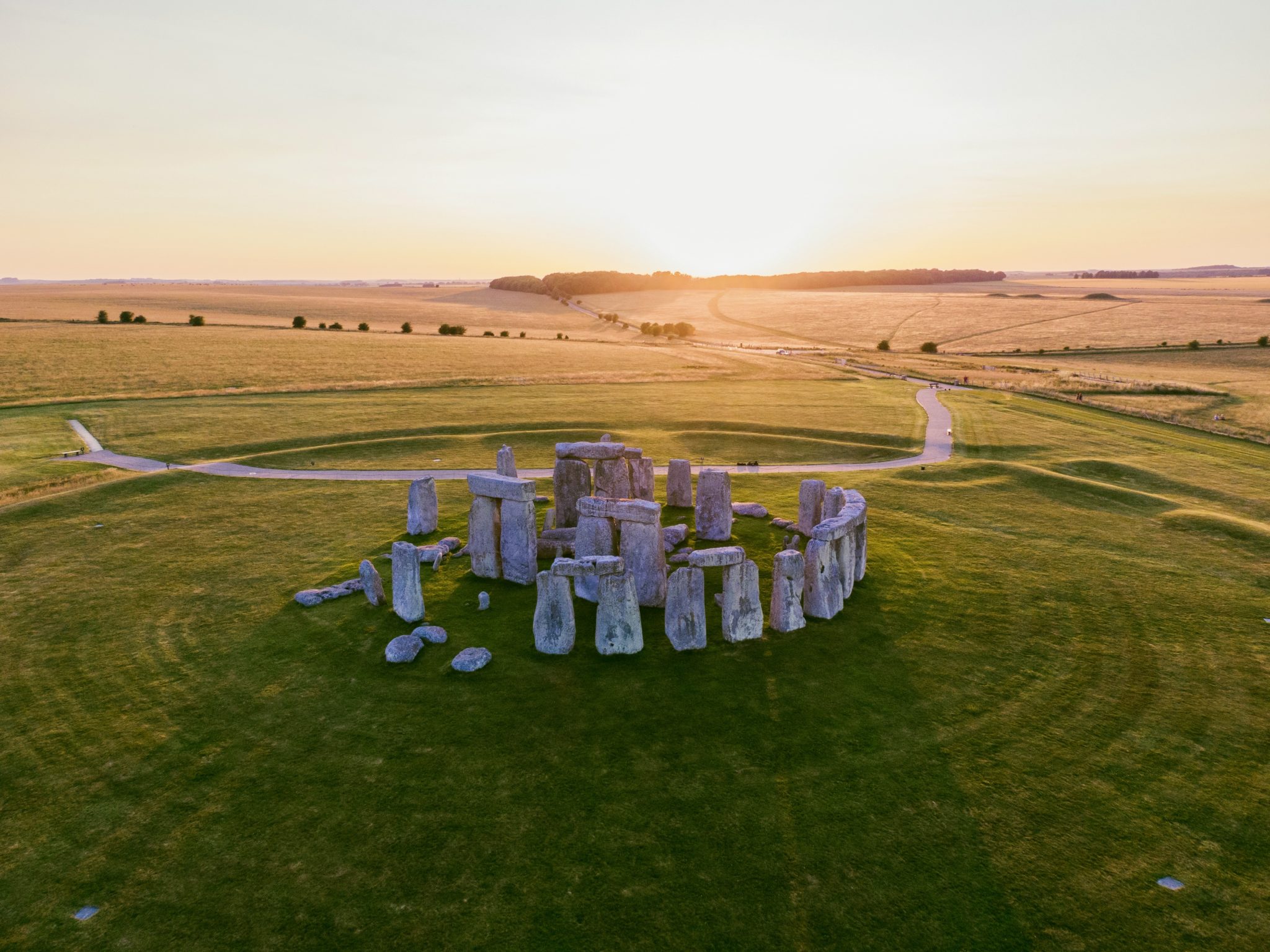 26. Stonehenge
If you're a history buff, you won't want to miss Stonehenge, one of the most important Neolithic landmarks in Europe. It's even older than the impressive Egyptian pyramids – and still shrouded in mystery.
This awe-inspiring site was constructed nearly 5,000 years ago and is designated as a UNESCO World Heritage Site. But the real head-scratcher is why our ancient ancestors went to all the trouble to build it in the first place.
Experts think that the alignment of the stones may have been used to track the movement of the sun and the changing seasons. Even though we may never know for sure, we're still uncovering new secrets every day.
For instance, a recent laser survey revealed some previously undiscovered Bronze Age carvings on the stones.
Here's my guide to whether Stonehenge is worth visiting.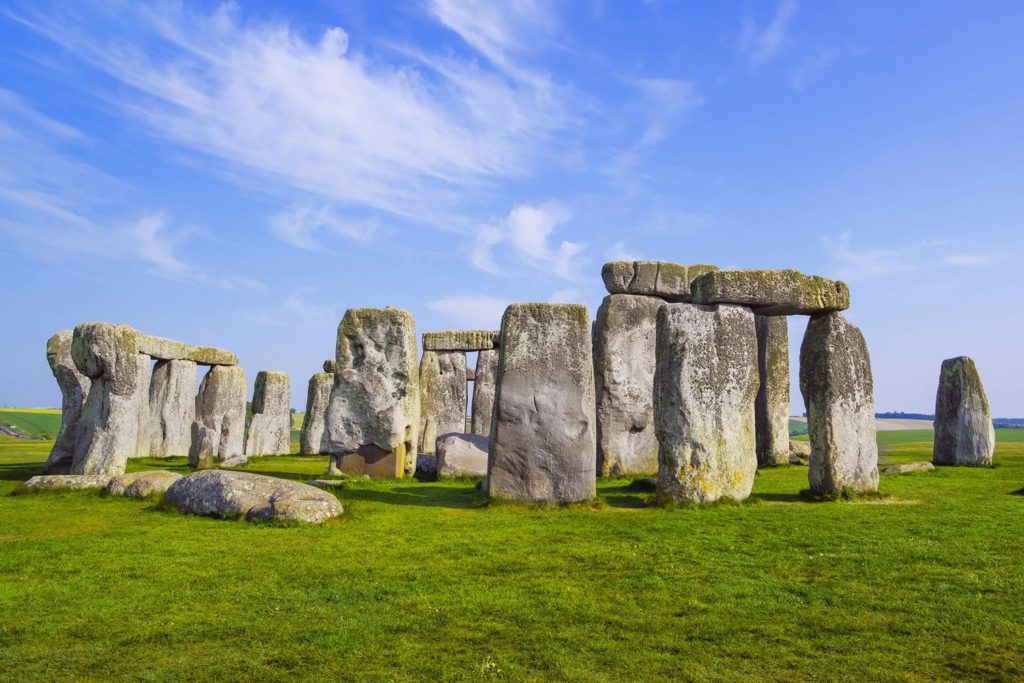 How To Get To Stonehenge:
By car: It's easy to reach Stonehenge by car. It's around a 2 hour drive from London. There's a car park is near the visitor center.
By train: The nearest train to Stonehenge is Salisbury, which is around 12 miles away. From the station, you can taxi or catch the public Stonehenge Tour bus.
By guided tour:
You definitely have to plan in advance to visit Sotnehenge. You should book a timed entry ticket for Stonehenge in advance.
Having been to Stonehenge a couple times now, I think it's best to visit on a guided early morning tour from London or a guided evening tour from London. That way, you can avoid the omnipresent crowds and walk into the inner stones.
Otherwise, you can book a 6 hour private tour from London to Stonehenge or an 11 hour guided tour from London with Stonehenge Windsor Castle & Bath.
Another option is to book a guided tour that combines Stonehenge and Avebury, which is another ancient stone circle that's less commercialized than Stonehenge.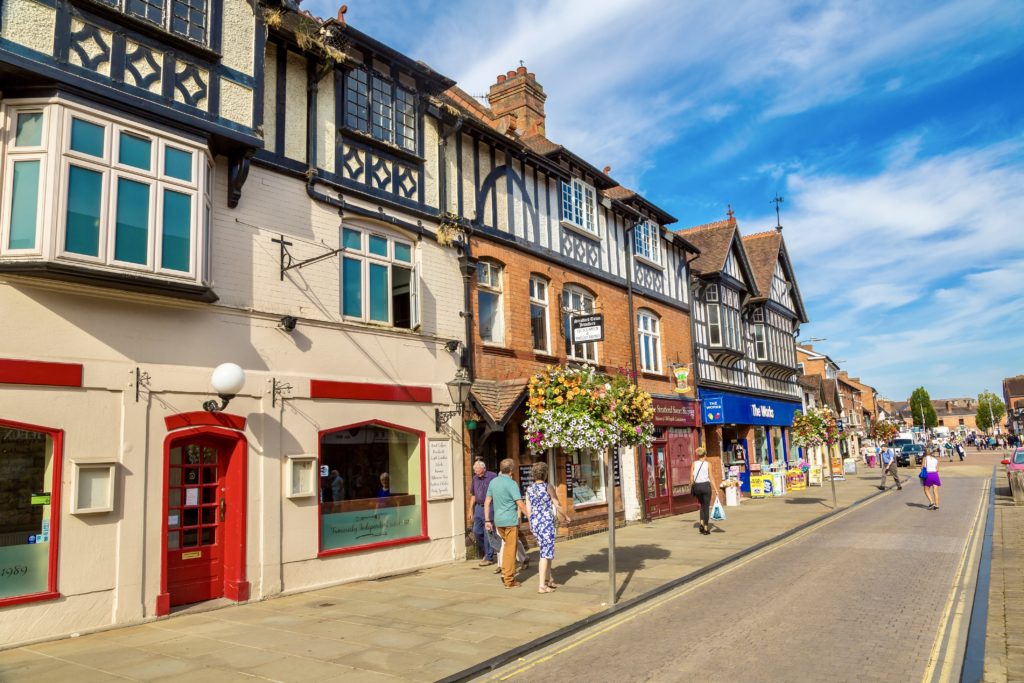 27. Stratford-upon-Avon
Stratford-upon-Avon is one of those market towns that simply oozes charm and history. It's no surprise it's one of the most popular day trips from London.
But what really makes it stand out, though, is that it's the birthplace of none other than William Shakespeare himself. And who doesn't love a good dose of Shakespeare?
Of course, the highlight of any visit to Stratford-upon-Avon is the chance to step inside the very house where the master-genius was born. So, if you're a fan of literature or just love to soak up history, then Stratford-upon-Avon is the perfect place to go.
For the complete scoop, you can check out my guide on how to spend one day in Stratford on a day trip from London.
What To Do In Stratford Upon Avon:
Shakespeare's Birthplace:
Shakespeare's Birthplace Museum is where it all began. This is the 16th century half timbered home in which Shakespeare was born. It's been passed through the Bard's descendants and is now a museum.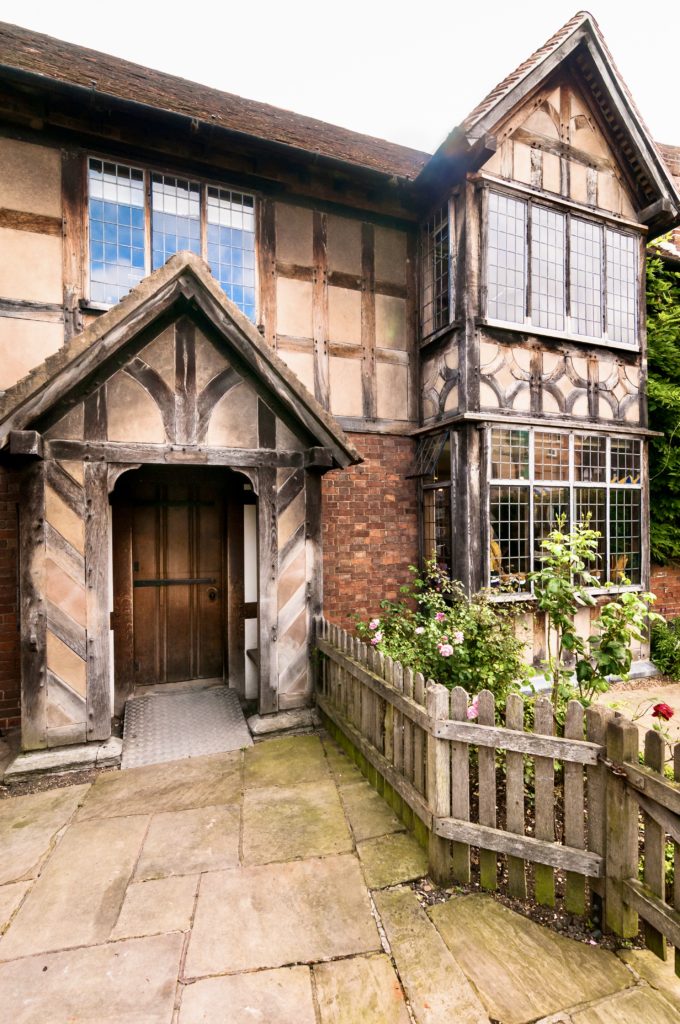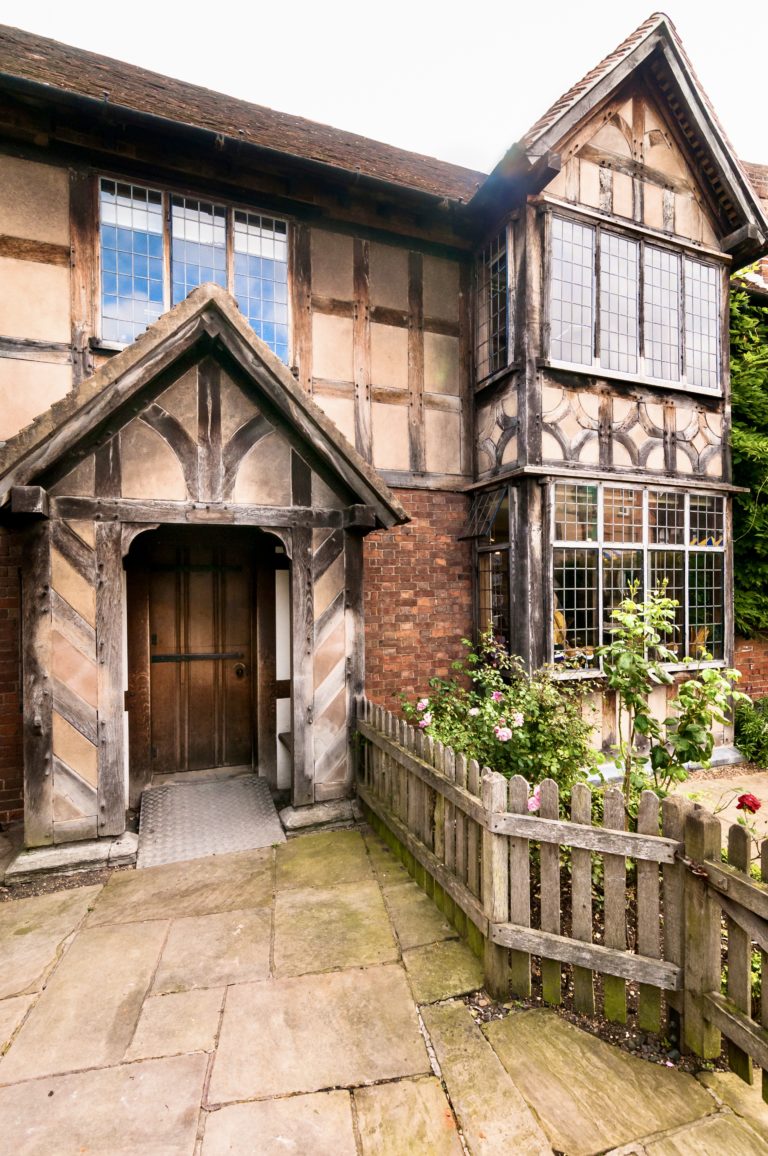 It's a charming and well restored half timber house and garden. The museum even holds Shakespeare's crib. You can pre-book a skip the line ticket.
Ann Hathaway's House: This is a 12 room thatched roof cottage that was the childhood home of Shakespeare's wife Ann Hathaway. It's over 500 years old and you can see original period furnishings.
Royal Shakespeare Company: No visit to Stratford-upon-Avon would be complete without taking in a matinee or evening performance of a Shakespeare play.
Holy Trinity Church: This 13th century church on the banks of the Avon River is where Shakespeare was baptized and is buried. It's been an active parish for over 1,000 years. Inside, there's an impressive chancel with stained glass.
Riverside: When visiting, you should definitely take a stroll on the riverside promenade to see the famous swans. You can also rent a boat and have a good paddle.
How To Get To Stratford Upon Avon:
By car: 1:45 to 2 hour drive
By train: From London's Marylebone Station, the ride is about 2 to 2.5 hours. Not all trains are direct.
By bus: From Victoria Station, it takes about 2.5 hours to arrive in Stratford-upon-Avon.
By guided tour:
You have quite a few options for guided day trips from London to Stratford, including: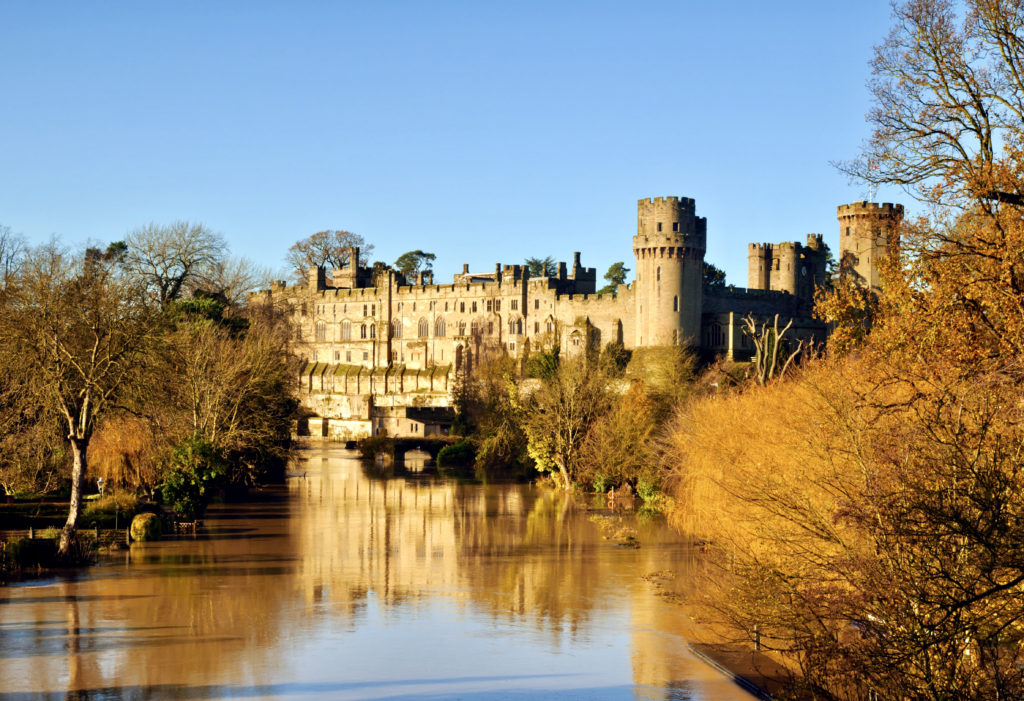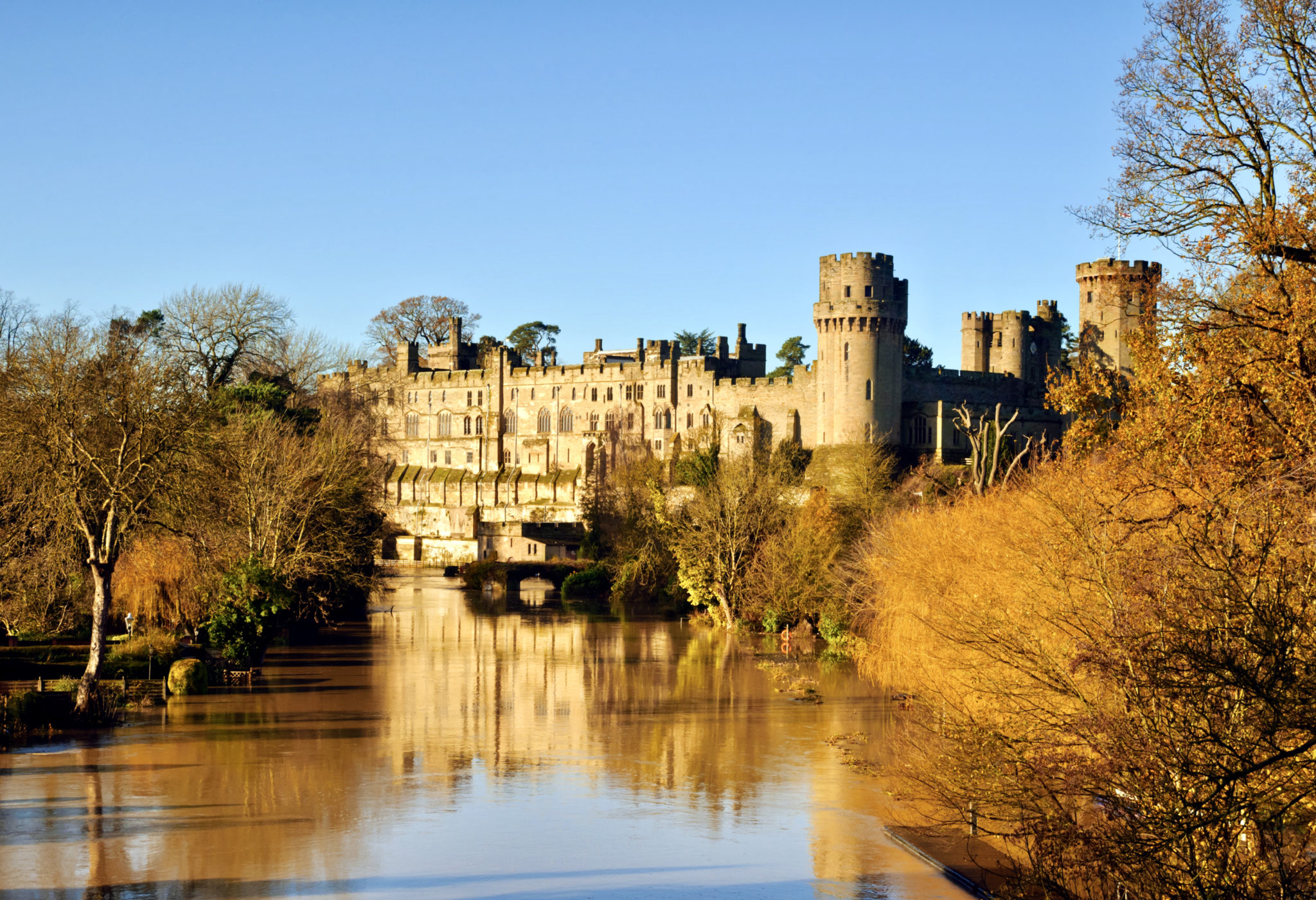 28. Warwick Castle
Warwick Castle is a must do day trip from London if you're a history buff or just love castles. It's got all the classic castle features, like moats, turrets, and even dungeons. You can really feel the weight of 900 years of history when you step inside.
This place has played a huge role in British history, from being built by a king to housing the infamous Duke of Warwick, Richard "the Kingmaker" Neville.
The castle has been the backdrop to some of the most famous dynasties and conflicts in England, from the Wars of the Roses to the English Civil War.
Nowadays, you can experience what life was like in a medieval castle through the castle's reenactments. It's a great way to get a glimpse of the past and appreciate the legacy that Warwick Castle has left behind.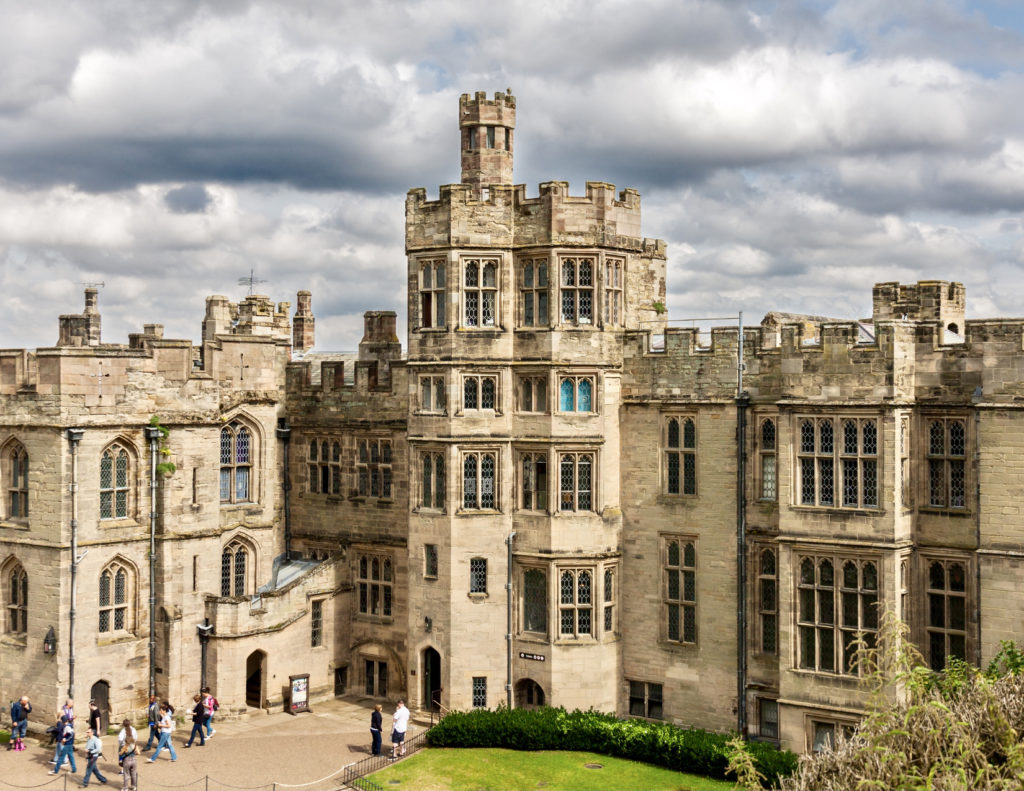 Among other things, there's a medieval dungeon, state apartments, towers to climb, a trebuchet show, archery tournaments, and a maze.
Here's my complete guide to visiting Warwick Castle. Click here to pre-book a skip the line entrance ticket to castle.
How To Get To Warwick Castle:
By car: If you're driving, it's just an 18-20 minute day trip from London. Warwick Castle has 3 different parking areas.
By train: There's a direct train service to Warwick from London Marylebone (1:45) or Birmingham Snow Hill (40 mins). Warwick Railway Station is approximately one mile from the Castle. It's a 15 minute walk.
By guided tour: From London, you can book a self guided tour that includes train and entry tickets. You can also book a private guided tour from London.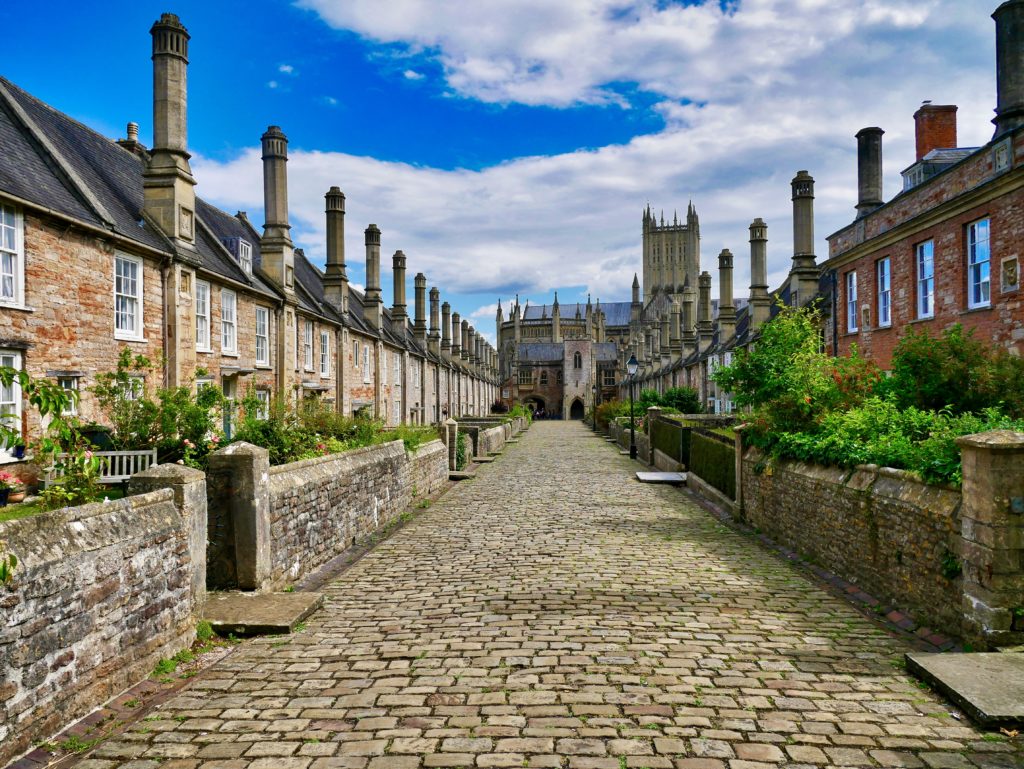 29. Wells
Wells is the smallest cathedral city in England, with a population of just 10,000. The ecclesiastic precinct is a well preserved wonder.
What To Do In Wells:
Vicars Close: This is the oldest purely residential street in England. It's flanked with intact medieval buildings. The 14th century homes were for the priests serving the cathedral and are adorned with coats of arms.
Bishop's Palace: The palace is the seat of the Bishops of Bath and Wells. The palace has a chapel and the ruins of a 13th century great hall.
Wells Cathedral:
The cathedral was built in stages between 1180 and 1508. It showcases several Gothic styles.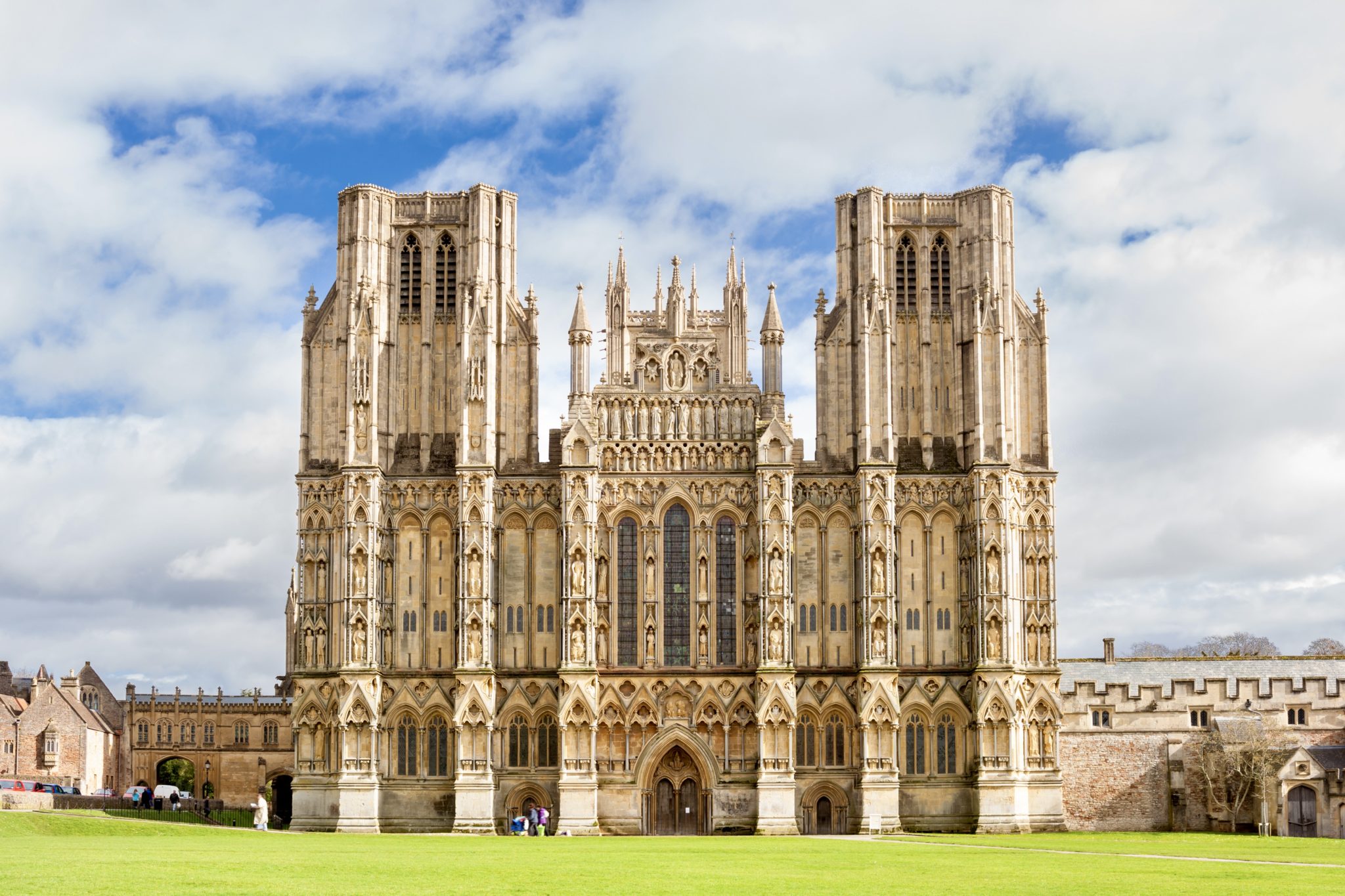 The most notable feature is the West Front, decorated with more than 300 carved figures. Though eroded, they are one of the finest collections of medieval sculpture in Europe.
Other highlights of Wells Cathedral are the elegant Lady Chapel, the fan-vaulted Chapter House, and the celebrated Chained Library.
Mendip Hills: These pretty hills are right outside Wells. They provide a spectacular view over Wells and its cathedral.
How To Get To Wells:
By car: It's a 2.5 hour drive from London to Wells and this is the best way to get there.
By train: The train takes 1:20.
30. Whitstable
Whitstable is a posh seaside town in the southeastern corner of England in Kent.
This is the place to come on a day trip from London if you love colorful clapboard houses and seafood (especially oysters). The best place to sample the goods is Wheelers Oyster bar.
Whitstable's historic center is laced with thin alleys, which all lead to the water. Stroll down High Street and Harbour Street for boutiques, shops, and restaurants. You'll even find a Michelin starred restaurants in the tiny town.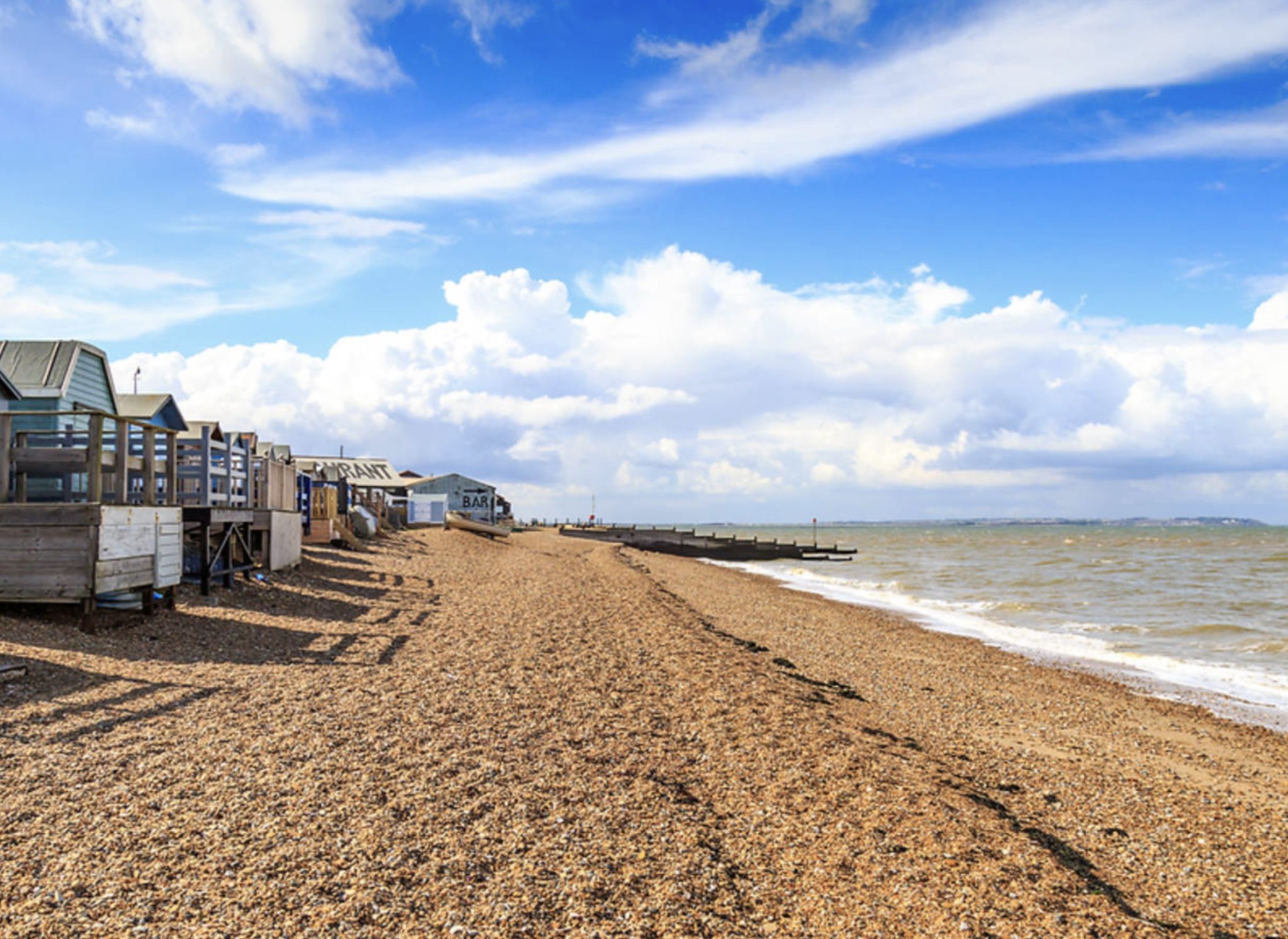 Whitstable Castle is a vast Neo-Gothic home built in the 1790s. This is a good place to have afternoon tea.
Before or after sightseeing, you can hit the pebbly beach. It's a beautiful spot despite the lack of sand. You can relax in a beach hut or grab a pint at the Neptune Pub.
How To Get To Whitstable:
By car: 70-80 minute drive
By train: From Victoria Station, trains run to Whitstable twice an hour and take 1:20.
By bus: You can take the bus from Victoria Coach Station, but it will take you over 3 hours to get to Whitstable.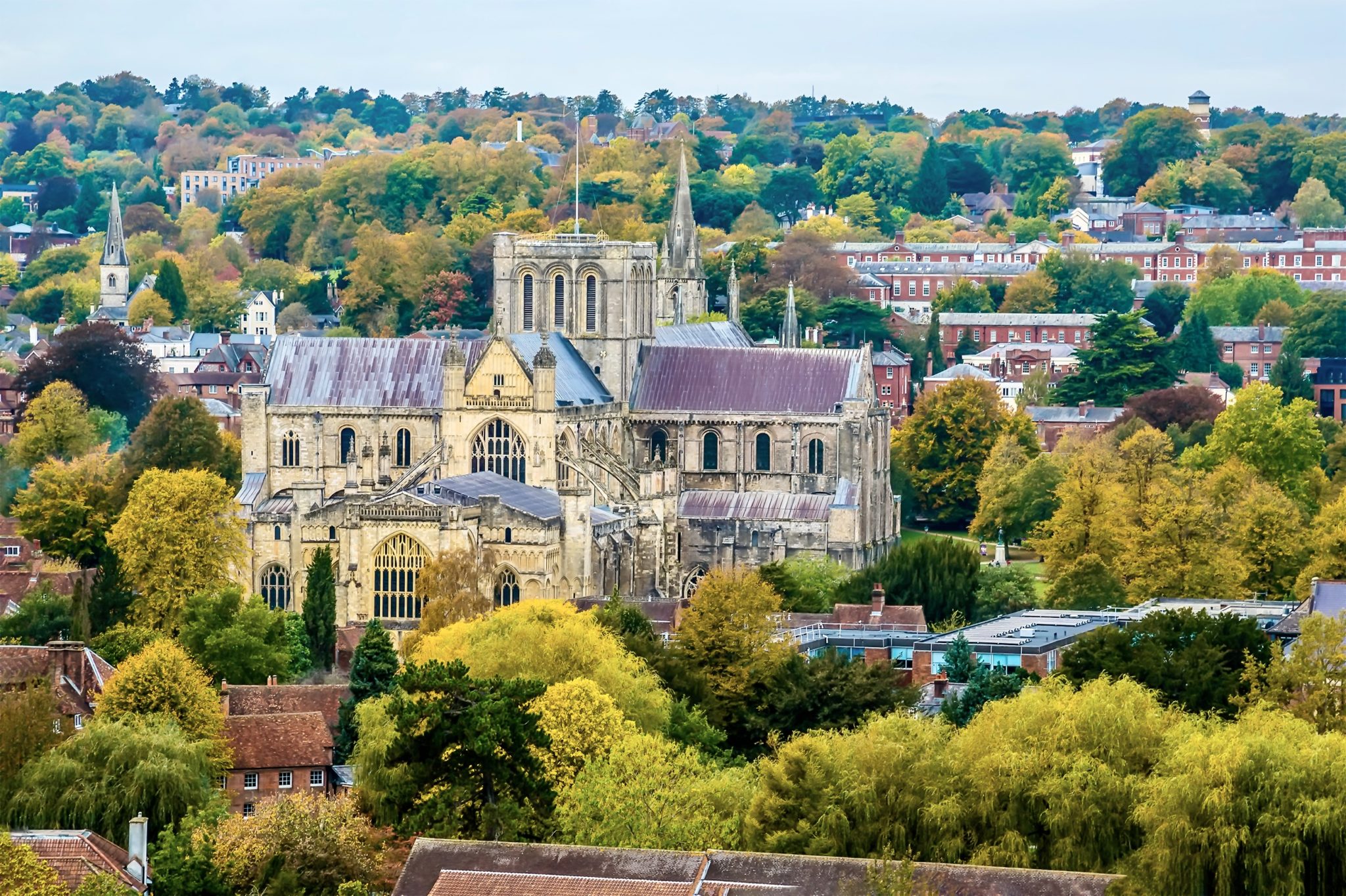 31. Winchester
Pilgrim have long traveled to the city of Winchester to admire its stunning cathedral. But Winchester isn't a one hit wonder. It's filled with culture, heritage, and beautiful architecture.
The old town is full of independent shops and stores. You'll find hip boutiques, trendy bakeries, bookshops, and myriad boozers.
What To Do in Winchester:
Winchester Cathedral:
The history of this enormously long Gothic cathedral dates back to 642. Inside, you find stunning vaulted ceilings, the illuminated Winchester Bible, 12th century frescos, and medieval carvings.
The church offers free tours. Check the website for times.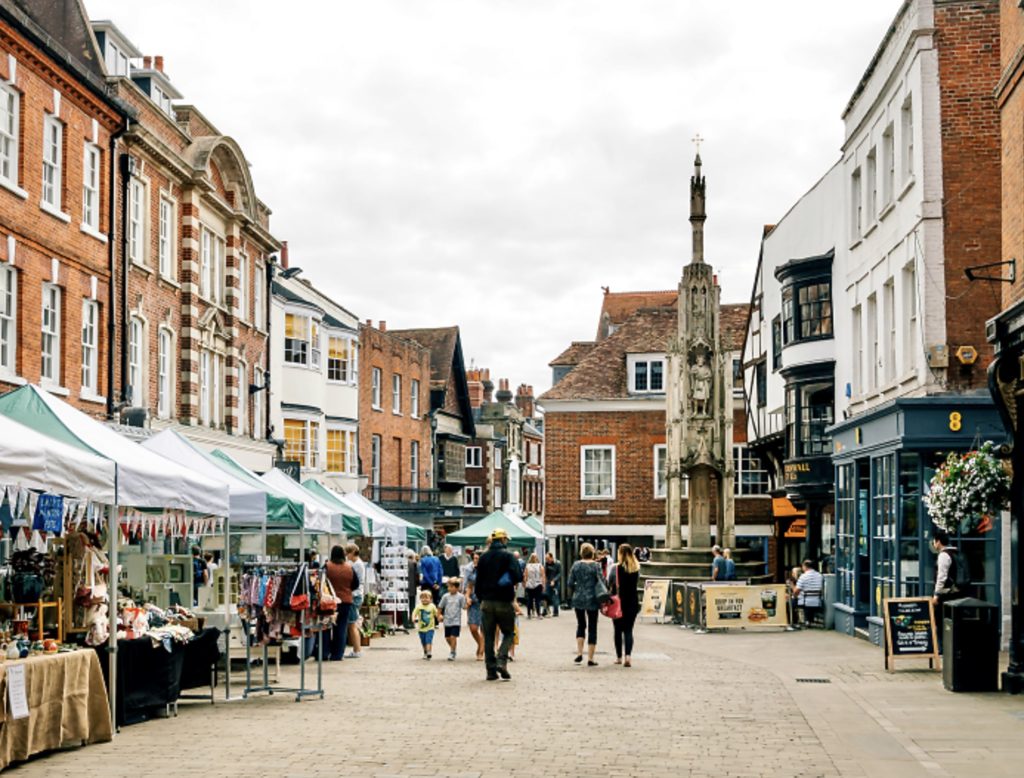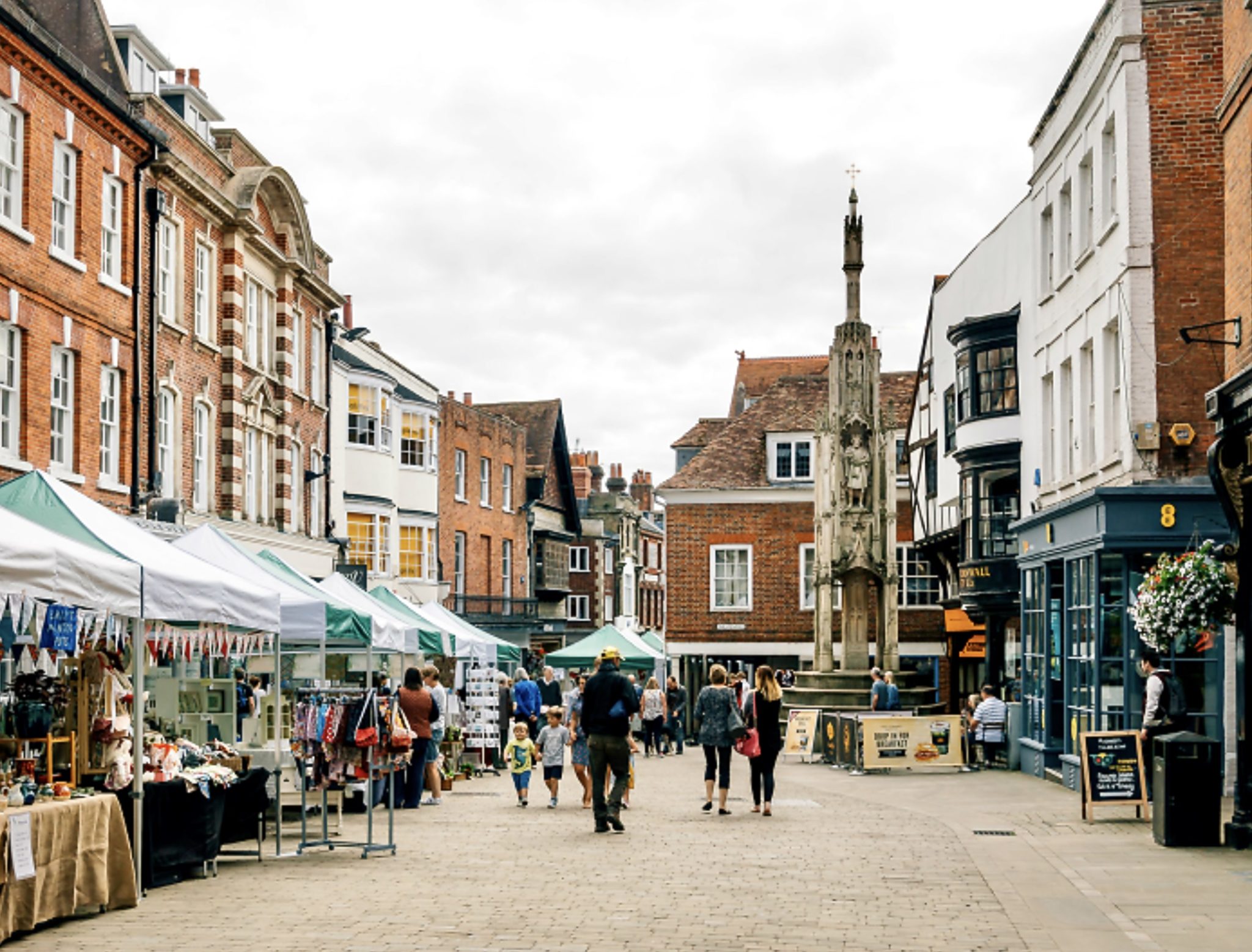 Ruins of Wolvesey Castle: This castle dates from the 10th century. It was torn down during the English Civil War and is in ruins. But you can still see how the grand the palace would have been in the Middle Ages.
Winchester College: This beautiful medieval red brick school has been around since 1382. You can only visit on a guided tour. You'll see the Gothic Chapel, the Chamber Court, College Hall, and the Scholars' Dining Room.
Great Hall: This is a remaining scrap of Winchester Castle. Dating from the early 13th century, the Great Hall is one of England's best medieval halls. It's now a museum. The thing you can't miss is the Arthurian round table.
How To Get To Winchester:
By car: 1 hour drive
By train: Trains depart from Waterloo Station every 30 minutes for Winchester and take 1:10.
By bus: You can take the bus from Victoria Coach Station, but it's over 3 hours to get to Winchester.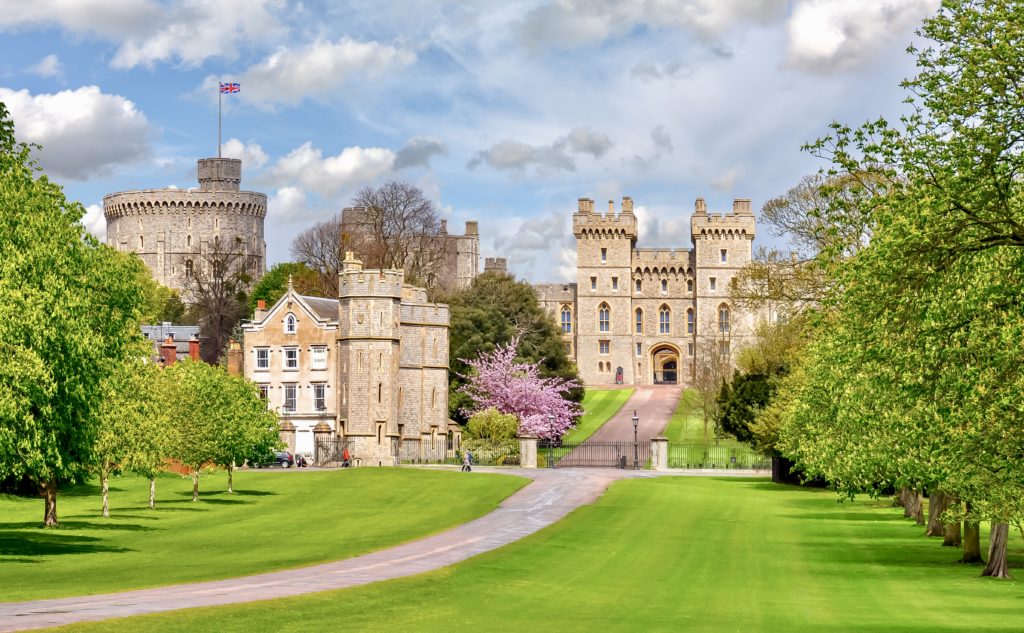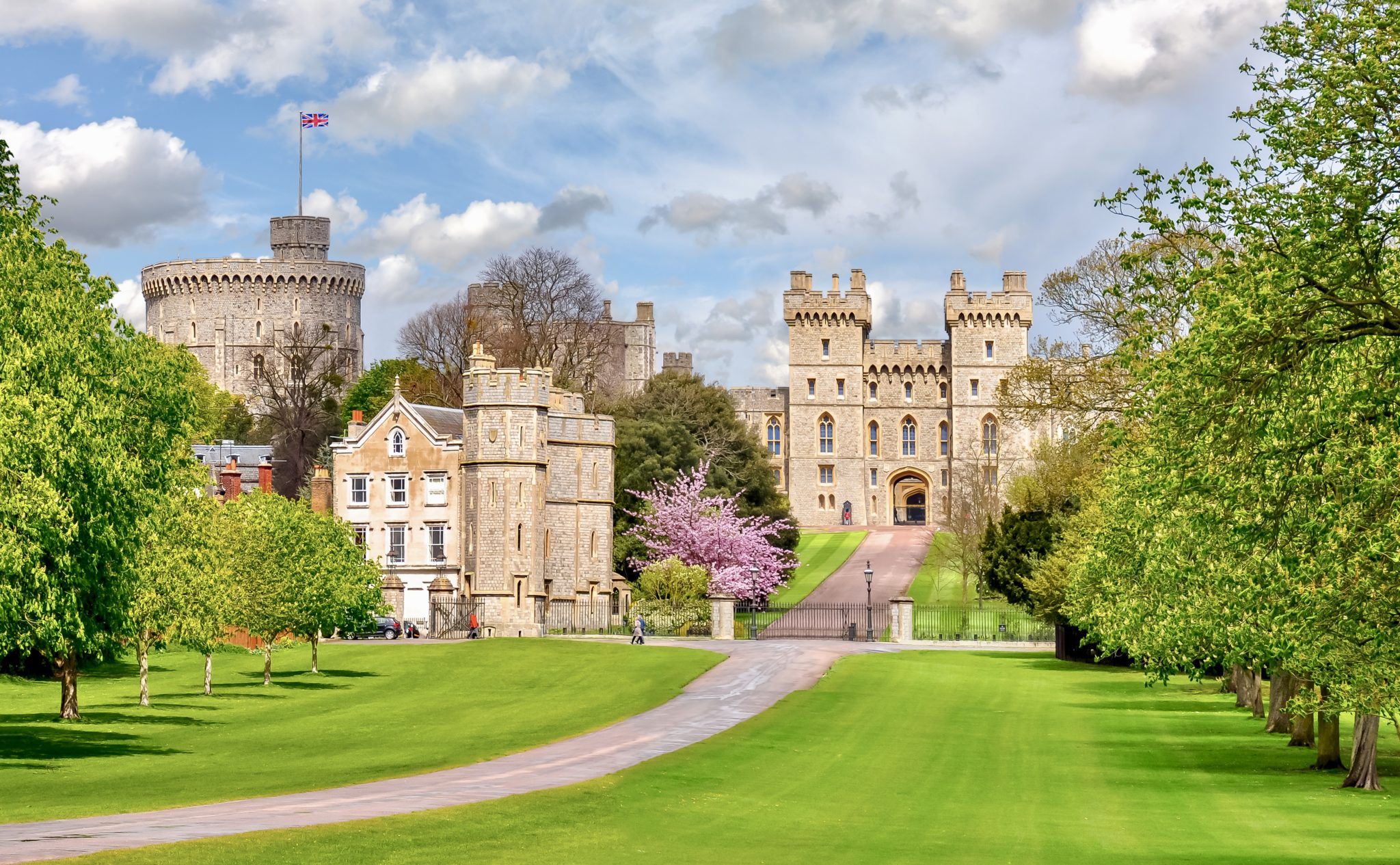 32. Windsor
Windsor is a picturesque Berkshire town mostly known for its iconic castle that's a royal residence. The castle is the very symbol of English royalty.
Aside from the castle, Windsor has a cute village built up around it and it's pedestrianized.
What To Do In Windsor:
Windsor Castle:
The 1,000 year old Windsor Castle is a striking 11th century castle that's the official home of the Queen. The palace is the longest occupied royal residence in the world.
It's home to some of the finest and most famous paintings in the British Royal Collection. You should check out Queen Mary's Dolls House, St. George's Hall, the State Rooms, and the Waterloo Chamber.
You may want to pre-book a skip the line ticket.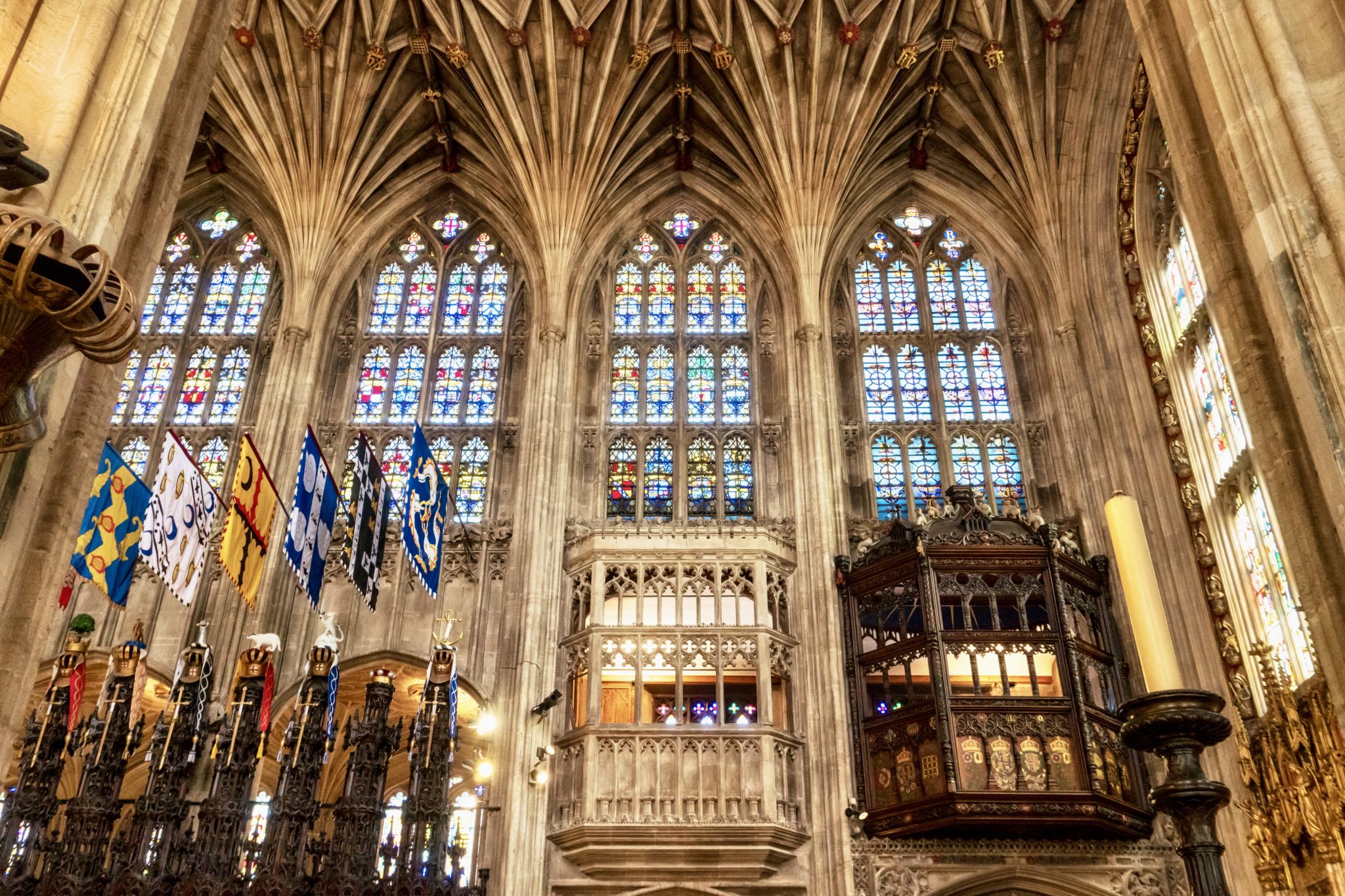 Changing of the Guard: The changing of the guard usually takes place at 11:00 am on Tuesday, Thursday, and Saturday. The famously stoic guards are clothed in the same red tunics and bearskin that they sport at Buckingham Palace.
St. George's Chapel: St. George's Chapel is a stunning medieval chapel in the Perpendicular Gothic style of architecture. The chapel holds a number of famous royal tombs. This is where Prince Harry and Meghan Markle were married in 2018.
Legoland Windsor: Legoland is a family theme park with ride and attractions made out of legos. It's just 2 miles from Windsor. You can pre-book a ticket online.
Windsor Village: A small village is built up around the castle. It's full of lovely shops, restaurants, and pubs. Be sure to wander down High Street, Thames Street, and the pedestrianized Peascod Street.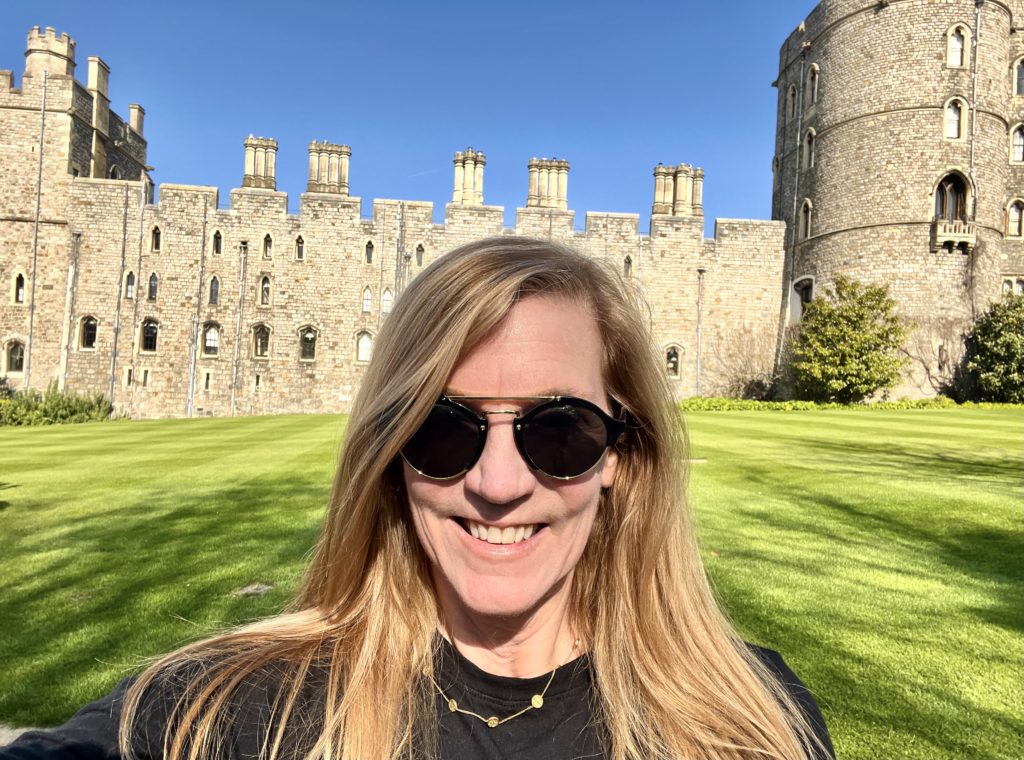 Ascot Race Course: Just 7 miles southwest of Windsor is the town of Ascot. It's famous for its royally owned race track, one of the most famous racing venues in the world. The Royal Ascot races are usually the first week in June.
How To Get To Windsor:
I hope you've enjoyed my guide to the 30+ best day trips from London. You may enjoy these other travel guides and resources:
If you'd like to take some day trips from London, pin it for later