Considering a visit to the town of Rye in East Sussex England? This is the ultimate itinerary for spending one day in Rye. It's the perfect day trip from London, though you may want to stay longer.
Rye is one of England's best kept secrets and one of my favorite medieval towns in all of England. It's a quintessential English town that seems suspended in time.
Rye is an ancient seaside town, perched on a hilltop above the Romney Marshes. It's filled with crooked streets and quirky independent shops.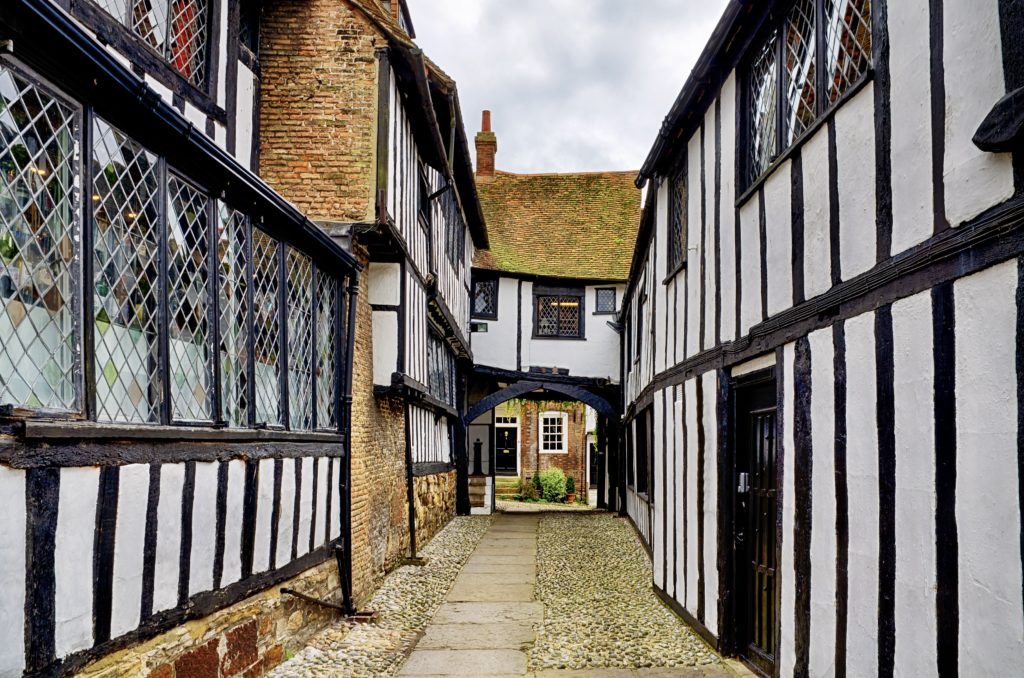 The poet Patric Dickinson once described Rye as "a beautifully jeweled brooch worn at South England's throat."
Rye is the perfect place to immerse yourself in old world English charm. The upscale town boasts the remains of a medieval castle, an awe-inspiring church, and some of the best preserved medieval homes in England.
Queen Elizabeth I bestowed upon the town the distinction "Royal Rye." The novelist Henry James and other literary figures lived in Rye.
Nowadays, the town attracts a fashionable crowd looking for a chic beach getaway, rave-worthy restaurants, and historic inns.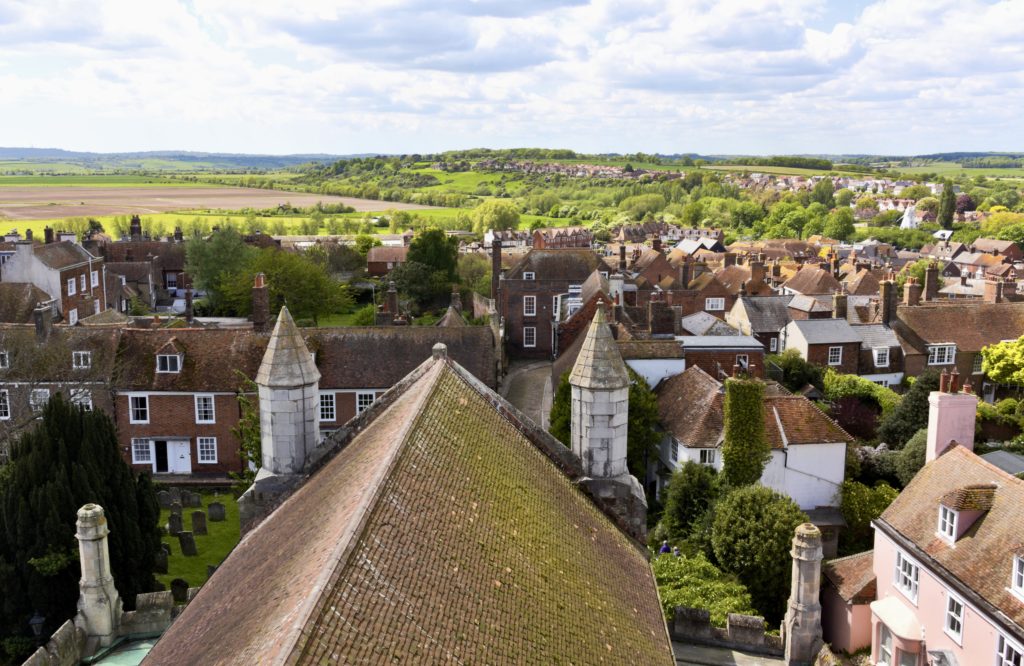 A Short History of Rye
Before we plunge into the best things to do in Rye in one day, a mini-history of the medieval town is in order.
Rye may have a relaxed and charming vibe now, but its history was anything but tranquil. Rye was once a swashbuckling maritime town, flanked by the sea on three sides and almost an island.
In medieval times, Rye was one of England's Cinque Ports. The crown gave Rye a Royal Charter in the 11th century. Rye built ships for the crown to help stave off French invaders and pirates.
In exchange for this defense, Rye received a number of royal perks. The crown turned a blind eye to the citizens' smuggling and exempted Rye from certain national taxes.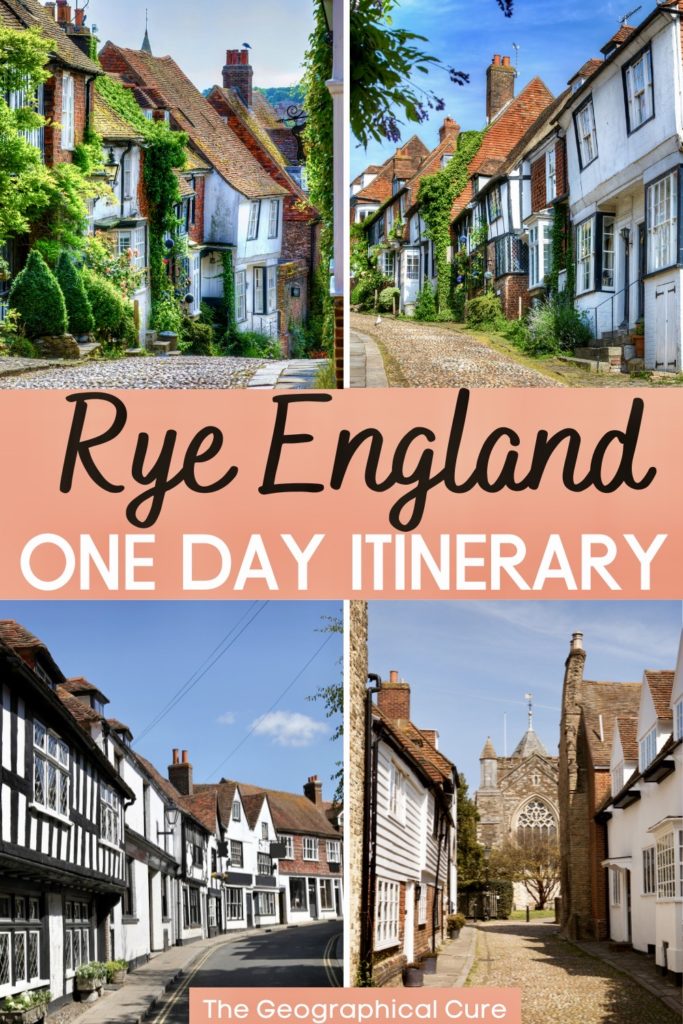 In 1377, the French raided Rye. They burned most of the town to the ground and carried off ample loot, including Rye's church bells, back to France.
Some of Rye's citizens were suspected of not putting up sufficient resistance and were hanged for treason. In 1378, Rye launched a retaliatory raid on the French and reclaimed the bells.
In the 15th and 16th centuries, Rye's defenses were further improved and fortified. The town gates and Ypres Tower were built.
In the 17th and 18th centuries, Rye was the favored lair of smugglers. The notorious Hawkhurst Gang, who operated from 1735-49, had its headquarters at the Mermaid Inn.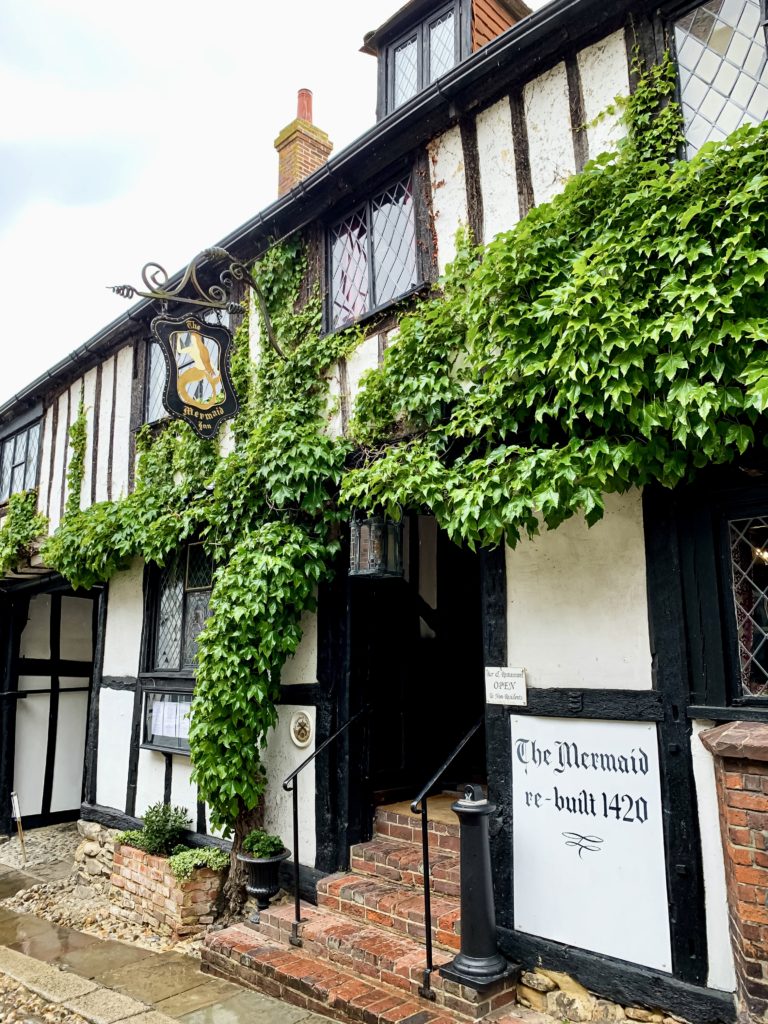 As late as 1823, tides still swirled around Rye. But then the rivers silted up and receded, leaving Rye two miles from the English Channel.
Rye is also known for its literary associations. The novelists Henry James and E.F. Benson lived in Rye in Lamb House.
James was a great psychologist realist and Benson was a social satirist. They both featured Rye (under other names) in their books. And they entertained literary figures like Rudyard Kipling, H. G. Wells, and Hugh Walpole.
The novelist Rumer Golden also lived in Rye and both she and Beatrix Potter used the town as the setting for their books.
So pretty is Rye that's is been a filming location for several movies and TV series, including Monument Men, Season 3 of The Crown, and Mapp and Lucia.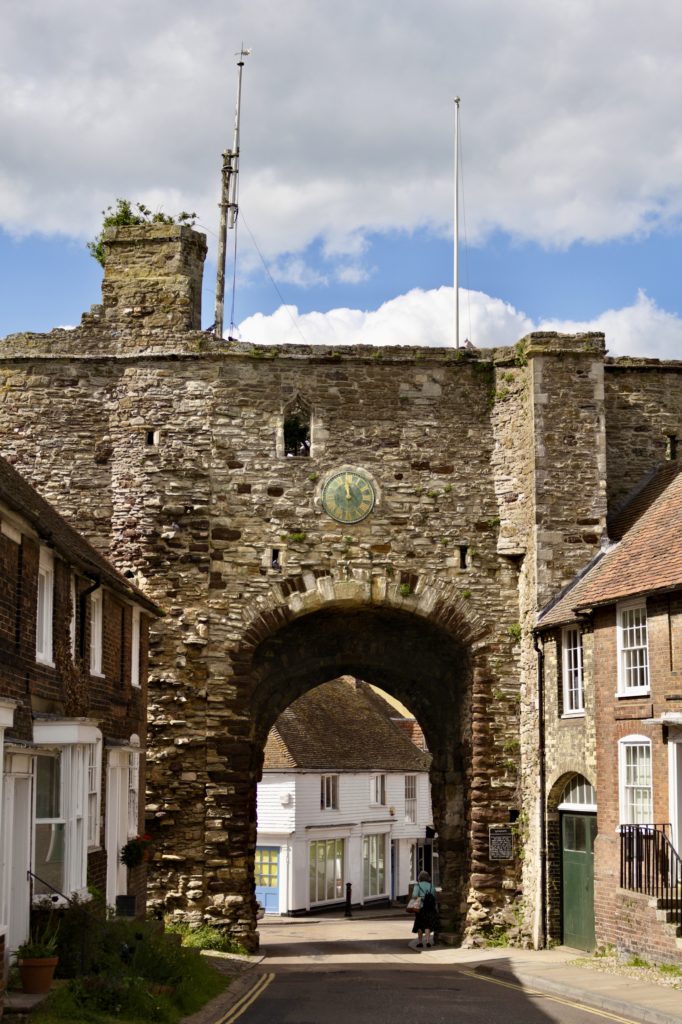 One Day In Rye Itinerary, Best Things To Do
Here's how to spend 1 perfect day in Rye, covering all the best things to do and see. In the morning, you'll see Rye's medieval sites. In the afternoon, you can visit Lamb House and head to Camber Sands, Camber Castle, or Winchelsea.
Be sure to wear comfy walking shoes to navigate the cobbles.
1. Landgate Arch
If you parked in the public car park, you may already have caught a glimpse of Landgate Arch, one of Rye's landmarks. It's the last remaining vestige of the town's ancient walls and the finest gate in southeast England.
Built in 1340, it's the only one of three gates to survive. It has two barrel shaped towers and a stone archway, which was once fitted with a drawbridge and portcullis.
The clock above was installed in 1863, as a memorial to Queen's Victoria's beloved consort Prince Alfred.
If it's a chilly day or you need some caffeine, Knoops is just beyond the gate. The cafe specializes in hot and cold chocolate drinks. I visited in March and started my day with a delicious hot chocolate.
2. Ramble The Old Town
Begin your day in Rye with a leisurely stroll through the cobbled town, past adorable half timbered homes with red brick roofs.
It's one of the best things to do in Rye and you'll find beautiful Georgian, Tudor, and Victorian architecture. Some of the buildings charmingly lurch and bulge or have quirks like tiny doorways.
You may want to do some shopping in Rye. If so, head to the main drag, High Street.
You won't be able to resist its lineup of cute independent shops, which are so different than the plain vanilla chain stores you may be used to.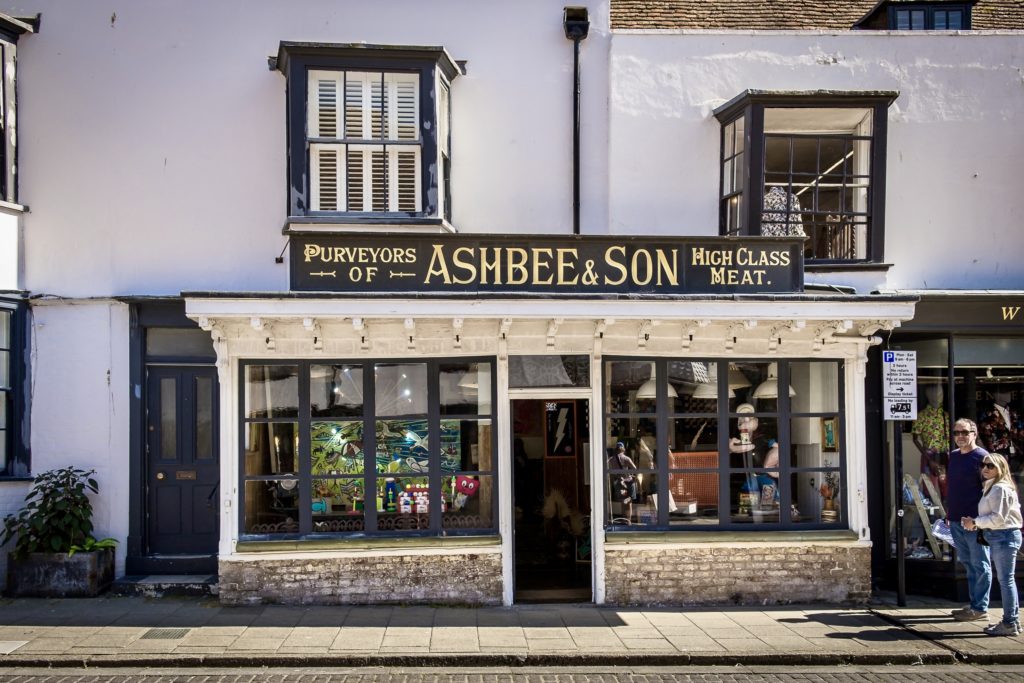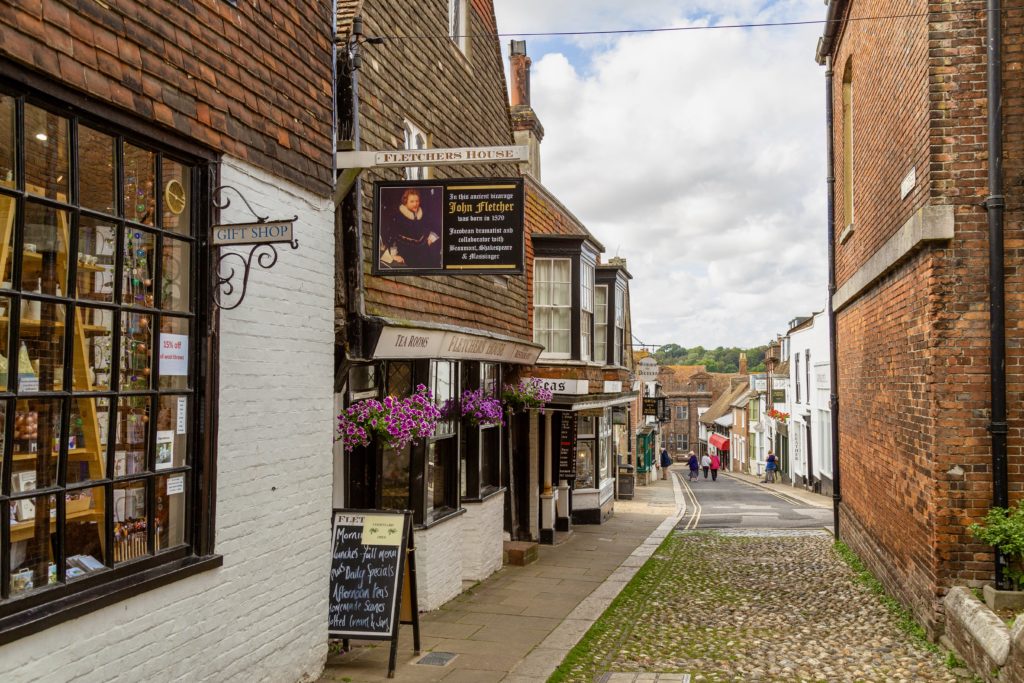 You'll find everything — artisan wares, jewelry, luxury goods, vintage finds, and art galleries Homeware hunters will do especially well. Strand Quay is where you can hunt for antiques or search for treasure in vintage shops.
My favorite shops in Rye were Rye Pottery (mid-century modern pottery) and Pale and Interesting (lifestyle and homeware shopping).
Are you a literary lover? Take some time to pop into Rye's many bookshops.
Rye Bookshop is a mainstream and academic book retailer that encourages browsing. Rye Old Books is on Lion Street and is charming inside and out.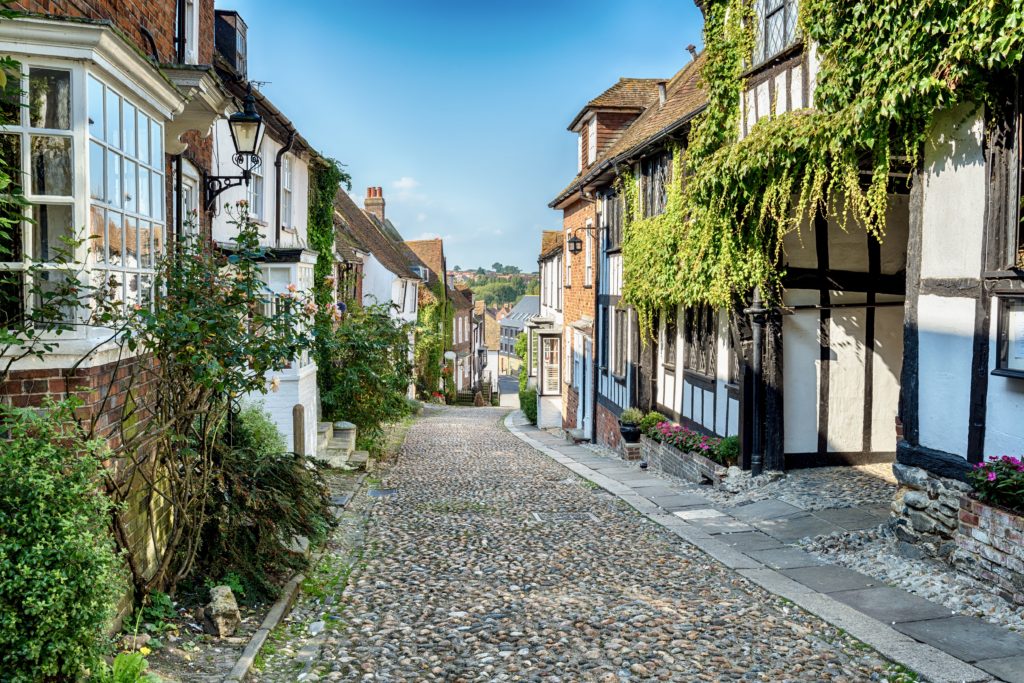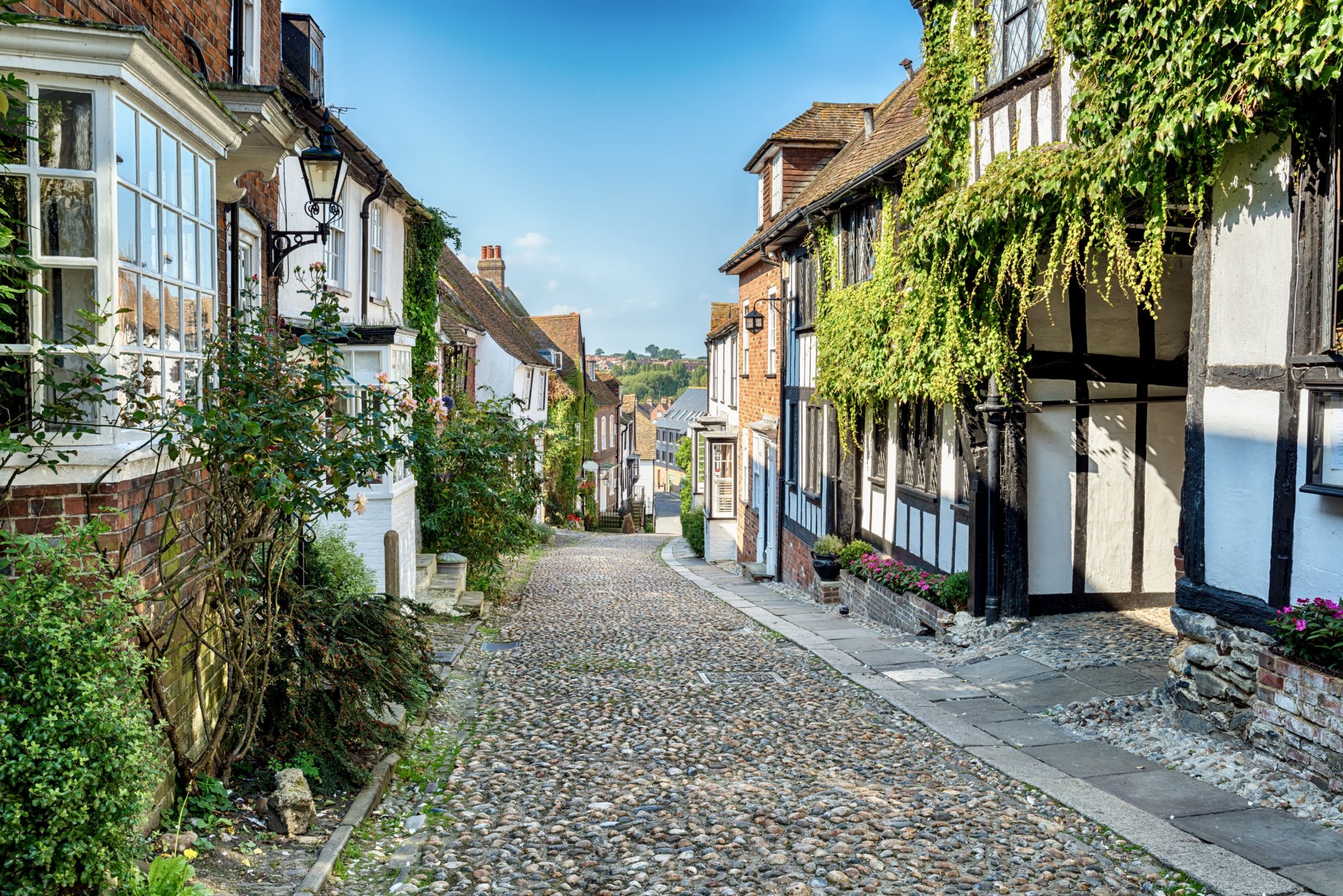 3. Mermaid Street
No one day in Rye would be complete without a stroll (or two!) down Mermaid Street, Rye's most picturesque lane. The cobbled lane dates from the 10th century. It's the street of your English dreams and a visual delight.
Mermaid Street is full of crooked half timbered houses and ivy covered walls. In summer, purple clematis and honeysuckle bloom on facades and pots of flowers decorate almost every step and still.
It's no wonder Mermaid Street is regularly listed as one of Britain's prettiest lanes and is one of the country's most photographed streets.
The homes have fanciful names with an old fashioned ring to them like "The House Of Two Doors," "The House Opposite," and "Cobble Cottage."
On Mermaid Street, you'll find one of England's most historic and charming inns, the Mermaid Inn. It's Rye's largest medieval building.
The hotel was once the stomping grounds and drinking den of smugglers and pirates.
It stopped operating in 1770. But, in 1993, new owners purchased the building and refurbished it. It's since been visited by many celebrities including Pierce Brosnan and Johny Depp.
Today, the Mermaid Inn lives a (mostly) peaceful existence. Inside, you'll find secrets passages, creaking wood floors, sloping ceilings, and mullion windows. It's though to be haunted by several ghosts, including a lady in white and spirits of the Hawkhurst smugglers.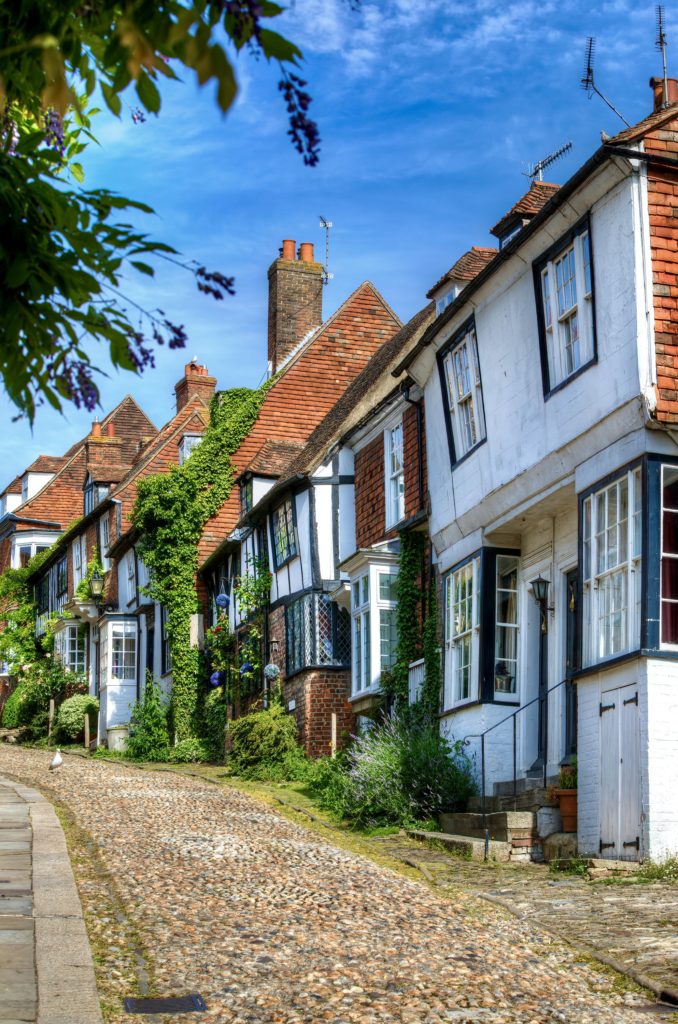 4. Augustine Friary
The Augustinian Friary, sometimes called the Monastery, was originally part of the Monastery of Friars Heremites of St. Augustin in 1380. It's on Conduit Hill.
The friary suffered from the French raid of 1377, which destroyed most of the town by fire. In 1538, the friary was closed as part of Henry VIII's dissolution of the monasteries.
Since then, the friary has been used as a theater, malthouse, barracks, a butter and cheese warehouse, and war hospital.
Disturbing artifacts have been discovered near the friary, including skeletons of people that were buried alive. Because of that, the friary is famous for being haunted.
Today, the friary is a Grade II building that is partly in ruins and deemed "at risk." Part of the chapel building houses one of Rye's six pottery shops.
5. Ypres Tower
Next, walk uphill to Ypres Tower and spend some time learning about Rye's history. The locals call it the "Wipers Tower."
Built in 1250, it's the oldest structure in Rye. Henry III built the tower for defense and it once served as a women's prison.
By 1430, it had lost its military importance and became the home of John de Ypres, for whom it is named. It was later used as a jail and courthouse.
Today, the tower is home to the Rye Castle Museum, a free history museum. It gives you an overview of the history of Rye. Exhibits include armor, medieval weapons, old jail cells, and smuggler's equipment.
Don't forget to step out on the rooftop terrace for fine views of the town.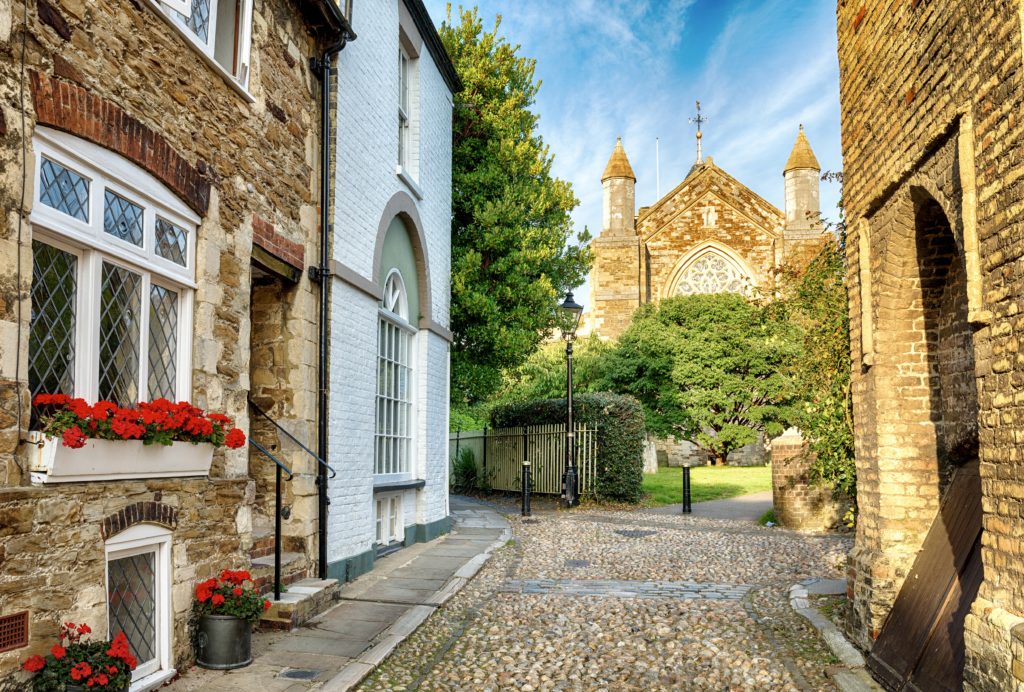 6. St. Mary's Church
As you leave Ypres Tower, the St. Mary the Virgin Church looms on the left. This 900 year old church is known as the "Cathedral of East Sussex" and is one of the prettiest churches in southeast England.
Building began in the 11th century and continued for 100 years. Much of the church was destroyed when the French raided Rye in 1377. In time, the church was rebuilt.
It comes complete with the requisite stained glass, intricate stonework, lovely chapels, and a 12th century nave. Of special interest for literary pilgrims is the west window donated by novelist E.F. Benson in memory of his parents.
What sets it apart from other churches, though, is its remarkable St. Mary's Tower, which was built in 1560. It still functions with its original turret clockworks.
If you climb up the steep narrow stairs, you'll have wonderful views over Rye's mossy roofs and the surrounding countryside. If you visit in June, you'll see swaths of yellow rapeseed flowers.
But it's not a particularly easy trudge. There are 82 stone steps and a ladder to haul yourself up to the top.
In the bell room, you can inspect the bell's 18 foot pendulum and get a primer on church bells. The church is open daily from 9:00 am to 6:00 pm, closing at 4:00 pm in winter. There's even a children's corner.
Right behind the church is the 16th century brick Rye Water House. This ancient tank negated the need for residents to pump water by hand.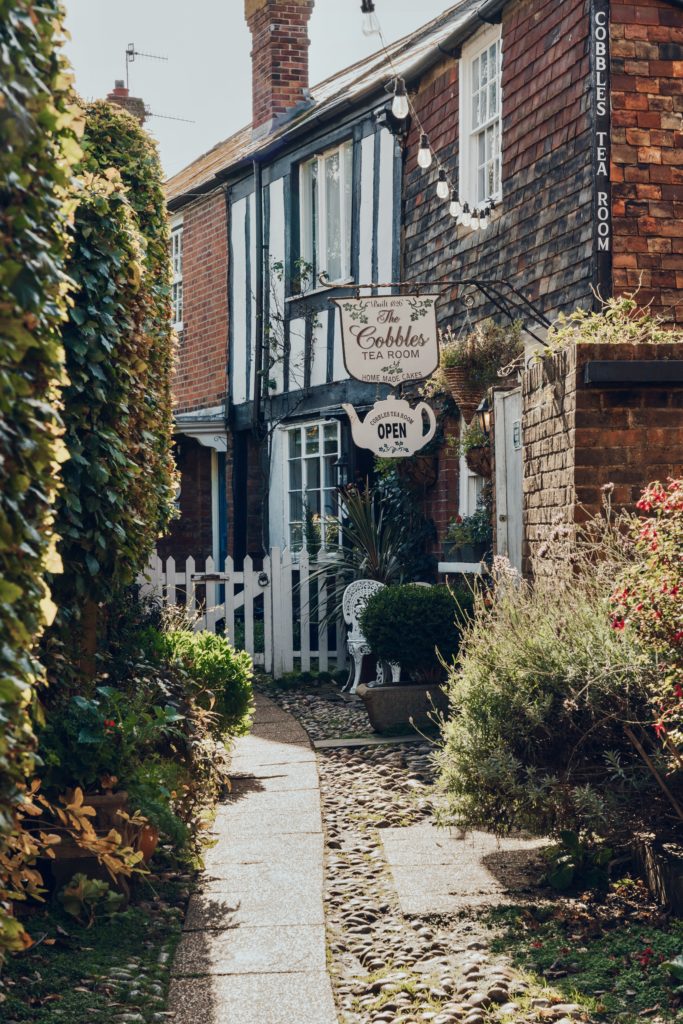 7. Lunch at Cobbles Tea Room
Now that you've seen Rye's medieval sites, it's time for lunch on your one day in Rye itinerary.
I recommend having lunch at the historic Cobbles Tea Room. Opened in 1953, the cafe is covered with roses in summer and serves light lunches and afternoon teas all day.
Another great tea shop is Simon the Pieman, where you can sit down in a cute setting or get a cake from the takeaway shop.
You could also try Fig, a buzzy cafe that serves innovative salads, soups, and quiche. Leave room for ice cream at the Mermaid Street Cafe.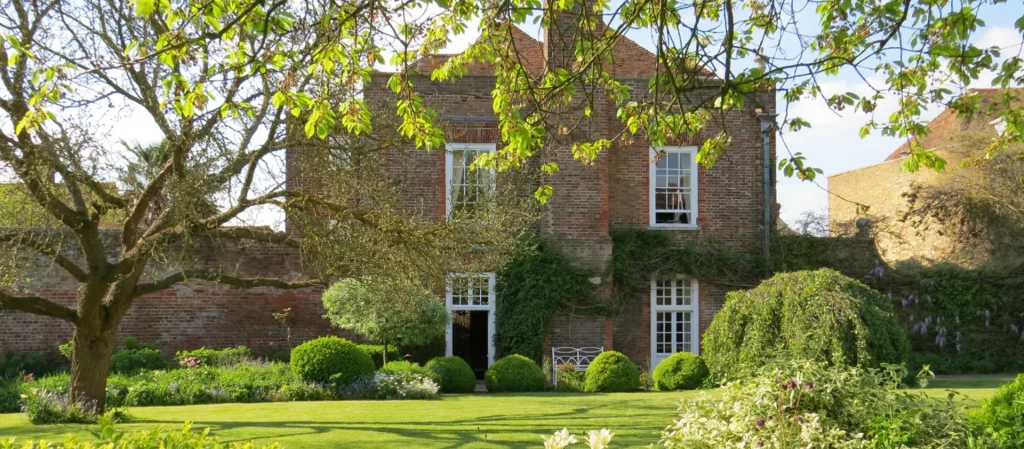 8. Lamb House
After lunch, literary pilgrims will want to amble up to Lamb House at the top of Mermaid Street. It's a National Trust property that gives Rye some literary cred.
The red brick Georgian house was built in 1722 by James Lamb, a wealthy wine merchant and local politician.
Lamb House is definitely one of the best things to do in Rye and was once the home of two literary giants: Henry James and E. F. Benson.
The Nobelist Henry Janes lived here for 16 years from 1898 until his death in 1916. He wrote three of his novels at Lamb House: The Ambassadors, The Golden Bowl, and The Awkward Age.
Benson first visited the house in 1900 as a guest of Henry James. He took up residence in Lamb House in 1919 and even become Mayor of Rye.
The house was a great inspiration to both novelists and is featured in their works. Most famously, Lamb House (and Rye) were featured in Benson's popular Mapp and Lucia book series.
Lamb House also hosted King George I when his ship ran aground on the coast near Rye in 1726.
The house is modest enough, and you can imagine living there. In the center hall, you'll see portraits of James' illustrious visitors. You can see some period furniture owned by James and tour several rooms, including where James and Benson worked.
The dining room has French doors opening onto a one acre lawn and lovely garden, which is unexpectedly large for a house of this size. From the parlor, you can see St. Mary's Church.
Address: West Street, Rye, East Sussex, TN31 7ES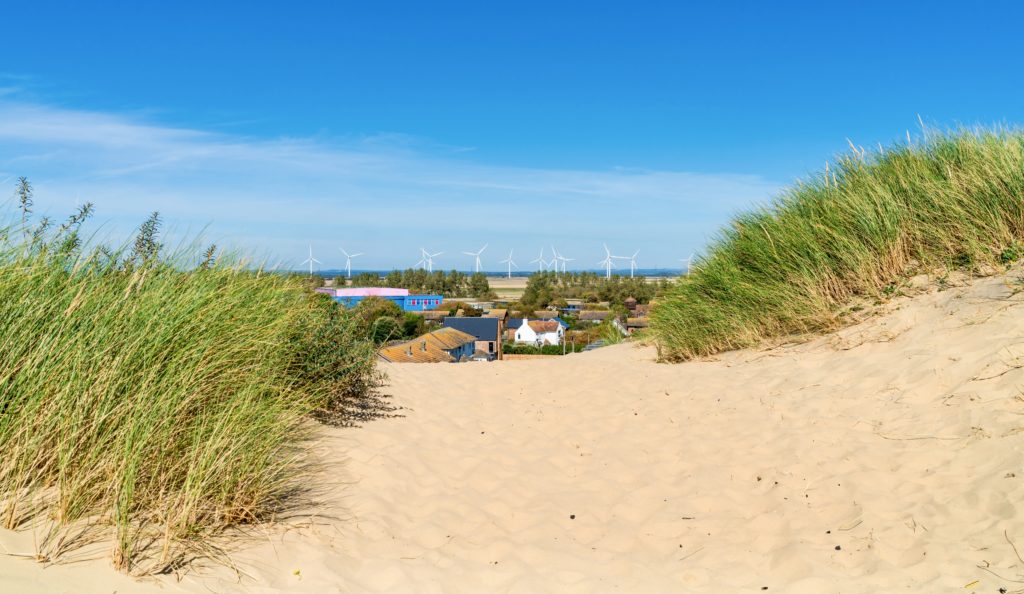 9. Hit The Beach At Camber Sands
If it's a sunny day in Rye, you may want to hit the beach. Rye is a very small town you can visit in a few hours, so you can easily make a beach detour during the afternoon of your one day in Rye.
Camber Sands is one of England's finest golden sand beaches, set against a backdrop of grassy dunes. It's beloved by both tourists and locals.
You can hop on Bus 201 to get there in 20 minutes or work off your lunch by taking the three mile walk.
You can lounge in the sun or go kite and windsurfing. Keep an eye out for seals popping their heads out above the waves. Just remember it can get a touch windy, even in summer.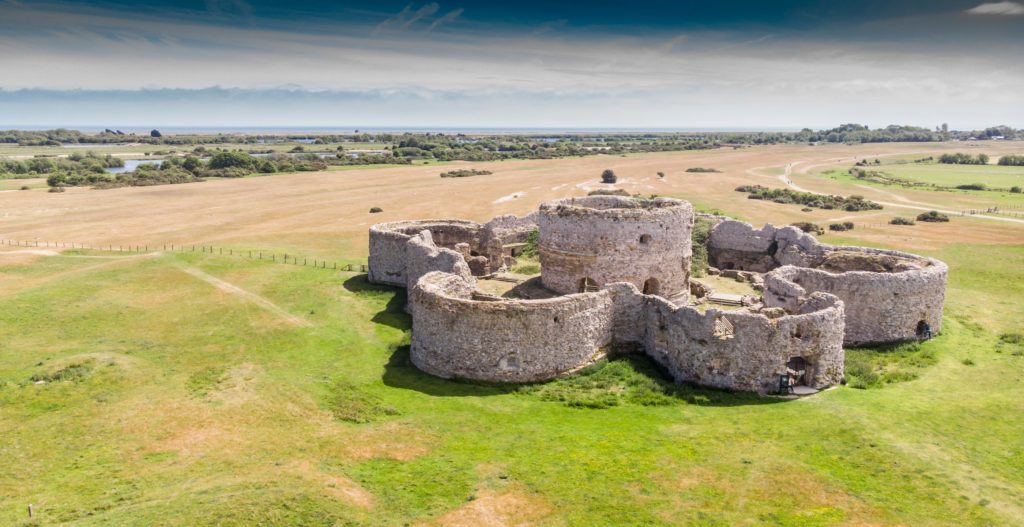 10. Camber Castle
If you're a Tudor enthusiast, one of the best things to do in Rye is visit the ruins Camber Castle off to the east. It's also known as Winchelsea Castle.
It's a one mile walk from the picturesque town of Rye in Kent. (You can't access it by car.)
You'll cross the Rye Harbor Coastal Reserve and come across a bird watching hut. This is a good place to stop and do some bird watching before you visit the castle.
Built in 1512, Camber Castle was once a Henry VIII "gun fort" with curtain walls built in the shape of a flower. It was intended to defend Rye Harbor against French attacks.
But Camber saw little military action. By the end of the Tudor era, the sea had receded 2 miles, making Camber a bit of a dinosaur.
The castle lies in ruins. You can admire the atmospheric exterior and the sheep and cattle grazing nearby. It's only open to visitors the first Saturday of the month from August through October, with guided tours starting at 2:00 pm.
11. Winchelsea
Another option for the afternoon of your one day in Rye is to visit Winchelsea, a village just 5 miles from Rye. It dates from Roman times, but was wiped out by a great storm in 1287.
Edward I decided to rebuilt the town and it's one of very few planned medieval communities. Unfortunately, Winchelsea was ransacked a bit in the Hundred years War.
Today, it's part village and part walled meadow. Three of the town's original gates still stand.
You should visit the 12th century parish Church of St. Thomas Martyr. Above the door is a carving of the infamous Isabella, the "She-Wolf" of France who plotted the murder of her husband Edward II.
In the church graveyard, you'll find the famous tomb of Spike Milligan, a British comic. The funeral stone reads "See I told you I was ill!" in Gaelic.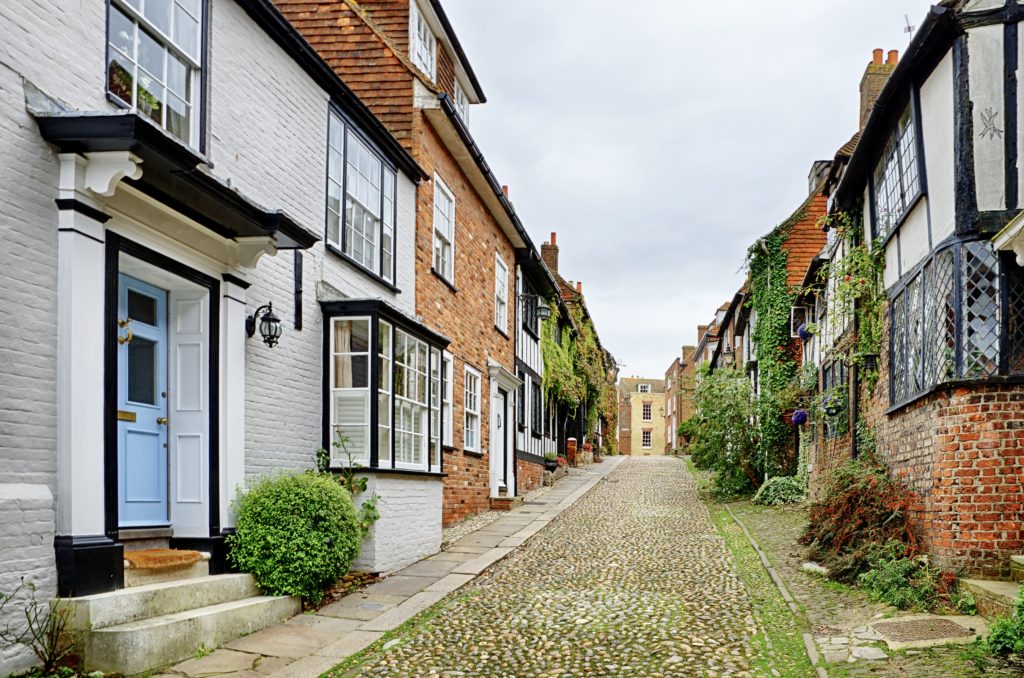 12. Cocktails & Dinner in Rye
Rye is loaded with quaint old boozers where you can relax and have a pint before dinner. The George Inn is a historic spot that just reopened in May 2022 after major renovations.
You can also sip local craft beers at the tiny award-winning Rye Waterworks Micropub on Tower Street, which is far and away Rye's best pub. It's housed in a 300 year old former water pump.
Or, grab a table in the Ypres Castle Inn beer garden.
Rye also has a reputation for great restaurants and a hot foodie scene. This area of England is bountiful, with a warm microclimate.
Restaurants get fresh seafood from Rye bay, meat from the sheep grazing the grasslands, and fruit from Rye's orchards.
Landgate Bistro has been voted the best restaurant in Rye for many years. It serves up locally sourced food with an inventive twist.
Fletcher's House on Lion Street is housed in a medieval home and specializes in innovative British food. The Mermaid Inn also has highly rated restaurant in a romantic setting.
If you want something more casual, head to The Standard Inn for some pub classics in a cozy 15th century tavern.
Tips For Visiting Rye
Here are some must know tips for visiting Rye.
1. How To Get To Rye:
By car:
Rye is 63 miles southeast of London and an approximately 1.5-2 hour drive. When you cross the bridge and enter Rye, you'll see the first of six municipal parking lots on the right.
By train:
From St. Pancras Station, the fastest train is just over an hour away. From the Rye Sussex station, turn left on Cinque Ports Street to head into the town.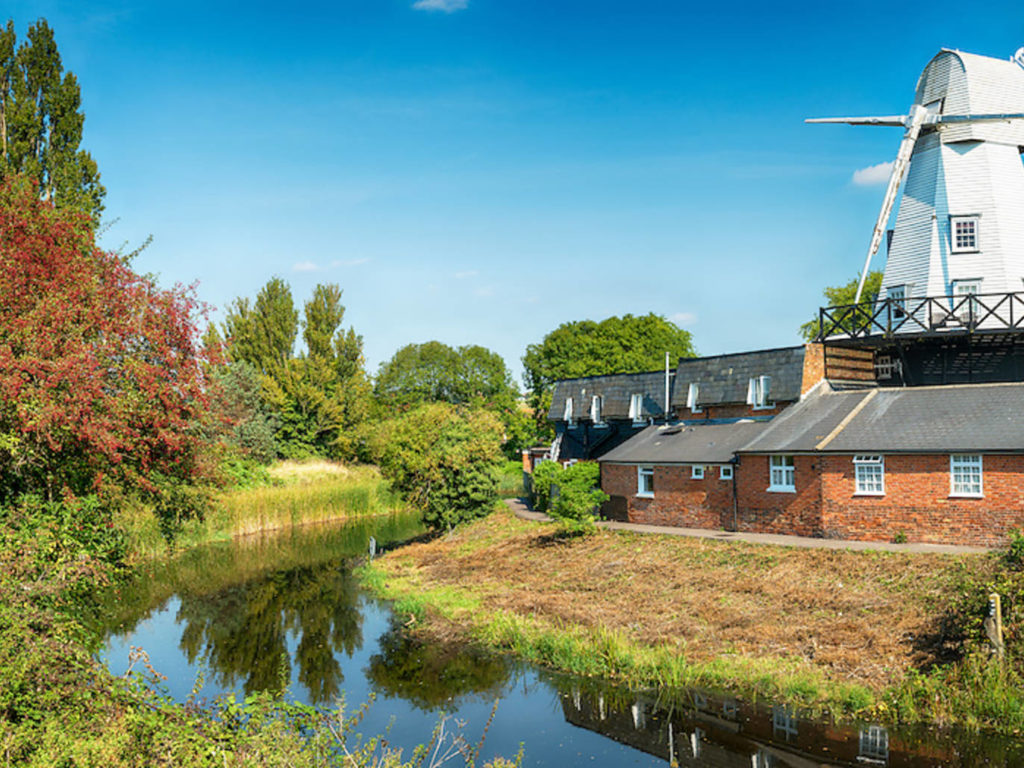 2. Where To Stay In Rye
Why not end your one day in Rye with an overnight stay at one of Rye's impeccably restored historic inns?
Rye is a place where haste is not recommended. It's where you can slow down and enjoy leisurely meals and historic hotels.
As I mentioned above, the Mermaid Inn is a lovely hotel in a historic building. It has 30+ rooms that are all unique with four poster beds and wood paneling.
The George Inn is newly restored, quite a spectacle, and probably the best place to stay in Rye. Jeakes House and Willow Tree House are 5 star bed and breakfast in historic buildings.
Rye Windmill is a Grade II-listed building with ten unique rooms serving up a delicious breakfast in the original mill bakery.
If you want to stay near the beach at Camber Sands, you can check out The Gallivant. It's a Hampton's style boutique hotel and yoga retreat.
You'll be treated to roaring fires and sheepskin throws. Plus, the hotel has a kitchen serving up locally sourced food.
3. Is Rye Worth Visiting?
100% yes! Rye is well worth a visit unless you don't like adorable medieval towns awash in cobblestone streets and oozing old world charm.
Plus, the town offers something for everyone. You can enjoy the seaside, the countryside, and history all in one place. You can ramble the old town, hit the beach, check out castles, shop, and indulge in the amazing local cuisine.
4. When To Visit Rye
The summer months in Rye are flooded with day and weekend trippers and beach goers.
There are also a fair number of festivals in the summer, including the Rye Jazz Festival and the Appledore Flower Festival.
In the fall, the foliage is beautiful and the Rye Arts Festival is held in September.
In winter, Rye becomes a foodie paradise. Rye Bay Scallop Week takes place every February, and the town is worth a trip just for the shellfish.
5. Places To Visit Near Rye
Do you have more than one day in Rye? There are plenty of attractions and places to visit near Rye that you might combine on a day trip or weekend getaway.
For example, the counties of Kent and East Sussex are loaded with castles. You can visit Hever Castle (1 hour from Rye), Hastings Castle (30 minutes from Rye), Leeds Castle (45 minutes from Rye), Bodiam Castle (20 minutes from Rye), and Pevensy Castle (45 minutes from Rye).
If you want to visit some of these gems, check out my guide to the best castles in England.
If you're not a resident in England and want to visit several castles, you may benefit from buying an English Heritage Pass for Overseas Visitors.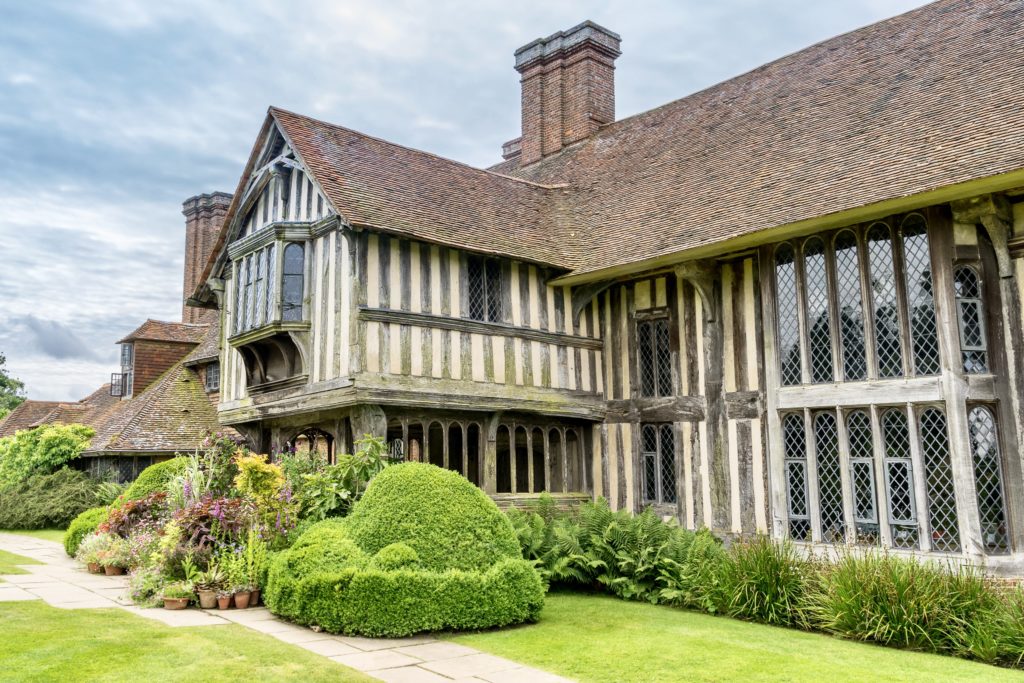 Another nice attraction near Rye is Great Dixter House, just 9 miles down the road. Built in 1460, it boasts one of the largest timber framed halls in England.
The real delight is the garden, which features ponds, topiaries, and exotic flowers. You can visit the inside on a guided tour.
My favorite city near Rye is Canterbury, which is about a hour away. Canterbury is a beautiful UNESCO town that's rich in history and architectural splendor. If you'd like to visit, you can check out my one day in Canterbury itinerary.
I hope you've enjoyed my one day in Rye itinerary. You may enjoy these other London and UK travel guides:
If you'd like to spend one day in Rye, pin it for later.