Planning a day trip to Dover England? This one day in Dover itinerary tells you everything to do and see, with must know tips for visiting.
The port town of Dover has been around since Celtic times. It's a mixture of history and natural beauty.
Dover is renowned for the looming chalk white cliffs that welcome you to England, the same way the Statue of Liberty does in the United Sates.
Dover itself isn't the prettiest English town, with a rather hardscrabble feel. But the city's landscapes are breathtaking and its attractions will keep you busy. The ocean breeze on your face alone is worth making the day trip from London.
Overview Of One Day In Dover Day Trip
Here's a quick snapshot of what you'll see in 1 day on a Dover.
Dover Castle
White Cliffs
St. Margaret's Bay
Dover Museum
Roman Painted House
Dover Town Hall
You should allocate most of your day to the first two attractions.
Day Trip Tours From London To Dover
If you want to book a guided Dover day trip from London, you have plenty of options, some of which take you to multiple places. You can book a: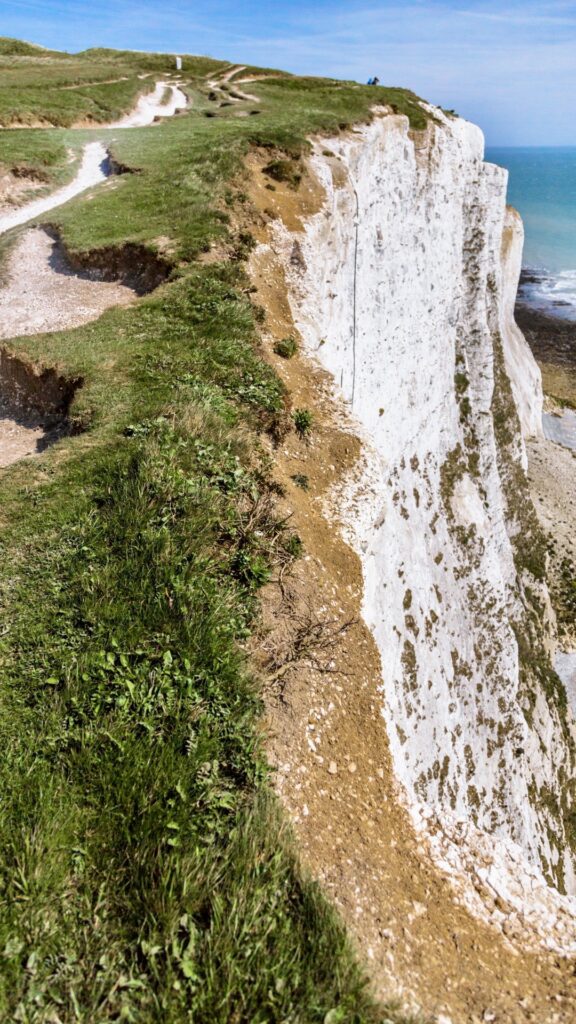 A Short History Of Dover
Dover is just 17 miles off the French coast.
Since England and France were frequently at war, that location meant Dover was guaranteed to be a busy trading port and strategic focal point for defense. Even Julius Caesar commented that it was "clearly no place to attempt a landing."
Dover was first inhabited by the Celts. Later, the Romans arrived and built a sea fort. When the Romans left, the Saxons moved right in.
When William the Conqueror won the battle of Hasting and conquered England, one of his first acts was to construct a makeshift castle in Dover. The imposing castle you see today was built by Henry II and was England's primary defensive stronghold for centuries.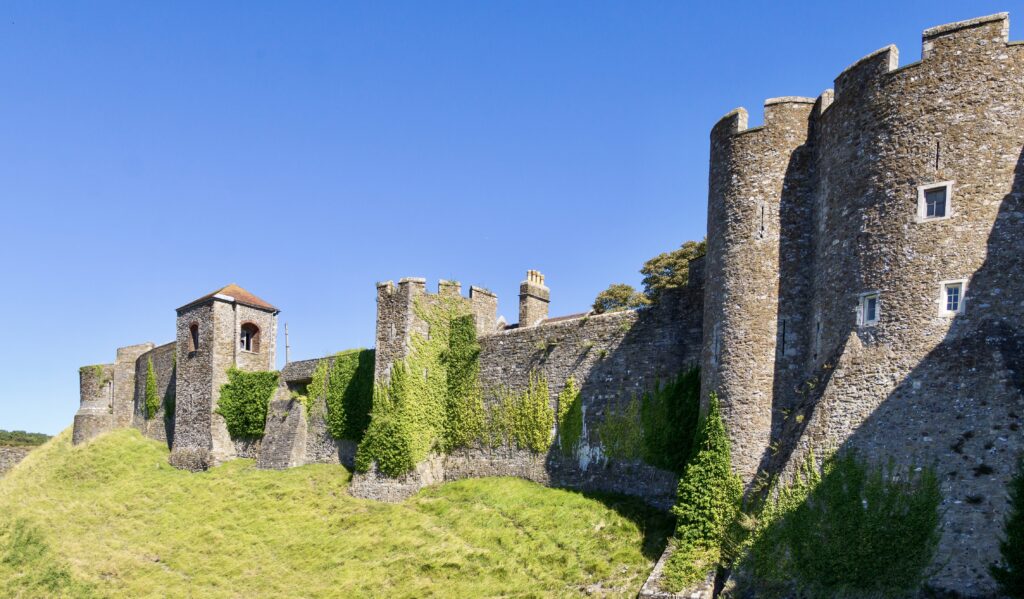 Aside from defense, a medieval chronicler once said that Dover was "the key to England." In fact, the city was the main embarkation point to and from Europe.
Kings and queens were coming and going, with elaborate ceremonies meeting and greeting them. Control of Dover was so critical that the castle was the focal point of nearly every battle for the English crown.
Medieval governments took great pains to keep the town prosperous and its defenses in tip top shape. Watling Street, the road that linked London and Dover, was the busiest street in England during the Middle Ages.
Today, Dover still remains a major port.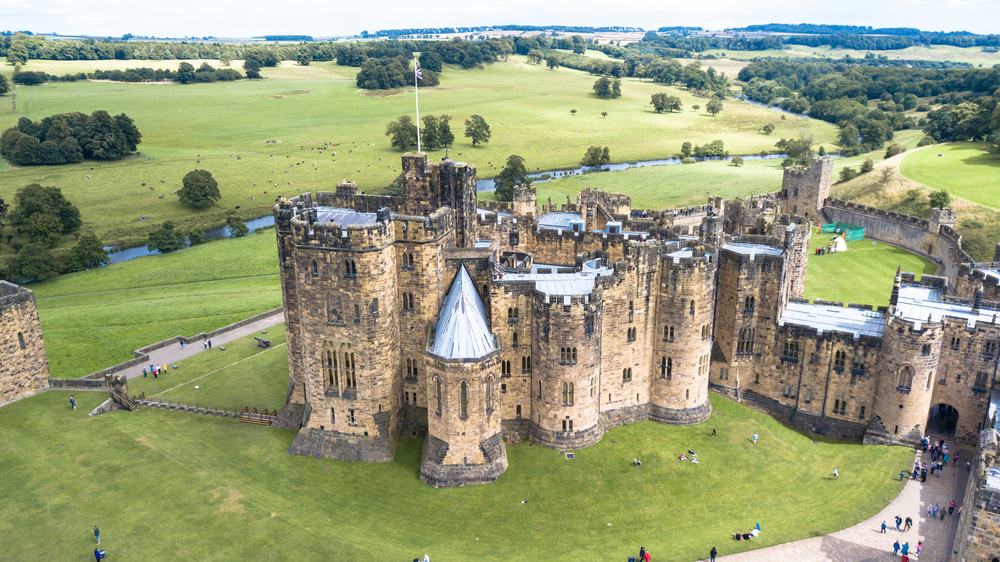 What To Do In Dover In One Day
Here are the best things to do on a jam packed Dover day trip from London.
Dover Castle
Start your one day in Dover at the formidable Dover Castle. It opens at 10:00 am.
Click here to book a skip the line ticket in advance. You can also visit the castle with the English Heritage Pass.
This is England's largest castle. In fact, it's 50% larger than Windsor Castle.
The castle will warm the cockles of any fan of Medieval history. You can easily conjure up visions of knights, lords, and ladies.
The castle dates from the late 12th century and was built during the reign of Henry II, one of England's greatest kings. Henry was determined to keep England safe from France.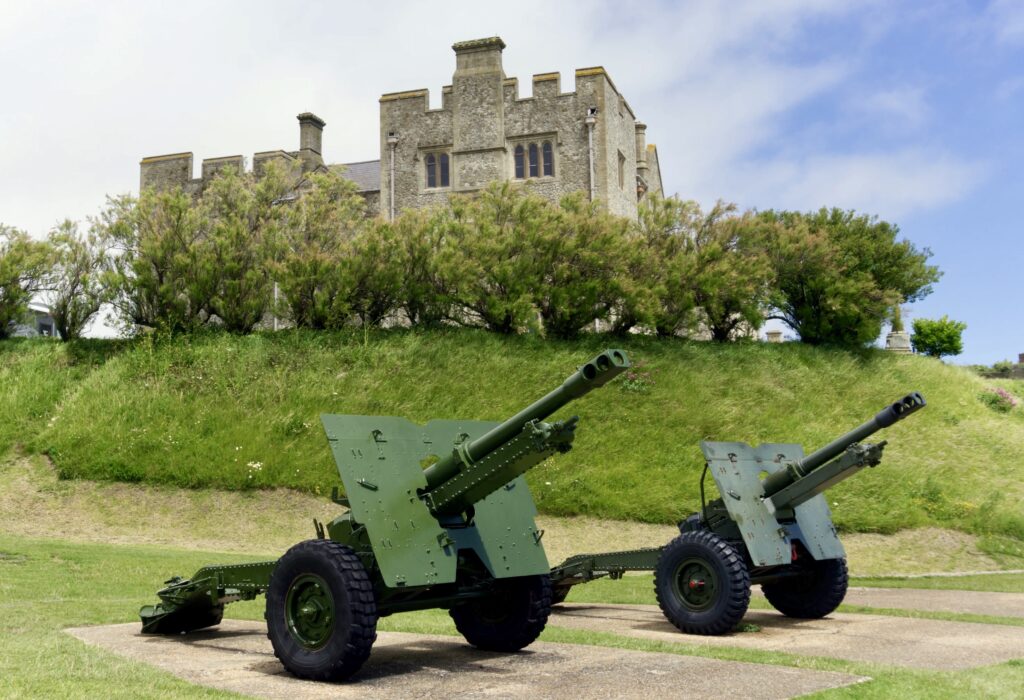 Henry VII later remodeled it for artillery warfare. The castle hasn't changed much since the 13th century. It was the last of the gigantic square stone keeps built in England.
The oldest part of the castle is the well-preserved old Saxon church, St. Mary of Castro, built in 630. It has a Roman lighthouse as its bell tower, and it's the oldest surviving lighthouse in the UK, dating from 50 A.D.
The central keep was 80 feet tall and its curtain walls 100 feet long.
The outer wall once had 30 towers. The inner wall had 14 towers to accommodate archers. The tops of these towers were later chopped off to make room for gun emplacements, so they are a bit diminished from their prior medieval state.
Inside the keep, you'll find Henry III's Great Hall, royal chambers, and a stunning private chapel. As you enter, check out the medieval graffiti on the chapel walls.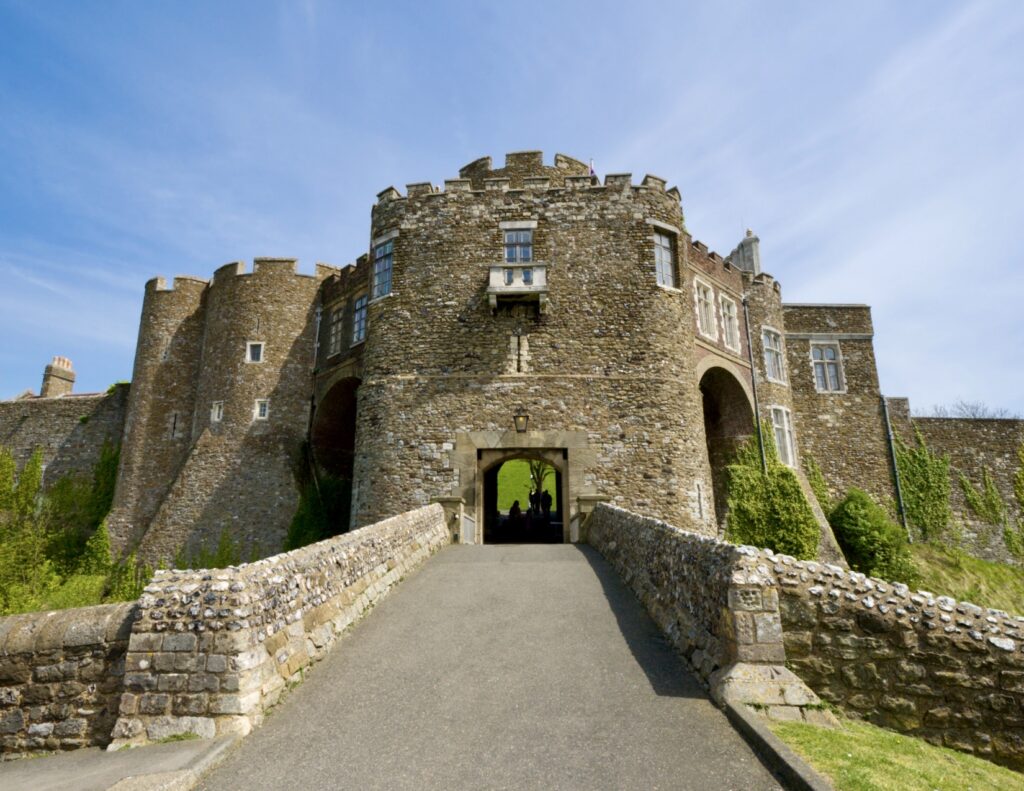 Other medieval features of the castle are the formidable Constable's Gateway, a labyrinth of ancient tunnels, the curtain walls, and towers. Weaponry and armaments are scattered around the grounds.
You can climb the Great Tower for rooftop views. On a clear day, you can see all the way to France.
The tower also has six recreated medieval rooms from Henry II's time, complete with furnishing and wall hangings. Costumed guides are on hand to answer any questions.
There are plenty of displays to help re-create the goings on in the Middle Ages, including a multimedia presentation and an introductory film.
Today, the castle is home to the Princess of Wales' Royal Regiment and The Queen's Regiment Museum.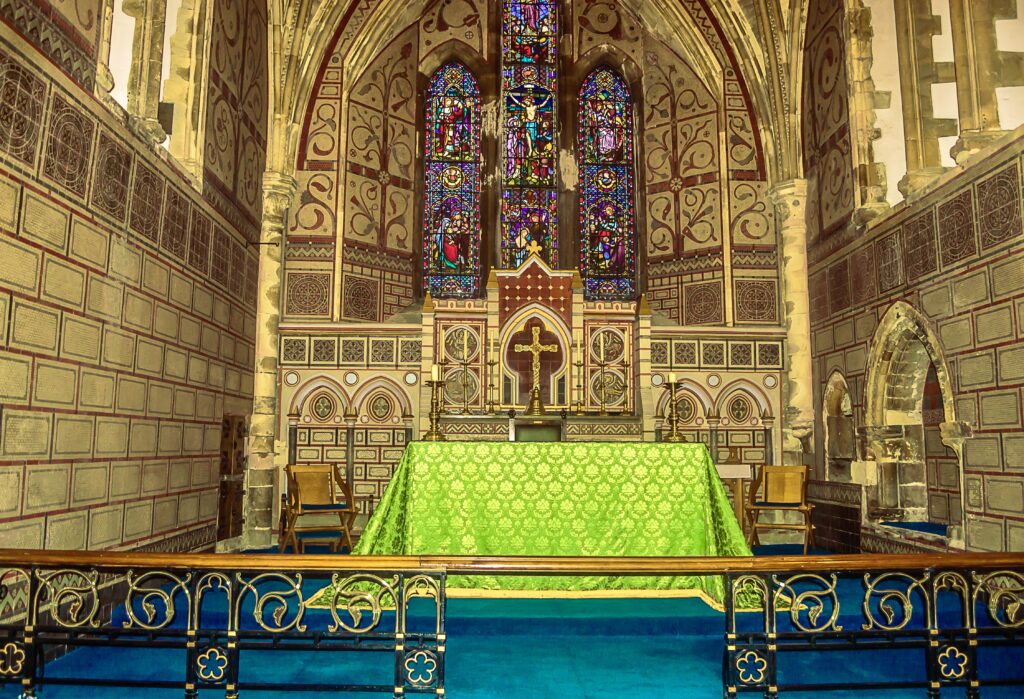 Lunch
The castle will take at least a couple hours or more to explore. So, after that, you should get lunch before heading to the White Cliffs. I would keep it a short one so you have adequate time to poke around the town itself afterward if you want.
You can check out Aspendos Dover for Mediterranean food, Il Rustico for Italian fare, or grab some Lebanese take out from Momo Hub.
Alternatively, you can bring a picnic lunch and eat on the cliffs themselves (your next stop). You'll find picnic tables at the parking lot and at the lighthouse.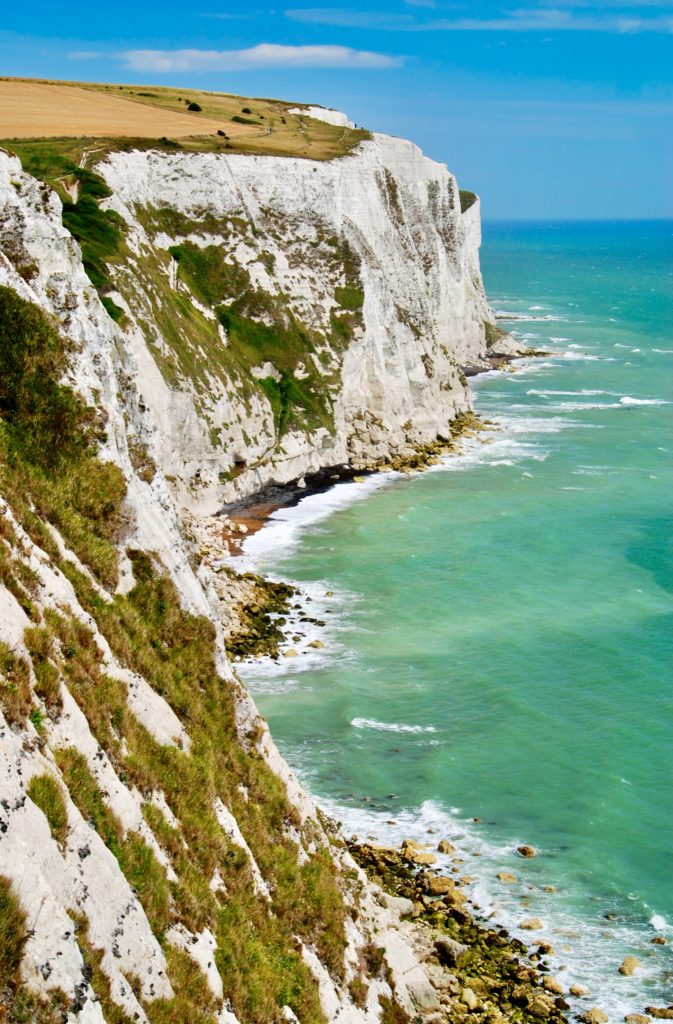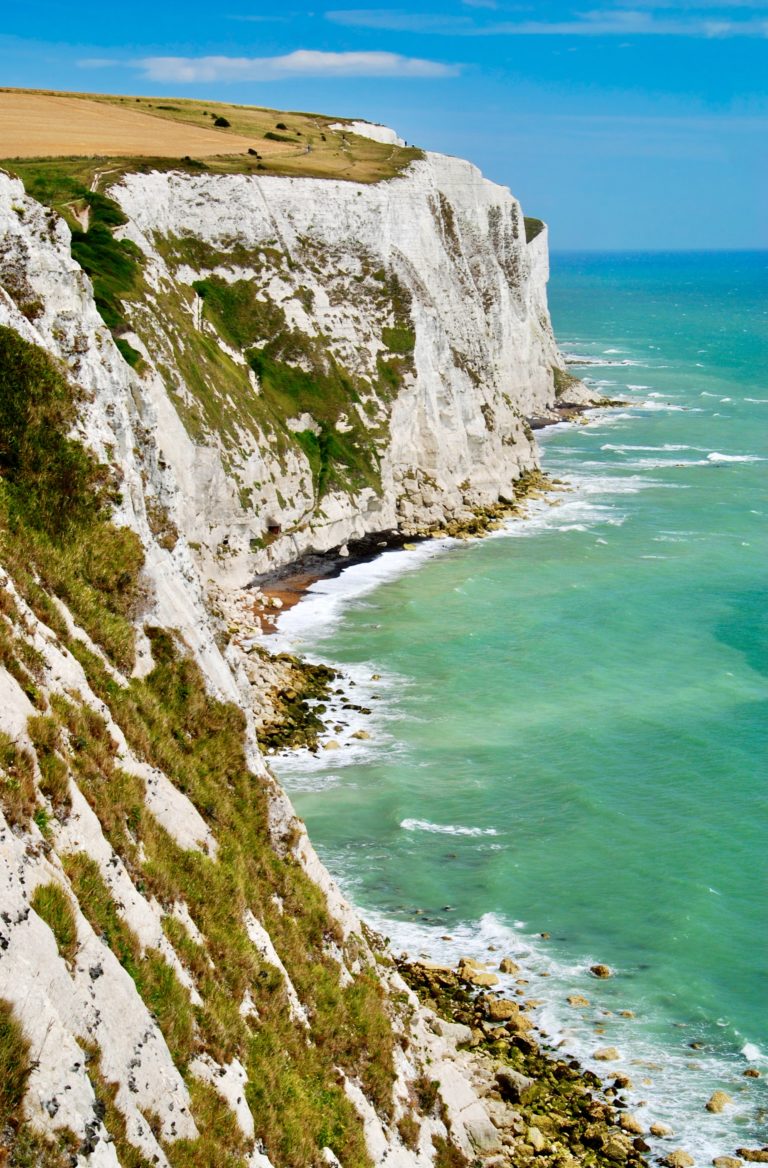 White Cliffs
After lunch, head to the towering white chalk cliffs, which are Dover's trademark. They stretch for 8 miles along Dover's coastline and reach up to 350 feet high.
Without doubt, they are one of the best things to do in Dover. If you're driving you can deposit your car in the White Cliffs National Trust car park.
Take a proper stroll on the cliff trail. It's a one way trail that's well sign posted. Walk among the grass and wildflowers, smelling the sea air and enjoying the bucolic scenery.
But be careful. The cliff path has sheer drops that can sneak up on you.
If you're feeling ambitious, you can walk the entire stretch to the picturesque town of Deal. (Although that isn't doable with one day in Dover unless you skip the castle.)
Alternatively, you can a book a half day guided local tour to see the most photogenic spots. You can find all the information on the cliff trails here.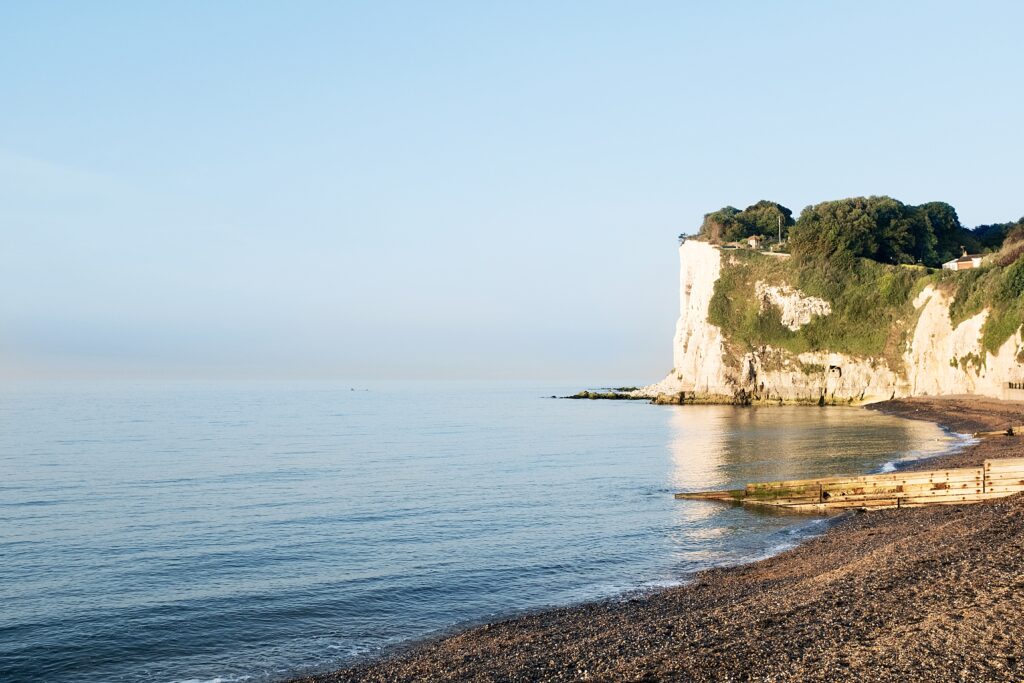 St. Margaret's Bay
You can also walk or drive to St. Margaret's Bay.
This bay is at the midway point of the stretch of cliffs from Dover to Deal. There's a "pay and display" car park facing the beach (with rest rooms).
You reach the pebbly beach by descending a stairway. You'll have beautiful views of the cliffs from below. You may even see a pony or two.
There is a castle-like lighthouse near St. Margaret's Bay. First lit in 1843, South Foreland Lighthouse is a National Trust Monument.
Click here to get information on touring it. There's also a tea room inside for snacks and drinks.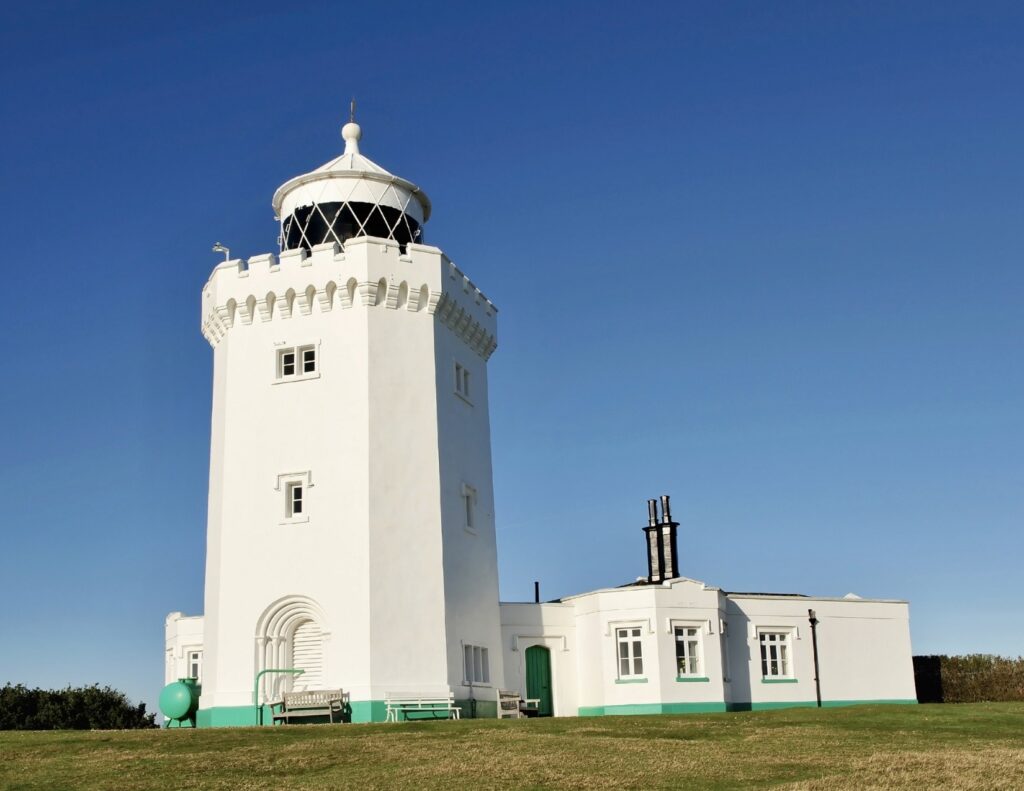 Dover Museum
When you're back in town, if you have any time left and need a dose of culture, head to Dover Museum. It's housed in a beautiful arcaded building and is free to visit.
It displays art and archaeological artifacts. The museum's main claim to fame is a perfectly preserved 3,000 year old Bronze Age boat.
There are some displays describing Dover's medieval history and a lovely portrait of Elizabeth I.
Roman Painted House
You could check out the Roman Painted House on New Street, another wonderful historic attraction in Dover.
Excavated I the 1970s, these ruins date from 200 A.D. They once served as a hotel for Roman officials in transit to and from Rome.
The house has wall paintings that are fairly well-preserved. They depict scenes with the Roman god Bacchus.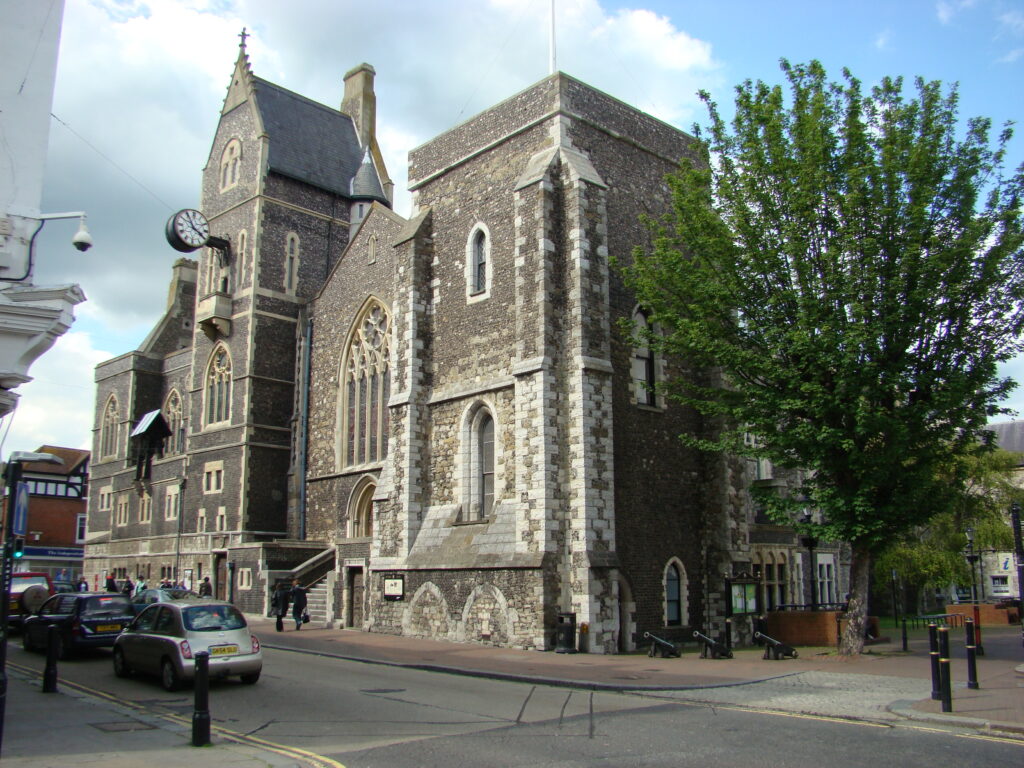 Dover Town Hall
Maison Dieu is Dover's Town Hall, located on Biggin Street. It was founded in 1203 as a hospital and staffed by Augustinian monks.
An impressive place with an eye catching Great Hall, it was a popular resting spot for English kings. Kings John, Edward I, and Richard I all stayed there. Henry VIII used it as a brewery and stables.
The building was fully restored in 1859 and now serves as the Town Hall. The Great Hall boasts a soaring ceiling and coats of arms.
Tips For Spending One Day In Dover
Here are some must know tips for taking a one day Dover day trip from London.
1. How To Get To Dover
By car: 2 hour drive
By train: Trains depart from London's St. Pancreas Station (high speed), Victoria, and Charing Cross stations and take 1 hour. You can walk to Dover Castle from the station.
By guided tour: You can visit Dover and Canterbury on a 10 hour guided day trip from London.
By private transfer: You can also

book a private transfer

from London to your Dover hotel or the Dover cruise port
2. How To Get Around Dover
You can easily walk around the town center and to the castle. But you'll need a car or a guided tour to get to the white cliffs; it's a very steep walk. You can also take taxis or rent bicycles.
If you don't feel like hiking the white cliffs, you can take a sea safari, which I'm sure kids will love. The crystal clear water offers the best view of the cliffs.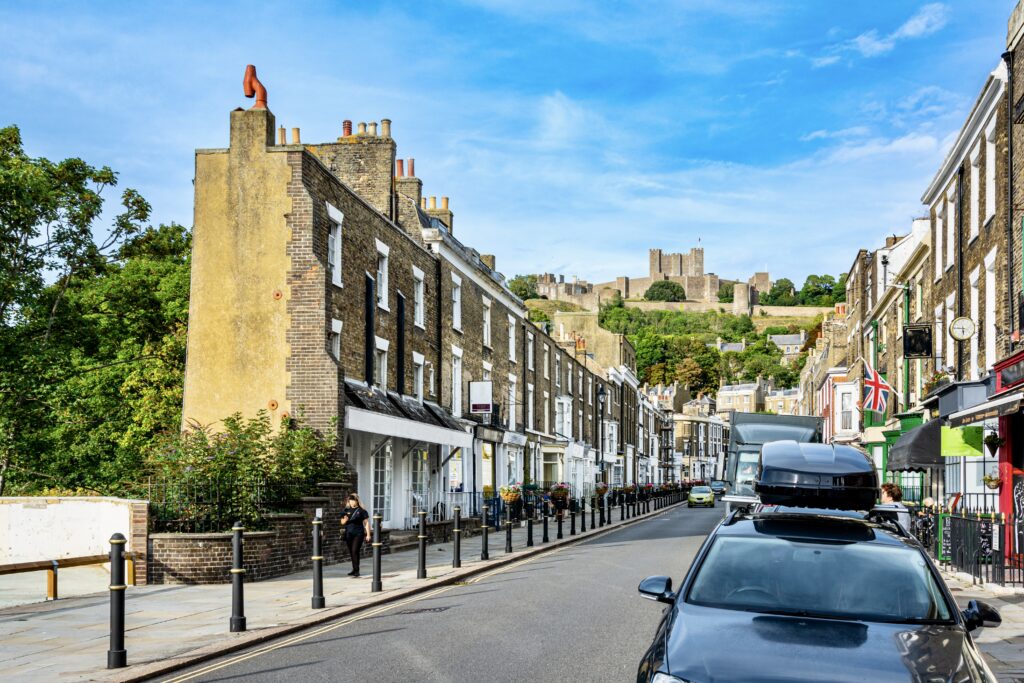 3. Where To Stay In Dover
If you want to stay overnight with one day in Dover, you have several decent options.
Maison Dieu Guest House is a moderately priced British guest house with modern bedrooms and a superb breakfast. Just outside Dover, the Marquis of Granby is a country retreat with unique bedrooms and an award winning pub.
You'll also find a Best Western and a Holiday Inn.
4. Is Dover Worth Visiting?
Dover is 2 hours from London, but it's definitely worth the journey. The castle is fantastic and rich in Medieval and Tudor history, and the cliffs are jaw dropping.
5. When To Visit Dover
I recommend visiting Dover late spring through mid fall. If you visit in winter, it will be cold and windy on the white cliffs. But you could literally spend the entire day inside the castle and keep busy and warm.
August, as you might expect, is the busiest month in Dover.
6. Dover Cruise Ship Terminals
Are you taking a cruise that stops or starts in Dover?
If so, you can book a half day guided tour that leaves from the cruise terminal. Or you can book a pre-cruise tour with a transfer from London.
To visit Dover castle from the terminal, you can hop on the cruise line shuttle service. It drops you off at the Castle Hill stop. From there, it's a 10 minute walk to the entrance.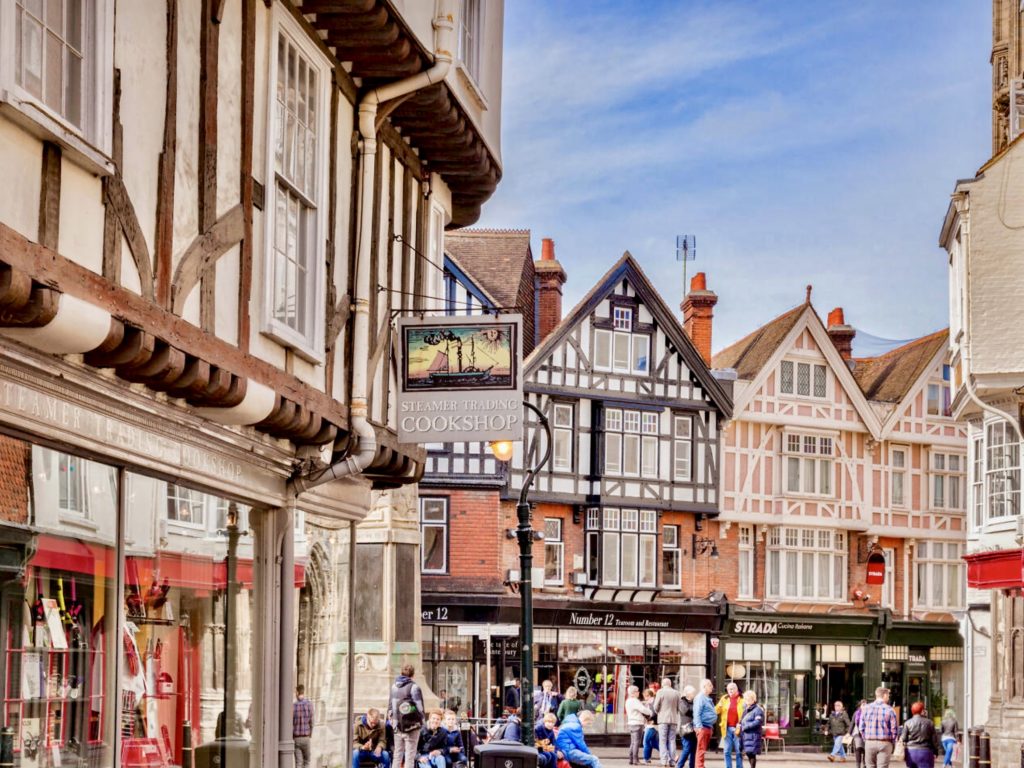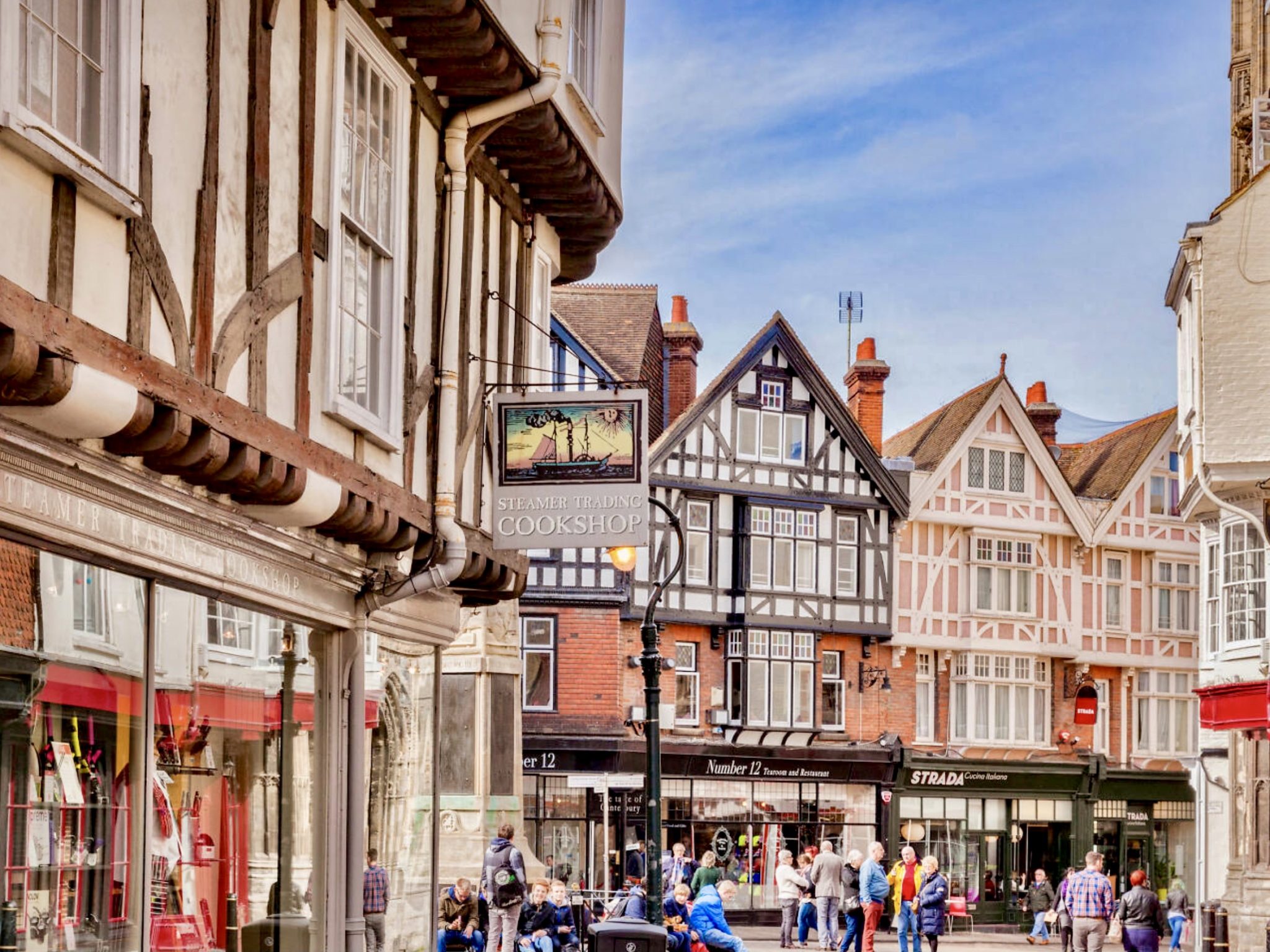 7. Places To Visit Near Dover
Dover is located in Kent County, which is known as the "garden of England." As such, there are plenty of other beautiful towns you can visit near Dover, including Canterbury, Faversham, Rye, Deal, and Sandwich. You can get a taste of ye olde England at any one of then.
Go to Canterbury if you haven't seen the famous cathedral. Or visit the unsung towns of Deal, Sandwich, or Faversham if you need a break from crowds.
If you like castle hopping, there are castles aplenty too: Bodiam Castle, Leeds Castle, Hever Castle, Deal Castle, Walmer Castle, and Camber Castle.
Leeds Castle was the residence of royal queens and Hever Castle was the childhood home of the ill-fated Queen Anne Boleyn.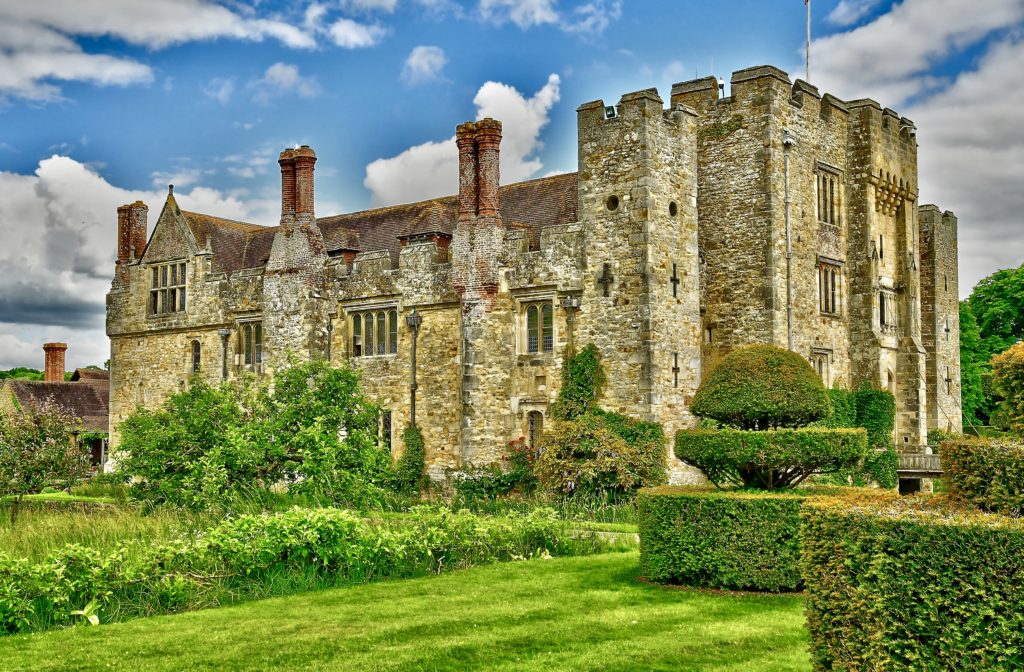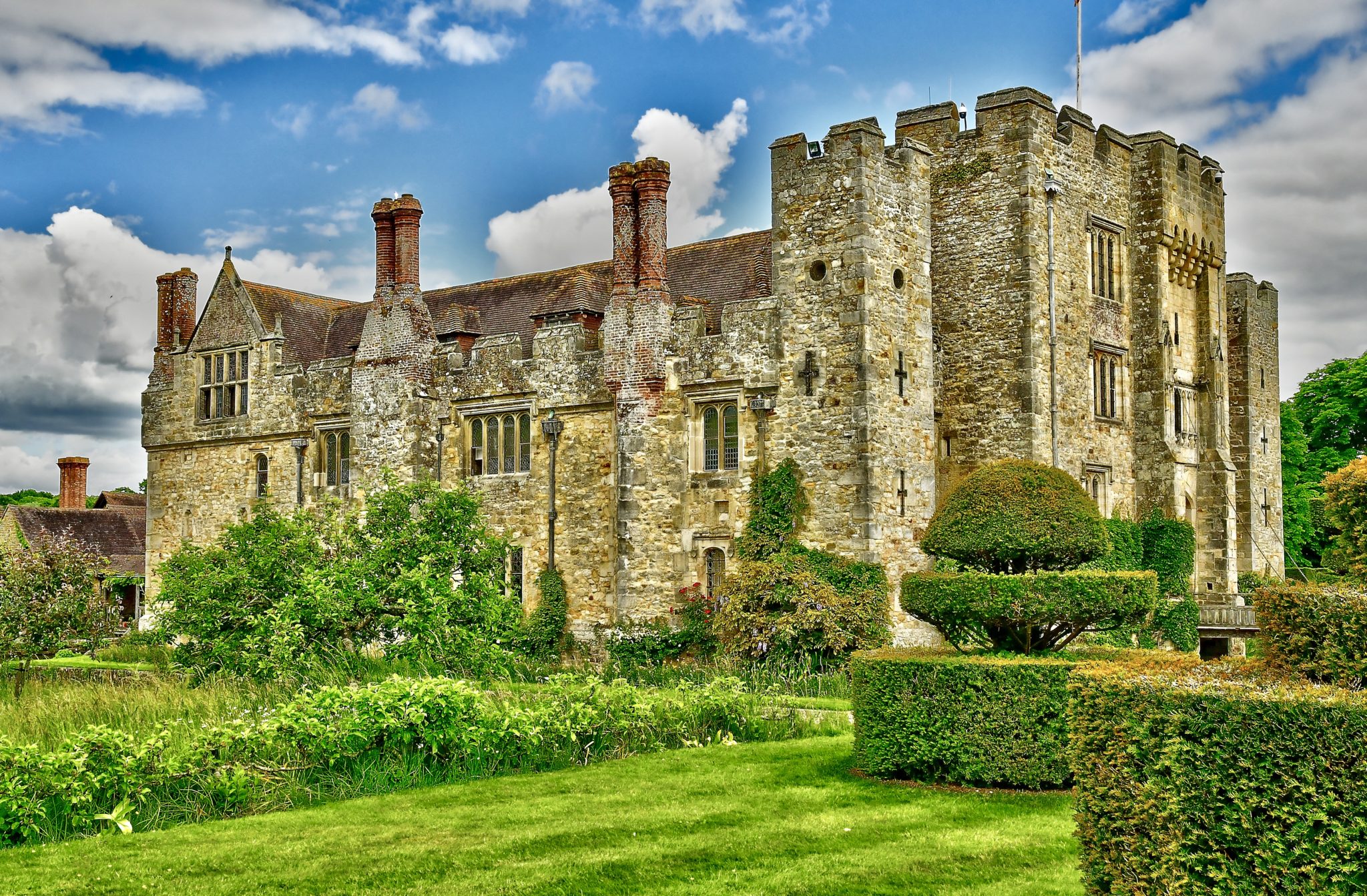 Deal and Walmer are Henry VI's "gun forts." Deal is especially worth visiting. It's a menacing and well-preserved castle that once hosted Anne of Cleves when she arrived to marry Henry VIII.
READ: Guide To The Best Castles in England
I hope you've enjoyed my one day in Dover itinerary. You may enjoy these other London travel guides:
If you want to take a Dover day trip from London, pin it for later.