Considering spending one day in Stratford-upon-Avon? It's a beyond picturesque medieval town on the Avon River in Warwickshire. In prime Shakespeare country, the town is an incredibly popular day trip from London.
Stratford is best known as the birthplace and home of William Shakespeare. The quaint town is a magnet for travelers who want to walk in the Bard's footsteps and immerse themselves in Bard history. Stratford is one of the only places in the world where you can do that!
Aside from the Shakespeare attractions, Stratford is known for its beautiful black and white Tudor buildings. Everything is so well preserved, you might feel like you're in an architectural stage set.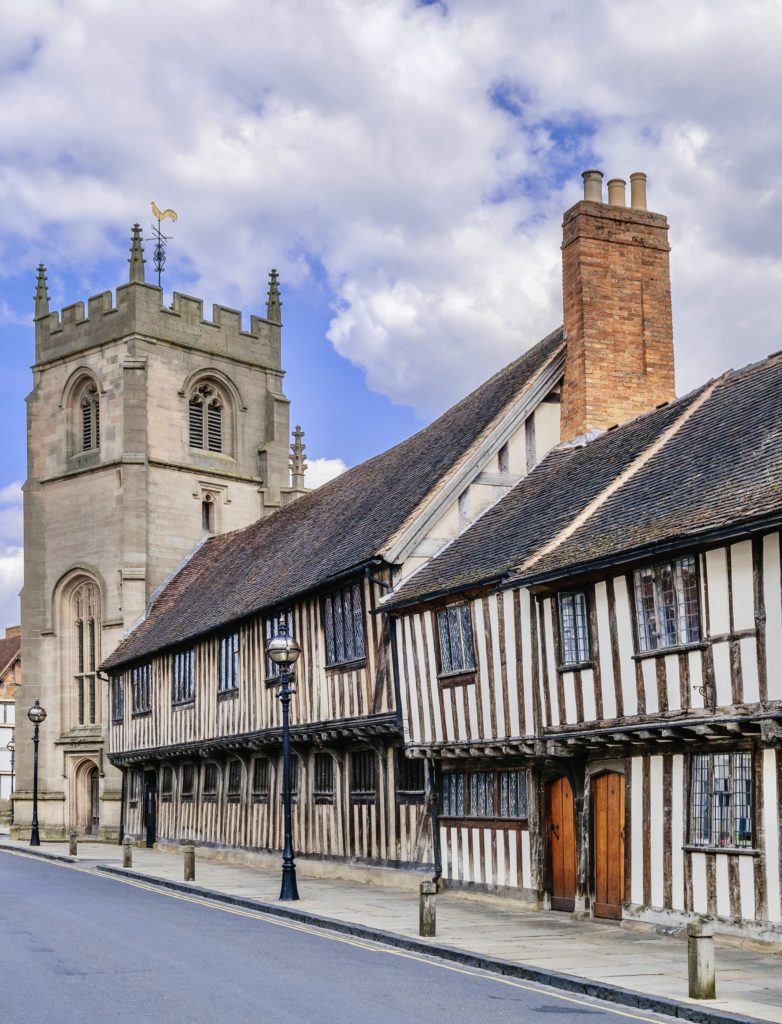 Who Is William Shakespeare?
Let's begin with a mini-biography of the Bard, Stratford's most famous citizen who's nicknamed the "Sweet Swan of Stratford."
Who art though, William Shakespeare? Just over four centuries ago, William Shakespeare walked the streets of medieval Stratford-upon-Avon.
Shakespeare was born in this tony Tudor town in 1564. His parents were John Shakespeare and Mary Arden. Shakespeare was the third of eight children born to the couple.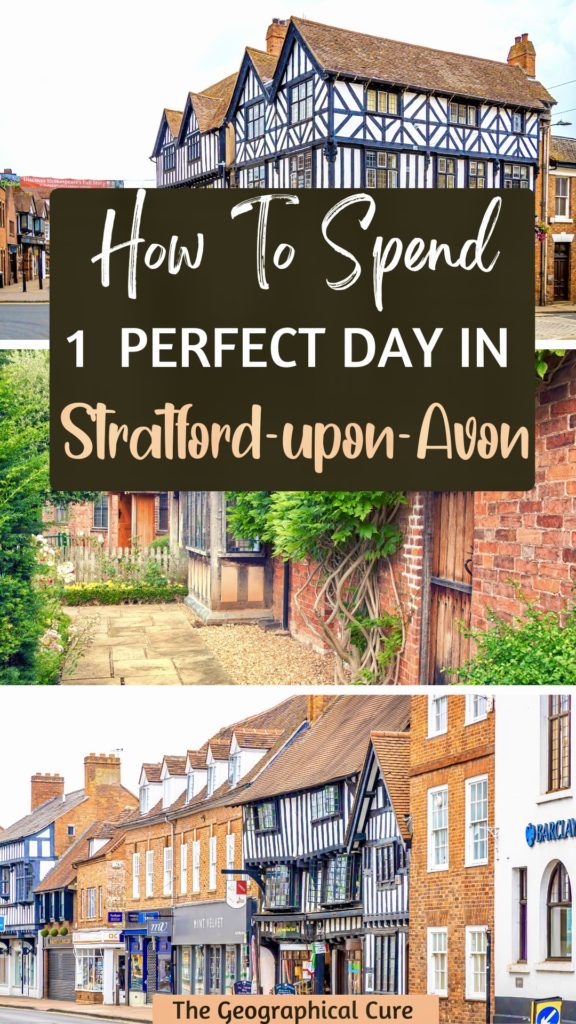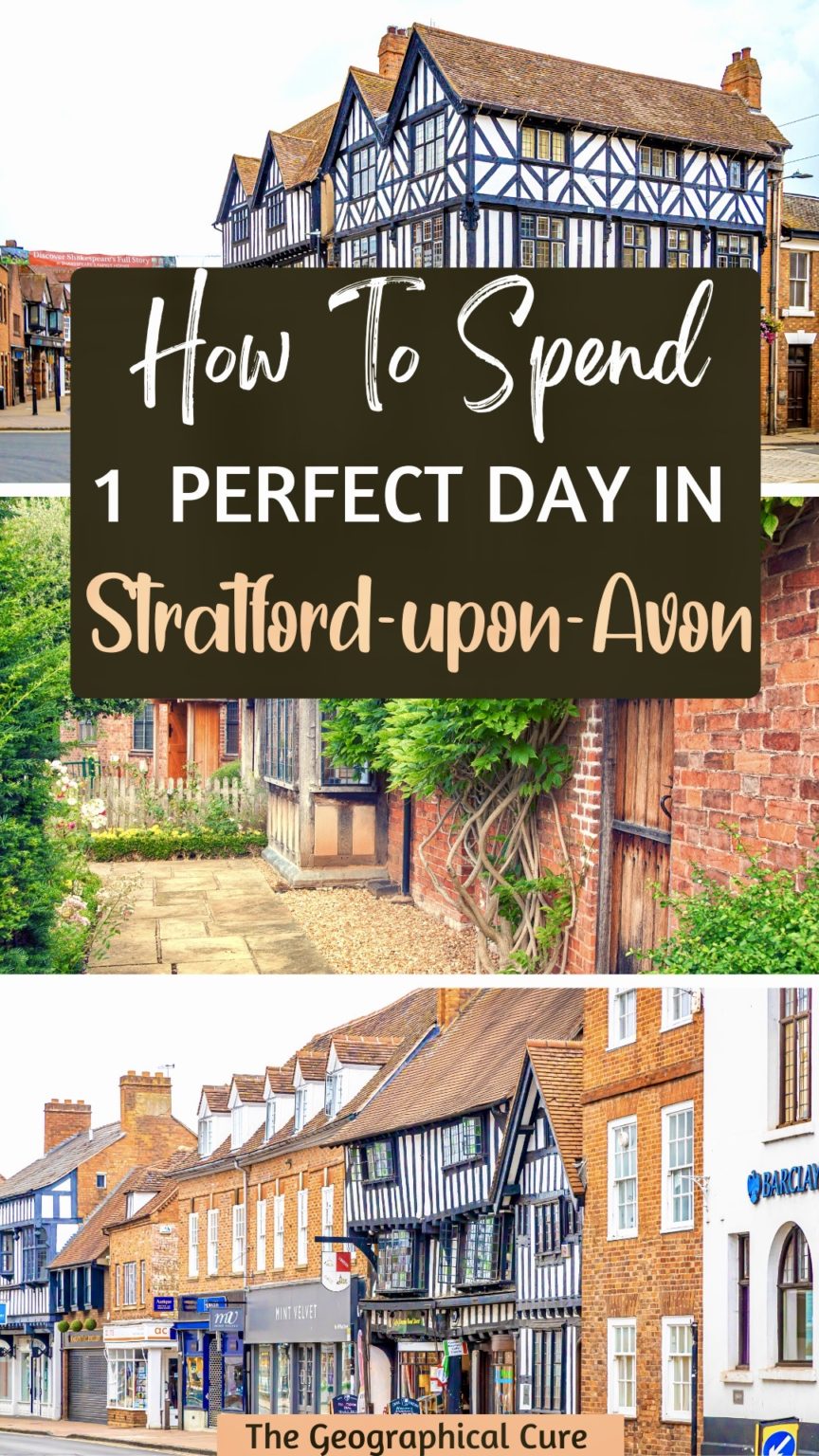 Shakespeare was born days before the plague hit Stratford, wiping out much of the town. He was lucky to survive.
His father was a wealthy glove maker and wool merchant, who was once the mayor of Stratford. Shakespeare disliked both his father and his trade, lucrative though it was.
In 1582, Shakespeare married Anne Hathaway when he was 18 and she was 26. The popular novel Hamnet, about Shakespeare's wife, theorizes that it was a love match.
The couple had three children: Susanna, Hamnet, and Judith. His son Hamnet died at just 11, which was a blow to Shakespeare.
He would go on to use his son's name as the title of one of his greatest tragedies, Hamlet. (Hamnet and Hamlet were considered interchangeable names.)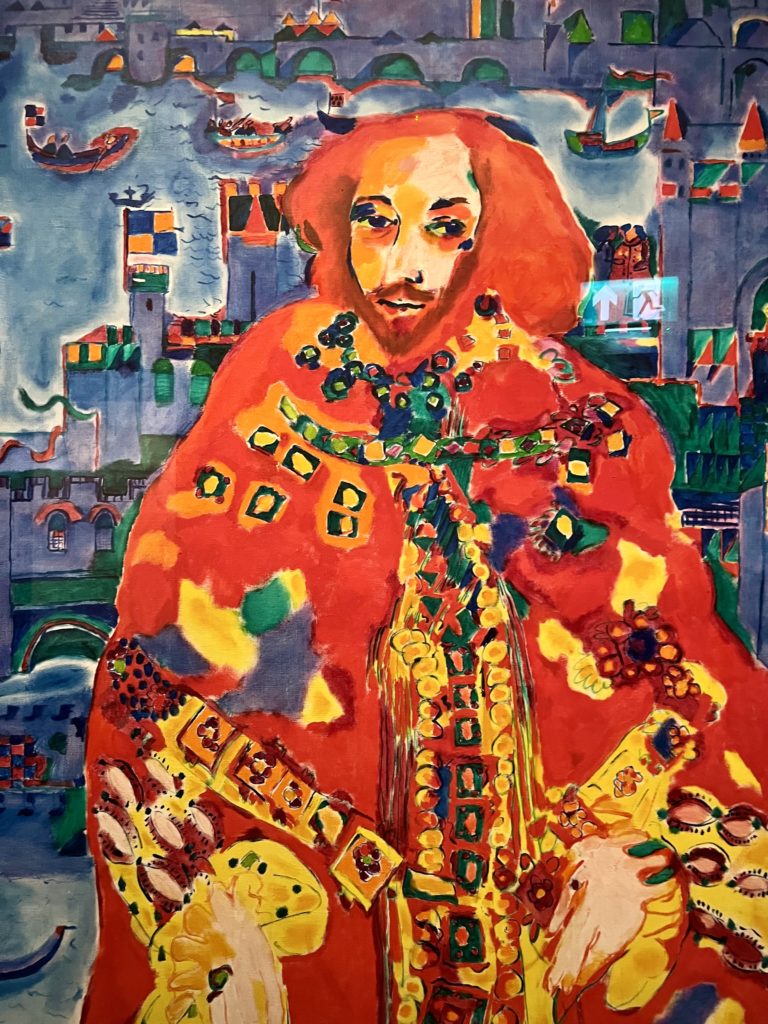 In his early 20s, Shakespeare hit the road and left Stratford for London to seek his fortune.
He became an actor, playwright, and theater manager in London. By 1592, he was the joint owner of the Globe Theater.
Shakespeare became renowned in his time, as plays poured out of him. He's considered the greatest dramatist of all time and perhaps the best author in any language.
Shakespeare wrote 37 plays and 154 sonnets. He even invented words and phrases we still use today like "green eyed monster" and "wild goose chase." He was obsessed with all things European, even though he never made it to the continent.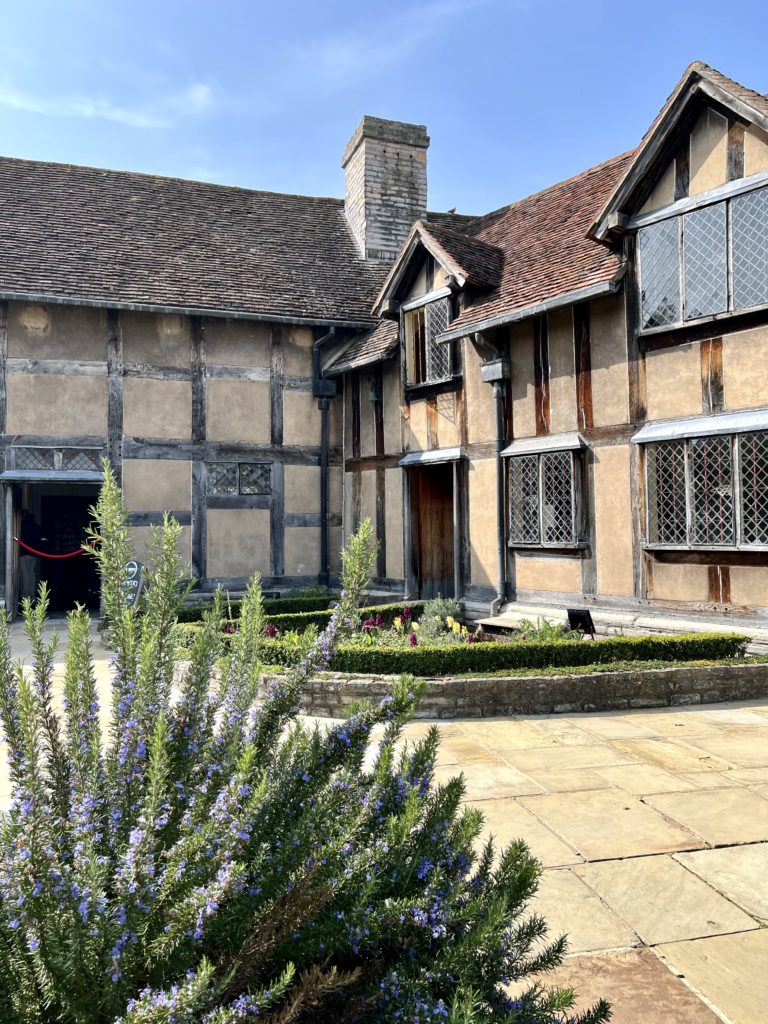 In 1610, at the age of 47, Shakespeare decided he'd had enough of London. He retired and returned to Stratford-upon-Avon, where he died just 6 years later.
Shakespeare's collected plays were published in 1623. But then all was quiet on the Shakespeare front for a century.
In the mid 18th century, the great stage actor David Garrick spearheaded a Shakespeare revival. He hosted the world's first Shakespeare Festival in Stratford.
It put Stratford on the map as a place of pilgrimage, one which aspiring writers and others have flocked to for centuries.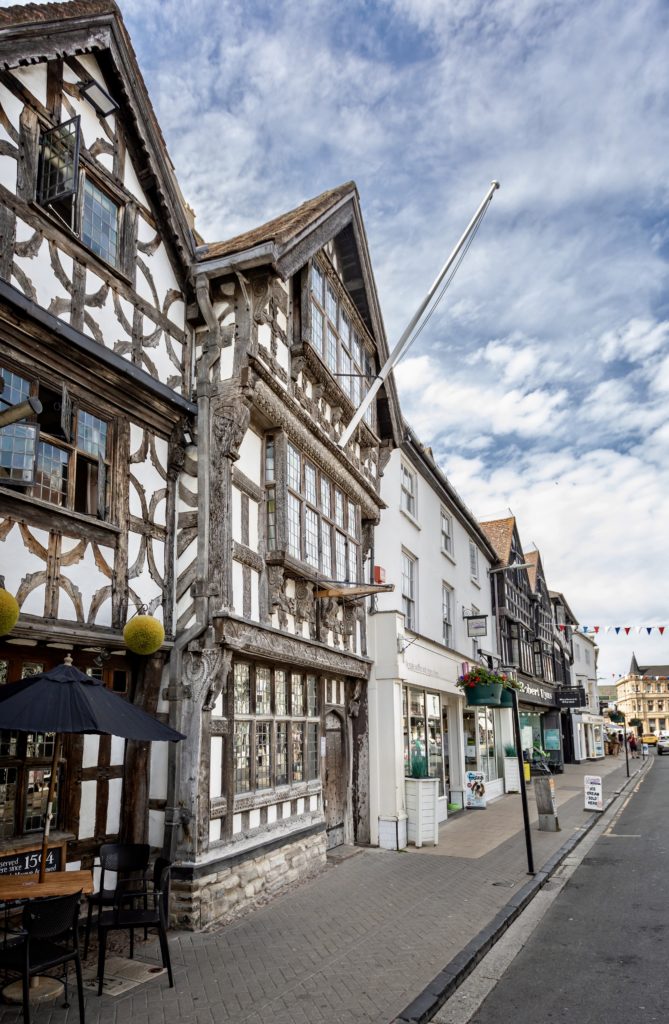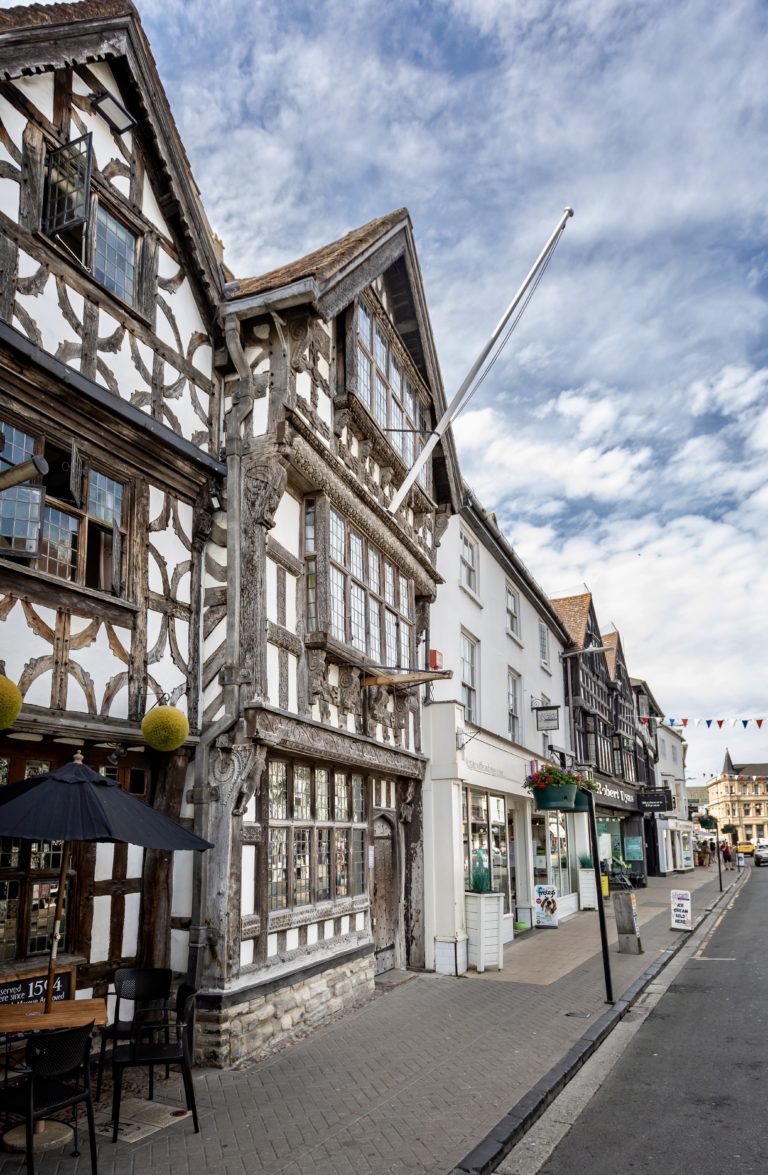 Overview Of One Day In Stratford-upon-Avon Itinerary
Here's a quick snapshot of the best things to do and see in Stratford-upon-Avon in one day.
Shakespeare's Birthplace
Shakespeare Statue
Harvard House
Nash's House
New Place
Hall's Croft
Holy Trinity Church
Boating on the Avon River
Butterfly Farm
Anne Hathaway's House
Mary Arden's Farm
Royal Shakespeare Company
Among these attractions are five Shakespeare homes run by the Royal Birthplace Trust, which I discuss below.
If you plan on visiting all 5 sites, you can save money by buying a combination ticket called the Full Story Ticket. This ticket is valid for one year.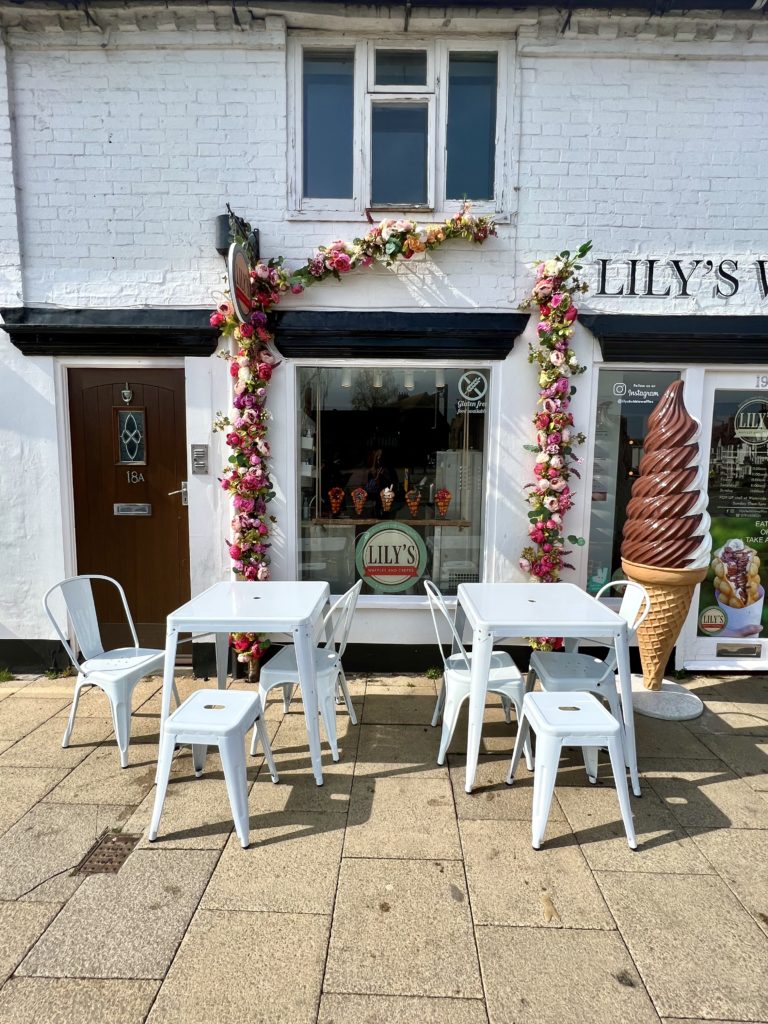 One Day Itinerary For Stratford-upon-Avon, Day Trip From London
Here's how to spend the perfect day in Stratford-upon-Avon.
As with all of my suggested itineraries, I recommend that you use this one day in Stratford-upon-Avon itinerary as a guide. You can tailor it to suit your individual interests, needs, and pace of travel.
You could easily turn this 1 day itinerary into a 2 day Stratford itinerary. That way, you could see more sites and take in more performances.
1. Breakfast
If you arrive in Stratford early, head to Lily's Waffles and Crepes for breakfast. You can get a sweet or savory waffle to fuel up for your day of Shakespeare sites.
Another good place for breakfast is the Hathaway Tea Rooms, housed in a stunning Tudor with beamed ceilings.
If you just need a coffee, Honey Blue on Shrives Walk has the best coffee in Stratford.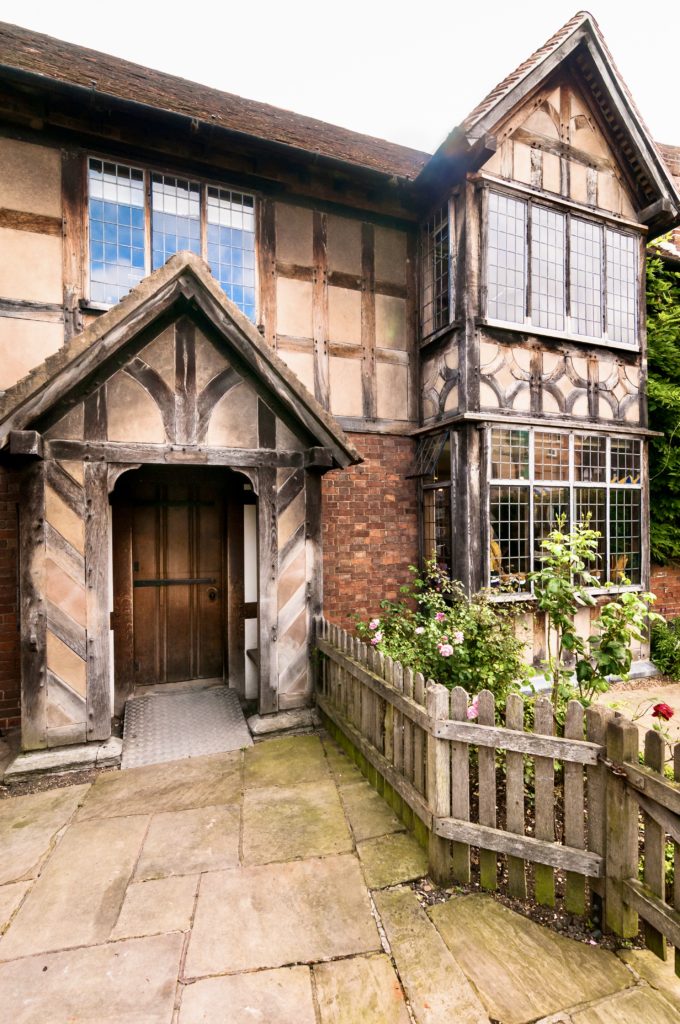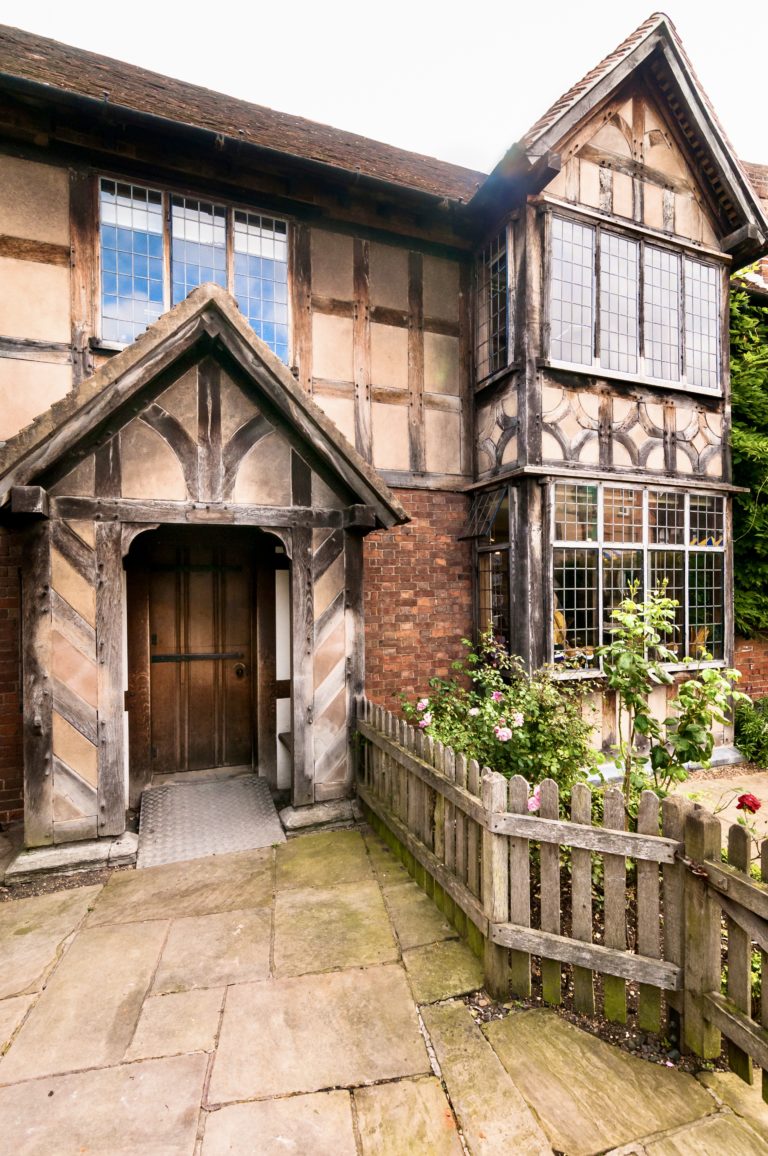 2. Shakespeare's Birthplace
The top Shakespeare attraction in Stratford is Shakespeare's Birthplace on Henley Street.
This is where it all began when the Bard was born in 1564. It's a must visit with one day in Stratford.
It's been a visitor attraction for more than 250 years. A guest book records such distinguished visitors as Charles Dickens, John Keats, Walter Scott, and Thomas Hardy.
The museum is a well-preserved 16th century half timber house and garden. It was restored by the Birthplace Trust to look as it just as it did when Shakespeare's father owned it.
The two story house rests on an oak frame supported by a wall of local stone. Much of the original timber remains from the late 15th century.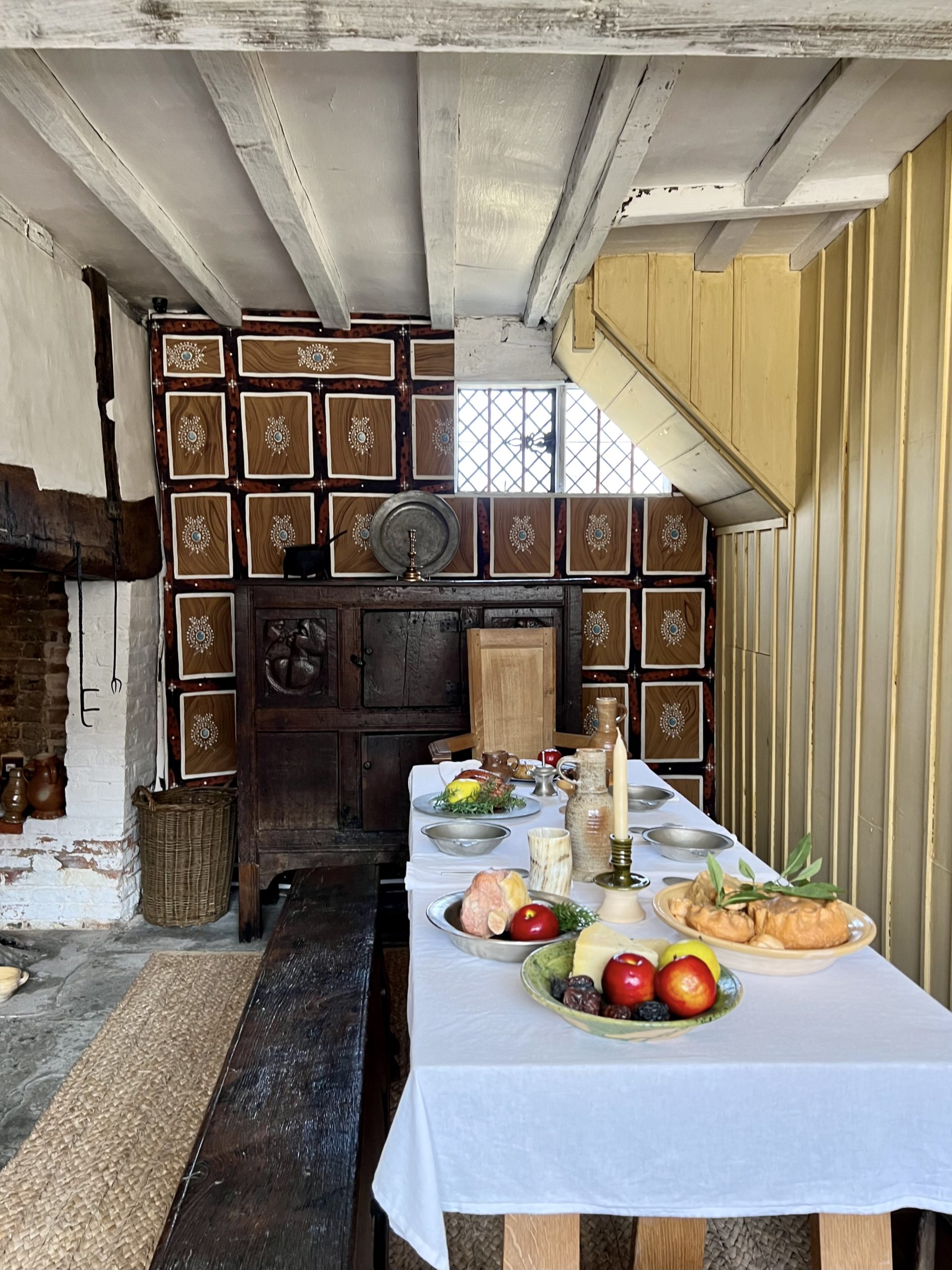 Shakespeare's father bought the house in the 1550s. By the standards of the day, it was a veritable mansion. Shakespeare and Anne likely lived in the house early in their marriage.
On the ground floor, there's a parlor and workshop. The first floor has three bedrooms, one of which is the designated Birthing Room where Shakespeare was allegedly born.
Until the 1990s, the "Birthplace Window" of the Birthing Room had the scratchy signatures of earlier pilgrims such as Sir Walter Scott and Thomas Carlyle. It's now in the Shakespeare Centre, which you walk through to enter the museum.
The house was later expanded and, when Shakespeare moved, was used as an inn.
The parlor was the fanciest room in the house. This was where guests were entertained. Oddly, the parlor has a bed in it.
But, back then, beds were the most expensive pieces of furniture in homes. Putting them on display was a way to show off your wealth.
The Hall was the main living space. There's a trestle table set for dinner and a large fireplace.
The rooms have faithfully recreated period oak furniture, some dating from the 1500s. The museum even holds a replica of Shakespeare's crib.
Shakespeare's sister Joan had a small two bedroom cottage attached to the house. It's possible Shakespeare lived here after getting married instead of the main house.
As you exit, you'll find a well-stocked gift shop with everything under the sun — books, cards, kids plush toys, and even Shakespeare action figures. I came home with Shakespeare playing cards and books for the kids. If you haven't read Hamnet yet, you can buy it here.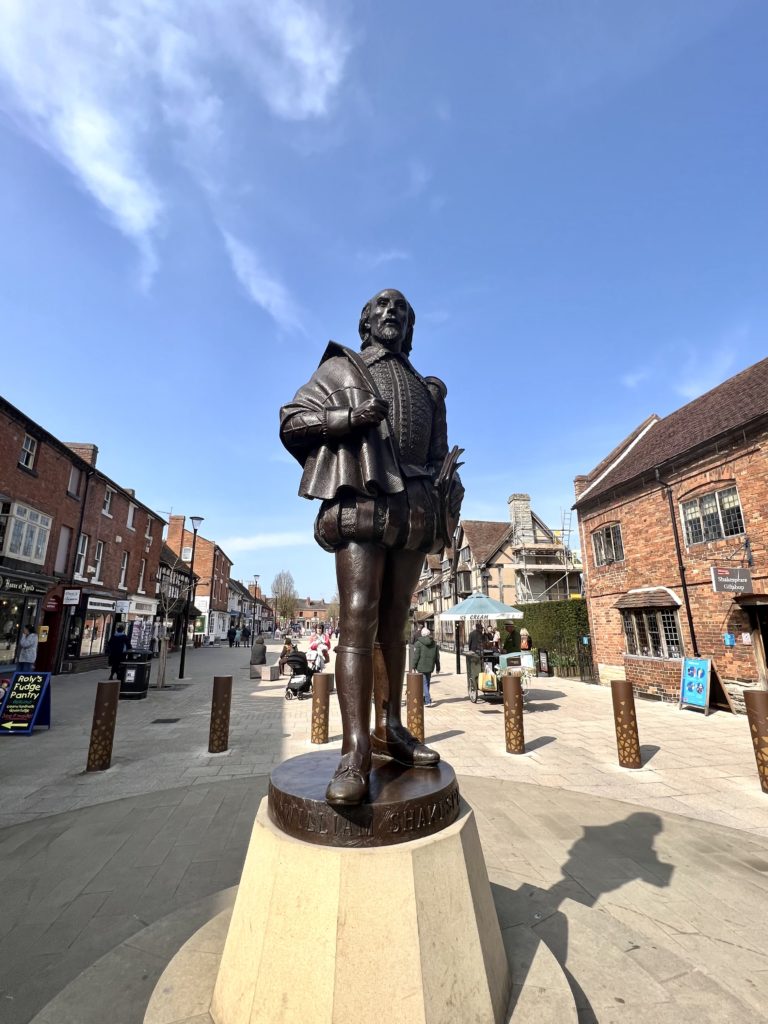 You can pre-book a skip the line ticket for the museum. You also have free entry with the Shakespeare's England Explorer Pass.
The Shakespeare Centre is located next door. It's filled with information on Shakespeare's life and family. It houses the author's collections and provides a meeting place for literary scholars.
3. Shakespeare Statue
Just outside the town hall on Henley street is a very photogenic statue of Shakespeare.
It was donated to the town by David Garrick, the man who I mentioned was instrumental in reviving interest in Shakespeare.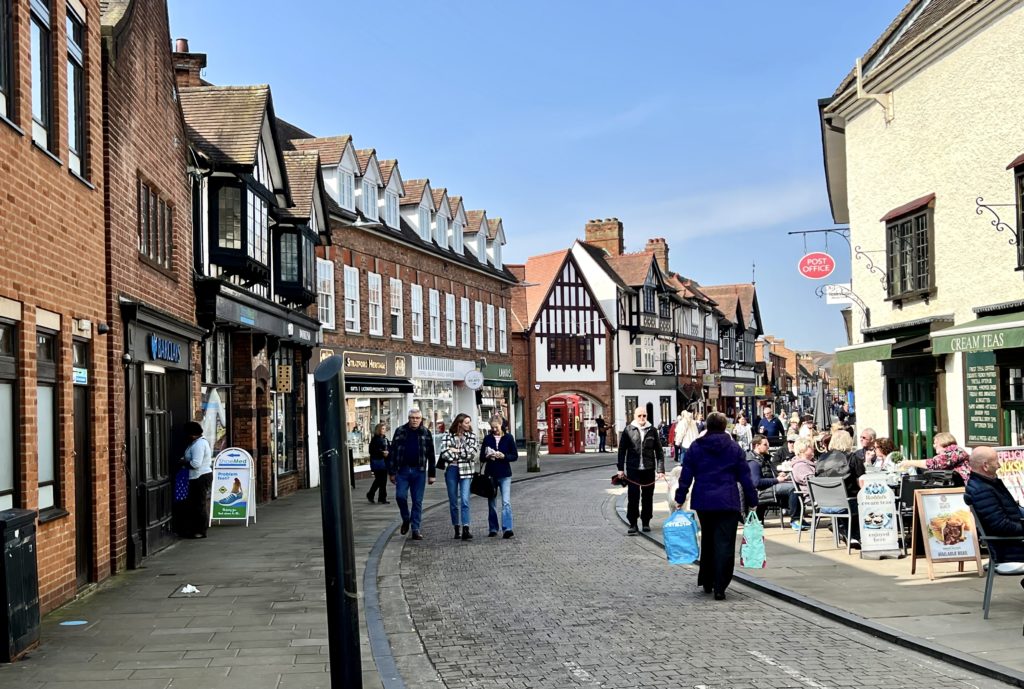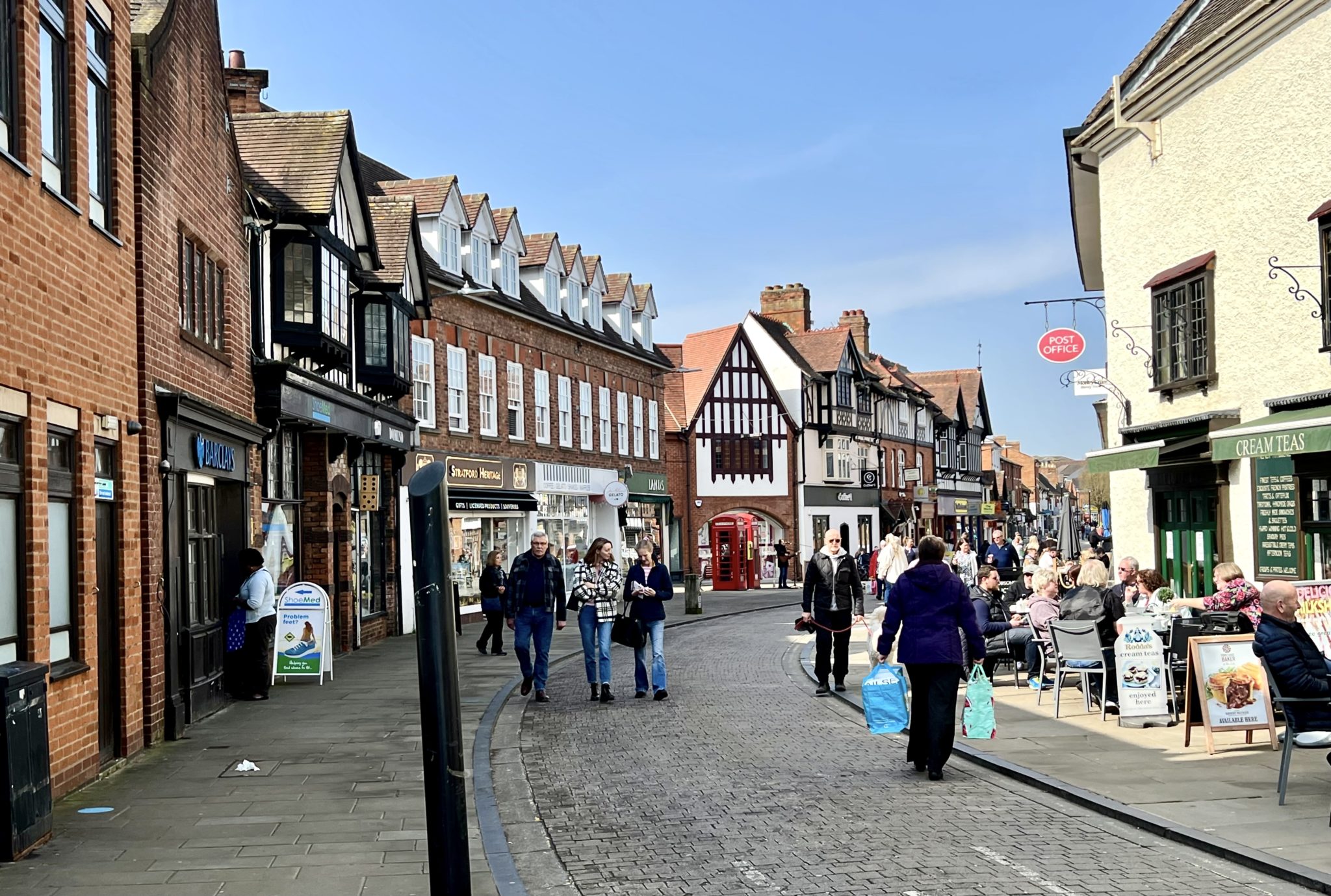 4. Old Town Ramble With Shakespeare Sites
After visiting the Bard's birthplace, it's time for a ramble though the town.
Stratford-upon-Avon is an exceedingly pretty town where timber beams crisscross picturesque facades and flowers tumble from windows boxes. There is no shortage of whimsical boutiques, toy stores, book shops, and fudge shops.
High Street is the main drag in town. It turns into Chapel Street and then Church Street.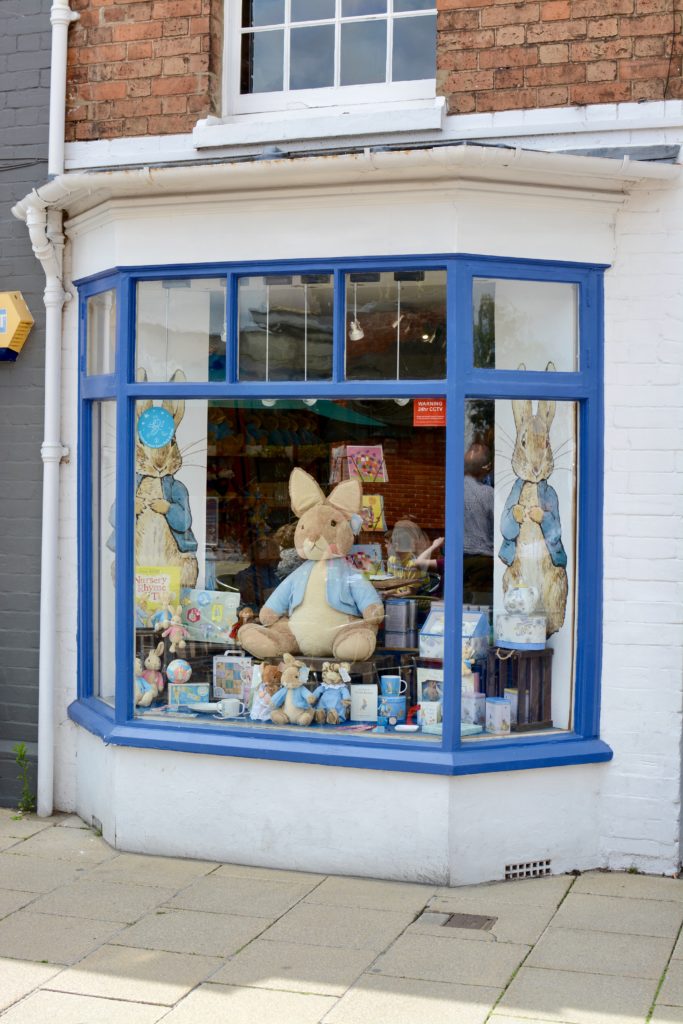 You can stroll and visit the homes of Shakespeare's daughters, the Harvard House, Nash's House, and New Place.
Harvard House
Harvard House is a timber framed house dating from the late 16th century. It was the place where John Harvard's mother was born.
Harvard was an early settler in America. In 1838, his estate would become Harvard University. In 1909, the Harvard House was donated to the university by its owner.
Nash's House And New Place
Next up is Nash's House, which is a local history museum. Built around 1600, it was once home to Shakespeare's granddaughter, Elizabeth Hall.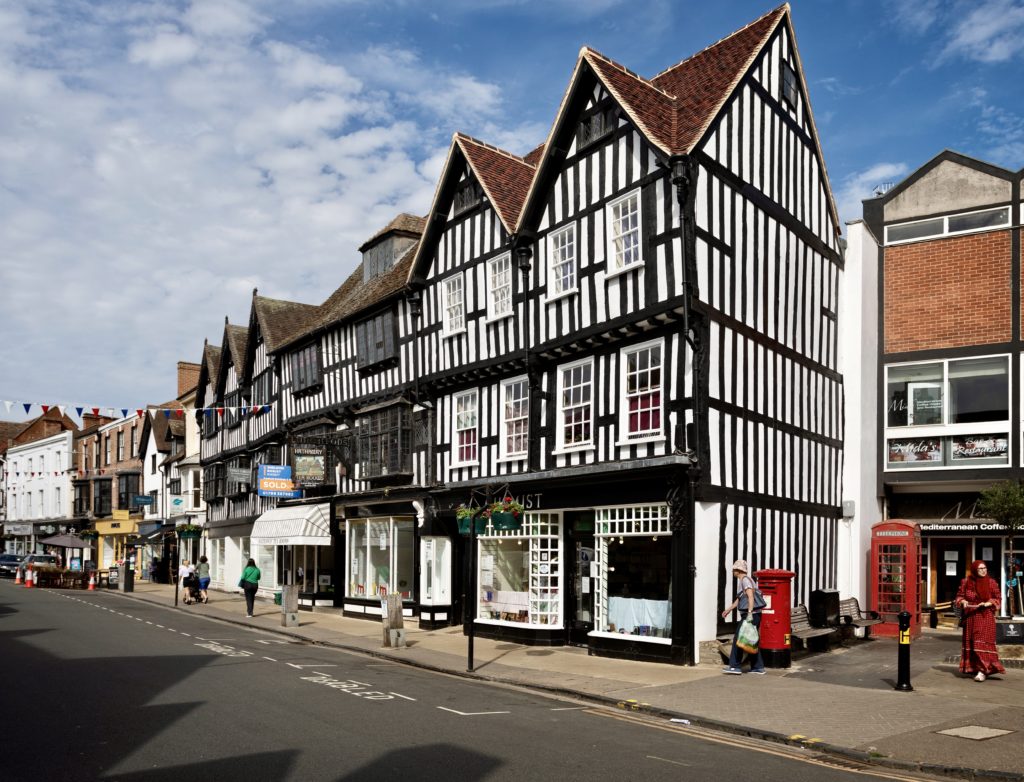 The house is right next to New Place, the spot where Shakespeare and his family lived for 19 years. The house isn't there any longer. It was demolished in 1759 by an irascible neighbor sick of Shakespeare tourists.
But it was apparently a grand house with 10 fireplaces. Today, there's a small Elizabethan style garden in its place and an onsite interactive museum where you can learn about the Bard's life.
Shakespeare School & Guildhall
Further along the way is the King Edward Grammar School & Guildhall, where Shakespeare may have studied as a boy.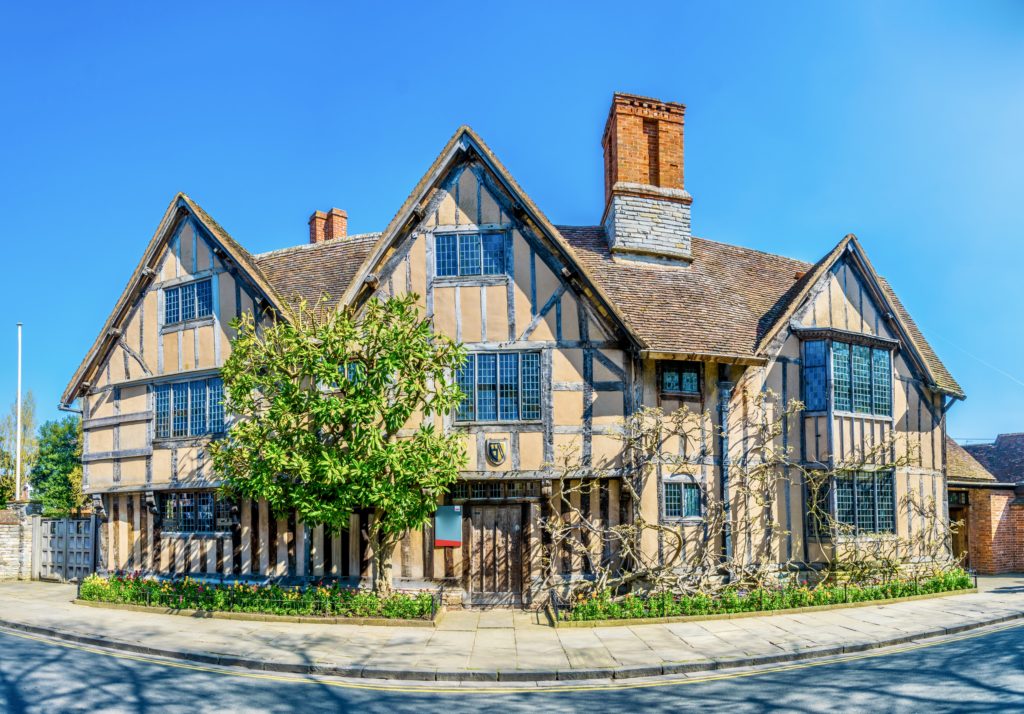 No actual attendance records document his presence there. But the school was free and close to his house, so it makes sense that he might have attended. You can sit in the very classroom where Shakespeare may have written his first plays.
Click here to purchase a ticket.
Hall's Croft
Finally, you should also stop to admire Hall's Croft. This is where Shakespeare's daughter Susanna lived with her doctor-husband.
On a visit, you can learn how a wealthy family lived in the late Tudor and early Jacobean period. The museum contains some ghastly relics of the science of surgery as practiced in those hard times. There's also a garden with medicinal herbs that her husband used in his practice.
5. Lunch
For lunch on your one day in Stratford-upon-Avon, head to the Dirty Duck. It's a must visit 18th century pub that's been on the Stratford scene forever. It's popular with the Royal Shakespeare actors.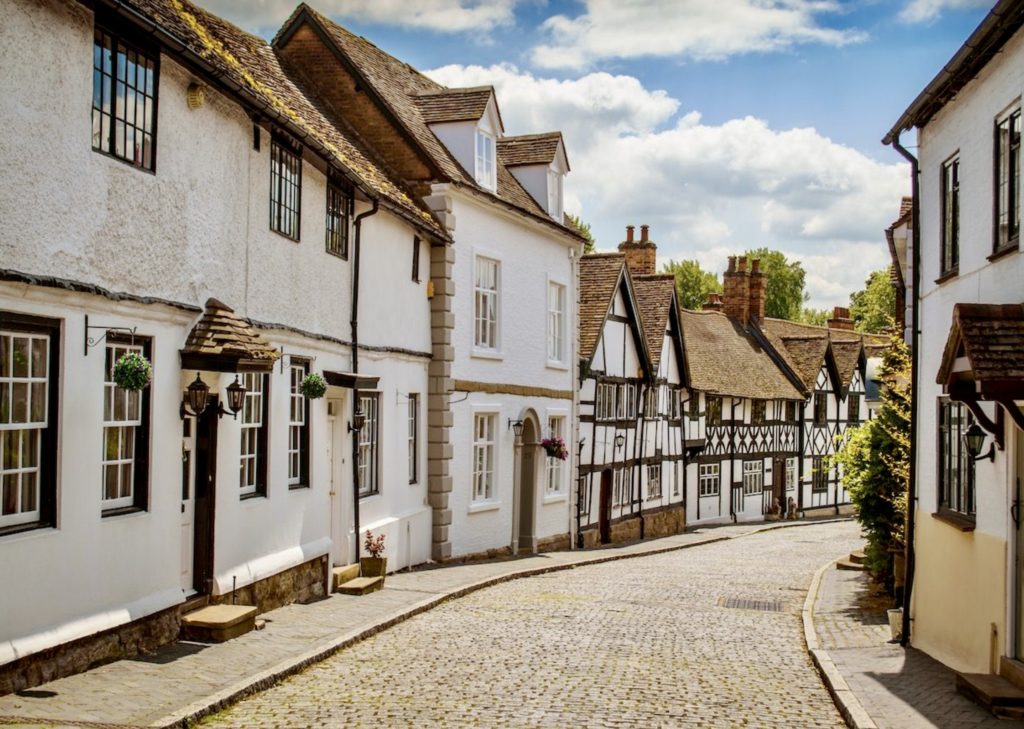 The pub's walls are covered with photos of actors who've come to town to perform at the Royal Shakespeare Company theaters.
If you want something besides pub food, there's some good restaurants on Church Street and Sheep Street. I had a quick bit to eat at The Food Of Love on Henley Street.
6. Shakespeare Gin Distillery
A unique thing to do in Stratford is check out the Shakepeare Gin Distillery.
Tours leave at 11:00 am and 1:00 pm, so you could do a post lunch visit if you eat early. You can check out the 1.5 hour tour here.
On this tour, you get to peek behind the scenes of Stratford's only working distillery. You'll learn the secrets of making Stratford's award winning gin and find out how Tudor era distillery techniques influence the process.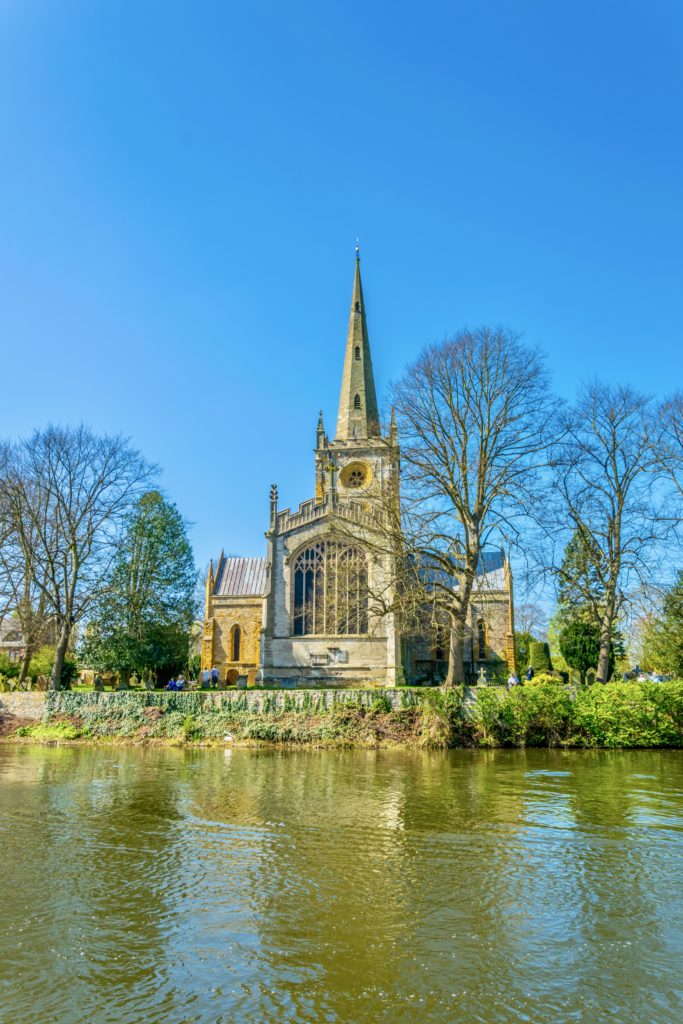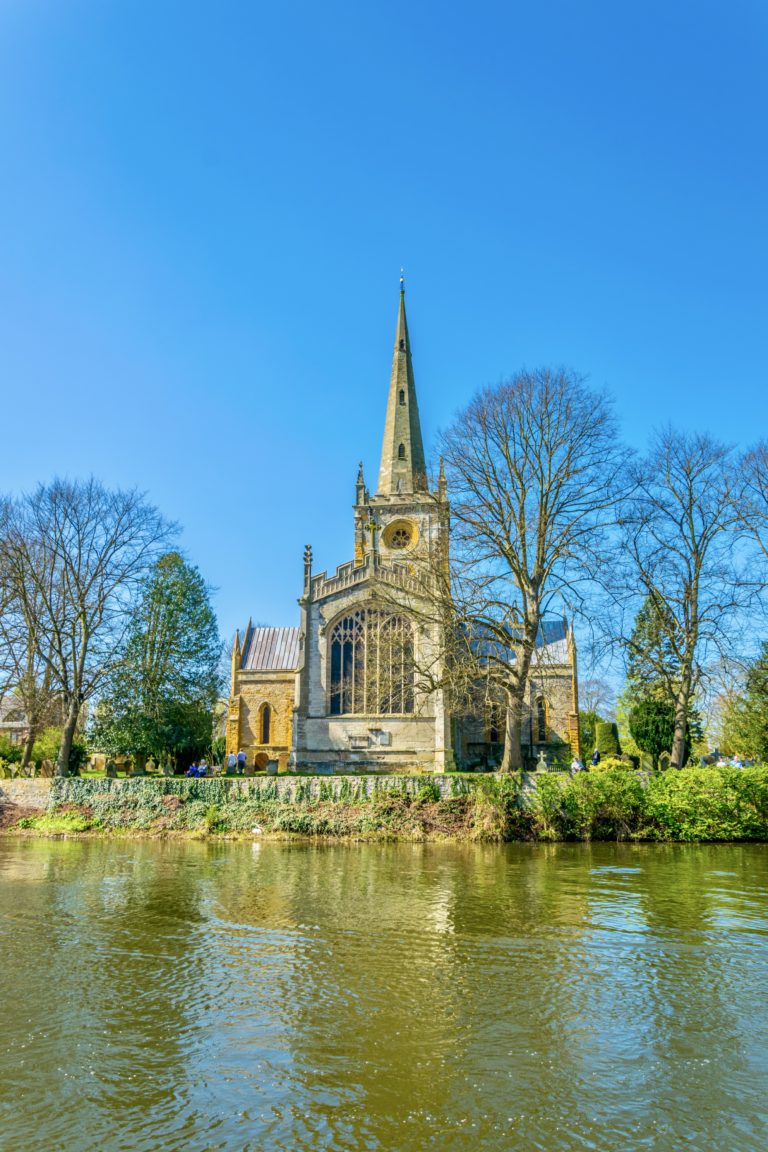 7. Holy Trinity Church
This 13th century church on the banks of the Avon River is the ultimate Shakepeare pilgrimage site. Holy Trinity is where Shakespeare was baptized and is buried. He was also married there.
The graves of his wife Anne, daughter, and son-in-law flank his tomb, which is right in front of the altar.
The church has been an active parish for over 1,000 years. Inside, there's an impressive chancel with stained glass that depicts the Seven Ages of Man from the Shakespeare play As You Like It.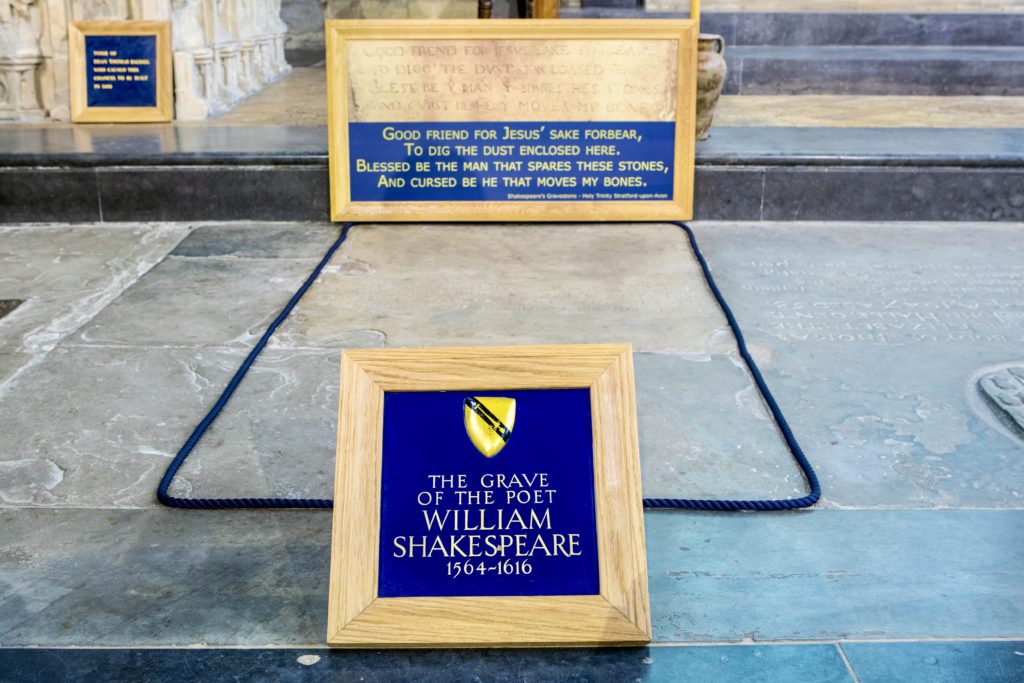 While the church itself is free to enter, you'll have to pay to see the choir and Shakespeare's Grave, which is located towards the front of the church.
Back then, it was unusual for someone to be buried inside a church rather than in a graveyard. Shakespeare didn't manage it because of his fame. Rather, he bought an expensive tithe deed that gave him the right.
There's a bust of Shakespeare in the wall beside the grave that was installed seven years after his death. It's supposedly a good likeness of the Bard.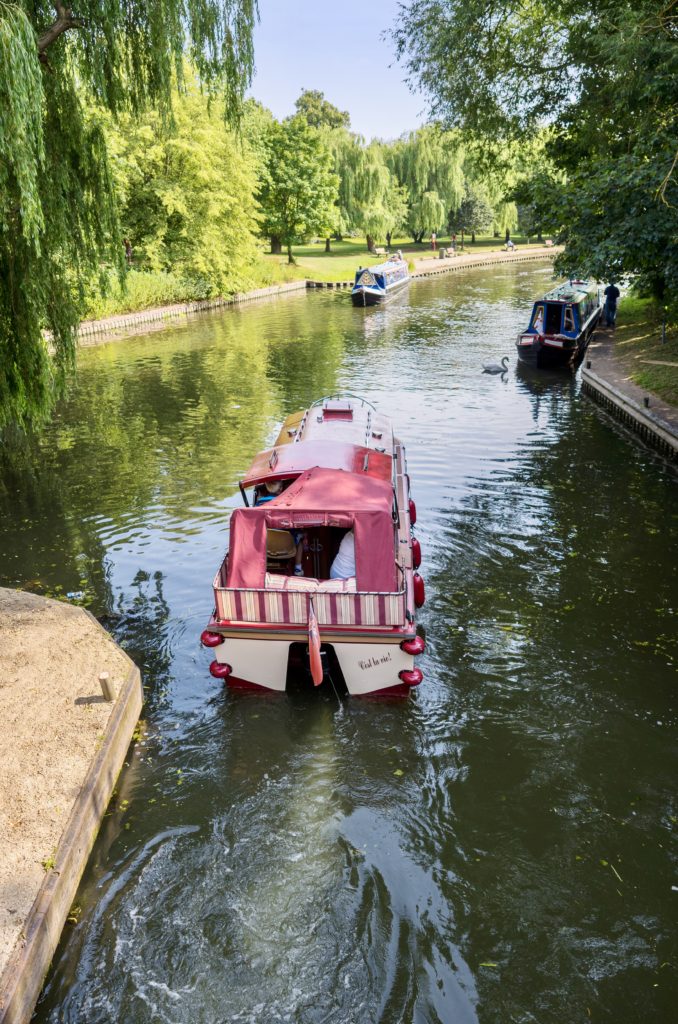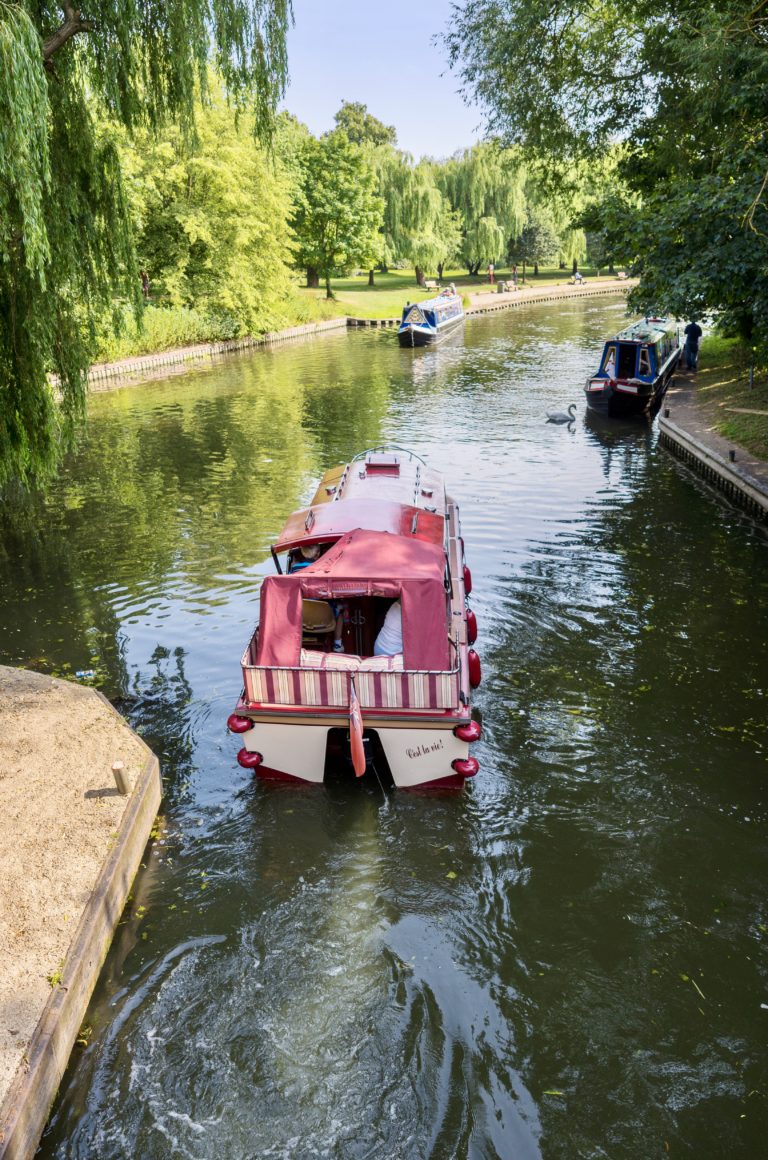 8. Avon River
The Avon River is where Stratford gets the end of its name ("upon Avon").
When spending one day in Stratford, you should definitely take a stroll on the bucolic riverside promenade to see the town's famous swans.
You can also visit Bancroft Garden and admire the flowers and statuary.
You can rent anything — pedal boats, canoes, gondolas, and motor boats — to get out onto the river for a duck's eye view. You can check it out here.
Several local companies also offer daytime cruises and lunch cruises as a way to see Shakespeare's home town from the water. You can book cruises on Bancroft Cruisers or Avon Boating.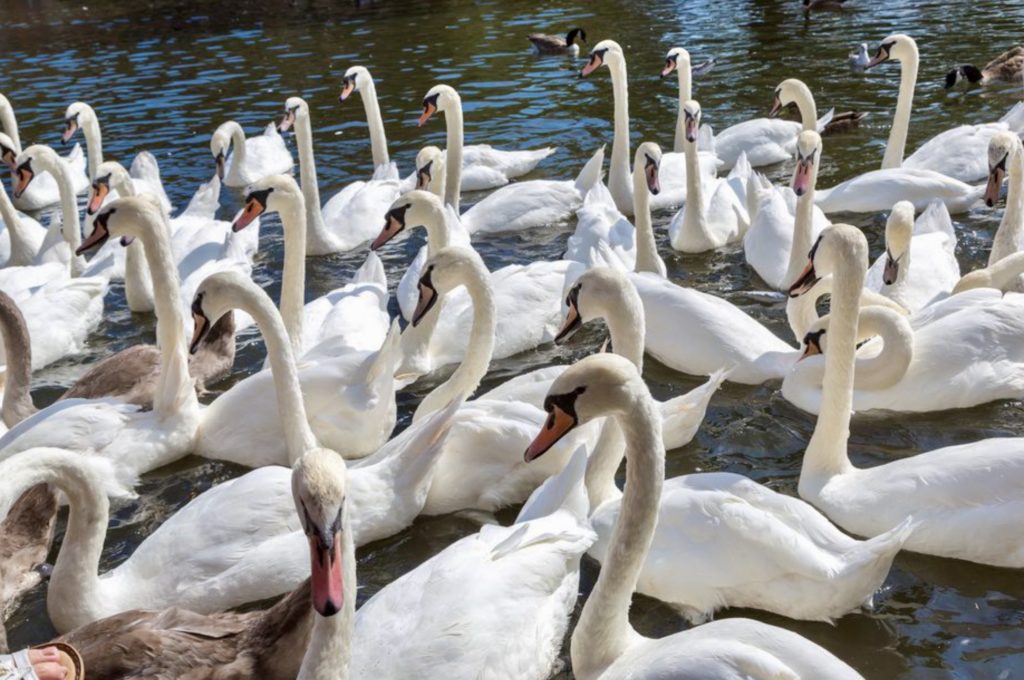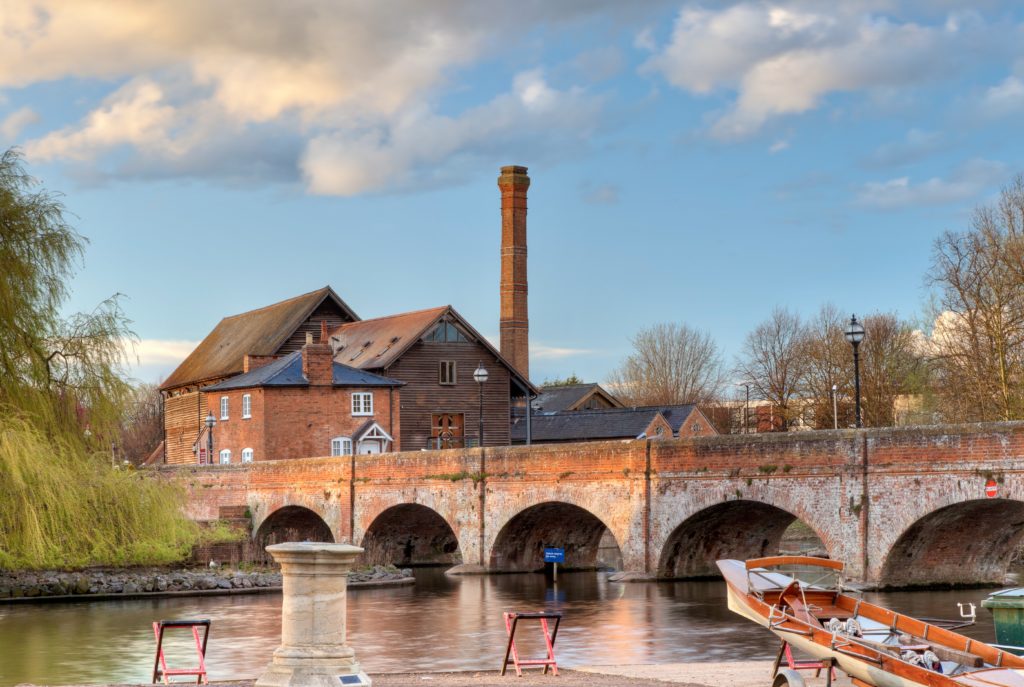 9. Butterfly Farm
Fancy a flutter with the butterflies? Then, head straight over to the Stratford Butterfly Farm just off the River Avon.
With thousands of butterflies and a gorgeous glass house home, you can get up close and personal with different species of free-flying butterflies and moths.
It's a very family-friendly place. Just be sure to watch your step because the butterflies sometimes rest on the pathways.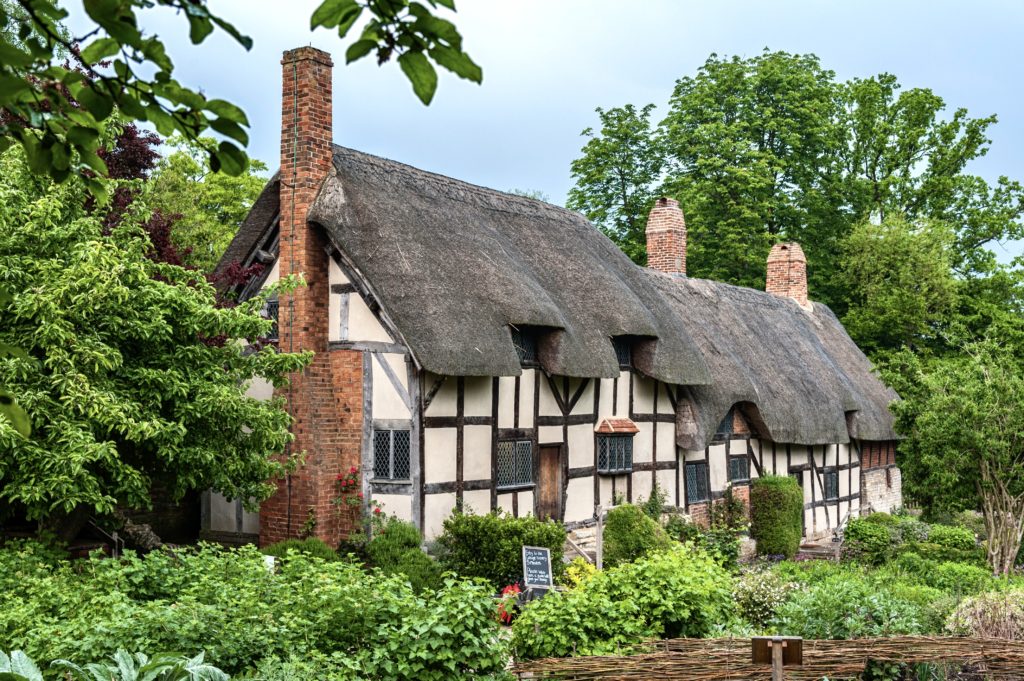 10. Anne Hathaway's Cottage
A few miles from Stratford there's a collection of fully restored Tudor properties.
One of then is the 500 year old Anne Hathaway Cottage. The home is cliche pretty and makes regular appearances on Instagram. You'll need to drive or catch the hop on hop off bus to get there.
This is a 12 room thatched roof cottage that was the childhood home of Shakespeare's wife Anne Hathaway. This was where Shakespeare courted Anne as a young lad.
Was it a case of Shakespeare in love or was the Bard tricked into a marriage he later regretted? Historians are divided on the answer to that questions.
Inside, you can see original Tudor period furnishings. The 9 acres of garden outside are planted with species of trees mentioned in Shakespeare's plays.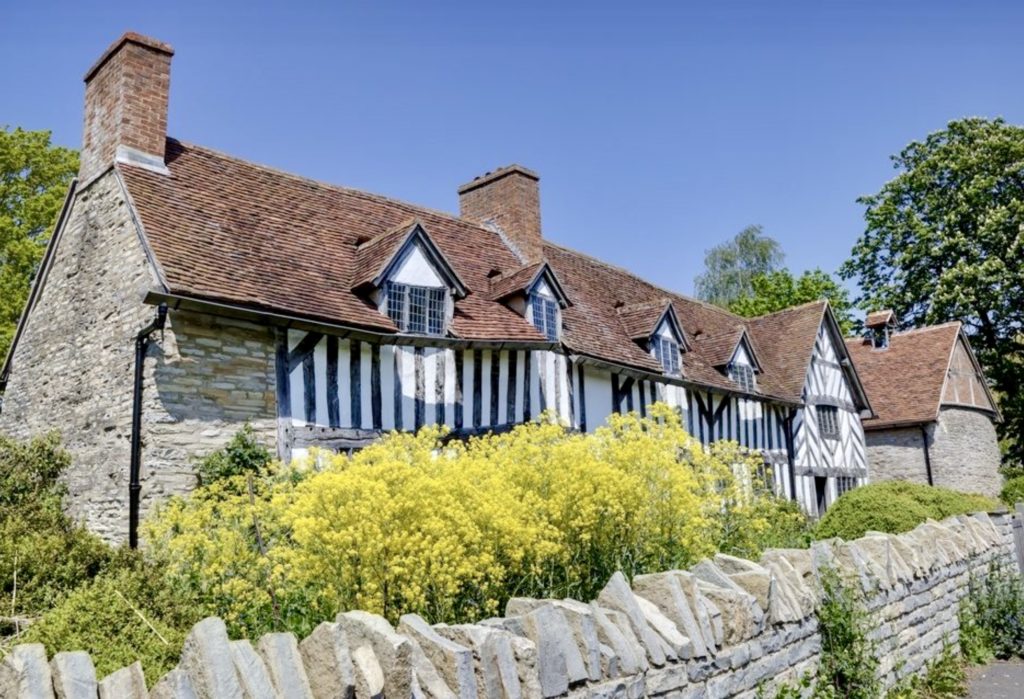 11. Mary Arden's Farm
Mary Arden's Farm is another Shakespeare site you can visit right outside Stratford (4 miles north). As I mentioned, Arden was William's Shakespeare's mother.
During the plague, much of Stratford was sadly wiped out. It's thought that Shakespeare's family stayed on the farm to escape the city and its rampant sickness.
Today, this working Tudor farm is part educational, part museum. It can be visited for a small fee from March through November. The kids can even feed the goats.
You'll learn about farming life and can see wool spinning or cooking demonstrations with actors dressed in traditional Tudor dress.
12. Farmer's Market
Do you love farmer's markets? I know I do.
Stratford is known for its farmer's market, with fresh local produce and ingredients. It's held on the first and third Saturdays of the month on Rother Street.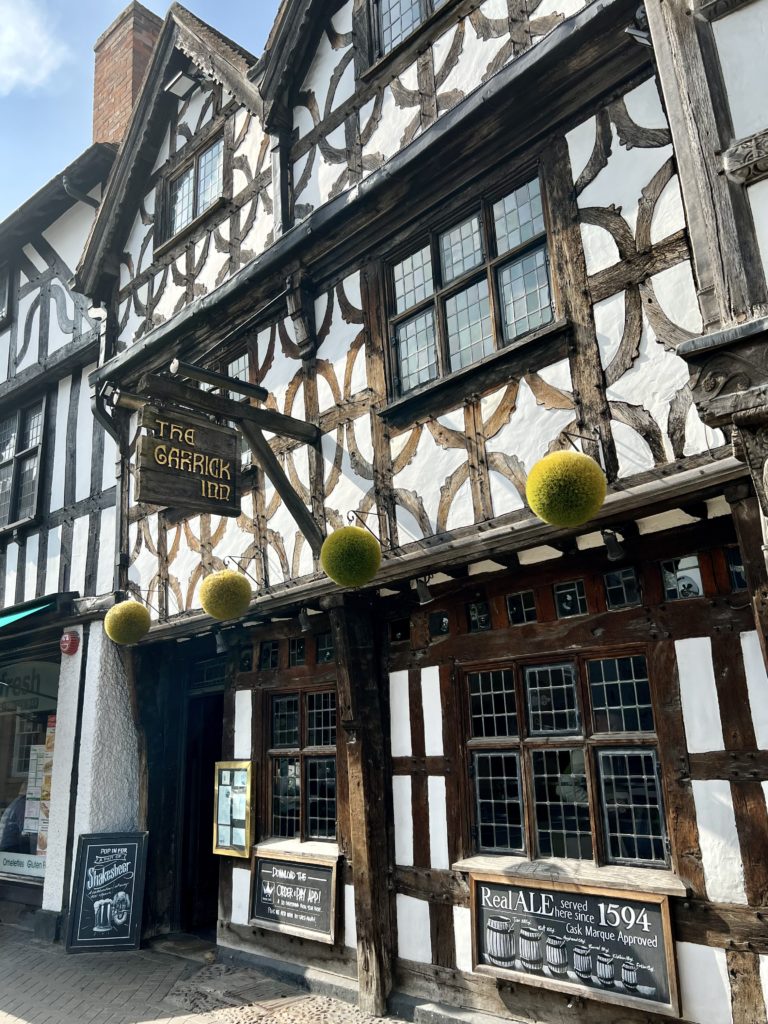 13. Cocktails & Dinner
Want a pre-dinner cocktail? Stop into the Garrick Inn, another of Stratford's ancient pubs.
It's a beautiful double gabled building with curving timbers, which dates from 1595. The inn was named for Shakespearean actor David Garrick after he organized the Shakespeare Jubilee in 1760.
There are some good options for dinner. The Woodsman is housed in a former 17th century tavern. It serves up contemporary British food.
The town also has Michelin-starred restaurant, Salt, with a cozy interior of brick and timber.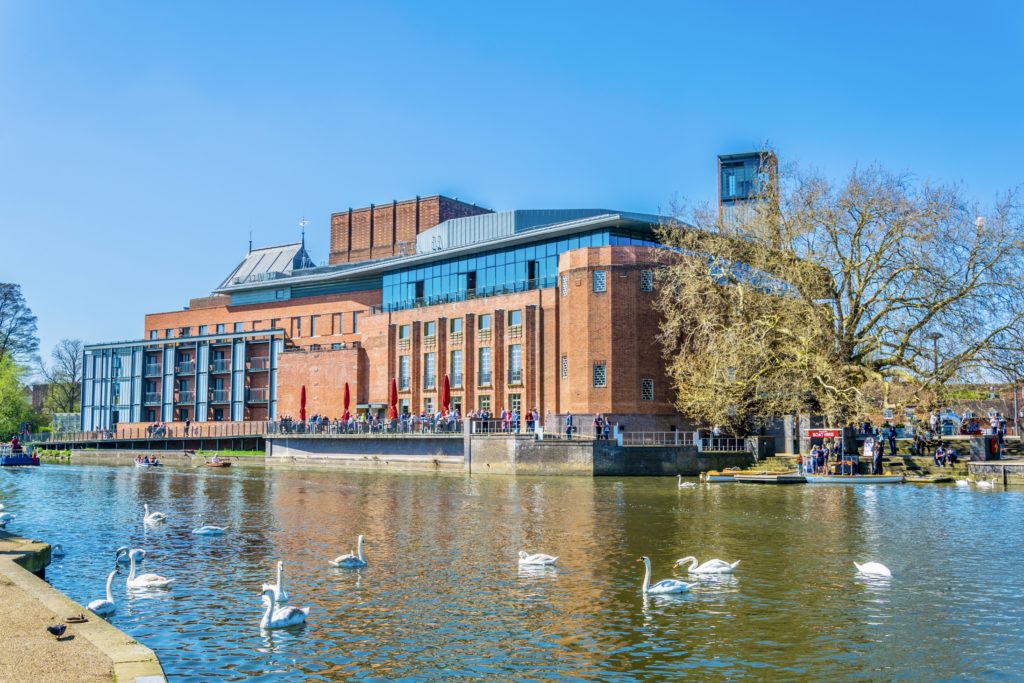 14. Royal Shakespeare Company
In Stratford, the play's the thing. So, no visit to Stratford-upon-Avon would be complete without taking in a matinee or evening performance of a Shakespeare play at the Royal Shakespeare Company.
This is the house where Shakespeare still lives. The Royal Shakespeare Company has three theatres in Stratford. There's the flagship theater on the river, the Swan Theater, and The Other Place.
Built in 1932, the flagship theater is a pretty red brick Art Deco style building designed by Elisabeth Scott. It's the home of the world's largest classical theater company, who put on the Bard's plays.
If you're planning on taking in a performance during the summer months, be sure to book way in advance. Matinees, on Thursdays and Saturdays, start at 1:30 pm, with evening performances starting at 7:30 pm.
The theater is a "one room" theater like the Globe Theater in London. The audience sits around three sides of the stage.
Tips For Visiting Stratford-upon-Avon In One Day
Here's what you need to know to have have an efficient day trip from London to Stratford-upon-Avon.
1. How To Get To Stratford-upon-Avon
Stratford-upon-Avon is 92 miles from London and 40 miles from Oxford.
By Car:
Stratford is approximately a 2-2.5 hour drive from London. Drop your car off in the one of the Car Parks at the edge of town. It's very difficult to park in Stratford.
By Train Or Bus:
Trains leave for Stratford from London's Marylebone Station near Regent's Park. They take 2 hours. I don't recommend the bus. It takes over 3 hours.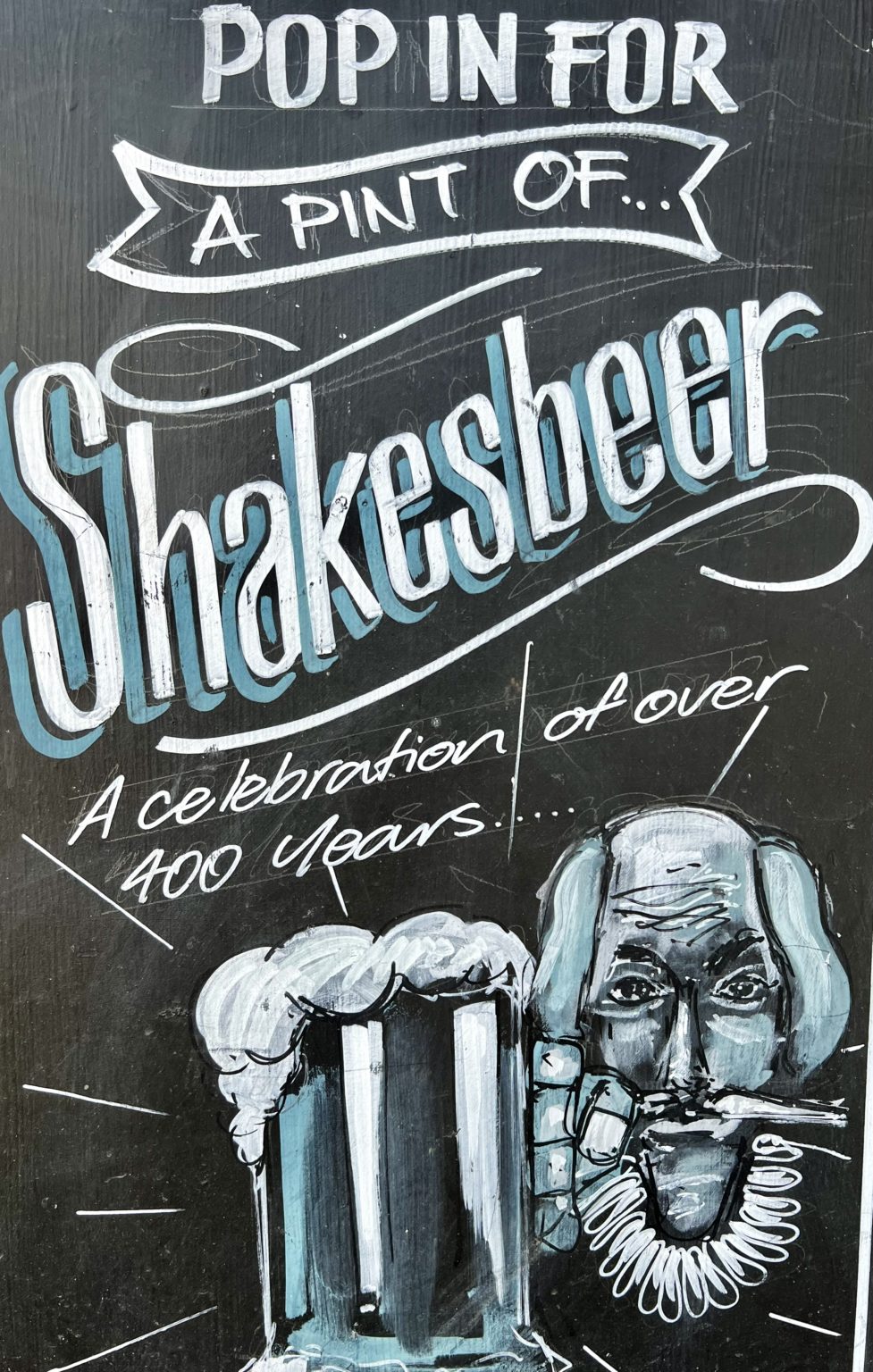 By Guided Tour:
If you want someone else to handle the travel logistics, there are quite a few options for guided day trips from London to Stratford, including:
2. How To Get Around Stratford-upon-Avon
Stratford-upon-Avon is a small walkable town. You can walk everywhere in a couple of hours.
If you don't have a car and want to visit sites that are further afield like Anne Hathaway's House, you should buy a ticket for the hop on hop off bus.
Buses leave every 15-20 minutes from outside the Pen and Parchment Inn, next to the tourist office on Bridgefoot.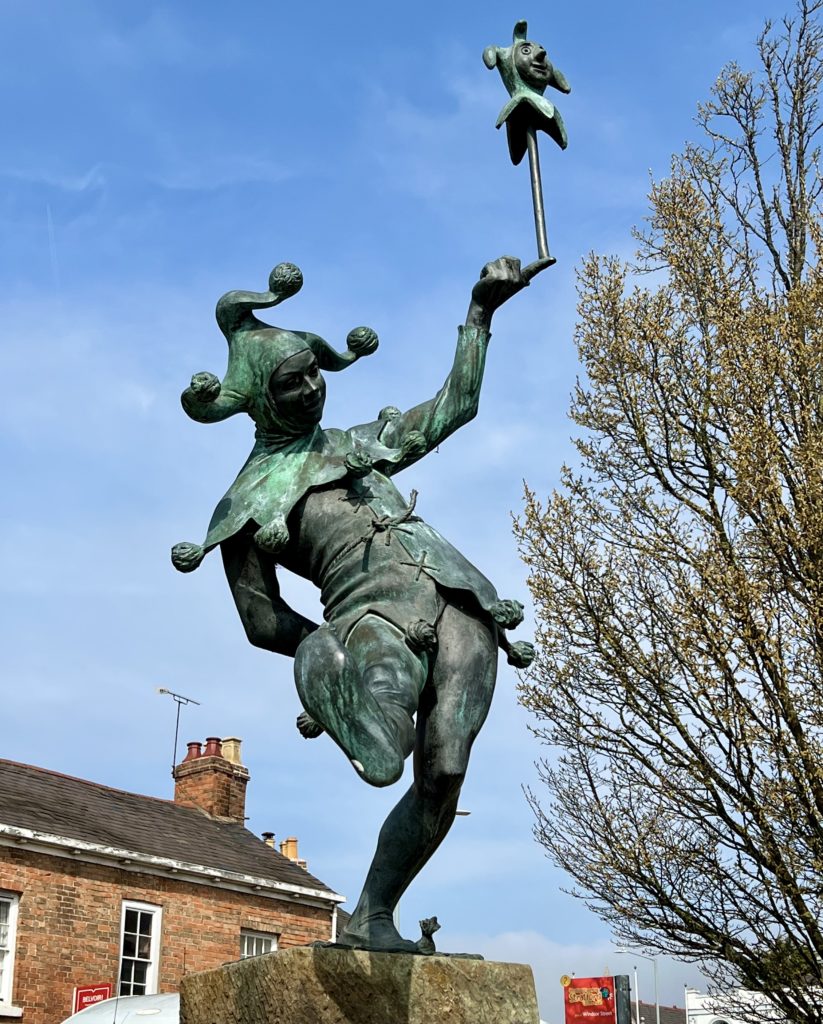 3. Where To Stay In Stratford-upon-Avon
If you decide to overnight, the hotels in Stratford cover every grade from cozy guesthouses to ultramodern luxury.
Hotel indigo is a hip well-designed boutique hotel near the flagship theater.
Another good choice is Hotel du Vin. It's a cozy hotel with elegant rooms. The Townhouse is charming luxury hotel in a historic building.
The Arden Hotel is a timeless treasure that just received a major update. It has a stylish Champagne Bar and spacious suites with beautiful views over the River Avon.
If you want a splurge, check out the 16th century Billesley Manor. You'll need a car to stay at this beautiful Elizabethan manor house because it's 3 miles outside the town and surrounded by several acres.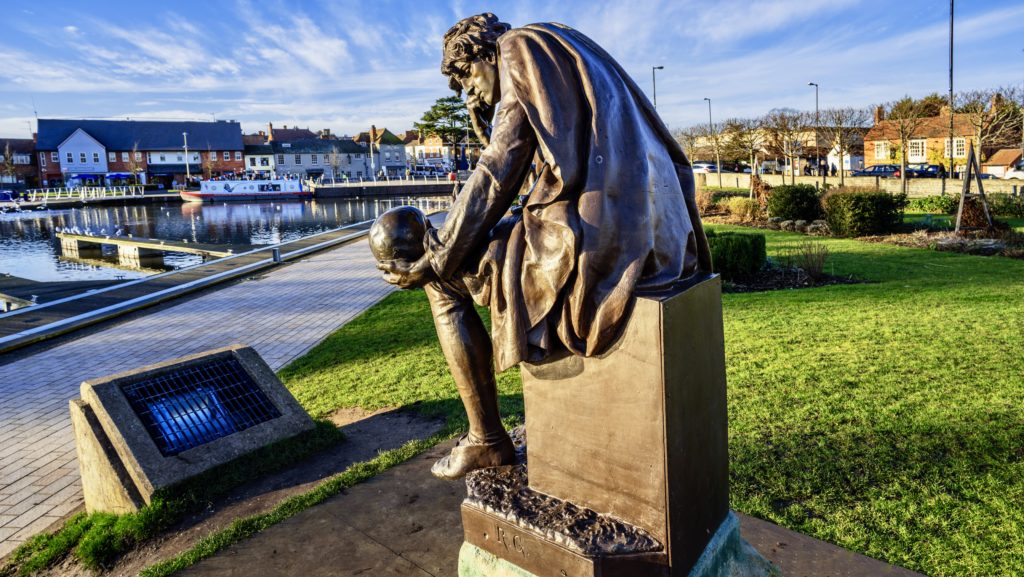 What is probably the world's most discreet Hilton Hotel stands five minutes from the Royal Shakespeare Theater and only four stories high.
4. When To Visit Stratford-upon-Avon
Stratford is an in demand day trip from London.
If you're put off by crowds, try to visit in off season and not on a weekend. I was last there in mid-week in March and it was just fine, without major crowds.
If you don't mind crowds, you can visit and attend the famous Stratford Literary festival in May.
It features a variety of events, including celebrity authors, panel discussions, writing workshops, guidance on getting published, and discussions on current affairs.
Stratford also hosts a River Festival in July. It's a free festival with live music, delicious food, a boat parade, and fireworks.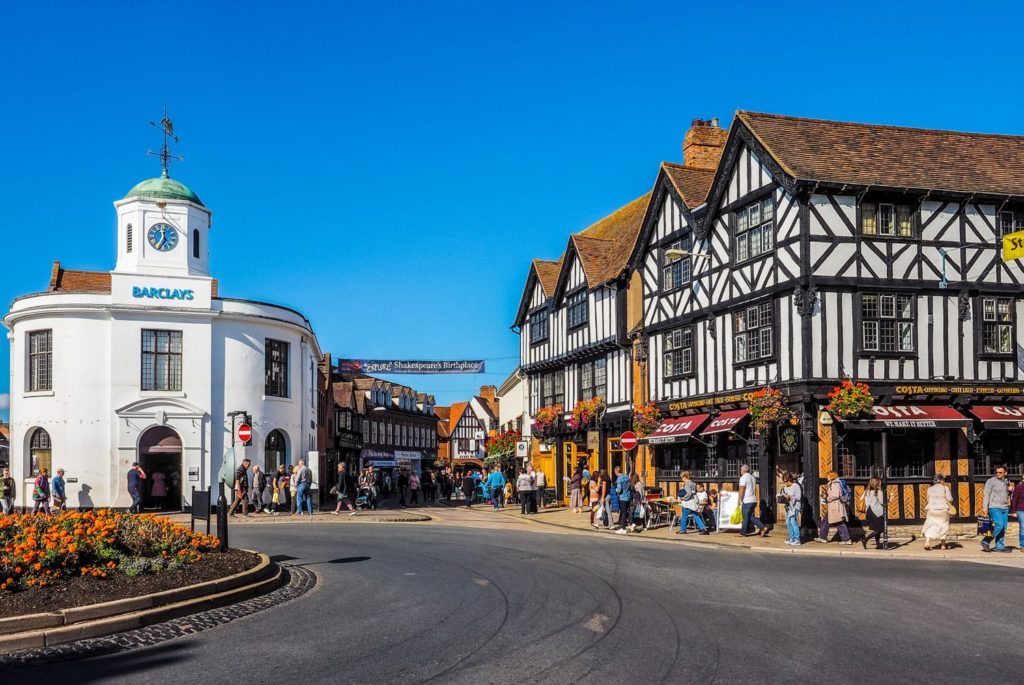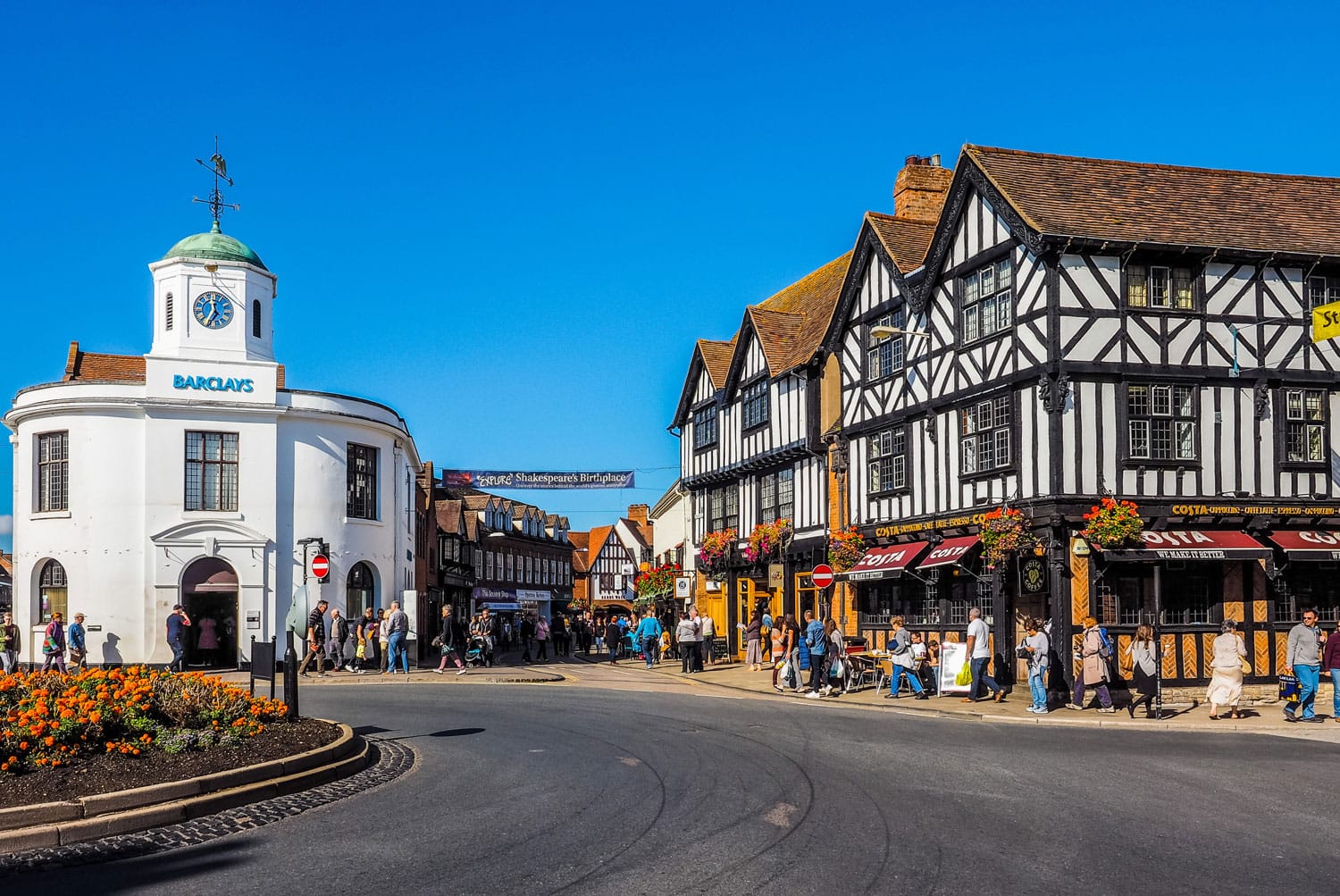 5. Is Stratford-upon-Avon Worth Visiting?
As I mentioned, Stratford is widely popular and, hence, very touristy. To avoid disappointment, try to visit off season and avoid the overpriced and overcrowded tourist traps like Shakespeariance and Tudor World.
That said, Stratford-upon-Avon is popular for a reason. It's a cultural treasure for anyone interested in Shakespeare literature. It's definitely worth visiting and worth a full day of your time.
For many visitors, however, Stratford is a one hour stop on a breathless whirlwind tour from London. To make the most of your visit, stay longer. Focus on a few genuine Shakespeare sites and take the time to really enjoy them.
Of course, the real joy of Shakespeare country is best found on longer stays. From a Stratford base, you can tour other fetching castles and villages, and get a much more balanced picture of English life.
6. Places To Visit Near Stratford
Do you have more than one day in Stratford-upon-Avon? If so, there are plenty of places near Stratford to visit that you could add to your Stratford itinerary.
Charlecote Park
Just 4 miles from Stratford, Charlecote Park is a beautiful Elizabethan mansion set in a landscaped deer park designed by Capability Brown.
It's been the home of the Lucy family since the 13th century. One of the house's most interesting features is the ornate Tudor chimneys.
Legend holds that the owner, Sir Thomas Lucy, once caught Shakespeare poaching deer on the estate. The story goes that Shakespeare was forced to flee to London to avoid prosecution where the rest, as they say, is history.
On weekend mornings, you can visit the rooms on the ground floor. And you can stroll along tree-lined lanes in the deer park.
Time From Stratford: 5 minutes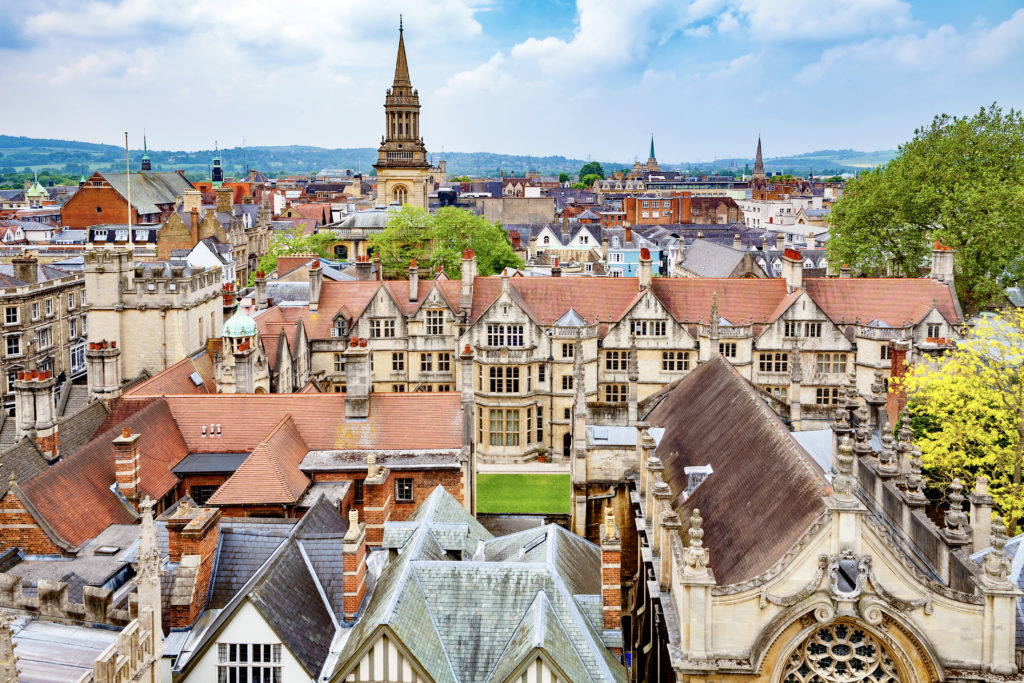 Oxford
Oxford is just 40 miles from Stratford and you could combine them on a day trip from London if you start early.
Oxford is a beautiful and bustling 1,000 year old university town. It's home to the world's oldest English-speaking university.
The town is nicknamed the "Town of Dreaming Spires." It's full of creamy honey-toned architecture and the feel of cloistered academia.
For more information you can check out my one day in Oxford itinerary.
Time From Stratford: 1:15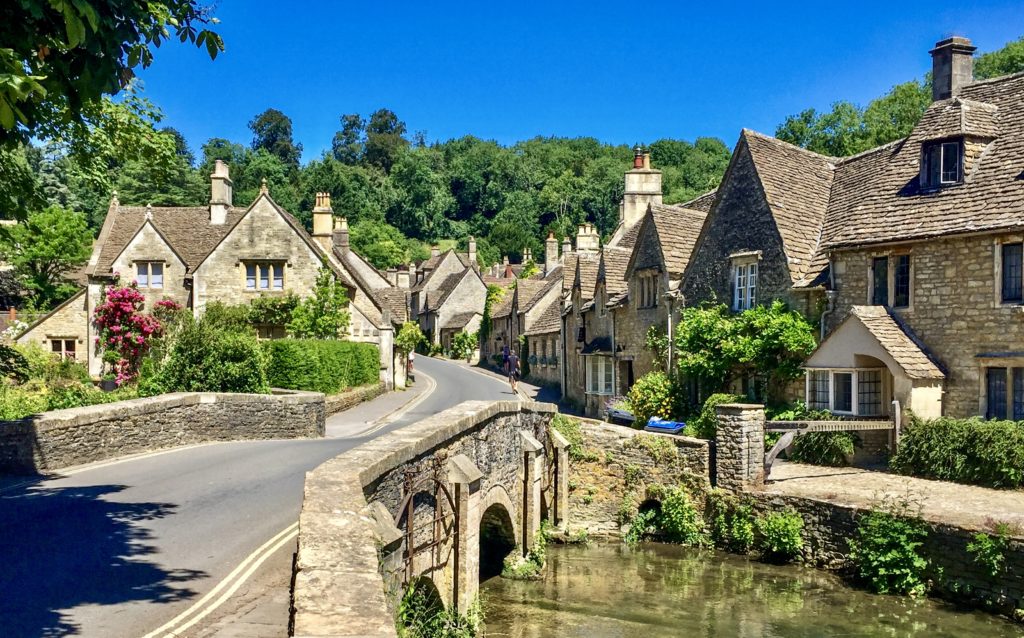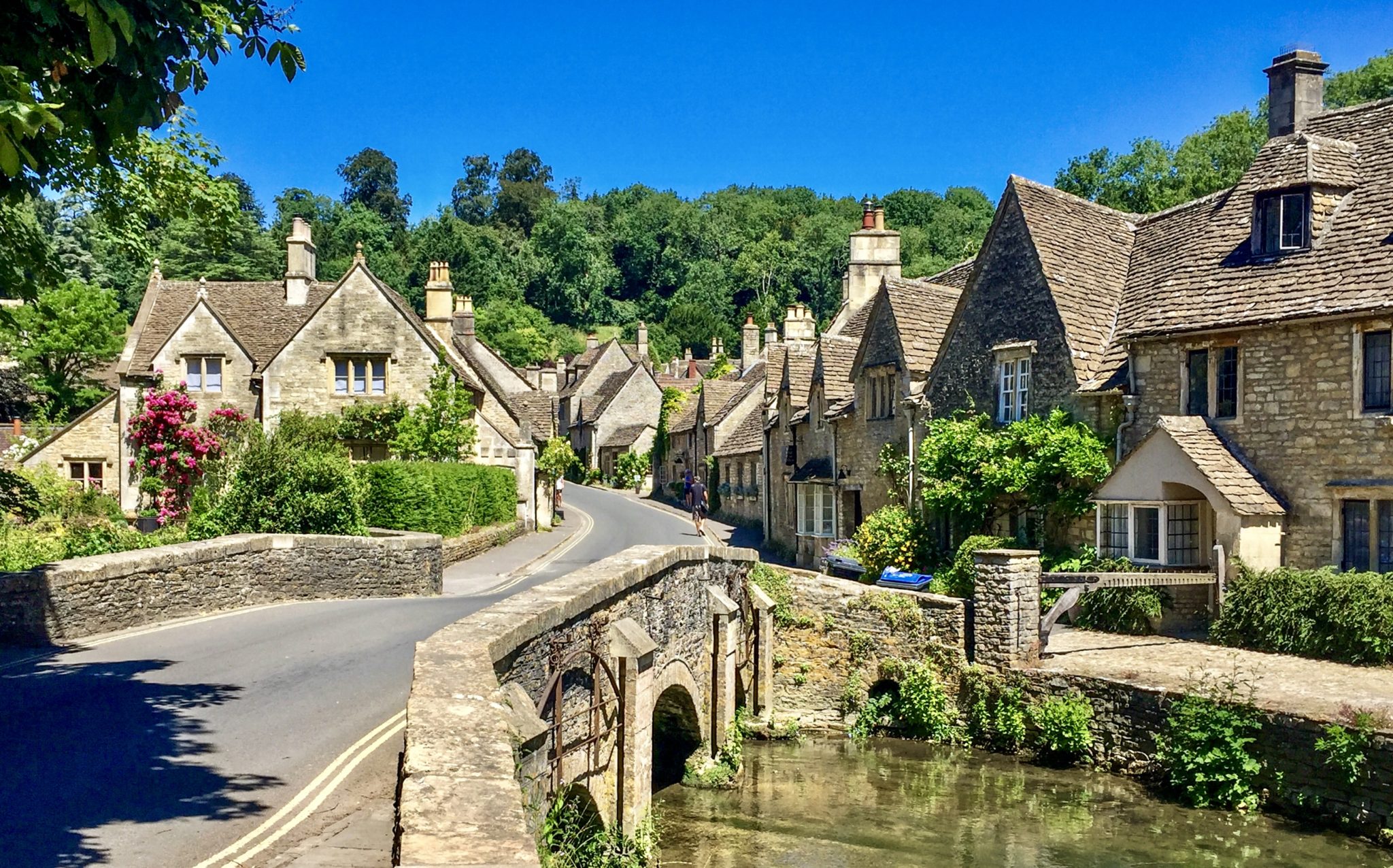 Cotswolds
The Cotswolds are close to Stratford too, just a 45 minute drive. In this pretty part of England, little has changed since the Middle Ages.
The Cotswolds is where you go to experience tumbling hills, chocolate box villages, and admire authentic thatched cottages.
You can visit cute little towns like Castle Combe, Bibury, and Chipping Camden.
Time From Stratford: 45 minutes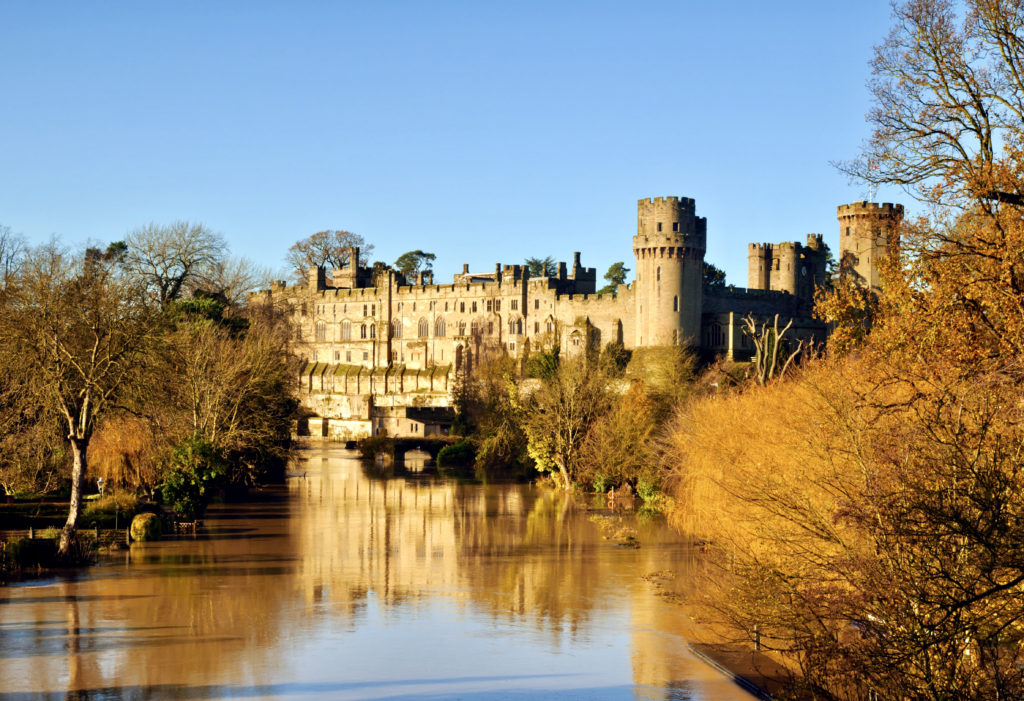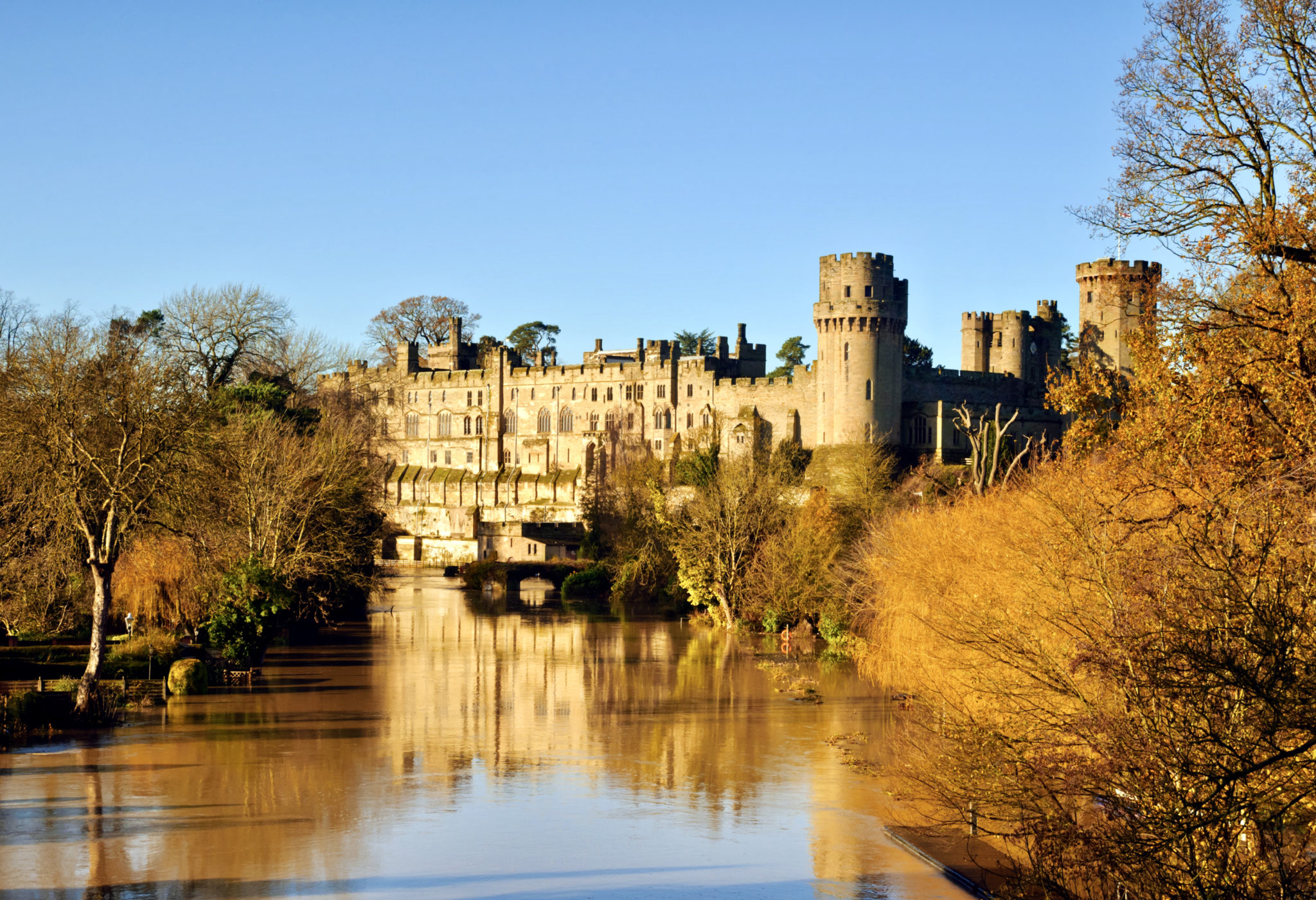 Warwick Castle
Warwick Castle is just 7 miles northeast of Stratford-upon-Avon and can be combined on a day trip from London to Stratford.
Warwick Castle is one of the most significant castles in English history. It was built by a king and was the seat of the famous warmongering Duke of Warwick, Richard "the Kingmaker" Neville.
The legendary Warwick Castle shaped 900 years of British history. The castle was an important defensive stronghold in the Wars of the Roses and the English Civil War.
It's everything you'd expect in a storied fairytale castle – crenellated turrets, moats, and dungeons. Today, the castle prides itself on reenactments that bring the history of the medieval castle to life.
You can pre-book an admission ticket here.
Time From Stratford: 18 minutes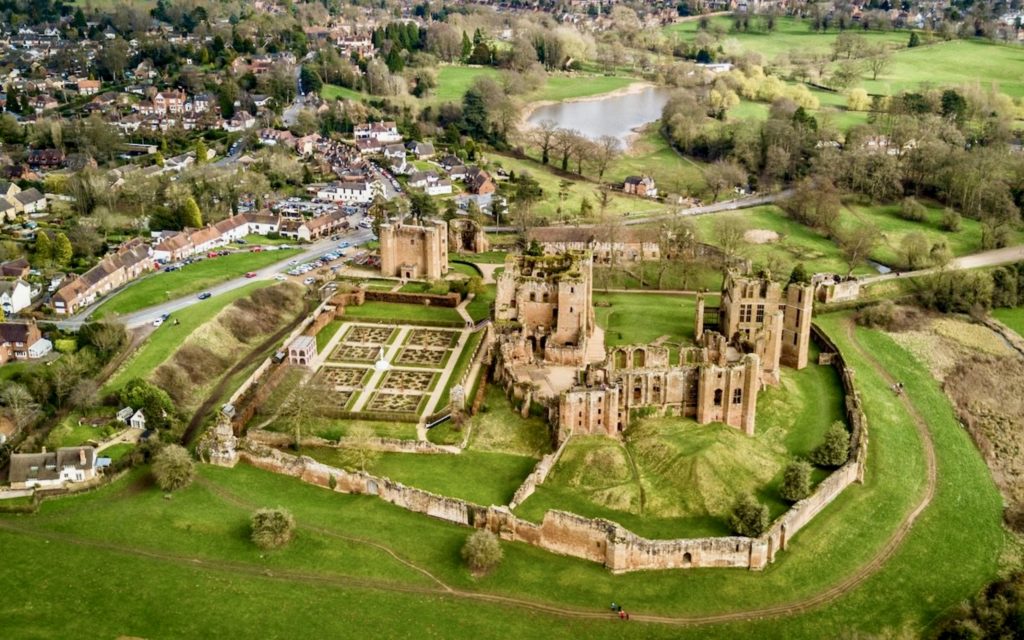 Kenilworth Castle
Are you a ruin luster? First built in the early 12th century, the Norman-Tudor Kenilworth Castle is called one of the "finest surviving examples of a semi-royal palace from the Middle Ages."
It's a historic place where King John and Simon de Montfort did battle in the 13th century. Henry V loved the palace. Elizabeth I gave the castle to Robert Dudley, who transformed it into a lavish palace.
The castle later fell into an evocative heap of ruins. Sir John Siddeley bought the castle in the 1930s, restored it, and opened its doors to the public.
Time From Stratford: 25 minutes
I hope you've enjoyed my one day in Stratford-upon-Avon itinerary. You may enjoy these other London travel guides and resources:
If you'd like to day trip to Stratford-upon-Avon from London, pin it for later.