Tiny Faversham is known as the "Medieval Gem of Kent," and one couldn't possibly disagree with that moniker. Here's my guide to spending one day in Faversham, which covers all the best things to see and do in the ancient port town.
Faversham isn't known for its grand monuments. It doesn't have either a castle or cathedral. And it isn't full of tourists.
What Faversham has in spades in an adorable medieval old town filled with perfectly preserved timber framed houses. If you're a medievalist who wants to steep yourself in an almost entirely ancient atmosphere, come to Faversham.
At only an hour away, it's an easy day trip from London. And you'll be sure to enjoy its photogenic townscapes.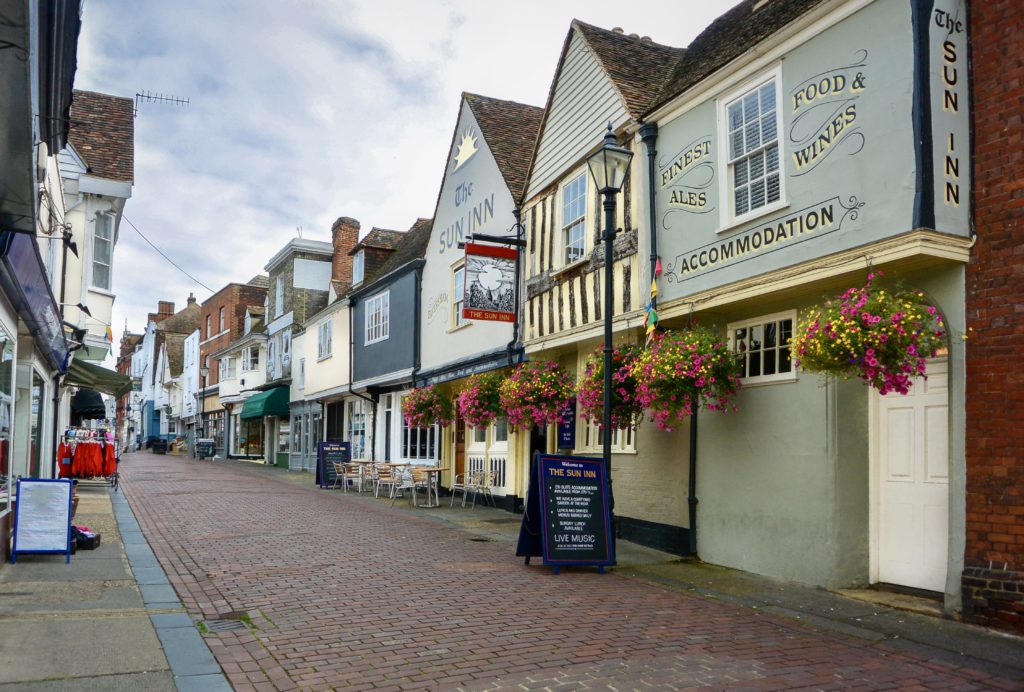 A Short History of Faversham
Faversham grew first as a port village on the River Swale near an ancient Roman road. The name Faversham means "the metal workers' village," implying that the town was a center of trade.
In 1086, the town was listed in the Domesday Book as a royal demesne (land attached to a manor house). That book was a property assessment commissioned by William the Conqueror.
In 1147, King Stephen founded a Cluniac (later a Benedictine) monastery in Faversham. When Stephen died, he was laid to rest in the abbey.
When Henry VIII dissolved the monasteries in the Tudor era, that was the abbey's demise. By 1671, it was completely razed and in ruins.
In the Middle Ages, Faversham was a bustling trade town. It was associated with the medieval Cinque Ports, a group of defensive English Channel towns created by the Edward the Confessor. Faversham was responsible for supplying the crown with ships and men.
In 1302, the town's barons were granted all the liberties of the ports, with a re-issuance of the Magna Carte. The Faversham Magna Carta is safely housed in the secure room in the Guildhall (town hall).
On Valentine's Day in 1551, one of the most sensational crimes in Tudor history took place in Faversham.
The most prominent Faversham citizen, the wealthy landowner Thomas Arden, was stabbed to death by henchmen hired by his wife Alice. She wanted her husband out of the way to continue her affair while seizing his wealth. Indeed, she had unsuccessfully tried to poison him several times.
The crime had all the requisite elements to rivet the public — sex, greed, violence, and a manipulative villain. The murder inspired the Elizabethan play Arden of Faversham.
In the 17th century, Faversham was still an important seaport and a center for brewing. From then until the 20th century, Faversham was a center of the explosives industry.
Today, Faversham has a shipping and fishing industry with oyster fisheries.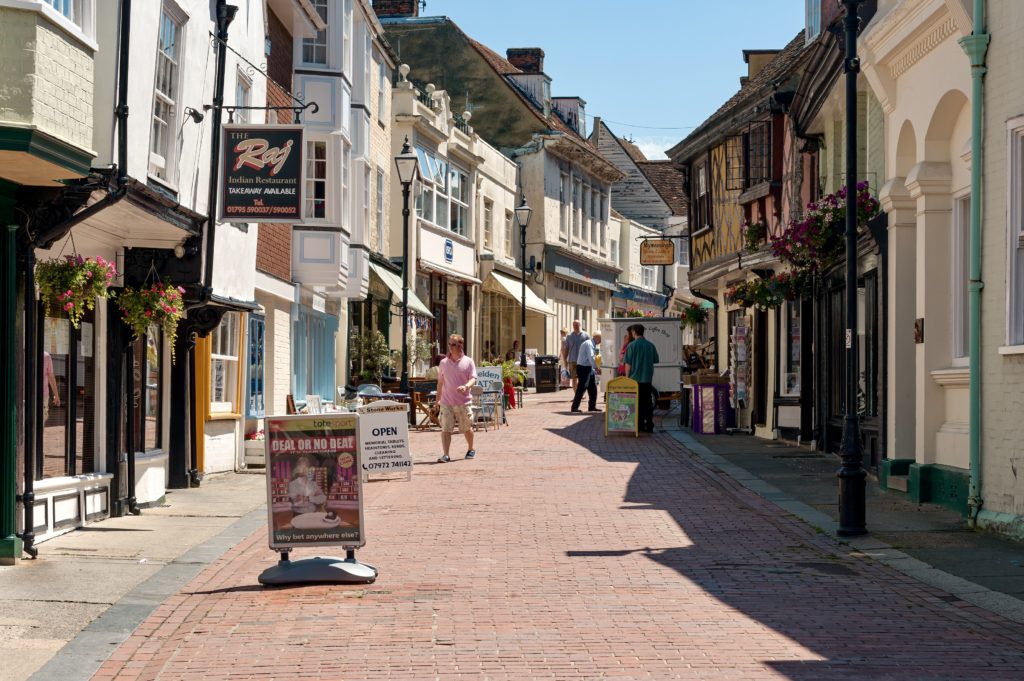 Best Things To Do in Faversham In One Day
With one day in Faversham, these are the top attractions and best things to do that you can't miss.
1. Fleur de Lis Tourist Center
Start your one day in Faversham at the Fleur de Lis center on Preston Street. It's a tourist center with a treasure trove of information. You can pick up maps and learn about what's on in town.
The center also houses a small heritage museum, crafted from a 15th century coaching inn. You can get the historical backdrop of the town, from the Iron Age to the Elizabethan Age before hitting the cobblestones. There's also a bookstore to peruse.
A plaque over the door say that this was the where the conspirators met, over pints, to plot the demise of Thomas Arden.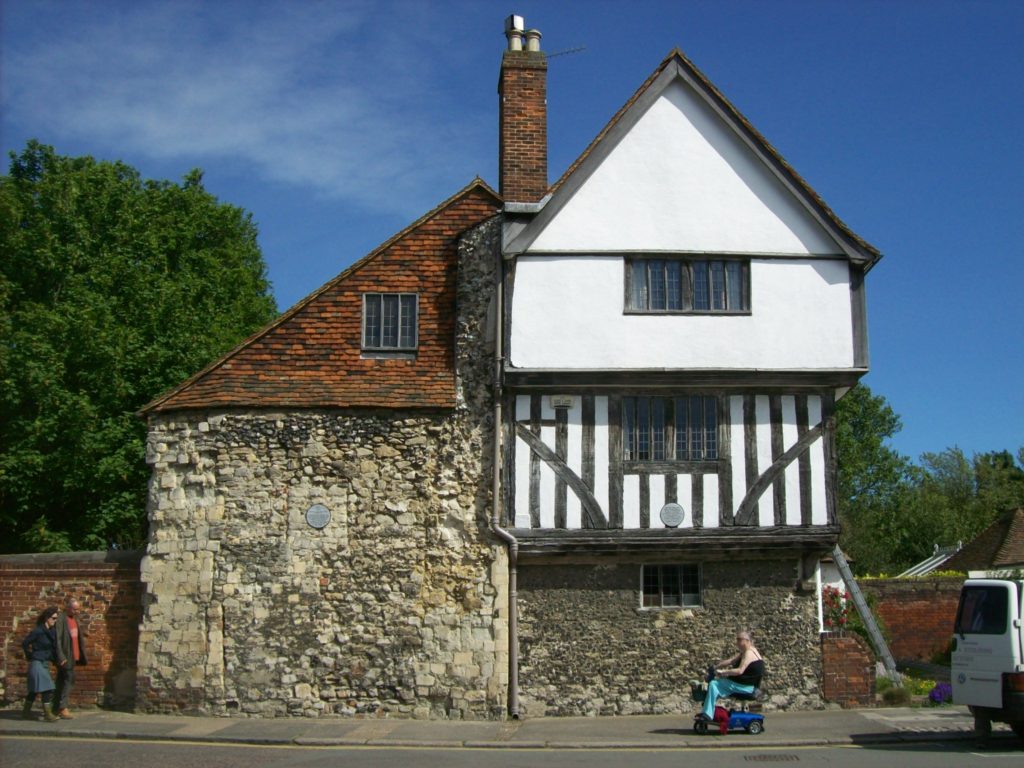 2. Arden House
Arden House has a sordid past. It was the scene of the infamous murder I mentioned above. It's privately owned and can only be visited during Faversham's "Open House" program in July.
But it's worth a stroll by anyway. It's a pretty Tudor timber house from the 16th century.
The house is attached to what once was the gatehouse to the long gone Faversham Abbey. Arden purchased it after the dissolution of the monasteries.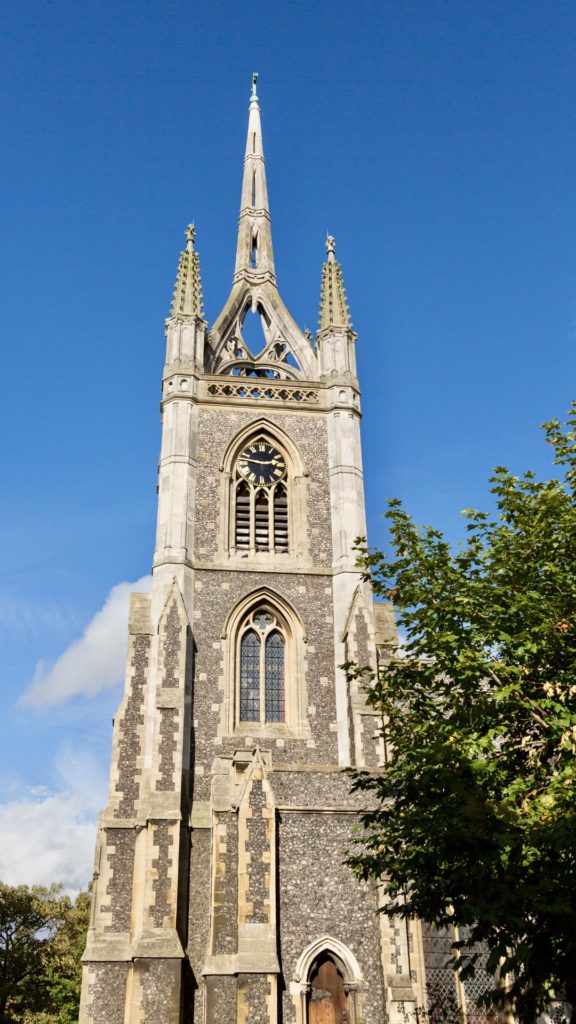 3. St. Mary of Charity Church
Faversham is too small to boast a cathedral. But the town's St. Mary of Charity Church comes close in size, and is one of the best things to do in Faversham.
Canterbury and Rochester cathedrals are the only larger churches in Kent. The size of the church indicates Faversham was an important town in the Middle Ages.
The church was consecrated in 1070. You can still see some traces of its Norman origins.
The crowning spire, which you can see thoughout the town, was added in 1794-97. Inside, the church has an elegant double aisled transept and a collection of Tudor and Medieval tombs. The carved misericords in the quire are the work of a gifted 15th century woodcarver.
The real treasure is a frescoed pillar from the 14th century. It depicts the life of Christ and is one of very few surviving pillars of this type in England.
Legend holds that when the Faversham Abbey was dissolved, the remains of King Stephen were dug up and thrown into the creek. Stephen's bones were allegedly rescued and put in the church's Trinity Chapel.
But there's really no way to know if this is true. If it is true, St. Mary is the only parish church in England where a monarch is buried.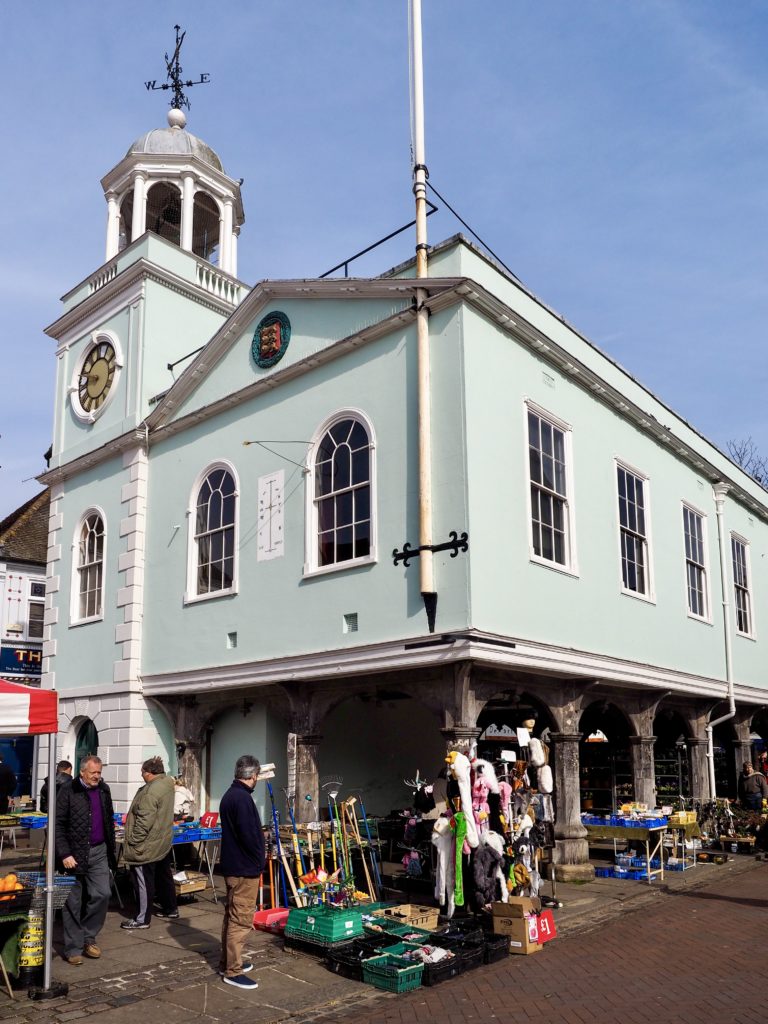 4. Ramble The Old Town
Faversham is tailor made for aimless strolling, boasting over 500 historic "listed" buildings that all make for good photo ops.
One its streets, Abbey Street, has been described as "probably the finest medieval street in England." The street was once the grand approach to Faversham Abbey.
Abbey Street survived the dissolution of the monasteries in 1536. There are now over 50 listed buildings here.
On Abbey Street, you'll find a gallery of immaculate and well-preserved homes in pastel colors and timbers, including Arden House, and a number of restaurants.
Around the back of Abbey Street, you'll find a school founded by Queen Elizabeth I. One of the best educated monarchs herself, she knew the value of a good education for girls. The Free Grammar School of Elizabeth is open during the "Open House" program.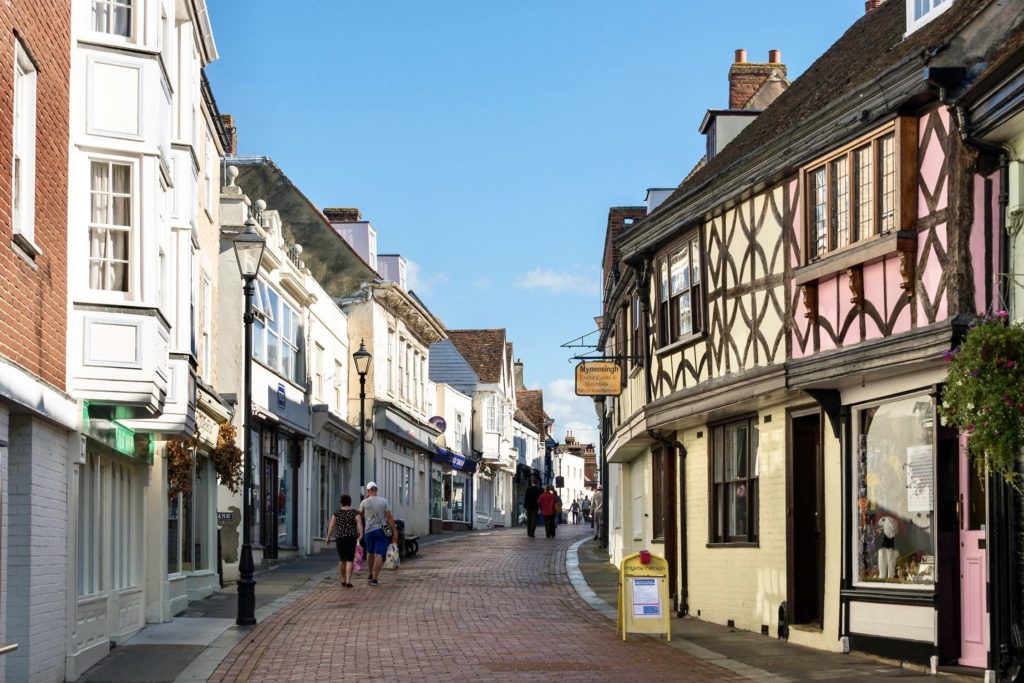 West Street is also beautiful, with another array of picture perfect homes, shops, and cafes.
5. Shepherd Neame
Faversham lays claim to the oldest brewery in England, Shepherd Neame, dating from 1698.
If you love a good pint, you can check out the Shepherd Neame Visitor Centre and book a tour of the brewery that includes a tasting.
6. Faversham Stone Chapel
Just west of Faversham is the Faversham Stone Chapel, another heritage site. It fell into disuse in the 16th century and may look like just a pile of stones.
But the stone chapel is the only Roman temple converted into a Christian church. It contains the remains of a small square Roman mausoleum.
7. Open Air Market
Faversham Market was established in 1086. If you're in town on a Saturday, it's one of the best things to do in Faversham.
On market day, stalls sprawl from the center square up onto Preston Street. Many of the stalls are set beneath the pillared arches of the Faversham Guildhall, a building dating 1574.
It's everything you could want in an English market. You'll find antiques, local produce, cheese, pastries, clothing, and crafts. It runs on Tuesdays, Fridays, and Saturdays every week. There's also an antique market on the the first Sunday of every month.
8. Maison Dieu
Maison Dieu is a charming heritage house right outside the town. "Maison Dieu" means "God's House," and it's a place steeped in history.
Henry III founded Maison Dieu in 1234, as a monastic hospital. The current house dates from the 15th century. It's one of the oldest surviving buildings on the Pilgrim's Way to Canterbury, immortalized in Geoffrey Chaucer's novel The Canterbury Tales.
It was used as a hospital and inn. For royalty, it had a separate room known as the "Camera Regis."
The house has been enthusiastically preserved by the Faversham Society since 1925. It boasts the longest surviving village museum. It's only open on weekends and Bank Holidays from April to October.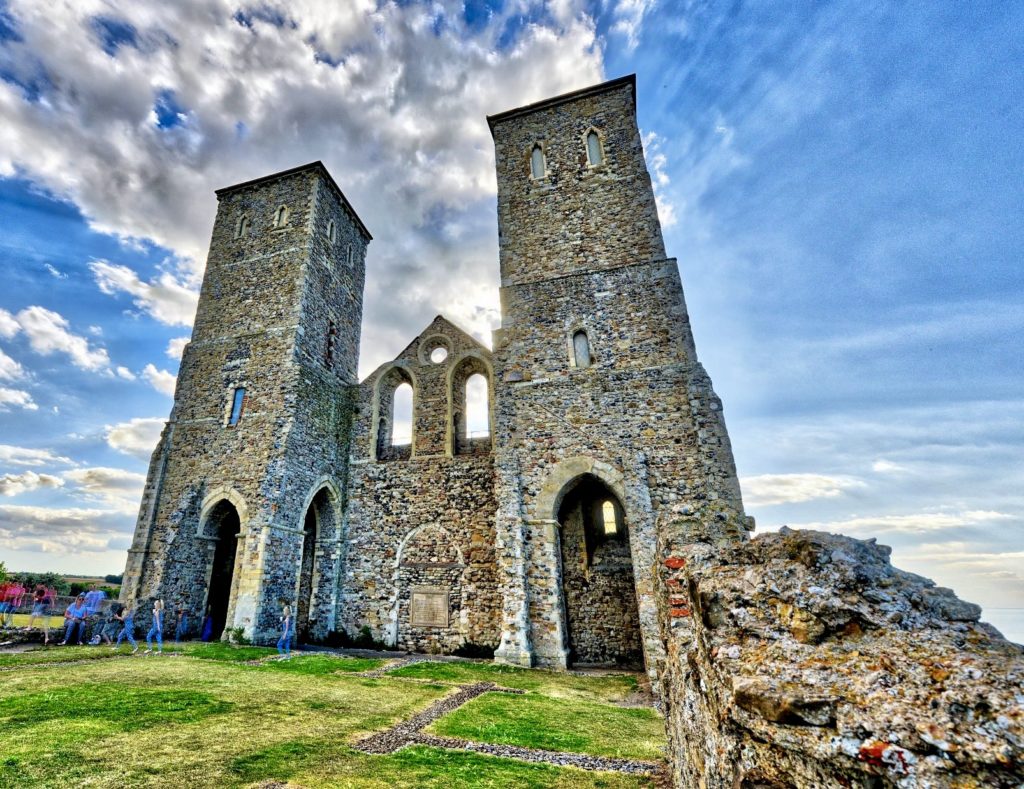 9. Reculver Tower
About 20-25 minutes northeast of Faversham is the Reculver Tower on Herne Bay. The massive Norman towers are 800 yers old. They've been an important coastal landmark for England's shopping industry.
The imposing twin towers are all that remains of a 12th century church. It was built atop the ruins of a Roman fort from the 2nd century and replaced a Saxon church from the reign of Ethelbert.
There are information panels at the site giving you facts and a history about the ruins.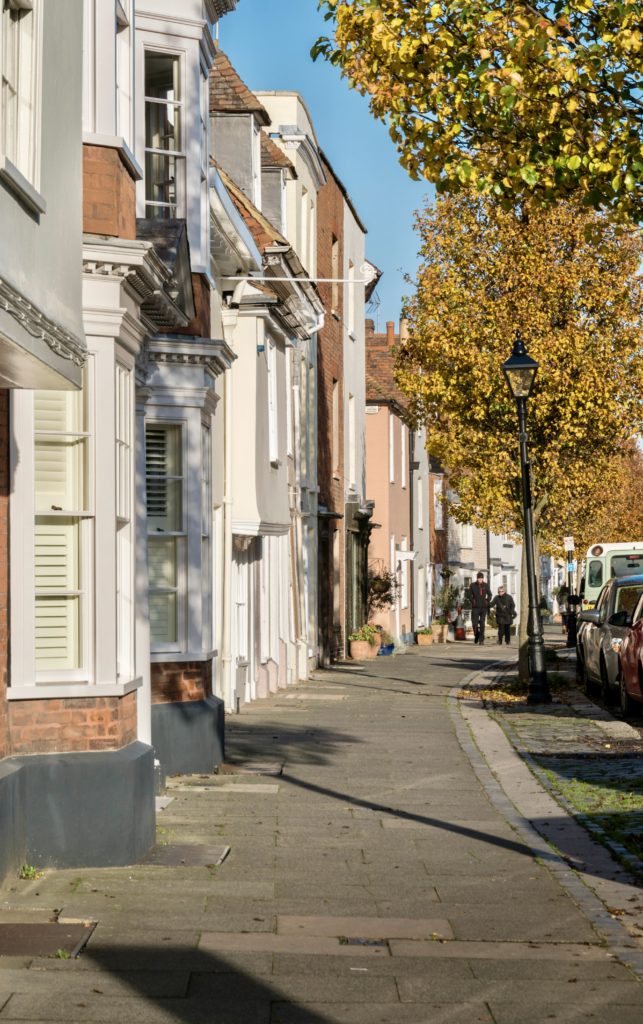 Tips For Visiting Faversham
Here are some must know tips for spending one day in Faversham.
1. How To Get To Faversham
Faversham is in the county of Kent. It's 48 miles from London and 10 miles from Canterbury, so makes a great day trip from either place.
If you are coming from London, direct trains leave for Faversham from London Victoria Station every hour. The journey takes one hour.
If you are driving, leave your car at Queens Hall car park. It's a good idea to have a car for visiting Faversham because some of the best things to do and see are just outside town.
Once you're there, you can do a self guided tour with a map. The Faversham Society also offers guided walking tour for £5.
2. When To Visit Faversham
Normally, I'd recommend visiting on a week day, rather than the more crowded weekend. But for Faversham, the best day to visit is Saturday. That's when you'll see the Faversham Market, one of Faversham's top attractions, in full swing.
You can also visit Maison Dieu. As I mentioned, it's on the outskirts of the town and only open on weekends.
July is a good time to visit Faversham.
If you visit on one of the first three weekends in July, Faversham has an "Open House" program. Many of the privately owned heritage properties fling open their doors to visitors. The Fleur de Lis Center will have all the details.
3. Is Faversham Worth Visiting?
Yes, unless you don't like adorable medieval towns. It's a hidden gem in Kent, that's an up and coming tourist destination. There are plenty of unique things to do and see in Faversham.
Faversham also makes a great base for a road trip in the country of Kent.
4. Where To Eat In Faversham
For lunch, check out The Yard. It's a hip cafe serving up sandwiches and salads hidden away in a mews, with fairy lights in the garden. You can also try Macknade, off Canterbury Road. It's one of the best food halls in England.
When you've polished off all the best things to do in Faversham, sit down and relax with a cocktail. (Cheers!)
Have a pint at the Sun Inn, the local pub, or try Faversham's microbrewery, Furlongs Ale House.
For dinner, I recommend The Phoenix Tavern on Abbey Street.
Alternatively, for a real splurge, head to the Sportsman, a Michelin-starred restaurant in nearby Seasalter. It's just 15 minutes from Faversham.
5. Where To Stay in Faversham
If you are staying overnight in Faversham, check out the luxurious Cave Hotel Near Canterbury or the charming boutique B&B the White Horse.
Leeds Castle is only 30 minutes from Faversham. The castle has a B&B and cottages where you can stay overnight and feel like a royal. Check these out:
The Maiden's Tower won the AA award for 2017's Unique B&B of the year.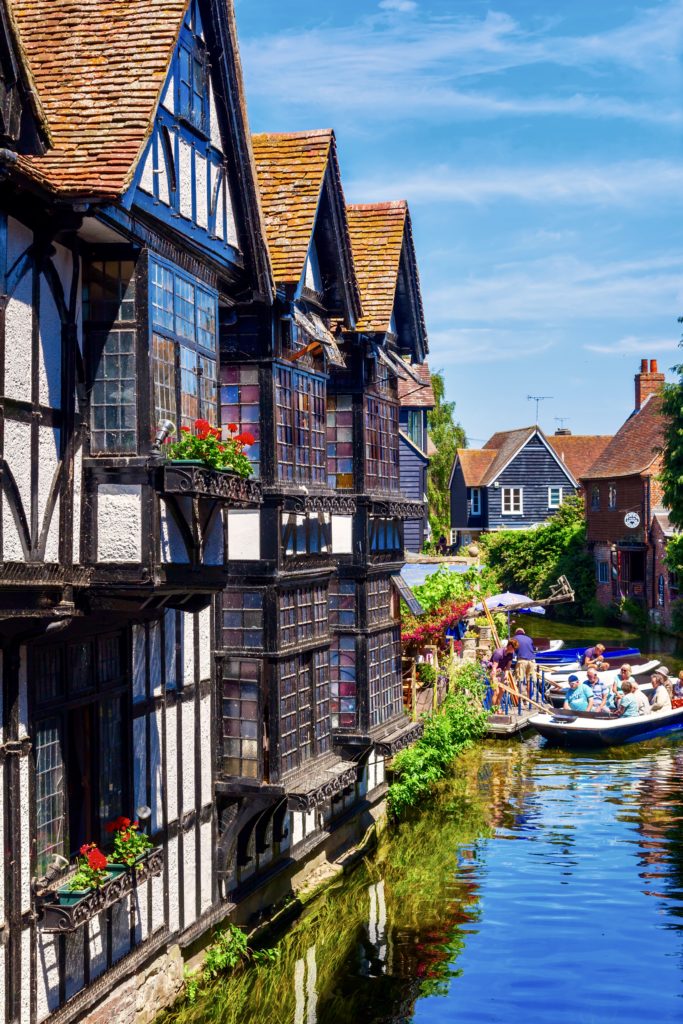 6. Places To Visit Near Faversham
Do you have more than one day in Faversham? If so, Faversham makes a great base for exploring Kent, especially northeast Kent.
There are some beautiful towns to explore. To get the full scoop, check out my one week in Kent itinerary, which details everywhere to go in the "Garden of England."
The one absolute "must do" place near Faversham is the cathedral town of Canterbury, the crown jewel of Kent. It's one of England's loveliest cities, to my mind. You can check out my one day in Canterbury itinerary, for the full scoop.
If you're a castle lover, Faversham makes a great base in Kent for castle hopping. You can visit: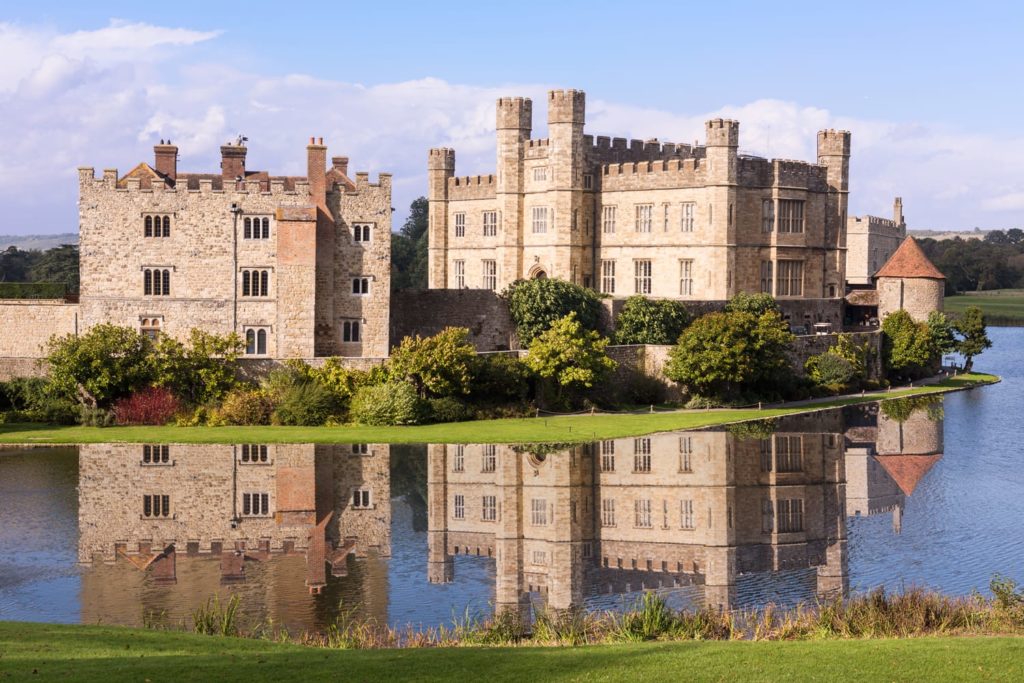 There are also guided sightseeing tours from London that take you to a combination of these magnificent places in Kent. Here are some options:
I hope you've enjoyed my guide to the best things to do and see in Faversham England. You may enjoy these other England travel guides and resources:
If you'd like to spend one day in Faversham, pin it for later.