Planning a trip to London and want to get off the beaten path? Here's my guide to discovering magnificent hidden gems and secret spots in London.
Hidden gems in London, you say? Can there be any?
In reality, they're not that hard to come by. London has so many layers of history and attractions, it would take a lifetime to discover them all properly.
I've been fortunate to visit London many times. I've even lived there. So I've had ample opportunity to seek out many of the city's less touristy hidden gems.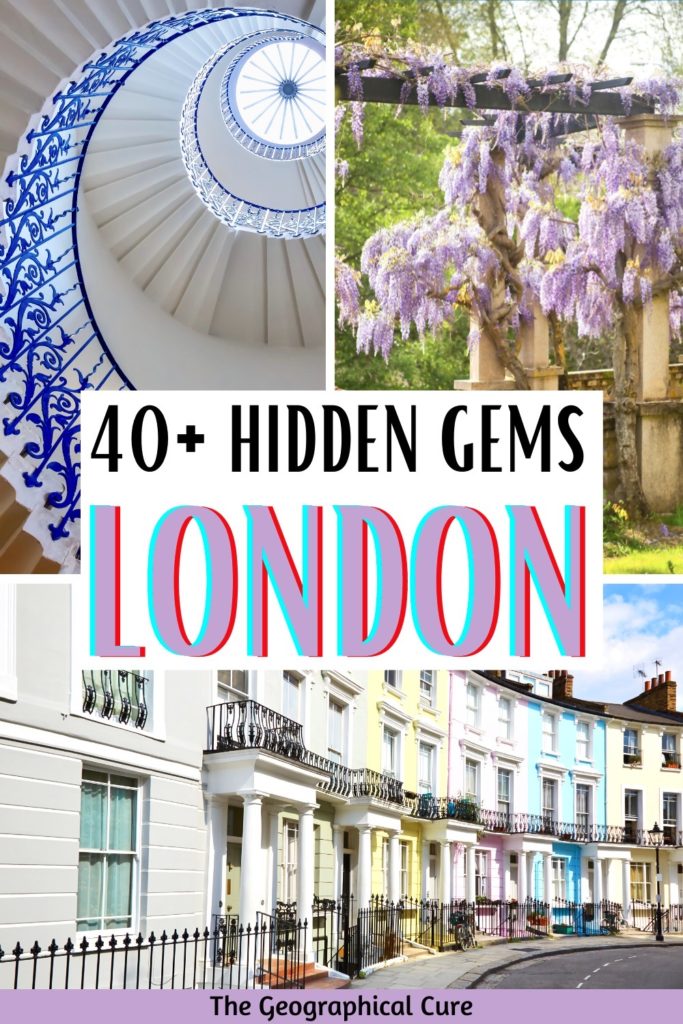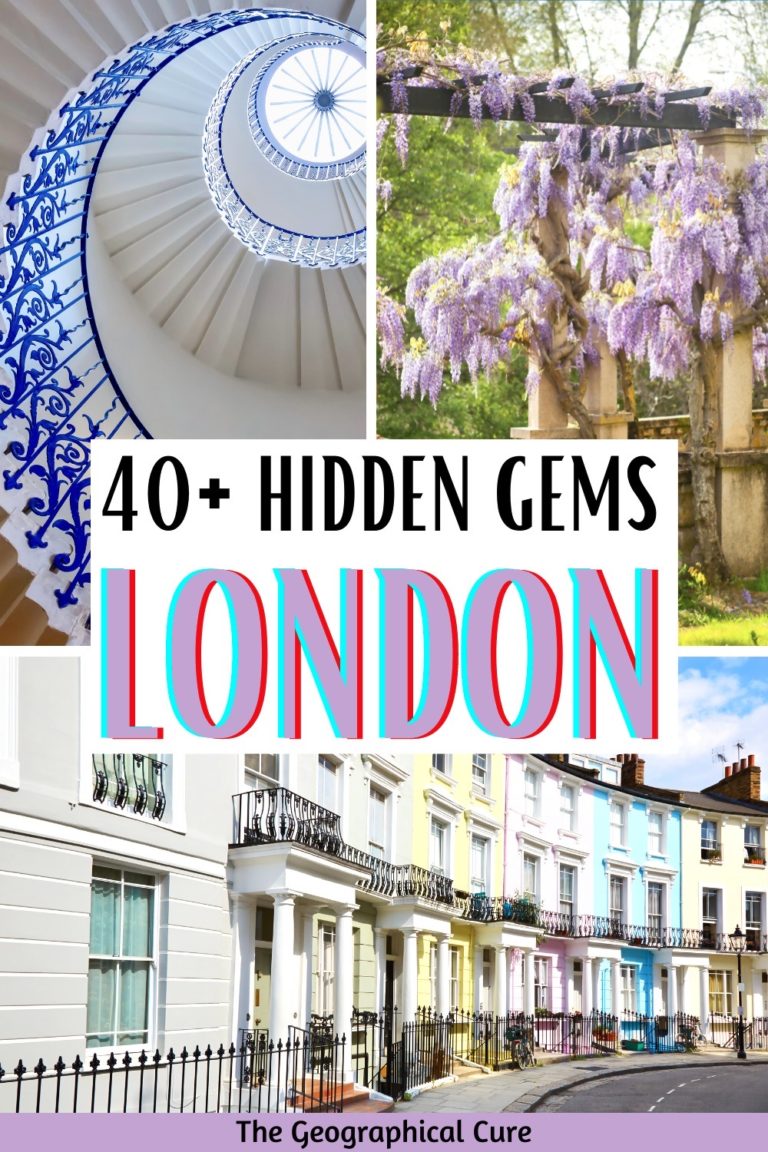 Some of these lesser known sites in London are overlooked landmarks, underrated museums, or recently unveiled attractions that are still under the radar.
When you're done admiring London's popular landmarks, you can visit these places and have a secret spot all to yourself.
None of them are blighted by mass tourism, interminable queues, or the requirement of skip the line tickets.
40+ Hidden Gems In London
Here's my handpicked list of 43 hidden gems and secret spots in London, just waiting to be explored by the discerning traveler or repeat visitor to London.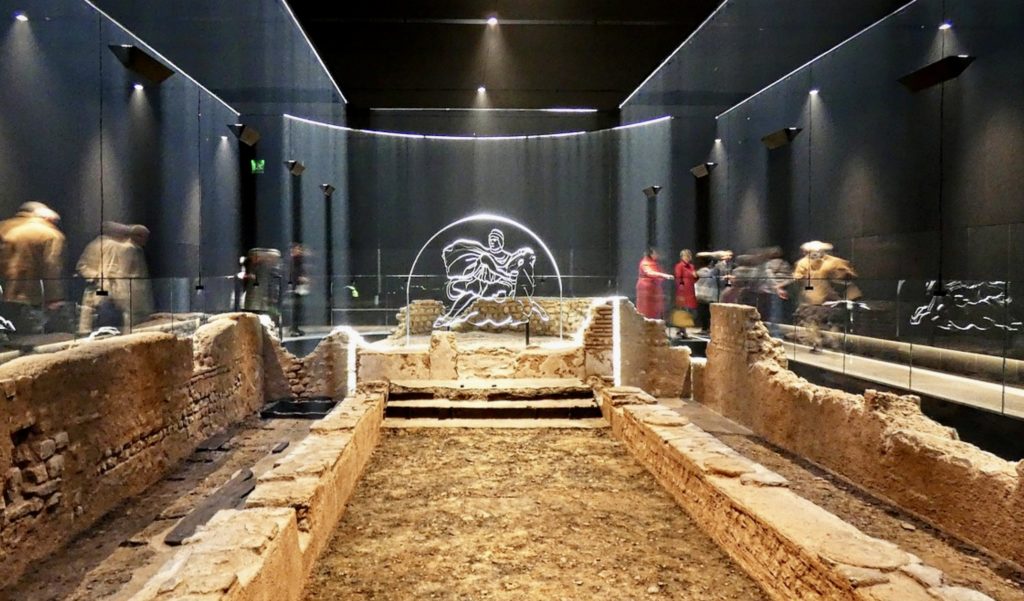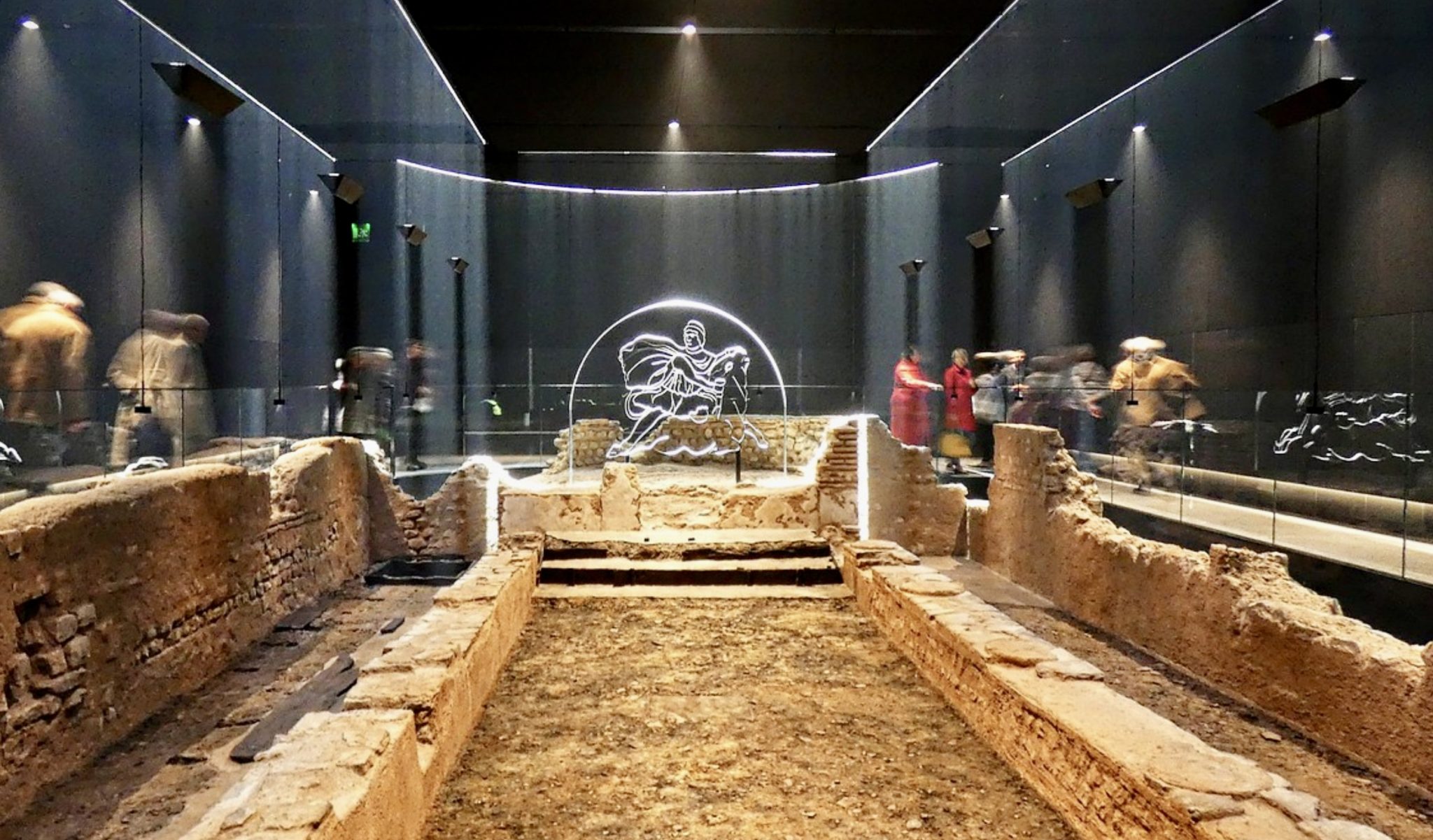 1. London Mithraeum
The Roman Temple of Mithras is a hidden gem in the center of London and it's free to visit. It's one of Britain's most important archaeological sites, one of only a 100 Mithraic temples found from Ancient Rome.
The temple was discovered in 1954. As part of the Bloomberg Project, it was excavated in 2010-14 and moved inside to a publically accessible space.
Very little is known about the Roman cult of Mithras and its rituals. The cult's central icon is an image of Mithras killing a bull, which has been interpreted as a creation myth.
You'll find the reconstructed temple and a remarkable collection of artifacts uncovered during excavation. Tours leave every 20 minutes. There's an exhibition space with information while you wait for your turn.
You can only visit on a guided tour. But they leave frequently, every 20 minutes. You can also visit the Mithraeum on a 3 hour guided tour of Roman London.
Here's my complete guide to the London Mithraeum.
Address: 12 Walbrook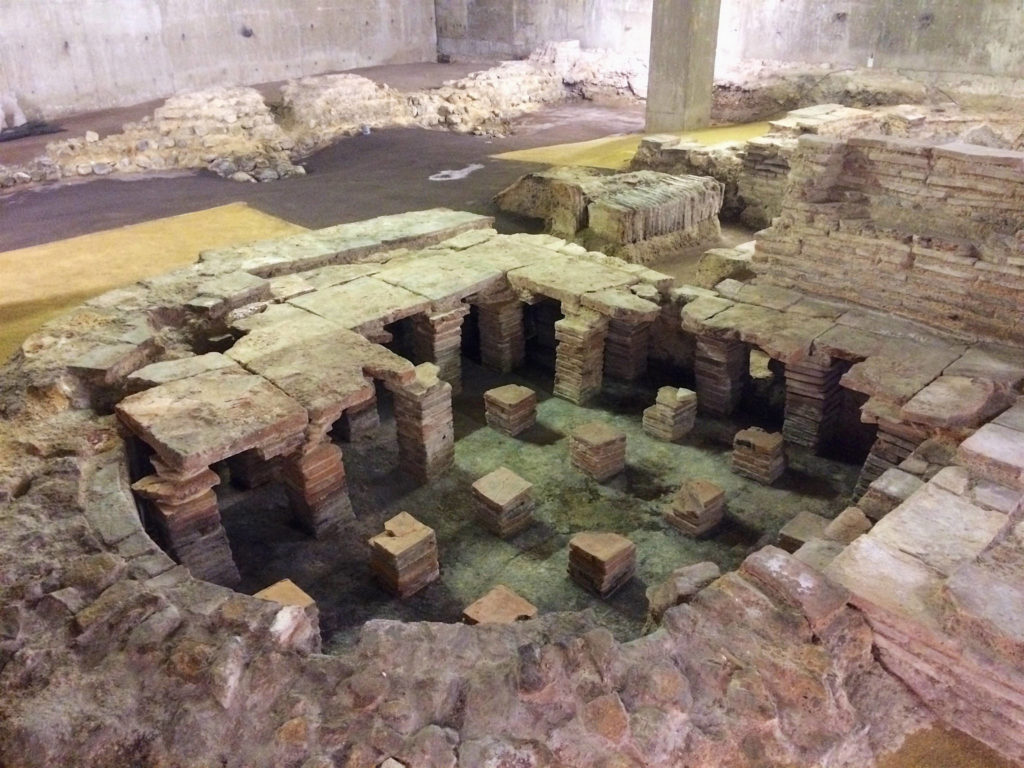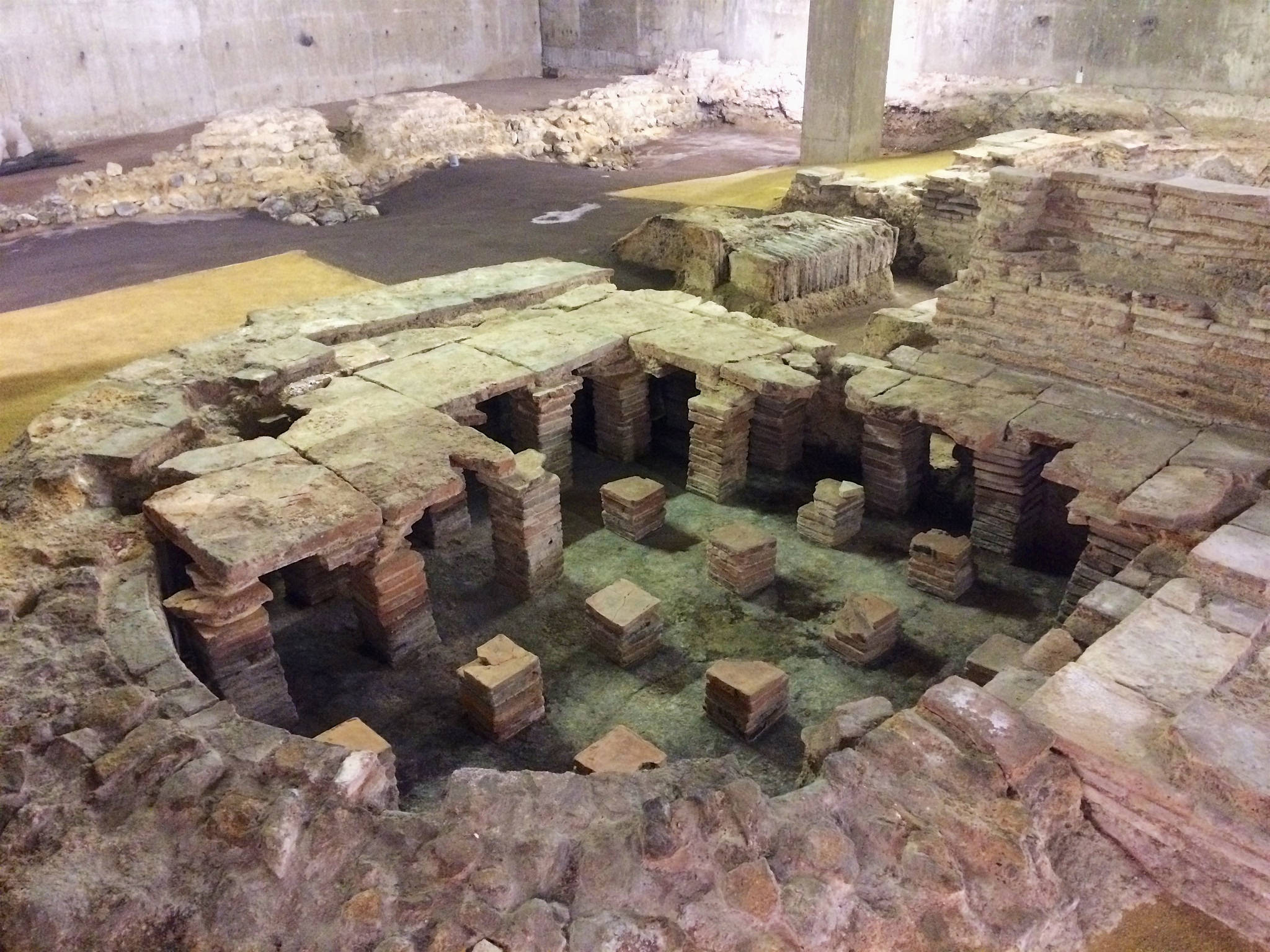 2. Billingsgate Roman Bath House
Another Roman site that's a hidden gem in London is the Billingsgate Roman Bath House. Like the Mithraeum, it was part of ancient Londinium.
You'll find it underneath an office complex on Lower Thames Street. The bath house was abandoned after the fall of Rome.
First discovered in 1848, these Roman ruins were once an impressive bath house with a courtyard and underfloor heating. The best preserved part of the ruins is a hot bath with hypocausts, which were used for heating the room.
Artifacts discovered during excavations are in the Museum of London, another hidden gem in London that I discuss below.
The site opens to the public on Saturdays via guided tours. You can also visit this site on a tour of Roman London. You'll get some fascinating insight into a London from over 2,000 years ago.
Address: 101 Lower Thames Street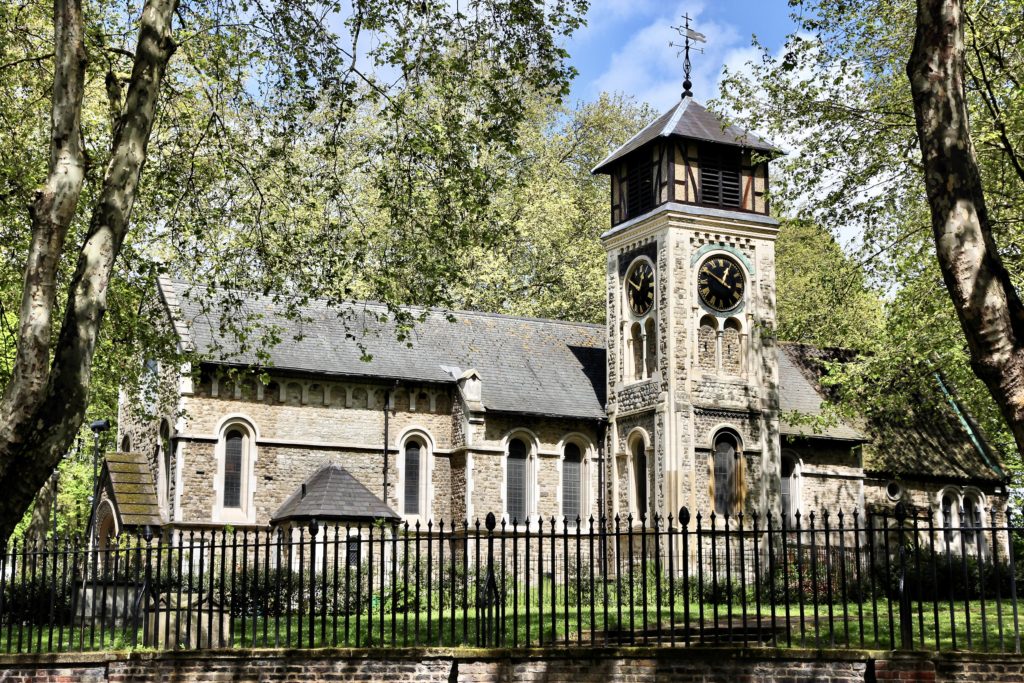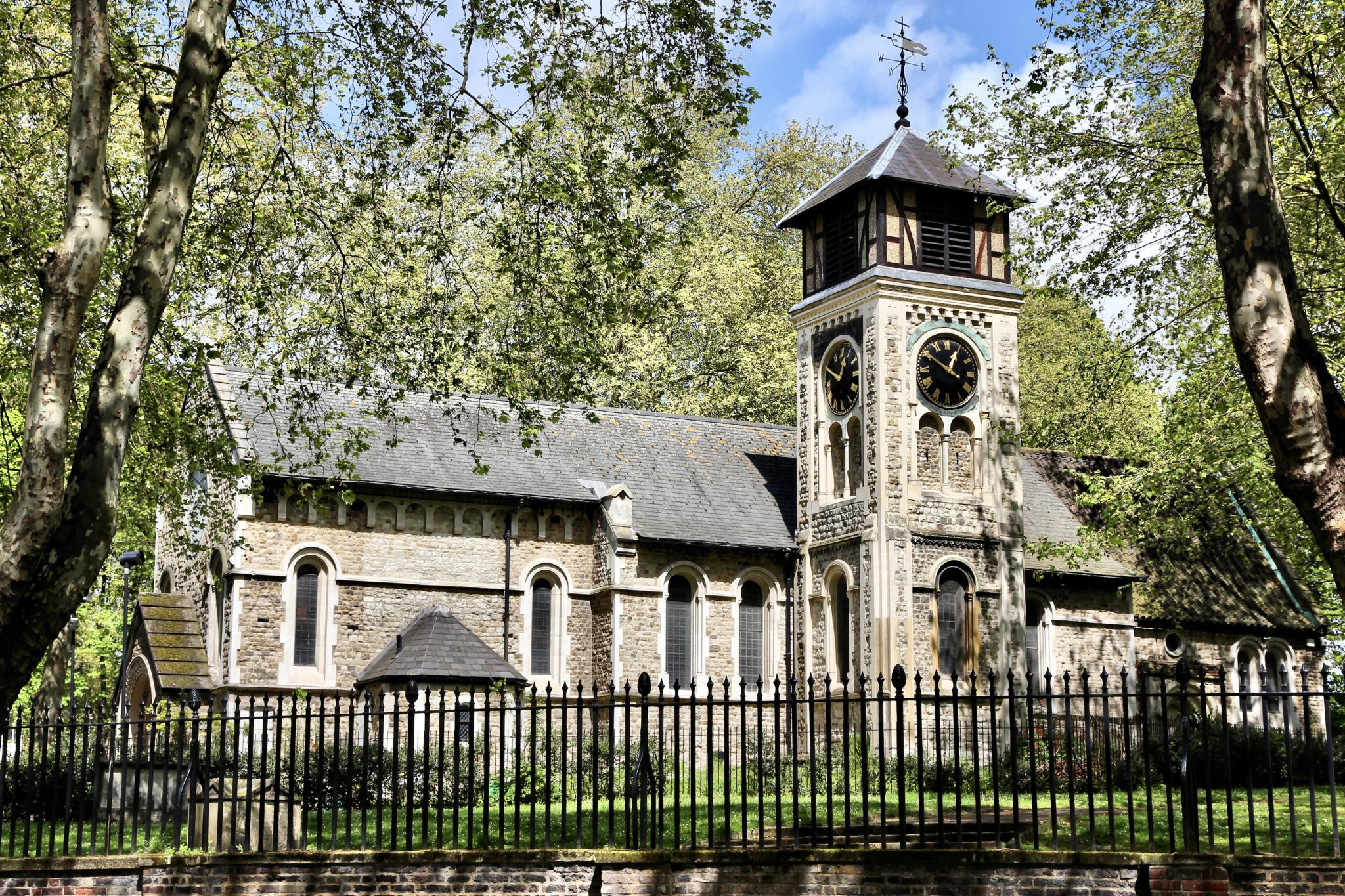 3. St. Pancras Old Church
St. Pancras Old Church was once a riverside country chapel. The church claims to have been a site of Christian worship since the 4th century.
The current structure has been around since the 12th century. But it got a major remodel in the 19th century and then again in the 20th century to repair bombing damage from WWII.
The church has a well stocked graveyard, including the tomb of Sir John Soane, England's great Neo-Classical architect.
In the 19th century, the cemetery was a target for grave robbers, who dug up freshly interred bodies and sold them to doctors for medieval dissection. The graveyard was featured in Charles Dickens' book A Tale of Two Cities.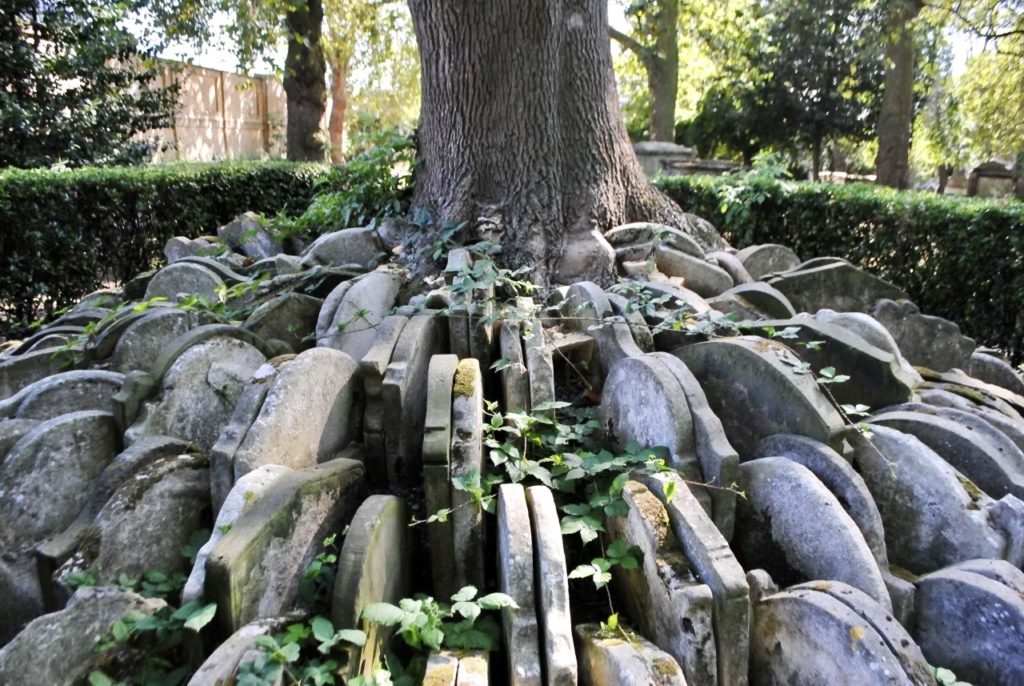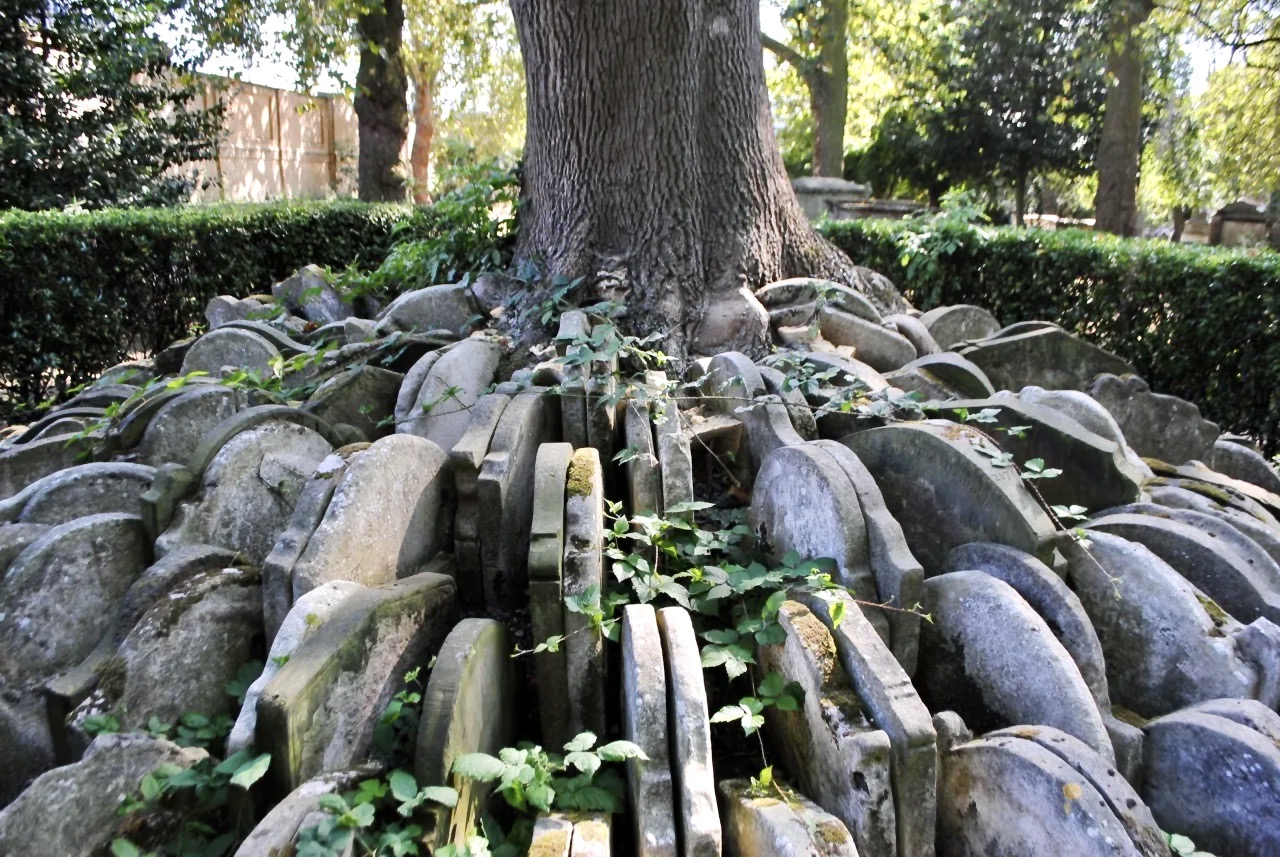 One of the most striking oddities in the cemetery is the Hardy Tree. It's an ash tree surrounded by hundreds of gravestones chock-a-block on top of each other.
They were arranged in that fashion to make way for an expansion of Britain's rail system. Who got the job of exhuming and reburying? A young Thomas Hardy, who would go on to become one of Britain's greatest classic novelists.
The church hosts lectures and concerts. You can check out its Facebook page for the latest events.
Address: Pancras Rd, London NW1 1UL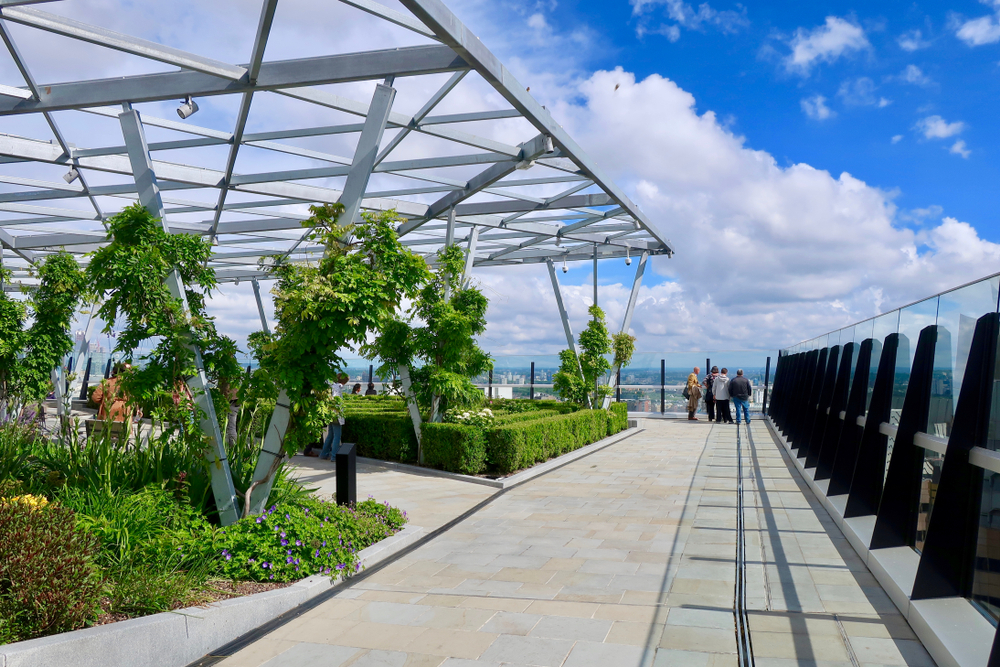 4. Garden At 120
Everyone heads to the Shard for views, but there's an equally stunning place for views that's not nearly as well known and perfectly free, the Garden at 120.
It's located atop the Fen Court building at 120 Fenchurch Street right near Leadenhall Market. You don't need to make any bookings or reservations for this beauty.
At 15 stories, it offers exceptional 360 views from its outdoor terrace. The gardens are also gorgeous.
The Garden at 120 is still a hidden gem in London. What that means is a short wait time before passing through airport-style security, heading up the speedy lift, and emerging into one of London's prettiest roof spaces.
Address: 120 Fenchurch St, London EC3M 5BA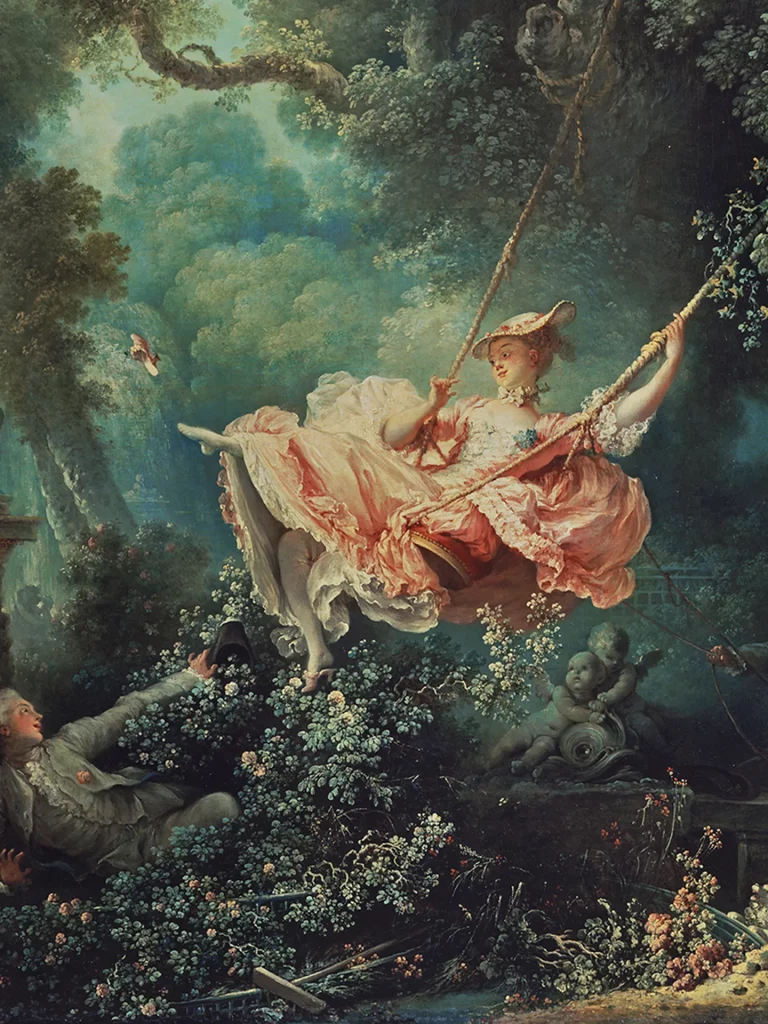 5. Wallace Collection
The Wallace Collection is one of the world's best small museums, a treasure trove of art. But it's a hidden gem in London's sea of amazing museums.
The Wallace Collection is housed in a palatial mansion. It's a perfectly preserved in situ collaboration of art and period settings.
The museum has a fine collection of old Masters paintings set amid fine French furniture. It's world renowned for its 18th century French paintings, European paintings, Boulle furniture, and medieval armor.
You'll find works by Rembrandt, Franz Hals, Velazquez, Titian, and Canaletto. Plus, there's a slew of works by Rococo-era artists like Watteau, Boucher, and Fragonard. The museum's most famous painting is Fragonard's The Swing.
Address: Hertford House, Manchester Square, London W1U 3BN. The museum is just a couple blocks from Oxford Street.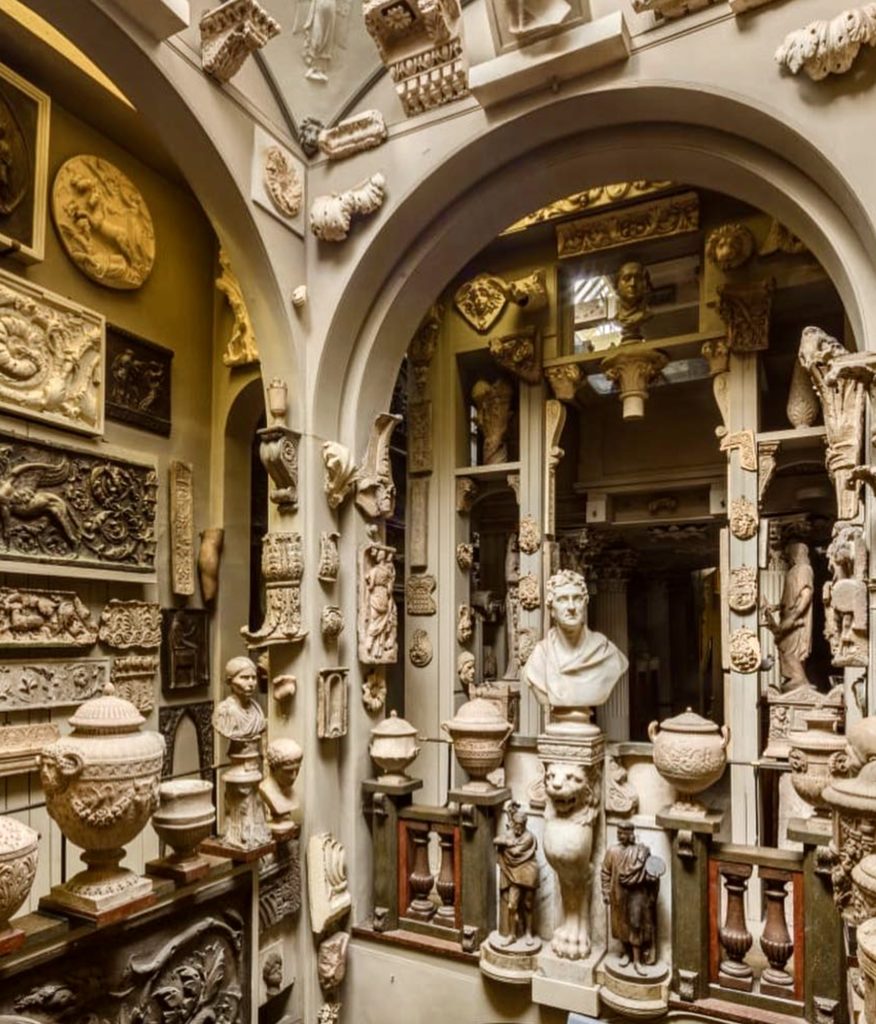 6. John Soane Museum
Sir John Soane was one of Britain's foremost Neo-Classical architects and a professor of architecture at the Royal Academy.
On top of that, he created his own house museum. Built in 1812, Soane designed the house to hold his vast collection of art and objects from around the world. You can feel his spirit and legacy in the cluttered, bejeweled place.
Soane was a curiosity collector. You'll find a mishmash of Roman, Greek, and Egyptian artifacts, urns, statues, and vases. There's even a sarcophagus in the basement.
There are also some world class paintings, including ones by Watteau, J.M.W. Turner, Canaletto, and William Thomas Beckford. And over 30,000 drawings, including famous ones by William Hogarth.
Address: 3 Lincoln's Inn Fields, London WC2A 3BP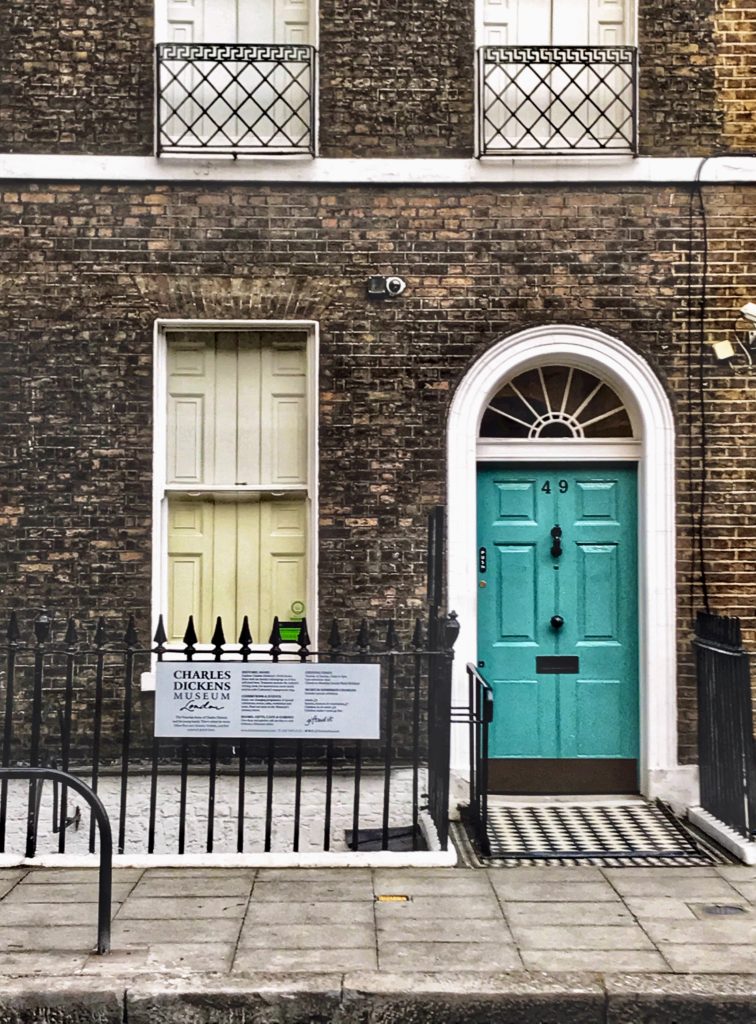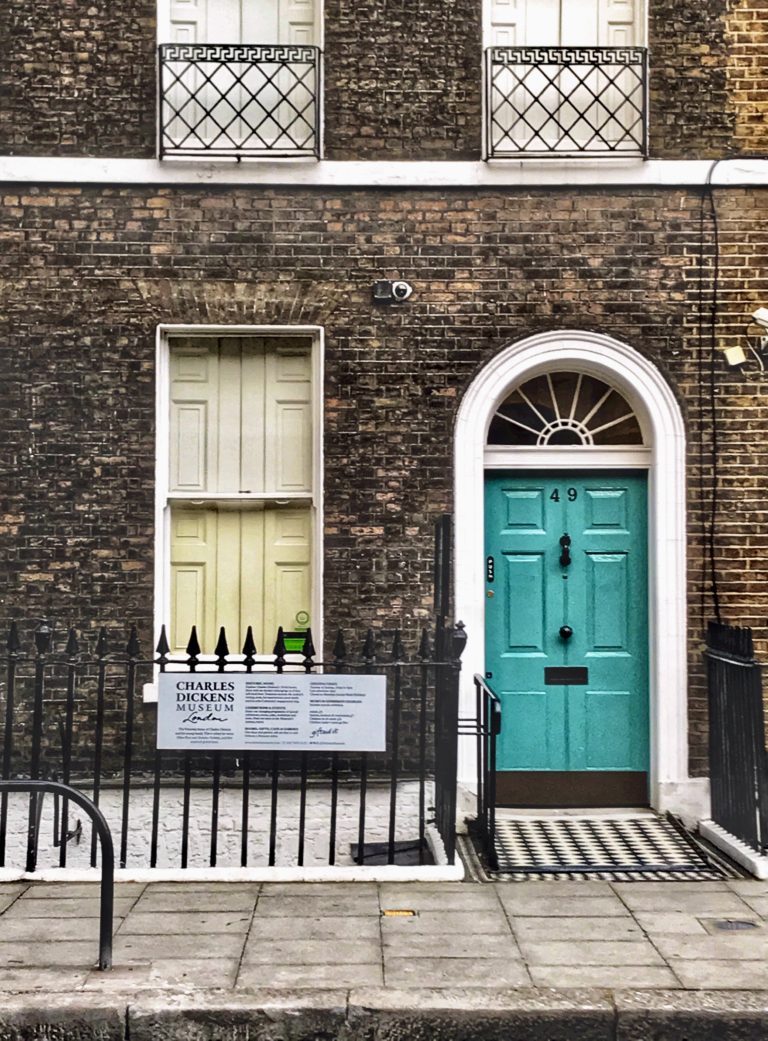 7. Charles Dickens House Museum
Charles Dickens bought this house when he was flush with cash from the success of his first novel, The Pickwick Papers. He moved in March 1837. It's the only surviving house in London in which Dickens lived.
The Charles Dickens House was renovated in 2011 to coincide with the bicentenary of Dickins' birth. When Dickens lived there, it was a 12 room dwelling outfitted in pink brick. What you see today is more a dark brown brick.
The museum is a charming little treasure house of memories. In the renovations, rooms were redecorated to reflect the style of the time.
You can see some of the novelist's letters, theater posters, and portraits of Dickens and his family. You can see his signature, with an extravagance of curls and flourishes. And a copy of his last unfinished novel, Edwin Drood.
The dining room is kitted out with china bearing the image of Dickens. The drawing room is where he held readings and amateur theatrics.
His sister-in-law, Georgina Hogarth, has her own room. It's rumored that she and Dickens had an affair. Dickens had a rather scandalous love life by the standards of the Victorian era.
Address: 48 Doughty Street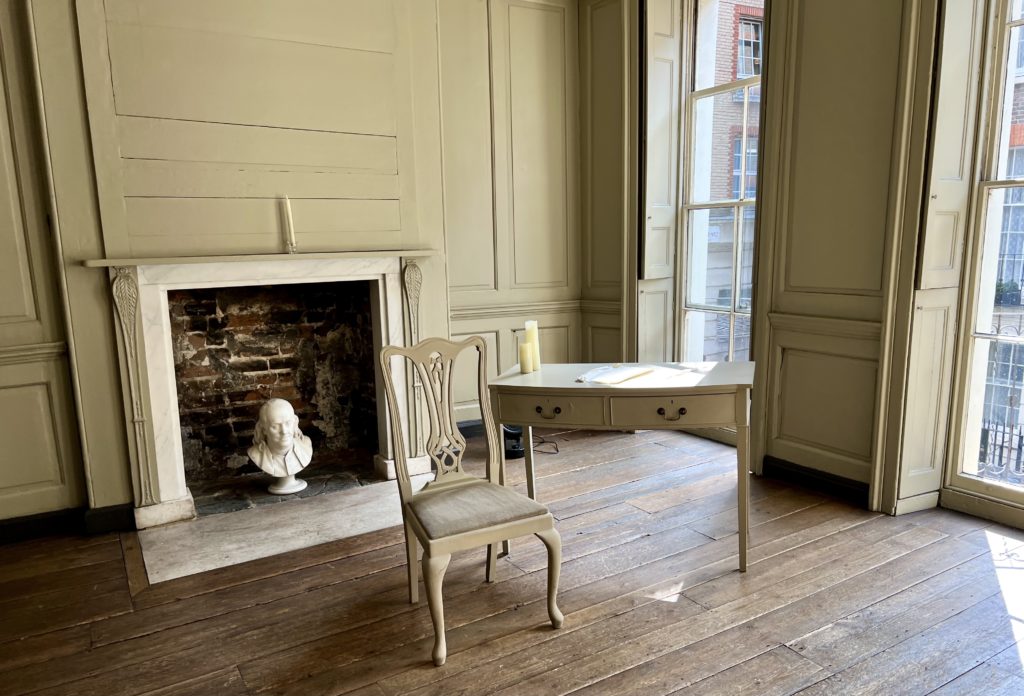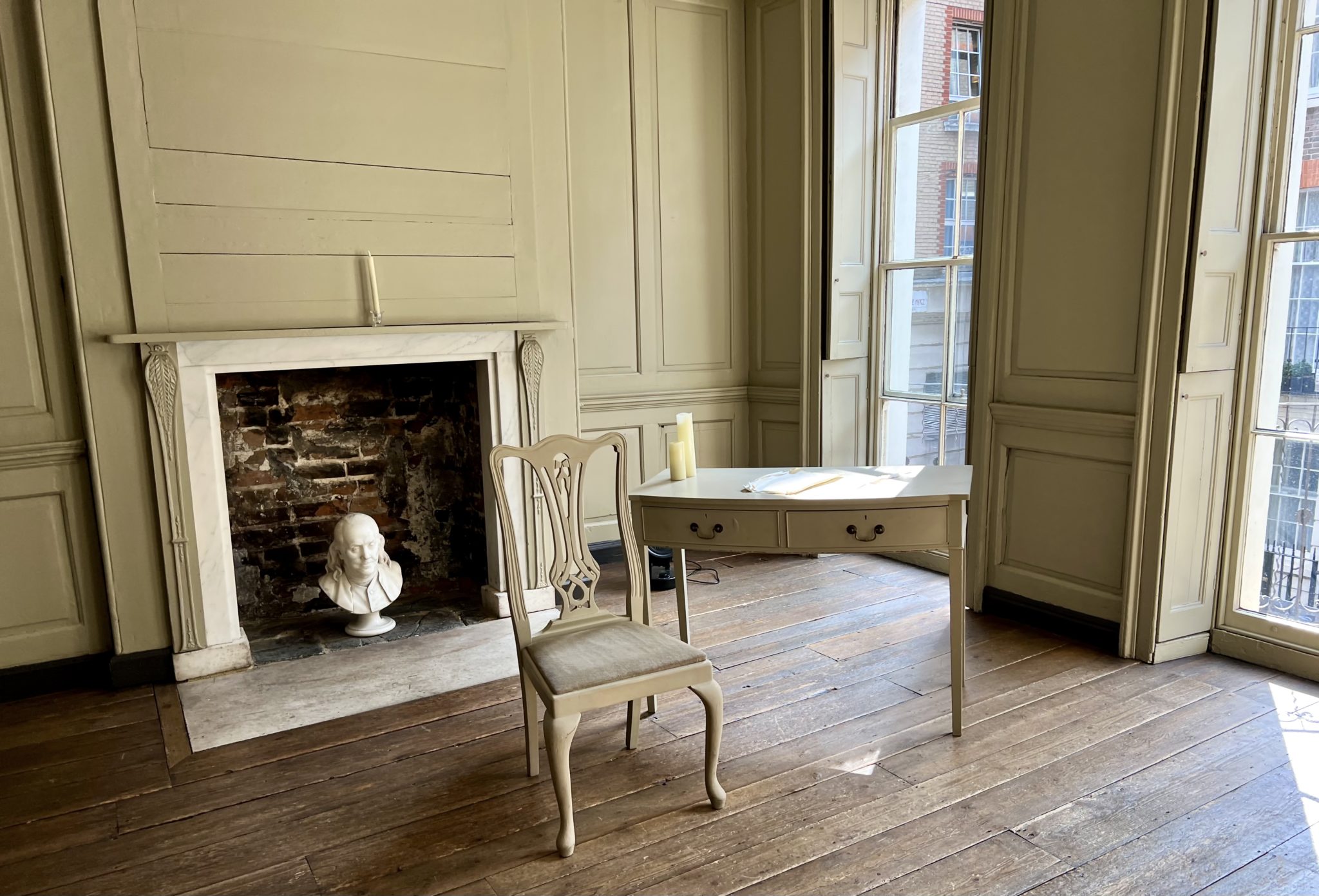 8. Ben Franklin House
History buffs and lovers of Georgina era architecture should head to the Benjamin Franklin House. It's the only surviving house in the world where he lived and worked. Franklin lived there from 1757-72.
Franklin was a leader of the American Revolution who worked his diplomatic magic, and created scientific inventions.
Dating from 1730, the house museum is a bit of a time capsule, with original period features. It's a grade 1 site in London, which means it receives the highest level of conservation in Britain.
You can see three levels of the house and admire the beautiful and spare Georgian interior painted in "Franklin Green." On the first floor, you'll find the parlor room and cards room.
On the second floor, you can see Franklin's bedroom and office space. His office has massive Victorian windows. You can also play a musical instrument that Franklin invented, the glass harmonica.
Address: 36 Craven Street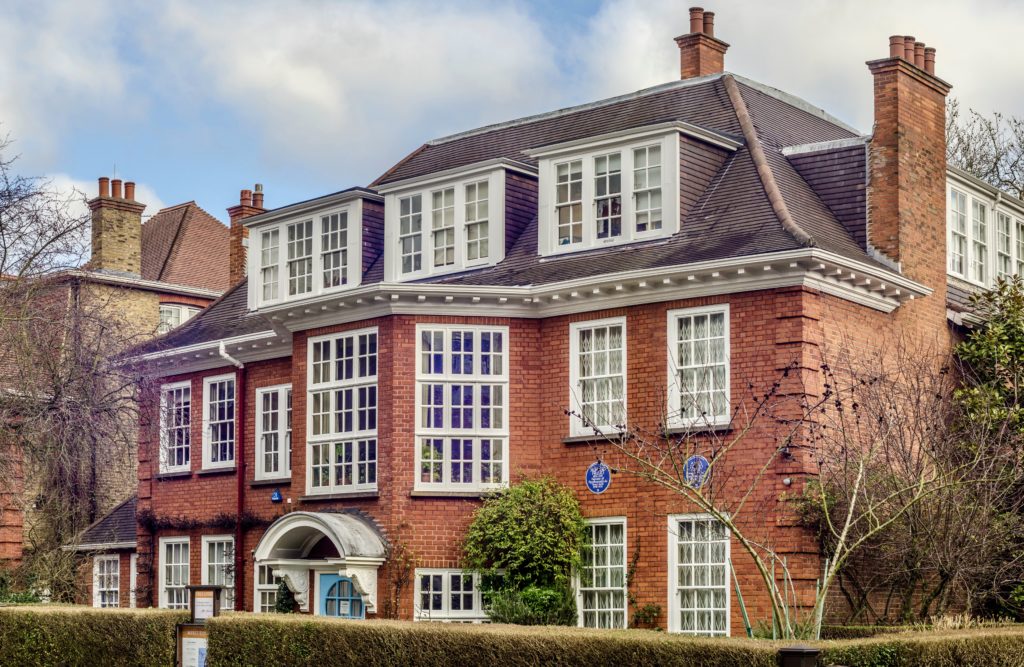 9. Freud House Museum
In 1938, Austria was taken over by the Nazis and Sigmund Freud and his family fled to London. The famous neurologist settled into what is now the Freud Museum for the last year of his life.
Freud's study has been preserved just as it was during his lifetime. It contains Freud's original psychoanalytic couch, on which patients were invited to recline and say whatever came to mind.
Freud was a passionate collector of antiquities, especially ancient statuettes. His study holds his remarkable collection.
Almost 2,000 items fill cabinets and are arranged on every surface. There are rows of ancient figures on the desk where Freud wrote until the early hours of the morning.
The walls are lined with Freud's personal library of over 1,600 books, interspersed with several notable pictures hung as he arranged them. It was the working library of a well read man.
Address: 20 Maresfield Gardens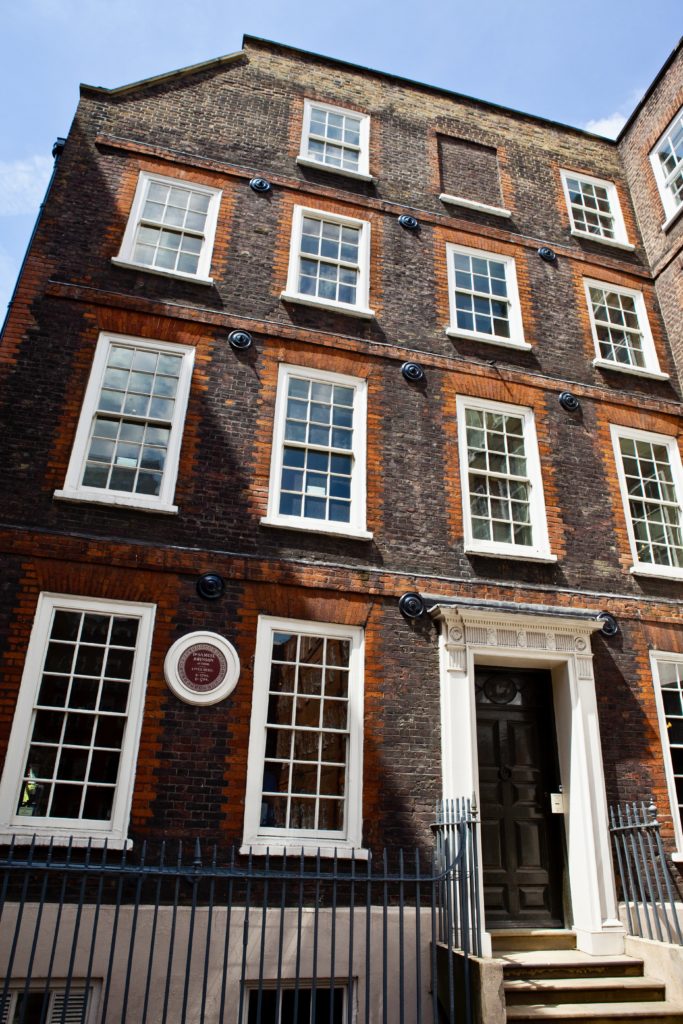 10. Dr. Samuel Johnson's House
Dr. Johnson's House is s a little hidden gem in London tucked into a quiet spot not far from the hustle and bustle of Fleet Street.
The house was once home of acclaimed London wit and writer, Dr. Samuel Johnson. The 300 year old townhouse is an amazing example of late 17th century architecture at its finest.
The house museum also has a Grade I building, which means conservation is strict. It's one of very few 18th century residential houses in London still standing.
In fact, it was in one of these rooms that Johnson compiled his famous Dictionary of the English Language. Copies of the world's first dictionary are on display.
The house museum is open four days a week, check the website. You'll visit via a guided tour which will make Johnson's life come alive. Ring the bell to be let in.
Address: 17 Gough Square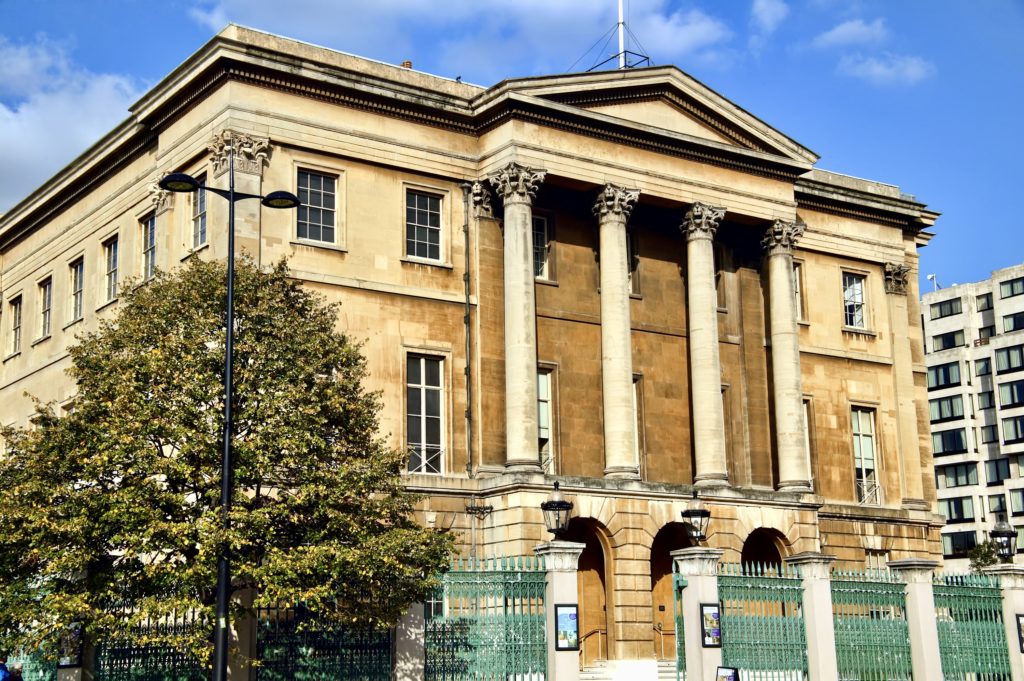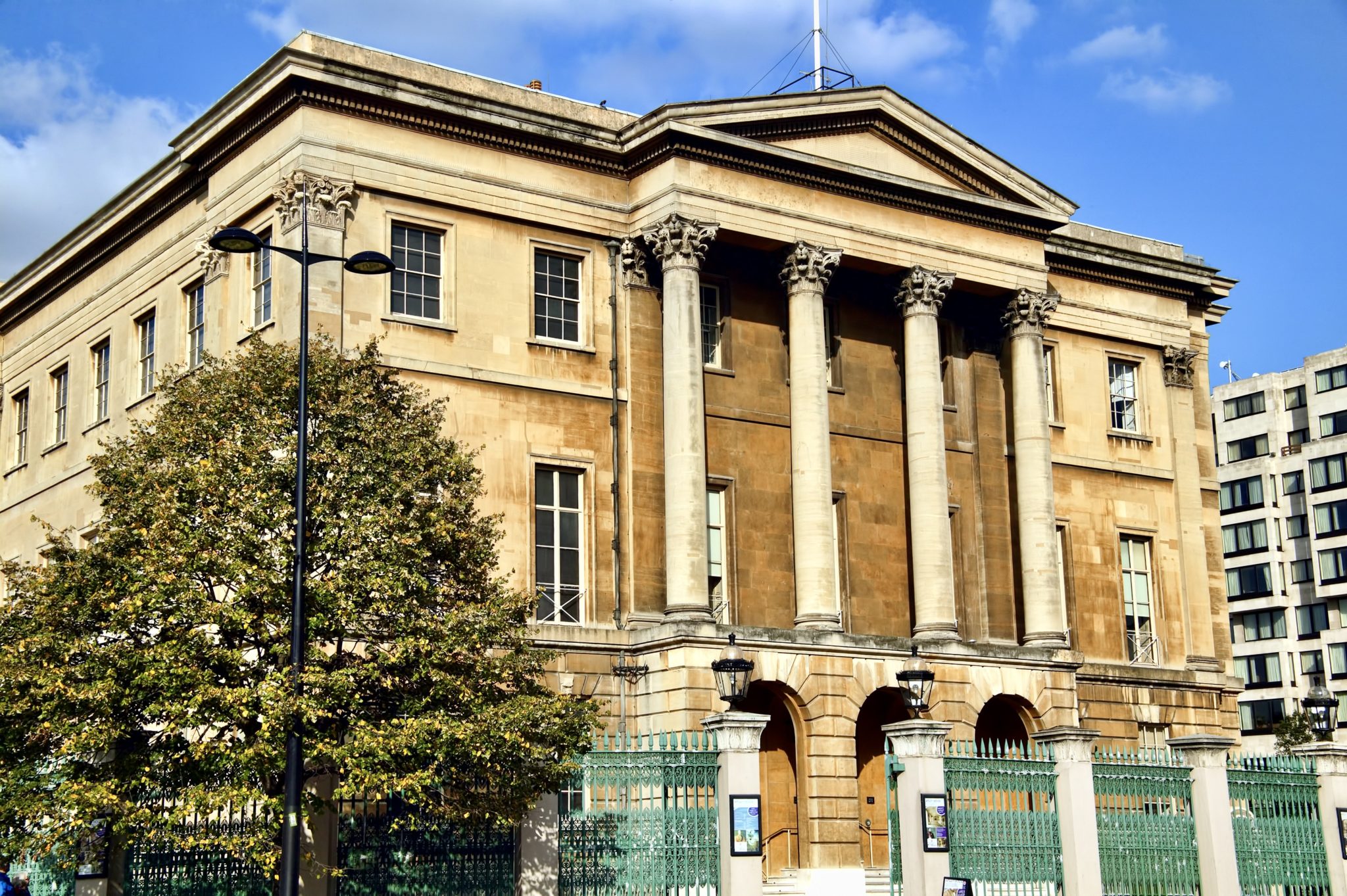 11. Apsley House
Apsley House is the seat of the dukes of Wellington. The present duke lives upstairs part time.
The museum's marquis masterpiece is a colossal sculpture of Mars The Peacemaker by the Italian Neo-Classical sculptor Anthony Canova. The piece is a sculpture of Napoleon.
The suite of public rooms upstairs is the setting for the duke's astonishing painting collection. You'll find important old master paintings, including art works by Rubens, Velazquez, Goya, and Titian.
The ticket price is £14.20. The museum's audio guide is narrated by the duke.
You can book a 3 hour guided tour of both Apsley House and the V&A Museum.
Address: 49 Piccadilly, Hyde Park Corner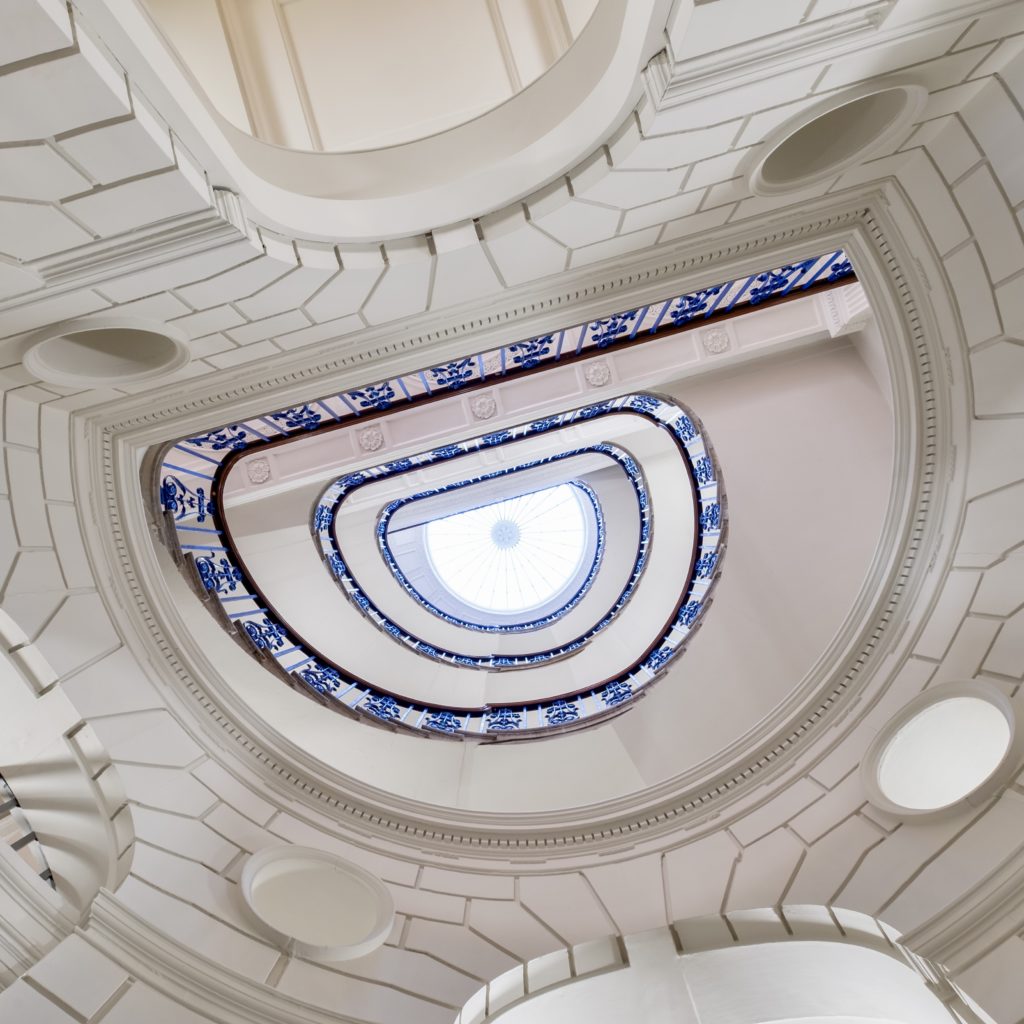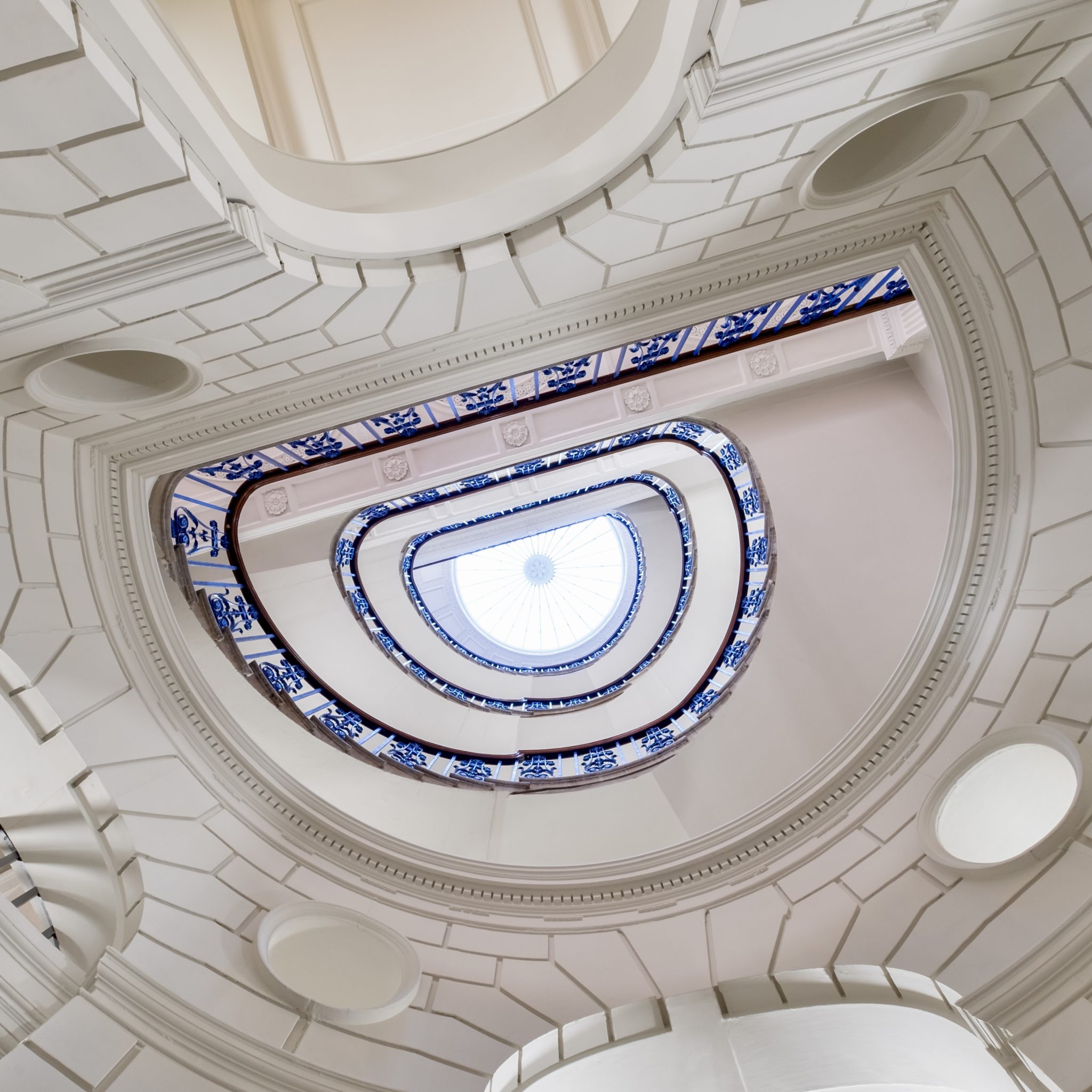 12. Courtauld Gallery
The Courtauld Gallery is a stunning hidden gem located in London's Somerset House. It first opened its doors in 1932.
The Courtauld Gallery is renowned for its collection of Impressionist and Post-Impressionist art. If you're an art lover, you will walk in and immediately recognize the paintings.
The museum just received a perfectly-judged 3 year face lift, re-opening in November 2021. The result is stunning, with airy well lit galleries showcasing some of the best art in London.
In the Great Room, there are seminal works by Renoir, Manet, Monet, Cezanne, and Van Gogh. The museum has Britain's largest collection of Cezanne works.
There's also a collection of early Renaissance works, including some by a Botticelli, and northern Renaissance pieces. And two knockout rooms with Rubens paintings.
If you're a serious art lover, you may want to consider this private art tour that takes you London's top museums and galleries, including the Courtauld.
Address: Somsert House, Strand London WC2R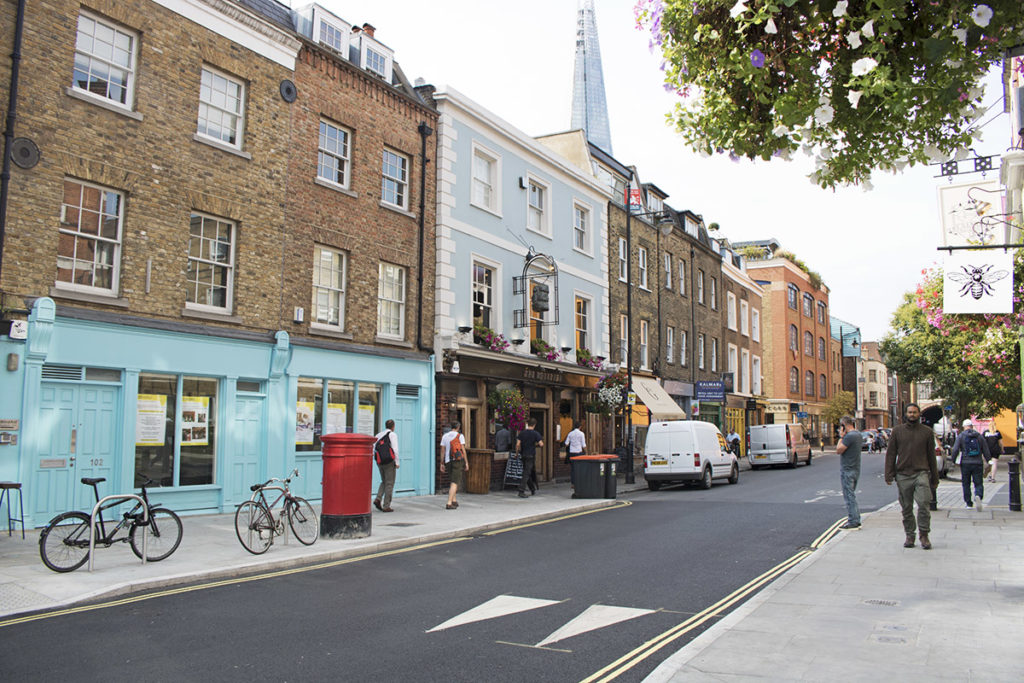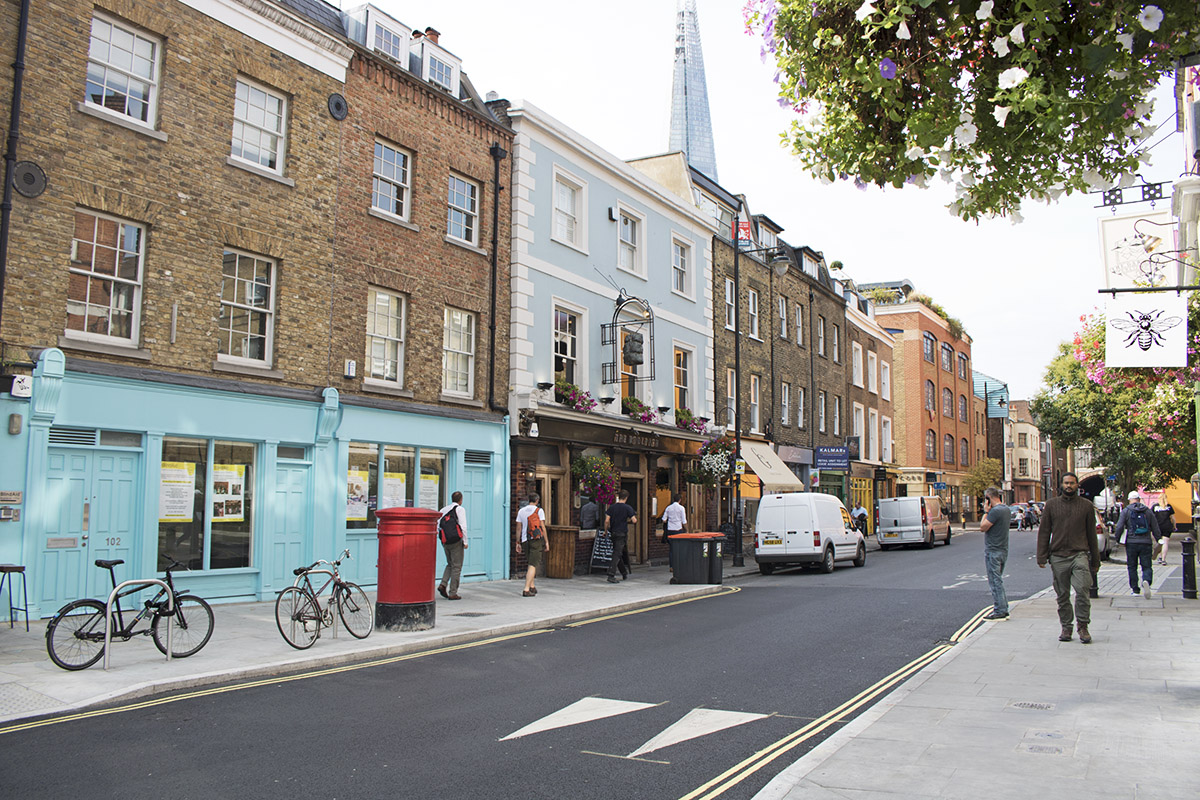 13. Bermondsy Street
The Bermondsy area of London is just across the Thames from the Tower of London.
Bermondsy is a bit of a hidden treasure in London that's where the locals go. It's undergone rapid transformation.
It's a happening place now with cobbled squares and grand buildings that make it feel right out of a period drama.
Bermondsy is also one of London's culinary destinations. It's home to street food markets rivaling Borough market and some of London's best new restaurants.
One of the hottest tables to book right now in Bermondsy is Trivet. It was a just awarded a Michelin star.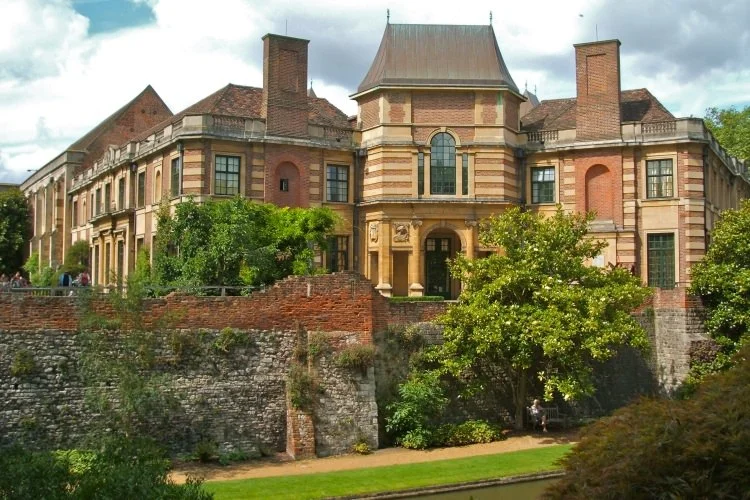 14. Eltham Palace
Eltham Palace is an Art Deco hidden gem in south London. Few historic buildings in London pay testament to the passage of time quite as well as Eltham Palace.
There's been an important house on these grounds since Saxon times. It was a favorite hideaway of every monarch from Edward II to Henry VIII. But it was damaged by Puritans in the 17th century.
The castle fell into ruins. In 1933, the palace was leased by Stephen and Virginia Courtauld, philanthropists and socialites whose fortune was built on rayon.
They set about transforming the palace into a breathtaking Art Deco space with a $3.4 million makeover.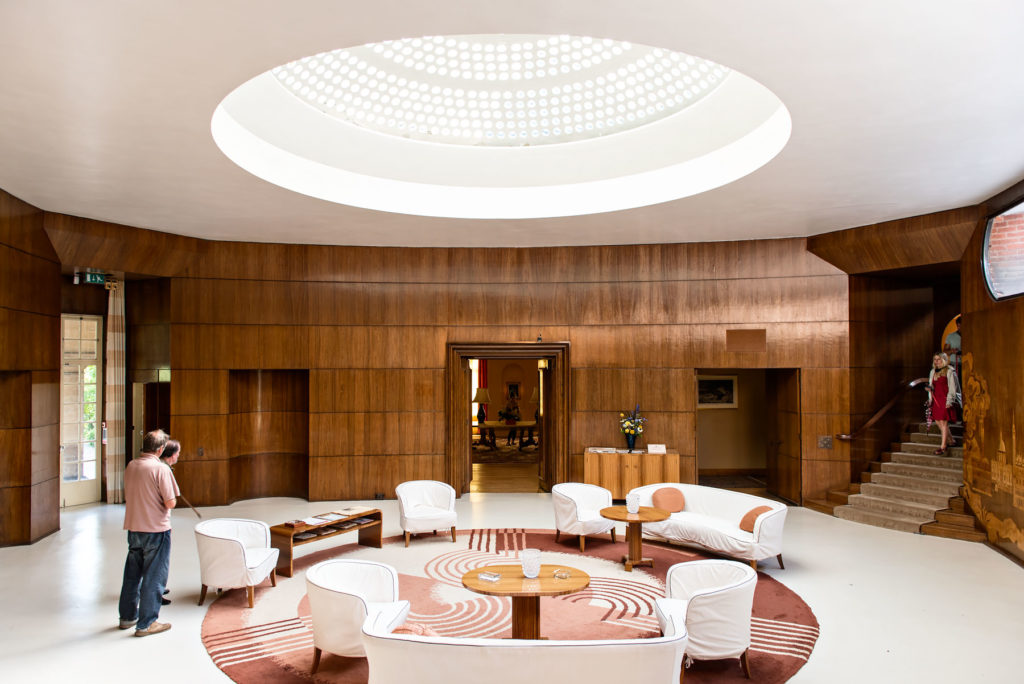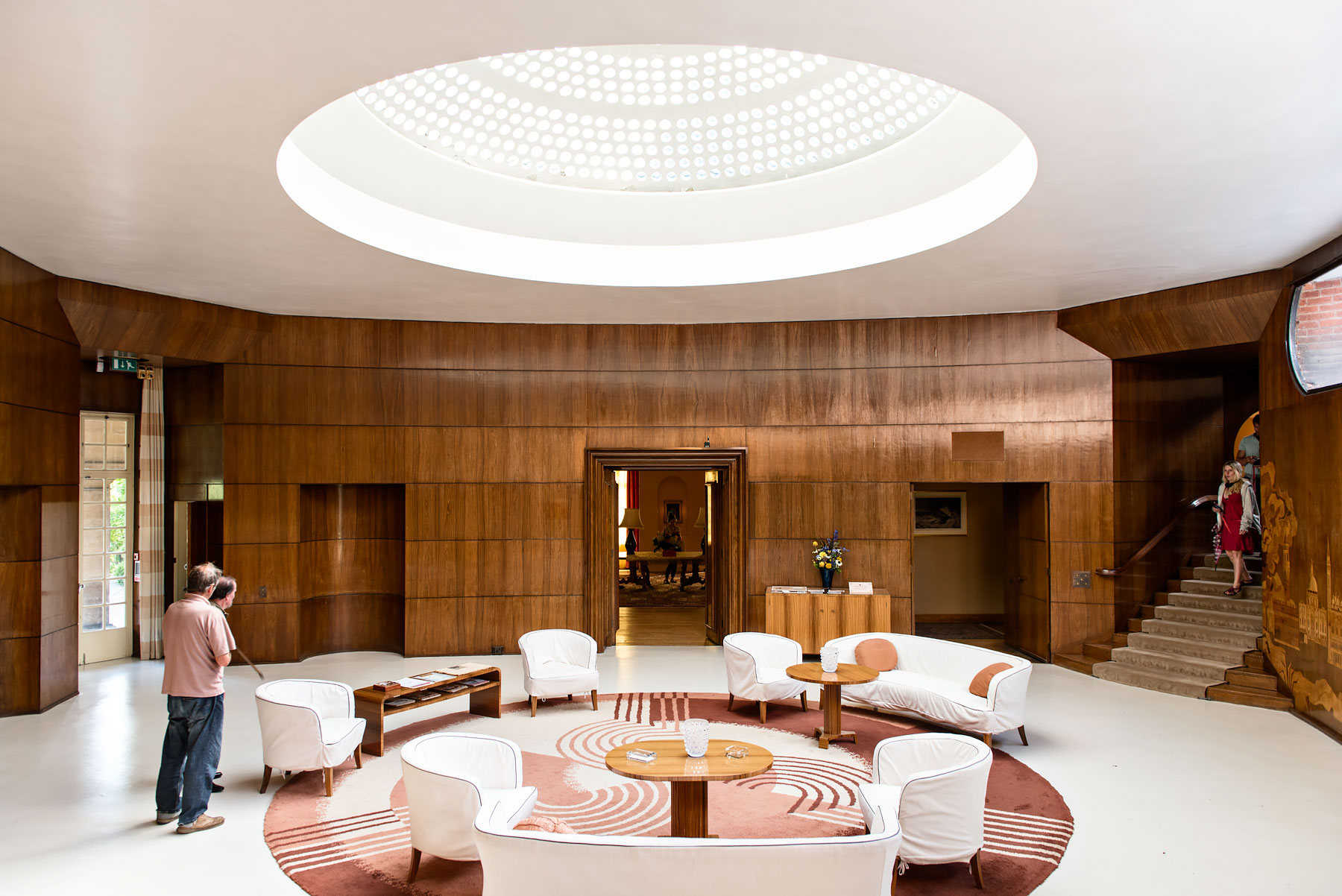 While the facade is a restrained red brick and stone building, inside it's an Art Deco dream. A curved entrance hall with a concrete dome welcomes you inside. The dining room has recreations of paintings by Turner that once adorned its walls.
You can visit the walk in wardrobe of its former owner Virginia Courtauld. English Heritage has stocked her wardrobe with period clothes, which you can actually try on.
You can also see her golden bedroom, complete with a statue of a Greek goddess.
You can still see the medieval banqueting hall from 1475, complete with its stunning hammer beam ceiling. The gardens at Eltham Palace are equally beautiful.
Address: Court Yard, London SE9 5QE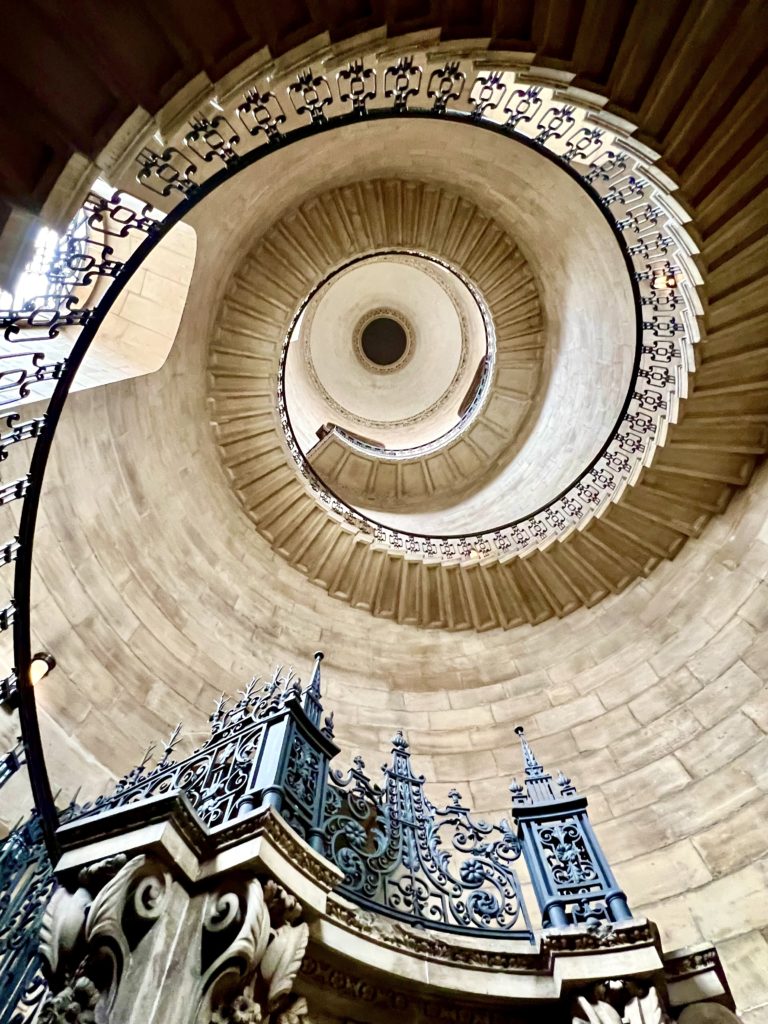 15. St. Paul Cathedral's Secret Spiral Staircase
St. Paul's Cathedral is an Anglican cathedral that acts as the seat of the Bishop of London. Built by Christopher Wren in the late 17th century, it's one of the top attractions in London.
But what most people don't know is that there's a secret spiral staircase in the cathedral bell tower.
The staircase was used as a filming location in the Harry Potter film Prisoner of Azkaban. It was the Divination Staircase used to gain access to Professor Trelawney's Divination classroom.
You can't access the staircase on a standard visit to St. Paul's. You will only see it on a guided Harry Potter tour or a private tour of the cathedral.
The key to unlock the staircase is massive and clunky, something you'd expect to see in the Harry Potter movies.
Click here to book a skip the line ticket to St. Paul's. Click here to book a guided tour of the cathedral.
Address: St Paul's Cathedral, St Paul's Churchyard, London, EC4M 8AD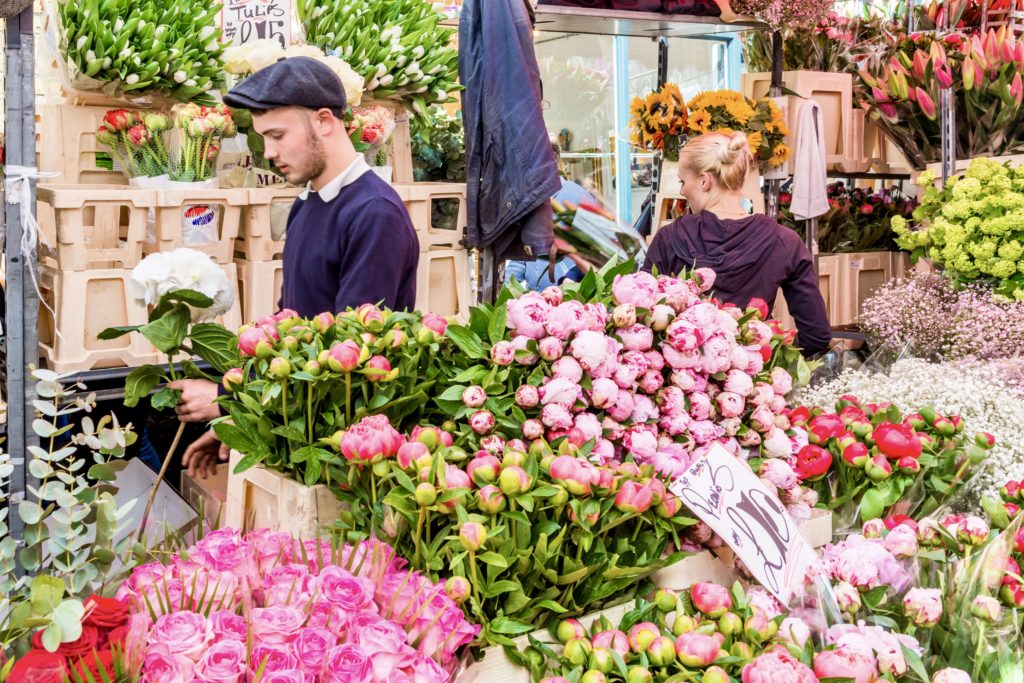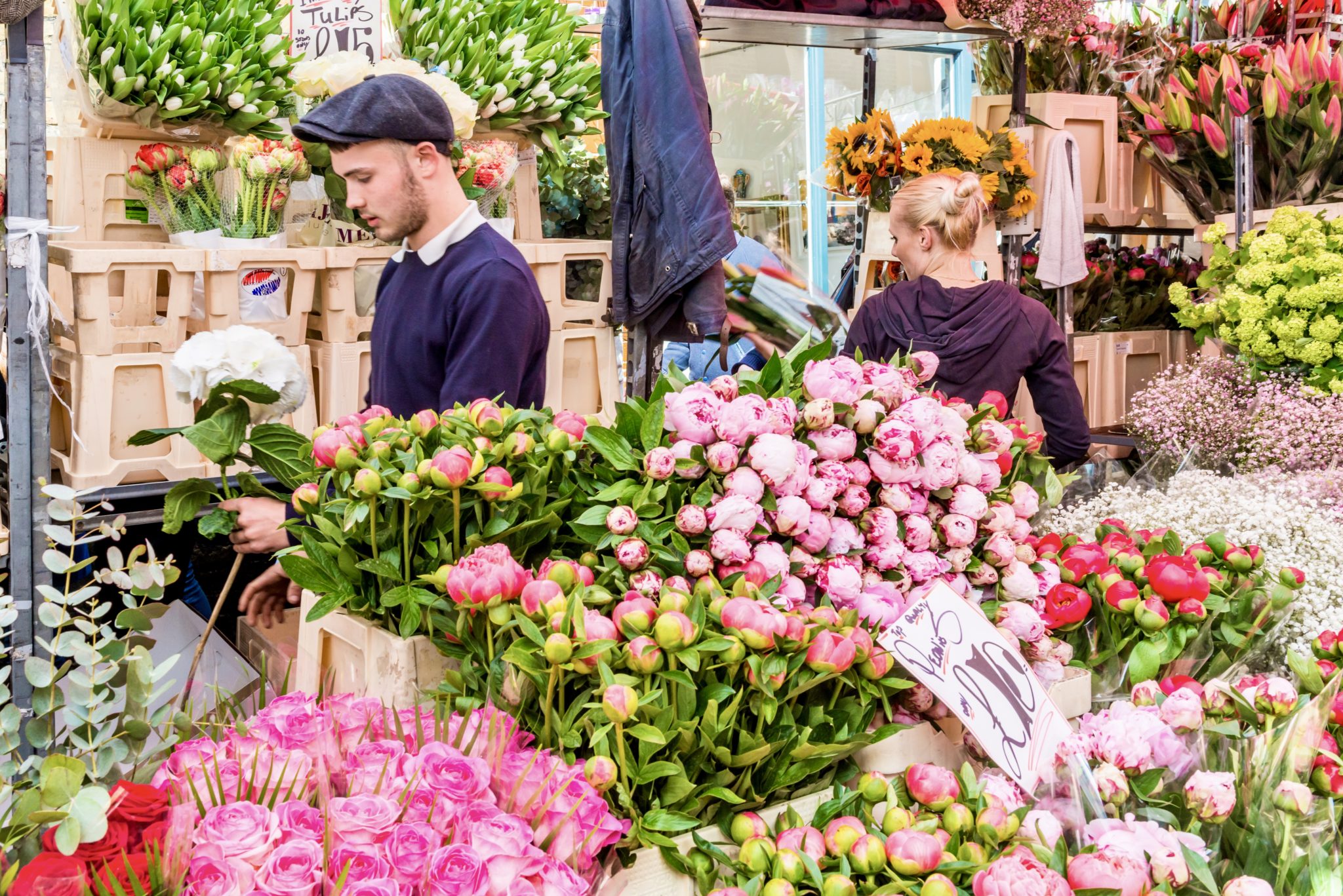 16. Columbia Flower Market
Want to know where local Londoners buy their flowers? On Sunday, they head to the open air Columbia Road Flower Market on Columbia Road in London's Bethnal Green neighborhood.
The market is budget friendly, chic, and extremely pretty. It's a colorful spectacle of 60 stalls with blooms, plants and even trees.
The flower market is only held on Sundays, although some shops are open on other days of the week. It's open 8:00 am to 2:00 pm. It could close earlier, depending on how quickly everything sells and the weather, etc.
Aside from the colorful flowers, Columbia Street is lined with dozens of tiny shops.
Address: Columbia Rd, London E2 7RG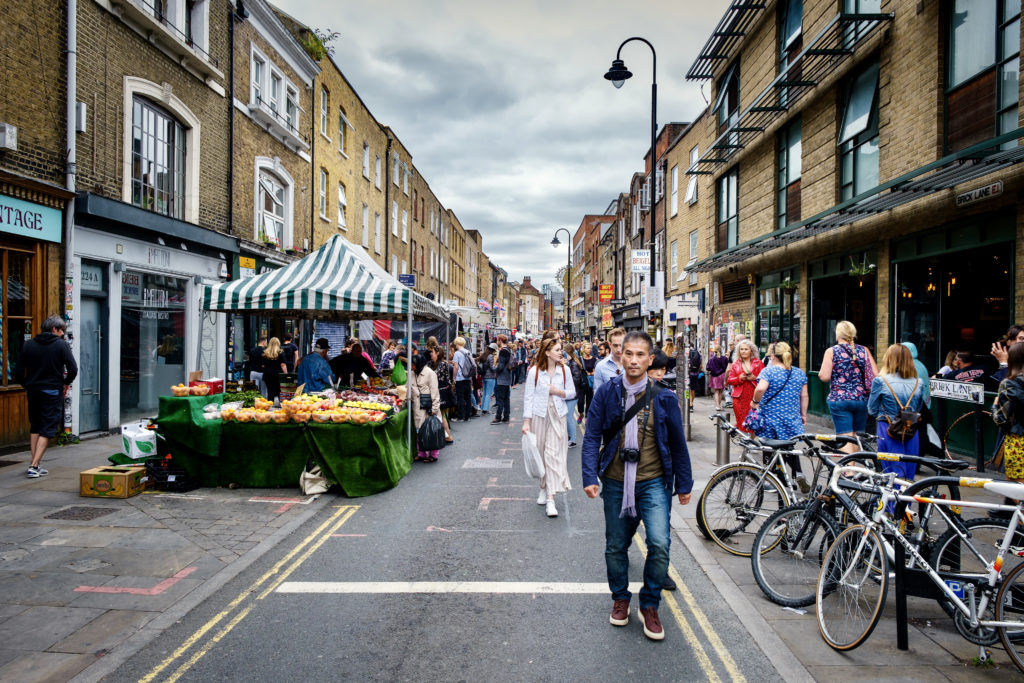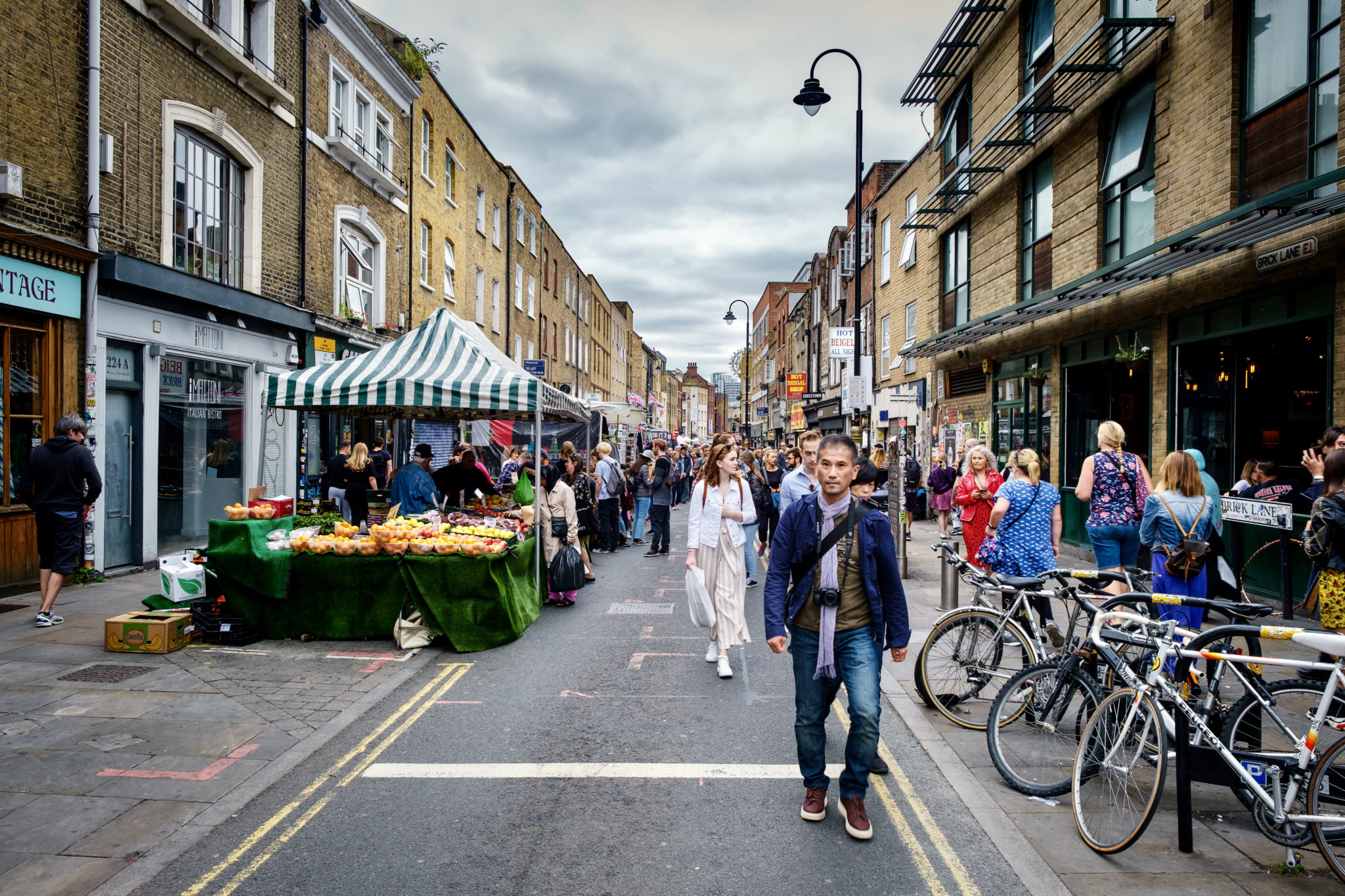 17. Brick Lane
Brick Lane is an iconic street in the Shoreditch area of East London. It was once a rough and tumble neighborhood in London. But seedy has long since given way to charming.
It's a bohemian multi-cultural paradise for vintage hunters, foodies, and street art lovers. The street is teeming with cool shops, buzzing markets, and of course its famous curry houses.
Brick Lane is home to more than 50 Bangladeshi restaurants, whose fragrance you'll no doubt detect. This led the lane to be nicknamed "Banglatown."
Brick Lane is also linked to London's famous 15th century serial killer Jack the Ripper who terrorized people in this area. Naturally, you can take a guided Jack the Ripper walking tour in London.
You can also book a street art tour of the area.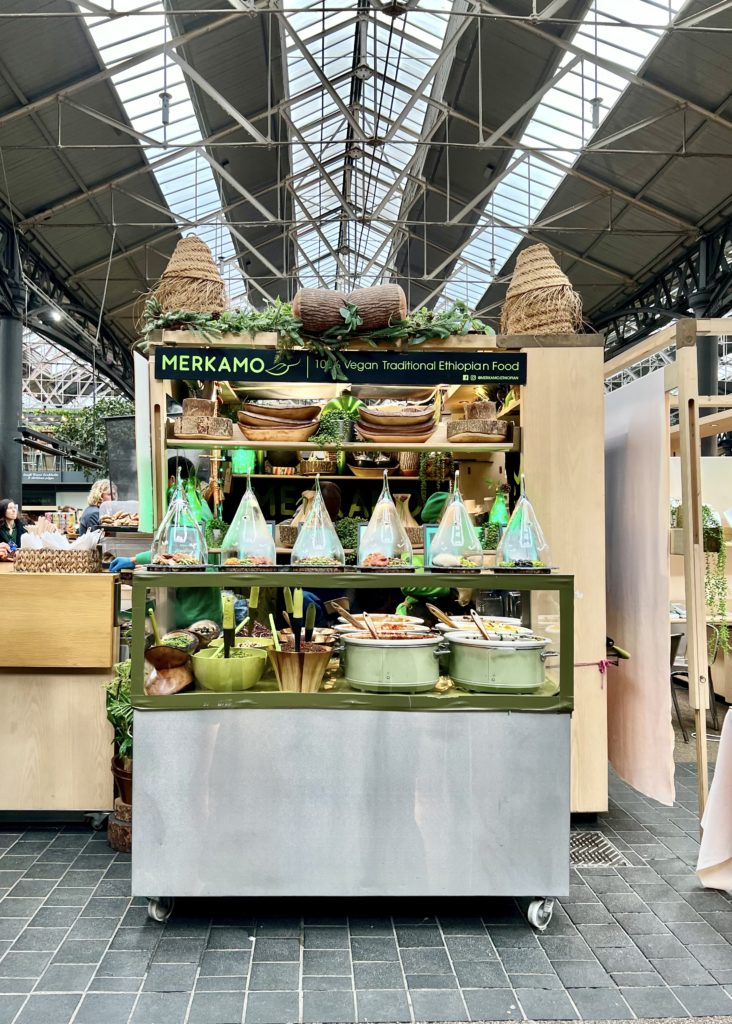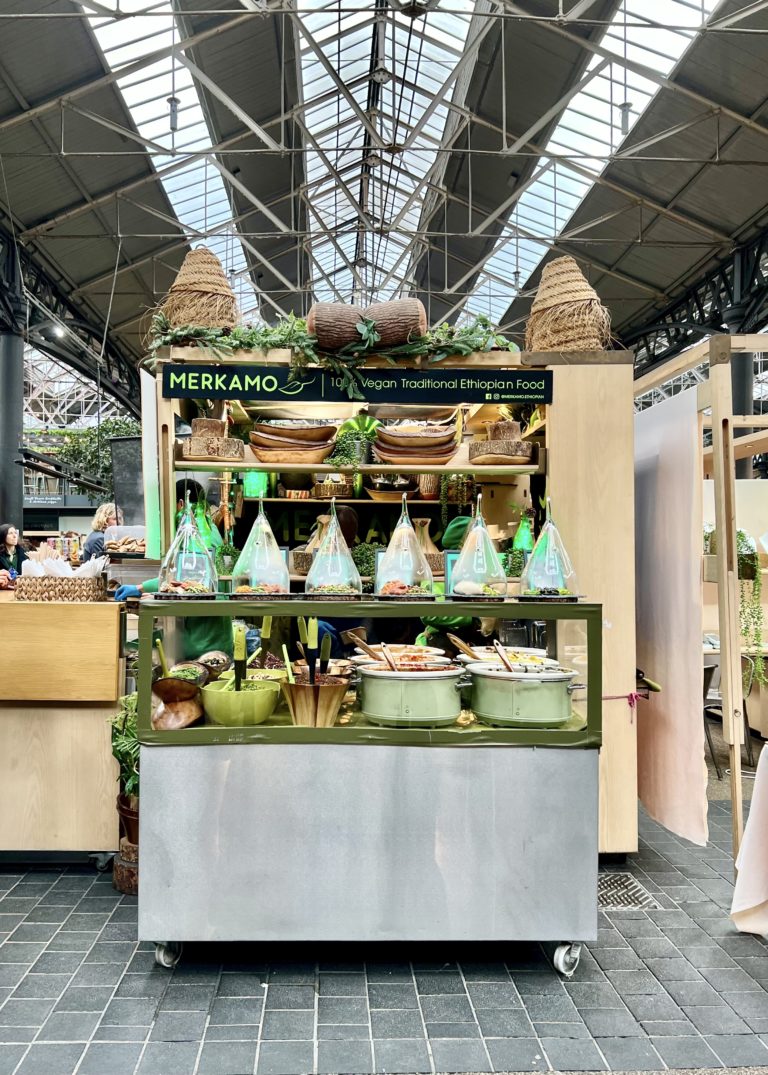 18. Spitalfields Market
Spitalfields Market is a true local's joint compared to London's other popular and more touristy markets. And it's the best market in East London.
Spitalfields Market has been around since the Great Fire of London. But it's also had a millennial rebirth, now housing 110 stalls.
It's a place where you find all sorts of enticing dishes — from Thai to Indian to Japanese to French crepes. And some of the food trucks and stalls give free samples to entice you.
You can also find great vintage stuff — fashion items, clothing, jewelry, vinyl albums, decor, and semi-antique accessories. The market really comes to life on Sunday when the streets are filled with shops and stalls.
You can sample the wares of Spitalfields on an East End food tour.
Address: 56 Brushfield St, London E1 6AA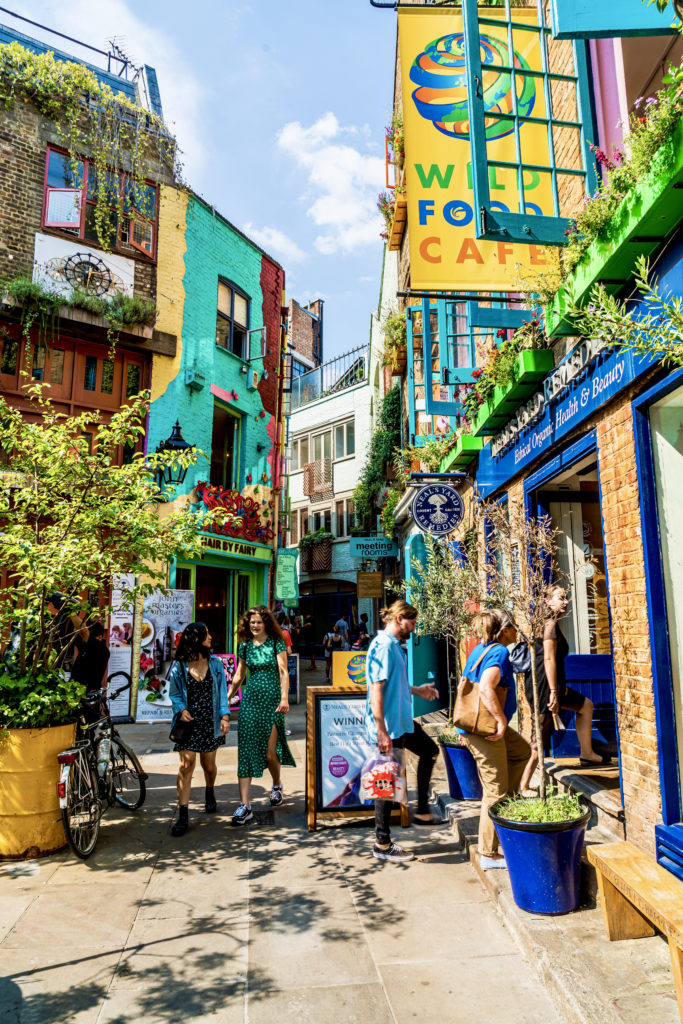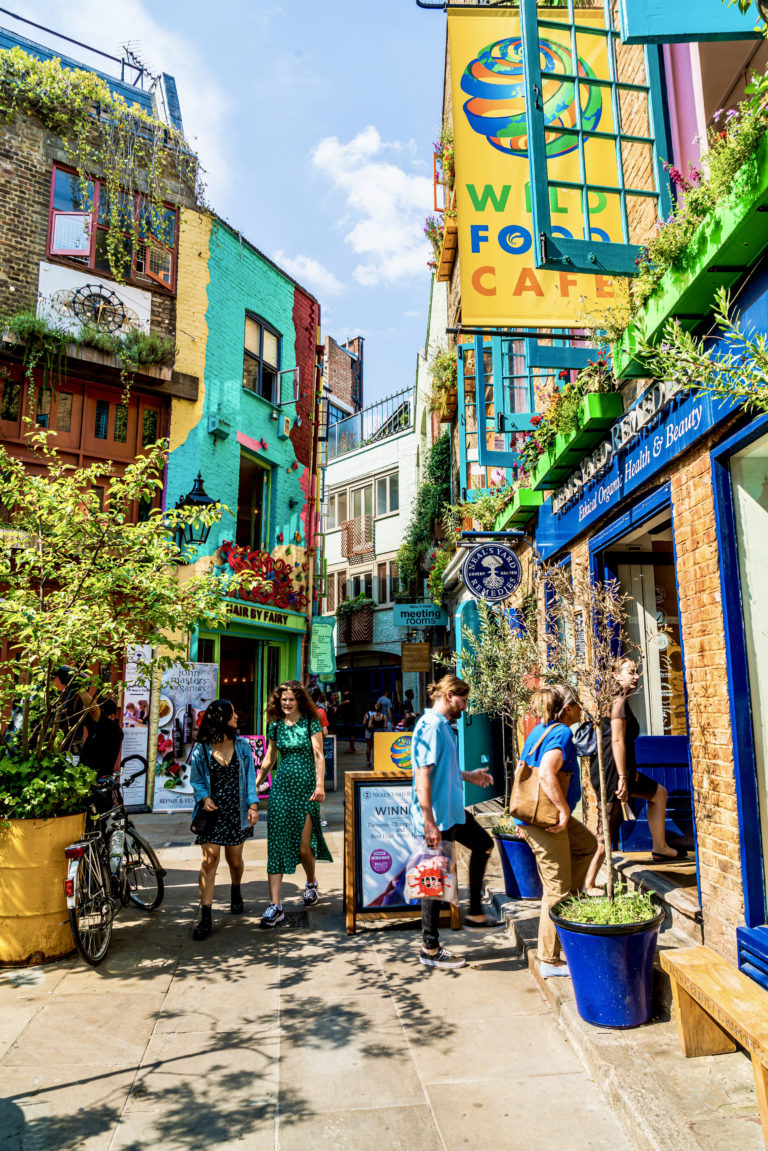 19. Neal's Yard
Neal's Yard is a colorful cobblestone passage near Covent Garden. You likely won't just stumble across it while touring central London.
You'll have to seek it out with your GPS. It's a 5-10 minute walk from Apple Market in the part of London called Seven Dials. It's totally worth the short detour just for the colorful facades.
Neal's Lane is filled with quaint shops and tasty cafes. You can find Chinese herbal medicine, organic therapies, beauty salons, a Sicilian deli, and Shiatsu massage places.
It's also home to the famous Neal's Yard Dairy, which is one of London's best places to buy cheese.
There's a great place to eat there, The Barbary, which serves Mediterranean and Middle Eastern food. You can also just grab a delicious slice of pizza at Homeslice Neal's Yard.
You can visit Neal's Yard on a guided walking tour of Covent Garden and Soho.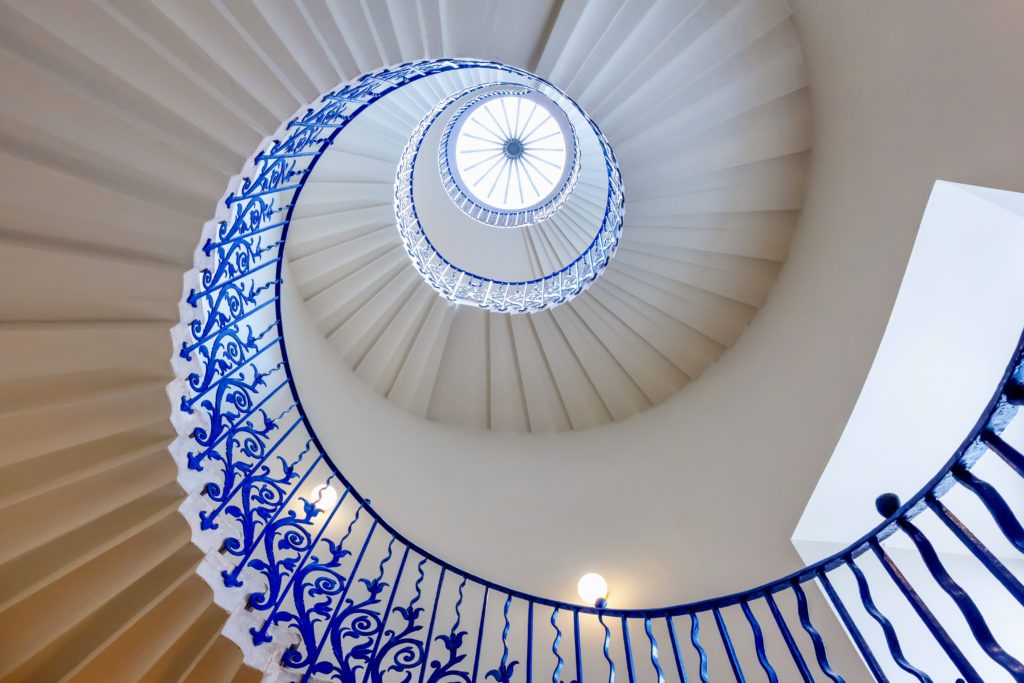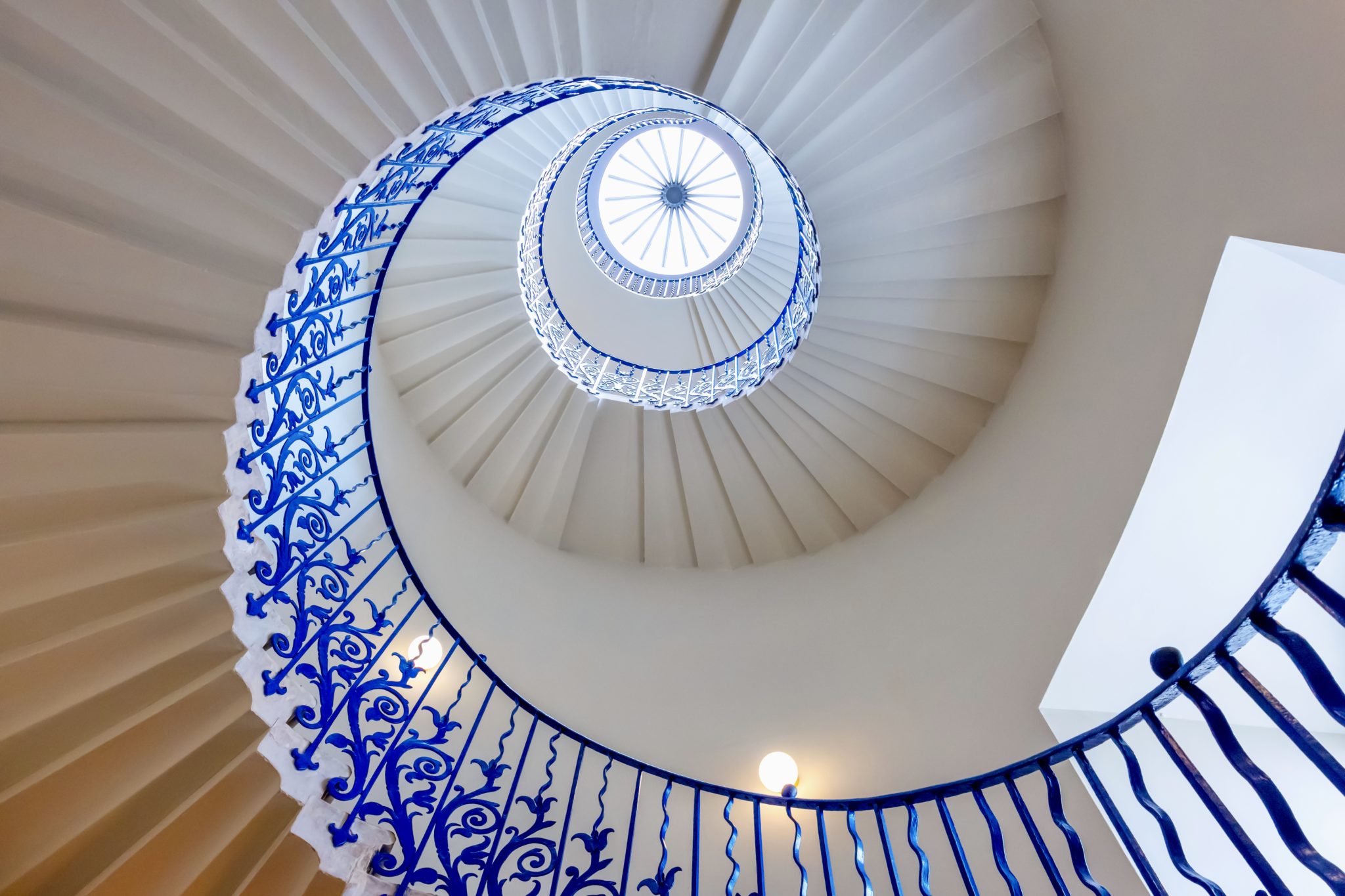 20. Queen's House In Greenwich
If you want to escape the hustle and bustle of the city for a day, then you might consider heading to Greenwich.
This beautiful district of London is home to some unusual London attractions such as the Greenwich Observatory, the Cutty Sark Ship, and the Prime Meridian Time Line.
For those with a cultural bent, head to the Queen's House. It's all that remains of a once Royal Residence.
The free museum is home to many a beautiful feature, like the Great Hall's chequered floor and a well-stocked art gallery. This is where you'll find the famous Armada Portrait of Elizabeth I.
But the museum's Tulip Staircase is the real star and will blow you away. Built in the 17th century, it was the first geometric self-supporting spiral staircase in Britain. The striking shade of blue paint is made using crushed glass.
Address: Romney Rd, Greater, London SE10 9NF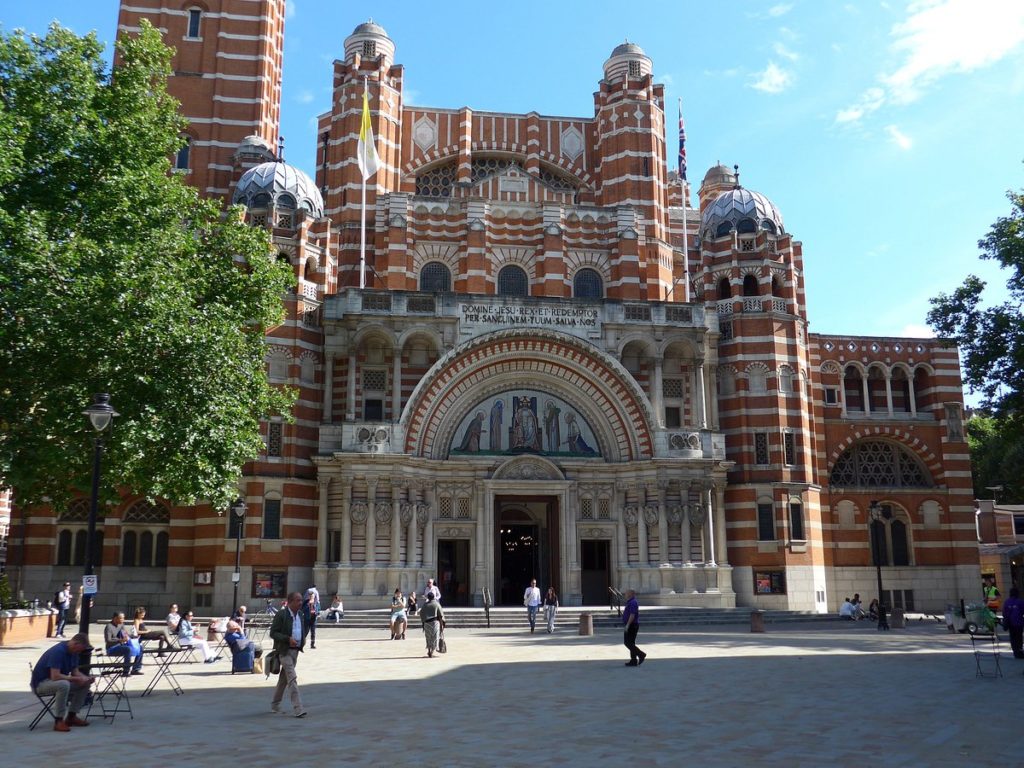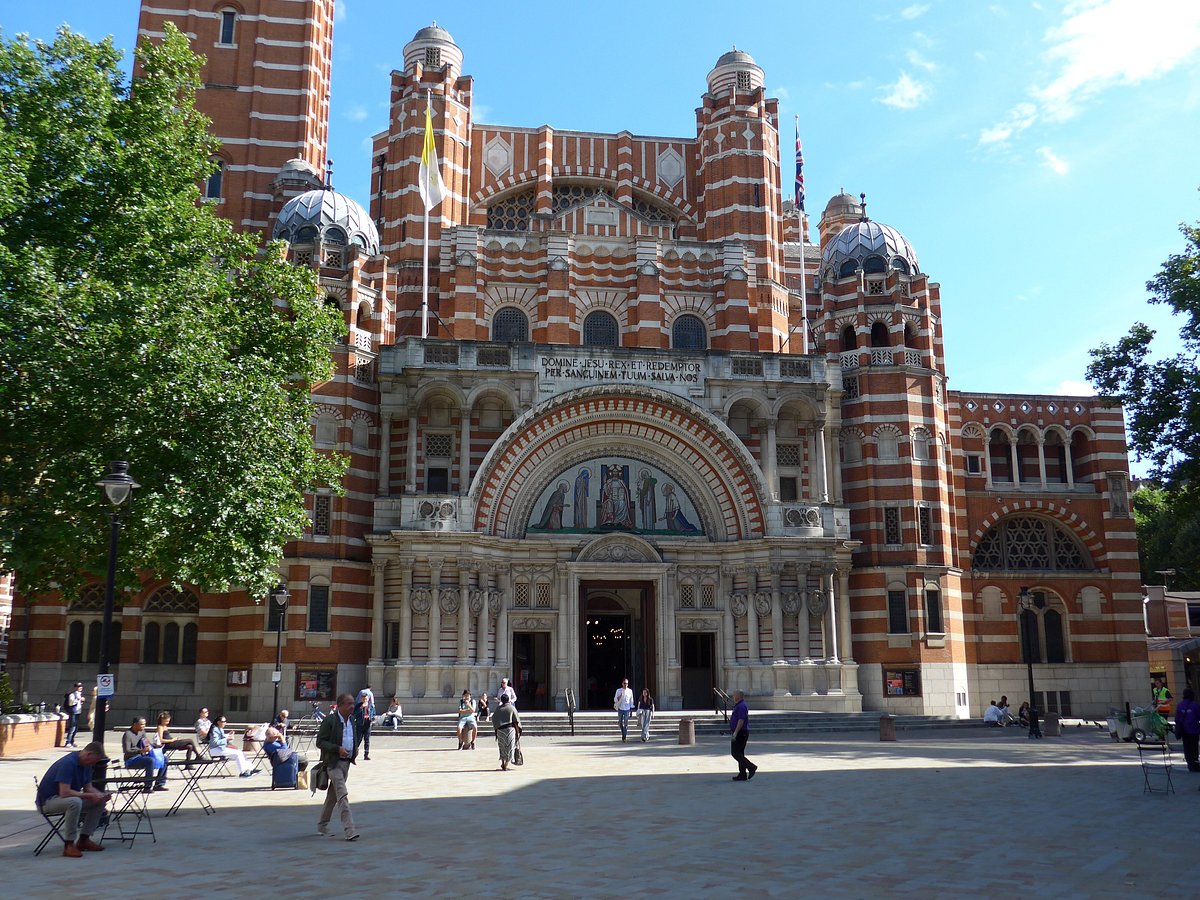 21. Westminster Cathedral
Most people have heard of Westminster Abbey, but few know about Westminster Cathedral. Situated in the heart of London near Victoria Station, it's a hidden gem in London for history buffs.
Designed in the 1890s by Francis John Bentley and consecrated in 1910, the Westminster Cathedral is a relatively new church.
It's a Neo-Romantic building, with hints of Byzantine influences. The facade is red and white striped. It has a 280 foot tall campanile, making it appear like an antique building from Istanbul.
Inside, you'll find a 170 foot central nave, which is the the largest in England. There is marble, sculptures, and other elaborate decoration to admire.
Many of the chapels are covered in glittery beautiful mosaics. This all makes this hidden gem in London worth a visit.
Address: Victoria St, London SW1P 1LT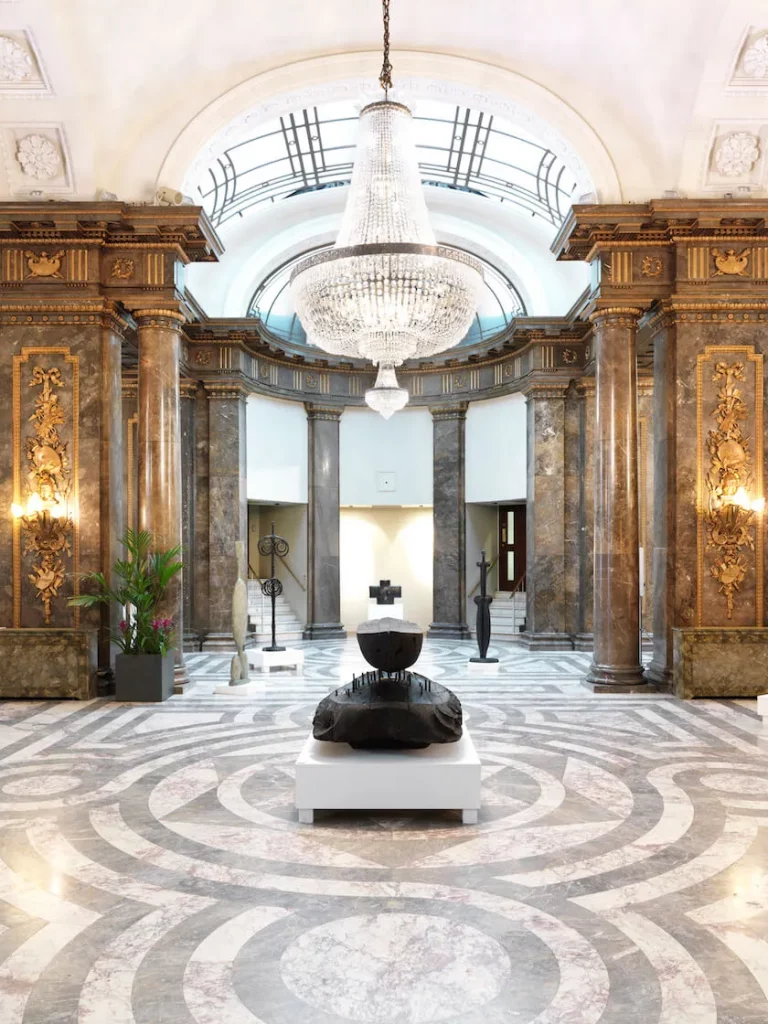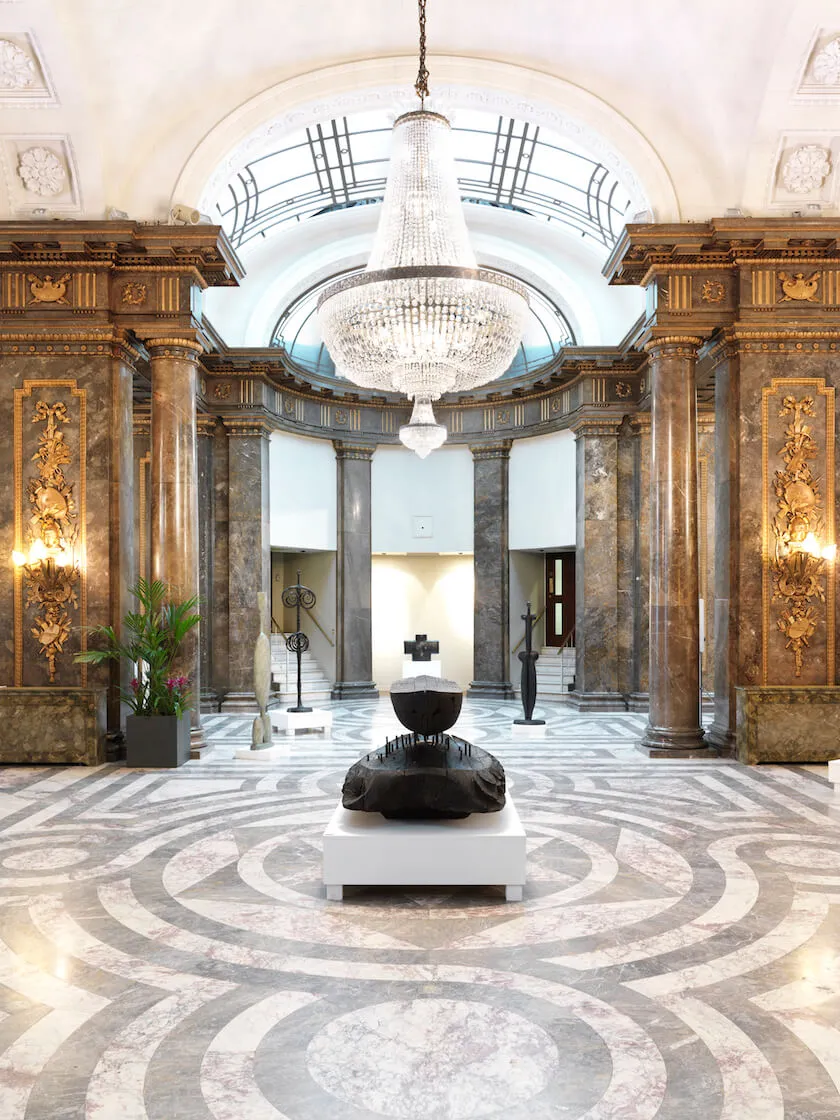 22. Australia House
If you're a Harry Potter fan, head to the Australia House on the Strand. I only found this spot because I was on a private tour of London hidden gems.
The glorious marble interior of Australia House served as the interior for Gringotts, the wizards bank run by goblins in the Harry Potter films.
Or at least the inspiration for it. Some say Gringotts was modeled on the Vaults Nightclub in Exeter.
You can't enter Australia House or take photos. But you can ask one of the security guards if you can walk in and take a peak through the glass door. You'll see the giant crystal chandeliers from Gringotts.
Address: Strand, London WC2B 4LA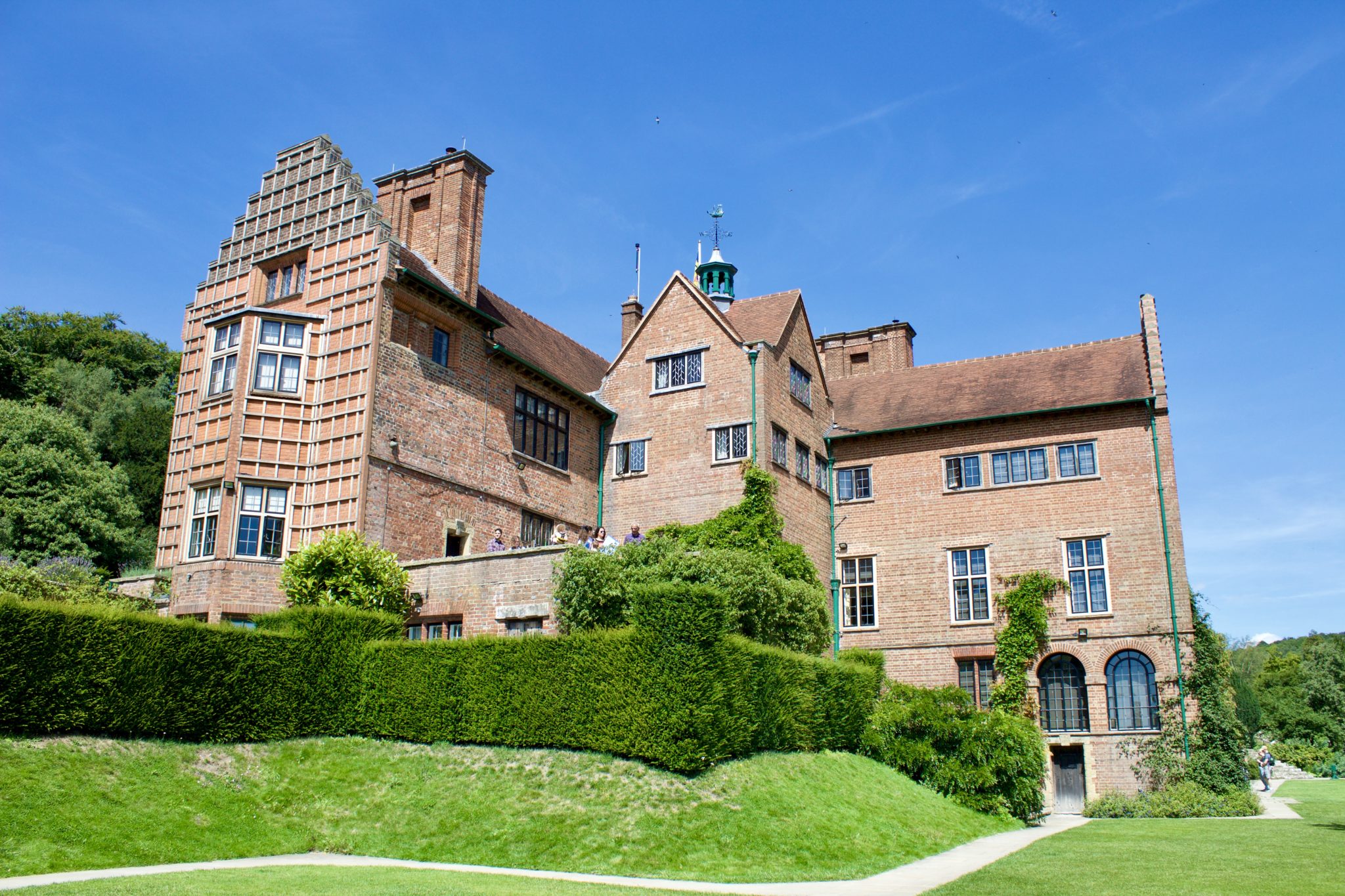 23. Chartwell House
Chartwell House is where Winston Churchill grew up. Just outside London, Chartwell House was the country seat of Churchill for over four decades. The house was Churchill's sanctuary from the tumultuous political battles in London.
Chartwell House isn't a grand home. Though Churchill could ill afford it, he did try to gussy up the place. Churchill almost lost the house twice because he was broke.
His friends bought the house and presented it to the UK's National Trust. Upon Churchill's death, it opened to the public as a museum.
You can see five rooms where Churchill lived — the dining room, the library, the drawing room, his wife Clementine's bedroom, and Winston's study. Three other rooms are filled with Churchill memorabilia. You can see his study and his painting studio.
You can book a guided day trip tour to Chartwell House from London.
Address: Chartwell Mapleton Road, Westerham TN16 1PS England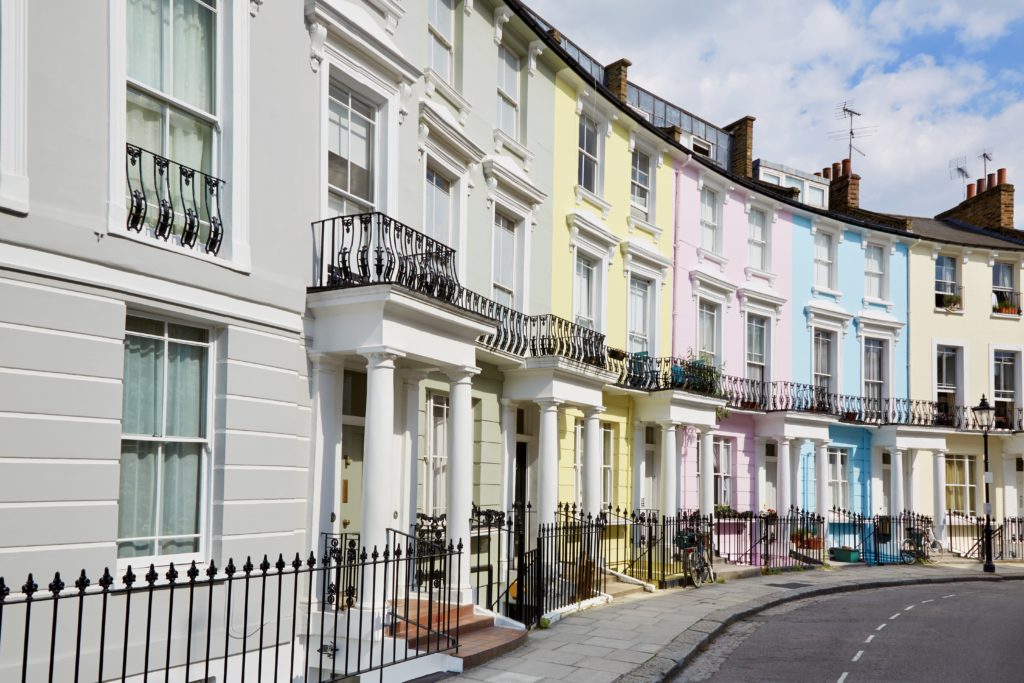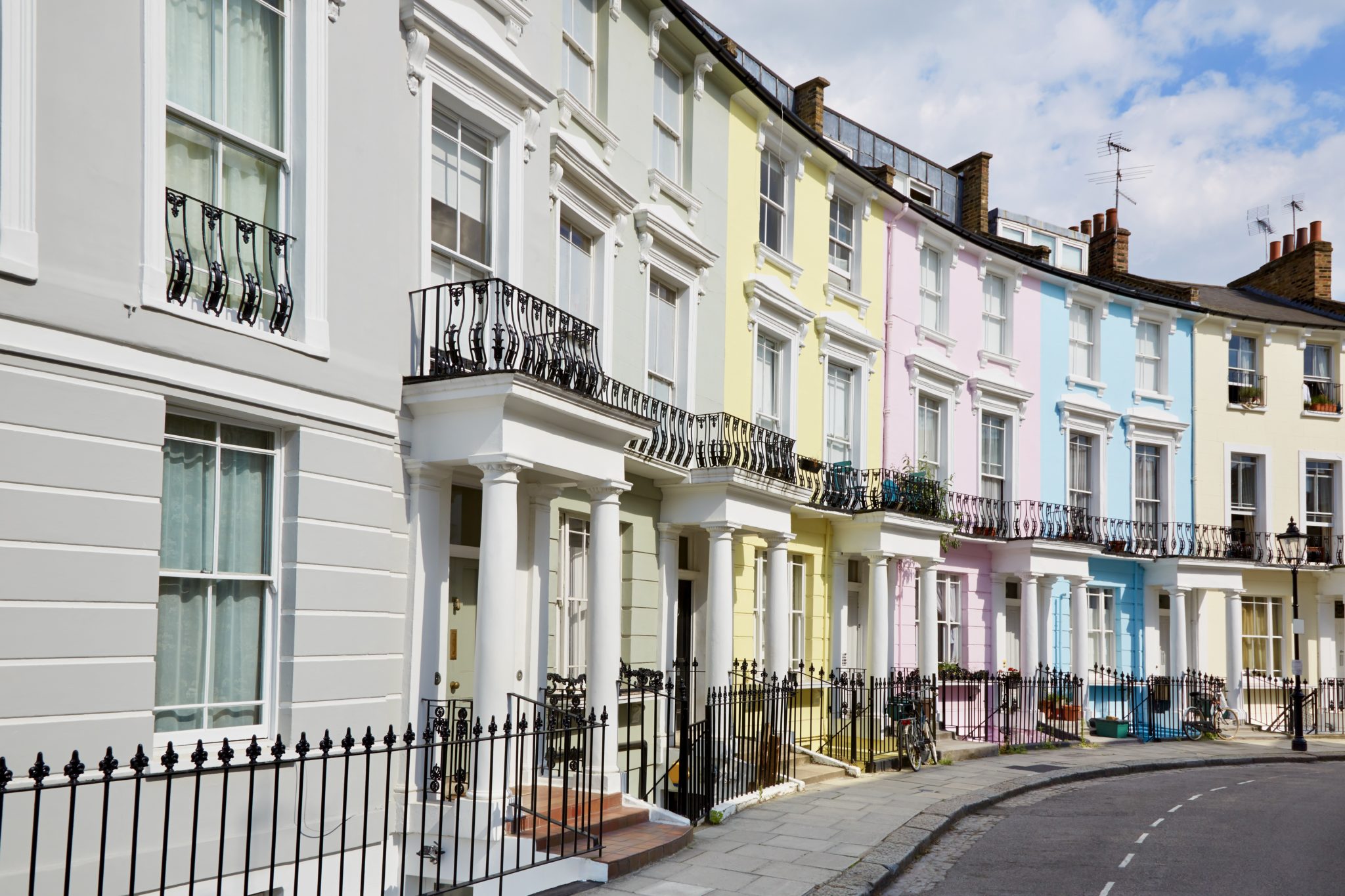 24. Primrose Hill
If you're looking for a great view of the city, Primrose Hill is the perfect escape. Just north of Regent's Park, take a small uphill trek.
Primrose Hill is a beautiful green space in the heart of London that used to be Henry VIII's hunting grounds.
From the summit of 200+ feet, you'll have 360 panoramic views of the city. You can relax and lay down on the grass with the locals.
William Blake once described the view as "conversing with the spiritual son." A rock on the hill is inscribed with his quote.
The Primrose Hill neighborhood is filled with beautiful rainbow colored Victorian homes. Besides the Instagram-ready row homes, you'll also find chic eateries, tearooms, boutiques, and pubs.
As a bonus, there's a farmers market close by on Saturdays.
If you'd like to sit down for a meal, try Greenery (brunch), Lemonia (Greek), or fancy it up at Odette's.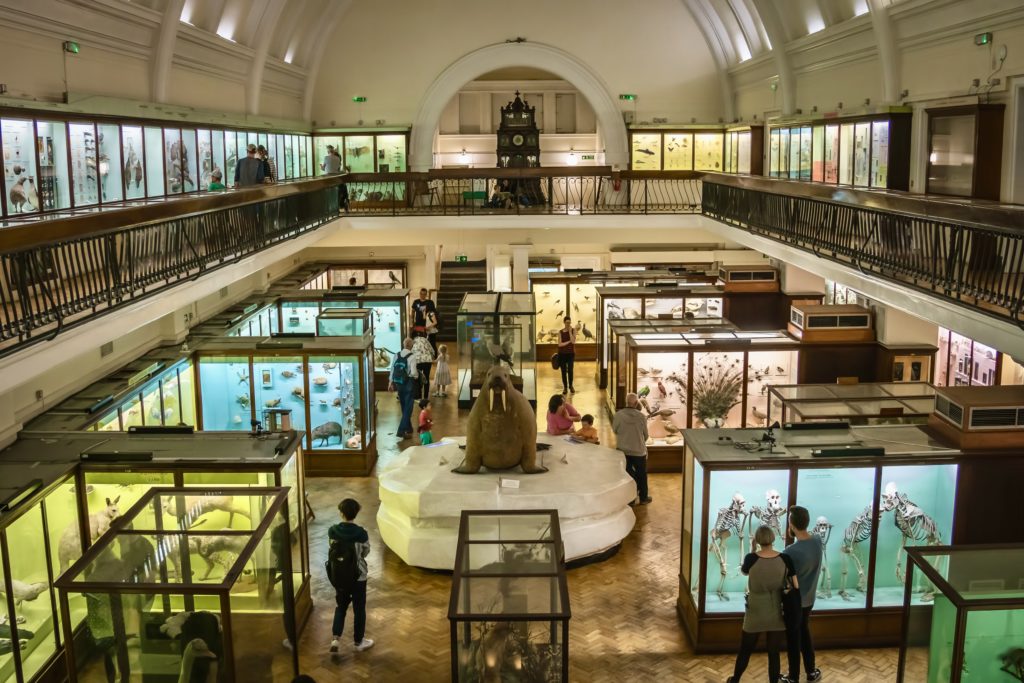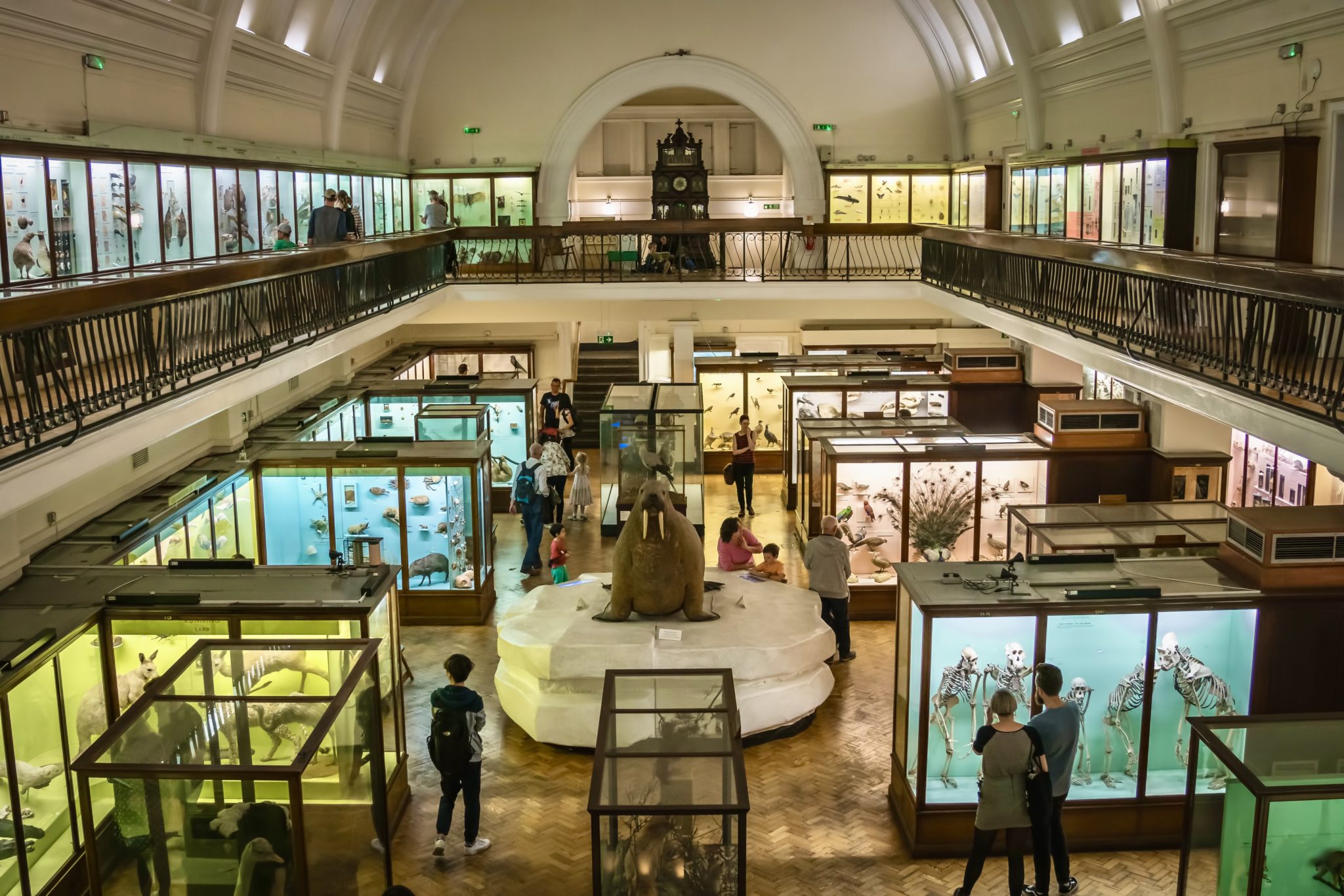 25. Horniman Museum & Gardens
The Horniman Museum is one of London's most whimsical museums. And it's a completely free museum, just out of the way enough to remain a hidden gem in London.
The Horniman is in southeast London, just a short tube ride from the city center. Designed by Charles Harrison Townsend in the Arts and Crafts style, the museum opened in 1901.
The museum contains the quirky personal collection of Frederick Horniman, a Victorian era tea trader. It's a space where the full array of human cultures and anthropology is on display.
You'll find objects and artifacts like puppets, toys, a camel saddle, a stuffed walrus, butterfly house, a torture chair, masks, and skulls. There's also a modestly sized aquarium and 16 acres of lovely landscaped gardens.
There's also a cafe and gift shop.
Address: 100 London Rd, London SE23 3PQ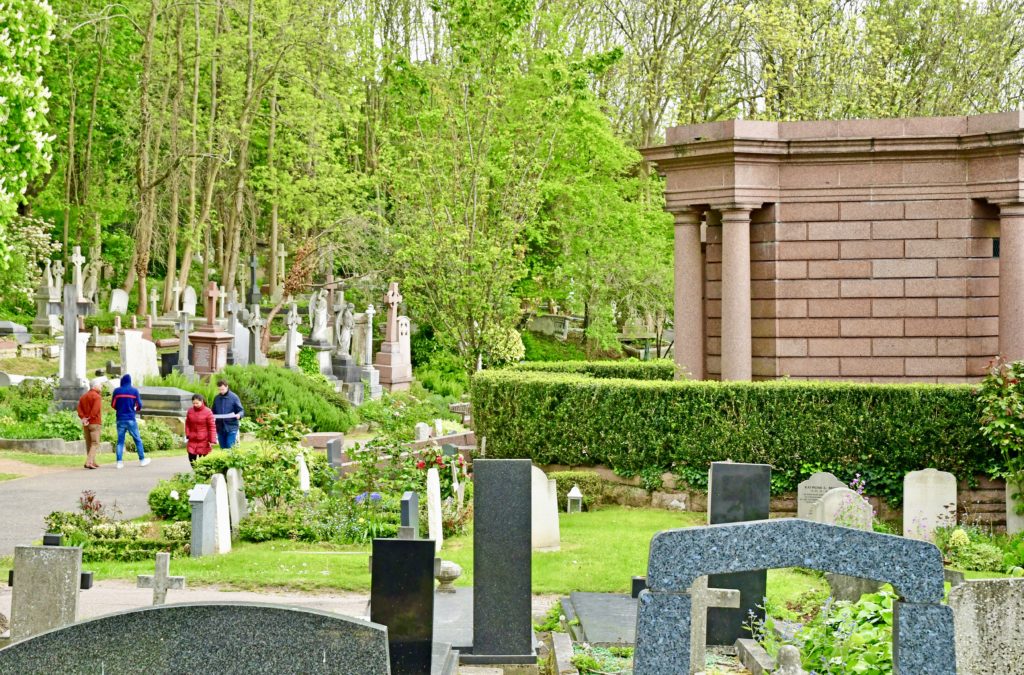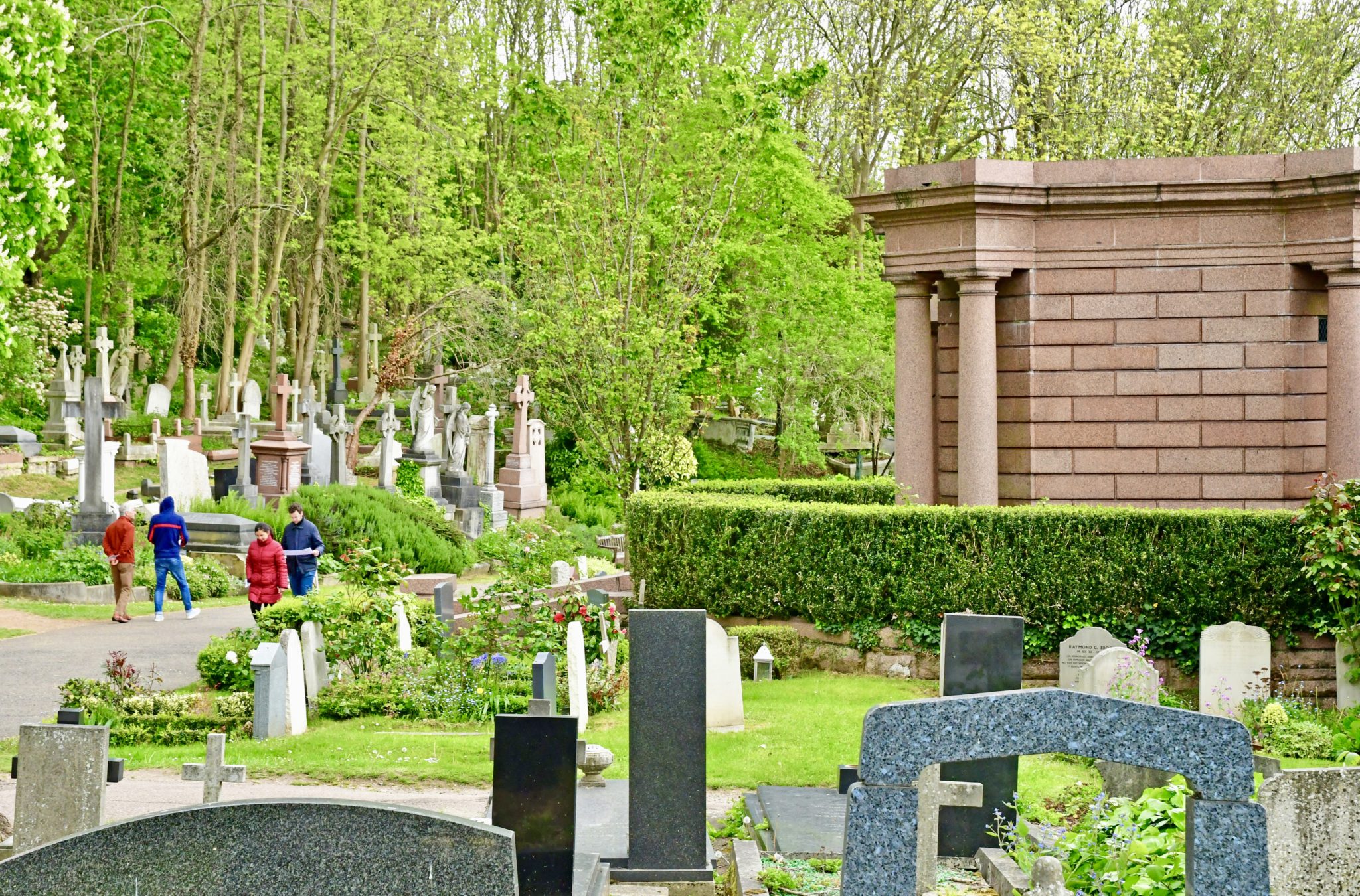 26. High Gate Cemetery
If you're into checking out cemeteries, then Highgate Cemetery should be on your London itinerary. The cemetery opened in 1839.
It's the resting ground for wealthy Londoners from the 19th century. It's split into East & West and tickets can be purchased separately.
The East is creepy and atmospheric. The West has impressive architecture, including Egyptian Avenue and the Terrace Catacombs.
You'll find the graves of Karl Marx, George Michael, George Eliot, and Hitchhikers Guide To The Galaxy's Douglas Adams.
Legend holds that the Highgate Vampire haunts the cemetery. He's said to be a tall dark figure that glides through the cemetery on cold dark nights. He's blamed for scores of dead foxes and other animals.
Address: Swain's Ln, London N6 6PJ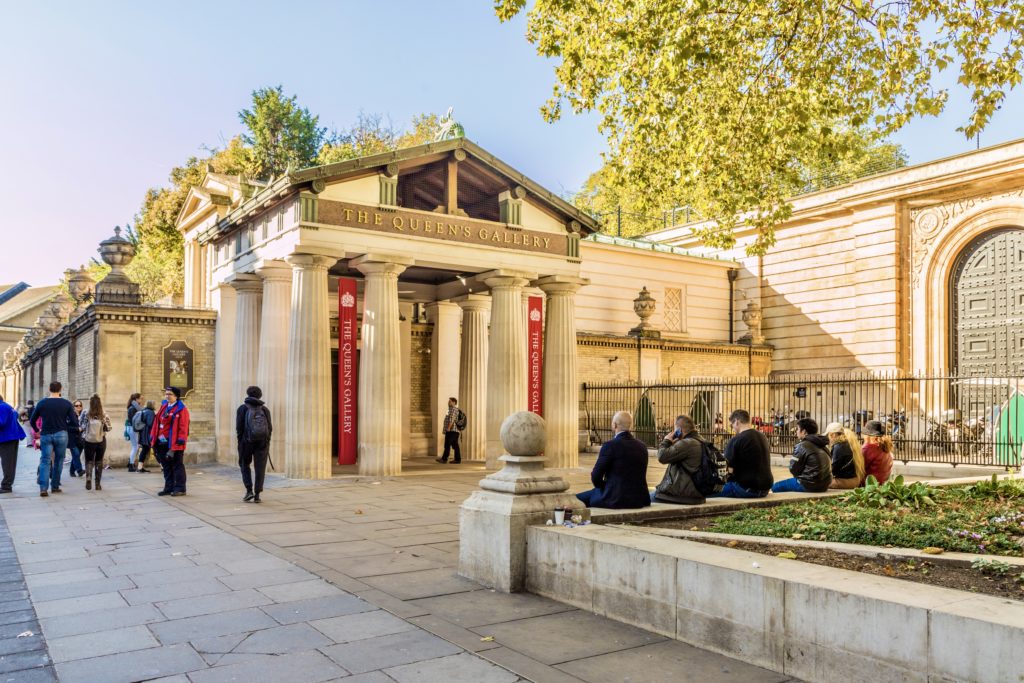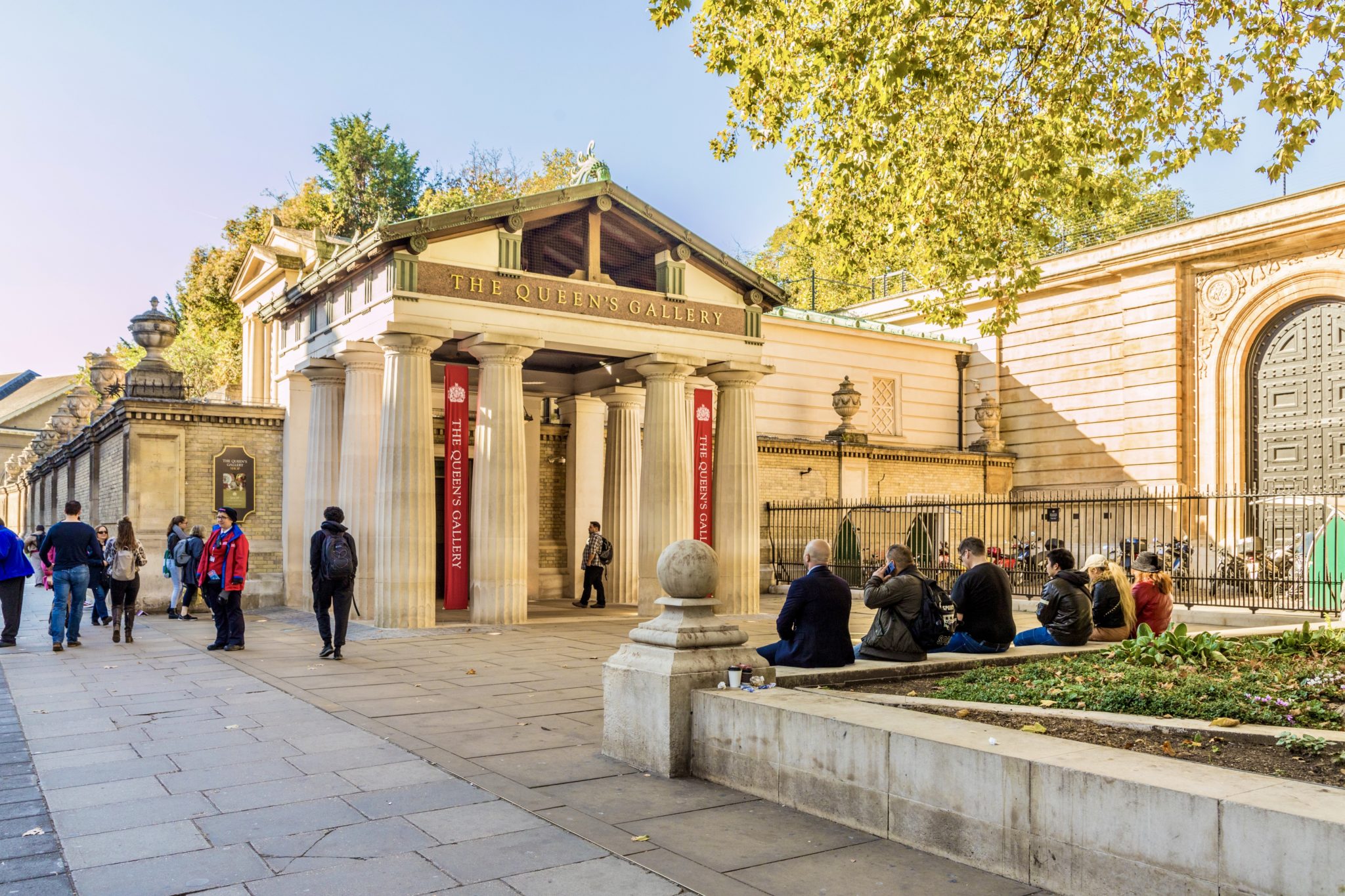 27. Queen's Gallery in Buckingham Palace
Buckingham Palace is not, of course, a hidden gem. But the Queen's Gallery on site is.
The gallery was fully renovated and opened to the public in 2002. You'll find a small collection of works from the British Royal Art Collection, which is the world's largest private art collection.
The pieces are set out in three galleries, two of which have skylights to let in the natural light and better see the paintings on display.
There is a nice selection of old masters paintings. The selection is changed seasonally. The most famous paintings are Vermeer's Lady at the Virginal with a Gentleman and Artemisia Gentileschi's Self-Portrait as the Allegory of Painting.
Be forewarned, the gallery is small and security is tight. So you'll need to be a patient art lover. You can also book a skip the line ticket and tour of both the Queen's Gallery and Buckingham Palace.
Address: Buckingham Palace, London SW1A 1AA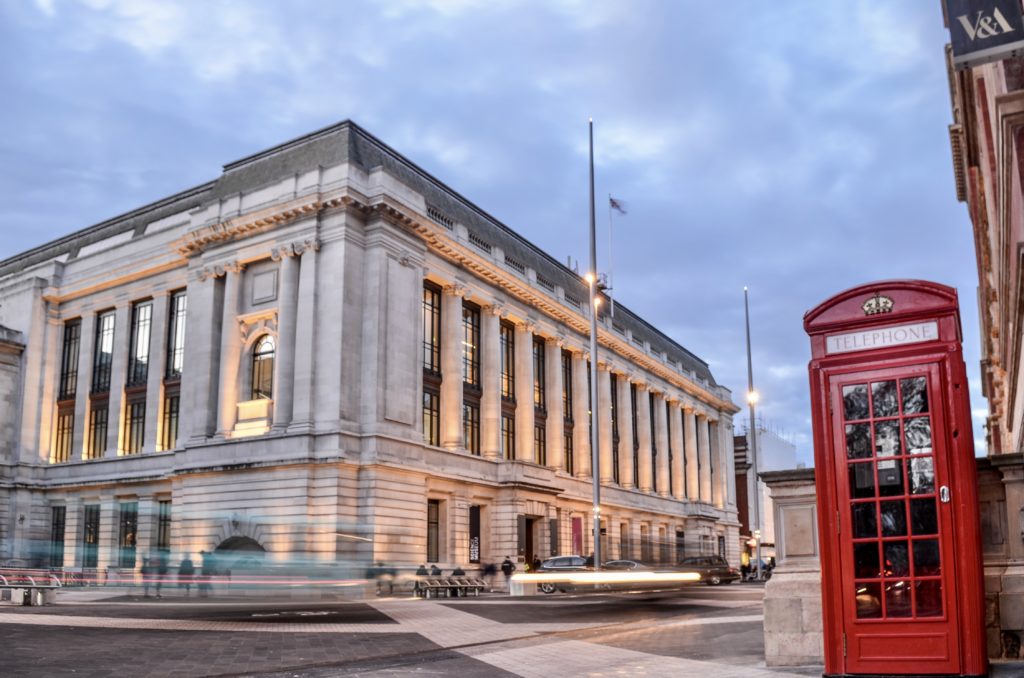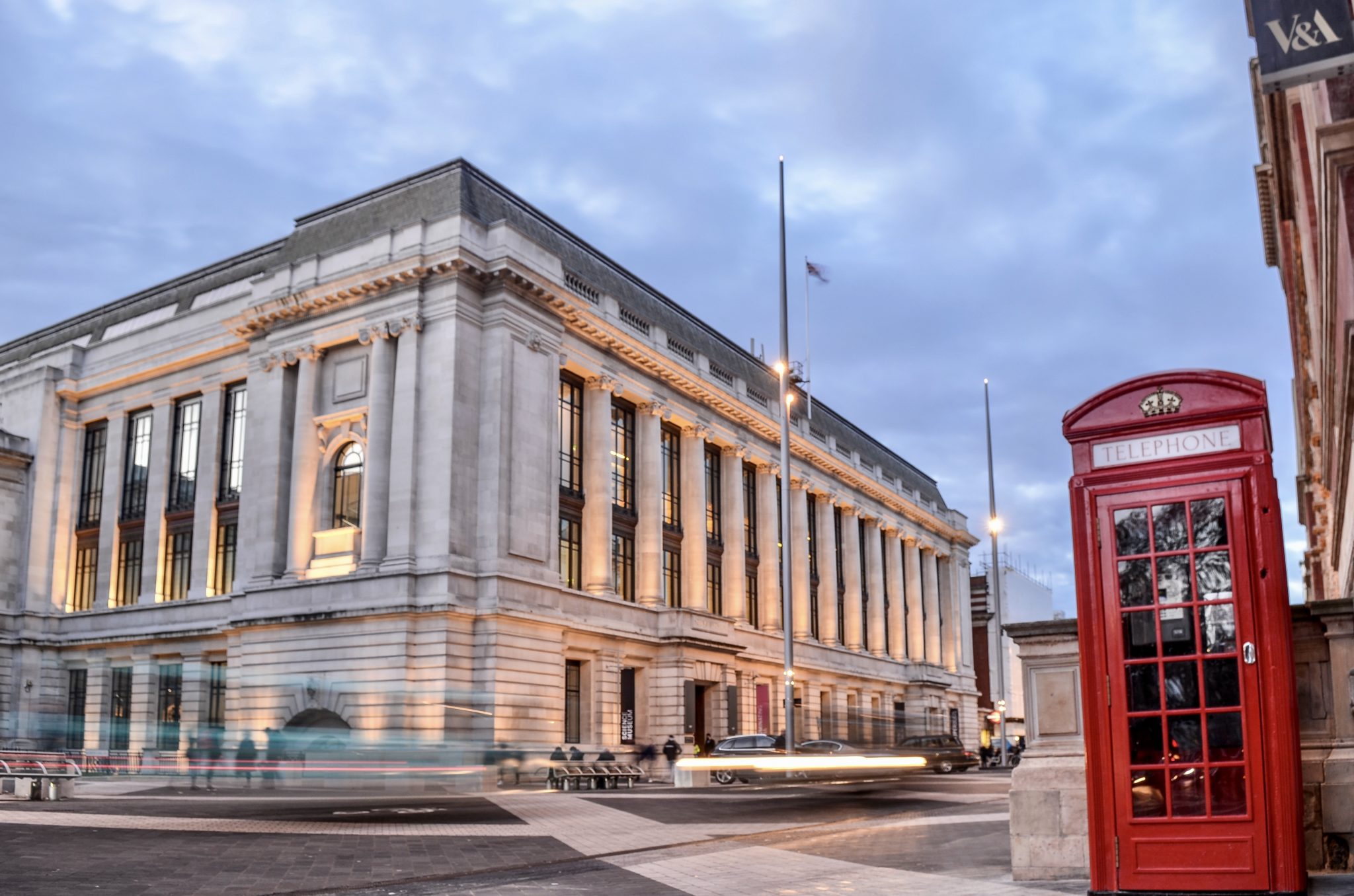 28. Science Museum
Do you like gadgets and how they work? The Science Museum is a hidden gem in London just for you.
The museum offers up seven floors of educational and entertaining exhibits. It aims to make sense of the science that has shaped our lives.
You'll find exhibits explaining developments in science, medicine, anatomy, space, computers, and technology. There's a substantial collection of medical history treasures. There are some digital exhibits especially for kids.
Like many science museums nowadays, the museum has an in-house IMAX cinema. It shows scientific films in 3D, allowing visitors to be surrounded by space or submerged in the depths of the ocean.
The museum shop is worth checking out for its wacky toys. The Dana Centre offers free lectures and performance events on contemporary scientific issues
Address: Exhibition Rd, South Kensington, London SW7 2DD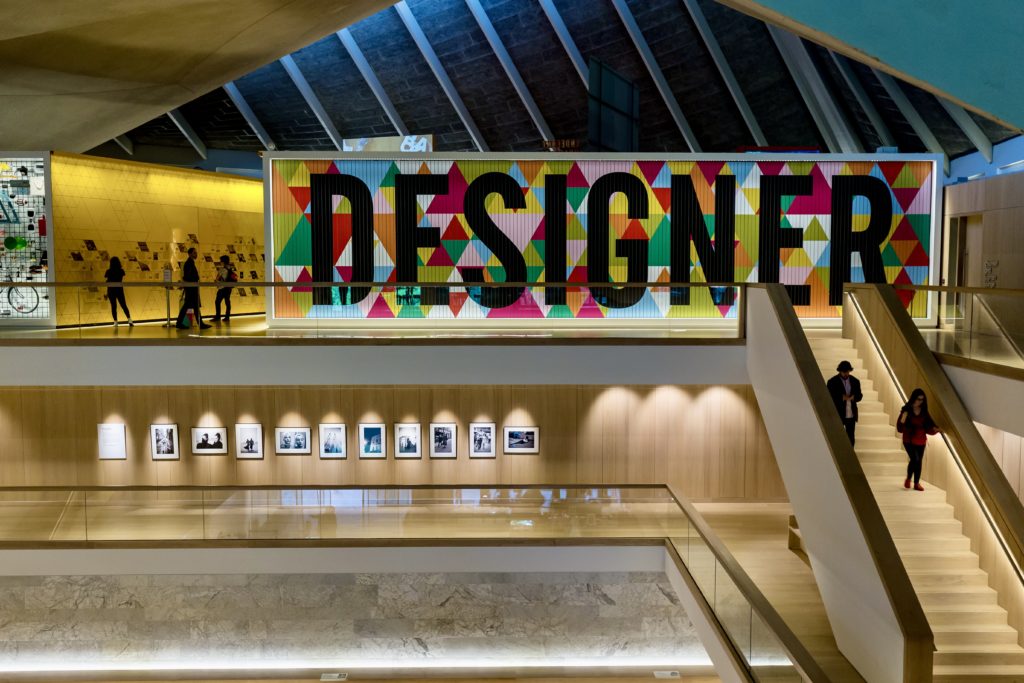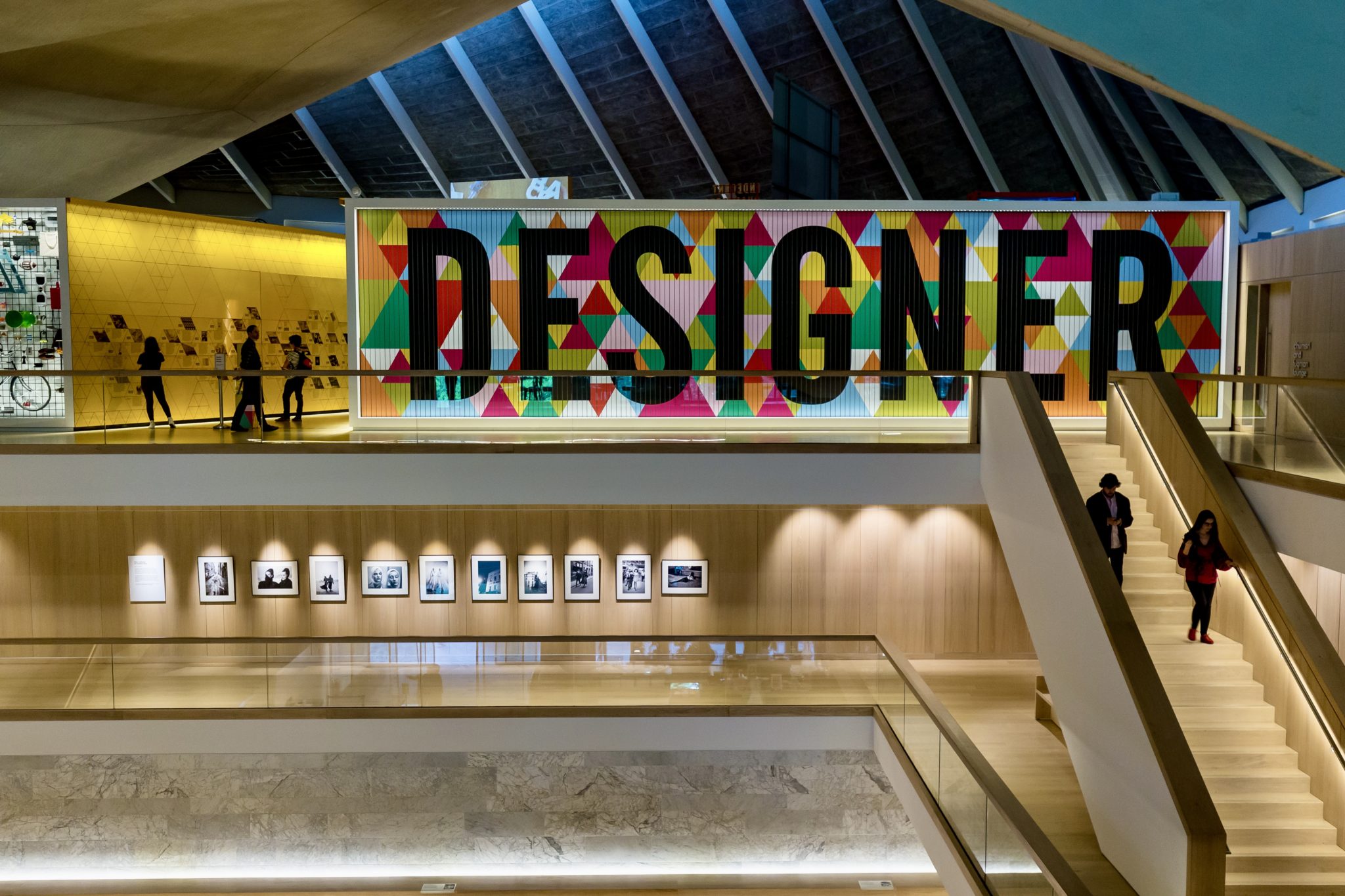 29. Design Museum
No list of hidden gems in London would be complete without a nod to London's Design Museum. It was founded by Sir Terence Conran in 1989 and relocated to Kensington in 2016.
The museum is one of the city's premiere exhibition spaces. But for most tourists it's a rarely visited hidden gem in London.
The building is a masterpiece itself with soaring well lit spaces and balconies. The museum won the European Museum of the Year award in 2018.
The Design Museum hosts cutting edge contemporary exhibitions dedicated to design in every form — from fashion, graphics, architecture, to product and industrial design.
The museum just finished hosting a thought proving Amy Winehouse exhibition, which I was fortunate to see on my last trip.
As well its temporary shows, the museum hosts an array of learning programs and activities aimed at children.
Address: 224-38 Kensington High Street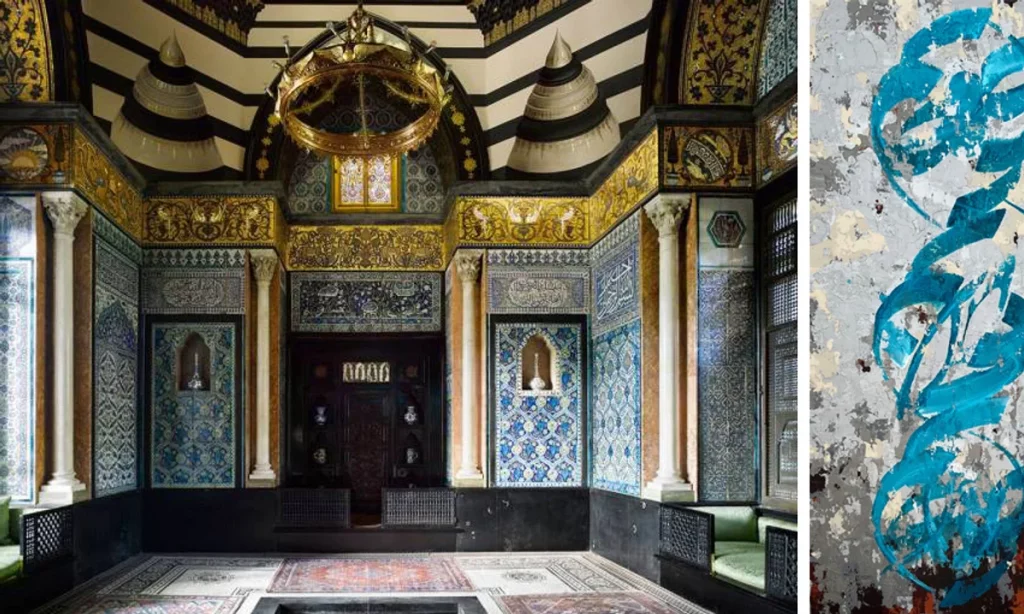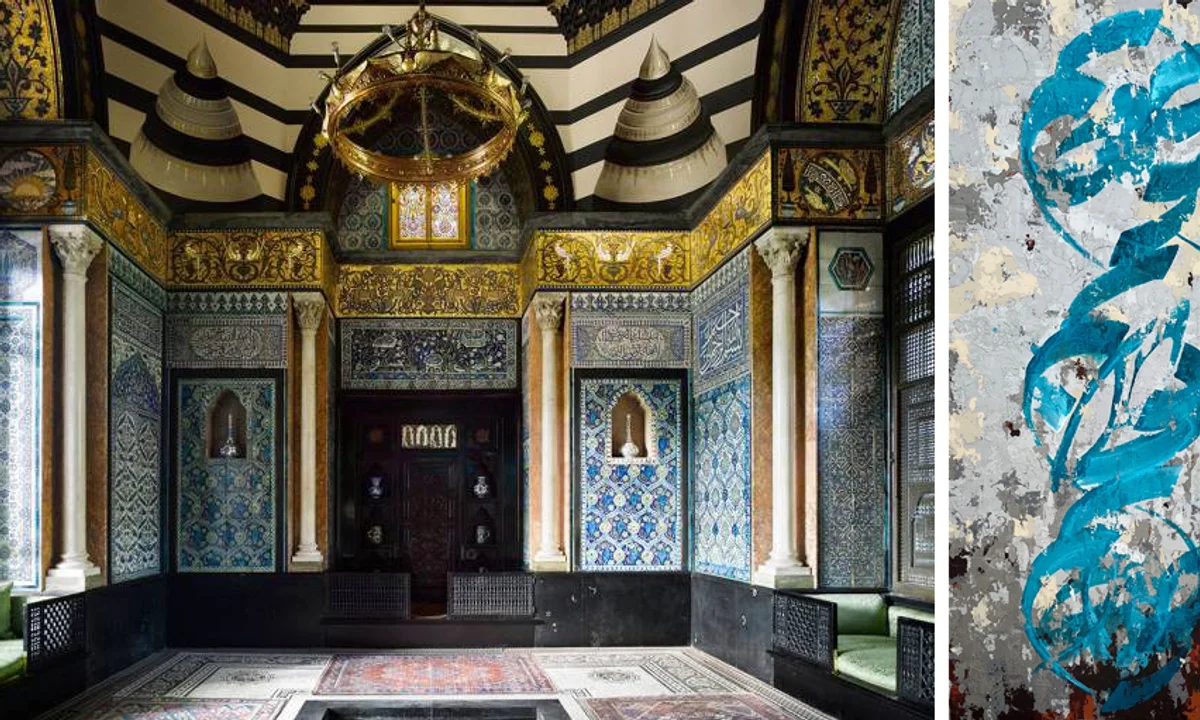 30. Leighton House
Leighton House is one of the best small hidden gem museums in London.
It attracts visitors with its lure of the Orient. You'll find it on a quiet side street at the edge of Holland Park in Kensington.
Leighton House was the 19th century home of Sir Frederic Leighton, a leading Victorian artist and member of London's Pre-Raphaelite tribe. He was known for his paintings of languid beauties like Flaming June.
Leighton's abode epitomizes the era's fascination with Orientalism. It's a wunderkind of Islamic art that's been a frequent filming location for films and photos shoots.
Stepping into the opulent Arab Hall, you'd almost expect a fez-wearing shopkeeper to hand you a glass of mint tea. The hall showcases more than 1,000 Islamic peacock blue tiles and is one of the most spectacular interior spaces in London.
You can find Leighton's own paintings. You can also see works by John Everett Millais, Lawrence Alma-Tadema, and G.F. Watts.
Address: 12 Holland Park Road

31. Camden Lock Market
Camden Lock Market is named for the lock on the Regents Canal that it's next to. It's located in Camden Town, a hip district of London.
There are over 1,000 food stalls, bars, shops, and cafes at the Camden Lock Market. It's about as diverse as a market comes.
You'll find vinyl, clothing, vintage books, and handmade jewelry. A highlight is the liquid nitrogen ice cream at Chin Chin labs.
The weekend is the best time to visit. This is when most shops are open and you'll see everything the market has to offer.
You'll find some awesome food choices. But don't be shocked if there's nowhere to sit. You can also grab some food and head to the nearby canal.
You can also take a vegan food tour in Camden Town. Or take a hidden gems in London tour that includes the market.
Address: Camden Lock Place London NW1 8AF
32. Southwark Cathedral
Though Southwark cathedral is right next to the uber popular Borough Market, not many people pop in to this hidden gem in London.
Southwark Cathedral is a little Gothic gem that dates back to 606 A.D. It's right next to Tate Modern and just 5 minutes from the Shakepeare's Globe Theater.
You should take a few minutes to step inside because it's London's oldest Gothic structure. The original site was destroyed by fire in 1212. It was rebuilt and dates from the 13th century.
The older Norman influences can be seen in the rear facade. The Gothic influences are on the front.
Inside, there's an airy vaulted ceiling made of a sandstone colored brick. You'll see some beautiful stained glass, a monument to Shakespeare, and some quirky 15th century wooden roof capitols.
Address: London Bridge, London SE1 9DA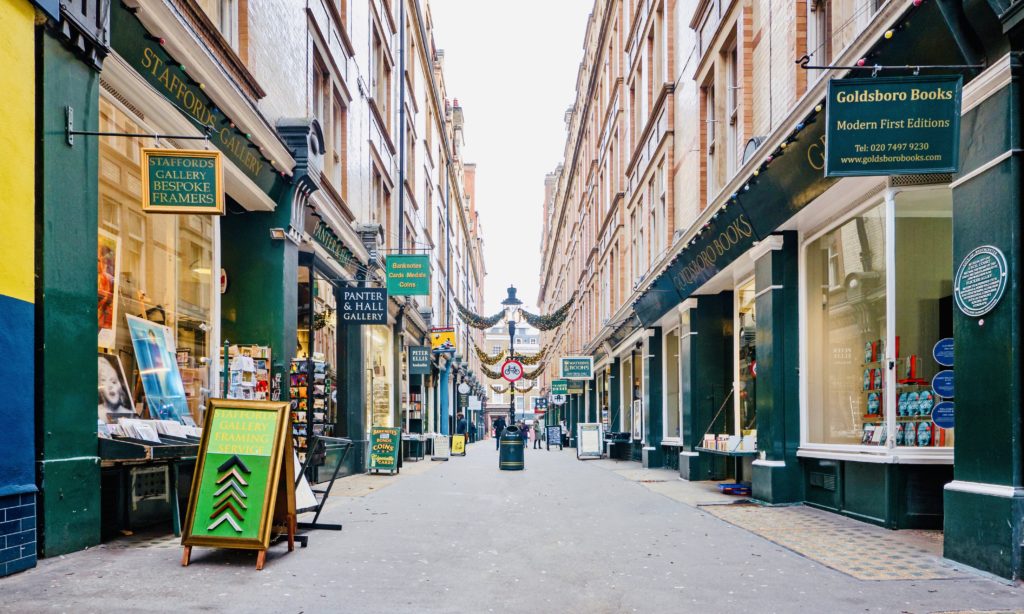 33. Cecil Court
Cecil Court is a quaint 17th century lane that spokes off from Charing Cross Road. It's a hidden gem in London despite being so close to the high traffic street.
With its Victorian shopfronts, it's said to be J.K Rowling's favorite street in London and the possible inspiration for Dragon Alley in the Harry Potter series.
Cecil Court is home to many obscure antique shops, second hand book shops, and even more book shops selling books about witchcraft and magic.
You can also pop into the nearby Godwin's Court to check out another charming alley.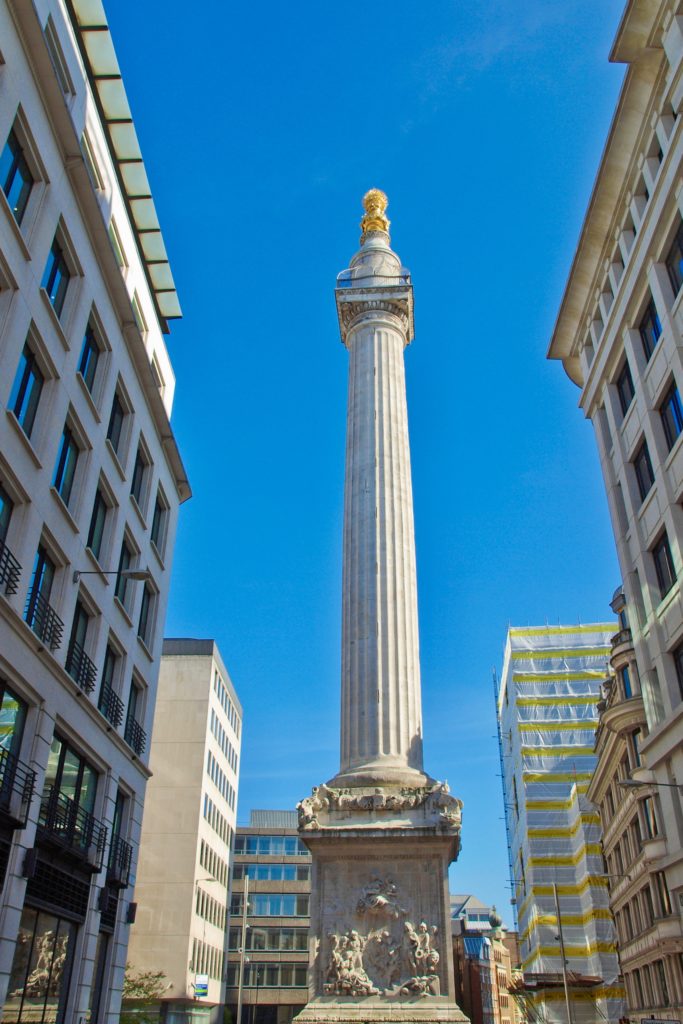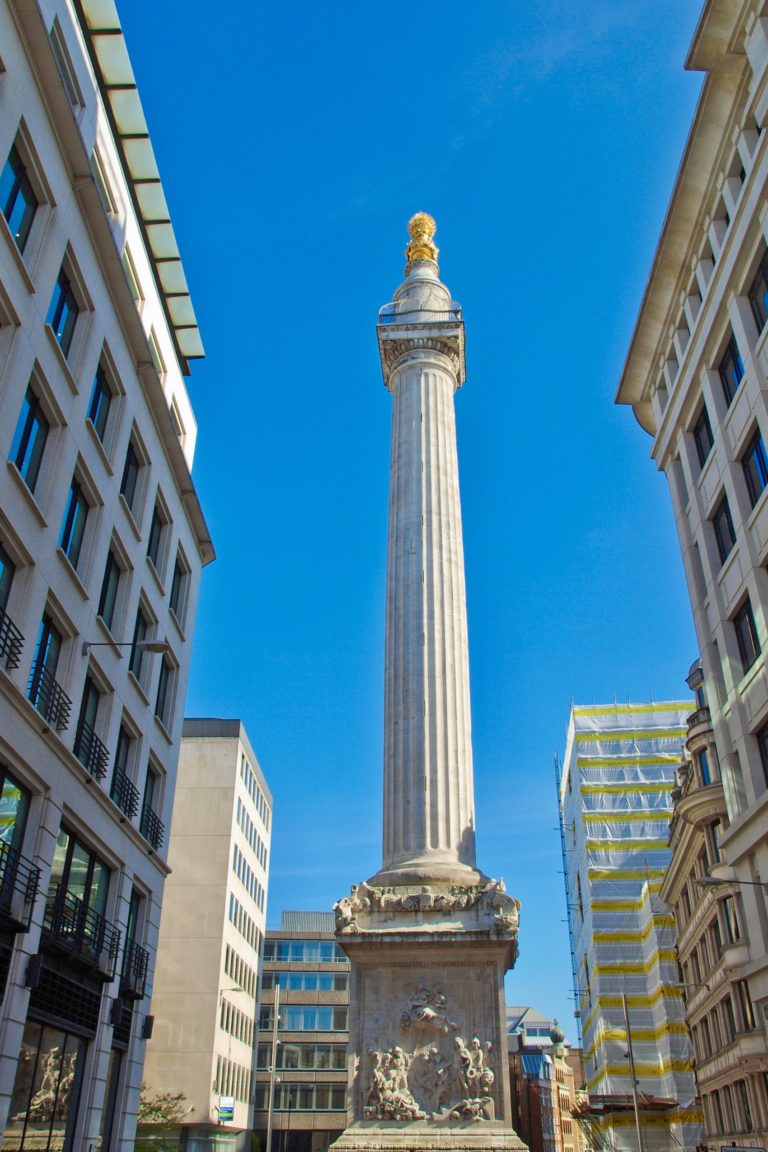 34. Monument To The Fire Of London
The Monument to the Great Fire of London was built between 1671-77. It was built to commemorate the Great Fire of 1666 and celebrate the rebuilding of London.
The chief architects were Christopher Wren, the architect of St. Paul's Cathedral, and Robert Hooke.
Built between 1671 and 1777, the monument stands at 202 feet tall. It marks the very spot where the fire is thought to have started.
In 2007, it underwent an 18 month restoration. You can climb 311 steps up a steep spiral staircase for great views at the top.
Address: Fish St Hill, London EC3R 8AH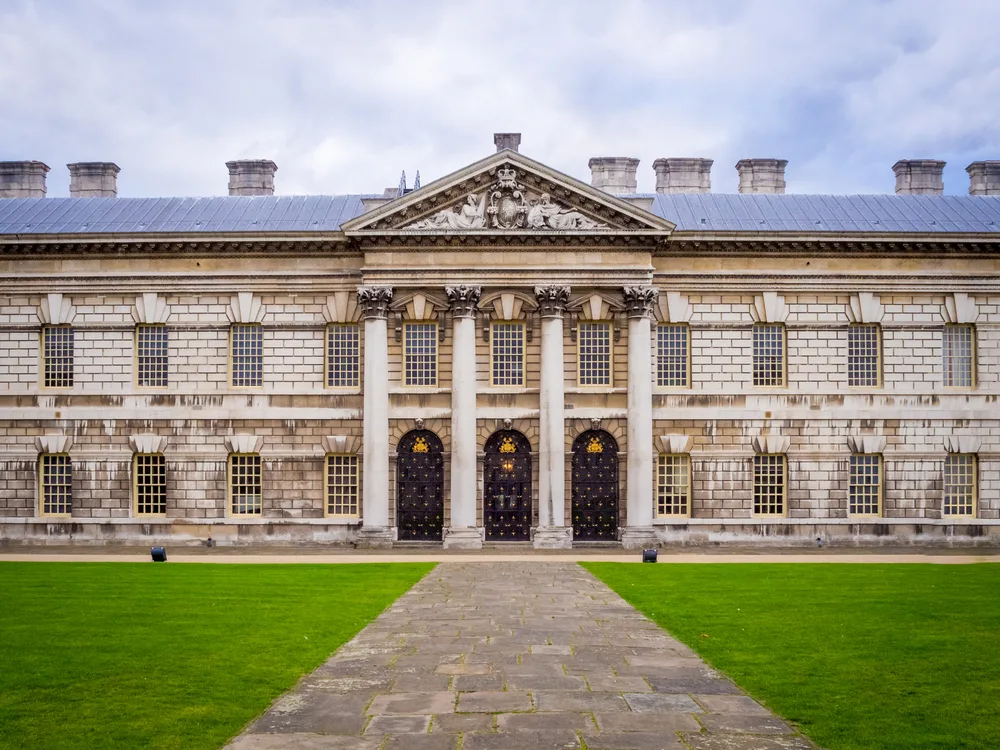 35. The Painted Hall
Did you know London has a Baroque masterpiece that's known as "England's Sistine Chapel"? It's one of London's absolute best hidden gems.
It's found in The Painted Hall at Old Royal Navy College in Greenwich. In the hall, there is 4,000 square feet of space with breathtaking paintings covering the ceiling and walls.
They were painted by James Thornhill between 1707-26. He was the artist responsible for painting the cupola in St. Paul's Cathedral. It took Thornhill 19 years to complete his masterpiece.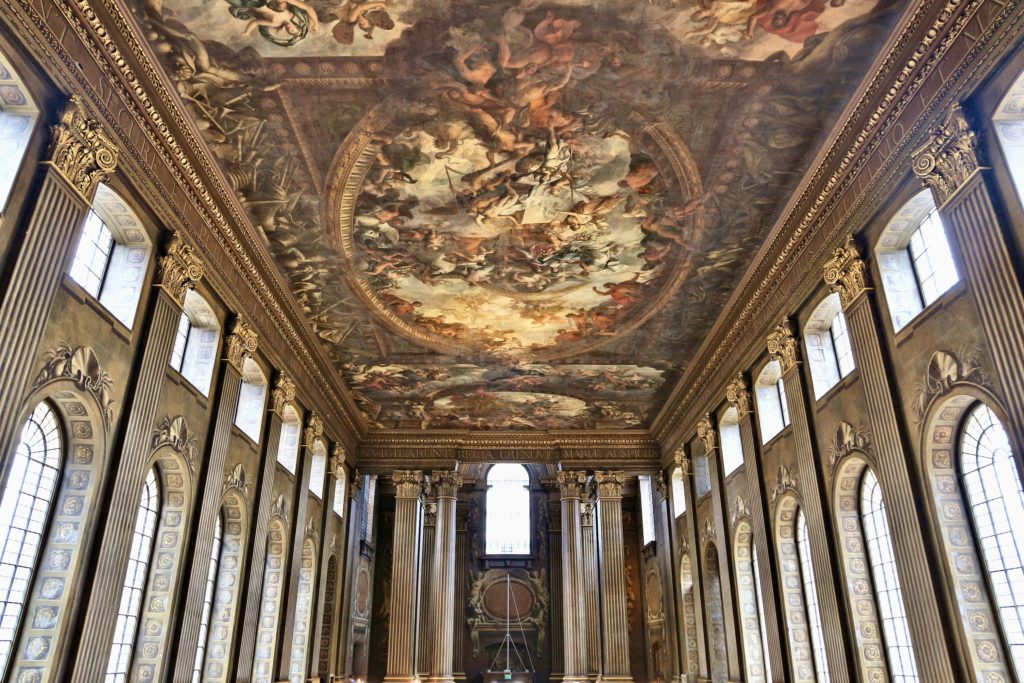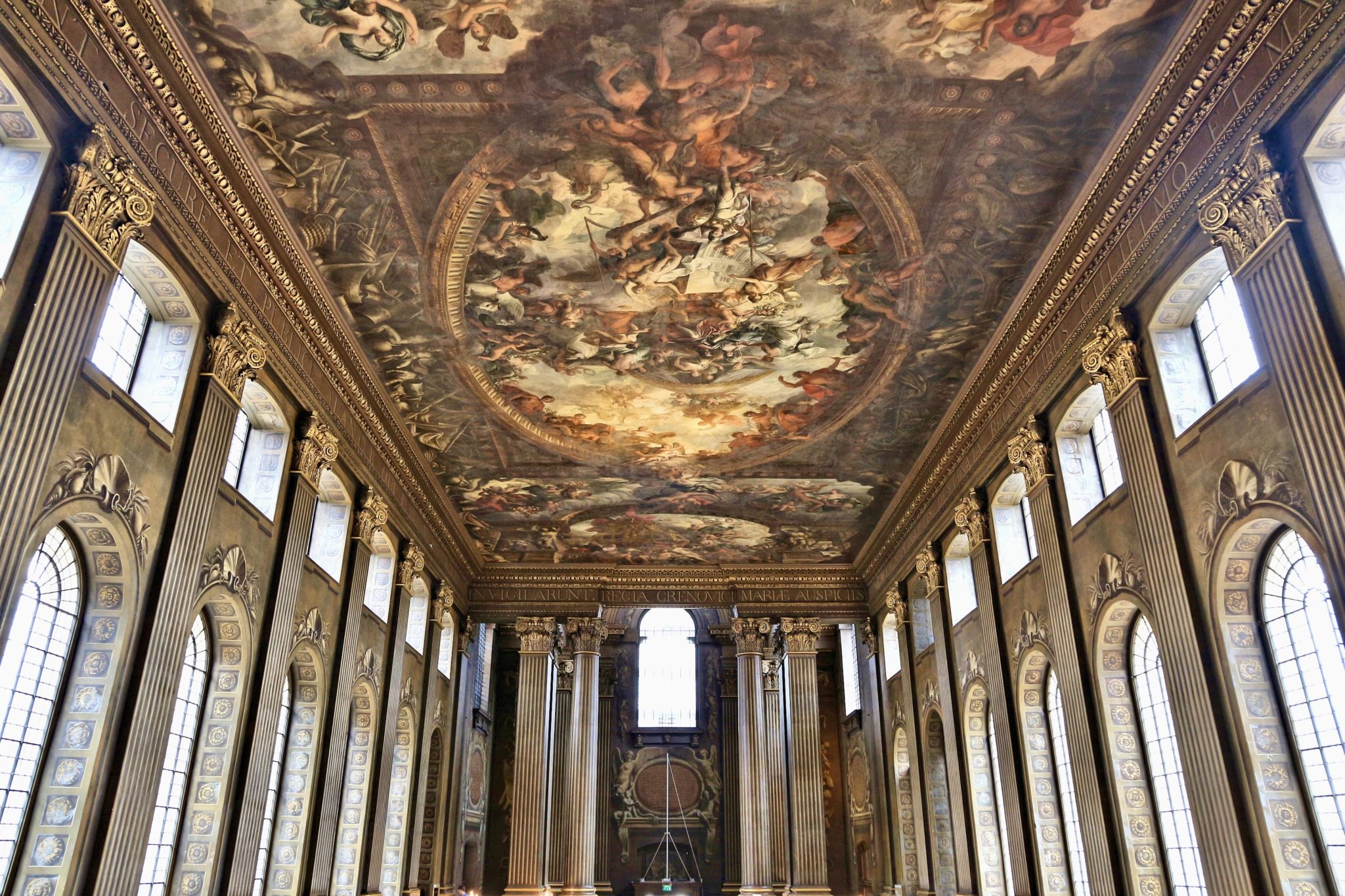 The paintings depict themes celebrating the greatness of Britain. You'll see depictions of naval, cultural, and political successes. It was in this hall that the great Admiral Lord Nelson layed in state.
The Painted Hall was beautifully restored in 2016-18. You can now really appreciate the paintings' vibrant colors.
You can even lay down to admire the paintings on "day beds" provided by the museum.
You can purchase a ticket with a multimedia guide. Or, alternatively, you can join one of the 30 or 45 minute tours. If you're visiting during high season, you may want to pre-book a skip the line ticket.
Address: King William Walk, London SE10 9NN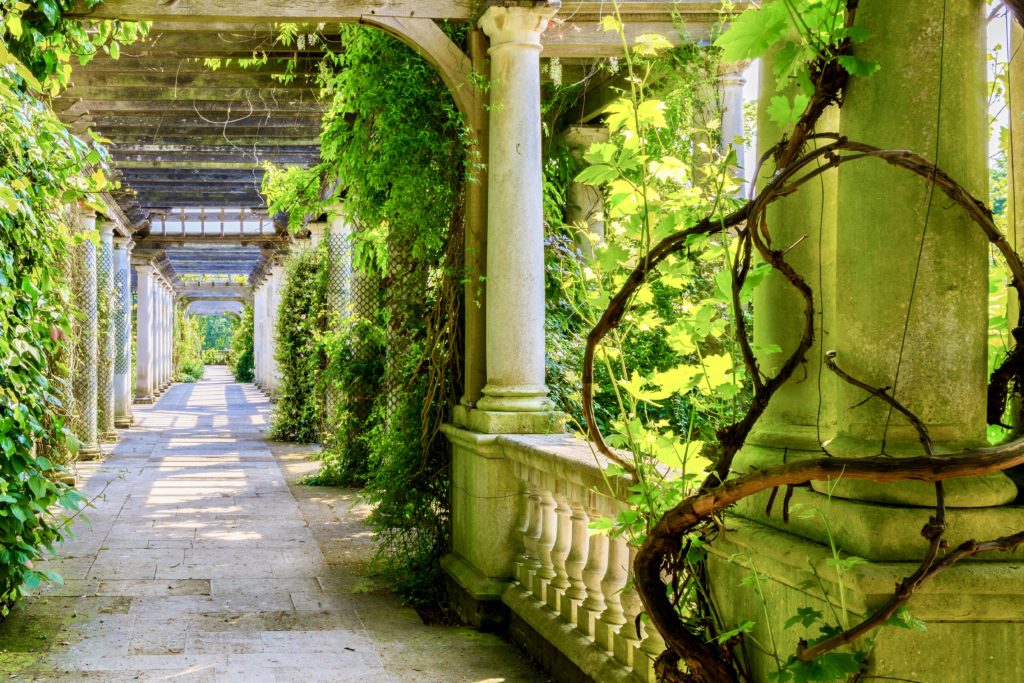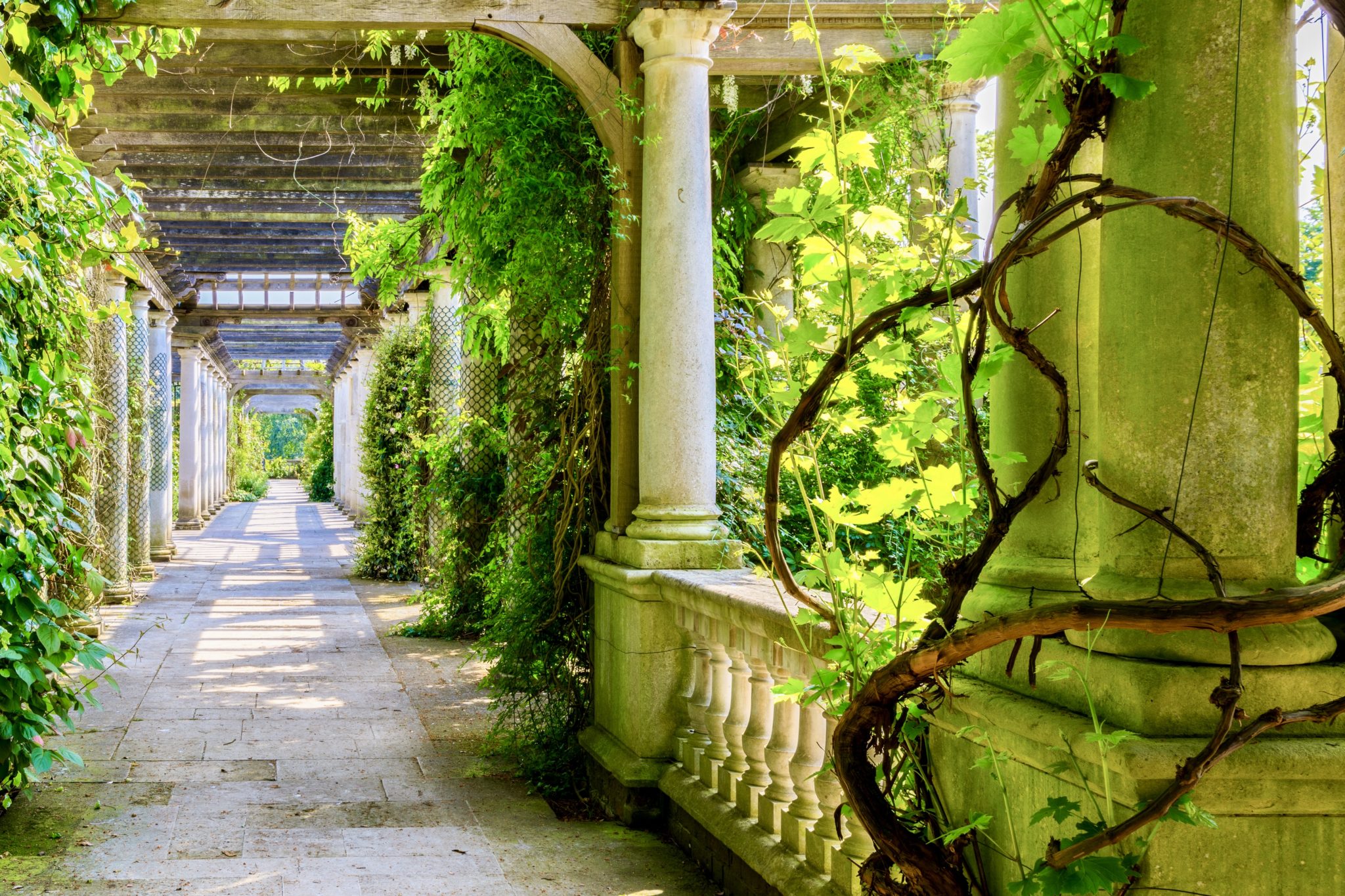 36. Hampstead Hill Garden And Pergola
Quite a few tourists make it out to Hampstead Health to enjoy one of London's wild green spaces. But not many discover the elegant garden and pergola in the West Heath.
It's a criminally underrated space in London that's a pocket of faded glory. In the spring, wisteria blossom around the trellises.
The pergola was built by Lord Leverhulme at the beginning of the Edwardian era in the early 20th century. It was a space used for lavish parties.
From the pergola, you'll have lovely views over the Heath and Hampstead Hill.
Address: The Pergola, Inverforth Cl, London NW3 7EX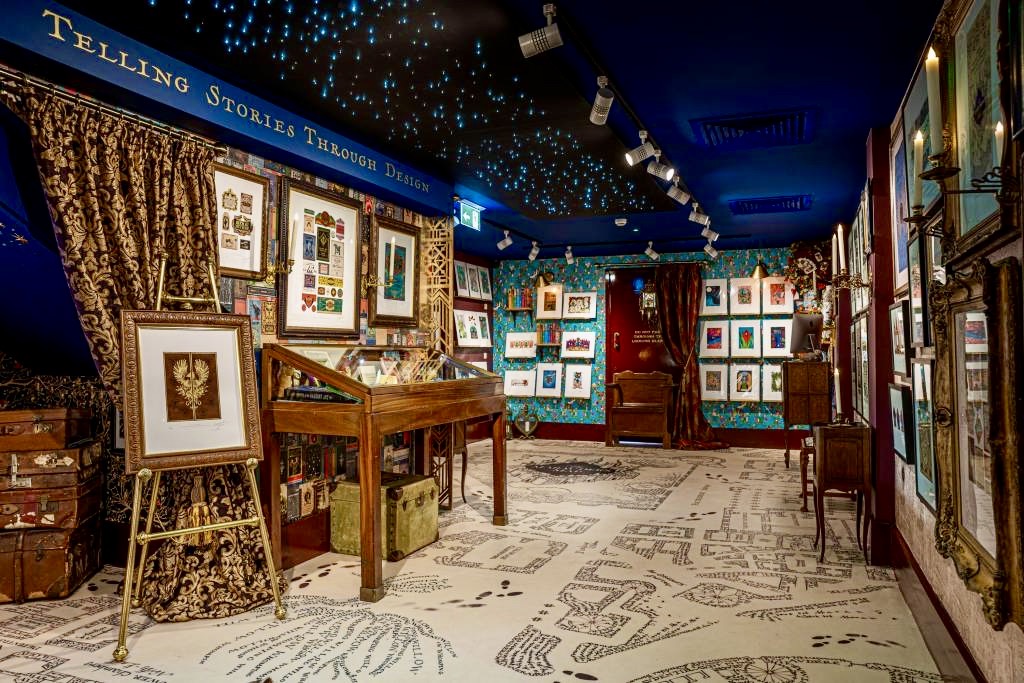 37. House of MinaLima
Need some Harry Potter gear or souvenirs? Head to the House of MinaLima on Greek Street in Soho.
The shop was founded by two individuals who did the graphic design work for the Harry Potter films.
MinaLima showcases graphic art and merchandise based on the Harry Potter and Fantastic Beasts films. It's all set amid a Potter-themed decor.
READ: Guide To Harry Potter Places In London
Address: 157 Wardour St, London W1F 8WQ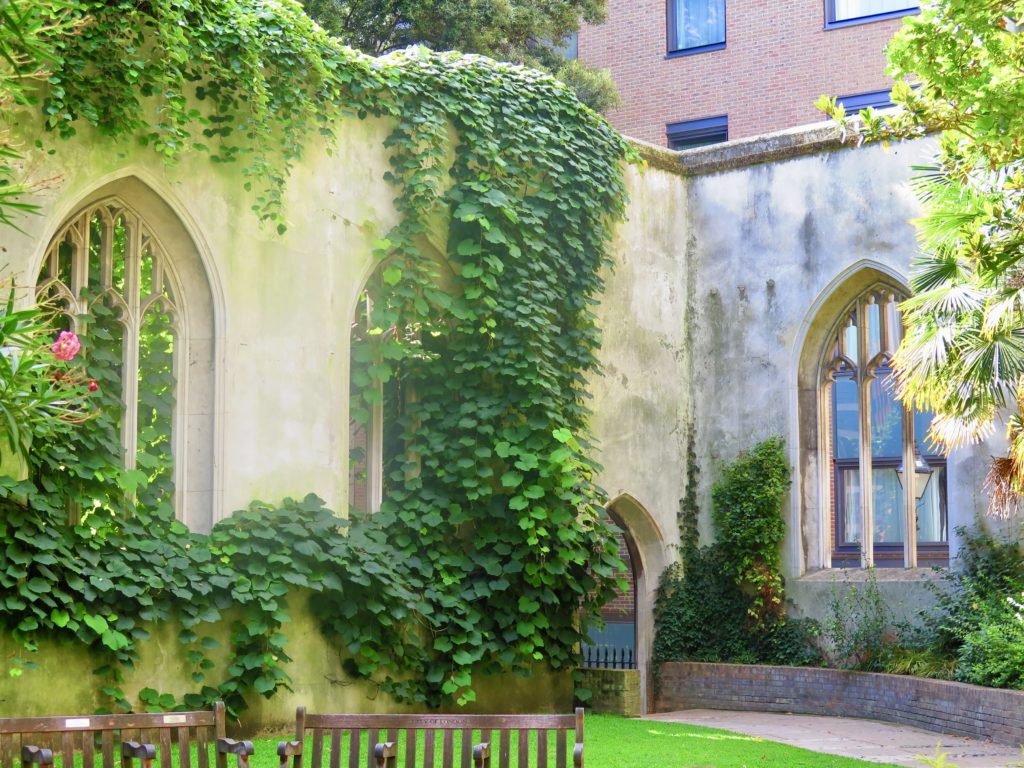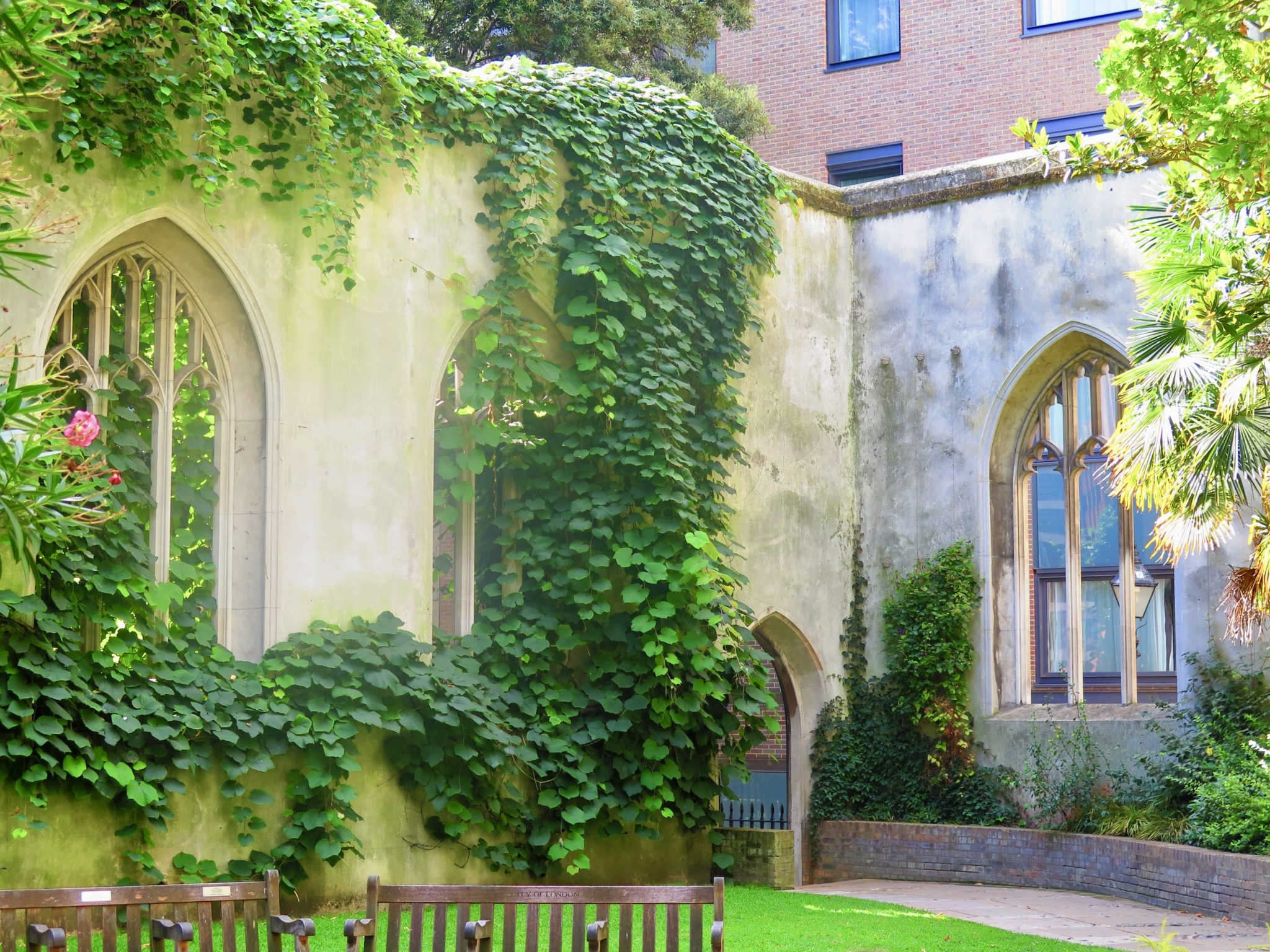 38. St. Dunstan in the East
This 900 year old Saxon church is located between the Tower of London and London Bridge.
St. Dunstan was destroyed in the Great Fire, but faithfully rebuilt with a steeple designed by Christopher Wren. Only to be bombed during the blitzes of WWII.
As a result, St. Dunstan was left in picturesque ruins. The bombed out shell of the church was turned into a public garden as a sort of living memorial.
It's on a secluded side street dwarfed by towering office buildings. It's one of London's secret gardens, with walls covered with flowers and ivy.
Address: St Dunstan's Hill, London EC3R 5DD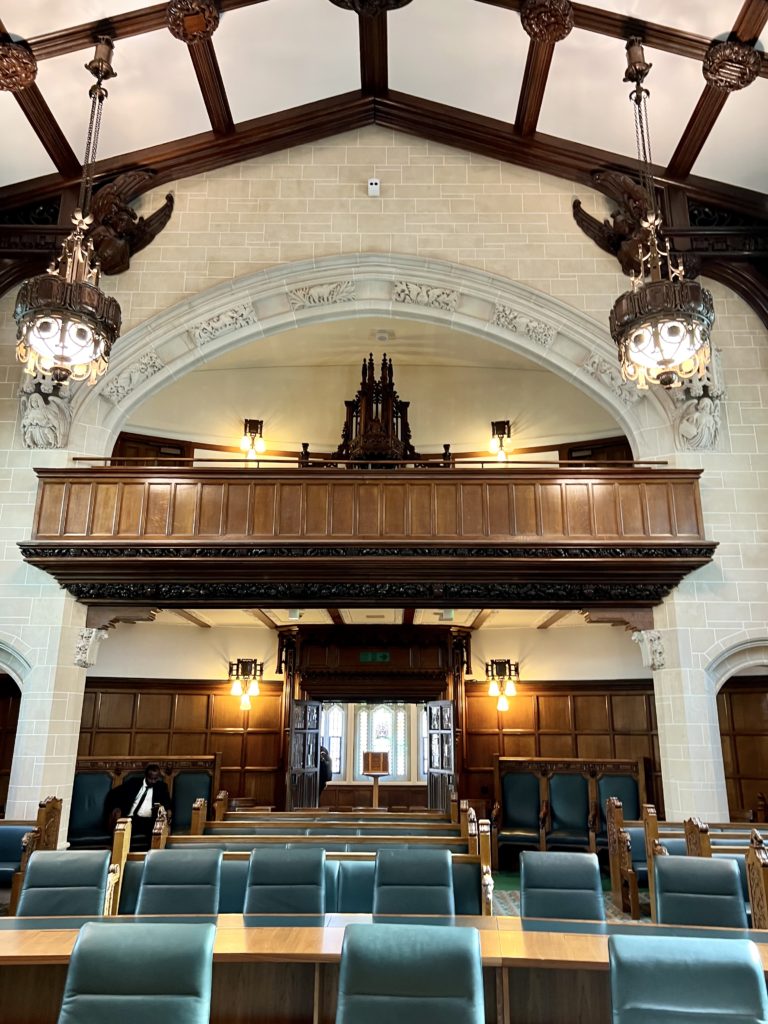 39. UK Supreme Court
The Supreme Court of the United Kingdom is located on Parliament Square. The building is a typical Gothic building, like a solemn palace.
This is the birthplace of modern jurisprudence. It's a place of great significance not only to the UK but also to the history of world law.
The court has been renovated and modernized. Two courts you can visit inside retain some of the characteristics of the Victorian era. Don't miss the library.
It's free to enter the court building. You may get lucky and be able to see an actual case being argued. At 2:00 pm on Fridays you can book a guided tour for £10.00.
Address: Little George St, London SW1P 3BD
40. Museum Of London
The Museum of London is another under-appreciated city hidden gem in London. It's a great alternative to the popular British Museum. It's not as vast, but is still a treasure chest of the ancient and extraordinary.
The museum takes you on a journey of the history of London, from its prehistoric first settlers around 450,000 B.C. to today's contemporary multicultural hub.
The Roman collection has more than 47,000 objects. You can see Viking war axes, Lord Nelson's jeweled sword, and Roman mosaics.
Outside the museum you can see the ruins of old London Wall. They actually placed glass in the museum's Roman section so that you can look at the wall up close.
Address: 150 London Wall near the Barbican or St. Paul's tube stations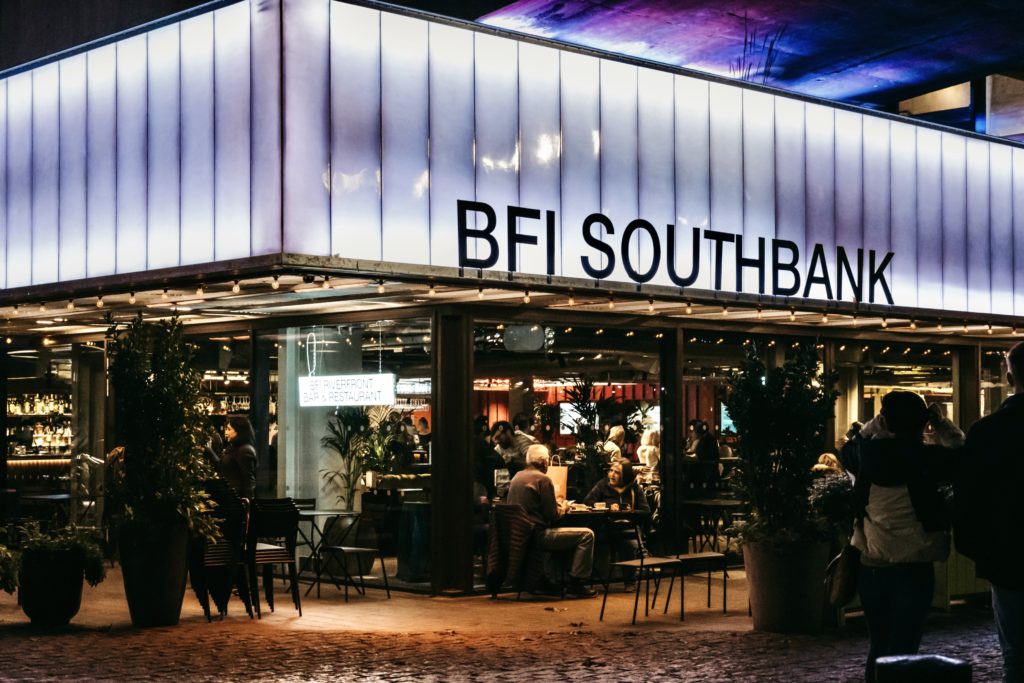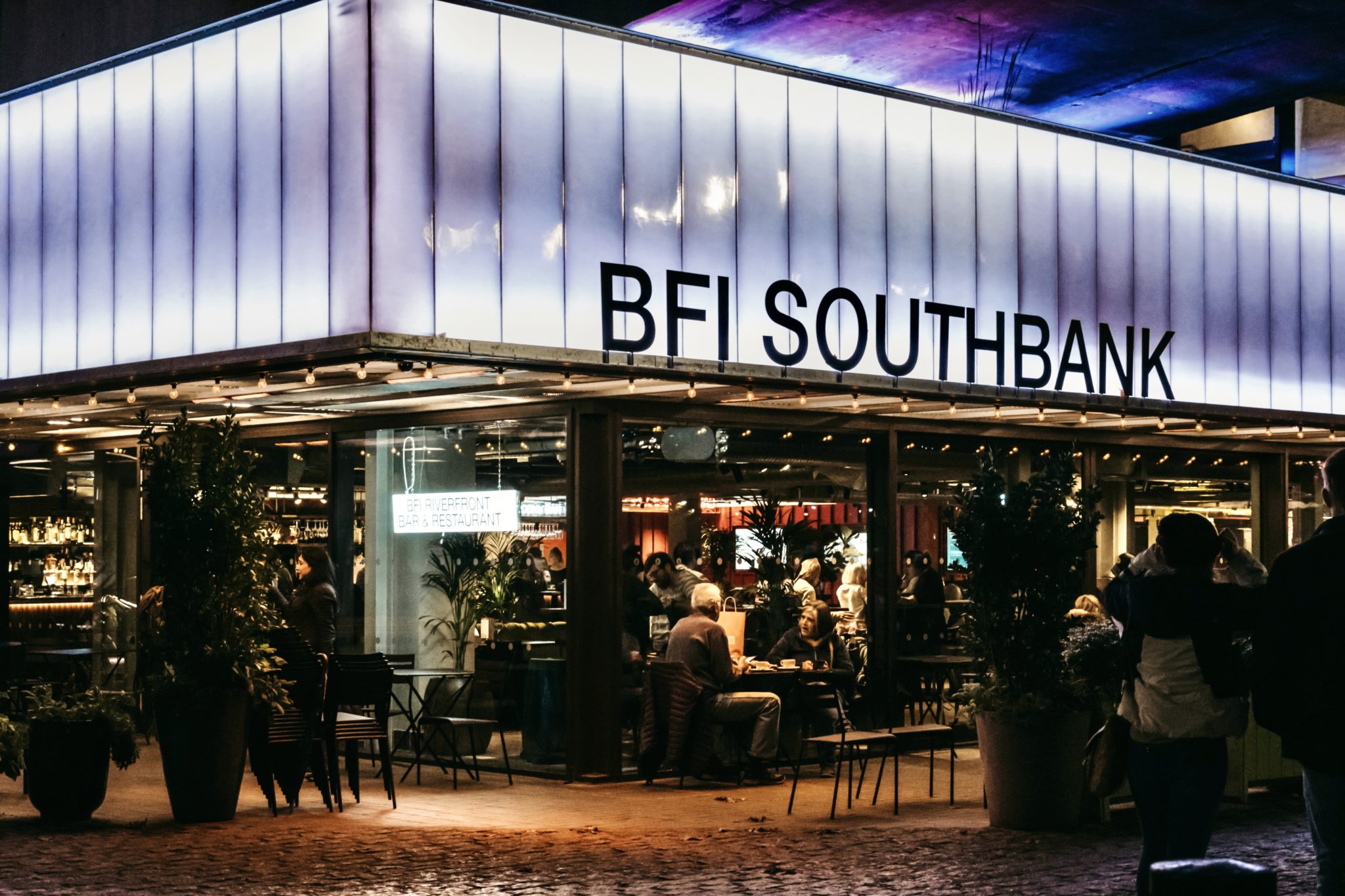 41. British Film Institute
The British Film Institute is a hidden gem in London on the south bank of the Thames. The BFI packs a lot of movie magic. It's the leading repertory cinema in London.
BFI hosts a series of film and television festivals. You'll find seasons featuring classic, independent, and non-English language films.
The BFI also houses the BFI Mediatheque. It's a free library of more than 30,000 film and television titles, including rare broadcasts and British cinema classics.
In addition to the four screen cinema, there's a brilliant common space and movie bookstore.
Address: 0 Belvedere Rd, London SE1 8XT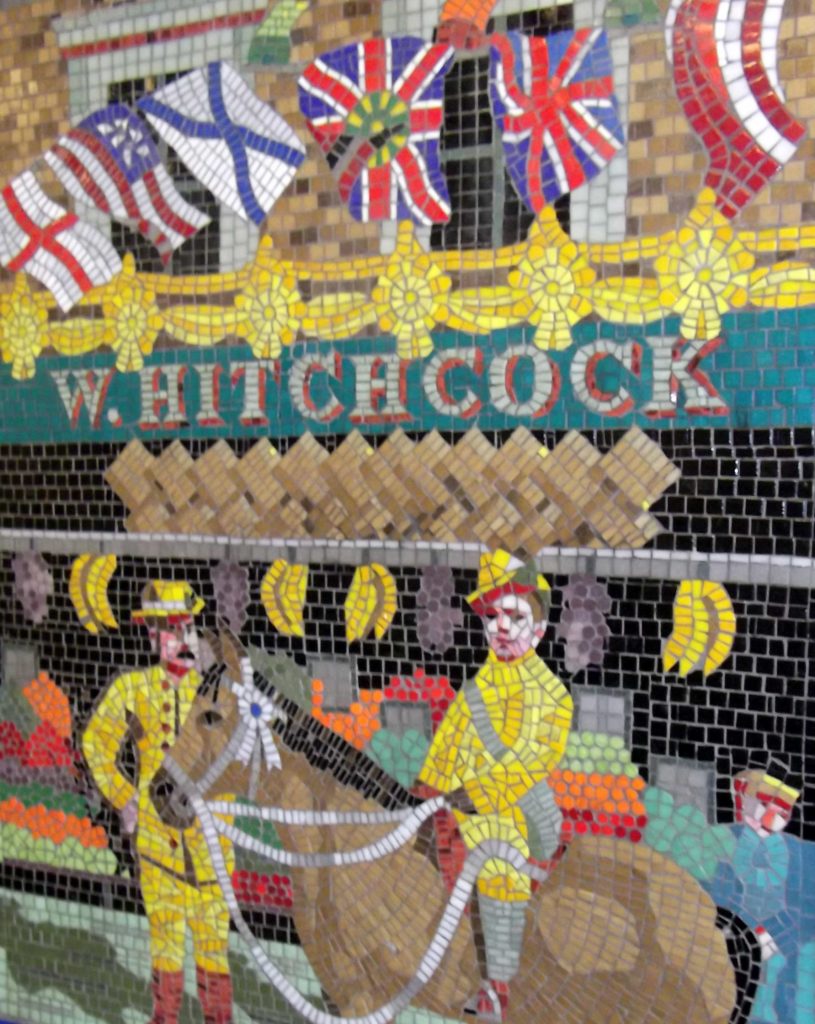 42. Alfred Hitchcock Mosaics
Alfred Hitchcock was born at 517 High Road in Leytonstone in 1899.
To mark 100 years since his birth, and to commemorate the director's link with the area, 17 mosaics were installed in the entrance corridors of Leytonstone tube station.
They were designed by artists at the Greenwich Mural Workshop. Each mosaic is an homage to Hitchcock and his movies, depicting a scene from his life or a movie.
Address: Church Ln, Bushwood, London E11 1HE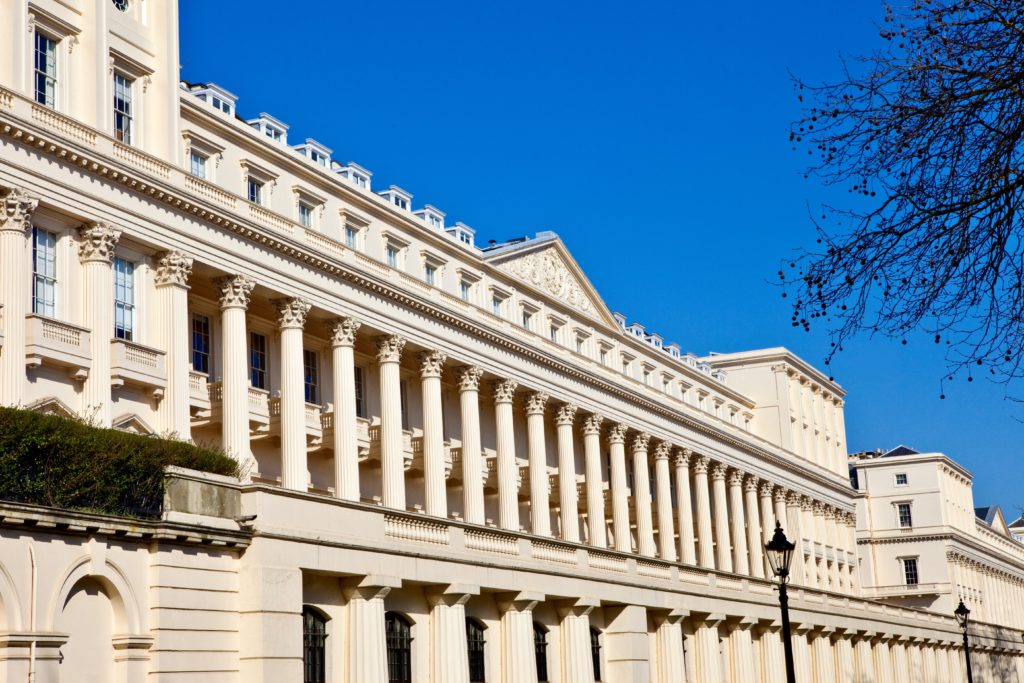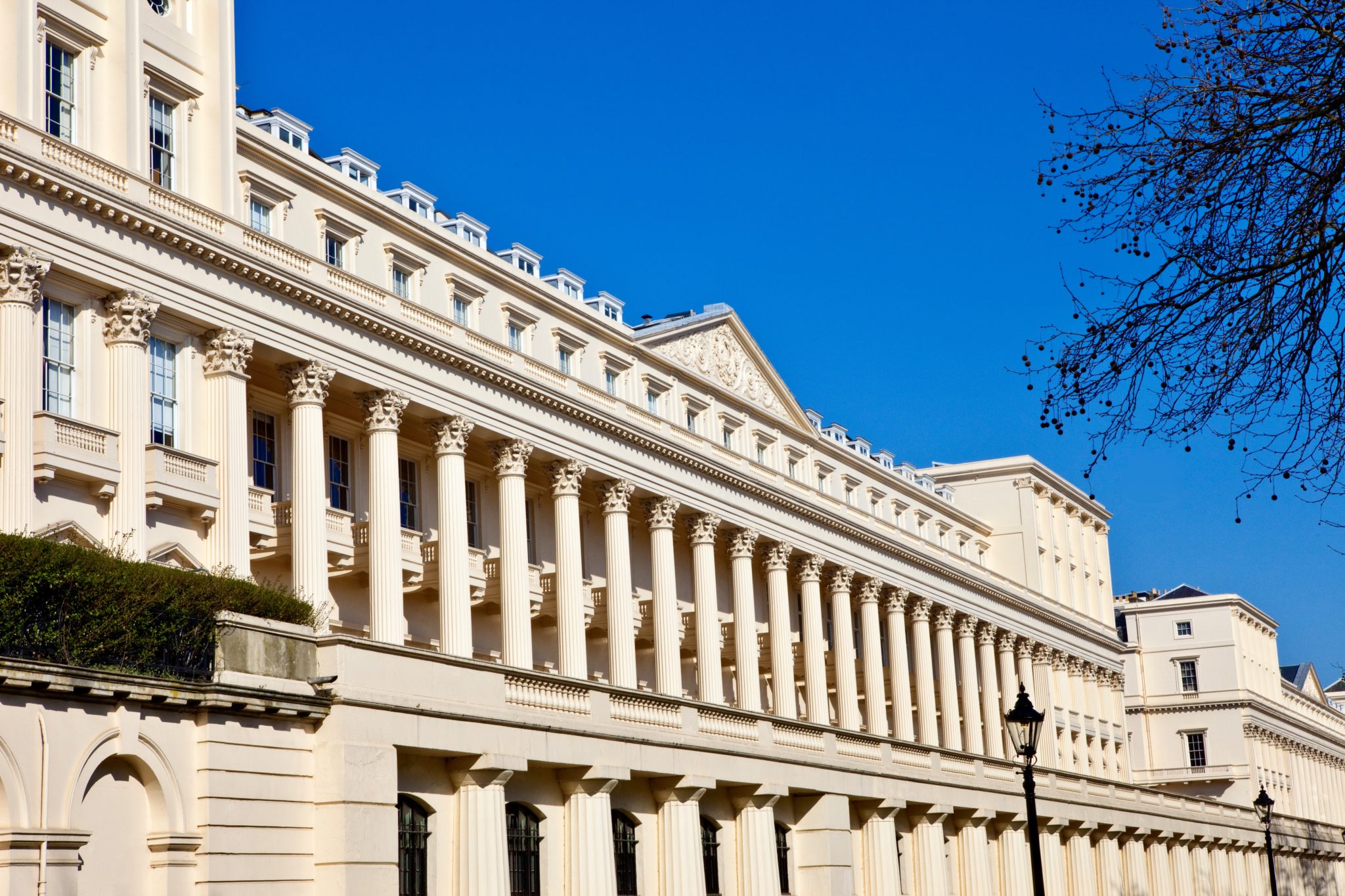 43. Carlton House Terrace
Carlton House Terrace is a hidden gem in London that was built by the great Regency architect John Nash.
It's a spectacular Grade I listed Georgian Townhouse located in the heart of Westminster. It's known for its elegant terraces and viewing platform overlooking St. James Park.
It houses the The British Academy and the Institute of Contemporary Arts. it's mostly used as a venue for events and wedding receptions.
Address: 10-11 Carlton House Terrace, London, SW1Y 5AH
I hope you've enjoyed my guide to hidden gems in London. You may enjoy these other London travel guides and resources:
If you'd like to visit some hidden gems in London, pin it for later.