Looking for a guide to visiting the fairytale Hever Castle? Look no further!
If you're a Tudor enthusiast, the castle is a must visit attraction in England. Hever is a petite double-moated castle with a craggy romantic visage that's largely unaltered by time.
It's famously linked to the ill-fated royal couple, Anne Boleyn and Henry VIII. Their story is a fascinating one, one of the most dramatic in English history.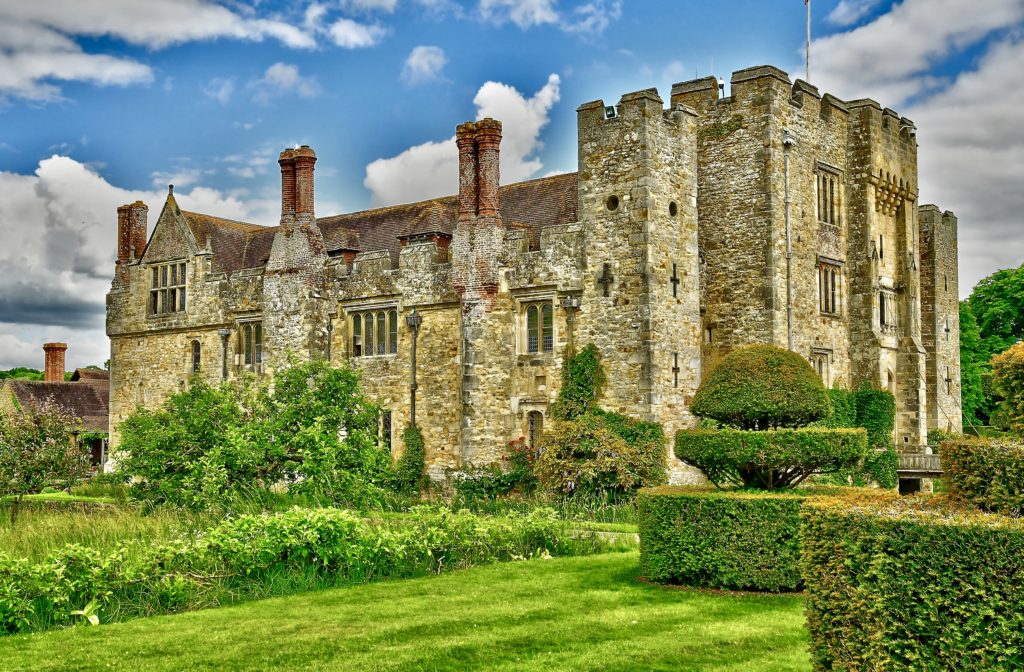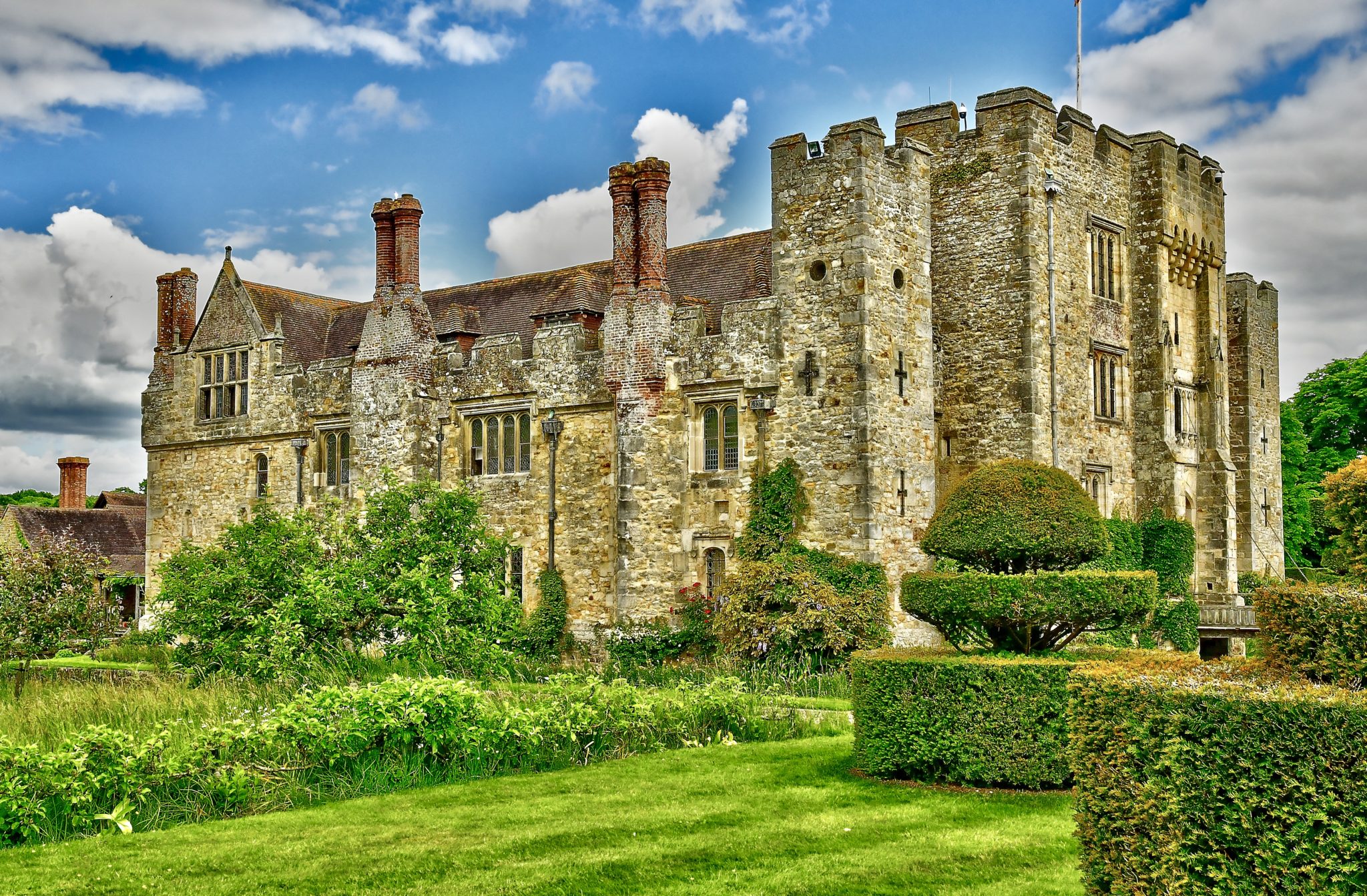 Hever was the childhood home of Anne Boleyn, Henry's second wife. It's also linked to Henry's fourth wife, Anne of Cleves, who was installed there after Henry divorced her.
On a visit to Hever Castle, you can walk in the footsteps of these famous Tudor monarchs. And you can admire the castle's medieval keep and gatehouse, Tudor rooms, original portraits, and exquisite gardens.
Alas, while the castle is the real deal, the interior isn't authentic. The furnishings, period gardens, and Tudor village were added, quite imaginatively, by William Waldorf Astor in the 20th century.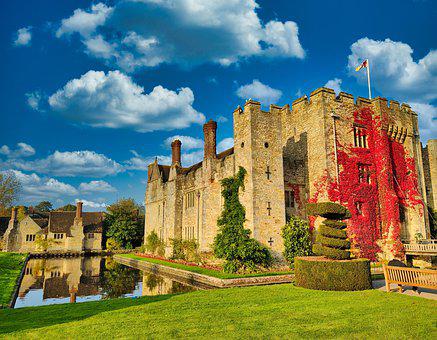 History Of Hever Castle And Its Famous Tudor Occupants
No guide to Hever Castle would be complete without a brief history of the castle.
The history of Hever stretches back 700 years. It first pops up as a fortified manor home owned by the Norman de Hever family. They secured themselves against small scale attacks by adding a moat and drawbridge.
In the 1300s, Sir John de Cobham took over. By that time, the property had crenellated curtain walls, battlements, and a gatehouse.
All the crenellation was meant to threaten. Hever Castle was never involved in any serious medieval warfare. But the family needed protection from marauding bands of vagabonds.
In 1462, Sir Geoffrey Bullen purchased Hever Castle. He was a forerunner of the Boleyn family and the great-great-great grandfather of Queen Elizabeth I.
He constructed the huge three story gatehouse you still see today and created a comfortable Tudor home for his family.
Thomas Boleyn
The Bullen family began to climb the social and political ranks of the era. Geoffrey's grandson, Thomas, was an ambitious knight. He married the aristocratic Lady Elizabeth Howard and changed the family name to Boleyn.
Thomas was blessed with two exceptional daughters, Mary and Anne. Mary was the first to catch the roving eye of a womanizing Henry VIII.
Mary Boleyn
At the time of his infatuation, the king was married to Catherine of Aragon. But after 20 years of marriage, the Spanish queen had failed to give Henry the thing he most craved: a male heir. The marriage soured.
Mary became a lady in waiting to the queen. This made it much easier to conduct their illicit affair. He wooed Mary at Hever Castle as well.
If Mary's father Thomas had qualms about the unconventional arrangement, Henry quelled them by heaping property and honorifics on Thomas, including the prestigious Order of the Garter.
Anne Boleyn
Meanwhile, Thomas's other daughter, Anne, spent her adolescence in France in the cultured court of Queen Claude. When she returned to England in 1521 or 1522, she was popular at court, dazzling everyone with her wit, sophistication, charm, and musical abilities.
Henry was perhaps the most smitten of the lot. But Anne didn't plan on being a pawn in Henry's amorous adventures.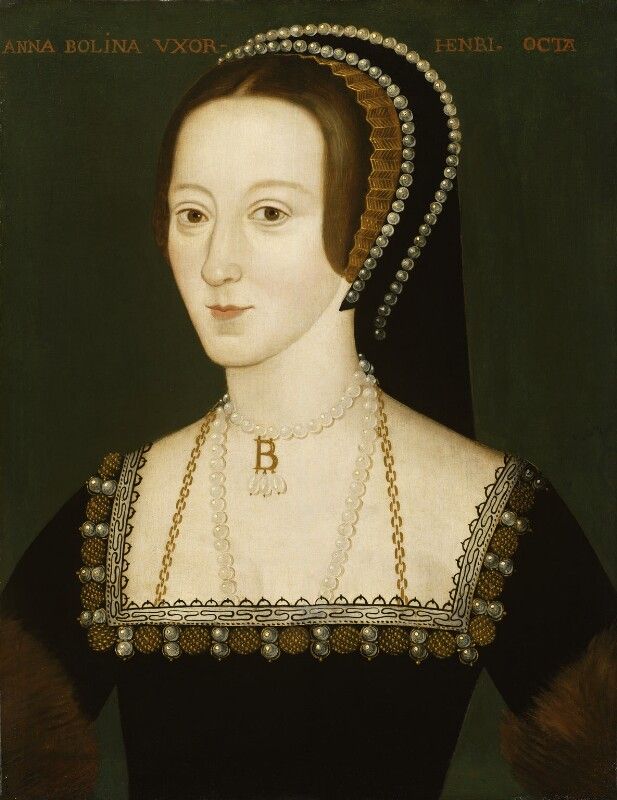 Henry VIII
A cat-and-mouse game began, with a randy Henry bombarding Anne with passionate love letters, many sent to Hever Castle. Anne refused to give in to his advances and would settle for nothing short of marriage.
The problem? Henry was Catholic and couldn't divorce Catherine.
Nonetheless, Henry was determined to have Anne no matter the cost. He began the "Great Matter" of extricating himself from Catherine.
It would last several years, during which time Henry courted Anne at Hever. The castle became one of the most gossiped about addresses in England.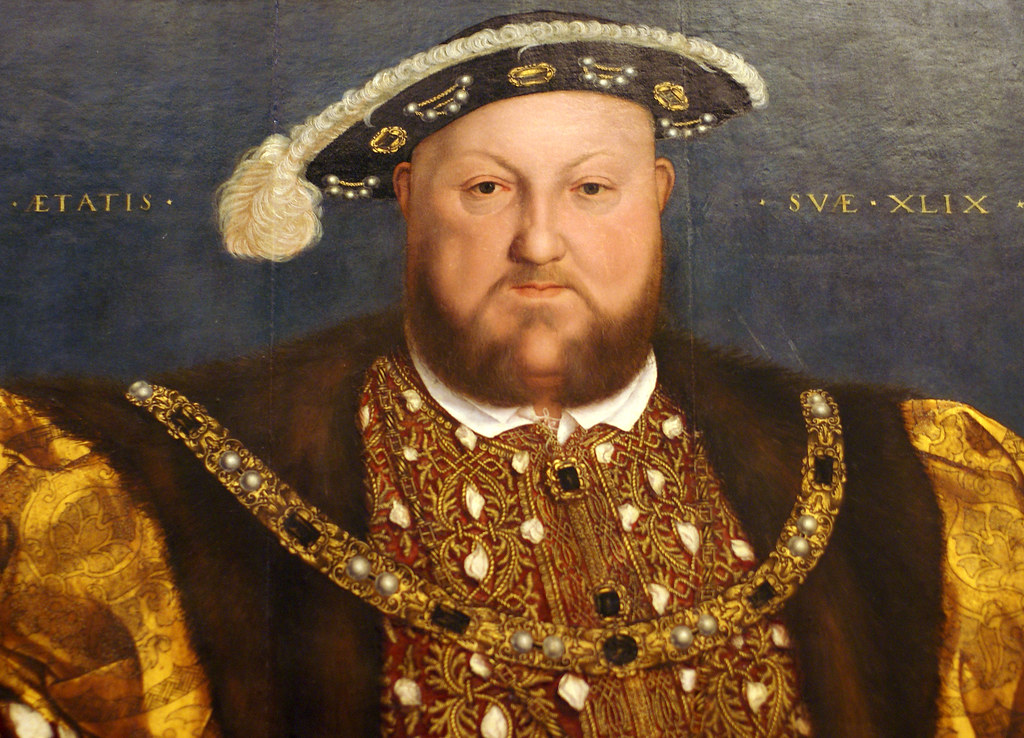 Desperate to marry Anne, Henry first had the influential Cardinal Wolsey try to procure an annulment from the Catholic Church in Rome. This plan failed. Pope Clement VII sided with Catherine, a devout Catholic from a devoutly Catholic country.
Enraged, Henry took the drastic step of breaking away from the Catholic church and founding the Church of England, his most lasting legacy. In 1533, Henry divorced Catherine and married Anne after 7 long years of waiting.
Rome ex-communicated Henry. But he didn't care. It only made Henry richer when he dissolved the monasteries and seized their land and treasures.
Anne gave Henry a daughter in 1533, who would eventually become Elizabeth I, the Virgin Queen. They were both disappointed.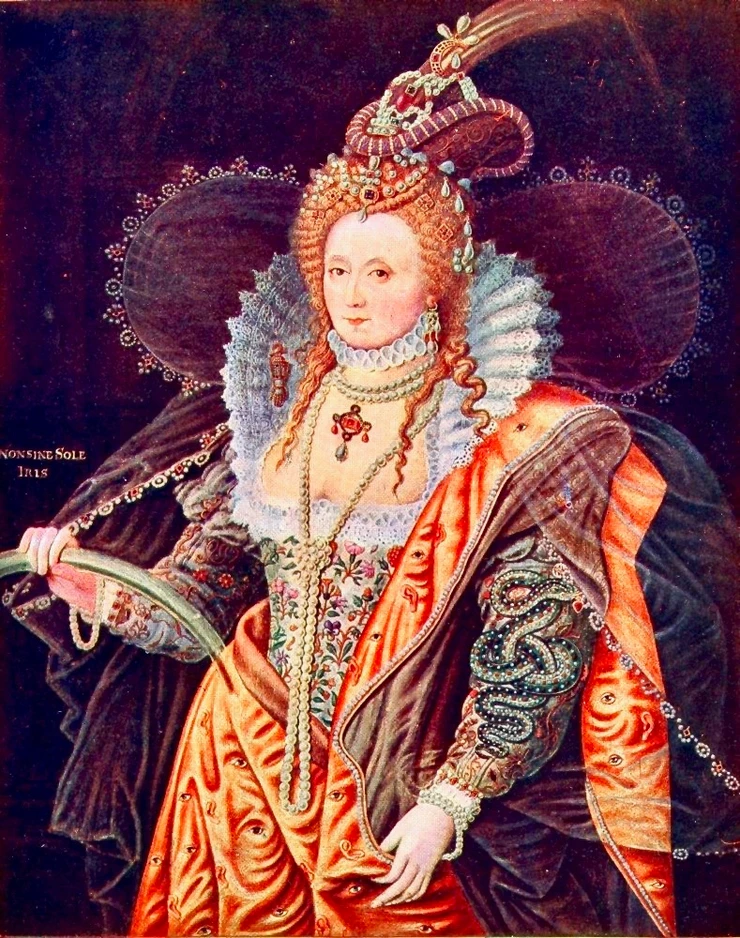 When Anne miscarried a son in 1536, Henry had had enough, after just 3 short years of marriage. Anne, like Catherine before her, had failed to deliver the goods.
Plus, Henry's passion had waned, with the thrill of the chase gone. Henry was already interested in another woman who would become wife #3, Jane Seymour.
To get rid of Anne, Henry arrested her on trumped up charges of treason and adultery. Anne was executed on the Tower of London green in 1536. Today, a memorial marks the spot.
Henry married Jane 11 days later. They were only married 18 months. She died in childbirth after giving birth to a son, Arthur, who only lived to 15.
If the Boleyn family shot to fame because of a besotted suitor, they fell from grace with breathtaking speed after Anne's execution. When Thomas died two years later, a heartless Henry promptly confiscated Anne's childhood home.
Hever Castle would come in handy as a bargaining chip when Henry opted to get rid of his fourth wife, Anne of Cleves, who Henry dubbed the "Flanders Mare."
When Henry divorced Anne, he gave her the castle as part of the divorce settlement and she went quietly. Given Henry's ruthlessness, she was lucky to keep her head.
When Anne died in 1557, her stepdaughter Mary Tudor gifted the castle to Sir Edward Walgrave. By the turn of the century, the castle had faded from the limelight.
In 1903, William Waldorf Astor, the richest man in America, bought Hever Castle. He immediately embarked on lavish full scale renovations lasting 5 years.
He renovated the interior and added some Tudor cottages, the beautiful gardens, and a lake. A stickler for detail, he used the same materials and tools as Tudor era craftsman. So, while it's not exactly as Anne and Henry saw it, it has an authentic feel.
Waldorf's son John inherited the castle upon his father's death in 1919.
In 1963, John's son Gavin opened the castle and gardens to the public for the first time. The castle was then sold to the Broadland Properties and the Guthrie family in 1983.
They took over the running of the castle and built up the portrait collection. The purchase price wasn't disclosed, but the castle was valued at $24 million.
Legend holds that the ghost of Anne haunts the castle grounds on May 19, the anniversary of her death. She's also been spotted during Christmas-time under an oak tree where she and Henry used to tryst.
Hever Castle is not only a favorite of travelers to England but is also a favorite of filmmakers. It's been a filming location for the movies The Great, The Princess Bride, Inkheart, and Anne of a Thousand Days.
Guide To Hever Castle: What To See
You enter Hever Castle across a drawbridge over a 15 yard wide moat. Astor restored the bridge.
The portcullis (the latticed grill that slides down across the entrance) is one of the oldest working portcullises in Britain.
Inside, you'll find cozy and inviting Tudor rooms — massive wooden beams, ornate columns, wood paneling and carvings, and rich colors. There aren't really a lot of exhibits. The highlight for me was the Tudor portraits.
1. Morning Room
In Tudor times, the Morning Room was originally a private retiring room. You'll find stunning paneling, furnishings, and a mahogany fire pole dating from the 17th century.
2. Library
The lovely library overlooks the Anne Boleyn Orchard in the gardens. It houses 2,500 leather books marked with the Astor coat of arms and printed on private presses. The ceiling was copied from Hampton Court Palace.
3. Drawing Room
This room once contained domestic offices during the Tudor period. Astor transformed it into a drawing room in 1905. You'll see beautiful oak paneling and an ornate plaster ceiling.
4. Henry VIII's Bedroom
Historians believe that Henry stayed in the castle when courting Anne. The room is the largest bedroom in the castle, so may have been where Henry stayed. It's an Astor recreation with Tudor period elements.
The 16th century carved walnut frieze above the fireplace was originally the front of a chest. The coffered ceiling is original and one of the oldest in the castle, dating from 1462.
5. Tudor Portraits In The Long Gallery
Built by the Boleyns in the 16th century, the 98 feet long Long Gallery extends across the entire width of the Castle. This was my favorite space.
Henry VIII once held court here. The gallery was also used for entertaining guests, taking exercise, and displaying art collections.
The ornate plaster ceiling is an early 20th century reconstruction in the Tudor style, which was added by Nathaniel Hitch.
The Long Gallery is now home to 18 portraits hung in dynastic order that tell the saga of the Tudor dynasty, starting from Henry VI and ending with Henry VIII.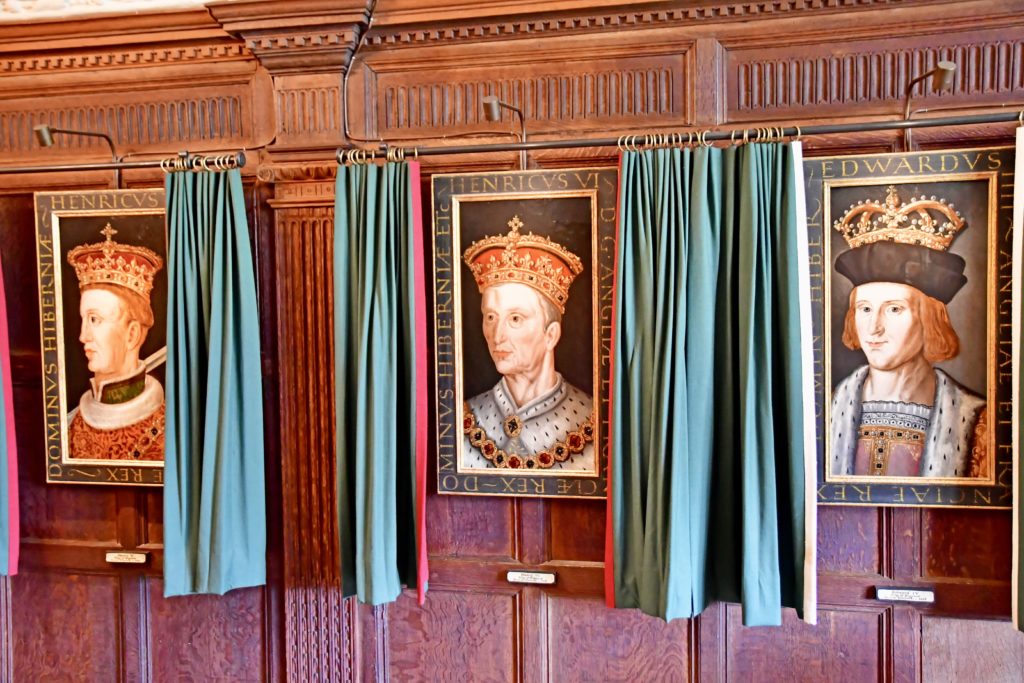 It's a permanent exhibition curated by David Starkey. The portrait collection is one of the most famous in Britain, second in quality only to Britain's National Portrait Gallery.
The gallery contains the only known portrait of Henry's older brother Arthur, Catherine of Aragon's first husband. There's also a rare portrait of Mary Queen of Scots and another rare portrait of Richard III. The latter was never displayed in public before being installed in the Long Gallery in 2019.
The coats of arms in the Long Gallery's stained glass commemorate the different residents of Hever Castle, including Anne of Cleves, William de Hever, Anne Boleyn, and Sir John Fastolf.
6. Anne Boleyn's Bedroom
Anne Boleyn was born in 1501 and spent her childhood at Hever Castle. A spiral staircase leads up to what is believed to have been her bedroom.
It has a carved Tudor bed, a 15th century half domed ceiling, and a portrait of Anne in her "B necklace." You can even buy your own B necklace in the castle shop.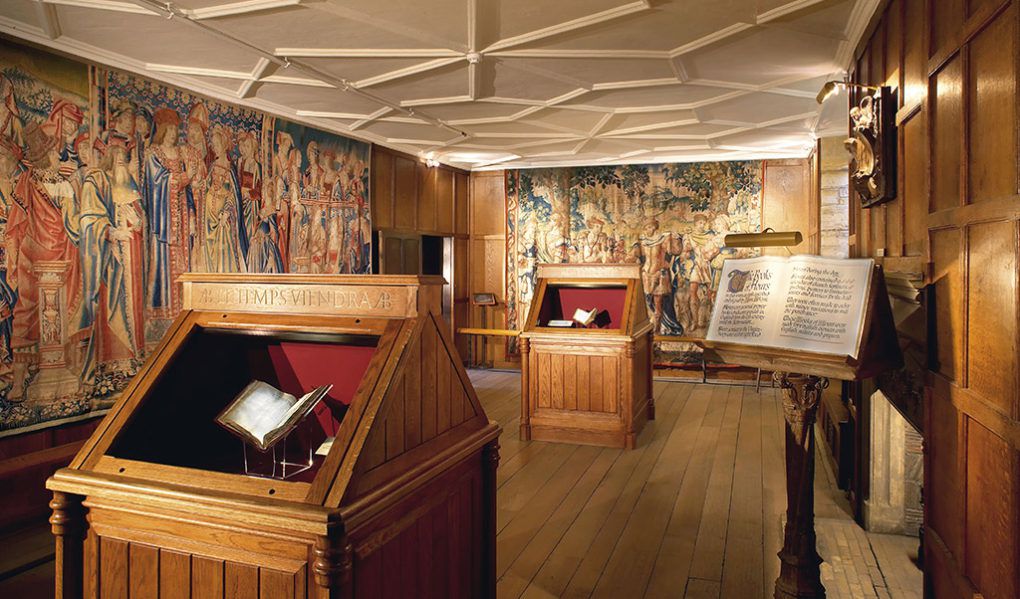 7. Anne Boleyn's Prayer Books
The Room of Hours has some of the only remaining Anne Boleyn memorabilia. Henry VIII destroyed almost everything associated with her after her execution.
You'll see an exhibition of two of Anne's illustrated prayer books, one of which is signed. The queen most likely used it for her daily prayer services.
In one book, she wrote asking readers to pray for her, saying: "Remember me when you do pray, that hope doth lead from day to day."
Digital consoles let visitors to "turn the pages" and see the different illustrations and autographs.
In the same room, you'll see a large tapestry. It depicts the marriage of Henry's sister, Princess Mary Rose, to Louis XII of France.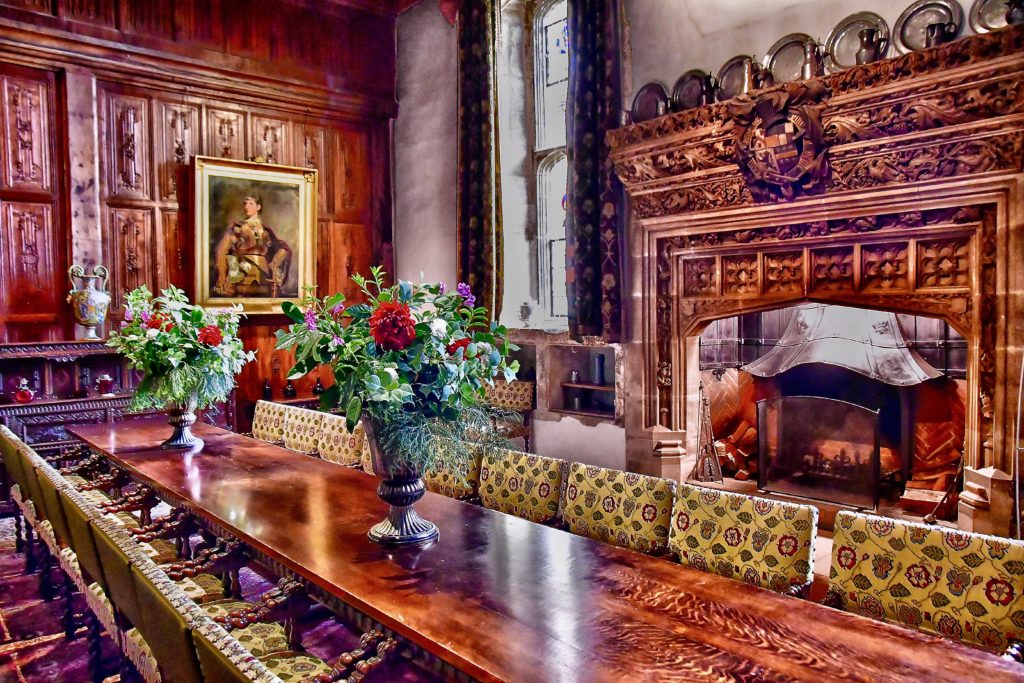 8. Great Hall
In the time of the Boleyns, the dining room was known as the Great Hall. This is where the Boleyns would have entertained Henry VIII.
One of the doors has his personal gilt lock. Henry was always worried about assassination, so traveled with his personal locksmith to keep him safe. He may also have used the lock to prevent any interruptions during his late night rendezvous.
The fireplace is made of ornately carved stone and topped with the Boleyn coat of arms. The massive dining table dates form the 16th century and the 24 chairs are from the 17th century.
This room is rented out for parties and weddings.
9. Queen's Chamber
In the Queen's Chamber, you'll see five portraits Henry VIII's wives. (The portrait of Henry's other wife, Catherine of Aragon, is on display in the Long Gallery.)
There's an ornate carved wooden bed. Astor bought it believing it was Anne Boleyn's bed due to the inscription of her name.
You'll also see mannequins of Anne Boleyn, her sister Mary, and Henry VIII in the room. There's also a fairly newly-acquired portrait of Henry VIII that depicts him as the vigorous young king who courted Anne.
10. Staircase Gallery
The Staircase Gallery was created by Thomas Bullen in 1506 over the Entrance Hall.
It was meant to give access between the two wings of the house. In this gallery, you'll find a rare portrait of Mary Queen of Scots, probably from the studio of French artist Francois Clouet.
11. Waldegrave Room
This room is named after the Waldegrave family, who lived at Hever in the late Tudor and Stuart dynasties. They were favorites of Queen "Bloody Mary" and moved in after Anne of Cleves died.
Inside the room, there's a beautiful carved four poster bed dating from the late 15th century.
Hidden behind paneling, you can also see a small chapel with stained glass windows. This was where the Waldegraves secretly practiced Catholicism after Mary died.
12. Gatehouse
Your tour ends in the oldest part of the castle, the 13th century Medieval Council Chamber in the gatehouse. It has a Gothic fireplace with impressive tracery.
13. Special Exhibitons
The castle puts on special exhibitions from time to time.
Right now, to mark the 500th anniversary of Anne Boleyn's arrival at the royal court, Hever Castle is hosting an exhibition exploring her early life and the culture in which she grew up.
The exhibition will run until November 2022. It's included in your ticket.
14. Gardens
Your next stop on this guide to Hever Castle are the magnificent gardens.
If you're a horticulture love, it's worth a trip to Hever Castle just to see the heavenly gardens. The award-winning gardens are set over 125 acres.
The peerless Italian Garden is the highlight of the castle gardens. It's the setting for a collection of classical statuary from Rome to Renaissance times.
There's a loggia overlooking the lake where you can relax, which was modeled after the Trevi Fountain in Rome. You'll see Apollo standing on a Corinthian column and walk through beautiful rotundas.
The 5,000 rose bushes put on a stunning display in the Rose Garden. A delicate light pink variety is named after Anne Boleyn, but it's actually a modern creation.
There's even a topiary chess set. You can also take the Ann Boleyn Walk through her orchard or walk in the footsteps of Princess Diana on the Diana Walk.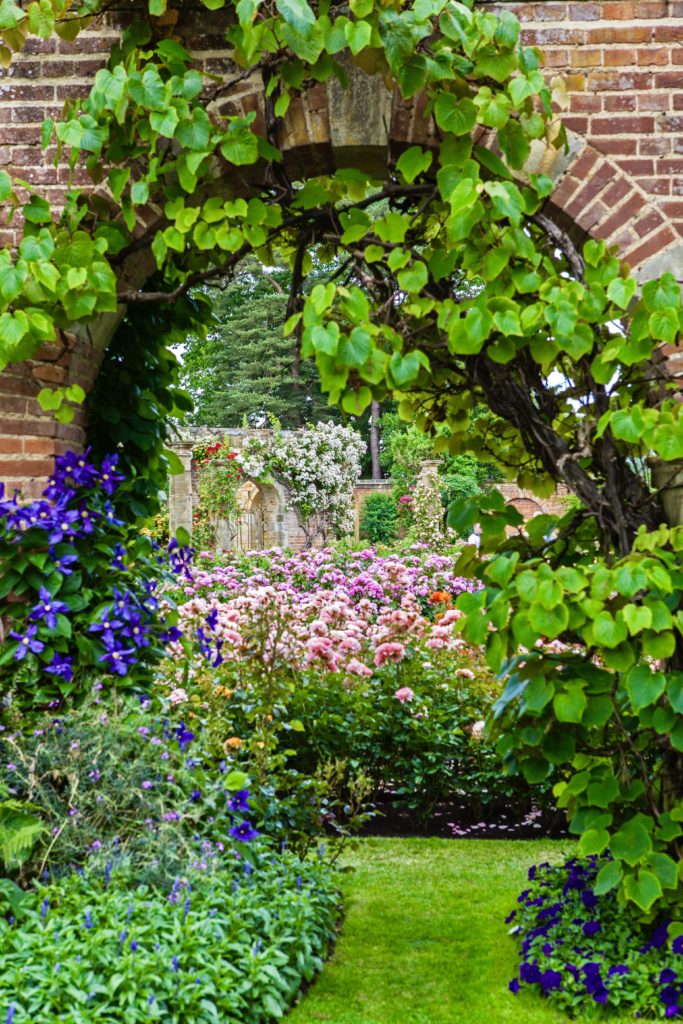 Aside from the myriad gardens, you may see butterflies, robins, and swans on the lake.
The gardens are for some family fun in a place teeming with history, much like Warwick Castle.
You can row boats on the 38 acre lake, wander through yew and water mazes, sniff roses, or try your hand at archery. There's even an open water swimming course.
The popular yew maze is over 100 years old. The hedge is eight feet high and so dense you can't see through it, making it a challenge to navigate.
The water maze consists of concentric stepping stones over the lake. When you step on the stones, hidden jets spray water up at random soaking maze-goers. Your goal is to reach the stone cave in the center without getting wet, which isn't an easy task.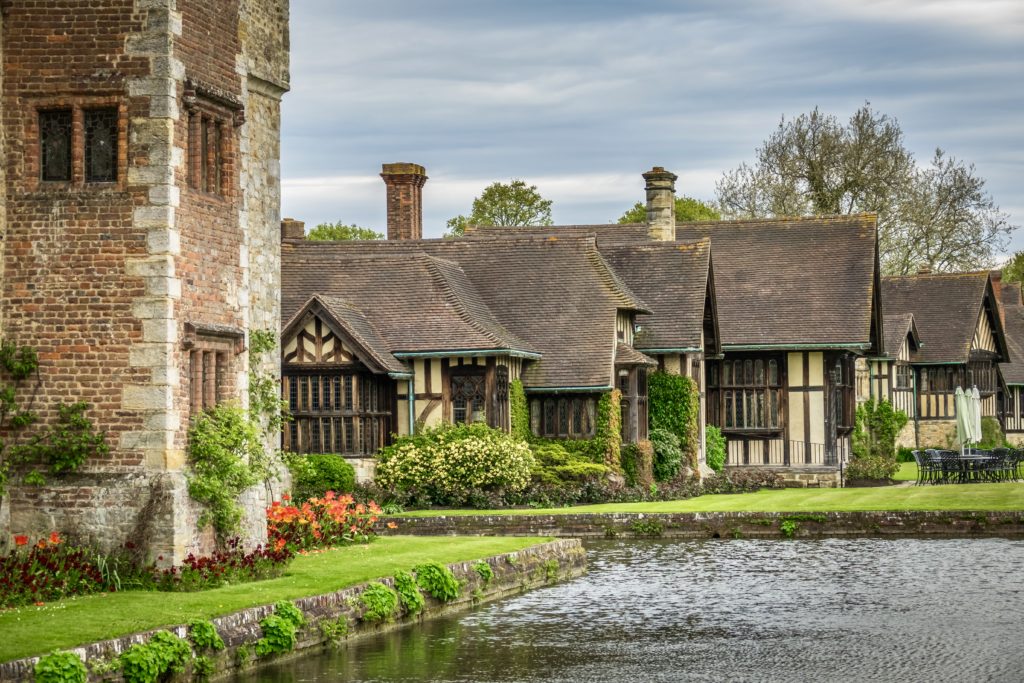 15. Tudor Village
The Tudor Village or "Astor Wing" was added on by Astor. It's connected to the main castle by a charming covered bridge.
The houses are picture perfect images of thatched Tudor cottages with brown and white facades.
Parts of them house a 28 room boutique hotel that you can stay in, called Hever Castle Luxury Bed and Breakfast.
I didn't stay overnight, so can't comment on them myself. I imagine it's quite posh.
16. Jousting & Falconry
Would you like to see some knights in shining armor? For the romantically-inclined, Hever Castle hosts an annual Summer Jousting Tournament in July.
The Royal Knights of England don costumes and entertain visitors with one-on-one combat and action packed displays. You can sit in the medieval stands for a small fee or bring your own blanket.
On selected summer days, there are also falconry displays.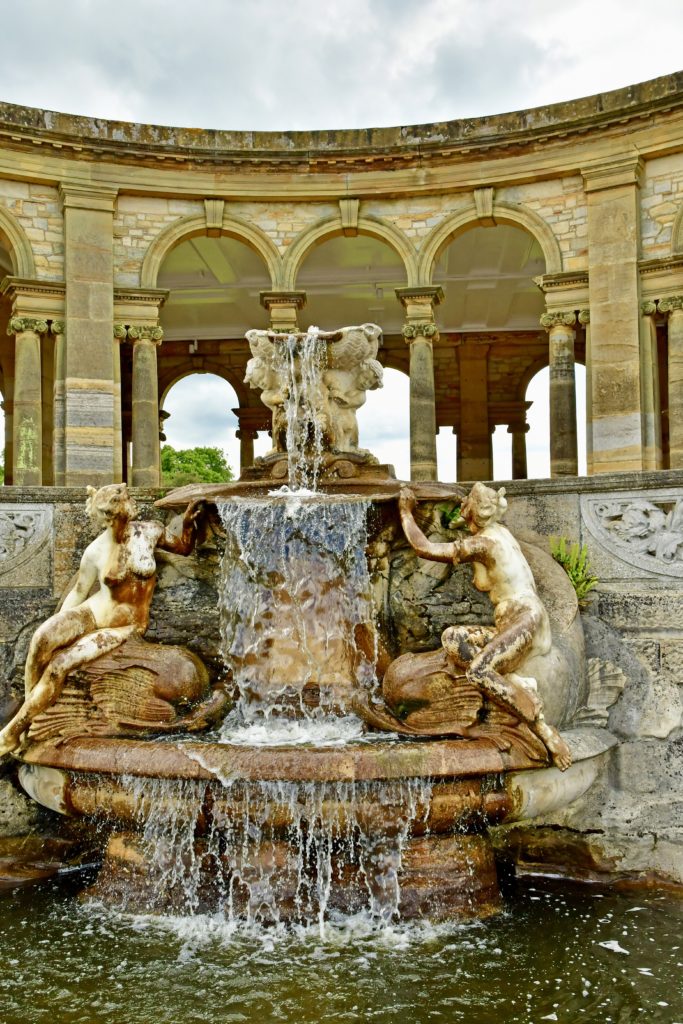 Practical Guide & Tips For Visiting Hever Castle
1. Address
Hever Edenbridge Kent TN8 7NG
2. How To Get To Hever Castle
By Car:
Hever Castle is just 30 miles from London and makes the perfect half or full day trip. The easiest way to get there is by car. The drive takes about 1:15. There's a free parking lot onsite.
By Train:
You can also to get to Hever Castle by train. Trains run from London Victoria and London Bridge Stations to Edenbridge Town Station.
From there, you take a taxi for 3 miles to the castle. You should book a taxi in advance for both legs of the trip.
Alternatively, you can take the train from Victorian Station bound for East Grimstead, disembark in Oxted, transfer to the Uckfield-bound train, and exit at Hever Station. From there, it's a one mile walk to the castle.
From Heathrow Airport:
It's about a 40 minute drive from the airport.
By Guided Tour:
If you'd rather someone else handle the transportation and tickets, you can book one of several different guided day tours from London:
3. Tickets
Click here to check out the different ticket prices. You can purchase a garden only ticket or a castle + garden ticket.
4. Hours
From the end of March until mid November, the castle is open daily until 6:30 pm in summer and 5:00 pm in winter. The gardens open at 10:30 am and the castle no later than noon.
The castle is also open during a short Christmas season from the end of November through Christmas Eve. Click here to see opening hours.
5. When To Visit Hever Castle
The gardens are beautiful year round.
In the spring, tulips, daffodils, and azaleas bloom. In the summer, the roses are brilliant. In the autumn, the orchard is full of fiery color and there is a dahlia border.
6. Places To Visit Near Hever Castle
Looking for some places to visit near Hever Castle? Since Hever doesn't open until noon, there are some other delightful places that could be combined on visit or full day trip.
Harewood House
The Harewood House is a Grade 1 historic English manor home, just 25 minutes from Hever Castle. Harewood House presents the lifestyle of the British aristocracy in all its glory.
The first Baron of Harewood, Edwin Lascelles, commissioned the house in mid-18th century. The house remained with the family and the 8th Earl of Harewood, David Lascelles, currently lives there with his family.
Harewood House has interiors by Robert Adam, wall and ceiling paintings by Angela Kaufman, Chippendale furniture, and a garden by Capability Brown.
As befits a noble family, there are family portraits by notable English artists Joshua Reynolds, John Hoppner, and Thomas Lawrence. You'll also find a fine art collection, with Renaissance masterpieces by Titian and Tintoretto.
Harewood House made an appearance in the Downton Abbey movie, where it was used to host a grand ball.
Address: Harewood House, Harewood, Leeds LS17 9LG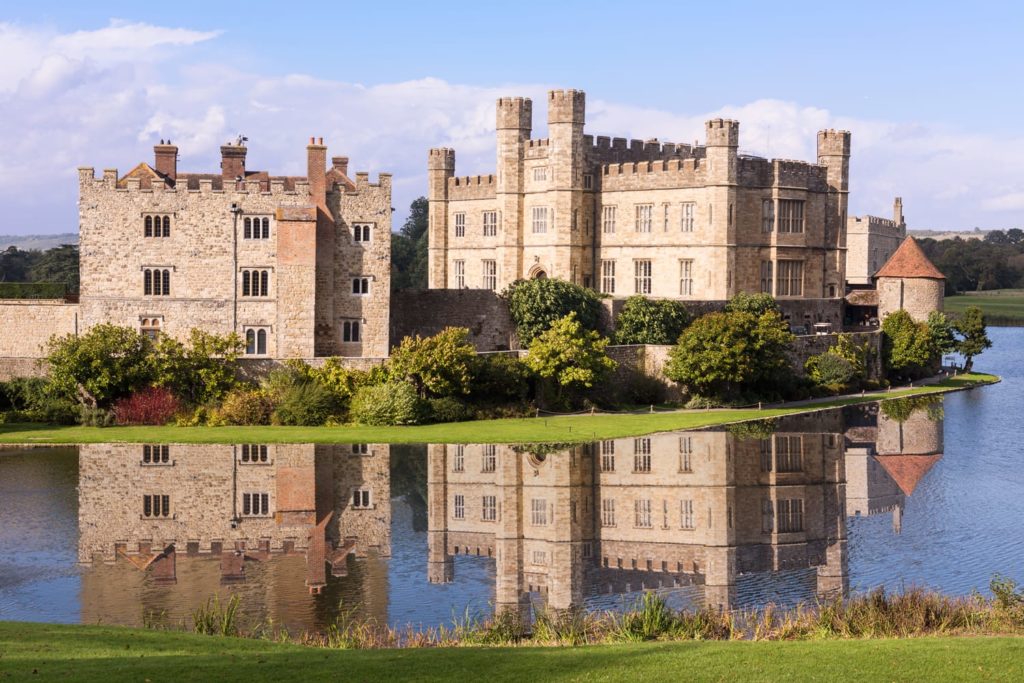 Leeds Castle
Leeds Castle is one of Britain's finest and oldest castles. It has a picturesque setting on a lake in the wooded countryside of Kent. It's often called England's most beautiful castle.
The castle was a royal residence until Tudor times. It was a favorite home of Henry VIII, who shuttled his ex-wife Catherine to live there after their divorce.
In 1926, the castle was bought by American heiress Olive Lady Baillie. She saved it from centuries of neglect and restored it to perfection. She later bequeathed the castle to Britain.
You can pre-book your castle ticket online. Leeds is just 45 minutes from Hever Castle.
Address: Broomfield, Maidstone ME17 1PL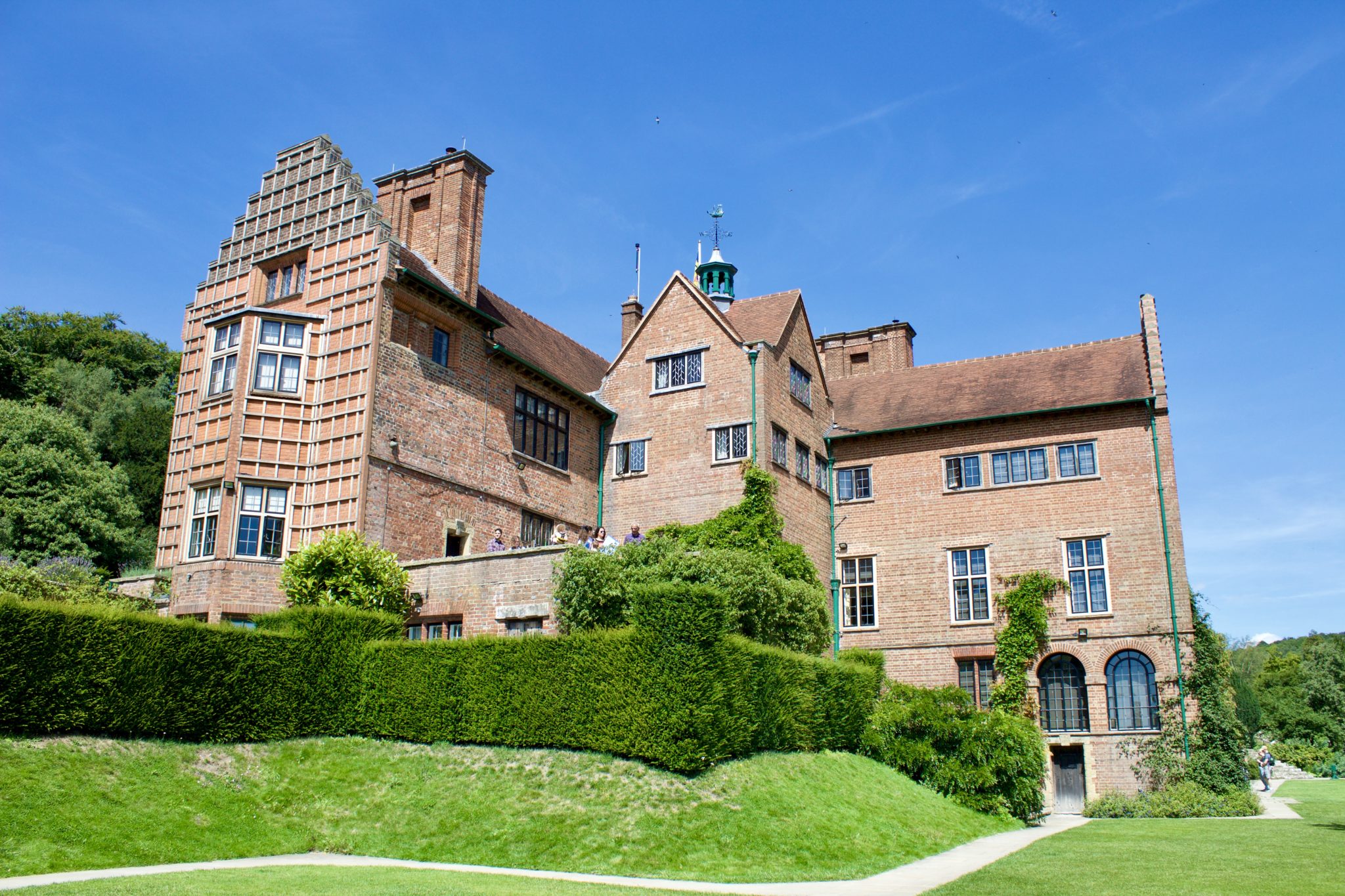 Chartwell House
Just 15 minutes from Hever castle Winston Churchill digs, Chartwell House.
It was the country seat of Churchill for over four decades. Chartwell House isn't a grand home.
Though Churchill could ill afford it, he did try to gussy up the place. Churchill almost lost the house twice because he was broke.
His friends bought the house and presented it to the UK's National Trust. Upon Churchill's death, it opened to the public as a museum.
You can see five rooms where Churchill lived — the dining room, the library, the drawing room, his wife Clementine's bedroom, and Winston's study. Three other rooms are filled with Churchill memorabilia. You can also check out his painting studio.
Address: Mapleton Rd, Westerham TN16 1PS
Sissinghurst Castle
Just 40+ minutes from Hever, Sissinghurst Castle is a National Trust property and major highlight for garden lovers. Laid out in the 1930s, the castle boasts one of the world's greatest romantic gardens.
Former owner and writer Vita Sackville-West designed the gardens to look like rooms of a house. Each one has its own color scheme and theme.
Address: Biddenden Rd, Cranbrook TN17 2AB
I hope you've enjoyed my guide to Hever castle. You may enjoy these other London travel guides and resources:
If you need a guide to Hever Castle, pin it for later.