I first fell in love with Canterbury as a college student during a semester abroad in London. The love endured and I've returned several times. I think Canterbury is one of the best day trips from London. So, I'm handing over the perfect one day in Canterbury itinerary.
I guarantee that, like me, you'll be bewitched by the beautiful UNESCO town that's rich in history and architectural splendor.
Canterbury is the crown jewel and cultural capital of Kent. Its well-preserved medieval center is a delight to stroll. It's a timeless place where past and present run together like watercolor.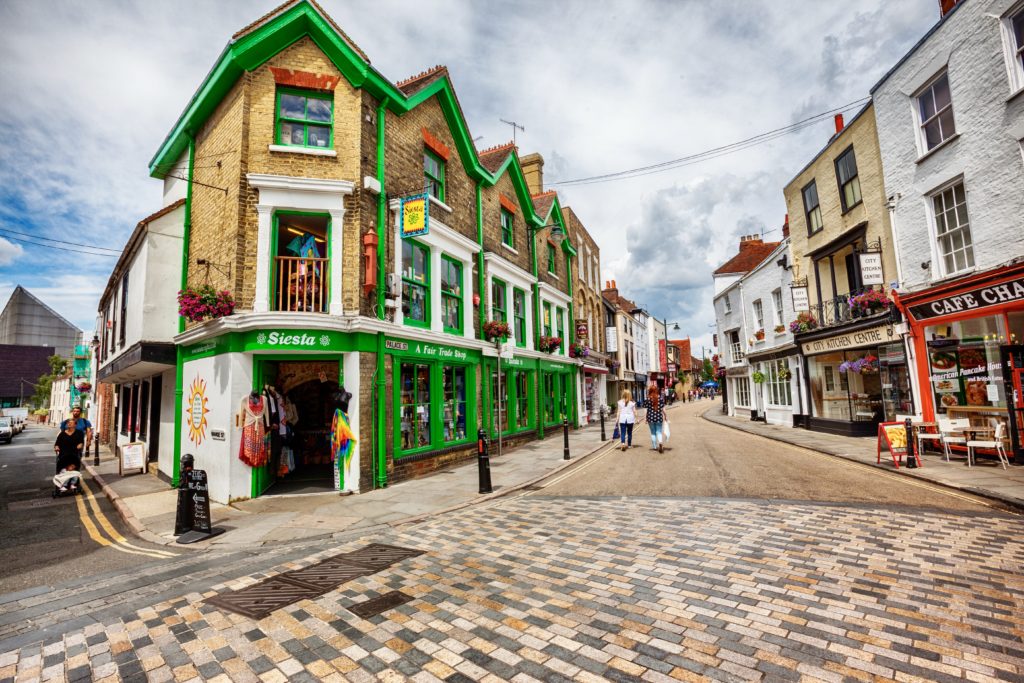 Canterbury Cathedral is a masterpiece of Gothic architecture. It's been a place of pilgrimage since the scandalous murder of Archbishop Thomas Becket in 1170.
Overview of One Day In Canterbury Itinerary
Here's a quick snapshot of what you'll see with one day in Canterbury. You'll discover all the best things to do and see in a day.
Breakfast at Refectory Kitchen
Canterbury Cathedral
Christ Church Gate
St. Augustine Abbey
St. Andrews Church
Lunch at Goods Shed
Old Town Stroll
Crooked House
St. George's Church
St. Martin's Church
Roman Museum
City Walls
Punting
Westgate Tower & Gardens
Dinner
Marlow Theater
A Short History Of Canterbury
Canterbury began life as the Roman settlement of Durovernum Cantiacorium when Emperor Claudius invaded in the 1st century A.D. The Romans built the city walls in 200 A.D.
After the fall of Rome, Pope Gregory sent St. Augustine to reestablish Christianity in heathen southern England. He founded a monastery and began converting the locals, including King Ethelbert of Kent.
By the turn of the century, Canterbury was solidly Christian and work on a grand cathedral was underway.
In 1162, Henry II appointed Thomas Becket to be the Archbishop of Canterbury. They were fast friends and Henry hoped his "yes man" would let him extend the crown's authority over the church.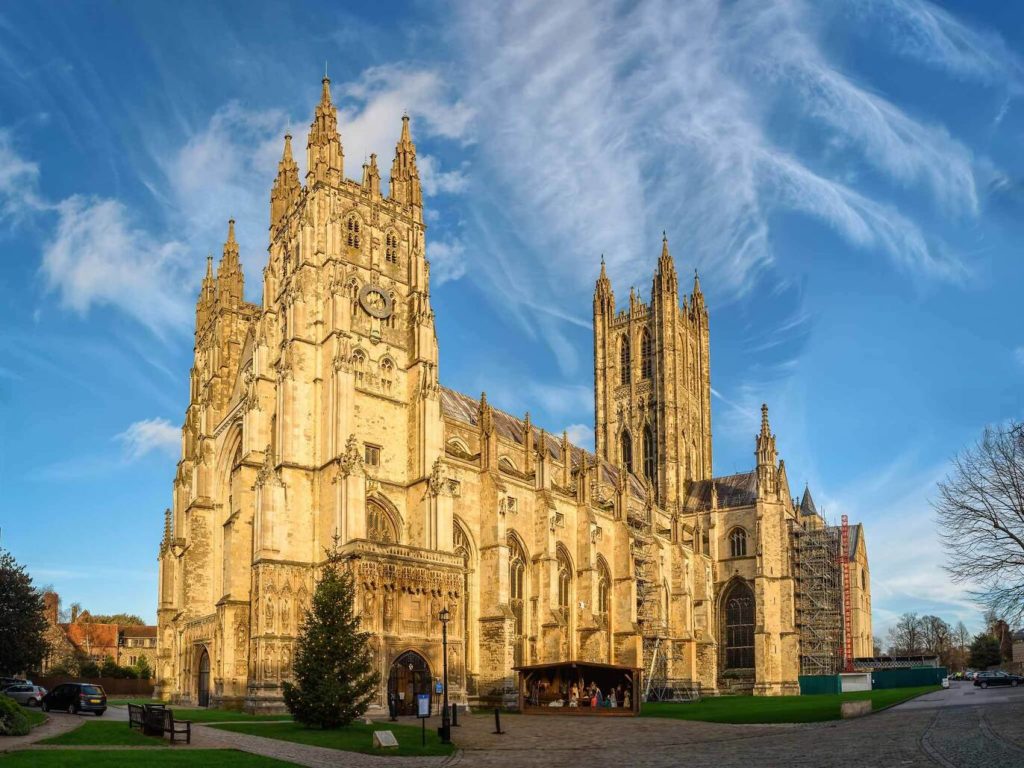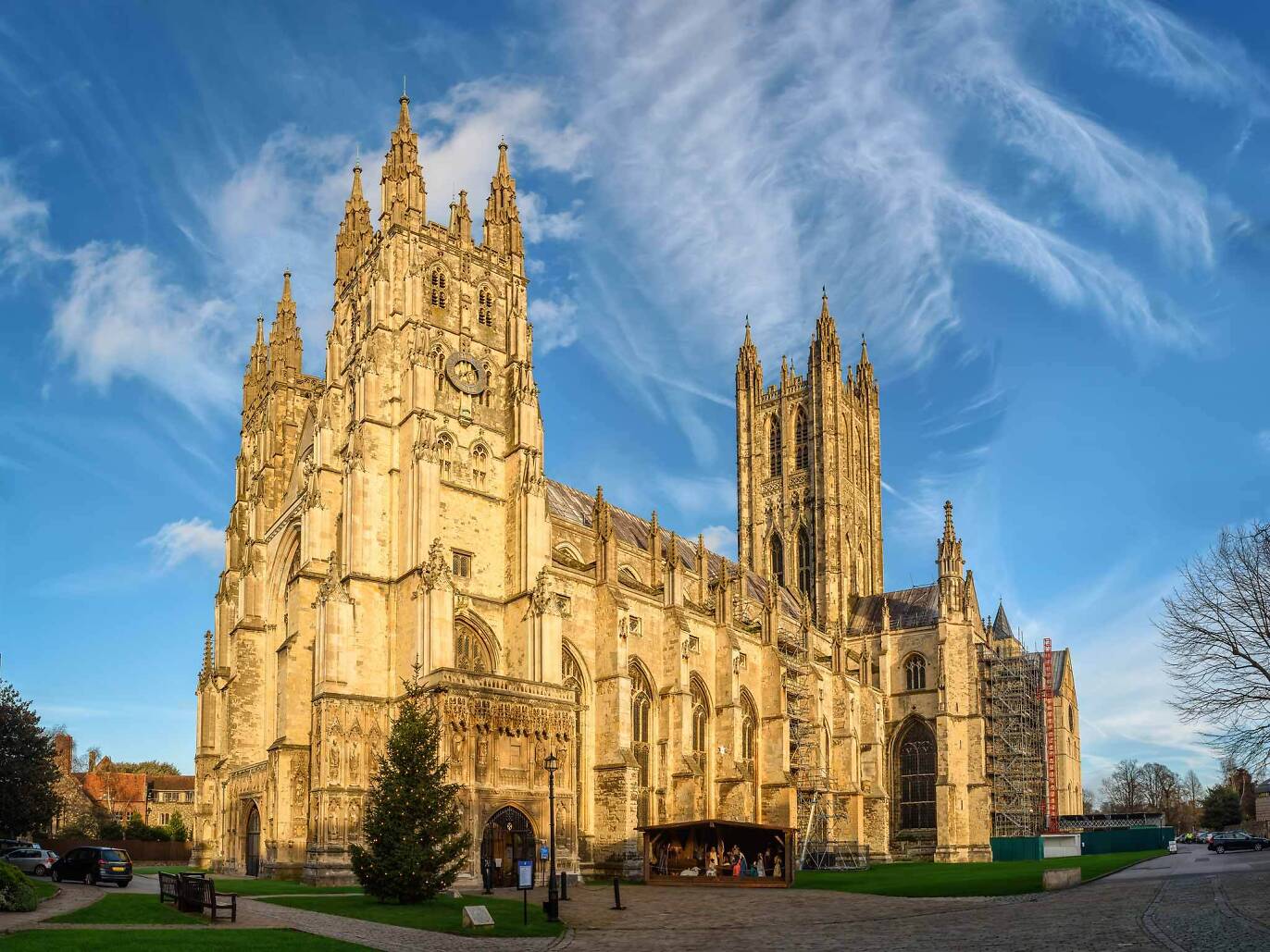 Henry was to be bitterly disappointed. Becket took his position seriously and wasn't just a puppet. He took a hard and fast stand on the church's independence.
When he excommunicated some royal officials who were Henry's closest friends, that was the last straw.
Henry screamed in hot blood: "Who will rid me of this meddlesome priest?" Taking his cue, four of Henry's agents murdered Becket, hacking him to death in the cathedral nave in 1170.
It was a murder that shook the Middle Ages and a defining moment in Canterbury's history. Canterbury went from being the official home of Christendom to being the hottest "tourist destination" in Britain.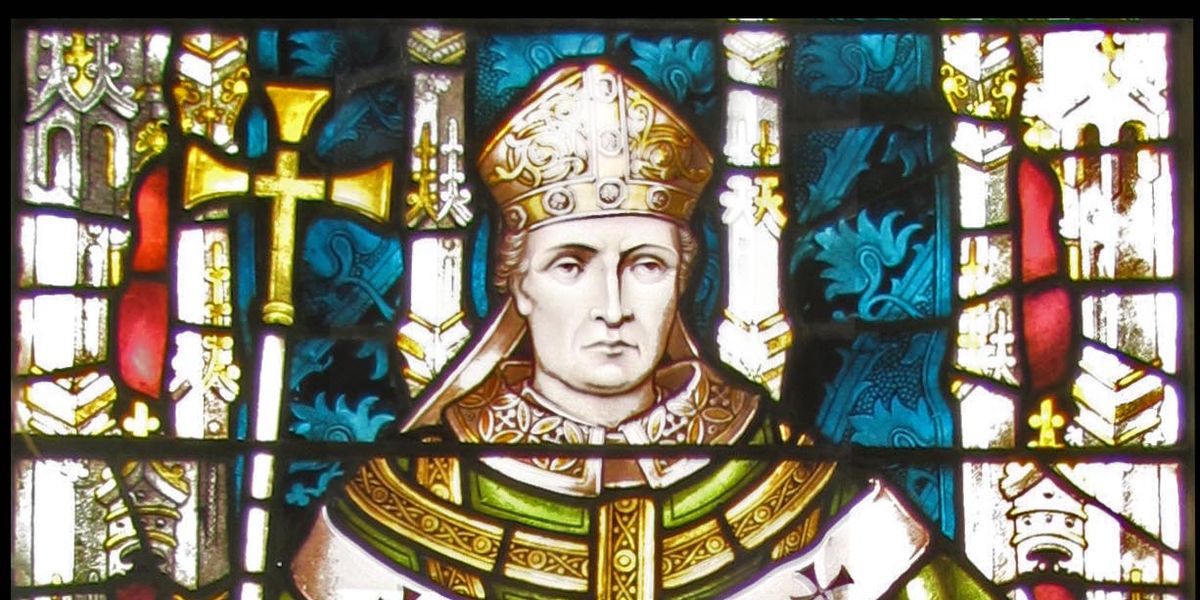 Almost immediately, a cult formed around Becket and pilgrims came in droves to the cathedral. Sometimes, they walked for months on end to be in the spiritual presence of Becket.
Becket became a martyr, saint, and symbol of resistance to the unjust machinations of the crown. As the number of pilgrims grew, the cathedral grew bigger.
In the later Middle Ages, Becket again came into vogue when he was memorialized in Geoffrey Chaucer's novel, The Canterbury Tales.
The novel chronicles a group of pilgrims on their way to Canterbury to worship at Becket's shrine in the cathedral.
Canterbury prospered during the Middle Ages and pilgrims continued to pour in, on foot or horse. Much of the architecture you see today is from that period.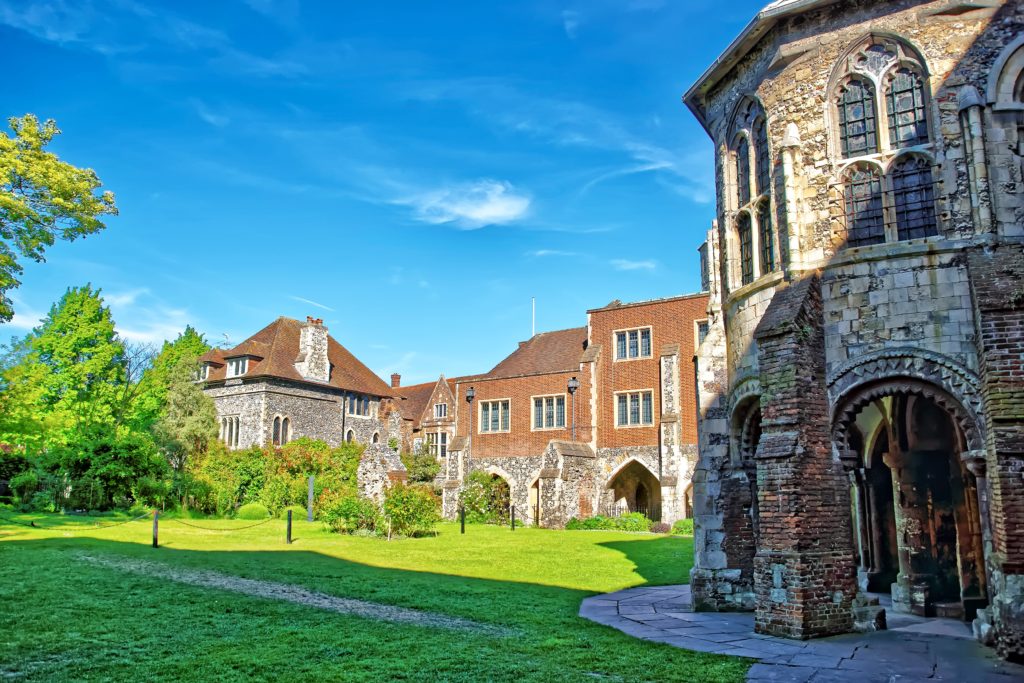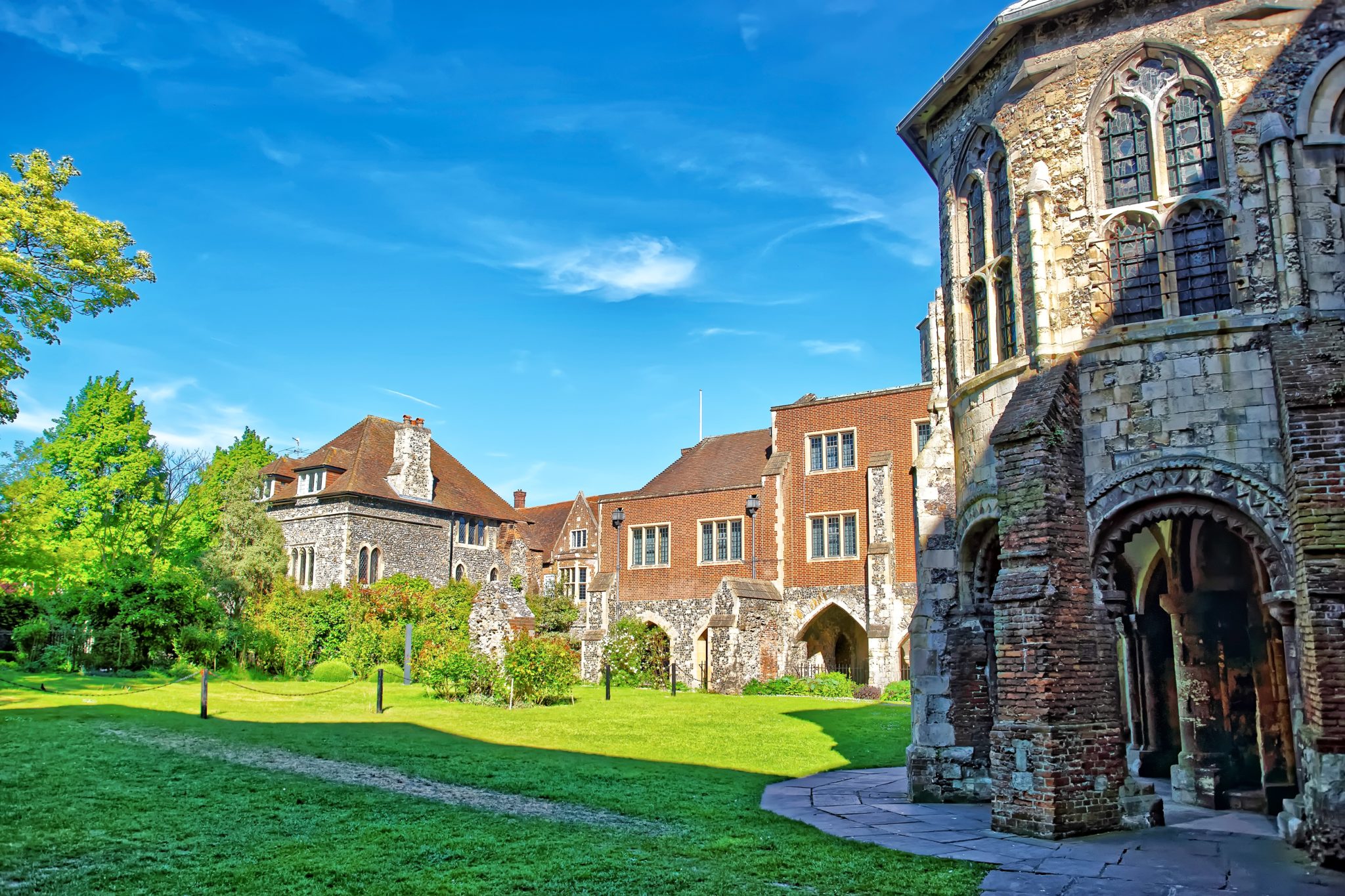 In the 16th century, Henry VIII left the Catholic Church and established his own religion. He purged Canterbury Cathedral of all Catholic ornamentation and destroyed Becket's shrine.
Since then, Canterbury has been home to scores of poets, playwrights, and novelists. Christopher Marlowe was born and educated in the city.
Richard Lovelace, the great romantic poet, grew up in Canterbury. Charles Dickens set one of his novels in the city.
In 1988, Canterbury was enshrined as a UNESCO World Heritage site. The designation includes Canterbury Cathedral, St. Martin's Church, and St. Augustine's Abbey.
Today, Canterbury is a lively market and university town. And it is still a popular pilgrim destination, ranking up there with Lourdes or Santiago de Compostela.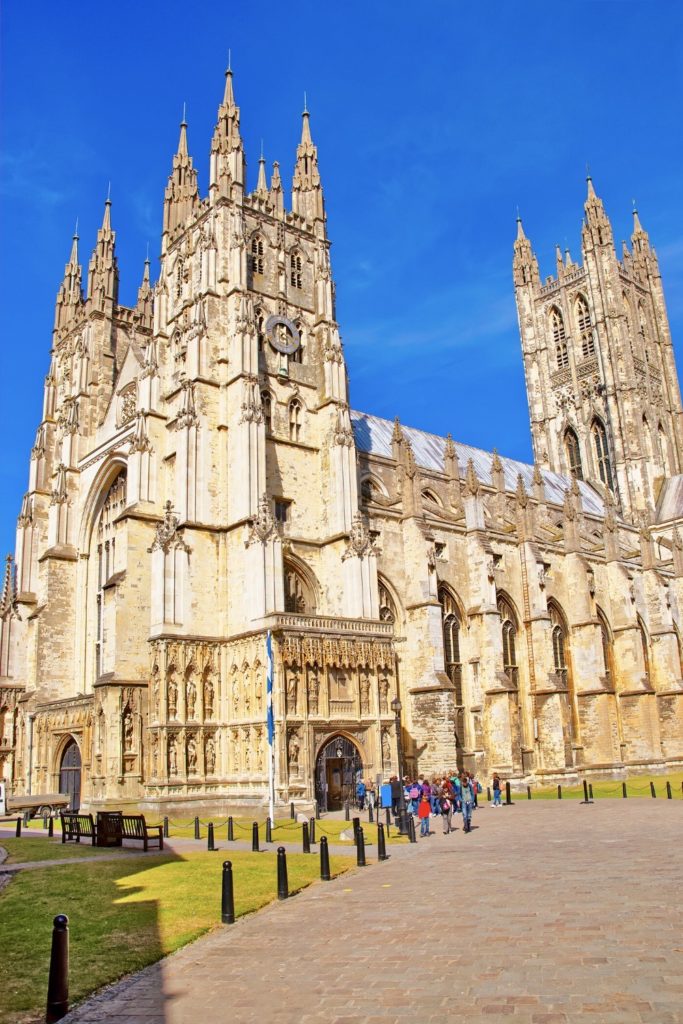 One Day In Canterbury, Day Trip From London
Here's how to spend 1 perfect day in Canterbury. I give you an hour by hour breakdown to help you plan and have an efficient visit.
You may want to kick off your one day in Canterbury with a small group walking tour or a private walking tour of the city highlights.
8:30 AM: Breakfast At Refectory Kitchen
If you've arrived in Canterbury early, start your day with breakfast at Refectory Kitchen. It serves up delicious, locally sourced, and homemade food.
You can get everything from pancakes, waffles, avocado toast, eggs any way, and oatmeal. If you didn't arrive in time for breakfast, Refectory is also a great lunch spot. It's open from 8:00 am to 3:00 pm.
Address: 16 St. Dunstans St.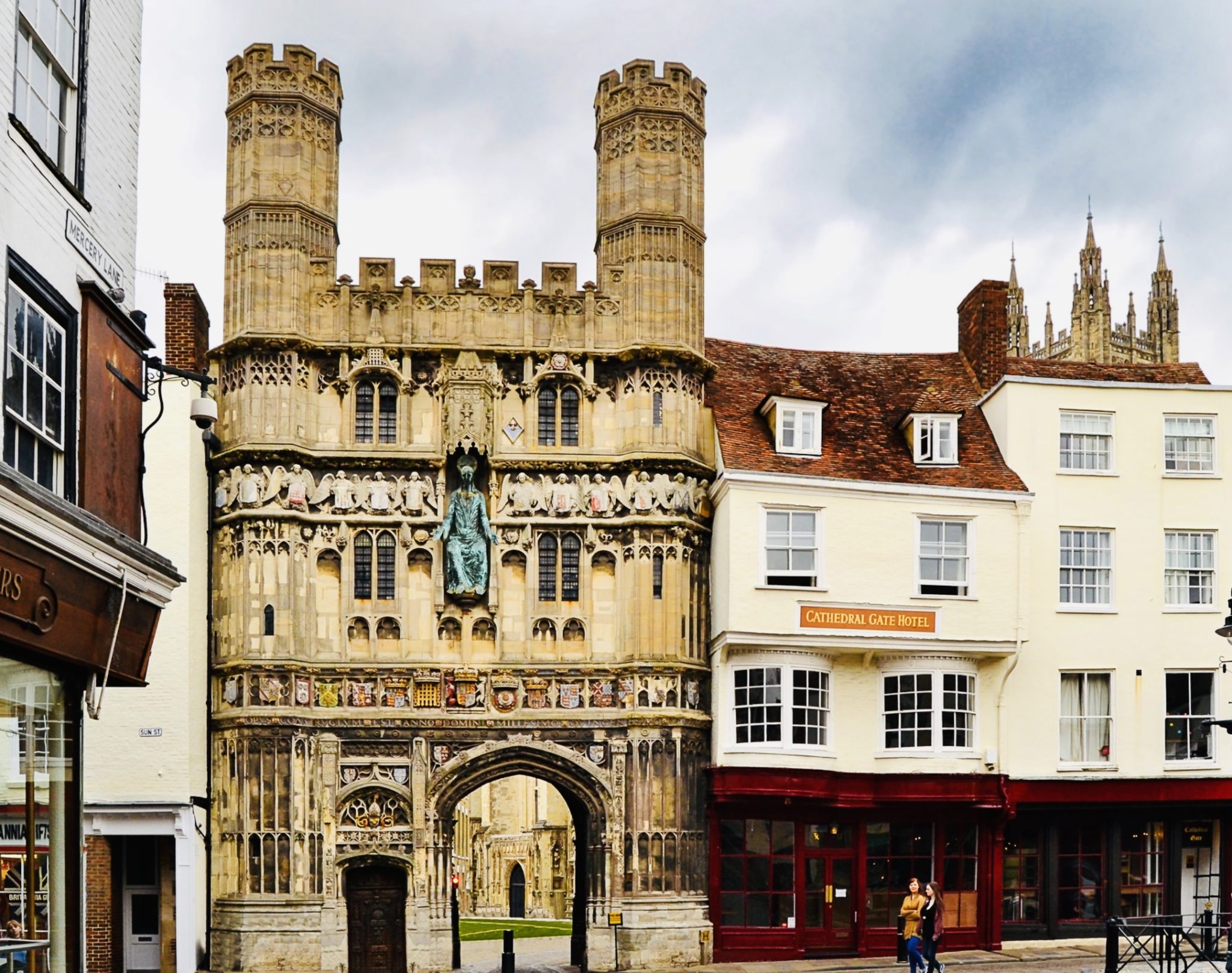 9:45 AM: Christ Church Gate
After you're fueled up, head to Christ Church Gate. This ancient gate is the main entrance to the pedestrianized cathedral precinct.
Built in the Tudor period in 1517, the gate has carvings of the "Tudor Rose" and coats of arms of Henry VII, the first Tudor king.
A statue of Christ looks down from the center surrounded by a frieze of angels. You'll also see the coats of arms of Prince Arthur, Henry VIII's younger brother, and his wife Catherine of Aragon.
After Arthur's early death, Henry would marry Catherine and then divorce her, altering the course of English history and founding the Church of England.
Unfortunately, the gate is currently under scaffolding, most likely for the next 2 years.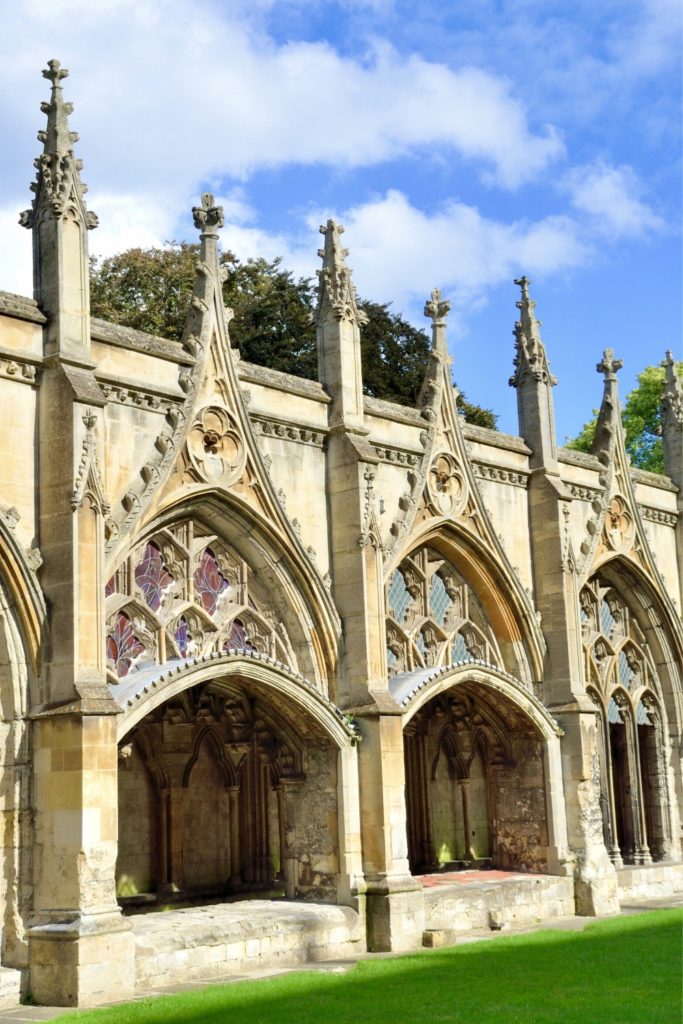 10:00 AM: Canterbury Cathedral
Canterbury Cathedral opens at 10:00 am and should plan to arrive then.
You can take the cathedral's one hour guided tour or DIY it with an audio guide. Both will give you an overview of the cathedral's history and tell you what to see inside.
Canterbury's UNESCO-listed cathedral is the top attraction and focal point of the city. It's the first of England's great Norman cathedrals, dating from the 11th century. And it's the first cathedral I personally fell in love with in Britain.
Founded in the 6th century, Canterbury is the mother church of the Anglican faith. The Archbishop of Canterbury is still an influential public figure.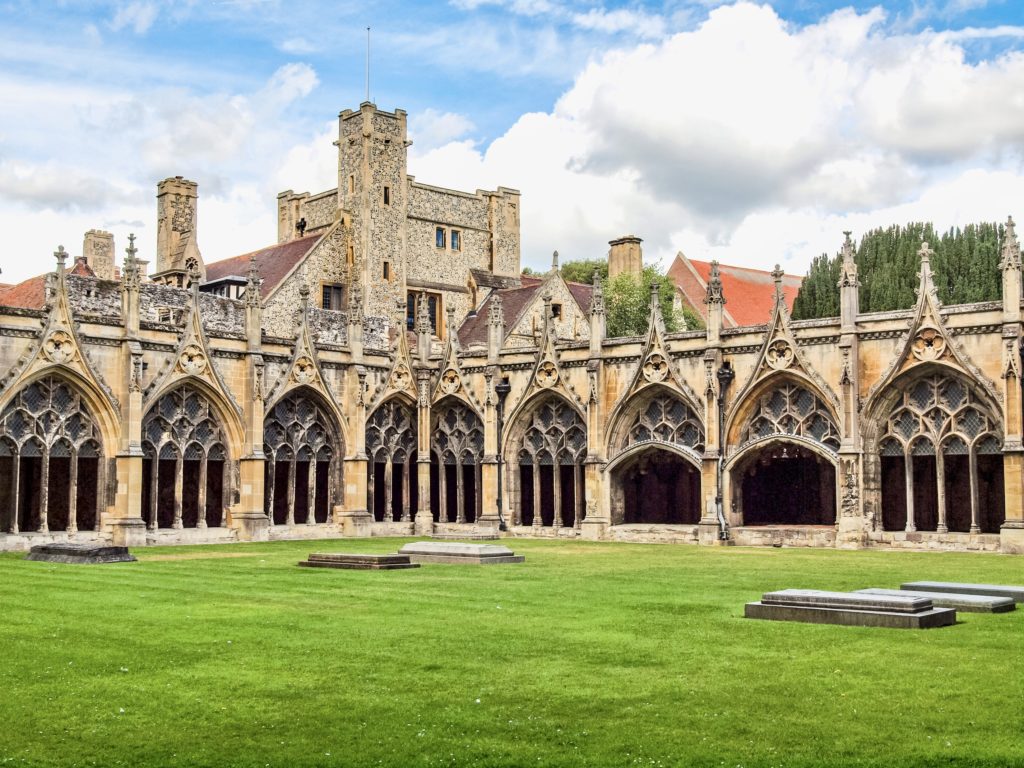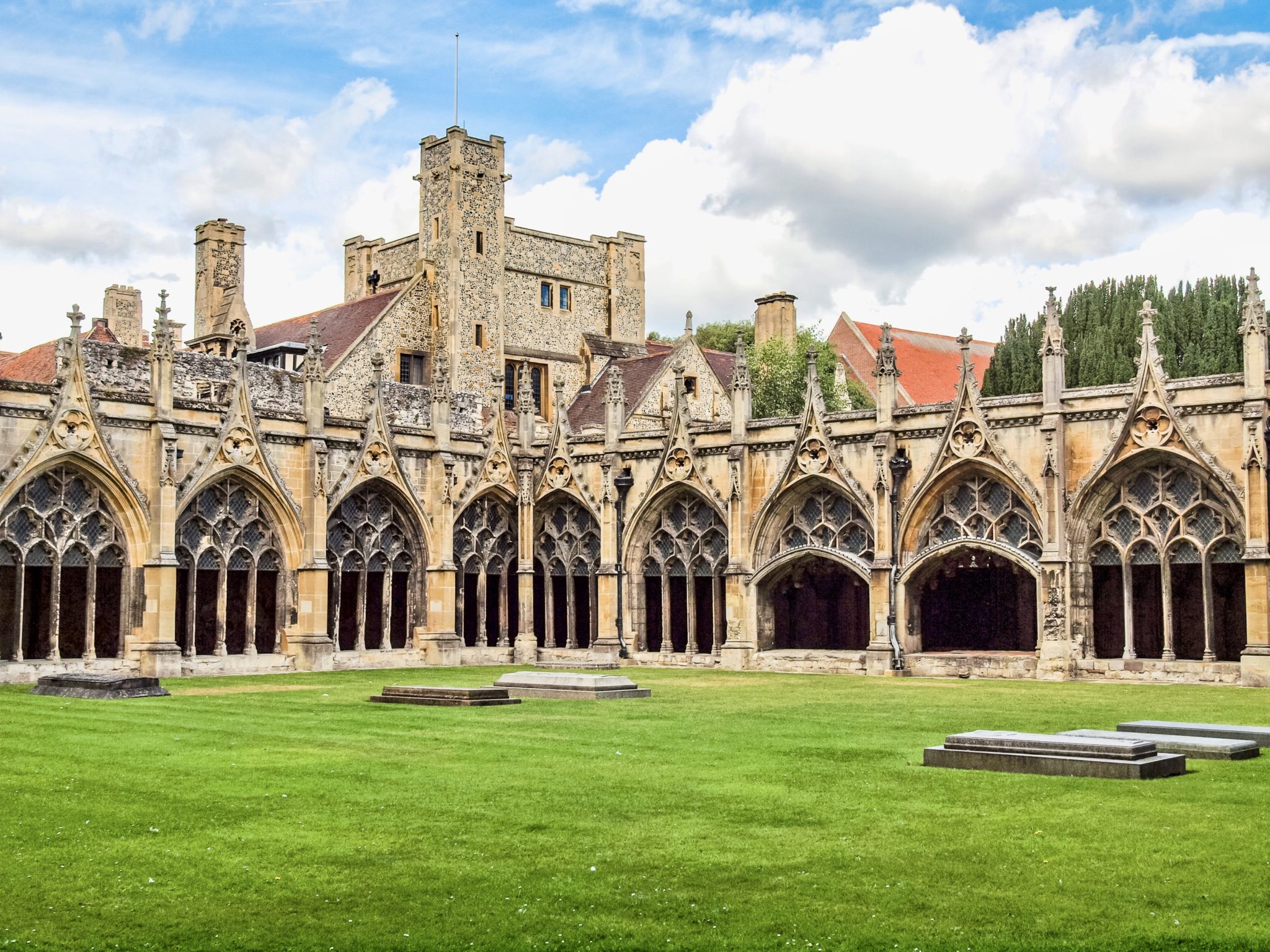 One a previous visit years ago, the cathedral and much of its interior were hidden away under ugly scaffolding. The cathedral was undergoing an extensive 8 year renovation project.
In April 2022, the scaffolding finally began coming down. So, on my most recent visit in May, I had a mostly unhindered view.
The cathedral is a mix of Romanesque and Gothic architecture.
Once inside, you're immediately gobsmacked by the height and length of the Perpendicular Gothic nave. Slender columns rise up to form vaulted arches. A stunning carved Gothic screen separates the nave from the choir.
Canterbury's stained glass windows are exceptional and world famous. They date from the 11th and 12th centuries.
The Great South Window is the highlight. The glowing stained glass includes towering images of the ancestors of Christ. The lineup starts with Adam and some Old Testament figures like Noah and Abraham.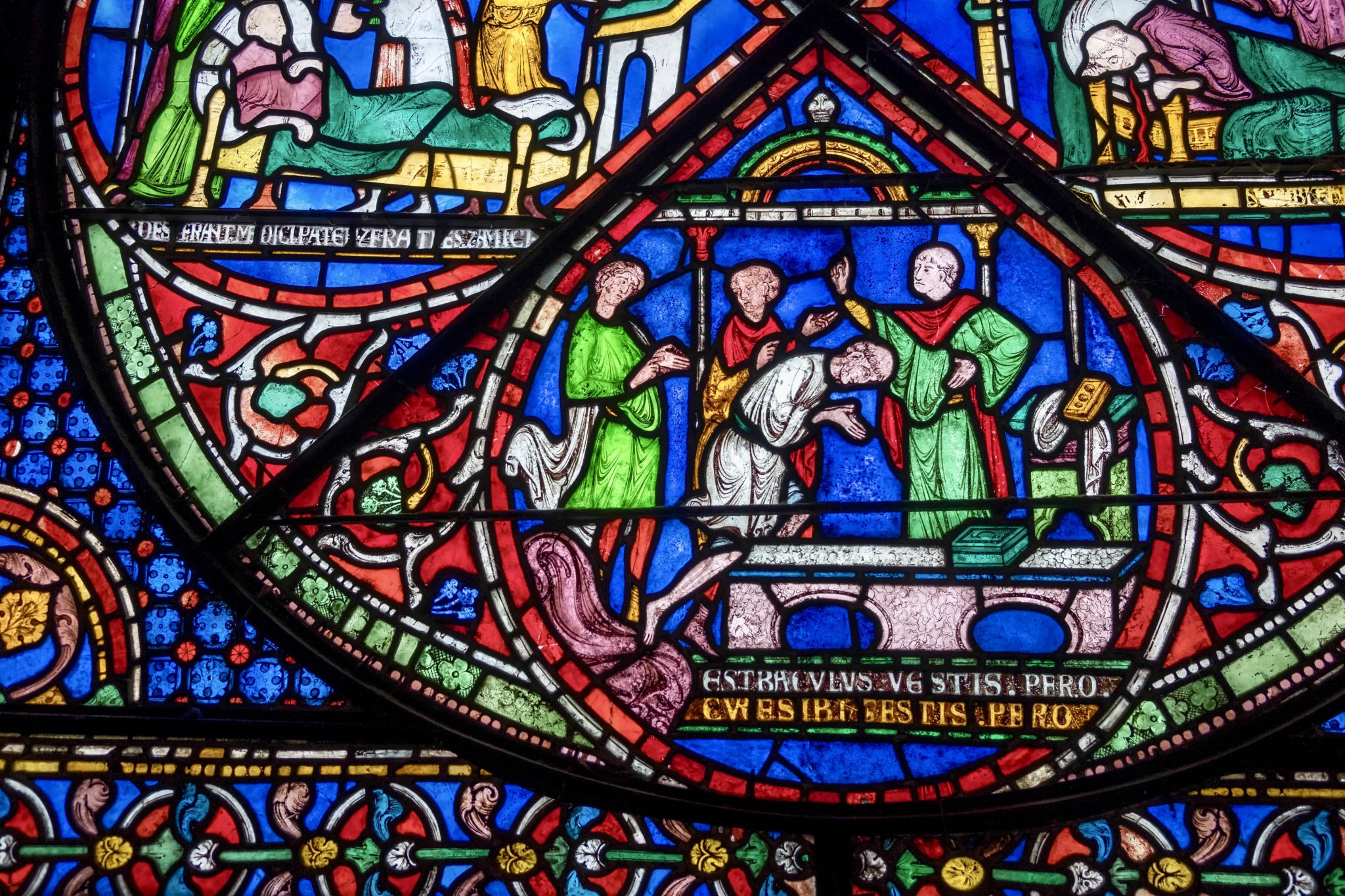 When structural problems were detected in 2009, the precious window panels were removed and restored over 7 years. They're now back in place.
The magnificent edifice is famous not just for its stunning Gothic architecture, but for the notorious murder of Becket in 1170.
Becket met his death in the northwest part of the transept below the pulpit screen. It's a spot called The Martyrdom. A 15th century stained glass panel shows Becket being cut down by Henry's men.
Directly behind The Martyrdom is a door that leads to the Great Cloister. You almost wouldn't think you could go through it, it's rather hidden.
But you can. Go through it and take time to wander the cloister corridors. In the vaulted ceilings, you'll see stone carvings of animals and colorful heraldic shields.
From the cloister, you can (usually) access the Chapter House. It's the largest of its kind in England and was where the monks conducted business. An impressive stained glass masterpiece depicts 21 figures from the cathedral's history.
In the Trinity Chapel at the east end of the cathedral, the Altar of the Sword Point marks the place of Becket's former shrine. It was renowned for its beauty, decorated with gold, silver, and precious jewels.
In 1568, Henry VIII destroyed the shrine and made off with the jewels decorating it. No one knows for sure what happened to the saint's remains.
The chapel's stained glass windows depict scenes from Becket's life, death, and the Becket-related miracles. They're referred to as the "Miracle Windows." A candle always burns in memory of the martyr.
Other things to see in the Trinity Chapel are the marble ceremonial enthronement chair for the Archbishop of Canterbury and the tombs of archbishops, King Henry IV, and the "Black Prince" Edward Plantagenet.
The Black Prince was a hugely popular military leader and the son of King Edward III. You can see a replica of his black armor on display near his tomb.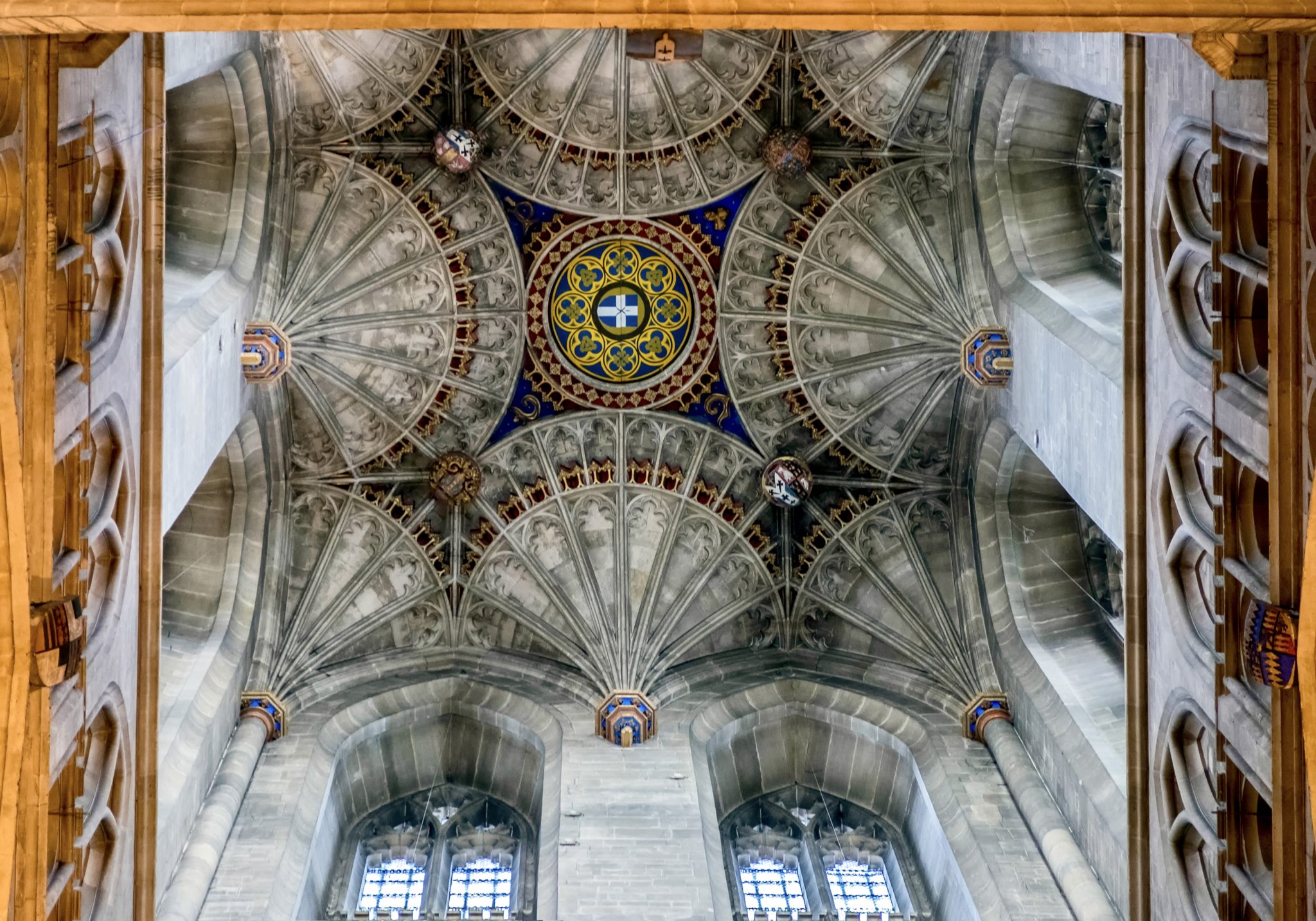 Take the steps down to the crypt, which is the oldest part of the church.
It's a stone forest of Romanesque arches and pillars. There's a stunning fan vaulted ceiling from the 14th century. St. Gabriel's Chapel has traces of faded 12th century frescos on the walls.
If you have the time, book one of the cathedral's "Behind the Scenes" tours. You'll get a chance to peak behind the curtain and see choirs rehearse, rare books in the library, and artisans restoring stained glass.
A few years ago, the cathedral added a welcome center. There's an information desk and viewing gallery.
You can book a ticket online at the cathedral website. Entry is £14.00.
Address: Cathedral House, 11 The Precincts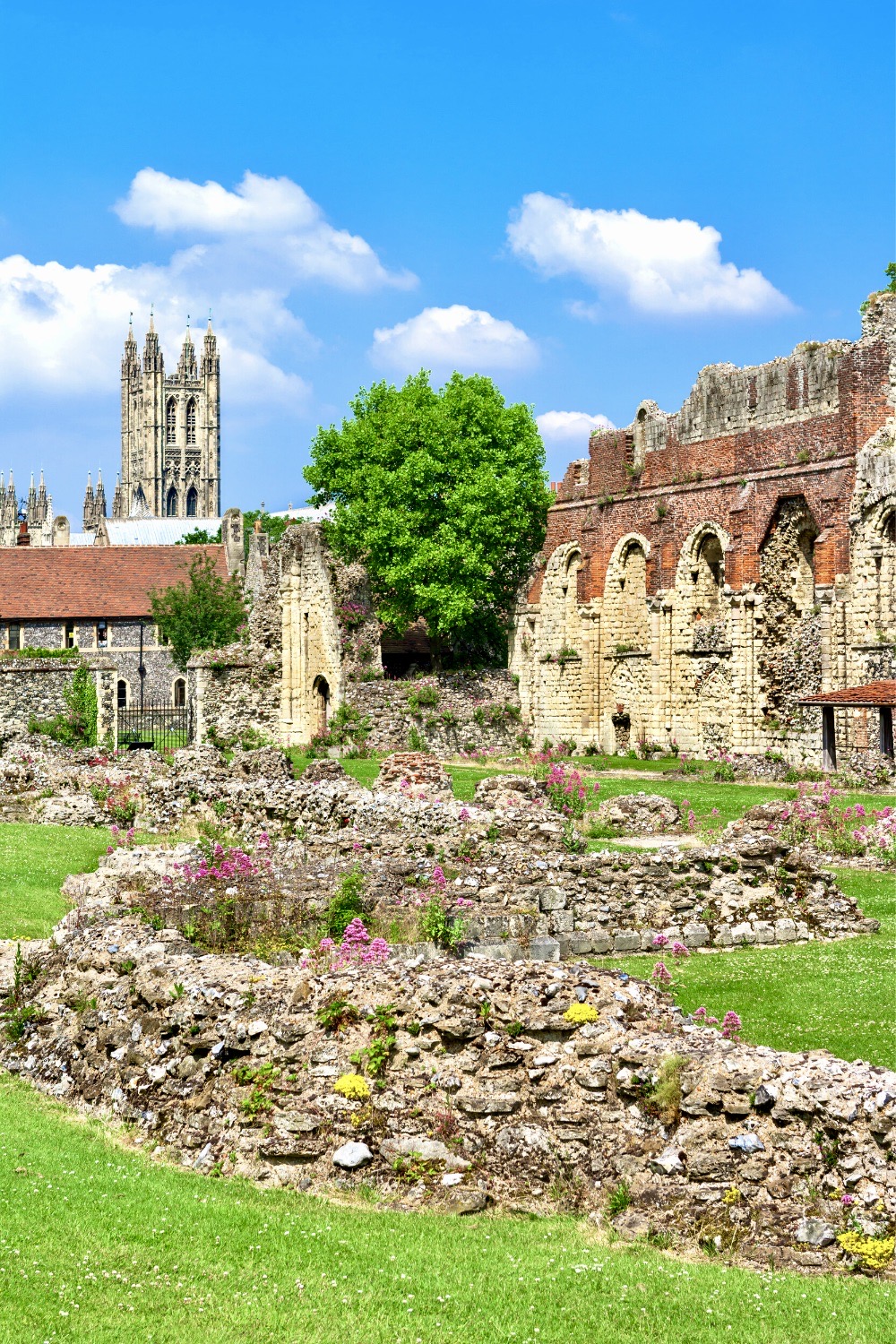 12:00 PM: St. Augustine's Abbey
This is one of Britain's earliest Christian sites, situated just outside the city walls 7 minutes from the cathedral. The abbey is mostly in ruins, but still very atmospheric.
Saint Augustine founded the abbey in 598 as a place for the Benedictine monks to live while they preached and converted the citizens to Christianity. He would later become the first Archbishop of Canterbury.
The abbey was also used as a burial place for the kings of Kent. St. Augustine is buried there as well.
The abbey was also a center of learning, with a school and famous library. Less than 300 books survive today.
One of the first chapels built at the abbey was the red brick church of St. Pancras. The church was later rebuilt and enlarged. A 11th century octagonal rotunda, which still survives, connects the church with the Church of St. Mary.
The other impressive remaining bits are the 14th century gatehouse and the north wall of the abbey church.
The gatehouse held the abbey's royal bedchamber. It was damaged during WWII and restored.
In the 16th century, a greedy Henry VIII dissolved the monasteries during the English Reformation. He seized the abby and turned it into a manor house for his wife Anne of Cleves. Thereafter, it was reduced to ruins.
There's a museum onsite. It showcases artifacts excavated from Saxon and Roman times. You can learn about the history of the abbey and the monks on a free audio tour.
Address: Longport Canterbury
1:00 PM: Break For Lunch
If you like traditional pub food, head to the Black Griffin Pub. It's a cozy (but busy) place serving up great burgers.
Alternatively, you can check out the amazing Goods Shed. It's housed in an 1830s era railway depot.
Good Sheds is a farmer's market, food hall, and restaurant all rolled into one. A good restaurant to try is Wild Goose, a tapas place where you can see the farm fresh food being prepared.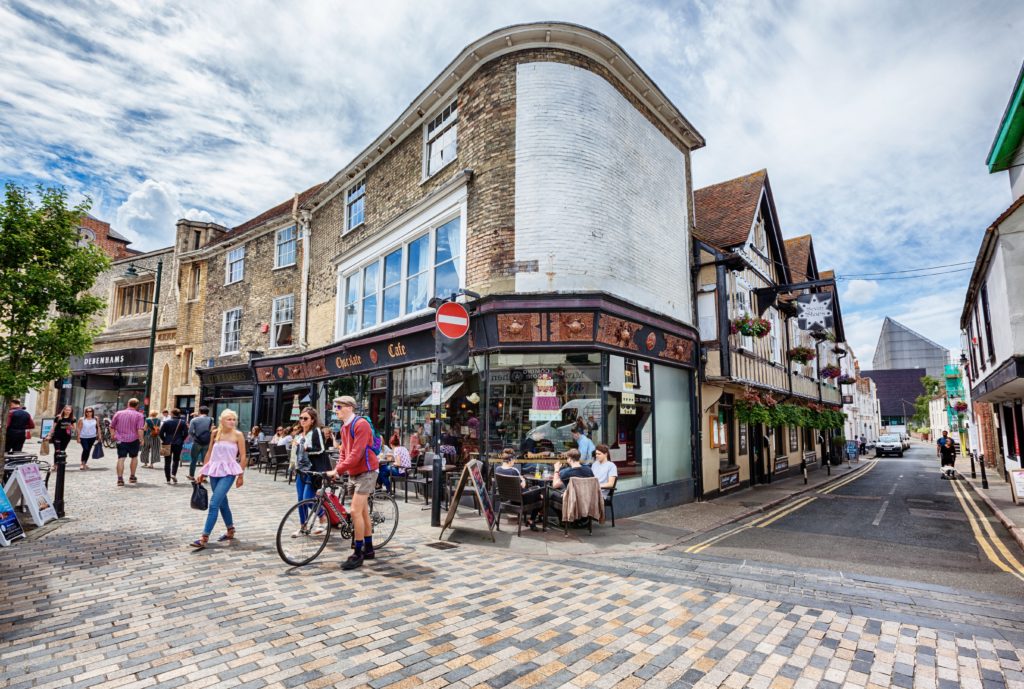 2:00 PM: Old Town Stroll
No one day in Canterbury itinerary would be complete without a stroll through its thriving pedestrianized center.
A square called Buttermarket marks the town center. The main drag is High Street.
One of the prettiest streets in Canterbury is Butchery Lane, where medieval buildings jut out right and left. Another beautiful lane is Mercery Lane, a shopping street that's home to the Roman Museum.
Be sure to check out the Old Weaver's House. It's a classic timber-framed Tudor house situated on the canal. Today, it houses a gastro-pub.
Crooked House
The famous 17th century Crooked House is just a short way from High Street and one of the most photographed spots in Canterbury.
The Crooked House is a skewed 17th century half timbered building perched at the end of Palace Street. It houses a local charity bookshop. Even going up the stairs is an adventure.
The building looks like it might collapse at any moment. The damage occurred during chimney renovations that went awry and caused the house to slip. Now, it's stabilized by a steel frame.
Charles Dickens described Canterbury's Crook House as "A very old building building over the road … leaning forward, trying to see who was passing on the narrow pavement below."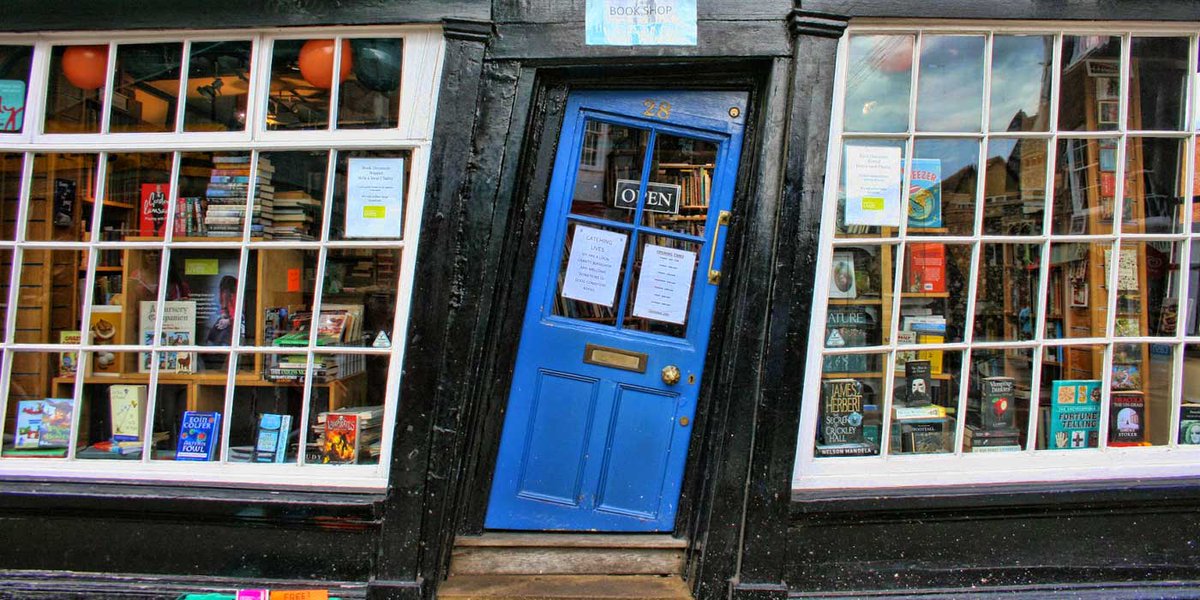 3:00 PM: Visit Some Churches
Like most medieval towns, Canterbury has some lovely old churches.
St. George's Church
St. George's Church is just off High Street. This was where the playwright Christopher Marlowe was baptized.
The church was demolished by bombing in WWII. All that remains of the medieval church is the 15th century clock tower.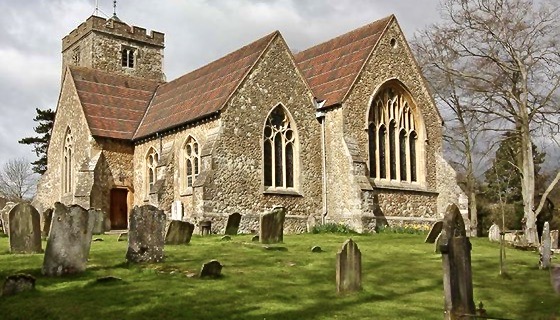 St. Martin's Church
Founded in 597, St. Martin's Church is the oldest still-in-use parish church in the English speaking world. As I mentioned above, it's part of Canterbury's UNESCO designation.
It's a beautiful stone church where St. Augustine set up his mission and King Ethelbert and Queen Bertha came to pray. It's about a 10 minute walk from the city center.
St. Andrews Church
This church is in the middle of High Street. This newish church has a Neo-Classical Design. It replaced an earlier church. It's part of the Whitefriar's shopping center.
4:00 PM: Canterbury Roman Museum
In 1868, workmen discovered an intact Roman floor mosaic while digging trenches underneath the street. After WWI, more excavations uncovered a 3rd century Roman Domus (home) with an under floor heating system and wall frescos.
In 1961, the well-curated Roman Museum opened to show what was found during excavations. History buffs will want to visit the museum.
It houses one of the only in situ mosaic pavements from Ancient Rome in England and gives you a peak into Roman Britain.
On display, you'll see mosaics, jewelry, Roman silverware, and pottery. The museum exhibits are augmented with clever computer reconstructions and time tunnels.
You could breeze through this museum in a half hour if need be.
Address: 11A Longmarket, Butchery Lane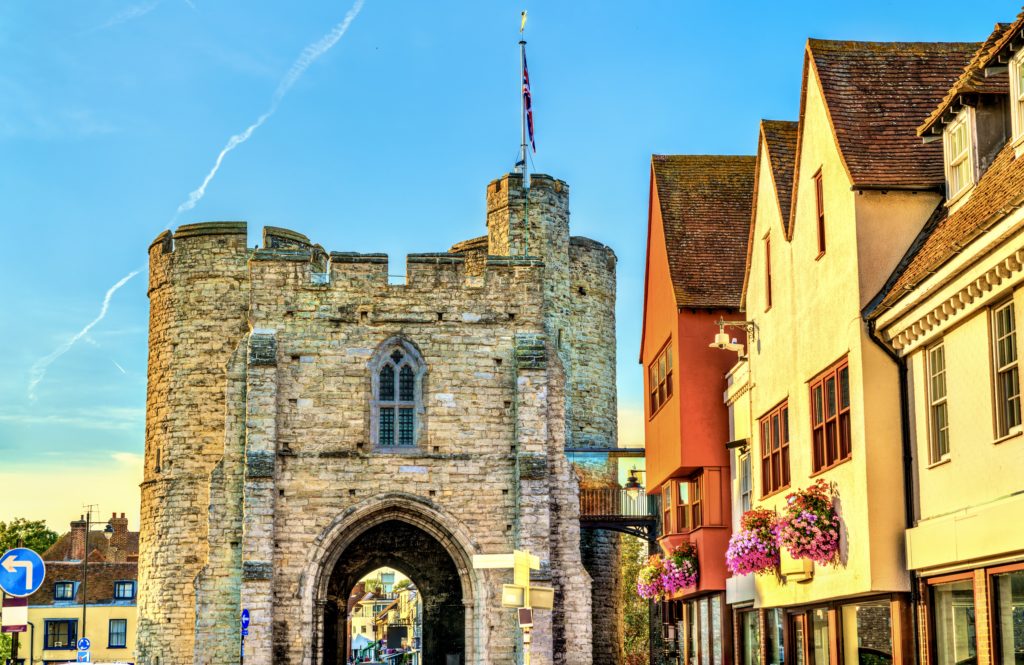 4:30 PM: City Walls
The city's 13th and 14th century medieval walls are a source of pride.
You can access them from Castle and Broad streets. Some of the walls are 20 feet high, yielding great views over the city.
Of the six medieval city gates, only the 14th century Westgate survives. The gate was built during the Hundred Years War to protect the city. It's the largest surviving medieval gateway in Britain.
On close inspection, you can see "murder holes" used for dropping boiling liquids onto invaders and gaps for shooting guns.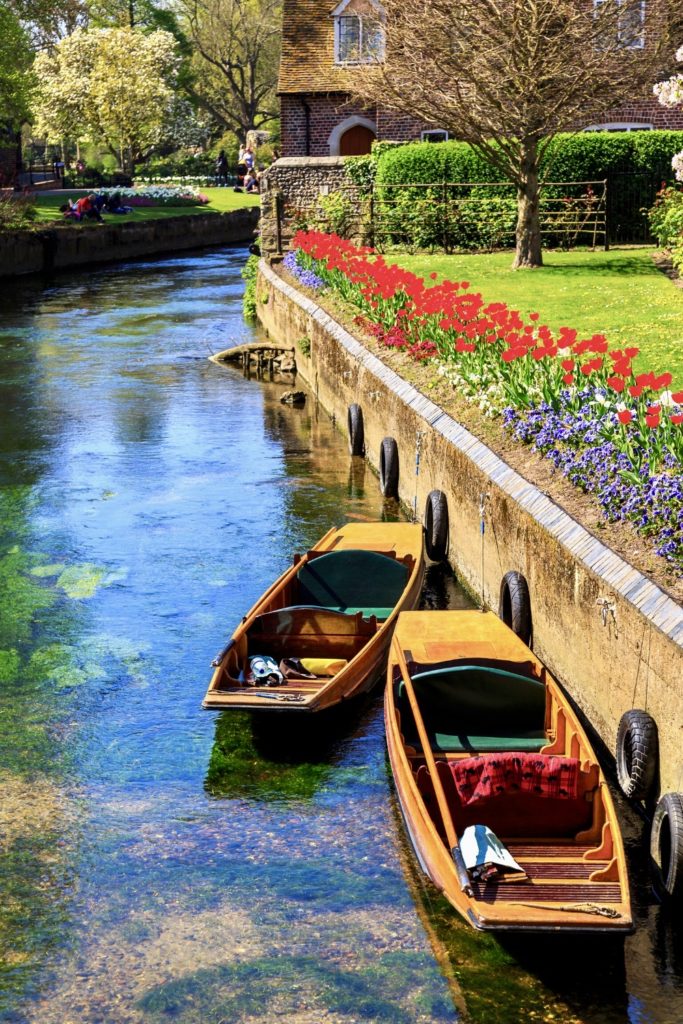 5:00 Punting
After a day exploring Canterbury, unwind and go punting on the Great Stour River. You can also let someone do the rowing for you.
Boat tours leave from the restaurant of the Old Weaver's House. You can also take a 45 minute historian led tour with Canterbury Punting Company, which is what I'd recommend.
5:00 PM Alternative: Westgate Tower & Westgate Gardens
If punting isn't your thing, instead visit the Westgate Tower and Westgate Gardens.
Westgate is the only remaining medieval entrance to the city. Built in 1380, it was once the city jail and houses a collection of prison hardware. You'll have a nice view from the top.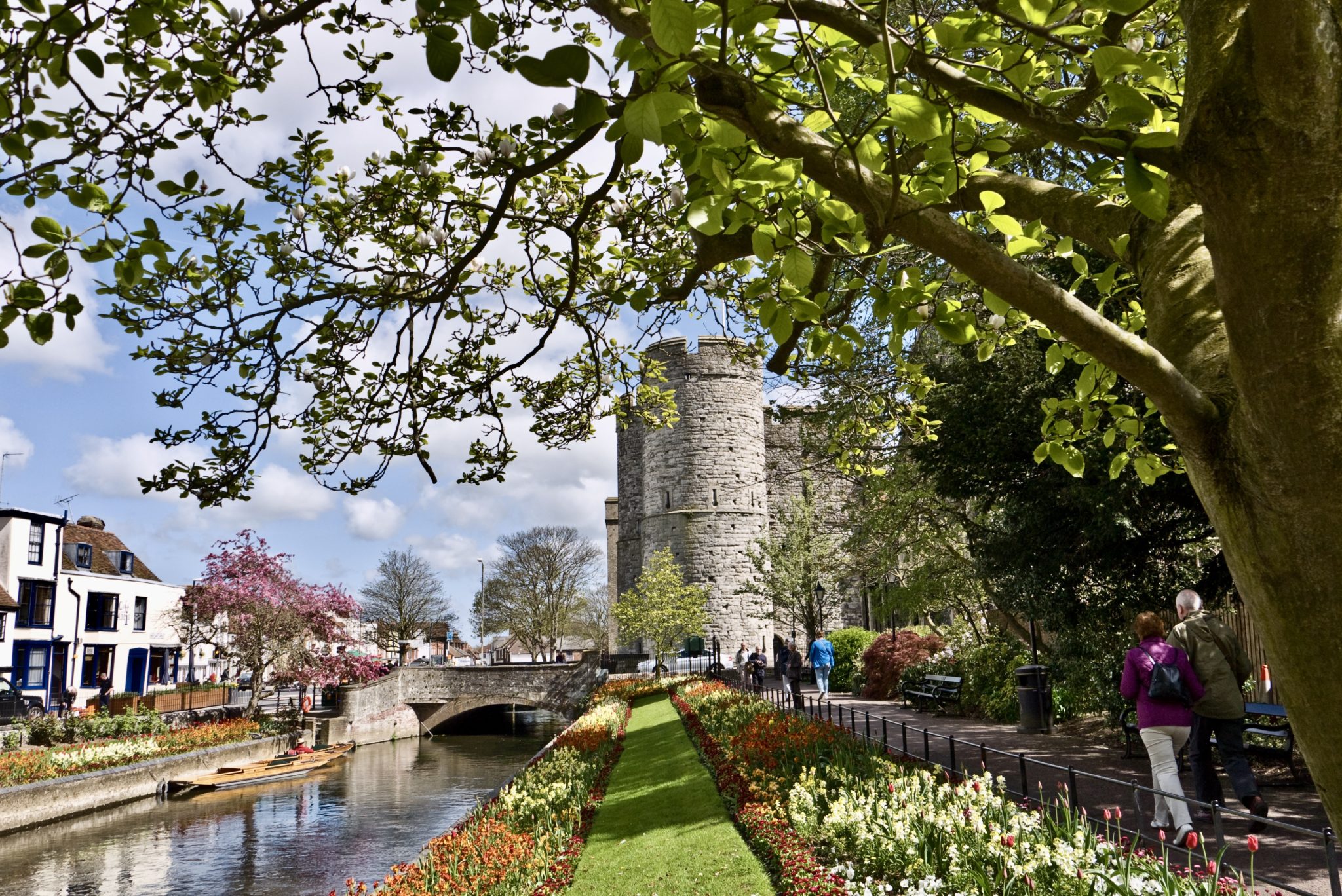 The tower serves as the entrance to the gardens.
You can enjoy a walk through manicured flower beds right along the river. There are benches along the way where you can sit and admire the view.
6:30-7:00 PM: Dinner
If you'd like a pint before dinner, head to Bishops Finger. It's the city's largest beer garden.
Another good option is the cute pub The Parrot. It's Canterbury's oldest pub, established in 1370. You can sip beer under huge medieval beams or in the outdoor patio.
Alternatively, you can sip wine at Alberry's Wine Bar. It's an ancient subterranean bar where part of the amphitheater is exposed.
For dinner, you can eat Italian at Pinocchio's, modern Mexican at Cafe des Amis, or seafood at Chapman's Restaurant.
For a real splurge, head the Sportsman, a Micheln starred restaurant in nearby Seasalter.
7:30 PM: Marlowe Theater
If you're overnighting in Canterbury, you could take in a show at the Marlowe Theater. The theater takes its name from Christopher Marlowe, a Canterbury native who was a poet, playwright, and Shakespeare influencer.
It's a first rate regional stage where Orlando Bloom made his acting debut. Shows start at 7:30 pm. So you would have to have an early dinner if you wanted to take in a performance.
Tips For Visiting Canterbury
1. How To Get To Canterbury
If you are spending one day in Canterbury on a day trip from London, there are several ways to get to the city.
By Car:
It's 1.5 hour drive from London. You cannot park within the city walls. You should instead use one of the Park & Ride lots outside the city. Shuttle buses run frequently.
By Train:
It's a 60-90 minute ride to Canterbury from London's Victoria, St. Pancras, or Charing Cross stations. The Javelin is the fastest train at 60 minutes.
From the station, cross the footbridge and turn right at the city walls. Look for St. George's Street. That will lead you to the main drag, High Street.
By Bus: Bus is the cheapest option to get to Canterbury on a day trip from London. It takes 2:15 from Victoria Coach Station.
By Guided Tour:
There are several guided tour options.
You can book a full day guided tour from London that includes Canterbury, Dover, and Leeds Castle. You can also book a full day tour to Canterbury and the White Cliffs of Dover.
READ: One Day in Dover, Day Trip from London
A third option is a 6 hour private tour of Canterbury and Leeds.
2. How To Get Around Canterbury
You can easily get around Canterbury on foot. The city has a compact center and much of it is pedestrianized. You can walk across the historic center in about 15 minutes.
The Canterbury tourist office is at 24 St. Margaret's Street. You can pick up a map and some free brochures about the attractions.
3. Where To Stay In Canterbury
If you want to overnight in Canterbury, you have some good hotel options.
ABode Canterbury is the quintessential British boutique hotel. It's a stylish luxury hotel within the city walls that's just minutes from the cathedral. The hotel also has an award winning restaurant and cocktail bar.
The Broome Park Hotel is a private estate in a historic building. You can book private cabins or suites in the main building.
Canterbury Cathedral Lodge is on the cathedral grounds. There's a library lounge and excellent English breakfast.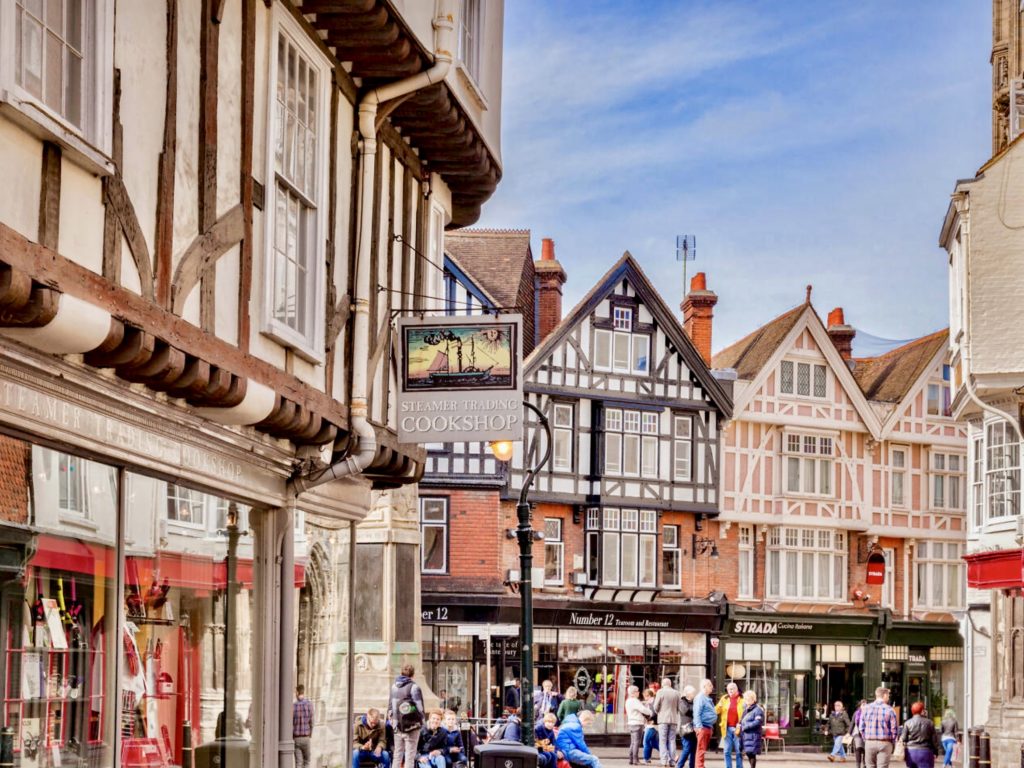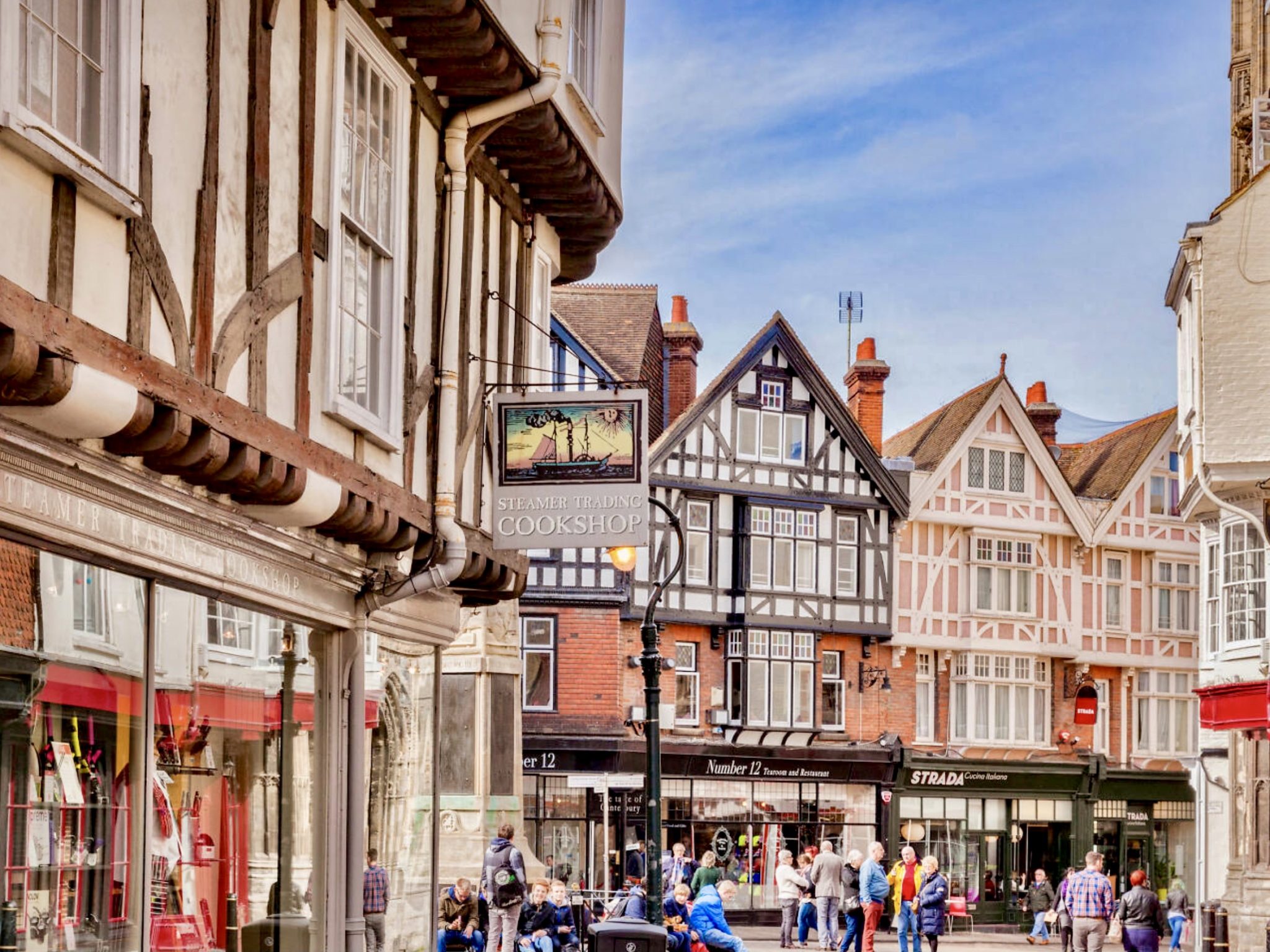 4. When To Go To Canterbury
Canterbury can be a very busy place. I would try to visit on a day trip from London during the spring or fall rather than summer.
Unless you have a burning desire to attend mass at the cathedral, I would also not schedule a visit on Sunday. Most of the museums and attractions are also closed that day.
5. Canterbury Card
If you are planning to visit most of the medieval sites in Canterbury, you may want to purchase the Canterbury Museum Combination Ticket. It gives you reduced price entry to Westgate Museum and the Roman Museum and other sites.
6. Places To Visit Near Canterbury
Do you have more than one day in Canterbury? If so, there are some great places to visit nearby that you could include in your day trip from London.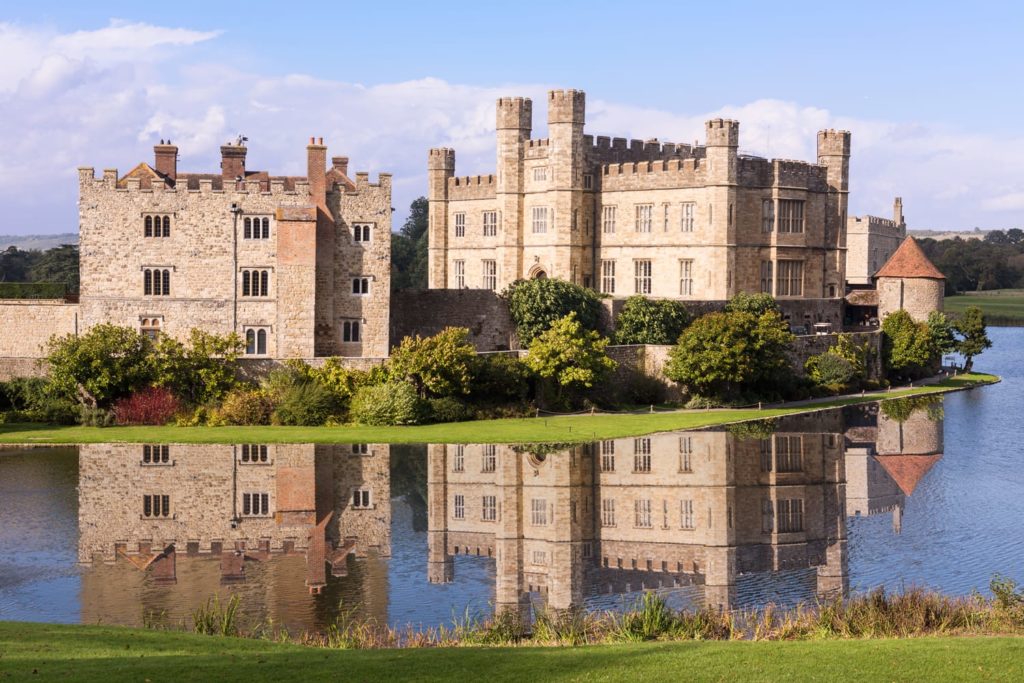 Leeds Castle
Leeds Castle is one of Britain's finest and oldest castles. It has a picturesque setting on a lake in the wooded countryside of Kent. It's often called England's most beautiful castle.
The castle was a royal residence until Tudor times. It was a favorite home of Henry VIII, who shuttled his ex-wife Catherine to live there after their divorce.
In 1926, the castle was bought by American heiress Olive Lady Baillie. She saved it from centuries of neglect and restored it to perfection. She later bequeathed the castle to Britain.
You can pre-book your castle ticket online. You can visit Canterbury and Leeds Castle together on a guided 10 hour tour from London.
Time from Canterbury: 40 minutes
White Cliffs of Dover
Just 30 minutes from Canterbury are the famous White Cliffs of Dover. The famous towering chalk cliffs are Dover's trademark. They stretch for 8 miles along Dover's coastline.
If you're feeling ambitious, you can walk the entire stretch to the picturesque town of Deal. Alternatively, you can book a guided local tour to see the most photogenic spots.
Time from Canterbury: 30 minutes
Whitstable
Whitstable is a posh seaside town in the southeastern corner of England in Kent. You should stop here too if you love clapboard houses, seafood (especially oysters), and the beach.
Whitstable's historic center is laced with thin alleys, which all lead to the water. There's also Whitstable Castle, a vast Neo-Gothic home built in the 1790s.
Time from Canterbury: 25 minutes
Deal
Deal is historic fishing village rich in flint and brick architecture. It's filled with quaint rows of Georgian townhouses, unique boutiques, and laid back seaside charm.
Deal is sometimes called the "new Shoreditch." You'll find plenty of trendy and quirky art galleries. There's also a thriving foodie scene and a castle to explore.
Time from Canterbury: 25 minutes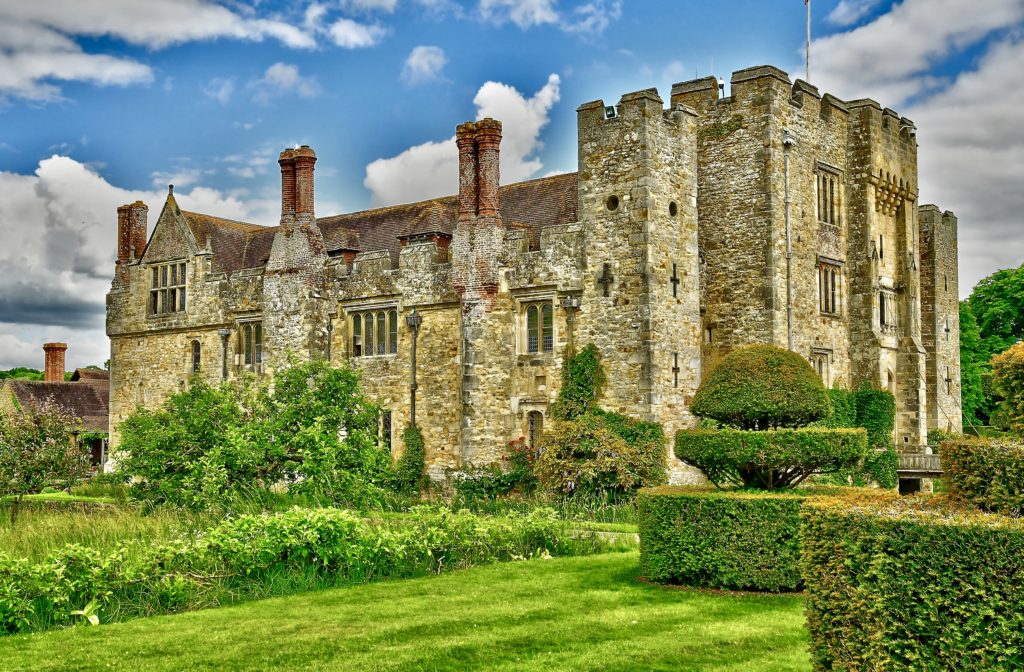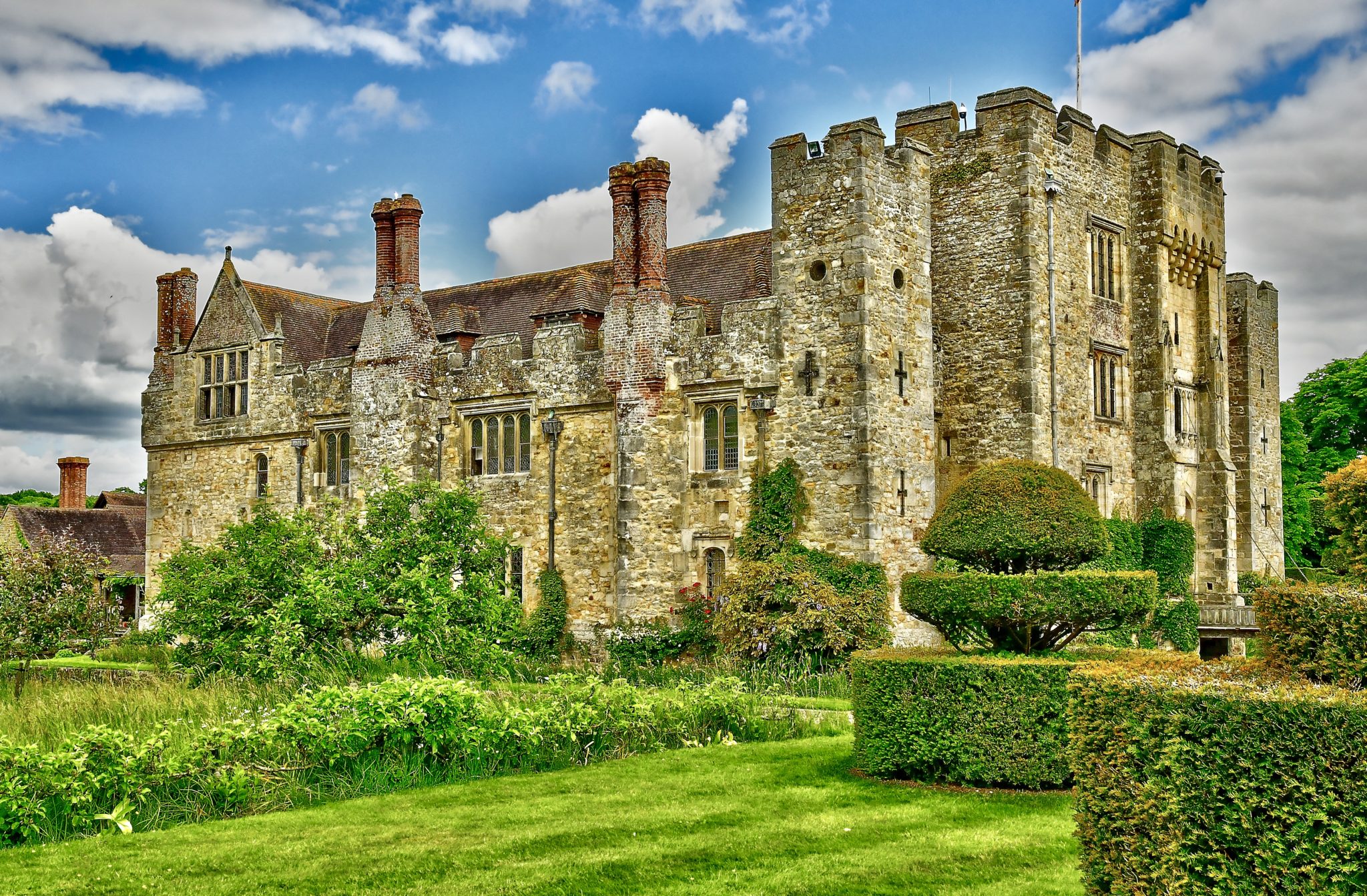 Hever Castle
About a hour from Canterbury lies Hever Castle. It's linked to two English queens.
Hever Castle was the childhood home of Ann Boleyn, Henry VIII's ill-fated wife who was executed at the Tower of London after failing to produce the requisite male heir.
Hever was also home to Henry VIII's fourth wife, Anne of Cleves, nicknamed the "Flanders Mare." This is where she retired after Henry dumped her after just a year of marriage.
In the Great Hall, there's a famous Holbein portrait of Henry, looking chubby and ruthless.
Time from Canterbury: 1:15
I hope you've enjoyed my one day in Canterbury itinerary and decide to go there on a day trip from London. You may enjoy these other London travel guides and resources:
If you want to spend one day in Canterbury, pin it for later.