Here's my one day itinerary for visiting the historic university town of Oxford.
This Oxford itinerary covers all the top attractions and and best things to do in Oxford in one day. I also give you more sightseeing and day trip options if you have more time in Oxford.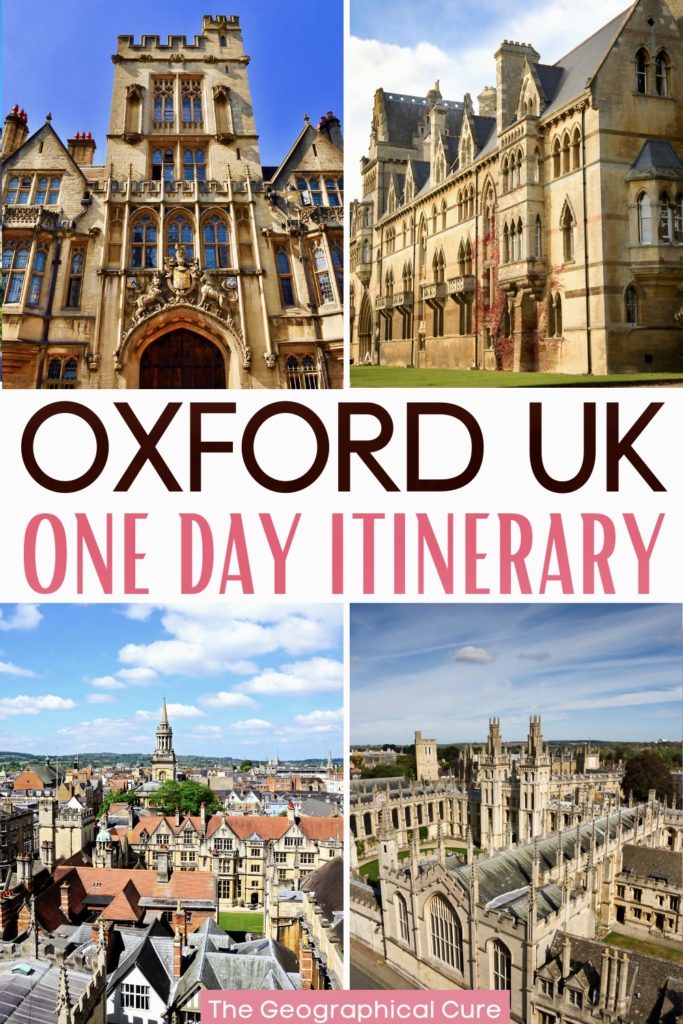 Oxford is a beautiful and bustling university town. It's a 1,000 year old scholarly city with film set grandeur and ambience.
Oxford is home to the world's oldest English-speaking university. The town is nicknamed the "Town of Dreaming Spires." It's full of creamy honey-toned architecture, neat lawns, and the feel of cloistered academia.
Oxford is located just 56 miles from London, making it an easy day trip from the UK's capital. And you'll be able to see a fair number of highlights in one day in Oxford.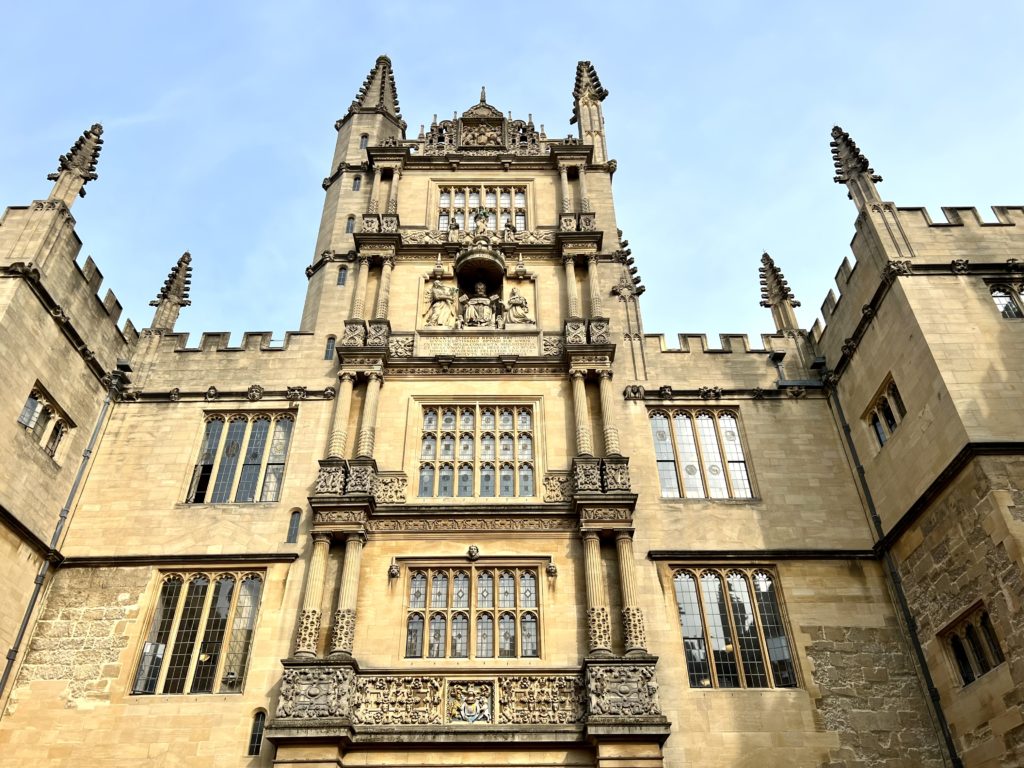 Oxford is renowned for the 39 separate colleges that constitute Oxford University. They are sub-communities where the students live and eat in their own worlds, developing their own history and customs.
There is no official date when Oxford University was founded.
The earliest Oxford colleges were founded in the mid 1200s. By the mid 16th century, the whole collection was complete.
Together, the colleges form an incredible square mile warren of old world stone architecture and bristling spires, all made of pretty Cotswold limestone. Bells chime all the time, as if the city is celebrating.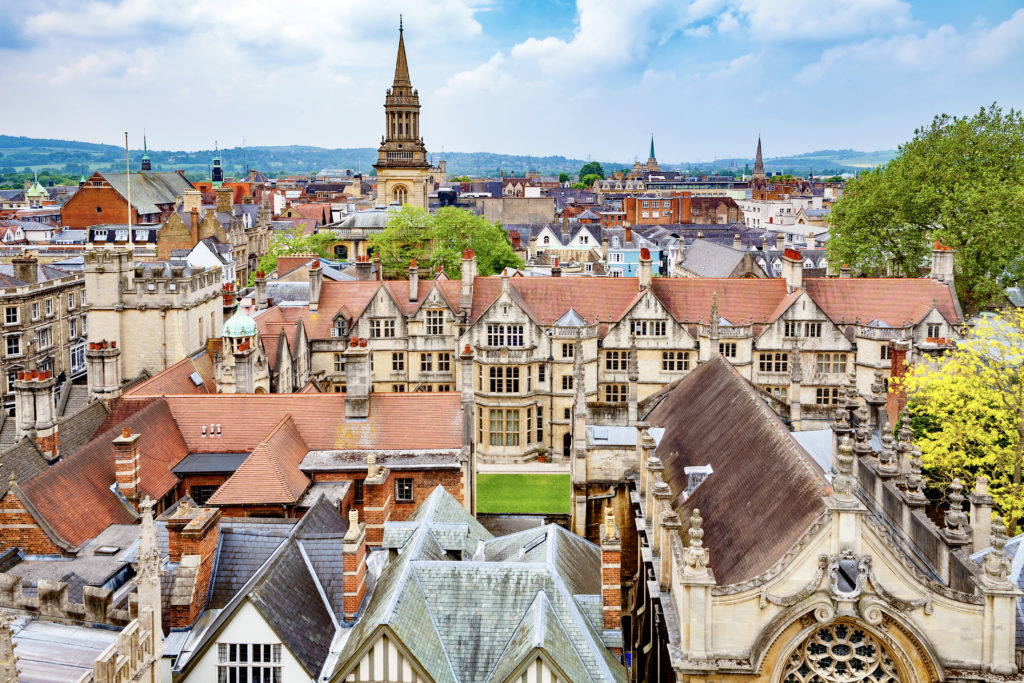 You definitely can't see all the colleges with just one day in Oxford. You'll have to pick and choose.
But you can glimpse many of them just by strolling the city center, as you take in the bookstores, pubs, and punting.
What To Do In One Day In Oxford Itinerary
Here are my picks for the top attractions and best things to do with one day in Oxford.
As with all of my suggested itineraries, I recommend that you use this one day in Oxford itinerary as a guide. You can tailor it to suit your individual interests, needs, and pace of travel.
I also give you tips for visiting and options for other things to see near Oxford if you have more than a day.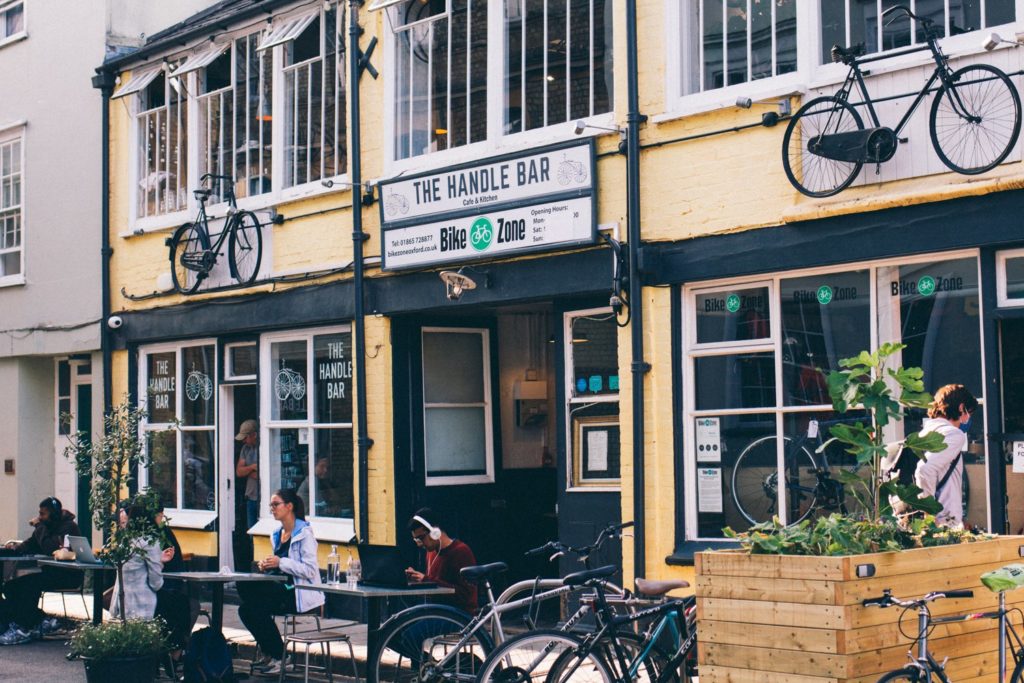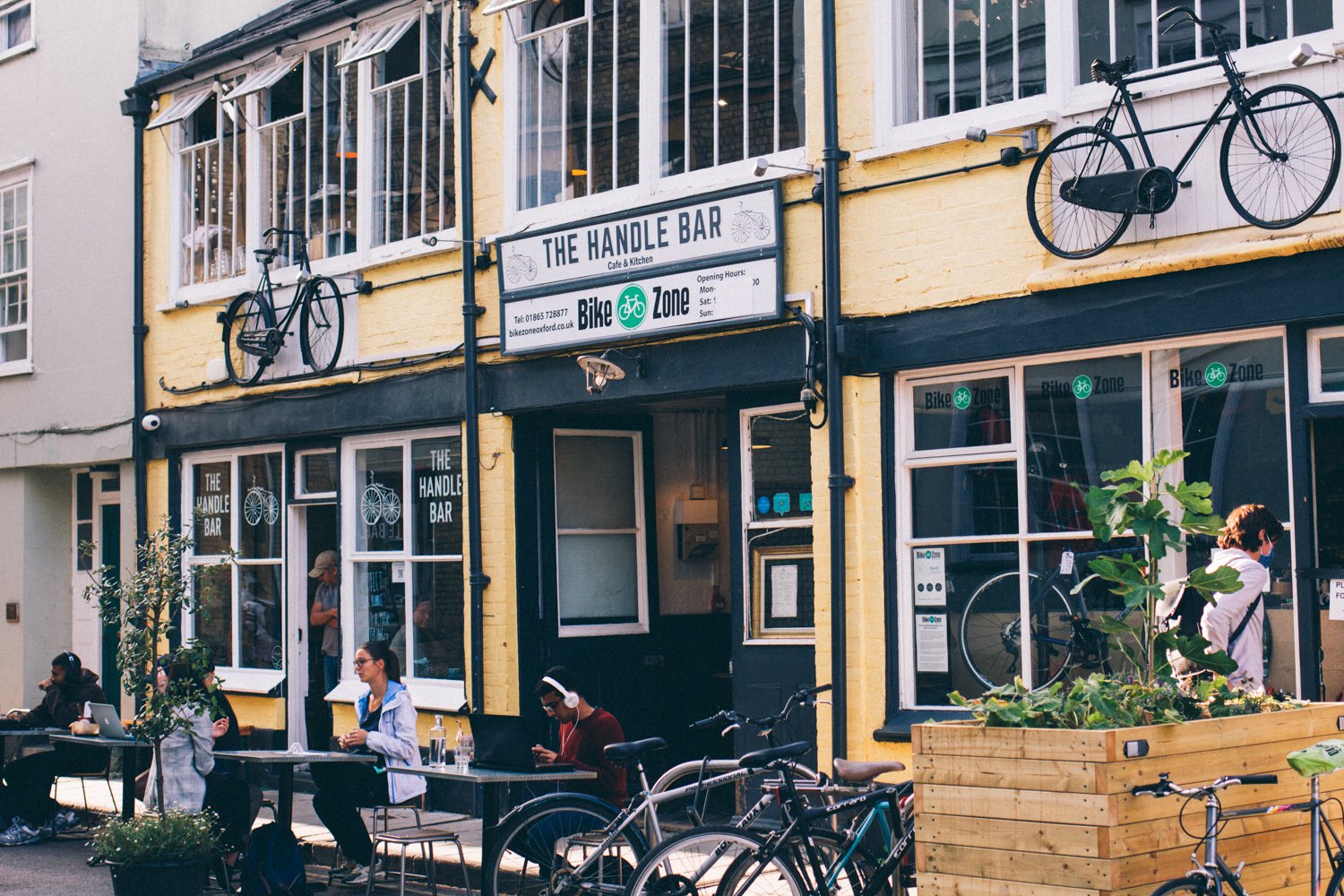 One Day In Oxford Morning
1. Breakfast
If you haven't had breakfast when you arrive in Oxford, pop into the Handle Bar Cafe and Kitchen on St. Micheal's Street for some avocado toast or a smoothie.
You can also grab a specialty coffee at Society Cafe. It's a pretty bright white cafe with passionate baristas and nummy baked goods.
2. Walking Tour
You may want to start your one day in Oxford with a guided talking tour to get the lay of the land.
You can book a small group tour with a university alumnus or a private 2 hour guided walking tour. You can also book a 3 hour tour that combines walking and biking.
A guided tour will be efficient and make sure you see things or details you might otherwise miss. Then you can figure out what you specifically want to go back and see.
Some walking tours have special themes you may enjoy. For example, you could book a Tolkien and CS Lewis walking tour or a Harry Potter tour. There's also a hidden histories tour, which is one of the all in vogue "uncomfortable" tours.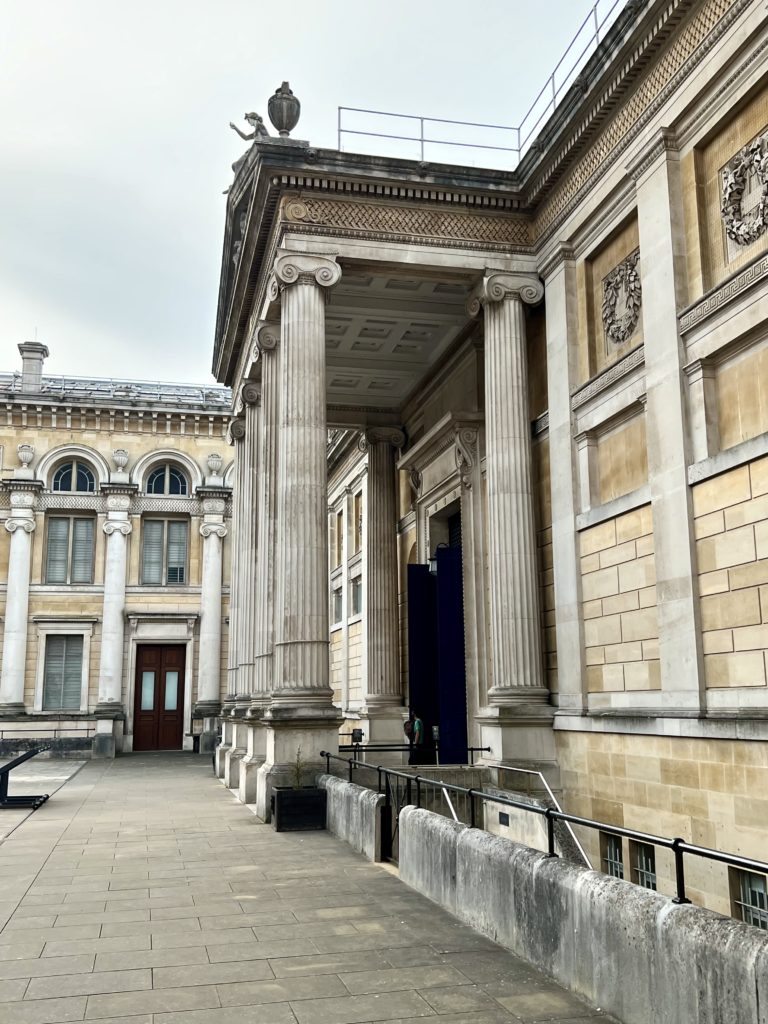 3. Ashmolean Museum
If you didn't book a guided walking tour, start with the venerable Ashmolean Museum. Established in 1683, the Ashmolean is one of Britain's oldest public museums. Plus, it's completely free to visit.
Housed in an early Victorian building, the Ashmolean has an international art and archaeology collection spread out over six floors. There's also a fairly new rooftop terrace and restaurant where you have stunning views over the city.
The museum's "Ancient World" galleries house collections of Islamic art, Egyptian mummies, Indian textiles, ancient documents, and even Oliver Cromwell's death mask.
There's an extraordinary collection of artifacts from Minoan Crete. It came courtesy of Arthur Evans, the archaeologist who excavated Knossos Palace.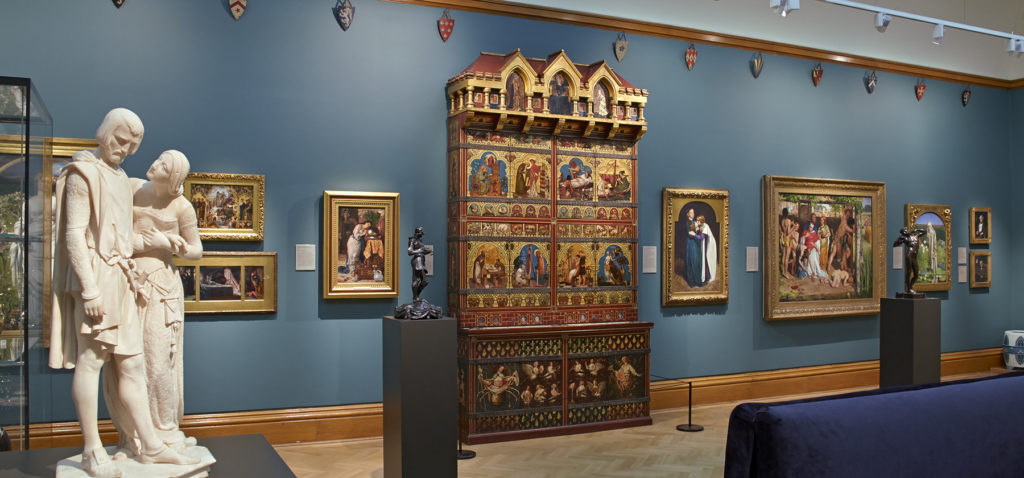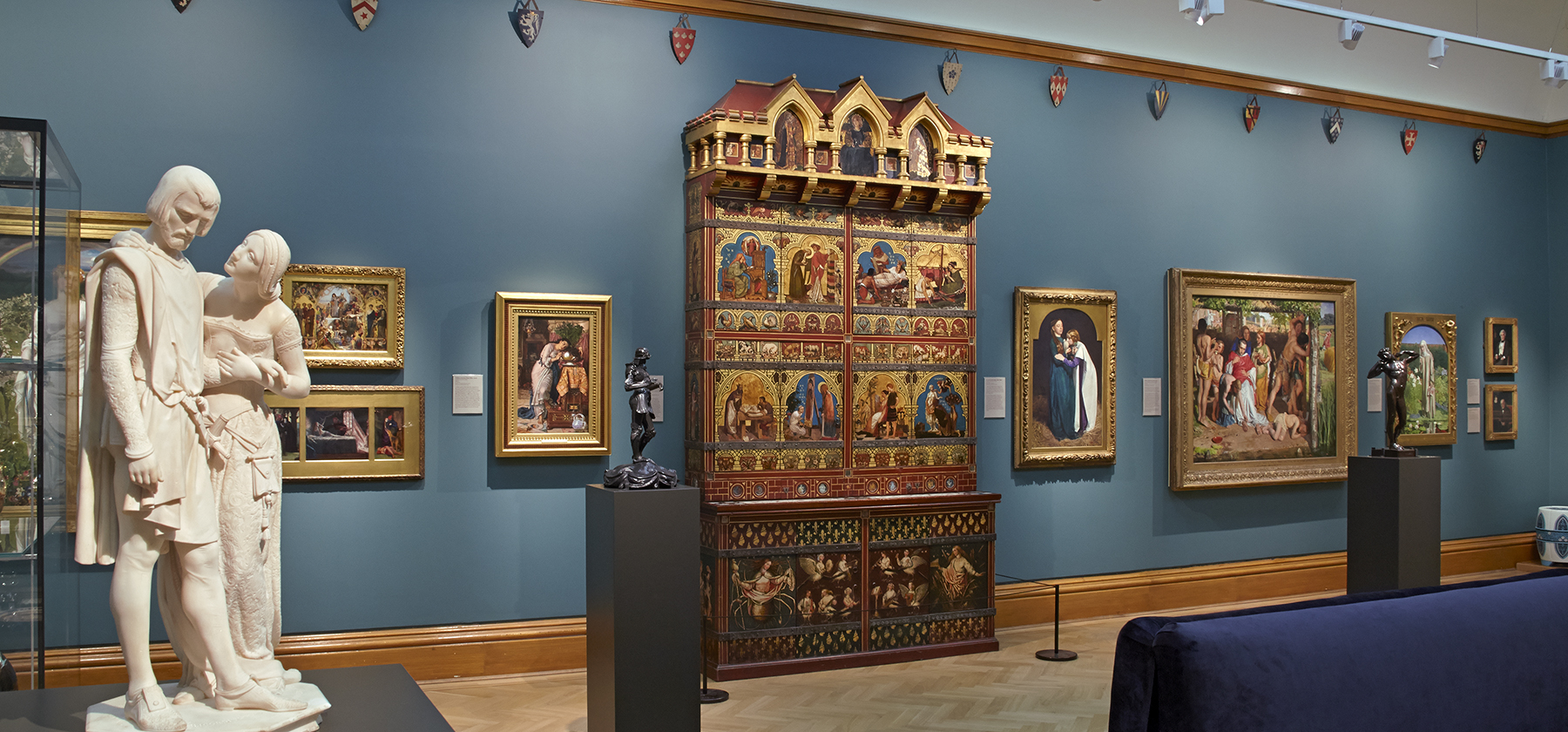 Upstairs in the Italian Renaissance area, you'll find sketches by Michelangelo and Raphael. There are also masterpieces by Uccello, Mantegna, and Bellini. The museum's acknowledged masterpiece is Uccello's The Hunt in the Forest.
At the Ashmolean, you can also get your Pre-Raphaelite fix.
The museum holds preparatory sketches for William Holman Hunt's The Light of the World, a famous painting on display in London's St. Paul's Cathedral.
You can also find sketches and watercolors. One of the museum's most remarkable works is a painted wardrobe by Edward Burne-Jones.
After your museum visit, head east down Broad Street to see some of Oxford's attractions.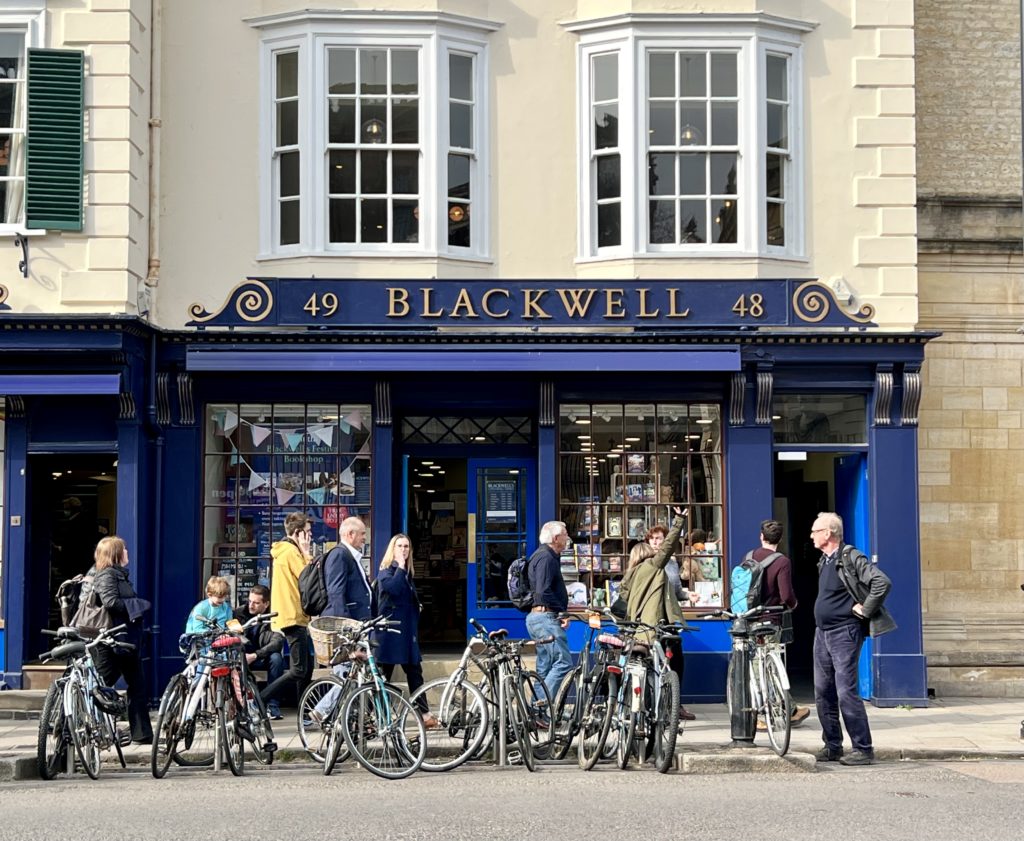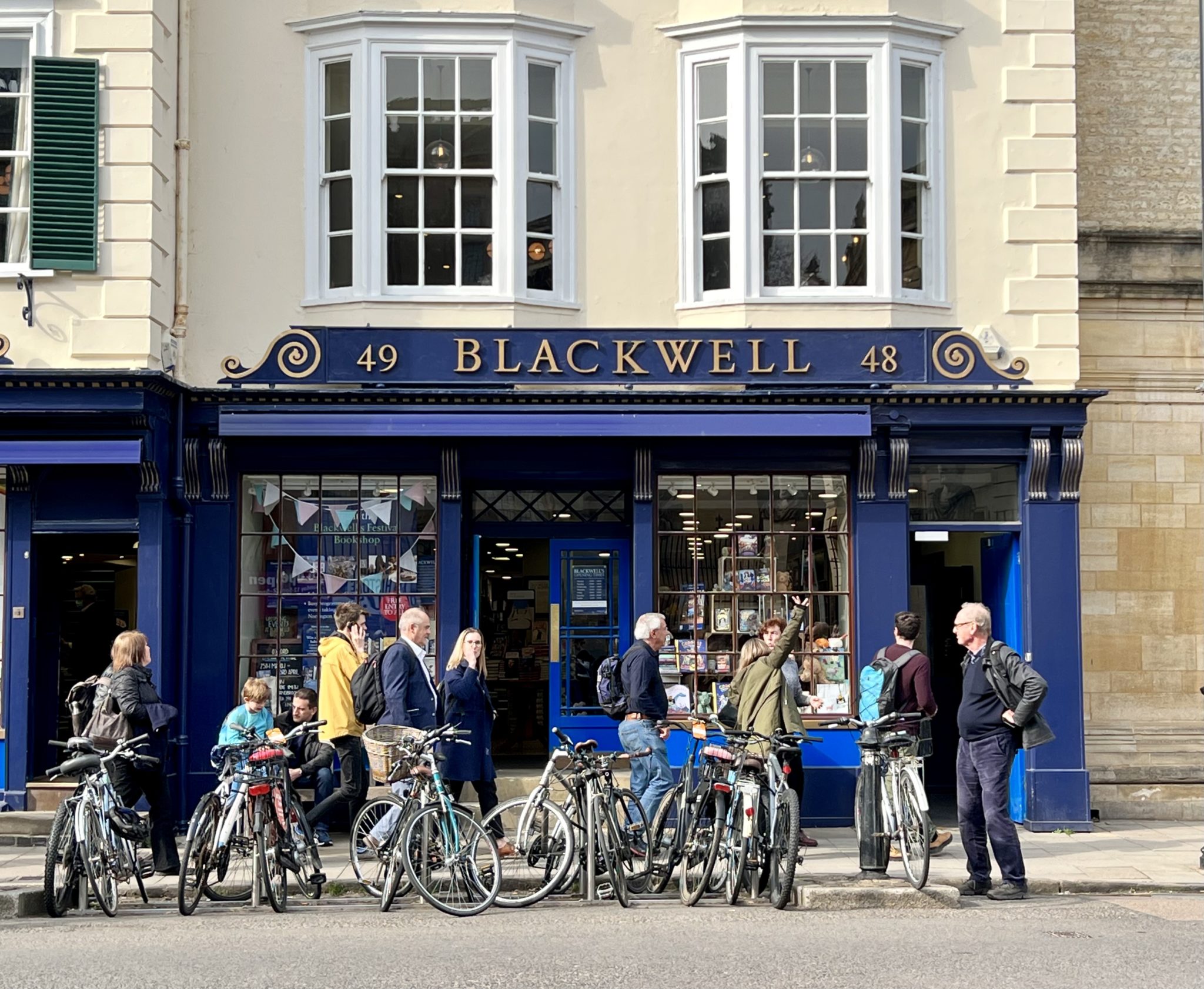 4. Blackwell's Bookshop
Blackwell's is Oxford's famous bookstore. It's located on Broad Street, which some think is (yet another) location that inspired Diagon Alley in the Harry Potter movies.
Founded in 1879 by Benjamin Henry Blackwell, it's one of the world's largest academic and specialty bookstores. It's a book lover's paradise. If you're not careful, you could be sucked in for hours.
You'll find almost 3 miles of books on every imaginable topic. Don't forget to take a peak in the Norrington Room downstairs.
It's not uncommon to see famous authors in here reading from a recent novel or delivering a lecture.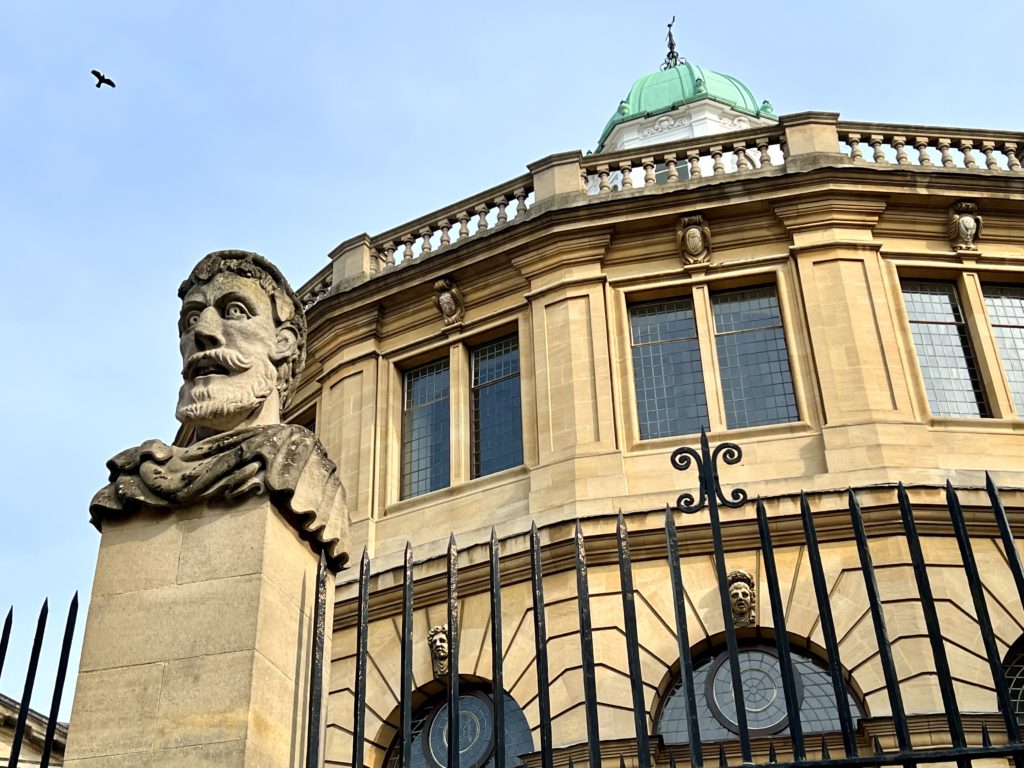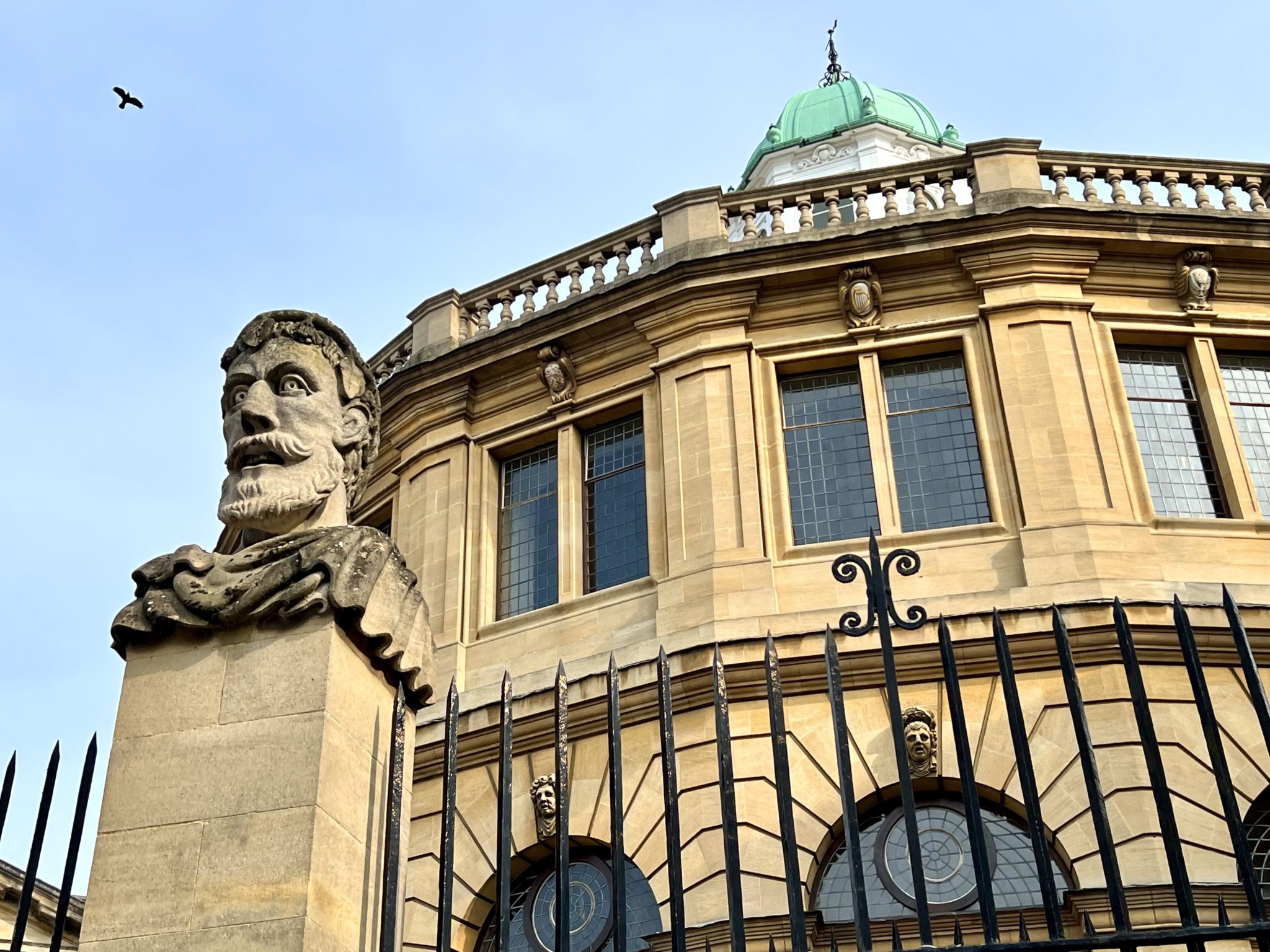 5. Sheldonian Theater
Broad Street ends at the Sheldonian Theater. This is a little architectural jewel that was one of architect Sir Christopher Wren's first big commissions. He was then a professor of astronomy at Oxford.
The theater was built from 1663 onward to serve as a setting for Oxford's degree ceremonies.
The theater is modeled on the Theater of Marcellus in Rome. It has a distinctive white cupola, from which you'll have panoramic views.
The theater is surrounded by 12 busts of Roman emperors who all look rather startled and sport different style beards. They were commissioned by Wren and carved by Christopher Bird. The busts have been nicknamed "the Philosophers" and "the 12 Apostles."
Inside the theater are 17th century murals depicting the triumph of truth over ignorance. They were painted during the reign of Charles II.
Click here for prices and tours for the theater.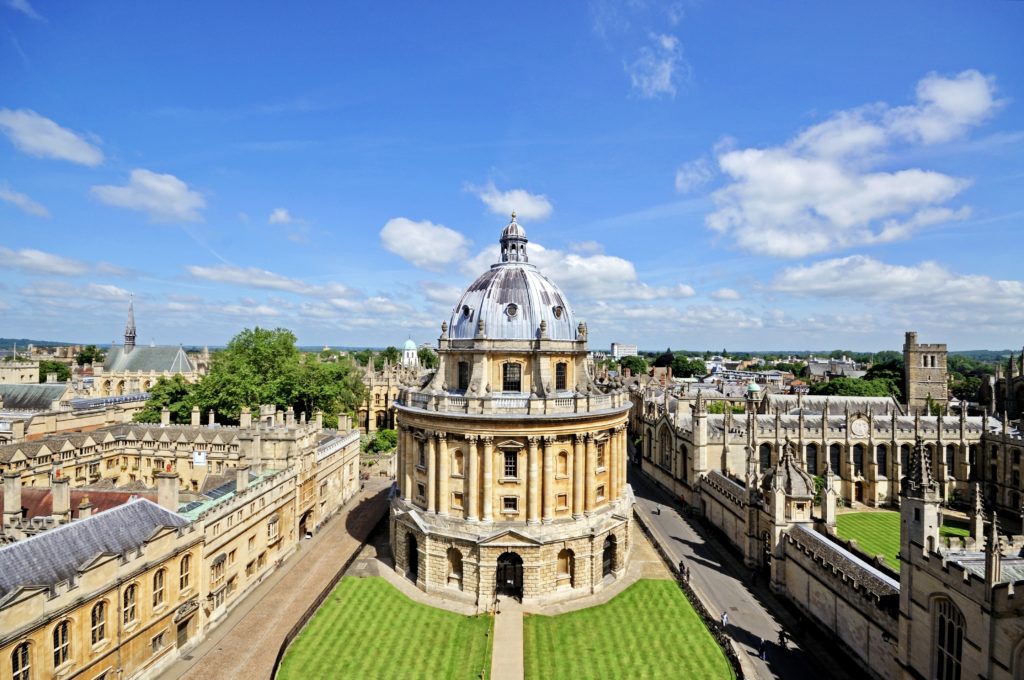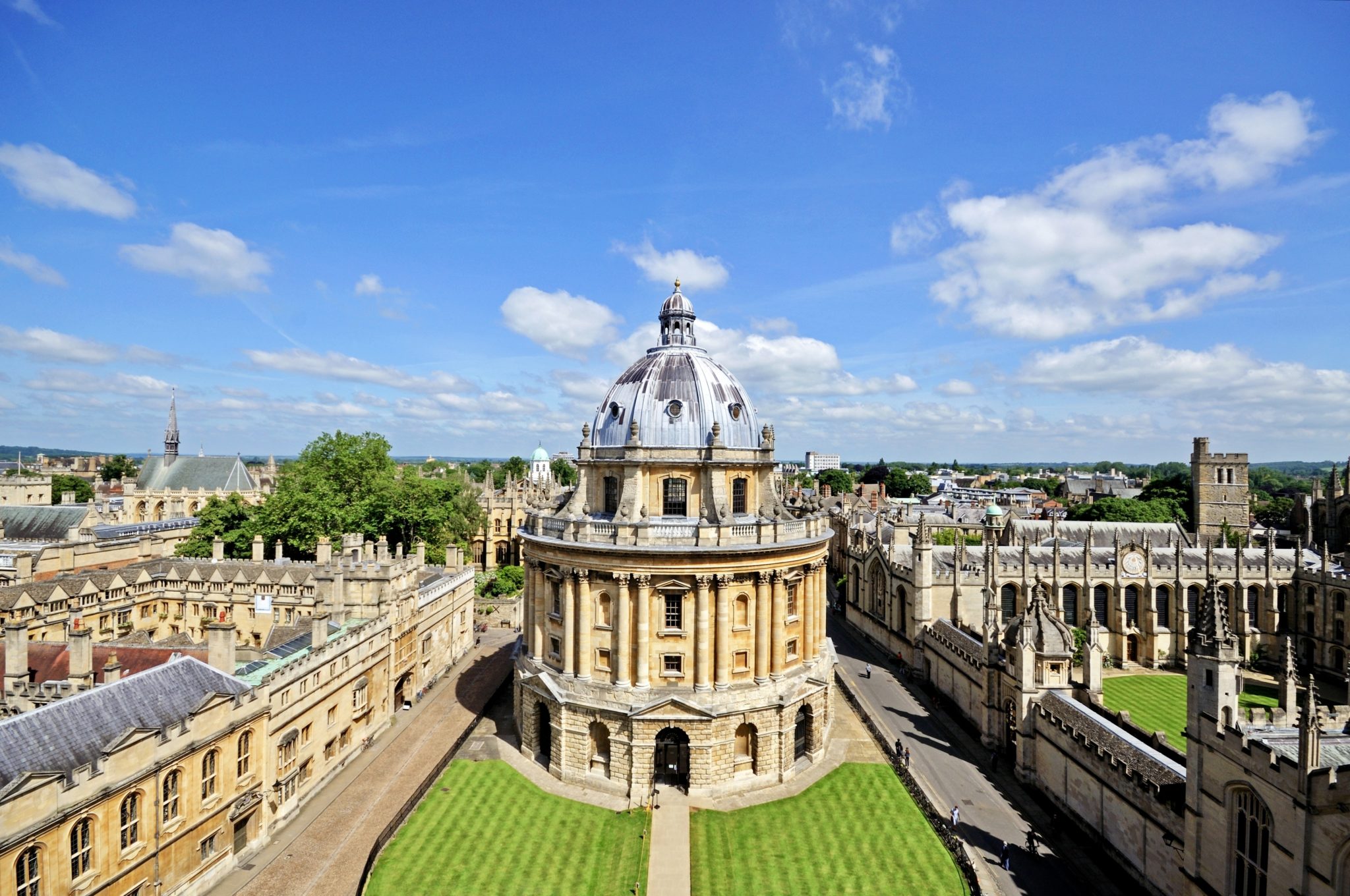 7. Radcliffe Camera
The Radcliffe Camera is one of Oxford's top attractions and its most photographed landmark.
The "Rad Cam" was built as an addition to the Bodleian Library in 1737. Funds were donated by Dr. John Radcliffe, a physician to King William and Queen Mary.
Camera is a Latin word for chamber or room. The Rad Cam has a towering 140 foot rotunda that wouldn't seem out of place in Rome. It's the third largest dome in the U.K.
Inside, you'll find a light-filled, circular, and columned library. It was the first of its kind in Britain and perfectly exemplifies Palladian principles, using a symmetrical, repeating pattern.
Read: Guide To the Palladian Vicenza Italy
Today, the Rad Cam serves as a reading room for the Bodelian Library. You can only go inside the Rad Cam by joining the 90 minute tour of Bodleian library.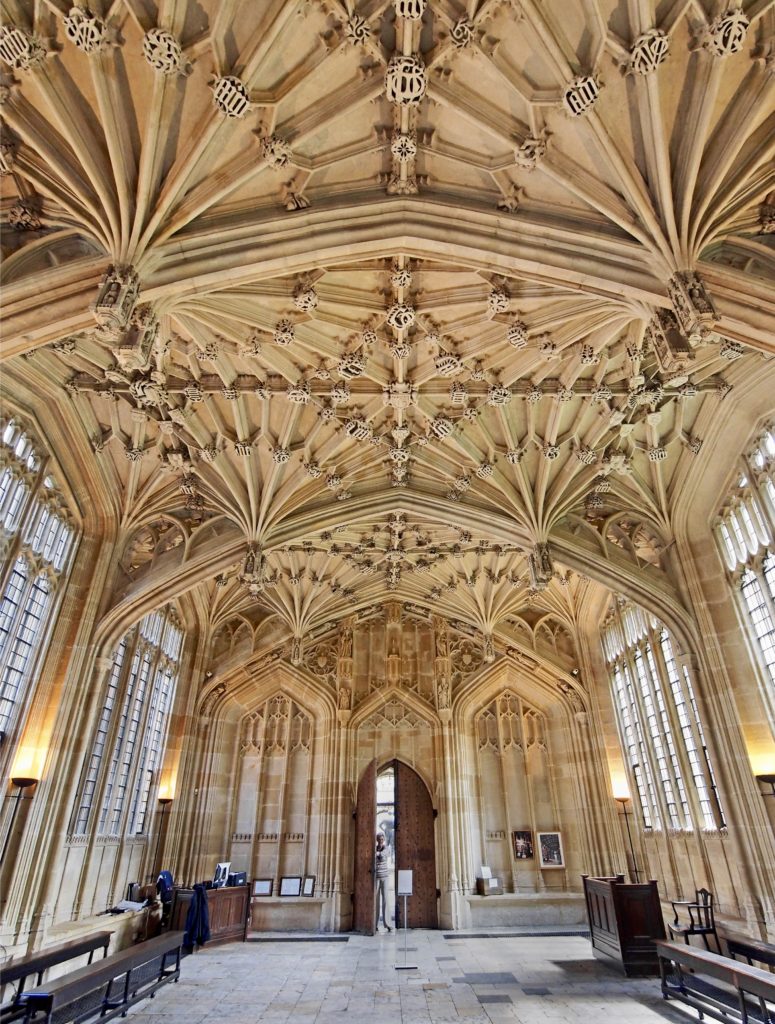 8. Bodleian Library
The venerable Bodleian Library is Oxford's spiritual core. It's one of the oldest libraries in Europe.
In the UK, it is second in size only to the British Library in London. It receives a copy of every book published in the UK.
The Bodleian Libraries hold over 13 million printed items in three reading rooms. Book worms will be in seventh heaven.
The library houses many rare books and maps. One of its most famous items is the Gough Map, which is a medieval map of Great Britain.
Other famous items include manuscripts of 18 plays by Shakespeare, a copy of Handel's Messiah, and four 13th century original manuscripts of the Magna Carta.
The Bodleian is not a lending library though. No book every leaves the space.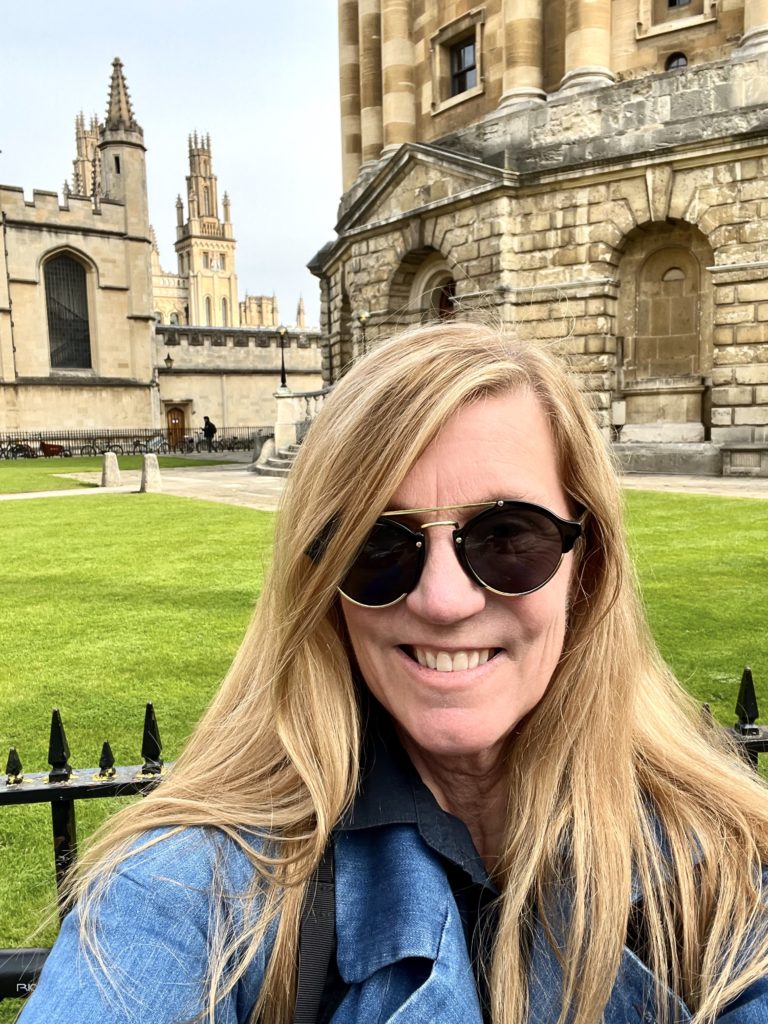 Students who enter have to make the "Bodley Oath," whereby they swear not to bring fire or flames into the library.
The Bodleian Library complex also includes the Weston Library, the Divinity School, and Duke Humphrey's Library.
Weston Library
The Weston Library initially opened in 1946 as the New Bodleian Library. In 2015, it was given a major renovation and re-christained as the Weston Library by Prince William.
The Weston has an ornamental 17th century Ascott Gate salvaged from an estate. It reads "If you are good, enter. If wicked, by no means."
The Weston Library is free to visit. It also has miles of books and some precious treasures. You'll find a copy of the Gutenberg Bible, manuscripts from famous authors, and the Oscar Wild's infamous court summons. Wild was the novelist who was put on trial for "gross indecency" in 1895.
Divinity School
The Oxford Divinity School is a sublime space with a beautiful and intricate vaulted ceiling.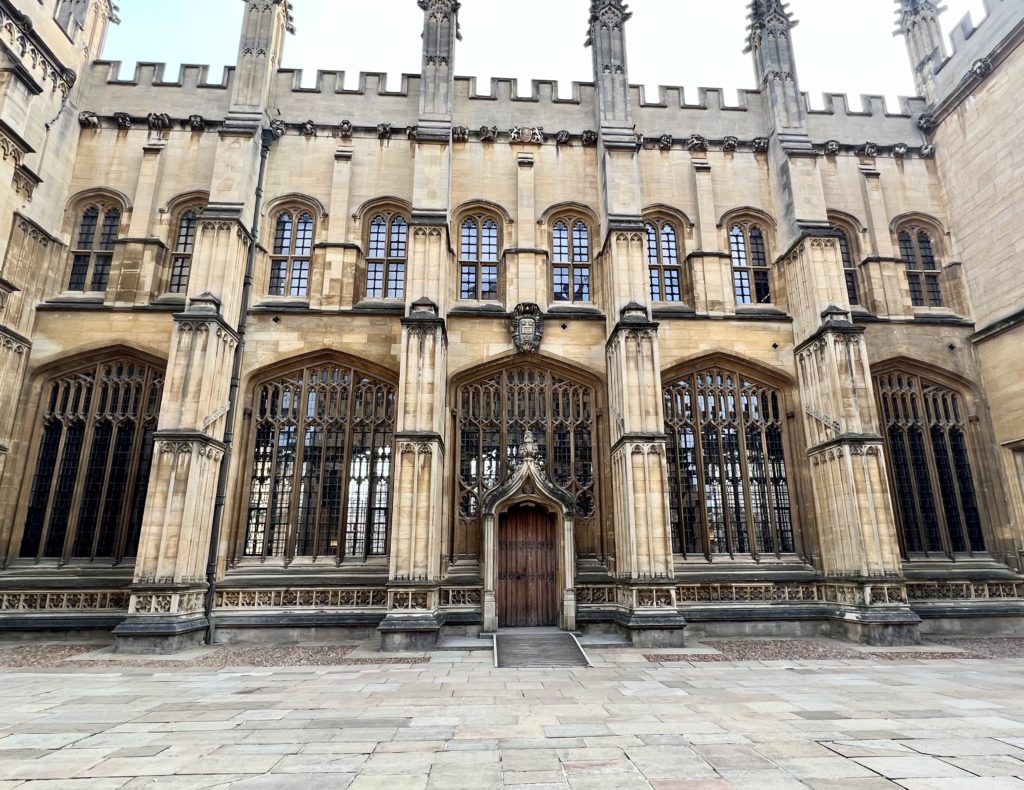 This medieval building was built in the 1400s to be used for lectures, oral examinations, and discussions on theology. This makes it the oldest surviving purpose-built part of any university.
Entry to the Divinity School is £2.50 per person. This room doubled as the infirmary in the Harry Potter movies. Click here for a Harry Potter tour with a divinity school entry.
Duke Humphrey's Library
The Duke Humphrey's Library is upstairs above the Divinity School. Completed in 1488, the sumptuously decorated library takes its name from the youngest brother of Henry V, of Agincourt and Shakespeare fame. It's lined with portraits of Oxford founders.
Even on a tour, you can't enter the the magnificent medieval room or pick up the ancient tombs. But you can peer into the library from an extension on one end.
In the Harry Potter films, Duke Humphrey's was the Hogwarts Library.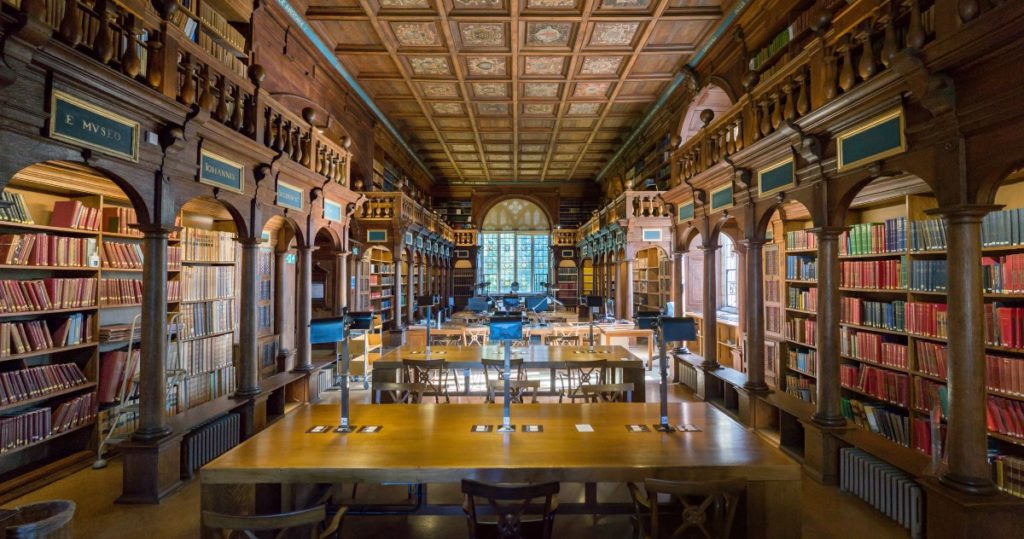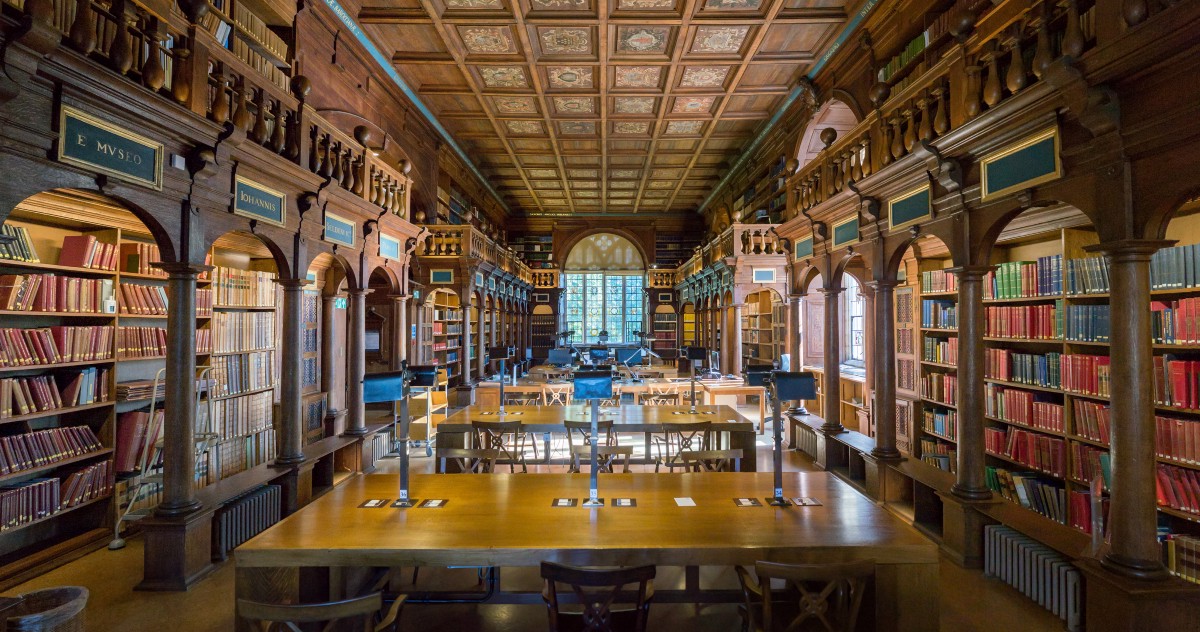 9. Tours of Bodleian Library
To visit the Bodleian Library, you have to pre-arrange a guided tour. You can book a 30, 60, or 90 minute tour of the library on its website. Here's what you can see:
30 minute tour: € 9, covers the Divinity School and Duke Humphrey's Library
60 minute tour: € 12, covers the Divinity School, Convocation House, Chancellor's Court, and Duke Humphrey's Library
90 minute tour: € 18, covers everything on the 60 minute tour plus the Gladstone Link (underground library and passageway) and Radcliffe Camera.
If you have time, I recommend the 90 minute tour. It's the only one where you can go inside the Radcliffe Camera.
You can book tours online up to 30 days in advance. A few tickets are reserved for same day visitors.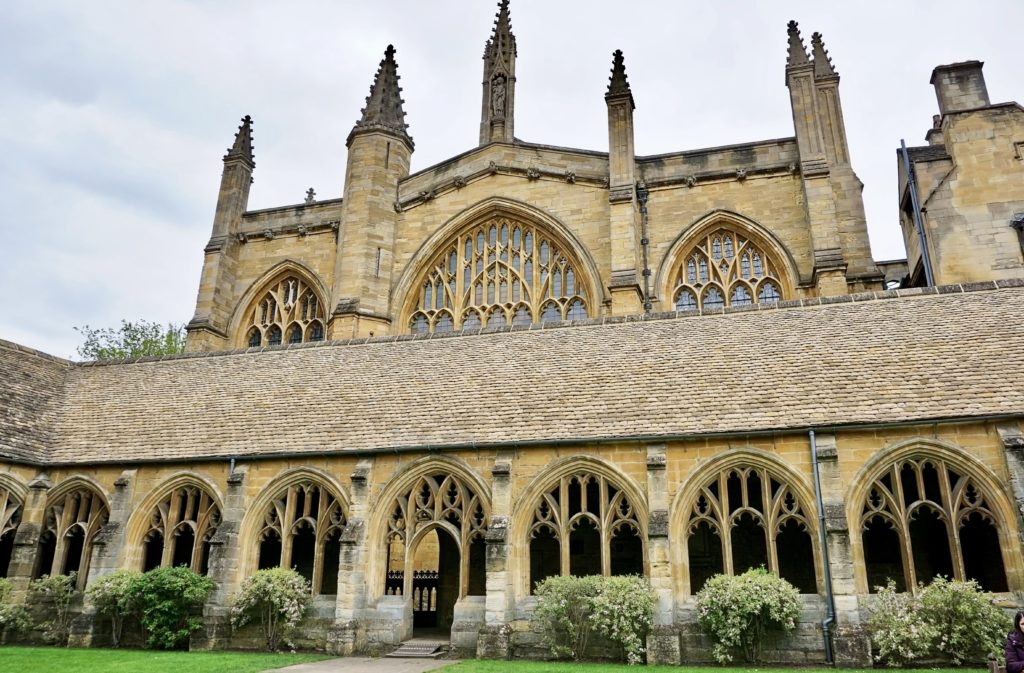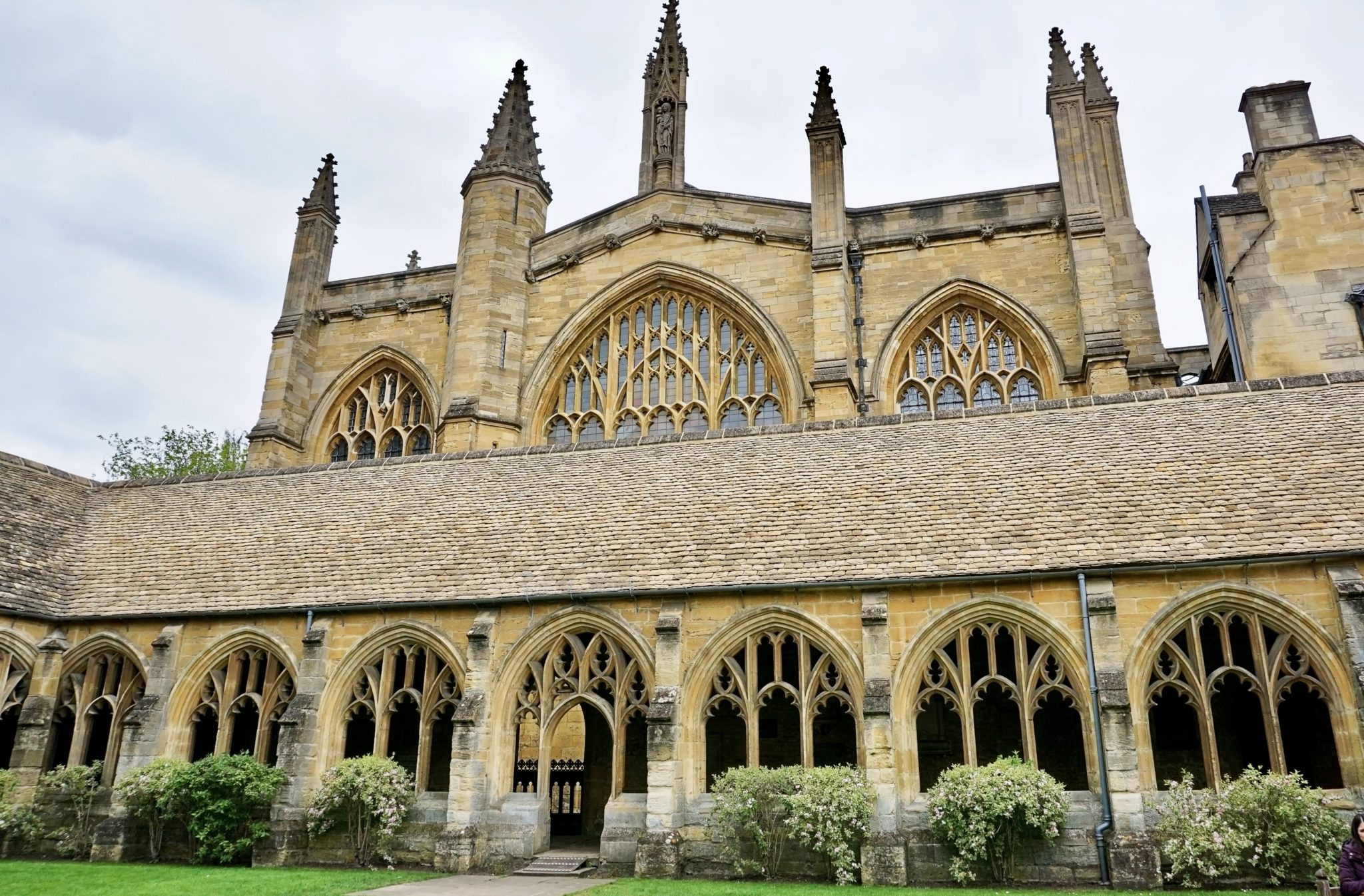 10. New College
New College isn't really new, as its name implies. The college was established in 1379 as an Oxford undergraduate college.
The college buildings were built in the Perpendicular Gothic style. The college is also renowned for its beautiful 15th century cloisters. The medieval dining hall is the oldest in Oxford.
You may also remember New College from the Harry Potter movie, Goblet of Fire. Draco Malfoy is turned into a ferret in the cloisters.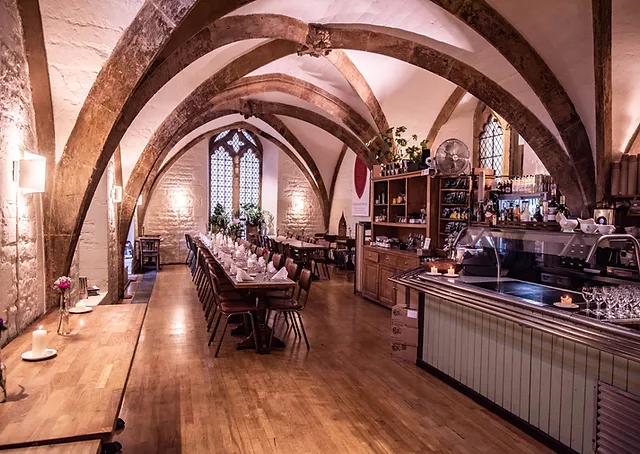 One Day In Oxford Afternoon
11. Lunch
For lunch, you can join the queue at Vaults and Garden Cafe, which serves up a changing menu of salads, curries, and stews under vaulted ceilings. If it's nice out, you can dine in the garden and admire the Rad Cam up close.
You can also settle in at The Grand Cafe. It's an Oxford institution on High Street and the site of the oldest coffee shop in England.
Alternatively, if you're a market person, head to Oxford's Covered Market on Market Street. This is Oxford's answer to the bazaar.
It's the go to place in Oxford for fresh produce, meat, flowers, and baked goods. You can sidle up to a sandwich counter or sit down at one of the cafes.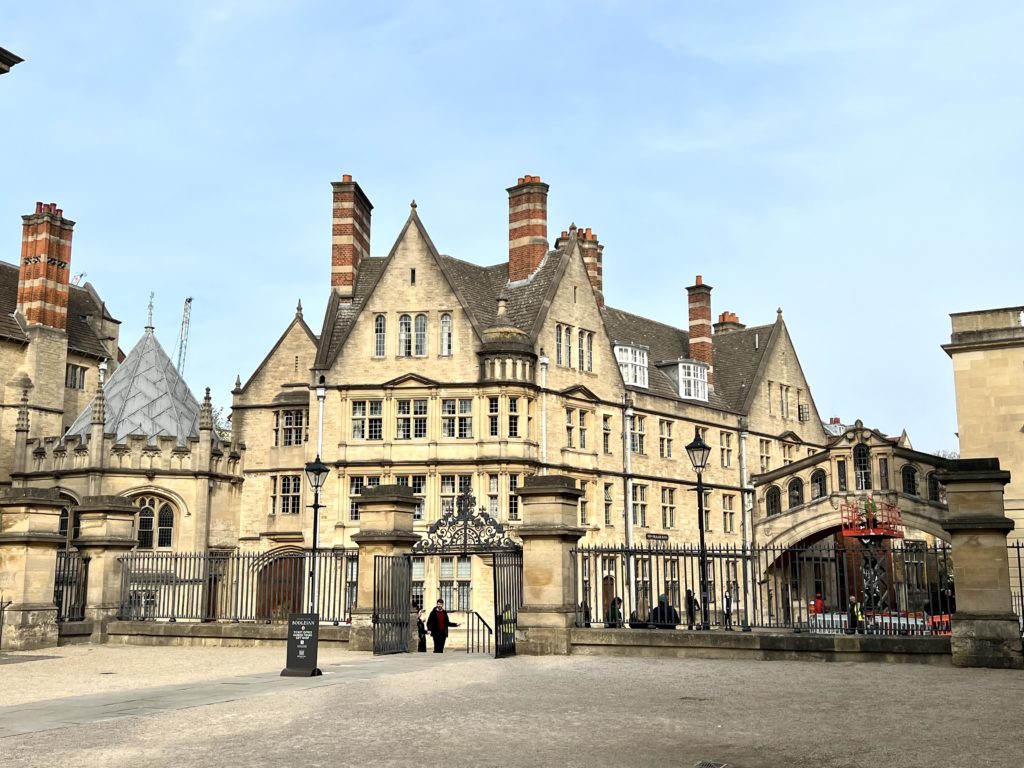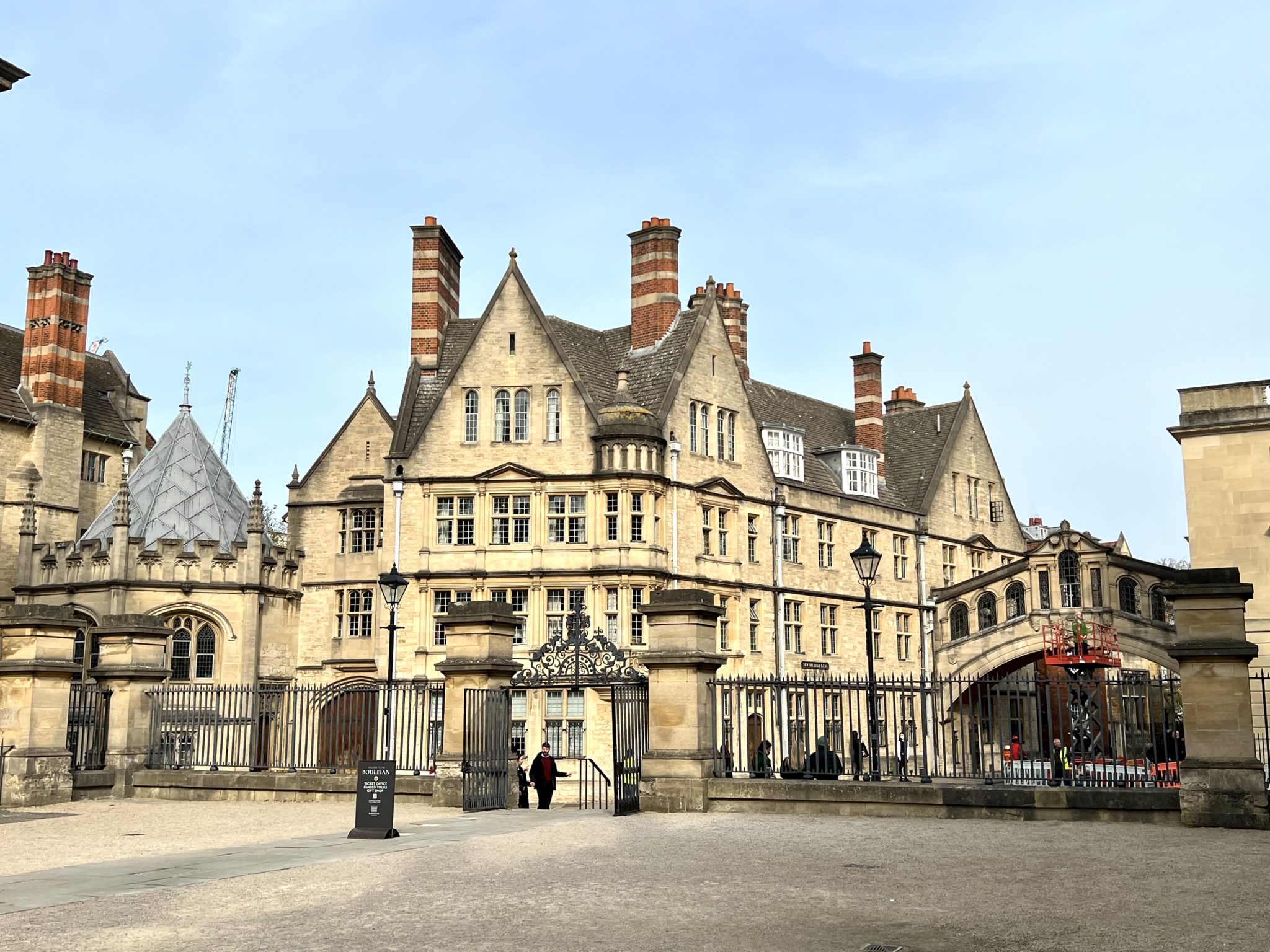 12. Bridge of Sighs
Hertford Bridge is part of Hertford College on Queen's Lane. It dates from 1874. The mini-bridge links two buildings of the college.
It's a photogenic bridge nicknamed the "Bridge of Sighs" because of its similarity to the more famous bridge in Venice.
While it's small like the Bridge of Sighs, stylistically, it looks more like the Rialto Bridge.
13. All Souls College
Then at least dip into All Soul's College. The college was founded as a center of prayer and learning in 1438.
It has a beautiful Gothic facade, with eye catching towers on the north quad. Inside, the chapel has a 15th century fan vaulting in the vestibule and and a medieval hammer beam roof.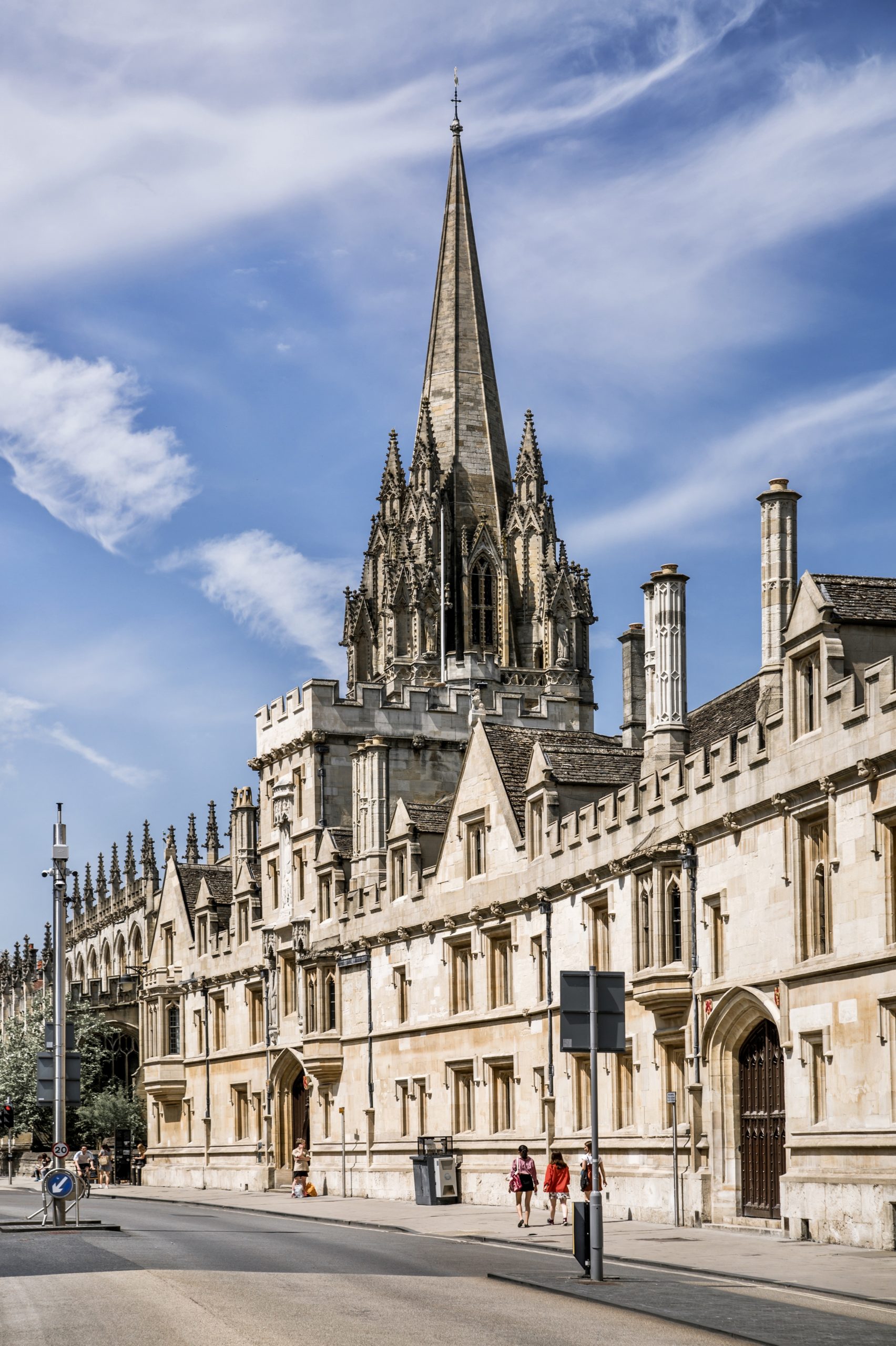 14. University Church of St. Mary The Virgin
Right next door to All Souls College is the University Church of St. Mary. Some think it's the dreamiest of Oxford's "dreaming spires."
From the tower, you have the best bird's eye view of Oxford and the facade of the Radcliffe Camera. You can also snap a photo of the Bridge of Sighs.
The climb isn't for the faint of heart. It's 127 steps up a medieval spiral staircase. There is no elevator.
Tickets may be purchased from the shop at the Radcliffe Square entrance. They're £5.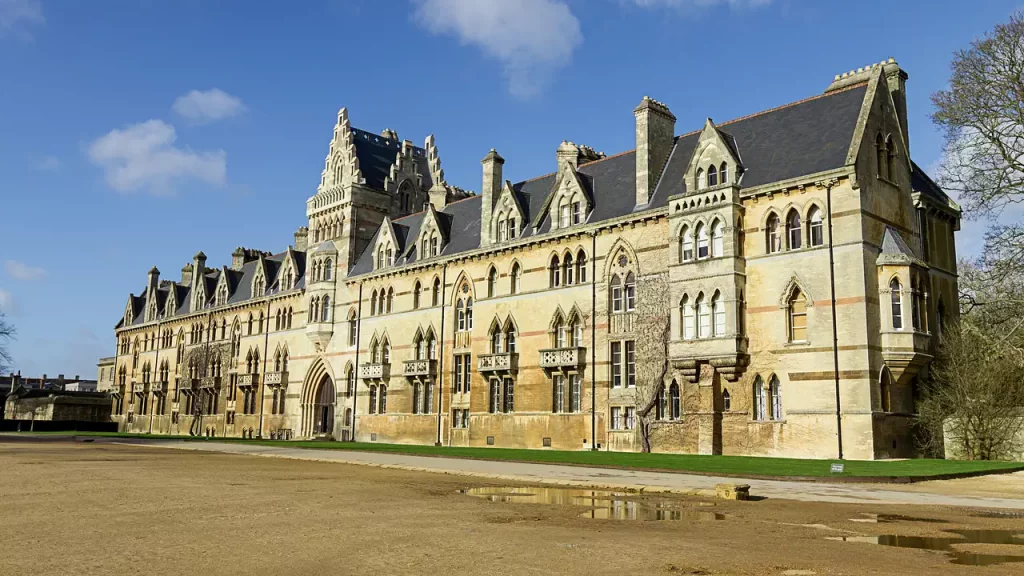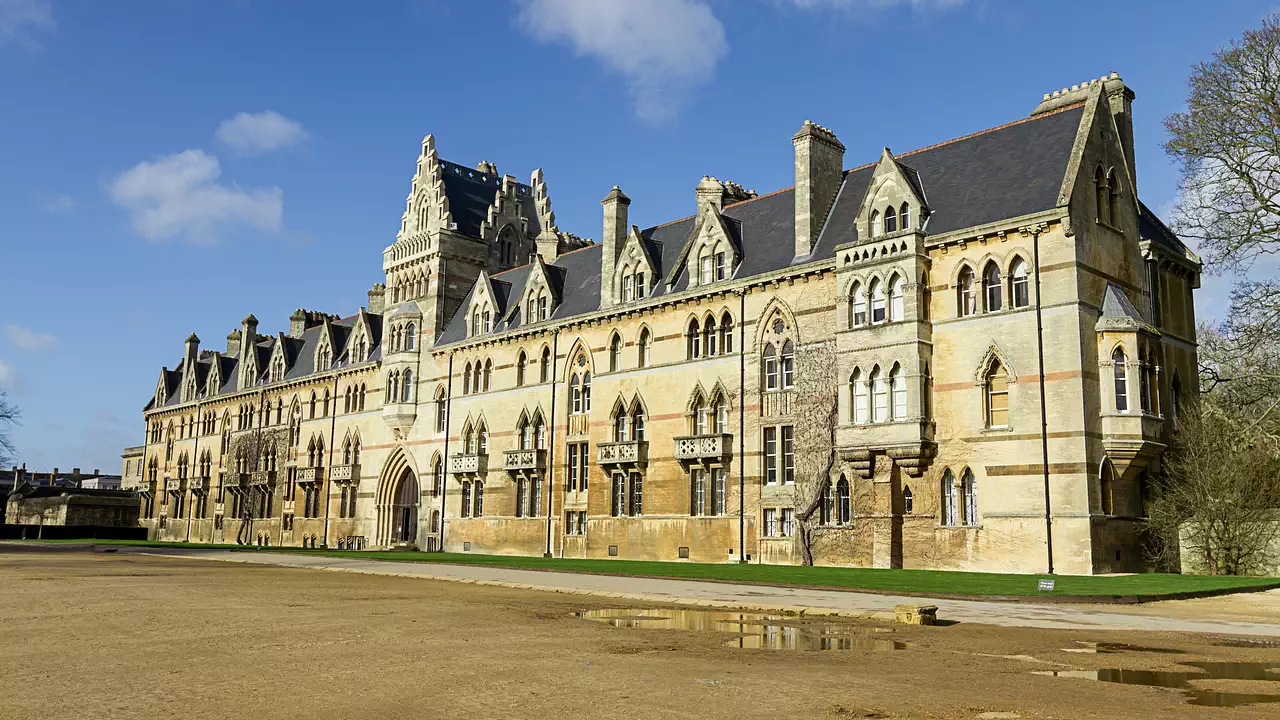 15. Christ Church College
If there's only one college you visit, make it Christ Church College. It's an absolute must visit attraction with one day in Oxford.
The grand college simply oozes history. It's the largest and most prestigious of Oxford's colleges.
The college was founded in 1525 by Henry VIII's chancellor, Cardinal Wolsey. The college is the alma mater of 13 British prime ministers, Albert Einstein, and Lewis Carroll.
Established in 1525, the college comes complete with its own cathedral and art gallery.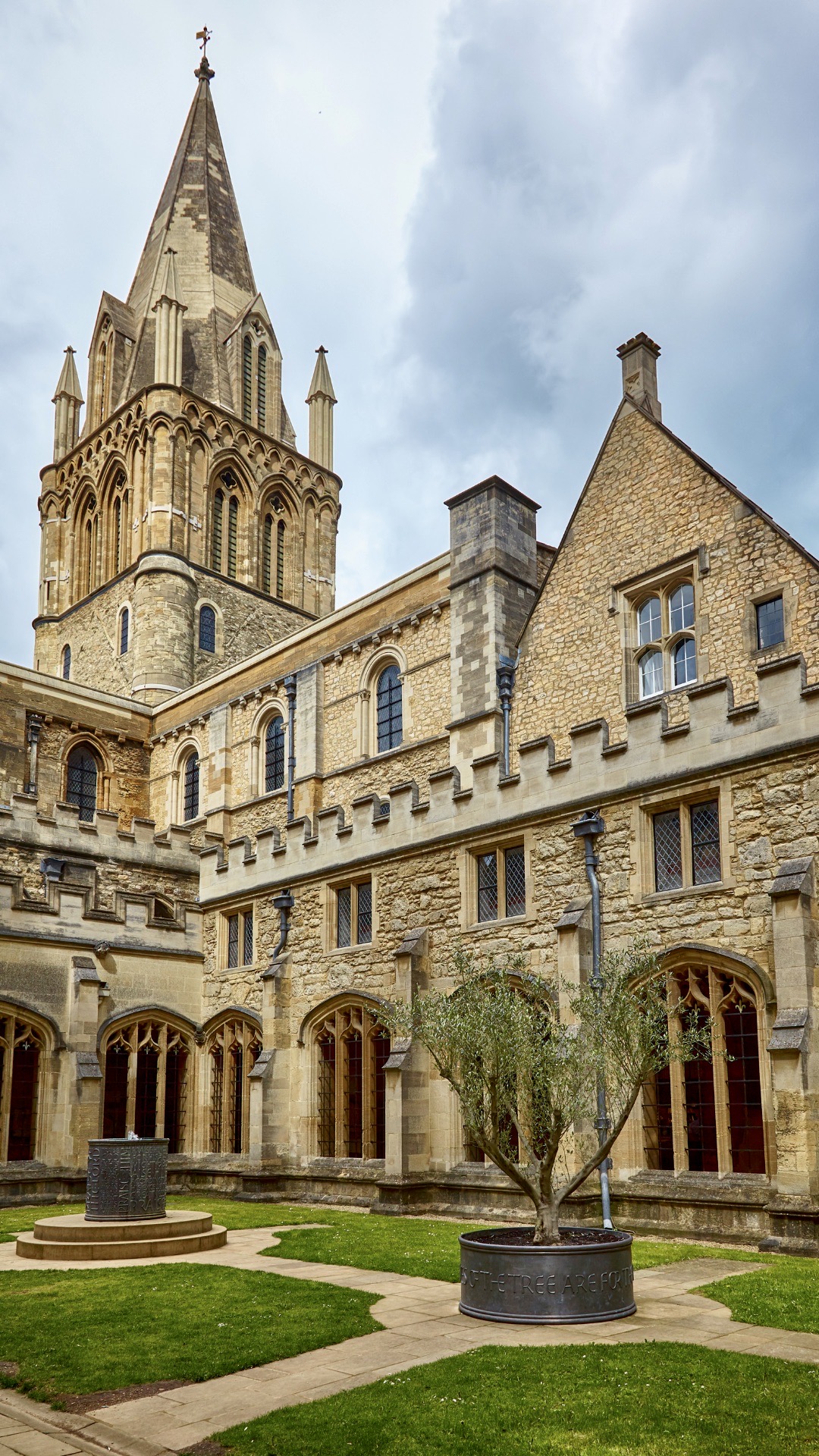 The main entrance to Christ Church is the 17th century Tom Tower, which was designed by Christopher Wren. The 6 ton bell, dubbed "Great Tom," rings 101 times every night at 9:05 pm.
It seems nonsensical, but there's a reason for the madness.
In 1663, Oxford had only 101 students. Curfew was at 9:00 pm.
"Oxford Time" was then 5 minutes behind the now used GMT time. Hence, the bells tolled at 5 minutes after 9:00 pm.
The Great Hall in Christ Church College is a spectacular Renaissance space. It once served as Charles I's parliamentary seat during the English civil war.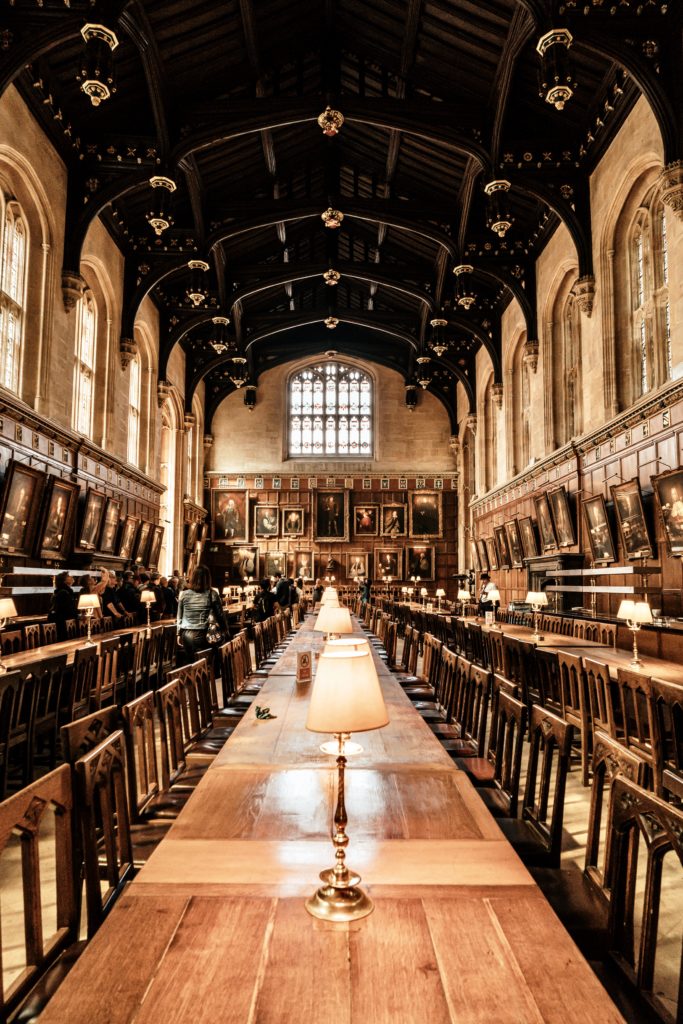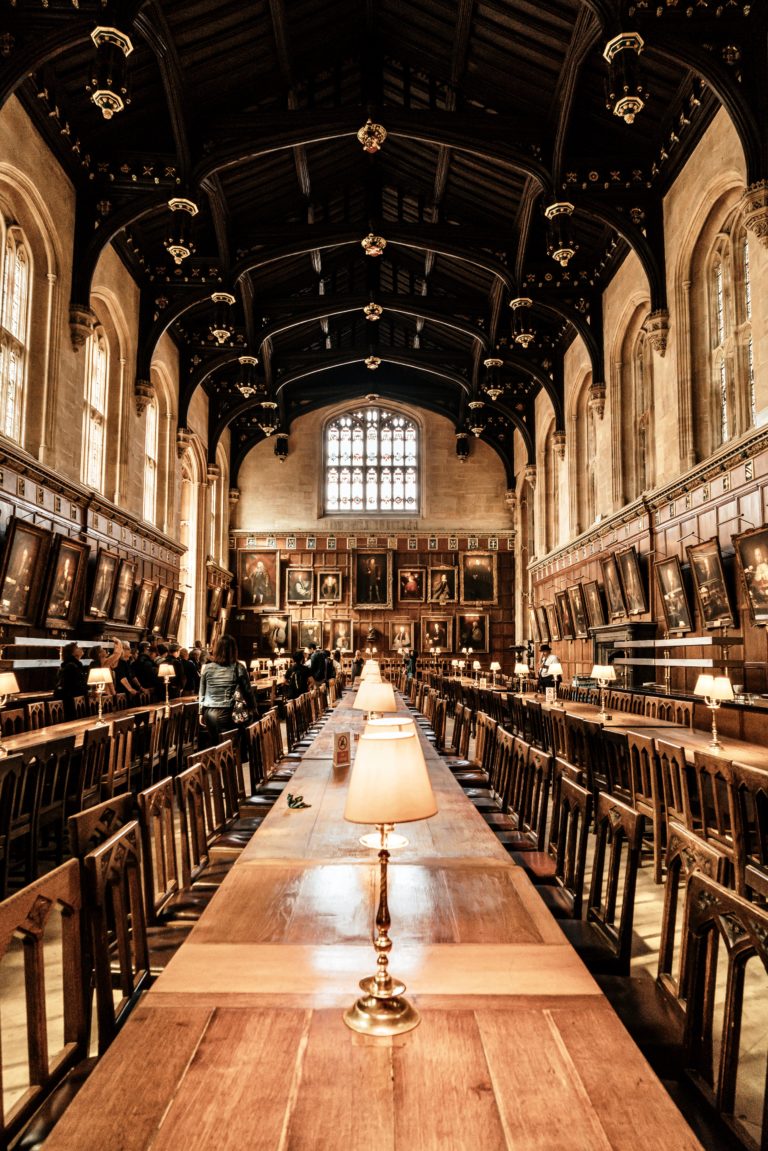 The hammer beam roof hovers above. Around the room are portraits of bygone scholars and prime ministers.
The Christ College Picture Gallery features an exceptional collection of works from the 14th to 18th centuries. It's behind the college cathedral.
It boasts paintings and drawings by Italian Renaissance painters Filippino Lippi, Tintoretto, and Michelangelo.
Christ Church served as the filming inspiration for the Harry Potter movies. It doubled as the Great Hall of Hogwarts, though the producers built a studio replica to use for filming.
Apart from the Harry Potter films, Christ's Church College may be best known for its association with Alice and Wonderland. It was here that Lewis Carroll began conjuring the story about a girl who follows a rabbit down a hole and ends up at a mad tea party.
To book a tour of the college, head to the Meadow Gate entrance.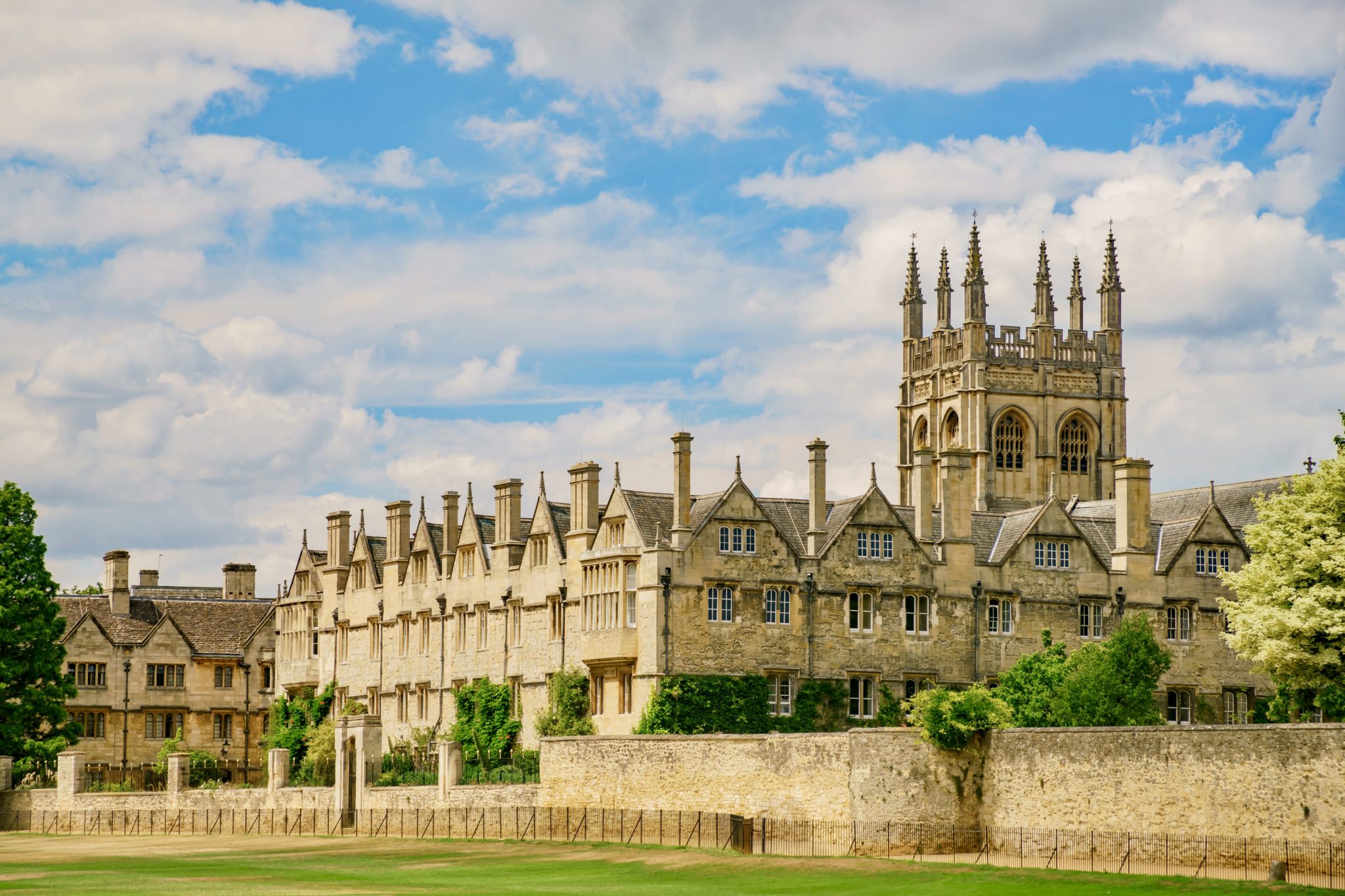 16. Christ Church Cathedral
The lovely Christ Church Cathedral serves a dual purpose. It's both the Christ Church College chapel and the cathedral of Oxford.
The cathedral is the world's smallest cathedral and is a gorgeous treasure house of architecture. It began life as a simple priory church. During the Reformation, Henry VIII decreed it a cathedral.
Like practically every building in Oxford, the church has an elegant fan vaulted ceiling. There are beautiful stained glass windows. And you'll find a lovely painting by the Pre-Raphaelite artist and Oxford student Edward Burnes-Jones.
This is a wonderful place to go to Choral Evensong. It happens daily at 6:00 pm.
One Day In Oxford Evening
17. Sample The Oxford Ale
In the evening on your one day in Oxford, do what the Oxfordians do — settle in at one of the city's many boozers. Strong ale is Oxford's signature drink and a long standing tradition.
You can have a pint at the creaking timbers of the Eagle and Child. (Please note the pub is under renovation at the moment and is expected to re-open late in 2022.)
The historic pub is the place where C.S.Lewis and J.R.R. Tolkein once slacked their thirst. They met there for almost 30 some years. They nicknamed the pub the "Bird and Baby" and called their literary group "the Inklings."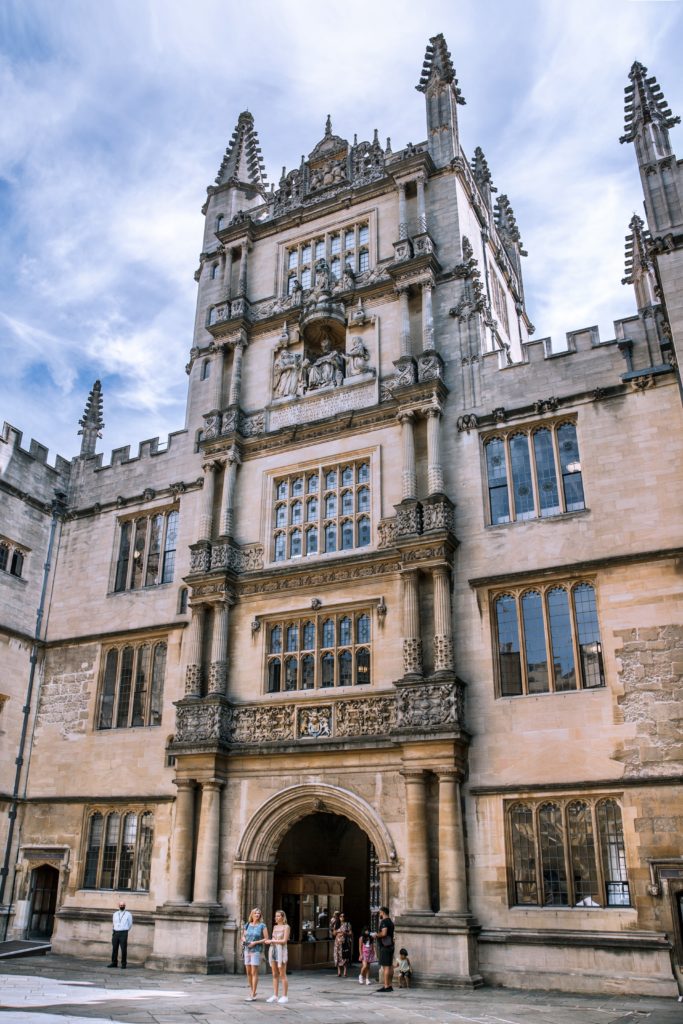 The pair later moved their conversions to the 500 year old Lamb & Flag in Oxford's Jericho neighborhood (which is also being renovated).
Many an Oxford scholar took a liquid break at the King's Arms. Turf's Tavern is a 13th century hole in the wall pub that was frequented by Bill Clinton.
You can also take a historic pub tour with a student guide.
18. Dinner In Oxford
Where to eat dinner in Oxford?
If you're staying for dinner, you can try: Gees Restaurant (Mediterranean in a twinkly light-filled conservatory) or The Punter (modern vegetarian and vegan).
For a splurge, you can check out Pompette (French) or Arbequina (Spanish tapas).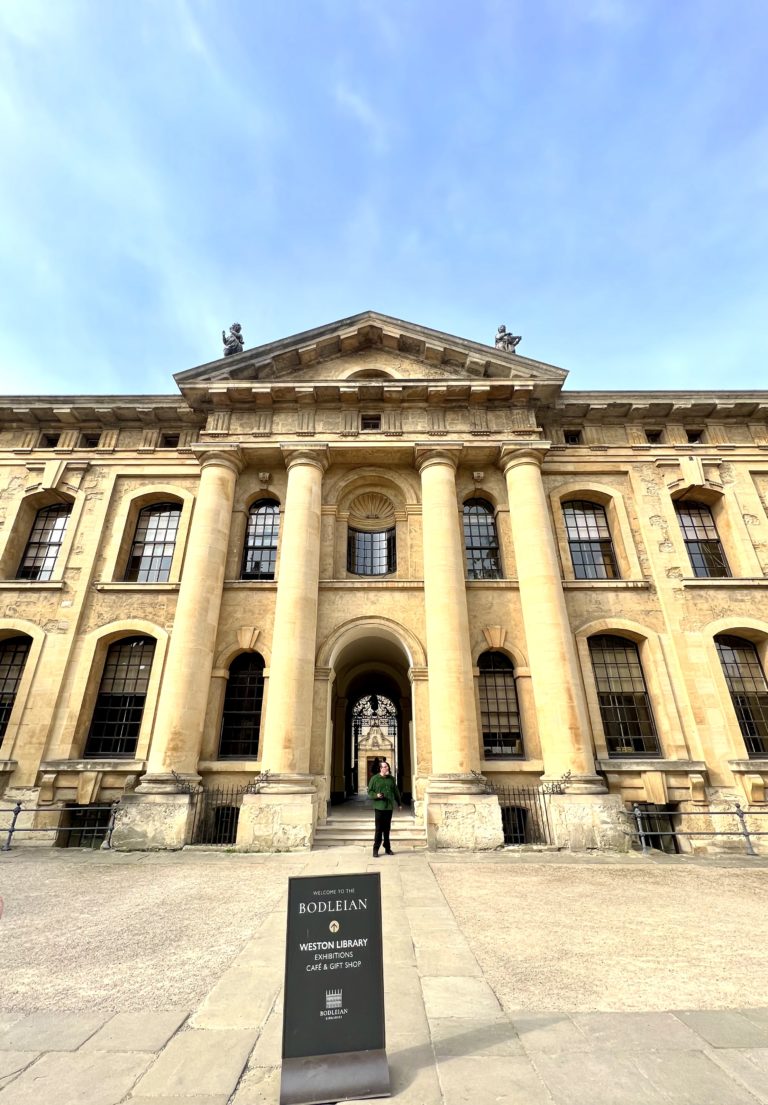 19. Harry Potter In Oxford
Are you a Harry Potter fan traveling to Oxford?
As I mentioned above, scenes in the films were inspired by or filmed at Christ Church, the Bodleian Library, the Divinity School, and New College.
Click here to book a tour of Harry Potter-themed tour of Christ Church College. Click here for a Harry Potter walking tour of Oxford that includes Christ Church.
From London, you can book a guided tour that includes Oxford and the Harry Potter Warner Bros Studio. Or, you can book a private tour from London to Oxford.
READ: Guide To Harry Potter Filming Locations in London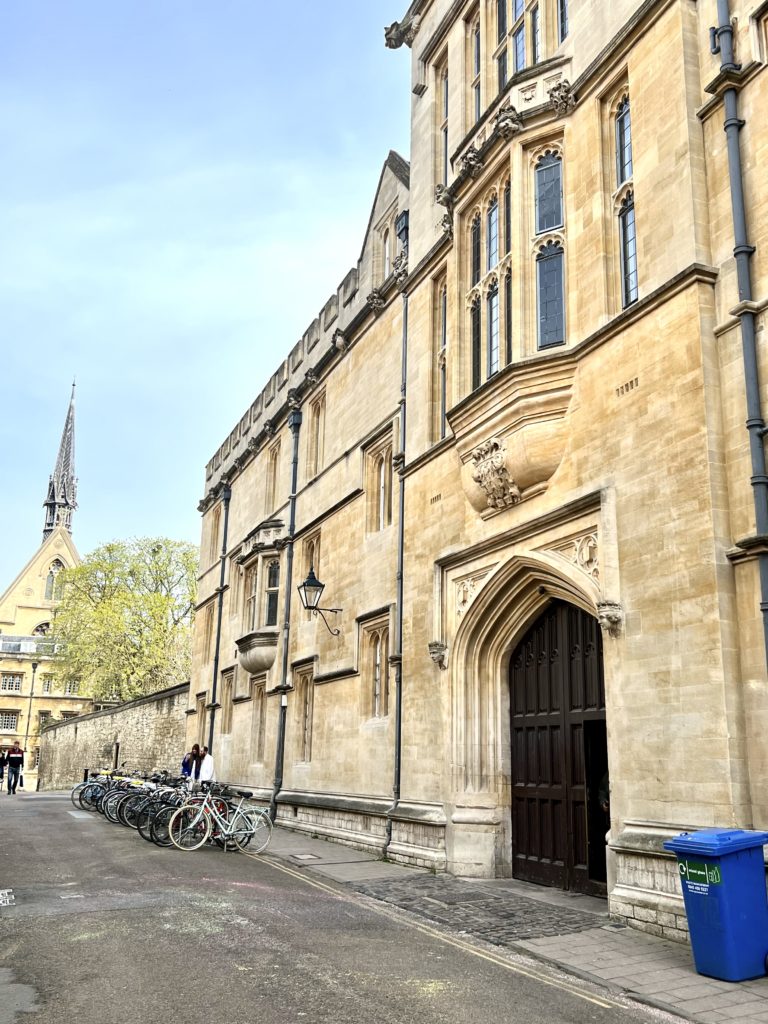 Tips For Spending One Day In Oxford
Here are some tips and things to know about visiting Oxford.
1. Plan In Advance
You'll have a more efficient visit to Oxford if you plan in advance. Decide whether you want to do a DIY one day tour or book some guided tours.
If you opt to fly solo, be sure to consult a map and plan your itinerary in advance, so you aren't wasting time figuring out which places you need to visit and where they are.
You should also determine your mode of transportation in advance and book any necessary tickets online.
1. How To Get To Oxford
Leave as early as possible so that you can make the most of your one day in Oxford, from wherever you are arriving from in the UK.
Driving:
Oxford is 62 miles northwest of London. It takes about an hour and a half to drive.
Once there, you can book a walking tour with a university guide to get oriented.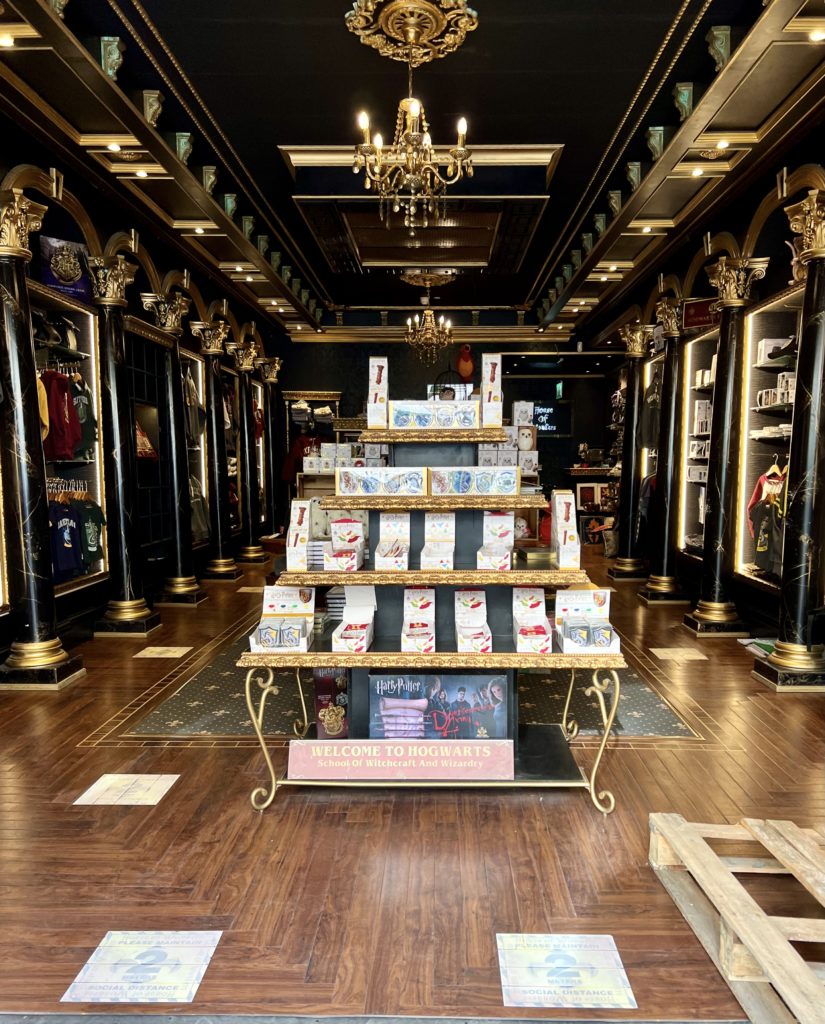 By Train:
Traveling by train is probably the fastest way to get to Oxford. Trains leave from London's Paddington Staton for Oxford every 5-10 minutes.
The journey takes about 1 hour. Once you arrive at the Oxford train station, it's about a 10 minute walk to the city center.
By Guided Day Tour:
If you want someone else to take care of the logistics and transportation, you can easily visit Oxford on a guided day trip tour from London.
Here are some tour options to consider: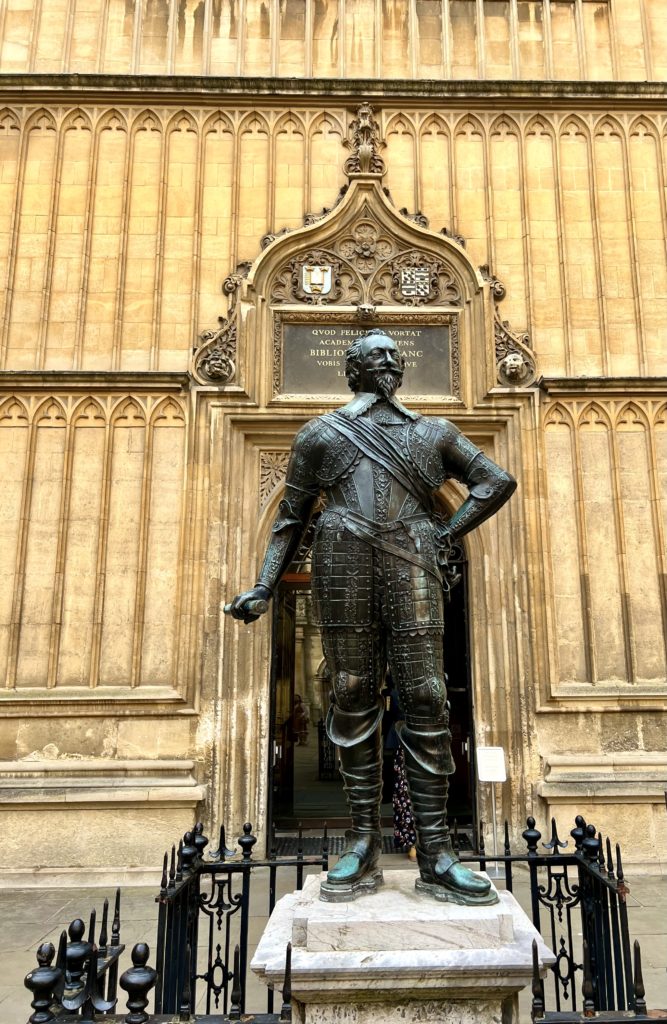 2. How To Get Around Oxford
Oxford is a very walkabout pocket sized city. It's really more like a small town.
The main attractions are all clustered in the city center, which makes it possible to see much of Oxford in one day.
But you can also take the hop on hop off tourist bus or take a city bike tour. Cycling is a popular activity in Oxford. Watch out for cyclists as you walk around.
3. Where To Stay In Oxford
For a splurge, try the Old Parsonage Hotel. The charming hotel is a country-esque crash pad. It's housed in an 17th century building built of Cotswold stone covered with ivy. It has creaking floors, a private garden, sweet library, and an exceptional breakfast.
The Old Bank Hotel is in a Georgian townhouse with rooftop gargoyles. It has luxury bedrooms, an art collection, and a prime location with views of Oxford landmarks.
The Randolph Hotel has been give a makeover and is now colorful, with Oscar Wild prints.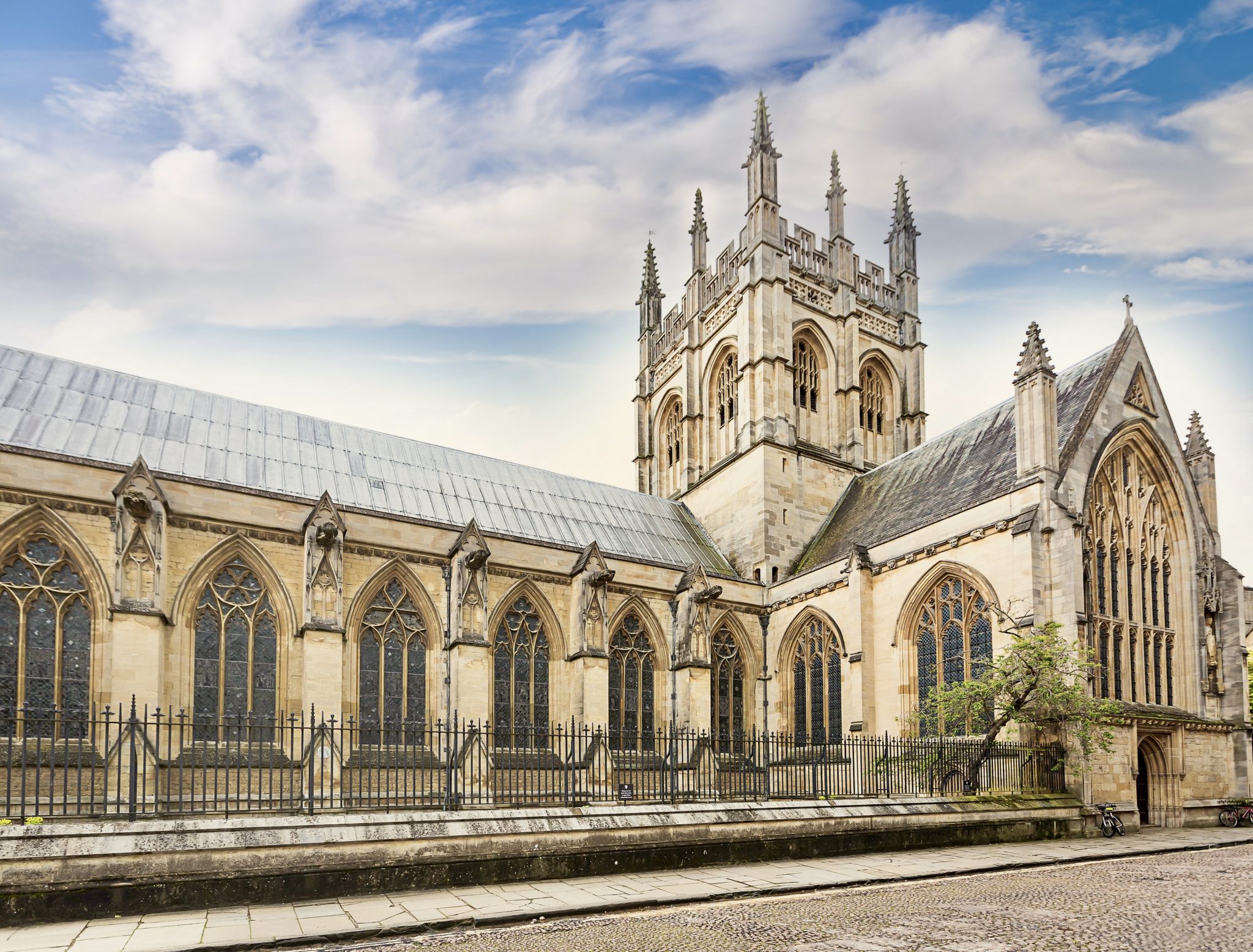 More Than One Day In Oxford?
If you have more than one day in Oxford, there are some other amazing things to do in the city.
1. Magdalen College
Magdalen College (pronounced maud-lin) is in the southeast section of Oxford. It has a pristine green quad, 15th century cloister, and flowery water meadow.
The Great Tower is 145 feet tall. This is where the college choir sings to launch May Day festivities.
Magdalen College is where C.S. Lewis lived and taught. The cloister's grotesque carvings appeared in Chronicles of Narnia novel.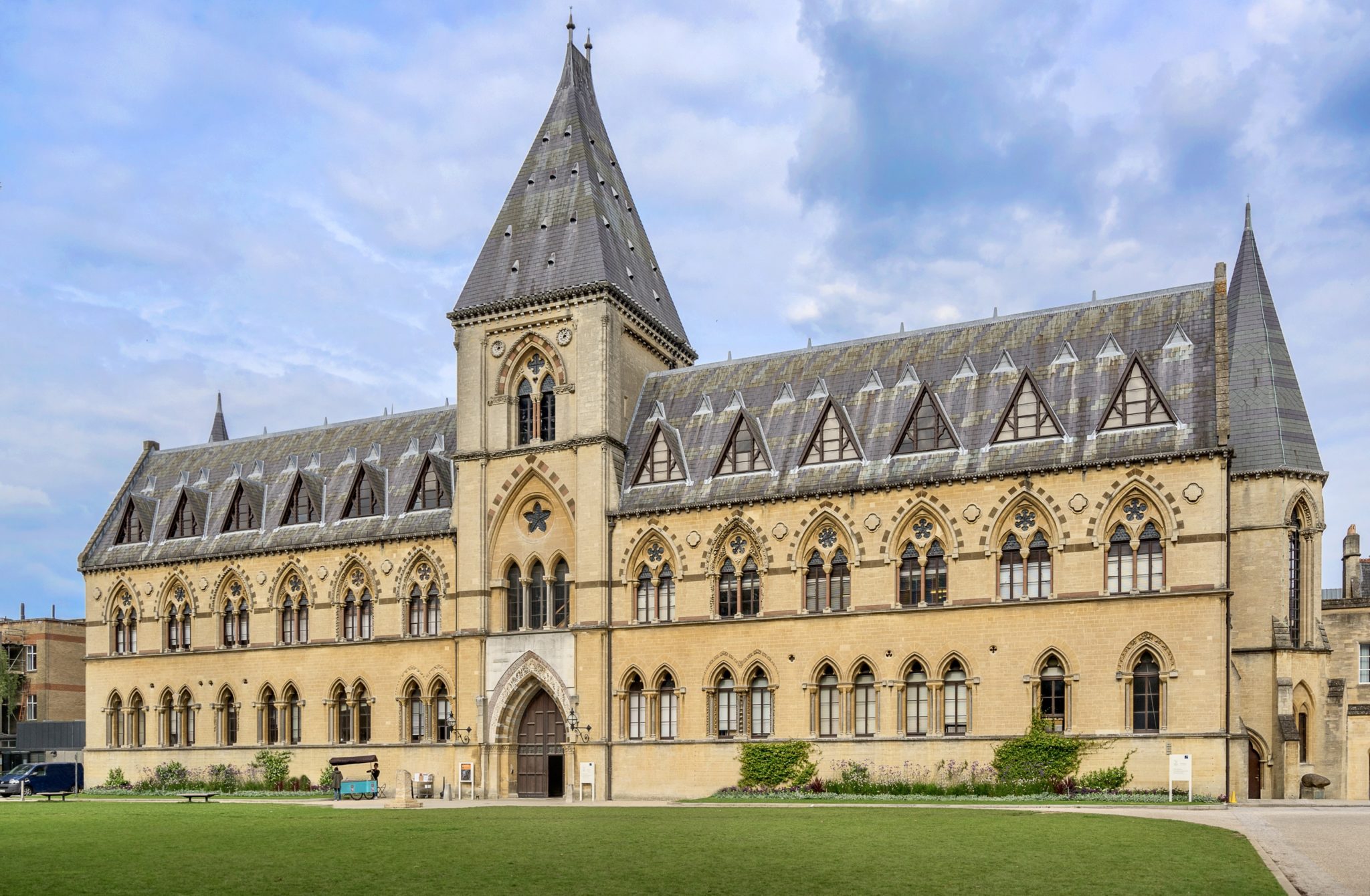 Next to Magdalen are the Oxford Botanical Gardens.
There are over 5,000 different types of plants. It's lovely, but mostly used for research.
2. Pitt Rivers Museum
Pitt Rivers Museum is a quirky Victoria-era museum housed in a Neo-Gothic brick building. It focuses on anthropology and archaeology.
The museum is a dimly-lit maze. It houses a madcap array of curiosities from the farthest reaches of the British empire.
You'll find a witch trapped in a bottle, shrunken heads, monkey skulls, totem poles, weapons, and witching paraphernalia. Canoes of every kind hang from the ceiling.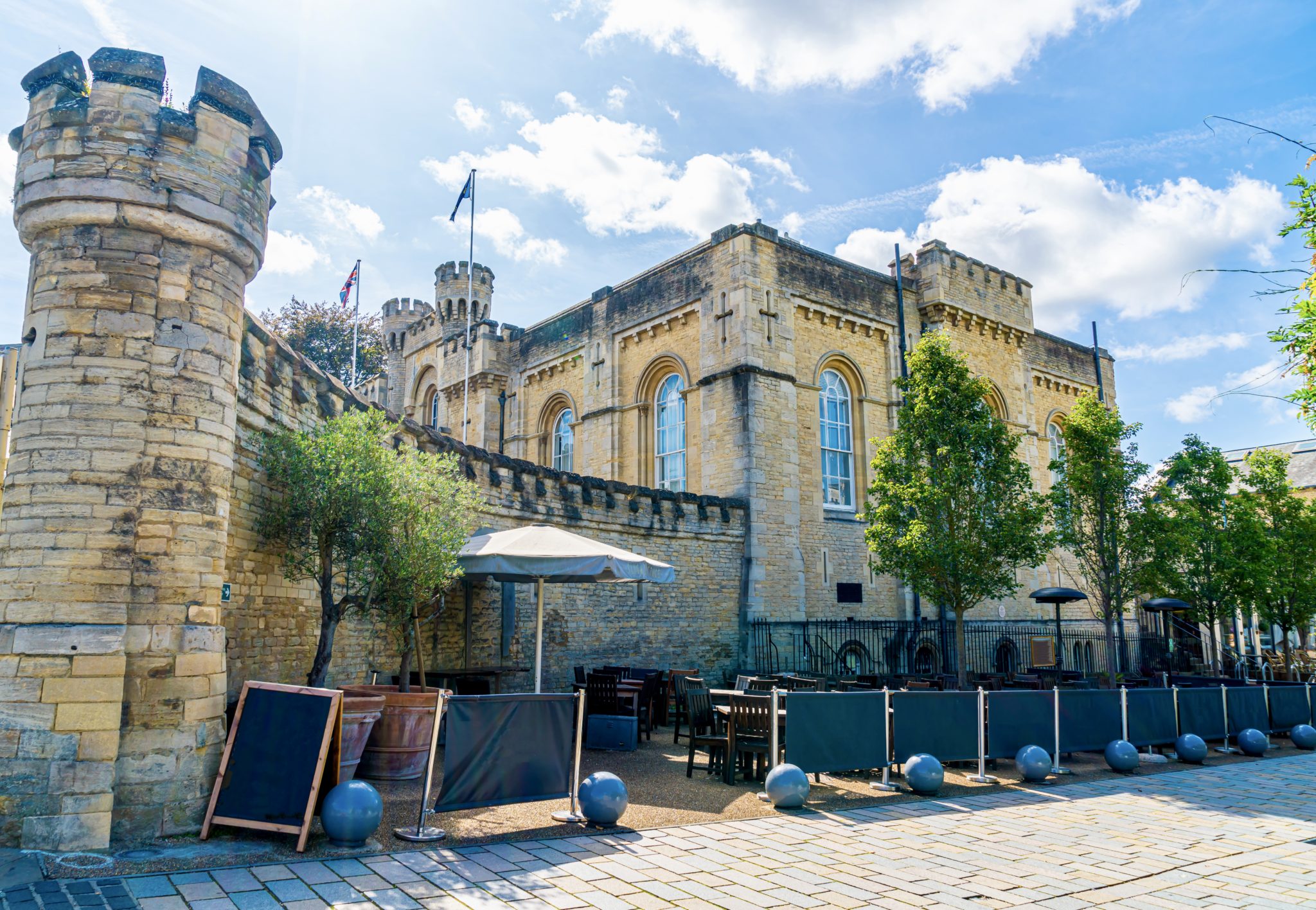 3. Oxford Castle & Prison
With more than one day in Oxford, history buffs will want to tour Oxford Castle.
You can learn all about the history of this castle, climb St. George's Tower for views, descend to the 900 year old crypt, and explore the 18th Century prison. The prison remained in use until 1996.
4. Museum of Natural History
The Museum of Natural History is a castle-like Gothic pile built in the 1850s. It was financed through the sale of bibles.
You'll see dinosaur skeletons and a stuffed dodo that was immortalized in Lewis Carroll's Alice in Wonderland.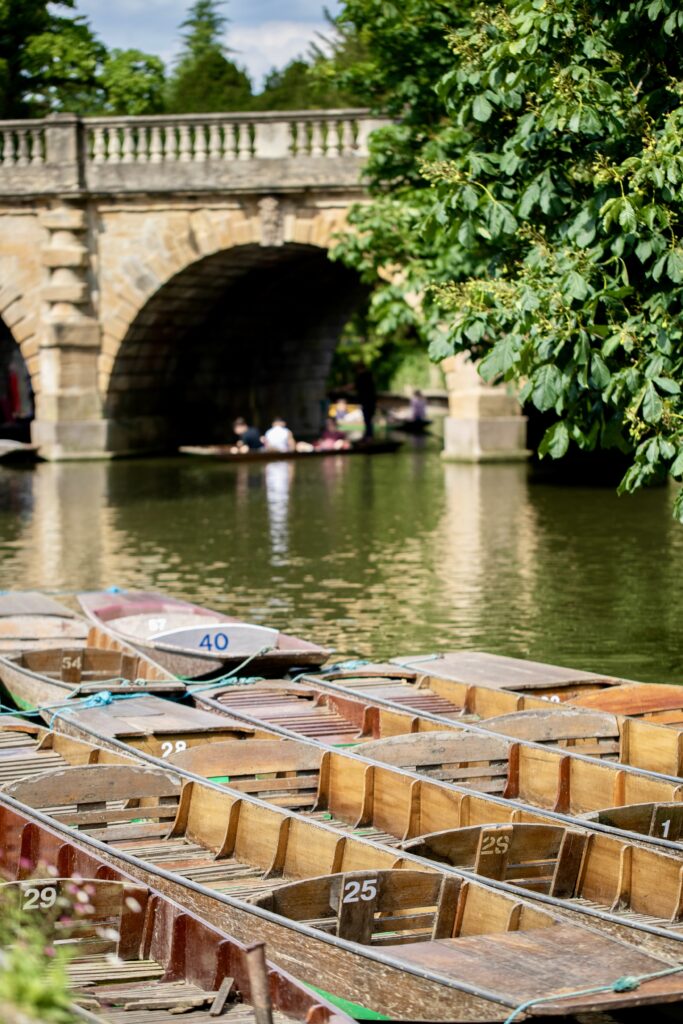 The museum was famously the site of a great debate over evolution between Bishop Samuel Wilberforce and Thomas Huxley. Huxley was a student of Charles Darwin.
5. Punting
Floating down one of Oxford's canals is a time honored tradition in Oxford. You can rent a flat bottomed boat, called a punt, under Magdalen Bridge.
But believe me; it isn't easy to drive one. Mastering the long wood pole takes practice.
If you want someone else to do the rowing, you can book a tour with an Oxford student.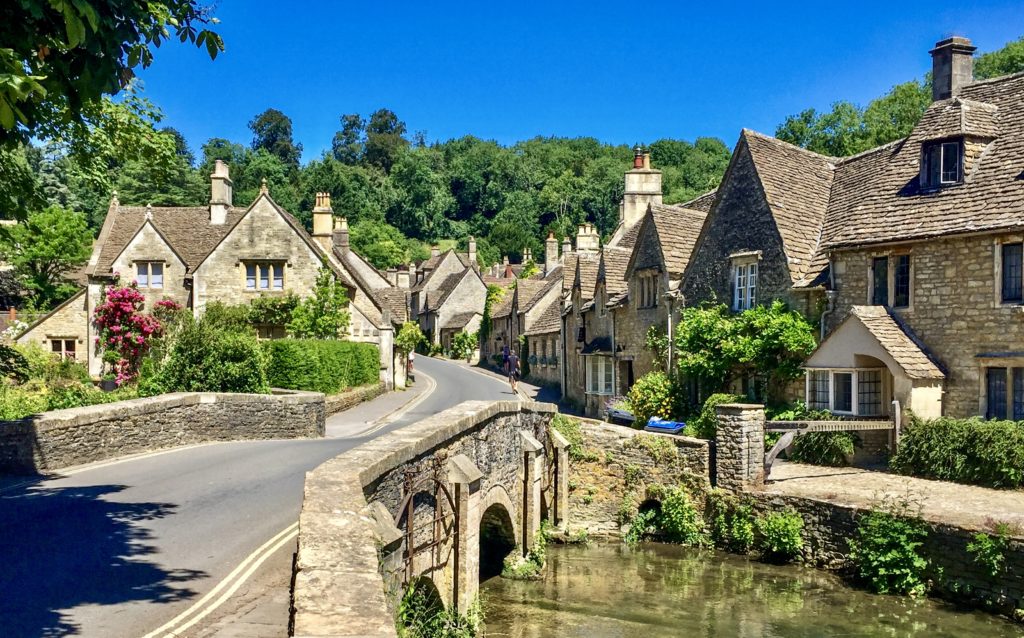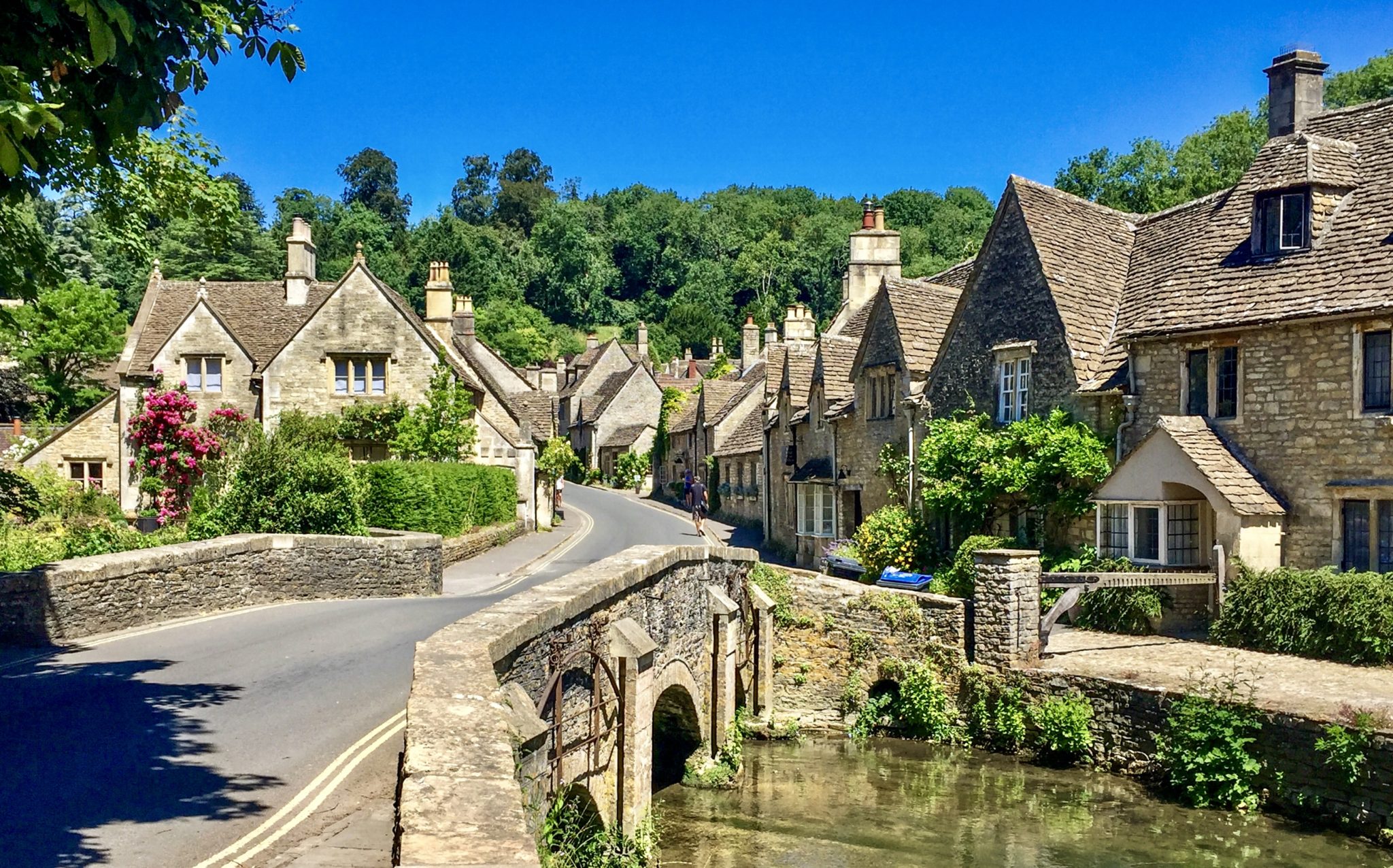 Day Trips From Oxford
There are also some wonderful destinations that are just a stone's throw away from Oxford: the Cotswolds, Warwick Castle, Straford-upon-Avon, and Blenheim Castle.
1. Cotswolds
In the Cotswolds, little has changed since the middle ages. The Cotswolds is where you go to experience tumbling hills, chocolate box villages, and admire authentic thatched cottages.
You can book a guided Cotswolds tour just for your group. You can also book a day tour from London that combines Oxford and the Cotswolds.
2. Stratford-Upon-Avon
Stratford-upon-Avon is a picturesque market town. It's best known as the birthplace of William Shakespeare and for its beautifully preserved Tudor buildings.
The main attraction, naturally, is the timber-framed house where Shakespeare was born. It was passed down to various Shakespeare descendants.
Then, in 1847, the Shakespeare Trust purchased it. Visitors can explore the original house and garden.
The best way to get to Straford is by car, train, or guided tour. It's less than an hour from Oxford.
This guided day tour to Stratford-Upon-Avon from London is led by a Shakespearean actor. Here is a guided tour option that includes a visit to Stratford-upon-Avon and the Cotswolds.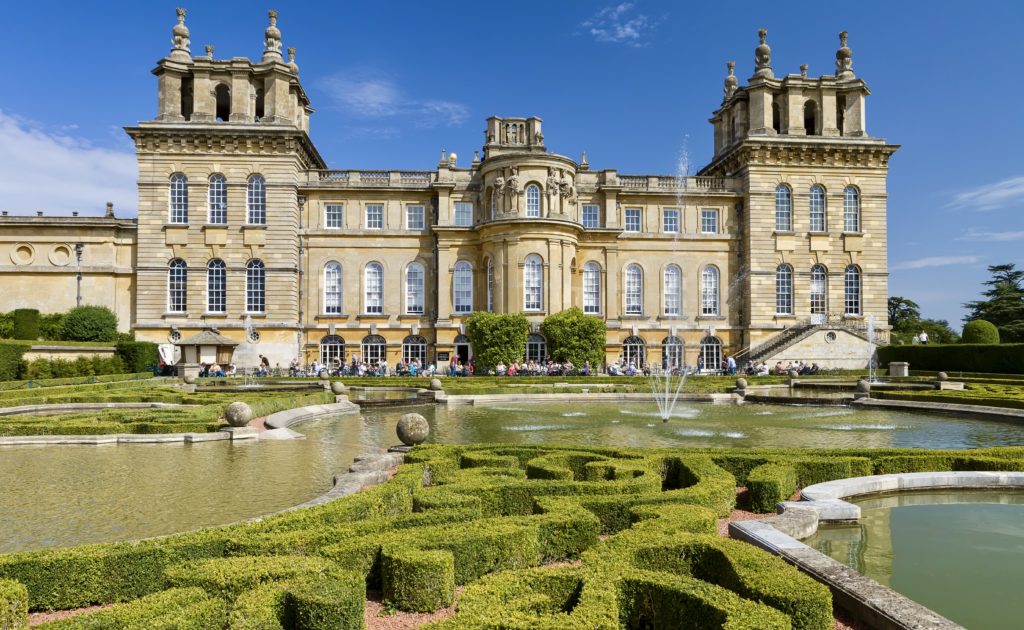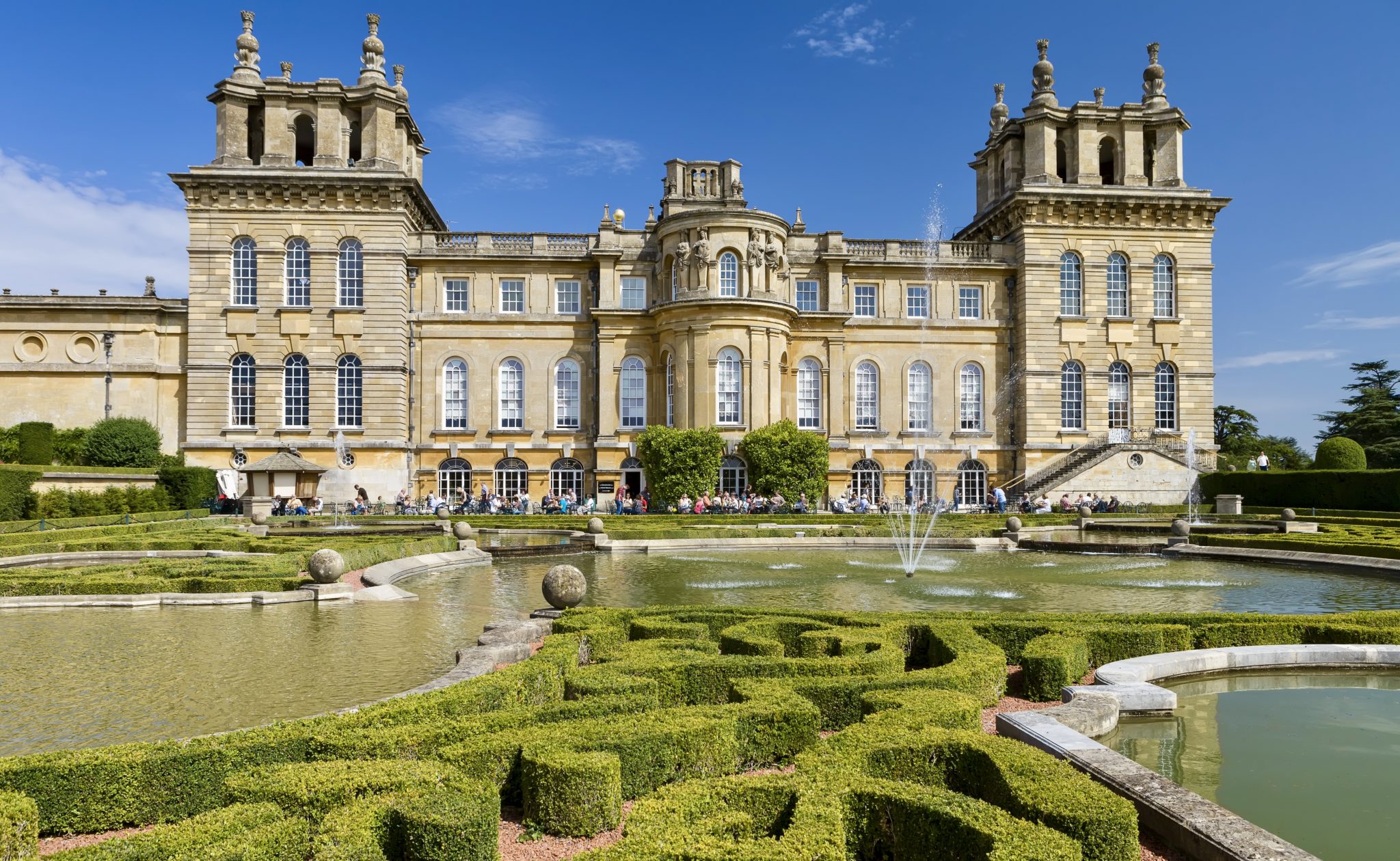 3. Blenheim Palace
Blenheim Palace is a stunning Baroque Palace in Woodstock, about 25 minutes from Oxford. It's a UNESCO heritage site that was built between 1705-22.
The palace is the seat of the dukes of Marlborough. It's also the birthplace of Winston Churchill.
You can admire the opulent interior, which is stuffed with tapestries, statues, and fine period furniture. You'll can also enjoy displays on Winston Churchill and stroll in the superbly landscaped gardens.
Click here to book an entry ticket the the palace. If you're staying in Oxford, you can book a guided tour of Blenheim Palace from Oxford.
If you're staying in London, there are many permutations. You might consider: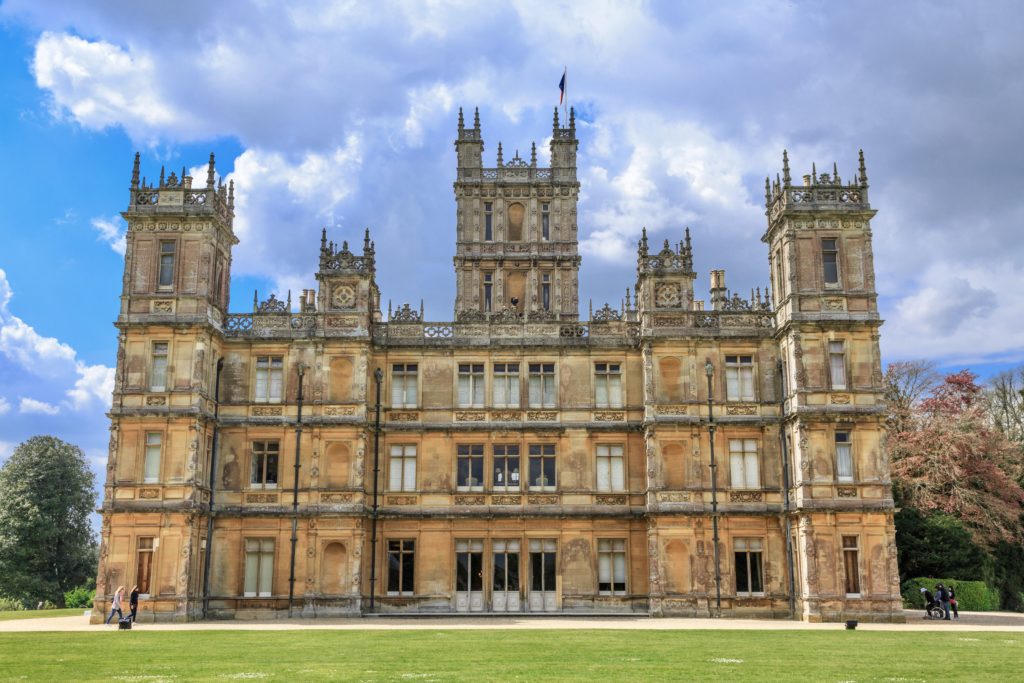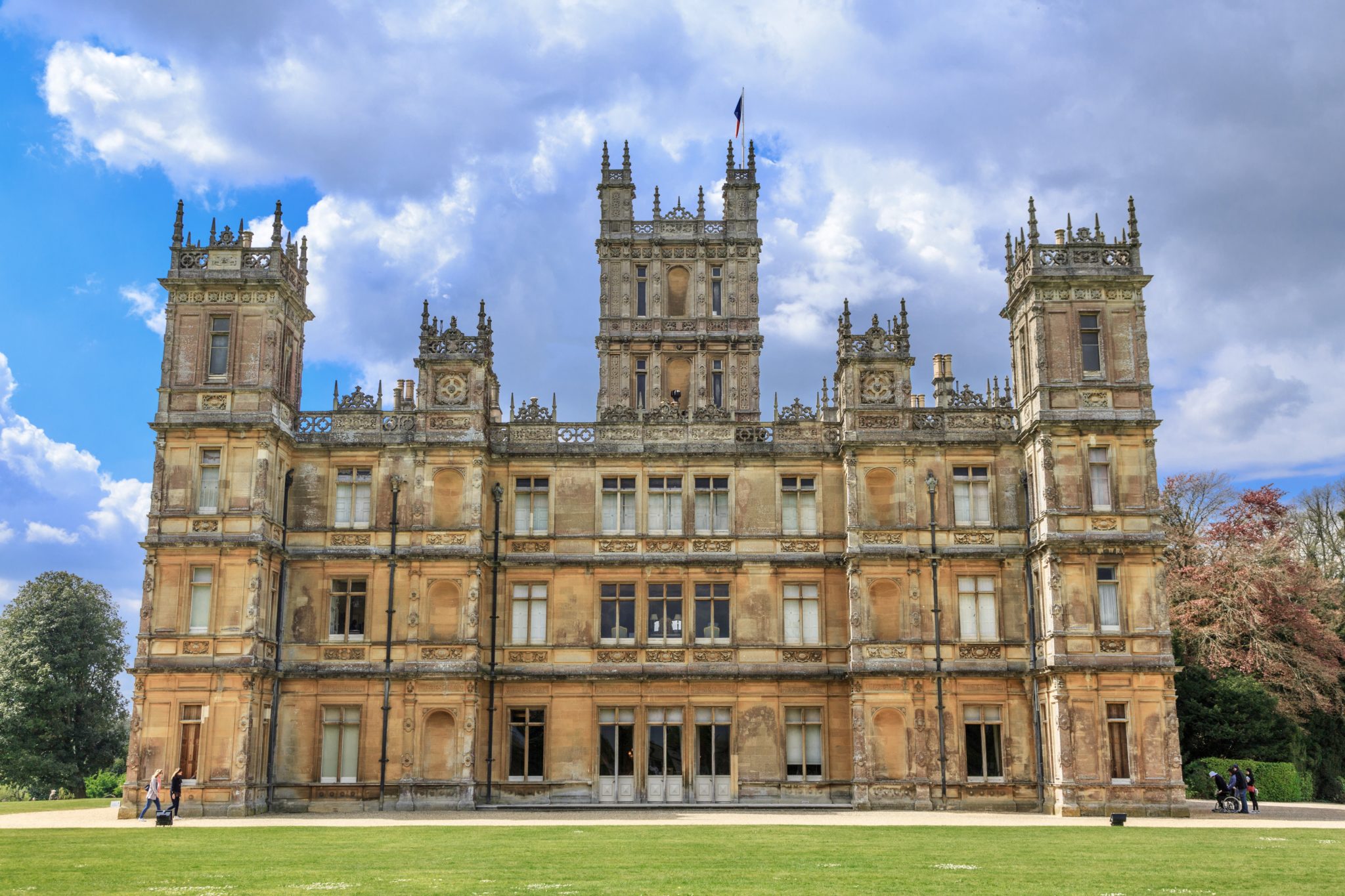 4. Highclere Castle
Highclere Castle is the country house home of the Earl of Carnarvon. It's most famous, though, as the filming location for Downton Abbey, the hit British period TV series.
The castle is open seasonally so check opening dates on the website before planning a visit.
The best way to get to the castle is by car or by joining a tour.
This guided tour option includes a visit to Highclere Castle and other Downton Abbey filming locations. You can also book a guided tour that combines Highclere and Stonehenge.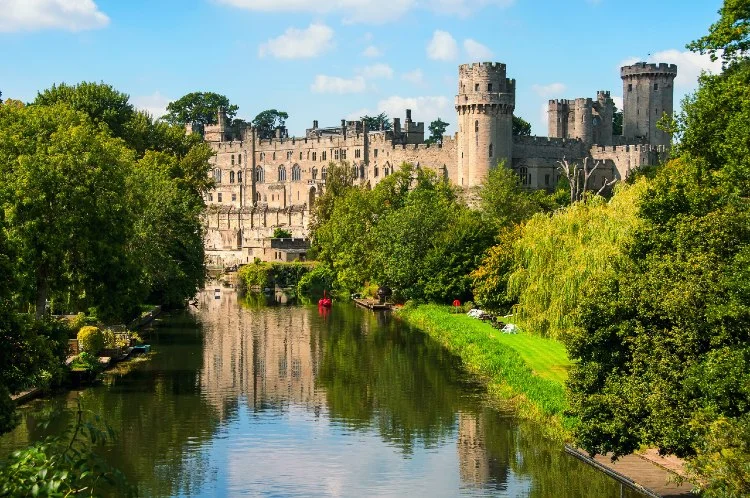 5. Warwick Castle
Warwick Castle is one of my favorite castles in England. It's about 2 hours northwest of London. Once inside, grab a map because the castle grounds are vast.
The castle's origins go back to William the Conqueror, the first king of England. But it was mostly built in the 13th and 14th centuries.
The castle was the seat of the dukes of Warwick. The castle's most famous resident was Richard Neville, known as "the Kingmaker." It featured in many battles in the historic War of the Roses, the clash between the Lancaster and York families.
The must see things to see inside are the Great Hall, the exhibit of the Weekend Party, and the Warwick the Kingmaker Exhibit. You can also stroll the medieval castle walls and climb several towers.
Click here to book an entrance ticket to Warwick Castle.
I hope you've enjoyed my one day in Oxford itinerary. You may enjoy these other London travel guides and resources:
If you'd like to spend one day in Oxford, pin it for later.