The beautiful coastal city of Malaga, nestled by the sea, has been a magnetic draw for travelers throughout the ages. If your visit is brief, don't miss this one day in Malaga itinerary to help you make the most of your time in this vibrant Spanish city.
With a history dating back 3,000 years, Málaga stands as one of the world's ancient cities, originally established by the Phoenicians.
Over the millennia, Romans and Moors have also called it home, each imprinting their legacy on the city. The result is a captivating tapestry of architectural styles and diverse cultures that define Malaga today.
Malaga used to be the ugly duckling of Andalusia. But there's more to Malaga than you might think.
The city has had a renaissance of sorts. With a revitalized harbor, restored monuments, and pedestrianized city center, Malaga exudes a fresh, inviting atmosphere.
Because of its history and cultural attractions, Malaga makes the perfect city break from the beach resorts along the Costa del Sol. Picasso is the buzzword for art lovers, with two museums (of 20) in Malaga.
Along its pristine coastline, you'll discover an abundance of golden beaches, perfect for relaxation and soaking up the sun.
And if you're a culinary aficionado, you're in for a treat. Malaga's dining scene has reached new heights, with several Michelin-starred restaurants offering exceptional gastronomic experiences.
Despite its cultural and culinary heft, Malaga is a lighthearted city that stays up into the wee hours.
Overview Of One Day In Malaga Itinerary
Here's a snapshot glance of things you can see with a day in Malaga:
Plaza de la Constitución
Malaga Cathedral
Roman Theater
Alcazaba
Castillo de Gibralfaro
Mercado Central de Atarazanas
Picasso Museum
Picasso Birthplace Museum
Carmen Thyssen Museum
Calle Larios
Malaga Park
Hammam Al Ándalus Baños Árabes.
Centre Pompidou
Here's a lot to do in Malaga in one day. This is a pretty active itinerary, covering the city's highlights.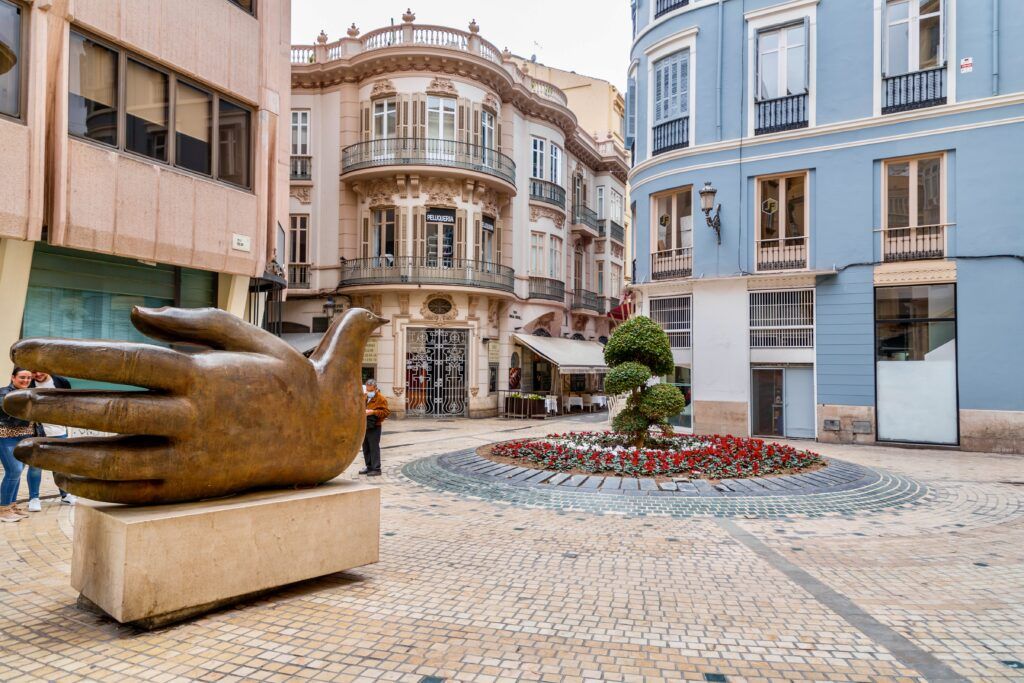 But you don't have to include everything on the itinerary. You can subtract activities from the list if it's too busy for your taste and mode of travel.
In high season, you should plan ahead. Here are some popular tours and experiences you may want to book in Malaga:
One Day In Malaga Itinerary
This itinerary covers the major attractions in Malaga efficiently, allowing you to experience the city's rich history, art, and culture in just one day. Adjust the schedule as needed to accommodate your own interests.
Plaza de la Constitución
Begin your day in the heart of the city at Plaza de la Constitución. The square is home to City Hall and historic buildings.
Explore the charming square, grab a coffee, and soak in the local atmosphere.
In the center is an 18th century Baroque fountain. It has a circular basin with decorative elements and a central column topped with a statue of the Roman goddess Venus.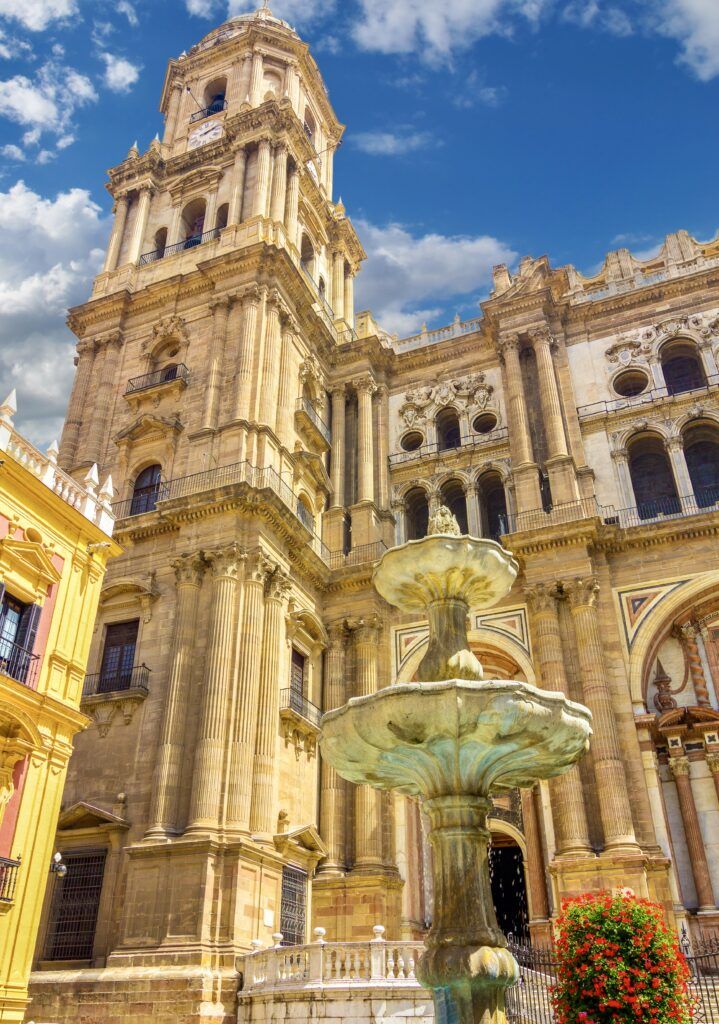 Malaga Cathedral
Then, visit the nearby Malaga Cathedral, also known as "Catedral de la Encarnación" or simply "La Manquita" (The One-Armed Lady). The cathedral earned its nickname due to its incomplete southern tower.
It's is one of the most iconic landmarks in Malaga. Building began in 1528 and it's a stunning example of Spanish Renaissance architecture.
Inside, cupolas crown the three naves. There are spectacular choir stalls carved by Pedro de Pena.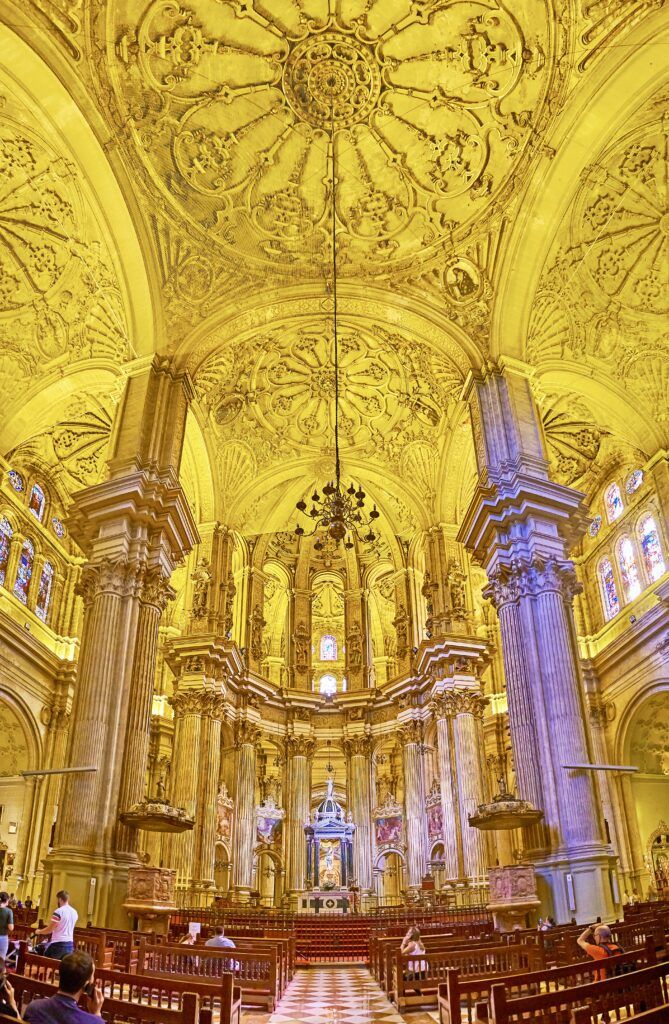 In the garden out back, the church of El Sagrario has a magnificent plateresque altarpiece and an ornate Gothic portal.
The cathedral itself is 8 € to visit. You'll need to dress conservatively. Avoid sleeveless tops and short shorts.
If you wish, pay an optional 4 € to book a time slot tour of the rooftop for panoramic views. You'll hike up 200 steps on a narrow spiral staircase.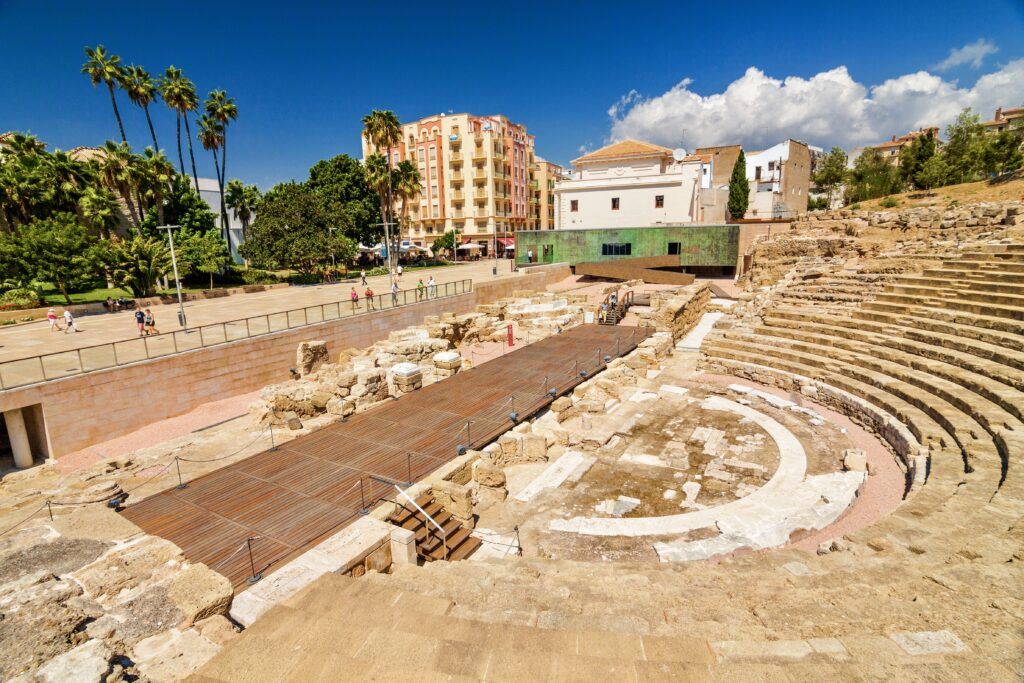 Roman Amphitheater
The Small Roman Theater is worth a quick visit. It dates back to the 1st century BC when Malaga was known as "Malaca" and was under Roman rule. It's situated right at the base of the Alcazaba.
The theater was buried and forgotten for centuries until its rediscovery in the mid-20th century during construction work in the area.
The theater is relatively small in size compared to some other Roman theaters. But it is well-preserved.
It could accommodate around 200 spectators and was primarily used for dramatic performances and other forms of entertainment. Today, it's used for concerts and plays.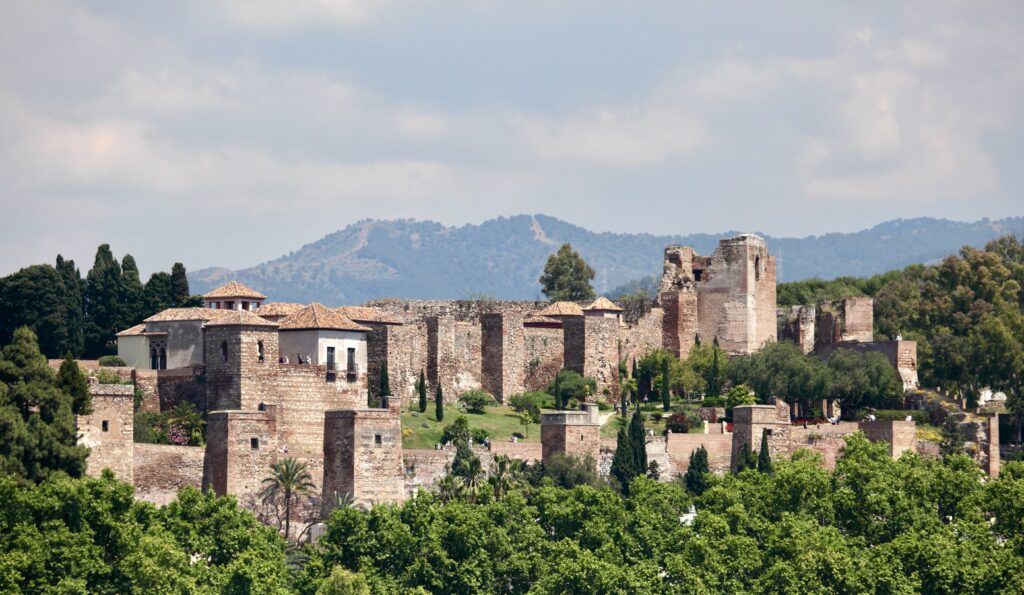 Alcazaba
Head to the Alcazaba, a historic Moorish fortress with beautifully landscaped gardens. The main entrance is by the Roman Theatre and small tourist information kiosk in Plaza de la Aduana.
You can buy tickets online in advance. There's also ticket machines at the entrance.
Begun in the 11th century, the Alcazaba crowns a hilltop in the center of town. Its towers and walls enclose the former palace, which is now the Museo Arqueologico.
Go inside to see the Mudejaur-style carved and painted ceilings. You'll also find Roman pottery, mosaics, Arab ceramics, and gurgling fountains.
Be sure to linger over the details of Patio de los Naranjos (Courtyard of the Orange Trees) and the Patio de la Alberca (Courtyard of the Pool).
>>> Click here to book a tour of the Alcazaba and the Roman Theater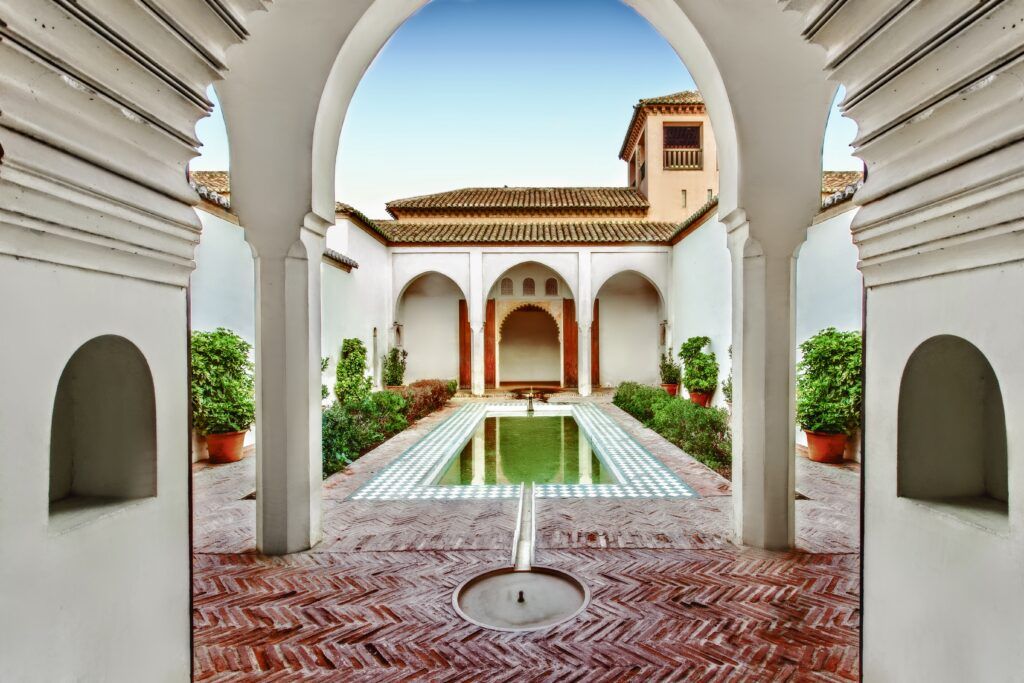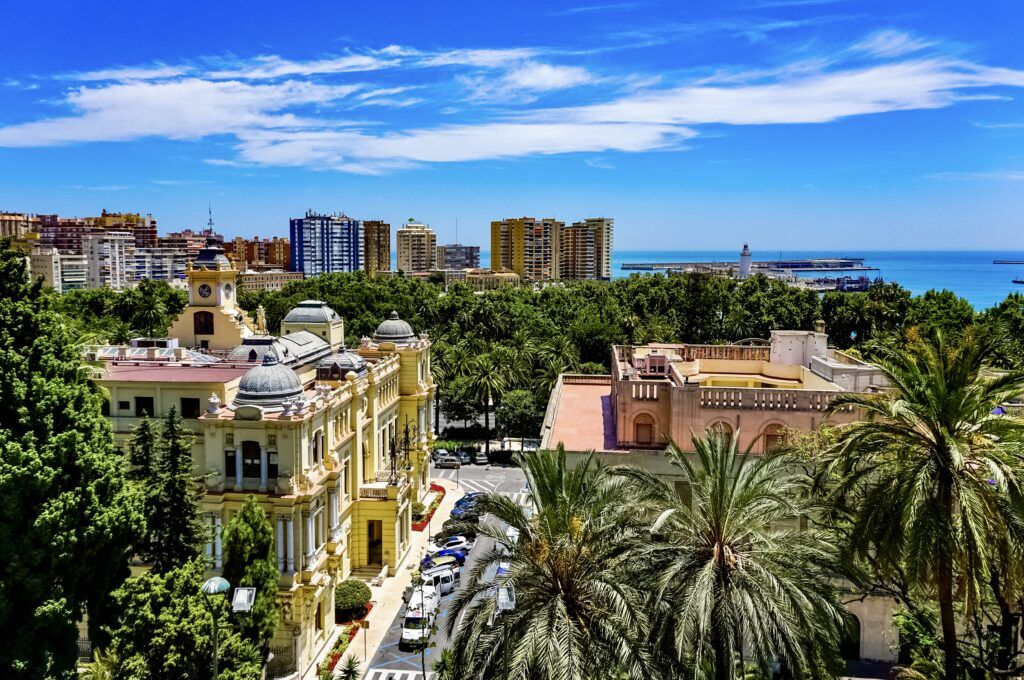 Castillo de Gibralfaro
After exploring the Alcazaba, if time permits, walk 15-20 minutes to the Castillo de Gibralfaro. It's a scenic but uphill walk. The perch offers spectacular panoramic views of Malaga, the Mediterranean Sea, and the surrounding landscapes.
The castle has a rich history dating back to the 10th century when it was constructed during the Nasrid dynasty's rule in Al-Andalus. It served both as a fortress and a military stronghold, playing a crucial role in the defense of the city.
As you explore the site, you'll come across its well-preserved walls, towers, and gates, offering insights into medieval military architecture.
Allow around an hour for your visit to the Castillo, including time to enjoy the views.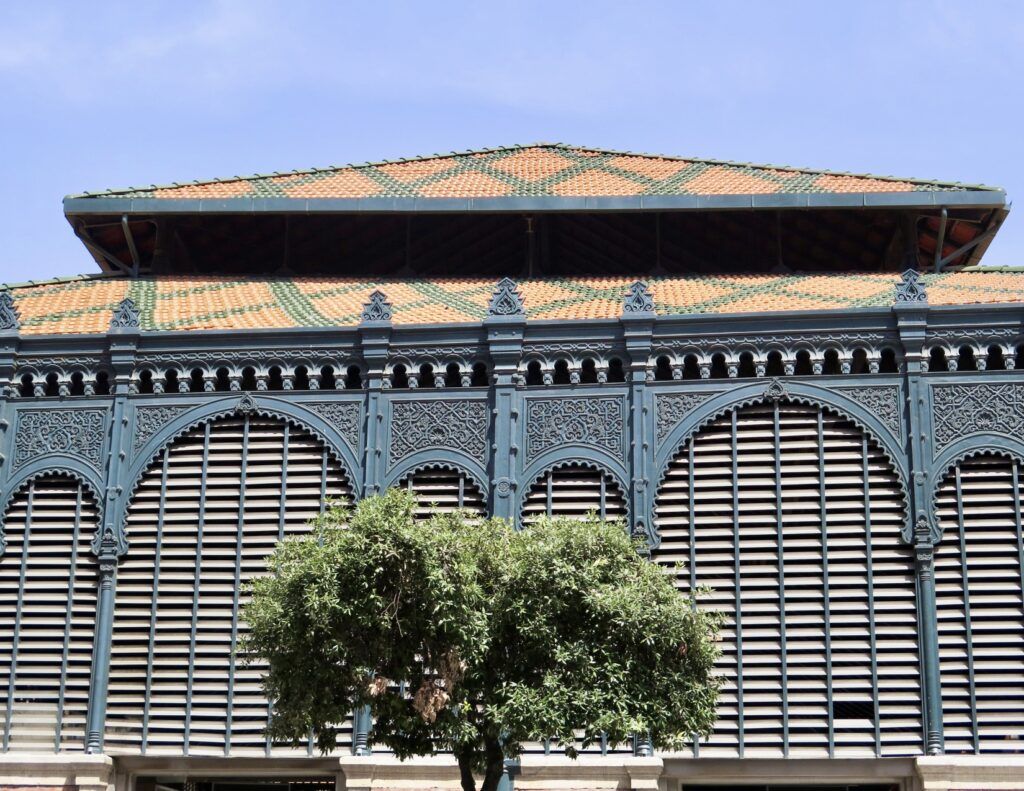 Lunch
Enjoy a leisurely Spanish lunch at a local restaurant, savoring regional cuisine. Check out Alegria Flamenco y Gastronomia, Brunchit, or Casa Ovi.
Alternatively, head to the Mercado Central de Atarazanas market for tapas. The market has wonderful fresh produce and you'll see a surprising 14th century stone arch.
You can also book a food and wine tour that starts at 12:30 pm.
Picasso Museum
Malaga was the birthplace of Pablo Picasso. Opened in 2003, his eponymous museum is housed in the 16th century Buena Vista Palace. The museum draws nearly 700,000 visitors annually.
The building is a pretty combination of Renaissance and Mudejar architecture. It's been fully renovated and has a sleek modern addition by Richard Gluckman.
The museum isn't huge, but it's pretty special. Over two floors, it houses 285 artworks, mostly donated by Christine Picasso and her son Bernard.
They are hung in chronological order. The collection covers Picasso's entire career, which lasted seven decades. While there aren't any world famous masterpieces here, you'll still find some interesting pieces.
You can check out Picasso's early academic works, Cubist paintings, and even his experiments with Old Masters. There's a bunch of ceramics and some of his last paintings from the '70s.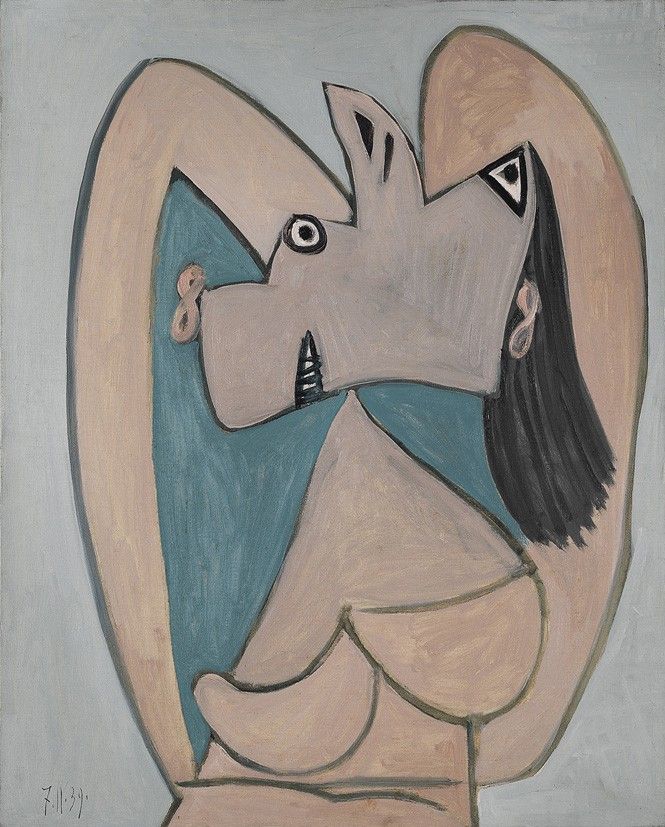 In his final years, Picasso got into Spanish Golden Age figures. He painted musketeers inspired by Rembrandt and Velazquez. Another highlight is a tapestry of his famous painting Les Demoiselles d'Avignon.
Get the museum's free audio app – it's super informative.
>>> Click here to book a skip the line ticket
Picasso Birthplace Museum
When you're done, head two minutes away to Picasso's childhood home, Casa Natal de Picasso. Picasso was born in this very building on October 25, 1881.
This place opened up in 1988 and gives you a peek into Picasso's early life. Visitors can explore the rooms where Picasso spent his childhood and see beautiful archival photos.
They've recreated his studio, and you can see his family's personal items and heirlooms as well.
In addition to its permanent collection, the museum often hosts temporary exhibitions related to Picasso's life and work, as well as other contemporary art exhibitions.
>>> Click here to pre-book a ticket
Museo Carmen Thyssen
If you're not museumed-out, art lovers should check out the Carmen Thyssen Museum. It's just a 5 minute walk from the Picasso Museum.
Opened in 2011, it's housed in the Palacio de Villain. There are 230 paintings from the baroness' private collection.
There are some greats. You'll find artworks by Zubaran, Juan Gris, and Joaquin Sorolla.
Stroll Along Calle Larios Or In Malaga Park
Stroll down Calle Larios, the city's main shopping street, and enjoy some shopping or people-watching. There's a web of cobbled pedestrian streets on both sides to explore as well.
If shopping is not your thing, take a relaxing walk through the beautiful Malaga Park, which features lush gardens and fountains.
Hammam Al Ándalus Baños Árabes
You might want to soak in the thermal baths at the Hammam Al Ándalus Baños Árabes.
The hammam is designed to evoke the ambiance and architectural style of the traditional Arab baths that were once common in Al-Andalus (Moorish Spain). The design and decor are inspired by the region's Moorish heritage.
The facility offers a circuit of pools with varying water temperatures, including hot, warm, and cold baths, along with a steam room.
Sessions last 1.5 hours. So, with this itinerary, you may want to book around 5:00 pm.
Pompidou Center
Cap off your day with a visit to the Pompidou Center. Most nights it's open until 8:00 pm. The price is 9 €.
Located near Malaga's port, this branch of the Pompidou Centre from Paris occupies a modern building with a playful, multicolored cube designed by Conceptual artist Daniel Buren.
The museum features carefully curated main exhibits that change annually or bi-annually, showcasing a wide array of contemporary art from its extensive collection.
In addition, visitors can explore audiovisual installations, interactive exhibits, and temporary displays, creating a dynamic and thought-provoking artistic experience.
>>> Click here to pre-book a ticket
Dinner
Head to Muelle Uno, a waterfront dining and shopping area. Enjoy dinner with sea views at one of the restaurants.
Another classic spot is El Pimpi. Founded in 1971, it's a popular wine cellar with seasonal menus. And El Tapeo de Cervantes has excellent tapas.
You can also take an evening tapas and wine tour that starts at 8:00 pm.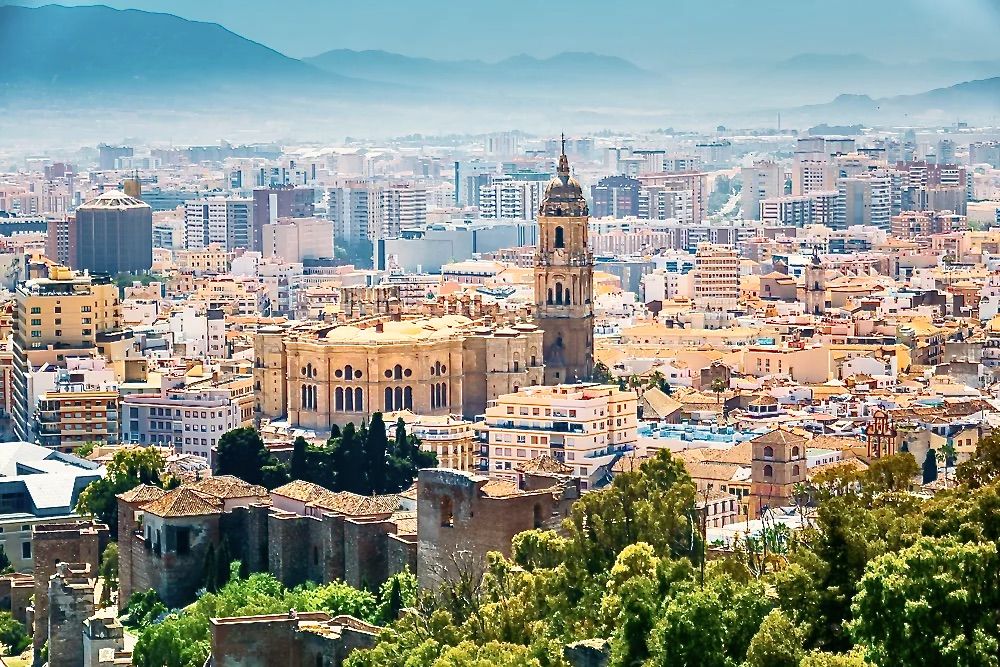 Tips For A One Day In Malaga Itinerary
Here are some must know tips for spending one day in Malaga.
1. How To Get To Malaga
Malaga is super easy to get to.
Malaga-Costa del Sol Airport (AGP) is the main airport serving Malaga and the Costa del Sol region. It is well-connected to major cities in Europe and other parts of Spain. It's a short flight from both Barcelona and Madrid.
Upon arrival, you can take a taxi or book a private transfer to your accommodation in the city center. It's just 20 minutes from the airport.
If you are traveling from other cities in Spain, you can take the AVE high-speed train to Malaga's Maria Zambrano train station. Opposite the train station is the bus station, if you are traveling that way.
If you prefer to drive, you can reach Malaga by car via highways and motorways. You won't be able to find much parking in the city center. So, if you're visiting for one day, I would park your car and walk around or use public transport.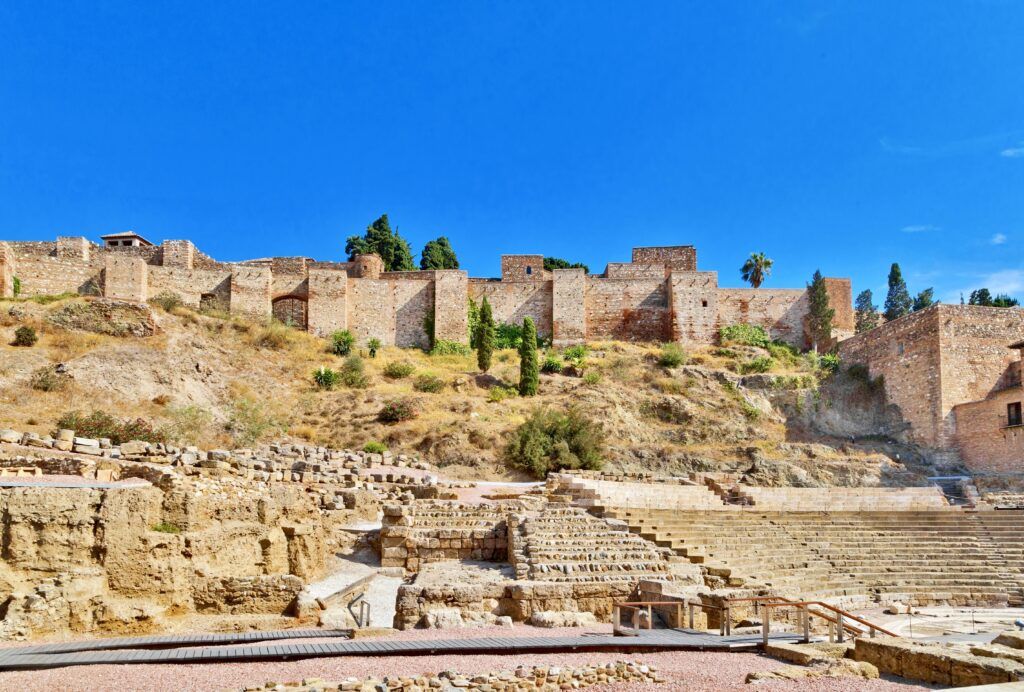 Malaga is a popular port of call for cruise ships, and you can arrive by sea if you are on a cruise itinerary.
2. How To Get Around Malaga
Malaga is a walkable city, and many of its central attractions, shops, restaurants, and historic sites are within reasonable walking distance of each other.
The city's historic center is particularly pedestrian-friendly, with narrow streets and charming plazas. You can also take the city bus or rent a Lime scooter.
There are plenty of other fun ways to get around. You can ride in a Tuk Tuk, take a Segway tour, zip around on an e-bike tour, or use the hop on hop off bus.
If you want to explore Malaga's golden sand beaches, you can rent a bike or drive.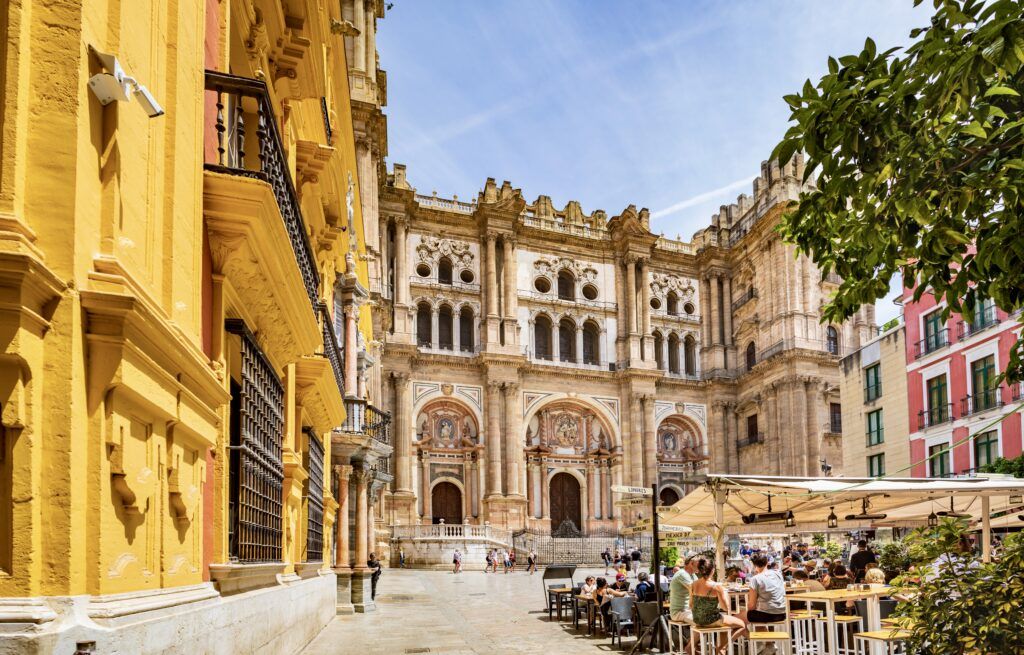 3. When To Visit Malaga
Malaga enjoys a Mediterranean climate, characterized by mild, wet winters and very hot, dry summers. There are around 320 days of sunshine! It's a year round destination really.
Summers are, of course, the best time for beach goers.
But those who hate heat should avoid the city then. Plus, this is when the cruise shops arrive and the city will be very crowded.
Shoulder season has amazing, and reliable, temperatures. Spring is probably the best time to visit. The weather is perfect and flowers are in bloom. Fall is still warm and pleasant.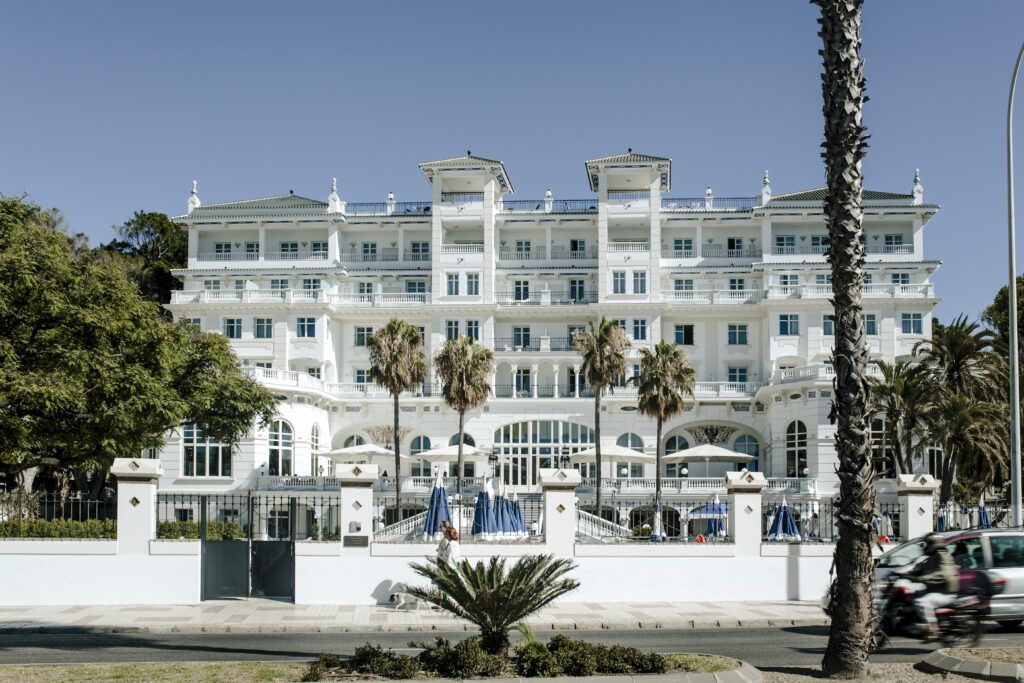 4. Where To Stay In Malaga
As a resort destination, Malaga has a bevy of lovely hotels.
Gran Hotel Miramar is a historic hotel located on the seafront. It combines classic elegance with modern luxury. It features beautiful gardens, a spa, multiple dining options, and stunning views of the Mediterranean.
Vincci Selección Posada del Patio is situated in the city center. This 5 star hotel offers a unique experience with rooms built around archaeological remains of the city's ancient walls. It features a rooftop pool, a fitness center, and a restaurant.
Palacio Solecio is one of Malaga's most revered boutique hotels. It's housed in a renovated 18th century Andalusian palace in the Jewish Quarter. It has a rooftop terrace and Michelin restaurant.
Hotel Molina Lario is located in the heart of Malaga. It's a contemporary hotel with stylish rooms, a rooftop pool with panoramic views, and an excellent onsite restaurant.
Room Mate Valeria boasts a prime location near Malagueta Beach and the historic center. This boutique hotel features a chic design, a rooftop terrace, and fantastic sea views.
Parador de Málaga Gibralfaro is set on Gibralfaro Hill. This historic parador offers stunning views of the city and the Mediterranean. It has a beautiful courtyard, a pool, and elegant rooms.
H10 Croma Malaga is a large city center hotel in a stunning contemporary building. It's modern rooms have a Mediterranean vibe. There's a rooftop restaurant, terrace, and plunge pool.
5. Is Malaga Worth Visiting?
I was surprised by how much I liked Malaga. It's an unsung cultural center.
The architecture is gorgeous, there are museums and cultural attractions galore, and the food is to die for.
I passed it up on other trips to southern Spain. But unless you're really pressed for time, the city really merits a short visit.
6. Is One Day In Malaga Enough?
If you have limited time and can only spare one day in Malaga, it's certainly possible to see some of the city's top attractions and get a sense of its character.
But 2-3 days is probably a better amount of time to visit and you won't have to rush around frantically.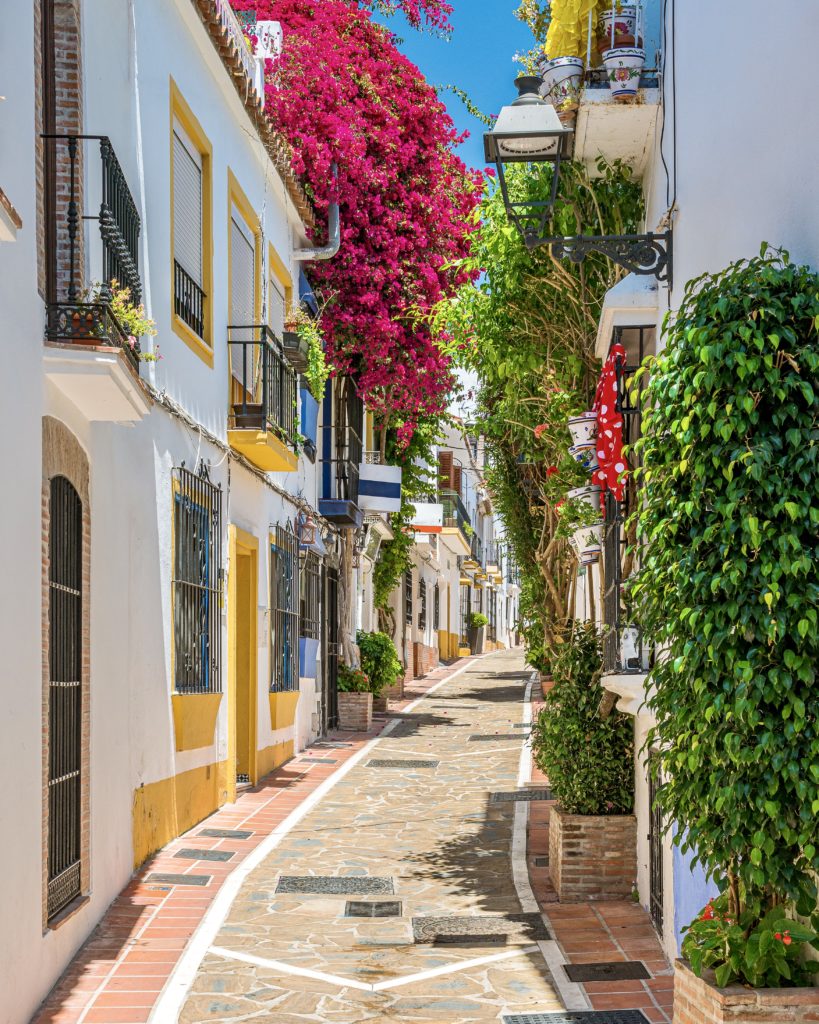 7. More Than One Day In Malaga?
If you have more than one day in the city, there are plenty of other beautiful towns in Andalusia to see nearby. Here are some options:
Marbella (28 miles)
Mijas (20 miles)
Ronda – 63 miles
Nerja – 34 miles
Frigiliana – 38 miles
Antequera – 31 miles
Casares – 45 miles
Gaucín – 70 miles
Estepona (52 miles)
You can book a guided day tour to Nerva and Frigiliana, a guided tour to Ronda, or even explore Gibraltar.
I hope you've enjoyed my one day in Malaga itinerary. You may enjoy these other travel guides and resources for southern Spain:
If you want to spend one day in Malaga, pin it for later.