Nestled high atop a mountain on the western coast of Sicily, the charming medieval town of Erice beckons travelers with its timeless beauty and rich history.
Just a stone's throw away from the bustling city of Palermo, Erice (pronounced ay-REE-che) offers a delightful day trip.
You'll feel dropped into a bygone era, where cobbled streets wind through ancient stone buildings and panoramic views of the Tyrrhenian Sea stretch as far as the eye can see.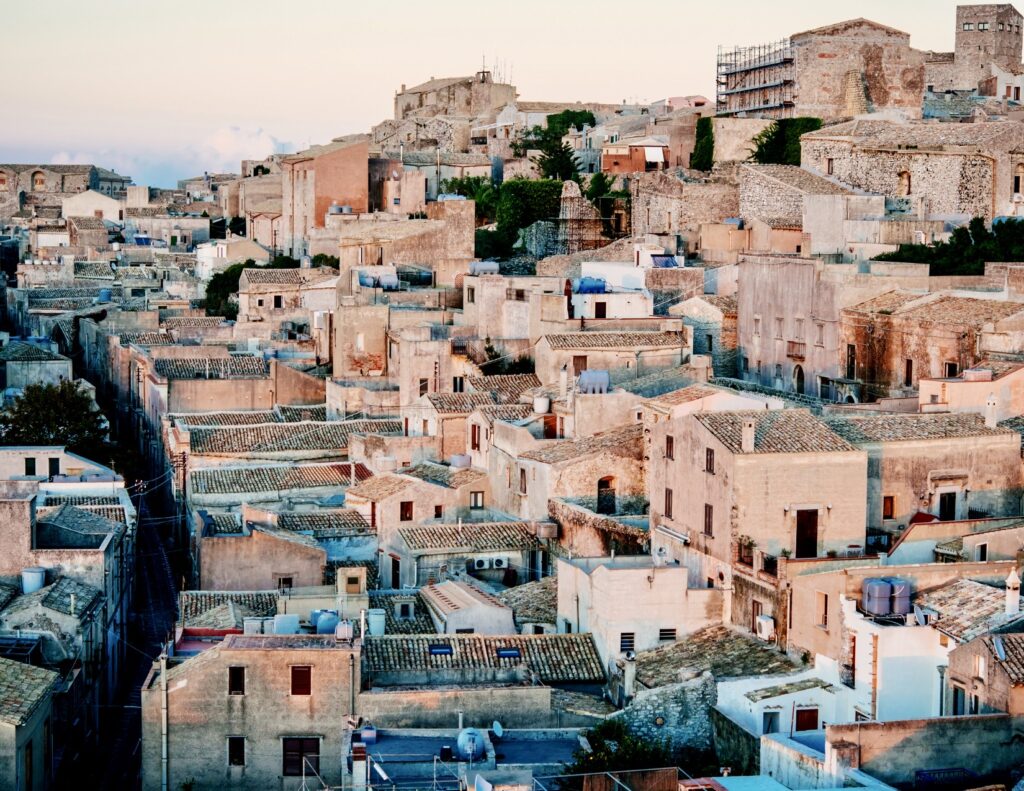 Erice even has a romantic backstory. Legend holds that the town was founded by Eryx, Aphrodite's son, to honor the goddess of love. The town became a center for the cult of Venus/Aphrodite.
With this one day in Erice itinerary, you can discover why this enchanting hilltop town is a must-visit day trip from Palermo or Trapani.
A Short History of Erice
Erice's origins date back to ancient times. The original settlers were the with Elymians, who arrived from Asia Minor in 1200 BC.
An indigenous people, they built a settlement called Eryx on the hill where Erice now stands. Little is known about the enigmatic Elymians.
They were replaced by the Carthaginians and later by the Greeks and Romans. The town was still known as "Eryx" during these periods.
What we do know is that all these ancient cultures all worshipped a similar goddess — one related to beautify and fertility. The Romans called her Venus Erycina, after Eryx, the ancient city name.
In the Middle Ages, Erice became a fortified town with a castle at its highest point. The Normans, who conquered Sicily, played a significant role in its history.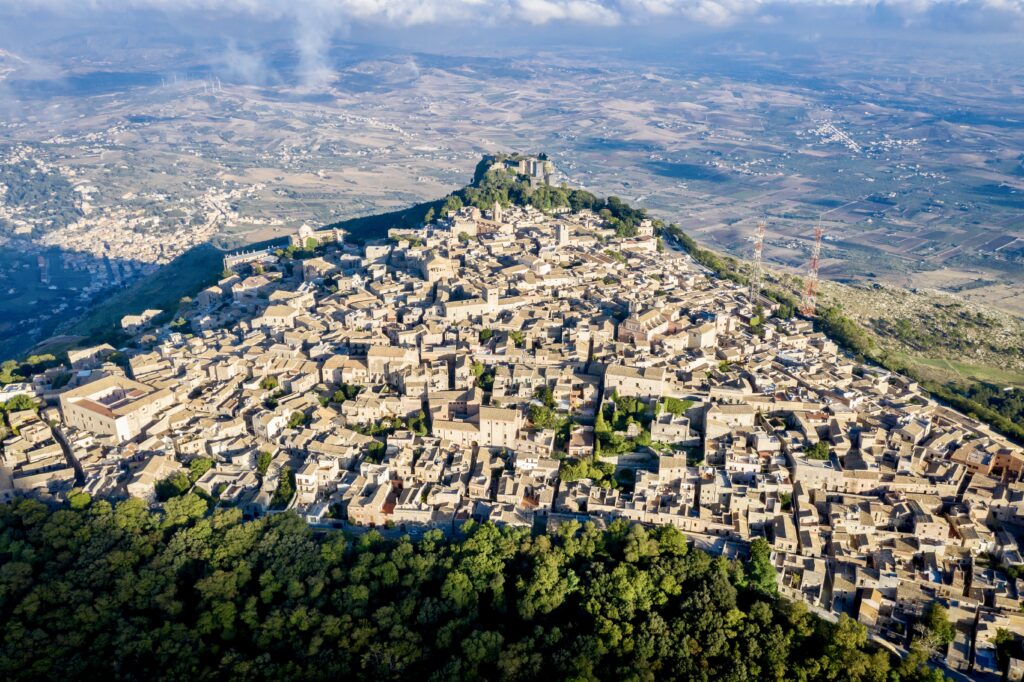 One Day In Erice Itinerary & Day Trip
Here's my detailed 1 day itinerary for Erice. I've covered the logistics of getting to Erice on a day trip from Palermo or Trapani.
Plus, I've given you estimated visit times. This itinerary assumes you're coming from Palermo, but you can also do Erice as a day trip from Trapani if you are already visiting that town.
8:00 AM: Departure from Palermo
You'll day trip to Erice from Palermo, the vibrant capital of Sicily. To make the most of your one-day adventure to Erice, it's best to start early.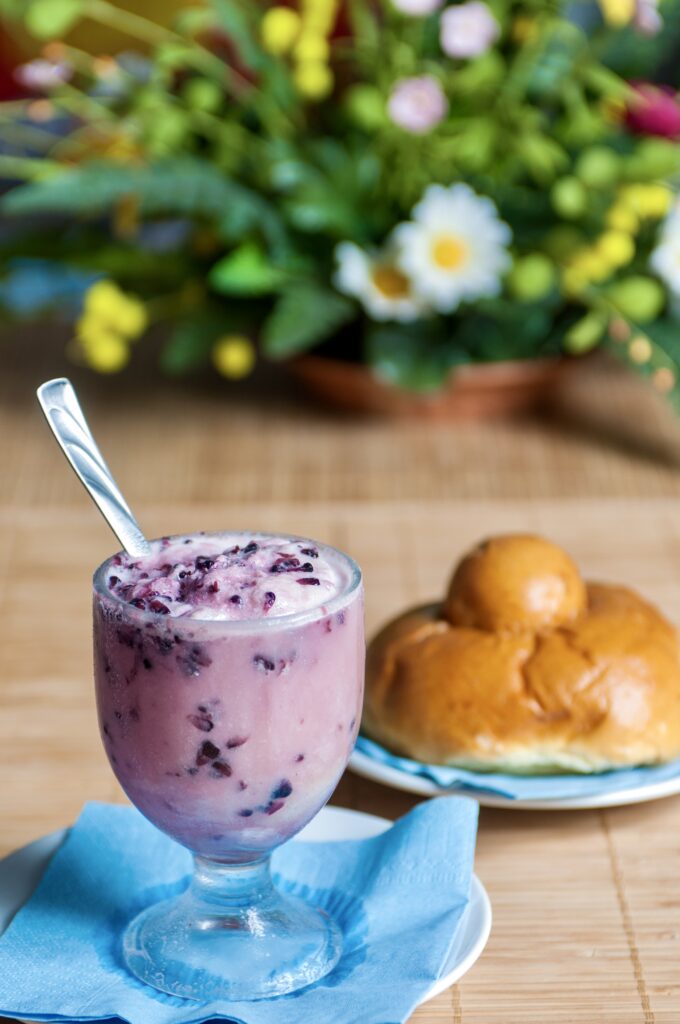 Begin by fueling up with a traditional Sicilian breakfast at a local cafe. Have a rich espresso and freshly baked pastry or granita ( a semi frozen liquid like sorbet).
Once you're fueled up and ready to go, head to the Palermo Centrale railway station, where you can catch a train or bus to the nearby town of Trapani.
If you want someone else to handle the logistics, you can also visit Erice on a guided day tour. There are several options and permutations that combine different sites and towns on a day trip: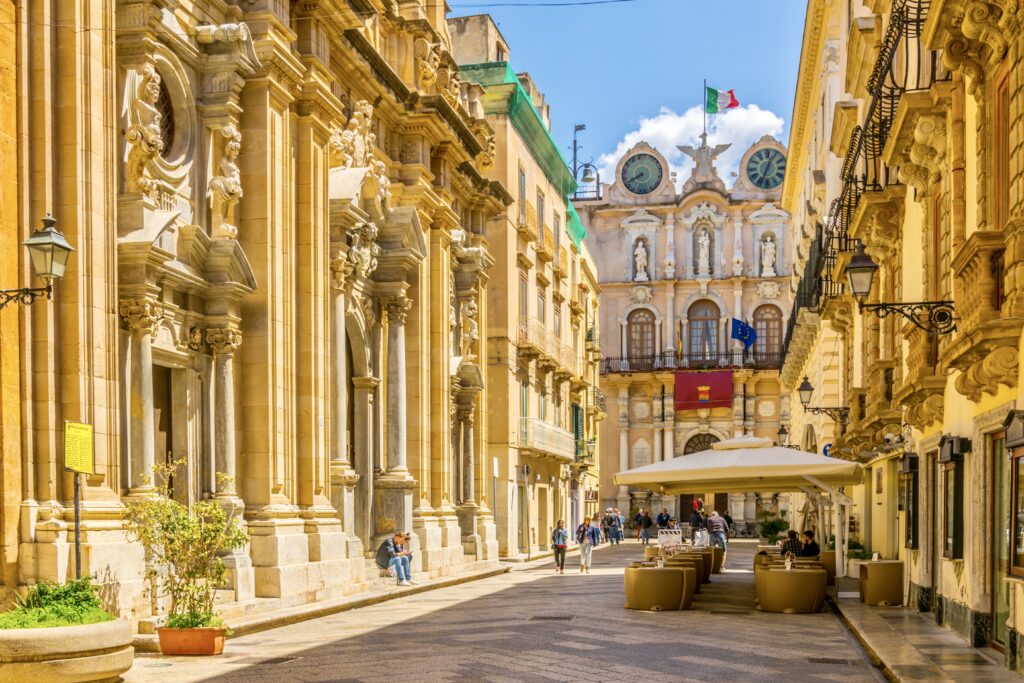 9:00 AM : Trapani — Gateway to Erice
However you arrive, Trapani, a delightful coastal town on the west side of Sicily, is your gateway to Erice.
The journey from Palermo to Trapani takes approximately two hours by train or less than two hours by bus. Both options offer picturesque views of the Sicilian countryside as you make your way toward the western coast.
Upon arriving in Trapani, take a moment to explore the town's historic center. Trapani's charming streets are lined with colorful buildings and impressive Sicilian Baroque architecture.
If time allows, consider visiting the Cathedral of San Lorenzo or taking a leisurely stroll along the seafront promenade.
You may also want to visit the Church of the Holy Souls of Purgatory to get a dose of genuine Trapani culture. The 17th century church houses Trapani's most sacred possession — the 18th century Misteri. They consist of 20 life size wooden effigies depicting the story of Christ's passion.
READ: 2 Days in Trapani Itinerary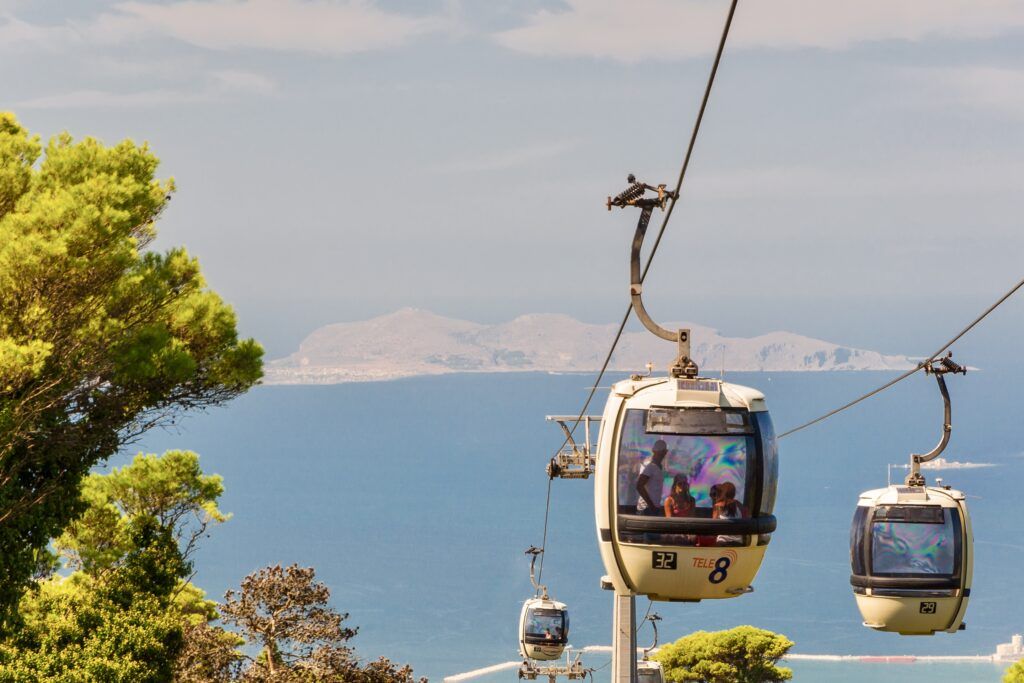 10:30 AM: Cable Car To Erice
Trapani is just a few miles from Erice.
From Trapani, you have three options to reach Erice: by road, bus, or cable car. While both offer scenic routes, the cable car experience is a unique and memorable way to ascend to Erice.
Head to the Trapani cable car station, located near the Trapani Funivia bus stop, and purchase your tickets. The address is Via Valle Erice, 7.
You can check the timetables and opening hours here.
As the cable car glides up the mountain, you'll be treated to breathtaking views of Trapani, the surrounding coastline, and the Aegadian Islands in the distance. The journey takes around 10 minutes.
The cable car drops you off at Erice's main gate, Porta Trapani.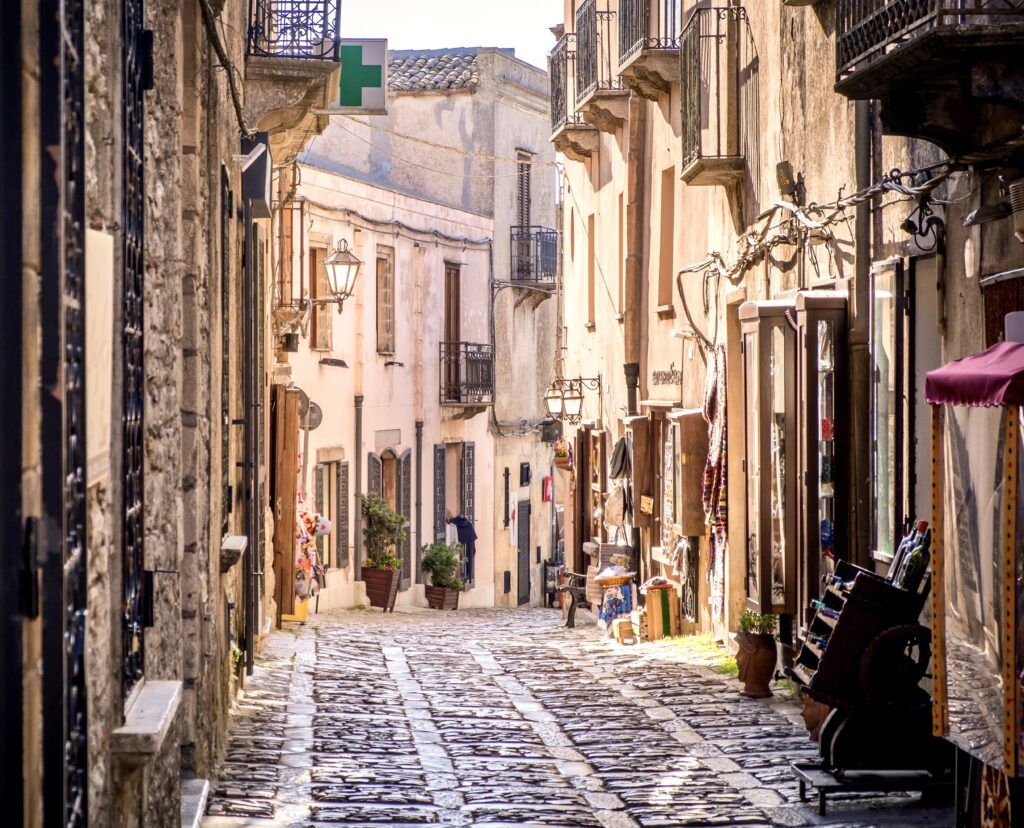 11:00 AM: Arrival in Erice
Once through the gate, you'll find yourself in the heart of this enchanting hilltop town.
Erice is known for its well-preserved medieval architecture. As you step onto the cobbled streets, you'll feel as if you've been transported back in time.
Erice is a town best explored on foot. As you wander through its labyrinthine streets, take in the unique atmosphere of this ancient settlement and its secret courtyards.
The cutest spot is Piazzetta San Domenico. You'll also find red and blue hydrangea bushes in terra cotta pots.
Be sure to see the following Erice highlights: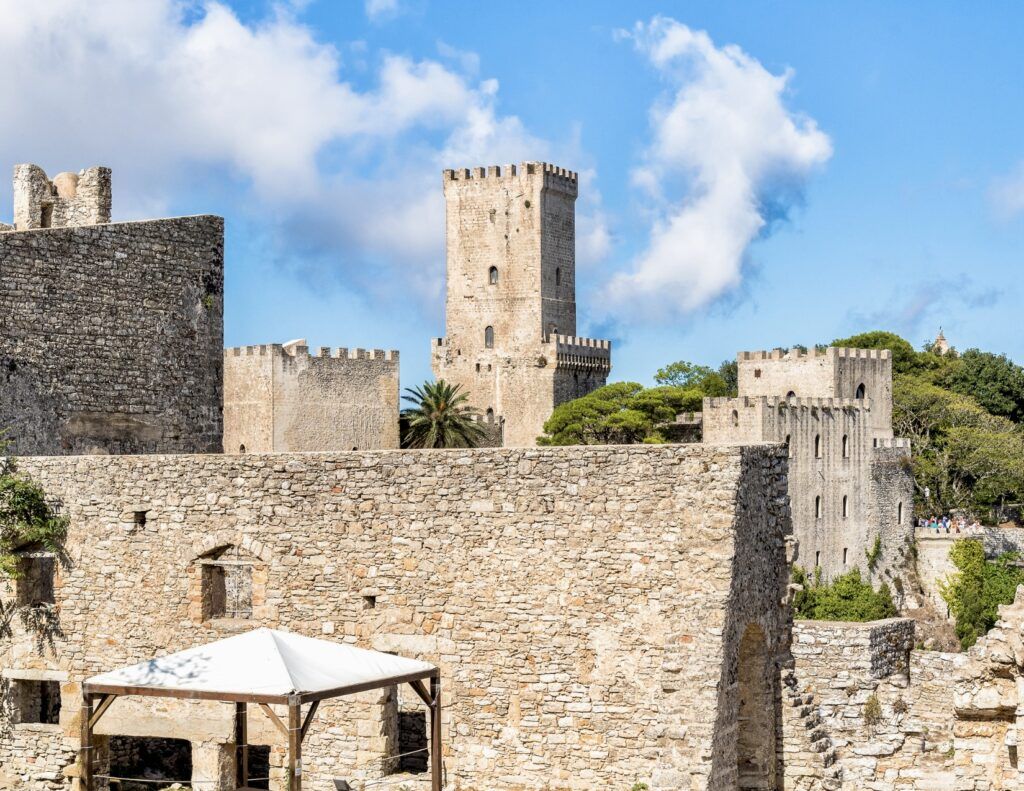 Erice Castle (Castello di Venere)
Perched at the highest point of Erice, the Castle of Venus was built for the goddess of love and used by her cult.
Legend holds that acolytes practiced the peculiar ritual of sacred prostitution. So, the temples was once stuffed with prostitutes.
What you see today, not too much really, dates from the 12th and 13th centuries. Nonetheless, the crenellated towers and dilapidated ruins are appropriately picturesque.
The castle itself has a rich history. It's believed that the Phoenicians, who settled in Erice, built a temple dedicated to the goddess Astarte (equivalent to Venus in Roman mythology) on this hilltop location.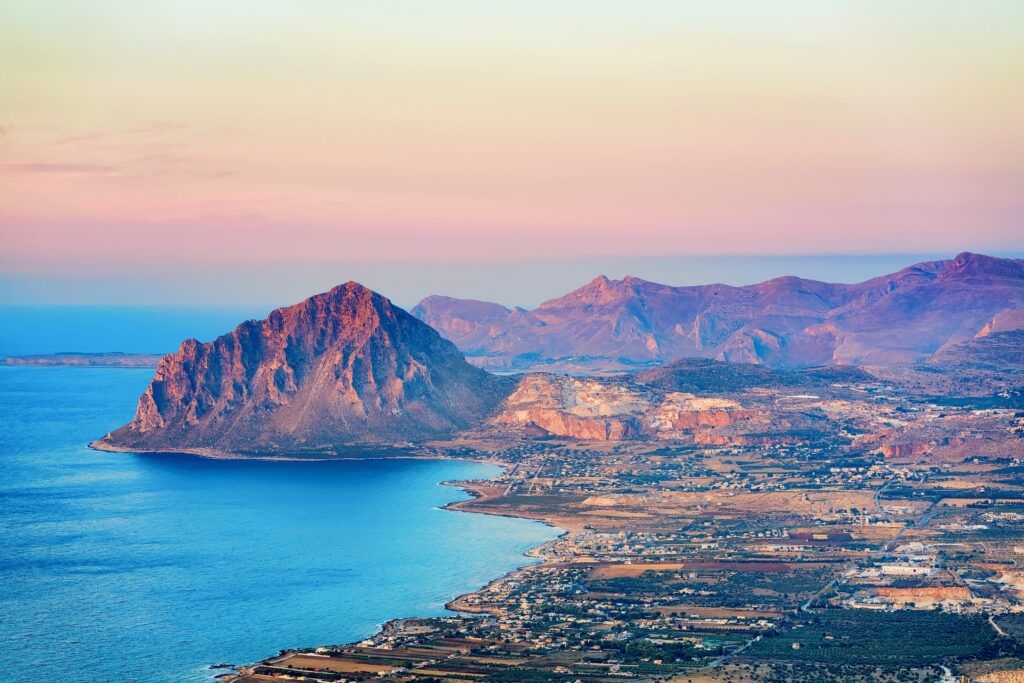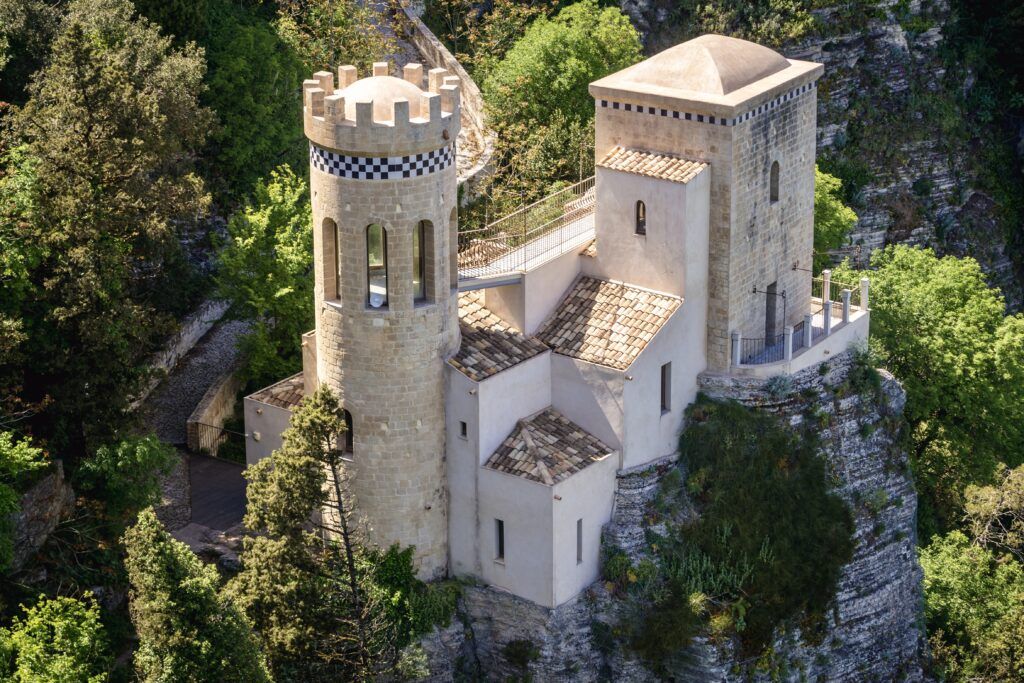 During Roman times, the site continued to be associated with religious significance. The Romans dedicated the temple to Venus Erycina, and it became a popular destination for pilgrims.
You can explore its courtyards, towers, and ramparts. Most importantly, from its sheer cliff, at 2500 feet above sea level, the castle offers breathtaking panoramic views of the surrounding coastline.
Just below the castle is the Torretta Pepoli with its attractive tower and crenellated turret. There's a steep, but short, hike down from the castle.
The tower was closed when I was there, so I couldn't visit. But it has a good lookout point and a multi-media museum.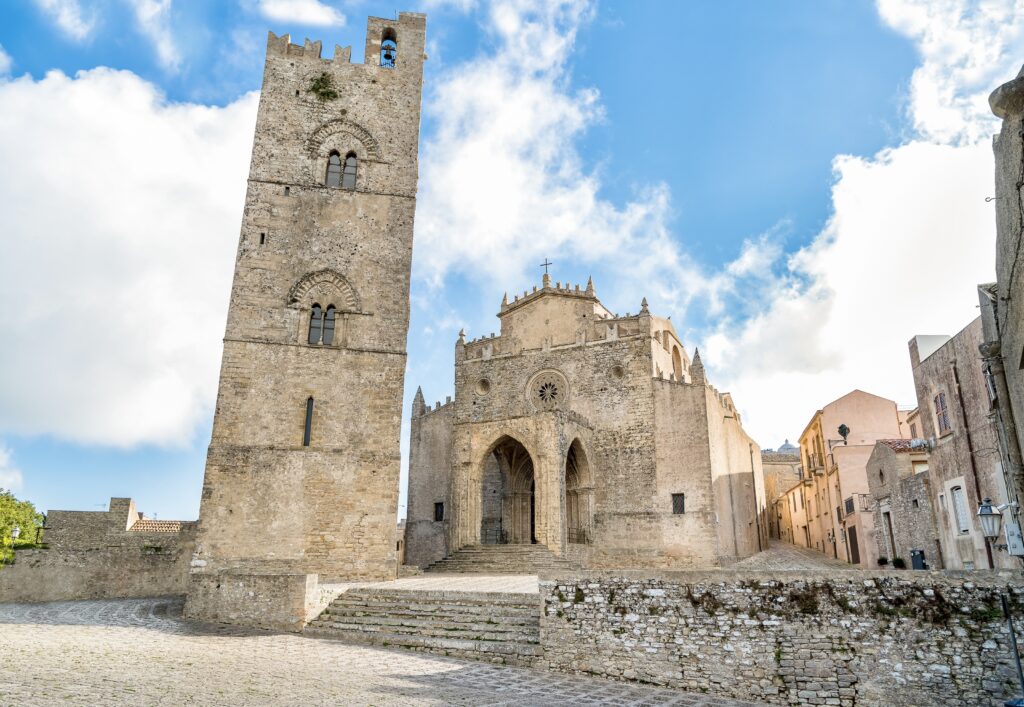 Erice Cathedral
This beautiful church is known as the "Mother Church" of Erice. The church is located at the entrance to the town. You can purchase a ticket at the bell tower ticket office.
The cathedral's Romanesque exterior, with its rugged appearance, dates back to the 13th century.
There's a large covered porch called a gibbena. This area was reserved for those who were not sufficiently penitent and were barred entry to the church.
However, the interior tells a different story. It was remodeled in a charming blend of Neo-Gothic and Neo-Arab styles in 1865.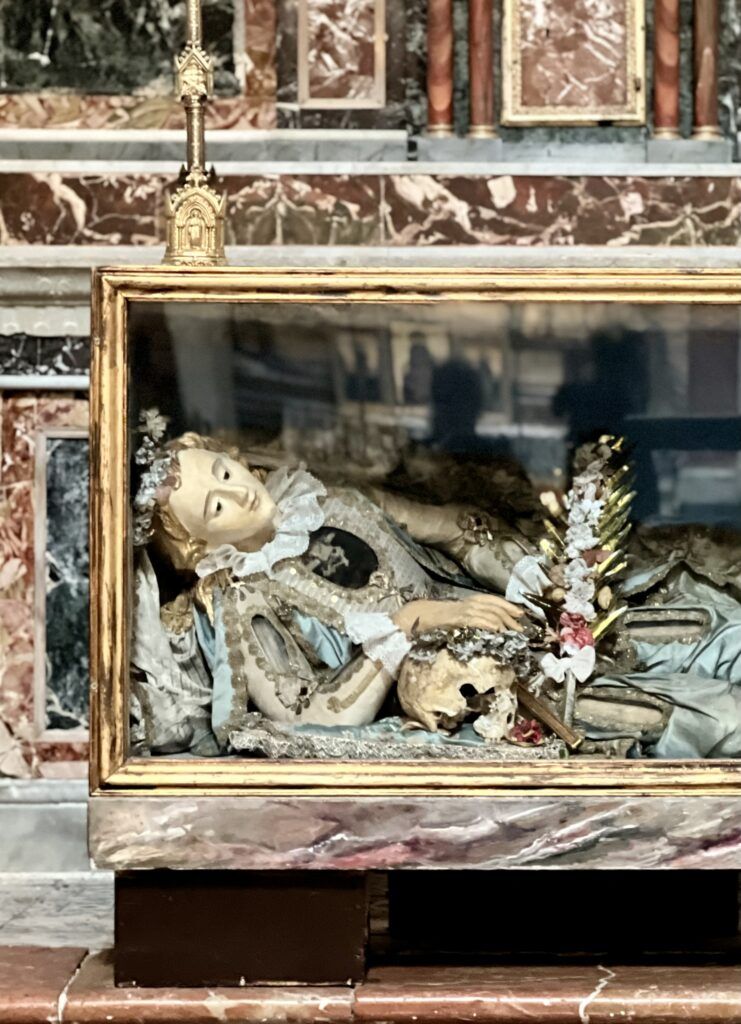 So the interior is fairly new. But the 15th century side chapels were conserved during renovations.
Don't miss the opportunity to view the Madonna of Custonaci, a cherished local treasure. It's exhibited in a special frame designed for processions around town.
If the weather permits and Erice is not shrouded in fog or mist, consider hiking up the 100 foot bell tower for remarkable panoramic views.
With a ticket to the Duomo, you also have entry to three of Erice's other churches.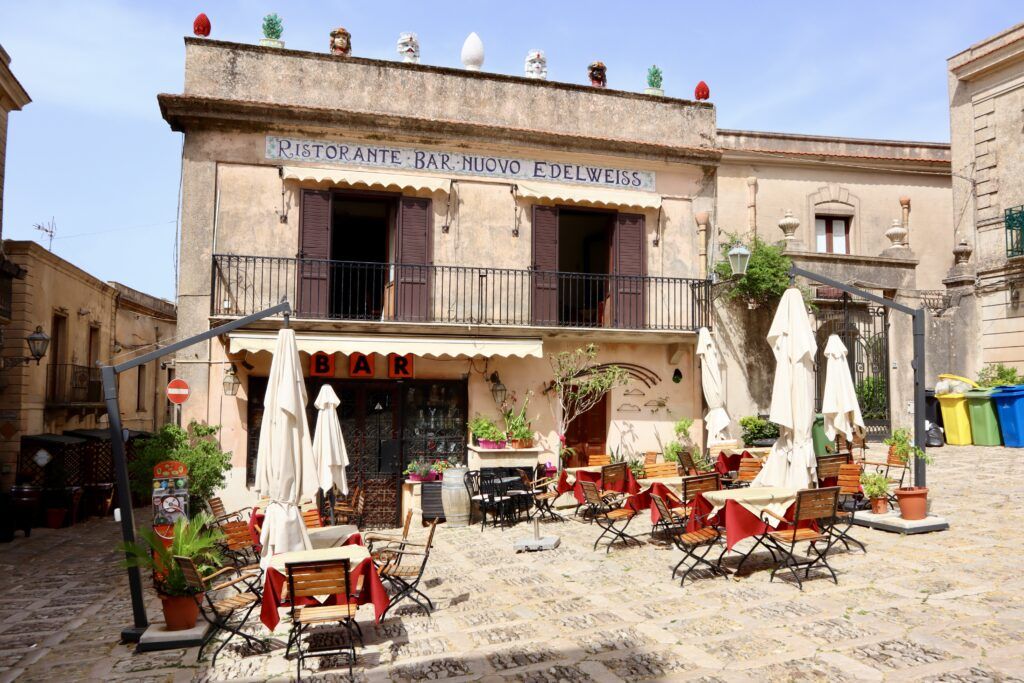 12:30 PM: Lunch In Erice
After a morning of exploration, treat yourself to a leisurely Sicilian lunch at one of Erice's charming trattorias or osterias.
Sicilian cuisine is celebrated for its flavors and regional specialties, so don't miss the opportunity to indulge in local dishes. Some culinary delights to savor include panelle (chickpea fritters), arancini (rice balls), and pasta with fresh seafood or eggplant.
Check out Ali Archi di San Carlo and Osteria di Venere for a meal in historic buildings. Pair your lunch with a crisp Sicilian white wine or a refreshing limoncello.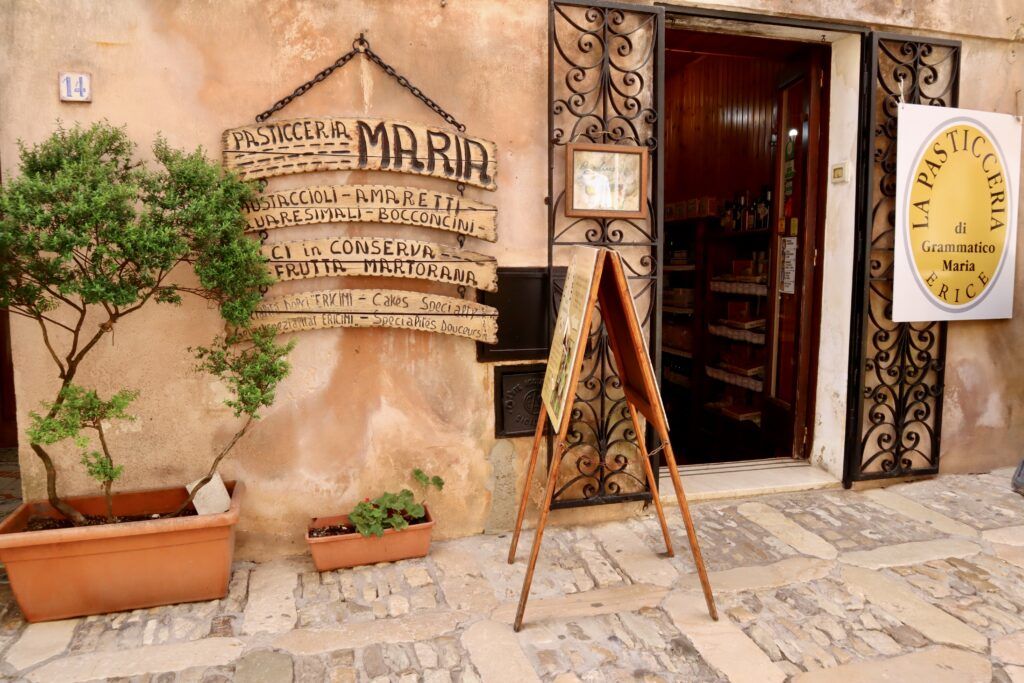 2:00 PM: Artisanal Discoveries
Erice is known for its skilled artisans who craft traditional products.
So, continue your one day in Erice by exploring the town's charming shops and boutiques. You'll find handmade ceramics, tapestries with zigzag patterns, and local almond sweets.
Make a beeline for the world famous Pasticceria Maria Grammatico, a local gem.
Maria, a renowned pastry chef and the Sicilian pastry queen, has a remarkable story. Raised by strict nuns in the 1950s, she learned the art of Sicilian pastries.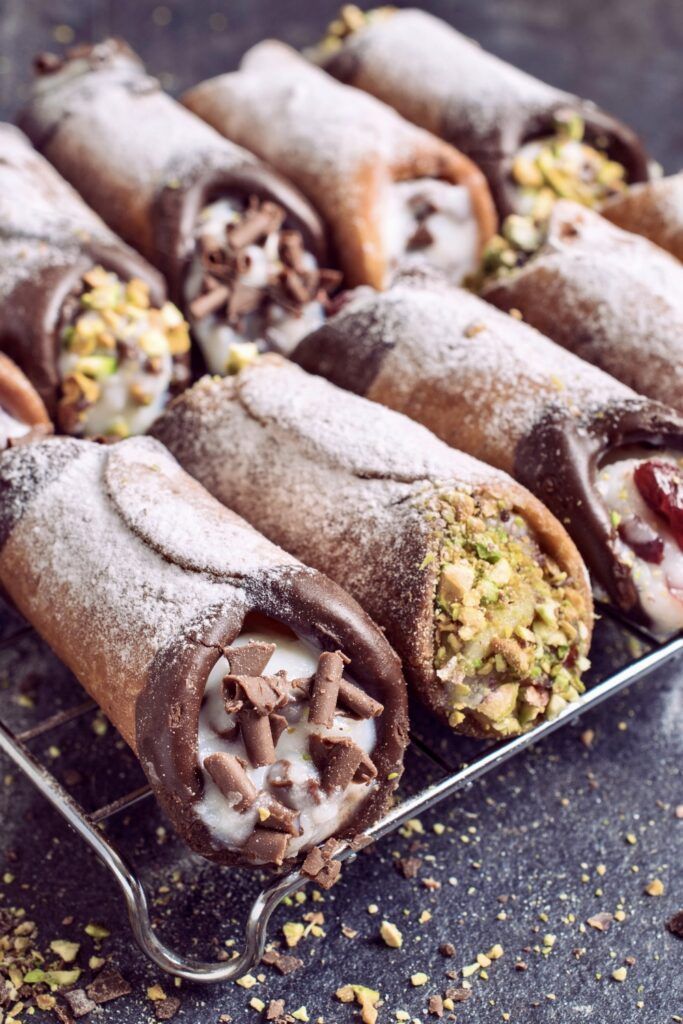 At the age of 22, Maria left the convent and embarked on a successful culinary journey with her age-old recipes.
She popularized certain types of sweets from this part of Sicily. Maria even authored a cookbook titled Bitter Almonds.
You can try some of her delectable treats. They have fun names like "nuns boobies," and "beautiful uglies." And her cannoli is made with fresh sheep milk ricotta.
The shop has a panoramic terrace and a courtyard in back. So, it's the perfect place to take a break.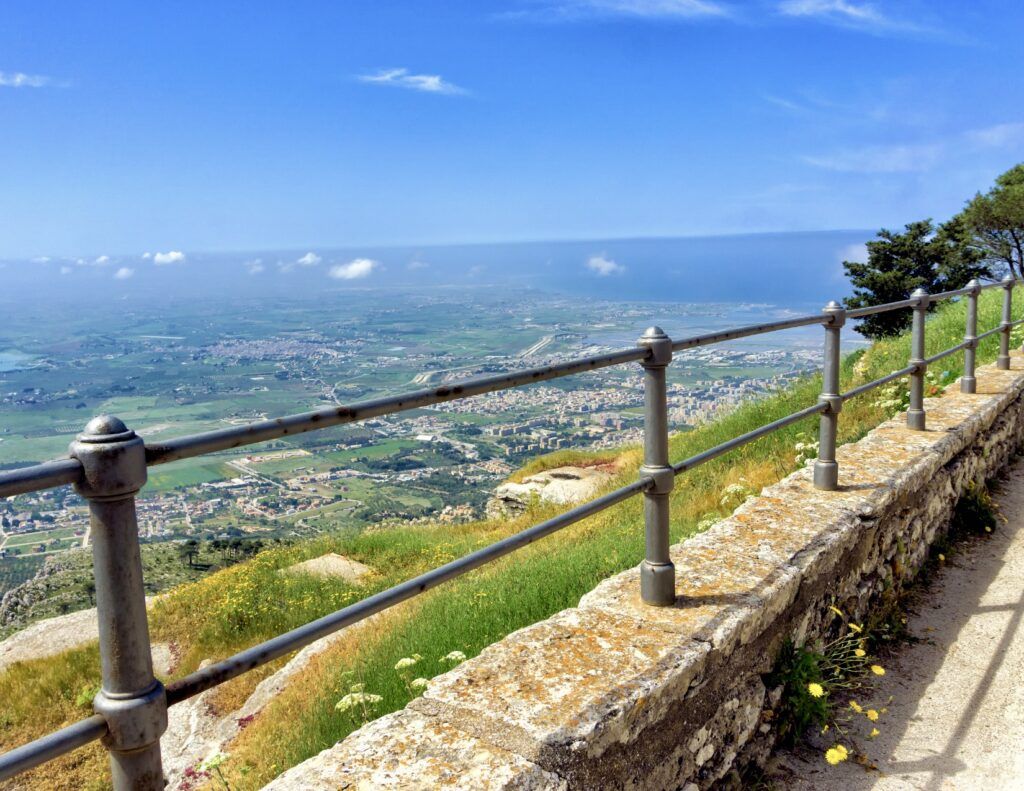 3:00 PM: Scenic Walks & Views
Erice offers numerous scenic spots that are perfect for leisurely walks and enjoying panoramic vistas of Sicily's western coast. Consider visiting one of the town's following viewpoints
I mentioned Torretta Pepoli, which is short walk from the center of Erice. This charming tower offers spectacular views of the surrounding countryside and the Mediterranean Sea. It's a serene spot to watch the sunset if you decide to extend your visit into the evening.
Viale Conte Agostino Pepoli is a tree-lined avenue and a lovely place for a leisurely stroll. It leads to the Pepoli Castle and offers captivating views of the coastline.
You could also visit the Gardens of Balio. These picturesque gardens, surrounded by ancient city walls, are a peaceful oasis in front of the Castle of Venus. Stroll among the lush greenery and take in the fragrant blooms and tranquil fountains.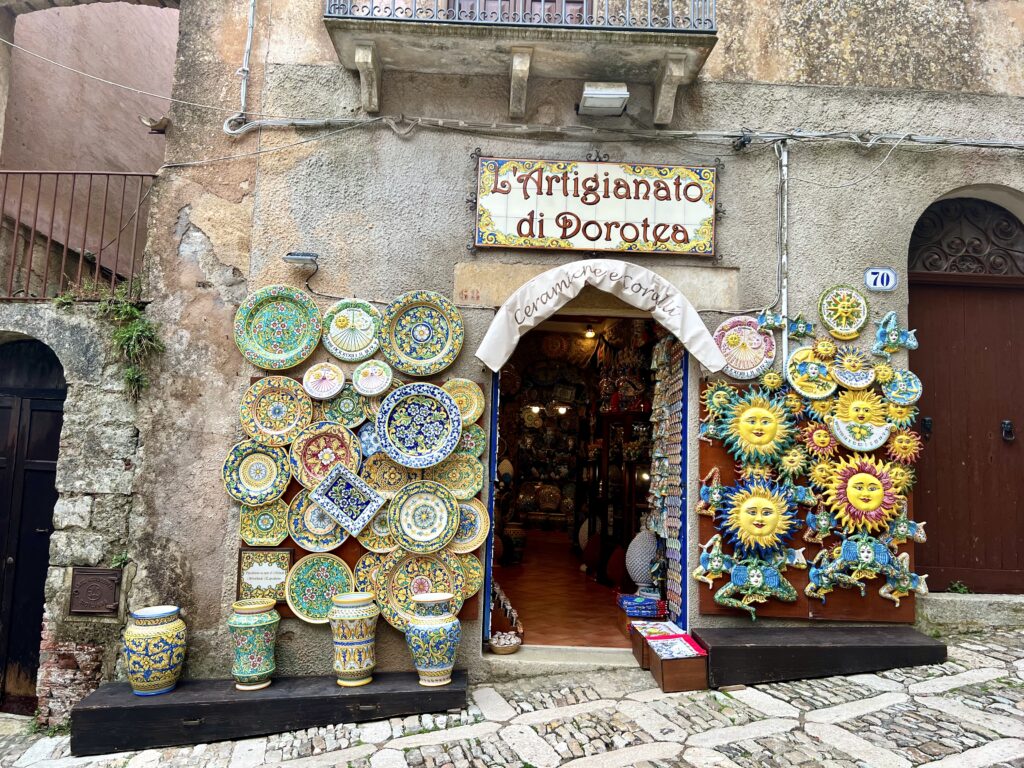 4:00 PM: Antonio Cordici Museum
Alternatively, the Antonio Cordici Museum will attract history buffs. It showcases the town's rich history through a collection of artifacts, art, and archaeological exhibits.
In the archaeological section, there are finds from famous archaeological digs. There are also paintings and sculptures from the 15th and 16th centuries.
5:00 PM: Return To Trapani
As the late afternoon approaches, make your way back to the cable car station for the descent to Trapani.
The cable car ride down provides a different perspective of the landscape, and you can savor your last glimpses of Erice's medieval charm. If the cable car is closed, hop on the bus or taxi back down.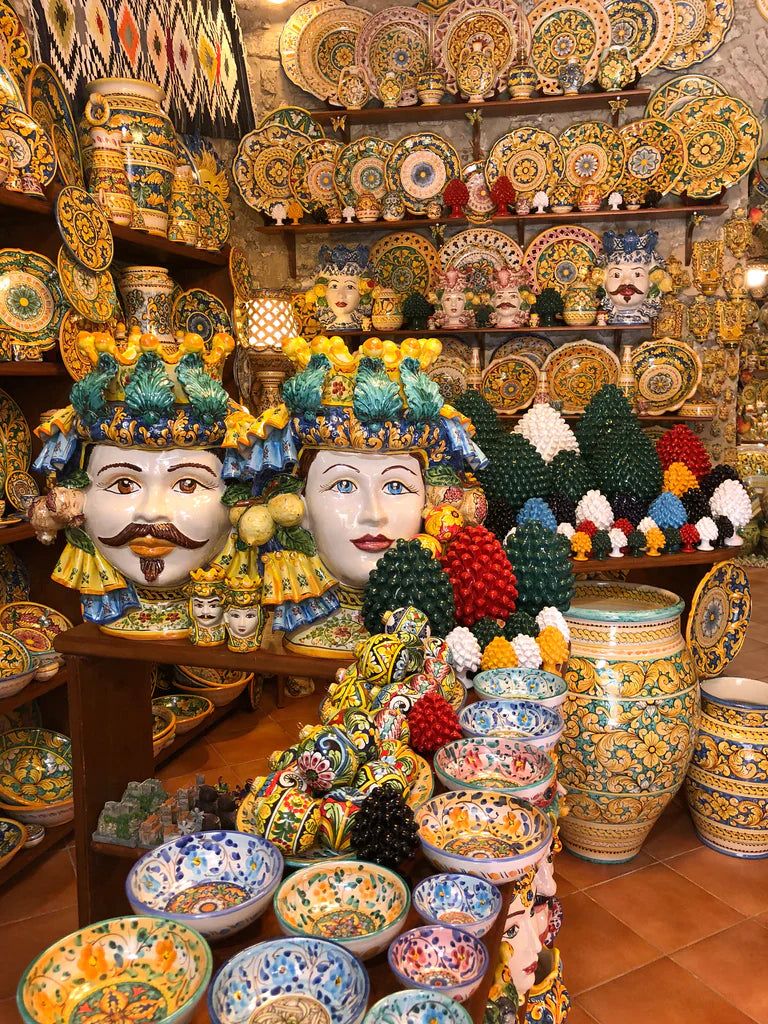 5:30 PM: Evening in Trapani
Upon returning to Trapani, consider exploring more of the town if you have time before your return journey to Palermo. At least take a stroll down the main drag, corso Vittorio Emanuele, to admire the gorgeous Baroque architecture.
Trapani boasts a lively seafood scene. So indulging in a fresh seafood dinner at one of its many restaurants is a delightful way to conclude your day.
There's also delicious pizza at Pizzeria Calvino. But you should expect to wait in line for these bites.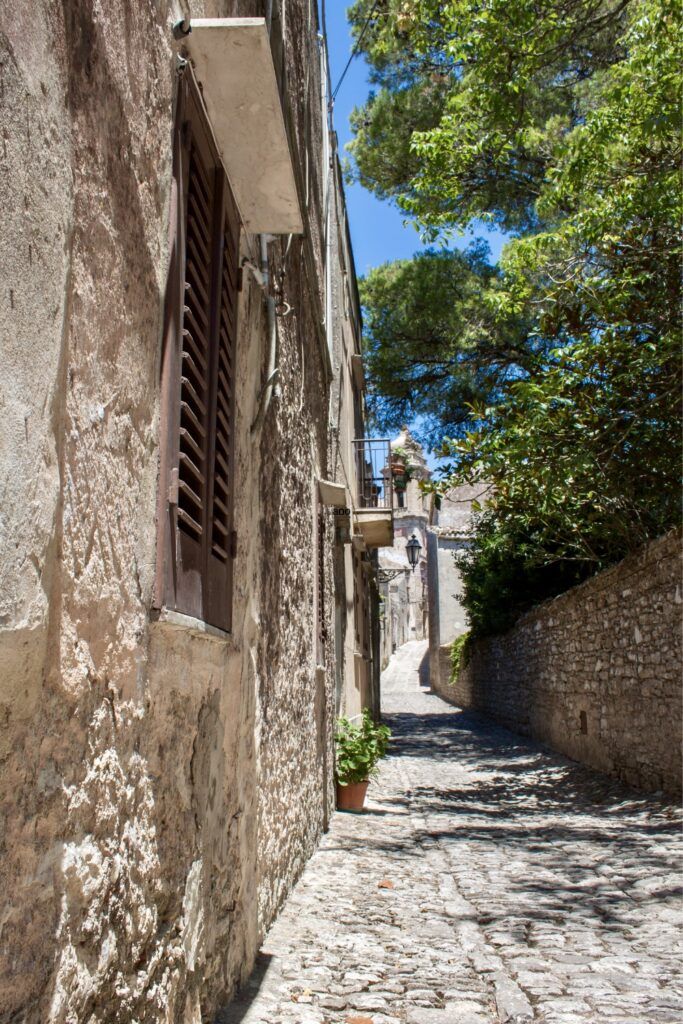 7:00 PM: Departure to Palermo
If you're not dining in Trapani, it's time to head back to Palermo. You can catch a train or bus from Trapani to Palermo. If you're driving, it will take about 1.5 to 2 hours.
9:00 PM: Arrival in Palermo
Returning to Palermo, you'll still find some restaurants and bars open if you wish to enjoy a nightcap or a late night snack before retiring to your accommodations.
For more information on the city, you can check out my one day in Palermo itinerary.
Tips For A One Day In Erice Day Trip
Here are some must know tips for spending one day in Erice to help you get there, get around, and have the perfect day trip.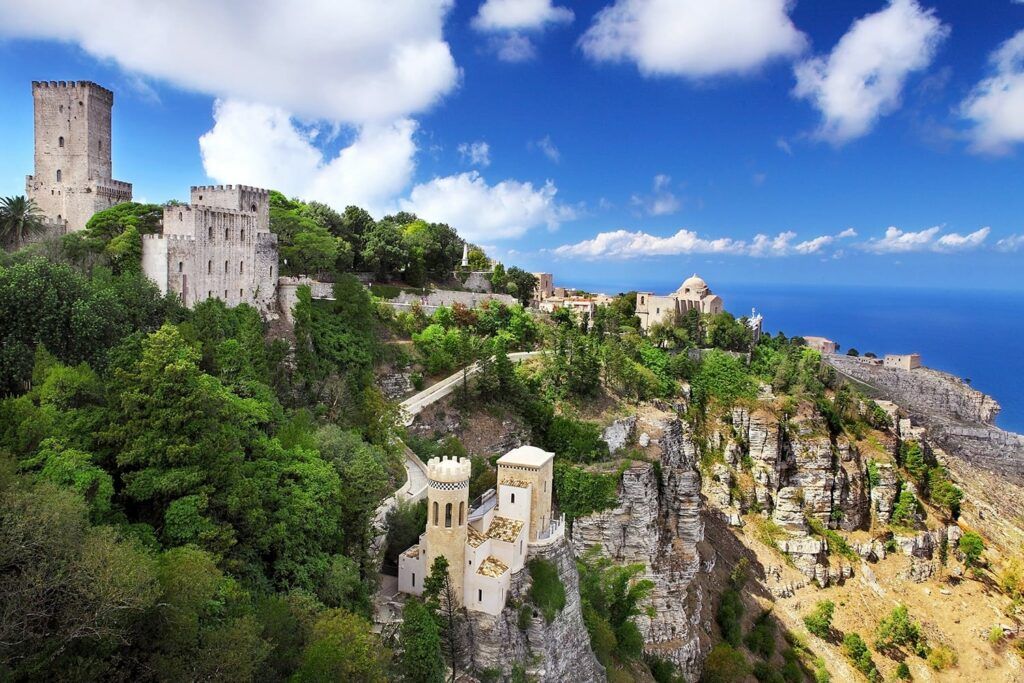 1. How To Get To Erice
By Car
If you have your own vehicle, you can make the white nuckle drive along the winding road that leads up to Erice. It's a scenic route that offers breathtaking views along the way.
No cars are allowed inside the town. But there are parking lots around town to leave your car in.
Cable Car (Funivia)
For those seeking dramatic panoramic vistas of the valley, consider taking the 10 minute cable car ride from Trapani to Erice. It's a memorable journey that adds to the adventure.
But be forewarned, the weather in Erice is unpredictable. One minute it's sunny and the next it's socked in with fog. If so, the funicular won't be running.
In that event, you can drive there or take a taxi from Trapani for about 25 euros. There is also regular bus service between Trapani and Erice.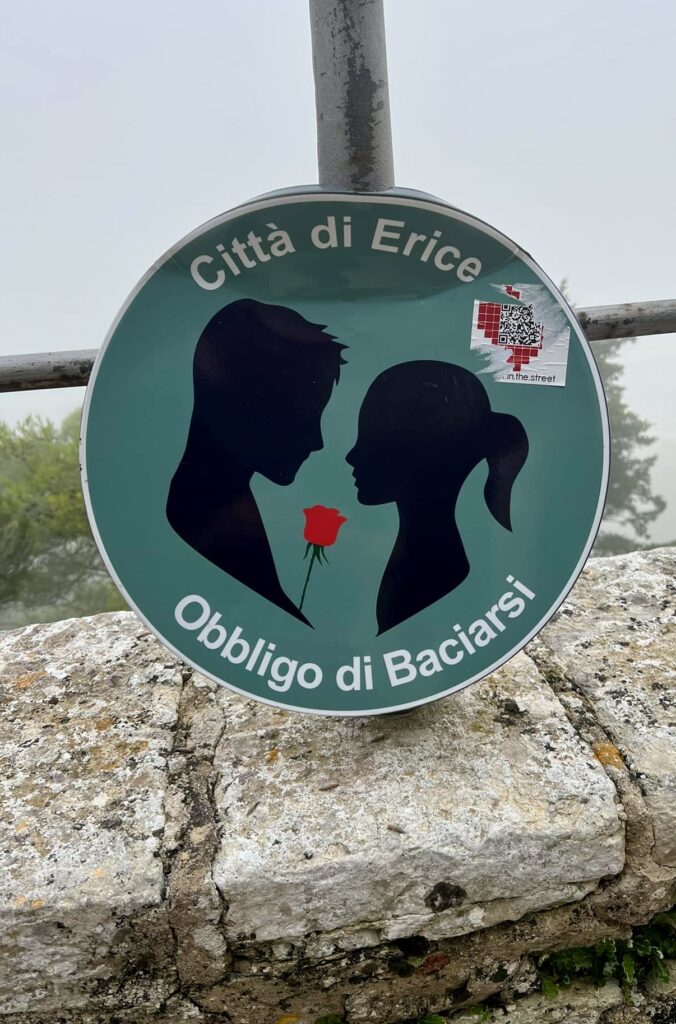 Generally, the cable car operates from early morning until late in the evening. But that can vary by season and you should check the website.
Hiking
If you're up for an outdoor adventure and want to immerse yourself in nature, you can hike up or down the hill to Erice.
This picturesque trek covers approximately 6 miles and includes an elevation difference of almost 2,600 feet. It's a fantastic way to experience the beauty of the landscape.
By Bus:
As I mentioned above, there is regular AST bus service to and from Trapani. The buses arrive and depart from the Porta Trapanio stop at the foot of Erice's old town. From Trapani, it's about a 45 minute ride.
2. How To Get Around Erice
Erice is very compact and pedestrian-friendly, making it easy to explore the town on foot. Just be sure to wear comfortable shoes for the cobbled lanes.
3. When To Visit Erice
The best time to visit Erice is in the shoulder season, spring or fall. Summer sees the hottest weather and the largest crowds. Erice can seem quite touristy then.
Winter is not an ideal time to visit. Erice can be very quiet, and some businesses and attractions may have reduced hours or be closed. And guided tours may not be available.
Plus, in the winter months, there is more risk of fog and mist, which obscures the views and makes Erice less appealing.
4. Where to Stay in Erice
Erice is usually a day trip destination. If you opt to stay overnight instead of visiting on a day trip, there are a couple good spots to stay in Erice. If you are traveling by car, be sure to confirm whether there is parking with your accommodations.
Hotel Elimo is a family-run hotel set in a historic building in the heart of Erice. It offers comfortable rooms with antique furnishings and a lovely garden terrace.
La Pineta is a quiet 3 star hotel not far from the Castle of Venus. Rooms are in detached bungalows.
If you are staying in Trapani instead, check out these options: Residenza La Gancia, Hotel San Michele, and Badia Nuova Apartment Hotel.
5. How Long To Stay In Erice
Erice is small and can be fully explored in 3-4 hours, which makes it the perfect day trip destination. This itinerary has you in Erice from 11:00 am to 5:00 pm. But that assumes you have a leisurely lunch and take a pastry break.
I hope you've enjoyed my one day in Eric itinerary and day trip guide. You may enjoy these other Sicily travel guides and resources:
If you want to day trip to Erice, pin it for later.