Planning a trip to Portugal and Spain? Here's my guide to taking a fantastic 10 day road trip in southern Portugal and southern Spain.
This 10 day Spain-Portugal itinerary takes you from Lisbon Portugal to Granada Spain. This popular road trip route is dense with exciting cities, must visit medieval villages, Moorish architecture, UNESCO-listed landmarks, and loads of old world charm.
This ten day itinerary begins in Lisbon, Portugal's sultry capital. Lisbon is an exciting sun-kissed city with glistening azulejo facades and stunning vistas.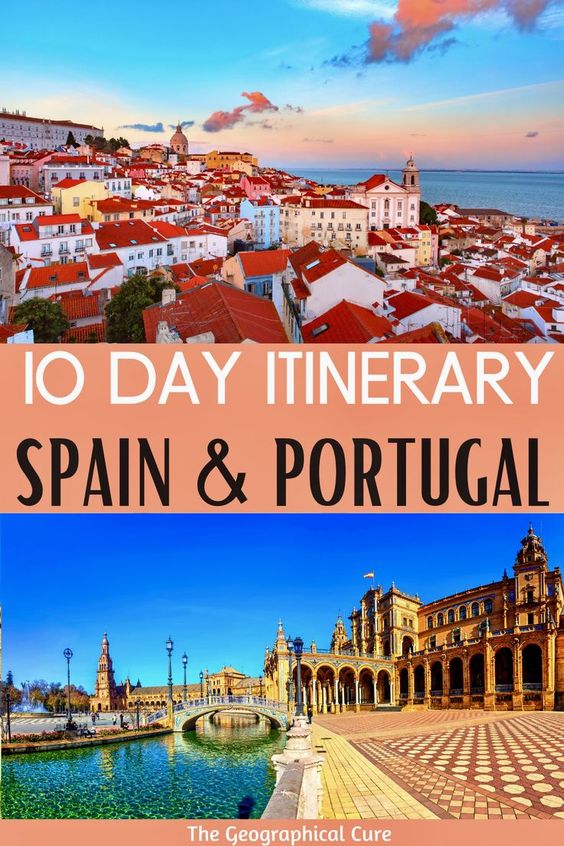 It's a compact and lively collection of small villages, tapas bars, and some of Europe's most important palaces.
From Lisbon, you'll travel through beautiful Evora Portugal en route to Seville in sunny southern Spain. You'll finish the Andalusia portion of your trip in Granada.
The city of Granada is home to the mighty Alhambra, the world's greatest existing Moorish fortress.
Andalusia is a dreamy sun-kissed place. From flamboyant Seville to gritty Granada, you'll discover a well-balanced blend of must see hotspots, hidden gems, tiny whitewashed villages, and natural wonders.
Here's my recommended 10 day itinerary for a self drive road trip from Lisbon to Granada. You can always reverse the order and start in Granada and travel west to Lisbon. This would work if you are already in Spain visiting Barcelona or Madrid.
READ: Guide To 24 Hours in Barcelona
With this Spain-Portugal itinerary, you don't need to pick up your rental car until day 4. You won't want a car in Lisbon unless you have a roomy space to park.
Overview of 10 Day Spain-Portugal Itinerary
Here's a quick snapshot of what you'll see with 10 days in Spain and Portugal:
Length: 10 days
Start and End Points: Lisbon and Granada
UNESCO World Heritage Sites: Jeronimos Monastery, Tower of Belem, Cultural Landscape of Sintra, Pena Palace, Quinta da Regaleira Palace, Royal Alcazar, Seville Cathedral, the Mezquita, Roman Bridge of Cordoba, Medina Azahara, Antequera Dolmens, the Alhambra, the Albaicin
For this Spain-Portugal road trip, you'll have three bases: Lisbon (3 nights), Seville (4 nights), and Granada (3 nights).
This trip is best done by car. I give you tips on where to stay for each city.
But this Lisbon to Granada itinerary also also works by train. Just make sure you pre-book/catch an early high speed ATV train when moving from city to city.
A car is superior because it gives you more flexibility over your schedule and the ability to make pit stops (planned or unplanned) along the way.
There are plenty of great destinations to explore in this Portugal to Spain road trip. This super detailed 10 day itinerary is perfectly adjustable.
You can make it shorter or longer, depending on your available vacation time or personal fast/slow travel pace. I've tried to give you a mix of cities and leisurely villages, with day trip options as well.
Here's my guide with tips for renting a car and driving in Europe.
10 Day Itinerary for Portugal and Spain
Day 1: Lisbon
Welcome to the start of your 10 day tour of Spain and Portugal!
You're likely going to arrive in Lisbon in the early to mid afternoon. To get oriented, you may want to book a guided walking tour.
Begin by exploring the main city squares. Start in the Pombaline-designed Rossio Square, also known as Praça Dom Pedro IV.
It's a lively place with flower vendors and eye catching sidewalks with an optical illusion wave style. Two Baroque fountains stand at each end.
Then head down the main drag, Rua Augusta, to the Praça de Comércio, the showy 18th century square with a triumphal arch.
But don't dine or shop here; the squares are mostly filled with tourist traps. Be sure to walk through the arch so you can take in the views from the other side.
After poking around, head to Lisbon's adjacent Chiado neighborhood. It's a rather arty upscale neighborhood filled with lovely cafes, chic art galleries, bookshops, and tony boutiques. You can also book a 3 hour guided walking tour of Chiado.
Be sure to pop into the world's oldest bookstore, Livraria Bertrand. And check out one of the most beautiful azulejo facades in Lisbon — the House of Ferreira das Tabuletas.
Take in the evocative Carmo Convent. It's probably Lisbon's best historical site Lisbon and a open air memorial to the worst day of Lisbon's history, when the 1755 earthquake demolished much of the city.
After visiting Carmo Convent, settle in at an authentic eatery in Chiado, like Taberna da Rua das Flores or Cantinho do Avillez.
If you want a Michelin experience, try Alma. This tony restaurant claims to serve up "emotions, identity, knowledge."
Then head to Alfama, Lisobn's most charming must see neighborhood. Steeped in history, immortalized in Fado, and rising over Lisbon, Alfama is Lisbon's most authentic district. It largely escaped the earthquake's wrath.
Alfama is city outside a city. Steep stairways tumble down to Baixa below and Castelo São Jorge (St. George's Castle) stands guard above on Lisbon's highest hill. As a result, Alfama is incredibly beautiful and photogenic.
You can follow a my walking tour for the Alfama. You can book a 3 hour guided walking tour of this historic neighborhood
Or just surrender to the lively chaos and get lost in the maze of tangled streets, decorated with street art, flowers, and the residents' laundry.
Day 2: Lisbon and Belem
On day 2, head to the architecturally-rich suburb of Belém. You'll be cast back to the Age of Discoveries, when the world was Portugal's colonial oyster.
This neighborhood could take up your entire day, if you're so inclined. Here's my guide to the top attractions in Belem.
Your top priority in Belem is Jeronimos Monastery. It's a 500 year old UNESCO site and a mandatory destination in Lisbon. Jeronimos Monastery is the premiere example of Manueline architecture in Portugal and the #1 site in Lisbon's Belem district.
You must pre-book a skip the line ticket or you'll wait in incredibly long lines. You can also book a 3 hour guided walking tour of Belem that includes a skip the line ticket to the monastery.
There's nothing like the moment you walk into the monastery's two level cloister, honey colored and dripping with organic detail.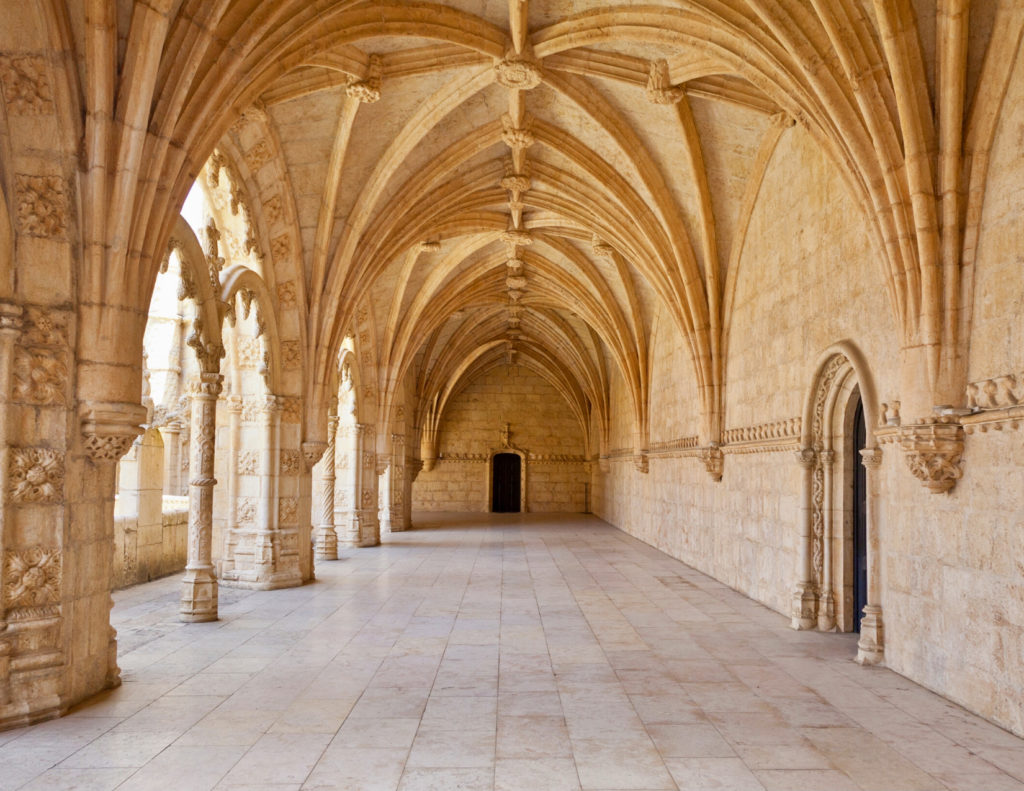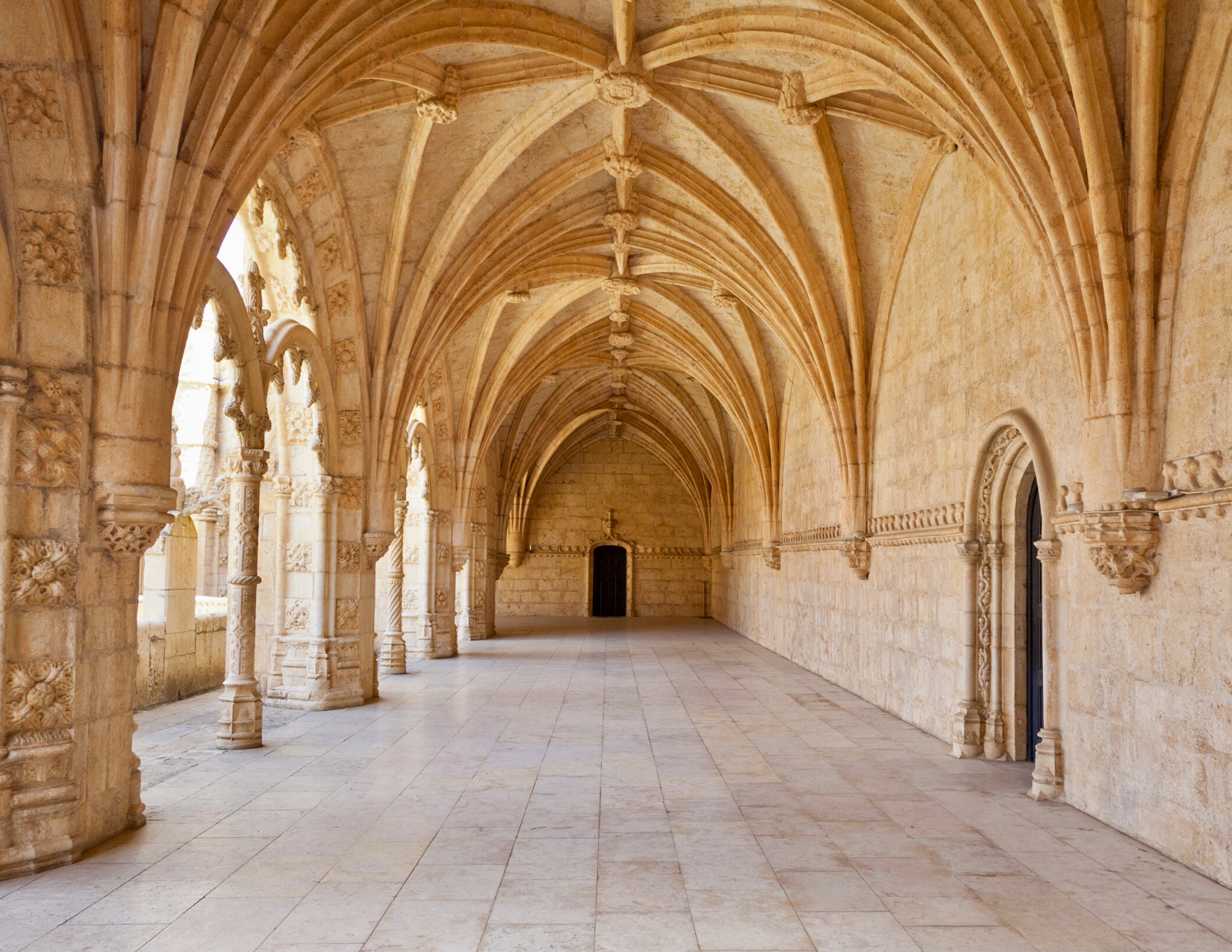 You'll be wowed by the delicately scalloped arches, twisting turrets, and columns intertwined with leaves, vines, and knots. And the gargoyles and beasties on the upper facade.
READ: Complete Guide To Jeronimos Monastery
You can also visit the Tower of Belem and the Monument to the Discoveries. Both are included in Belem's UNESCO designation.
You can admire them from the outside or explore inside. Be forewarned, crowds will be intense and there will be long lines to visit the interiors. You can also book a 2 hour skip the line guided tour the includes both the monastery and the tower.
Belem Tower is a fortress-like structure also built by Manuel I. It had a very Game of Thrones like feel to me with its filigree stonework. A very narrow spiral staircase leads you to the top for fantastic views.
>>> Click here to book a ticket for Belem Tower
When you're done gorging on Manueline architecture and Belem's famous Pasteis de Belem custard tarts, travel back to Lisbon.
At night, head to Lisbon's nightlife spot, the hilly neighborhood of Bairro Alto for food and drink.
Or, take in a dinner and Fado show. Here's a good list of Fado places in the Alfama and another with places in Bairro Alto.
Day 3: Day Trip To Sintra
On day 3, you'll venture to Sintra Portugal, the most popular day trip from Lisbon. Sintra is rock star glamorous. The town is chock full of UNESCO-listed castles and palaces.
It's dazzling, colorful, and romantic. Even the town itself is quaint, filled with artisan shops, and well worth exploring. Sintra packs a punch and delivers on its hype.
There are so many amazing things to do and see in Sintra, that I've written a guide with tips for visiting Sintra. You need to have a specific strategy and manage your time well to make the most out of one day in Sintra.
To avoid the wait and lines, you may want pre-book a guided skip the line tour for Pena Palace, the top attraction. Or go on a guided tour of the Sintra's highlights with a historian.
If you don't want to worry about transportation, book a guided tour full day tour from Lisbon or a guided day tour that includes the coastal Cascais and Cabo da Roca.
The three sites in Sintra that you can't miss are: (1) Pena Palace, (2) Quinta da Regaleira, and (3) the Moorish Castle.
1. Pena Palace
Pena Palace is an operatic romantic palace. It's intensely colorful, a heavy handed mish mash of different architectural styles.
The palace looks like several castles smooshed together. It's a schizophrenic whirlwind of onion domes, turrets, crenellation, and fanciful sneering gargoyles.
Pena Palace was commissioned by King Ferdinand II in 1842. The project was possibly in an attempt to rival the Neuschwanstein Castle in Bavaria.
Ferdinand was strongly influenced by German Romanticism, a style that emphasized the subjective, the irrational, the imaginative, and the spontaneous.
>>> Click here to pre-book a Pena Palace ticket
2. Quinta da Regaleira
Quinta da Regaleria is a stony Gothic palace built by eccentric and superstitious millionaire Antonio Monteiro.
It's an eerie romantic place with stunning gardens featuring grottos, fountains, towers, and tunnels. It's a short 10 minute walk from the historic center of Sintra.
The gardens feature a startling "initiation well" that was used for secret initiation rites. You walk 90 feet down the spiral (and somewhat slippery) staircase. Then, you enter underground tunnels that take you into the gardens.
>>> Click here to book a ticket to Quinta da Regaleira
3. Moorish Castle
The Moorish Castle is an ancient 9th century fortress perched high on the hills of Sintra. It's only a 10 minute walk from Pena Palace. It has astounding 360 panormic views.
There aren't a lot of good food options in Sintra for dinner. So, it may be better to head back to Lisbon where you'll have a plethora of choices.
>>> Click here to book a ticket for the Moorish Castle
Where To Stay In Lisbon
I would recommend staying in or near the Chiado neighborhood. The Verride Palacio Santa Catarina is a boutique hotel in a renovated palace with incredible views.
LX Boutique is a pretty luxury hotel with a maritime themes and blue colors. The Memmo Principe Real is a historic hotel in a quiet area. It has limestone floors and original paintings.
Day 4: Drive From Lisbon To Seville, Stop in Evora
The drive from Lisbon to Seville is 4.5 hours. En route, to break up the journey, stop in the UNESCO town of Evora. Evora is a 1:15 drive from Lisbon and then it's another 3.5 hours to Seville.
If you want another stop between Evora and Lisbon, pull over in Merida. Merida is an ancient Roman city and UNESCO-listed site.
The UNESCO-listed Evora is tucked away in the Alentejo region of central Portugal. Evora was untouched by the great earthquake of 1755 and its historic center is well preserved. You can book a guided walking tour of the historic city center.
Evora is topped by a grand 14th century cathedral, commonly refered to as Evora Cathedral. But its official name is the Cathedral Of Nossa Senhora Da Assuncao.
While not particularly pretty itself, it's worth it to go inside just for the beautiful vistas over Evora from its balcony.
The star of Evora is an ossuary, the Chapel of Bones, attached to the large Royal Church of St. Francis. Franciscan monks slaved away in the early 17th century building this unusual site when cemeteries were overflowing.
Evora was also an important Roman town, lying on a trade route to Rome. In Evora's center, you'll see 14 Corinthian columns rising to the sky.
After you've seen the sites, leave Evora and head to Seville, your base for the next four nights.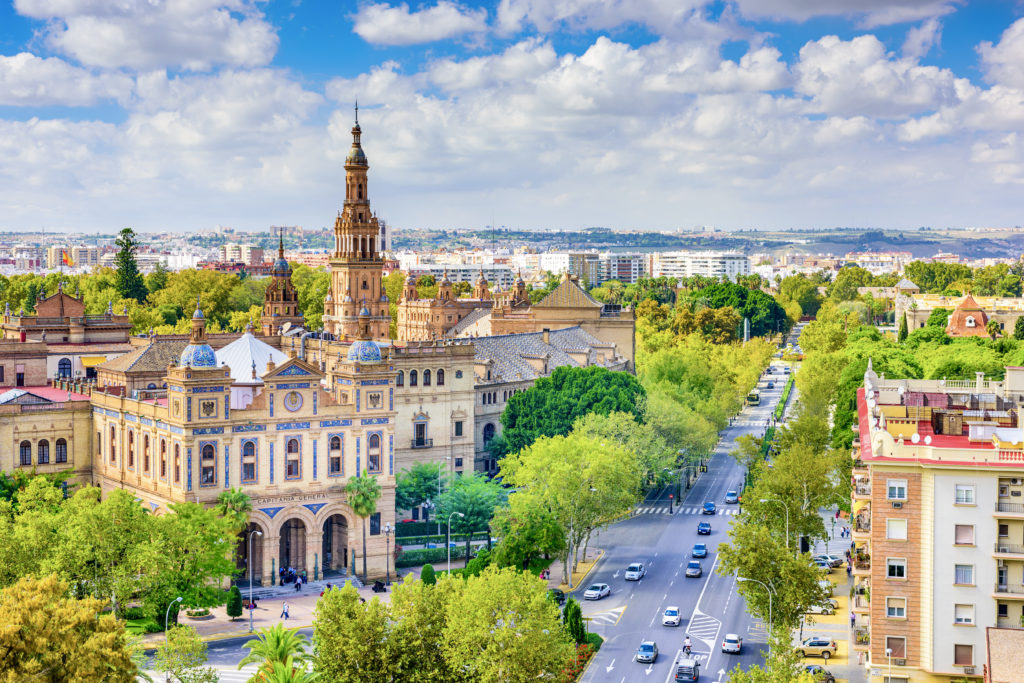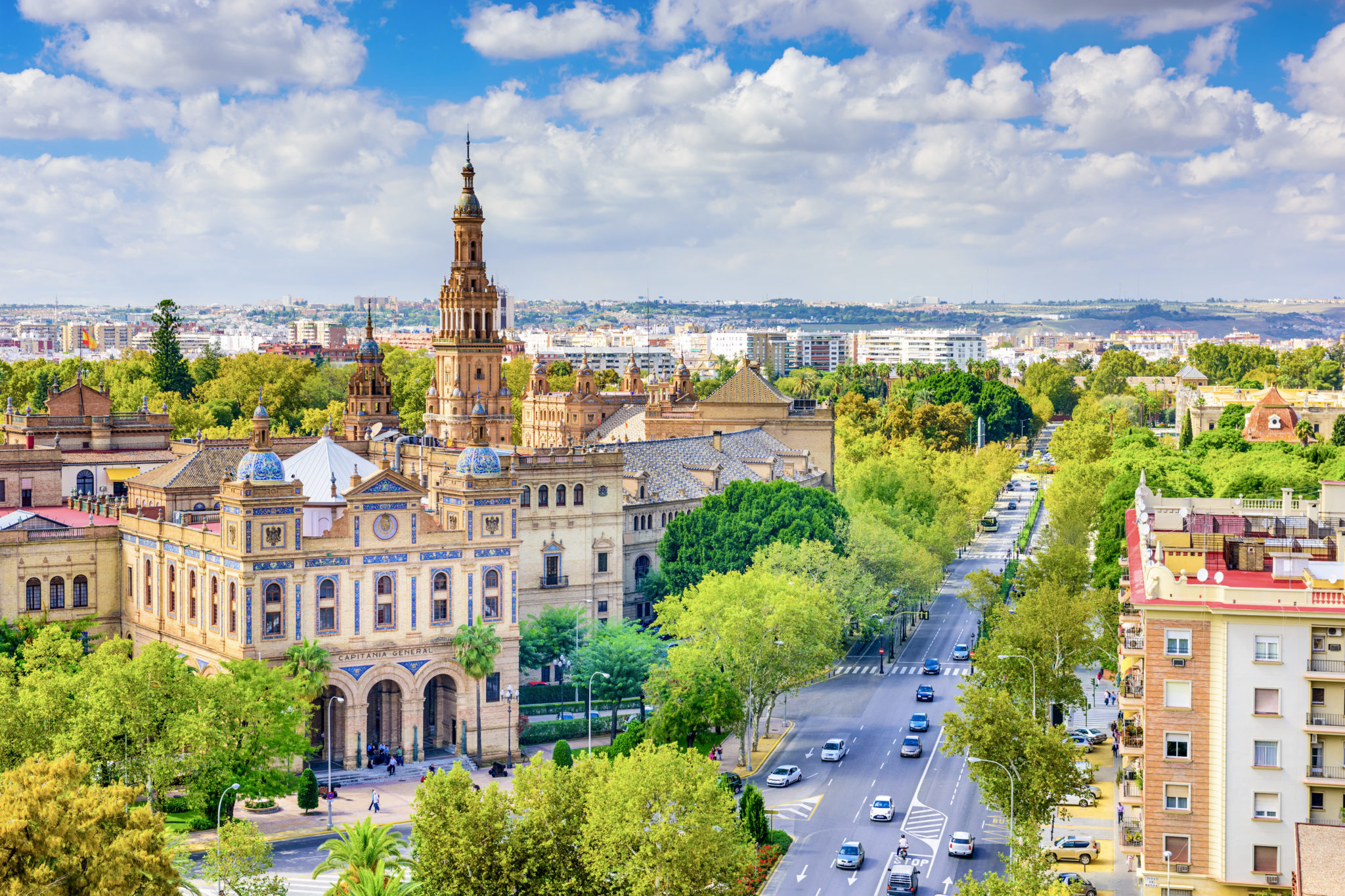 Day 5: Explore Seville
On day 5 of your 10 days in Portugal and Spain itinerary, you'll explore Seville. Seville is one of my favorites cities in Europe and and a must visit destination in Andalusia.
Seville is known for its Moorish architectural flourishes. The city is guarded by one of the world's most colossal Gothic cathedrals. It's a seductive mix of Mudéjar palaces, ornate baroque churches, colorful azulejo tiles, and shady cobblestone lanes.
And you can feast on inventive tapas, ice cold beer, and sweet sherry. At any hour of the day, no less.
On your first day in Seville, plan on seeing Seville Cathedral, La Giralda, and the Royal Alcazar.
1. Seville Cathedral
Seville Cathedral is a massive Gothic affair, an odd to excess. It's the largest cathedral in the world. It's essential to pre-book a skip the line ticket in advance.
Tickets include an audio guide. You can also book tickets + a guided tour of the cathedral and explore its rooftops.
Tickets include an audio guide. To enter the cathedral, you walk through the lovely Patio of the Orange Trees, decorated with a Moorish gate.
The Main Chapel, Capilla Mayor, is a glittering affair. It houses one of the world's finest high altars, elaborately detailed and finished in gold leaf. There are over 1,000 carved biblical figures.
Along the aisles of the cathedral, there are 80 side chapels to explore. You'll find spires and reliefs depicting biblical events dedicated to saints.
There's a large mirror reflecting the intricate ceiling, which you'll have to queue up to peer into. Lighting up the interior are 75 stained glass windows from the 16th to 19th century.
The Cathedral houses the tomb of Christopher Columbus in the south transept. Many places lay claim to Columbus' bones.
But apparently DNA tests have confirmed that, in fact, a bit of him is in Seville, maybe a shin bone or something.
2. La Giralda
La Giralda, or the bell tower, dates from 1184. It's the symbol of Seville and the oldest part of the cathedral complex.
The tower was originally constructed as the minaret of the Almohad Mosque that previously stood here, and was used to call Muslims to prayer. It was modeled after the Koutoubia Mosque in Marrakesh.
You access the 100 meter high Giralda in the far right corner. It's an easy climb, 35 sloping ramps to reach the top.
There are ramps instead of stairs so that horses could be ridden to the top. You'll be rewarding with sweeping views of the cathedral and Seville.
3. Royal Alcazar
I've written at length about my adoration of the UNESCO-listed Royal Alcazar in Seville. It's my very favorite spot in Andalusia, even above Granada's incandescent Alhambra.
It's essential to pre-book a slip the line ticket in advance or you'll have long wait in line. You can also book a guided tour of the alcazar with priority entrance.
The Alcázar is one of the world's greatest cultural treasures. The Alcazar is a centuries old complex of palaces and fortifications, lovely courtyards, and extensive gardens bursting with orange, purple, and green colors.
You cannot help but feel catapulted back in time.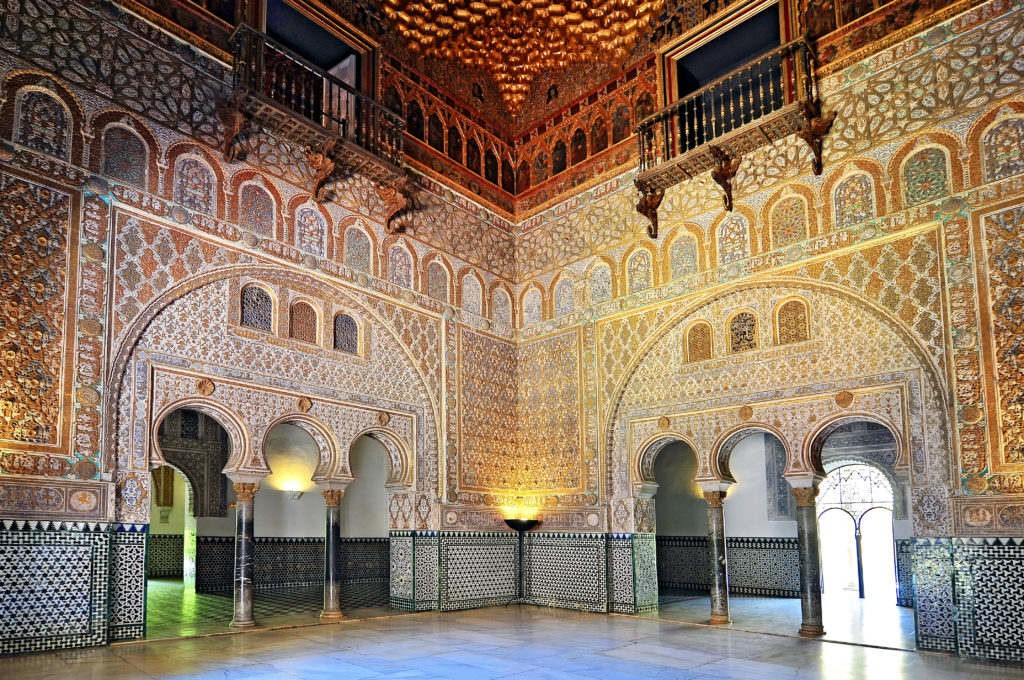 The crown jewel of the Alcazar is the sumptuous Mudéjar Palace of King Pedro the Cruel, built around the iconic Maiden's Courtyard.
The Ambassador's Hall, or Throne Room, is the big showstopper. It's nicknamed the "Half Orange" Room, in honor of its gilded cedar domed ceiling.
But perhaps the best part of visiting the Alcazar is its amazing gardens. They're a lush, exotic, labyrinthian paradise, encompassing 80% of the Alcázar grounds.
The Baths of Dona Maria de Padilla are perhaps the most striking and frequently visited spot in the Alcázar Gardens.
4. Dinner & Drinks
In the evening, amble up to the hipster haven of La Alameda. This is Seville's trendy bohemian district, situated around the Plaza Alameda de Hercules.
This not-so-touristy neighborhood of Seville has lively local pubs, parks, boutiques, chic galleries, and Roman era columns.
My pick for dinner in Alameda is Duo Tapas, where you get delicious tapas under fairy lights. It's popular and a great value.
You can also try La Taberna de Panduro Baños or the nearby Eslava, hidden behind the Basílica de Jesús del Gran Poder.
In lieu of a restaurant, you could also go on a 3 hour tapas crawl. I did this tour when I was last there and I loved everything except the orange wine. Or try this "10 tasting of Seville" walking tour or this 4 hour gourmet food tour.
Day 6: Seville
1. Plaza Espana
Start your second day in Seville at the magnificent Plaza Espana. It's a famous architectural landmark, photogenic spot, and a must visit attraction in Seville.
The plaza was built for the Ibero-American World Fair of 1929, where Spanish speaking countries enjoyed a year long mutual admiration festival. It's open to the public and there's no entry fee.
The park's highlight is the Spanish Pavilion, the sweeping half circle structure with rose gold brick buildings. Designed in an Art Deco style with some Moorish touches, the Plaza has the expected Spanish flair — lots of color and lavish embellishment.
There are 49 alcoves, each decorated with tiles. They show historical scenes and maps from the 49 provinces of Spain arranged in alphabetical order.
2. Barrio Santa Cruz
Then head to Barrio Sant Cruz, Seville's popular medieval district. The neighborhood is a mass of tangled cobbled streets with tiny palazzos and tile covered patios.
You may want to book a guided walking tour of the pretty barrio.
Some streets are so impossibly narrow, they're called "kissing lanes." There are also orange trees everywhere. You can get lost and stumble across secret squares, pretty churches, and tapas bars.
Plaza de la Santa Cruz is the heart of the barrio. But I liked Plaza de Dona Elvira best, and stopped for a delicious lunch there at Vinela Street Food.
Be sure to stroll along the winding and romantic Calle Agua, which runs along the walls of the Alcazar to Plaza Alfaro. In Plaza Alfaro, you'll see a Juliet balcony said to have inspired Shakespeare's Romeo and Juliet.
If you like old masters, pop into the Hospital de los Venerables. The pretty baroque building was founded in 1675.
Now, it's a museum with a few carefully guarded masterpieces by Zurburan, Murillo, and Velasquez. And some gorgeous ceilings.
3. Triana
In the afternoon, cross the Puente de Isabel II bridge over the Guadalquivir River and head to the colorful Triana neighborhood. Triana is a small soulful village within a big city and the old gypsy quarter of Seville.
What was once considered the "wrong side" of the river, is now the fun and funky part of town. Locals still call it the "Independent Republic of Triana."
Triana is steeped in romance and myth. It was home to many of Spain's best flamenco dancers and bullfighters.
Once over the bridge, you'll be greeted by the Capilla del Carmen with its bell tower and chapel. The main commercial street in Triana is the pedestrianized Calle San Jacinto where you'll find shops and cafes.
For lunch, get off the main drag and head left. Have some modern fusion (Venezuelan and Spanish) tapas at Vega 10 in Triana.
Located at Calle Rosario, its specialty is bull's tail cannelloni. Or, get some tapas at Casa Cuesta or Las Golondrinas.
If you want to assemble your own dinner, head to Triana's famous Mercado de Triana, or covered market, located on Capilla del Carmen in the Plaza del Altozano.
Stroll the stalls filled with meats and cheeses. Or try a smoothie or fresh squeezed juice. When you're done, take a stroll along the river on Calle Betis.
>>> Click here to book a flamenco show in Triana
Where To Stay In Seville
Air Bnb is a good option in Seville. There are also some beautiful boutique hotels.
My picks would be: Hotel Colon Gran Melia, Suites Machado, or Hotel Casa del Poeta.
I also think Barrio Santa Cruz is a great, and more quiet, place to stay. In this area, you could book at Hotel Casa 1800 Seville (timeless elegance) or the EME Catedral Hotel (sumptuous hotel with a roof terrace, Michelin restaurant, and spa).
Day 7: Day Trip to Cordoba or Ronda
On day 7, take a day trip to Cordoba or Ronda. If you want a city with a lot of attractions, pick Cordoba. If you want to experience a classic white pueblo village, pick Ronda.
I'd recommend Cordoba just to see the UNESCO-listed Mosque Cathedral called the Mezquita.
1. Option 1: Cordoba
You can take the train from Seville. Or you can book a full day guided tour from Seville. Or a guided tour that includes both Cordoba and Carmona.
Cordoba is an exotic stone paved city with both a Roman and Moorish past. Cordoba is a natural film set, it's just so beautiful. Cordoba has an authentic Spanish vibe with fewer tourists than Seville or Granada.
Most people come just for Cordoba's #1 site: the magnificent Mezquita, the Mosque-Cathedral of Cordoba. Dating from the 10th century, it's a UNESCO site and one of the world's most well-preserved Islamic buildings.
Here's my one day in Cordoba itinerary. Click here to pre-purchase a ticket. Click here to book a 1 hour guided tour of this magnificent edifice.
The courtyard is free to visit. And you can climb the minaret for views.
In the 16th century, King Ferdinand and Queen Isabella converted the interior of the mosque into a cathedral, calling it the Cathedral of Our Lady of Assumption.
I expected the combination to be discordant and perplexing. But I found it a fascinating place, a snapshot of the sophisticated dual culture that once existed in Spain.
You walk into the Mezquita from a courtyard of orange trees via the Porte de las Palmas. You're immediately amidst an overpowering forest of 1,000 candy cane horseshoe arches.
They're constructed from granite, onyx, jasper, and marble. A highlight is the Mihrab, or high altar. It's a prayer niche covered in an intricate design of gold leaf and mosaic fragments.
The Renaissance cathedral is built right in the center, sharing marble and space with the Islamic arches. The soaring vaulted ceilings are stunning.
Be sure to go up the minaret for spectacular views of Cordoba. You buy tickets for the tower at a separate ticket booth below the bell tower.
But there's so much more to Cordoba than the Mezquita. Just downhill from the Mezquita is the Guadalquivir River. Stroll across the stunning Roman Bridge, both a UNESCO site and a Game of Thrones filming location.
Amble around the narrow languid streets of the charming old Jewish Quarter, with its brilliantly white walls and delicate filigreed window grills. You may even want to a 2 hour guided walking tour of this romantic area.
Skip the Instagram popular Calleja de las Flores, or just stroll by. It's overrated and crammed with tourists. There are beautiful flowers and patios everywhere in Cordoba.
Go into the Jewish synagogue. Say hello to the nearby statue of Maimonides, an influential medieval Jewish philosopher.
Visit the beautiful Alcazar de los Reyes Cristianos. This Alcazar can't hold a candle to Seville's UNESCO-listed Royal Alcazar, but I thought it was still well worth a visit. Click here if you'd like to book a 1 hour guided tour of the alcazar.
2. Option 2: Ronda
Ronda is Andalusia's third most visited city. It's one of Andalusia's most beautiful towns.
You can take the train from Seville. Once there, you may want to take a 2 hour guided walking tour to get oriented.
If you'd prefer to leave the transportation to someone else, you can book a guided day tour from Seville. You can also book a guided full day tour of the white pueblo villages that includes Ronda.
Ronda is not so much a white pueblo town as a sophisticated city. Ronda has a dramatic setting.
It's perched on a mountainous gash, 1000 feet above the plain below. Ronda is synonymous with its dramatic 18th century bridge, the Puente Nuevo.
The famed bridge connects the old and newish parts of the town over the 328 feet El Tajo gorge. There's a staircase leading to the floor of the gorge, for a different viewing perspective.
Ronda is also famed as the birthplace of bullfighting. The city's Plaza de Toros is one of Ronda's most popular attractions, thanks to its beautiful architecture. The bullring is ringed with double rows of columns, lending it a Neo-Classical look.
If you want to delve more deeply into Spain's bullfighting culture, head to the Museum of Bullfighting. You'll even find some sketches depicting the "art" (not sport) of bullfighting by Francisco Goya, the renowned Spanish artist.
Aside from the bridge, Ronda itself is beautiful — plenty of cozy town squares, cobblestone alleys, balconies everywhere, and lovely architecture. You can visit the Mondragon Palace and the Arabic Baths, if you're feeling ambitious.
Day 8: Drive from Seville to Granada, Stop in Antequera
The Spanish-Baroque town of Antequera is fittingly dubbed the "Florence of Andalusia." Antequera is a hidden gem in Andalusia. You'll have the place mostly to yourself, which is a singular joy in southern Spain.
Since you're day tripping, there's a lot to do. Park your car on the outskirts of town and walk up Calle Don Infante. Antequera boasts an impressive Moorish Alcazaba, almost like a mini Alhambra.
It also has a lovely Renaissance church and a stunning medieval and baroque historical core. You'll have an eyeful of swoonful scenery.
>>> Click here to book a guided walking tour of Antequera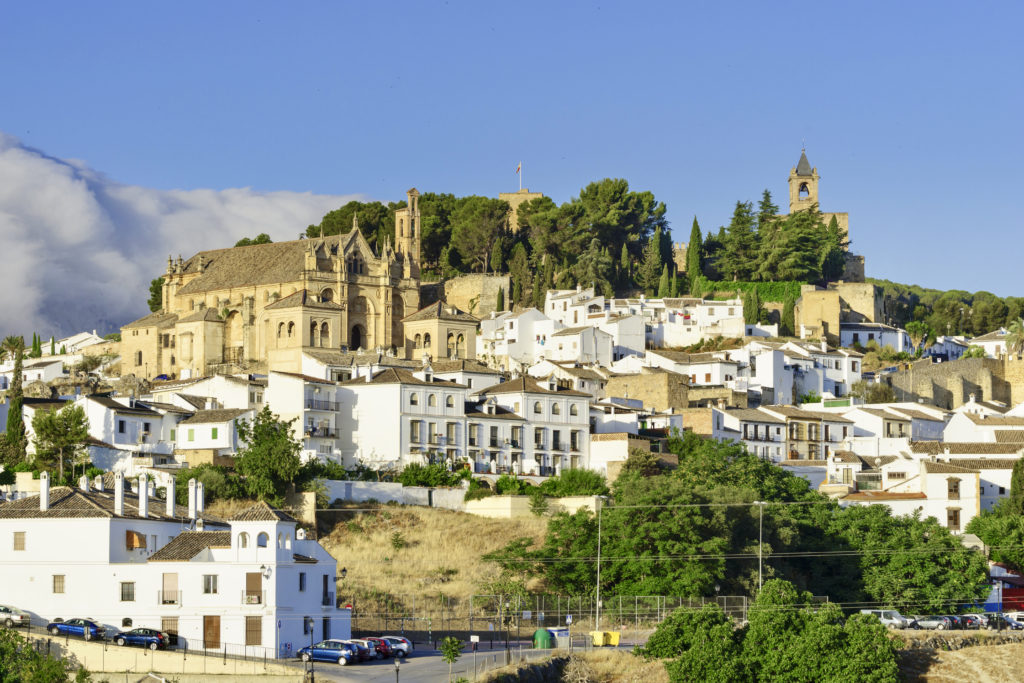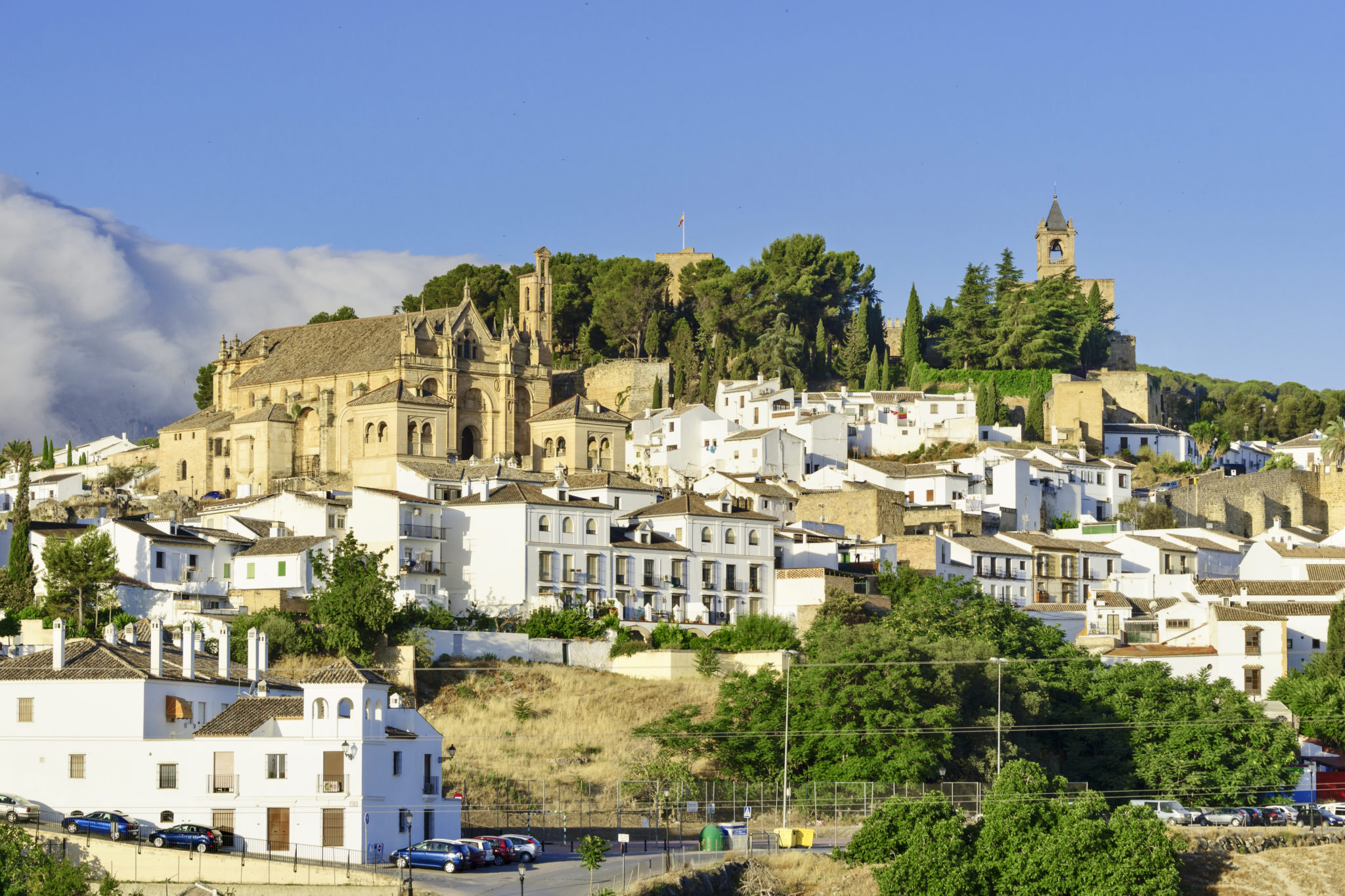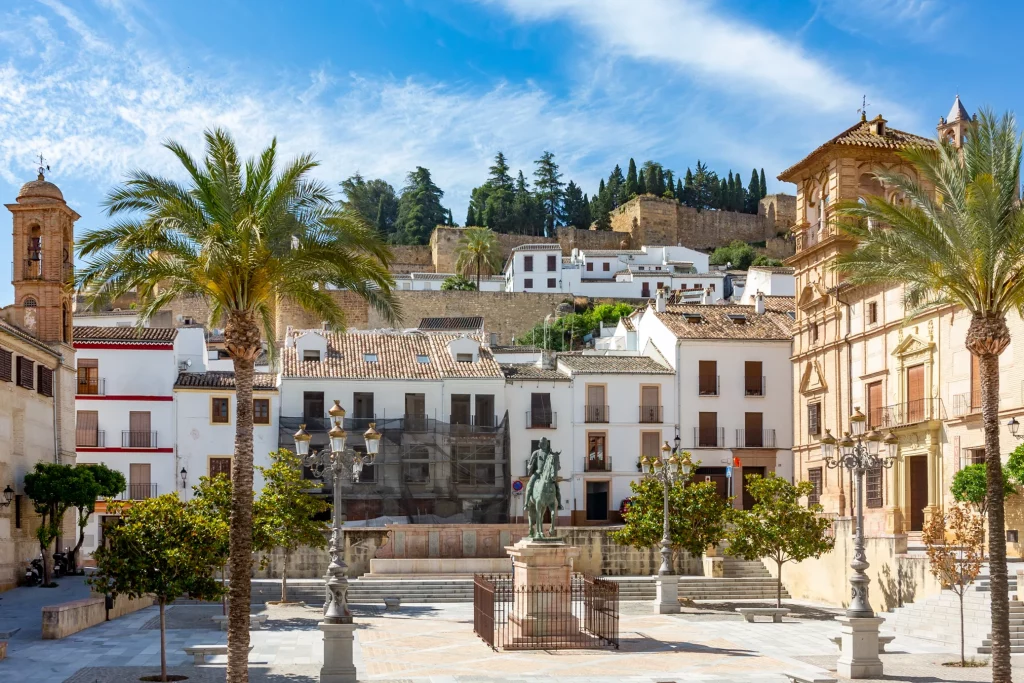 Antequera's ancient megaliths/dolmens are outside the old town. You'll see signs. The dolmens date from the Bronze Age and are among the oldest things on the planet. They are essentially Spain's Stonehenge.
The dolmens are ancient burial grounds that were declared a UNESCO site in 2016. They're one of the most remarkable engineering and architectural works of European prehistory and an important example of European Megalthism.
For more details and information, check out my two guides to visiting the town of Antequera and to Antequera's UNESCO dolmens.
History buffs may want to book a guided tour of the dolmens.
Day 9: Granada
Granada will sweep you away with its authentic Spanish vibe and dazzling attractions. Lorded over by the Sierra Nevada Mountains, it's an absolutely beautiful ancient city with historic architecture. For its size, it's surprisingly cosmopolitan.
Granada boasts many atmospheric neighborhoods, each with an earthy distinct character. It's home to the mighty Alhambra, a Moroccan souk, a massive cathedral, flamenco music, and — perhaps best of all — free tapas.
Start your day at Granada's marquis site, the UNESCO-listed Alhambra. This amazing Granada attraction requires more than half a day at a bare minimum.
The Alhambra is one of the most popular and best sites in southern Spain, and even in the world. In fact, you might want to split your visit to the Alhambra in two, with separate morning and evening visits.
READ: Top Attractions In Granada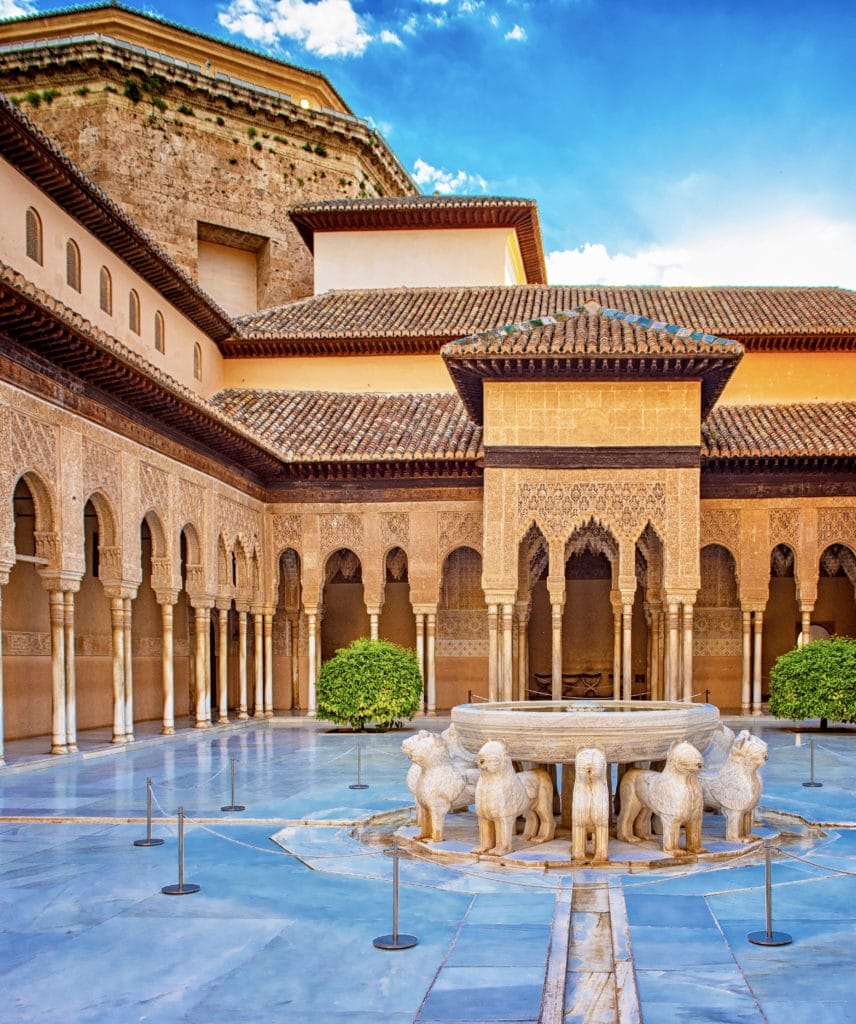 Here's my complete guide to visiting the Alhambra. More than any other attraction I've mentioned, you MUST have a ticket to visit the Alhambra and reserve it well (weeks) in advance. They sell out so fast.
You may want to book a guided tour of this magnificent UNESCO site. Tours are also another way to nab the valuable ticket. They also sell out fast.
Here are some guided tour options:
The Alhambra stands on a stunning piece of real estate, high on Sabika Hill, with panoramic views over Granada and the beautiful countryside. The Alhambra is a tranquil place with burbling fountains and beautiful mosaics.
The highlights of the Alhambra are the Alcazaba, the Charles V Palace, and the jaw dropping Nasrid Palace. The Nasrid Palace is the world's finest example of the refined, intricate, and elegant architectural style of the Moorish civilization.
The Court of the Myrtles, the Hall of the Ambassadors, and the Hall of the Two Sisters are a succession of intricate tile work, honeycomb cupolas, and cursive script.
The wonder of wonders is the Court of the Lions, named for the antique fountain of 12 lions in the center. Around the edge runs an arcade of arches supported by white marble columns.
When you're done with the lavish palaces, head over to the beautiful Generalife for its soothing water gardens.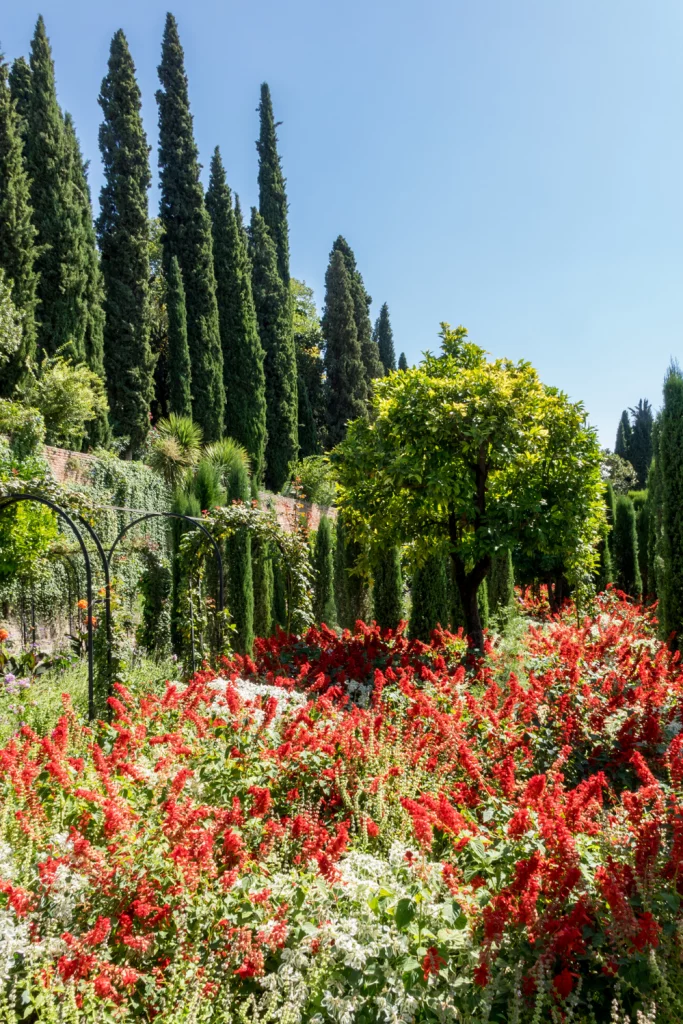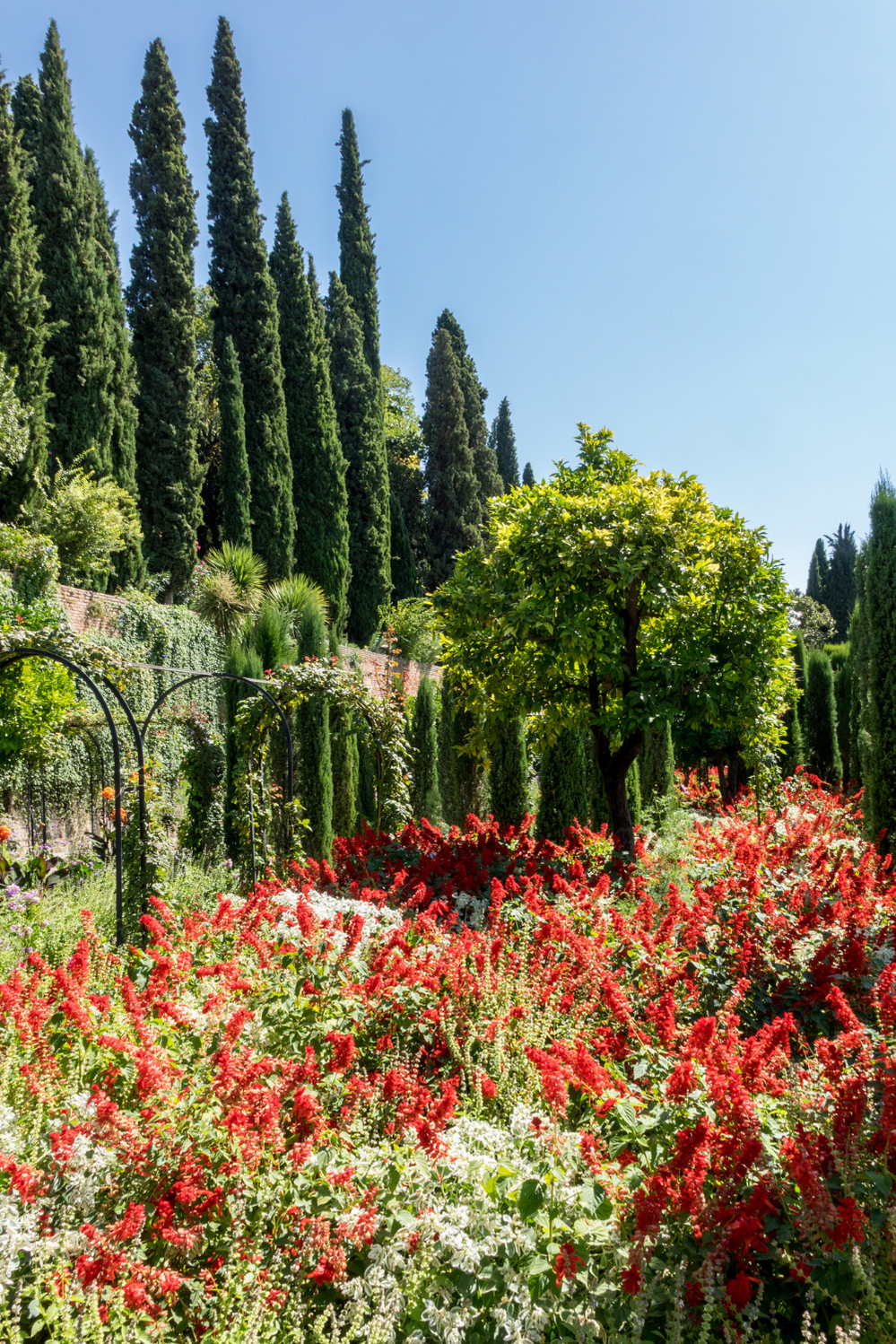 When you're done with the lavish palaces, head over to the beautiful Generalife for its soothing water gardens.
Later, wander around and explore the old Arab neighborhood of the Albaicin, or Albayzin. Built on a steep hill, it's an ancient area with tight tangled winding streets and a bohemian feel. The lively place was declared a UNESCO site in 1984.
The main drags in the Albaicin, which both run parallel to the River Darro, are Paseo de los Tristes and Carrera del Darro.
Amidst a jasmine scented breeze, you'll find restaurants, cafes, tapas bars, and even street performers. You can enjoy a sunset view at Mirador San Nicolás.
To explore this beauty of the Albaicin and the neighborhood of Sacromonte, you can book a guided walking tour. I did this tour and thought it was amazing. Sacromonte is a good place to book a sunset walking tour.
Day 10: Granada
On your second day in Granada, visit the ornate late Gothic tombs of the ambitious dynasty-builders Ferdinand and Isabella. They reigned over the Christianization of Granada and the exploration of the "new" Americas. In the sacristy hangs Queen Isabella's personal art collection.
10 minutes away, visit Granada Cathedral in Granada's historic center. Click here to book a guided tour of the cathedral and the Royal Chapel.
The cathedral is the second largest cathedral in Spain after Seville Cathedral.It's the fourth largest cathedral in the world.
The edifice is a mix of Renaissance and Baroque styles. Inside, there's a towering interior, a grand altar, and side chapels.
Don't miss Granada's otherworldly barrio of Sacromonte, home to Granada's Roma community. Time stands still in this unusual rustic quarter of Granada.
For centuries, Sacromonte was the home of gypsies, bohemians, artists, and foreign refuges. Sacramonte also sports one of the most mesmerizing views of the Alhambra.
Click here to book a flamenco show in Sacromonte, which has the best venue for performances in Granada.
Where To Stay In Granada
The Eurostars Catedral is a lovely hotel housed in a 16th century manor, just a short walk from the cathedral. The Catalonia Granada is a lovely hotel that comes complete with a plunge pool and open air terrace.
If you want a place where tradition and avant garde style meet, check out the Hospes Palacio de los Patos. It's housed in a UNESCO-listed palace, with sprawling gardens, a spa, and mosaic floors.
More Time in Spain?
If you want some time to relax after your 10 day Portugal-Spain road trip, head to the Costa del Sol for a few days of beach time and coastal views.
If you want a big city, head to Malaga. If you want a more laid back beach town, try Marabella or Nerja. Don't miss the pretty mountain villages of Frigiliana en route.
To read about these towns and other villages in Andalusia, check out my guide to the 27 most beautiful towns in Southern Spain.
You may enjoy these other Portugal travel guides and resources:
You may also enjoy these other Spain travel guides and resources:
If you'd like to spend 10 days in Portugal and Spain, pin it for later.