Looking for a one day in Seville Spain itinerary? You've come to the right place!
Seville is an exotic city in southern Spain. It has an utterly beguiling combination of history and culture.
The city is a convivial place — with lively streets, beautiful architecture, flamenco dancers, and cobbled lanes to explore. The tapas is amazing. And, apart from summer when it's roasting, the climate can't be beat.
Overview Of One Day In Seville Itinerary
Here's a snapshot glance with what you'll see with one day in Seville:
Triana Market
Royal Alcazar
Seville Cathedral
Barrio Sant Cruz
Plaza Espana
Las Setas or Museum of Fine Arts
Dinner or Food Tour
Flamenco show or Alameda
This 1 day Seville itinerary will show you the highlights of the city, fast, and is geared toward first timers.
Before You Go: Here's How To Plan Your Visit To Seville
Below are some of the top tours, hotels, and experience in Seville. Donʻt forget to plan ahead, especially in high season!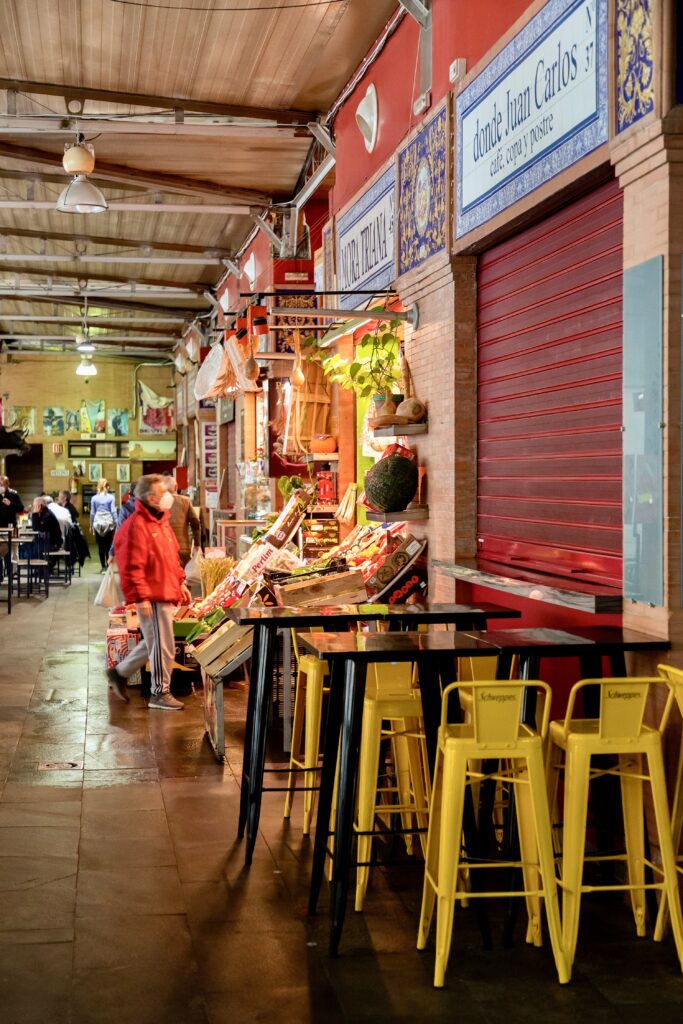 One Day In Seville Itinerary
Now, let's dive into our one day in Seville itinerary. I give you a detailed breakdown to help you plan and have an efficient visit.
1. Triana Market
Start your one day in Seville in Triana on the other side of the Guadalquivir River. It's a colorful quarter rich in history. Triana is birthplace of flamenco and bullfighting.
Triana Market is the perfect place to have breakfast. It opens at 9:00 am. This is where all the locals go to get fresh produce.
Inside the market, you can see the ruis of the medieval Castle of San Jorge where people were tortured during the Spanish Inquisition. There's also a small museum documenting that history.
If you are a fan of azulejos or ceramics, you may also want to make a stop at Ceramica Santa Ana, which has a fantastic collection of handmade ceramics. There are signs saying no photos, so you'll have to buy something to remember it.
2. Royal Alcazar
After breakfast, head to the UNESCO-listed Royal Alcazar. It's the most beautiful place in Seville and the #1 attraction.
This breathtaking palace boasts centuries of history, beginning with its construction by the Moors who once ruled Spain, and later expanded by Spanish royalty.
Its stunning tile work and intricate Islamic architecture are sure to impress. The palace complex includes magnificent courtyards, palaces, and fortifications, surrounded by picturesque gardens bursting with colorful flowers.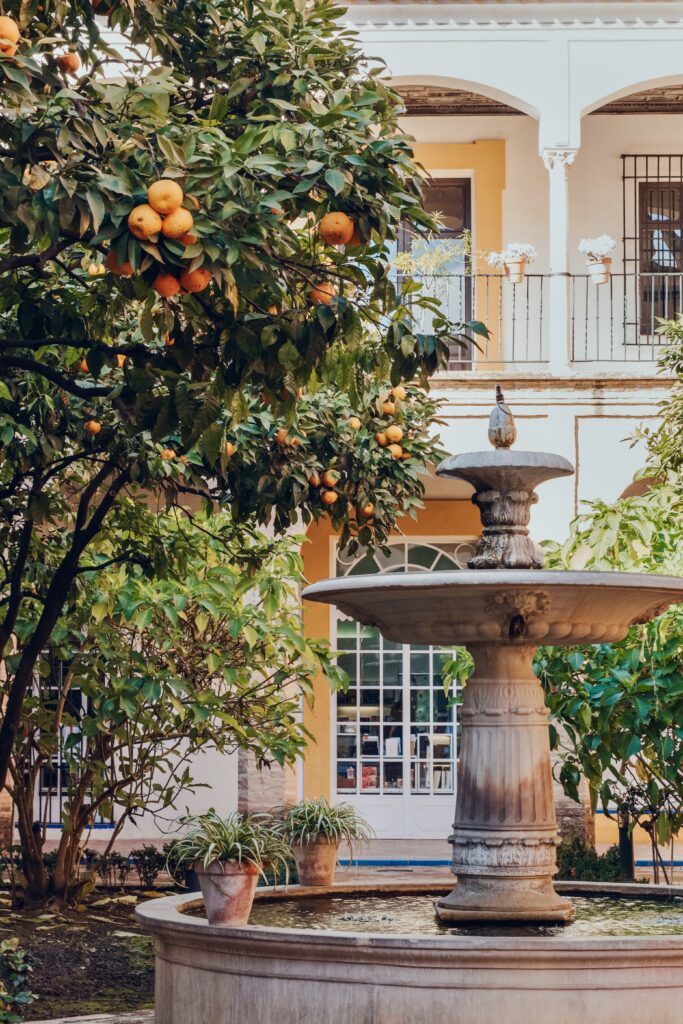 Don't miss the Maiden's Courtyard and the Ambassador's Hall, two of the complex's most impressive highlights. Take your time exploring each room, and be sure to read the informative signs to learn more about the palace's fascinating history.
The Alcazar gardens are as impressive as the palace itself. As you explore, you'll be met with a kaleidoscope of colors, from vibrant oranges to rich purples and lush greens. Some of the garden's notable features are the Fountain of Neptune, the Mercury Pond , and the Pavilion of Charles V.
Here's my complete guide to the Royal Alcazar. To avoid a long wait in line, you should book a skip the line ticket.
You can also book a skip the line combination ticket for both the Alcazar and Seville cathedral, which is your next stop. Since these are Seville's most iconic monuments, you might also consider booking a small group guided tour.
3. Seville Cathedral
Seville Cathedral opens at 10:45 am. You won't get there before then because the Royal Alcazar will take a couple hours.
But if you happen to go to the cathedral first, know that people start lining up at least a half hour in advance.
It's essential to pre-book tickets online in advance. Tickets include an audio guide. You can also book a ticket + a guided tour.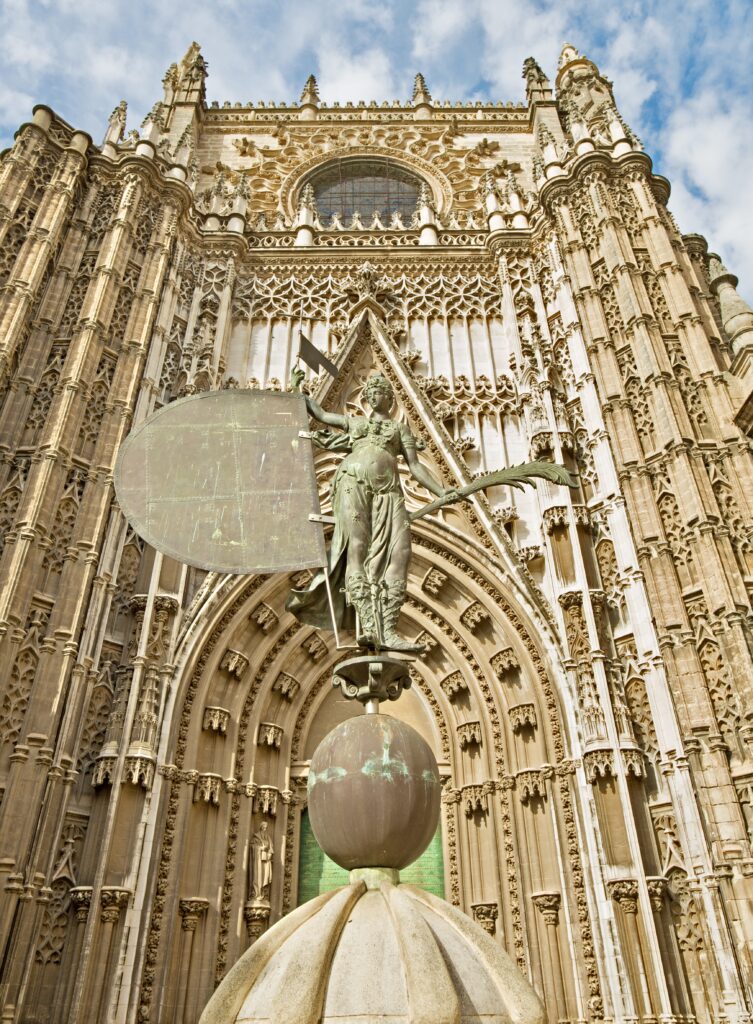 For 15 euros, you can also book a separate tour of the roof of Seville Cathedral, to see it up close and get a fantastic view of Seville.
There are 15 doors on the cathedral's four facades and each one features a unique relief or carving. The nave is the longest in the world.
The Main Chapel, Capilla Mayor, is a glittering affair. It houses one of the world's finest high altars, elaborately detailed and finished in gold leaf.
Along the aisles of the cathedral, there are 80 side chapels to explore. You'll find spires and reliefs depicting biblical events dedicated to saints.
There's a large mirror reflecting the intricate ceiling, which you'll have to queue up to peer into. Lighting up the interior are 75 stained glass windows from the 16th to 19th century.
The Cathedral also purportedly houses the tomb of Christopher Columbus in the south transept.
If you want to ride in a horse drawn carriage, you will find them in front of the cathedral. Click here to book a ticket in advance.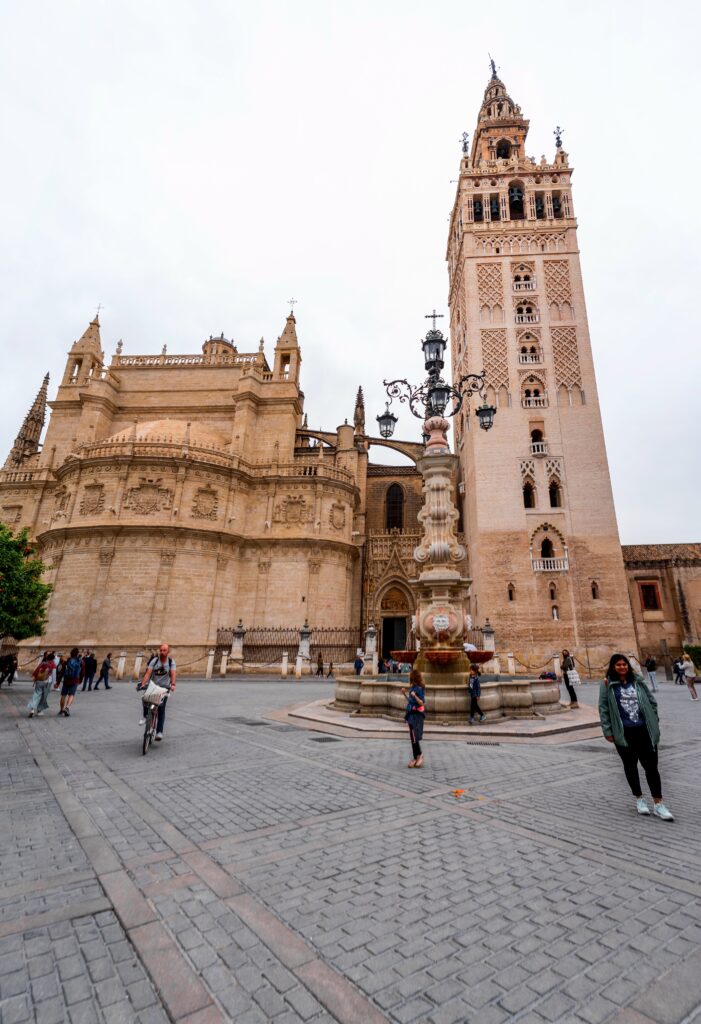 4. La Giralda
La Giralda, the iconic bell tower of Seville Cathedral, is a must-see attraction with one day in Seville. Dating back to 1184, it's not only the oldest part of the cathedral complex, but also a symbol of Seville itself.
Originally constructed as the minaret of the Great Mosque of the Almohad dynasty, La Giralda was used to call Muslims to prayer. The tower was modeled after the Koutoubia Mosque in Marrakesh, and it still bears the marks of its rich history.
To access the tower, head to the far right corner of the cathedral complex. The climb to the top is made easy by the tower's 35 sloping ramps, offering an unforgettable ascent to its impressive height of 100 meters.
5. Barrio Santa Cruz
After your cathedral visit, take a quick stroll through Barrio Santa Cruz and grab some lunch.
Barrio de Santa Cruz is a popular district within the city — a mass of tangled cobbled streets with tiny palazzos and tile covered patios. You may want to book a guided walking tour of the barrio.
Some streets are so impossibly narrow, they're called "kissing lanes." There are also orange trees everywhere.
Ah, the scent. You can get lost and stumble across secret squares, pretty churches, and tapas bars.
In terms of lunch, you need to beware of tourist traps. You can check out Vineria San Telmo or La Bartola. You may want to try fried fish, a classic dish in Seville, or serranito, the city's signature sandwich.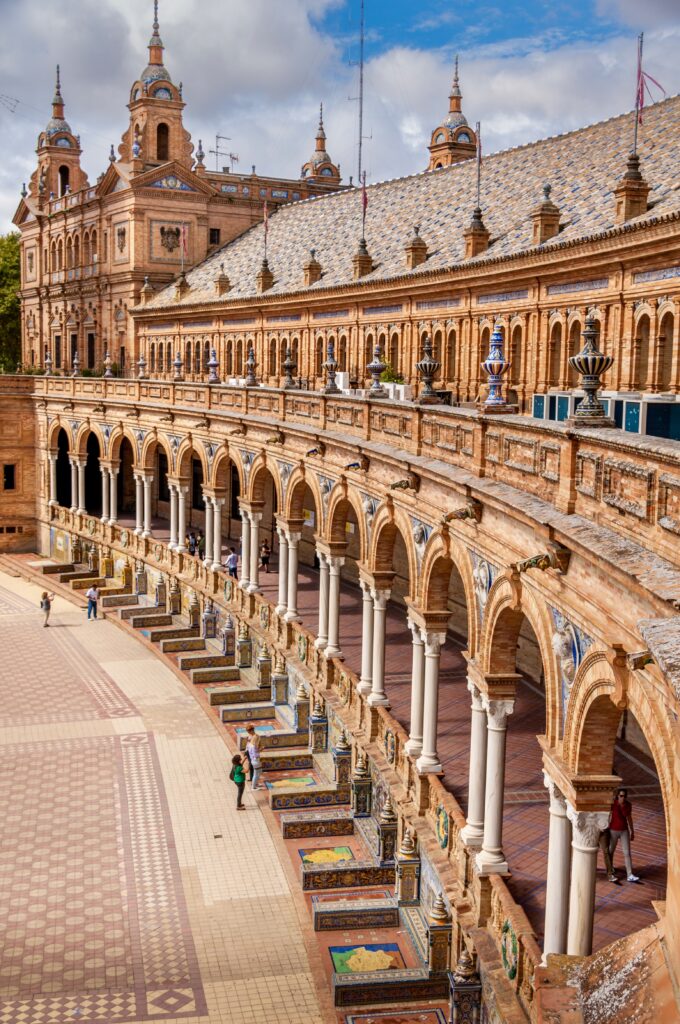 6. Plaza Espana
Plaza de Espana was built for the 1929 World Exposition. The theme was the "Era of Discoveries."
It's a famous architectural landmark, photogenic spot, and an unmissable site on a one day in Seville itinerary.
The plaza was built for the Ibero-American World Fair of 1929, where Spanish speaking countries enjoyed a year long mutual admiration festival. It's open to the public and there's no entry fee.
The park's highlight is the Spanish Pavilion, the sweeping half circle structure with rose gold brick buildings.
Designed in an Art Deco style with some Moorish touches, the Plaza has the expected Spanish flair — lots of color and lavish embellishment.
There are 49 alcoves, each decorated with tiles. They show historical scenes and maps from the 49 provinces of Spain arranged in alphabetical order.
If you are lucky, you will see some flamenco dancers.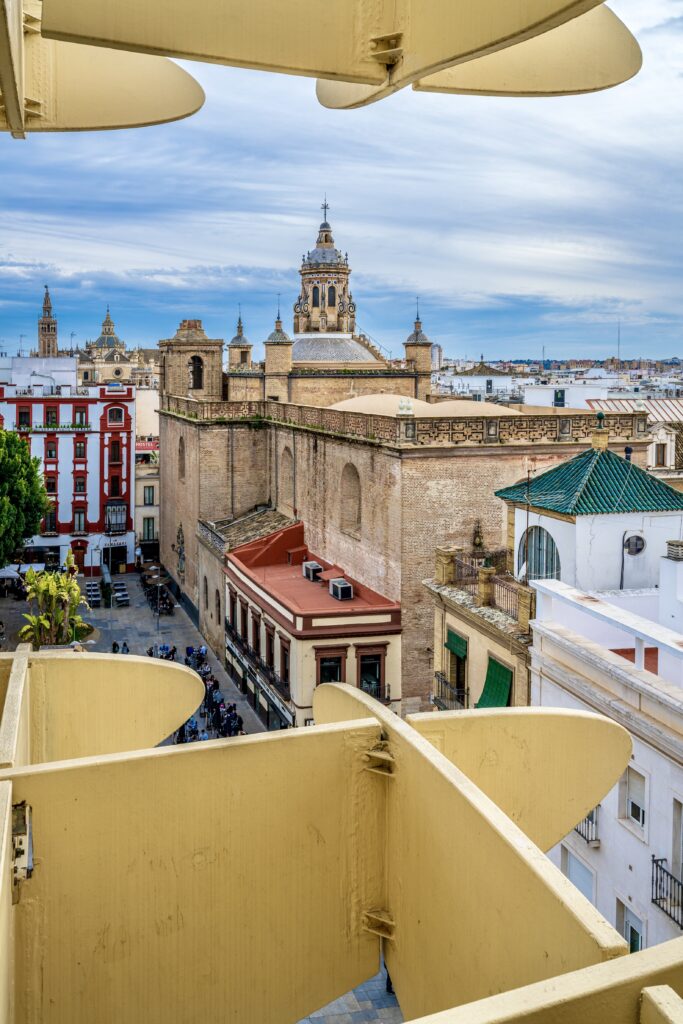 7. Las Setas | Metropol Parasol
If you have any time left in your one day in Seville, head to Las Setas around sunset time. It's about a 10-15 minute walk from Plaza Espana to Las Setas.
The ultra modern Las Setas is the world's largest wooden structure. It was built between 2005-11 by German architect Jürgen Mayer.
It's called "the Mushrooms" due to its quirky shape. The waffle-like design was inspired by the vaults of the Seville Cathedral and the ficus trees in Plaza de Cristo de Burgos.
Organized in four levels, it consists of six linked and swirling parasols for you to stroll. Click here to book a skip the line ticket and tour.
8. Museum of Fine Arts
If you're an art lover, you should head to the Museum of Fine Arts instead of Las Setas. The museum is housed in a gorgeous 16th century convent and is one of the best museums in Spain.
You will find a collection of paintings from the Middle Ages to the 20th century by Spanish, Flemish, and Dutch masters. The most famous paintings are by Murillo, a 17th century painter who was a native of Seville.
9. Dinner
Seville is the culinary capital of tapas and known for its amazing seafood. Most bars and restaurants open for dinner at 8:00 pm. But most Spaniards don't eat before 10:00 pm.
If you are looking for something authentic, avoid the immaculate tourist restaurants. Instead, go for the gritty hole in the walls joints where you can see the locals.
The best streets for tapas are Calle Betis, Calle Arfe, and Calle Mateos Gago.
In lieu of a restaurant, you could also go on a 3 hour tapas crawl. I did this tour when I was last there and I loved everything except the orange wine.
Alternatively, try this "10 tasting of Seville" walking tour or this 4 hour gourmet food tour.
While you're dining, don't expect to order Sangria. This is viewed as a tourist drink.
The Spanish drink Tinto de Verano, which is a mix of red wine and either Sprint or Fanta Lemon. Or, they sip on orange wine (best with machego cheese).
10. Evening: Flamenco Show
You can't visit Seville and not go to a flamenco show! Although you may be able to see one for free in Plaza Espana.
The best place to see flamenco is late at night in Triana. But the shows are spontaneous and you may not know here to go in advance.
Another option is to go to a tablao or flamenco theater. Be sure to make a reservation. In high season, they'll be booked up.
Click here to book a theater ticket. If you are adventurous, you can even take a flamenco class.
11. Alameda
As a alternative to a flamenco show, you could go hang out with the locals in Alameda. The center of this neighborhood is Hercules Square.
You can recognize the square by its four pillars, two at each end. Two columns are from an ancient Roman temple.
On the square, you'll find all sorts of Spanish tapas bars and restaurants. It's a very lively spot for nightlife. So if you want to stay up late, this is where you should go.
Practical Tips For One Day In Seville Itinerary
Here are some must know tips for making the most of your one day in Seville itinerary.
1. How To Get To Seville
Most international flights will fly into Madrid or Barcelona. So you will need to take a connecting flight from Madrid or Seville.
Seville International Airport (the Aeropuerto de Sevilla) is about 6 miles from the city center.
You can take the airport shuttle bus (in front of the Arrivals hall), grab a taxi, or book a private transfer. Travel time is about 20 minutes.
Madrid is 2.5 hours away by high speed train and Barcelona is 5.5 hours. Seville is also well connected to Cordoba (45 minutes) and Granada (2.5 hours).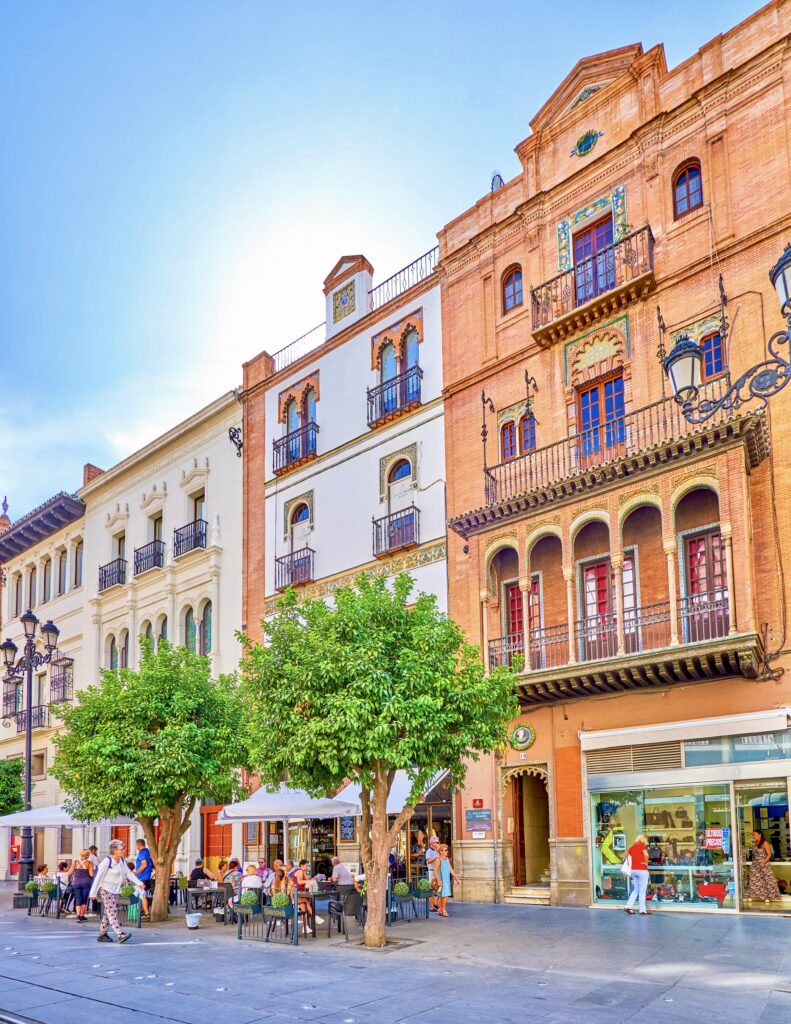 2. How To Get Around Seville
In general, Seville is an eminently walkable city and this is the best way to see the attractions.
To see it all, you can also book a 2 hour guided walking tour during the day or a nighttime walking tour.
It's rare that you'd need to take a taxi. If so, flag down one of the white taxis with a yellow stripe. It's easy to find them near the cathedral.
There are also some fun ways to get around Seville. You can take the hop on hop off bus, a Segway tour, or an electric bike tour. You can book a yacht tour down the Guadalquivir River or take a 1 hour cruise.
If you want to rent your own bike, there are 100 miles of designated bike paths in Seville. It's a great city to bike in because it's very flat
3. Where To Stay in Seville
There are some beautiful boutique and luxury hotels in Seville. If you are visiting in the summer, you may want to book one with a pool.
For luxury, my picks would be: Hotel Alfonso XIII, Hotel Colon Gran Melia, Suites Machado, or Hotel Casa del Poeta.
The Alfonso is a my top choice, and its the most famous hotel in the city. Built for the 1929 World Expo, the Alfonso is a historic hotel conveniently located near the alcazar and the cathedral (important for planning when you only have one day in Seville).
The hotel is drop dead beautiful, has a great buffet, and a beautiful outdoor patio. If you can't stay there, you can stop in for a drink.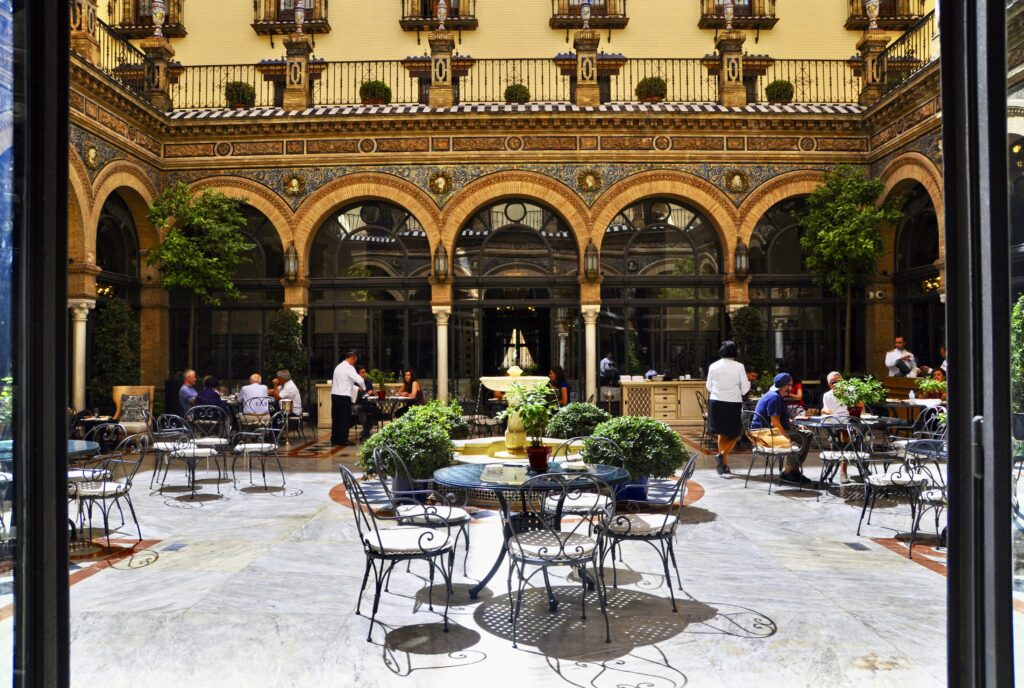 Barrio Santa Cruz is also a great option, and perhaps a more quiet, place to stay. In this area, you could book at Hotel Casa 1800 Seville (timeless elegance) or the EME Catedral Hotel (sumptuous hotel with a roof terrace, Michelin restaurant, and spa).
Air Bnb is a good option in Seville. But I found, when staying in an Air Bnb on one visit, it was very noisy in the middle of the night.
4. Shops In Seville
Keep in mind that many shops in Seville close for siesta between 2:00 pm and 5:00 pm. But they may stay open until 1:00 am.
If you want some authentic Spanish souvenirs, a fan perhaps, you should go to Calle Siepres or Calle Cuna. Just plan around siesta time.
5. Is One Day In Seville Enough?
One day in Seville is enough to some see the major attractions, but you certainly won't be able to see the whole city or any hidden gems.
There's just too many things to see and do. Ideally, you would spend at least 3 days in Seville.
Seville is within easy striking distance or an easy train ride from many of the most beautiful towns in Andalusia — such as Osuna, Italica, Antequera, Ronda, and Cordoba.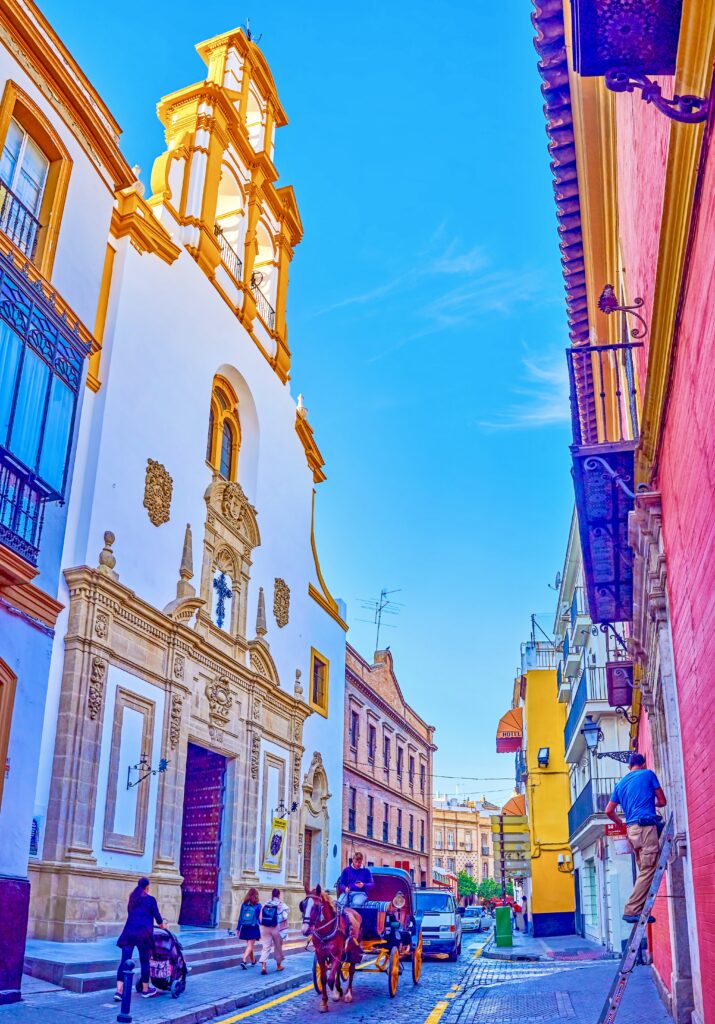 6. When To Visit Seville
I think spring and fall is the best time to visit Seville. The temperatures are mild and you can stay outside the whole day.
Summer is incredibly hot and more crowded. Temperatures can reach up to 120 degrees. That's why Seville is known as "frying pan of Spain" and the "oven of Europe."
If you have to visit then, do your sightseeing early and late and engage in the afternoon siesta. And stay hydrated and slap on the sunscreen!
Winter is also a fine time to visit Seville. Once, I visited in February and I had sunny days and temperatures approaching 60. There were are vastly fewer crowds too.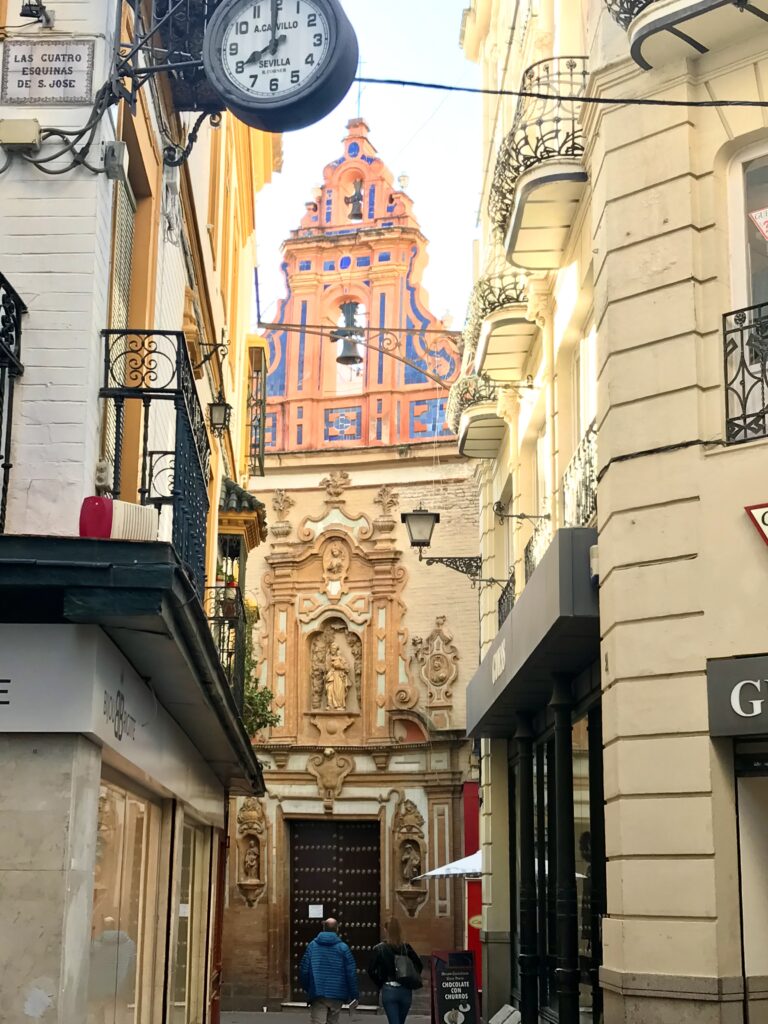 If you want to see Seville at its most wild, visit during Holy Week. This festival happens the week before Easter and attracts thousand of visitors.
It's the most important religious celbraton of the year. During the week, there are many processions through the streets carrying a statue. It's an over the top affair, celebrated as if gods were watching.
The April Fair is the other iconic festival in Seville. It takes palce two weeks before Holy Week. Thousands of tents fill the Los Remedios district.
There is folk music, socializing, drinking, and dancing in flameneco dress. Only a few of the tents are open to the public, but you might be invited in.
In terms of attractions in Seville, there will be fewer people lined up during siesta time. At least, then, there won't be as many Spanish visitors.
7. Is Seville Safe?
The last time I visited Seville, I traveled solo. And it seemed like one of the safest European cities I've been in, day or night.
Still, don't leave your bag open or walk around with your phone in your back pocket. Use common sense.
And be sure to avoid the women offering rosemary to every tourist they see. It's a scam.
They are not handing it out for free. Once you touch it, you have to buy it. Just say "no gracias" and walk away.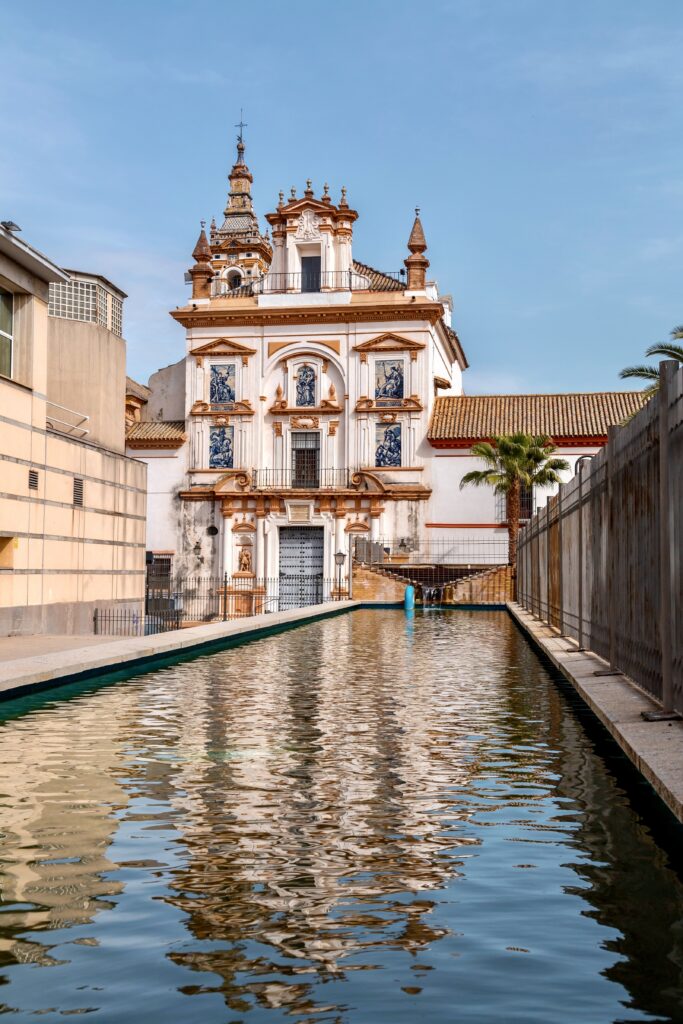 8. More Than One Day In Seville?
If you have more than 1 day in Seville, there are plenty of other things to do.
You could visit some palaces — the Casa de Pilatos, the Lebrija Palace, or the Palacio de la Duenas. My favorite is the Casa de Pilatos. It has one of the best and largest azulejo tile collections in the world.
Seville also makes a great base for day tripping in Andalusia. You can check out my guide to the 15 best day trips from Seville.
My favorite day trip is to the beautiful and exotic city of Cordoba. You can also book guided day tours to Gibraltar, Cordoba and Carmona, Ronda, and Granada.
I hope you've enjoyed my one day in Seville itinerary. You may enjoy these other Spain travel guides and resources:
If you want to spend one day in Seville Spain, pin it for later.