Fancy a road trip down the East Coast, ferreting out some beautiful hidden gems and secret towns? Or looking for a scenic East Coast weekend getaway without crowds?
If so, I've got you covered with a dizzying array of 20+ quaint clapboard-and-brick towns.
These less touristy East Coast towns make the perfect getaway — with mountains, sparkling freshwater lakes, and impressive art and foodie scenes.
I've lived most of my life on the east coast and summered there often — from New Hampshire, to Boston, to Washington DC, and now to Pittsburgh.
I've lived most of my life on the east coast and summered there often — from New Hampshire, to Boston, to Washington DC, and now to Pittsburgh.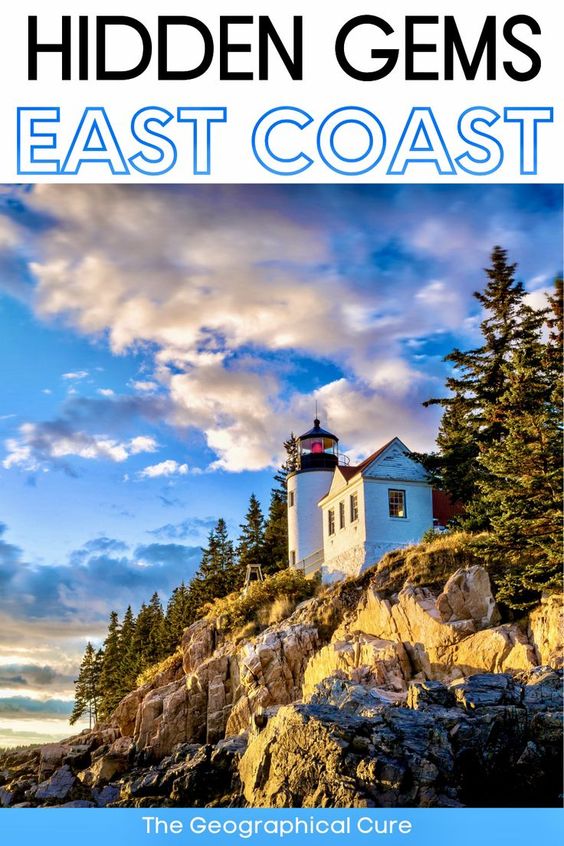 I know where you can discover the most beautiful and salt-tinged spots, destinations. Places where frazzled urbanites and rusticators can escape the crowds and disappear into history or nature.
These off the beaten path East Coast towns will astound you with their unique blend of culture, culinary cred, and natural beauty.
You can string them together in one long road trip, pick several towns to fashion a week long regional itinerary, or pick one special spot for an idyllic weekend getaway.
Hidden Gem Towns on the East Coast
Let's take a road trip through the less touristy places and hidden gem towns to visit on the East Coast, from north to south.
1. Stowe Vermont
New England is awash in winter resort towns. But picturesque Stowe is an incredible year round destination you can't help but fall in love with.
Come summer, Stowe swaps skiing for hiking, golf, mountain biking, kayaking, swimming, and scenic drives up the winding Auto Toll Road. For a magical experience, you can go hot air ballooning over the Green Mountains.
Where mountainous Stowe really shines is its hiking trails, with a range of options to suit every level of experience. Some take you to towering peaks, others end in waterfalls.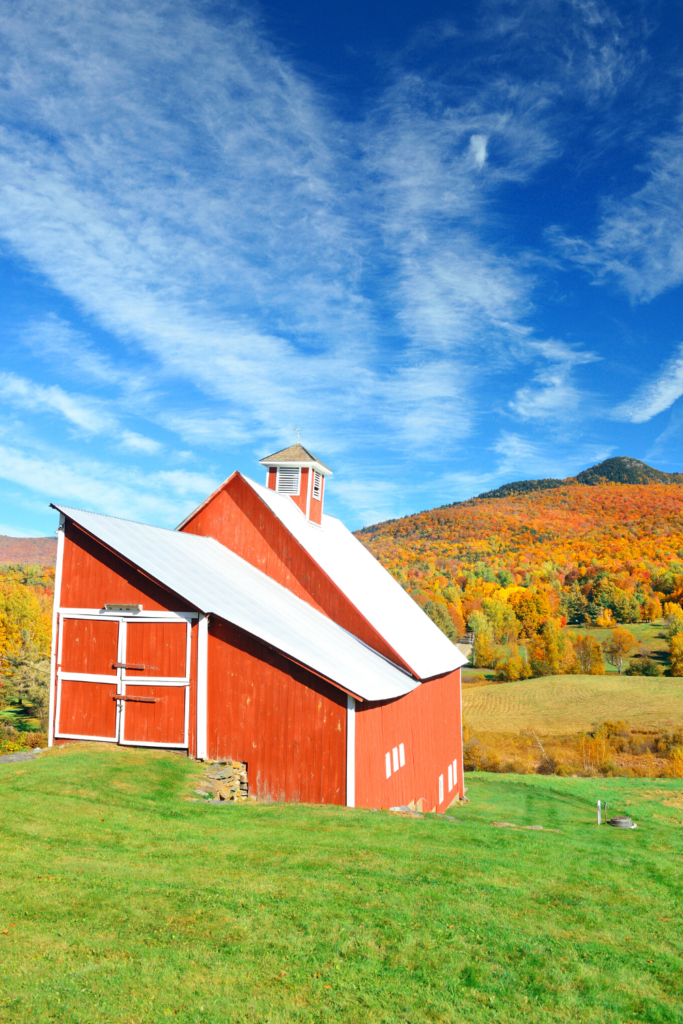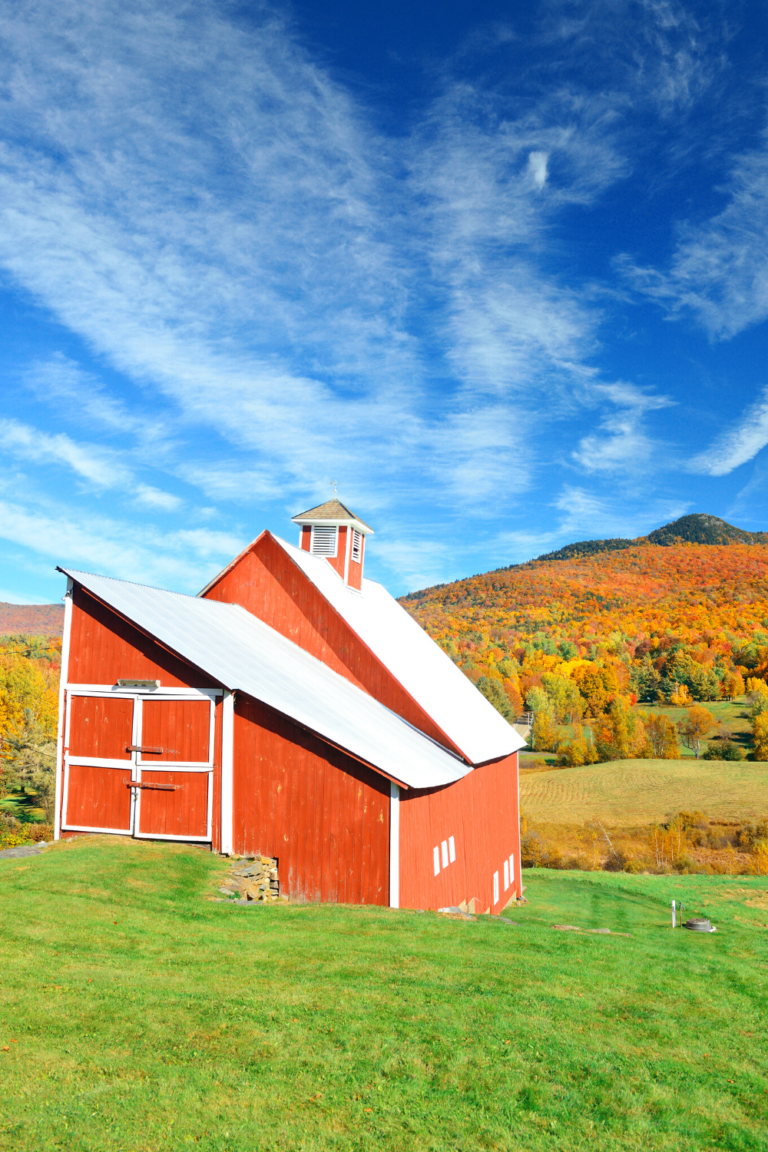 When you're done hiking, snack on some apple cider donuts or indulge in a Vermont Maple Sugar Body Scrub at the Snowflake Spa.
Stowe has a romantic and picture perfect downtown. Its white steepled church is the focal point. The tiny Main Street is filled with boutiques, crafts stores, and antique shops. There are libraries, museums, theaters, and cultural organizations to keep your entertained.
Where to stay in Stowe: Lodge at Spruce Peak, Topnotch Resort, Trapp Family Lodge
Where to eat in Stowe: Plate, Cliff House, Bistro at Ten Acres, Hen of the Wood, Cork
2. Burlington Vermont
In Vermont, there's a saying that "you can't throw a stone without hitting a poet/painter/potter." As the largest town in a state of small hamlets, Burlington has developed a wonderful art scene.
To some, Burlington is akin to a mini Seattle. It's a politically and socially progressive enclave of college students, regional power brokers, and creative minds.
The jewel of Burlington's art scene is the Fleming Museum on the University of Vermont campus. The museum has a wide range of artworks and artists. In June, you can attend the Arts Alive Festival.
The Firehouse Center for the Arts also hosts year round exhibitions and art programs.
If you want to see a show, head to the Flynn Performing Arts Center. It's a fully restored art deco masterpiece. The Fynn hosts concerts, plays, and traveling Broadway shows.
If you're a foodie, Burlington will suit. It outshines much of the US with a bounty of locally grown food. Farm to table eating isn't just trendy; it's a well established tradition. There's even excellent street food at Farmers and Foragers Food Truck.
Where to stay in Burlington: Hotel Vermont, Hilton Garden, Hilton Burlington Lake Champlain, The Essex Resort
Where to eat in Burlington: Bleu Northeast Seafood, Hen of the Wood, Juniper, The Great Northern, honey RoadTrattoria Delia
3. Brattleboro Vermont
Located on the banks of the Connecticut River, Brattleboro is a gorgeous town and definitely off the beaten path. Your first stop should be the Creamery Covered Bridge, a historic landmark dating from 1879.
Brattleboro's downtown has been revitalized. It's now full of art galleries, upper story artist studios, and a broad array of art venues.
The Brattleboro Art Museum in housed in a restored railroad depot. It presents 8 exhibitions annually and has pieces by Andy Warhol, Wolf Kahn, and Janet Fish.
Brattleboro also has a performing arts scene focused on classical music. The marquis venue is the Marlboro Music School. Brattleboro hosts the New England Bach Festival, a winter Chamber Music Series, and the Vermont Renaissance Festival (in nearby Vernon).
Brattleboro also has a great foodie scene. Apart from the excellent restaurants, you can hit the popular Brattleboro Area Farmers' Market, held every Wednesday and Saturday from 9:00 am to 2:00 pm.
Or try the famed Dosa Kitchen, a food truck with a farm to table ethos serving a creative menu of Indian food.
Where to stay in Brattleboro: The Inn on Putney Road, Hampton By Hilton, Black Mountain Inn
Where to eat in Brattleboro: Mocha Joe's Cafe, Amy's Bakery Arts Cafe, Peter Havens, T.J. Buckley's
4. White Mountains, New Hampshire
New Hampshire is so underrated. Its venerable White Mountains are a true nature lover's dream spot. If you're looking for a slice of unadulterated East Coast charm, you'll love this area. There's a whole community of businesses and people that embrace this gorgeous landscape.
You can go on horseback rides, moose safaris, tubing in the Saco River, zip lining, and kayaking. Take the Cog, a historic railroad, to the summit of Mt. Washington, the Northeast's highest peak.
Be whisked away on the Canon Mountain Aerial Tramway in beautiful Franconia Notch State Park. Or hike the Falling Waters Trail to beautiful waterfalls.
When you're done getting your exercise, you can browse for antiques in the country towns of Sugar Hill, Bethlehem, or Littleton. For a base in the White Mountains, stay in Conway, Lincoln, or Jackson.
Where to stay: Omni Mount Washington Resort, The Inn at Thorn Hill & Spa, Omni Bretton Arms Inn at Mount Washington
Where to eat: Thompson House Eatery, The Cave at the Omni Mount Washington Resort, Polly's Pancake Parlor
5. Hanover, New Hampshire
My son and I both attended Dartmouth College. So naturally, I'm partial to Hanover (and all things New England, truth be told). For a tiny rural town that's an East Coast hidden gem, Hanover packs a surprising art punch. It's accessible too, easily reached from Boston or Concord.
The best place to get your art fix is the wonderful Hood Museum of Art. It's one of the oldest teaching museums in the country. It has a large collection of artifacts and art dating back to Assyrian culture in 900 BC.
But it's not all ancient. The museum has a surprisingly good collection of contemporary art, with works by Rothko and Ed Ruscha. It also showcases contemporary African and Native American art. Inside Baker Library, you'll find eye catching murals by Jose Clemente Orozco in the reading room. I used to study right next to them in college.
Hanover is also home to the Hopkins Center for Performing Arts (the "HOP"). There, you'll find a wide variety of performing arts — plays, shows, concerts, special events, movies, etc.
Here's my one day itinerary for Hanover.
Where to stay in Hanover: Hanover Inn, Sixth South Hotel
Where to eat in Hanover: The Pine at the Hanover Inn, Lou's Restaurant & Bakery, Dirt Cowboy Cafe
6. Bar Harbor, Maine | Acadia National Park
Perched on Frenchman Bay, tiny Bar Harbor is a charming hidden gem town in New England. It's adjacent to Acadia National Park, so you can visit both in a single trip.
The town's name derives from the twice daily tide drop, when a gravelly sand bar appears creating a natural harbor.
Seaside Bar Harbor is the perfect place to go kayaking or boating. You can take a 2 hour cruise.
You can also walk the shore path, which includes a self-guided tour marked with signs telling the history of Bar Harbor. And don't forget to have lobster! Or go on a guided food tour to discover all the best eats.
Then spend some time in Acadia National Park, Maine's only national park. Start with the Bowl Trail, which winds around to beautiful Bowl Lake. Then climb up Mount Champlain (trickier trails) or Gotham Mountain (easer climb).
Where to stay in Bar Harbor: Bar Harbor Grand Hotel, The Bluenose Inn, Bar Harbor Inn & Spa
Where to eat in Bar Harbor: Burning Tree, Havana, , Mache Bistro, Side Street Cafe, Thurston's Lobster Pound, Beale's, Mount Desert Island Ice Cream
7. Camden, Maine
Camden is a jewel on the coast of Maine. It's a mecca for sailing. And Camden offers a beguiling nexus of art, dining, and outdoor play. It fulfills Maine's slogan of "the way life should be."
At the north end of Camden's main shopping district, there's a pretty library with a lawn and benches above the harbor. There's a great collection of schooners, sailboats, and yachts that make wonderful pictures.
Stop by the Smiling Cow, the Cashmere Goat, the Owl & Turtle Bookshop, and the Leather Bench for some unique gift ideas.
No visit to Camden is complete without taking in the view from Mount Battie. Take the a 1.4 mile trail and road. At the top, you have a hawk's eye view of Camden and the islands of Penobscot Bay.
If you want to hit the beach, try Barret's Cove, a fresh water beach on Megunticook Lake. It's even quiet in the summer months.
Where to stay in Camden: Grand Harbor Inn, Camden Hartstone Inn, Camden Windward House
Where to eat in Camden: Fresh and Go, Oliver's Bistro, Long Grain, Primo, Natalie's Restaurant
8. Block Island, Rhode Island
Want an alternative to pricey and overcrowded Cape Cod? Try the time warp beachy charms of Block Island. It's just 13 miles off the coast of Rhode Island.
Block Island is a diminutive playground with vast sandy beaches and Victorian homes. Block Island is casual. You come here to tie on a lobster bib, sip a beer, enjoy ocean breezes, and watch the sunset.
Besides, how much luxury do you really need? And how wonderful is it to lose the crowds?
You arrive by sea on a boat from Point Judith in Galilee. Get some wheels and take a short ride up High Street to the Mohegan Bluffs. The drive is a bit nerve-racking. But the stunning view is worth the tension. Relax and catch rays on beautiful Mansion Beach. Then it's time for happy hour.
Block Island is littered with porches with a water view. Perhaps the nicest one is at the Spring House Hotel. Then have dinner in the Victorian-styled Hotel Manisses, dining in a lovely garden setting.
Where to eat: Impudent Oyster, Juice 'n Java, Eli's Restaurant,
Where to stay: Chatham Wayside Inn, Old Harbor Inn, Captain's House Inn,
9. Aquinnah, Martha's Vineyard, Massachusetts
Martha's Vineyard fills up fast with vacationers in the summer from Boston and New York. They come for the island's breathtaking natural beauty, vibrant cultural scene, and savvy foodie venues.
But the crowds are centered in the northern edge of the island. Down southwest, or "up island" as the locals call it, is a little hidden gem on the East Coast, Aquinnah. Locals and island veterans head to the small town to beat the crowds.
Located below the clay colored Aquinnah Cliffs (a national landmark), the white sand Moshup Beach is a sanctuary from the horde.
There's a cleared path that takes you downhill to the beach, which is strewn with enormous boulders. It's one of the best beaches in the US.
Where to eat: Larsen's Fish Market, Menemsha Gallery
Where to stay: Outermost Inn
10. Chatham Massachusetts
The Cape is a no-brainer. But where to stake your claim without crowds?
Try the inimitable charms of Chatham, a secret tony town on the East Coast. The homes induce jaw drops, the historic center is walkable, and the seafood is hauled in just offshore.
Chatham's curving Main Street conjures up low key elegance and old world charm. Chatham is the only Cape Code town bounded on three sides by water. It's consistently ranked as one of the US' best beach towns.
Chatham Lighthouse Beach is considered the most scenic public beach. It's set beneath Chatham's iconic lighthouse. This wild stretch of the Atlantic is the place for long walks and sunbathing (the surf is rough).
If you need a dose of culture with your beach retreat, head to the Orpheum. It's a restored vintage theater showing first run movies and classics. Or take in a play or musical at the Monomoy Theater, after browsing the casual to high end shops.
Where to eat: Impudent Oyster, Del Mar Bar and Bistro, Twenty Eight Atlantic
Where to stay: Chatham Wayside Inn, Old Harbor Inn, Captain's House Inn, The Hawthorne, Queen Ann Inn
11. Northampton Massachusetts
Just 2 hours from Boston, the rural town of Northampton is a cultural nerve center in New England. It's a pretty town, ringed by 5 colleges and college museums.
Grand mansions line tree-shaded streets. The Main Street is filled with with shops, art galleries, bookshops, etc.
In downtown Northampton, there are more than a dozen visual arts venues. The Northampton Center for the Arts offers poetry readings, film screenings, and concerts. The Calvin Theater is the premiere concert venue, hosing major touring music and comedy acts.
Four of the five colleges near Northampton offer theater and visual arts. Smack in the middle of Northampton is Smith College. Its beautiful Smith College Museum of Art just received a $35 million makeover. The museum offers a year round series of art lectures, contemporary art exhibitions, and films.
Just down the road is Mount Holyoke College Art Museum. It offers contemporary and traditional exhibitions year round. You can also admire contemporary work at Amherst's Mead Art Museum or check out national and international exhibits at Amherst's University Gallery.
Where to stay: Allen House Victorian Inn, Hotel Northampton, Fairfield Inn & Suites by Marriott
Where to eat: Bela, Mulino's Trattoria, Paul and Elizabeth's, Spoleto
12. Woodstock New York
Tucked into a bucolic setting in the Catskills Mountains, Woodstock is known as America's Colony of the Arts. It's an outpost of the American Arts & Crafts Movement, one of my favorite design styles. And a Shangri-la for New York weekenders escaping the bustle of the big city.
There's so much to do! Woodstock Guild operates Byrdcliffe Arts Colony (in conjunction with Cornell), the Kleinert/James Art Center, the Fleur de Lis Gallery, the Byrdcliffe Barn, and the Byrdcliffe Theater. The art center houses traveling exhibitions, while the gallery focuses on fine crafts.
Founded in 1920, the Woodstock Artists Association is the town's primary visual arts venue. In addition to three exhibition galleries, the Association also hosts artists lectures and art workshops.
Its permanent collection has both traditional and very modern work. Many of the artists exhibiting also have representation in New York City.
Where to stay: The Herwood Inn, Woodstock Way Hotel, Twin Gables of Woodstock
Where to eat: New World Home Cooking, Silvia, Garden Cafe
13. Ithaca New York
In Ithaca, you will feast your eyes on one of the must see hidden towns on the East Coast. Situated in the southern Finger Lakes region of New York, the city is a natural wonder no matter when you visit.
Ithaca is well known as the setting for Cornell University. But it's also an enticing blend of artistic, intellectual, and rural cultures. There are so many restaurants (most on Aurora Street) that none can afford to be mediocre. And the sounds of live jazz, bluegrass, or rock fill the streets.
In the winter, the sublime waterfalls at Taughannock Falls State Park freeze around the icy gorges. In the autumn, the changing leaves in Robert H. Treman State Park steal the spotlight.
With the onset of spring and summer, the vineyards along scenic Cayuga Lake Wine Trail command your attention.
A nice hike is up the Cascadilla Creek Gorge. Fuel up at Gimme Coffee, and take the vigorous half hour walk past cliffs and waterfalls. At the top, turn left and you'll be on the handsome college campus. A must visit site for art lovers is the Herbert F. Johnson Museum of Fine Art, designed by I.M. Pei.
Where to stay: William Henry Miller Inn, La Tourelle Hotel & Spa, Hilton Garden Inn
Where to eat: Just a Taste, Maxie's Supper Club, Mercato Bar & Kitchen
14. Sag Harbor New York
The Hamptons are popular. But authentic Sag Harbor, dating back to the 1700s, still remains one of the East Coast's best kept secrets.
Tucked between East Hampton and Southampton, charming Sag Harbor is the "un-Hampton" — an old whaling town where many of its buildings are still original (and on the National Register of Historic Places). This is where you'll find peace, quiet, and sea air.
But there's plenty of things to do in Sag Harbor — nature preserves, galleries, museums. The Bay Street Theater serves up year round entertainment.
Nearby is the Pollack-Krasner House & Study Center, where artist Jackson Pollack holed up to get away from distractions in NYC and focus on Abstract Expressionism.
Along Main Street, there are plenty of shops, design stores, book stores, and cafes. Right in the middle of the Hampton's bays and islands, Sag Harbor is the perfect place for a weekend of beach lounging, gawking at mansions, and dining on fresh seafood.
Where to stay: Baron's Cove, The American Hotel, Sag Harbor Inn, Topping Rose House
Where to eat: The Beacon, Wolffer Kitchen, Tutto Il Giorno, Dopo la Spiaggia
15. Madison, Connecticut
Madison is a place only east Coasters know about. The town proves the adage that good things come in small packages.
With a population of only 18,000+ residents, this Connecticut shoreline town delivers a major dose of quintessential New England charm. During his time at Yale, Bill Clinton was so taken with Madison that he mentioned it in his memoir, My Life, calling it "especially old and beautiful."
One of the main draws of Madison is Hammonasset Beach State Park. There you'll find two miles of beaches, wetlands, woodlands, and a nice boardwalk. The town itself is charming and pedestrianized, full of shops and cafes. A popular haunt is RJ Julis Booksellers, one of the nation's finest independent shops for book nerds looking for the perfect read.
Madison is also a culture filled hamlet. A fun outdoor activity is walking The Sculpture Mile. Created by the Hollycroft Foundation, it offers a unique museum-like exhibition that features art work by some of the nation's most significant sculptors.
Where to stay: Madison Beach Hotel, Madison beach Curio Collection By Hilton
Where to eat: Bar Bouchee, Chamard Vineyards Bistro, Moxie, Cafe Allegre, Elizabeth's Cafe
16. Lancaster Pennsylvania
Steeped in history, Lancaster is one of the oldest inland towns in the US. Dubbed the Red Rose City, Lancaster was originally settled by the Pennsylvania Dutch. Thousands still live this "plain" lifestyle.
You can get a first hand experience of the Amish lifestyle by taking a guided tour or a buggy ride. You can shop for Amish crafts and furniture. Or chow down on authentic Pennsylvania Dutch baked goods, such as whoopie/shofly/schnitz pie.
Lancaster is also a great cultural pit stop, home to an eclectic collection of art galleries on Gallery Row. There, you'll find vibrant paintings, hand crafted ceramic pottery, and antiques. The music scene is surging as well, with Tellus 360 as the hottest venue and bar.
Just a few blocks from Gallery Row, you'll find Building Character. It's a large warehouse stocked with all manner of vintage finds and handmade crafts. Housed in a handsome red brick building, a stop at Lancaster Central Market is a must do. You'll find both regional and ethnic specialities. If the weather is balmy, you can eat your meal in Penn Square.
To end your day with a dose of culture, head to Fulton Theater. It's one of the nation's oldest woking theaters. The theater hosts world class plays, musicals, and other productions.
Where to eat: Rachel's Cafe and Creperie, Silantra, John J Jeffries Restaurant, the Belvedere Inn, Gibraltar, Ma(i)son
Where to stay: Eden Resort & Suites, The Inn at Leola Village, Lancaster Arts Hotel
17. Mill Run Pennsylvania
Mill Run is where you'll find perhaps the most famous home in the United States, Frank Lloyd Wright's remarkable Fallingwater. Fallingwater is nestled in a bucolic setting, atop a cascading waterfall. It's the apotheosis of Wright's long lasting obsession with nature and a must see architectural site in the US.
Fallingwater is likely the most significant building of the 20th century. Fallingwater is eye-grabbing and visually stunning. It's a marriage of modern architecture and a wild landscape that blurs the line between the indoor and outdoor.
Wright brilliantly sited Fallingwater on top of the waterfall and anchored it to a boulder, so it would emerge "like a plant from the earth." From any room in the house, you can hear the falling water.
On July 7, 2019, the UNESCO World Heritage Committee officially inscribed The 20th Century Architecture of Frank Lloyd Wright, to its UNESCO World Heritage List. The designation includes Fallingwater and seven other Frank Lloyd Wright sites.
If you want to know more, click here for my comprehensive guide to Frank Lloyd Wright and Fallingwater.
Where to stay: Duncan House in Polymath Park, also designed by Wright
Where to eat: Chef Dato's Table, Bittersweet Cafe
18. Gettysburg Pennsylvania
If you're a history buff, a trip to patriotic Gettysburg is a must. This southern Pennsylvania city in the rolling countryside is easy on the eyes.
It also serves up a wholloping dose of history. Gettysburg is the site of the Battle of Gettysburg (an important 3 day battle of the Civil War) and President Lincoln's Gettysburg Address.
You can relive the mournful history by touring the Gettysburg National Battlefield. Start with the Gettysburg Museum for an overview of the town's history served up by a Morgan Freedom narrated film.
There are 1400 statues and monument on the battlefield. When you're done there, stop in at Dwight Eisenhower's home, which is now a museum.
Downtown Gettysburg has a charming Main Street, lined with shops and cafes. many of the shops stock Civil War memorabilia, folk art, and Americana. On Lincoln Square, you'll find The David Willis House, were Lincoln stayed preparing his speech.
Where to stay: Gettysburg Hotel, Federal Pointe Inn, Hilton Garden
Where to eat: One Lincoln Food and Spirits, The Springhouse Tavern, Mansion House 1757
19. Roanoke Virgina
This historic city is set against the backdrop of the stunning Blue Ridge Mountains. There are literally hundreds of different hiking trails making it the perfect summer spot, if you're looking for a luscious slice of nature.
Roanoke is magical in the Fall, when the leaves turn deep copper red. But you don't have to wait until Fall to see Roanoke's historic spots.
While it's a nice rural escape, Roanoke also has impressive museums, a doughty cathedral, a performing arts center, and a hot restaurant scene. You can even go on a 3 hour guided culture and food tour.
Whenever you decide to come, make sure you visit the gorgeous Carvins Cove Natural Reserve and the Roanoke Valley Greenways, which are stunning to explore.
Or, just 20 minutes from downtown, hike the trail head to McAfee Knob, one of the most photographed spots on the Appalachian Trail.
Where to stay: King George Inn Bed & Breakfast, Country Inn & Suites by Raddison
Where to eat: Lucky, Cuban Island Restaurant, Local Roots, Billy's, River and Rail
20. Asheville North Carolina
Asheville has a chill laid back vibe. It's part history set piece, part college town, and part urban renaissance showcase. The charming town is known for its art scene, brewery scene, and eclectic atmosphere.
The main activity is just strolling around. You can do it yourself, or get oriented with a 2 hour guided walking tour.
Asheville's two must see sites are the Basilica of Saint Lawrence and the Biltmore Estate. The basilica is designed in a Spanish Renaissance style.
The Xanadu-like Biltmore Estate is George Vanderbilt's 250 room French renaissance castle, America's largest home.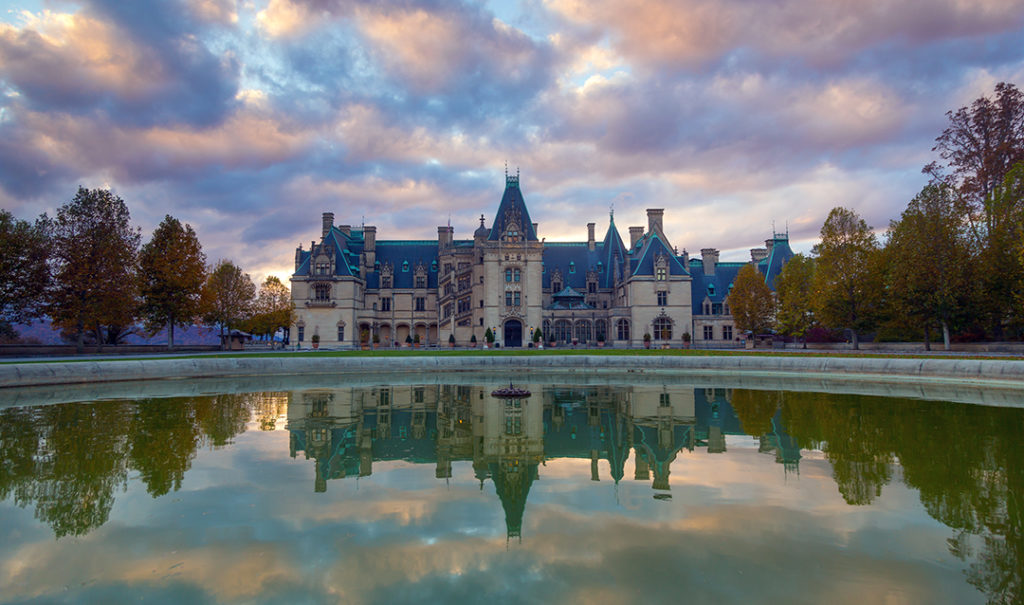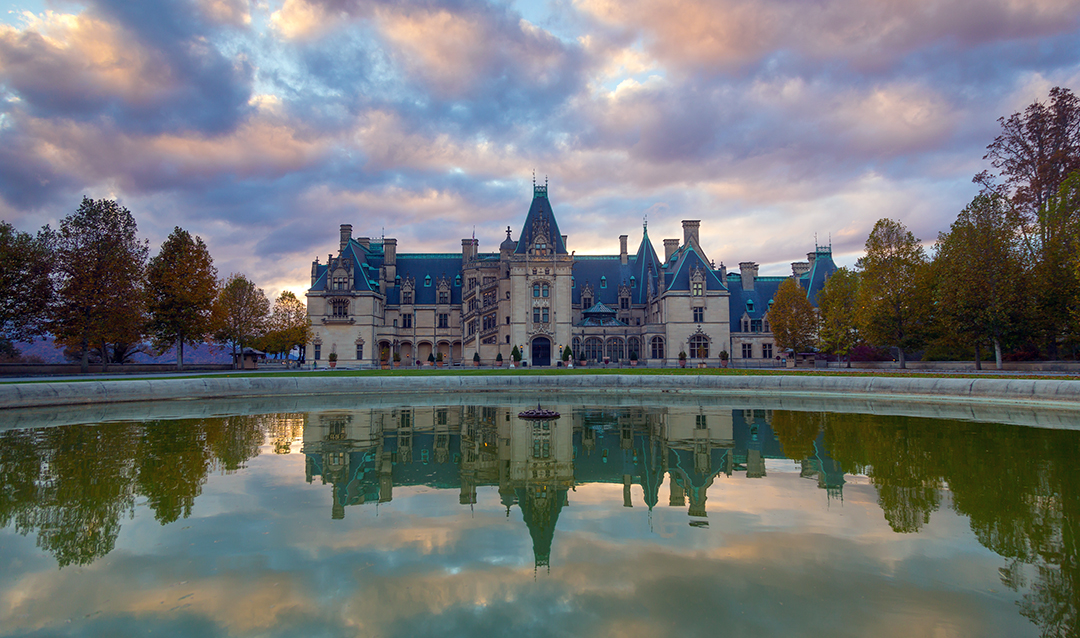 Downtown Asheville is delightful. The sidewalks are filled with al fresco cafes, coffee bars, and markets. In the summer, the Biltmore Estate hosts outdoor concerts on the south terrace and gourmet dining festivals.
Asheville's crown jewel for visual arts is the Asheville Art Museum. It serves up exhibitions, lectures, films, and art workshops.
Asheville also has an energetic live theater community — North Carolina Stage Company, Asheville Community Theater, and Highly Repertory Theater.
Where to stay: The Inn on Biltmore Estate, Grand Bohemian Hotel, Foundry Hotel Curio Collection by Hilton, Omni Grove Park Inn
Where to eat: Curate, Bouchon, Rhubarb, Cucina, Nightbell
21. Corolla | Outer Banks North Carolina
As a former Washington DC resident, I've been going to the laid back Outer Banks for beach vacations off and on for 20+ years. It's not just for lawyers and lobbyists.
Vacationers from both sides of the Mason Dixon line flock to North Carolina's Outer Banks to enjoy the warm water and endless miles of sand.
Though the Outer Banks is uber-popular, its beaches aren't terribly crowded. Especially if you stay at the northern end. My preference is Corolla.
If you're looking for things to do in the Outer Banks besides hitting the beach, there are plenty of options. You can go sky diving with Skydive OBX, visit the Wright Brothers Memorial, admire local art at the Seaside Art Gallery, and climb the historic lighthouses
Where to stay: rent a house, Sanderling Inn
Where to eat: The Blue Point, Kimballs, Aqua
I hope you've enjoyed my guide to hidden gems on the East Coast. You may enjoy these other United States travel guides and resources:
​If you want to visit some less touristy hidden gems on the East Coast USA, pin it for later.