Here's my guide to the best spots for leaf peeping and fall foliage color in the Washington D.C. area, my home for over 20 years. Fall is one of the most beautiful times of the year in the D.C. region.
As the leaves turn fiery colors, locals and tourists alike hike in local parks or drive into the mountains to see the full spectrum of colors.
The fall foliage usually peaks in mid to late October in Washington, D.C., Maryland, and Virginia.
You don't have to travel far to escape the big city and enjoy the gorgeous fall foliage. It's effortless. The best fall foliage destinations make easy day or half day trips from the city or suburbs.
Best Fall Foliage Destinations Near Washington D.C.
Wondering where to find the best fall foliage? Let's take a tour of the must visit hotspots and parks for leaf peeping in the Washington D.C. region.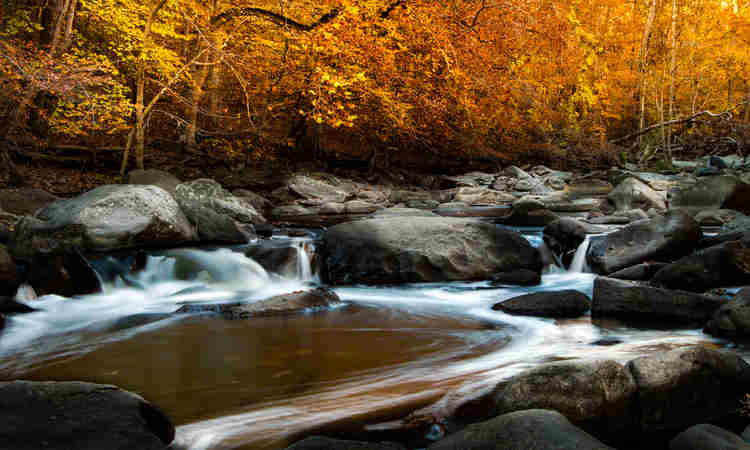 1. Rock Creek Park
Rock Creek Park was beloved by Theodore Roosevelt. It's a lovely stretch of land running 30 miles from Montgomery County Maryland to downtown D.C. It's one of the best and most beautiful places to see fall foliage in the Washington D.C. area.
Rock Creek is one of the largest parks in Washington D.C. and the third oldest in the nation. You can enjoy some leaf peeping, have a picnic, take a hike, or go for a bike or horseback ride. The park is a big favorite of runners and cyclists.
Throughout the year, you can explore the Rock Creek Park Nature Center and Planetarium, the historic Peirce Mill, or Old Stone House. Popular annual fall foliage events include the Rock Creek Park Day in late September and the Heritage Festival in mid October.
Admission to Rock Creek Park and its attractions is free.
2. United States National Aboretum
The United States National Arboretum is a beautiful spot. It's one of the best kept secrets in Washington, D.C. and the perfect place to see fall foliage.
The arboretum is a spectacular living museum that showcases 446 acres of trees, shrubs, and herbaceous plants. You can tour the gardens by foot, car, or bicycle.
There's also a 40 minute tram ride with an audio guide regaling you about the Arboretum's history and collections.
The National Arboretum offers a variety of hikes and public education programs throughout the year. In October, you can catch the annual Under the Arbor: Chile Pepper Celebration in the National Herb Garden. Or try some full moon forest bathing in the middle of October.
Admission to the Arboretum is free for all visitors. There's free parking available onsite. The nearest metro stop is the Stadium-Armory Station. But it's two miles away from the Arboretum entrance, so it's really better to drive there.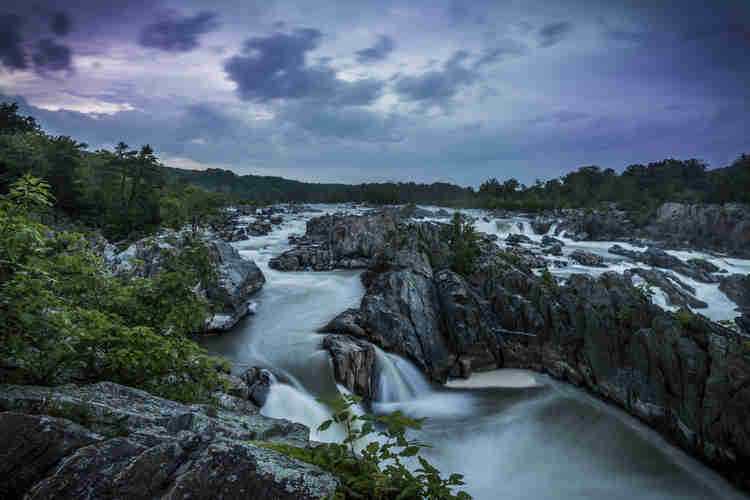 3. Great Falls Park
Ah, this is one of my favorite haunts. Stretching from Great Falls Virginia to Potomac Maryland, Great Falls Park has some of the most spectacular views and fall foliage in the Washington D.C. area. The 800 acre park has 15 miles of trails.
Get Falls Park is also chock full of viewpoints. You can witness the vibrant fall foliage from 50 foot cliffs overlooking the Potomac River. Great Falls also offers 11 hiking and biking trails of varying difficulty and several picnic areas.
Swimming and entering the river are prohibited at the park because of the sometimes deadly currents and possibility of flooding. But kayaking with safety measures taken is permitted.
Admission costs depend on if you are entering by vehicle or on foot, bike, or horseback, and grant access for seven consecutive days. Click here for ticket details.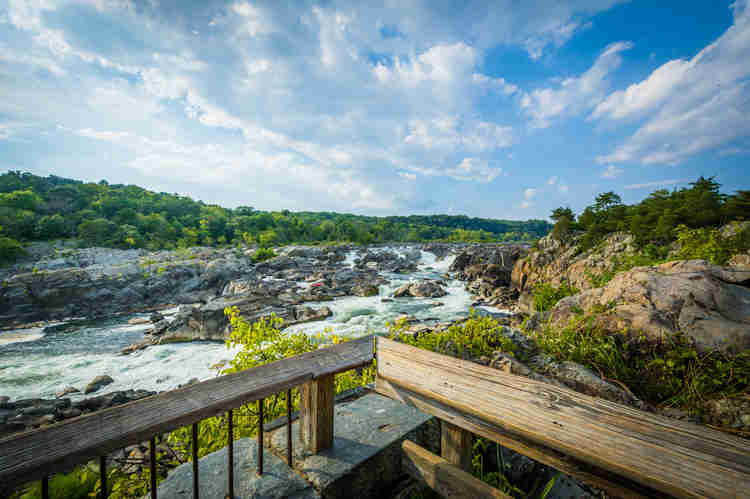 4. Chesapeake & Ohio Canal Historical Park
Snaking along the Potomac River from Washington, D.C. to Cumberland Maryland, the Chesapeake & Ohio Canal (C & O Canal) National Historical Park spans over 184 miles.
The park offers guests breathtaking vistas for fall foliage in Washington DC. You'll have plenty of opportunities to hike, bike, fish, boat, and horseback ride along the towpath.
The trailhead is located in the hip Georgetown neighborhood of Washington D.C. So it's one of the most convenient and accessible places to see fall foliage, if you're staying in the Capital. While you're there, you can also book a guided walking tour of historic Georgetown.
The C&O Canal covers more than 20,000 acres. Access is free, except for at the Great Falls Entrance Station where you have close up waterfall views of the Potomac River.
It's about a 14 mile hike from Georgetown to the Great Falls Tavern Visitor Center. If you're visiting by car, it's a 20 minute drive.
Popular events in fall include the Dulcimer Music at Great Falls series, "A Very Retail Georgetown" historic walking tour, and Scary Stories on the Canal at the Great Falls Tavern.
5. Mount Vernon Estates and Gardens
Mount Vernon is the 500 acre plantation estate of our first president, George Washington. It's located along the shores of the Potomac River in Mount Vernon Virginia. Even the drive to get there, along George Washington Parkway, is stunning because of the fall foliage.
Mount Vernon and its gardens are especially beautiful during the fall foliage season in Washington D.C. While you're there, you can tour of the estate and learn about the history of America's first president. The mansion is one of the iconic buildings of 18th century America.
Click here to book an admission ticket to Mount Vernon. Parking at Mount Vernon is free.
You can also book a sightseeing river cruise from Washington, D.C. or Alexandria Virginia. You can also book a 5 hour guided day tour from DC, which is a very popular thing to do.
The boat deposits you right to the estate after a scenic trip along the Potomac. Fall Harvest Family Days, Fall Dried Wreath Workshops, and Trick-or-Treating at Mount Vernon are among the most popular fall events at Mount Vernon.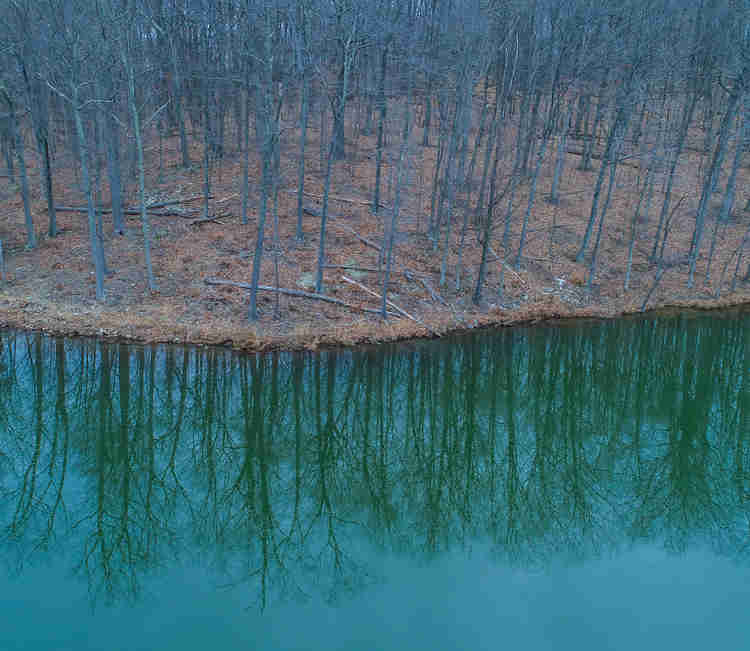 6. Seneca Creek State Park
Located in Gaithersburg Maryland, Seneca Creek State Park spans 6,300+ acres alongside 14 miles of the Seneca Creek.
During the months of October and November, you can spend an entire day hiking through the park snapping pictures of the beautiful fall foliage reflected in the water.
The park is also home to the 90 acre Clopper Lake, hiking trails, a disc golf course, playgrounds, picnic areas, and a restored 19th century cabin. You can take in all the brilliant fall foliage from the lake by renting a boat, canoe, or kayak (or bringing your own).
In high season from April to October, weekday visits are free. But there's a small charge for weekend visits. Outside of these months, the park is free to enter seven days a week.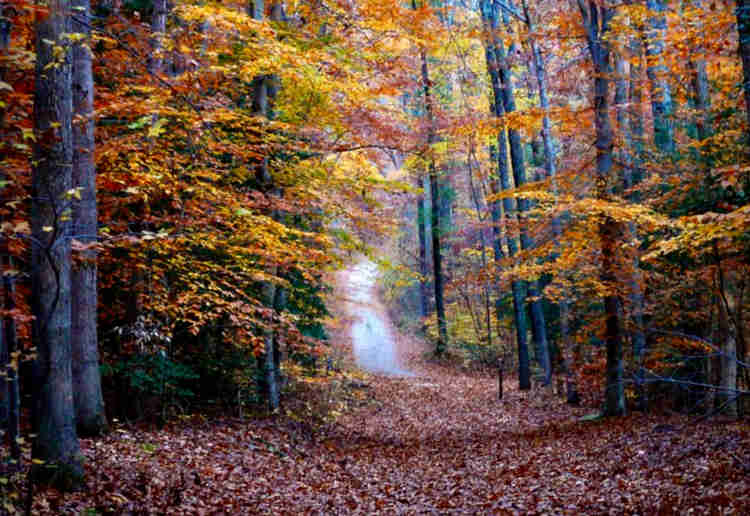 7. Cedarville State Forest
Cedarville State Forest is hidden away in Prince George's County Maryland. When the fall foliage is in bloom, it looks straight out of a fairytale.
Open from sunrise to sunset, there are 19.5 miles of marked trails through the forest perfect for tranquil exploring. They're all easy walks.
There's a large pond, complete with lily pads. You'll spot wildlife between the trees.
Or see birds and geese taking rest amongst nature. It's quiet. You'll more likely hear a breeze in the trees than car noise.
The Piscataway Indian Tribe made this forest its winter camping ground. Legend holds that there's an Indian burial ground in the forest. But that rumor is still unconfirmed.
8. Sugarloaf Mountain
Located in Dickerson Maryland, Sugarloaf Mountain is a National Historic Landmark. It has an elevation of 1,282 feet and a vertical height of 800 feet, set above the surrounding farmland. And it's a great place to experience the fall foliage near Washington DC.
Strong Mansion on Sugarloaf Mountain is a popular destination, hosting events year round.
Hikers can enjoy striking views of foliage along the trails. There are several well marked loops ranging in distance from 2.5 to 7 miles.
Horseback riding and picnicking are also allowed. If you're driving, pull up to the Sugarloaf Mountain lookout point for stunning views. The park requests only a voluntary donation of $5 to help with upkeep and general maintenance.
9. Cunningham Falls State Park
Cunningham Falls State Park is located in the Catoctin Mountains near Thurmont Maryland. The park has a 78 foot cascading waterfall, a lake, and hiking trails ranging from a half mile to 8 miles long.
The park is a great place to enjoy outdoor recreation all year. You can swim, fish, canoe, and camp.
In the high season of summer, there is a per person charge to enter the park. However, once Labor Day passes, you're only charged admission per vehicle, with a small discount for Maryland residents.
Reservations are highly recommended if you plan to camp out. You can even rent camping and hiking gear at the park store.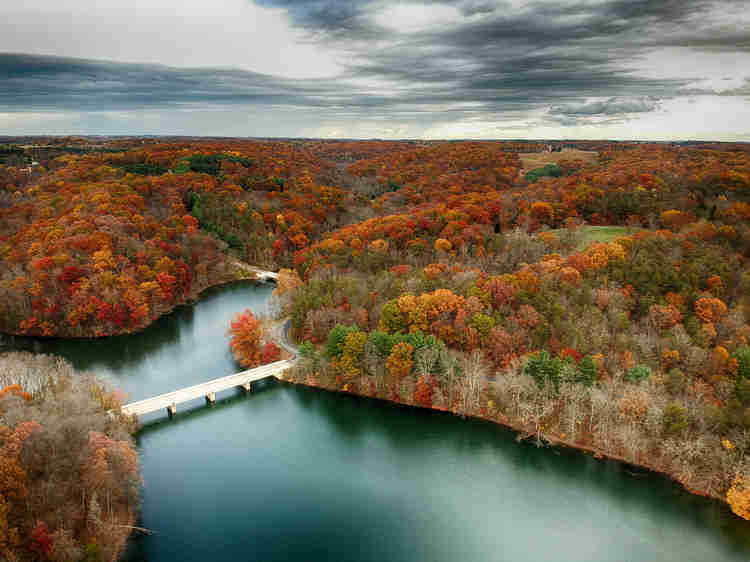 10. Black Hills Regional Park
Black Hill Regional Park covers over 2,000 acres in Boyds Maryland. The park offers a wide variety of recreational activities including hiking, picnicking, boating, and guided nature programs.
Visitors can enjoy spectacular views over Little Seneca Lake. Hikers, bikers, and horseback riders can explore miles of trails in the park. There's also a visitor center that hosts nature programs and offers interpretive tours throughout the year.
Camping isn't available at Black Hills Regional Park. But the Little Bennett Campground is only 5 miles away and offers campsites year round.
11. Burke Lake Park
Burke Lake Park is located in Fairfax Station Virginia. It's another great spot to see fall foliage near Washington D.C.
The park offers camping, hiking, fishing, and boating on the 218 acre lake within the park's 888 acres.
There's also a miniature train, a carousel, an 18 hole, disk golf horseshoe pits, an amphitheater, and a miniature golf course.
Burke Lake Park is open daily from Memorial Day to Labor Day each year and on weekends until late October. There's no entrance fee for Fairfax County residents. But non-residents only have to pay on weekends and holidays (weekdays are free).
Special events at Burke Lake Park include a sunset cruise, the annual Fall Family Campout, and the special Halloween campfire in October. There are also several fall foliage boat tours offered until the end of November when the leaves fall.
12. Harper's Ferry National Historic Park
Harper's Ferry is a historic Civil War town in Jefferson County, West Virginia. It boasts dramatic fall scenery because of its picture perfect location at the confluence of the Shenandoah and Potomac Rivers.
As a backdrop? The Blue Ridge Mountains.
Head to The Point for a view of the rivers and railway bridges. Or take a 15 minute stroll from the town to Jefferson Rock.
If you want a real workout, there's a 4 hour loop trek to the Maryland Heights Trail. The overlook gives you a panoramic view of the town, rivers, and mountains.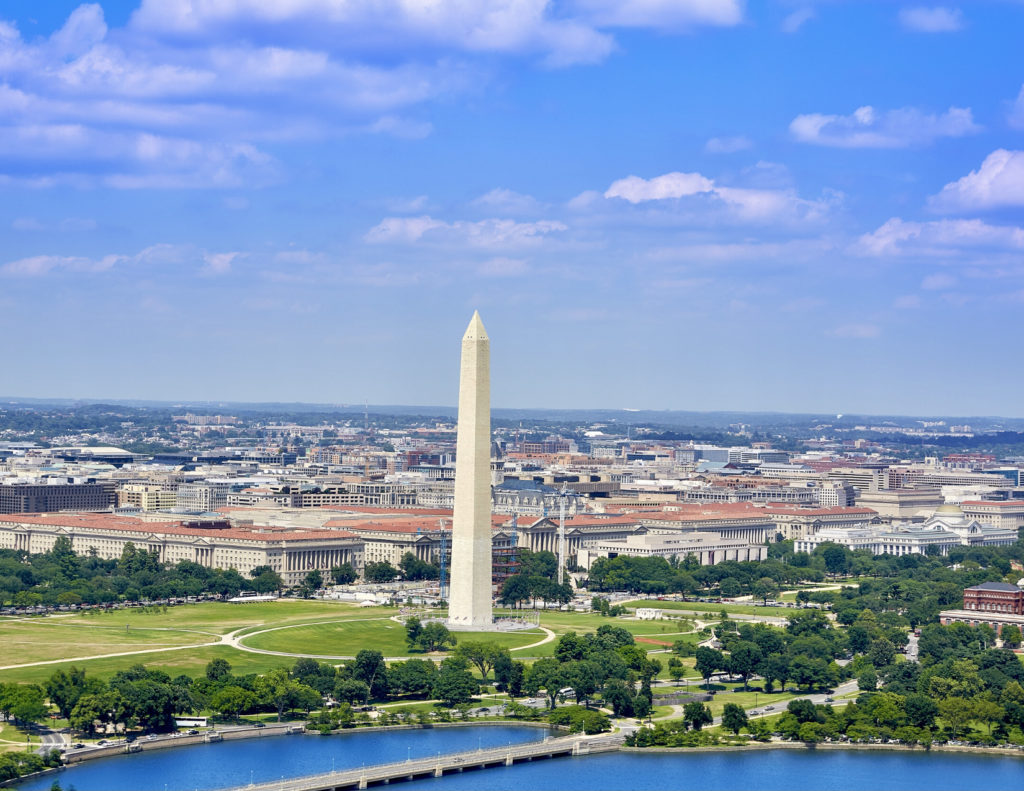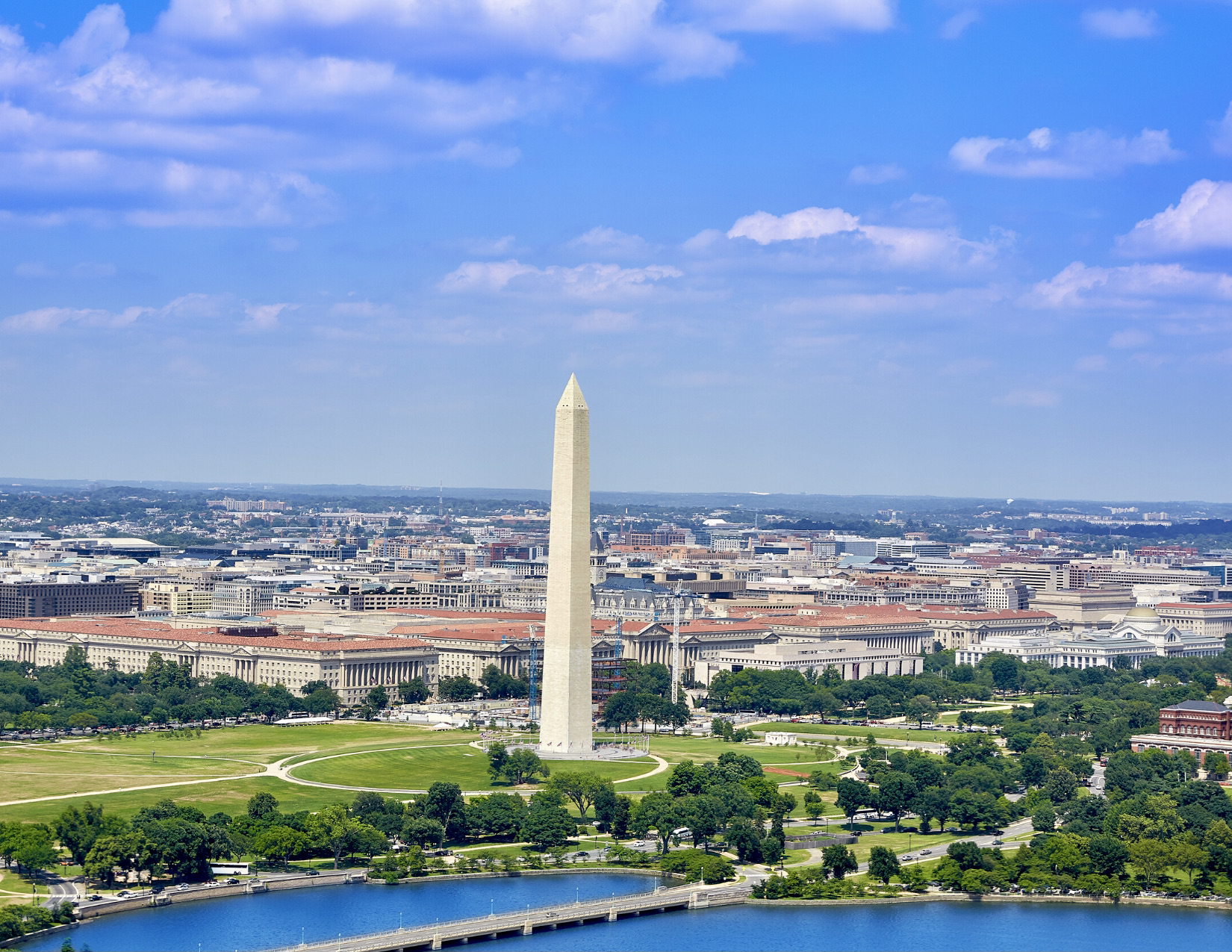 Where To Stay In Washington D.C.
Where you should stay in D.C. depends on your personal preference. Because D.C. has a great metro system, you can stay off center and quickly get to the main attractions.
If you want to stay near the National Mall and the Smithsonian museums, try the Mandarin Oriental, the Riggs Washington DC, or Hyatt Place.
If you want to stay in Georgetown, there are some really excellent options. You could book at the Fairmont Washington D.C., Rosewood, or the Graham Georgetown.
If you want to stay in the Dupont Circle area, check out the Dupont Circle Hotel or the Royal Sonesta.
I hope you've enjoyed my guide to where to find fall foliage in the Washington D.C. area. If you'd like more fall foliage inspiration, you might enjoy these articles:
If you'd like to see fall foliage in the Washington DC area, pin it for later.