Here's my itinerary for taking a one week day road trip in southern New England. This New England itinerary takes you to the beautiful states of Connecticut, Rhode Island, and Massachusetts.
In one week, you'll visit three amazing New England towns — New Haven, Providence, and Boston.
From there, you'll day trip to some charming small towns. This is a perfect itinerary for history buffs, culture vultures, and city creatures.
I tell you the best things to see, do, and eat in southern New England. You'll have a nice combination of cities, quaint small towns, and nature stops without too much driving. I also give you tips for extending your stay, if you have more time in Massachusetts.
New England has some of the most picturesque cities and towns in the United States. Set on rocky shores or nestled in rolling mountains, New England's quaint towns are filled with historic landmarks, white steepled churches, and magnificent old world architecture.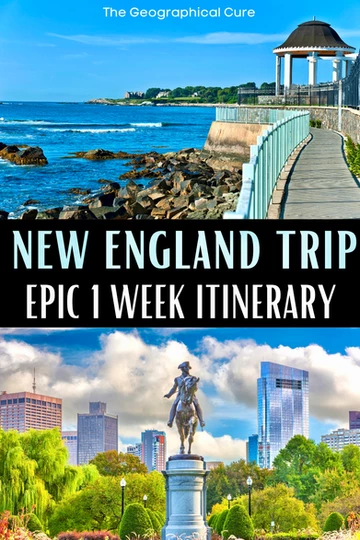 The regional food is exquisite. You can dine like a locavore in a country inn or Gilded Age mansion. The lobster and lighthouses are endless.
New England is also tailor made for road tripping, my preferred way to travel on the East Coast. There are endless road trips you can take in New England. Here's an overview of my recommended one week road trip itinerary for the southern end of New England.
Day 1: New Haven Connecticut
Day 2: Mystic Connecticut
Day 3: Newport Rhode Island
Day 4: Providence Rhode Island
Day 5: Boston Rhode Island
Day 6: Boston Massachusetts
Day 7: Day Trip to Salem Massachusetts
More time? Head to the Berkshires
You'll have three bases on this 1 week New England itinerary: (1) New Haven (2 nights); (2) Providence (2 nights); and Boston (3 nights). I give you tips on where to stay in each base.
One Week Road Trip Itinerary For New England
Here's how to spend 1 week in southern New England.
Day 1 in New England: New Haven
Start your road trip in New Haven Connecticut. If you can't drive there, fly into nearby Bradley International Airport in Hartford. From the airport, it's a 50 minute drive. If you need a bit to eat, head to Atticus Bookstore Cafe, with the best bread and pastries in town.
New Haven is home to the prestigious Yale University. Take the university's one hour walking tour, leaving from the Visitor Center on Elm Street. You can feast your eyes on the incredibly stunning Gothic Revival architecture that adorns the campus. Check out the magnificent mansions on Hillhouse Avenue.
Take a peak in the Sterling Memorial Library. It's free to visit. Outside, it's a doughty Gothic edifice. Inside, it dazzles with a stunning coffered ceiling and stained glass.
Take a peak in the Sterling Memorial Library. It's free to visit.
Outside, it's a doughty Gothic edifice. Inside, it dazzles with a stunning coffered ceiling and stained glass.
When you're done admiring the campus, for lunch, grab one of New Haven's famed pizzas. The two iconic places for pies are Pepe's Pizzeria and Sally's Apizza.
In the afternoon, take in a museum. You have several great options: (1) the Yale University Art Gallery; (2) the Yale Center for British Art; and (3) the Yale Peabody Museum of Natural History.
I really like the Yale Center for British Art. It's the largest collection of British art in the United States. And it's free to visit.
The museum's works are concentrated in the period from 1697 to 1851, corresponding to the Georgian period of British history. You'll find a cavalcade of amazing art by the likes of Turner, Hogarth, Gainsborough, Constable, and Reynolds.
Then take a spin on the Green, the central part of New Haven, a city planned in 1638. The Green is flanked by three churches with white towers poking the sky. The oldest is Center Church, dating back to 1639.
If you need some more exercise or coastal views take a walk in Lighthouse Point Park. It's an 82 acre park with beautiful beaches and old monuments. The Five Mile Point Light is a national historic monument.
To top off your day, have a cocktail at Heirloom in The Study at Yale.
For dinner, you have a lot of diverse options, from casual to fancy. Atelier Florian is fabulous with great seafood and vegetarian options. Or try some Indian food at Sheridan Indian Street Food. For fine dining, head to Union League Cafe.
Where to stay in New Haven: The Study at Yale, The Blake Hotel, Graduate New Haven
Day 2 in New England: Day Trip to Mystic
On day 2 of your New England itinerary, take a day trip to Mystic Connecticut. Mystic is calm and just exquisite, a charming waterfront town set on the shores of the Mystic River.
It's a quaint downtown is filled with boutiques, galleries, and eateries. Mystic has incredible 19th century architecture to admire, with 60 historic preserved buildings.
On Main Street, you'll find Mystic Pizza, made famous by a kitschy 1980s movie. Mystic's main landmark is Bascule Bridge, the most photographed bridge in Connecticut and a perfect spot for river views.
Mystic Seaport is the county's oldest maritime museum and Connecticut's #1 attraction. It's an example of "living history." It covers 19 acres along the Mystic River.
There are indoor and outdoor exhibits, including four vessels that are National Historic Landmarks. You can climb aboard or peruse the recreated village.
Before you leave, take a boat ride out on the water.
Where to stay in Mystic: Hilton Mystic, Hyatt Place Mystic, Mystic Marriott Hotel and Spa, Old Mystic Inn
Day 3 in New England: Newport
The tony coastal town of Newport is a must visit town in New England. Founded in 1639, Newport is a treasure trove of historic European-style mansions set against ocean views.
Think the Gilded Age's Astors, Vanderbilts, and Kennedys — families who built the first palatial mansions in the US. Most of the mansions are on Bellevue Avenue and a few are on the waterfront.
You may want to get oriented with a 1.5 hour guided walking tour of historic Newport.
Built by Cornelius Vanderbilt, Breakers Mansion is Rhode Island's #1 attraction. It's located on the scenic Newport Cliff Walk, which combines mansions and ocean views.
It's located on the scenic Newport Cliff Walk. You can take a guided tour of the mansion by trolley and enter the Breakers.
The Newport Art Museum is the core of the creative community. The Artists' Open Space serves up local and regional shows year round. There's a dozen commercial galleries in town as well. Island Art is the best, noted for its contemporary pieces.
On the performance arts side, Newport really excels. It offers up everything from Shakespeare plays in Queen Ann Square to musical festivals dedicated to jazz, classical, and folk music in July and August. There's also the Newport Fine Arts Festival in September.
Stop by Castle Hill Inn for tea or cocktails on the lawn. Then take the path to the magnificent Castle Hill Lighthouse for great views of Newport's craggy coastline.
When you're done in Newport, head to Providence where you'll spend the night. It's an approximately 45 minute drive.
Where to stay in Newport: OceanCliff Hotel, The Vanderbilt, The Chanler at Cliff Walk, Cliffside Inn
Day 4 in New England: Providence
I was just in Providence and loved the city. It's a small city with walkable neighborhoods and big city amenities. You may want to get oriented with a guided walking tour.
Start your day with breakfast or brunch at the Grange on Federal Hill. Or have a delectable pastry at Scialo Bros Bakery.
Federal Hill is home to one of the best Little Italy's in the United States, located on Atwells Avenue. You'll find loads of knockout restaurants and eateries there.
The main square is DePasquale Plaza, where people are always dining alfresco. If you're in Providence in early June, you can eat and enjoy live music during the Federal Hill Stroll.
Then head to downtown Providence. Shop in the cute Arts District. Tour the grand State House. Admire the many street art murals.
Then head to beautiful College Hill, where you'll find the lovely campus of Brown University. You'll be wrapped in red brick buildings and can admire the stunning architecture and outdoor sculptures.
When hunger calls, grab some lunch on Thayer Street. Or, for something a bit more fancy, try Mills Tavern, Andrea's Providence, or Denden Cafe Asiana (where you'll find a long line).
If you're a fan of Ancient Rome, Brown has replicas of the Marcus Aurelius Equestrian monument found in Rome's Capitoline Museums and of Augustus of Prima Porta from the Vatican Museums.
No trip to College Hill is complete without a stroll down Benefit Street. It's an architectural showcase and bucolic 1.2 mile walk. You'll see some of the most beautiful Federal era architecture in the United States.
This is where Providence's wealthy merchants built their homes. The most impressive is the large Georgian style John Brown House Museum.
And don't leave Providence without visiting the fabulous Rhode Island School of Design Museum. A major cultural institution in the United States, RISD houses over 100,000 works.
You'll see medieval and Gothic collections. But there's also a good collection of Impressionism, including works by Monet and Degas.
In Providence, you can take an evening cruise down the river, take a guided food tour, or
Where to stay in Providence: Renaissance Providence Hotel, Graduate Providence, Hilton Garden Inn, Marriot Providence Downtown, and Aloft Providence Downtown.
Where to eat in Providence: Italian cuisine and seafood reign supreme in Providence. Try Enoteca Umberto, Pano e Vino, Persimmon, Los Andes, or Tallulah's Taqueria.
Day 5 in New England: Boston
From Providence, it's a one hour drive to Boston. Beautiful Boston Massachusetts is my favorite city in the United States.
The country's oldest city, Boston is steeped in American history. Boston played a pivotal role in the Revolutionary War.
Boston's sometimes called the "hub of the world" or the "cradle of liberty" because it was the source and inspiration for key ideas that shaped America.
READ: 3 day Itinerary for Boston
Start your day at tiny Paramount near Boston Common, tucked into a street on Beacon Hill. It's a popular diner and there may be lines.
After breakfast, you can embark on an activity that will take the entire day — hiking the Freedom Trail. It's really a full day activity.
The Freedom Trail is a beloved 2.5 mile walk through historic Boston. It leads you through the major sites and monuments relating to the city's founding and the Revolutionary War.
You follow a red brick road, with signs and historical markers along the way. To take a guided history and architecture tour of the trail. click here to book one. You can also check out this 2.5 hour walking tour of the trail.
The trail begins in the Boston Common, the nation's oldest park, and ends at Bunker Hill. You can pick up a map and free guide at Faneuil Hall or the Boston Common Visitor Center at the beginning of the trail at 139 Tremont Street. Some stops are free and some charge admission.
Stop for lunch (I'd pick a lobster roll) at Faneuil Hall. Built in 1742, Faneuil Hall is the most visited destination in New England.
It has an open ground floor serving as a market, a covered assembly room above, and a grasshopper weathervane atop the roof. In the Revolutionary era, town meetings and ceremonies were once held in the assembly room.
The Freedom trail ends in Charlstown, just north of Boston's North End neighborhood. If you like Italian food, the North End is a fantastic place for dinner.
There's great food at Giacomo's. Top off your dinner with a cannoli at Mike's Pastry or Modern Pastry.
The North End is also a fantastic place to take a food tour. You can book a pizza, food, or history tour or take this 3 hour tour by Secret Food.
If you're not too tired from your long day of walking, consider taking in a concert at the Bottom Symphony Hall. The Boston Symphony Orchestra is one of the nation's best, playing in a venue with world class acoustics.
Or head to a show at the Wang Theater, which showcases everything from dance to Broadway acts. Its lobby is opulent, built to resemble Versailles.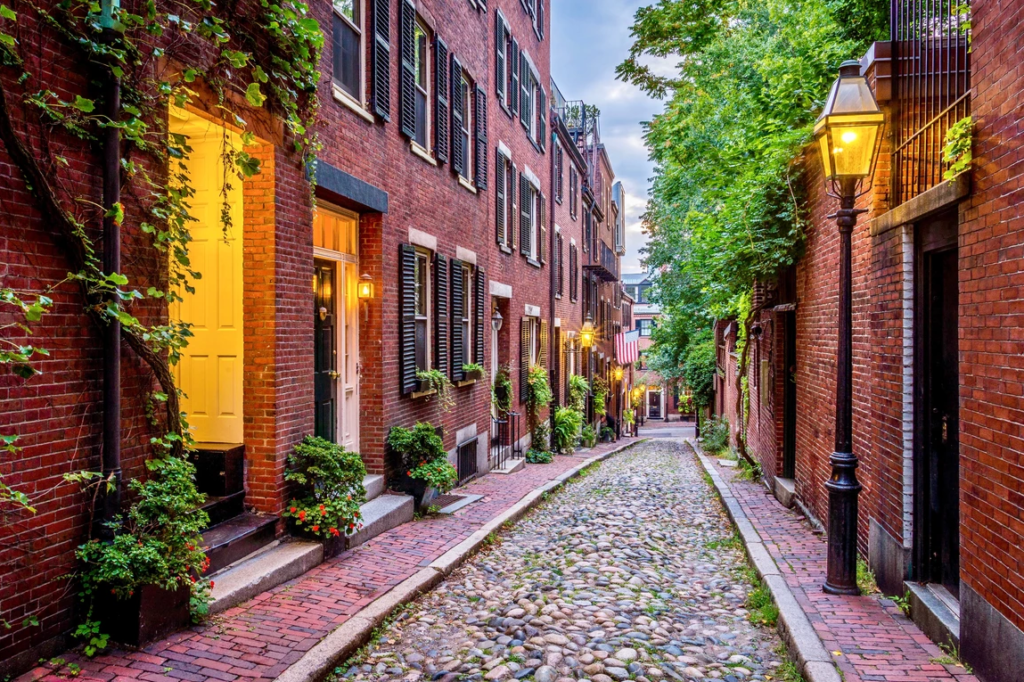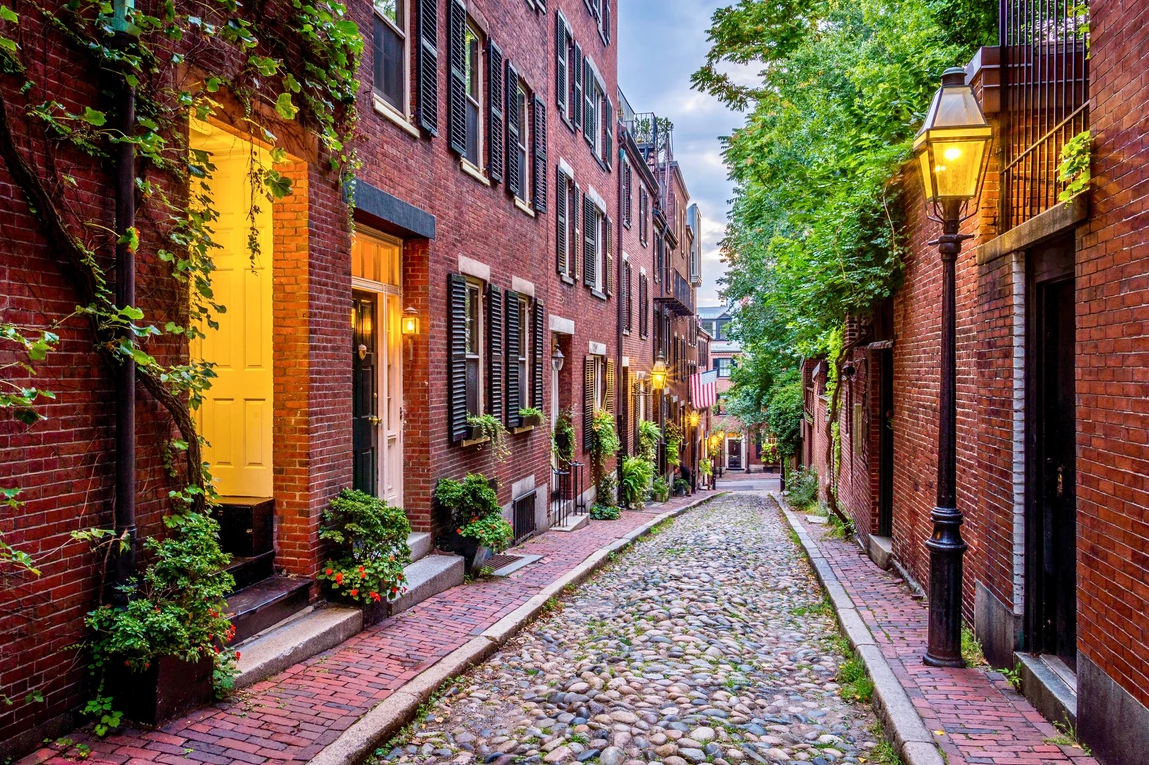 Where to eat in Boston: SRV, Beehive, Barcelona Wine Bar, Toro, Mistral, Sonsie, Sweet Cheeks
Where to stay in Boston:
The best downtown options are the small XV Beacon or the Klimpton Nine Zero Hotel. You could also splurge at the Ritz Carlton or the Four Seasons.
The Inn at St. Botolph, the Lenox Hotel, and the Hilton in Back Bay are also nice options and central too.
If you can't resist historic Beacon Hill, check out The Boxer, Liberty, or the elegant Whitney Hotel.
Day 6: Boston
Start day 6 by visiting in the Fenway neighborhood. Fenway of course is known for its iconic ballpark. And the Red Sox have broken my heart more than once.
But Fenway isn't just a one trick pony. Fenway is home to some of the city's best museums, music venues, and eateries.
Have breakfast at Tatte Bakery on Boylston Street. It's a cozy rustic spot serving up delicious pastries, soups, and sandwiches.
Alternatively, you can go to a Fenway landmark, Boston's culinary delight Time Out Market. Try an haute couture donut at Union Square Donut.
Once you're fueled up, visit one of the two most splendid museums in the Fenway area — the Museum of Fine Arts and the Isabella Stewart Gardner Museum.
I love both, but am especially partial to the incredibly unique Gardner Museum, which has an outstanding in situ collection of Renaissance art set amid a Venetian style palace.
When you're done museum-ing, cross the verdant Back Bay Fens Park and head to the Back Bay neighborhood. When strolling though the fens, you can stop and smell the roses at Victoria Garden and Kelleher Rose Garden.
The Back Bay is New England's version of New York's SoHo and West Village. Newbury Street is the equivalent of Madison Avenue, with lots of expensive shopping and high end eateries.
If you want, you can book a 2 hour guided walking tour of the Back Bay and other architectural landmarks in Boston. Or go on this 2 hour guided tour that combines Back Bay and the Freedom Trail.
You'll want to stroll down Beacon, Marlborough, Commonwealth, Newbury, and Boylston streets. Stop in at Sonsie or the Bittersweet Shoppe on Newbury Street for lunch.
Next, head to Copley Square, a pretty public square in the Back Bay formerly known as the Art Square.
There's a little park where you can buy discount theater tickets, listen to musicians, and gaze up at the towering Hancock Tower. Every Tuesday and Friday afternoon, there's a farmers market.
You should also peak into Boston's Trinity Church in Copley Square (if it's open). It's Boston's oldest and most beautiful church.
It was built in the 1870s after the original building burned down in the Great Fire of 1872.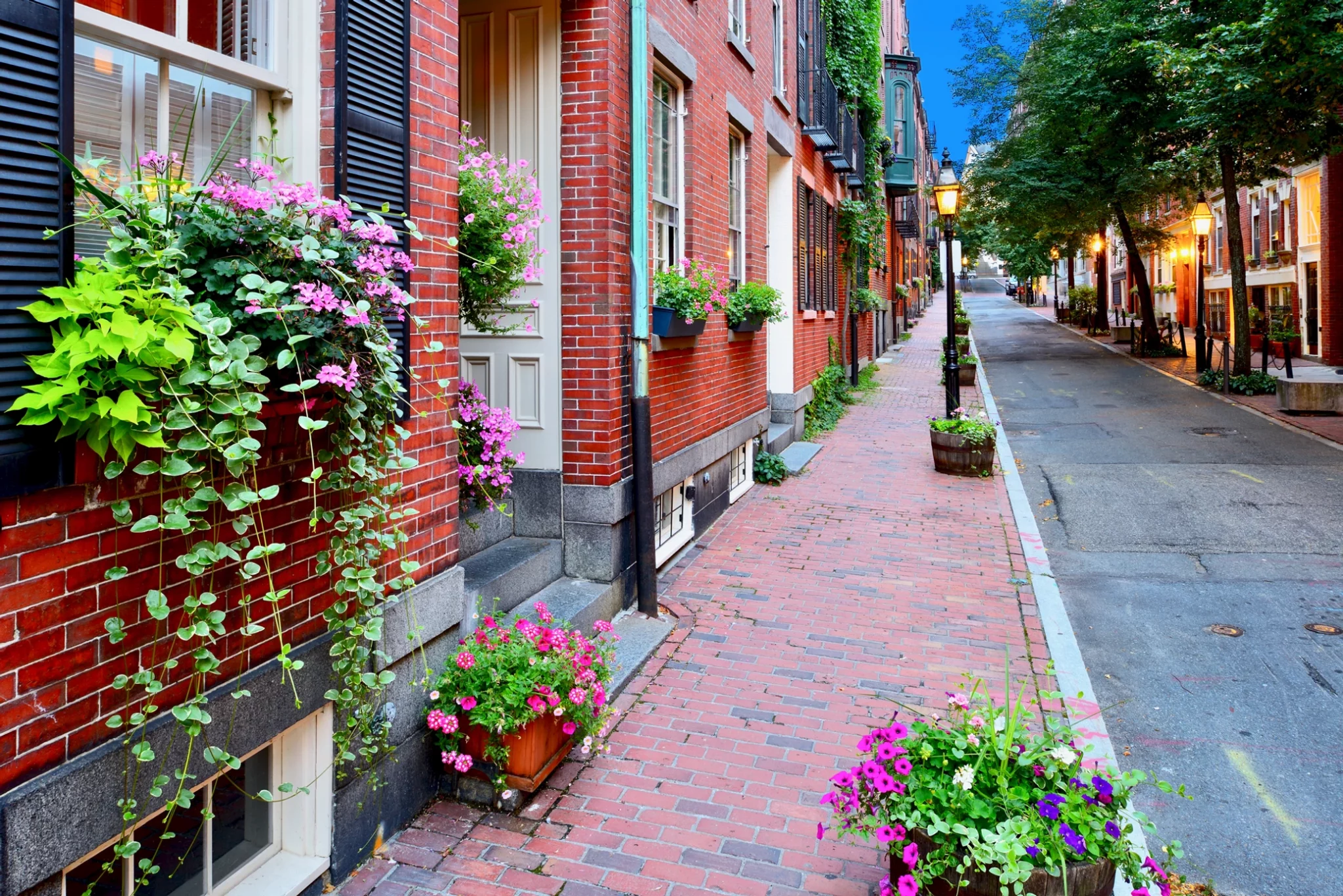 End your day in Boston's historic Beacon Hill neighborhood. It's an extremely pretty and exclusive neighborhood of gaslit streets and brick sidewalks.
The homes, many designed by the ubiquitous Charles Bulfinch, were built for Boston's Protestant merchant elite, known as the Boston Brahmins.
Be sure to walk down the picturesque Acorn Street, which might be the most photographed street in the United States.
READ: Complete Guide To Boston's Beacon Hill neighborhood
Beacon Hill is a prime dining location, with romantic restaurants. Try Mooo (American), No. 9 Park (Italian), Toscano (Italian), or The Hungry 1 (French bistro).
Day 7 in New England: Day Trip to Salem
For the last day in your one week New England itinerary, head to Salem.
Salem is a beautiful seaside town and an easy day trip from Boston at only 30 minutes away. If you want to bask in the festive fall spirit in New England, there's no better place than witchy Salem. You can learn about Salem's creepy past as the "witch capital" of the United States.
Salem embraces rather than shies away from its notorious past, when the infamous 17th century Witch Trials defined the town.
Salem is replete with whimsical magic shops, all things haunted horror, and ghostly tour options. Many of Salem's must see destinations are devoted to its witchy history.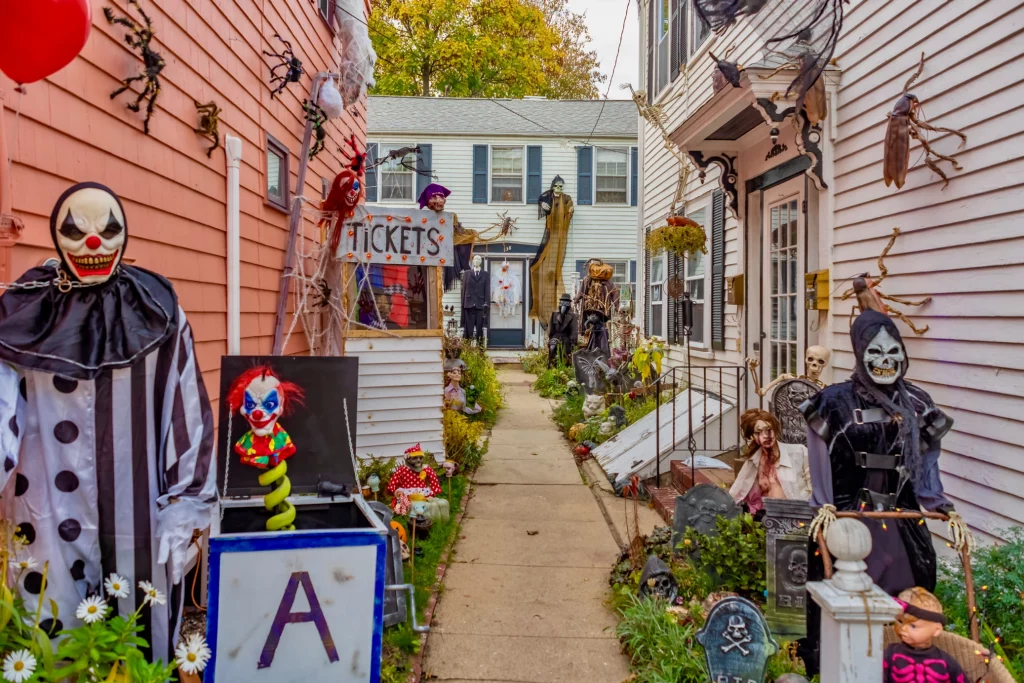 There are so many spooky themed tours on offer in Salem.
Here are some of your options: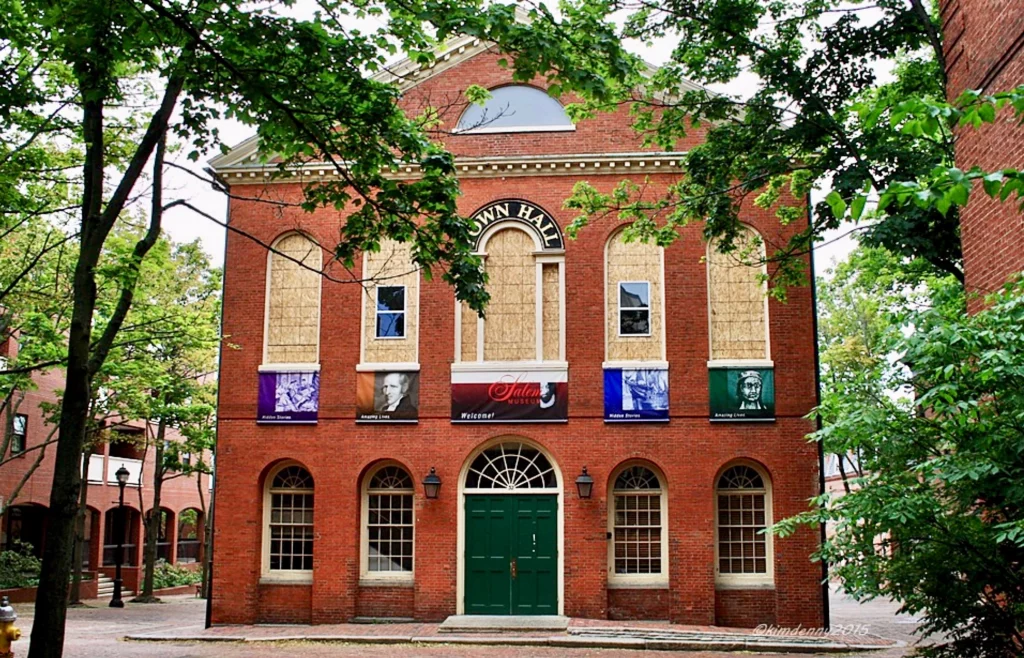 But Salem also boasts beautiful 17th century Colonial and Georgian architecture and delicious seafood. Salem is an eminently walkable town. You'll be plunged back in time and history to bewitching effect.
Charming Essex Street is a historic cobblestoned district, with the original brick Old Town Hall. Old Town Hall dates from 1816.
The second floor still stands as a public hall and the first floor is used as a public art space. The exterior of the building was featured in the popular Disney Halloween cult film, Hocus Pocus.
Are you a literary fan? If so, you should pay a visit to the House of the Seven Gables. Built in 1668, it's one of the oldest mansions still standing in the United States.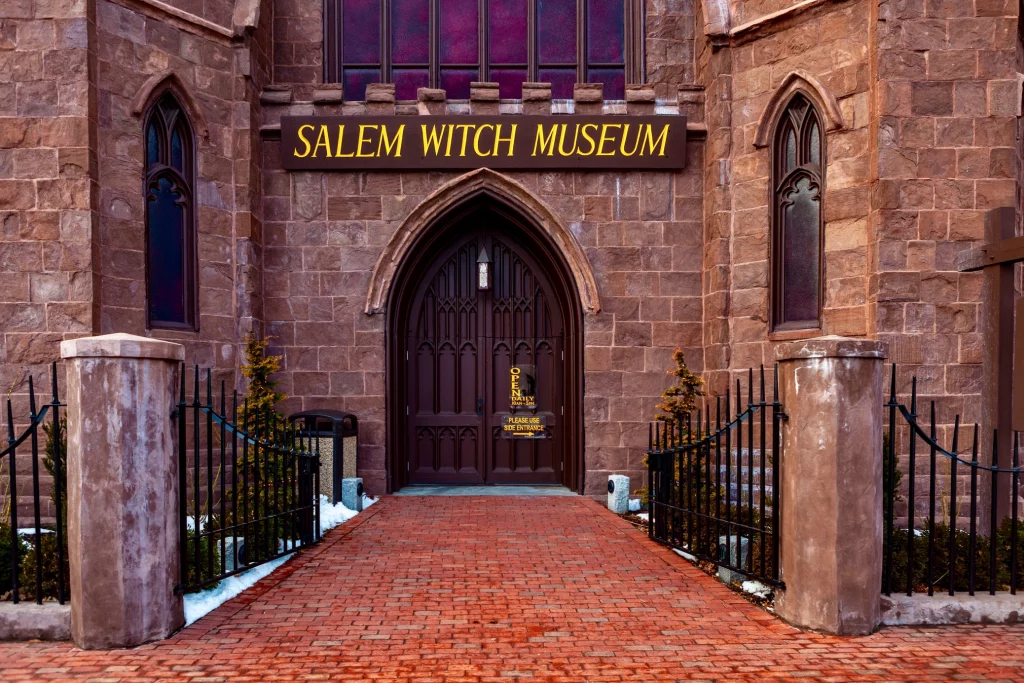 Nathaniel Hawthorne immortalized the house in his 1851 novel of the same name. Inside, you'll find a recreation of the secret staircase from the novel.
The mansion is the perfect destination for fans of early Colonial architecture and Georgian interiors. It's a prime example of the prosperity of early Salem, with enviable waterfront views.
The house where Nathaniel Hawthorne was born is also on the property.
Where to eat: The Lobster Shanty, Turner's Seafood, Opus, Firenze Trattoria
Where to stay: Hawthorne Hotel, The Merchant, The Salem Inn
More Time in Massachusetts? Head To the Berkshires
If you have more time to spend in Massachusetts, I highly recommend a weekend in the Berkshires. The Bershires are a little over 2 hours from Boston.
The Berkshires are dusted with magic. The region evokes an earlier America, with houses and architecture straight from a Norman Rockwell painting.
The Berkshires is a laid back region, quietly unbuttoned without the glitz or cocktail party circuit. No high heels! The area was made famous by literary figures escaping the city to their turn of the century castle-cottages, set under solitary starry nights.
The Berkshires are full of winding roads with undulating meadows, deep green ellipses of hills, organic farms, and trees ablaze in autumn. But it's definitely not just for nature lovers and leaf peepers. The Berkshires are a unique confluence of nature, historic landmarks, cultural gems, and vaunted museums.
Despite its rural setting, the Berkshires also have a hot foodie scene, with a hip farm to table vibe. In the Berkshires, restaurant owners source food locally from innovative farmers, grow their own herbs and micro-greens, and raise hens.
Here's my guide to the top places to visit in the Berkshires. I especially love the towns of Stockbridge and Lenox.
I hope you've enjoyed my one week itinerary for New England. You may enjoy these other travel guides and resources for the United States:
If you'd like to take a one week road trip in southern New England, pin it for later.