Are you a culture enthusiast exploring California? If you're seeking an escape from the urban hustle, our guide leads you to 14 charming towns that are havens for art lovers minus the crowds.
In the realm of art, size isn't everything. Discover how these small towns boast remarkable art scenes that rival larger cities.
Venture off the usual paths and prepare to be amazed by California's hidden gems, where the fusion of culture and natural splendor creates a truly captivating experience.
You can string them together in one long California road trip, pick several towns to fashion a week long regional itinerary, or pick one special spots for a weekend getaway.
I've been to California many times because I have family there, my daughter went to college there, and my former law firm was based there. So I've done plenty of exploring in this beloved and idyllic state.
Let's take a virtual road trip through California, visiting towns with the best art and culture scenes.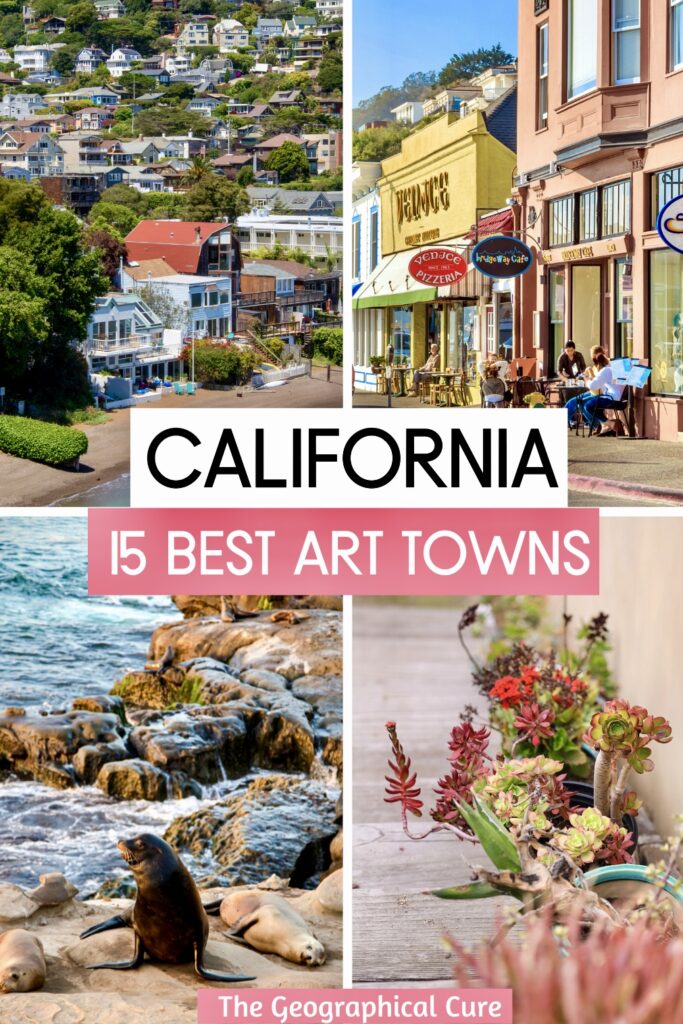 Many of these artsy towns are also amazing foodie destinations and make easy day trips or weekend getaways from Los Angeles, San Diego, and San Francisco.
Best Towns In California For Art Lovers
Here are the best places to see art in California outside of the big cities.
These art towns in California boast wonderful museums, art galleries, performing art venues, poetry slams, and festivals.
Moreover, I provide you with personally selected recommendations on where to stay and indulge in culinary delights.
1. Carmel-by-the-Sea
Set along the beautiful Pacific coast, idyllic Carmel-by-the-Sea may one of the most scenic places in the US.
When the misty morning is blown away by the sea breeze, you can stroll though the quaint cobblestone streets of Carmel's village.
Carmel is also a great town for art lovers. You'll find tony boutiques, wine tasting shops, (nearly 100) art galleries, and restaurants.
Carmel's oldest gallery is operated by the Carmel Art Association, with a roster of sophisticated painters and sculptors. You'll find incredible photographs at the Silver Light Gallery, one of the nation's most respected photography galleries.
Classical music is an institution in Carmel, mostly set in the Sunset Center Theater. In July and August, Carmel hosts the Carmel Bach festival.
The Carmel Music Society brings in internationally renowned names from October through April. In October, there's the Carmel Performing Arts Festival.
One of the most unique things to do in Carmel is attend a performance at the Outdoor Forest Theater, a beautiful amphitheater with a woodland setting. The Pacific Repertory Theatre gives shows ranging from Shakespeare to Broadway musicals.
2. Chico
Chico is an unpretentious and increasingly popular college town in northern California, not far from San Francisco. It's attracted many SF artists tired of being charged outrageous rates for their loft digs.
Chico is close to everything — the Sierra Nevada foothills, the lakes of Amateur and Oroville, and Lassen Volcanic National Park.
Plus, Chico has a university, which automatically means a good art scene.
Chico State University is home to Laxon Auditorium and a two theater performing arts center. Its University Art Gallery occasionally brings in national touring shows and displays work by Bay Area artists.
The center of Chico's visual arts scene is the Chico Art Center, housed in a renovated railway depot. With a large gallery space, the center puts on shows, classes, and other entertainment.
There's also a studio scene and two full time galleries. The 1078 Gallery is run by artists and features cutting edge contemporary art.
The Thursday Night Market is festive and immensely popular. Food trucks sell tamales and barbecue. Local farmers and growers sell produce like tomatoes, corn, and peaches. Other vendors sell crafts and art work.
Where to stay: Grateful Bed B&B, Hotel Diamond
Where to eat: Crush, Grana, Sicilian Cafe
3. Idyllwild
Idyllwild is the perfect small town in California for art lovers. It makes a perfect weekend away from Los Angeles or San Diego.
Idyllwild has it all — a fabulous location, lovely climate, and breathtaking natural beauty.
Perched on the slopes of the San Jacinto Mountains, the town is nestled in pine trees and avoids the sprawl of Los Angeles. There's art and music everywhere in Idyllwild.
The local art scene is bolstered by more than a dozen art galleries and the Idyllwild Arts Academy. The latter is an academic institution running an arts-oriented school and summer arts programs. During the academic year, it puts on concerts and arts exhibitions.
There's a nearly year round series of art walks, gallery wine tastings, and concerts. In the summer, the Ice House hosts blues and jazz bands. In late August, there's the Jazz in the Pines festival, which attracts regional and national musicians.
4. Laguna Beach
Laguna Beach is the most picturesque beach town in Orange County, within easy reach of Los Angeles. Laguna Beach boasts 30 different little coves and beaches, an adorable downtown area, and a massive wilderness park.
Laguna Beach is very much into the arts. You can combine art and culture with hefty dose of sun and surf.
An artists colony was founded here in 1903. A decade later, Laguna beach became known for a distinctly West Coast style of Impressionist landscape painting, still popular today.
Though a small town, Laguna Beach has an outsize offering of galleries, museums, festivals, and theaters. The Laguna Art Museum sits on a cliff overlooking Martin beach. It hosts exhibitions of historic works from Laguna's past and contemporary art.
Laguna's gallery scene is one of the best on the West Coast.
The most esteemed is the Peter Blake Gallery. Laguna also hosts wildly popular art festivals — The Festival of the Arts, The Sawdust Art Festival, and Pageant of the Masters are a must sees.
In terms of performing arts, the Laguna Playhouse is one of the nation's best small theaters.
5. La Jolla
Just 13 miles north of San Diego lies beautifully manicured and art-rich La Jolla. La Jolla is known as the "Jewel of the Sea" and you can see why.
Last November, I stayed at a cozy Air Bnb cottage in La Jolla and just loved the breathtaking oceanfront. The town is a beautiful fusion of nature, beaches, and fantastic food.
In downtown La Jolla, the main drag is Prospect Street. It's full of tony shops, galleries, and restaurants to explore.
If it seems too pricey, there's no harm window shopping. When hunger calls, stop in at Duke's for some Hawaiian-themed food (delicious fish and Poke tacos) and ocean views. Or grab an açaí bowl at Be Fresh.
Because La Jolla is a favored weekend getaway from San Diego, it supports dozens of art galleries and antique stores. The twin peaks of La Jolla's art scene are the San Diego Museum of Contemporary Art and the La Jolla Playhouse.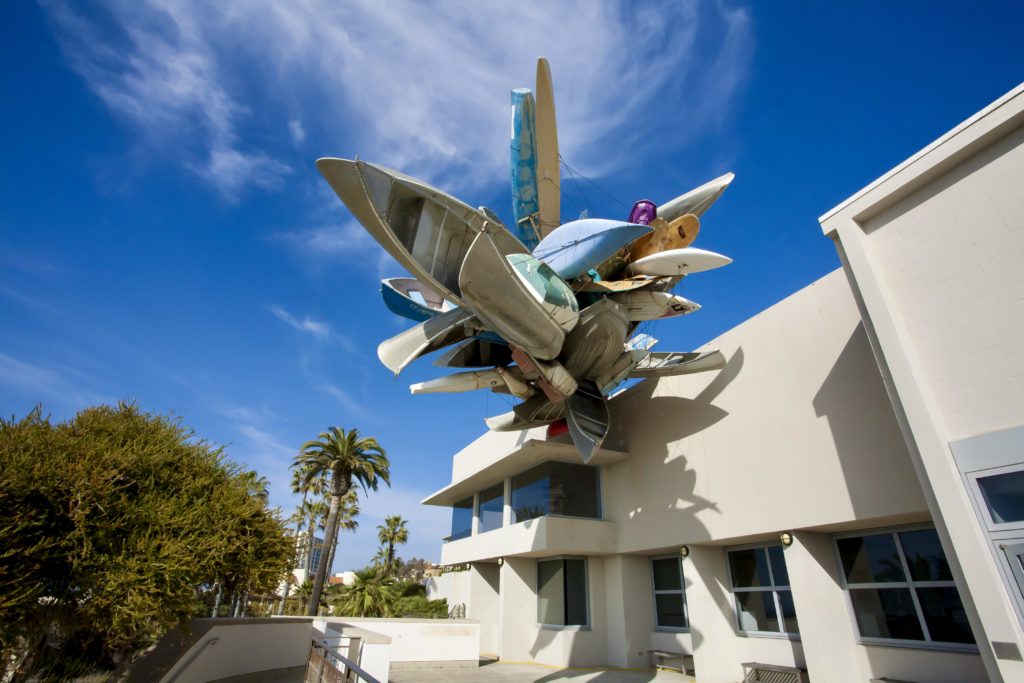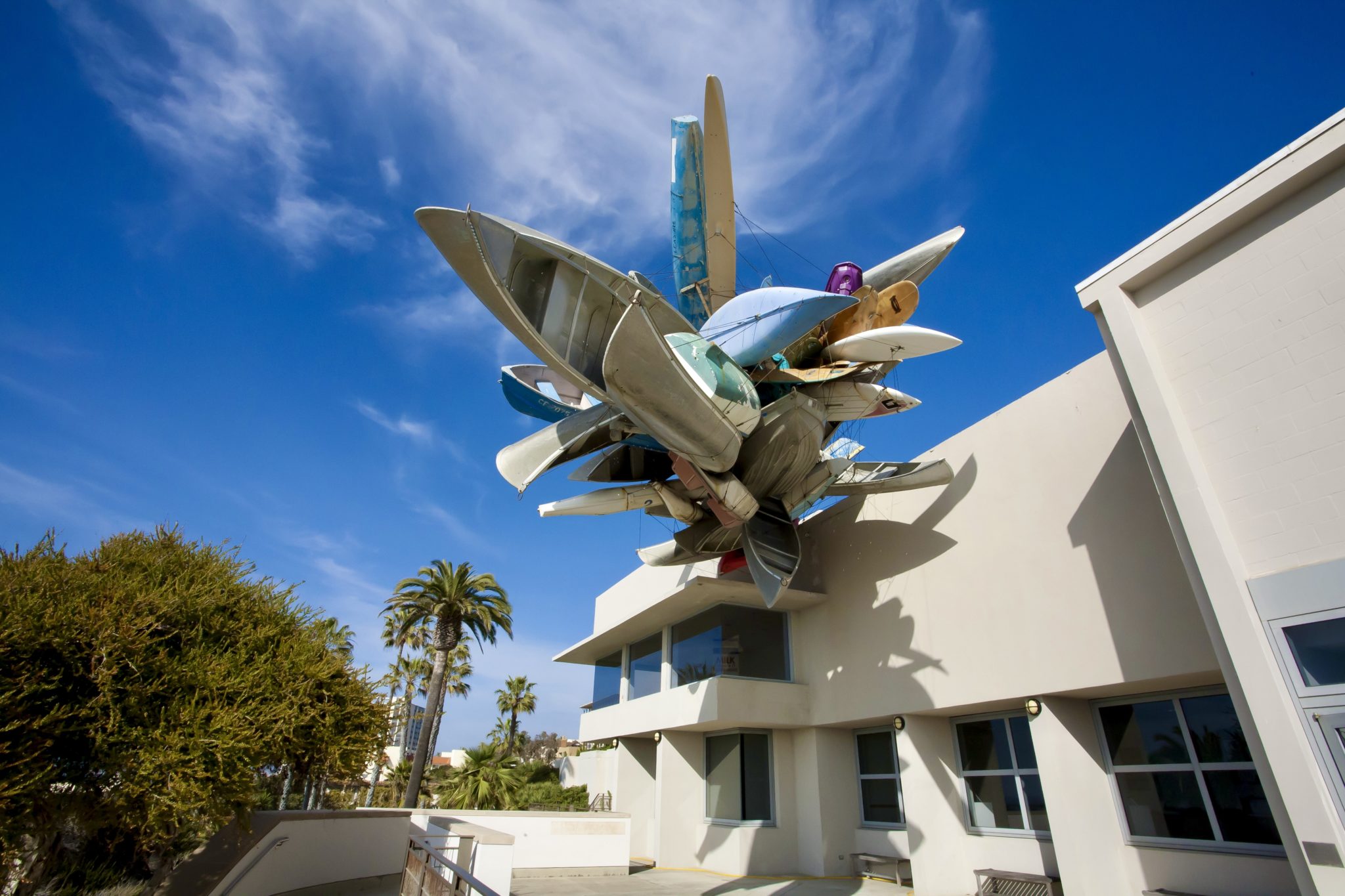 The museum is set in a a spectacular Robert Venturi-designed building on the side of a cliff. Newly renovated, it offers stunning seaside vistas along with modern and contemporary art luminaries.
The museum also hosts a full slate of exhibitions, lectures, and films, including Art Wave La Jolla in October.
The La Jolla Playhouse is one of the best regional theater companies in the US. It's a true US treasure where many national plays debut. It puts on a wide variety of shows from classics to new works.
READ: One Day in La Jolla Itinerary
Where to stay: La Valencia, The Lodge At Torrey Pines, Grande Colonial
Where to eat: Puesto, Nine Ten, Duke's, Herringbone
6. Mendocino
Just 150 miles north of San Francisco, Mendocino has a majestic location along the Pacific Coast. With perfectly preserved historic homes and wind swept bluffs, Mendocino is full of old world charm.
Mendocino has a vibrant and diverse art scene. The Mendocino Art Center is where you'll find up and coming West Coast talent. The center hosts artists in residence, as well as workshops and exhibitions.
Overlooking the Mendocino Headlands, the Artists Co-op is the refuge for local landscape painters. The cream of the local crop show works at the William Zimmer Gallery.
The thespian community is anchored by the Mendocino Theater Company, which performs in the Helen Schoeni Theater.
For comedies, head to the Hit & Run Theater. Opera Fresco puts on light opera at a variety of venues throughout the year.
If you like bubbly, another Mendocino highlight is the Roederer Estate. It produces award winning champagne that competes with the world's finest.
Tasting takes place in a rustic setting, which blends in with the natural beauty of the Anderson Valley.
7. Palm Springs
Sophisticated Palm Springs is a glittering neon-encrusted oasis smack in the middle of a wickedly hot desert.
It's populated by an eclectic mix of ex Hollywood stars, golf mad retirees, and artists who all bask in the spectacular desert scenery.
This sun bleached corner of California has a hot art scene. The leading cultural institution is the Palm Springs Art Museum.
The museum hosts touring national shows and rotating exhibitions of its permanent collection. And has a beautiful sculpture garden to boot.


Along North Palms Canyon Drive, you'll find a dozen galleries displaying regional landscape paintings, photography, and contemporary art.
Imago Gallery, a nice space overlooking the Palm Desert, exhibits top rate international artists and also has a terrace and sculpture garden.
From October to April, the McCallum Theater hosts every kind of performing arts experience — ballet, Broadway, jazz, and classical music. It describes itself as a "true jewel box of a concert venue in the finest tradition of European opera houses."
Where to stay: The Willows Historic Palm Springs Inn, Sparrows Lodge, La Serena Villas
Where to eat: Chef Tanya's Kitchen, Mr. Lyons, Workshop Kitchen + Bar, 4 Saints
8. Santa Barbara
Santa Barbara is a sparkling coastline jewel about an hour north of LA. It's a charming and upscale beach town.
The city is a visual feast, nicknamed the "American Riviera" — with lush gardens, California poppies (in spring), signature red tile roofs, and white washed houses and landmarks.
The main boulevard is State Street, which leads you from Sterns Wharf up to the mansions of Mission Canyon. It's lined with tony boutiques and eateries. A trolly shuttles you around.
Architecture lovers will appreciate Santa Barbara's Spanish flair. With their red roofed tiles, some buildings could've been power beamed from Madrid. You can tour the Old Mission and El Prisidio fort.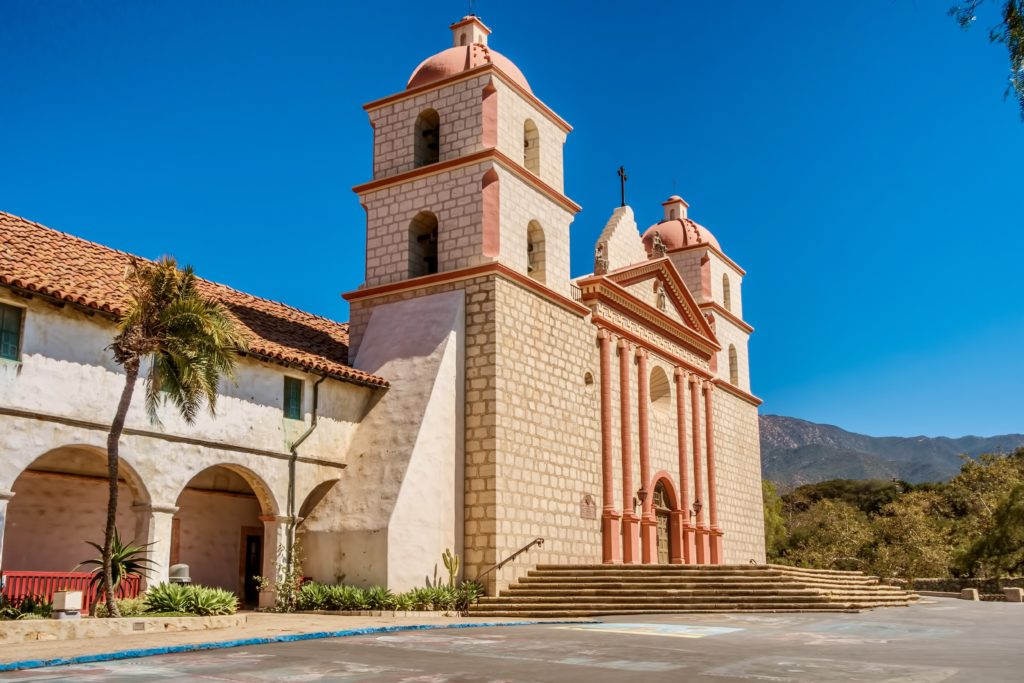 Start your art hunt at the Santa Barbara Museum of Art. You'll find works by Henri Rousseau, Henri Fantin-Latour, Aristide Maillol, and Carlos Merida among others.
Santa Barbara's other art space is the Museum of Contemporary Art Santa Barbara.
You can also find great work at Artamo Gallery, Sullivan Gross, and the Santa Barbara Contemporary Arts Forum. Santa Barbara also has a flourishing art district, which locals call the "Funk Zone."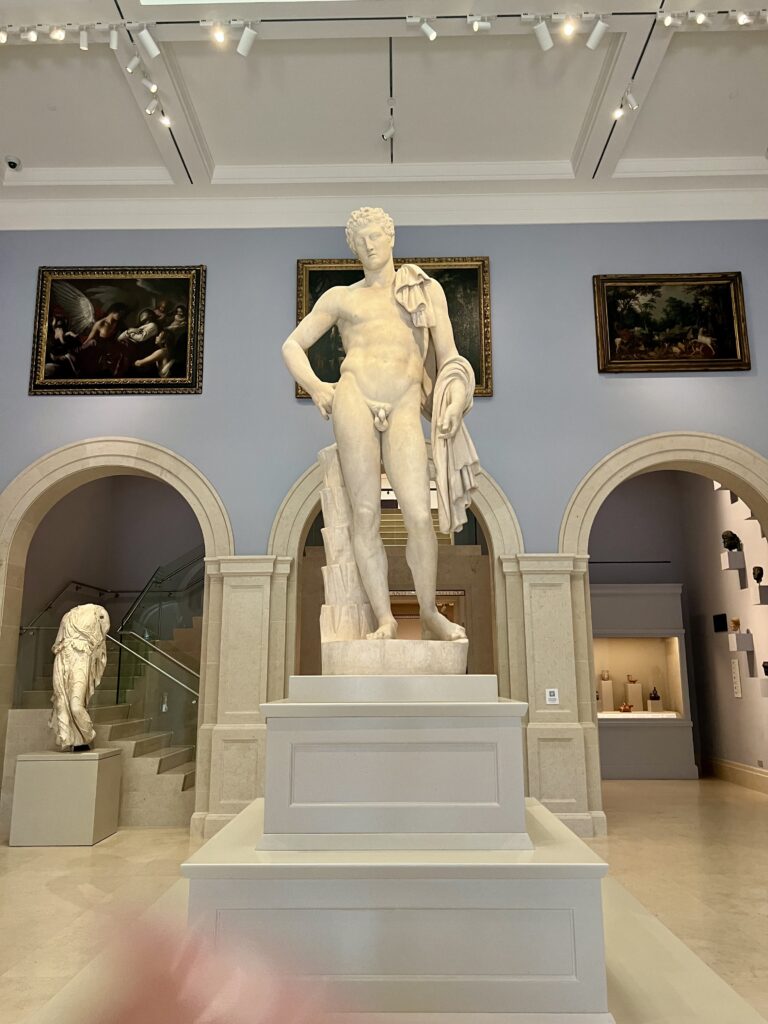 In this space, you'll find street art, murals, wine tasting rooms, vintage shops, and art galleries. For a superb dining experience, try The Lark.
In terms of the performing arts, head to Lobero Theatre. It hosts an exciting variety of ballet, classical music, contemporary plays, opera, etc. Or head to the Santa Barbara Symphony.
READ: 2 Days in Santa Barbara Itinerary
9. Claremont
I love Claremont. Home to 7 colleges, including my daughter's alma mater, Claremont is simultaneously laid back and infused with creativity. And loaded with cultural goodies.
Art lovers can visit the Claremont Museum of Art, the Benton Museum of Art, the Petersen Museum of Intercultural Art, and the Raymond M. Alf Museum of Paleontology.
There are also several galleries sprinkled in the quaint village. And unique public art is on display on the college campuses.
If you think nature is the ultimate artist, hit up the California Botanical garden. It's the largest US garden dedicated to native California plants. Claremont is also home to a Midsummer Shakespeare festival.
10. Ojai
Nestled between California heavyweights Los Angles and Santa Barbara, cozy Ojai makes a picturesque and relaxing retreat. The hippie-cool town is adorned with beautiful Spanish Mission Revival architecture.
It's set against the scenic backdrop of the Los Padres National Forest and Topatopa Mountains. Ojai has both innovative farm to table restaurants and down to earth farmers markets
Ojai is an artsy town, an enclave of artistic types and spiritual thinkers. Its village- like center is chock full of high end galleries and new age shops.
Ojai's artistic anchors are the Ojai Valley Museum and the Ojai Art Center. The top galleries to explore are Beatrice Wood Center for the Arts and Tartaglia Fine Art.
Ojai also hosts several festivals in the summer — Art in the Park, Ojai Storytelling, and Ojai Music Festival. During the first weekend of June, Ojai holds an annual music and wine festival with concerts and lectures.
The local wineries all participate and pour. If you'd like to do a tasting, head to Casa Barranca Tasting Room, an award winning organic winery.
READ: One Day in Ojai Itinerary
11. Eureka
Eureka seems more like Oregon than California. Its otherness is reflected in its woody setting, overcast skies, and abundance of Victorian houses.
Artists who needed an inexpensive and supportive community turned their Volkswagens in this direction. This off the beaten path art destination in California is the perfect isolated spot to focus on art.
Eureka's streets are filled with murals in an effort to decorate utilitarian faces. Even the most mundane objects, like street utility boxes, may be adorned with art.
art scene is anchored by the Morris Graves Museum of Art. Its exhibition space consists of 7 art galleries and an outdoor sculpture garden. It's an important art venue for cutting edge North Coast talent.
The town's other visual arts asset is the Ink People Center for the Arts. It's one of California's most innovative art spaces.
Located in a former schoolhouse, the center maintains an action packed schedule of visual arts exhibitions, workshops, lectures, performances, and films. Inside are artists studios open to the public.
The area's premiere performing arts venue is the Dell'Arte/Rooney Amphitheatre. It's 20 minutes away in Blue Lake.
The theater is devoted to "physical theater" — the traditional arts of mime, "commedia," clowning, and masked performance.
The other performing arts venue is the Van Duzer Theatre on the Humboldt State University campus. Center Arts puts on top names in music and dance.
12. Tahoe City
Though known for its majestic natural beauty and outdoor activities, Tahoe City also has a thriving arts community. It's home to many museums and historic landmarks.
Gatekeeper's Museum is a reconstructed cabin previously destroyed by fire. it houses a collection of Native American basketry and other regional artifacts. Or you can explore Tahoe's maritime history at the Tahoe Maritime Center's Museum & Gardens.
Tahoe City is littered with art galleries with regional contemporary art. You could easily wile away a day browsing through them.
Some of the best galleries are the Benko Art Gallery, North Tahoe Arts, The Eadington Gallery, and Tahoe Art League Art Center & Gallery. To further lure culture lovers, Tahoe hosts an annual outdoor Shakespeare Festival in July and August.
13. Coachella Valley
Though arid, Coachella Valley is no art desert. To the contrary, the arts flourish here.
Coachella is known for its festivals. Apart from the frenetic music, however, the festival always features colorful installations and interactive visuals.
The Coachella Valley Art Scene started as a blog platform for artists and art enthusiasts. Then it morphed into a brick and mortar gallery in Cathedral City.
Vistors also flock in for Desert X, a free biennial art exhibition. Desert X features large scale contemporary works by both emerging and established artists.
Where to stay: La Quinta Resort & Club, L'Horizon resort & Spa, Sands Hotel & Spa
Where to eat: Si Bon, Beyond Balisage, Miro's Restaurant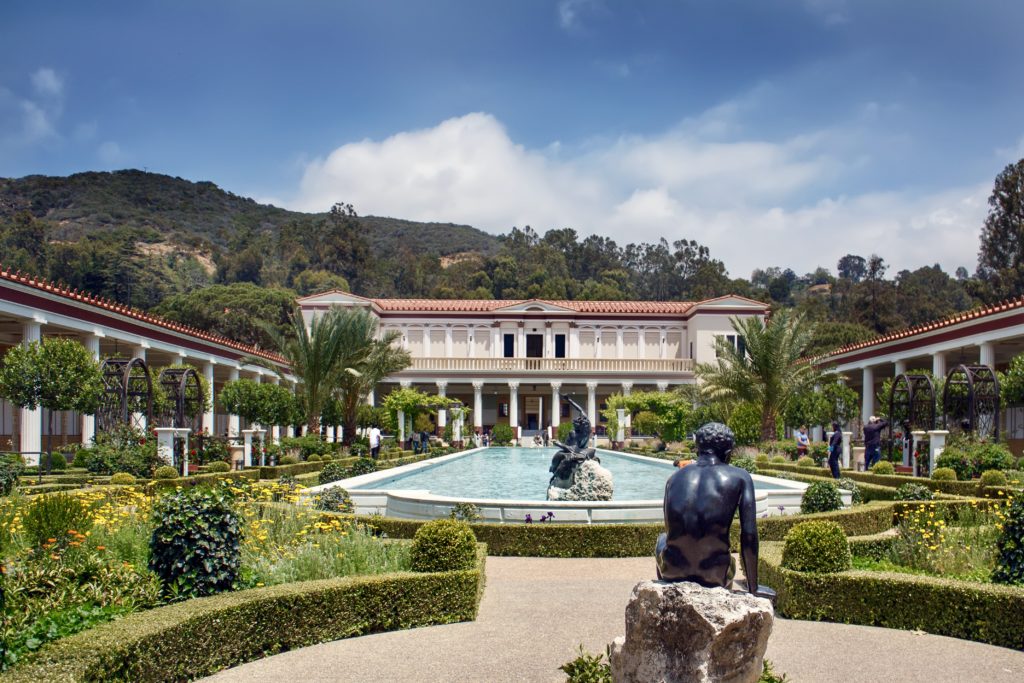 14. Pacific Palisades
Pacific Palisades is a sophisticated and affluent town in California. It's filled with awesome attractions, delicious restaurants, and a thriving local culture that makes it one of the best places to visit in California for art lovers.
The top attraction is fabulous Getty Villa. It's a branch of the more famous Getty Center in Los Angeles.
The villa is a recreation of a Roman seaside estate, complete with columns and porticos. It was inspired by ancient blueprints of the Villa of the Papyri at Herculaneum.
The museum has an impressive collection of Greco-Roman artifacts. They are displayed in chronological order to give you a classical history from 3,000 B.C. to 400 A.D. Greek works are on the first floor and Roman antiquities are on the second floor.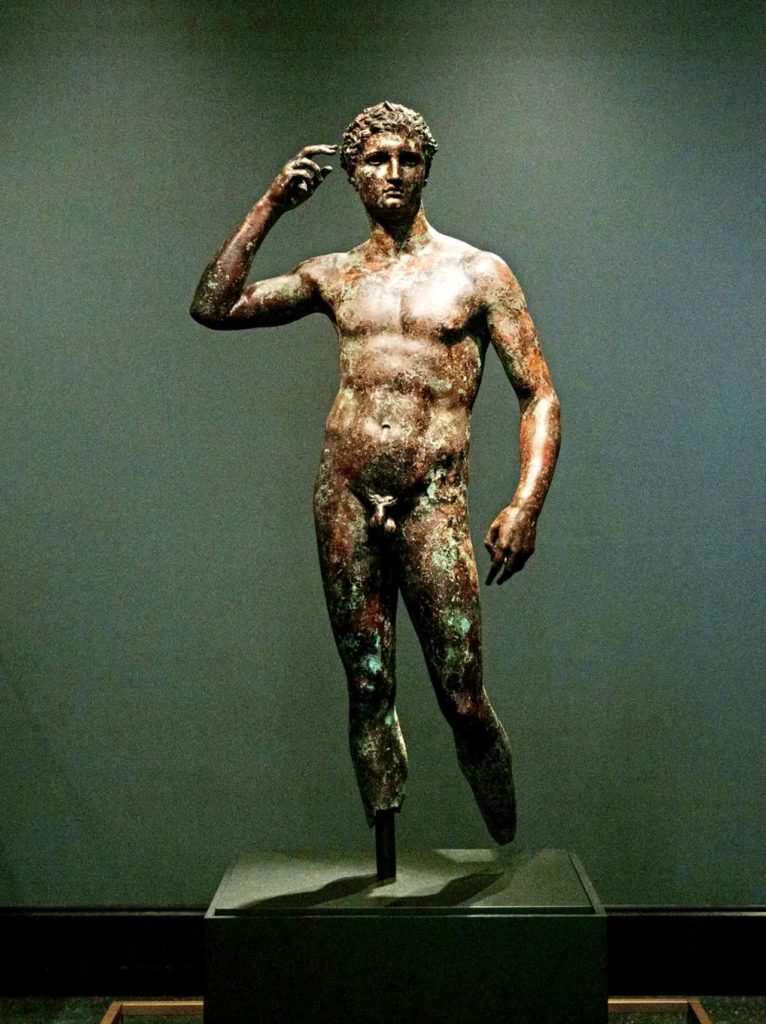 The most famous piece is the Getty Bronze. It's a rare bronze statue of a victorious youth.
Where to stay: Hotel Casa Del Mar, Fairmont Miramar, Channel Road Inn
Where to eat: Cafe Vida, Modo Mio, Cinque Terre West Osteria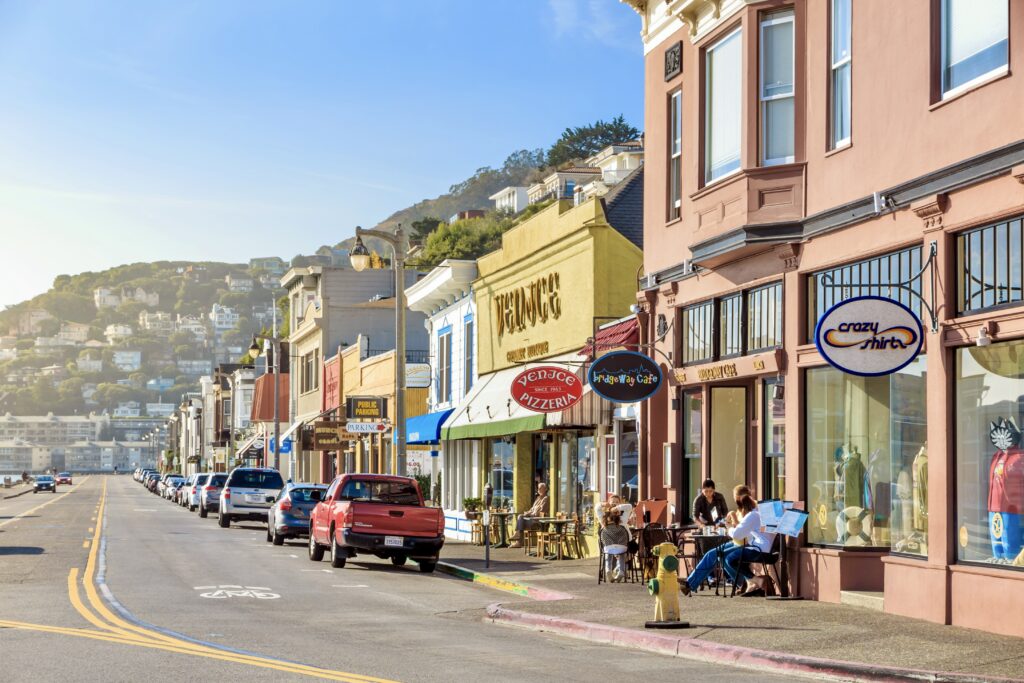 15. Sausalito
Nestled in Marin County, just across from the Golden Gate Bridge, Sausalito exudes charm. Post-World War II, it emerged as a haven for artists and writers, lured by its affordable rents and the enchanting atmosphere of a fishing village. This era marked the inception of Sausalito's identity as an artistic haven.
Today, the town's iconic floating homes community includes residents who express their artistic flair through colorful and creatively designed homes, turning the waterfront into an artful neighborhood.
Sausalito is also home to art festivals, art events, art walks, and art classes. You can tour artist studios, art galleries, and enjoy public art installations and outdoor sculptures.
The Sausalito Center for Art is housed in a cleverly repurposed bank. It's a unique venue that intersects culture, art, and community. You can check their calendar to see what events are on offer.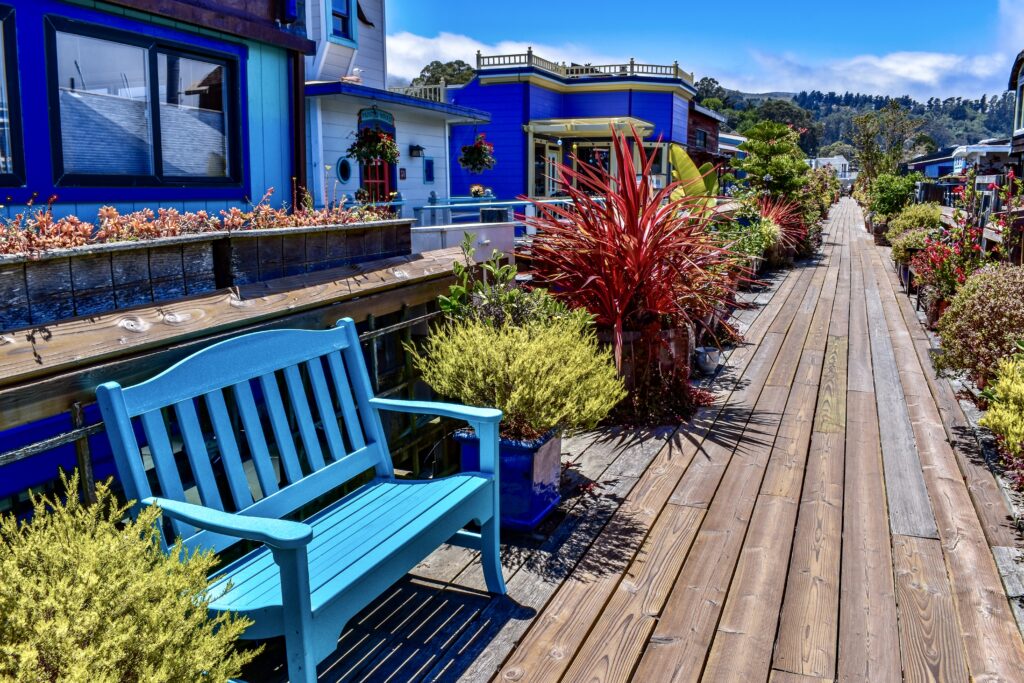 Have kids? Head to the Bay Area Discovery Museum, a notable cultural and educational attraction for families. The museum features a range of hands-on activities related to art, science, and imaginative play.
While the primary emphasis is on children's learning and exploration, the museum also incorporates artistic elements into its exhibits to encourage artistic expression and exploration.
Where To Stay: The Inn Above Tide, Casa Madrona, Hotel Sausalito
Where To Eat: Le Garage, Avatar's, Stoma's Sausalito, Poggio
I hope you've enjoyed my guide to the best towns for art and culture in California. You may enjoy these other United States travel guides and resources:
​If you'd like to visit California's best destinations for art lovers, pin it for later.