Naples is synonymous with great food. It's a culinary paradise where food is not just a mere indulgence but an art form. If, like me, you want to eat your way through the city, here's my round up of the best food and pizza tours in Naples.
From exquisite seafood dishes and sweet pastries, Naples has something to entice every palate. Even the street food is fantastic.
Naples is also the birthplace of pizza. It boasts some of the world's greatest pizzerias. The secret lies in the extraordinary quality of the buffalo mozzarella and San Marzano tomatoes, both produced in the fertile surrounding areas.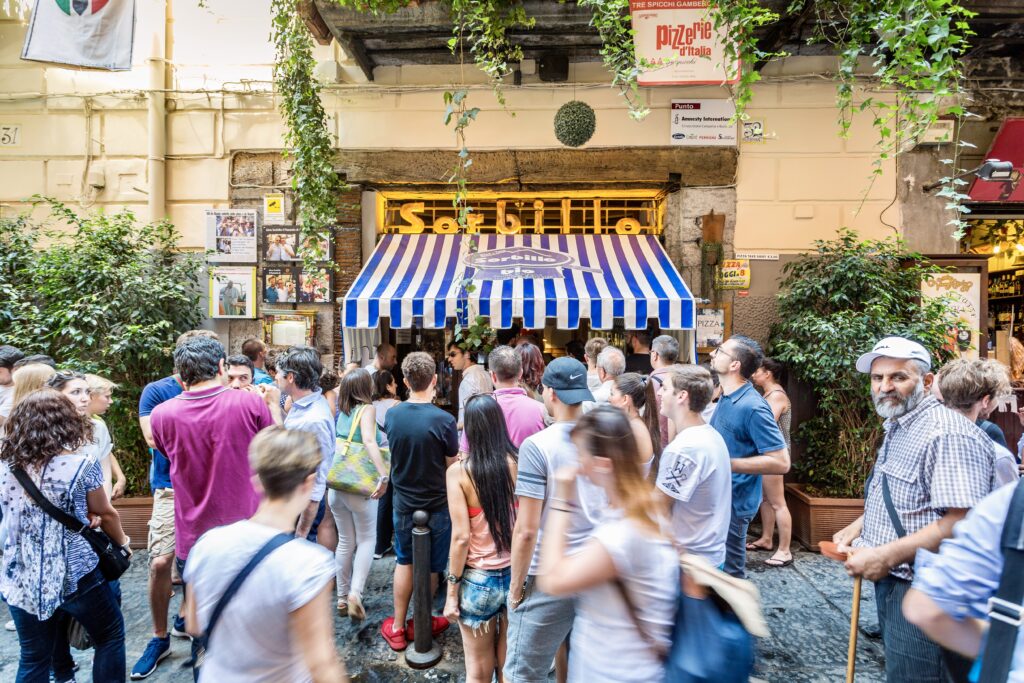 A Naples food tour is a great idea because it allows you to sample a variety of the city's culinary delights. You don't have to settle for just one entree or a touristy restaurant.
You can also learn about traditional cooking techniques. And understand the stories behind each dish, including how Neapolitan food differs from that in Rome or Sicily.
Along with the food infusion, you'll also get lots of historical factoids from your guides and see some of the city while you snack or cook.
Best Naples Food Tours & Pizza Making Classes
So, let's dive in and see what your options are. These Naples food tours and classes vary in duration, mode of transportation, and what you'll eat or learn to cook.
I've been to Naples several times. Every time I visit, I go on a food tour.
It's sure to be one of the most fun activities on your Naples itinerary. Plus, southern Italy has one of the most delicious cuisines, with super fresh ingredients.
You can compare and contrast the different tours listed below. Pick one that's perfectly tailored to your own foodie/walking/sightseeing preferences.
1. Classic Street Food Tour
This 2.5 hour street food tour will give you a hefty sampling of Naples food to go. Naples street food is renowned for its delicious and flavorful offerings.
And street food is a vital part of life in Naples. You'll see people getting food to go everywhere.
This tour gives you a chance to live like a local and sample everyday food.
Duration: 2.5 hours
Meeting Point: Piazza Bellini by the Greek ruins (someone will be holding a sign)
What You'll Eat: pizza a portafoglio, pizza fritta, arancini, mozzarella, limoncello, gelato
>>> Click here to book a Naples street food tour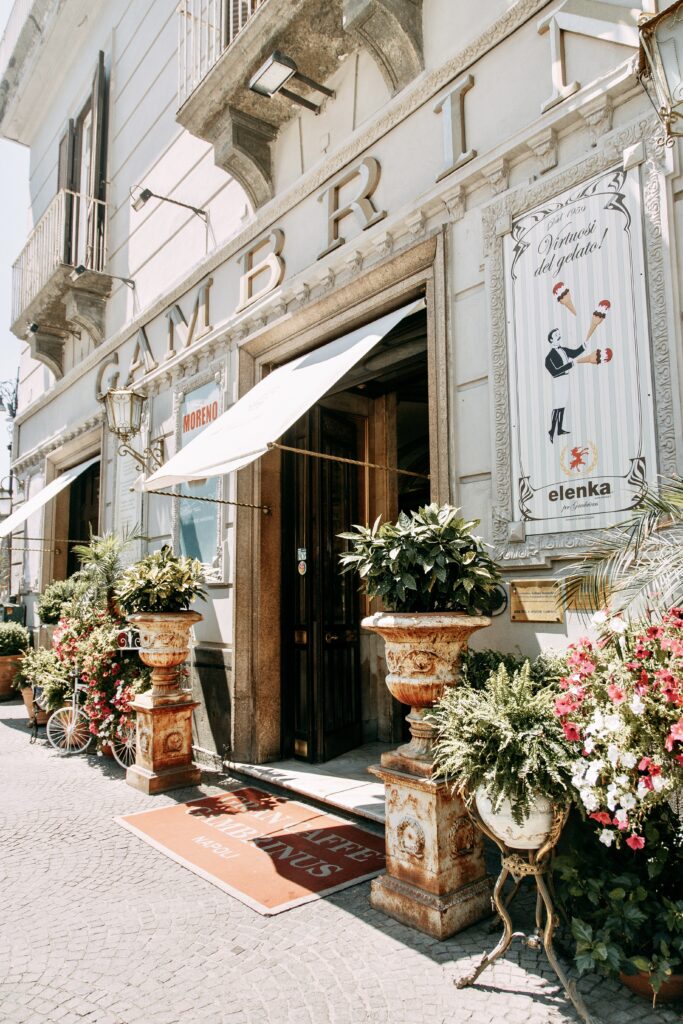 2. Naples By Night: Food & Wine Tour
Another of the best food tours in Naples is this 4 hour food and wine tour. On this tour, you'll wander through the historic center after dark and sample traditional foods in tiny delis you'd never find on your own.
The tour ends at Gran Cafe Gambrinus, Naples' most beautifully decorated cafe near the Piazza Plebiscito. I took this tour in Naples and loved it!
Be forewarned, this is one of the longest Naples food tours. So you'll need to don your comfiest footwear for the evening.
Duration: 4 hours
Meeting Point: pizzeria at Via Port'Alba in Piazza Dante
What You'll Eat: pizza margherita, other kinds of pizzas, spaghetti, zucchini flowers, babà, sfogliatelle pastries, Aglianico wine
>>> Click here to book this Naples food and wine tour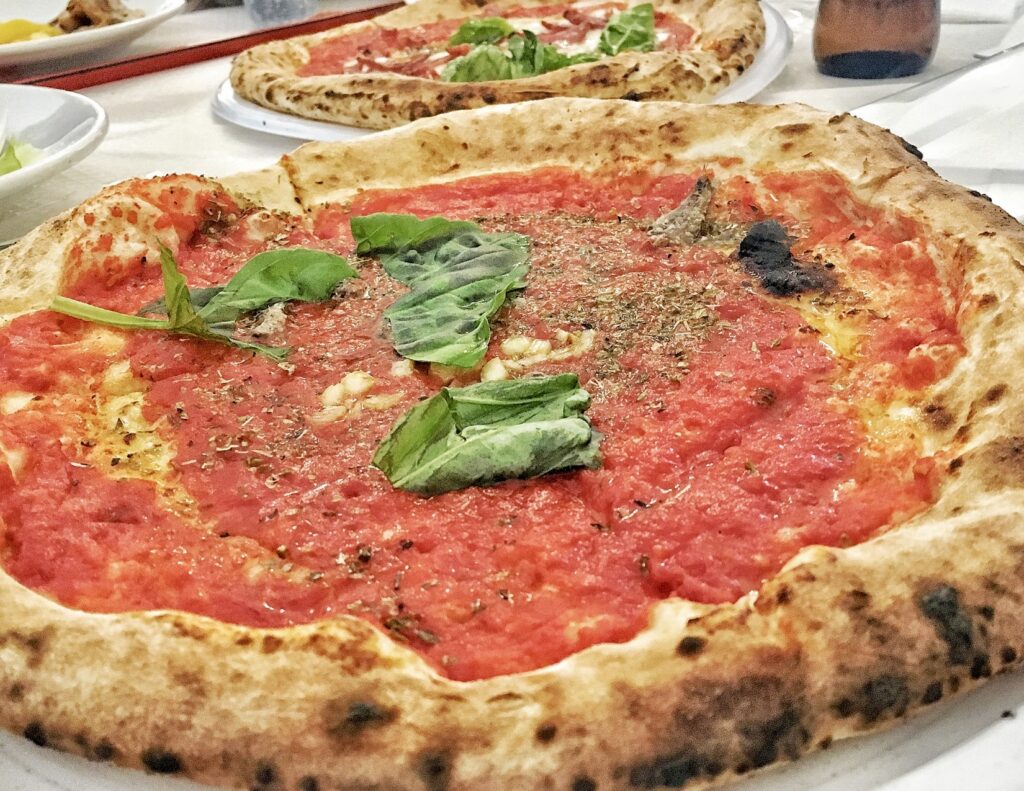 3. Sightseeing Tour & Pizza in Napoli
On this 3 hour tour, you can combine history and food. You'll get a driving and walking tour through the streets of Naples with expert background from your guide.
Then, you'll settle in at a hand-picked restaurant to savor delicious and authentic Neapolitan pizza.
Duration: 3 hours
Meeting Point: You can arrange pick up in the city.
What You'll Eat: pizza, desert
>>> Click here to book this 3 hour tour with pizza
4. Private Tour With 10 Tastings
This popular 3 hour private tour gives you a more intimate experience.
On a private tour with your personal guide, you'll eat your way through Naples culinary scene. You'll get a combination of savory, sweet, and drinks plus city highlights in between food stops.
Among other places, you'll stop in Piazza del Gesu, the Pignaseca Market, and the University Federico II.
Duration: 3 hours
Meeting Point: Calice Nero restaurant.
What You'll Eat: pizza, pasta, street food, portafoglio
>>> Click here to book this private food tour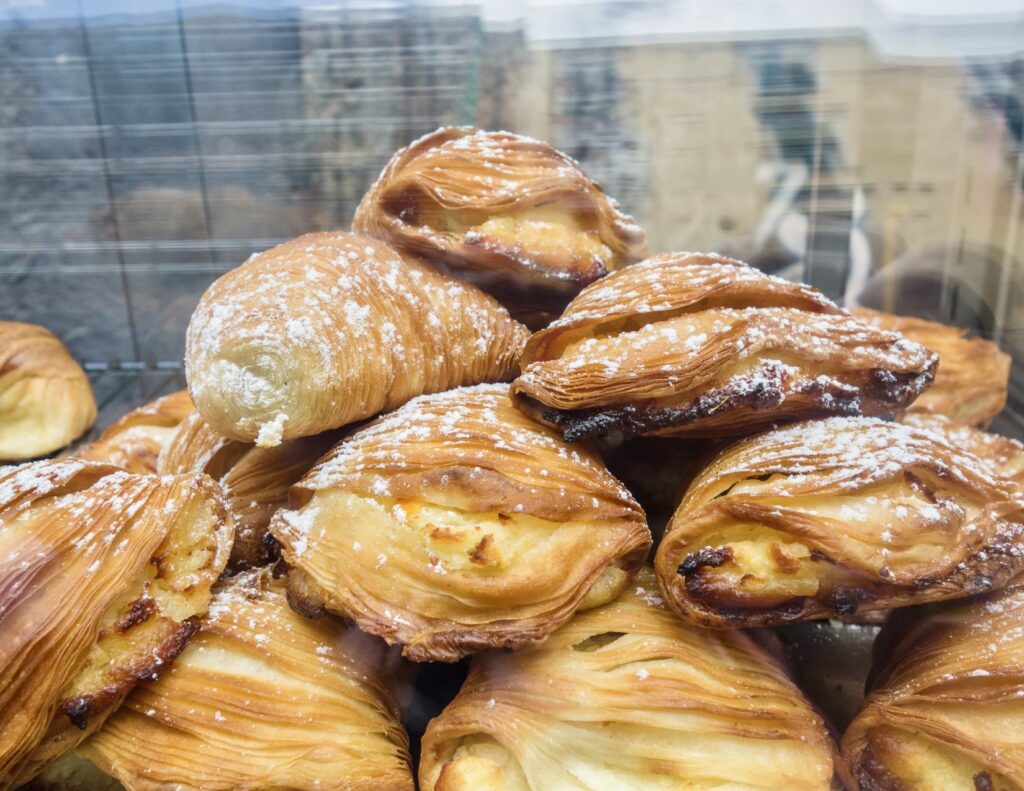 5. Private Food Tasting Walking Tour
This popular 4 hour Naples food tour takes you on a culinary, cultural, and historical adventure.
You'll explore the local streets on a walking tour of the city (including Christmas Alley) and sample the best pizza places, fry places, taverns, confectioneries, and bars.
Duration: 3 hours, you can choose between a morning or afternoon departure
Meeting Point: Custom
What You'll Eat: cuoppo di frittura, buffalo mozzarella with Parma ham, taralli (small bagles) with almonds and black pepper, parmigiana eggplant, a good glass of typical red wine from Campania, pizza margherita, babà, sfogliatella and Neapolitan espresso
>>> Click here to book this private food and history tour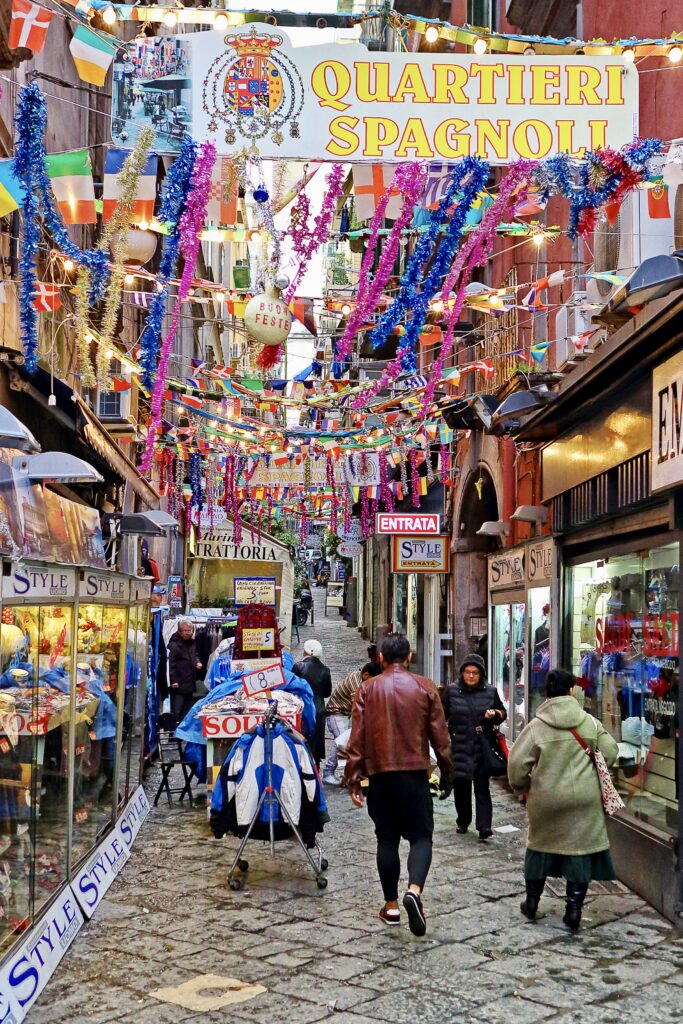 6. The Spanish Quarter & Local Market Guided Tour
This delightful 2 hour tour that takes you on a journey through the rich food, history, and culture of two vibrant neighborhoods in Naples. The adventure begins at Piazza del Gesù Nuovo, where you'll meet your group.
First, you'll meander through the charming narrow alleyways, passing by centuries-old churches and historic properties in the centro storico.
Next up is the Quartieri Spagnoli, or Spanish Quarter, with its unique network of apartment blocks, stores, and eateries creating a cozy and authentic atmosphere.
One of the highlights is the visit to La Pignasecca, Naples' oldest open-air market. Here, you'll be enchanted by the array of fresh fruits, vegetables, nuts, seafood, and traditional Neapolitan street delights.
Unlike typical food tours, this experience is more of a sightseeing journey, offering you the option to purchase food items from the market along the way.
Duration: 2 hours, you can choose between a morning or afternoon departure
Meeting Point: Piazza del Gesù Nuovo
>>> Click here to book this Spanish quarter food tour in Naples
7. Neapolitan Pizza Workshop
In this 2 hour local experience, you can learn how to make authentic Neapolitan pizza with an Italian chef.
Discover the art of freshly made dough, create a delicious pizza using local ingredients, then enjoy your pizza with a glass of wine. While eating, you can soak up views of Naples and the Nuovo Castle.
Duration: 2 hours
Meeting Point: San Carlo Trattoria e Pizzeria
What You'll Eat: bruschetta, margherita pizza, lemon sorbet
>>> Click here to book a pizza workshop
8. Premium Pizza-Making Class At A Pizzeria
This is another small group pizza making class in Naples where you can uncover the secrets to a great pizza.
You'll get hands on lessons and tips on how to mix, knead, and stretch the dough and the perfect toppings for a pizza baked in an authentic wooden oven.
Duration: 2 hours
Meeting Point: Totò Sapore Napoli
What You'll Eat: pizza, limoncello, wine
>>> Click here to book this pizza making tour
9. Naples Food Tasting Tour By Vintage Vespa
Want to really live it up in Naples? Book a private food tour by vespa.
This special tour includes sampling Neapolitan goodies, making your wown pizza, and accessing kitchens and pastry laboratories.
You'll start in the Vomero district, head to Grand Cafe Gambrinus, zip up for views, and even visit the chocolate factory "Gay Odin."
Duration: 3 hours
Meeting Point: Custom. Pick up at your accommodation.
What You'll Eat: cuoppo di frittura, tmozzarella di bufala, parmigiana di melanzane, pizza margherita, sfogliatella, espresso
>>> Click here to book this vespa food tour in Naples
10. Neapolitan Pizza & Night Sightseeing By Boat
This 3 hour Naples food tour is by boat under the twinkling night sky! From April to October, you can explore Naples by night on a 1 hour boat tour and dine at a famous pizzeria.
Your adventure begins with a convenient pickup from your Naples accommodation. You'll be whisked you away to a top-notch pizzeria, where a reserved table awaits.
After this mouthwatering meal, head to the bay (approximately 20 minutes away) for an enchanting boat sightseeing tour on a traditional goiter.
Duration: 3 hours
Meeting Point: Pick up at your accommodation.
What You'll Eat: authentic Neapolitan pizza, wine, and dessert
>>> Click there to book this Naples boat and food tour
11. Pizza Making Class + Farmers Food Market Tour
This unique tour combines the city's vibrant historic center and its world-famous pizza.
Join a local guide for a delightful stroll through the bustling Pignasecca Market, which I mentioned above. You can immersing yourself in its buzzing atmosphere and discovering fresh local produce.
Then, get hands-on in a pizza-making class led by an expert pizzaiolo, where you'll learn the secrets of creating an authentic Neapolitan pizza. After crafting your masterpiece, savor your delicious creation fresh from the wood-burning oven.
Duration: 2.5 hours
Meeting Point: Piazza Carità
What You'll Eat: pizza!
>>> Click here to book this Naples food and pizza tour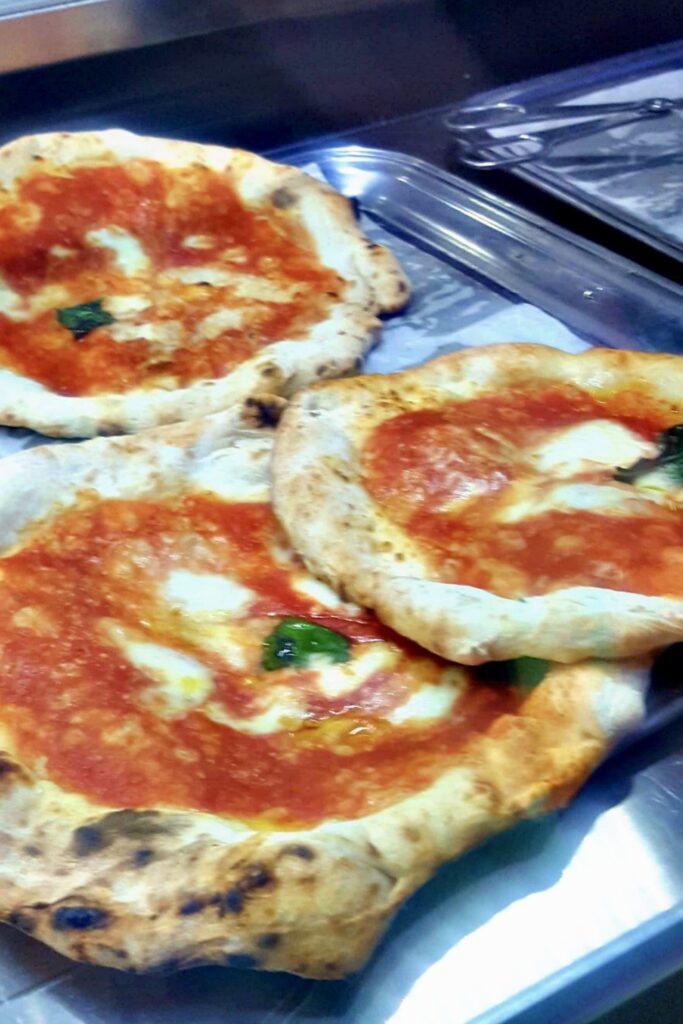 12. Best Pizzas Of Naples Tour
In this longer 3.5 hour lunchtime tour, you'll earn the history of Neapolitan pizza and why it tastes so good. You'll sample all the most loved variations on the theme of pizza.
Duration: 3.5 hours
Meeting Point: Announced on voucher
What You'll Eat: pizza, omelets, dessert, espresso
>>> Click here to book the best of Naples pizza tour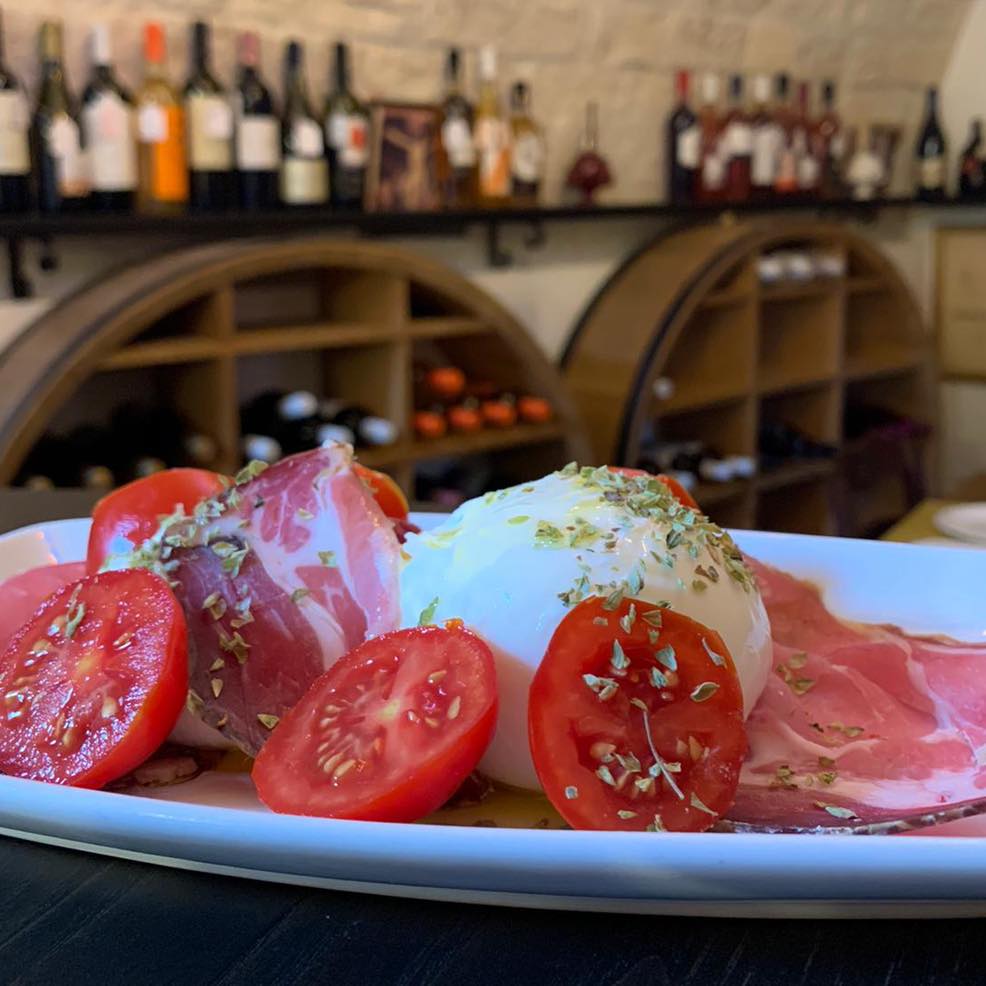 13. Wine And Food Tasting Tour In Local Winery
This unique tour requires no walking or sightseeing. It's all about the food and drink. Set in one of the city's oldest and beloved watering holes, this bar has been serving up happiness to Neapolitans for over six decades.
During your tour, you'll be presented with an array of authentic and mouthwatering pizza. The table will also be adorned with delectable Campanian cheeses, tantalizing cold cuts, plump olives, and bruschetta, topped with fresh basil and the finest regional ingredients.
And of course, a visit to Naples wouldn't be complete without wine. On this tour, you'll savor four different vintages as they perfectly complement the incredible flavors on your plate.
The best part? If you fall in love with any of the wines, you can purchase a bottle or two to take back to your hotel and continue the delightful experience at your leisure.
Duration: 2.5 hours
Meeting Point: Piazzetta Divino Amore
What You'll Eat: pizza, bruschetta, cheeses, cold cuts, and additional delicacies.
>>> Click here to book this food and wine tour
14. Pizza, Wines and Private Rooftop Dining
This Naples food tour gives you a night out in Naples in the historic Sanità neighborhood. This vibrant area has undergone a delightful transformation, now boasting stunning street art and elegant architecture.
During this 4 hour culinary adventure, get ready to indulge in an incredible array of tastings at 5 different eateries, totaling no less than 10 mouthwatering treats.
This unforgettable foodie experience wraps up at a rooftop terrace with 360 degree views of Naples! You can even work off your carbs by learning how to dance the Tarantella!
Duration: 4 hours
Meeting Point: Salumeria Porta San Gennaro, Via Porta S. Gennaro, 7
What You'll Eat: 3 pizzas, bruschetta, fresh tomatoes, buffalo mozzarella, 2 local pastries
>> Click here to book this Naples dining experience
15. Pompeii & Wine Tasting Tour
Do you want to pair some food and wine with ancient ruins? If so, this Pompeii food and wine tour is for you!
Pompeii is the #1 archaeological site in the area. To get all the information you need on what to see, you can check out my ultimate guide to Pompeii.
In terms of the foodie experience, you'll set up camp at one of the vineyards on the slopes of Vesuvius. Honestly, I had one of my best lunches in all of Italy at this place. The volcanic ash makes everything taste delicious.
Upon arrival, you'll tour the winery. Then, a lip-smacking spread of Neapolitan and Mediterranean dishes will be laid out.
This tour is generous with the wine. You will learn about the origins of the wines and hear about their unique characteristics. I find the wines to be delightfully mineral-y.
Duration: 8 hours
Meeting Point: Pick your location pick up
What You'll Eat: Mediterranean lunch and with wine, including Falanghina, Lacryma Christi, Aglianico, and other renowned varieties
>>> Click here to book this Pompeii food and wine tour from Naples
16. Coffee Heritage Tour with Tastings
Do you love coffee? You're in for a treat because the coffee in Naples is some of the best I've ever tasted!
On this tour, you can immerse yourself in the history of the cafes of Naples. You'll taste different types of coffee at three iconic locations in the city — Caffé Mexico, Gran Caffé Gambrinus, and Gran Caffè La Caffettiera.
Duration: 2 hours
Meeting Point: Next to the Monument of Dante Alighieri in Piazza Dante.
What You'll Eat: espresso, 1 specialty coffee, and 1 coffee cocktail
>>> Click here to book this Naples coffee tour
And that's a wrap !I hope you've enjoyed my guide to the best food tours in Naples. You may find these other Naples travel guides and resources useful:
If you'd like to take a food or pizza tour in Naples, pin it for later.