Wondering what to do in San Diego? I've got you covered. This is the perfect 2 days in San Diego itinerary. It covers all the top attractions and best things to do and see in this laid back west coast city.
San Diego is my second favorite city in California after San Francisco. It's easy to navigate, has glorious weather, awesome beaches, hiking trails, and a great foodie scene. It's catching up to San Francisco and Los Angles in terms of cultural offerings too.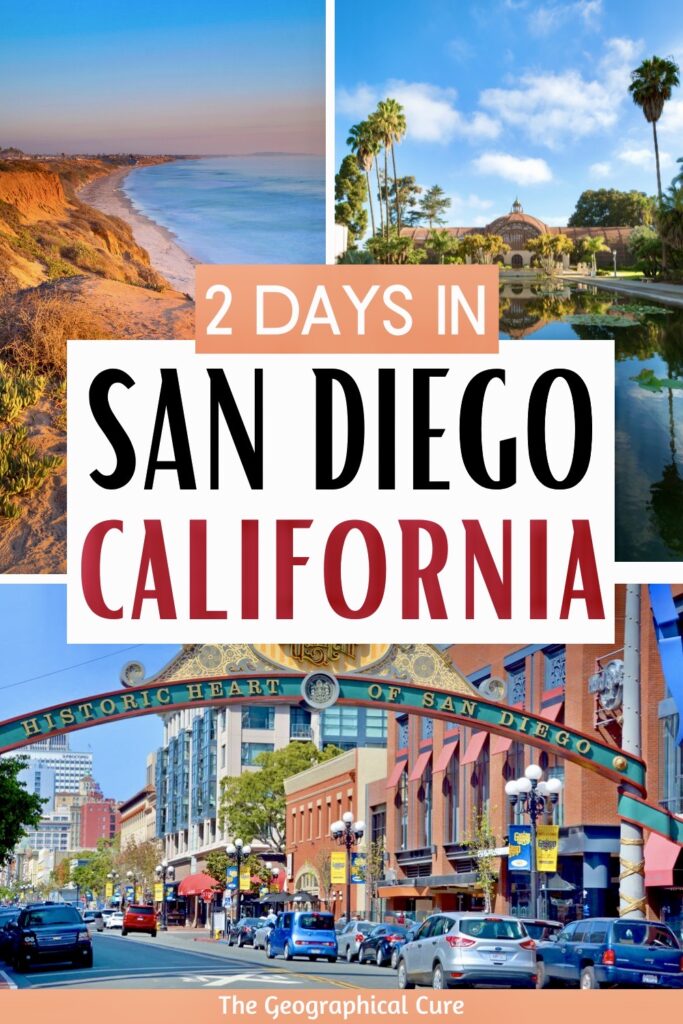 Indeed, San Diego calls itself "America's Finest City." It comprises a sprawling area with a collection of idyllic villages. Each neighborhood is adorned with its own retro-style arched street sign. Even towns like La Jolla and Carlsbad fall under the rubric of "San Diego."
In San Diego, you'll find top rate attractions — Legoland, Balboa Park, and the world famous San Diego Zoo. There's a buzzy downtown with excellent eateries and street murals, hiking trails galore, and, of course, over 60 beaches to choose from.
There's really something for everyone of all ages. If you want some low stress California fun, 2 days in San Diego is perfect for you!
Overview Of 2 Days In San Diego Itinerary
Here's a snapshot of my recommended 2 days in San Diego itinerary. With some advance planning, you can fairly easily check off the top attractions in two days.
Midway or Maritime Museum
Little Italy
San Diego Zoo
Balboa Park
Gaslamp Quarter or Barrio Logan
Seaport Village
Coronado
Hit the Beach
La Jolla
North Park
Barrio Logan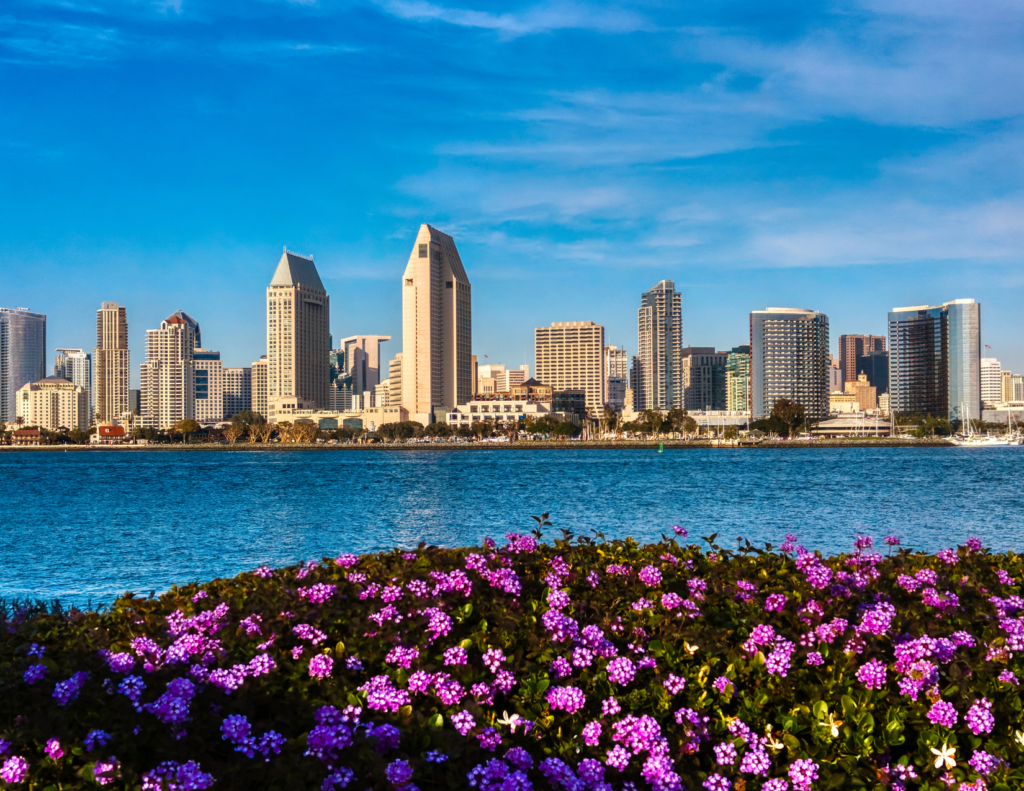 2 Days In San Diego Itinerary
Here's my recommend itinerary for spending 2 days in San Diego.
As with all of my suggested itineraries, I recommend that you use this 2 days in San Diego itinerary as a guide. You can tailor it to suit your own individual interests, needs, and pace of travel.
If you have extra time in San Diego, you can easily turn this 2 day itinerary into a 3-4 day itinerary by moving at a slower pace. You could spend more time on the beach and enjoying all the water sports.
Day 1 Of 2 Days In San Diego
You may want to kick off your 2 days in San Diego with a 3 hour guided walking tour of the city top attractions to get oriented. You can also opt for a longer private tour.
Visit the USS Midway Museum Or Maritime Museum
If not, start your first day at the waterfront with a visit to one of San Diego's vaunted naval museums. San Diego is, after all, the second largest naval base in the US.
The USS Midway is a doughty aircraft carrier that was the largest and longest serving US ship in the world until 1955.
It saw action many times before being decommissioned. In 1992, it was turned into the Midway Museum. On a visit, you get an intimate look at what it was like to serve on the naval ship. The museum is one of the best things to do in downtown San Diego.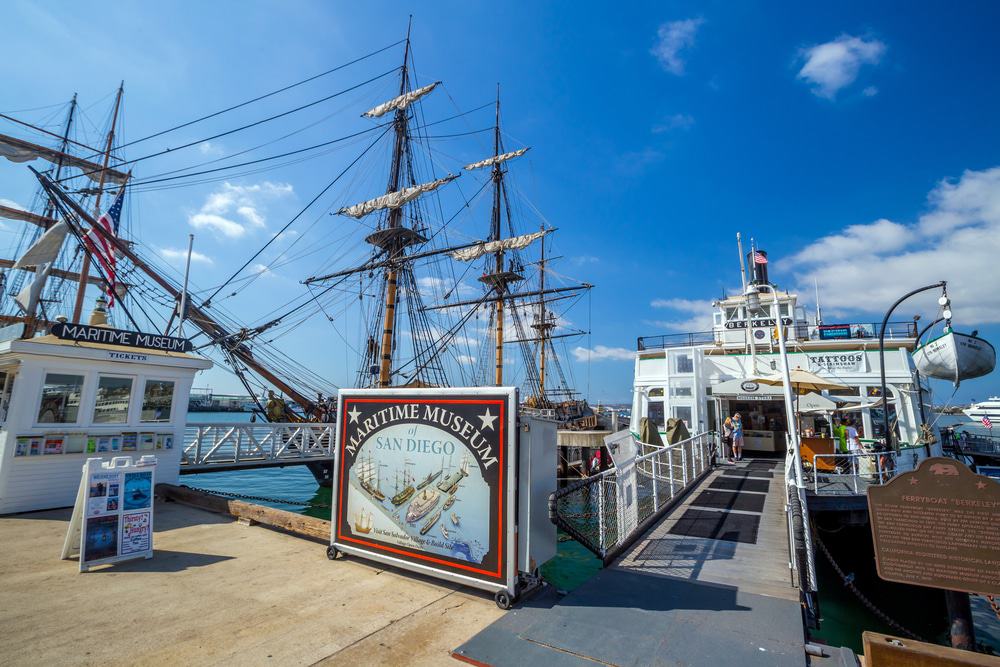 A self-guided audio tour by former sailors regals you with highlights and stories. You can explore the flight deck, the engine room, the ship's jail, and the flight control room. There are more than 30 restored and vintage aircraft and helicopters on display. You can even see part of a filming set for Top Gun.
Click here to book a skip the line ticket for the museum.
At the Maritime Museum, you can step onboard and admire a fascinating exhibition of fully restored historic ships and submarines. Most of the historic vessels date from the mid-1800s to present day.
The museum has a fully functioning replica of a Spanish Galleon from 1542. You'll likely also recognize the tall ship HMS Surprise, which was featured in the popular Pirates of the Caribbean films.
I would budget 1-2 hours. There's plenty of signage. The museum also offers a 45 minute harbor tour for $10. Click here to pre-book a ticket.

Little Italy
If naval museums aren't your thing, instead skip ahead to visit the Little Italy neighborhood.
It's a community that was settled by Italian immigrants in the mid 19th century. Little Italy is my personal favorite neighborhood in San Diego, perhaps because of all the great food.
Once a humble fishing community, now the neighborhood is booming. New restaurants pop up weekly along India Street. It's one of the hippest places in San Diego to eat and shop in.
The neighborhood is overflowing with galleries, restaurants, and shops. This is where you'll find a fantastic Farmer's Market on Wednesdays and Saturdays.
If it's lunch time, you'll find casual to fine dining fare in Little Italy.
Check out the Camino Riviera (Mexican), Bencotto (pasta dishes), Kettner Exchange (a beautifully designed restaurant with globally inspired food), and the Crack Shack (farm to table sandwiches).
I also had wonderful, more formal meals, at Juniper & Ivy (innovative American fare) and Civico (authentic southern Italian). You'll definitely need reservations for these two places.
If you want a gelato, my favorite was Bobboi Natural Gelato. The banana flavor was to die for!
For a deeper dive, you may want to book a guided food tour or guided wine tour of Little Italy.
San Diego Zoo
Located in Balboa Park, the San Diego Zoo is a perennial favorite with both adults and tots. It's a 100 acre wildlife sanctuary that's home to more than 12,000 animals.
You should make it one of your top priorities, with just 2 days in San Diego. Even if you're not really a zoo person, it's worth visiting.
The zoo was the brain child of Dr. Harry M. Wedgeforth. He was a pioneer in building "cageless" exhibits. The zoo replicates natural habitats and is especially known for its pioneering work with California condors, rhinos, and pandas.
If you plan to visit, arrive early in the day before the animals are sleeping. Some perk up in the afternoon too.
Once you enter, you can pick up a map to find your favorite exhibits. (You an find one online as well.) You should pre-book an admission ticket and/or a ticket to the safari park.
All admission tickets include the use of the Kangaroo Bus, which offers four stops marked with a yellow kangaroo. You can also take the Skyfari, for a quick airborne way to get around the zoo.
The zoo is massive. I would prioritize in advance what you want to see so that you have time leftover to properly visit Balboa Park, which is right next door and your next destination on this 2 day San Diego itinerary.
Balboa Park
Balboa Park is San Diego's fantastic 1,200 acre museum and garden complex. The park was set aside as a parkland in 1868.
Today, it's dubbed the "Smithsonian of the West." This is a bit of an overstatement, but it's nonetheless fairly impressive.
Begin at the House of Hospitality on the Plaza de Panama. It's in the cultural heart of the park on the main drag, El Prado. You can pick up a map to begin your stroll.
Balboa Park is the cultural showpiece of San Diego. It's a cultural, horticultural, and architectural oasis dressed up in fetching Spanish Colonial Revival architecture.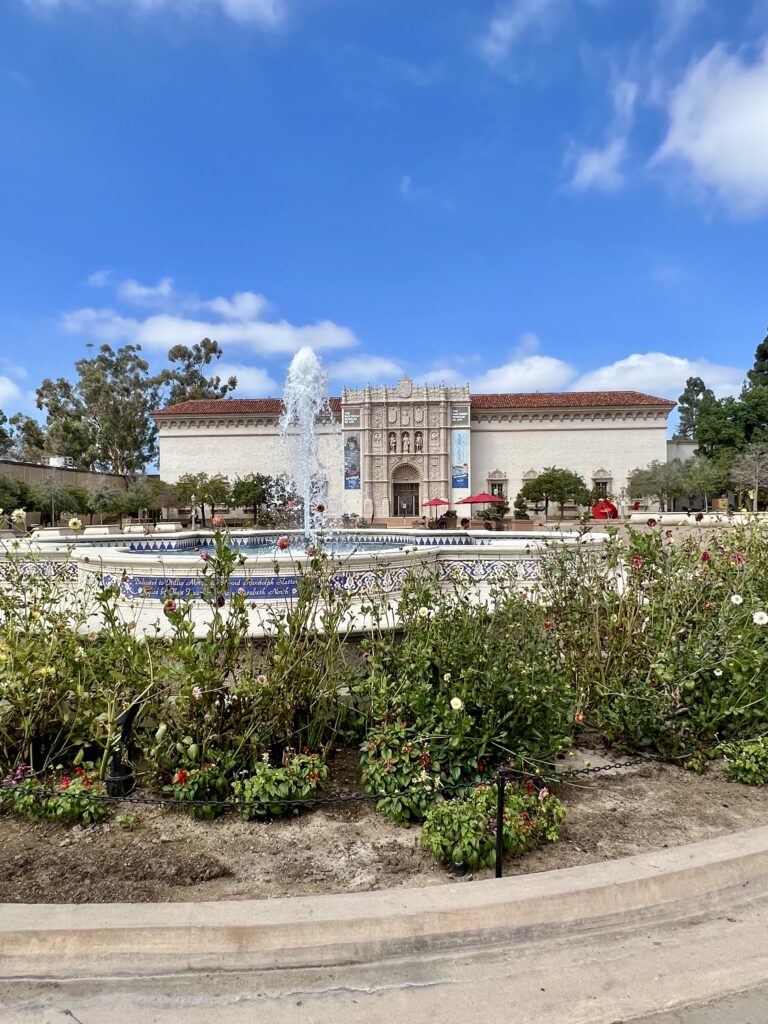 There are 17 museums, satisfying every art taste or geekery, and beautiful gardens.
My favorite museum was the San Diego Museum of Art, a fine art institution and the city's largest museum. The permanent collection is comprised of European works from the Renaissance to the 20th century.
But there's also a fine collection of Asian art and galleries devoted to portraits, modern women, and Impressionism. There's also a sculpture garden with works by Alexander Calder and Henry Moore.
For more information, you can check out my complete guide to the San Diego Museum of Art.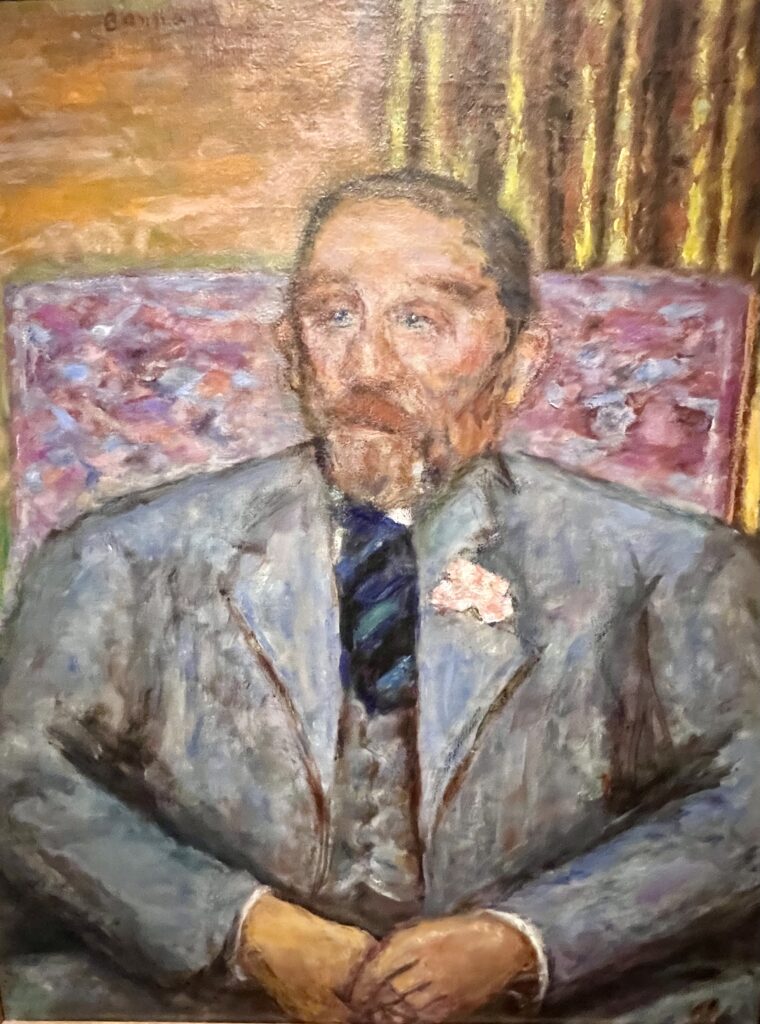 You should definitely pop into the Museum of Us. It's an anthropology museum with an extra special exhibition on cannibalism.
The best part of the museum visit is climbing the California Tower, which offers up splendid 360 views from the eight floor. You can only climb the tower on a 45 minute guided tour. Check the website for exact times.
There are also 19 different gardens in the compound. The Japanese Garden and Botanical Garden are especially lovely.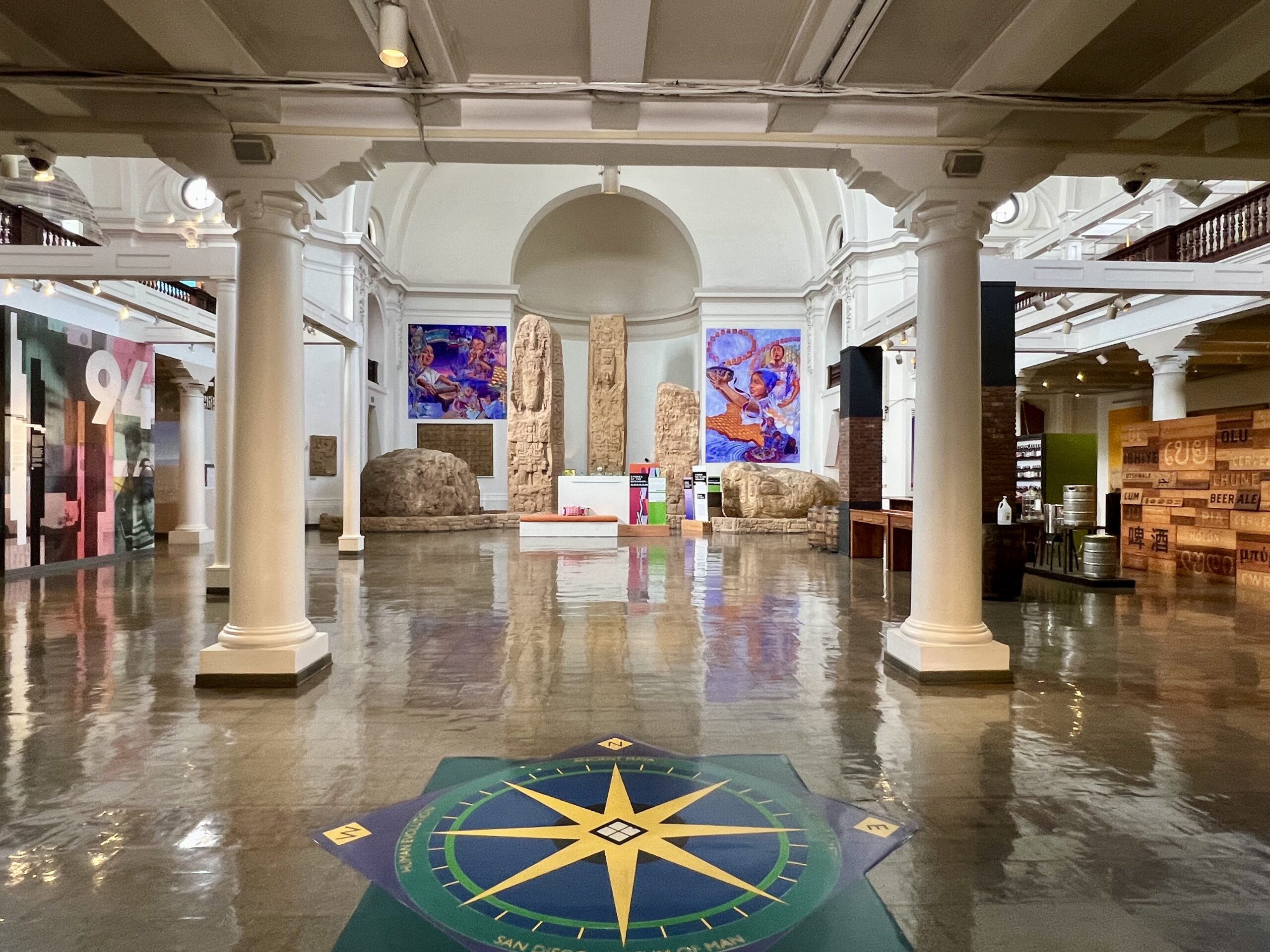 You'll also find a near reproduction of Shakespeare's Globe Theater in London, a natural history museum, a photography museum, and a science center (among other things).
Kids may enjoy the Natural History Museum and photography buffs should head to the Museum of Photographic Arts.
Make sure to check the Balboa Park website for opening times to help plan your visit and decide what you want to see. Some of the museums aren't open on certain weekdays.
For more information, you can check out my complete guide to Balboa Park. You may book a 2 hour guided tour of the complex.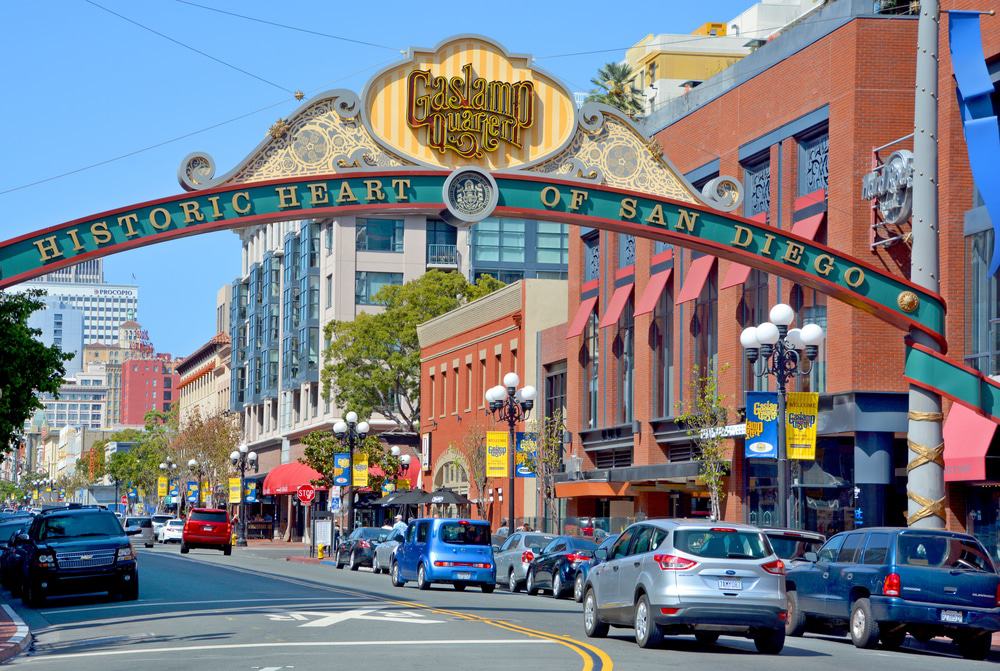 Gaslamp Quarter
Round out day 1 of your 2 days in San Diego with a visit to the Gaslamp Quarter.
The Gaslamp Quarter is prime real estate in central downtown San Diego. It boasts handsomely restored homes from the 19th and early 20th centuries. The quarter is named for its 19th century wrought iron street lights. You can book a guided walking tour.
In this 16 block area, you'll find loads of galleries and restaurants. This is also the place to come for dinner and night life.
I can recommend Osteria Panevino (Italian) and Cafe Sevilla (Spanish). You may also want to head back to Little Italy for dinner to try Juniper & Ivy, a fine dining sensation.
Evening Cruise
A nice thing to do in the evening in San Diego is take a sunset sailing cruise. You could also take a dinner cruise with craft beer pairings.
Day 2
Morning
Seaport Village
Start day 2 of your 2 days in San Diego at Seaport Village. It's a harbor side hub chock full of cute shops, eateries, and art galleries.
You can grab some breakfast or brunch at Morning Glory or Breakfast Republic. The latter has a fantastic shrimp and ricotta frittata and great flights of pancakes.
Coronado
After browsing the shops at Seaport, take a ferry from the Broadway Pier to Coronado Island. It's just on the other side of the bay from downtown. When you disembark at the ferry, you can browse the surf shops or rent a bike or golf cart to tour the area.
Alternatively, you can drive over the bridge if you want to bring your car. There is free parking on Ocean Boulevard and at Ferry Landing Marketplace.
You can stop in for coffee (and acai bowls) at Clayton's Coffee Shop and rumble by the iconic red roofed beach hotel, Hotel Coronado. The hotel was made famous as a filming location for Marilyn Monroe's film Some Like It Hot and has photos of celebrities lining its halls.
Hotel Coronado is a Victorian confection with turrets, balconies, and and cupolas that's a designated historic landmark. The hotel offers daily tours and you can learn about its famous ghost Kate Morgan.
The island also boasts some of the best beaches in the US. They're long with clean glittering sand.
You can plop down and catch some rays. If you want, you can rent beach chairs from the Hotel Coronado (reserve them online).
Afternoon
In the afternoon of day 2 of 2 days in San Diego, you have several options. You can: (1) hit the beach and/or play water sports; (2) visit La Jolla (where you can also lounge on the beach); or (3) explore the trendy neighborhood of North Park or Barrio Logan.
What you pick may depend on the weather or your mood that day.
Hit the Beach | Water Sports
If you didn't hit the beach in Coronado, you may want to soak in the rays now. If you like a buzzy beach community, head Pacific Beach. Wide and flat, the locals just call it "PB."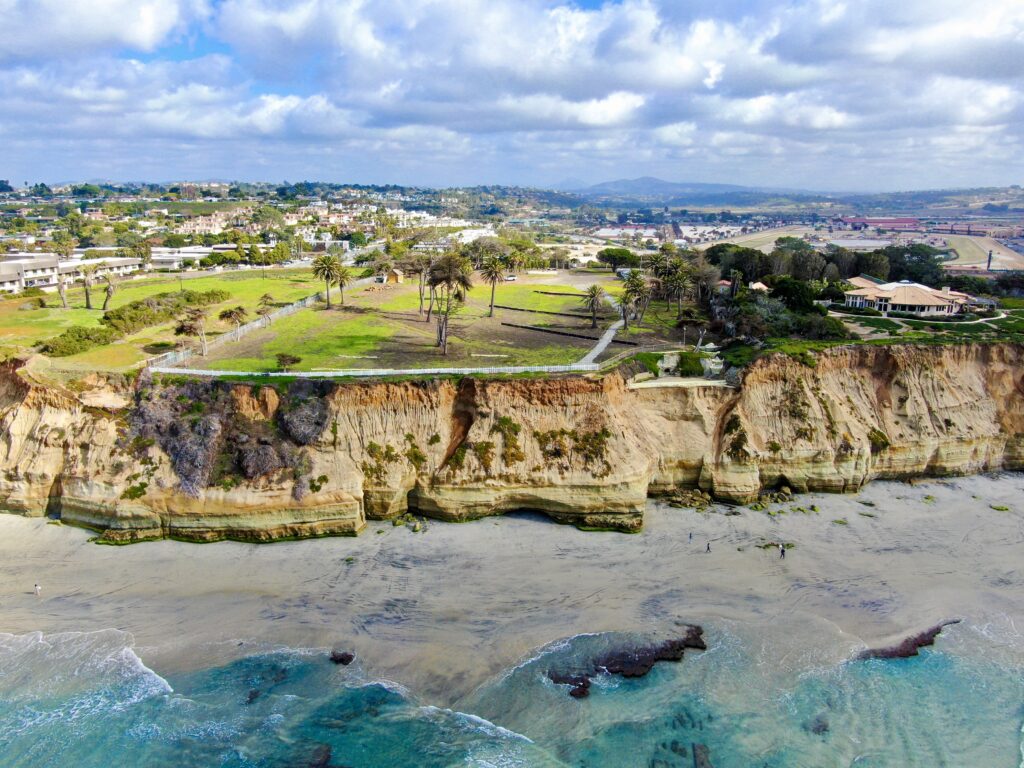 This is where you'll get the California boardwalk experience. The popular area is known for its nightlife (hordes of young adults) and offers lots of bars, clubs, and restaurants.
For a quieter spot, I'm partial to the Del Mar Beaches. Del Mar is an upscale town about 30 minutes north of La Jolla. The beaches are spread out on a 2 mile strip of coastline.
If water sports are more your thing, San Diego delivers on this store. You can book a surfing lesson, ride a jet boat, go cave kayaking, or paddle boarding.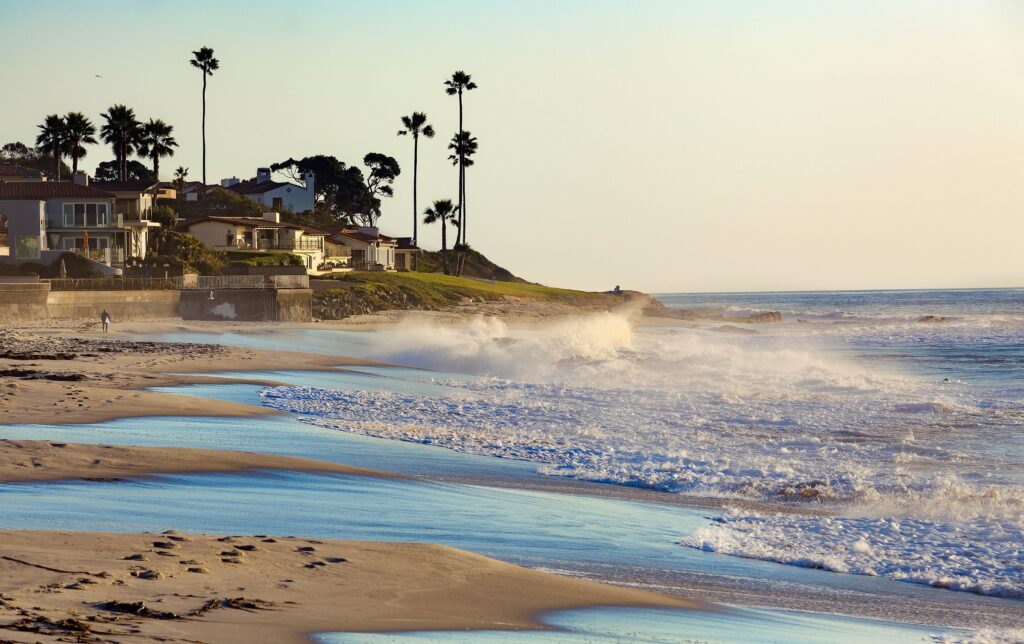 La Jolla
The next option is to head to La Jolla for the afternoon and evening. That's what I personally would recommend.
La Jolla is just 20 minutes north of the city and it's magnificent. The town known as the "Jewel of the Sea" and you can immediately see why.
La Jolla is a the ultimate postcard perfect village, perched on the edge of the ocean and renowned for its relentlessly pleasant weather. It's one of the best, and most glamorous, beach towns in the United States, and comes complete with adorable sea lions that you spot at the La Jolla Cove or the Children's Pool.
But La Jolla isn't just about beaches, though you can happily spend your afternoon plopped on one. It's a shopping and cultural wonderland know as San Diego's "Rodeo Drive.
There are one-of-a-kind boutiques, designer clothing stores, magnificent galleries, and museums.
If you're an art lover, you can also check out the San Diego Museum of Contemporary Art in La Jolla.
The museum has an impressive collection of modern art in all mediums. There are works by Yayoi Kusama, Roy Liechtenstein, Mark Rothko, Agnes Martin, Ellsworth Kelly, and Joan Mitchell.
And the best thing about visiting? It has terraces with sweeping sea views.
The town also boasts a hot culinary scene that traveling foodies will love. It's worth staying for dinner just to sample the goods. I'm a fan of Puesto, NINE-TEN, and the Marine Room.
You can check out my one day in La Jolla itinerary for more details.
If you'd prefer to stay in San Diego proper, check out some of its coolest neighborhoods, North Park and Barrio Logan.
North Park
North Park is San Diego's hippest neighborhood. There are chic and cool shops, bars, and gourmet cafes. The district is the hub of the craft beer scene in San Diego.
The main drag is 3rd Street. Grab some coffee at Dark Horse or some creative comfort food at Urban Solace. There's also a farmer's market on Thursdays.
North Park is also home to many of San Diego's best street art murals. You may want to get a shot the Belching Beaver's welcome mural or the You Are Radiant mural outside the shop Artelexia.
If you want to grab dinner in North Park, check out City Tacos, Et Voila, Salud, or Tribute Pizza.
Barrio Logan
The artsy Barrio Logan quarter of San Diego is where you'll find Mexican-American culture. The are great restaurants, trendy art galleries, and craft breweries to keep you busy.
For restaurants, check out Las Cuatro Milpas, an old school Mexican mainstay, or the popular Barrio Dogg for creative hot dogs. If you want a good burger, head to the hipster Mishmash.
For street art, head to Chicano Park in Logan Heights. It's San Diego's oldest Mexican-American neighborhood. The park is home to the largest concentration of Chicano murals in the world, with more than 80 paintings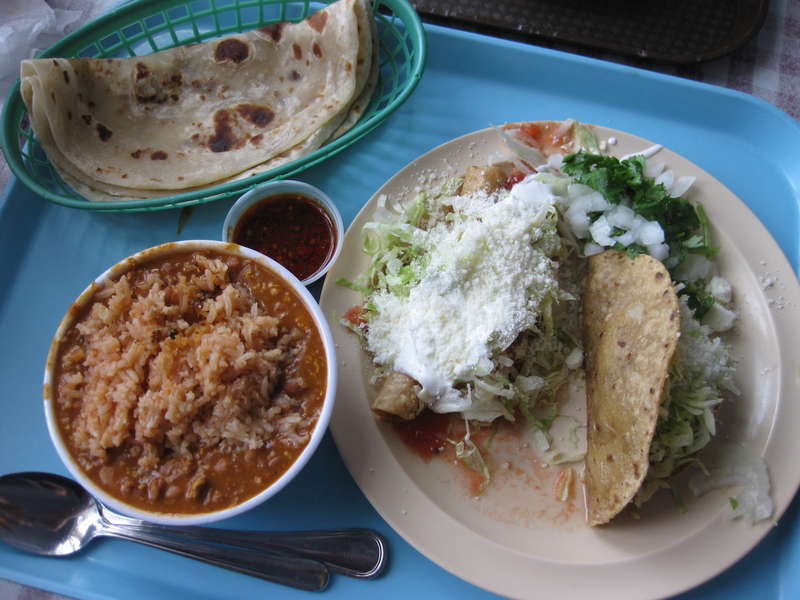 Evening
If you opted to visit North Park in the afternoon, consider staying there for the evening too.
Housed in a 1920s building, the Observatory is one of the top places for live music and stand up comedy. The concert hall is connected to West Coat Tavern, where you sip Moscow Mules.
San Diego is also a haven for craft brewery fans. You may want to check out the scene on a craft brewery tour.
You can also spend happy hour on the water and go on a "sips and sunset" cruise. Or take a dinner cruise with champagne.
More Than 2 Days in San Diego?
If you have more than 2 days in San Diego, there are plenty of other things to do in and around the city.
1. Point Loma
Point Loma peninsula is where Europeans first arrived in California. You can walk out to the tip and enjoy the sweeping views of the ocean.
Visit the 19th century lighthouse and watch locals climb the Osprey Point Cliffs. For more rigorous hiking, try Annie's Canyon Trail or Cedar Creek Falls.
Liberty Public Market is a cool food hall that's jam packed with every manner of eatery. You'll find full scale restaurants, cafes, bakeries, and stalls. Check out Stuffed (with grass fed burgers) or Grape Smuggler (tapas and flights).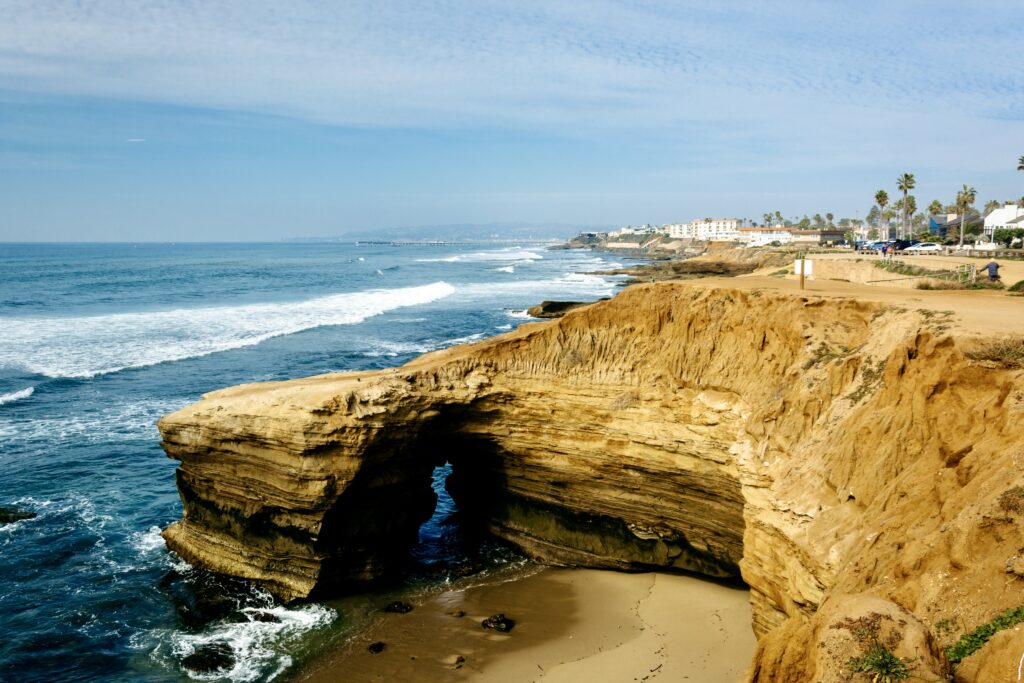 2. Ocean Beach & Sunset Cliffs
Ocean Beach is bohemian coastal neighborhood full of hippies and tattoos shops. You'll find a chilled out vibe and breathtaking scenery.
Sunsets Cliffs Natural Park has a beautiful coastal drive, clifftop walk, and prime surfing spot.
Rope Beach under the cliffs can only be accessed by a steep path and repelling down a rope. It's fairly easy to do and not scary at all. There's a warning sign that the cliffs are unstable, but that seems mostly ignored.
Once the sun has set, stroll down the main drag, Newport Avenue. Check out one of the breweries there or head to Wonderland Ocean Pub, a classic beach bar with great cocktails and ocean views.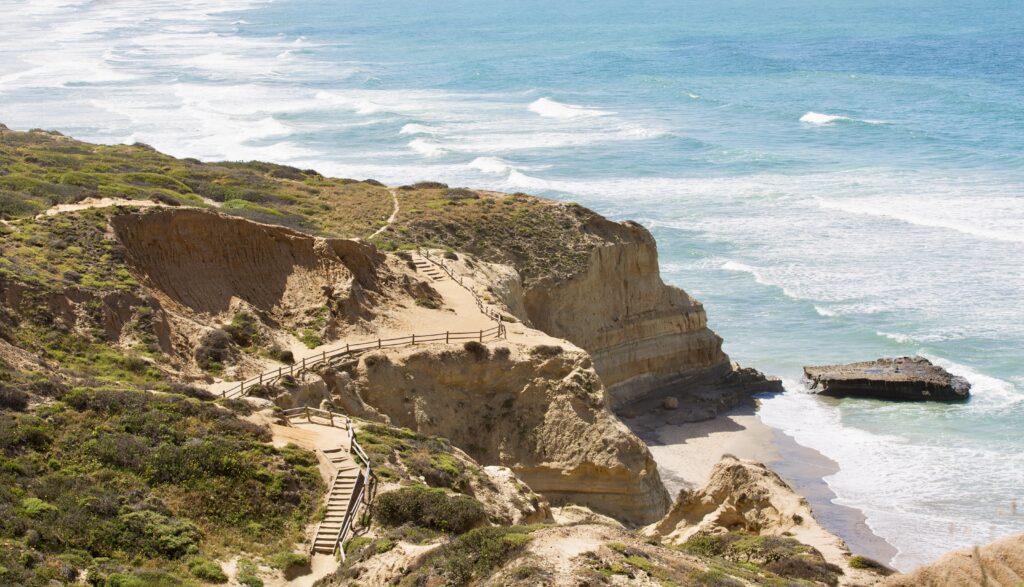 3. Torrey Pines State Natural Reserve and State Park
This 1500 acre reserve is home to one of the rare species of trees in the world, the Torrey Pine. It's a species adapted to dry places with sandy soil.
There are 8 miles of hiking trails. You can hike to Razor Point and Yucca Point for terrific views. Razor has opportunities for whale spotting during the winter months. There's also a popular 2.3 mile loop, the Torrey Pines Beach Loop.
The Torrey Pines Beach is also a draw. It's a wild, unspoiled stretch of beach backed by sandstone cliffs and home to many birds. Low tide is the perfect time to take a stroll along the beach.
There's a parking lot in the park. There's also a golf course and (rather overrated) restaurant at the Lodge at Torrey Pines. If you're feeling adventurous, you can go paragliding at Torrey Pines Gliderport.
4. Theme Parks
If you are traveling with littles, you may want to spend part of a day at Legoland in Carlsbad. The park has over 60 rides, shows and attractions and could be an all day event, if you love theme parks.
Be sure ride the Coastersoarus, a thrilling ride. Click here to book a one day ticket.
SeaWorld is another option. It's one of California's most popular theme parks. It's an interactive marine park where you shuttle between exhibits, animal encounters, and aquatic themed rides.
If you love rollercoasters (my fave), look for the Electric Eel or Manta. In 2023, a brand new coaster is coming. It will feature high-energy twists, electrifying loops, and inversions. Click here to book a SeaWorld ticket with skip the line access to all rides.
Tips For Visiting San Diego
Here are some must know tips for spending 2 days in San Diego.
1. How To Get To San Diego
If you're flying into San Diego, the nearest airport is San Diego International Airport. There are inexpensive bus services and shuttles to San Diego.
You can also book a private transfer from the airport. It's an easy airport to manage and you shouldn't have to wait long for your bags.
If you're driving, pick up your rental car (preferably a convertible. It's a 17 minute drive to downtown San Diego. You can also take a taxi, of course.
Be forewarned, the rental car center is a longish shuttle ride from the airport's arrival and departure lounges. Sometimes there are long lines for the shuttle buses.
If you are traveling on a weekend, budget extra time, especially when dropping off your car. If you are pressed for time, there are some taxis near the rental car area that can take you to departures. But they don't come cheap.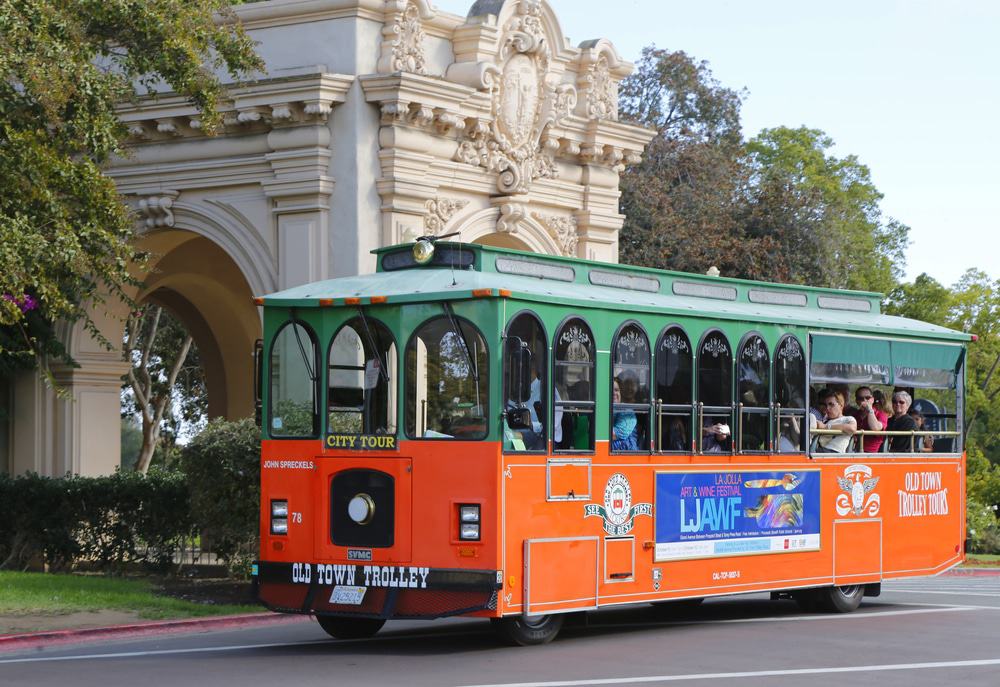 2. How To Get Around San Diego
San Diego is very car-centric and there is ample parking downtown. Still, if you're not driving, it's possible to get around without a car, especially if you stay in the city center. You can always use Uber or Lyft as well.
Another good way to get around San Diego and get an overview of the city at the same time is to take the Old Town Trolley Tour. It stops in the Gaslamp district, the zoo, and close to Coronado Beach, among other places. It's fully narrated, so you can simultaneously ride and get educated.
You can get off anytime you like to explore a different downtown district, When you're ready to move, jump back on again. Click here to buy a 2 day ticket.
Another great way to get around San Diego is by renting a Lime or Bird Scooter. I had a blast with the scooter.
To rent one, download the Lime or Bird app and send a photo of your driver's license. When you're done, drop the scooter off in a designated place and take a photo of where you left it.
You can also book a Segway tour or an e-bike tour.
3. San Diego City Passes
You may want to consider booking one of the city passes.
With the San Diego City Pass, you can choose between 2 premium attractions + 3 more from a list of 4. This pass is geared more toward families.
The San Diego Go City Explorer Pass covers your admission at 3, 4, 5, or 7 popular attractions. It gives you access to 40 attractions in total over 2-7 days (not 6). It's also valid for 60 days and gives you a free ride on the hop on hop off San Diego trolley.
The San Diego All inclusive Pass gives you entry to 55 attractions, 1-7 days (not 6). This is the best pass if you have more than 2 days in San Diego.
4. Where To Stay in San Diego
There are some fabulous nests to lay your head in San Diego.
As its name suggests, the Fairmont Grand Del Mar is grand. It has elegant Mediterranean decor, 4 pools, and an award winning spa. The Fairmont is also home to Addison, San Diego's only two star Michelin restaurant.
I mentioned the Hotel del Coronado above. This is an ionic full service hotel on Coronado Island.
If you want to stay in the heart of downtown, check out the Guild Hotel. It's a renovated boutique hotel that just oozes history, with an Italian Renaissance vibe.
Pendry San Diego is another chic downtown hotel. The hotel has a rooftop poo, spa, and fitness center with plenty of dining options.
The Kimpton Hotel Palomar is an oasis of calm in the buzzy downtown in the Gaslamp Quarter. It's as stylish boutique hotel with incredible design features. Some rooms offer up sweeping views.
If you want to stay in La Jolla, check out La Valencia. It's a luxury hotel also known as the "Pink Lady" and " La V."
Designed in a Spanish Colonial Revival Style, it's a member of History Hotels of America. The hotel has a lovely pool overlooking the ocean, clad with brilliant bougainvillea.
5. When To Visit San Diego
The best time to visit San Diego is anytime you get a chance! With its perpetually sunny weather, the city is a year round destination.
Summer is the busiest time, when San Diego receives most of its tourists who flock to the sweet beaches. The shoulder season is ideal. The weather is always easy breezy good and the crowds have thinned.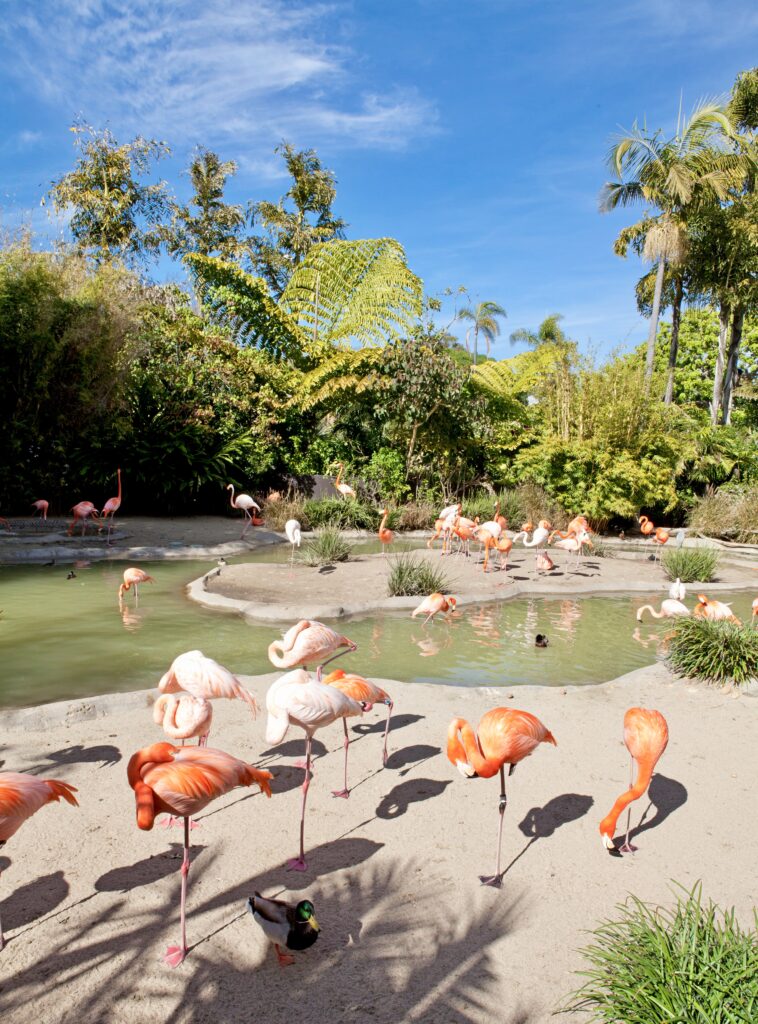 The winter is off season, but it's far from cold. This is also the best whale watching time and the best time to get hotel deals.
I hope you've enjoyed my 2 days in San Diego itinerary. You may enjoy these other US travel guides and resources:
If you'd like to spend 2 days in San Diego, pin it for later.