Planning a visit to San Diego? If you're an art lover, don't miss the San Diego Museum of Art! In this guide, I give you an overview of the museum, identify the must see masterpieces, and must know tips for visiting.
The museum was established in 1926. It's since grown to become the top cultural institution in the city.
The museum is housed in a beautiful Spanish Colonial Revival building in Balboa Park. Its collection spans over 7,000 years of art history. There is something for every form of art geekery.
>>> Click here to book a walking tour of Balboa Park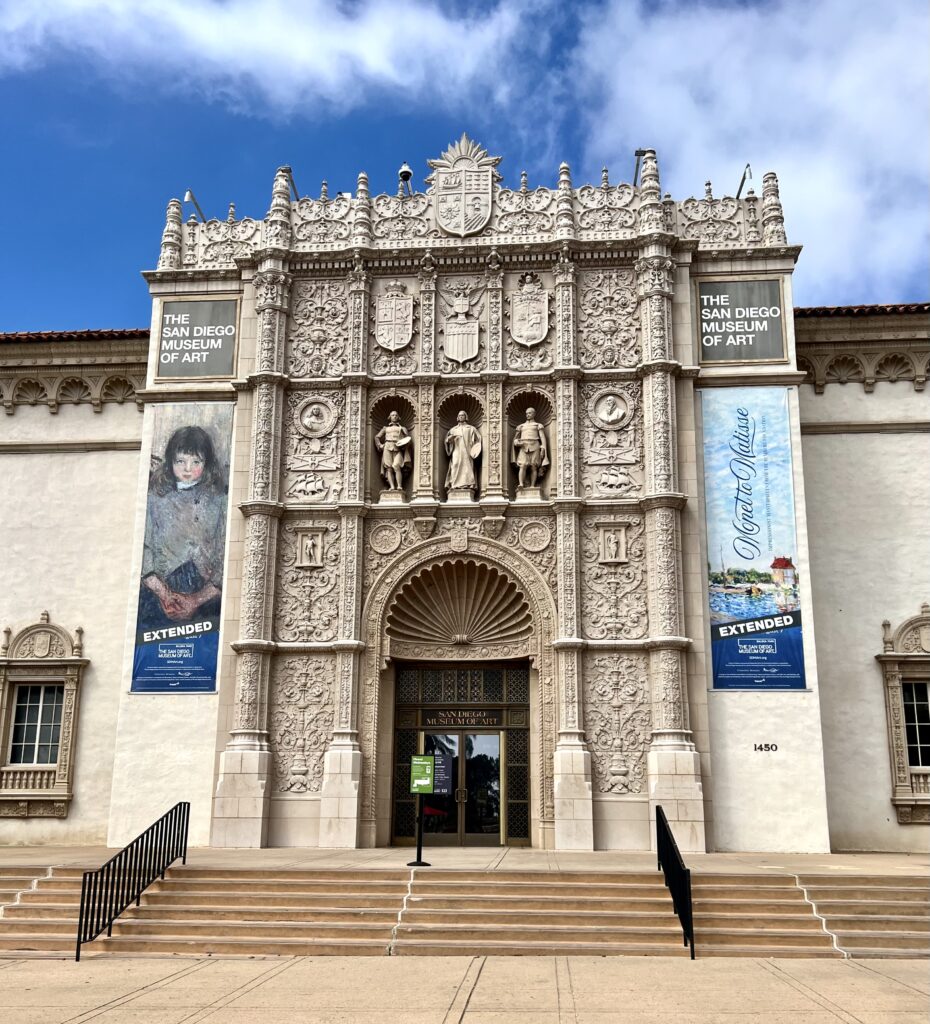 You'll find European, American, Asian, and Latin American art. I was most impressed with the Asian art, Spanish old master paintings (El Greco, Zubaran, Murillo), and a rare Giorgione and Luca Signorelli paintings.
The museums also hosts temporary exhibitions. When I visited, there was an excellent exhibit on Georgia O'Keefe and Henry Moore. It was a top tier exhibition for a relatively small museum.
The museum is displayed in 20 galleries over 2 floors. The exhibiton space is on the first floor.
There's an exhibition shop and a larger museum store with books and art-centric gifts. On both floors, there are spaces to sit down, draw, and create your own mastepiece.
On the first floor, you'll find:
California paintings
Asian & Middle Eastern art
German Expressionism
Art of the 20th century
Art of Iran
Art of modern women
On the second floor, you'll find:
Art of devotion (mostly early Renaissance to Baroque)
Art of the portrait
Renaissance to realism
Impressionism & Post-Impressionism
Art of Carlo Miranda (local artist)
Guide To The San Diego Museum Of Art: What To See
Let's take a tour of 15 of the museum's highlights and seminal artworks.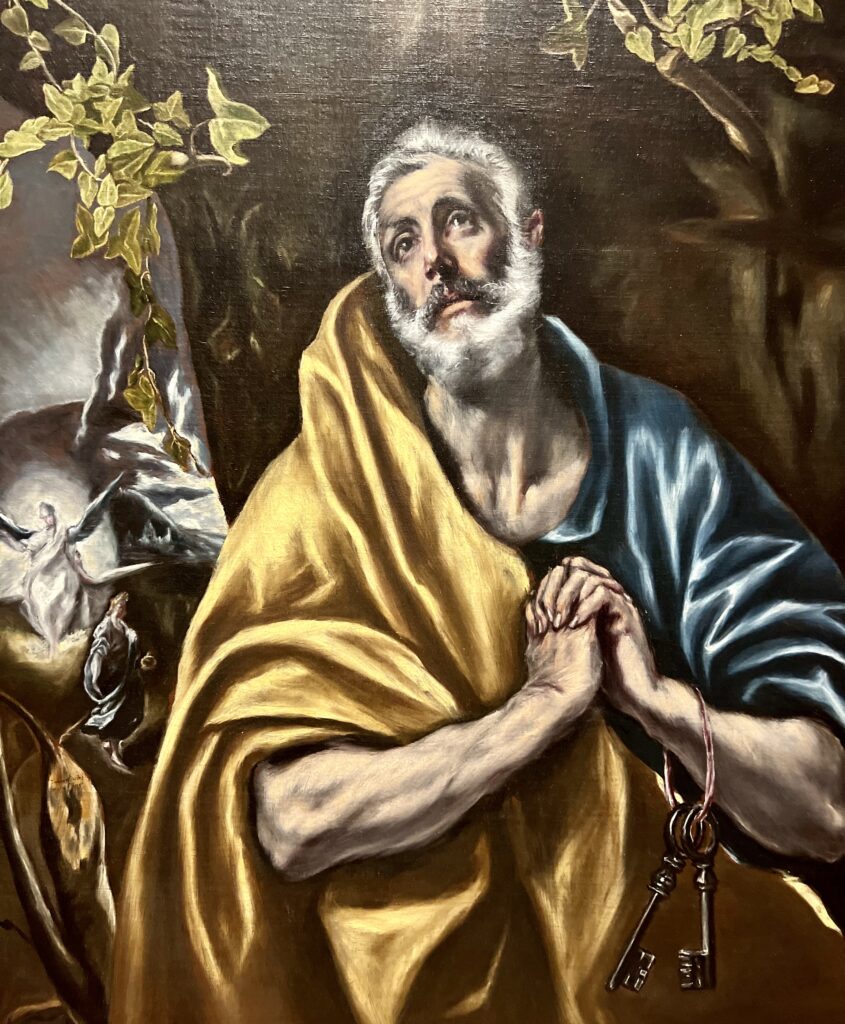 1. El Greco, The Penitent St. Peter
This is one of the museum's most famous paintings. It portrays the biblical figure of Saint Peter in a moment of deep introspection and repentance. You can tell it's Peter because he's holding the keys to heaven.
Peter is depicted as an elderly man, his features etched with a sense of regret and sorrow. His hands are clasped together in prayer. His gaze is cast upward to the heavens.
The use of light and shadow in the painting create an emotional intensity. El Greco's signature elongated figures and distorted perspectives contribute to a sense of spiritual urgency and depth. The dark background contrasts with the luminous skin tones, enhancing the central figure's prominence.
2. Luca Signorelli, Coronation of the Virgin
The museum owns a beautiful altarpiece by Luca Signorelli, the Sienese early Renaissance artist. Not many of his works survive, and there are very few in the US. So seeing this one is quite something.
Signorelli is most famous for his frescos in Orvieto Cathedral. This frescos would go on to influence a young Michelangelo.
The Coronation of the Virgin is a monumental lunette. It was originally the top of an altarpiece in a church near Urbino Italy.
The painting depicts the crowning of Mary by Christ, with God and angels looking on. The painting has Signorelli's signature bold colors and a masterful composition.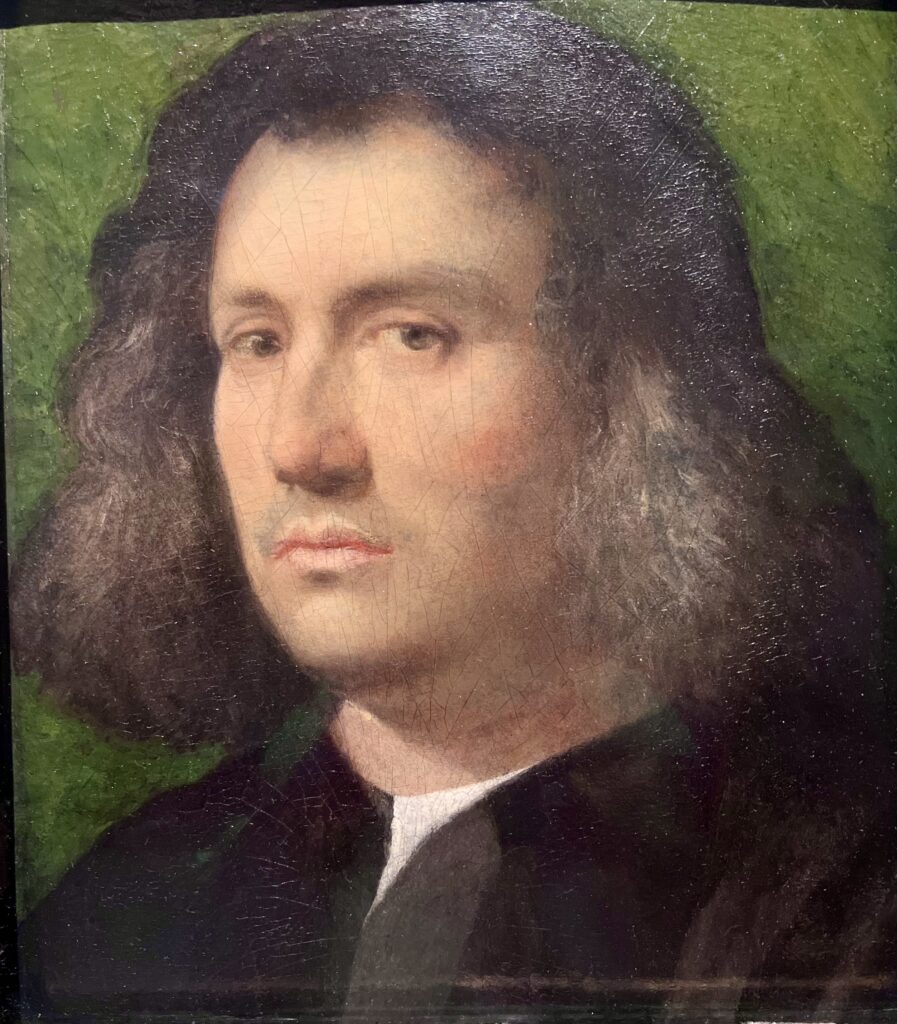 3. Giorgione, Portrait of a Man
This portrait is the star of the museum's Italian collection. It was acquired in 1941. Giorgione was an enigmatic Venetian Renaissance artist. He only had a brief 15 year career before dying prematurely from the plague at just 37.
As a result, there are very few of his extant works. Of those that exist, some art historians debate whether they should be attributed to Titian, who was also a student of Giovanni Bellini at the time.
Giorgione is known for his innovative approach to painting. His style is characterized by his use of color, atmosphere, and a focus on mood and emotion.
The museum's Portrait of a Man is among the greatest Renaissance portraits in the US. The work epitomizes the artist's "modern" style of wanting to paint "living and natural things."
The subject has turned his gaze and has an inscrutable expression. The painting has darkened over time. Originally, the man wore a flamboyant purple garment.
4. Giotto, God the Father with Angels
The Italian painter Giotto was the greatest painter of the 14th century and a pioneer of the Renaissance.
Giotto's frescos were radical at the time. He was the first artist to break away from stylized and formulaic medieval art. He ditched the prevailing gray and gold religious iconography and used vivid colors.
More importantly, Giotto painted real people based on the study of nature. He replaced the mask-like faces prevalent in Gothic art with expressive faces.
In this painting, an apparition of God takes the center. Some angels shield their eyes and other view the vision through darkened lenses.
The painting was once part of a chapel in Florence's Basilica of Santa Croce. In the 1480s, it was cut and placed in a rectangular frame. It was only rediscovered in the 20th century.
5. Lucas Cranach the Elder, Nymph of the Spring
Lucas Cranach the Younger was a German painter and portrait artist. He was the son of the renowned Renaissance artist Lucas Cranach the Elder and painted in a similar style.
His work was characterized by vibrant colors and attention to intricate details. Cranach the Younger's works often depicted religious themes, mythological subjects, and portraits of prominent figures, capturing the essence of the Northern Renaissance art movement.
This painting is an allusion to Diana, the Roman goddess of the hunt. It captures one of her entourage lying nude in a grassy landscape near a river.
She's rendered in more of a late Gothic style, rather than the prevailing naturalism of the High Renaissance. She's surrounded by lush nature, symbolizing the harmony between humans and the natural world.
There is an ambivalence in the painting's inscription not to disturb her and obvious sexual allure.
6. Esteban Murillo, Mary Magdalene
Bartolomé Esteban Murillo was a Spanish Baroque painter known for his religious and genre paintings, as well as his portraits.
He was born in Seville and is considered one of the most important and prolific painters of the Spanish Golden Age. Murillo was popular with the wealthy merchant class of Seville.
He was known for his religious paintings and genre paintings that depicted everyday scenes of children, beggars, and street vendors. His focus on naturalism led him to capture the emotion and humanity of his subjects.
In this portrait, he depicts The Pentient Magdalene as a rather sentimental beauty. She was a follower of Jesus who renounced her world life and lived as a hermit. She clutches her robe and prays in cave, contemplating life's fleeting nature.
7. Amedeo Modigliani, The Blue Eyed Boy
Amedeo Modigliani was an Italian painter and sculptor known for his unique style. His artworks were characterized by elongated forms, graceful lines, and a sense of melancholic elegance.
He primarily focused on portraits and nudes, often featuring elongated faces and figures. They were influenced by African sculpture and perhaps by the modern art of sculptor Constantin Brancusi.
The museum's piece fits that style, although it's a rather rare portrait of a boy instead of Modigliani's more typical female nudes. He has a mask-like face and slit eyes.
Although the boy's eyes are partially open unlike many of the artist's paintings, they still reveal the artist's introspection about identity. The rest is filled in with dabs of paint, almost like a chisel marks in a sculpture.
8. Louise Nevelson, Dream House
Louise Nevelson was an influential American sculptor known for her pioneering work in assemblage art. She's best known for her large-scale sculptures made from found objects and wooden scraps.
Nevelson painted in monochromatic colors, often black or white. Her works are characterized by their intricate and abstract compositions that create a sense of mystery and depth.
Dream House II is an immersive wall installation. Nevelson destroys the boundaries between painting and sculpture. The black paint and textures emphasizes nuances of form, light, and shadow.
9. Joan Mitchell, Untitled
Joan Mitchell was an integral part of the New York based Abstract Expressionist movement. This painting was included in the landmark Ninth Street Show in 1951.
Mitchell was known for her vibrant and emotionally charged canvases. As this painting exemplifies, Mitchell had a tactile and gestural style. She squeezed paint from the tub and smeared and splattered it on the canvas with her fingers.
Mitchell painted from memory. She used intense layers of colors to evoke the natural world in an emotional way.
These paintings from the early 1960s are somewhat more violent than her typical style, with darker and more somber colors. They reflect her brooding mood after the death of her father and cancer diagnosis of her mother.
10. Suzanne Valadon, Young Girl in Front of a Window
Suzanne Valadone was a French painter and model who made a significant impact on the art world of her time.
She started her career as a model for prominent artists like Pierre-Auguste Renoir and Henri Toulouse-Lautrec. Valadon was immersed in the then seedy neighborhood of Montmartre. She lived in what is now the Musee Montmartre along with her son artist Maurice Utrillo.
Even without formal art classes, she transitioned to painting herself. She became one of the few successful female artists in the late 19th and early 20th centuries.
As in the museum's painting, Valadon typically was a figure painter and created many self portraits (like this one).
She used dark outlines and a distortion of space to create an emotional effect. This high key painting is crammed with details and evinces a palpable sense of pleasure from the natural world.
11. Robert Delauney, Female Nude Reading
Robert Delaunay was a French artist who played a significant role in the development of abstract art, particularly the movement known as "Orphism." He explored the use of color and geometric forms to create dynamic and visually striking compositions.
Delaunay's early work was influenced by Impressionism and Divisionism. But he eventually moved towards abstraction and began to emphasize the interplay of color and form in his paintings.
This painting has his trademark cosmic character. It's done in bold colors and has an overlapping constellation of circular motifs. The edges of the composition recall color wheels.
12. Alessandro Allori, Portrait of a Lady
Alessandro Allori was an Italian painter from the late Renaissance period. He was born in Florence and came from a family of artists. His father was the painter Bronzino, probably the most prominent Mannerist painter.
Allori's works often displayed a sense of refinement and elegance. He painted portraits, religious subjects, and mythological scenes.
The museum's piece is Portrait of a Lady. It has the polish and cool reserve of all his portraits. The lady's skin is marble smooth and she is decked out in an elaborate dress, which was the fashion at the time.
READ: Famous Mannerist Paintings In Italy
13. German Expressionism
German Expressionism was an avant grade art movement that emerged in Germany and Austria in the early 20th century. Their works were characterized by its focus on emotional intensity, subjectivity, and a departure from traditional artistic norms.
Artists within this movement sought to convey inner emotions, psychological states, and societal critiques through distorted forms, vivid colors, and exaggerated imagery. They were influenced by the terror of WWI and the social chaos of Weimar Germany.
In 2011, the museum received a major gift of 48 works German Expressionist. You'll see works by Otto Dix, George Grosz, Alexi Jawlensky, and Egon Schiele.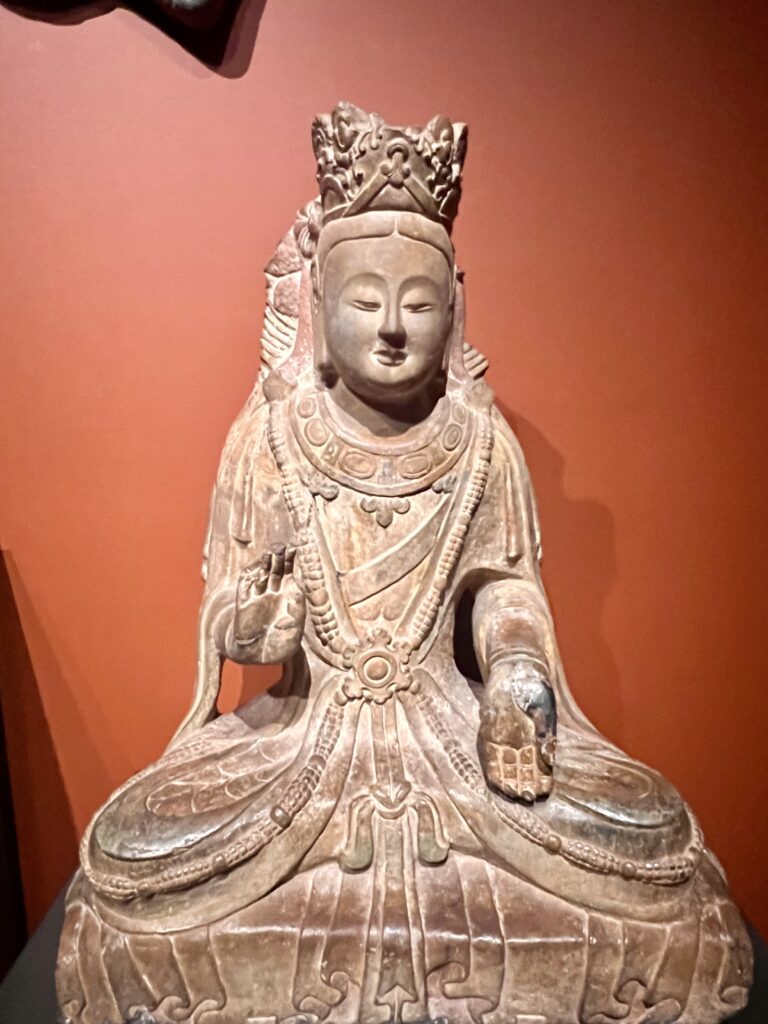 14. Arts of Asia
The museum's Asian collection presents a captivating array of artworks representing the rich heritage of Asia. It encompasses a wide spectrum of artistic expressions, from the tranquil allure of Chinese landscapes to the meticulous artistry seen in Japanese woodblock prints.
Within the collection, one can admire the masterful craftsmanship exhibited in Indian sculptures, as well as the finesse displayed in Southeast Asian textiles and the elegance of Buddha sculptures and porcelain pieces.
The diversity of mediums featured is remarkable, spanning from paintings and ceramics to textiles, furniture, and decorative arts.
This comprehensive assortment invites visitors to embark on a journey of exploration, tracing the artistic evolution and interconnectedness that bind various Asian cultures together.
READ: Guide to the Museum of Asian Art in Washington DC
15. Arts of Iran
The modern day country of Iran was once known as Persia. It has a history of civilization dating back 10,000 years.
In the museum, you can find a huge variety of Persian art forms — ceramics, glass, metalwork, lacquerware, and calligraphy. I was especially taken with some of the objects of courtly and everyday life.
The museum even has some contemporary pieces.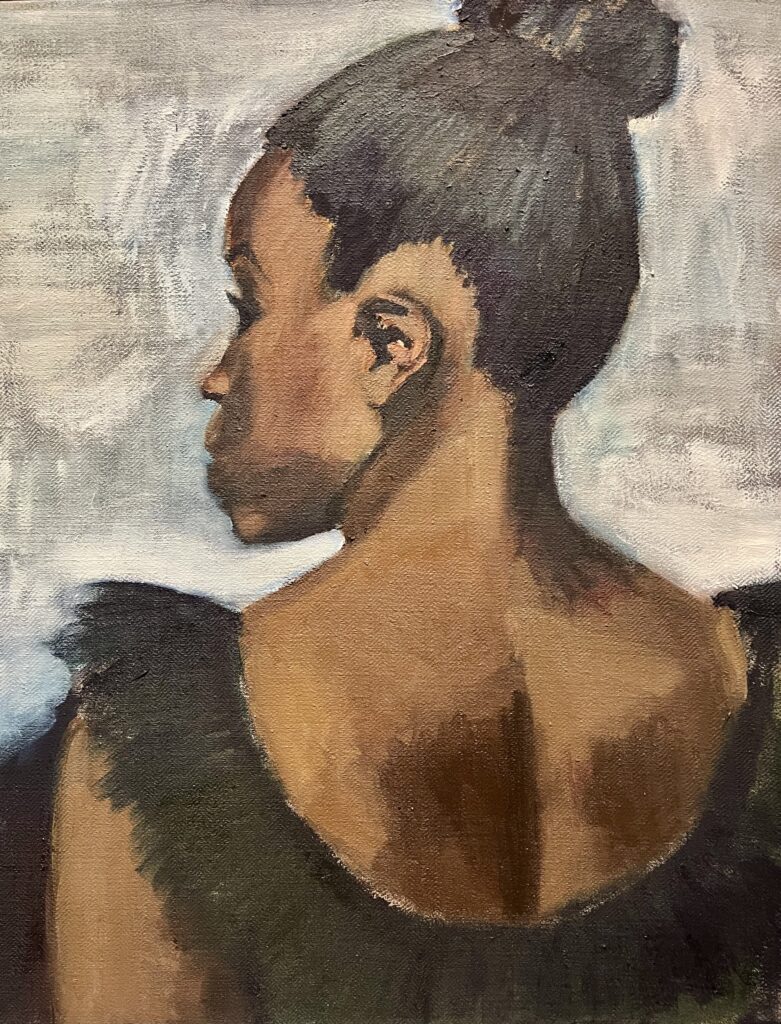 Practical Guide & Tips For The San Diego Museum Of Art
Here are some tips for visiting the San Diego Museum of Art.
Address: 1450 El Prado, Balboa Park, San Diego. You can park your car in one of the free lots. The closest one is the Alcazar lot. But you may have better luck in the Organ Pavilion lot.
How To Get Around: You can easily walk everywhere. There is also a tram that goes to the main sites and stops at the Organ Pavilion lot.
Hours: The museum is open from 10:00 am to 5:00 pm, except that it is closed on Wednesdays.
Ticket Price:
$20, $10 for special exhibitions. Senior tickets are $15, under 17 is free, and student tickets are $8.
The museum is included in the San Diego Go City Explorer's Pass. Admission is free for San Diego residents on the third Tuesday of every month.
SDMA App:
You can download the museum's app in advance. Or scan a QR code to download when you arrive. You'll have access to audio guides, behind the scenes videos, and docent or self-guided tours.
Docent Tours:
The museum offers free docent tours daily. Check with the docent/informaton desk to see a listing of times.
Pro Tips:
There is quite a bit of informational signage describing the artworks in both English and Spanish. There's also a coat check and storage space for backpacks etc. Flash photograpy, videos, and selfie sticks are not permitted.
The museum is a very manageable size. I would give yourself 2 hours to visit, less if there are some collections you're not interested in.
Special Events:
Throughout the year, the museum is a hub of activity, offering an array of seasonal, musical, cultural, and educational programs that cater to various interests. On occasions, the museum extends its hours to accommodate these vibrant events.
These gatherings encompass an exciting spectrum, including Art Alive, Art After Hours, Artist Talk sessions, insightful lectures, collaborative jam sessions, captivating art previews, and a multitude of other engaging happenings.
To stay in the loop and make the most of your visit, I recommend consulting the museum's event calendar to discover the exciting events taking place during your stay.
Cafe:
Panama 66 is a restaurant located in the sculpture garden. You can get burgers, sandwiches, and salads. The restaurant does get busy. There was a line when I visited.
Is the San Diego Museum of Art Worth Visiting?
100% yes, if you have any interest in art.
The museum houses an extensive and diverse collection of artworks spanning various cultures, time periods, and styles. You'll find pieces from Europe, Asia, Spain, the Americas, and more, offering a comprehensive look at different artistic traditions. Yet, it's super manageable to visit.
Moreover, if you've seen the permanent collection before, you can check out the what temporary exhibit is on offer. You can pay separately just for that.
The museum is also located in Balboa Park, a beautiful urban park in San Diego. There are plenty of other museums, attractions, and cafes in the park to keep you busy all day.
I hope you've enjoyed my guide to the San Diego Museum of Art. You may enjoy these other California travel guides and resources:
If you want to visit the San Diego Museum of Art, pin it for later.