Here's my guide to visiting the most beautiful hilltop towns and villages in the Luberon Valley of Provence.
The Luberon features some of France's most stunning landscapes — rolling hills, gnarled vineyards, mountains of limestone, crumbling castles, and lavender fields galore.
Five Luberon villages have the official label "Les Plus Beaux Villages de France," designating them one of France's most beautiful villages.
Many of these Luberon towns are secret hidden gems in France. This region is where you come to experience a more authentic, rural, step-back-in-time region of France on an idyllic Provencal road trip.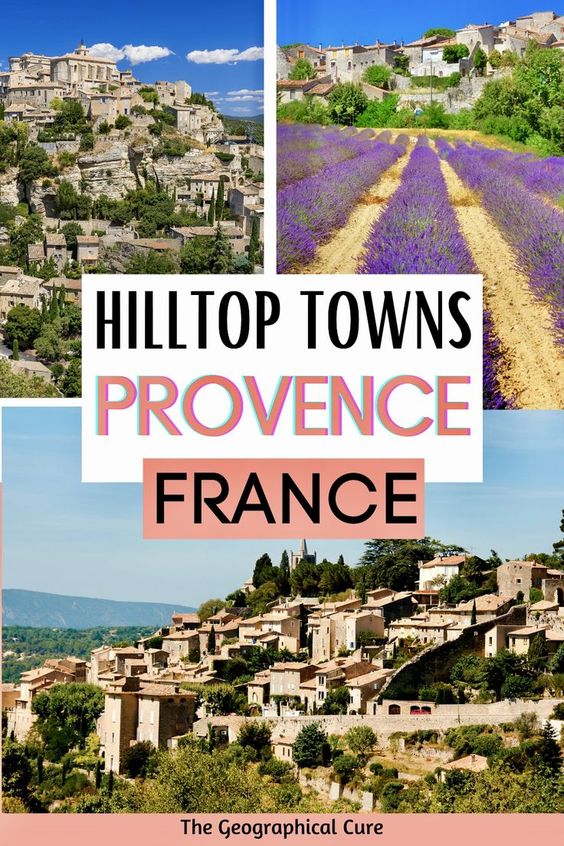 You may already be entranced with the Luberon Valley if you read Peter Mayle's best selling book, A Year in Provence. Mayle bought a stone farm house in Ménerbes to escape the rat race in London. He moved in and proceeded to sip rosé in blissful peace and tranquility.
That's how to enjoy village life in the Luberon. There's no mandatory museums or landmarks.
Just savor a leisurely lunch or stroll down cobbled streets, reveling in the Luberon's unspoiled beauty. There's charm around every corner.
Where Is The Luberon Valley?
The Luberon is a small collection of town in northern Provence. It's a mountain range consisting of the Grand Luberon, the Petit Luberon, and the Luberon Oriental.
The nearest airports are Avignon and Marseille. The nearest train station is Avignon. Marseilles and Avignon are only a 40 minutes drive from the region.
As a rural region, it's easiest to explore the Luberon by car. There's not much public transportation in the Luberon.
Buses aren't regular, taxis are very limited, and Uber doesn't operate there yet. The roads are easy to drive and well sign posted.
READ: Tips for Renting a Car and Driving in Europe
The Luberon is a small region. It's only 1:15 drive from L'Isle-sur-la-Sorgue in the west to Manosque in the east. L'Isle-sur-la-Sorgue, Gordes, Bonnieux, and Menerbes all make good bases for exploring the Luberon.
If you are short on time, you can book a full day best of the Luberon tour leaving from Avignon or a half day tour from Avignon. You can also book a guided tour from
Beautiful Towns of the Luberon Valley
Here's a rundown on the most beautiful hilltop villages (village-perché, in French) in the Luberon Valley. You should put these lovelies on your southern France road trip itinerary or bucket list for Provence.
Although picturesque-ness is a defining feature of the Luberon, each village has a distinct personality.
Most of the villages are relatively small. But they can take a day each, if you're in a languorous "live in the moment" relaxation mode.
1. L'Isle-sur-la-Sorgue: Antique Paradise
Dubbed the "Venice of Provence," L'Isle-sur-la-Sorgue is one of the most beautiful towns in the Luberon Vallely. It's a lively market town that's split in two by the Morgue River.
The town's crystal clear water babbles under pedestrian bridges adorned with flower boxes. It's not as adorable as the classic Provencal villages, but still cute enough with mossy waterwheels and geraniums.
The town revolves around its church square and two pedestrianized streets, Rue de la Republique and Rue Carnot. There are plenty of shops, eateries, and museums to entertain.
The town erupts in a carnival-like market frenzy each Sunday and Thursday.
Held along the quay of the Morgue River, the Sunday market is world famous for its antiques. Outside of London and Saint Ouen in Paris, it's one of Europe's largest flea and vintage markets. But you likely won't find any bargains.
L'Isle-sur-la-Sorgue makes a good base for visiting the Luberon. It's the only Luberon town that can be accessed by train or bus.
If you are spending the night, you should consider making a reservation at the Michelin-starred Le Vivier.
2. Gordes: Cinematic Beauty
The photogenic village of Gordes is the Luberon's most impressively situated hill town and perhaps its crown jewel.
A long winding road takes you there. And you won't be the only one. Gordes gets crowded in the day.
Though it's hard to imagine, Gordes was once a ghost town of derelict buildings. It was revivified by Avignon's theater festival. Directors clamored to find picture- perfect Provencal villages for their films.
Today, Gordes is a beauty, epitomizing rural French charm. Its homes are fully restored.
Gordes is chock full of luxury hotels, like Hotel La Bastide de Voulonne. Pop into one with a terrace for wine and stunning views over the Luberon Valley.
Stolling Gordes' cobbled streets is a feast for the senses. There's not much to do, except for its Tuesday market. The 11th century Gordes Castle also houses contemporary art exhibits.
A few miles outside Gordes, you'll find Les Bories. It's a luxury hotel with a restaurant that is formal country dining at its best.
3. Abbey Notre-Dame de Senaque: Lovely in Lavender
Just outside Gordes lies remote Abbey Notre-Dame de Senaque. This famous landmark in France is set in a picturesque sea of lavender.
It's long been discovered by tourists just for its bucolic setting. Visit in July or August for the most glorious purple views.
The abbey is still a functioning Cisterian aby. It was built in 1148 in reaction to the excesses of the Bendictine abbeys and their fat monks.
The utterly simple abbey church is always open. You can tour the abbey and its cloisters.
4. Lacoste: Charming Stone Village
Little Lacoste is fetchingly perched on a hilltop, overlooking the nearby (and much larger) village of Bonnieux.
Lacoste isn't an "orange city" like Roussillon. But in the sunset glow, it's a nice rusty coral hue.
Lacoste is paved with stone and is full of cobbled narrow alleyways and picturesque houses. Its oldest building, the Mason Forte, dates from the 9th century. Most other buildings date from the 16th century.
The Chateau du Marquis de Sade is a must visit. It's also known as the Chateau de Lacoste
The chateaux gets its name from the infamous French libertine. He stayed at the chateaux on and off while he was scandalizing 18th century society.
Now, the chateau is privately owned by French designer Pierre Cardin. But it's open to visitors in July and August or by reservation.
All this makes Lacoste a must visit village in Provence for history buffs. But Lacoste is also a center of SCAD, the Savannah College of Art and design. Art lovers can visit the impressive gallery and gift shop.
5. Bonnieux: Panoramic Views
The village-perche of Bonnieux is especially spectacular from a distance. It's one of the few Luberon towns that isn't pedestrianized.
Still, it has cobbled film set alleyways for you to wander and artsy galleries for you to explore.
Friday there's a local market with the usual tasty produce. If you're interested in bread, the Boulangerie Museum is housed in an ancient stone building. Or if fine dining is on the menu, reserve a spot at the two Michelin star Edouard Loubet.
But the best reason to visit Bonnieux is for the panoramic views from the church at the town's tip top. You look out over the valley and Mt. Ventoux.
Nearby, there's a 2,000 year old Roman bridge, Pont Julien, and an excellent winery, Chateau La Canorgue, where the Ridley Scott film The Good Year was shot.
6. Menerbes: a Wonder to Wander
Pretty Menerbes is another one of France's "les plus beaux villages." It was the village that launched a thousand book sales.
Menerbes is famous as the setting for Peter Mayle's book A Year in Provence.
The pretty town is dressed in French blue shutters and pink bougainvillea. It's fairly upscale with tony shops, wine bars, and chic cafes.
Rue Corneille lead to the town's cute chateau, which you can admire from the outside. Stop in at the House of Truffles and Wine for dinner or a tasting or try Le 5, a cute outdoor bistro.
Menerbes is also home to the beautiful 18th century Dora Maar House. The lothario Pablo Picasso purchased it in 1944 for his former lover and muse, Dora Maar, a Surrealist photographer.
He did it out of guilt. Maar had a mental breakdown after Picasso dumped her. The house is now an art foundation.
READ: Guide To Picasso Museums in Europe
7. Joucas: Well Manicured Silence
If you want complete silence during your Provencale flaneuring, try the quiet and largely overlooked village of Joucas. It slumbers below tourist-fly Gordes. You may feel like you've stepped into an Impressionist painting.
In Joucas, you'll find vertical stone lanes flanked with restored homes and bright flower boxes. There's not much to do here except have a wander and a bite to eat.
Joucas is crowned with a fortress (now private) and has an 18th century church. Plain on the outside, it has some lovely tromp l'oeil paintings on the inside.
8. Lourmarin: Chic Chateau Village
Loumarin is a beautiful secret village in the Luberon not too far from the much more popular Gordes. Aside from its 15th century castle, there's delightfully not much to see or do in Lourmarin.
Just soak up the quaint town center and views. Its narrow lanes spiral up to the belfry.
After your walkabout, indulge at one of Lourmarin's chic eateries or boutique stores. Lourmarin is known for its dining culture. The cafe culture clusters around the Place de l'Ormeau.
Lourmarin also has a 15th century Gothic-Renaissance chateau. The Chateau decayed into ruin and was scheduled for auctioned and demolition.
But it was rescued in the nick of time by Robert Laurent-Vibert, a rich industrialist and literary scholar, who restored it. The chateau now hosts wine tasting and performances in the evening.
Lourmarin has some literary cache to boot. Existentialist writer and philosopher Albert Camus lived in Lourmarin in the 1950s and is buried there.
Author Peter Mayle moved there from Menerbes. Winston Churchill chose Lourmarin to pursue his oil painting hobby after WWII.
9. Ansouis: Hidden Gem Beauty
Ansouis is another of France's les plus beaux Luberon towns that just oozes charm. It's a typical Luberon village. It clings to a craggy outcrop and is stuffed with stone houses, cobbled streets, and well worn window shutters.
Anouis is just 30 minutes north of Aix-en-Provence. It's definitely worth a detour or half day trip.
Ansouis first appears in the records around 963. It's crowned with a 12th century medieval castle, Chateau d'Ansouis.
You can only visit on a guided tour in French. But its terrace, you'll have sweeping views of Mount Saint-Victoire — the mountain that famously inspired French Post-Impressionist artist Paul Cezanne.
Ansouis' old town is filled with houses, artisan shops, and boutiques, housed in buildings from the 15th century.
La Closerie serves up excellent food. L'Art Glacier offers 50 flavors of ice cream, including lavender, sage, and lily of the valley flavors.
Built into the town's original ramparts, the 12th century St. Martin Church is worth a visit. The church has an imposing facade of creamy stone. The austere exterior belies the ornate treasures awaiting you inside.
10. Rousillon: the "Orange City"
Roussillon is a beautiful hilltop village in the Luberon valley in eastern Provence. It's nicknamed the "Orange Town." Roussillon is easy to fall for.
It's not what you typically expect to find in Provence. The tiny hamlet is nestled in a striking ochre ridge, more Sante Fe than Provencal.
Legend holds that the cliff's orange color resulted from a medieval squabble. The town beauty, Seramonde, fell in love with a troubadour.
But the Lord of Roussillon loved Seramonde too and dispatched his rival by murder. Distraught, Seramonde threw herself off the cliff. Her blood stained the cliff forevermore.
Or so they say. It's a compelling tale, no doubt. But the cliff was actually stained by the ochre pigment used to build the town.
The adorable town itself gleams with a spectrum of yellow, pink, orange, and red shades. While there, you can visit Roussillon's Sentier des Ocres, the Ochre Trail.
It's a nice hiking trail (with 30 and 50 options) where you'll see the rock formations up close. Don't wear white!
11. Fountaine-de-Vaucluse: "the Source"
Like L'Isle-sur-la-Sorgue, Fountaine de Vaucluse is set on the pretty green Sorgue River and sports water wheels. It's a lovely medieval village tucked in the southwestern corner of the Plateau de Vaucluse.
It's about 30 minutes from Avignon. You can combine it with a day trip or visit to L'Isle-sur-la-Sorgue.
Fountaine-de-Vaucluse has a true village square, Place de la Colonne. In it, you'll find the tall, marble column that honors 14th century Italian poet Petrarch. Petrach spent ample time in Fountaine and is dubbed its "first tourist."
While there, hike up to the "source," a giant spring that that created the Sorgue River. There's a series of underground water networks. In a whim of nature, they emerge only as this spot in a chasm.
12. Seguret: Stony Charm
Seguret is a small village east of Mount Ventoux. It's also officially classified as one of France's "les plus beaux villages."
But you'd never know it. It's a beautiful, but secret, town in the Luberon. When I was there, virtually no one else was. I guess the hype of the other Provencal hilltop villages outweighs the simple beauty of Seguret.
You enter the cobbled town via an archway called the Porte Reynier. Inside is a village full of character and charm. Naturally, the charm is magnified by the lack of tourists. Stone houses line narrow stony streets.
The main square boasts a 17th century bell tower and similarly aged fountain called Fonaine des Mascarons.
Be sure to visit the small 12th century Romanesque Church of Saint-Denis and the Chapel of Notre-Dame des Graces.
You can walk to the nearby ancient castle ruins via a footpath. The nearby village of Cairaine is also charmingly stoney. If you're road tripping in Provence, and have flexibility, you should stop there too.
13. Vineyard of Chateau Val Joanis
The Luberon is home to one of France's most impressive vineyards, the Chateau Val Joanis. Its first vines were planted over 2,000 years ago.
In 1978, Jean Louis Chancel, a naive of the Luberon, bought the vineyard with the goal of making Luberon wines famous. Today, the vineyard produces magnificent red, white, and rose wines.
With the help of a landscape designer, Chancel also created three terraces of gardens, with lavender, roses, and irises. It became known as "Jardin Remarquable." In 2008, it won "garden of the year."
14. Forcalquier: Provencal Hidden Gem
If you want to really get off the beaten path, try the ancient village of Forcalquier. It's a picturesque town, but vastly less crowded than showstoppers like Gordes or Roussillon.
Forcalquier dates to Roman times. Its historic streets have plenty of interesting architecture — convents, chapels, bell towers, and Gothic fountains.
One 15th century fountain commemorates the wedding of Henry III and Eleanor of Provence.
Forcalquier hosts the biggest market in the area on Monday in the Place du Bourget opposite the Cathedral. Thursday, there's a farmer's market.
15. Oppede-le-Vieux: Medieval Provence
Oppede-le-Vieux is an ancient medieval village dating back to the 12th century. Oppede is two villages, the old one and the new one.
Park your car in the new village and walk up.
Oppede has been named an "Outstanding Heritage Site" with ancient ruins of a chateau perched high on the rocks. Oppede has the classic French blue shutters and stone and pastel homes.
But what sets it apart from other Luberon villages is its medieval feel.
I hope you've enjoyed my guide to the most beautiful towns in the Luberon Valley. You may enjoy these other travel guides and resources for France:
If you'd like to explore the prettiest towns in the Luberon Valley, pin it for later.