This is the ultimate guide to visiting the magnificent Eltham Palace. It's a hidden gem in southeast London where Medieval meets Art Deco.
Few historic buildings in London pay testament to the passage of time like Eltham. The palace is a former royal residence turned into one of the great modernist mansions in England.
It's an eccentric mix of a 1930s mansion and a 15th century medieval great hall. On a visit, you can channel your inner Great Gatsby amidst Hollywood-like glamor and walk in the footsteps of Henry VIII, who grew up in the palace.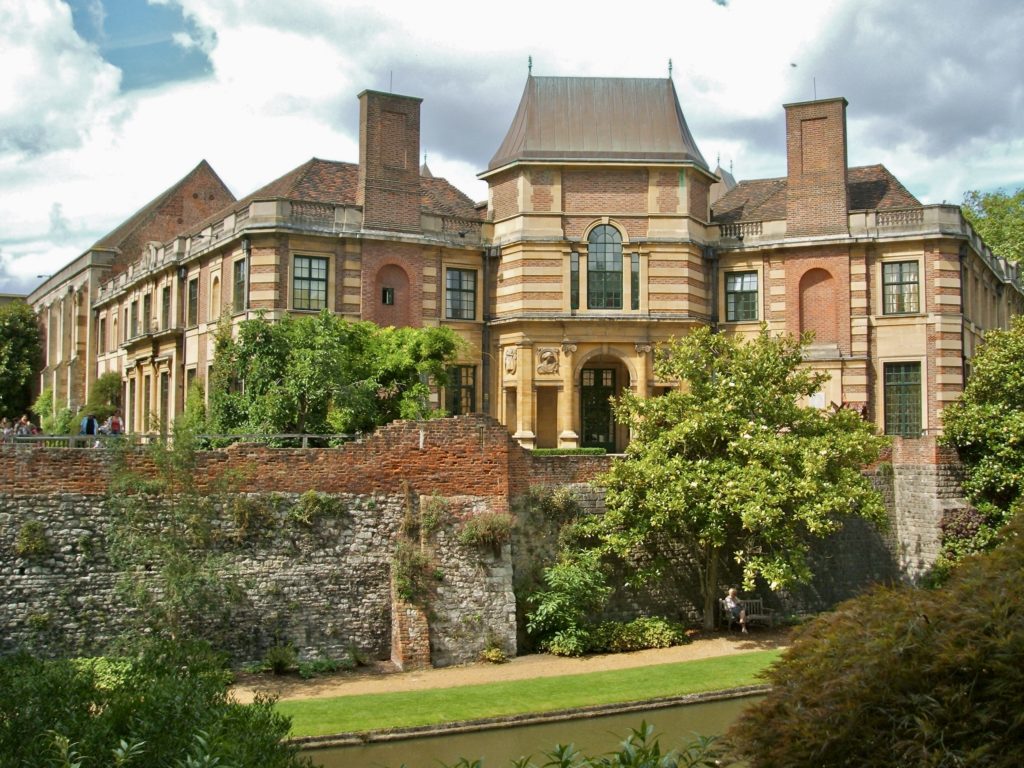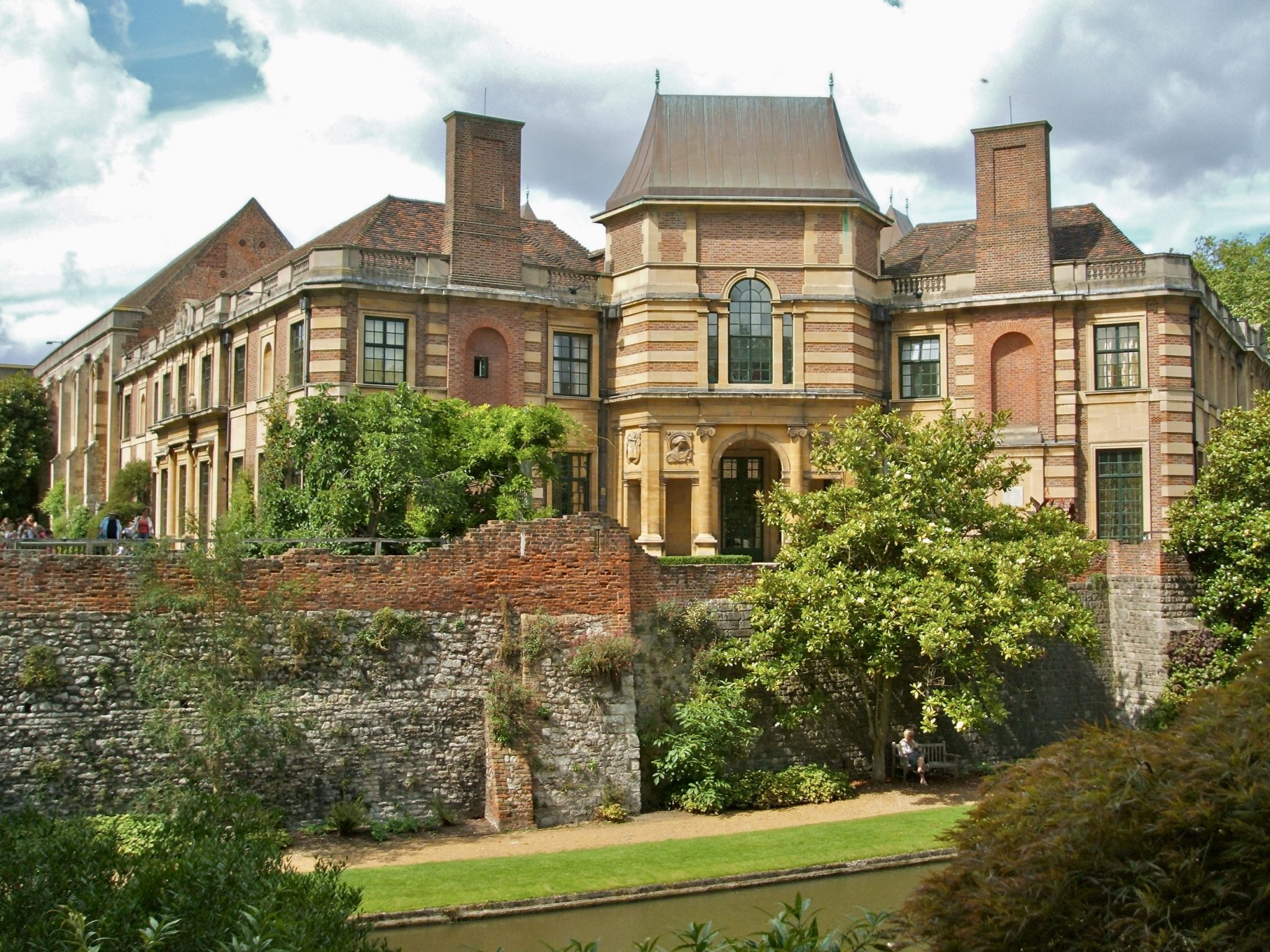 History of Eltham Palace
There's been an important house on these grounds since Saxon times. The name Eltham, or "Eadlham," means "old settlement." It was a favorite hideaway of every monarch from Edward II to Henry VIII.
Despite this appellation, nothing of import happened at the palace in its early days. In the 11th century, the palace reverted to the crown. It was eventually divided between the crown and the de Mandeville family.
By the late 13th century, a manor home of considerable size existed, owned by Anthony Bek. He was the Bishop of Durham and a supporter of Edward II.
Edward's wife Isabella, known as the "She-Wolf," retreated to Eltham following the birth of the future Edward III. Later, she was installed there under house arrest after conspiring to murder her husband.
During the reign of Edward III, Eltham was expanded from a cozy getaway to a proper royal pad. The king added sumptuous apartments, a bridge across the moat, and a deer park for hunting. The palace became the monarchy's most popular hunting ground.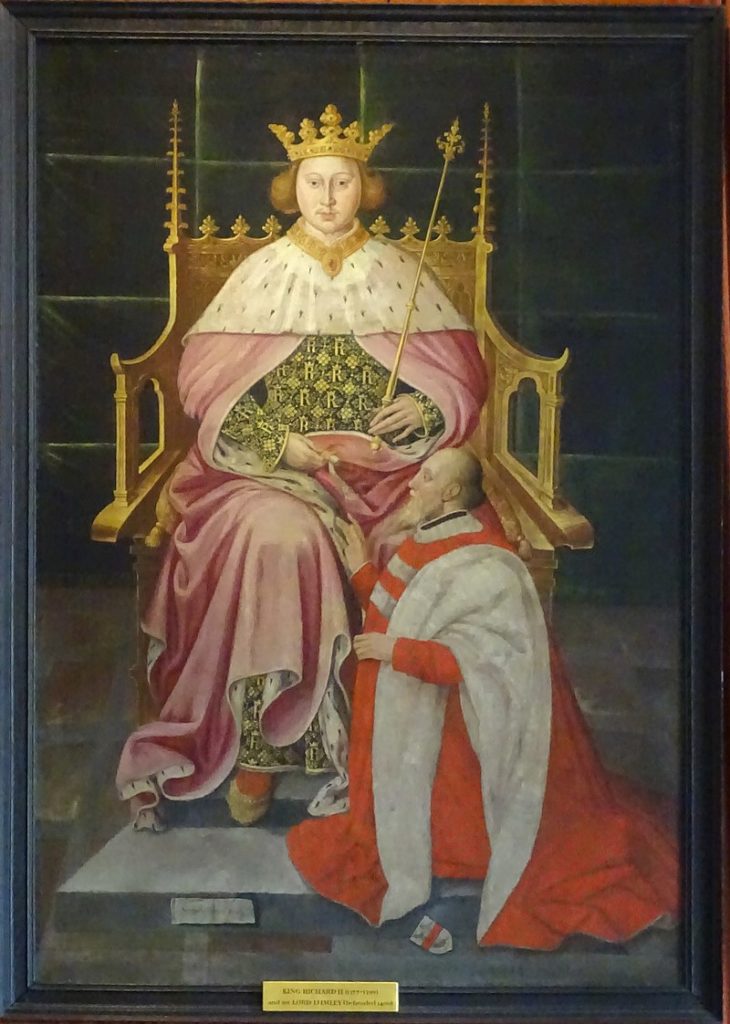 Richard II carried on the tradition and further gussied up the place. Notorious for cleanliness, he installed a state of the art bathroom, a painted chamber, a dancing chamber, and guest rooms.
Eltham became the king's favorite escape pad when relations with parliament went sour in London. It was also his annual Christmas retreat. (Even today, Eltham is decked out with lights at Christmas.)
Richard's successor, Henry IV, added a library and was married at Eltham to his second wife Joan of Navarre.
In 1450, however, tragedy struck and Eltham was hit by lightening. A substantial portion of the palace was destroyed.
But Edward IV lavished money on it, wanting a proper Plantagenet palace for his family. He built a spectacular medieval Great Hall, the only part of the medieval palace that still stands today. It's the third largest of its kind in England.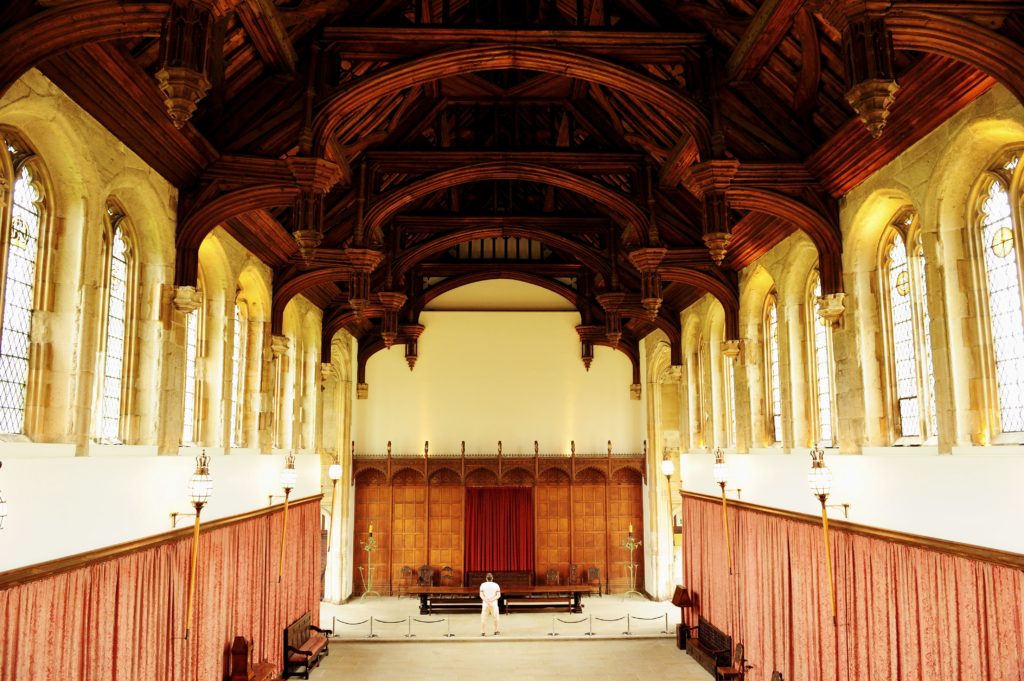 During the reign of the Tudors, Eltham became the "nursery palace" for the children of Henry VII, including the future Henry VIII. Henry would go on to spend 10 Christmases at Eltham as king.
It was at Eltham that Henry VIII engaged in randy escapades and courted his second wife, Anne Boleyn. As a couple, they visited the palace often and spent Christmases there. Anne even planned to spend her "lying in" at Eltham.
When she miscarried, that was the end of Anne's disintegrating marriage to the king. Henry had her executed on trumped up charges of adultery and incest, some of which he alleged occurred at Eltham.
It's no wonder that Anne's daughter, Elizabeth I, had no love for Eltham. It's heyday as a royal favorite was ended.
Gradually, the palace fell into a state of disrepair. It was further damaged by Puritans in the 17th century and left in ruins.
In 1933, Stephen and Virginia Courtauld signed a long term lease for the palace. They were philanthropists and socialites whose fortune was built on rayon. Their mission was to create a chic modern palace, while preserving the medieval Great Hall.
Stephen inherited a fortune from his family's textile firm. His older brother Samuel ran the business and collected Impressionist paintings that you can now admire in London's wonderful Courtauld Gallery.
Stephen's wife, Virginia, was his equal in every way. She was a fun loving half-Hungarian half-Italian divorcee who bewitched the more cautious Stephen when they met. He described her as "the sun that melted his cold exterior."
They never had children, been famously owned a ringed-tailed lemur named Mah-Jongg (purchased at Harrods) and a Great Dane named Caesar. Mah-Jongg had his own heated room, with a jungle fresco, which you can see on your visit.
With the help of architects Seely & Paget, the Courtaulds set about transforming the palace into an elegant Art Deco space with a $3.4 million makeover.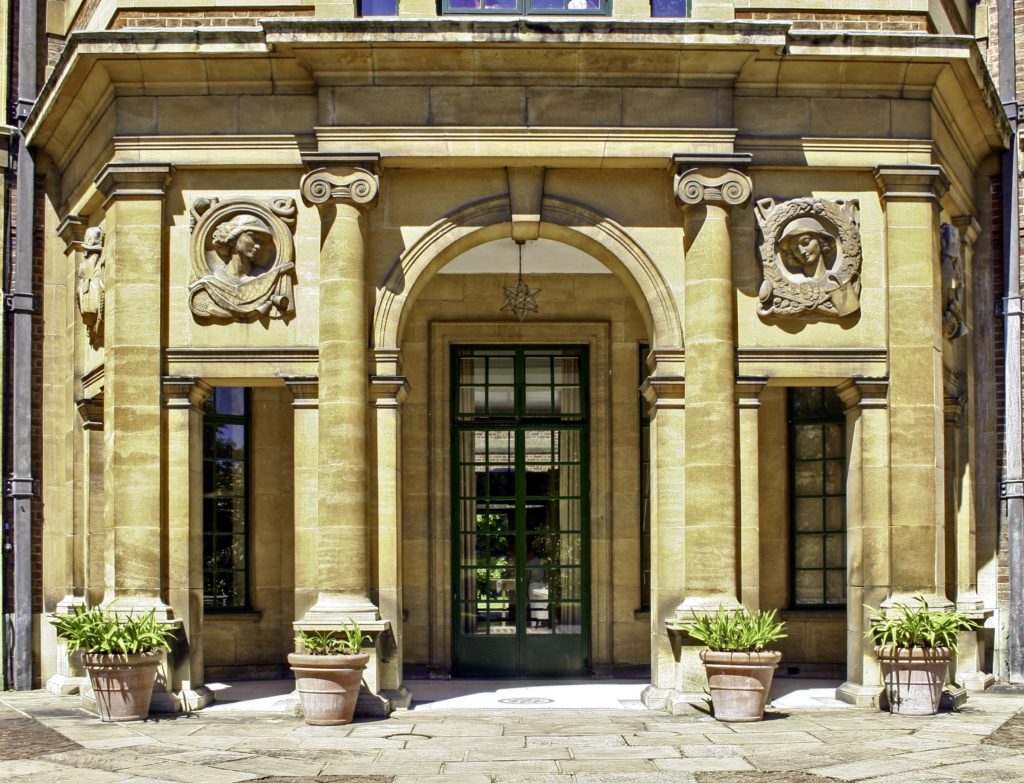 It had every modern domestic gadget, including under the floor heating and music piped throughout the house. Engineering historians say the house was probably the most advanced in England when it was finished in 1936.
The Courtaulds entertained and held lavish parties. Queen Mary and the late Queen Mother visited.
But, because of WWII bombing, they decamped in 1944 for other adventures. In 1995, English Heritage took over operation of the palace and reproduced furniture that had been dispersed.
The palace opened to the public in 1999. But the most complete renovation was finished in April 2015.
Eltham made an appearance in the popular TV series The Crown. The entrance hall was also a filming location for the Agatha Christie movie Death on the Nile.
Guide To Eltham Palace: What To See
While the facade is a restrained red brick and stone building, inside it's an Art Deco dream. You'll be wrapped in golden honey tones and dusky pink.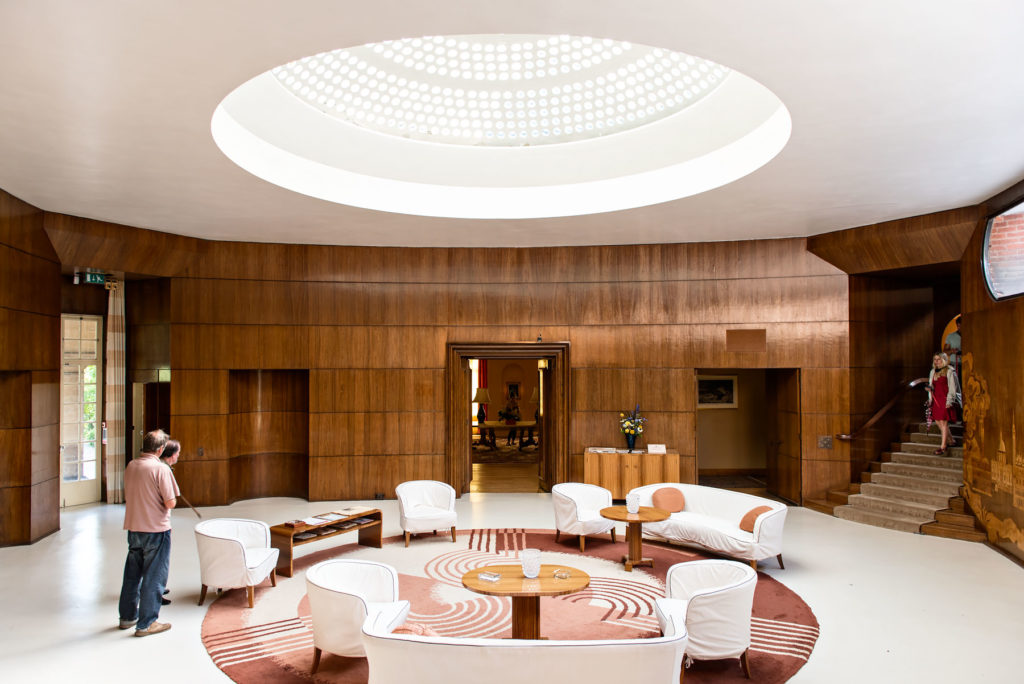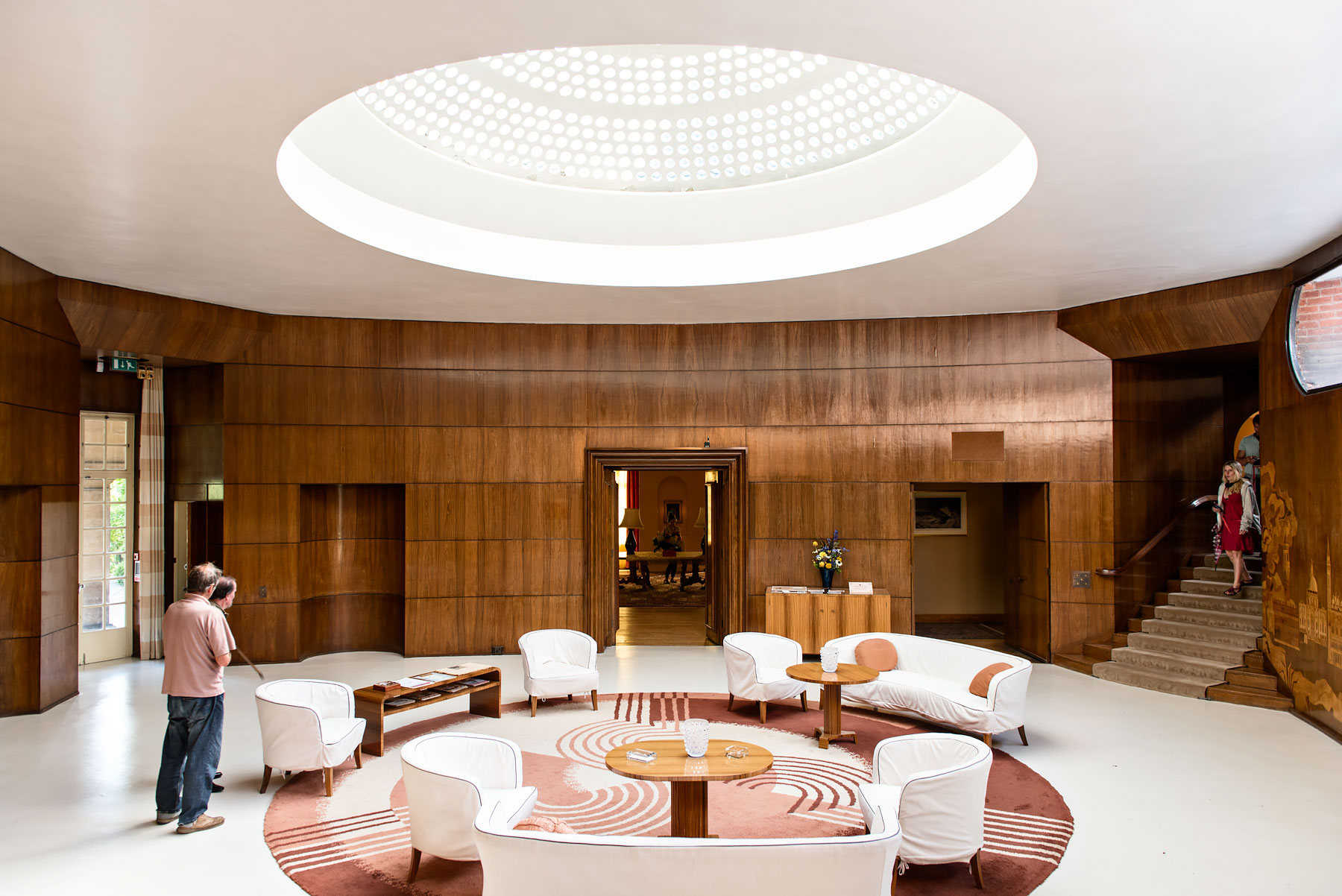 With the exception of the entrance hall, most of the rooms were designed by Peter Malacrida, an aristocratic Italian playboy/decorator. He also designed the interiors of the Courtaulds' luxury yacht named "Virginia."
Here's what you'll see at Eltham Palace.
1. Entrance Hall
The entrance hall is the most beautiful room in Eltham Palace. It's a curved hall designed by Rolf Engstromer, a Swedish designer. This is where the Courtaulds entertained and Stephen poured cocktails.
The walls are made of a black bean veneer and the room is topped by a concrete dome with hundreds of glass circles. There's a reproduction of a circular rug by Maria Dorn, an Art Deco designer. The original is in the Victoria & Albert Museum, one of the best museums in London.
The furniture is a simple platinum blonde, with curving edges. The intricate inlaid marquetry depicts scenes from southern and northern European civilizations, including a Viking and a Roman soldier.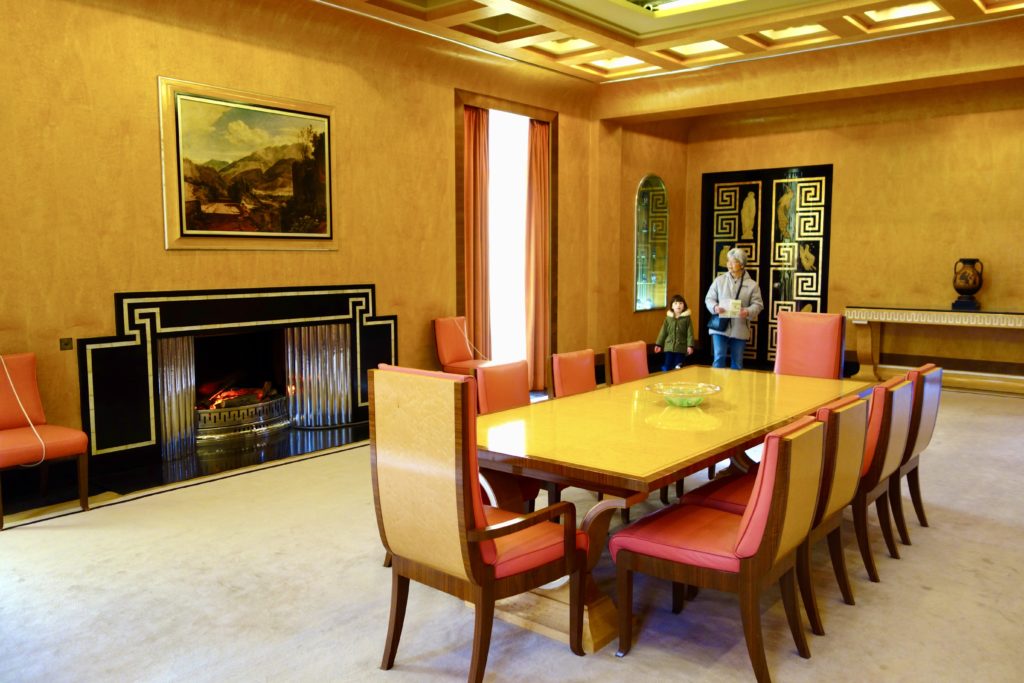 2. Dining Room
The dining room, designed by Malacrida, is a master class in Art Deco style.
It has an aluminum leaf ceiling. The walls are lined with birds eye maple and the chairs are cushioned in a rosy leather.
There are beautiful Art Deco doors and a striking Art Deco fireplace. The doors have a decorative panel of black lacquer and silver, with a bold Greek key design and paintings of animals and birds from the London Zoo.
The table and chairs are replicas of the Malacrida originals. But the originals were discovered in 2001 and are in storage at Eltham.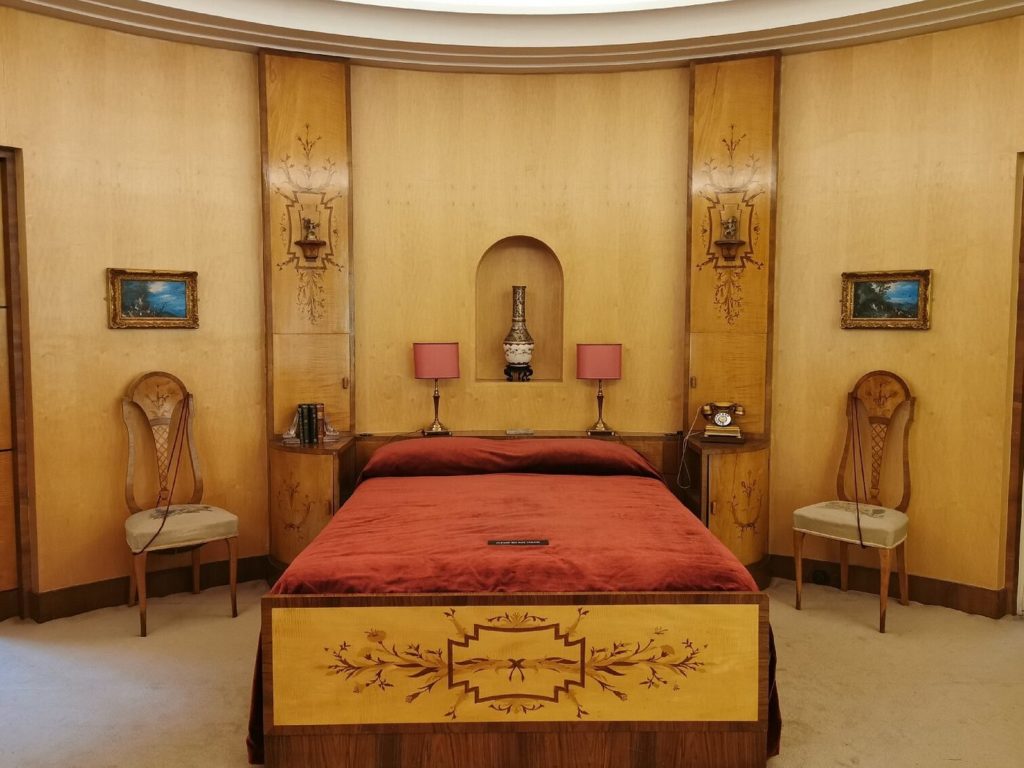 3. Bedrooms
A staircase leads you from the entrance hall to the upstairs bedrooms.
Stephen and Virginia had separate adjoining bedrooms, connected by a hidden door. The bedrooms were located on the first floor with a corridor leading to the minstrel's balcony of the Great Hall.
Stephen's room is rather monastic and masculine. It's lined with aspen and features "Kew Gardens" wallpaper. It had built in furniture and was outfitted with an electric fireplace, which was cutting edge in those days.
Virginia's bedroom is much more flamboyant, reflecting the tastes of both Malacrida and Virginia. The bedroom is approached via a circular lobby, with a curved sliding door.
It has the vibe of a primitive classical temple, with curving walls lined with maple and a circular ceiling. Virginia had an electric fireplace as well. There's also an original gold colored telephone from the 1930s on a stand.
4. Bathrooms
The Courtaulds each had their own en suite bathroom.
Virginia's bathroom is known as the "golden bathroom" and is very film star bling-y.
One wall is lined with gold mosaic tile and others lined with onyx. There are gold plated taps and a towel bar. It comes complete with a statue of the Greek goddess Psyche.
Stephen's bathroom is a contrast, lined with bright turquoise blue tiles. The curtains are green and white, and there's matching green trim.
6. Wardrobe
You can also admire Virginia's walk-in wardrobe. She was a renowned clothes horse. English Heritage has stocked her wardrobe with period clothes, which you can actually try on.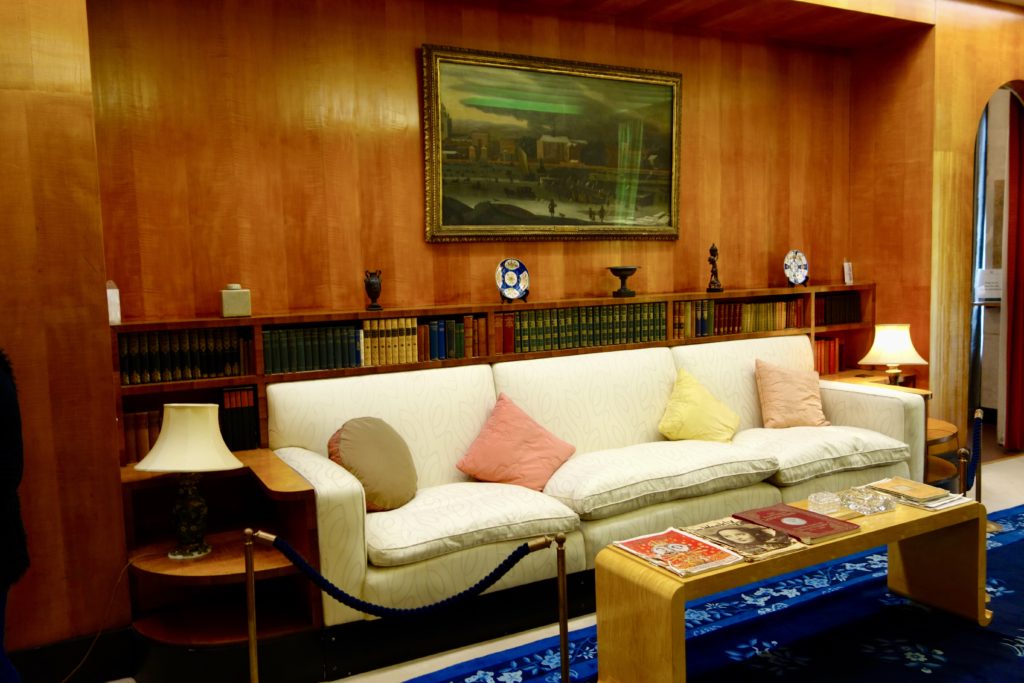 5. Boudoir
The boudoir is one of the prettiest rooms in the palace. It features an early example of built-in furniture, with bookcases in a niche across from the fireplace.
On the table, you can see classic publications dating back to the 1930s and 1950s. An embossed leather map covers the chimney breast.
7. Map Room
The Map Room was recently restored with public funding.
Restoration also uncovered some hand painted maps and illustrations, which had been hidden for decades under layers of paint and wallpaper.
The Courtaulds were frequent travelers and used this space to plan their next adventure or yacht cruise.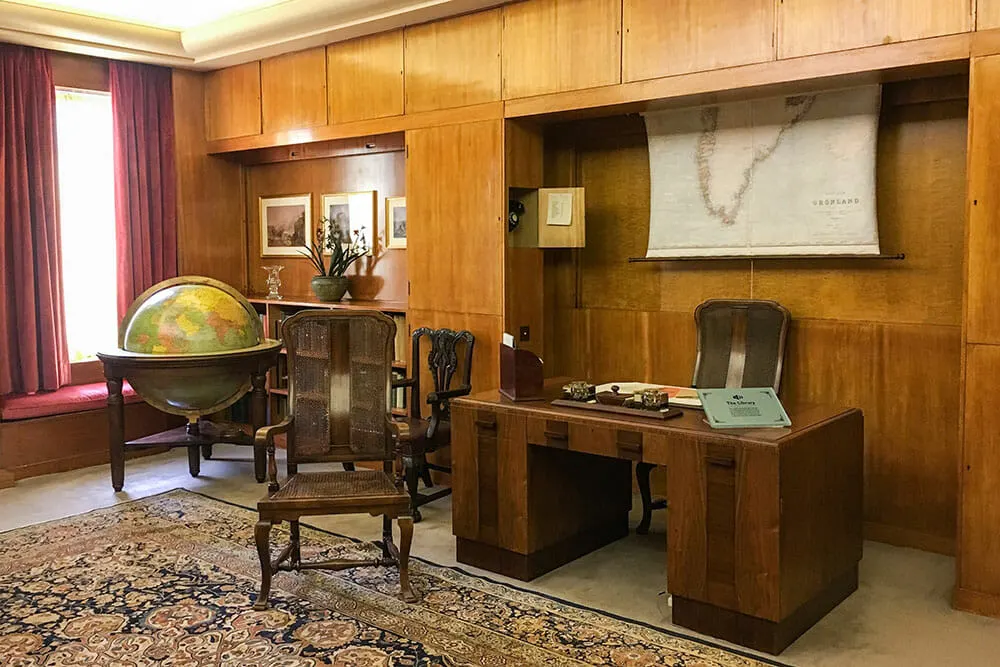 8. Library
The library was where Stephen worked, when he worked. The room has honey panelling and built in bookcases. A large globe helped him plan trips.
The library once held 13 watercolors by J.M.W. Turner, the great Romantic painter.
9. Wartime Bunker
During WWII, the Eltham's used an underground bunker to escape from the bombing. In fact, four bombs hit the Great Hall, damaging the east end of the roof.
It was pretty luxurious for a bomb shelter. There was a billiards room, bar, and sound system for entertainment.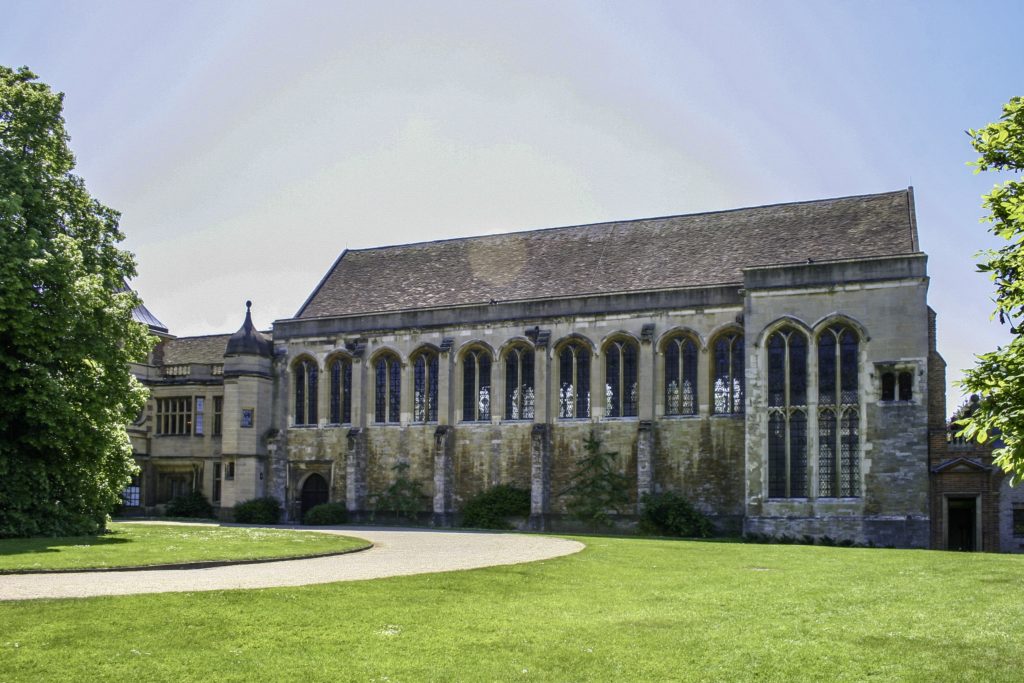 10. Medieval Great Hall
Eltham Palace is actually two buildings, the palace and the medieval Great Hall. The hall is attached to the palace.
Edward IV built the banqueting hall in 1475. It's a cavernous space.
The hall comes complete with a stunning hammerbeam ceiling in the English Gothic style and is all that remains of the former royal palace. It's very similar to the Great Hall at Hampton Court Palace.
The ceiling takes your breath away. It's mostly original and constitutes an elaborate feat of carpentry. It was most likely built by King's Mason Thomas Jurden.
A minstrel's gallery with armchairs overlooks the Great Hall. The Courtaulds added the balcony feature to provide space for musicians when they entertained.
The Great Hall was in complete disrepair when the Courtaulds moved in. They had to recreate the medieval atmosphere, replicating the stained glass clerestory windows and carvings of medieval buildings.
There is royal heraldry in the bay window, including the symbol of Henry VIII.
But the whole place feels authentic and you can imagine the merry feasts or musical nights that once took place there.
11. Gardens
The 19 acres of gardens at Eltham Palace are a little slice of heaven that come complete with a moat and medieval bridge. They are designed to be historically accurate from the 1930s.
You'll find a sunken rose garden, lawn theater, and lavender hedge set amid ancient ruins and 18th century Ionic columns.
There's a red rose named after Virginia. And in the spring you'll find a pergola covered in lavender wisteria.
There's also a playground for kids.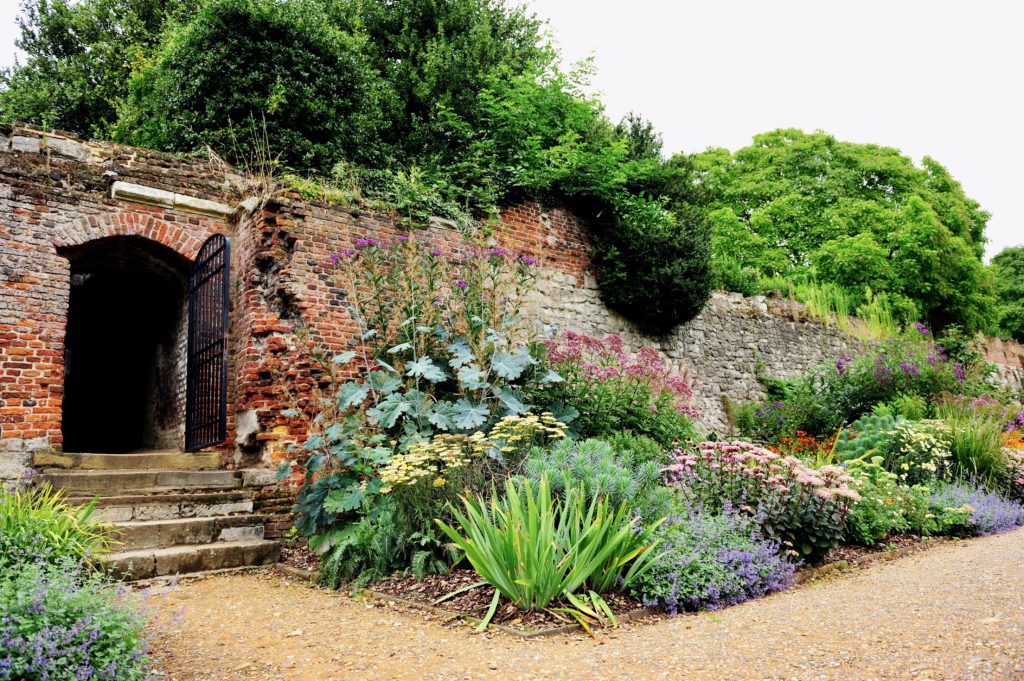 12. Ranger's House
Just 15 minutes down the road from Eltham is another heritage property you might want to visit, the Ranger's House. It's an elegant Georgian villa.
It houses the Wernher Collection, which was amassed by the 19th century diamond magnet Sir Julius Wernher.
Spread out over a dozen paneled rooms, the collection includes medieval jewelry, Italian ceramics, Renaissance paintings, 18th century French furniture, and British portraits.
If you're a fan of the Netflix series Bridgerton, you may recognize Ranger's House as the Bridgerton family home, complete with lilac colored wisteria draped across its facade.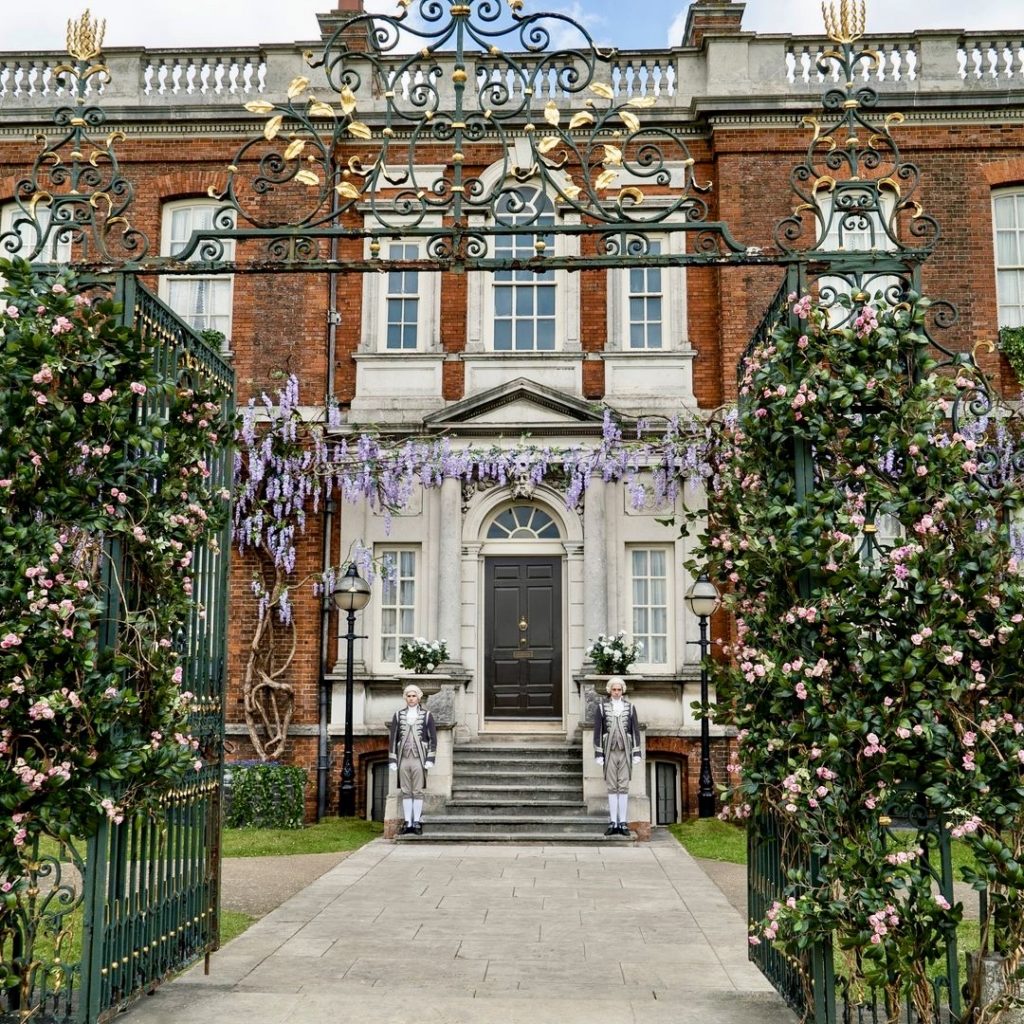 Practical Information For Visiting Eltham Palace
Here are some must know tips for visiting Eltham Palace.
Address: Court Yard, London SE9 5QE
Hours: The palace is open Wednesday, Thursday, Friday, and Sunday, closing between 4:00 pm to 6:00 pm depending on the season. Check website for hours.
Tickets: £17.60, which includes an informative audio guide. Entry is free if you have the English Heritage Pass for Overseas Visitors. This pass is valid at over 100 properties and is available for 9 or 16 days.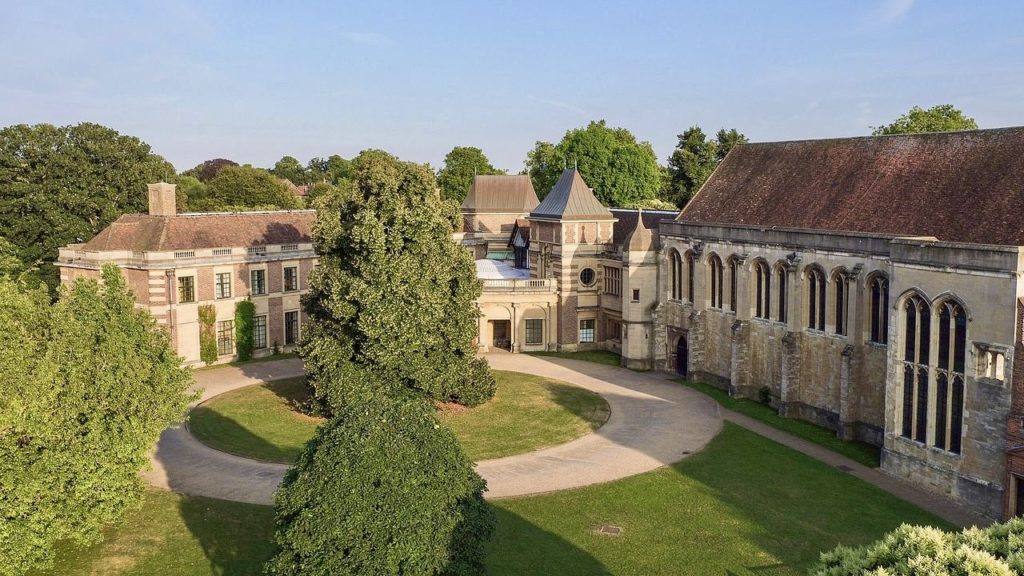 How To Get To Eltham Palace
Eltham Palace is approximately a 50 minute drive from London. You can also take the train. Frequent trains depart from Charing Cross and Victoria Stations for Eltham Station and take just 20 minutes.
From the train station, turn left on Well Hall Road and then walk along Court Yard to the palace gates.
You can also visit Eltham on a 5 hour guided tour from London.
Food: If you're hungry, there's a cafe on site. It's an airy place with skylights that feels like a greenhouse. You can have afternoon tea or hot and cold lunches. There's also a lawn and picnic table area beside the Visitor Centre.
Pro Tips: In the summer, the palace hosts a medieval joust. The palace also has an award winning museum shop.
Where To Stay When Visiting Eltham Palace
I'm assuming you're visiting Eltham Palace, at least in part, because you're a fan of 1930s Art Deco style. If so, to continue the vibe, there are some Art Deco style hotels you should check out in London.
Claridges captures classic British grandeur, but with an abundance of Art Deco jewels in its crown. The Savoy blends Edwardian and Art Deco design, and recently received a pristine makeover.
The Beaumont in Mayfair is another glorious Art Deco affair. You'll find checkerboard floors in black and white marble, retro-inspired furniture, and decorative columns detailed with bands of gold and brass.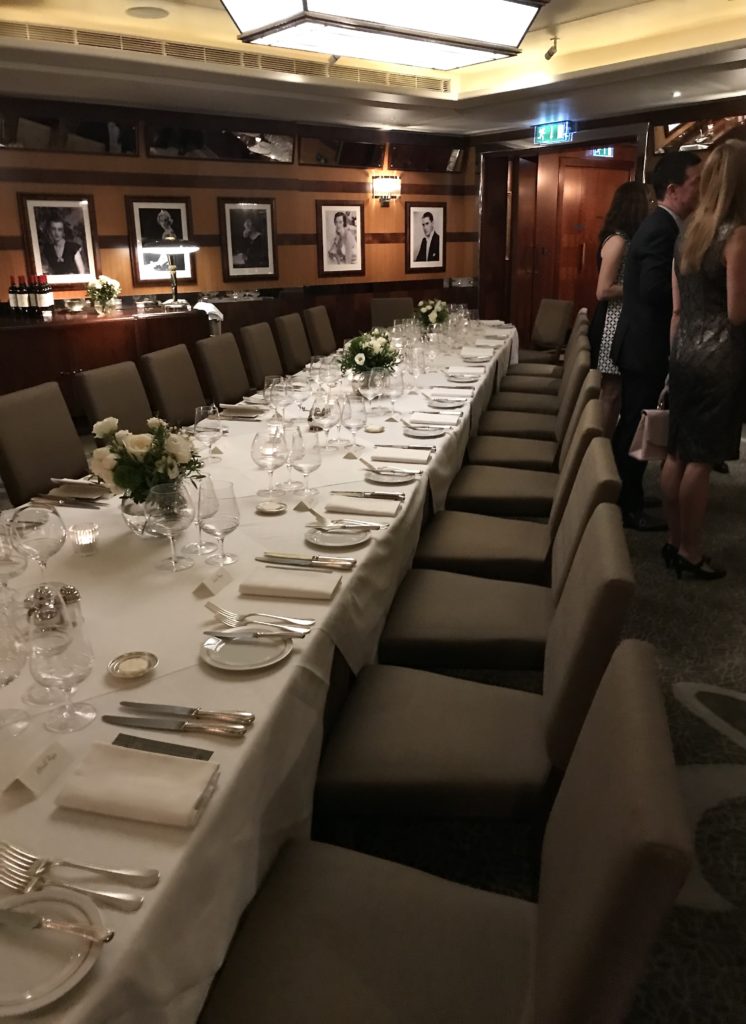 I hope you've enjoyed my guide to Eltham Palace. You may enjoy these other England travel guides and resources:
If you need a guide for Eltham Palace, pin it for later.