Here's my guide to visiting the Courtauld Gallery in London. The museum is a stunning hidden gem located in London's Somerset House. It first opened its doors in 1932.
The Courtauld Gallery is renowned for its collection of Impressionist and Post-Impressionist art. If you're an art lover, you will walk in and immediately recognize the paintings.
The museum just received a perfectly-judged 3 year face lift, re-opening in November 2021. The result is stunning, with airy well lit galleries showcasing some of the best art in London.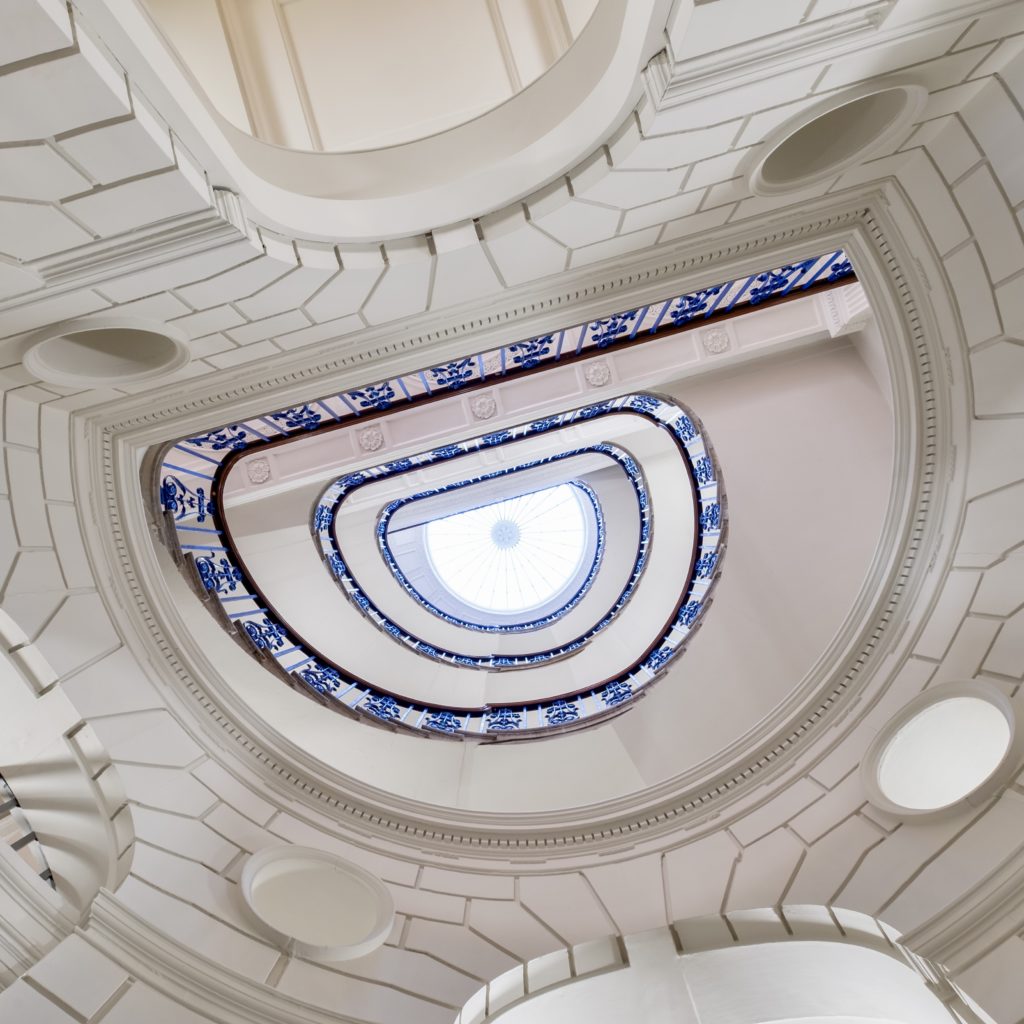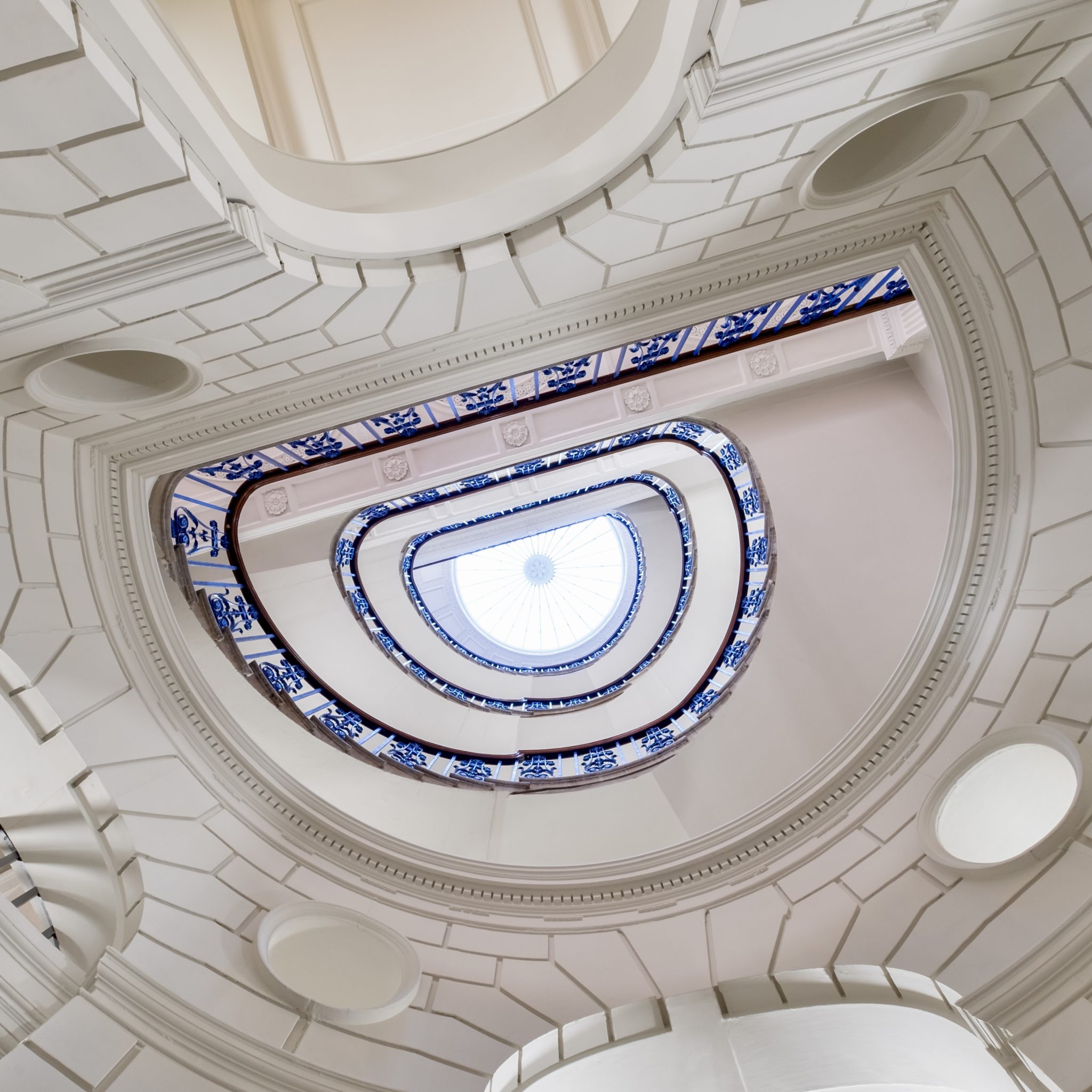 In the Great Room, there are seminal works by Renoir, Manet, Monet, Cezanne, and Van Gogh. The museum has Britain's largest collection of Cezanne works.
There's also a collection of early Renaissance works, including some by a Botticelli, and northern Renaissance pieces. And two knockout rooms with Rubens paintings.
The Courtauld also some top level temporary exhibitions. When I was there, there was an extremely popular exhibit of Van Gogh's self portraits.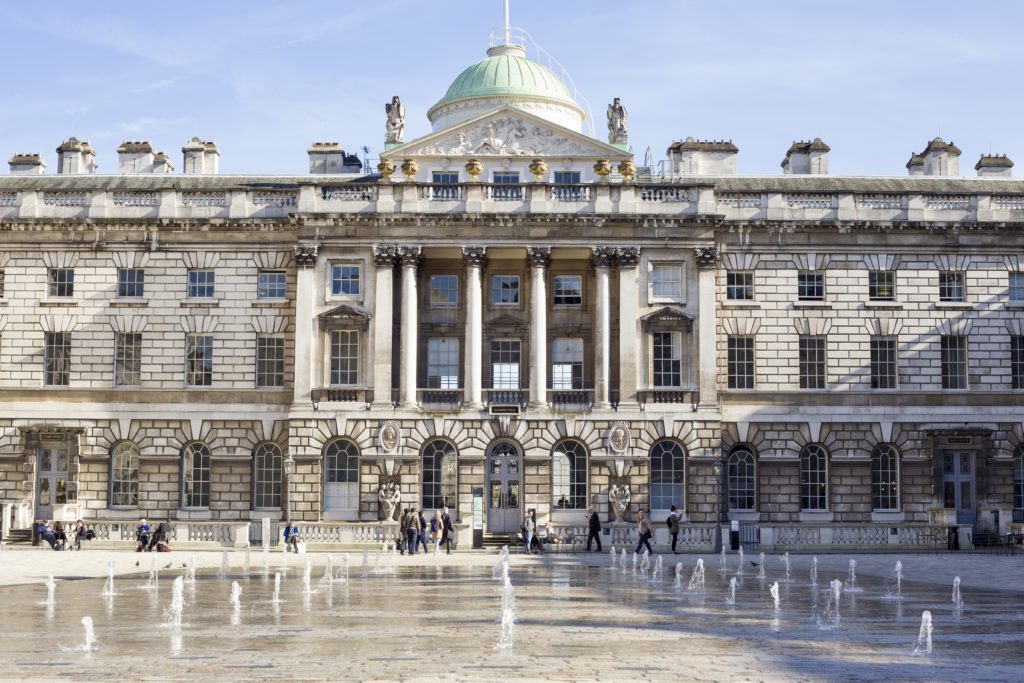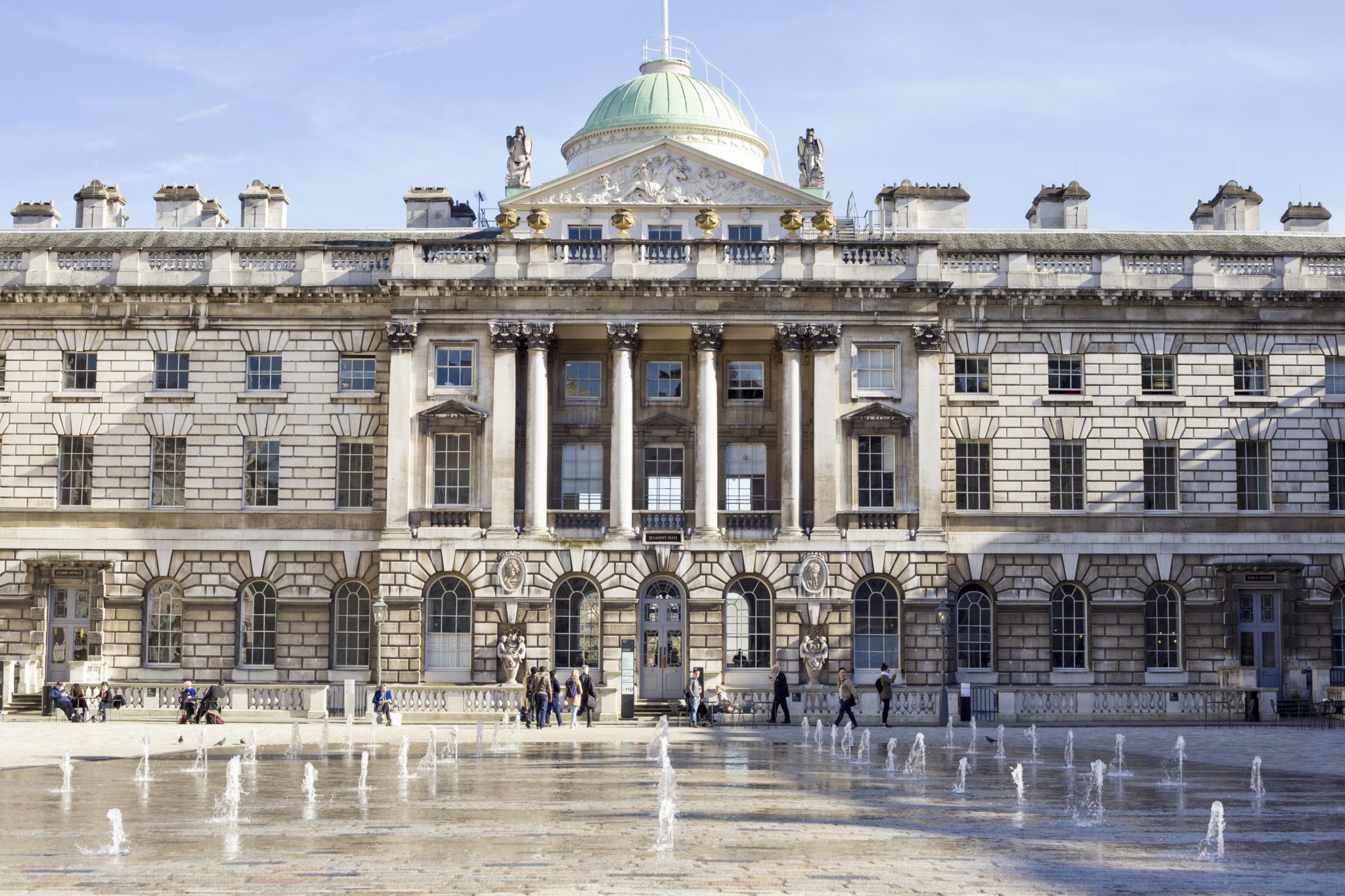 History Of The Courtauld Gallery
The Courtauld Gallery is housed on the Strand Block of Somerset House. It's a large Neo-Classical complex overlooking the Thames River.
Somerset House was designed by George III's architect of choice, Sir William Chambers. It's a masterpiece of Georgian classical architecture, with a Palladian conception.
The interior vestibule was inspired by the Palazzo Farnese in Rome. A wrought iron staircase, painted in a distinctive Prussian blue, winds up to the dome at the top.
The gallery is associated with the Courtauld Institute of Art. It's part of the University of London and is an elite academy for fine arts studies and research.
The institute was founded by textile magnate Samuel Courtauld. He only began collecting art in 1922, at the age of 46. Courtauld believed that understanding art is life enhancing and improves society.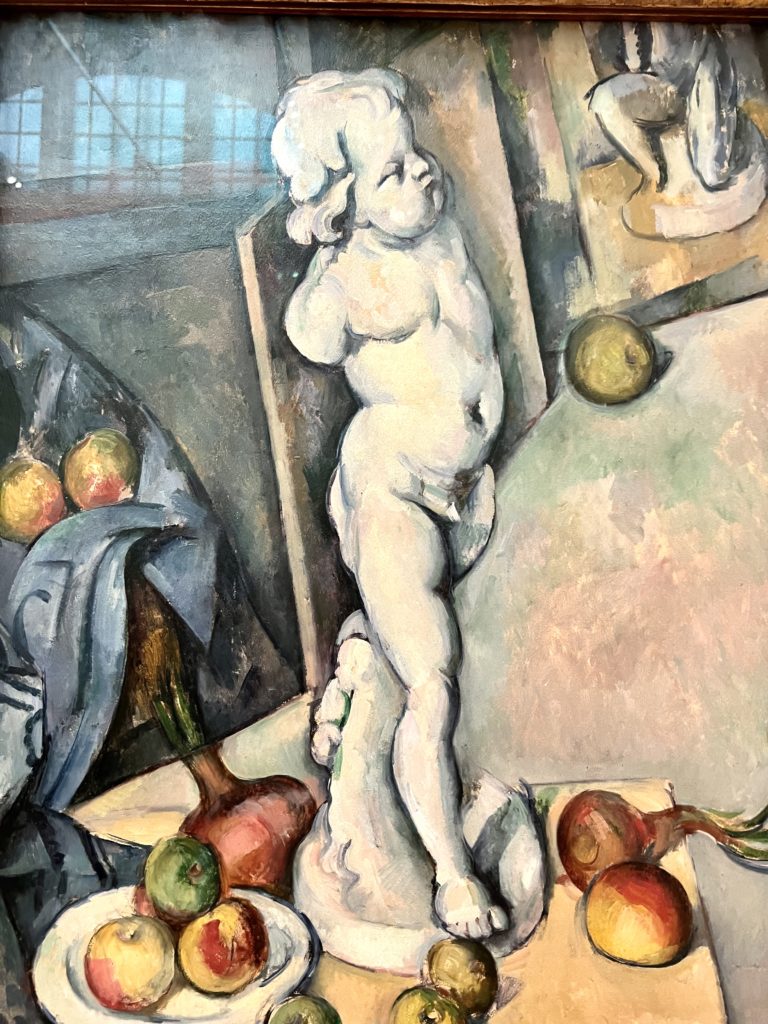 With savvy and dynamism, within 10 years, he had accumulated some of the finest works by Manet, Degas, Cezanne, Monet, Pissaro, Renoir, and Seurat. Courtauld bequeathed many of these paintings to the art gallery.
Other Courtauld benefactors donated important pieces, particularly medieval pieces and old masters work by Veronese and Rubens. Altogether, the gallery has an incomparable collection of medieval to modern pieces.
In 2018, the gallery was closed for three years for a $76 million renovation. The meticulous revamp had the goal of better displaying the myriad masterpieces. A rehang and better lighting were key.
Newly reorganized, the collection proceeds mostly chronologically as you ascend.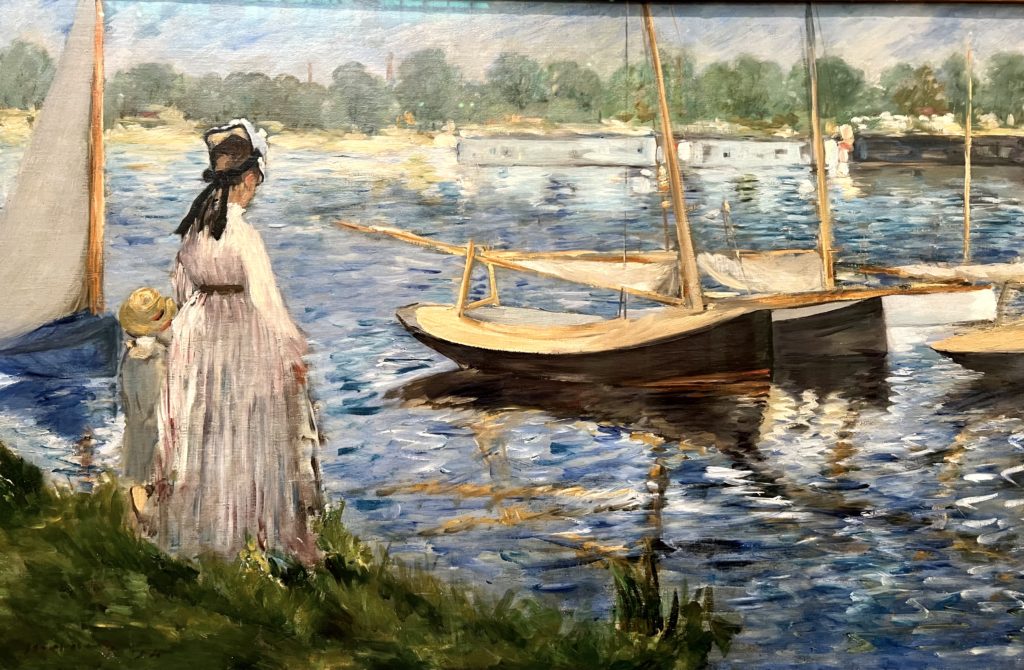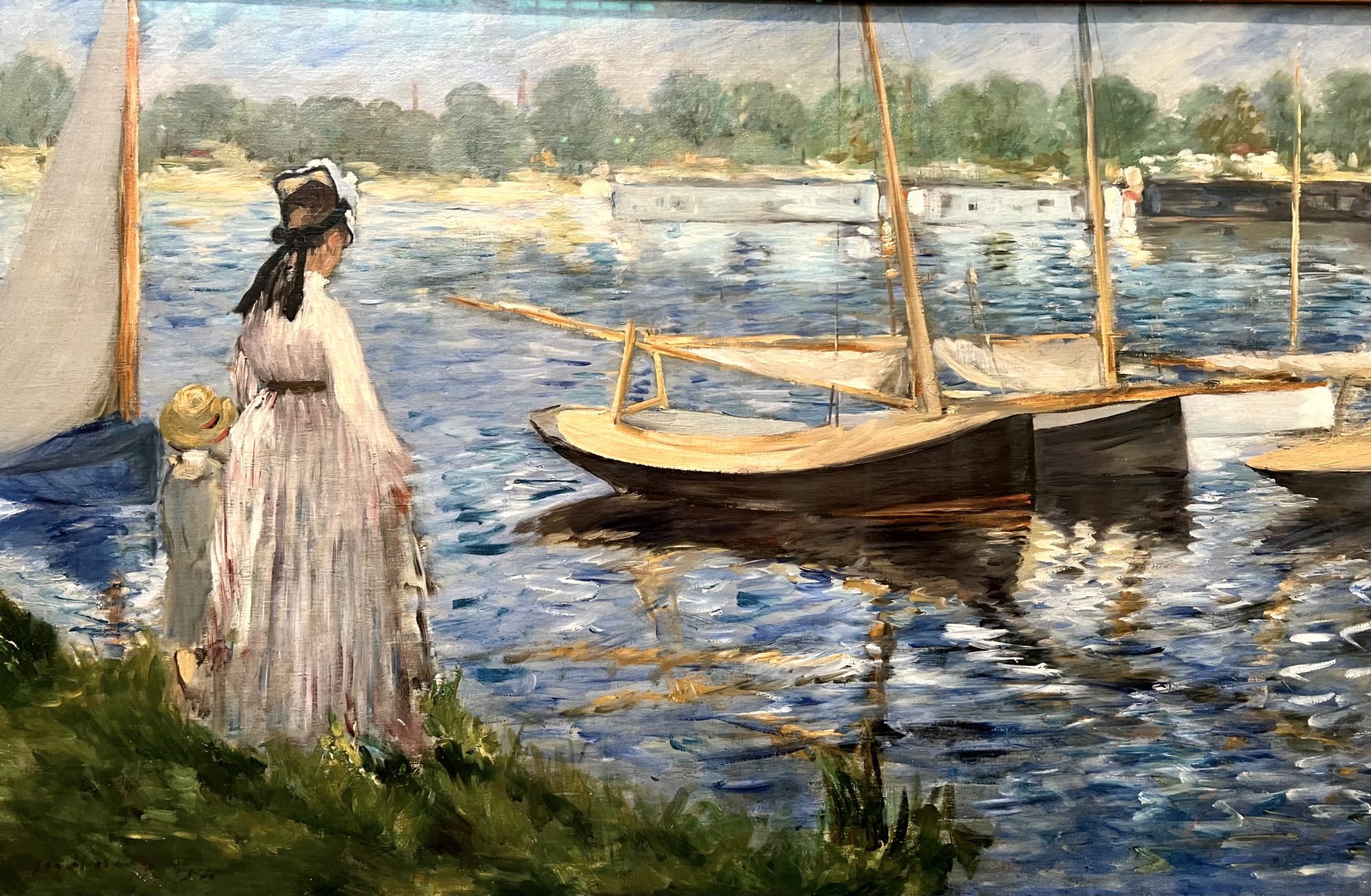 Overview of the Courtauld Gallery
The renovation added a new gallery space on the first floor. It shows off the gallery's collection of medieval and early Renaissance art.
On the second floor are the Blavatnik Fine Rooms. They house some iconic old master works by Botticelli, Rubens, and Cranach.
The Great Room on the third floor is the gallery's star exhibition space. It was formerly subdivided and is now opened up. The ceiling was removed and the clerestory windows revealed. The room is just one jaw dropping piece of art after another.
Two rooms beyond the Great Room are for temporary exhibitions.
Masterpieces Of The Courtauld Gallery
Wondering what to see at the Courtauld Gallery? Here are 13 famous paintings you can't miss.
1. Van Gogh, Self Portrait With Bandaged Ear
Vincent Van Gogh has cast almost a religious spell on art history and his avid fans. Van Gogh's Post-Impressionist work is beloved — notable for its swirling line, emotional honesty, and bold vivid color.
Van Gogh is famous for his self portraits. He painted 43 of them.
This one was painted a week after leaving the hospital after cutting off his ear. Van Gogh had quarreled with fellow painter and friend Paul Gauguin. Gauguin walked out, dashing Van Gogh's dream of having a painting "studio of the south."
The self portrait reflect both the artist's painting power and his personal struggles. It signals his determination to keep painting.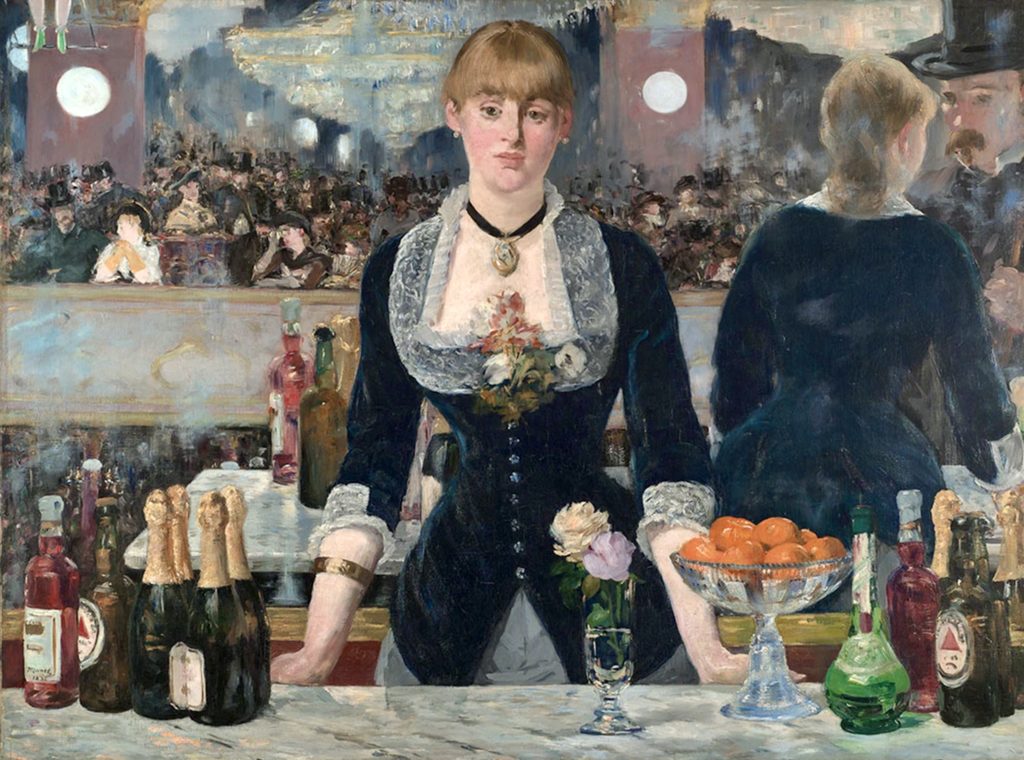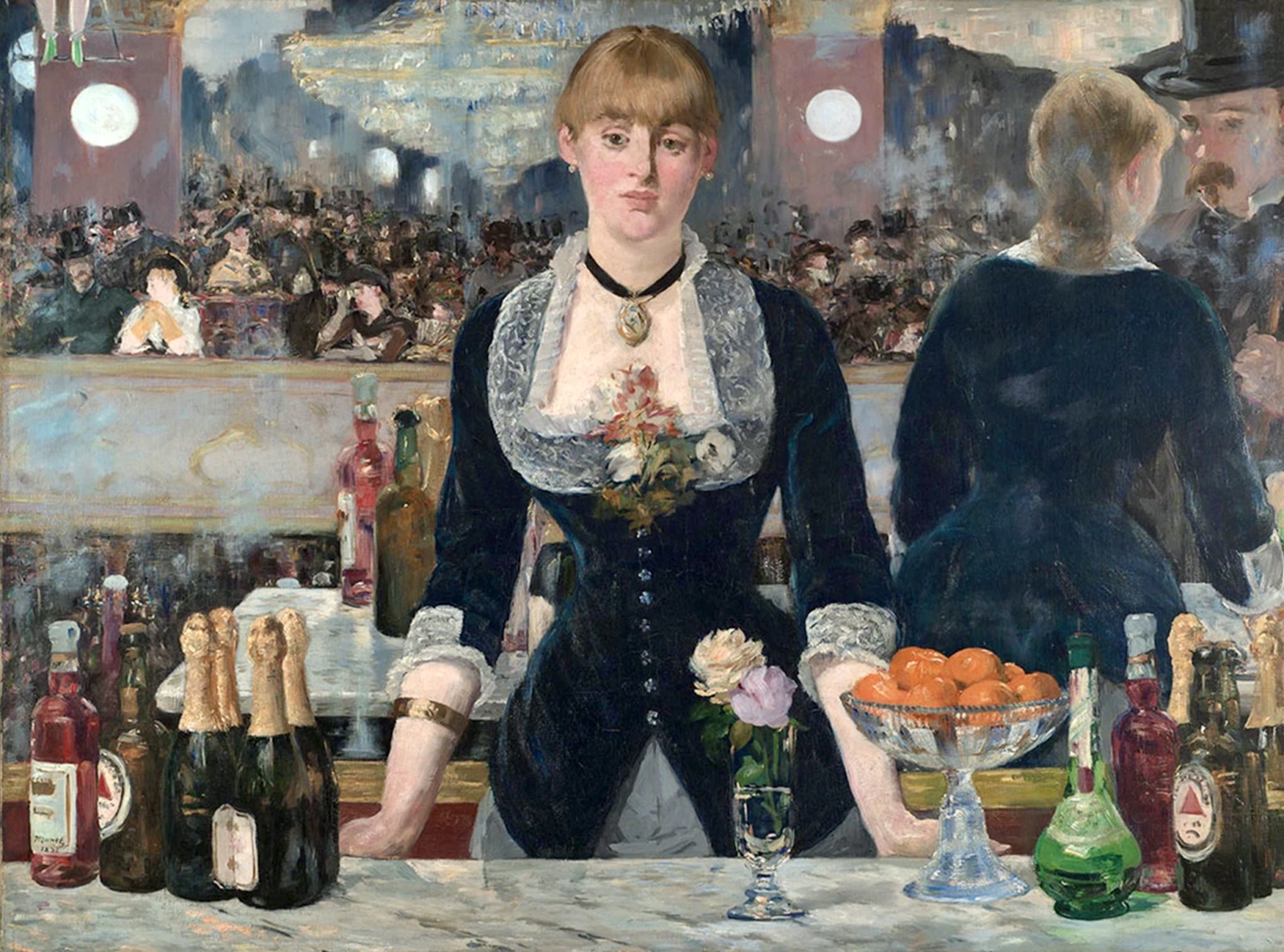 2. Manet, Bar at the Folies-Bergere
Manet is known as the "Father of Impressionism," though he really preceded and overlapped with the movement.
Manet had a huge impact on the development of modernism. He led a bohemian life and scandalized the official Salon with his utter disregard for academic conventions and his strikingly modern images of urban life.
Folies-Bergere was Manet's last major painting. It's a technical tour de force. Manet uses shimmering color, controlled brushwork, and rigorous design to evoke the gaslit atmosphere of a cafe.
The large distorted mirror behind the barmaid contains much of the visual information of the painting in unfocused images. It creates a disorientating effect.
The barmaid has an enigmatic expression. Her reflection in the mirror is blurry.
The man she is serving is almost an afterthought in the upper right corner. There's a distractingly beautiful still life on the counter.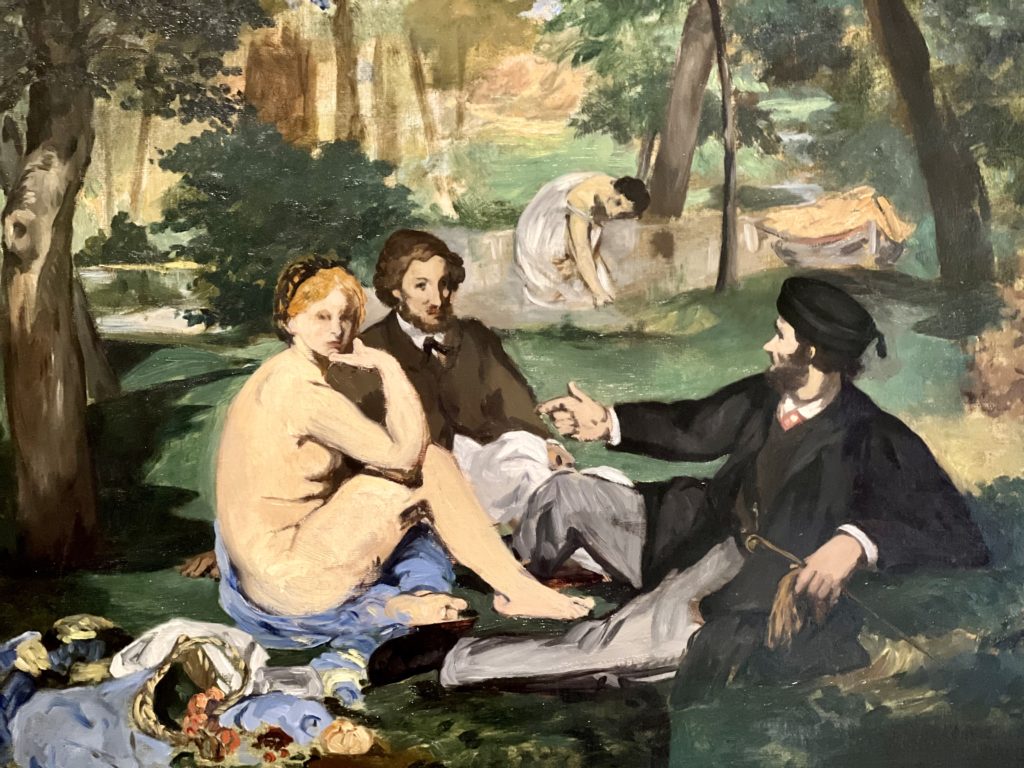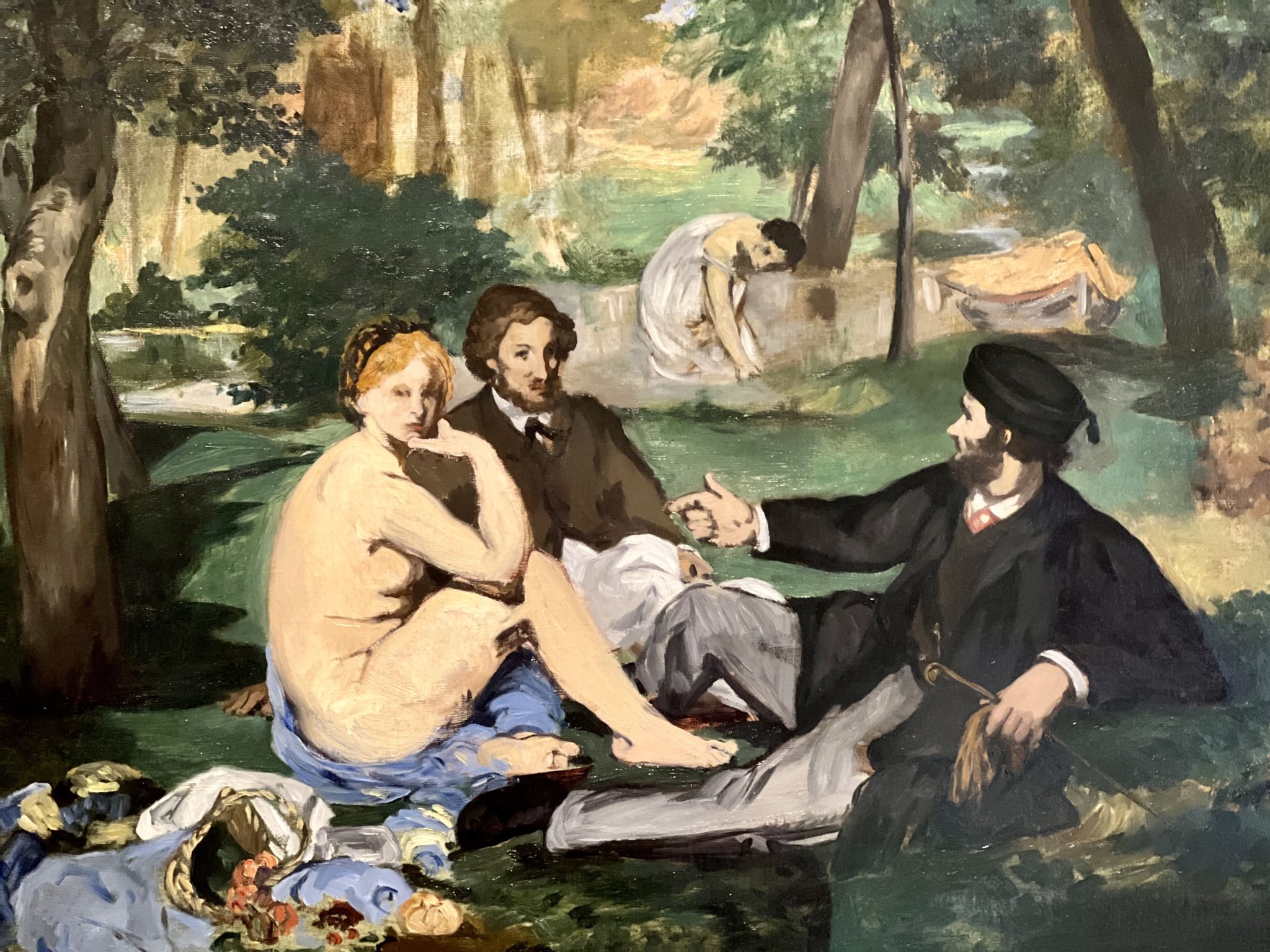 3. Manet, Le Déjeuner sur l'Herbe
This is a study for one of the world's most famous paintings, Le Dejeuner sur l'herbe. The painting is only display at Paris' Musee d'Orsay.
That large scale painting, inspired by Titian's Pastoral Concert. It was initially rejected by the Salon.
What is the painting about exactly? It is a luncheon scene or a bathing scene? Manet intentionally refused to provide a clear narrative.
The anonymous female nude was deemed shocking at the time. She wasn't based on a mythological figure, as was the prevailing fashion.
She is unidealized and stares straight at the viewer without quibble. Manet's brushstrokes are loose and unfinished. The perspective is off, intentionally so.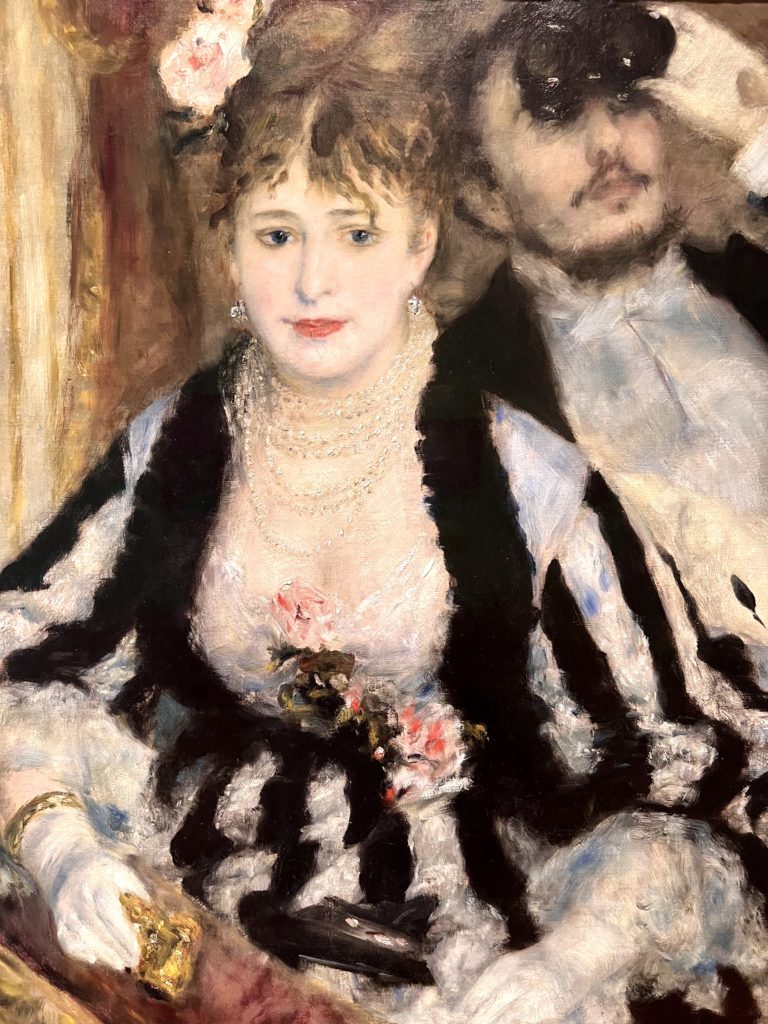 4. Renoir, Theater Box
This early Renoir piece may be inspired by the English tradition of monumental portraiture.
It shows a couple in the interior of a theater box. It was exhibited at the first Impressionist group exhibition in Paris in 1874.
The staging of the figures is unconventional. The woman dominates the tightly cropped scene, appearing as an accessible flesh and blood woman. The extremely dramatic dress creates a symphony of black and white colors.
Renoir's brushstrokes are delicate. This soft hued painting would help establish Renoir as one of the leading Impressionist painters of his generation.
5. Seurat, Young Woman Powdering Herself
Seurat was a founder of Pointillism. It was a revolutionary painting technique in which small distinct dots of color are applied in patterns to build a bigger image.
Seurat would place colors from opposites sides of the color wheel next to each other for greater contrast.
This painting was the only major portrait Seurat ever created. It depicts his companion, Madeleine Knobloch, applying her make up.
The mirror-like frame in the upper left corner once held a self portrait of Seurat. After bing ridiculed by a friend, he painted the vase of flowers over it. The self portrait was discovered with infrared reflectography.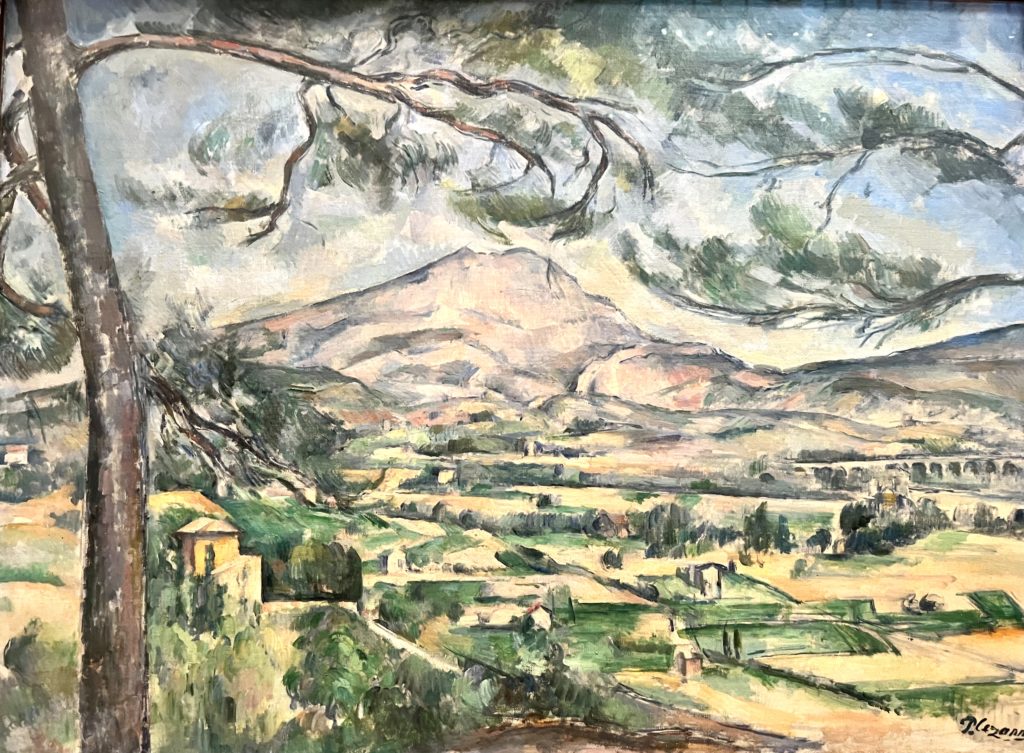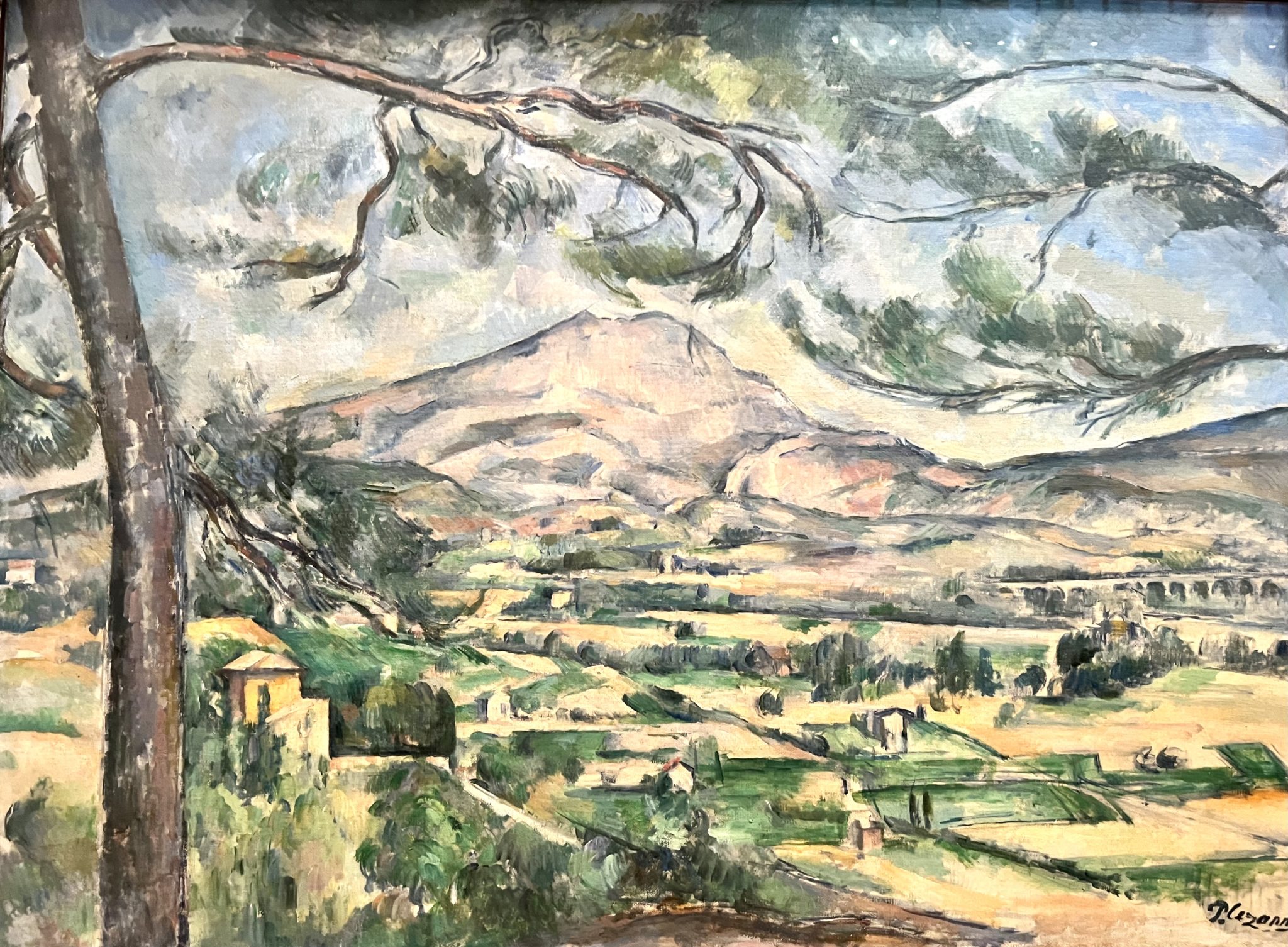 6. Cezanne, Sainte-Victoire
Cezanne was a hugly influential painter. Monet called Cézanne "the greatest of us all." For Picasso, he was the father of modern art.
Cezanne threw away the long prevailing convention of single point perspective. He used multiple perspectives in a single canvas, portraying objects as sets of abstract shapes.
Sainte-Victoire was a favorite subject of Cezanne's. The mountain dominated the landscape of Cezanne's home in Aix-en-Provence in southern France.
The artist painted many iterations of the mountain from different vantage points throughout his career.
Samuel Courtauld said that, when he first saw a Cezanne painting, he felt the "magic." Courtauld went on to collect the largest group on Cezanne works in the U.K.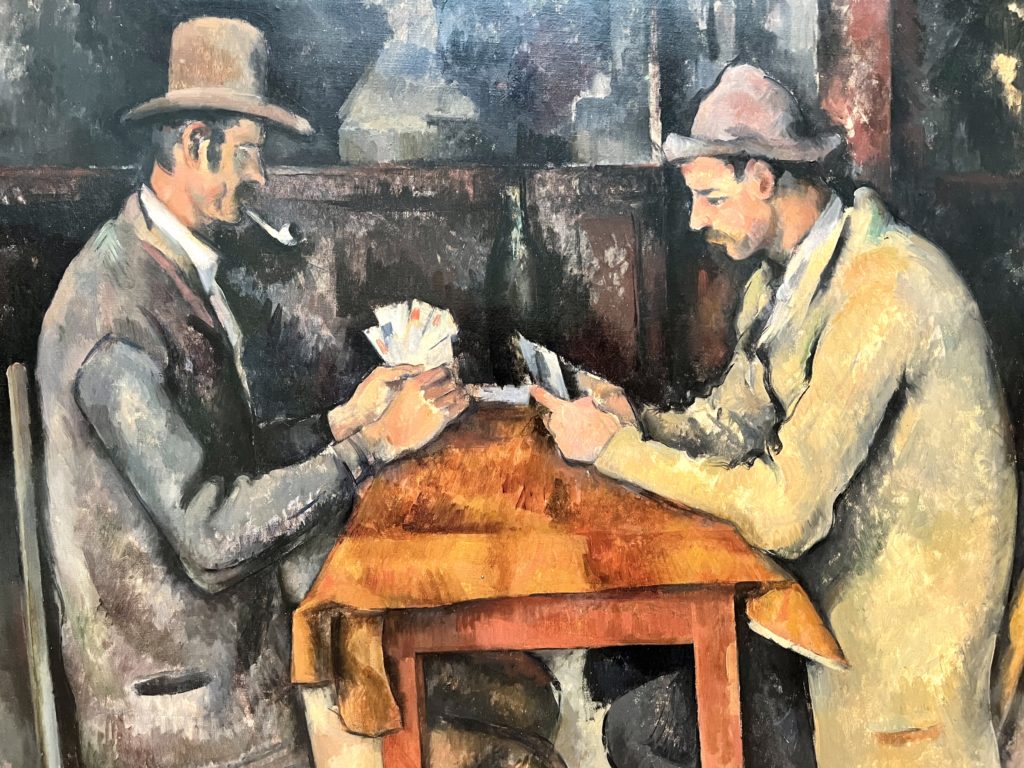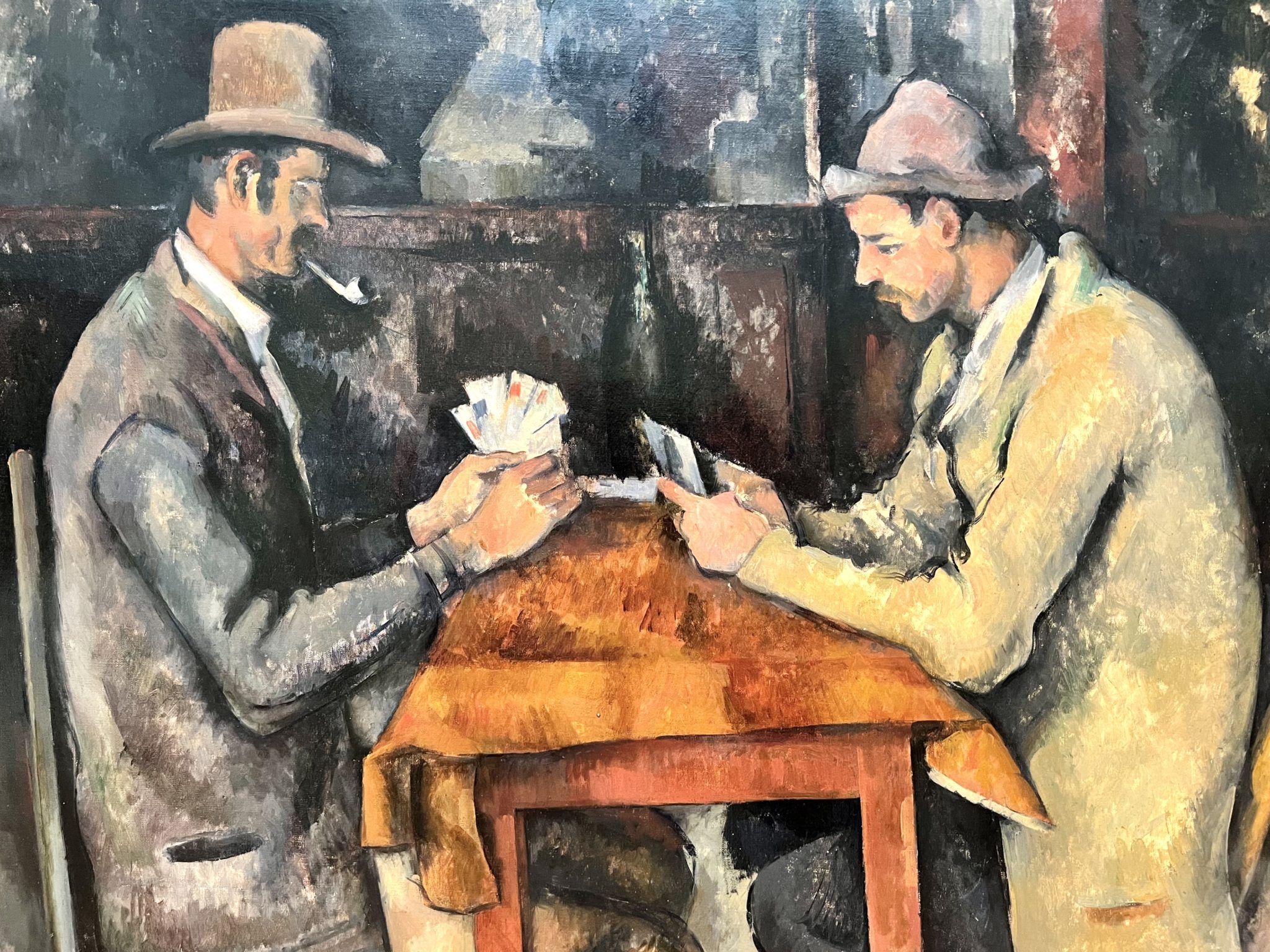 7. Cezanne, The Card Players
In art history, card games have typically been depicted as tawdry affairs, moralizing about the pitfalls of drinking and gambling.
But Cezanne broke that mold, with a simple quiet scene. It's a traditional subject that Cezanne renders unconventionally.
Farm workers posed for the two elongated figures. Cezanne's brushwork is lively.
The men are absorbed in their game. Cezanne paints them as dignified, almost time worn statues. The painting feels similar to his well-admired still lives.
There are five versions of the painting in different sizes. The best and most complex version is in the Barnes Foundation in Philadelphia.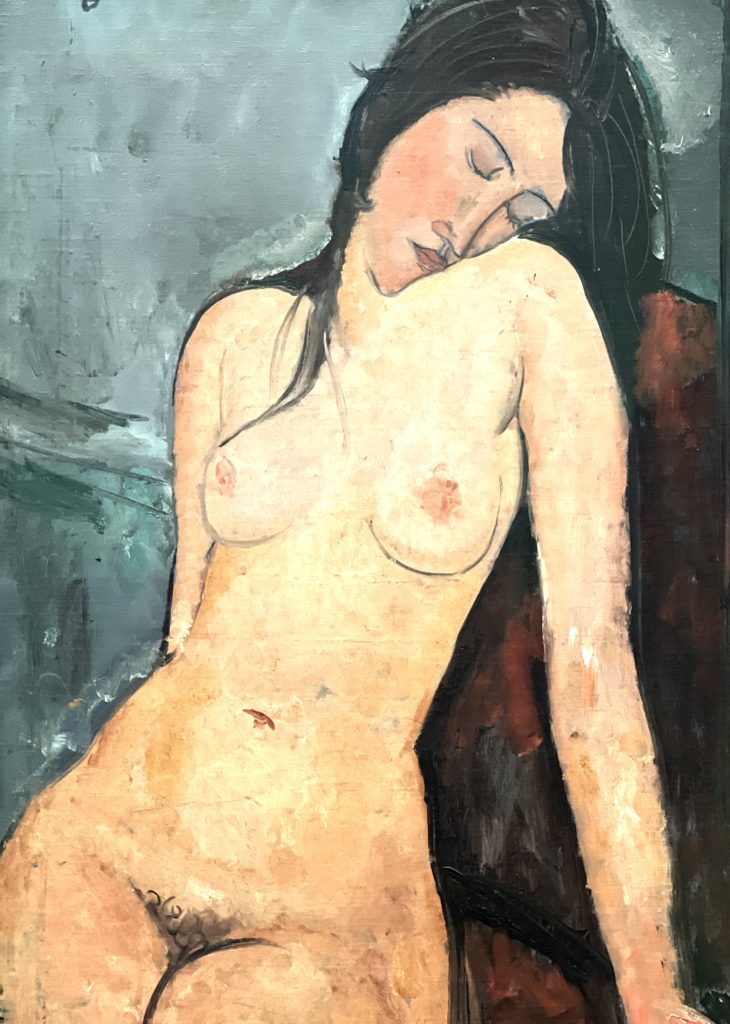 8. Modigliani's Nude
Modigliani painted in fin-de-siecle Paris, along with Picasso and other impoverished artists in Montmartre. He died penniless of an early death caused by sexual debauchery and drug and alcohol addiction.
Modigliani is most famous for his portraits. They all feature a certain melancholy.
His subjects have elongated limbs, mask-like faces, and slitted eyes. This is due to Modigliani's interest in African cultures.
This striking nude, despite her gracefulness, was intended to provoke controversy. At the time, the depiction of pubic hair was verboten.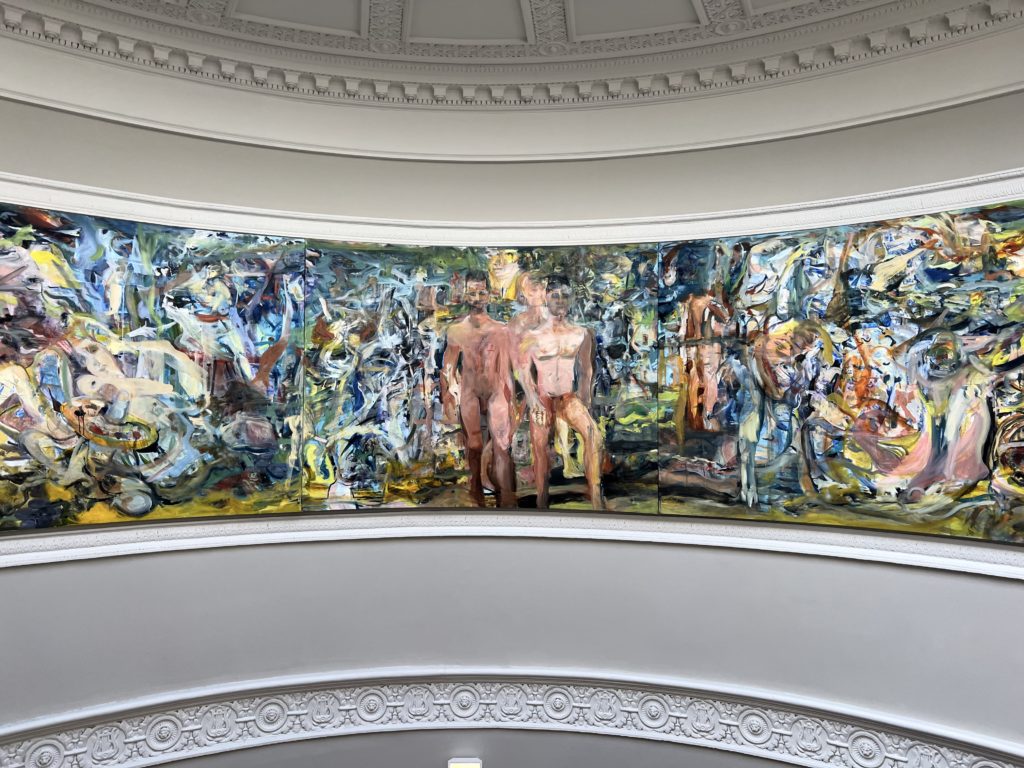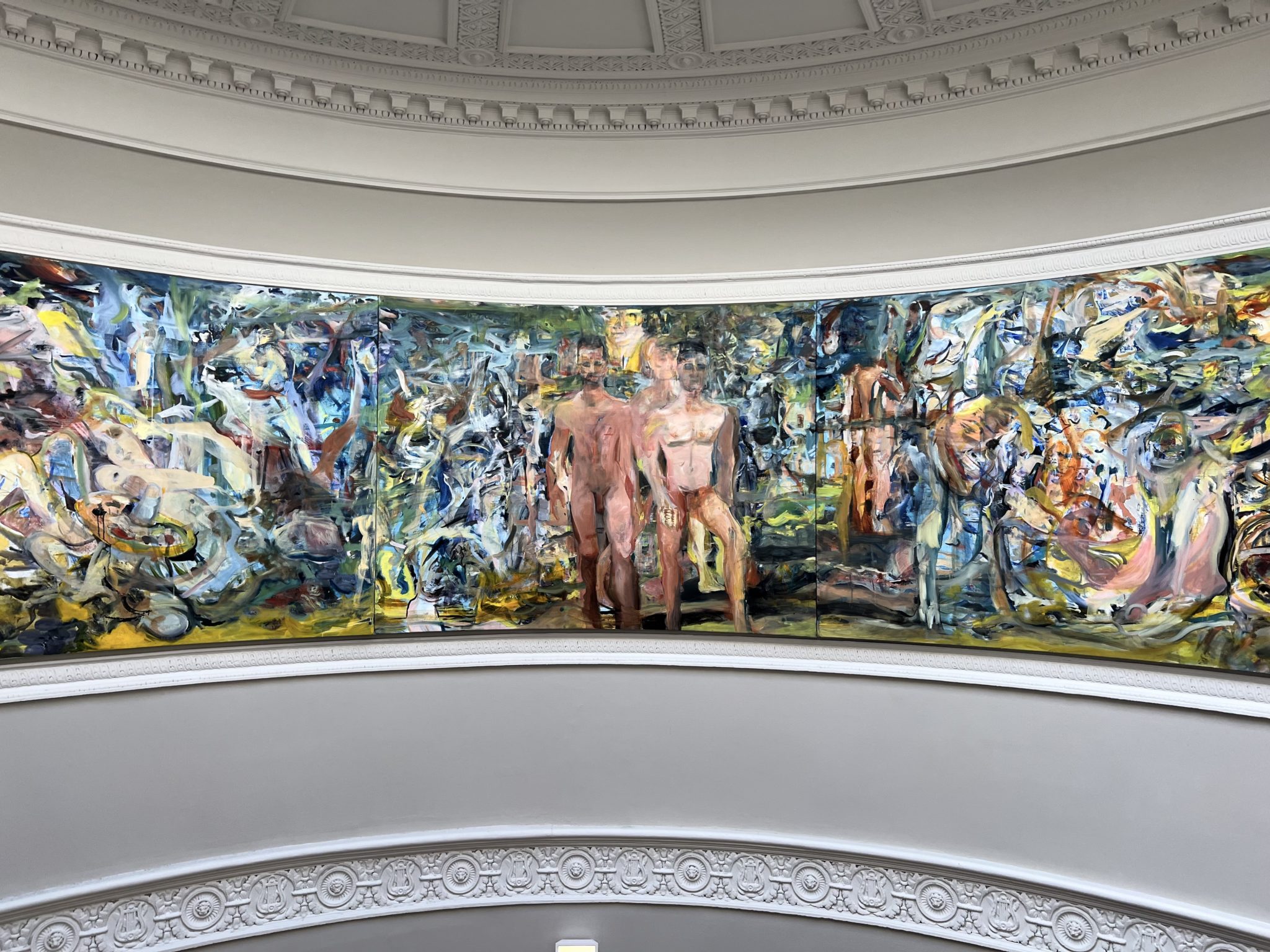 9. Cecily Brown, Unmoored from Her Reflection
This is a new piece, commissioned by the Courtauld. It was unveiled to mark the reopening of the Courtauld in November 2022.
It's a huge fresco by Cecily Brown that hangs in a previously vacant space over the spiral staircase.
Unmoored is 5 meters wide and will be on display for two years.
The painting is rendered in Brown's signature style, vigorously expressive. The Courtauld is the perfect stage for Brown's art, with its nods to Manet and Cezanne.
Rather than the standard female nude, Brown makes the male nudes the center of the painting.
It's a dreamscape of a painting, half figural and half abstract. The figure of the bather to the right of the central group is reminiscent of Manet's Le Dejeuner sur l'herbe.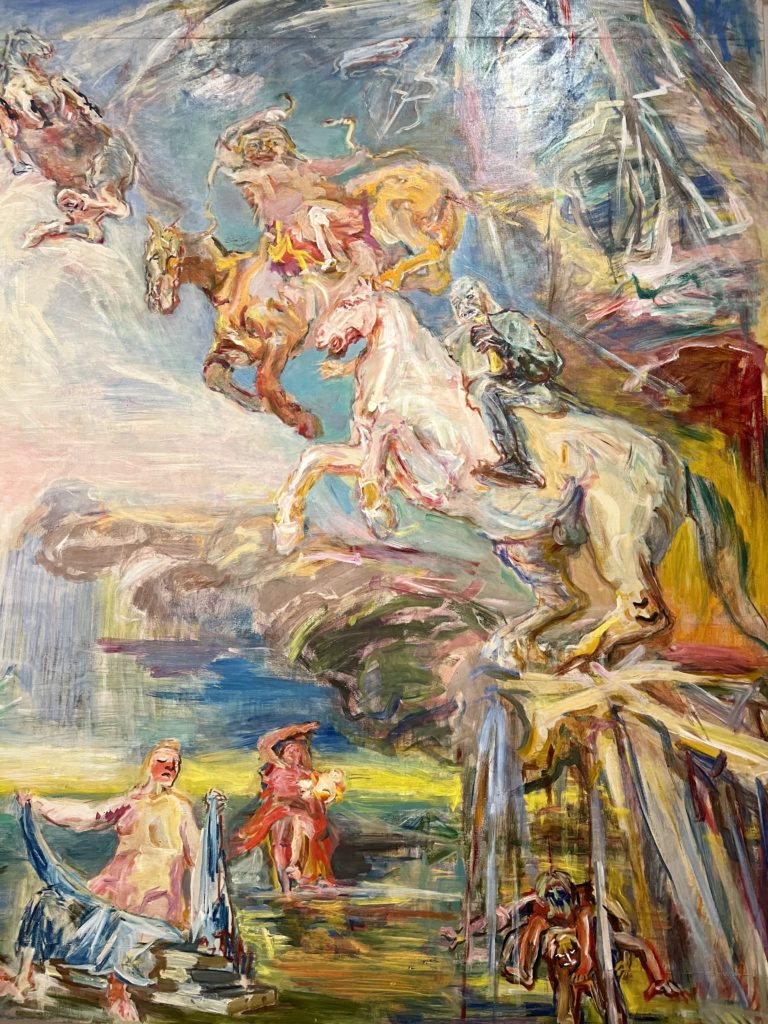 10. Oskar Kokoschka, The Myth of Prometheus
Oskar Kokoschka was an Expressionist artist who reworked ancient myths to express his fears for humanity. His Prometheus triptych is so large it has its own room.
The triptych consists of three canvases spanning more than 26 feet in total. The canvases are filled with colorful but terrifying scenes of the apocalypse and eternal punishment, inspired by Biblical passages and Greek mythology.
Kokoschka painted the triptych in the aftermath of WWII. They paintings are designed to be seen in continuum. The main figure is Prometheus, who Kokoschka believed symbolized all that was wrong with his world.
The museum removed their frames and scrunched them together. To make the experience more immersive, they are tipped forward slightly.
11. Cranach's Adam and Eve
Cranach depicts Adam and Eve at the fateful moment when they disobey god. Hoping to to distinguish between good and evil like god, Eve bites into an apple from the Tree of Knowledge. Adam hesitates and then also eats.
Every last inch of the canvas shows Cranach's precision and consideration. There is perfect harmony of the colors. Cranach's slender undulating figures conform to the courtly ideals of beauty.
Cranach depicts the scene as serene and peaceful. Animals are at their feet.
Cranach and his workshop created over 50 versions of Adam and Eve. This is one of his largest and most beautiful.
Adam and Eve are rendered somewhat seductively, to heighten the theme of temptation. The snake watches them from the tree above.
12. Botticelli, The Holy Trinity with Saints
Botticelli was the greatest painter of the early Renaissance period. Botticelli's work was groundbreaking — pure visual poetry and elegance.
He was the first artist to break from tradition and depict large scale, non-religious mythological themes like the spectacular Birth of Venus in the Uffizi Gallery. In his final years, as in this painting, Botticelli reverted to more religious subjects.
He created this painting for a convent that welcomed women who were repentant prostitutes. Mary Magdalene is the key figure. She's clothed entirely in her own hair.
Close to her are Tobias and the angel. Tobias holds the healing fish from the Bible story.
Botticelli's altarpiece has been newly conserved to luminous effect.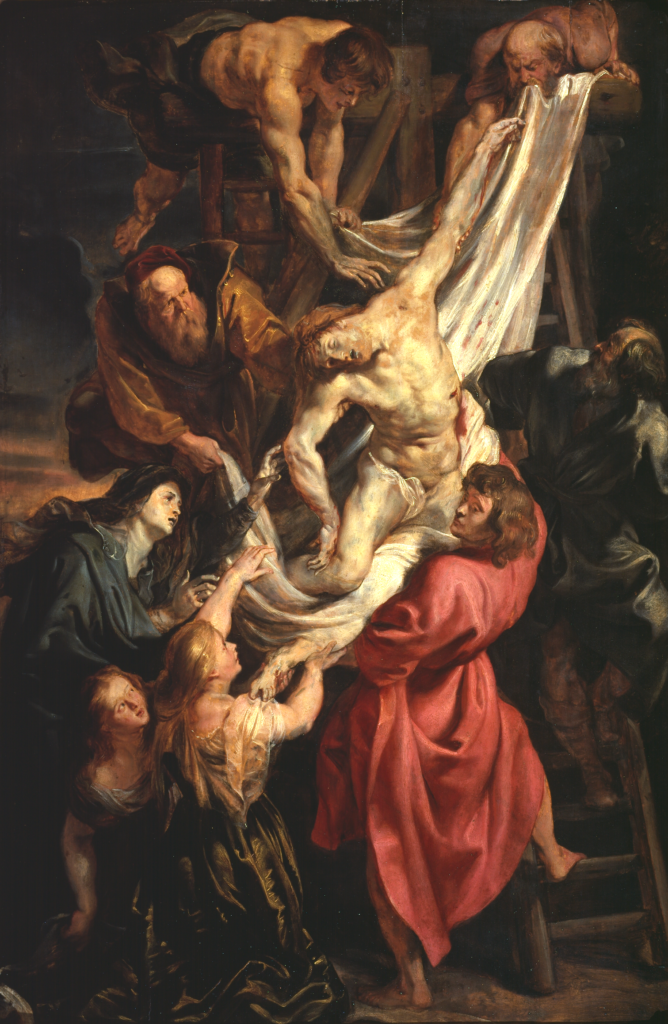 13. Ruben's Descent From The Cross
Rubens was widely considered one of the most important artists of the Baroque era. He produced a prolific and influential body of work before his death in 1640.
Rubens is best known for his mythological paintings with voluptuous nude females. His women gave rise to the term "Rubenesque." But the artist also created works with religious and political themes.
In 1611, Rubens was commissioned to paint an altarpiece for a guild in a chapel of Antwerp Cathedral. This particular Courtauld piece was likely presented to the guild for approval before Rubens began work on the large altarpiece.
Rubens depicts Christ's lifeless body being removed from the cross. It's a scene of intense grief.
Mary reaches forward, desperate to touch her son. Christ seems graceful and peaceful. The tension between pain and beauty gives this painting great power.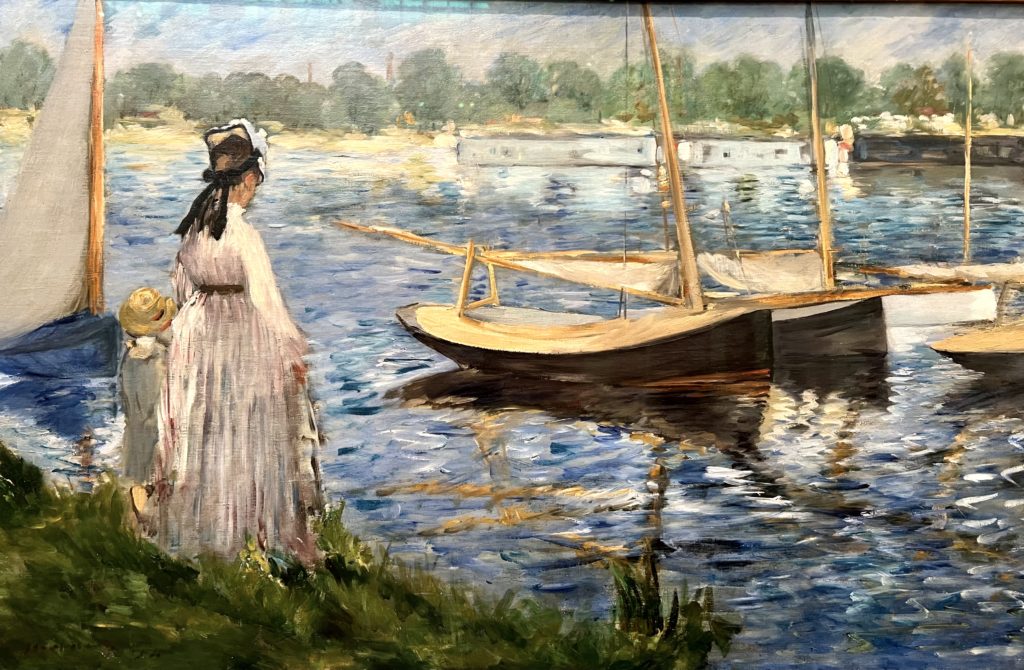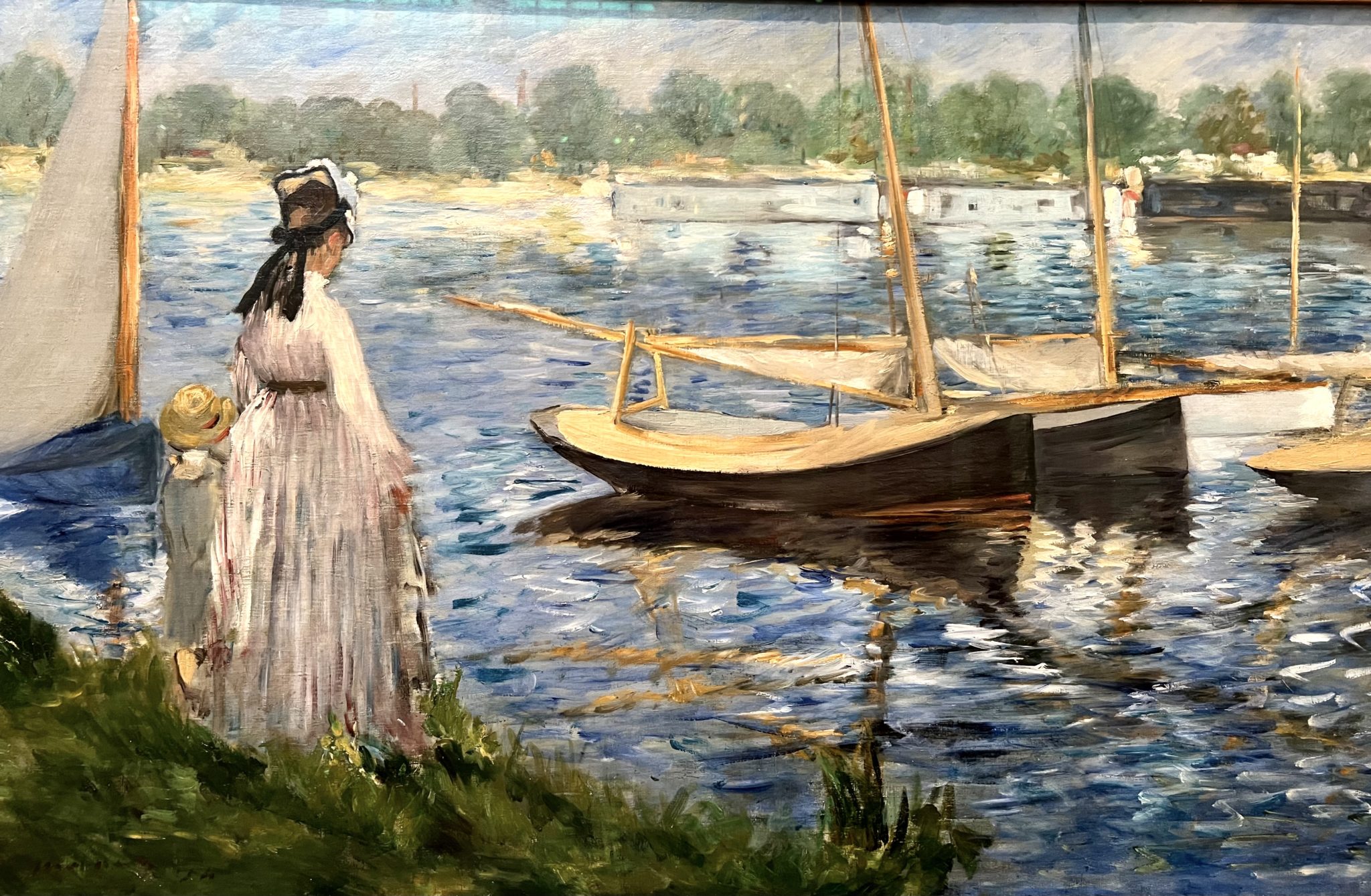 Practical Information & Tips For Visiting The Courtauld Gallery
Address: Somsert House, Strand London WC2R
Hours: Open daily 10:00 am to 6:00 pm. Last entry at 5:15.
Ticket Price: 9-13 euros
Guided Tour: For the serious art lover, you may want to consider this private art tour that takes you London's top museums and galleries, including the Courtauld.
Tube Stations: Covent Garden, Temple, Charing Cros, Embankment
I hope you've enjoyed my guide to the Courtauld Gallery. You may enjoy these other London travel guides:
If you'd like to visit the Courtauld Gallery in London, pin it for later.