So you're planning a trip to Venice? Welcome to one of my favorite European cities. To help you have the best experience, I've put together a list of 30+ key must know tips for visiting Venice.
Venice is one of the world's most breathtaking and most exciting cities. It's a small cosmopolitan city with myriad world class attractions and a rich history.
But Venice isn't the easiest city to get to know. Getting lost is a given, the crowds can be beastly, and visiting the city of water presents some very specific logistical challenges.
People seem to either love or hate Venice. As Thomas Mann once said, it can seem "half fairytale and half tourist trap."
But Venice is truly a unique one-of-a-kind city. There's nowhere else like it in the world. With these Venice tips, hopefully you can avoid some of the hassles of visiting Venice and have a smooth and efficient visit.
Must Know Tips For Visiting Venice
Here are my 30+ must know tips and experience-based suggestions for visiting Venice. You'll find everything you need to know about Venice to help plan your trip.
1. Study Up On Venice's History
My first tip for Venice is that you can't go to Venice without knowing a little about its history. I've written a nutshell history of Venice that you can consult.
I also love the Smarthistory website for getting background information for a visit. They have videos and articles on Venetian art, the Renaissance in Venice, and on St. Mark's Basilica. There's nothing like getting a little preview before you see the real thing.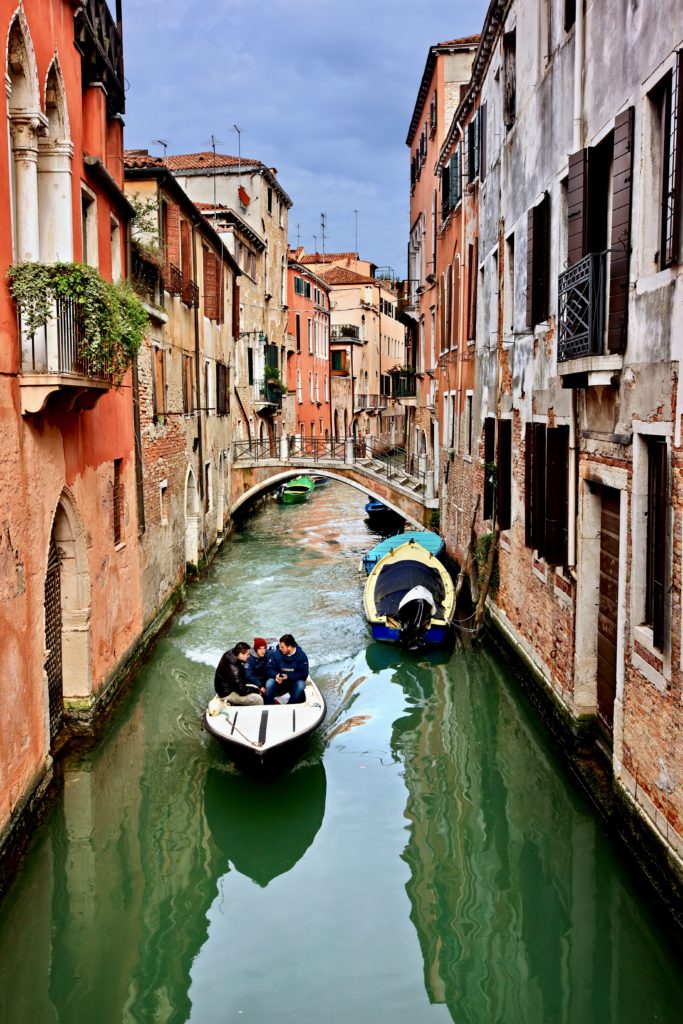 2. Plan Ahead
My second Venice tip is that you've got to be somewhat organized to visit Venice. It doesn't work well to do things on the fly, even if you like to be spontaneous.
At a minimum, you'll need to plan in advance how to get to your hotel from the airport or train station (I give you options below). You'll also need to pre-book skip the line tickets for the main attractions (I tell you how below).
After that, decide how best to organize each day of your Venice itinerary by geographical location of sites and how long you expect to spend on a given activity.
READ: How Many Days To Spend In Venice
3. Expect Crowds
One of the top tips and things to know about Venice is that it is almost always very crowded. There's not even really much of a "shoulder season" anymore.
There will masses of people in the tiny maze-like streets. So be prepared to be jostled and for some slow-moving progress.
This may improve or change somewhat in the future. Venice has banned all but the smallest cruise ships from central Venice, reducing the volume of day trippers.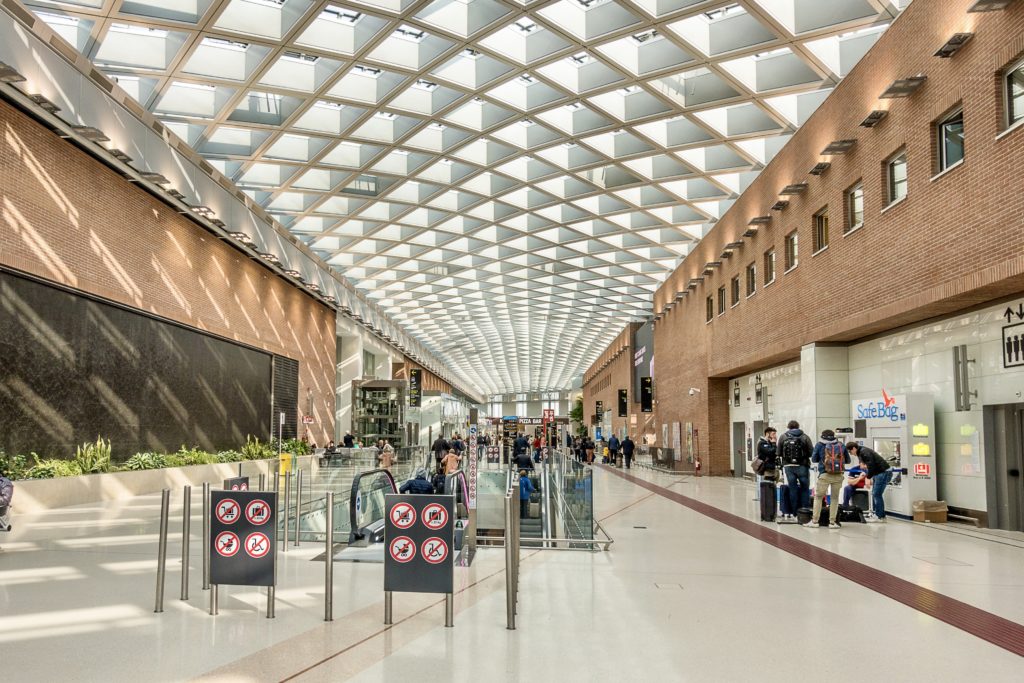 4. Tips For How To Get To Venice
You'll definitely need some Venice tips about getting from the airport into the city. It's not as easy since Venice is a floating city of water.
By Plane
If you are flying to Venice, you'll land at Venice Marco Polo Airport. That's the international hub. There are four ways to get from the airport to your hotel.
You can take the Alilaguna Water Bus to Zattere Ferry Terminal and then walk to your hotel. They are very distinct white and yellow bottomed boats.
The trip takes 75-90 minutes. The dock is a 10 minute walk from the airport.
Second, if your budget can handle it, reserve a private water taxi in advance to take you directly to your hotel. That's what we did the last time I visited Venice with a group of six. Then, you won't be dragging bags around Venice's busy cobbled streets.
Lastly, you can also take either a taxi or the ATVO bus from the airport that will drop you at Piazzale Roma. You can buy a bus ticket at the airport ticket office. From Piazzale Roma, you can either walk or take a vaporetto to the closest stop to your hotel or accommodation.
By Train
You can also get to Venice by train. Venice's main train station is Venezia Santa Lucia Railway Station. To get from the train station into the city, take the line 2 vaporetto to the San Marco or Rialto stop. Or you can book a private transfer.
The train station isn't that far from the city center. It's less than a half hour walk. If you are taking any day trips from Venice, you can simply walk there and hop on the train.
To buy train tickets in advance to get to or from Venice, check Omio for schedules and fares.
5. Tips For Parking In Venice
Venice is a car-free city. But you can still reach Venice by car. You'll just need to park in one of the parking locations outside the city.
There are a number of these available, at varying price points and distances from the city. You can check out your options on Parclick. As you approach Venice, big signs will indicate the parking garage options.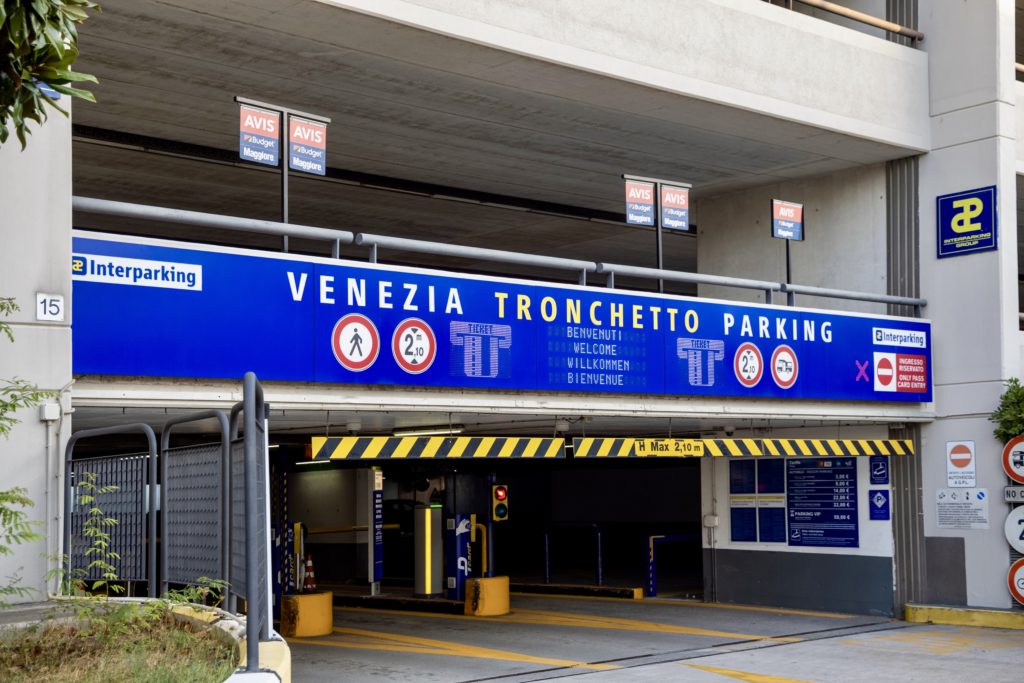 The first garage you'll encounter is Tronchetto Island. It's also the cheapest since it's a bit father from the city.
Plus, because it's where cruise ships dock, you have excellent transportation options to get to the city center. You can take a vaporetto right to St. Mark's Square.
If you go a bit farther, you can park at Parcheggio Communale Venezia in Piazzale Roma. It's more expensive, but super convenient. It's next to Venice's train station and a vaporetto stop.
6. Entrance Fee For Venice
Effective January 16, 2023, Venice will institute an entrance fee to visit the city of between 3 to 10 euros per person. You should expect to pay more on busier days.
If you are overnighting in Venice, you don't have to pay the fee because you will pay a tourist tax at your hotel.
A booking system went online in the Fall of 2022. So you can apply for and pay your fee before arriving.
7. Tips For How To Get Around Venice
There are no roads, cars, or bikes allowed in Venice. You either have to hoof it or take a vaporetto.
>>> Click here to book a Vaporetto Pass
Venice is very walkable. You can walk from end to end in about 1 hour. You'll need comfy walking shoes for the uneven pavements.
You'll likely get lost in the maze of colorful canals. Many of the streets don't even have names or they dead end into a canal.
But the GPS will work most of the time and there are signs pointing you in the direction of the top attractions. Besides, getting lost is part of the charm of Venice.
8. Guided Walking Tours
If you are visiting Venice for only 1-2 days, a great way to get an overview of the city and learn about its attractions is to take a guided walking tour to get oriented. There are all sort of tours geared to individual interests. You can:
9. Vaporettos
In Venice, vaporettos are the most common mode of transportation after walking. A vaporetto is a water taxi. It's a convenient, and beautiful, way to get around Venice.
Stops are shown on most Venice maps. You can recognize the boats by their yellow and white floating platforms.
There will be a map at the stop that you can read to determine what direction to go. You can buy a ticket using the machine in front of the main stops.
The main vaporetto is #1, which stops 13 times between Piazza San Marco and Piazzale Roma. Click here to book a vaporetto pass.
If you don't want to ride the vaporetto, you can book a 1 hour guided boat tour. You can also book a 3 hour guided tour of the St. Mark's area that comes with a boat cruise. Alternatively, take a sunset boat cruise and see the city when it's at its most romantic.
10. Public Rest Rooms
You'll have to pay to pee at public rest rooms in Venice. The cost is usually 1 or 2 euros. So be sure to keep some cash on hand for this purpose.
Another option is to pop into a cafe or bar for an espresso or drink. Then, you can use the cafe's facilities since you are a official customer.
11. How Many Days In Venice Is Enough
If you are visiting Venice for the first time, you may be wondering how much time you need to see everything.
Most people spend 1-2 days in Venice. But Venice truly has a lot to offer. On a longer visit, you won't have to frantically squeeze the must see landmarks in and can discover some unique sites.
If you only have a day or two available, by all means, don't let this stop you from visiting Venice. My first visit to the floating city was a day trip in college. But, on my last visit, I stayed a week, and enjoyed it infinitely more.
I would recommend 3 days in Venice. You can see the city's sites in a reasonable leisurely way the first 2 days and then take a day to explore the lagoon islands.
If you want help in fashioning your itinerary, you can check out my 1 day in Venice itinerary and my 2 days in Venice itinerary.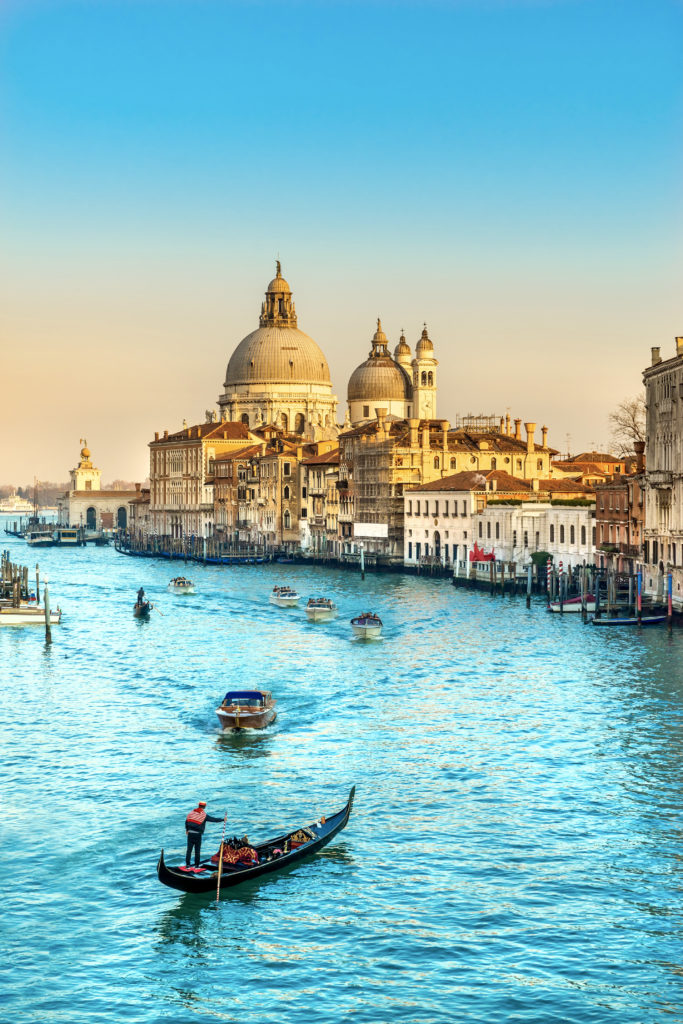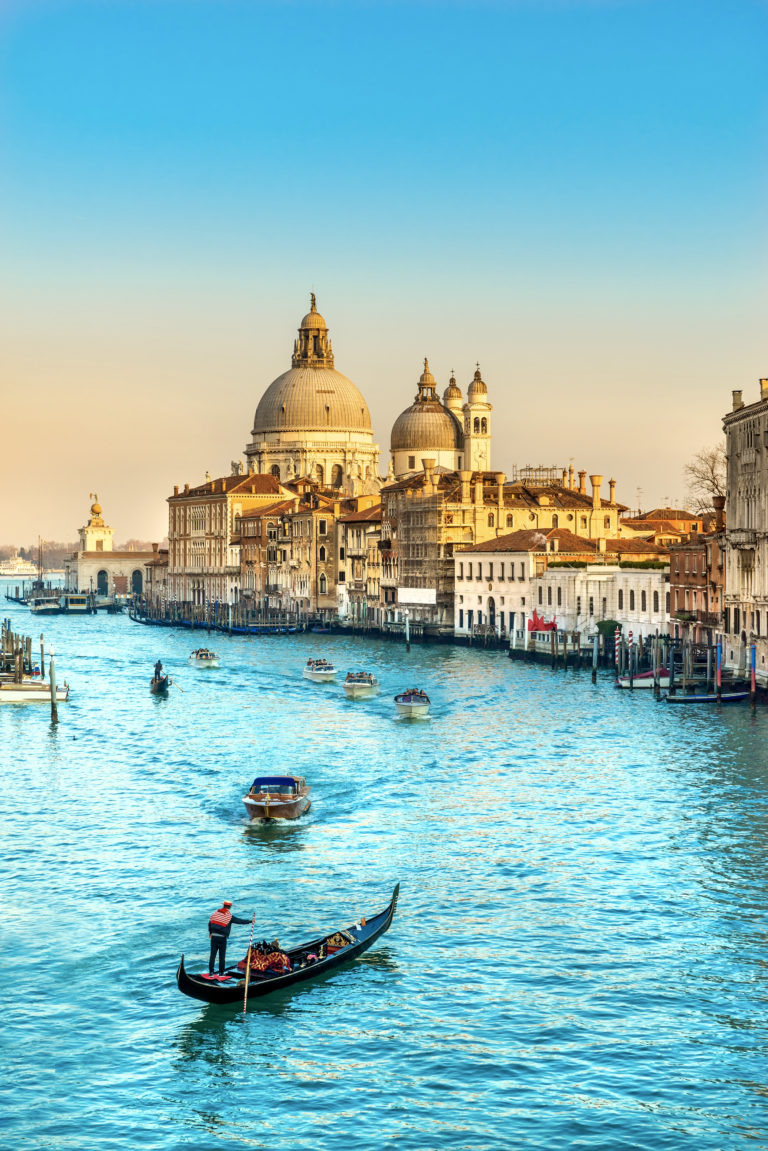 12. What To Pack For Venice
I'm an inveterate over-packer. But you should try to avoid overpacking to ensure you have room to bring home some goodies and purchases you'll undoubtedly make. Or else, pack an extra tote bag.
There are some things you will need to pack. Venice is a stylish city with well dressed citizens.
It's not really the place for baggy pants, sweatpants, or super short shorts. Especially for sightseeing in cathedrals and churches.
I'd advice wearing slightly upscale leisure clothes for your daily sightseeing or touring. That doesn't have to be fancy, just nice slacks and a smart top.
It's also advisable to pack comfortable shoes for walking. You may be clamoring up uneven stony stairs or strolling down cobblestone streets.
When I travel to Europe, I never leave without my small PacSafe anti-theft backpack. They come in cut resistance fabric and have lockable zippers.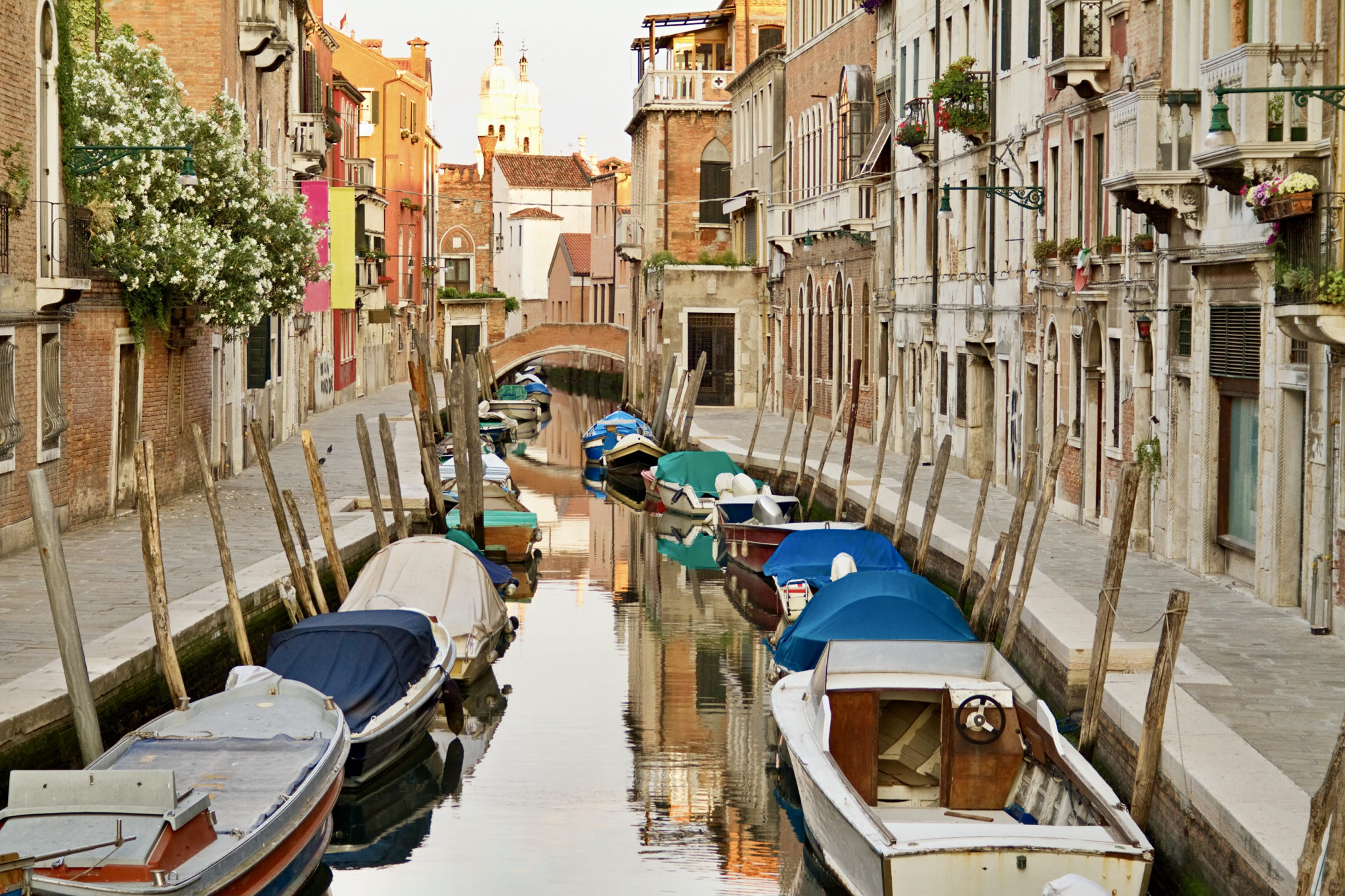 Don't forget your travel adaptor either. Venice uses type C, F and L plugs, which most of Europe uses. You can also use a universal adaptor, which is what I have.
You can easily purchase an adapter in any travel store or online. If you forget to bring one with you, you can buy one at the airport.
I also bring a small portable charger to throw in my backpack. If you're using your phone as a GPS and taking lots of photos, your charge may not last through the day. With a portable charger, you can charge as you walk.
13. Venice City Passes
The Venice Discovery Pass gives you access to the Doge's palace, 15 churches, a public transport card, and a Rond trip transfer fro Marco-Polo Airport.
The Venice Museum Pass gives you a single entry to 11 civic museums in Venice. The pass is valid for 6 months.
14. Tips For Gondola Rides In Venice
Taking a gondola ride in Venice ranks among one of the most dreamed-about experiences for travelers.
But the image of a singing gondolier is more Hollywood than reality. So it's a bit of a controversy as to whether a gondola ride is really "worth it" and it definitely depends on your budget.
While undeniably romantic, gondolas are very expensive and some say overrated. There are official set prices. So don't bother negotiating.
Gondolas can hold six people. You can always recruit fellow travelers to share the cost.
Here are some of the sample gondola rides you can go on:
15. Traghettos
If you don't want to spring for a gondola ride, take a traghetto instead. Traghetto is a word that means "ferry" in Italian. It's a passenger boat that's bigger than a gondola.
Traghettos were created for the locals to cross the Grand Canal. In a traghetto, you stand with up to 12 other people.
You can find the traghetto stations on Google Maps. It only costs 2 € per person to go one way. It can be an efficient way to see attractions on the Grand Canal easily. Click here for information on stations, times, and fares.
16. Tips For Visiting Churches In Venice
Another must know tip for Venice is that you're forbidden from entering Venice's churches in "inappropriate attire." That means shorts, sleeveless tops, cropped tops, and skirts above the knee are banned. Women may want to bring a scarf in your purse or backpack to provide some cover.
There are some beautiful churches in Venice. Here are the ones you can't miss.
St. Mark's Basilica
St. Mark's Basilica is an astonishing tour de force of Italo-Byzantine architecture. Consecrated in 1093, it's one of the world's most famous churches.
Inside, the basilica is a golden extravaganza of 90,000 square feet of mosaics. The oldest mosaics in St. Mark's date back to 1070, telling Old Testament stories.
>>> Click here to book a skip the line ticket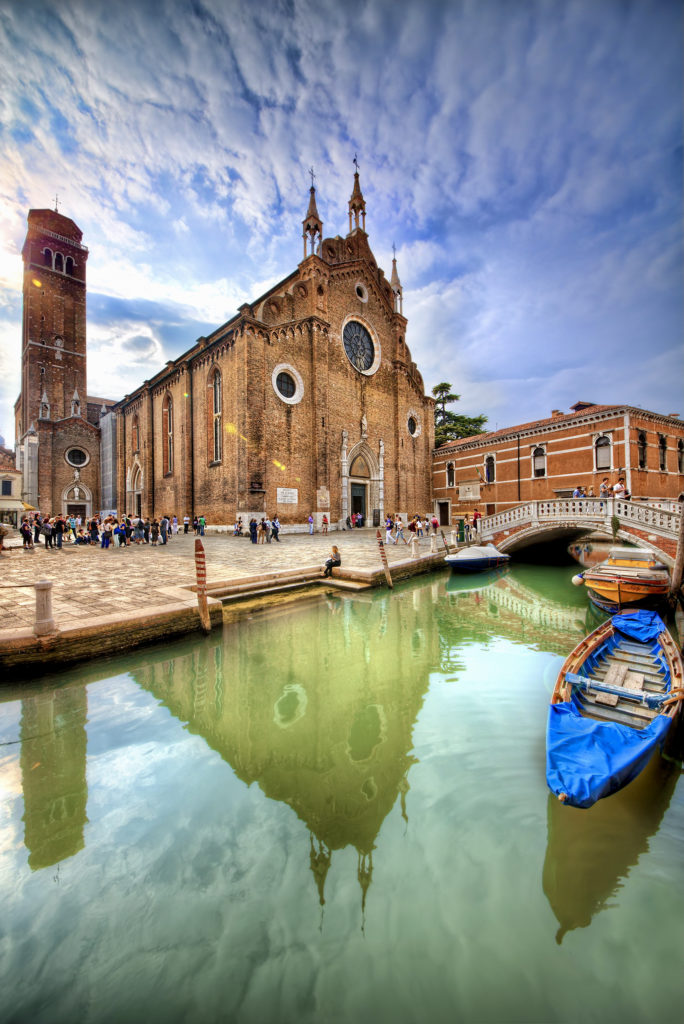 The Frari Church
The Basilica of Sant Maria Glorioso dei Frari is simply known as the Frari." "The church is located in San Polo and is an art-filled mini museum of Venetian Renaissance art.
Inside, you'll find important masterpieces by Titian and Bellini. There are also ornate tombs of famous Venetians, including monuments to Titian and the sculptor Antonio Canova.
If you want to see the Frari, you can book a guided walking tour of San Polo and the Frari.
Basilica of Santa Maria della Salute
This 17th century church dominates the Venice skyline. It's an homage to the Virgin Mary saving Venice from the plague. Free to enter, La Salute is a Venetian jewel of Baroque architecture.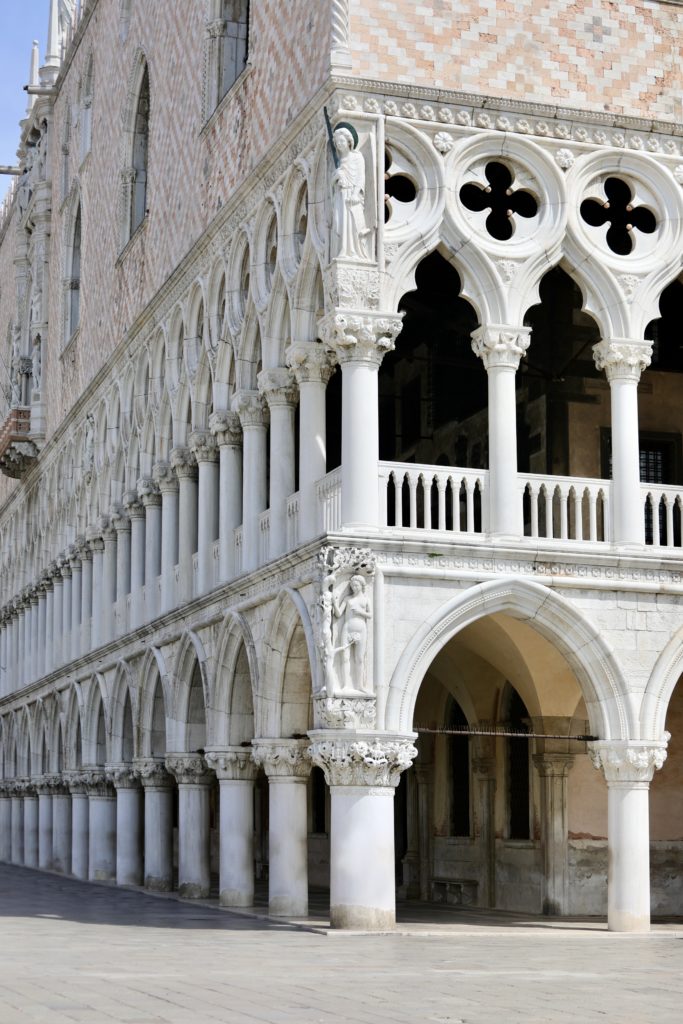 17. Tips For Booking Tickets For Top Attractions In Advance
This is a super important tip for visiting Venice — you need to book major attractions online in advance. If you don't, you will be confronted with long queues. That will inevitably cut into your precious sightseeing time and make you frustrated.
I advise booking skip the line tickets weeks in advance for these particular sites:
St. Mark's Basilica: You absolutely must book a skip the line entry ticket. Be sure to get in the right line when you are lining up. You can also purchase an after hours ticket to access to some places you can't see during the day.
Doge's Palace: The Palazzo Ducale is one of Venice's most iconic landmarks. The pink and white marble Gothic-Renaissance building was the official residence of the doges, who ruled Venice for more than 1,000 years.
You will definitely need a skip the line ticket to visit the palace. You can also buy a combination ticket that includes a skip the line ticket + the Venice Museum Pass.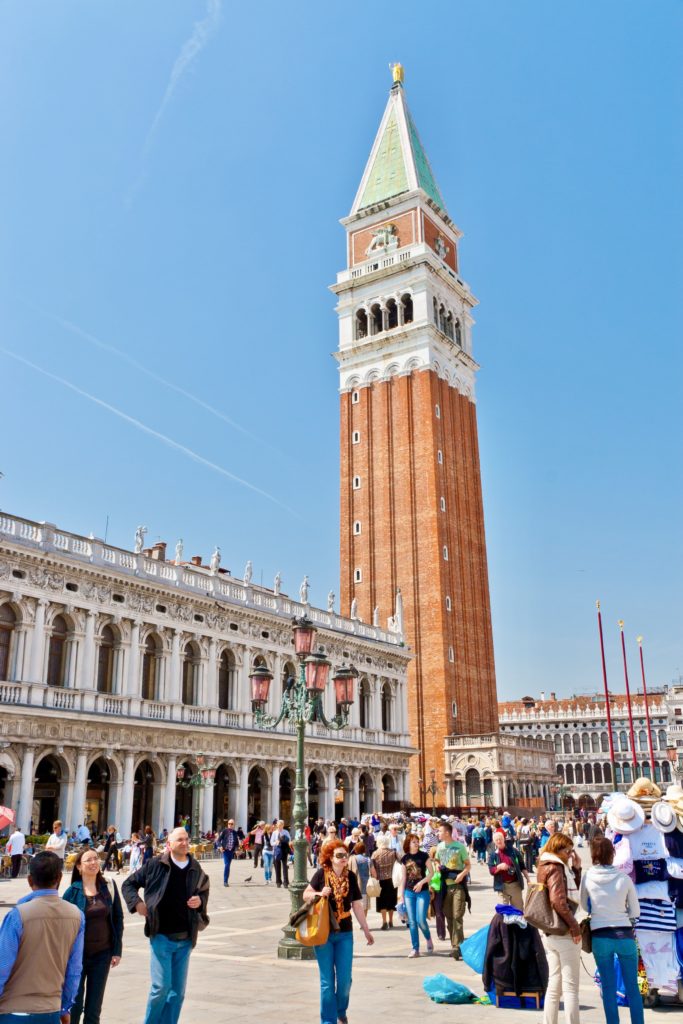 St. Mark's Campanile Climb: This is the tallest vantage point in Venice and the lines can seem endless. But you can book a reserved timed entry ticket on Tiqets, which will give you a 30 minute time slot to visit.
Peggy Guggenheim Museum: This fantastic museum will also be mobbed, so be sure to book a skip the line ticket.
You can print your ticket/vouchers at home or show the bar code on your mobile phone at the entrance. Sometimes your voucher will need to be exchanged for a paper ticket at the ticket booth.
18. Guided Tours Of Attractions
You can easily visit the sites in Venice on your own. But there are two attractions that I recommend getting a guided tour, St. Mark's Basilica and the Doge's Palace.
With a guided tour, you will learn much more about the history and all the little things to see that you might otherwise miss.
St. Mark's Basilica is one of the most unique and beautiful churches in Italy. This 3 hour guided tour gives you combo access to St. Mark's, the terrace, and the Doge's Palace. This 2 hour guided tour gives you a walking tour of Venice + skip the line entry to the basilica.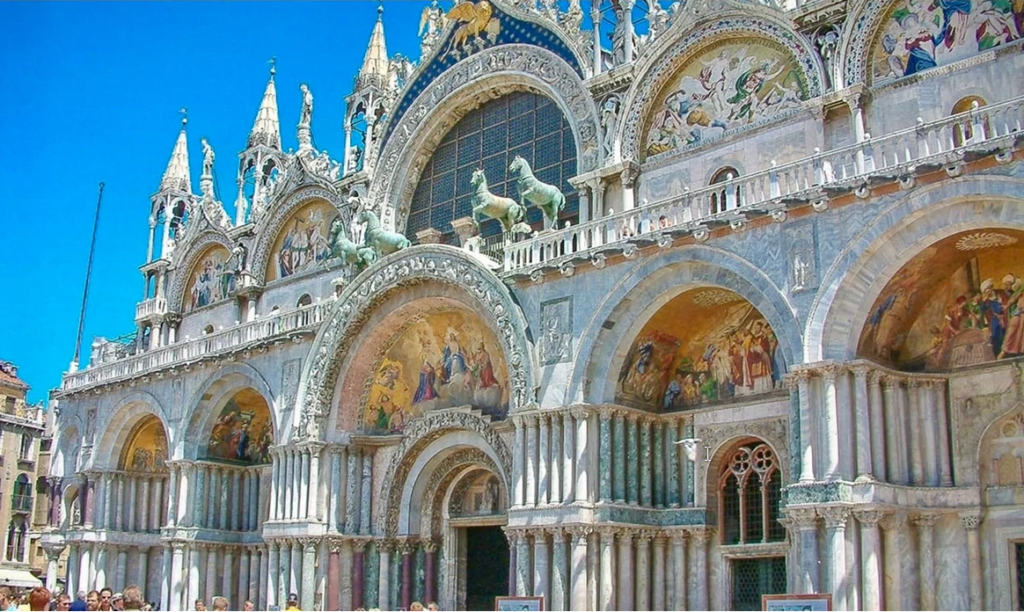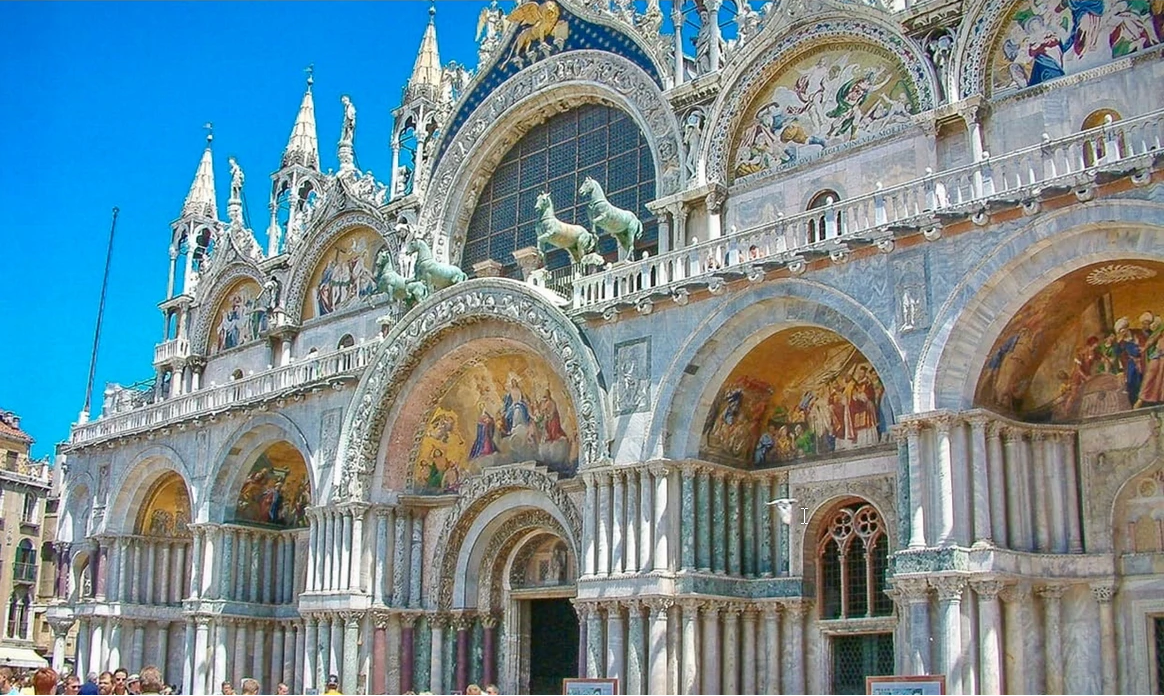 For the Doge's Palace, this guided tour of the Doge's Palace, which I took myself, gives you an overview of the Renaissance art, a peak at the prisons, and a walk across the Bridge of Sighs. The Secret Itineraries Tour takes you to even more secret spots in the palace.
19. Opening Hours
Most shops in Venice are open Monday through Saturday from 8:30 am to 12:30 pm and 3:30 pm to 7:30 pm.
The majority of Venice's museums and attractions open either at 9:00 am or 10:00 am and close between 5:00 pm and 8:00 pm. In fact, if you're having trouble fitting everything in, evenings can be a great time to sightsee.
Most attractions have "summer" and "winter" hours, being open longer in "summer." So be sure to check the website of your intended destination.
Also, another Venice tip is that, despite the stated "closing" hour, the last admission to many sites may be 30-60 minutes before closing. This is true at the Doge's Palace, for example.
Going the first thing in the morning isn't always ideal either. For example, people start lining up for St. Mark's Basilica a half hour or more before opening. It might be better to visit this site mid to late afternoon instead.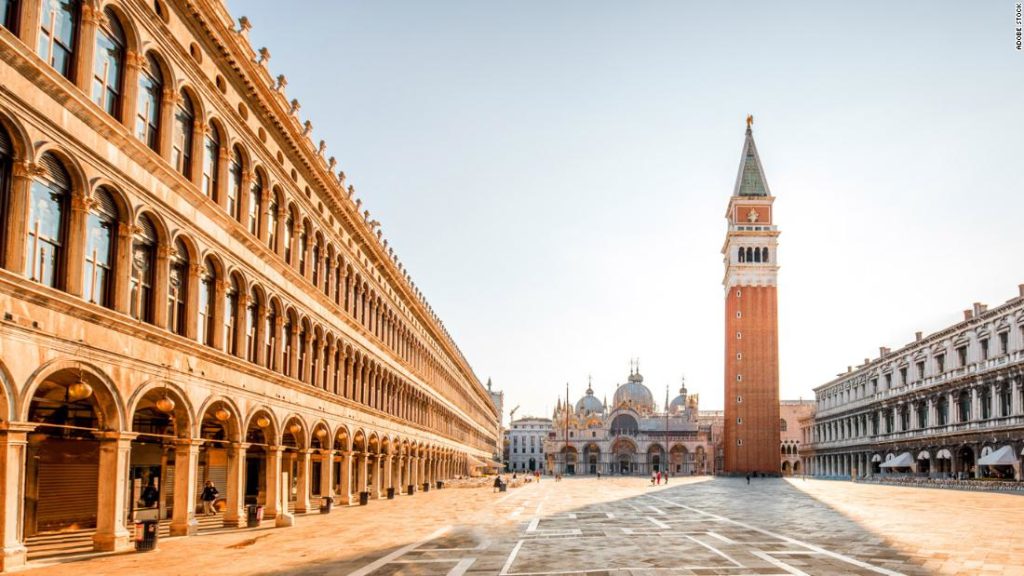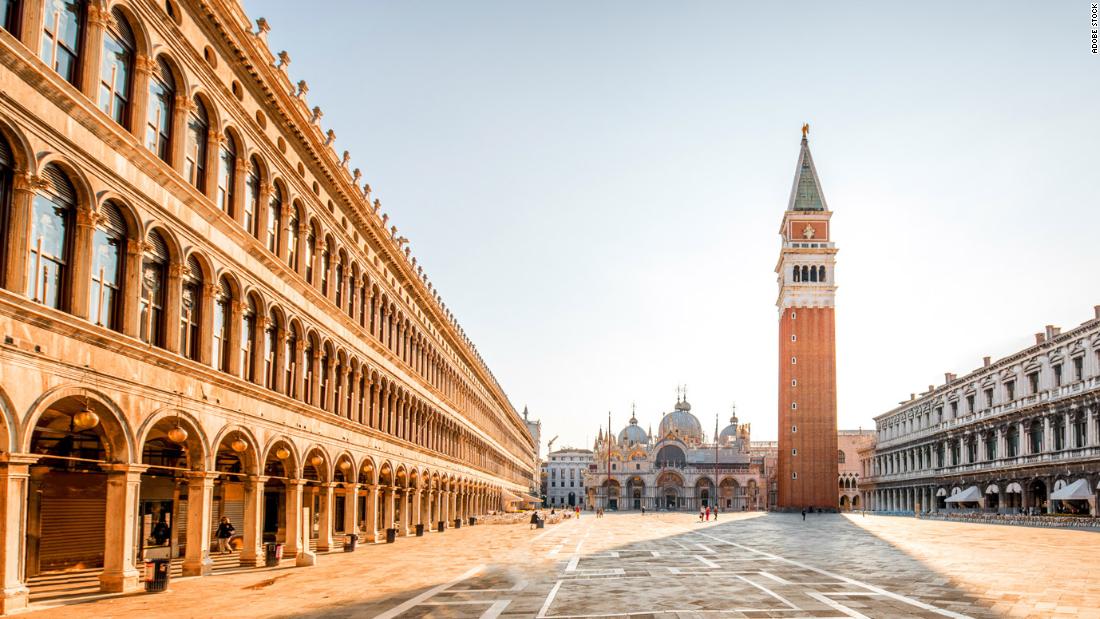 20. St. Mark's Square
There is more to Venice than St. Mark's Square, pretty though it is. Most tourists with only one day in Venice will mostly be in this area because this is where the top attractions are. Two warnings about his area.
St. Mark's Square is prone to flooding, particularly between October and January.
There are also droves of pigeons and seagulls in the square. It's illegal to feed them. And you may need to be careful they don't snatch food right out of your hands.
21. Museums In Venice
When most people think of Venice, they imagine romantic gondolas and canals, not world class art. But Venice has a shocking number of excellent museums for a small city.
Here's a quick rundown to help you plan your itinerary, if you're an art lover.
Galleria Accademia
This museum is the world's top museum for Venetian Renaissance art. Yes, it's true. And the best thing about it? It's usually fairly empty even in high season.
The museum traces the evolution of Venetian art from the Middle Ages to the 18th century. The gallery has paintings by luminaries such as Veronese, Titian, Tintoretto, Tiepolo, Bellini, Canaletto, and Giorgione. Its prize possession is the world's most famous drawing, Leonardo da Vinci's Vitruvian Man, although it isn't often on display.
Here's my complete guide to visiting the Galleria Accademia. Click here to book a ticket in advance.
Peggy Guggenheim Museum
This modern art museum holds the magnificent collection of American heiress and art collector Peggy Guggenheim. It's housed in a palace she called home.
It's a small, but exquisite, collection. There are top 20th century works by Jackson Pollack, Max Ernst, Joan Miro, Paul Klee, Max Ernst, Magritte, Willem de Kooning, Salvador Dali, and Alexander Calder.
Unlike the Galleria with its focus on religious art, this museum is always packed. You'll need to pre-book a skip the line ticket if you want to admire the art. If you love the Golden Age of modern art, you may want to book this popular private tour of the museum.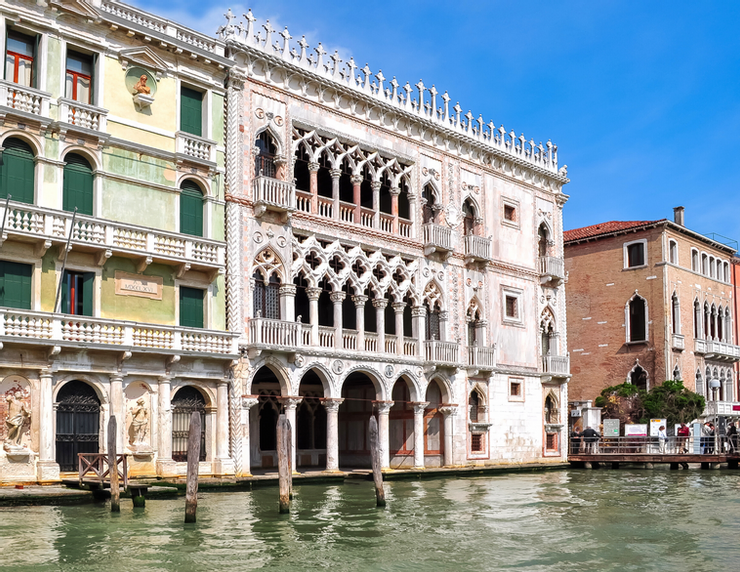 Ca' d'Oro
Ca' d'Oro is a 15th century Venetian Gothic-style palace located just across the Rialto Market, overlooking the Grand Canal. The museum houses an art collection gifted by Baron Franchetti.
The most famous piece is the San Sebastiano by Andrea Mantegna. But there are also works by Titian, Gordon, Guardi, and Van Eyck. Click here to book a ticket because they will likely sell out.
Scuola Grande di San Rocco
If you love classical art, head to the absolutely breathtaking Scuola Grande di San Rocco. It's an off the beaten path gem in Venice's San Polo area and a must visit for fans of the Venetian Renaissance painter Tintoretto.
The school is decorated wall to wall by Tintoretto. His fresco cycle in the Chapter Room is considered the "Sistine Chapel of Venice."
Ca' Rezonnico
The Palazzo Rezonnico museum is a shrine to 18th century Venetian artists. This period in history is known as the "Age of Decadence."
The palace is a beautiful and rare in situ museum, where the art on display was created specifically for the palazzo.
You'll find paintings and frescoed ceilings by Tiepolo, Longhi, Canaletto, Guardi, Molinari, and Lazzarini. You should pre-purchase a ticket.
Musee Correr
Musee Correr is dedicated to Venice's civic history. The museum is named after Venetian aristocrat Teodoro Correr, who bequeathed his collection of classical antiquities to the city.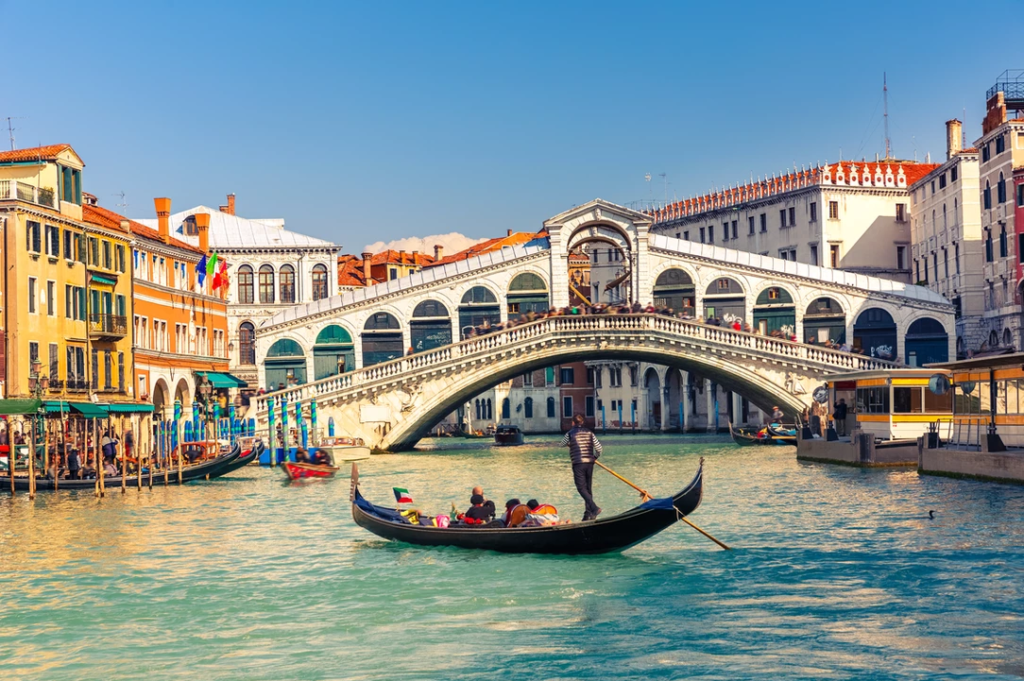 22. Free Things To Do In Venice
I'm not gonna lie, Venice is the most expensive city in Italy. Both the restaurants and hotels will set you back. You can pay $10 for a soda in St. Mark's Square.
That said, there are plenty of free things to do in Venice. It costs nothing to wander through St. Mark's Square or the Rialto. You can shop at the Rialto market instead of eating out.
Many of Venice's churches are free to visit. You can pop into Acqua Alta Book Shop, which is gorgeous secondhand book shop.
23. Hidden Gems In Venice
Looking for some unusual things to do in Venice? There quite a few secret spots, for repeat visitors to Venice.
In April 2022, one of the most famous buildings on the Piazza San Marco, Procuratie Vecchie, opened to the public for the first time in history.
The building stretches the entire length of the north side of the piazza. The building's Neo-Classical facade is one of the most photographed spots in Venice. You can head inside to the cafes and bars or just to admire the architecture.
Palazzo Contarini del Bovolo is a 15th century palace boasting a stunning "scala" or spiral staircase, made of brick and marble, that runs up the side of the palace. It's not easy to find, so put "Scala Contarini del Bovolo" or "Palazzo Contarini del Bovolo" into Google Maps or your GPS.
As you stroll, also keep an eye out for Venice's three leaning bell towers: Santo Stefano, San Giorgio dei Greci, and San Pietro di Castello. While Pisa may boast the most famous leaning tower in Italy, these are worth a look.
The Museo Fortuny is an off the beaten path museum housed in a glamorous palazzo. The building was transformed by designer Mariano Fortuny into his own photography, set-design, stagecraft, and painting atelier.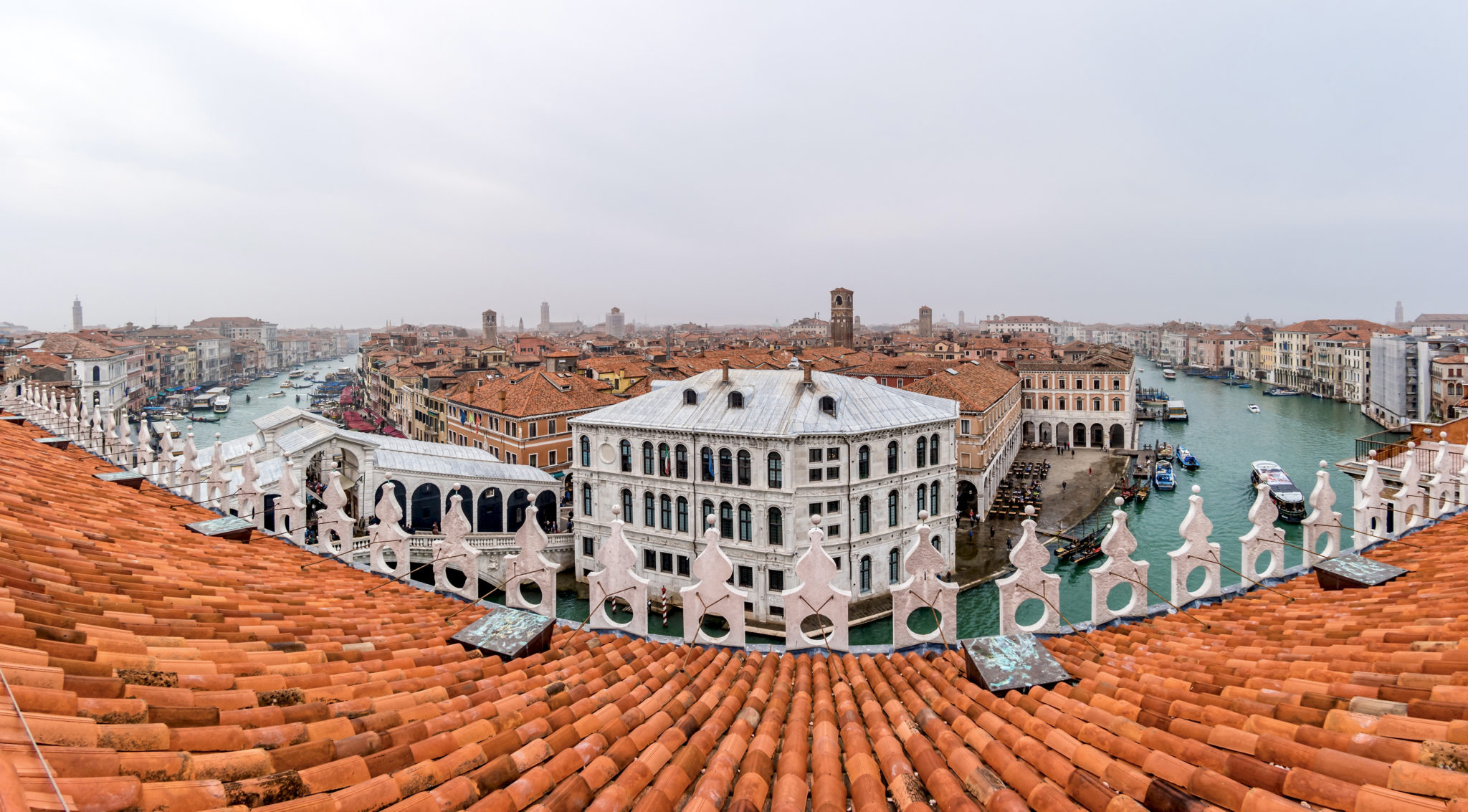 24. Viewpoints In Venice
Do you love a beautiful vista? It's always exciting to discover a city from above. So, here are my tips for where to find the best viewpoints in Venice.
St. Mark's Campanile is the bell tower next to the cathedral. You'll have stunning views from the top, and I think it's the best viewpoint in Venice.
There are no stairs. You take an elevator to the top. To avoid long lines, you should book a timed entrance ticket in advance.
The rooftop terrace of Procuratie Vecchie, in Piazza San Marco, offers up stunning views of the basilica. And you'll have beautiful views of the Grand Canal from the Ca' d'Oro palace museum.
Another great viewpoint is the top of the T Fondaco dei Tedeschi The former palace is now a luxury department store.
From its rooftop, you'll have 360 views of Venice. The palace is free to visit, but you need to book your 15 minute time slot time in advance.
If you're really into views, you may want to book a Venice rooftops and Prosecco tour.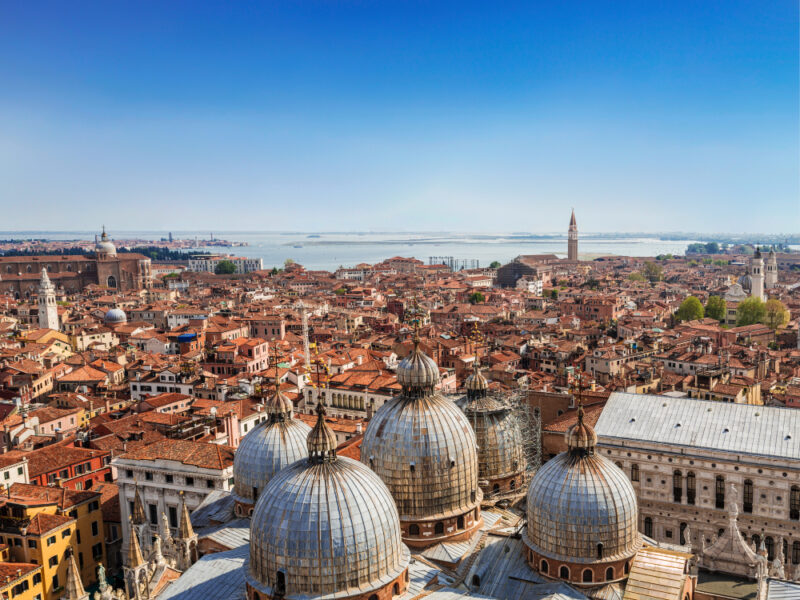 25. Overview Of Neighborhoods in Venice
Venice is a city of neighborhoods. Most visitors stay in San Marco. But I think they are all worth visiting if you have a multi-day stay. Here's a quick overview.
San Marco: San Marco is the central touristy hotspot concentrated with Venice's major attractions, upscale shops, and restaurants.
Dorsoduro: The Dorsoduro is an artsy student district with wonderful museums and the Campo Santa Margherita.
Castello: Castello is a beautiful off the beaten path district with gardens and a medieval shipyard.
San Polo: San Polo is home to busy Rialto markets, with a combination of great restaurants and tourist traps.
Cannaregio: Cannaregio is Venice's historic Jewish Quarter, a lovely residential area with great cicchetti bars, lovely churches, and narrow canals. Cannaregio is a great place to go on a guided food tour or take a walking tour to see hidden gems in Venice.
Santa Croce: In Santa Croce, you'll find lots of palazzos and bacaris (Venetian wine bars with cicchetti).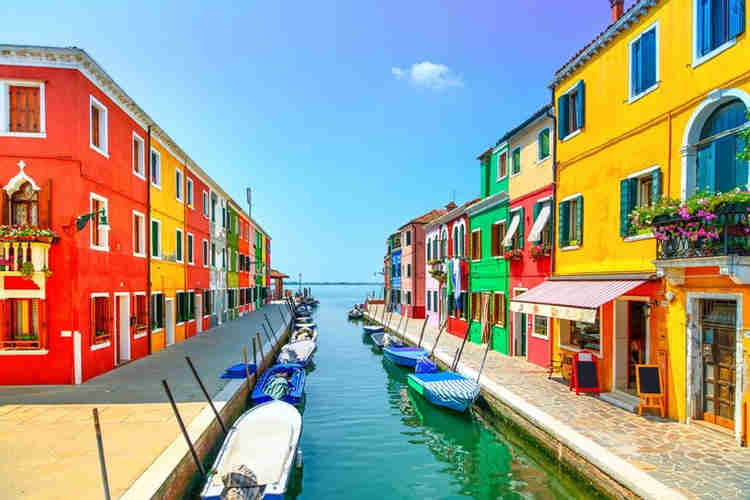 26. How To Get To Venice's Lagoon Islands
No visit to Venice is complete without exploring some of the lagoon islands, especially Murano and Burano. Murano is known for its lace making and Murano is known for its colorful photogenic buildings.
Here are my Venice tips for getting to the islands:
To get to Burano: Vaporetto 12 from Fondamente Nove in Cannaregio (45 minutes)
To get to Murano: Vaporetto 4.1, 4.2, or 12 from Fondamente Nove or Vaporetto 4.1 or 4.2 from St. Mark's Square (San Zaccaria stop)
To get to Torcello: Vaporetto NLN from Fondamente Nove (50 minutes)
To get to the Lido: Vaporetto 1 from St. Mark's Square (1 hour)
The easiest thing to do is book a full day tour to see the islands. Or, you can opt for a half day tour of just Murano and Burano.
27. The Italian Happy Hour is the "Apertivo"
Apertivo is the Italian version of happy hour. It's a ritual of indulging in a pre-dinner cocktail or apertivo and small nibbles of freefood. It's a luxe version of our happy hours.
Unlike the American happy hour though, the Italian Apertivo may last from 6:00 to 9:00 pm.
For their Apertivo, Italian like traditional cocktails like a Bellini, Negroni, Campari, or Apersol Spritz.
28. Dining In Venice: Where To Eat
You'll also need some tips for dining out in Venice. Venice's meal times run on a different schedule than the U.S.
Lunch is usually between 1:00 to 3:00 pm and dinner starts late at 8:00 pm. Many of the restaurants are closed between lunch and dinner.
A cover charge is always added to your bill. But you won't be rushed. You can linger as long as you like. That's the Italian way. In fact, you will likely have to ask for your check when you're ready to go.
It's honestly pretty easy to get a crappy meal in Venice. There are plenty of tourist restaurants with plastic photo-filled menus. Try to avoid those.
Also try to avoid grabbing a meal in St. Mark's Square, the Rialto area, or the Riva degli Schiavoni promenade. Instead, look for an out of the way place (and make reservations) in the Dorsoduro or Cannaregio neighborhoods.
I can recommend Bistro de Venice (San Marco), Al Covo (Castello), Locanda Monti (Dorsoduro), L'Orto dei Mori (Cannaregio), or All' Anforna (Santa Croce) Make reservations!
In lieu of a restaurant, you could book a 3 hour evening food and wine tour. Or you could book this 2.5 hour food tour in Cannargio, which includes ciccetti (tapas), wine, and a gondola ride. I've done this tour and it was great.
You can also book a dinner cruise on the Venetian Lagoon.
If you want a glamorous breakfast or brunch, book at table at Hotel Danieli.
Perched on the hotel's roof top, the Restaurant Terrazza Danieli is a magical location, overlooking the Grand Canal, the Doge's Palace, and the Lido. This was one of the nicest things that I did my last time in Venice.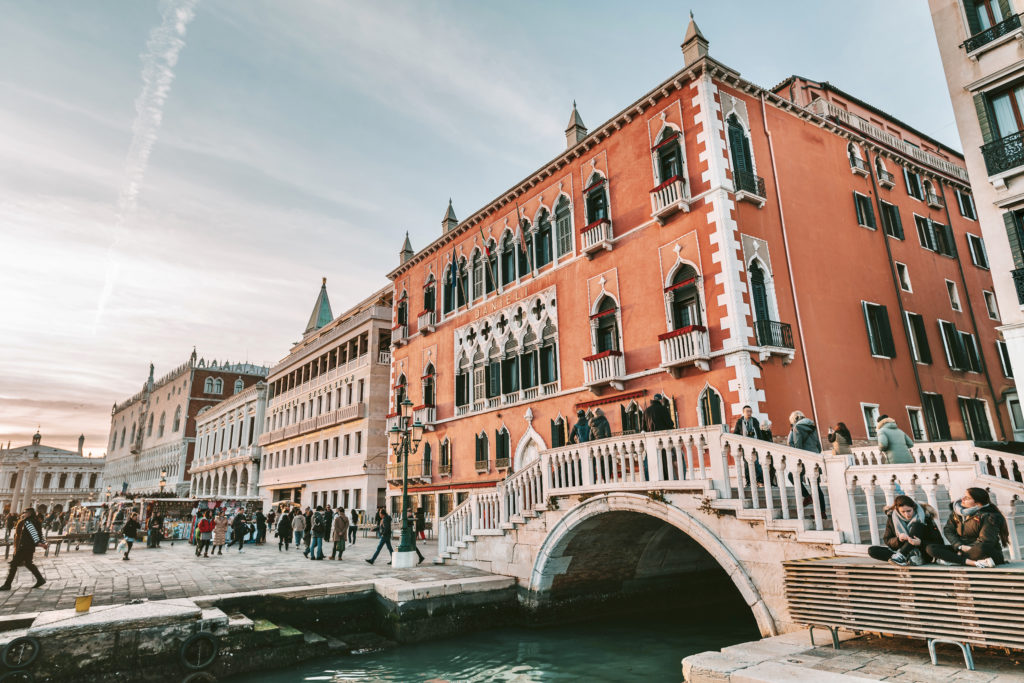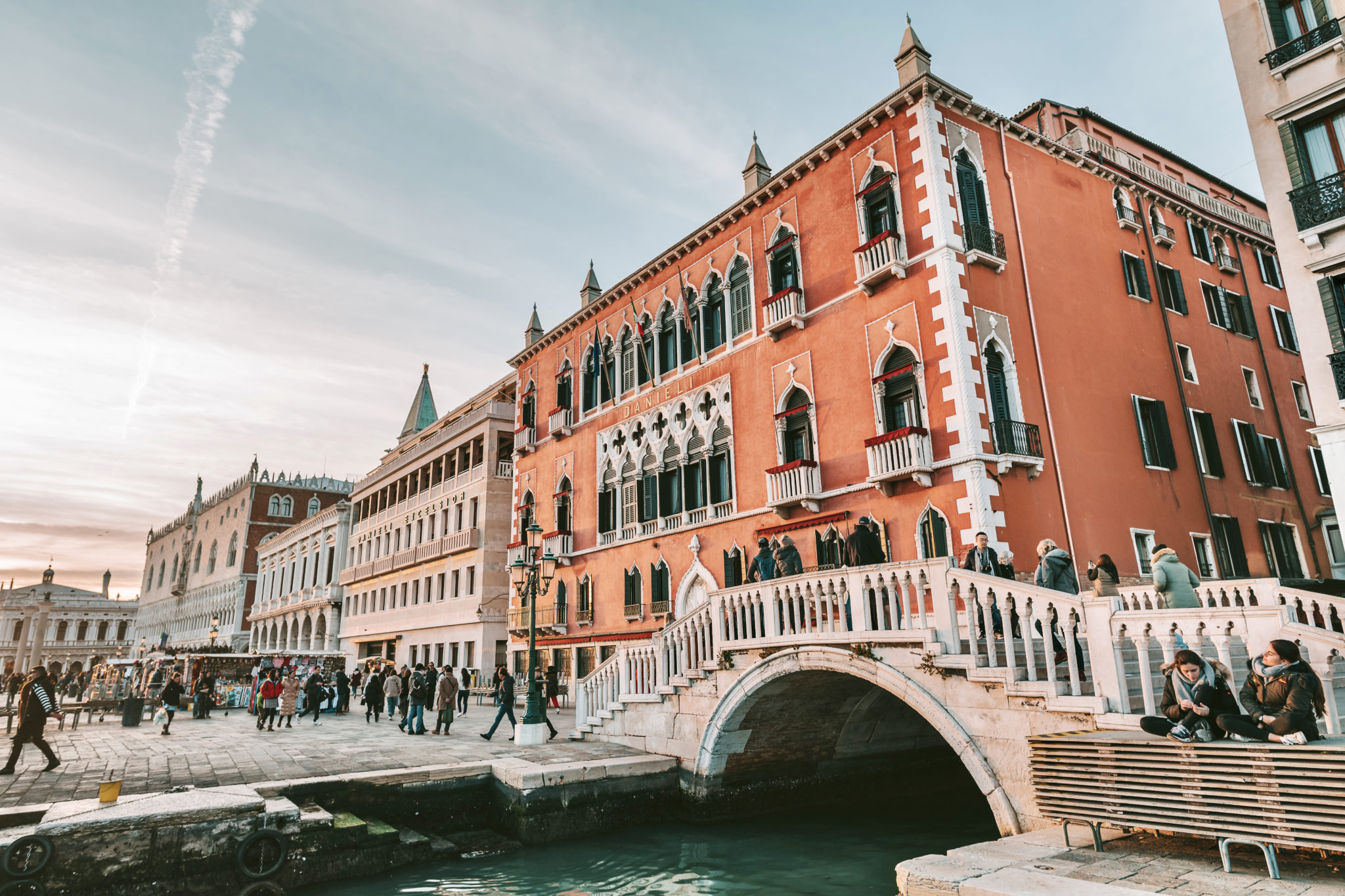 29. Where To Stay In Venice
Sure, you can do a day trip to Venice and see most of it since it's not very big. But I really recommend staying overnight, even for just a couple nights. Plus, if you are an early riser, you'll have the advantage of seeing the city before it gets crowded.
I've stayed in many different places in Venice — in the Rialto, Dorsoduro and Castello — in both hotels and Air Bnbs.
There are some amazing hotels. Be aware that, because Venice is such a dense city, the hotel rooms will be smaller than usual.
If you want a real luxury hotel, opt for Gritti Palace (elegance and views of the Grand Canal) or the Hotel Danieli (opulent Venetian rooms with a rooftop terrace). The Gritti palace is Venice's best hotel. It's a place that's luxurious while still being understated.
If you want a luxe hotel in the center of things, try St. Regis (unrivaled terrace suites above the Grand Canal), Aman Venice (my fave, you'll feel like an aristocrat), or Bauer Palazzo (elegant Venetian design).
For a cute boutique hotel, try the Novecento, the Palazzo Venart, or the Hotel Bucintoro.
If you'd like to stay off center for some peace and quiet, try the Belmond Cipriani on the island of Guidecca. This is where the Bellini cocktail was invented.
You can also try San Clemente Palace Kempinski on San Clemente island or Al Pone Antico in Cannaregio.
30. When To Visit Venice
One key tip for Venice is to not visit in the summer. In the summer months, it's uber hot and the crowds are beastly. The city can seem a bit theme park-ish.
Try to visit in spring or fall, particularly in October/November and March/April. Winter can be wet and cold in Venice, so I'd avoid visiting then.
If you're interested in attending the Venice Carnival, the festival takes place annually in February. Three million people dress up in black capes, costumes, and gilded masks and dance until dawn.
You may also want to attend the famed Venice Biennial. Millions of visitors flood into Venice in the summer to attend this annual festival of art and culture. It's a vast display of art curated by a new artistic director each year.
31. Day Trips From Venice
Venice makes a great base for day tripping in the Veneto region. Though if you want to save a few dollars, you can also use Verona as a base.
The best day trips from Venice are to Padua, Verona, Treviso, and Bologna. Verona is probably my favorite because it's a beautiful small city that's close to Venice and boasts some famous Roman ruins.
If you want more information on Verona, here's my one day in Verona itinerary and you can check out this 6-8 hour day trip from Venice to Verona
I hope you've enjoyed my tips for visiting Venice. You may enjoy these other Italy travel guides:
If you need tips for visiting Venice, pin it for later.