Here's my guide to visiting the iconic Hampton Court Palace. The palace is one of the most famous landmarks in England and a must visit attraction near London. It's the perfect easy day trip from London.
Hampton Court Palace is the world's greatest surviving medieval palace. It has a deliciously rich and scandalous history and is filled with great art. History nerds, royalists, and art lovers will be in heaven.
Hampton Court Palace was the favored playground and leisure complex of England's infamous King Henry VIII and other notorious characters in English history.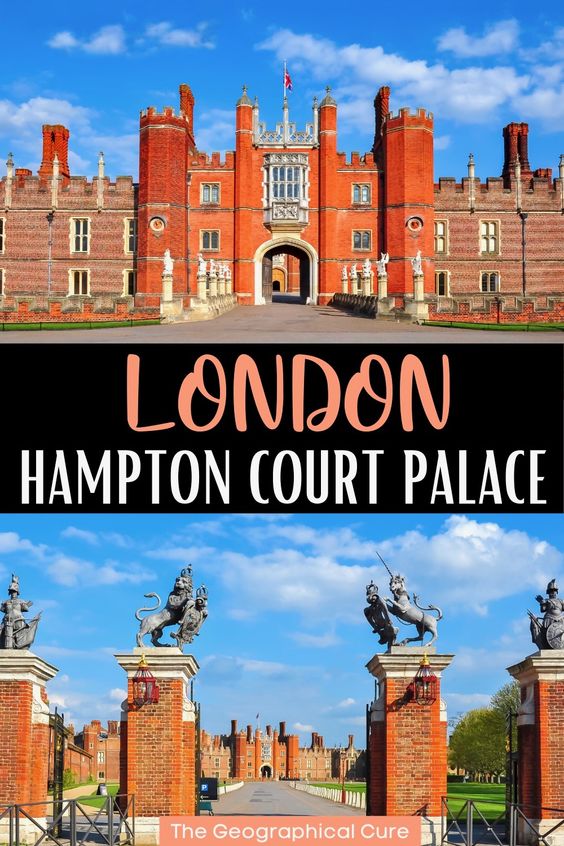 "Golden Boy" Henry suffered an injury there that would change the course of his life. It transformed him from a dashing energetic king into a tyrannical monster.
In this Hampton Court Palace guide, I give you an overview of the history of Hampton Court Palace and the life of Henry VIII. I cover everything you need to see at the palace.
History of Hampton Court Palace
Hampton Court Palace is really a tale of two palaces smooshed together.
It's a combination of the Gothic Palace of Cardinal Wolsey and Henry VIII and the Baroque Palace built by the Stuart monarchs William and Mary. The palace was a royal residence from the early 1500s until the 1730s.
1. The Wolsey Palace
Built between 1514-25, the palace was originally the home of Henry VII's chief minister, Thomas Wolsey, the Archbishop of York.
Wolsey was the second most powerful man in England. Wolsey did the royal administrative work, while a young Henry partied.
Wolsey wanted a home befitting his prestige. He used red brick, a new architectural "wonder" material at the time.
The palace was lavish. So lavish that gossip quickly spread that Hampton Court exceeded Henry's other 50-60 castles in beauty.
A spiteful Henry became jealous of Wolsey's masterpiece. He became covetous. The best places were supposed to belong to the king, after all.
Wolsey reassured the king that he only built Hampton Court for Henry's glory and benefit. He prepared lavish royal apartments for the king and his 1,000 person entourage.
2. Henry VIII's Palace
A young Henry VIII used to "play" at the palace. It was his favorite summer retreat. There, with his never-ending energy, he would joust, play tennis, and bowl. Hampton Court became the ultimate royal playground.
Dr. Kent Rawlinson, curator of historic buildings at Hampton Court Palace, said:
Hampton Court was a pleasure palace for Henry VIII, where guests were entertained with spectacular revels and festivities, and wine and beer were drunk in enormous quantities, as evidenced by the great cellars that still survive here.
But it was here that tragedy struck in 1536. A tragedy that would change the course of English history.
Despite being a passionate and skilled sportsman, Henry seriously injured his leg while jousting. The ulcers festered and never healed.
Henry may even have injured his cerebral cortex when thrown from his horse. He went from a cheerful sort to a glowering moody monarch who capriciously abused his wives and ministers.
When the palace officially passed into his possession (I'll get to that later), Henry quadrupled the size of the original palace while retaining the Gothic-inspired architecture. In 1540, King Henry VII had a large astronomical clock added to the inner courtyard gatehouse tower.
Hampton Court became Henry's preferred royal residence. All of his six wives and his three children lived there during his reign.
3. The Baroque Addition of William & Mary
After Henry's death, Hampton Court Palace slipped into neglect. But it blossomed again under the reign of William and Mary, crowned joint monarchs in 1689. The pair thought Hampton Court was terribly old fashioned. They wanted a splashy Baroque palace like Versailles.
They hired Christopher Wren to transform it. Wren originally intended to demolish everything except the Great Hall. Unfortunately, funds were tight and Wren only redid half of the palace. His additions included the spectacular Fountain Court facade.
The Georgian kings, who succeeded the Stuarts, didn't like Hampton Court palace much. In 1737, George III — the man who lost the American colonies — left for good.
He began the custom of granting living space at the palace to favored courtiers and royal servants. Hampton Court became the home of so-called "grace and favor" apartments.
In 1838, Queen Victoria ordered that Hampton Court be opened to the public. In 1838-51, in light of the renewed public interest in Hampton Court, the palace was extensively renovated.
Who Is Henry VIII?
To understand Hampton Court Palace, you've got to know Henry VIII.
1. A Marrying and Murdering King
Hampton Court Palace and Henry VIII are practically synonymous. Henry and his plethora of besieged wives all lived there.
His poor wives didn't fare well. The saying goes "divorced, beheaded, died, divorced, beheaded, survived. And that was their sequential fate.
Henry's first wife was Catherine of Aragon, his brother Arthur's widowed wife. Initially, the king was madly in love with the Spanish queen, who was 5 years his elder. But after 20 years of marriage, she failed to give Henry the one thing he most craved: a male heir.
Catherine tried. She had 6 pregnancies, resulting in either stillborn children or babies who quickly died. Only their daughter Mary survived.
Mary I would go on to become "Bloody Mary," a Catholic zealot who burned Protestant resisters at the stake. Her father obviously didn't set a good example for her.
When Henry wasn't trying to create an heir, he was off in battle. In 1529, Henry had a great summit with an equally alpha monarch, Francois I. Their meeting was known as the Field of the Cloth of Gold. Paintings at Hampton Court Palace depict the sumptuous occasion.
But with no son, Henry still grew increasingly frustrated. Glorious battle victories weren't enough when the Tudor dynasty was at stake. Henry's eyes began to wander.
2. Henry VII's "Great Matter:" I Need a Divorce
In 1526, Henry fell in love with the courtier Anne Boleyn. Anne was young, charming, and witty. But Anne steadfastly refused to become his official mistress, holding out for marriage instead.
Over time, Henry became convinced that his marriage to Catherine was cursed — he shouldn't have married his brother's wife.
Desperate to marry Anne, Henry had the high flying Wolsey try to procure an annulment from the Catholic Church in Rome.
To no avail. The church sided with Henry's wife, a devout Catholic from a devoutly Catholic country.
In 1525, Wolsey tried to placate a bitterly disappointed Henry for failing in "the great matter" by gifting him Hampton Court Palace. It didn't work.
In 1529, Wolsey was arrested for treason. Because that's what Henry did if you received a poor job performance review.
3. The Unstoppable Henry VIII Launches A New Religion
Henry didn't rest. He roared. Henry broke away from the Catholic church and formed his own religion, his most lasting legacy. He declared himself "the Supreme Head on earth of the Church of England."
Finally, Henry could annul his marriage to Catherine and marry Anne, the girl of his dreams. After 7 long years of waiting.
Rome ex-communicated Henry. But he didn't care. It only made Henry richer when he dissolved the monasteries and seized their land and treasures.
What did Henry do with the money? Well, among other things, he used it to make Hampton Court Palace the ostentatious pride of England.
But a state of the art palace and his many years of love and lust with Anne meant little to Henry. When Anne gave him a daughter in 1533, who would become Elizabeth I, the Virgin Queen, Henry was once again disappointed.
When Anne miscarried a son, he didn't hesitate to get rid of her. Anne had failed to live up to her part of the bargain.
Trumped up rumors of Anne's supposed infidelity — she was called the "Great Whore" — led to charges of adultery and treason. In 1536, Anne lost her head on the Tower of London green.
By then, Henry was besotted with another young girl, Jane Seymour. He married her 11 days after Anne's execution.
Jane gave Henry a son, who would become Edward VI, and then promptly died. Henry was distraught. He took to comfort eating and became obese, weighing over 400 pounds.
Nonetheless, a king must be married, so Henry was duly betrothed to Anne of Cleves. But he didn't take to her. When he met her, Henry shouted in horror "I like her not! I like her not!" Perhaps falsely, Anne was then known as the "ugly queen."
Six months later, they speedily divorced. Anne had the good sense to sign the divorce papers without squabbling. She subsequently became an honorary family member, known as "the King's Beloved Sister."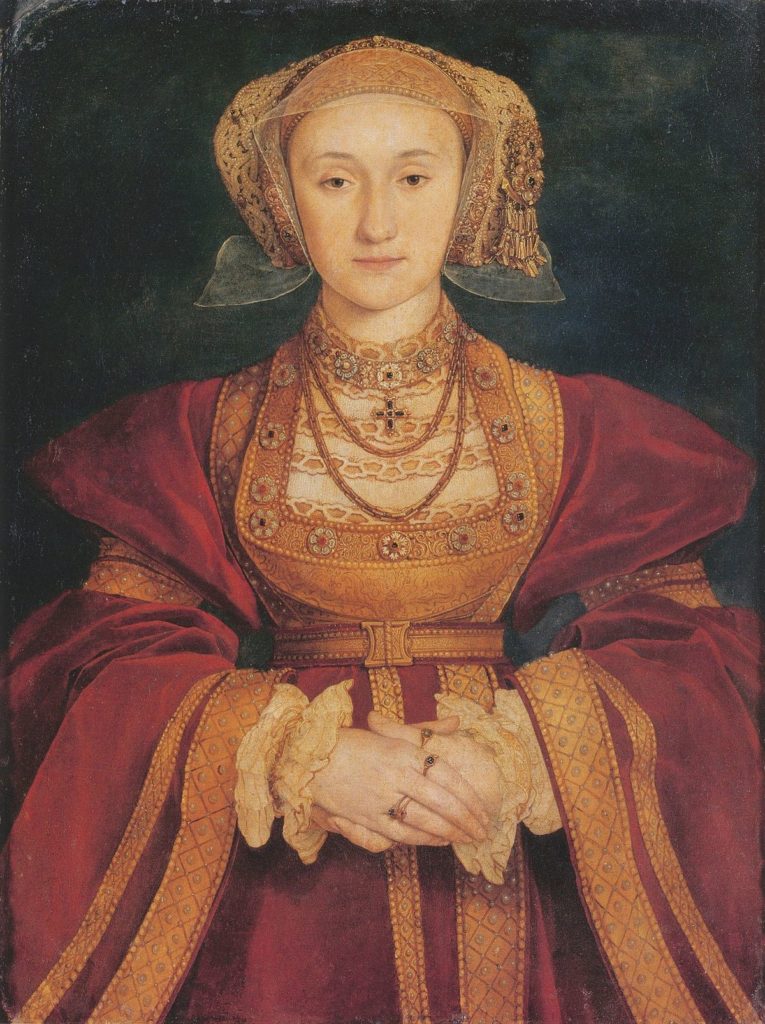 As was his habit, Henry quickly became enamored with another flirty young girl, Catherine Howard. When she predictably cheated on him, Henry beheaded Catherine on the tower green, as he had done with Anne.
In his dotage, Henry married Catherine Paar, who became a caretaker to the king until he died at age 56 in 1547.
Tickets & Tours For Hampton Court Palace
Click here for a skip the line entrance ticket to the palace. The palace is also included in the London Pass, which is a great pass if you're visiting many attractions in London.
Once you're there, you can book a 3 hour guided tour of the palace.
You can book a guided day trip tour from London. You can also book this popular full day 9 hour guided tour for both Hampton Court Palace and Windsor Palace. Or a Tudor themed full day tour to Hampton Court Palace and Hever Castle.
Guide To Hampton Court Palace: What To See
Henry's seat of power is imposing. And so vast that it's impossible to review every room.
The surviving sections of Henry's quarters consist of the Great Hall, the Great Watching Chamber, the Great Council Chamber, the Processional Route linking the rooms, and the Tudor Kitchens.
Here are the main highlights of Hampton Court Palace:
1. The Great Hall
The highlight of the interior is Henry's Great Hall. It has a lavishly gilded hammer-beam roof, 60 feet high.
In Tudor times, the Great Hall was the center of palace life, a place to see and be seen. Up to 600 people ate meals there.
The Great Hall was built as a token of Henry VII's love for Anne Boleyn.
It was also known as the "Eavesdroppers Hall" because of the tiny sculptured figures in the ceiling who "listened" to conversations.
When Henry beheaded Ann, he wiped all traces of her from the Great Hall. Except for one spot the workers missed, which bears Anne's initials.
2. The Great Watching Chamber: The Gateway To Henry VIII
Right next door, Henry VIII built the Great Watching Chamber, or Courtier's Room, in Jane Seymour's honor.
It has a gilt ceiling adorned with badges. You can see the phoenix of Jane Seymour and Henry's court of arms.
The Great Watching Chamber is hung with tapestries made of cloth of gold. They've faded with time. But in their day, they would have been brilliantly neon colored.
Here, members of the Yeoman Guard stood "watch" and controlled access to Henry in this important part of the palace. Only visitors of high rank were permitted to enter.
Those deemed important enough were led through the doors into a sequence of further chambers, each one more exclusive than the last. This royal "filtering system'"was designed to restrict access to the King and funnel people into rooms appropriate to their rank.
3. The Royal Chapel
The Chapel Royal is a beautiful room. It was essentially the birthplace of a new religion. It was built by Cardinal Wolsey. And it's still in regular use for religious services.
In the 1930s, Henry installed the vaulted ceiling in a starry azure blue. It features glorious painted gilded pendants and decorative vaulting ribs.
The chapel's reminiscent of the Henry VII Chapel in Westminster Abbey, which is turn reminiscent of Sainte-Chapelle in Paris.
The Royal Chapel was the setting for key events in Henry VIII's turbulent marriages. He worshipped in the chapel with Catherine of Aragon and Anne Boleyn.
He learned of Catherine's adultery there. And Henry married his sixth and final wife, Catherine Parr, in a chamber adjacent to the chapel.
A replica of the Henry's crown is on display in the Royal Pew of the chapel, where Henry himself sat wearing it. It's said that Jane Seymour's heart and lungs are in a lead box behind the altar.
4. The Haunted Gallery
The Haunted Gallery is where the ghost of Catherine Howard, Henry's fifth wife, is said to appear.
Legend holds that, when Catherine learned she was charged with adultery, she desperately tried to find Henry and plead her innocence.
Before she could reach the king, Catherine was dragged to her rooms, screaming for mercy.
She was beheaded on the Tower Green in 1542. Her ghost is said to still appear, haunting the gallery.
5. The Tudor Kitchens
Dating from the 16th century, the kitchen was a busy place when the king arrived.
Henry would bring almost 1000 men in his entourage. They all wanted roast meat, the favorite of the Tudor court.
There were six massive fireplaces in the kitchen. Cooking the meat was a tough job.
The men would literally almost be roasted to death as they cooked. But at least they had unlimited beer to help cool off.
6. Wolsey's Closet
Wolsey's Closet is possibly the most elaborately decorated chamber in the entire palace. It's the only remaining remnant of Thomas Wolsey's living quarters.
Commissioned by Henry VIII, the panels of the room depict "The Passion of Our Lord." The ceiling is decorated with gilded Renaissance motifs and badges incorporating the Tudor rose.
7. Processional Route: the Holbein Propaganda Portrait
The Processional Route was Henry's "Coming Forth" space. After emerging from his private apartments, Henry would proceed down this long corridor to the chapel or to make himself available to the court.
The corridor is lined with portraits of Henry and his family, including his father Henry VII, his mother Elizabeth of York, and his children.
Check out the Princess Elizabeth portrait. She's wearing an "A" necklace that belonged to her mother, Anne Boleyn.
The star of the gallery is Hans Holbein's famous life size painting of Henry VIII.
Holbein's portrait is meant to intimidate and convey a favorable impression of the then ailing king. It depicts Henry as aggressive and defiant, exuding unquestionable authority and gravitas.
But is this really an accurate depiction of Henry VIII? At this point, at age 45, Henry was physically declining and hobbled by leg ulcers.
He had no male heir and had alienated the Catholic church. The Tudor dynasty looked rather doomed.
Holbein attempted to dispel this image. He flattered Henry with jewels, padded out shoulders, and a swaggering pose. Henry looks like a virile and victorious warrior king, not a beleaguered king.
This wasn't what Henry really looked like. But Holbein succeeded in cementing this image in the public mind forever.
8. The Prince of Wales Chamber
An ornate marble staircase with wrought iron railing leads to the Prince of Wales Chamber. This room contains a famous painting, The Field of the Cloth of Gold.
The painting captures a grand fortnight summit between Henry and his rival, Francois I of France. It's a nice bit of propaganda.
Henry dominates the large painting, wearing brilliant gold. There's a specially created temporary palace. The fountain in the painting poured expensive red wine.
In 2008, archaeological remains of the actual 16th century fountain were discovered in the Base Court. In 2010, the fountain was recreated and is engineered to serve wine on special occasions.
Beginning in April 2020, England will celebrate the 500th anniversary of the Field of the Cloth of Gold. In May, there will be a recreation of the festival-summit, complete with live jousting and wresting. This will be a hot ticket in 2020.
There's also a legend about the Prince of Wales Chamber's most famous prince in waiting, Frederick (later George III). The story is known as "the Midnight Flit." Frederick and his parents didn't get on.
His mother once called him the "greatest ass, liar, and beast in nature." Not exactly motherly. But he may have deserved it.
Anyway, Frederick's wife was pregnant. When she went into labor, he refused to allow his son to be born in his parents' house. So Frederick scooped her up in the middle of the night and left.
Another lesser known fact is that Queen Anne, the last Stuart monarch, had a room hidden away in the Prince of Wales Chamber. She commissioned a fancy bed with 11 mattresses.
But she only slept in it one night before she died. The bed was recently restored, requiring 150 man hours.
9. The Royal Apartments
You proceed up the grand King's Staircase, with 1724 murals by William Kent, to access the royal apartments. Henry VIII's apartments are long gone.
The King's Apartments face the Privy Gardens on the south side and the Queen's face the Fountain Garden on the east side.
The King and Queen Apartments are linked by a grand gallery running the length of the building, inspired by the hall of Mirrors at Versailles.
Christopher Wren decorated the apartments of King William III. They boast beautiful and delicate wood carvings by the 17th century craftsman Grinling Gibbons.
The opulent Great Bedchamber features a lush canopied red bed. But that wasn't where the king actually slept, only where he dressed in the presence of his courtiers in a strange royal tradition. He slept in a gold bed next door.
The ceiling of William's bedrooms was decorated with a colorful mural of naked men. Seizing on William's lack of children, jealous courtiers spread rumors that, based on the home-erotic mural, William was gay. Gay slurs were a common means to discredit someone back in those days.
The Orangery is also on the main floor of the King's Apartments. It's a long gallery paved in a distinctive pattern of purple and grey Swedish limestone.
The Orangery served as a greenhouse for exotic plants. It also gave the royals a place to promenade in the winter months.
The Queen's Apartments mirrored the king's. They've been restored as they would have appeared to George II's wife, Queen Caroline, between 1716-37. In an unusual move, Queen Caroline had locks on her door for privacy.
The Drawing Room was the most important and exclusive rooms of the Queen's apartments. This was where Queen Caroline set up several card tables in the evening for entertainment.
10. Georgian Private Apartments
This suite of rooms was created for George II and his family. The rooms are pretty tame compared to the ebullient baroque designs of William and Mary's apartments. But the art work is superb, including works by Caravaggio and Sir Peter Lely.
Another Georgian creation was the Chocolate Room. It was manned by Thomas Tosier, the chocolate chef for Kings George I and George II.
He was tasked with bringing the kings a luxurious cup of hot chocolate each morning. Chocolate was a sign of high status at the time.
The location of the Chocolate Room was only discovered in 2014. It was faithfully re-created using documentary evidence.
11. Cumberland Art Gallery
The Cumberland Art Gallery at Hampton Court Palace opened in 2014. It displays art works from the royal collection.
It contains a fine selection of English paintings, including masterpieces by Holbein, Van Dyck, Rembrandt, Gainsborough, and other artists. Even an Andy Warhol.
The gallery is housed in a newly restored suite of rooms. They were designed in the 1730s by William Kent for William Augustus, the Duke of Cumberland and the youngest son of King George II.
In 2014, after two years of meticulous research, the Cumberland Suite was returned to its original state. Humphries Weaving created blue silk moiré for the walls.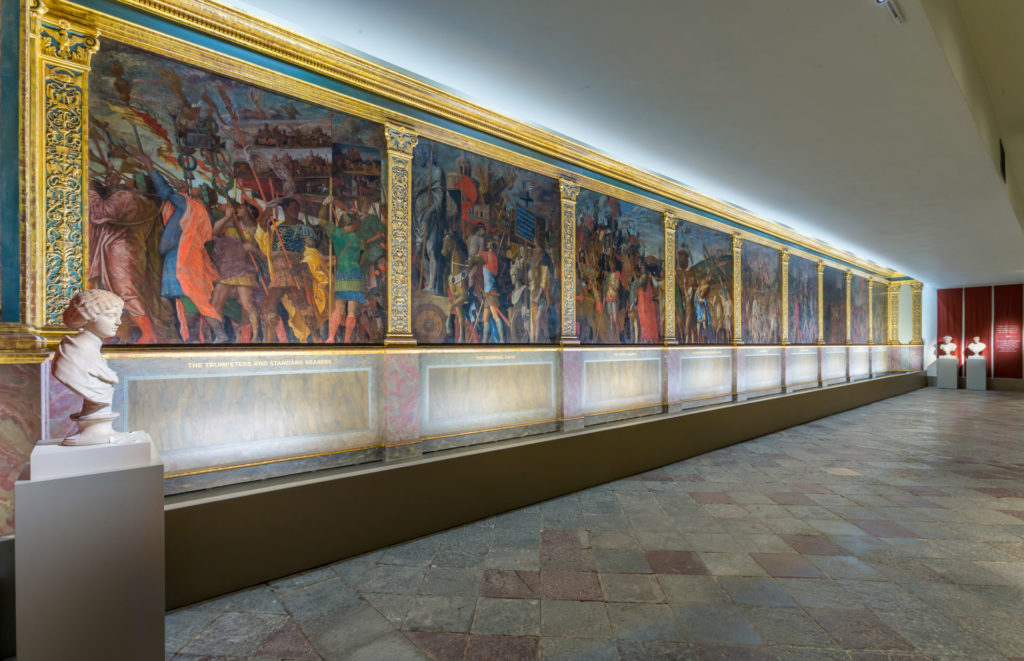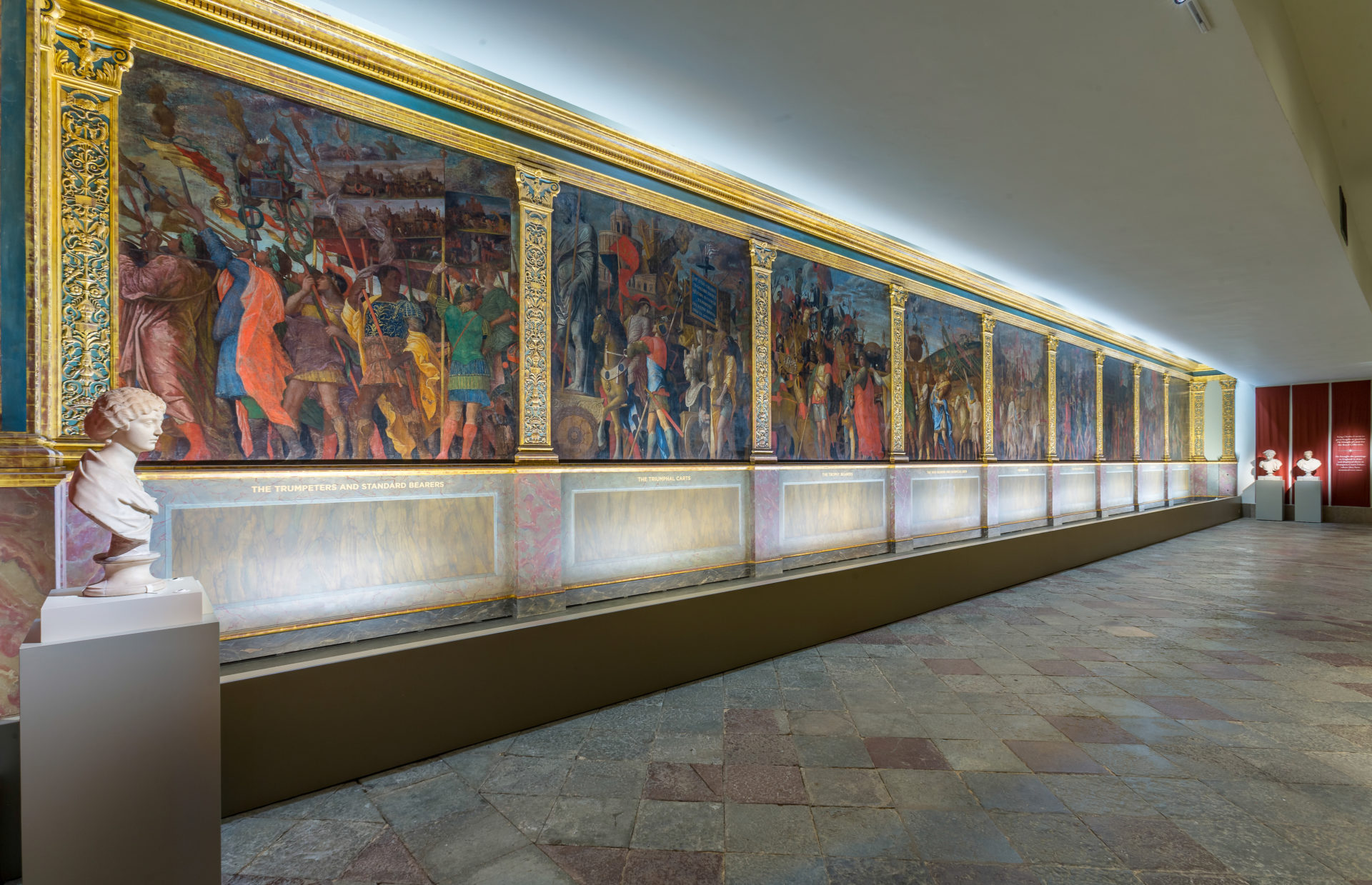 12. Mantegna Gallery
Hampton Court Palace is home to the most important series of early Renaissance paintings outside of Italy. They're nine large paintings depicting the Triumphs of Caesar by Andrea Mantegna.
READ: Guide To The Best Art In Italy
Art historian Giorgio Vasari calls these paintings Mantegna's masterpiece. They depicts a single procession, culminating in a final episode — the arrival of Julius Caesar on a triumphal chariot after his military success in Gaul. In Ancient Rome, a triumph was a the greatest accolade a general could receive.
The paintings were originally created for the Ducal Palace in Mantua Italy. But Charles I purchased them in 1630 and placed in Hampton Court Palace.
The paintings are not in the best condition. They've been restored many times, but most restorations were misconceived.
13. Hampton Court Palace Gardens
There are over 60 acres of gardens at Hampton Court Palace. Today, the gardens represent a fusion of Tudor, Baroque, and Victorian influences.
Throughout the year, the gardens host various events and festivals, including the Hampton Court Palace Flower Show. It attracts gardening enthusiasts from around the world.
Wolsey laid out the first small gardens in the early 1500s. When Henry VIII took over the palace, he added the Privy Garden.
William and Mary created the magnificent Fountain Garden on the east side. It contains 13 fountains and two avenues of yew trees.
The formal garden showcases symmetrical patterns, vibrant flower displays, and intricate water features, including the famous Tijou Screen and the impressive Great Fountain itself.
There's also the beautiful Pond Garden, which you can't enter, and was formerly used to shelter exotic plants. You'll also find the Rose Garden, the Kitchen Garden, and the Maze.
At the end of the Pond Garden, you'll find a glass house containing the world's largest vine, complete with a Guiness Book of World Records certificate. It was planted in 1768 by George III.
14. The Garden Maze
In 1690, King William III commissioned the Maze of the Hampton Court Palace Gardens. The maze was designed and planted by George London and Henry Wise.
It covers a third of an acre. The maze takes about 30-45 minutes to navigate with its many twists, turns, and dead ends.
The Maze was originally planted with hornbeam. Later, it was replanted using yew. It's England's oldest surviving maze.
Hampton Court Palace Becomes A Filming Location for the Movie The Favourite
In the spring of 2017, Hampton Court Palace became a filming location for the award-winning 2019 movie, The Favourite. The Favourite is a dark period comedy.
It's the beguiling story of the ailing Queen Anne (Olivia Colman) and the power struggle between two favorites in her court — courtier Sarah Churchill (Rachel Weisz) and ambitious maid Abigail Hill (Emma Stone).
Queen Anne came to the throne after William III and spent significant time at Hampton Court Palace during her reign. She also lived at Kensington Palace and Windsor Castle.
In the movie, the directors used Henry VIII's Kitchens, The Cartoon Gallery, the Fountain Court, The Queen's Drawing Room, and The Chapel Royal.
Costumes from the film are currently on display in the Cartoon Gallery. (I haven't mentioned the Cartoon Gallery, as it only contains replicas of Raphael paintings.)
Is Hampton Court Palace Worth Visiting?
Hampton Court Palace is definitely worth a half day or day of your time. To me, it's the most interesting palace I've visited in or around London.
You're steeped in Henry VIII lore and get true insight into this fascinating historical character. The palace is England's largest and grandest Tudor structure, and a beautiful blend of Tudor and "restrained" Baroque architecture.
There is some amazing art in the palace. And you can actually take photos in the palace, unlike others.
Practical Information for Visiting Hampton Court Palace:
Address: Molesey, East Molesey KT8 9AU, UK, 14 miles from London
Getting there: Trains run from Waterloo Station in London every 30 minutes. The train ride takes approximately 40 minutes.
Opening Hours:
Summer (March 25 to October 27)
10:00 am to 6:00 pm, with last admission to Palace at 5:00 pm Last admission to Magic Garden and Maze at 5:15 pm
Winter (October 28 to March 30)
10:00 am to 4:30 pm, with last admission to palace at 3:30 pm Last admission to Maze at 3:15 pm
Entry fee: Ticket prices, free entry with London Pass. The ticket includes access to all public areas of the palace, the gardens, courtyards, the Maze, and the Magic Garden.
Pro Tip: There's an introductory film you can watch once you arrive to get your Henry VIII history lesson.
I hope you've enjoyed my guide to Hampton Court Palace. You may enjoy these other London travel guides and resources:
If you'd like to visit Hampton Court Palace outside London, pin it for later.