Here's my guide to visiting Hohenschwangau Castle in Bavaria Germany.
Truth time. I might have enjoyed touring the operatic and ochre-hued Hohenschwangau Castle more than its decidedly more famous next door neighbor, Neuschwanstein Castle. As the neglected stepchild of Neuschwanstein, Hohenschwangau is effectively a hidden gem in Bavaria.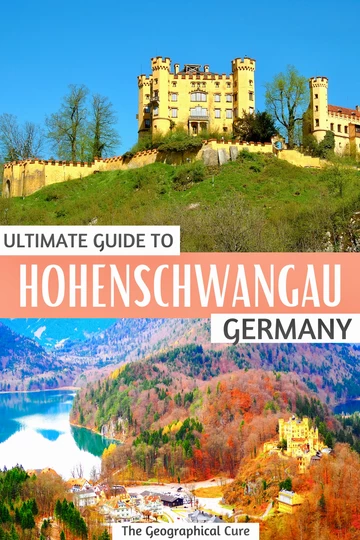 Neuschwanstein Castle is more glamorous and gaudy, to be sure. But it's also almost unbearably crowded and Hohenschwangau isn't. You also get a much better guided tour at Hohenschwangau.
READ: Guide To Neuschwanstein Castle
Hohenschwangau is a quaint and homey castle, if such adjectives are ever appropriate for a castle. So if you're heading to Neuschwanstein and Fussen, be sure to buy a combo ticket to see this little Neo-Gothic gem as well. You won't regret it. Promise.
History of Hohenschwangau Castle
Hohenschwangau first appears in recorded history in the 12th century. Until the 16th century, it was owned by the knights of Schwangau.
In 1832, Mad King Ludwig's father, Maximillian II, purchased Schloss Hohenschwangau in ruinous condition. It was basically an abandoned fortress, the former home of the knights of Schwangau. But King Max fell in love with the romantic setting and crumbling buildings. I like to call this phenomenon "ruin lust."
At the time, Maximillian was crown prince and heir to the Bavarian throne. Between 1833-37, he transformed the old ruin and built the yellow mock-medieval castle you see today.
During the summers, Ludwig's family decamped from Munich to Hohenschwangau Palace. His mother, Queen Marie, who Ludwig intensely disliked for her cold indifference to his existence, called it her "favorite place on earth." At least she liked something.
As an aside, the neglectful mother had one positive attribute. She essentially pioneered the sport of women's hiking in her summer jaunts in the Alps.
King Max, who had been a studious and diligent monarch, died in 1864. The official story was a fall from his horse. But the real cause of death was syphilis, likely contracted during his 1833 trip abroad.
Queen Marie outlived both her husband and son, living until 1889 in Hohenschwangau. Then, Hohenschwangau was inherited by Ludwig's uncle Luitpolt, a possible suspect in the conspiracy to have Ludwig deposed and assassinated. But the public loved him for stabilizing Bavaria. Gilded gifts to Luitpolt are scattered throughout the castle.
During his tenure there, Luitpold installed electricity and an elevator. He died in 1912. One year later, Hohenschwangau became a museum open to the public. However, Hohenschwangau is still privately owned by the family, unlike Ludwig's other castles in Bavaria.
The Swan Motif
Hohenschangau means High District of the Swan. Ludwig grew up surrounded by operatic images, but not by loving parents. At Hohenschwangau, swans were everywhere — on the lake, on the walls, and in knickknack form.
Swans proved an enduring obsession for Ludwig, who even named his castles after them. Hohenschwangau itself translates as High Swan Country.
What To See at Hohenschwangau Castle
From, the outset, King Max decided that Hohenschwangau's rooms would tell the story of German and Bavarian history. He renovated Hohenschwangau to the hilt.
He decorated the castle with neo-Gothic frescoes depicting the Holy Grail, Tannhauser, and Lohengrin. Each room had a specific theme, which adds to the castle's charm.
1. Hall of the Heroes
The largest room in Hohenschwangau Castle is the banquet hall, which is called "the Hall of the Heroes." It takes up the entire width of the castle, it's so big. The paintings show different scenes of the Wilkina Saga and its hero Dietrich von Bern.
2. Hall of the Swan Knight
The Hall of the Swan Knight served as the dining room. It's decorated with paintings after Rubens and works telling the story of Lohengrin, the original Swan Knight.
3. Music Room
Then you'll come into the Music Room. Here, Richard Wagner played the piano for the Wittelsbach family. Ludwig II became his greatest patron and admirer, enabling Wagner to create some of his greatest operas.
The room also features Ludwig's spy telescope. He used it to check on the progress of Neuschwanstein's construction. And Ludwig's cozy reading chair, where he likely studied Wagner's pamphlets, essays, and librettos.
4. Maximillian's Bedroom
Maximillian's bedroom is a highlight of the interior. The walls are painted with sensual nude scenes from an Italian Renaissance poem, Jerusalem Delivered, about a crusading knight named Rinaldo.
Interestingly, Maximillian had these scenes painted over with clothes to protect a young Ludwig's innocence. The original paintings were restored in 1961. Ludwig II later pierced crystals in the ceiling for a starry sky effect.
5. Queen Marie's Bedroom
Queen Marie's room is a Neo-Moorish affair, known as the Oriental Room. Decorated in bright blues, pinks and reds, its ceiling reimagines Maximillian's journey through Turkey and Greece in 1832-33.
6. Queen Mary's Writing Room
The "Berchta-room" was the writing room of Queen Mary. Surrounded by beautiful painted ornaments, the murals tell the Bavarian version of the story of Charlemagne's birth. In kingly fashion, the Wittlesbachs considered themselves descendants of Charlemagne.
I hope you've enjoyed your tour of Hohenschwangau Castle. Remember, don't forget to buy that combo ticket with Neuschwanstein Castle. Then, you too can determine which tour is really the best.
Practical Information for Visiting Hohenschwangau Castle:
Address: Schwangau-Ortsteil Hohenschwangau, 87645 Hohenschwangau, Bavaria, Germany
Hours: here
Entry: 13 euros, under 18 free, audio guide included, combo ticket with Neuschwanstein 25 euros for same day visits
Pro Tip: Reserve tickets online in advance. You can reserve a combination ticket with Neuschwanstein Castle. You can only pick up your tickets at the Ticket Center in Schwangau. There are four paid parking lots in Schwangau, open from 8:00 am to 8:00 pm.
Getting there: If you're driving put the address for the ticket center in your GPS. If you're coming by train from Munich, you'll arrive in Fussen. Every hours, there are many buses that run from Fussen and deposit you in Schwangau after 10 minutes.
You may enjoy these other Germany travel guides and resources:
Most Beautiful Towns in Germany
Guide To Rothenburg ob der Tauber
Guide To Bavaria's Romantic Road
If you'd liked to visit Hohenschwangau Castle in Bavaria, pin it for later.