Here's my guide to visiting picture perfect town of Rothenburg ob der Tauber in Bavaria Germany. This guide takes you to all the top attractions, historic landmarks, and museums in Rothenburg ob der Tauber.
You can easily explore all the best things to do and see in one day. But Rothenburg is so bewitching, you may want to stay longer.
Rothenburg ob der Tauber is a simply stunning medieval town on the Romantic Road, with a ring of medieval ramparts.
In a dreamy land absolutely brimming with cuteness and treasures, this adorable UNESCO-listed town takes top prize for sheer romanticism and wrap around color.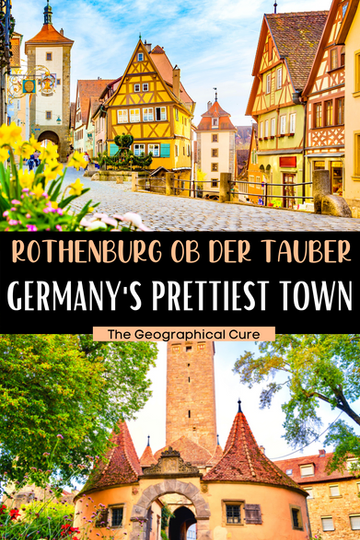 Rothenburg ob der Tauber is one of the best preserved and beautiful towns in Germany, and possibly all of Europe.
Some claim that Rothenburg is too Disney-esque and exists only for tourists. To be sure, it's crowded in high season. It isn't the best place to buy your beer steins; they're pricey.
Though it may be a tourist-fly film set, the dreamy UNESCO town is still utterly enchanting and worth braving the crowds. I've never really seen anything quite like Rothenburg, where the winds of history engulf you.
Rothenburg's pure magic — the ultimate walled city adorned with pastel gabled cottages, flowers spilling from window boxes, and wrought iron hanging signs. It's seriously swoonful.
A Short History of Rothenburg ob der Tauber
Rothenburg has morphed from a privileged imperial city to a ghost town to a tourist hotspot. As an ancient place, it's suffered from natural disasters, wars, and plagues.
The name Rothenburg ob der Tauber means "red fortress of the Tauber." And it's name is pronounced "Roe-ten-burg."
Where is Rothenburg ob der Tauber? Rothenburg lies in southern Germany. It's a must see destination if you're touring Bavaria or Germany's Romantic Road. It's a great place to stop for a break on a road trip and unwind. Rothenburg is also an easy day trip from Nuremberg, another idyllic Bavarian town.
The town began life in 1070. The Counts of Rothenburg built a fearsome castle overlooking the Tauber Valley. A century later, another castle was built and the town began to develop. In 1172, the first fortifications were constructed.
In 1250, work began on a Gothic town hall. But, in 1501, the town hall disappeared in a fire. The Renaissance town hall you see today in Markplatz was built in its place.
In 1274, Rothenburg became a free imperial city. It shined brightly, becoming one of the 20 largest cities of the Holy Roman Empire.
But the 30 Years War — a religious conflict between Catholics and Protestants that lasted from 1618 to 1648 — wasn't kind to Rothenburg. In 1631, a Protestant Rothenburg was seized by an army led by a Catholic Count Tilly. Count Tilly destroyed parts of Rothenburg.
Tilly's attack spawned the "Legend of the Master Draught," an apocryphal tale. This legend holds that, in 1631, the mayor of Rothenburg saved the town from further harm by guzzling wine. The town had offered Tilly a huge tankard of the best local wine as a mercy bribe.
Tilly was partially assuaged. He told the townsfolk that, if someone could drink the entire tankard (3.5 liters) in one fell swoop, he'd spare the town. But, if that person tried the feat and failed, they'd be executed.
The mayor of the town, a man named Bürgermeister Nusch, bravely accepted the challenge. To everyone' shock, he slurped down the massive tankard in one draught. True to his word, Tilly left Rothenburg unharmed.
In 1634, the bubonic plague killed off more Rothenburg citizens. After the war, Rothenburg's influence ebbed and the town lapsed into unimportance.
In 1802, Rothenburg lost its independence and became part of Bavaria. It was a ghost town. The good news was that this meant that the medieval architecture was left unchanged and preserved.
In the 19th century, during the Romantic Period, painters rediscovered the beautiful hamlet. With that exposure, Rothenburg became internationally known.
Visitors flocked in and tourism slowly developed. Rothenburg enacted laws to prevent any change to the city's structures and homes.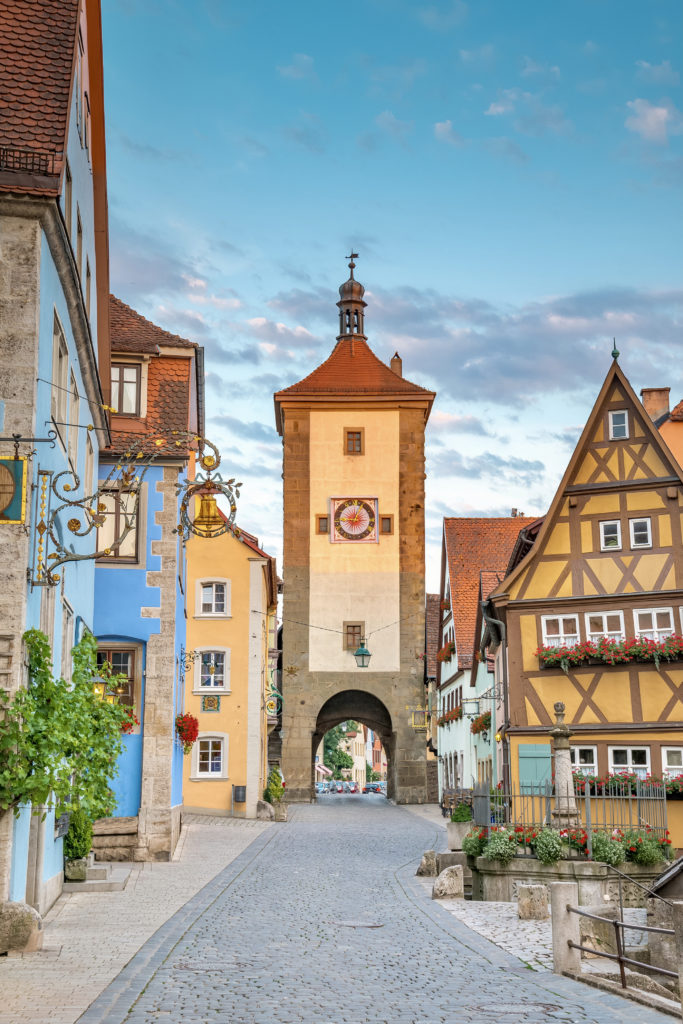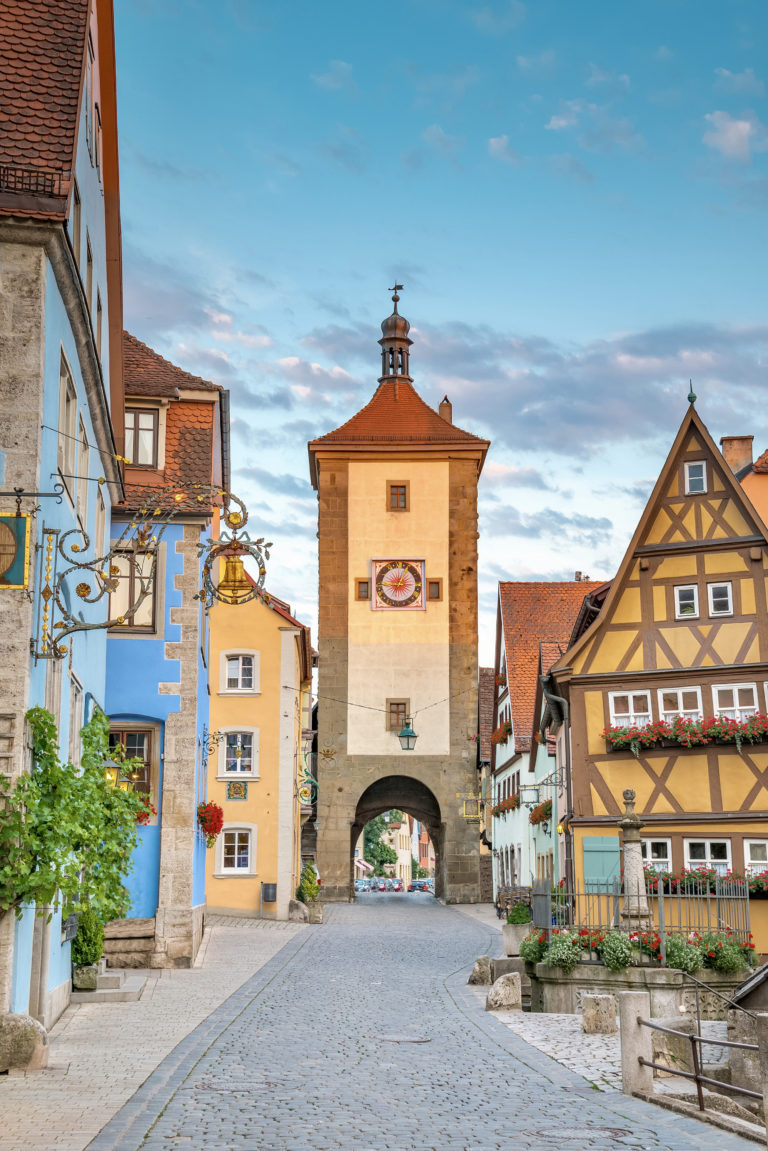 Unlike many medieval towns in Germany, Rothenburg escaped complete devastation during WWII. Most Allied bombs missed their targets due to cloud cover and fog. But in 1945, parts of the town were destroyed and subsequently rebuilt with donations.
Another Rothenburg legend holds that, at one point, the Allies were ready to demolish the town. But a sympathetic American general spared it, having inherited Rothenburg-mania from his mother. He agreed to spare the town if the Nazis would leave forever, making it a Nazi-free zone. And they did.
Aside from attracting tourists, a picturesque Rothenburg has also attracted American filmmakers. The town appeared in Chitty Chitty Bang Bang and Harry Potter and the Deathly Hallows – Part 1 and Part 2.
In Harry Potter, the town appears when Grindelwald steals a wand from Gregorovitch's house. The town also served as an inspiration for the village in Pinocchio.
Guide To Rothenburg ob der Tauber, Germany's Fairytale Town
Rothenburg ob der Tauber is the perfect stop in Bavaria for a day of enchantment or a weekend getaway. If you can, arrive mid morning and stay overnight.
You can see Rothenburg in a day, to be sure. It's small, with a population of only 11,000. But it will be extremely hard to tear yourself away from the wondrous medieval atmosphere.
You might as well stay longer, happily medievalizing and imprinting the beautiful place on your mind. Plus, once the day trippers leave, the nights are much calmer and the cobbled streets empty.
Guide To Rothenburg ob der Tauber: What To See And Do
Aside from its good looks, Rothenburg ob der Tauber has plenty of things to do to keep you busy. There are museums, city walls, a tower with a view, tasty eateries, and shopping galore.
Here's a general guide and tips on the top attractions in Rothenburg ob der Tauber.
1. Get Lost in the Web of Medieval Streets
The best thing to do in Rothenburg ob der Tauber is just to stroll the cobbled medieval streets and admire the medieval architecture. Trust me, you could be immersed in this magical endeavor for many hours. I felt hypnotized by the beauty all around me.
If you'd like a more structured walking tour of Rothenburg ob der Tauber, you can book a guided walking tour. You'll get a quick history lesson on everything you need to know about Rothenburg.
But I was happy just wandering solo on my own. If you get off the main drag, you'll be able to inspect the adorable cottages more closely and have photo ops without other tourists.
Perhaps the most famous corner of the town is Plönlein, which translates to small square with a fountain. As you'd guess from the name, there's a medieval fountain flanked by a yellow and blue half timbered homes, with Kobolzell Tower and Sieber Tower perched in the background.
2. Hike up the Rathaus Tower in the Marktplatz
The Marktplatz or Market Square is Rothenburg's central square and hub. This is where you'll find people milling, a weekly market, shops, and the Renaissance style Rathaus or town hall.
In the Christmas season, this is where the Christmas market is held.
The Rathaus's tower is the highest point in Rothenburg, offering up panoramic views of the town and countryside. It was built to serve as watch tower to look for for fires and provide a quick way to communicate with other watch towers.
You enter through the Imperial Hall and climb a very steep staircase, which isn't for the faint of heart.
It's a tight squeeze to get up the 200 stairs. You'll need to be able to haul yourself, push up style, onto the viewing platform.
You pay 2 euros at the top. But it definitely seemed worth the time and effort. And the scenic views are just stunning.
After your climb, admire the pretty fountain in the Marktplatz. But it's not potable water. And admire the stunning white building that's the Senate Hall. It's a charming medieval building, distinctively German, with a clock tower.
The Ratstrinkstube Clock Tower offers hourly performances in Market Square. At the top of each hour, doors open to reenact the "Legend of the Master Draught" –wherein the heroic mayor saves his town by drinking liters of wine.
3. Check Out the Adorable Blacksmith's House
The Blacksmith's House is one of Rothenburg's cutest buildings. The house, set in a triangular lot, was originally built in 1469. It was badly damaged in WWII, but then rebuilt in 1951.
Most people spy the house when walking the city walls. But it's worth a closer inspection for your climb just to see the details of the ornate front facade. The family coat of arms depicts a crowned green snake holding blacksmith tools.
4. Stroll the Fortified City Walls
Rothenburg ob der Tauber boasts the best preserved medieval walls in Germany. The walls are a must do in Rothenburg.
They're best experienced at sunrise or sunset, when a golden light bathes the pastel half-timbered houses. There are many places you can access the walls. Just look for a tower and you'll usually find steps there. It's entirely free to visit.
Parts of the walls date from the 13th and 14th centuries. Other sections were destroyed in WWII and rebuilt. As I mentioned, you'll get a bird's eye view of the famous Blacksmith Shop. Stop at the Spitaltor to see the town's crest emblazoned on the wall.
4. Roder Tower
When Rothenburg was at its height, there were 70 towers along its city walls. Nowadays, Roder Tower is the only tower that you can climb to the top. It's a mere 100+ steps. There's a special tower exhibit at the top.
You'll have a lovely view of the impressive Roder Gate with its two little hut-like structures with tiled pointy towers. The gate was used as a customs house and toll booth in the 14th century.
If you want to follow the Tower Trail in Rothenburg, this is the best starting point.
5. Plonheim | Little Square Corner
Plonheim is the most beautiful and popular landmark in Rothenburg ob der Tauber. This spot is the most iconic postcard image of the town. In the center is a charmingly titled yellow half timbered house with green shutters.
But Plonheim isn't just the pretty yellow house. There's also a fountain and two towers on the right (Kobolzeller) and left (Sieberstrum).
If you want to get tourist-free photos, you'll have to arrive extremely early. Or, wait till all the day trippers have left.
6. Visit the Medieval Crime Museum
Just off Plönlein, you'll find Rothenburg's Medieval Crime and Punishment Museum. I know, it sounds grisly, right? And it may make you shudder.
But it's the most important crime and punishment museum in Germany, even one of the best in Europe. The museum offers up a 1000 years of diabolical medieval history. Everything is explained in English.
To me, this was an unexpectedly fascinating museum in Rothenburg ob der Tauber. It exhibits creative torture devices, tools, scolds' bridles, and shame masks from the Middle Ages (when women were especially persecuted).
The museum has a collection of penals codes, rules of etiquette, coats of arms, and film posters from that era. You could spend hours poking around there, if you're a history buff.
7. Try a Schneeball
Rothenburg's pastry speciality is called a Schneeball, which translates as snowflake.
It's a sugar covered deep fried pastry concoction, sometimes dipped in frosting, chocolate, or nutella. You'll see Schneeballs in all the bakeries in Rothenburg.
I can't say I really recommend it, but tasted it in the name of local culture. I found it rather inedible. It's almost a penitential food, that reminds you of suffering, like cheese maggots or lutefisk. But YMMV.
I advise trying the Black Forest cake instead.
8. Stop at the Adorable Cafe Einzigartig, aka Cafe Unique
If you hated Schneebals and need some lunch or a snack, there's no shortage of cute eateries in Rothenburg ob der Tauber.
But I highly recommend the Cafe Einzigartig. It has a tasty menu with both healthy options and delicious desserts. Plus, it's away from the madding crowd on a quaint side street. Inside, it couldn't be more adorable.
There's plenty of classic German food and bratwursts to be had, of course. If (like me) you might need something different, you can also try Michelangelo (Italian food) or the Louvre (Asian).
9. St. Jakob's Church
St. Jakob's Church, aka St. James Church, is a must see church in Rothenburg ob der Tauber. Consecrated in 1484, it's situated along the Ways of St. James to Santiago de Compostela, so pilgrims arrive each year.
St. James contains Rothenburg's singular art treasure — a 15th century altarpiece carved by by Tilman Riemenschneider.
He was considered the Michelangelo of German woodcarvers. In Rothenburg, he created one of Germany's best and most famous piece of woodcarving.
For a closer view of this realistic Bible scene, climb the stairs behind the organ. Don't forget to admire the church's stained glass windows and high altar.
If you like quaint churches, you can also peak into the Gothic St. Wolfgang's Church and the 14th century Franciscan Church.
10. St. James Church
St. James is Rothenburg's main Gothic church. Founded in 1485, construction took almost 170 years. On the outside, the church has two towers with spikes spires.
On the inside there are some real treasures. The windows in the east chancel show seems the the life of Mary.
In the western gallery, you'll find the famous Holy Blood Altarpiece, carved by Tilman Riemenschneider in the 16th century. The central panel depicts The Last Supper.
11. Christmas Spirit and a Christmas Museum
Rothenburg's largest ornament shop, the Kathe Wohlfahrt Shop, is a mandatory stop for holiday lovers.
It's like Christmas on steroids, simply stuffed with Christmas trees, ornaments, and decorations.
Upstairs, there's a tiny Christmas Museum you can visit for 4 euros. There, you'll learn fun facts about Germany's Christmas history. But just a stroll through the shop is charming enough.
12. Night Watchman's Tour
For true medieval wonderment and to make the ramparts come alive, take the one hour Night Watchman's Tour for 8 euros.
It reminded me of the Yeoman Warder's tour at the Tower of London in London England.
During your tour, a costumed guide tells bawdy jokes. He regals you with gritty true life tales, complete with a black cape and lantern. The tour begins at 8:00 pm. You buy tickets in the tourist office in Market Square.
13. Visit Reichsstadtmuseum, the Imperial City Museum
Rothenburg ob der Tauber became an imperial city of the Holy Roman Empire in 1274. By 1400, it was Germany's second largest city. The Imperial City Museum on Klosterhof is dedicated to this time period, which was Rothenburg's golden age.
Opened in 1936, the museum is housed inside Rothenburg's former Dominican Convent, which dates from 1258. The convent's kitchen is Germany's oldest kitchen.
Among other exhibits on display, you'll find that famous draught, the magical vessel that saved the city. And don't miss the 15th century 12 panel Rothenburg Passion by local painter Martinus Schwartz.
14. Burggarten
If you want to escape the ever present crowds in Rothenburg, head to the Burgarten. The garden is on the site where the Hohenstaufen Holy Roman Emperors once had a mighty castle.
The formal gardens have 8 beautiful sandstone sculptures. From the terraces, you can see the Tauber Valley and parts of the southern end of Rothenburg.
Tips for Visiting Rothenburg ob der Tauber
1. How To Get To Rothenburg ob der Tauber
You can get to Rothenburg ob der Tauber by car, train, or bus. The train station is a 10 minute walk from the old town center.
It's a very long day trip from Munich to Rothenburg ob der Tauber, 2-3 hours each way. If you want to day trip from Munich, it might be better to join an organized full day tour. You can also book a guided tour that includes Rothenburg and the Romantic Road.
You can also day trip to Rothenburg on a guided tour from Frankfurt. You can also combine Heidelberg and Rothenberg on a guided tour from Frankfurt.
READ: 4 Day Itinerary for Munich
2. Parking in Rothenburg ob der Tauber
There are 5 well marked parking lots outside Rothenburg's city walls. I parked in Stadwerke.
Be sure to pay at the automatic Parkscheinautomat kiosk and display the ticket on your window dash before leaving.
There's free parking from 6:00 pm to 9:00 am, if you're staying overnight or for the Night's Watchman Tour.
3. When To Visit Rothenburg ob der Tauber
It depends on what you value most on your geographical cures. If you want the best weather, come in the spring. Fall in Germany can be iffy with sporadic rain, which I experienced.
If you want to avoid tourists, visit in the winter (but not in December). If you love Christmas, you can enjoy the Christmas markets and festivals.
In general, be prepared for crowds.
4. Festivals in Rothenburg ob der Tauber
Rothenburg has several festivals. In fact, the Historical Meistertrunk Festival is an annual celebration of the "Legend of the master Draught" and part of Rothenburg's UNESCO designation. This year it's being held the weekend of May 31 and June 1.
Rothenburg also has an Imperial City Festival in early September, which celebrates and reenacts Rothenburg's golden age.
Rothenburg is transformed into a type of open air live action theater, with torch light processions and costumes. There are even food stalls and pop up beer gardens.
The Rothenburg Christmas Market is also a grand event. It's been continuously run the entire Advent season since the 1400s. You can also book a guided tour of the Christmas Market.
You can sample authentic German food, sip on mulled wine, and shop for myriad souvenirs from nutcrackers to Christmas ornaments.
5. Where To Stay In Rothenberg ob der Tauber
If you want to overnight in the town, I recommend the Hotel Reichs-Kuchenmeister, for a combination of medieval charm and modern convenience.
Villa Mittermeier is a charming hotel set within an elegant villa. The Hotel BurgGartenpalais is a romantic place with a rose garden and Renaissance styling.
6. Other Practical Information
Pro Tip: Bring cash; there aren't many ATMs. On Sunday, most things in Rothenburg are closed.
Tourist Office: The office is located in the stunning white building (Senate Hall) at Markplatz 2, Market Square
Note: Rothenburg ob der Tauber is not the only Rothenburg in Germany! Make sure to put "Rothenburg ob der Tauber" in your GPS, not just Rothenburg. There's another nondescript town named Rothenburg. You don't want to end up there by mistake.
I hope you've enjoyed my guide to Rothenburg ob der Tauber. You may enjoy these other Germany travel guides and resources:
If you'd like to visit the gorgeous UNESCO-listed Rothenburg ob der Tauber in Germany, pin it for later.