Planning a trip to Portugal? Here's the perfect 10 days In Portugal itinerary.
There's nothing as romantic as an idyllic road trip through Portugal. Portugal stuns with its vintage-y cities, charming medieval villages, beautiful seacoast, and delicious food and wine.
Top this all off with a dollop of historic UNESCO sites and some soulful Fado music, and you have the perfect sensual and cultural vacation.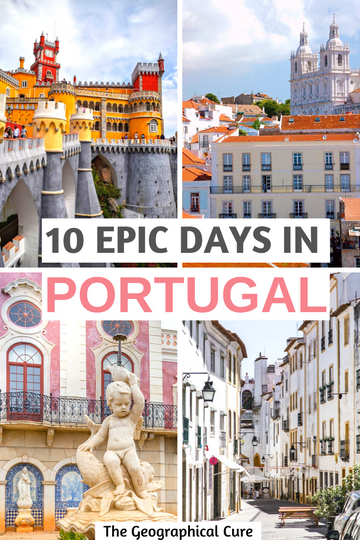 I was recently in sun-drenched Portugal again on a geographical cure. This is the 10 day Portugal itinerary that I used which I wouldn't alter one bit if I had a do-over.
You'll have three bases: Lisbon (4 nights), Coimbra (2 nights), and Porto (4 nights).
My itinerary starts in Lisbon and ends in Porto. But you could easily reverse the order and start in Porto.
I've written many articles about the two cities, which you'll find on my Portugal page and which I'll also link to below where relevant. If you wanted to extend this 10 day Portugal itinerary, you should head to the Algarve for some R&R.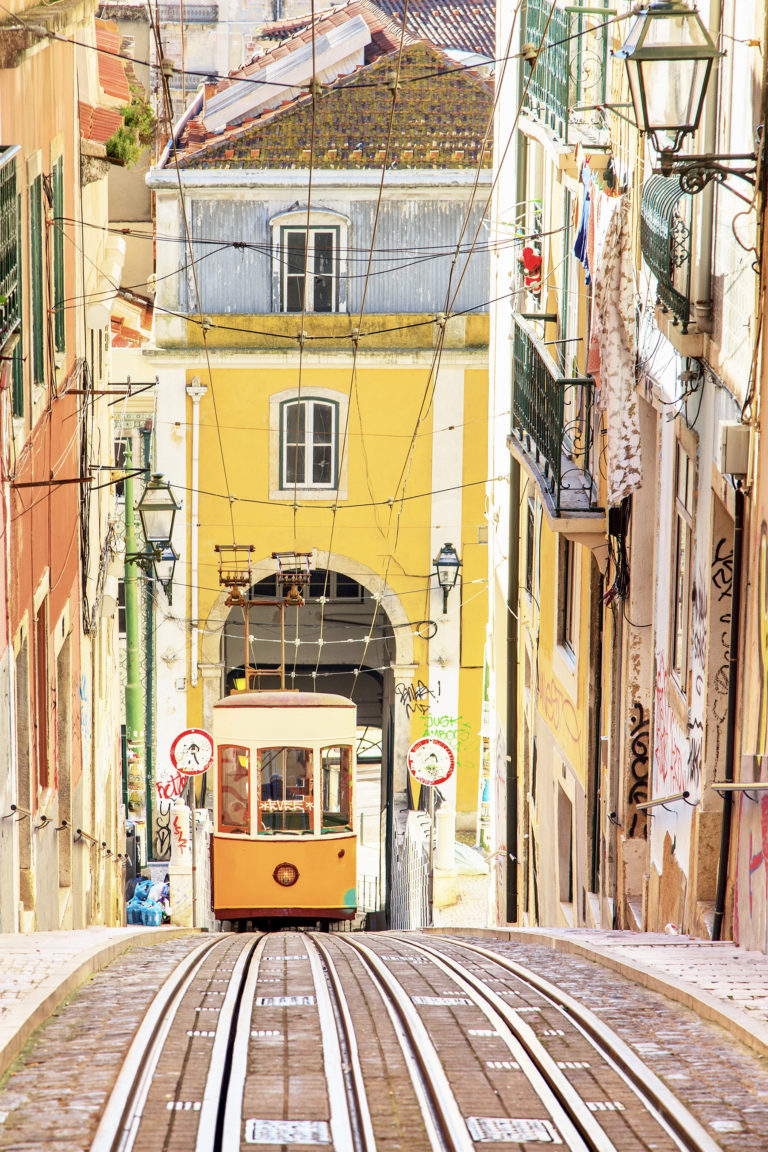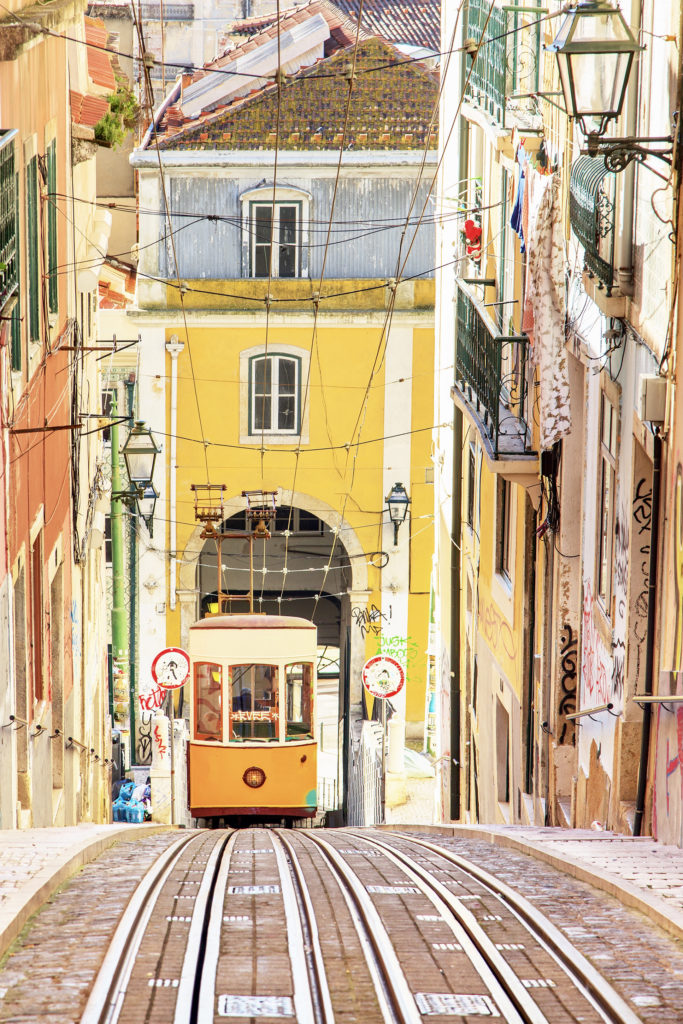 Recommended 10 Day itinerary for Portugal
Day 1: Arrive in Lisbon and explore
Day 2: Explore Lisbon
Day 3: Explore Belem, Lisbon's UNESCO suburb
Day 4: Day Trip to Sintra
Day 5: Visit Obidos and Alcobaca Monastery en route to Coimbra
Day 6: Explore Coimbra
Day 7: Visit the Roman Ruins of Conimbriga en route to Porto & Half day in Porto
Day 8: Explore Porto
Day 9: Day Trip to Guimaraes and Citania de Breiteros
Day 10: Tour the Douro Valley
The Best Way To Explore Portugal in 10 Days
Day 1: Arrive in Lisbon
Lisbon is a feast for the eyes. It's an artistic ensemble of sparkling azulejos, eye candy vistas, pastels houses, and melancholic Fado music.
There are no "must see" attractions in Lisbon. But there are plenty of tourist traps you should skip in your short time there, like the Santa Justa Elevator.
1. Baixa
You're likely going to arrive in Lisbon in the late afternoon on day 1 of your 10 day Lisbon itinerary. So begin by exploring Rossio Square. It's located in the bustling city center, Baixa.
Admire the wavy tile mosaics around the King Pedro IV statue. Then head down Rua Augusta to the Praça de Comércio, the showy 18th century square with a triumphal arch.
But don't dine here; the squares are mostly filled with tourist restaurants.
2. Chiado
Instead, head to Lisbon's Chiado neighborhood. It's a rather arty upscale neighborhood filled with lovely cafes, chic art galleries, bookshops, and tony boutiques.
Visit the evocative Carmo Convent there. The convent was founded in 1389 by Portuguese knight Nuno Álvares Pereira, who had won the favor of the King of Portugal, João I.
It's a touching memorial to the worst day of Lisbon's history, when a 1755 earthquake demolished much of the city including the convent.
The romantic ruins remain today, as a memorial — a glorious shambles really. It's a strangely affecting place, sharply contrasting with Lisbon's Pombaline architecture. You can visit the church rooms and a tiny archaeological museum.
READ: Vistor's Guide to Carmo Convent
After visiting, settle in at an authentic Chiado eatery, like Taberna da Rua das Flores or Cantinho do Avillez. For a Michelin dining experience, try Alma (which just got a second Michelin star) or Belcanto.
Day 2: Explore Lisbon
1. Alfama
Wake up and head to Lisbon's most charming neighborhood, the colorful old world Alfama.
Steeped in history, immortalized in Fado, and rising over Lisbon, Alfama is one of Lisbon's most authentic districts. A city outside a city.
With steep stairways tumbling down to Baixa below and Castelo São Jorge (St. George's Castle) standing guard above, Alfama is incredibly beautiful and photogenic.
You needn't bother going inside the castle. It's just a 20th century recreation of the Moorish castle that previously existed there.
And there are other free miradouros, or viewpoints, in Alfama — Largo das Portas do Sol and Miradouro da Graça.
You needn't bother going inside the castle. It's just a 20th century recreation of the Moorish castle that previously existed there.
And there are other free miradouros, or viewpoints, in Alfama — Largo das Portas do Sol and Miradouro da Graça.
You can follow a specific walking tour in Alfama. Or just surrender to the lively chaos and get lost in the maze of tangled streets. While you're there, admire the sparkling azulejo tiles that adorn the buildings and streets.
I like to think that Lisbon was given the nickname "Queen of the Sea" because its tile bedecked buildings resemble precious stones that decorate crowns.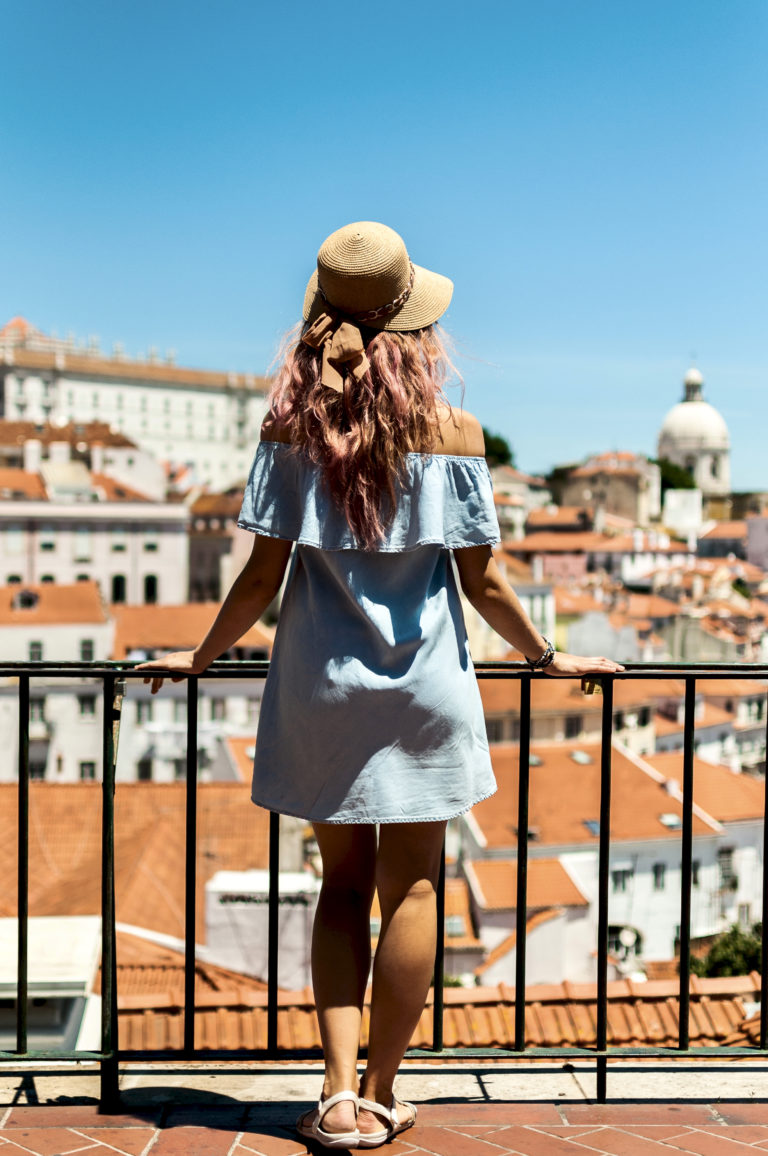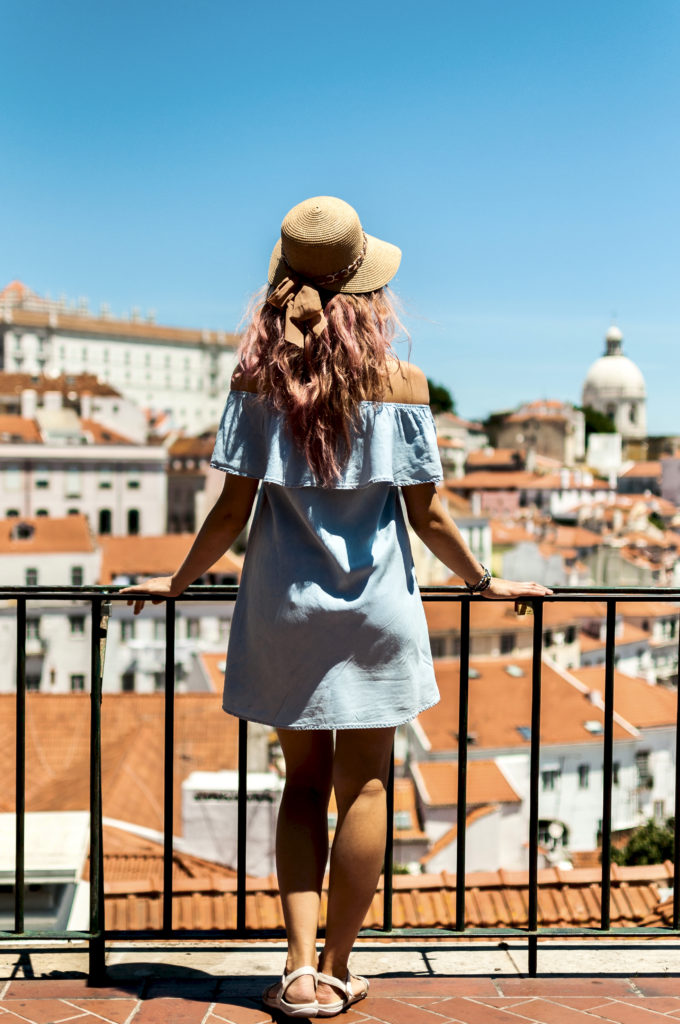 2. Museums
In the afternoon, seek out some of Lisbon's hidden gems. Or take in a museum. My favorite museum is the National Tile Museum, where you can see and learn the history of Lisbon's azulejo decorations.
Housed in a sublime 16th century convent, this unique museum covers the entire history of the azulejo (hand-painted tile).
But the Gulbenkian Museum is also a splendid option. Both museums are somewhat off-center. But Ubers are very cheap in Lisbon.
In the evening, head to Time Out Market for dinner. It's located in a cool converted warehouse.
It's foodie heaven, with some of Lisbon's best chefs serving incredible food in the many food stalls. There are also wine bars galore. Portuguese wine is cheap and tasty.
Day 3: Explore Belem, Lisbon's UNESCO Neighborhood
On day 3 of your Portugal itinerary, head to the UNESCO neighborhood of Belem. I drove there. But you can also the tram from Comercio Square or Figueira Square.
In the architecturally-rich suburb of Belém, you'll have a respite from the hustle and bustle of glamorous Lisbon. Atlantic breezes flow, grandiose Manueline monuments dazzle, and boats glide along the wide Tagus River.
You'll be cast back to the Age of Discoveries, when the world was Portugal's colonial oyster.
Visiting Belem could easily take up an entire day, if you're so inclined. Here's my guide to the top attractions in Belem.
Visiting Belem could easily take up an entire day, if you're so inclined.
1. Jeronimos Monastery
With limited time, your top priority is Jerónimos Monastery. It's a glorious 500 year old UNESCO site and a mandatory destination in Lisbon.
It's the premiere example of Manueline architecture in Portugal. Manueline architecture was a short lived late Gothic artistic movement that lasted 30 years in the early 16th century.
It's a distinctively Portuguese style, named after its key influencer, King Manuel I, who reigned from 1495 to 1521 during the Age of Discoveries.
There's nothing like the moment you walk into the monastery's two level cloister, honey colored and dripping with organic detail.
You'll be wowed by the delicately scalloped arches, twisting turrets, and columns intertwined with leaves, vines, and knots. And the gargoyles and beasties on the upper facade.
READ: Complete Guide to Jeronimos Monastery
2. Tower of Belem
The Tower of Belém is a beautiful Manueline-Gothic style structure. It's also part of Lisbon's UNESCO designation. It's just a 15 minute stroll along the river from the Jeronimos Monastery.
Perched proudly on the Belem's waterfront is a huge 56 meter statue-monument called the Monument to the Discoveries. Built in 1960, it was commissioned to mark the 500th anniversary of the death of Henry the Navigator.
You'll also see a huge 56 meter statue-monument called the Monument to the Discoveries. It sits perched proudly on the Belem's waterfront.
Built in 1960, it was commissioned to mark the 500th anniversary of the death of Henry the Navigator.
When you're done gorging on Belem's Manueline architecture, stop in for a delicious Portuguese pasty at the famous Pastéis de Belém. Then head back to Lisbon.
At the evening, head to Lisbon's nightlife spot, the hilly neighborhood of Bairro Alto for food and drink. Or take in a Fado show there.
Day 4: Day Trip to Nearby Sintra
Day 4 takes you to nearby Sintra. It's a gorgeous rock star of a town torn from a storybook. But Sintra's is uber popular, and a tricky place to visit on a day trip.
I have decided views about how to tackle the town, which boasts numerous UNESCO castles and palaces.
Here are my tips for decoding Sintra. Some of these Sintar tips are decidedly unconventional. But I felt like following them enhanced my recent visit.
1. Pena Palace
Pena Palace is the most popular UNESCO site in Sintra. Pena Palace is one of the Seven Wonders of Portugal. It's beloved by its adoring visitors.
The palace is the most romantic of the romantic 19th century palaces out there. I've just never seen a monarch adopt a Ronald McDonald theme for his or her palace before.
Pena Palace startlingly colorful. It's a heavy handed mishmash of different architectural styles. It looks like several castles smooshed together. There's a schizophrenic whirlwind of onion domes, turrets, crenellation, and fanciful sneering gargoyles.
Because most people adore Pena Palace, the lines for the interior are epic. Pena Palace has a real Mad King Ludwig feel. I couldn't decide whether the colorful palace was a real life "fairytale" or a tacky pastiche on steroids.
I decided just to enjoy the extreme whimsy and differentness of the place, a creation of King Ferdinand II, a genius who dared to be different.
READ: Complete Guide to Pena Palace
2. Quinta da Regaleira
My personal favorite palace in Sintra is the bewitching Quinta da Regaleira. Quinta was built by eccentric and superstitious millionaire Antonio Monteiro. It's an extravagant stony affair with follies and a mysterious initiation well.
The buildings are adorned with a heady mix of Gothic, Egyptian, Moorish, Neo-Manueline, and Renaissance features. There are gargoyles and carvings associated with Masonry, the Knights Templar, and the Rosicrucians.
In the palace brochure, Quinta is described as an "imaginary universe of symbolism and metaphor." It felt that way to me, very Pans Labyrinth-esque.
READ: Complete Guide to Quinta da Regaleira
Day 5: Visit Obidos and Alcobaca Monastery En Route to Coimbra
On day 5 of your Portugal itinerary, you'll travel to Obidos and Alcobaca Monastery en route to the city of Coimbra in Central Portugal. These were two of my favorite stops in Portugal.
1. Obidos
Just an hour from Lisbon, pretty Obidos is a dreamy UNESCO village. The town is perched fetchingly on a hill and encircled with stout medieval walls.
Obidos is decorated with splashes of blue and yellow paint and filled with bougainvilla-covered whitewashed homes. You'll be seduced by its beauty and shabby chic romantic aura.
READ: Visitor's Guide to Obidos
Stroll down the main drag, Rua Direita, which runs from the Porta da Vila to Obidos Castle. It's stuffed with whitewashed buildings, quirky bars and cafes, exquisite shops, and ubiquitous ginjinha stands. The iron street lamps and chipped stone facades complete the vintage look.
The real magic of Obidos lies off the main drag. So veer towards Obidos' quiet maze of pathways to enjoy the quiet, color, and romance.
You won't find another person in sight. This is where you'll find the intangible fairy dust of Obidos, and its greatest gift to the traveler.
2. Alcobaca Monastery
Just 30+ minutes north of Obidos is Alcobaca Monastery. I was dazzled by Lisbon's Jeronimos Monastery. Still, that didn't diminish my awe at seeing the austere beauty of Alcobaca, which is also a UNESCO site.
The monastery was founded almost 800 years ago in 1153. Construction took place over centuries.
It's a mix of Gothic and Cistercian architecture with intricate workmanship. The monks moved into their new stone digs in 1223, and the church was finished in 1252.
The monastery is more impressive inside than the outside. Despite the overwrought Baroque overlay, once you enter the doors, everything changes.
The monastery becomes a monument to simplicity and majesty. There's no riotous Baroque carnival inside. It feels light and airy.
In the transept, you'll find the monastery's greatest possession: two magnificent royal tombs lying opposite each other. They provide a gripping and tragic back story, in contrast to all the Cistercian austerity.
They are the "his and hers" marble tombs of the star-crossed lovers King Pedro I of Portugal and the catastrophically beautiful Inês de Castro of Spain.
Theirs is a tragic medieval tale of obsessive love and political intrigue, the Portuguese equivalent of Romeo & Juliet. Inês was murdered by Pedro's father to end their affair.
READ: Complete Guide to Alcobaca Monastery
Day 6: Explore Coimbra
Day 6 is dedicated to exploring Coimbra. The city is sometimes called the "Athens of Portugal." Coimbra is often neglected by travelers in Portugal, and it shouldn't be.
Perched on the Rio Mondego, Coimbra was Portugal's medieval capital. And the city still has steeply stacked houses tumbling down its historic old town.
1. Coimbra University
For starters, you'll be bowled over by the architectural splendor of Coimbra's #1 site — Coimbra University — sitting at the highest point in Coimbra.
It's yet another of Portugal's UNESCO sites. The swirling black cape uniforms of its students look very Harry Potter-esque.
Founded by royal charter in 1290, Coimbra University is a UNESCO site that's old. One of the oldest universities in the world, older than Oxford University. It's vast courtyard contains a cluster of 16th to 18th century buildings.
The university's palace boasts the Great Hall of Acts, whose current design dates from 1655. The university's chapel has beautiful painted ceilings.
But the main event is the over the top Joanina Library. You will be given a timed entry slot, so don't wander away and miss your time window.
2. Baroque Library
The famous library was built from 1717-28 during the reign of Joao V. It's also, not exactly shockingly, known as the Baroque Library.
It has a large central hall with a nave like structure divided into three main rooms, clad in beautiful gilded bookshelves. It looks and feels more like a museum than a library.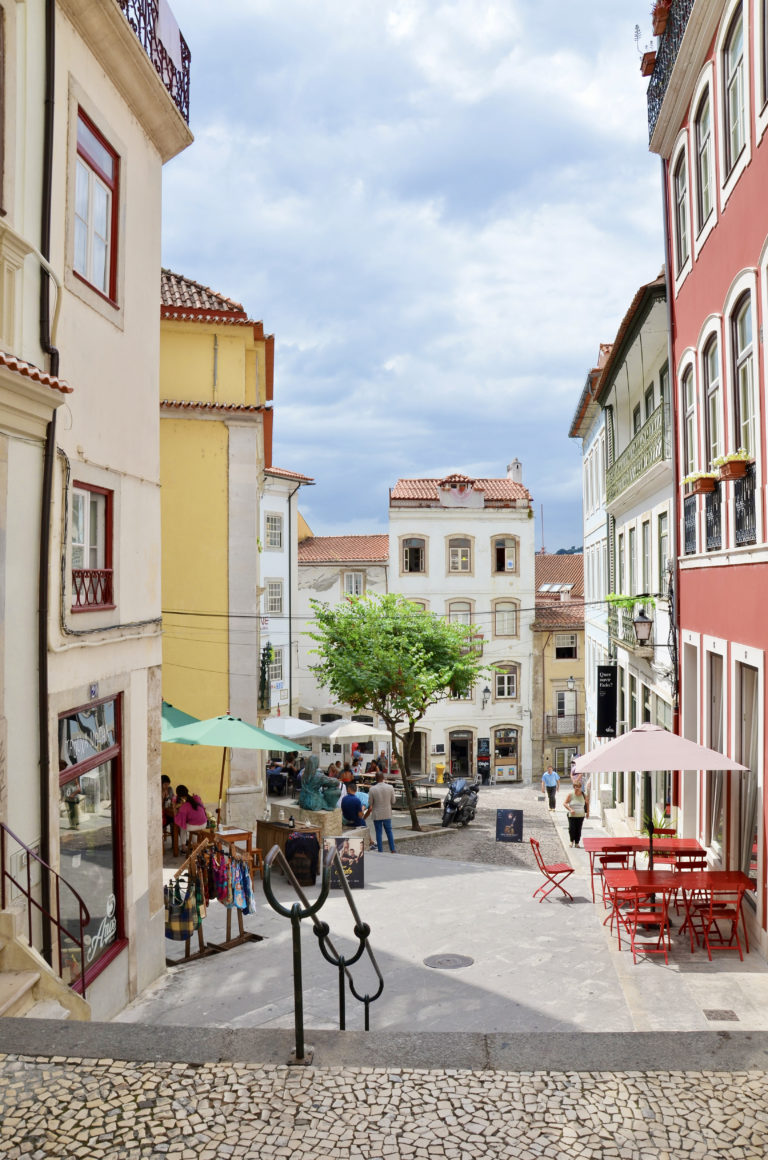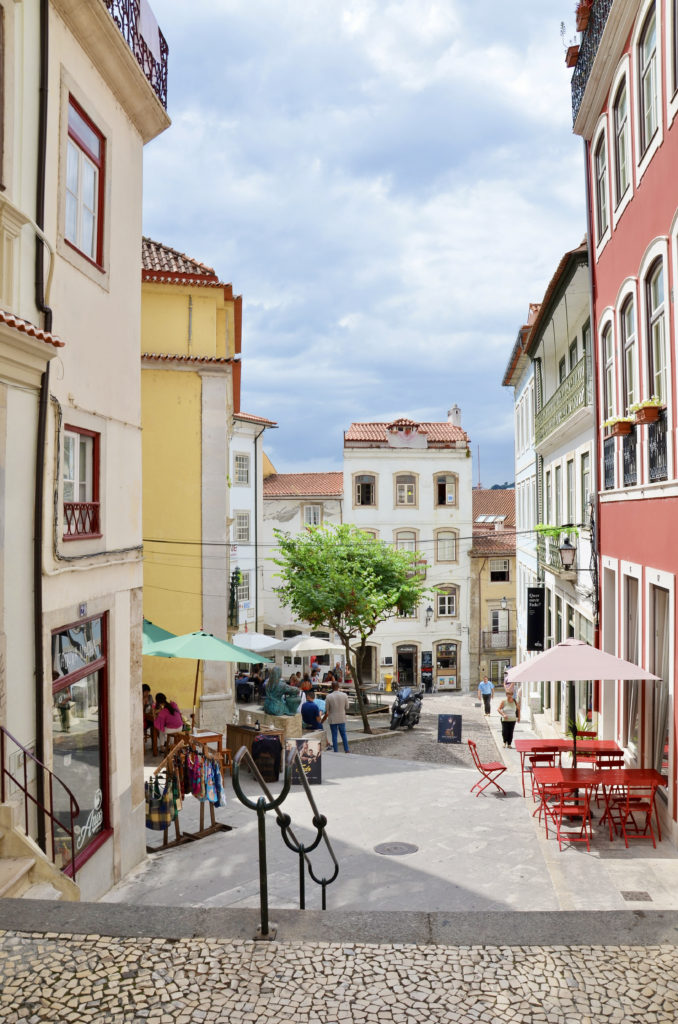 3. Coimbra Old Town
Once you've visited the university, head into Coimbra's old town. Coimbra has a melancholy beauty all its own. Coimbra has its own pottery style, its own version of Fado, and an attitude.
It's a stylish place, where black caped students, tony cafes, and ancient monuments all blissfully co-mingle.
The main pedestrianized street is Rua Ferreira. It's lined with elegant old buildings and the Igreja de Santa Cruz, with a magnificent tiled interior.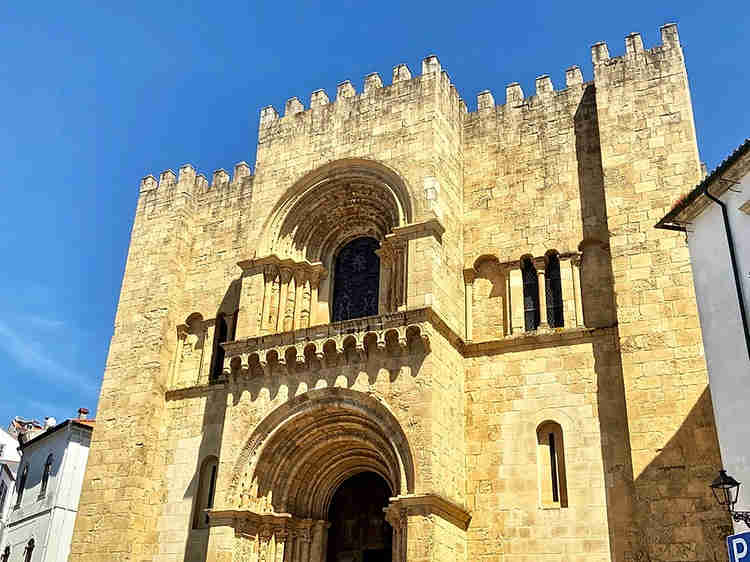 Stop in at the Carlos Tomás pottery shop, to see the artist at work and select some distinctive Moorish-influenced Coimbra Pottery.
4. Se Velha
Off the main drag, you find some steep and narrower streets. Here, you'll find Coimbra's Old Cathedral, Se Velha.
The austere 12th century Sé is one of Portugal's finest examples of Romanesque architecture. The main portal and facade are particularly striking, almost gold in the warm afternoon sunshine.
Finish your day with some Portuguese food. You'll have endless options for great food in Coimbra. We settled in at DUX Taberna Urbana, for a contemporary take on traditional dishes.
Day 7: Visit the Roman Ruins of Conimbriga En Route To Porto
The next day depart Coimbra. Stop at the Roman Ruins of Conimbriga en route to Porto. History and archaeology buffs will be in 7th heaven.
1. Conimbriga
Conimbriga is one of the largest Roman settlements outside Italy, dating from as early as the first Iron Age in the 9th century B.C.
Romans built an amphitheater for over 10, 000 people, city walls, three bathing complexes (with stone heating ducts) temples, and several residences.
Conimbriga wasn't excavated until the late 19th century. Only about 20% of the entire city is currently unearthed.
The highlight of Conimbriga is its exquisite and well-preserved collection of colorful mosaic floors. The ones at the House of Fountains are especially remarkable.
2. Porto
Depending on how long you stay to admire the ruins, you should have part of the afternoon to explore Porto. Colorful vintagey Porto is a travel photographer's dream.
Or just a dream. It's so dreamy that, right now, Porto's one of Europe's hottest destination.
Porto's magical, has a pretty palette, and is full of Baroque churches, azulejo tiles, and dreamy cobblestone streets. And hills. While those hills may make your quads burn, they provide amazing vistas to view some of Porto's visual treats.
I spent an afternoon just meandering around and finding all of Porto's beautiful azulejos decorations. Azulejos are everywhere — on gorgeous churches, train stations, facades. Here's what I saw on my lengthy azulejo-based stroll.
3. Livraria Lello
You'll likely come across Livraria Lello, Porto's uber-popular and photogenic bookshop. It's considered one of the most beautiful bookstores in the world and classified as a National Monument.
Livraria Lello is renowned for its lovely art deco, art nouveau, and gothic interior. It also claims bragging rights as the rumored inspiration for J.K. Rowling's Harry Potter book series.
The late afternoon is a much better time to visit than early morning. People start lining up way before opening time.
Read: Guide to Visiting Livraria Lello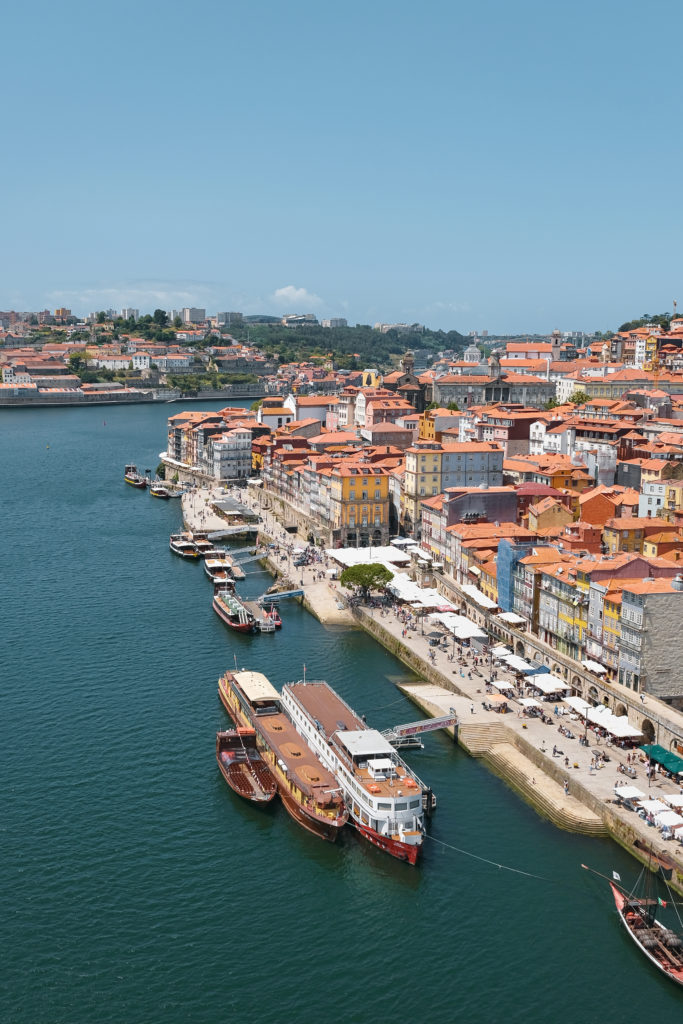 4. Cais de Ribeira
When you've gotten the lay of the land, head to the Cais de Ribeira for a cocktail or some pottery shopping. The riverside quarter of Porto is a medieval warren of narrow winding streets and pastel painted facades in faded glory.
Tall and colorful row houses are crammed along the river bank. And there are plenty of trendy bars, cafes, shops, street artists, and entertainers.
That night, have dinner at an authentic Portuguese restaurant like Casa Aleixo, Cafeina, or Brasao Coliseu. If you want a beautiful space (though rather touristy), try Cafe Majestic. The Art Nouveau decor, vintage mirrors, and period lighting inside made me swoon.
If you're feeling casual and really adventurous, now's the time to try Portugal's "heart attack" sandwich, the Francesinha. It consists of ham, sausage, and steak, topped with cheese, beer and egg. You can get a traditional sandwich at Francesinha Cafe or a more modern version of the extreme comfort food at Porto Cruz.
Day 8: Explore Porto
Now it's time to get serious in Porto. There are some must see sites in Porto, for which you should allocate ample time.
For example, Porto seems to specialize in dramatically decorated churches. There's the tiny but gorgeous Capela das Almas and the instagram famous Igreja do Carmo, both clad in blue azulejos.
1. Almas Chapel
The Cappela das Almas is a little charmer of a church, completely wrapped with an ornate blue and white tile mural on its exterior. The bright blue mural was added in 1912, though it's painted in an 18th century style.
Its 15,947 tiles depict scenes from the death of St. Francis of Assisi and the martyrdom of Santa Caterina. The chapel was definitely one of the most unique things I saw in Porto.
2. Se Cathedral
Don't miss the imposing fortress-like Se Cathedral, part of Porto's UNESCO designation. Construction began in the second half of the 12th century.
Construction began in the second half of the 12th century. It has been renovated and now sports three different architectural styles — Roman, Gothic, and Baroque.
The church facade has two towers topped with crowned cupolas, buttresses, a rose window, and a crenellated arch. Inside, the barrel vaulted ceiling, the nave, and the altar are fabulous.
The Gothic Cloister is the Se's must see highlight. Entry to the cathedral is free, but you'll pay 3 euros to visit the cloisters. It's worth parting with the cash, just to view the gorgeous 17th century azulejos.
They depict events from the "Song of Solomon" the last section of the Hebrew Bible. Be sure to step out onto the terrace for one of the best views of Porto.
3. Bolsa Palace
Then visit Palácio da Bolsa and the Church of Sao Francisco, right near each other. The Palacio is the old stock exchange.
You need to go inside to comprehend the richness of the elaborate sculpture, decorative carvings, plasterwork, frescos, chandeliers, and tiles. The stuccoed Moorish Revival Salão Árabe is almost overwhelming.
4. Church of Sao Francisco
The Church of Sao Francisco is also a stunner. The outside is Gothic and the inside is all Baroque.
You'll feel smothered in orange gold detail. The church is encrusted with 450 pounds of gold on its pillars, columns, and high altar. Unfortunately, no photos are allowed in the church.
One of Sao Francisco's prized treasures is a sculpture of Jesus' family tree, known as the "Gold Church." On your visit, you can also tour the catacombs and a museum housing relics from the church's monastery, which was destroyed in 1832.
5. Ponte Luis I
In the late afternoon, walk across the top of the twin level Luís I bridge for stunning views. This bridge connects the city of Porto with Vila Nova de Gaia, a town south of the city famous for its port wine warehouses.
The metal arched bridge was designed by one of the famous French engineer Gustave Eiffel's pupils, Théophile Seyrig. Its construction began in 1881 and required 3,054 tons of metal. When built, it was the longest metal bridge in the world.
Usually there are young kids and men jumping from the lower level of the bridge in exchange for euros. Visitors can walk over it, drive over it, or take the train. We walked on both the upper and lower levels. Views on the top are obviously better.
6. Sierra do Pilar Monastery
When you're in Gaia, hike up to the Serra do Pilar Monastery Miradouro. You'll have commanding views of the Douro River.
The adjacent Jardim de Morro also has good views and doesn't require a steep-iso climb. Plunk down and rest in the grass with Porto's young hipsters.
Then take the funicular ride for fabulous views. To catch the cable car, cross the lower level of the Luís I bridge from Porto, turn right, and walk along the river in Vila Nova de Gaia past the vendors and wine caves. Eventually, you'll come to the ticket office for the cable car on the river.
Don't leave without trying one of Nova da Gaia's famous port wine caves. And inspect the street art installation, Half Rabbit, by artist Bordalo II. We had a simple but delicious meal at Mamma Bella on a quiet side street in Gaia.
Day 9: Day Trip to Guimaraes and Citania de Breiteros
Now that you've seen Porto, it's time to day trip from Porto to a dreamy UNESCO village.
This is NOT Aveiro, which is sometimes called the "Venice of Portugal." It's my view that Aveiro is highly overrated and not worth a detour from Porto. It was my least favorite spot in Portugal.
Choose either Braga or Guimaraes. It's difficult to do both in a day.
We chose the quaint and ancient UNESCO town of Guimaraes. We also took a detour on the way home to another ruin (we are ruin lusters), Citania de Briteiros.
1. Guimaraes
Dating from the 9th century, medieval Guimaraes is a surefire charmer. Sit in one of the medieval squares, Largo da Oliveira and Praça de Santiago.
Admire the architecture. Preferably while sipping Portuguese coffee or, better yet, a glass of vinho verde wine.
Then head down the main pedestrianized drag, Rua de Santa Maria, for some cuteness and possible shopping. At the end of the street, you'll find Guimaraes' two main attractions — the Palace of the Dukes of Braganza and Guimaraes Castle.
2. Guimaraes Castle
Guimaraes Castle is famous as the birthplace of D. Afonso Henriques. He was the first king of Portugal. The castle is part of the town's UNESCO designation.
The foundations of the current castle date back to the late 10th century. t was built to protect a nearby monastery. Its jagged crenellations will conjure images of crusaders on horseback.
You can buy a combination ticket with Guimaraes Castle. t was built to protect a nearby monastery. Its jagged crenellations will conjure images of crusaders on horseback.
The medieval castle is picturesque from below. But when you begin to climb its walls … wow. You have beautiful views of the countryside.
The fully renovated ducal palace is mostly a museum for artifacts and 17th century furniture. But I thought it was still worth a visit.
You can buy a combination ticket with Guimaraes Castle. t was built to protect a nearby monastery. Its jagged crenellations will conjure images of crusaders on horseback.
The medieval castle is picturesque from below. But when you begin to climb its walls … wow. You have beautiful views of the countryside.
3. Citania de Briteiros
On your way back to Porto, if you have the time and energy, get off the beaten path and stop at Citania de Briteiros. It's just a 25+ minute drive from Guimaraes. From Citania, it's a 1:10 drive back to Porto.
The utterly ancient archaeological site sits at the very top of the boulder strewn hill of Saint Romão, accessed by a very long and winding road (which may make you carsick).
Citania is an obscure early Iron Age archaeological site. It's a type of "hill fort" called an oppidum. It's the largest of a scattering of porto-urban Celtic hill settlements on the Iberian Peninsula.
The site was likely inhabited between 200 B.C. and A.D. 300. It may have been the Celtiberians last stronghold against advancing Romans.
Day 10: Tour the Douro Valley
This is your last day. And there is nothing better to do than take a classic tour of the Douro Valley. The Douro Valley is incredible, a glorious spot.
And the rest of the world is beginning to discover what the Portuguese have known forever. The Duomo is ne of the world's oldest demarcated wine regions.
The dramatic valley showcases steep terrace vineyards carved into mountains, granite bluffs, pretty villages, and 18th century wine cellars.
It's really easiest to visit on a tour. But there are so many it's hard to choose. Here's a local travel blog that lays out all the tour options.
Extra Time? Extending Your Time in Portugal
If you have more than 10 days to spend in Portugal, there are three options. You could spend more time in Lisbon and day trip to Evora, Tomar, or Marvao.
Or, you could just base yourself in the Alentejo region of central Portugal for a few days and see these intriguing and more off the beaten path Portuguese towns.
Second, you could also opt for another day in beautiful Sintra. You wouldn't be in such a rush to see those lovely palaces and castles. And you could detour to Monserrate Palace or to the seaside village of Cascais.
Alternatively, you could head to Portugal's southernmost region, the Algarve, for some R&R on the beaches after 10 days of sightseeing. The villages of Albufeira, Quarteira, and Tavira provide the perfect setting.
Tips For Visiting Portugal
I've written post about tourist traps in Lisbon that aren't worth your time here. But there are some other things you should keep in mind.
You don't want to drive in Lisbon. I had a car in Lisbon. But I only used it for day trips. I didn't drive in the narrow roads of the city.
READ: Tips For Renting a Car and Driving in Europe
I found Lisbon perfectly walkable. Be sure to bring comfortable footwear for the hills and cobblestones though. The tram system is also easy to use. But it can be crowded and there are pickpockets.
Don't miss the miradouros. Lisbon seems custom built for enjoying beautiful sunsets. Plan your sunset view or follow the signs to the many scenic overlooks.
Portugal has one of the world's most delicious cuisines. There's an emphasis on fresh ingredients and freshly caught seafood.
Carnivores will enjoy Portugal's porco preto (black pork) and presunto (Portugal's answer to Spain's jambon iberico).
If you're eating out, it's standard practice for waiters to bring you some pre-dinner nibbles and treats. Just know that these starters aren't free. If you don't want them, send them back.
Be sure to always carry some cash in Portugal. While credit cards are accepted in many places, some small shops and restaurants only take cash. And avoid large bills.
I hope you've enjoyed my 10 days in Portugal itinerary. You may enjoy these other Portugal travel guides:
35+ Historic Landmarks in Portugal
10 Day Itinerary for Portugal and Spain
Where To Find Azulejos in Lisbon
Guide to Belem, Lisbon's UNESCO District
If you'd like to spend 10 days in Portugal pin it for later.