Planning a vacation or road trip in Massachusetts and need some destination inspiration?
Here's my guide to the best places to visit and must see destinations in the wonderful historic state of Massachusetts. With this Massachusetts travel guide, you can create your own Massachusetts bucket list or New England road trip itinerary.
The Commonwealth of Massachusetts is the most populous state New England. It welcomes nearly 31 million visitors each year. Massachusetts is so much more than just Boston, however much I love that city.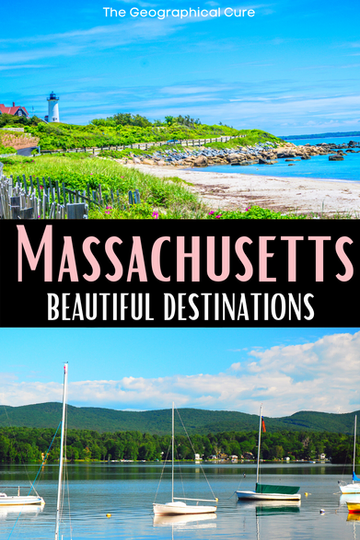 There are so many amazing things to do and see in Massachusetts. You can travel back in history in the tranquility of the state's quaint Berkshire towns. There, you'll find remnants of early America, turn-of-the-century castle homes, and enjoy an artsy county escape.
You can also visit charming towns that played a critical role in America's Revolution War history. Or indulge in a beach vacation and eat delicious seafood in world famous destinations like Cape Cod, Nantucket, and Martha's Vineyard.
Come to Massachusetts in the summer to visit the coastal regions and islands. Come in the shoulder season to leaf peep or step back in time at Massachusetts' historic towns.
READ: Best Fall Foliage Road Trip in New England
Top Destinations in Massachusetts: Best Things To See and Do
Honestly, you're spoiled for choice in Massachusetts. Massachusetts is amazing, and it's not just the lobster.
To help you plan your trip in Massachusetts, here are the most gorgeous towns and places you shouldn't miss. Let's take a tour of the must visit destinations in Massachusetts, starting with the iconic city of Boston.
1. Boston
The country's oldest city, Boston is steeped in American history and beautifully situated on the Charles River and Boston Harbor. Boston played a pivotal role in the Revolutionary War. It's sometimes called the "Athens of America" or the "cradle of liberty" because it was the source of key ideas that shaped America.
Boston is really a dream destination, especially for history buffs and culture vultures. It has a great foodie scene, wide open green spaces, quaint brick-clad neighborhoods, and first rate museums. Visiting Boston offers all the benefits of a big metropolis without the intensity and frenetic pace of New York City.
READ: 3 Day Itinerary For Boston
One of the best things to do in Boston is to walk the Freedom Trail, a 2.5 mile red brick path taking you to Boston's historic landmarks. Along the way, you'll see 16 sites and monuments relating to Boston's founding and the Revolutionary War. Before you start, stroll through the verdant Boston Public Garden and Boston Commons, the oldest park in the U.S.
Sports lovers can take in a Red Sox game at Fenway Park. Culture vultures can hit up Boston's amazing museums. My two favorites are the Museum of Fine Art and the Isabella Stewart Gardner Museum.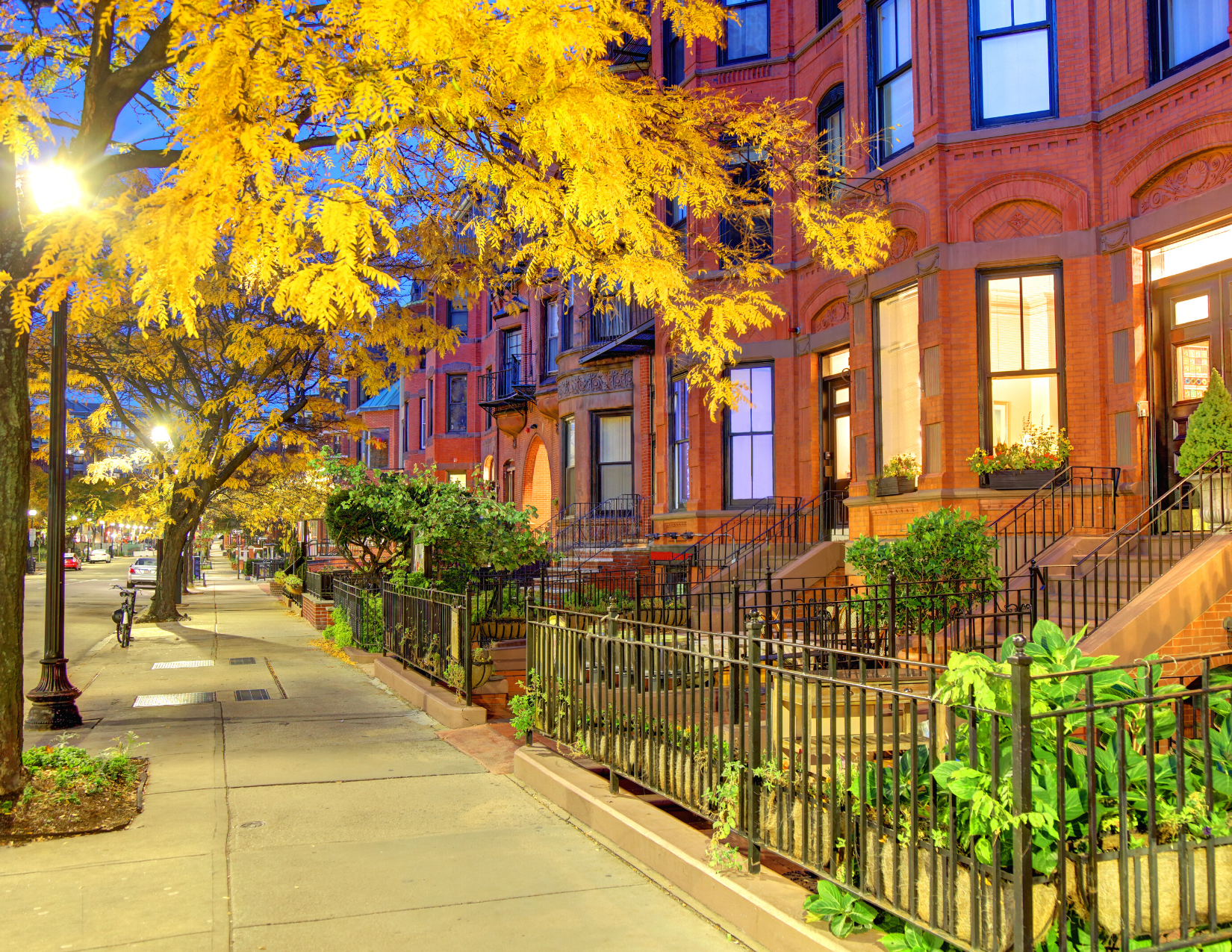 Architecture enthusiasts should visit the breathtaking Trinity Church and the Boston Public Library at Copley Square. Or head to the stunning Boston Athenaeum.
Nothing beats a stroll in Boston's beautiful neighborhoods — historic Beacon Hill, the stunning Back Bay, hipster South End, the Italian vibe in the North End, and the Back Bay Fens (where you can admire the Keller Rose Garden). In Beacon Hill, you can walk down Acorn Street, one of the most Instagrammed streets in the United States.
READ: Guide To the Best Landmarks and Attractions in Boston
Where to eat: SRV, Beehive, Barcelona Wine Bar, Toro, Mistral, Sonsie, Sweet Cheeks
Where to stay: The Revolution Hotel, XV Beacon, Hotel Veritas
2. Cambridge
Historic Cambridge is a lively university enclave near Boston, with the Charles River as its playground and backyard. But the town has its own unique identity.
Cambridge is home to the renowned Harvard University (where you'll be wrapped in red brick) and the Massachusetts Institute of Technology (where you can admire eclectic modern architecture by some of the US' best architects). Both campuses are full of significant architecture, landmarks, and outdoor art.
And it's not just the universities that dazzle. In Cambridge, visitors can enjoy outstanding museums, a vibrant performing arts scene, and delicious haute cuisine restaurants. The Harvard Art Museums are the best art spot, with a range of works from antiquity to the present, including a prized van Gogh.
Be sure to hang out in Harvard Square, the iconic center of Cambridge. It's a triangular plaza located at the intersection of Battle Street, John F. Kennedy Street, and Massachusetts Avenue. You'll find all manner of humanity — students, tourists, political activists, buskers, chess players, and other street creatures.
You can also visit Longfellow House. It's located on Brattle Street, the historic road connecting old Cambridge and Watertown. It's famous as the one time home of Henry Wadsworth Longfellow, who wrote stirring tales that thrilled 19th century America, including the Midnight Ride of Paul Revere.
READ: 1 Day Itinerary for Cambridge
Where to eat: Area Four, Giulia, Harvest, Oleana
Where to stay: Charles Hotel, Kendall Hotel, Klimpton Marlow Hotel
3. Salem
Salem is a beautiful seaside town and an easy day trip from Boston at only 30 minutes away. If you want to bask in the festive fall spirit in New England, there's no better place than witchy Salem. You can learn about Salem's creepy past as the "witch capital" of the United States.
Salem embraces rather than shies away from its notorious past, when the infamous 17th century Witch Trials defined the town. Salem is replete with whimsical magic shops, all things haunted horror, and ghostly tour options. Many of Salem's must see destinations are devoted to its witchy history.
But Salem also boasts beautiful 17th century Colonial and Georgian architecture and delicious seafood. Salem is an eminently walkable town. You'll be plunged back in time and history to bewitching effect.
Charming Essex Street is a historic cobblestoned district, with the original brick Old Town Hall. Old Town Hall dates from 1816. The second floor still stands as a public hall and the first floor is used as a public art space. The exterior of the building was featured in the popular Disney Halloween cult film, Hocus Pocus.
Are you a literary fan? If so, you should pay a visit to the House of the Seven Gables. Built in 1668, it's one of the oldest mansions still standing in the United States. Nathaniel Hawthorne immortalized the house in his 1851 novel of the same name. Inside, you'll find a recreation of the secret staircase from the novel.
The mansion is the perfect destination for fans of early Colonial architecture and Georgian interiors. It's a prime example of the prosperity of early Salem, with enviable waterfront views. The house where Nathaniel Hawthorne was born is also on the property.
READ: Must See Sites in Spooky Salem
Where to eat: The Lobster Shanty, Turner's Seafood, Opus, Firenze Trattoria
Where to stay: The Merchant, The Salem Inn, The Hotel Salem
4. Stockbridge
Settled in 1734 by British missionaries, Stockbridge may be my favorite adorable small town in the Berkshires. It's blessed with simple charm and a fabulous line up of cultural attractions.
Three of the greatest American artists and authors called Stockbridge their home — Edna St. Vincent Millay, Herman Melville, and Norman Rockwell. James Taylor sang about the town in Sweet Baby James.
One of America's greatest treasures is the Norman Rockwell Museum. Rockwell was one of the greatest artists and illustrators in American history. Stockbridge was Rockwell's long time residence and what he called his "best studio yet."
His titular museum is home to a year round series of rotating exhibitions of Rockwell's art and Saturday Evening Postmagazine covers. There are 570 Rockwell illustrations, including the famous Triple Self Portrait and Going and Coming.
You can also visit Chesterwood, the home of Daniel Chester. It's a 1920s Colonial Revival house, complete with the soaring studio of the legendary sculptor and landscape architect. Chester created the statue of President Lincoln seated in the Lincoln Memorial in Washington D.C., and you'll see plaster models in the museum.
Apart from visual arts and historic, the Berkshire Theater Group provides performing arts entertainment. The IS 183 Gallery has a stash of regional and national art works. Every summer, Stockbridge (along with the town of Lenox) hosts the Tanglewood Music Festival, a series of concerts across all musical disciplines.
Stockbridge is also home to one of the Berkshires Gilded Age "cottages," Naumkeag. You can tour this quirky 44 room mansion designed by Stanford White, famed starchitect of the time. It boasts original furnishings, rooms full of angles and curves, and captivating gardens.
Where to staye: Once Upon a Table, Truc Orient Express
Where to ea: The Red Lion Inn, The Inn at Stockbridge
5. Lenox
Lenox is a pretty town of art galleries and upscale boutiques housed in historic buildings. You'll find the classic Berkshires experience and some of the region's most iconic properties — Blantyre, Wheatleigh, Canyon Ranch, and The Mount. At one point, there were so many lavish summer homes that Lenox was known as "the inland Newport."
In 1902, Edith Wharton, the first woman to win the Pulitzer Prize in Literature, built The Mount in Lenox. It's an incredible throwback. It was a stately country retreat for the literary lioness and her then-husband, modeled after European manses but lacking their excesses.
No gaudy entries or vulgar grand staircases for the "Lady of Lenox," who happily lived a corset free life and wrote Ethan Frome and The House of Mirth there. She did most of her writing in her third floor bedroom — in bed!
The Mount has been beautifully restored to its appearance during Wharton's tenure. The exterior is a striking white stucco, with clusters of gables and white chimneys and a roof capped with a balustrade and cupola.
The Mount is home to a summer lecture series, weekly bird walks, concerts, theater performances, and outdoor sculpture exhibits. Edith Wharton's library has been returned to the house, with 22 first editions of her work.
Lenox is also home to Tanglewood, the summer home of the Boston Symphony Orchestra. Tanglewood is a must visit destination for music lovers, especially in the summer months. Tanglewood's venues attract a wide variety of musicians in the summer months. You can hear symphony orchestras, solo performances, and world class musicians.
Where to stay: Birchwood Inn, Blantyre, Brook farm Inn, Applegate Inn, Devonfield Inn, Gateways Inn and Restaurant
Where to eat: Nudel, Wheatleigh, Bistro Zinc, Alpamayo, Cafe Lucia
6. Williamstown
Williamstown is a cool college town, home to Williams College. Williams College is one of the "Little Ivies," known for its ivy covered buildings, Gothic chapel, and beautiful architecture.
Williamstown is also home to the vaunted Clark Art Institute. It's one of the United State's best museums, focusing on historic European and American art.
The museum has been fully renovated and expanded in a mix of architectural styles. The museum is home to some beautiful works by John Singer Sargent and Winslow Homer and a world class collection of French Impressionist paintings (30 Renoir paintings!).
The Clark Institute is located on a 140 acre compound. It has well marked (and free) hiking trails for year round exploration.
The well manicured paths wind through woods, cresting at the top of Stone Hill. From there, you'll have a beautiful panoramic views of Williamstown and Vermont's Green Mountains.
At the Williams College Museum of Art you'll find modern and contemporary art to admire. If you're visiting in the summer months, you can attend the Williamstown Theatre Festival, a 2002 Tony award winner for outstanding regional theater. Williams College offers concerts, recitals, and theatrical productions.
If you didn't hike at the Clark Institute, try Pine Cobble Trail. The 3.2 mile trail is a steadily ascending climb to the 1,894 foot summit. From the top, you'll have beautiful views of Williamstown and North Adams.
Where to stay: Orchards Hotel, River Bend Farm, House at Sweet Brook Farm
Where to eat: A Frame Bakery, Coyote Flaco, Mezze Bistro & Bar, '6 House Pub
7. Chatham Massachusetts
The Cape is a no-brainer. But where to stake your claim? Try the inimitable charms of Chatham, a tony New England town where the homes induce jaw drops, the historic center is walkable, and the seafood is hauled in just offshore.
Chatham's curving Main Street conjures up low key elegance and old world charm. Chatham is the only Cape Code town bounded on three sides by water. It's consistently ranked as one of the US' best beach towns.
Chatham Lighthouse Beach is considered the most scenic public beach. It's set beneath Chatham's iconic lighthouse. This wild stretch of the Atlantic is the place for long walks and sunbathing (the surf is rough).
If you need a dose of culture with your beach retreat, head to the Orpheum. It's a restored vintage theater showing first run movies and classics. Or take in a play or musical at the Monomoy Theater, after browsing the casual to high end shops.
Where to eat: Impudent Oyster, Del Mar Bar and Bistro, Twenty Eight Atlantic
Where to stay: Chatham Bars Inn, Chatham Inn, Queen Anne Inn, The Hawthorne
8. Nantucket Town
Just 30 miles off the New England coast lies the idyllic small town of Nantucket. Nantucket is a place where you can simultaneously hit the beach and be visually stimulated.
In summer months, Nantucket can be a pricey paradise. Of course, the beaches (Jetties, Surfside) are stunning. But the historic center is also adorable with cobbled streets, historic residences, quaint shops, and innovative eateries.
More than a dozen art galleries are sprinkled around the downtown. On Union Street, an international roster of artists have contemporary works on display at the Art Cabinet. Perhaps the top notch gallery is the Artists' Association of Nantucket. It features rotating art exhibitions by local, regional, and national artists.
If you'd like to attend a poetry reading or lecture, hit up the Nantucket Atheneum. You can listen to authors, historians, and university professors. In June, there's the Nantucket Film Festival, where 30 independent films are screened at different venues.
Where to stay: Brant Point Inn, Roberts House Inn, Union Street Inn
Where to eat: The Proprietors Bar & Table, Oran Mor, Greyson House, Dun, Brotherhood of Thieves, Straight Wharf
9. Siasconset Massachusetts
This tiny Nantucket town delivers classic New England style looks — sweeping panoramas of the Atlantic Ocean, rose-covered saltbox houses, and the Sankaty Head Light. The town is nicknamed 'Sconset. Nowadays, the former fishing houses give way to swanky mansions.
Sconset Beach is the best sandy beach on the north side of Nantucket. It's an easy walk from town.
Made of white seashells, the Sconset Bluff Walk is the most scenic walk in Nantucket. The public cliff walk leads from Siasconset to the cute Sankaty Head Lighthouse. It takes you by the most beautiful properties on the island.
Where to stay in Siasconset: Hotel Pippa, The Nantucket Hotel & Resort,
Where to eat in Siasconset: Sconset Cafe, The Chanticleer, Claudette's Sandwich Shop, Keeper's Restaurant
10. Aquinnah, Martha's Vineyard
Just across the waters from Nantucket, Martha's Vineyard is one of the best places in Massachusetts to visit that's known the world over. Martha's Vineyard fills up with vacationers in the summer from Boston and New York. They come for the island's breathtaking natural beauty, vibrant cultural scene, and savvy foodie venues.
But the crowds are centered in the northern edge of the island. Take some time to stroll the streets of Oak Bluffs, Edgartown and Tisbury before heading down southwest, or "up island" as the locals call it, locals and island veterans head to the small town of Aquinnah.
Located below the clay colored Aquinnah Cliffs (a national landmark), the white sand Moshup Beach is a sanctuary from the horde. There's a cleared path that takes you downhill to the beach, which is strewn with enormous boulders. It's one of the best beaches in the US.
Where to eat: Larsen's Fish Market, Menemsha Gallery
Where to stay: Outermost Inn
11. Newburyport
First settled in 1635, Newburyport is an immaculate seaside town. It has a classic New England feel, with red brick streets, lobster shacks, and cobbled lanes. Plus "the Port" is only 35 miles from Boston, making it the perfect weekend getaway.
State Street is the heart of Newburyport. You'll find an eclectic treasure trove of shops — clothing boutiques, bookstores, cafes, and vintage shops. The Firehouse Center for the Arts is Newburyport's cultural hotspot, offering concerts, musicals, and plays.
When you tire of shopping, surf and sand lovers can hit the beach. Plum Island is only a 20 minute drive from Newburyport.
Plum Island has beautiful and beloved sandy beaches and dunes. And it's home to the Parker River National Wildlife Refuge, a hidden gem sanctuary with prime bird watching opportunities.
Where to stay: Inn at Castle Hill, Emerson Inn, Compass Rose Inn, Blue Inn on the Beach, Clark Currier Inn
Where to eat: Agave, Black Cow, Brine Oyster Bar, Giuseppe's Italian Restaurant, Revitalive Cafe & Juice Bar, Brown Sugar Cafe, Ceia Kitchen and Bar
12. Northampton Massachusetts
Just 2 hours from Boston, the rural town of Northampton is a cultural nerve center in New England. It's a pretty town, ringed by 5 colleges and college museums. Grand mansions line tree-shaded streets. The beautiful Main Street is filled with with shops, art galleries, bookshops, etc.
In downtown Northampton, there are more than a dozen visual arts venues. The Northampton Center for the Arts offers poetry readings, film screenings, and concerts. The Calvin Theater is the premiere concert venue, hosing major touring music and comedy acts.
Four of the five colleges near Northampton offer theater and visual arts. Smack in the middle of Northampton is Smith College. Its beautiful Smith College Museum of Art just received a $35 million makeover. The museum offers a year round series of art lectures, contemporary art exhibitions, and films.
Just down the road is Mount Holyoke College Art Museum. It offers contemporary and traditional exhibitions year round. You can also admire contemporary work at Amherst's Mead Art Museum or check out national and international exhibits at Amherst's University Gallery.
Northampton has a good foodie scene too, with both great pizzerias and haute cuisine. There are two dairies nearby, so the town's cheese and ice cream options are among the best in New England.
Hikers can head to the popular Norwottuck Rail Trail Line or Look Park.
Where to stay: Allen House Victorian Inn
Where to eat: Bela, Mulino's Trattoria, Paul and Elizabeth's, Spoleto, Green Bean
13. Worcester
Right in the heart of the state, Worcester is one of the best places in Massachusetts to explore. It's the second largest city in Massachusetts after Boston and just an hour away from Beantown.
Once in Worcester, take a gander through the huge exhibitions at the Worcester Art Museum. You can easily spend a good few hours inside. The museum has works of Impressionism, Roman mosaics on the Renaissance Court floor, medieval armor, and Paul Revere's silver collection.
Be sure to visit the Bancroft Tower. On the National Register of Historical Places, it's been around in Worcester since 1900. This fantasy medieval castle was built on a whim to honor a US Navy pioneer. It's a miniaturized castle in the middle of a park.
At night, you can take in a theater or music performance at the elegant Hanover Inn, Mechanics Hall, or Tuckerman Hall.
Where to eat: Mezcal Tequila Cantina, Suzette Creoperie & Cafe, Birch Tree Bread Company, Bocado Tapas Bar
Where to stay: Beechwood Hotel
14. Plymouth
Situated at the mouth of Cape Cod Bay, Plymouth is a historical haven. The town was the very first permanent settlement by Europeans north of Virginia. Today, it's a thriving small town with a lovely historic district, perfect for history buffs.
After parking up, head to the Mayflower II, which is a full scale replica of the original 17th century Mayflower. The Mayflower is famous as the ship that brought pilgrims to the US in 1620. You can even take a tour of the ship itself, which is docked in Plymouth Harbor
Also, to learn the pilgrims' tale, stop in the state's oldest museum, Pilgrim Hall. There, you'll find an unmatched collection of ancient artifacts and possessions of the pilgrims.
Afterwards, you'll get to wander around historic Howland House and visit the 18th century Court House.
If you want to really step back in time, head to Plimoth Plantation. It's a living museum that aims to explore the daily lives of the Colonial Americans. The village has been carefully recreated, with thatched roofs and giant open fireplaces.
The actors in the museum are in period costume and never step out of character. You can watch them performing 17th century tasks including building, gardening, and military exercises.
Where to eat: KKatie's Burger Bar, Blue Eyed Crab Grille & Raw Bar, Mamma Mia's
Where to stay: Mirbeau Inn & Spa, Inn a 38 Oak Bluff Circle
15. Bash Bish Falls, Great Barrington
Near Great Barrington you'll find the beautiful Bash Bish Falls. Bash Bish is the largest single drop waterfall in Massachusetts. Water is sliced in two by a massive boulder creating a picture perfect double waterfall.
At 80 foot high, it's not Niagara size. But it's still pretty. A steep 20 minute trail leads from the parking lot. Bish Bash is on the Massachusetts-New York border. If you want a less challenging hike, drive 1 mile west to the New York side parking lot.
Picturesque Bash Bish Falls has been a popular Berkshires tourist stop since the mid 19th century. When you come upon the falls, you'll feel as though you've discovered a secret, woodland spot. But, be forewarned, there will be many other waterfall pilgrims at this uber popular hiking spot.
Where to stay in Great Barrington: The Barrington, Thornewood Inn, Granville House
Where to eat in Great Barrington: Prairie Whale, Rubi's Cafe, Cheesemongers & Grocers, Meat Market, Bizen, John Andrews
16. Pontoosuc Lake & Berkshires Museum
Around 10 miles from the New York state border is pristine Pontoosuc Lake. It's is a gem to visit for a stroll or boat ride. Not only that, with nearby Lake Onata, you have two pretty lakes to choose from.
After enjoying the lakes, pop over to the Berkshire Museum in Pittsfield. It's just undergone a major renovation. The museum showcases everything from a stegosaurus to Alexander Calder mobiles.
If you're a Henry Melville fan, stop visit his small yellow house, Arrowhead. The author lived in this converted warehouse during his most productive writing years. He wrote Moby Dick in the second floor study. Melville built his porch on the "wrong" side of the house for the best view of Mt. Greylock.
Be sure to indulge in some delicious ice cream at Krispy Cones.
Where to stay near Pittsfield: Overnight at the excellent choices in Lenox instead.
Where to eat in Pittsfield: Elizabeth's, Enso Asian Bistro, Mission Bar and Tapas
17. Stellwagen Bank National Marine Park
Want to view some of the most massive animals on the planet? The Stellwagen Bank National Marine Park is one of the best whale watching spots in the entire world. It's a wild ocean destination not far from Boston, just 37 miles away.
The sancturay has an extremely productive and diverse environment, which encourages a wide mix of marine wildlife.
Each summer, around 50 recognized humpbacks return. You can also spot dolphins and seals. There are plenty of whale spotting tours available in the area departing from Gloucester or Provincetown. Click here for a list of boat tour operators.
Address: 175 Edward Foster Road, Scituate MA
18. Mt. Greylock Park, Adams
Located near the town of Adams in the Berkshires, and inspiring Herman Melville and Henry David Thoreau, lies Mount Greylock. It's the highest point in the state at 3,491 feet above sea level. You can drive up to the summit for Massachusetts' highest viewing point, which features views of five states if visibility is good.
There are plenty of marked hiking trails at Mt. Greylock as well, many starting from the parking lot at the mountain's base. Click here for the online trail map.
At the top, there's a War Tower Memorial for WWII veterans, a panoramic view, and Bascom Lodge where you can eat lunch.
According to J.K. Rowling, Mt. Greylock is the location of the North American wizarding school, Ilvermorny. In 2016, J.K. Rowling revealed the name of the school to fans on her Pottermore site.
In Adams, you can also visit the Susan B. Anthony Birthplace Museum. This museum is dedicated to a woman who played a pivotal role in the suffragette movement. There's a beautiful collection of postcards commemorating the suffrage, abolition, and temperance movements.
Where to eat: Bascom Lodge, Coyote Flaco, Mezze Bistro Bar, Grazie, Poweder Hounds Restaurant
Where to stay: Bascom Lodge, The Williams Inn, The Porches Inn
19. Hancock Shaker Village, Pittsfield
Located near the town of Pittsfield is Hancock Shaker Village. It's a living slice of American history. The village is a restoration of a small religious community that flourished in the 19th century.
The Shakers migrated from Manchester England. They were an extremely religious sect that believed in the second coming of Christ.
The sect was dubbed the Shakers because the adherents exhibited shaking motions while listening to sermons. The Shakers were also noted pacifists. The group didn't last forever because they eschewed sex and marriage, resulting in no heirs.
You can tour the Shaker buildings, including a group dwelling house and stone barn, and watch craftsman at work. There are thousands of Shaker artifacts on display.
Address: 18432 West Housatonic St. Pittsfield Where to stay in Pittsfield: Overnight in nearly Lenox instead.
Where to eat in Pittsfield: Elizabeth's, Enso Asian Bistro, Mission Bar and Tapas
20. North Adams
North Adams is a former manufacturing hub reinvented as a cutting edge art town. North Adams is known as "The Town of Steeples and Peaks," for the spires of its many churches. Come for the art, and stay for the scenery.
North Adams' downtown is filled with art galleries, artists studios, and cute shops. Its pride and joy is Porches Inn, an eye catching row of distinctive multi-colored Victorians.
After meandering the downtown, head straight to the utterly fabulous Massachusetts Museum of Contemporary Art ("MASS MoCA"). Opened in 1999, MoCA is one of the region's foremost cultural institutions, with an emphasis on international contemporary art.
MoCA is home to exciting works by Louise Bourgeois and Robert Rauschenberg. Entire walls are decorated by Sol LeWitt. The museum also has a permanent collection with works by the likes of Manet, Constable, Bonnard, Delacroix, Ingres, and Sargent.
In nearby Natural Bridge State Park, you can view the only natural white marble arch in North America. It was carved as a result of glacial melt over 13,000 years ago. A bridge spans Hudson Brook and twists through a 60 foot gorge.
You can also hike the Cascade Trail. The 1.2 mile trail follows Notch Brook up to a cascading waterfall (photo above). It's an easy one hour or so trail, with one riverbank crossing.
Where to stay in North Adams: Porches Inn, Topia Inn, Tourists
Where to eat in North Adams: Gramercy Bistro, Grazie, Public Eat and Drink
21. Concord: Literary Legends
Just 15 miles north of Boston is the town of Concord, a steeple-studded town home to pretty Walden Pond. Walden Pond is a nature preserve home to countless local flora and fauna. Walden Pond is both beautiful and has a unique history.
Walden Pond is forever linked to novelist Henry David Thoreau. From 1845 to 1847, he while lived in a one room cabin, the property of his friend and mentor Ralph Waldo Emerson. (A replica of the original cabin is about half a mile away.)
There, he wrote one of America's most famous novels, Walden or Life in the Woods. Walden explored simplistic living, solitude, and harmony with nature.
In Concord, you can also visit Louisa May Alcott's Orchard House. The novelist based Little Women on her experiences growing up in this house with her sisters.
Today, the historic home is a museum. It has 80% of its original period furniture. You can tour the kitchen, dining room, parlor, art studio, and the bedrooms. Louisa's bedroom has the small white desk where she penned Little Women and other books.
For an overview of Concord's Revolutionary history and literary legacy visit the excellent Concord Museum. On display, you'll find Native American artifacts, Thoreau's snowshoes and furniture, Ralph Waldo Emerson's study, Paul Revere's original signaling lantern, and period collections of decorative arts and furniture.
Concord's Sleepy Hollow Cemetery is filled with graves of famous authors, if you want to pay them homage. You'll find the final resting places of Thoreau, Emerson, Alcott, and William Ellery Channing.
Where to eat: Main Streets Market & Cafe, 80 Thoreau, Woods Hill Table, Bondir
Where to stay: Colonial Inn, North Bridge Inn
22. Lexington
If your'e a history buff, just northwest of Boston is historic Lexington. On April 18, 1775, patriot leader Paul Revere alerted the town that the British were coming. The next day, the first shots in the War of Independence were fired.
A renowned statue by sculptor Henry Hudson Kitson marks Battle Green, where colonial Minutemen clashed with British troops. In Minuteman National Historical Park, you can see a multimedia exhibit on the Road to Revolution.
While waiting for the British, the Minutemen and their commander, Captain Parker, gathered in the Buckman Tavern. The interior is preserved exactly as it appeared in the 18th century, complete with the original seven foot wide open fireplace. The old front door still contains British musket-ball holes.
Built in the early 1690s, Munroe Tavern became a field hospital for the wounded. You can take a 30 mixture tour and examine period artifacts and furniture.
The Hancock-Clarke House contains period furniture of the Clarke family and Reverend John Hancock, grandfather of the signer of the Declaration of Independence.
Where to eat: La Dolda, Il Casale, Town Meeting Bistro
Where to stay: Inn at Hastings Park, North Bridge Inn
I hope you've enjoyed my guide to the best and most beautiful places to visit in Massachusetts. You may enjoy these other United States travel guides and resources:
• 45 amazing destinations in the United States
• Fall foliage around Washington D.C.
• 10 day itinerary for New Hampshire
• 10 day itinerary for coastal Maine
• 7-10 day itinerary for Vermont
• Hidden Gems on the East Coast
• 2 week itinerary for the American Southwest
• 10 day itinerary for southern California
​
If you'd like to explore the best destinations in Massachusetts, pin it for later.