Wondering where to go on a day trip from Boston? Boston has always been my most frequent city of travel. I've lived there too. Based on my own experience exploring the region, here's my list of 35 great day trips from Boston.
Boston is perfectly situated in the northeastern region of the United States. This area of New England boasts gorgeous beaches, charming Colonial towns, seaside ports, and destinations steeped in history.
These destinations are all less than 2 hours away from Boston. Any more than 2 hours is just too far afield for a proper day trip.
Because of its central location, Boston makes a great launchpad for day tripping in New England. Boston is well-connected to other towns and cities. Boston's main arteries (I-90, I-93 and I-95) give you easy access to Maine, New Hampshire, Connecticut, Rhode Island, Western Massachusetts, and even Vermont.
Boston's main arteries (I-90, I-93 and I-95) give you easy access to Maine, New Hampshire, Connecticut, Rhode Island, Western Massachusetts, and even Vermont.
On a day trip from Boston, you can escape the city's adoring (and sometimes maddeningly intense) crowds.
Best Day Trips From Boston
Here are my picks for the best day trips from Boston. I've given you a whopping 36 options, along with expected drive times. I've listed them in alphabetical order for ease of reference.
The options for Boston day trips are endless and incredibly varied. There's something of interest for everyone, from culture vultures to history buffs to nature lovers.
You can pick what suits you most, whether you want to relax on the beach or explore a cozy New England town.
If pressed to choose, I'd have to say my top three picks for Boston day trips are Portland Maine (cool foodie city), Stockbridge Massachusetts (quintessential New England town), and Portsmouth New Hampshire (adorable arty village).
1. Bristol Rhode Island (1:10 Drive)
Bristol is a beautiful New England town that's full of history and charm. With a red-white-and-blue painted stripe down Hope Street, it exudes Americana.
Bristol has everything you need for a relaxing break from Boston — fine dining, bike trails, art galleries, and ocean views. A highlight of Bristol is its well preserved historic architecture. In Bristol, you'll find Colonial, Federal, and Gilded Age buildings.
Linden Place Museum features a stunning spiral staircase and movie memorabilia. Blithewold Mansion has immaculately curated gardens, hosts concerts in the summer, and offers dramatic harbor views.
If you like to hike or bike, the East Bay Bike Path will suit. It's a 14.5 mile paved path connecting Providence and Bristol, which gives you panoramic views of Narragansett Bay.
2. Cambridge Massachusetts (5 minute drive)
The easiest day trip from Boston is to its next door neighbor, Cambridge. Historic Cambridge is a lively university enclave, with the Charles River as its playground and backyard.
Cambridge is home to the renowned Harvard University (where you'll be wrapped in red brick) and the Massachusetts Institute of Technology (where you can admire eclectic modern architecture). You can book a walking tour of Harvard here and a tour of MIT here.
And it's not just the universities that dazzle. In Cambridge, visitors can enjoy outstanding museums, a vibrant performing arts scene, and delicious haute cuisine restaurants.
The Harvard Art Museums are the best art spot, with a range of works from antiquity to present, including a prized Van Gogh.
Be sure to hang out in Harvard Square, the iconic center of Cambridge. It's a triangular plaza located at the intersection of Battle Street, John F. Kennedy Street, and Massachusetts Avenue.
You'll find all manner of humanity — students, tourists, political activists, buskers, chess players, and other street creatures.
You can also visit Longfellow House. It's located on Brattle Street, the historic road connecting old Cambridge and Watertown.
The house museum is famous as the one time home of Henry Wadsworth Longfellow. He was a novelist and poet who wrote stirring tales that thrilled 19th century America, including the Midnight Ride of Paul Revere.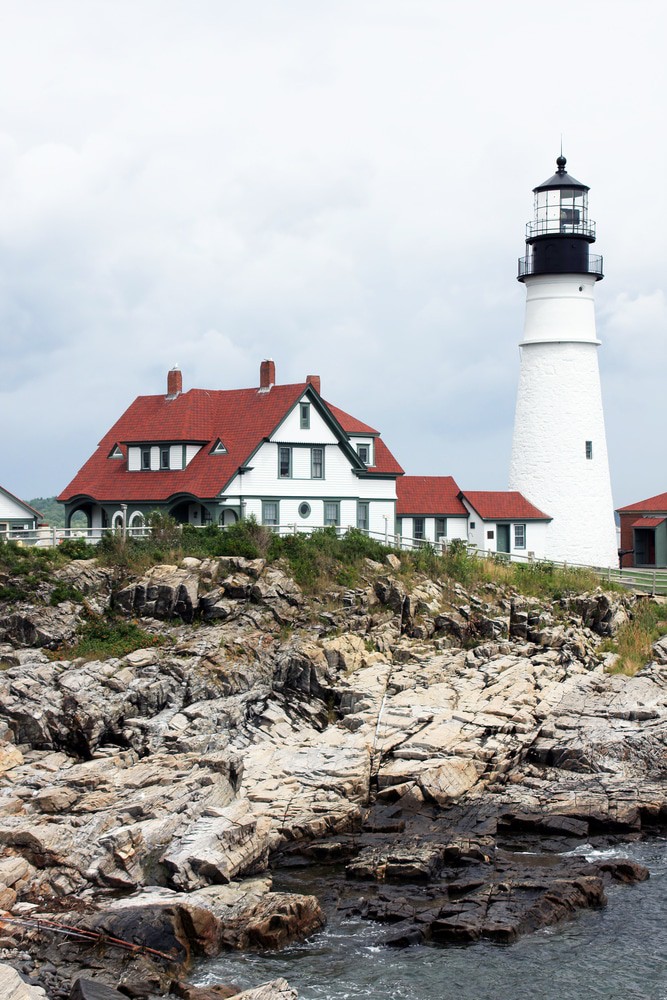 3. Cape Elizabeth Maine (2 Hour Drive)
Cape Elizabeth is gorgeous little town just south of the city of Portland. The town faces out into Casco Bay.
People have lived in Cape Elizabeth for thousands of years. In 1765, Cape Elizabeth officially became a town. For a glimpse of those early days, stop by the Spurwink Meeting House. The austere white clapboard church was built in 1802.
The town's stretch of coastline is stunning, dotted with lighthouses. The cliff walk is a lovely must do experience in Maine.
The 19th century Fort Williams Park in Cape Elizabeth guards the entrance to Portland. It's home to the Portland Head Light. You can walk the park's Arboretum trails, enjoy a picnic, or explore the fort's old batteries.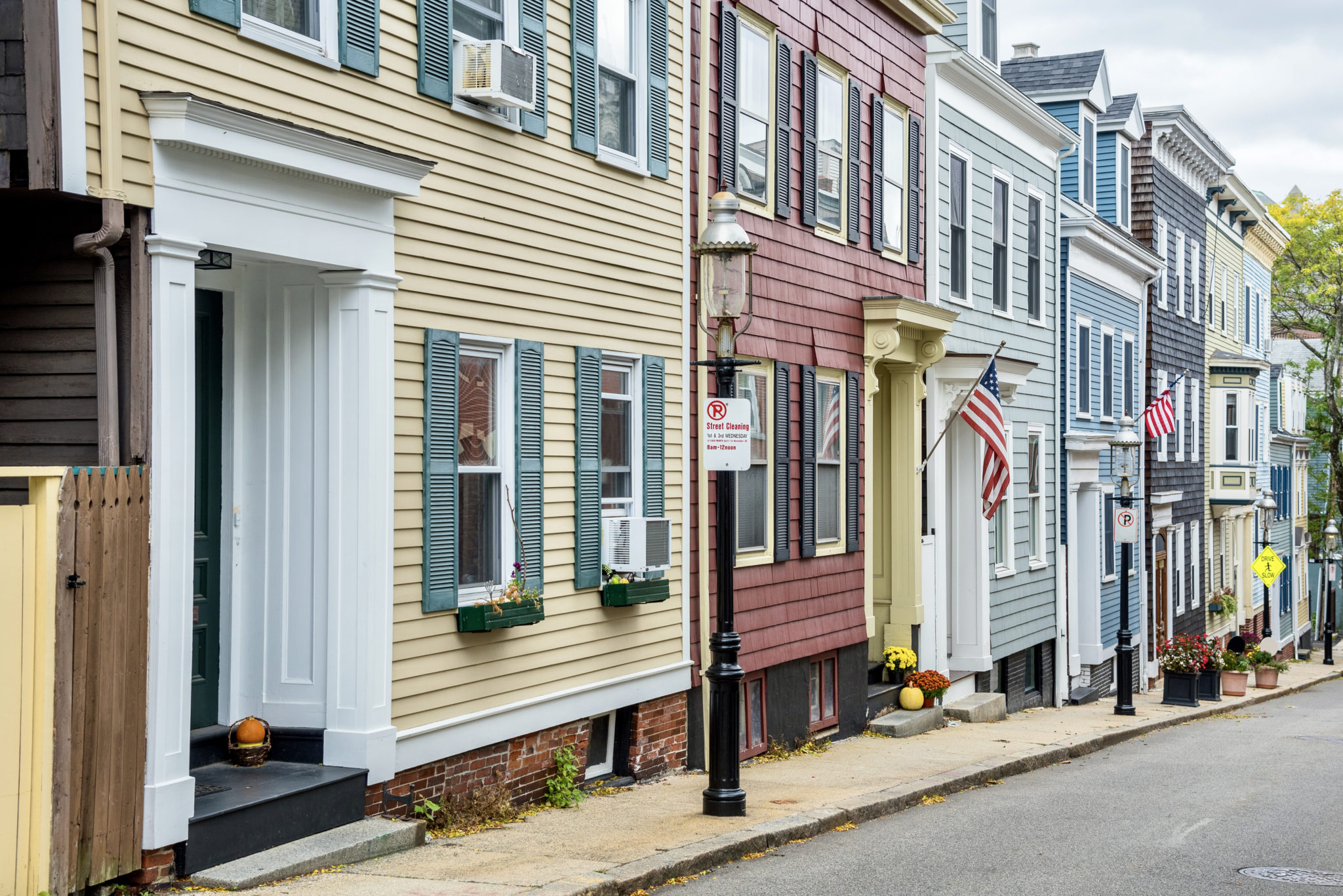 3. Charlestown Massachusetts (5 minute drive)
Charlestown is Boston's oldest neighborhood. It's just across the river from the North End.
If you've walked the Freedom Trail in Boston, you've already been to Charlestown. The town is home to the Bunker Hill Monument and the USS Constitution, which are must visit landmarks in Boston.
In 1775, Charlestown was the site of one of the most important battles of the Revolutionary War. American patriots defeated the British in the Battle of Bunker Hill. Nearly the entire town was destroyed during the battle and it wasn't rebuilt until after the war ended.
Nowadays, Charlestown is a pretty place that's well worth a stroll. A sense of Colonial charm permeates the streets and parks of Charlestown. The town has a classic main street, town square, and pretty clapboard homes.
4. Chatham Massachusetts
A visit to Cape Cod is a no-brainer day trip from Boston. But where to stake your claim?
Try the inimitable charms of Chatham, a tony New England town. In Chatham, the homes induce jaw drops, the historic center is walkable, and the seafood is hauled in just offshore.
Chatham's curving Main Street conjures up low key elegance and old world charm. Chatham is the only Cape Code town bounded on three sides by water. It's consistently ranked as one of the US' best beach towns.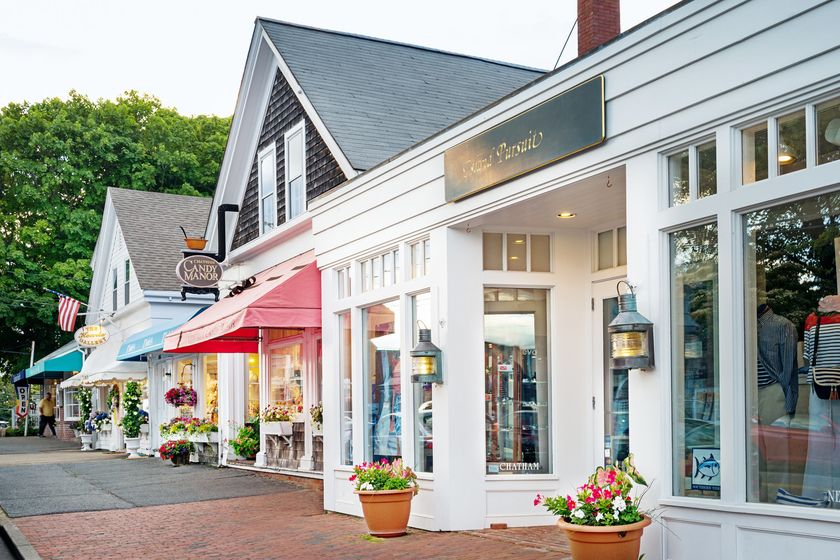 Chatham Lighthouse Beach is considered the most scenic public beach. It's set beneath Chatham's iconic lighthouse. This wild stretch of the Atlantic is the place for long walks and sunbathing (the surf is rough).
If you need a dose of culture with your beach retreat, head to the Orpheum. It's a restored vintage theater showing first run movies and classics.
Or, take in a play or musical at the Monomoy Theater, after browsing the casual to high end shops.
5. Concord Massachusetts (35 Minute Drive)
Just 15 miles north of Boston is the small town of Concord. It's the perfect Boston day trip for literary buffs. Concord is a steeple-studded town home to pretty Walden Pond. Walden Pond is a nature preserve that's home to countless local flora and fauna.
Walden Pond is forever linked to novelist Henry David Thoreau. From 1845 to 1847, he lived in a one room cabin, the property of his friend and mentor Ralph Waldo Emerson. A replica of the original cabin is about half a mile from Concord.
There, he wrote one of America's most famous novels, Walden or Life in the Woods. Walden explored simplistic living, solitude, and harmony with nature.
In Concord, you can also visit Emerson's House and Louisa May Alcott's Orchard House. The novelist based Little Women on her experiences growing up in this house with her sisters.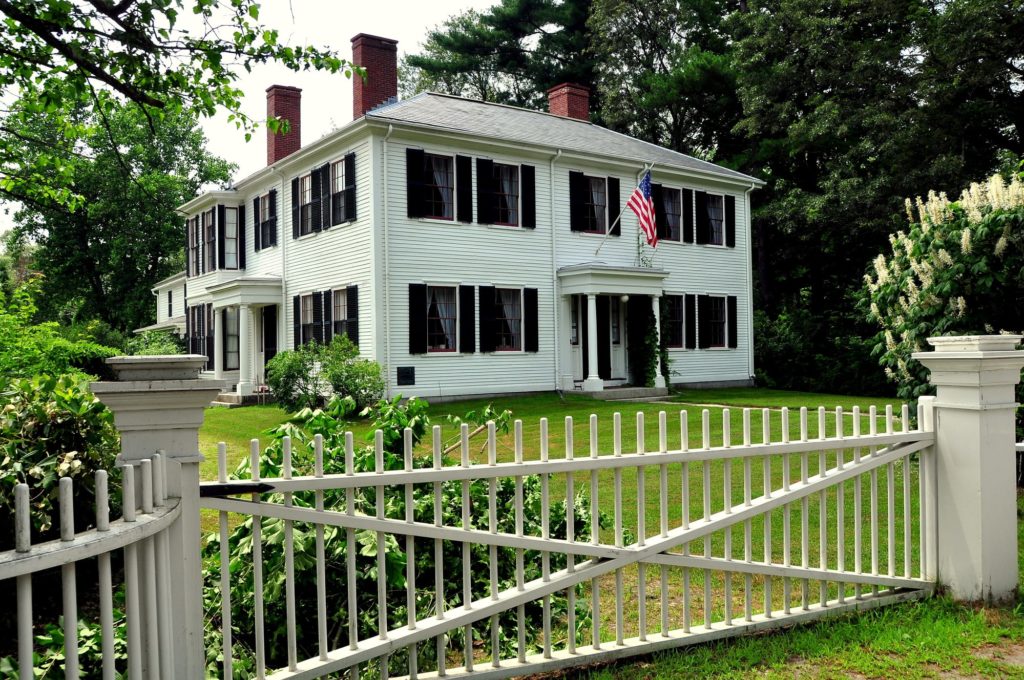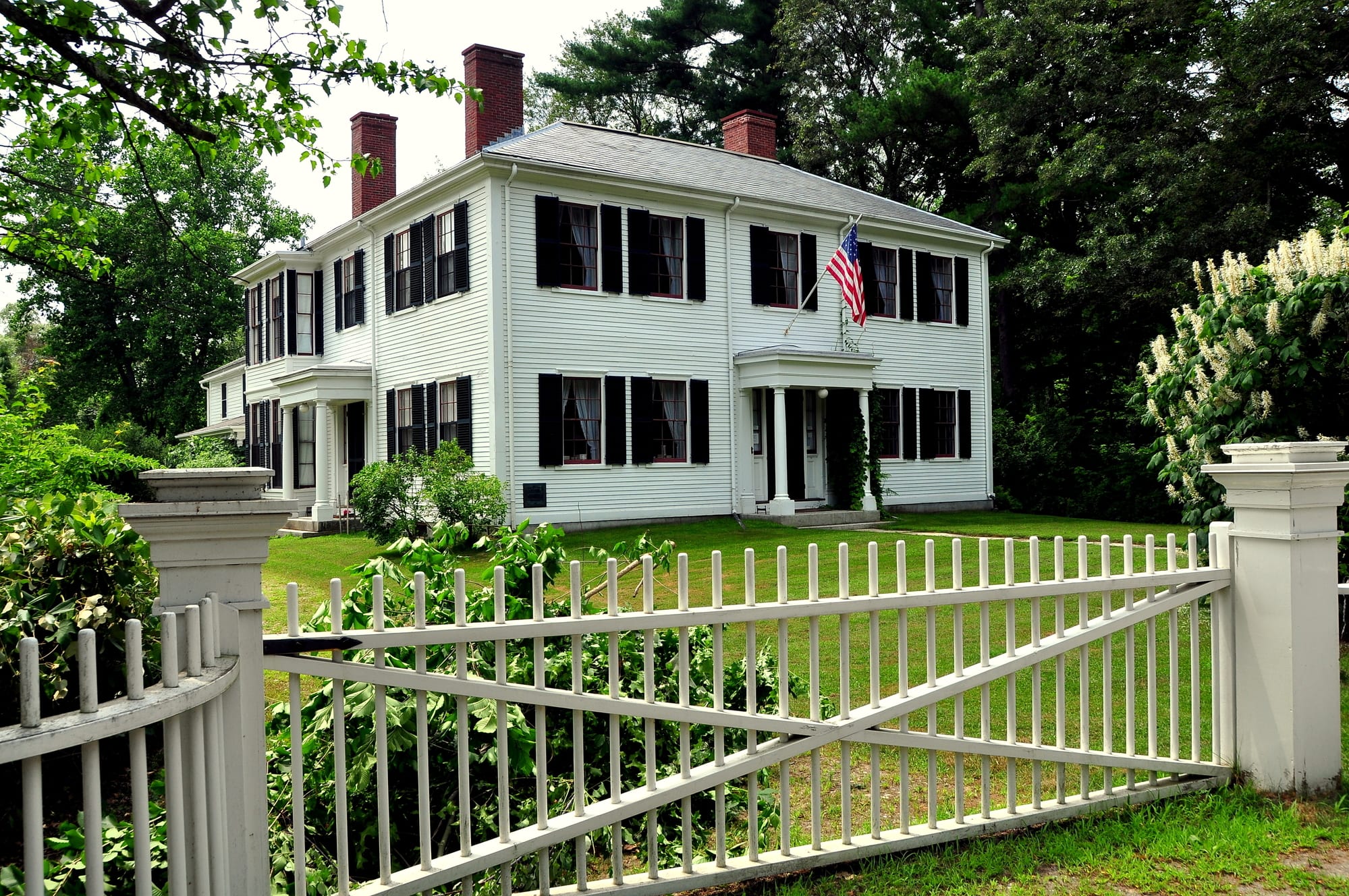 Today, the historic home is a museum. It has 80% of its original period furniture.
You can tour the kitchen, dining room, parlor, art studio, and the bedrooms. Louisa's bedroom has the small white desk where she penned Little Women and other books.
If you want to learn about Concord's Revolutionary War and literary legacy, visit the Concord Museum. On display, you'll find Native American artifacts, Thoreau's snowshoes and furniture, Ralph Waldo Emerson's study, Paul Revere's original signaling lantern, and period collections of decorative arts and furniture.
If you want to pay homage to Concord's famous authors, visit Sleepy Hollow Cemetery. You'll find the final resting places of Thoreau, Emerson, Alcott, and William Ellery Channing.
6. Concord New Hampshire (1:10 Drive)
Concord is the capital of New Hampshire. It's a sleepy New England town that I used to spend parts of the summer in. Founded in 1734, Concord embodies the American spirit. There are a fair number of things to do in Concord.
You can visit the New Hampshire State House, built in 1819. It sports a gleaming eagle topped gold dome, reminiscent of Boston's own state house. The New Hampshire legislature still uses the original chambers.
Just steps from the capitol is the New Hampshire Historical Society. It boasts a sculpture by the famous Daniel Chester French.
You can also visit Pierce Manse, the former home of President Franklin Pierce. Via a guided tour, you can see period artifacts. Franklin's grave is also in town.
7. Essex Connecticut (2 Hour Drive)
Essex just exudes small town charm. It has a bucolic setting on the banks of the Connecticut River. The town is consistently rated as one of America's best small towns.
Essex seems halted in time, looking much as it did during the height of its ship building prosperity. Essex has a picture perfect harbor. It's scattered with charming inns and historic architecture.
On Main Street, whitewashed houses jostle side by side, in early Colonial and Federal styles. Pop into the Griswold Inn, especially for its vaunted Sunday breakfast. The cute shop Good and Curiosities sells gifts with a historical theme.
Essex is famed for its riverboat tour, the Essex Steam Train & Riverboat. On a 2.5 hour tour, you can travel by train and boat through the countryside. By boat, you'll glide by farms, inlets, coves.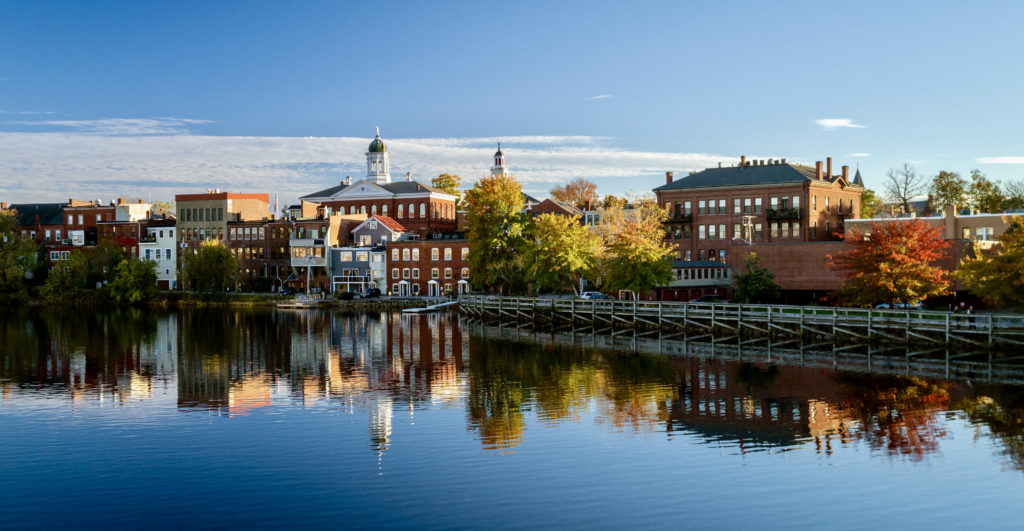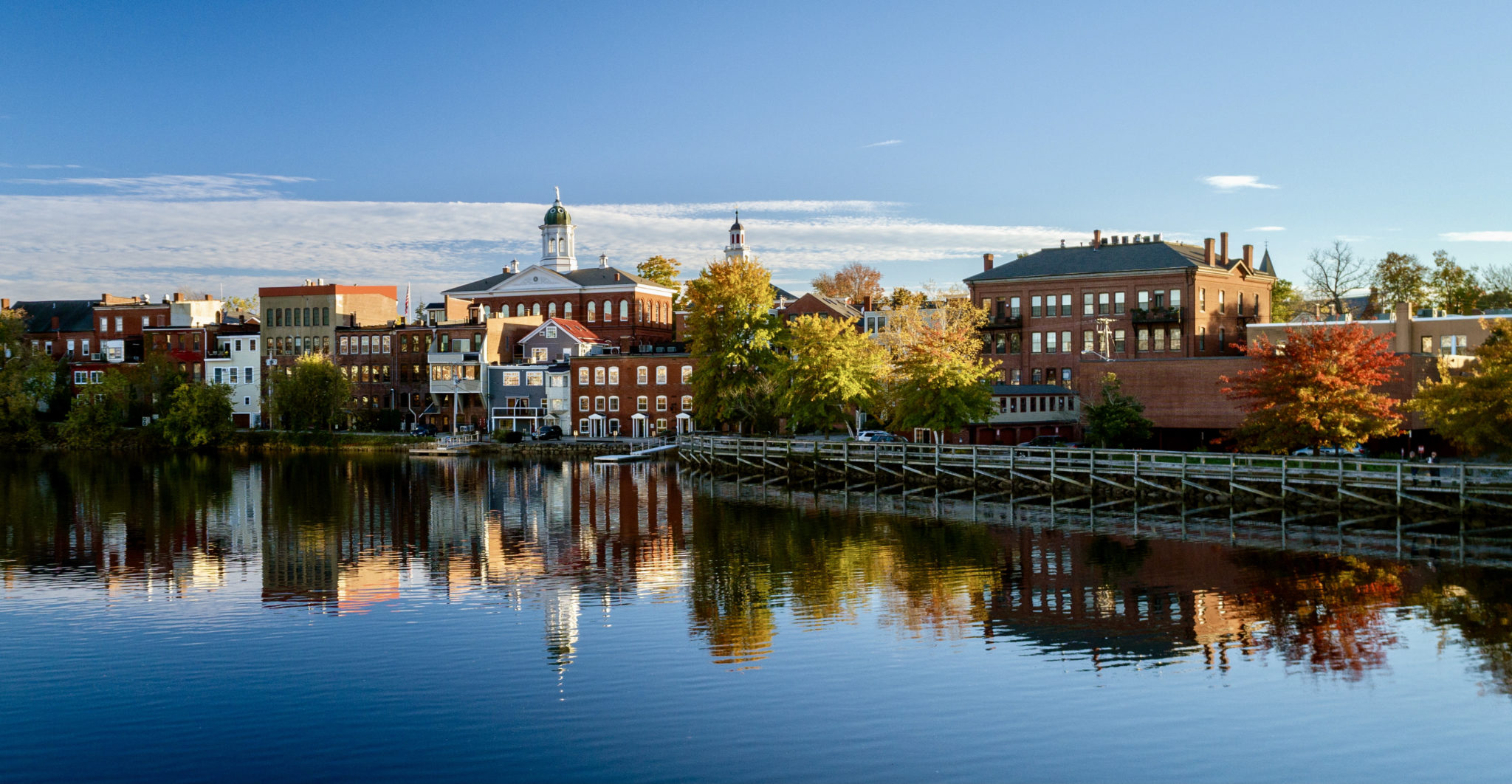 8. Exeter New Hampshire (1 Hour Drive)
Exeter was founded in 1638 by Reverend John Wheelwright. This pretty new England town brims with charm at every turn. The beauty of Exeter will appeal to everyone from art lovers to history buffs to recreational seekers.
You can take a leisurely stroll in the quaint and historic downtown. You'll find elegant buildings with shops, restaurants, art galleries, and more.
Or, walk down tree-lined streets to discover historic homes, including the Ladd-Gilman House that's now the American Independence Museum.
If you want to experience the great outdoors, Essex has hiking, biking, and water sports. During New England's fall foliage season, the colors are truly breathtaking.
9. Hanover New Hampshire (2 Hour Drive)
As a graduate of Dartmouth College, Hanover is a sentimental favorite of mine. And it clocks in at 2 hours, my limit for day trips from Boston.
Forbes named Hanover one of America's Prettiest Towns. For a remote rural town, Hanover packs a surprising cultural punch.
The best place to get your art fix is the wonderful Hood Museum of Art. It's one of the oldest teaching museums in the country. It has a large collection of artifacts and art dating back to Assyrian culture in 900 BC.
But it's not all ancient. The museum has a surprisingly good collection of contemporary art, with works by Rothko and Ed Ruscha. It also showcases contemporary African and Native American art.
You should also pop into Baker Library. You'll find eye catching murals by Jose Clemente Orozco in the reading room.
Hanover is also home to the Hopkins Center for Performing Arts (the "HOP"). There, you'll find a wide variety of performing arts — plays, shows, concerts, special events, movies, etc.
Here's my itinerary for spending one day in Hanover. In addition to just driving to Hanover, you can take the Dartmouth Coach from Logan Airport.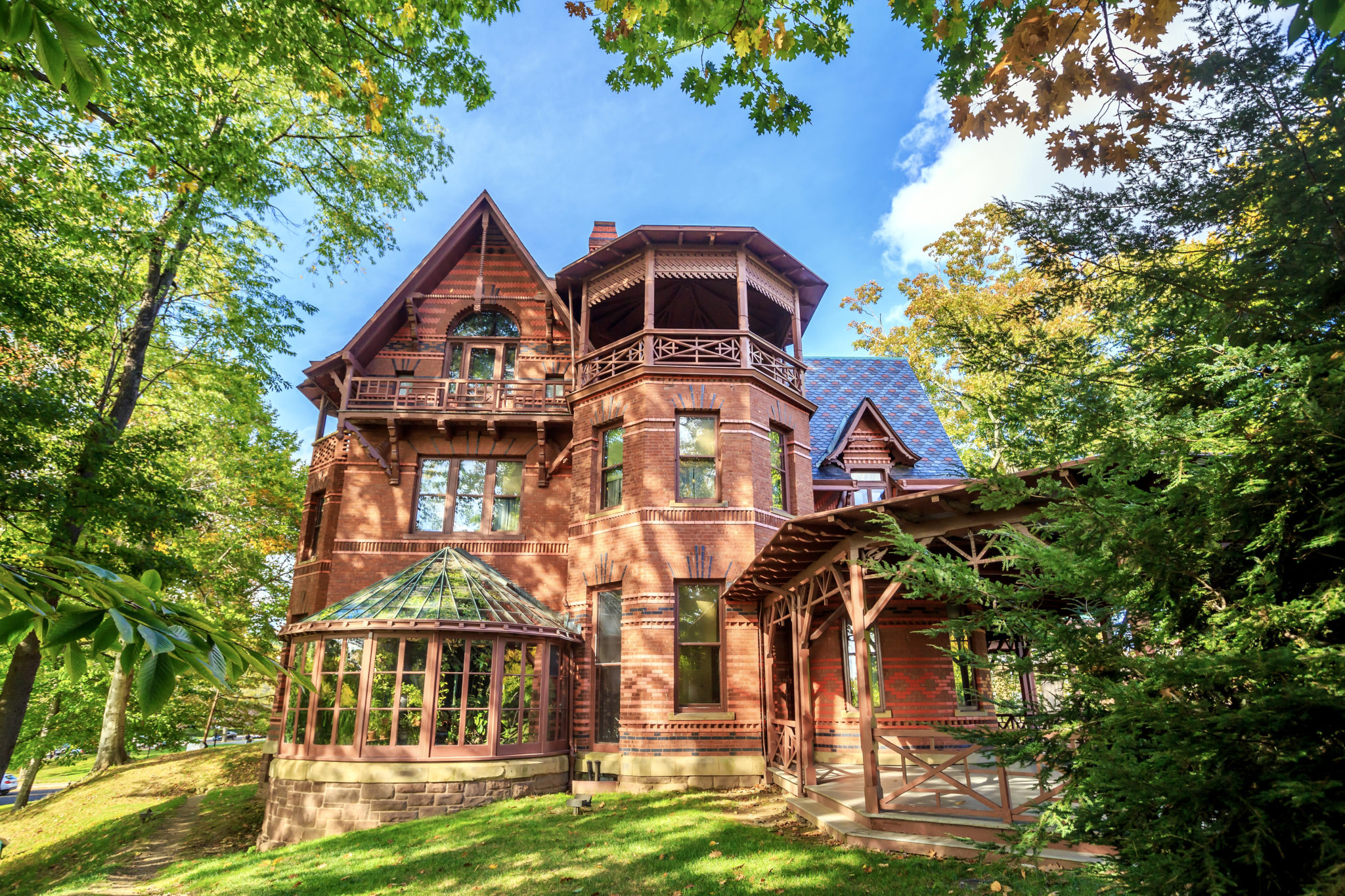 10. Hartford Connecticut (1:35 Drive)
Hartford is one of the oldest cities in the United States. It makes a great day trip from Boston if you want to visit another city. The capital of Connecticut is home to historic sites, art museums, and beautiful parks.
It's also the birthplace of Mark Twain, a culinary powerhouse, and home to one of the best "little downtowns" in New England.
The Mark Twain House & Museum is a national historic landmark. The museum has it all: inspiring architecture, gorgeous interior design, lovely grounds, and fascinating stories about its owners. It offers visitors an opportunity to learn about the novelist Mark Twain, his family, and his legacy.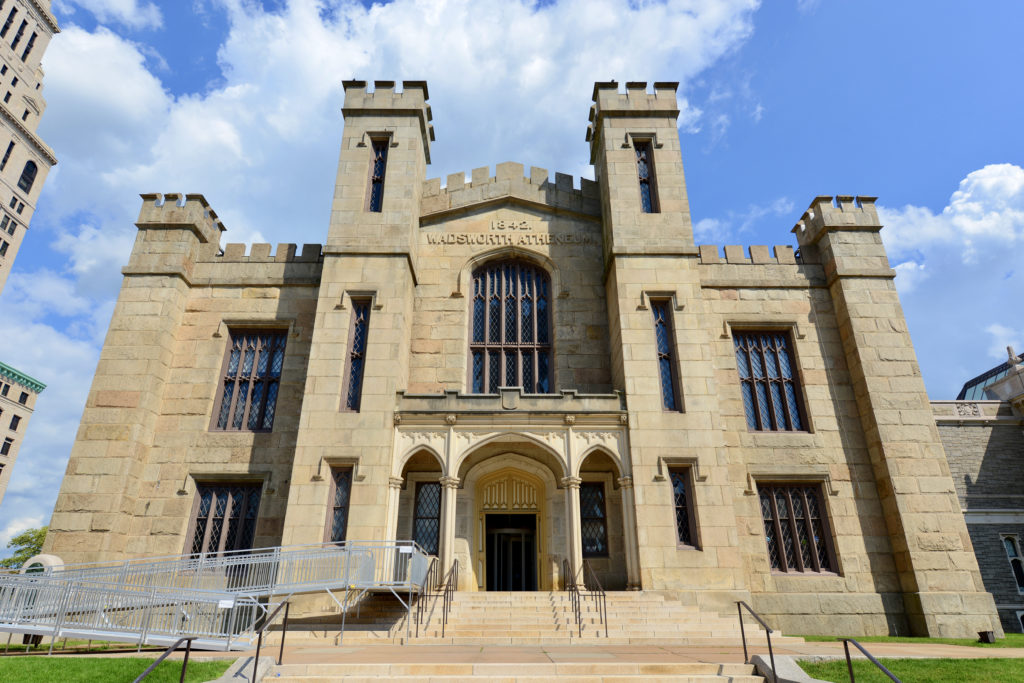 Another good reason to visit Hartford on a day trip from Boston is to visit the magnificent Wadsworth Atheneum Museum of Art. The castle-like museum is one of the best museums in New England.
The Wadsworth first opened its doors in 1844. It's since grown to a collection of over 50,000 works of art from over 5,000 years. There are significant works of modern and contemporary art.
You'll find works by Frans Hals, Caravaggio, Orazio Gentileschi, and Bernardo Strozzi. There's a beautiful painting by pre-Raphaelite artist William Holman Hunt called The Lady of Shallot. There's also an American art collection, with works by John Singleton Copley and Charles Wilson Peal.
11. Keene New Hampshire
Keene is a beautiful hidden gem in New England's Monadnock Region. A lively college town, Keene combines culture and the great outdoors.
Keene offers stunning brick streets, charming maple farms, and quaint specialty shops. Keene even has a white clapboard church with a soaring steeple, the United Church of Christ.
Keene is also home to one of the loveliest and widest main streets in New Hampshire. The historic downtown area is centered on Central Square. It's an eclectic mix of old time shops, bookstores, and funky craft stores.
Keene is also home to covered bridges and museums. The Horatio Colony House and Nature Preserve is housed in a 1806 Federal style building. The museum houses historical artifacts for the history buff. The nature preserve offers miles of hiking trails for the nature lover.
12. Kennebunkport Maine (1.5 Hour Drive)
Kennebunkport is a classic beauty, one of the most beautiful towns in New England. It's effectively the Hamptons of the Pine Tree State, known for its dramatic mansions. To see them, take a drive between Kennebunkport and its sister town Kennebunk.
Kennebunkport has a lively downtown, the epicenter of which is called Dock Square. It's chock full of restaurants, boutiques, and art galleries.
There are plenty of patio cafes for people watching perches. The Clam Shack serves up fried claims and lobster rolls.
For a walking tour of Kennebunkport's historic buildings, start at the Brick Store Museum on Main Street. Head south and you'll see several extraordinary structures from the 18th and 19th centuries, including Lexington Elms, Horace Porter House, and Benjamin Brown House.
Summer Street is also an architectural showcase, with an array of Federal and Colonial buildings. To get the complete scoop, you can take a guided 90 minute tour of Kennebunkport's National Historic District. Buy tickets at the Brick Store Museum.
If you want to hit the beach, try Gooch's Beach along the Victorian-lined Beach Avenue. Or drive 10 minutes north to the beautiful 3 mile long Goose Rocks Beach.
If you'd like to take a day tour from Boston, this excellent tour combines history and lobster. If you'd just like a guided walking tour once you've arrived in Kennebunkport, click here for a 2 hour historic tour.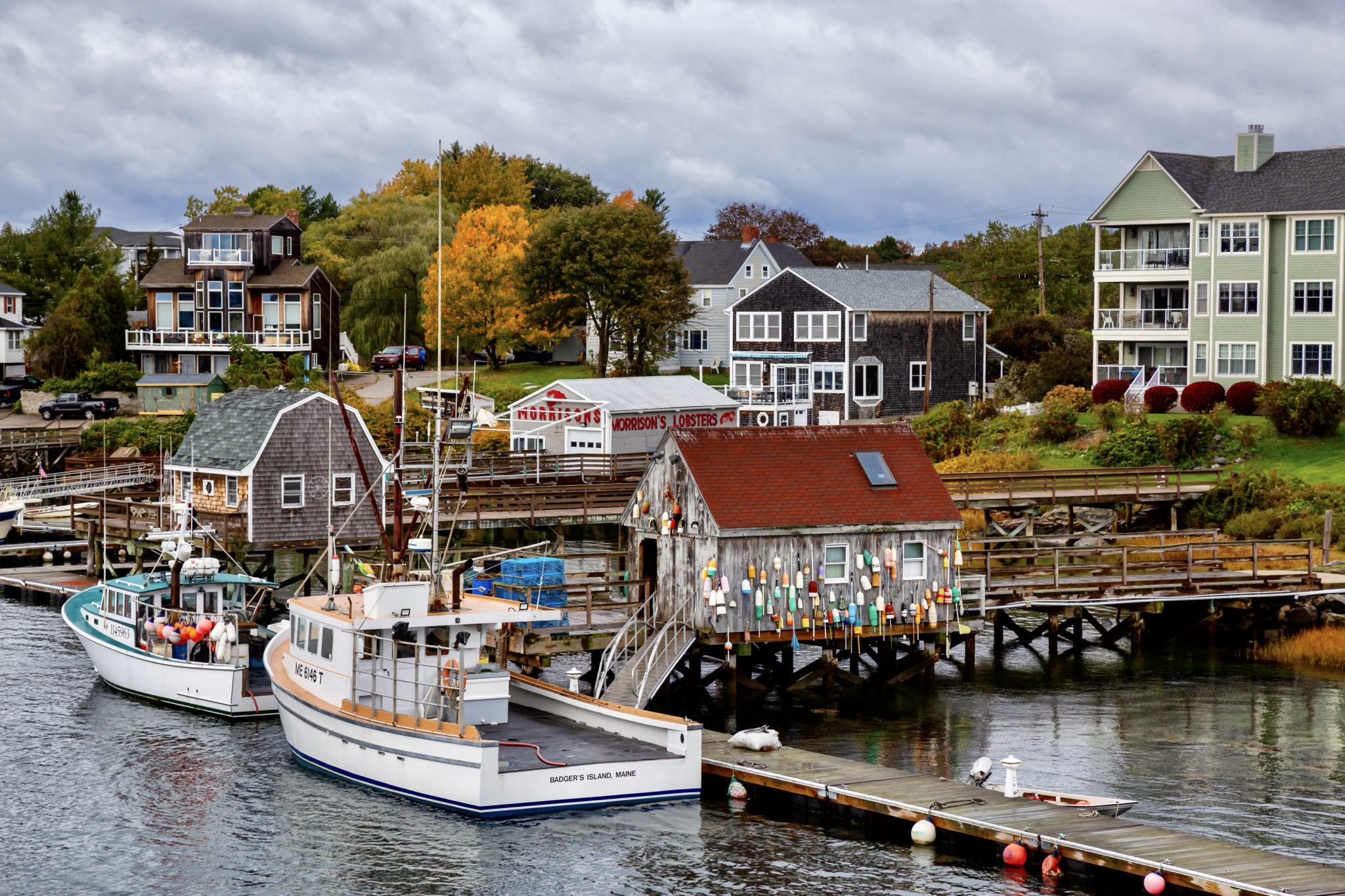 13. Kittery Maine (1 Hour Drive)
The small town of Kittery is just a short drive from Boston. It's located on the border between Maine and New Hampshire and is linked by bridges across the Piscataqua River.
Kittery was once known for its shipbuilding. Nowadays, people day trip to Kittery from Boston mostly for its shopping. Kittery has both outlet malls and boutique craft shops. You'll find stores like Crate and Barrel, Le Creuset, Lululemon, Under Armour, and Nike.
If the weather is warm, head to the beach for a swim. Seapoint Beach is a picturesque shoreline perfect for a dip or a stroll.
You can also visit Fort McClary State Park. It's a unique historic site that was formerly a defensive military fortification. It has stood for over 275 years protecting the mouth of the Piscataqua River at the entrance to Kittery.
14. Lenox Massachusetts (2 Hour Drive)
Lenox is the perfect day trip from Boston for art lovers. It's a pretty town of art galleries and upscale boutiques housed in historic buildings.
You'll find iconic properties like Blantyre, Wheatleigh, Canyon Ranch, and The Mount. At one point, there were so many lavish summer homes that Lenox was known as "the inland Newport."
In 1902, Edith Wharton, the first woman to win the Pulitzer Prize in Literature, built The Mount. It was a stately country retreat for the literary lioness and her then-husband. The Mount was modeled after European mansions, but lacked without their ostentatious excesses.
The Mount is home to a summer lecture series, weekly bird walks, concerts, theater performances, and outdoor sculpture exhibits. Edith Wharton's library has been returned to the house, with 22 first editions of her work.
Lenox is also home to Tanglewood, the summer home of the Boston Symphony Orchestra. Tanglewood is a must do for music lovers. You can hear symphony orchestras, solo performances, and world class musicians.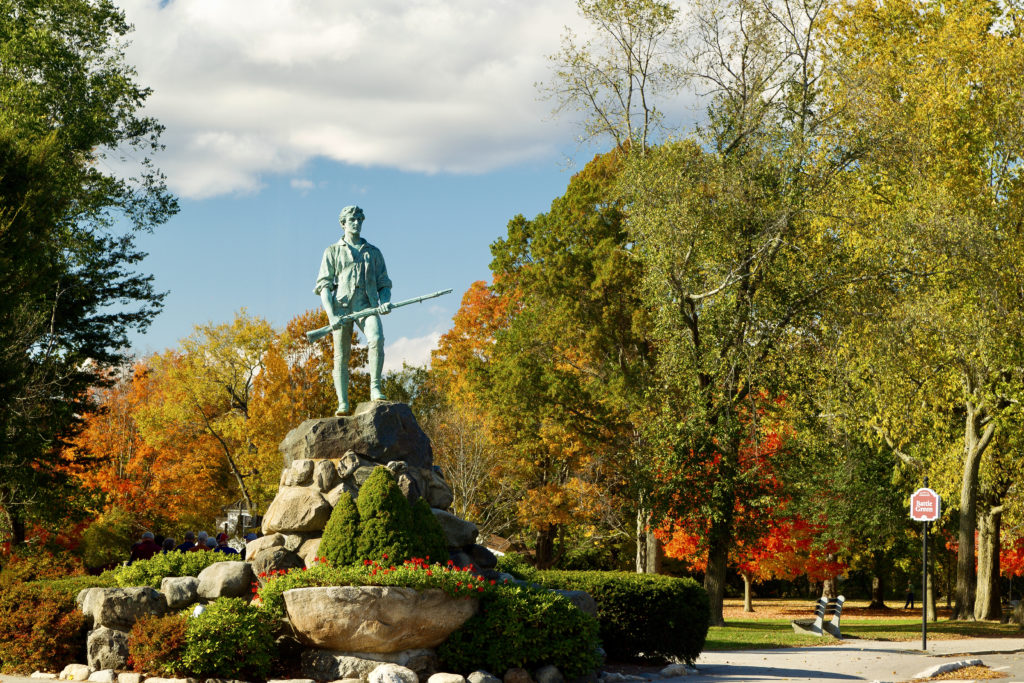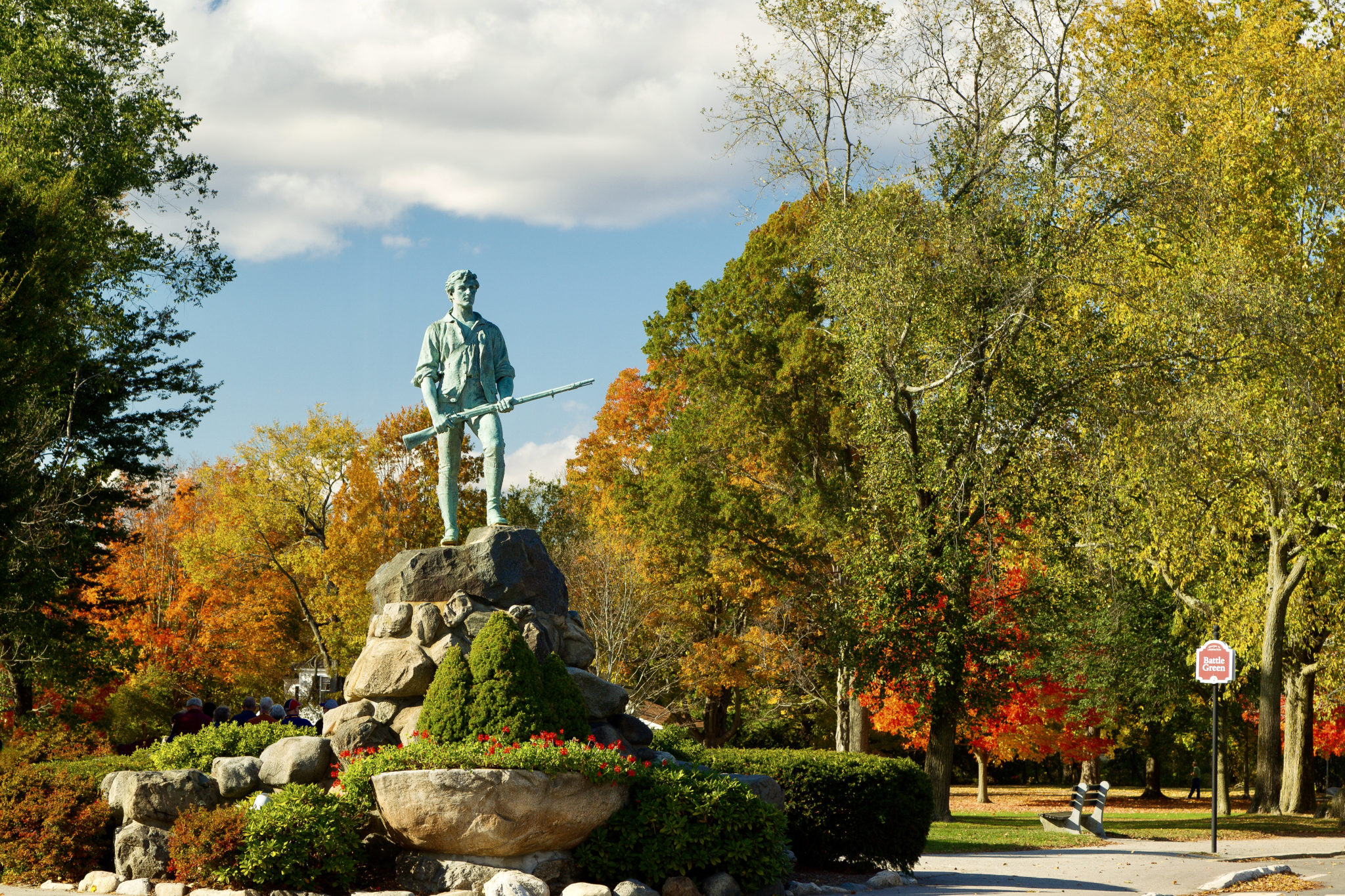 15. Lexington (30 Minute Drive)
If you're a student of U.S. History, Lexington should ring a bell. In 1775, the American Revolutionary War started in Lexington and nearby Concord. Lexungtin is the best day trip from Boston to immerse yourself in Revolutionary war history.
Lexington has more than 10 historic battle sites, cemeteries, and memorials that you can tour. You can see the site of the first battle of the Revolutionary War.
A renowned statue by sculptor Henry Hudson Kitson marks Battle Green, where the Colonial Minutemen clashed with British troops. In Minuteman National Historical Park, you can see a multimedia exhibit on the Road to Revolution.
While waiting for the British, the Minutemen and their commander, Captain Parker, gathered in the Buckman Tavern. The interior is preserved exactly as it appeared in the 18th century, complete with the original seven foot wide open fireplace. The old front door still contains British musket-ball holes.
Wrap up your tour of Lexington by seeing the Lexington Depot historic train.
16. Madison Connecticut (2 Hour Drive)
Madison is a shoreline town only East Coasters know about. This beautiful New England day trip from Boston proves the adage that good things come in small packages.
With a population of only 18,000+ residents, Madison delivers a major dose of quintessential New England charm. During his time at Yale, Bill Clinton was so taken with Madison that he mentioned it in his memoir, My Life, calling it "especially old and beautiful."
One of the main draws of Madison is Hammonasset Beach State Park. There you'll find two miles of beaches, wetlands, woodlands, and a nice boardwalk.
The town itself is charming and pedestrianized, full of shops and cafes. A popular haunt is RJ Julis Booksellers, one of the nation's finest independent shops for book nerds looking for the perfect read.
Madison is also a culture-filled hamlet. A fun outdoor activity is walking the Sculpture Mile. Created by the Hollycroft Foundation, it offers a unique museum-like exhibition that features art work by some of the nation's most significant sculptors.
17. Manchester New Hampshire (1 Hour Drive)
You might think New Hampshire is all mountains and lakes. But it also boasts a rich cultural history. In particular, Manchester has some fine art offerings that merit a day trip from Boston.
Manchester is home to the state's only fine art college, the New Hampshire Institute of Art. It also has an internationally acclaimed museum, the Currier Museum of Art.
The museum's permanent collection includes works by Picasso, Monet, Rothko, Wyeth, and O'Keefe. It hosts touring exhibitions. The museum also manages Zimmerman House, designed by architected Frank Lloyd Wright. It's the only Wright house open to the public in New England.
Manchester also has a premiere contemporary arts gallery, the Gallery of the New Hampshire Art Institute. It's multi-functional, serving as an art center, lecture hall, and performance theater. On display you'll find a diverse mix of traditional and modern art forms, from photography to installation art.
18. Mystic Connecticut (2 Hour Drive)
Mystic is calm and exquisite, a charming waterfront town set on the shores of the Mystic River. It's quaint downtown is filled with boutiques, galleries, and eateries.
On Main Street, you'll find Mystic Pizza, made famous by a kitschy 1980s movie. Mystic's main landmark is Bascule Bridge, the most photographed bridge in Connecticut and a perfect spot for river views.
Mystic Seaport is Connecticut's #1 attraction, an example of "living history." It covers 19 acres along the Mystic River.
There are indoor and outdoor exhibits, including four vessels that are National Historic Landmarks. You can climb aboard or peruse the recreated village.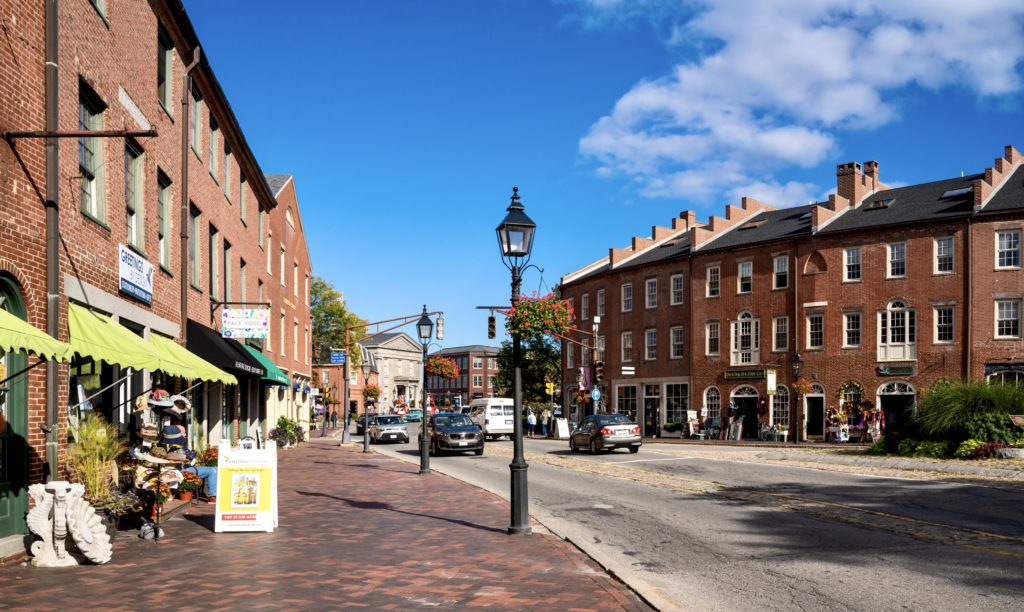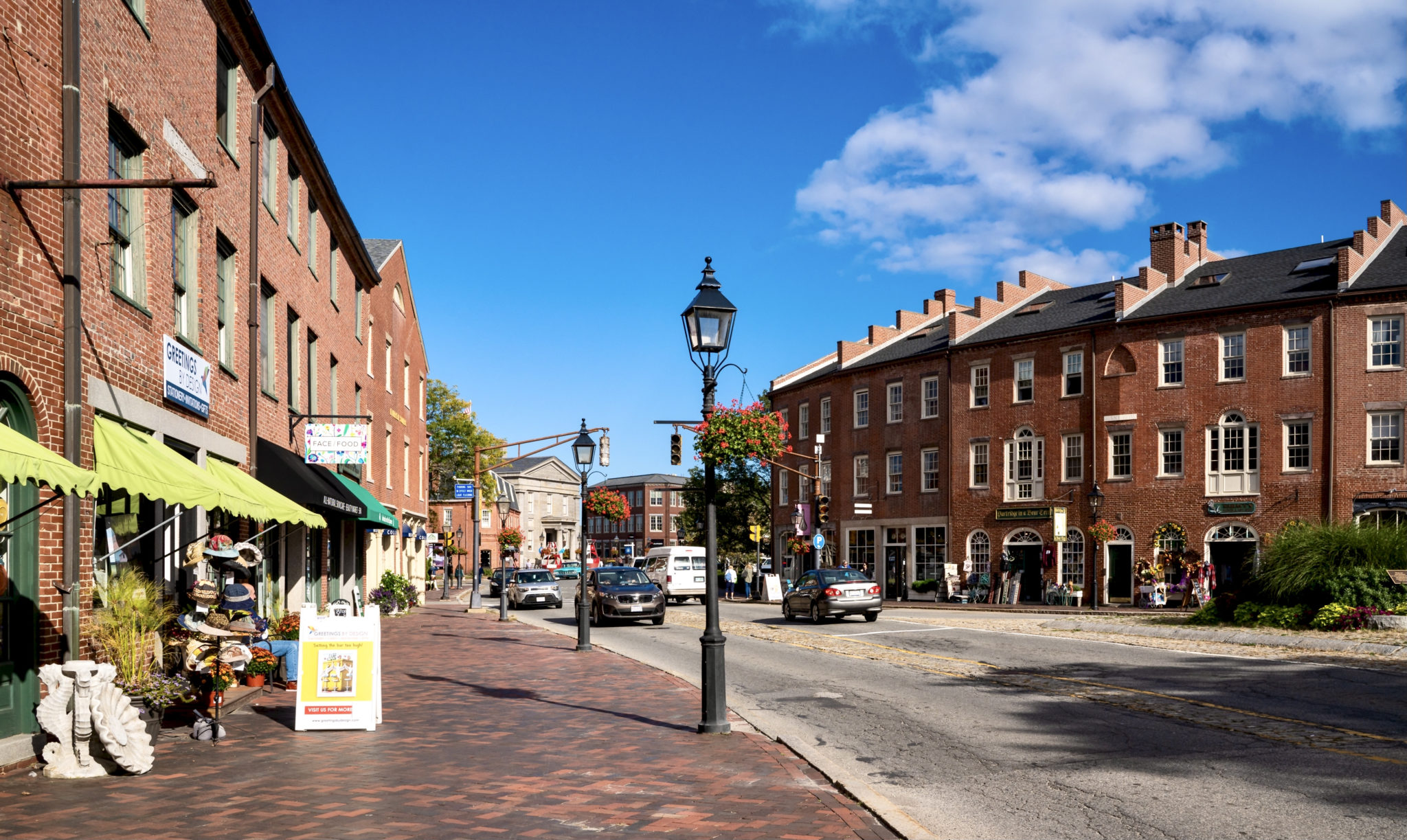 19. Newburyport Massachusetts (1 Hour Drive)
First settled in 1635, Newburyport is an immaculate seaside town. It has a classic New England feel — with red brick streets, lobster shacks, and cobbled lanes. Plus, "the Port" is only 35 miles from Boston, making it the perfect day trip or weekend getaway.
State Street is the heart of Newburyport. You'll find an eclectic treasure trove of shops — clothing boutiques, bookstores, cafes, and vintage shops. The Firehouse Center for the Arts is Newburyport's cultural hotspot, offering concerts, musicals, and plays.
When you tire of shopping, surf and sand lovers can hit the beach. Plum Island is only a 20 minute drive from Newburyport.
Plum Island has beautiful and beloved sandy beaches and dunes. And it's home to the Parker River National Wildlife Refuge, a hidden gem sanctuary with prime bird watching opportunities.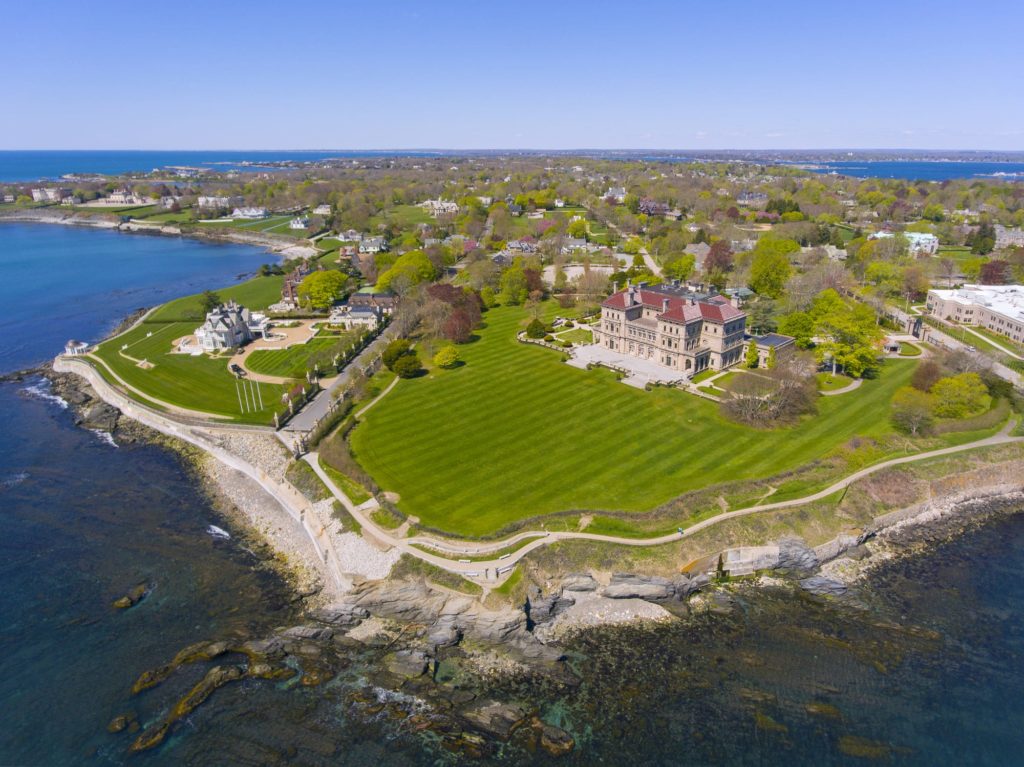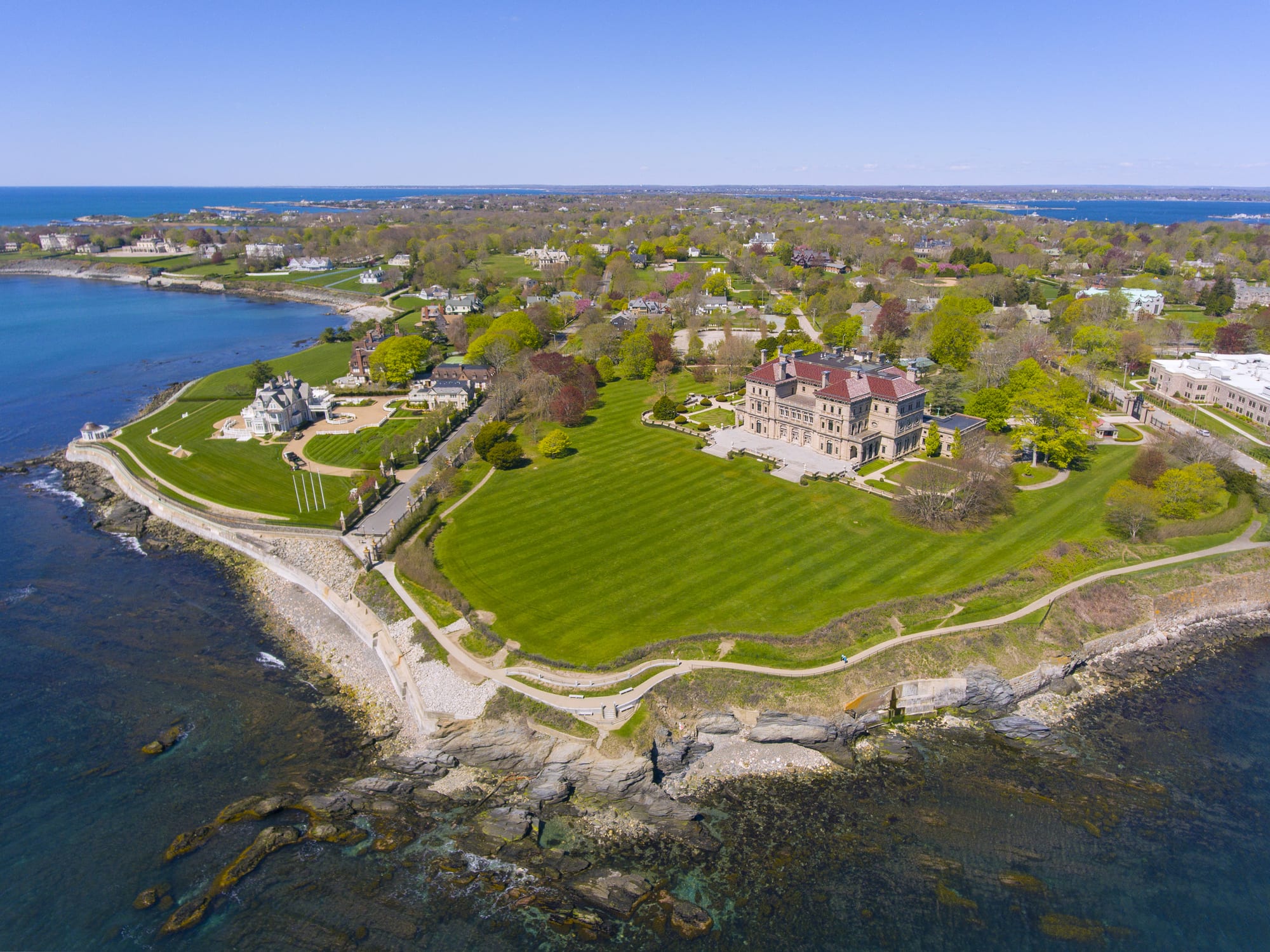 20. Newport Rhode Island (1.5 Hour Drive)
Just two hours south of Boston lies the tony coastal town of Newport. Founded in 1639, Newport is a treasure trove of historic European-style mansions set against ocean views.
Think the Gilded Age's Astors, Vanderbilts, and Kennedys — families who built the first palatial mansions in the US. Newport is a fancy place.
Most of the mansions are on Bellevue Avenue and a few are on the waterfront. Built by Cornelius Vanderbilt, Breakers Mansion is Rhode Island's #1 attraction. It's located on the scenic 3.5 mile Newport Cliff Walk.
If you'd like to tour the magnificent mansions of Newport, this is an excellent day tour from Boston.
The Newport Art Museum is the core of the creative community. The Artists' Open Space serves up local and regional shows year round.
There's a dozen commercial galleries in town as well. Island Art is the best, noted for its contemporary pieces.
On the performance arts side, Newport really excels. It offers up everything from Shakespeare plays in Queen Ann Square to musical festivals dedicated to jazz, classical, and folk music in July and August. There's also the Newport Fine Arts Festival in September.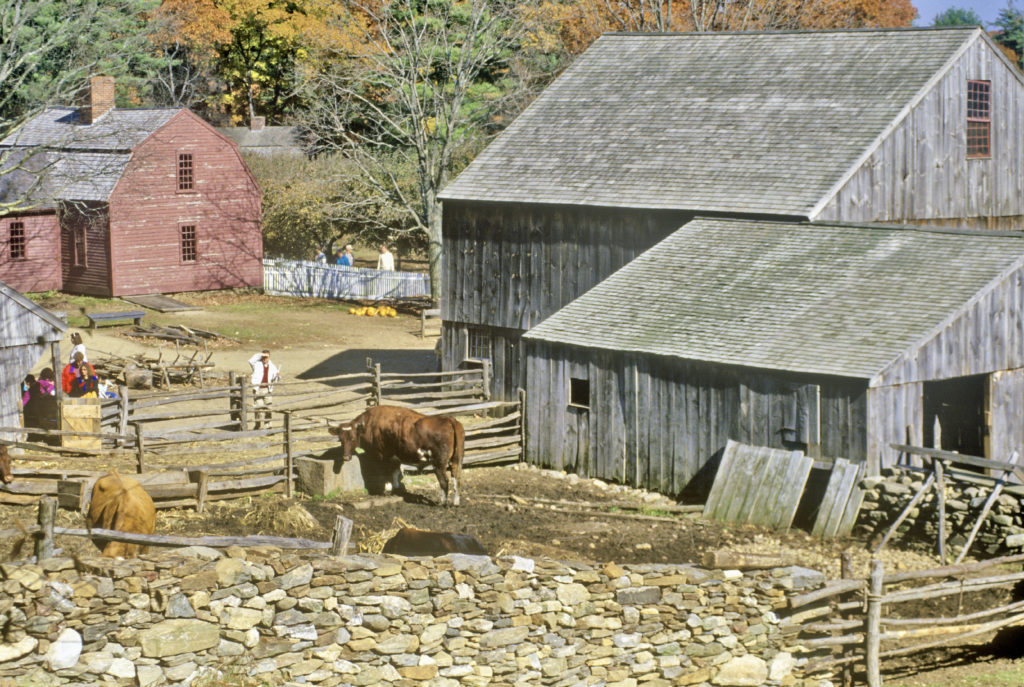 21. Old Sturbridge Village Massachusetts (1 Hour Drive)
Old Sturbridge Village is a living history museum located in Sturbridge Massachusetts. The museum recreates life in rural New England as it was during the 1790s through 1830s.
There's a working farm with heritage breed animals, historic buildings, and horse drawn sleighs. Costumed historians are very engaging and will regale you with historic tales.
You can walk the village and meet the skilled craftsmen who still practice their trade. You can also take a wagon ride. The Village offers several events throughout the year — Winter Photo Walk, Sunday Brunch, and Dinner in a Country Village.
22. Ogunquit Maine (1:30 Hour Drive)
Feeling like a beach day? Nestled along the coast, tiny Ogunquit has been a resort village since the 19th century.
The word Ogunquit translates to "beautiful place by the sea." You can see why immediately. Ogunquit is like a mini Provincetown.
The town is a popular summer beach destination in New England, and I came here often as a child. Ogunquit has two beautiful long beaches, Ogunquit Beach and Footbridge Beach. Footbridge is the quieter of the two beaches.
Ogunquit is most renowned for its coastal path, the Marginal Way. It's a paved 3 mile seaside stroll, starting at Ogunquit Beach and meandering to Perkins Cove.
Perkins Cove is a tiny artisans village, filled with sea-weathered buildings, where you'll find some art galleries and seafood eateries.
23. Northampton (2 Hour Drive)
Just under 2 hours from Boston, the rural town of Northampton is a cultural nerve center in New England. It's a pretty town, ringed by 5 colleges and college museums.
Grand mansions line tree-shaded streets. The beautiful Main Street is filled with with shops, art galleries, bookshops, etc.
In downtown Northampton, there are more than a dozen visual arts venues. The Northampton Center for the Arts offers poetry readings, film screenings, and concerts. The Calvin Theater is the premiere concert venue, hosing major touring music and comedy acts.
Four of the five colleges near Northampton offer theater and visual arts. Smack in the middle of Northampton is Smith College. Its beautiful Smith College Museum of Art just received a $35 million makeover. The museum offers a year round series of art lectures, contemporary art exhibitions, and films.
Just down the road is Mount Holyoke College Art Museum. It offers contemporary and traditional exhibitions year round.
You can also admire contemporary work at Amherst's Mead Art Museum or check out national and international exhibits at Amherst's University Gallery.
Northampton has a good foodie scene too, with both great pizzerias and haute cuisine. There are two dairies nearby, so the town's cheese and ice cream options are among the best in New England.
24. Peterborough New Hampshire (1:30 Hour Drive)
Peterborough is a charming New Hampshire hamlet set along the Contoocook River. Peterborough is rich in art and culture, with a charming downtown centered on Depot Square. Thornton Wilder's Pulitzer Prize winning play, Our Town, was based on Peterborough.
Peterborough has two theater groups and a renowned artist colony, The MacDowell Colony. The colony is the oldest artist's retreat in the US, hosting many exhibitions.
In 1997, it was awarded the National Medal of Arts. Peterborough is also known for its antique shops and galleries.
Nature lovers can head to Miller State Park, which has several trails (and a road) leading to the summit of Mount Monadnock. Edward MacDowell Lake has trails as well, in addition to a beach and boat ramp.
25. Plymouth (45 minutes)
Situated at the mouth of Cape Cod Bay, Plymouth is a historical haven for Boston day trippers. The town was the very first permanent settlement by Europeans north of Virginia. Today, it's a thriving small town with a lovely historic district, perfect for history buffs.
After parking, first head to the Mayflower II. It's is a full scale replica of the original 17th century Mayflower.
The Mayflower is famous as the ship that brought pilgrims to the US in 1620. You can even take a tour of the ship itself, which is docked in Plymouth Harbor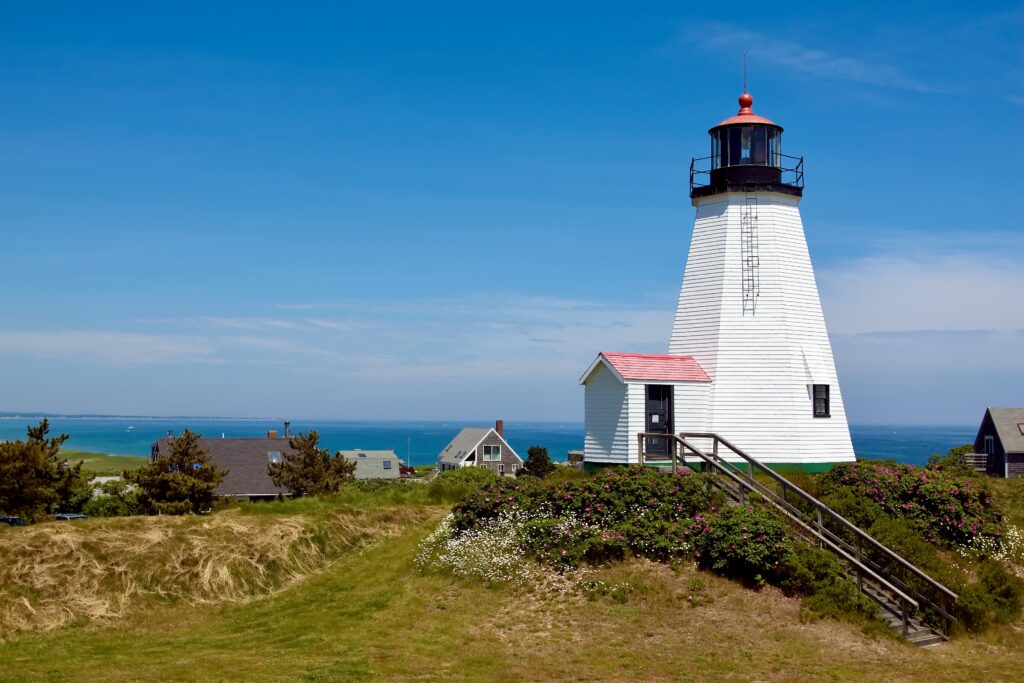 Also, to learn the pilgrims' tale, stop in the state's oldest museum, Pilgrim Hall. There, you'll find an unmatched collection of ancient artifacts and possessions of the pilgrims. Afterwards, you'll get to wander around historic Howland House and visit the 18th century Court House.
If you want to really step back in time, head to Plimoth Plantation. It's a living museum that aims to explore the daily lives of the Colonial Americans. The village has been carefully recreated, with thatched roofs and giant open fireplaces.
The actors in the museum are in period costume and never step out of character. You can watch them performing 17th century tasks including building, gardening, and military exercises.
26. Portland Maine (1:45 Hour Drive)
Located on a peninsula jutting into Casco Bay, Portland is a rare metropolis in a state filled with small hamlets. It's a hip and laid back place that almost seems too cool for one of New England's most beautiful towns. Portland is a great day trip from Boston for foodies.
Portland has myriad cultural offerings and is a bastion of historical preservation. The restored Old Port is a warren of cobbled streets with a movie set feel. This area is filled with vibrant Victorian buildings and buzzing farm to table eateries.
Start on Commericial Street, the main drag, and work your way inward. The Old Port is known for its cobblestone streets, 19th century brick buildings, and fishing piers. It's also a hive of activity.
In downtown Portland, there's a thriving art school, infusing the city streets with creative types. And there are 24 commercial art galleries.
Opened in 1983, Portland's crown jewel and premiere art destination is the Portland Museum of Art, an architectural masterpiece designed by I.M. Pei of Louvre fame. Its innovative architecture allowed curators to redefine the art viewing experience.
Restaurants and coffee bars are filled with visual art. In June, the revived downtown hosts the Old Port Festival, described as "part freak show, part art festival, part fashion parade."
Portland is also a hot spot for restaurants, coffee shops, and entertainment. Did I mention breweries? Beer lovers will be happy to know that Portland has 18 breweries all its own. It's the Craft Bew Capital of America.
If you want to delve more deeply into Portland's foodie culture, there are some awesome tours.
This tour takes you on a culinary walking tour of the Old Port and this tour lets you feast on seafood in the Old Port. If you're a fan of craft beer, this tour gives you a taste of Portland's amazing brew pubs.
27. Portsmouth New Hampshire (1 Hour + Drive)
The New Hampshire town of Portsmouth has also made an appearance on Forbe's list of America's Prettiest Towns. Portsmouth is a small town in southern New Hampshire along the Piscataqua River.
Portsmouth is a great Boston day trip destination for art lovers and foodies. It's known for its upscale farm to table eateries and art galleries.
Portsmouth's funky downtown is adorable, with activity centered on Market Square. You'll find classic white steepled churches, rustic brick shops, and sidewalk cafes. Portsmouth Book & Bar combines books, coffee, and live events.
History lovers should check out the Strawbery Banke Museum. It's a 10 acre outdoor museum featuring period gardens, preserved historic buildings and detailing the story of how the Portsmouth settlement was founded.
There are 39 historic buildings dating from 1695 to 1820. The Goodwin Mansion is the most impressive.
Prescott Park is a waterfront park near Strawberry Banke, which is great place to picnic. Enjoy the gardens and the Prescott Park Arts Festival, featuring concerts and foodie events.
in 2017, Travel & Leisure called Portsmouth the "Christmas Capital of North America." It's a wonderful New England Christmas destination. "Vintage Christmas" is a month long celebration kicking off December 1. A trolley does a loop of the downtown and a candlelight stroll is held on weekends.
Here's my guide to the best things to do in Portsmouth in one day.
28. Providence Rhode Island (1 Hour Drive)
Nicknamed the "cooler city" by GQ, Providence is one of the best towns on the East Coast. Providence is home to an Ivy League college, design schools, and a culinary institute.
The city is a hodgepodge. It combines big city sophistication with small town charm. It has a vibrant local culture, celebrated restaurants, and sparkling waterfront parks. Providence is full of historic Yankee monuments, but also has a young and funky vibe.
Providence is an easy day trip from Boston, less than an hour away. But this little jewel box of a city is often overlooked by travelers and definitely underrated. So much the better for its admiring visitors.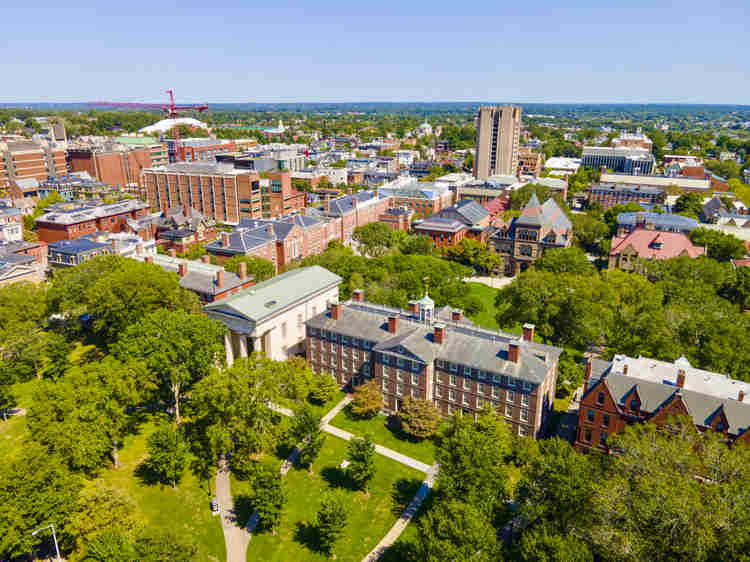 Be sure to explore Providence's Little Italy on Federal Hill. Then, head to the East Side to encounter Providence's Colonial past. Benefit Street is a bucolic 1.2 mile walk that's an architectural showcase.
You'll see some of the most beautiful Federal era architecture in the United States. You'll also find the lovely campus of Brown University.
And you can't leave Providence without visiting the fabulous Rhode Island School of Design Museum. A major cultural institution in the United States, RISD houses over 100,000 works. It's one of the best small museums in the world.
READ: 1 Day Itinerary For Providence
29. Provincetown Massachusetts (2 Hour Drive Or Ferry)
Do you want to combine a day at the beach with great art? head to Provincetown. The pretty town is tucked away on the far end of Cape Cod.
It's been attracting artists and creative types for more than a century. Eugene O'Neill wrote his first play here. Modern art luminaries like Helen Frankenthaler, Marsden Hartley, and Hans Hofmann had studios here.
Nowadays, there are 60 art galleries scattered down Provincetown's picturesque streets. It's the perfect place for art lovers on the East Coast.
The town's premiere art venue is the Provincetown Art Association and Museum on Commercial Street. The museum highlights local and New England artists with single artist and themed shows.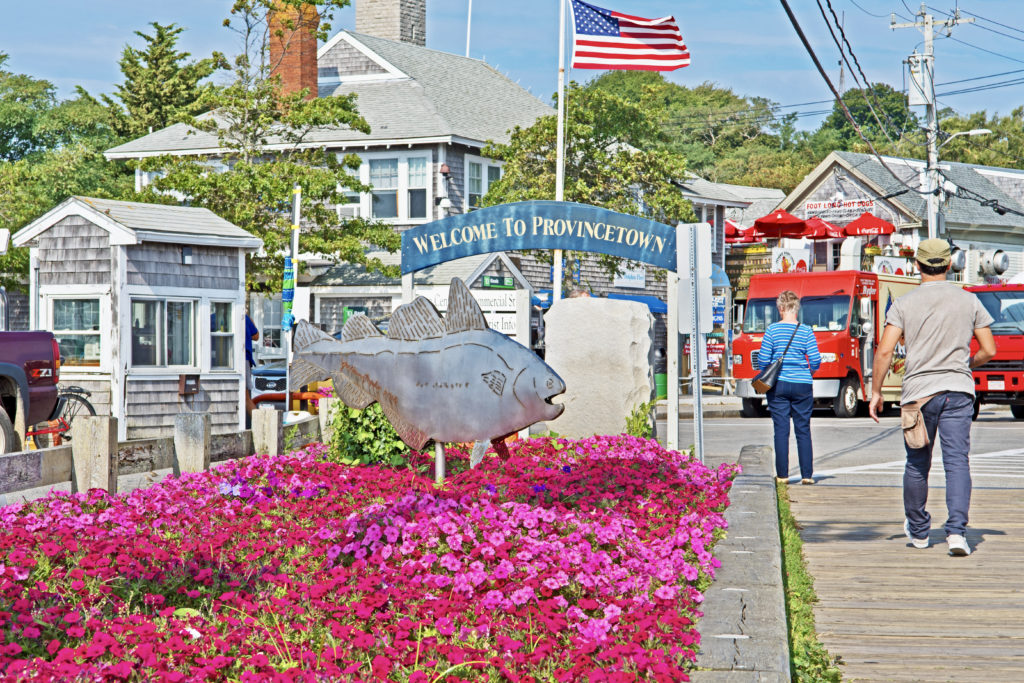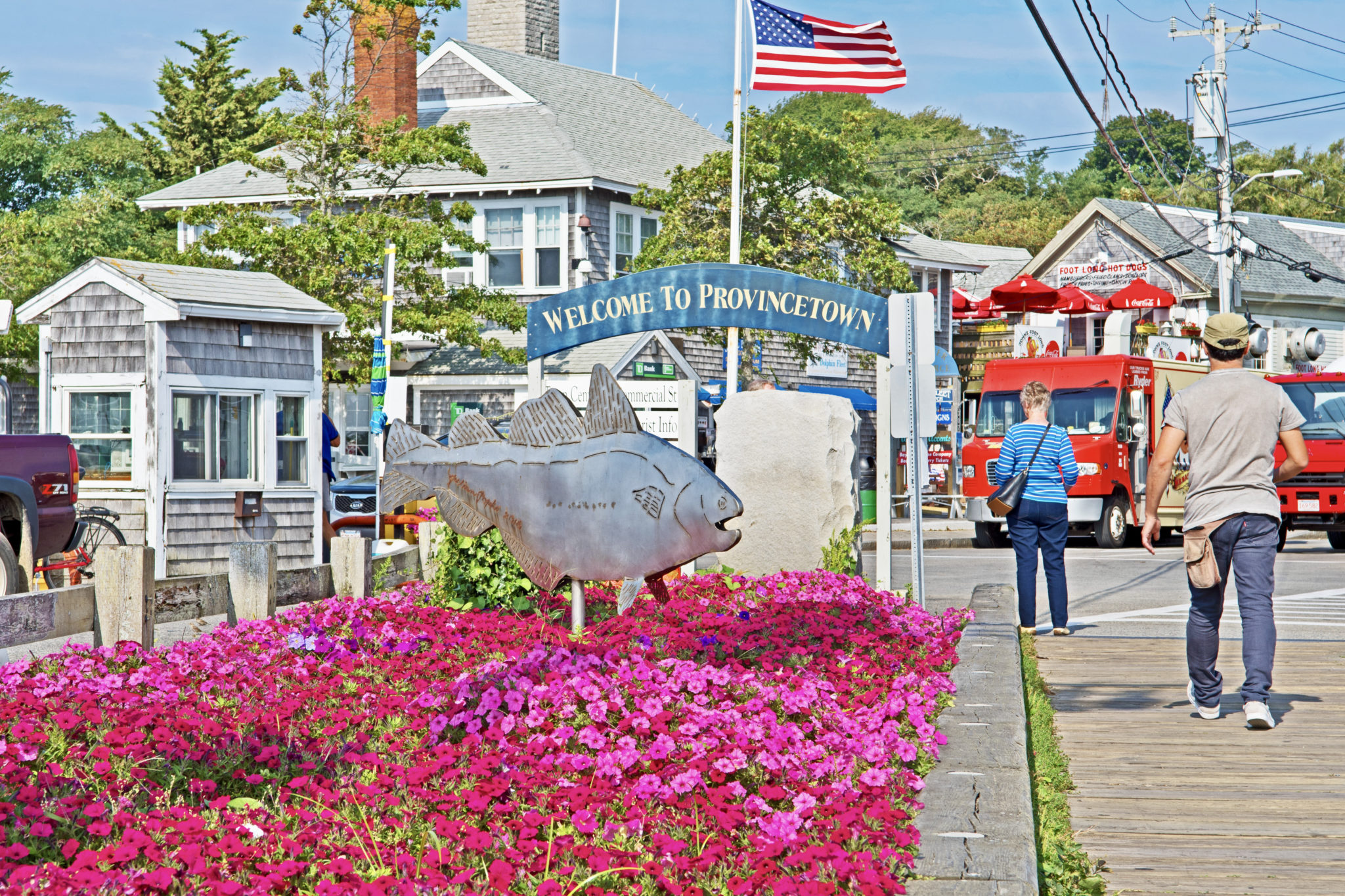 The Schoolhouse Center for Art & Design is home to several galleries as well. The Silas-Kenyon Gallery focuses on contemporary art. If you like vintage photography, head to the Driskel Gallery.
The big ticket art festivals you should have on your radar are the Spring Arts Showcase Weekend in May and the Fall Arts Festival in September and October. There's also an International Film Festival in June.
Don't forget to eat some lobster, preferably at the Lobster Pot. You can go wine tasting at Truro Vineyards or sip craft beers at the Provincetown Brewing Company.
If you visit Provincetown in the summer, you could spend hours in traffic at the Sagamore Bridge if you drive. But you can also take the Providence Ferry. The fast ferry runs direct from Boston to Provincetown from mid-May through mid-October. It's only 95 minutes each way.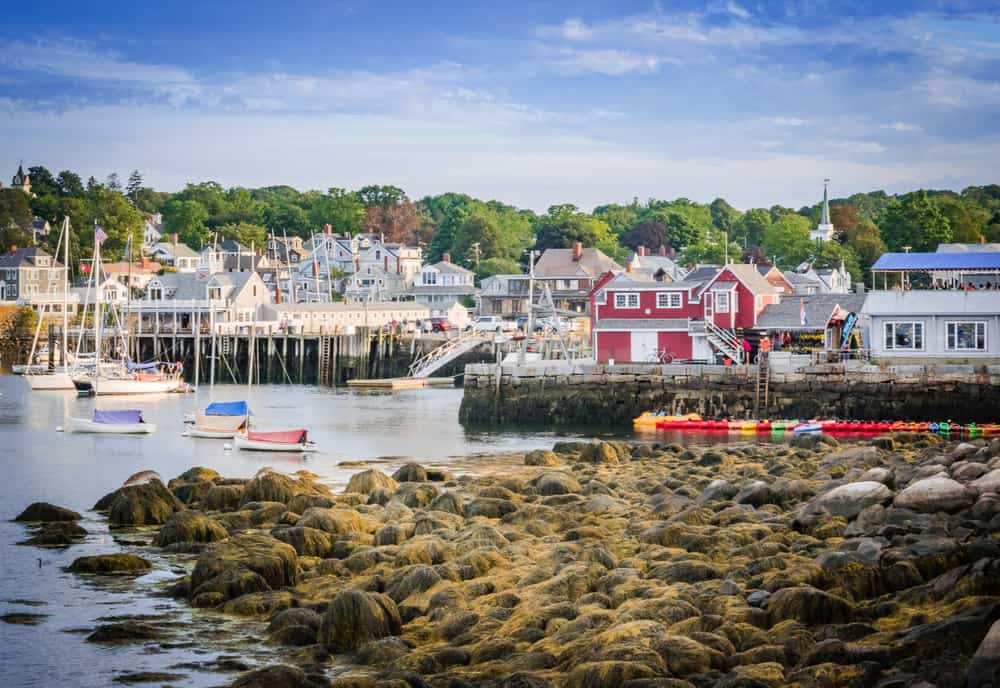 30. Rockport Massachusetts (55 Minute Drive)
If a stunning seaside town is on your Boston day trip agenda, head to Rockport. This little town is on Cape Ann, the "other" cape in northeast Massachusetts. There's a reason why North Shore residents treasure Rockport as a lovely weekend getaway.
There are plenty of things to do in Rockport. Stroll around and admire all the fishing boats and painted cottages. Check out the shops and art galleries on Bearskin Neck, a cute area perched on the edge of town.
Sample some fudge at Rockport Fudgery, eat lobster rolls, relax on the beaches, or take a walk along the rocky coastline at Halibut Point State Park. You can even go on a Cape Ann whale watch.
31. Rye New Hampshire (1:10 Hour Drive)
Another good beach option is Rye. The picturesque town of Rye is home to the best beach on the 18 mile long New Hampshire shoreline.
First settled in 1623 on Odiorne Point, Rye is the birthplace of New Hampshire. Rye is largely undeveloped because it's subject to strict zoning laws.
Rye is a serene contrast to the more frenzied Hampton Beach down the road. In Rye, the tide is small and rolling. It's a perfect place for a beginner surfer.
You can also take a scenic drive down Route 1A past Millionaire's Row and ogle at Rye's breathing early 20th century mansions.
32. Salem Massachusetts (45 Minute Drive)
Even if you haven't traveled in Massachusetts, you've probably heard of Salem. Known as the "Witch City," Salem is a beautiful seaside town and an easy day trip from Boston.
In Salem, you can learn about Salem's creepy past as the "witch capital" of the United States. Salem embraces its notorious past, when the infamous 17th century Witch Trials defined the town.
Salem is replete with whimsical magic shops, all things haunted horror, and ghostly tour options. Many of Salem's top attractions are devoted to its witchy history. This means that the best time to visit Salem in during Halloween.
Salem is also famous for its beautiful 17th century Colonial and Georgian architecture and delicious seafood. Essex Street is the historic cobblestoned district, with the original brick Old Town Hall.
Old Town Hall dates from 1816. The second floor still stands as a public hall and the first floor is used as a public art space.
If you're a literary fan, you should visit the House of the Seven Gables. Built in 1668, it's one of the oldest Colonial mansions still standing in the United States. Nathaniel Hawthorne immortalized the house in his 1851 novel of the same name.
Inside, you'll find a recreation of the secret staircase from the novel. The house where Nathaniel Hawthorne was born is also on the property.
Click here to buy ferry tickets to Salem.
There are some excellent guided tours in Salem. If you're a history buff and want to take a witchcraft trials walking tour, this is an excellent guide. If you're staying overnight in Salem, you can also take this haunted history nighttime tour or this ghosts of Salem walking tour.
33. Stellwagen Bank National Marine Park (30 Minute Drive)
Want to view some of the most massive animals on the planet? The Stellwagen Bank National Marine Park is one of the best whale watching spots in the entire world. It's a wild ocean destination not far from Boston, just 37 miles away.
The sancturay has an extremely productive and diverse environment, which encourages a wide mix of marine wildlife.
Each summer, around 50 recognized humpbacks return. You can also spot dolphins and seals. There are plenty of whale spotting tours available in the area departing from Gloucester or Provincetown. Click here for a list of boat tour operators.
34. Stockbridge Massachusetts (2 Hour Drive)
Stockbridge is the quintessential New England town. It's one of my favorite day trips from Boston.
Stockbridge was settled in 1734 by British missionaries. It's blessed with simple charm and a fabulous line up of cultural attractions.
Three of the greatest American artists and authors called Stockbridge their home — Edna St. Vincent Millay, Herman Melville, and Norman Rockwell. One of America's greatest treasures is the Norman Rockwell Museum.
Rockwell was one of the greatest artists and illustrators in American history. Stockbridge was Rockwell's long time residence and what he called his "best studio yet."
You can also visit Chesterwood, the home of Daniel Chester. It's a 1920s Colonial Revival house.
It comes complete with the soaring studio of the legendary sculptor and landscape architect. Chester created the statue of President Lincoln seated in the Lincoln Memorial in Washington D.C., and you'll see plaster models in the museum.
Every summer, Stockbridge (along with Lenox) hosts the Tanglewood Music Festival. It's a series of concerts across all musical disciplines.
Stockbridge is also home to one of the Berkshires Gilded Age "cottages," Naumkeag. You can tour this quirky 44 room mansion designed by Stanford White, a famed starchitect of the time.
35. White Mountains, New Hampshire (2 Hour Drive)
It's a hike to get to the White Mountains from Boston. But it's worth the long drive to spend a day immersed in nature.
The White Mountains are New Hampshire's premiere attraction. It's the best day trip from Boston for fall foliage.
The White Mountains are incredibly beautiful, with plenty of natural wonders. They've long attracted vacationers, photographers, and adventurous hikers and skiiers. Mount Washington is the Northeast USA's peak of superlatives.
The sinuous Kancamagus Highway in the White Mountains is the granddaddy of New England drives. It's a scenic 35 mile stretch of highway. You'll be dazzled by the incredibly unspoiled scenic views along the way.
There a few pullouts for trailheads, providing great photo and hiking opportunities. Continue east until you hit the Rocky Gorge Parking Lot. Here, you can take a walk along the Swift River and get views of the beautiful Falls Pond.
In Crawford Notch State Park, you can explore the backroads and revel in the beautiful fall colors. If you'd like to do some hiking, there are 35 hiking trails of varying difficulty.
Don't leave without experiencing the Mt Washington Cog Railway. It's a historic train ride up to the summit of Mt. Washington. The mountain is the tallest one in the northeastern United States at 6,289 feet.
Aside from driving around soaking up the scenery, you can explore the cute downtown of North Conway, relax at White Lake in Tamworth, do a canopy tour at Bretton Woods, go on a waterfall hunt near Conway.
36. Worcester (1 Hour Drive)
Right in the heart of Massachusetts, Worcester is one of the best day trips from Boston. Worcester is the second largest city in Massachusetts after Boston. It's just an hour away from Beantown.
Once in Worcester, take a gander through the huge exhibitions at the Worcester Art Museum. You can easily spend a good few hours inside. The museum has works of Impressionism, Roman mosaics on the Renaissance Court floor, medieval armor, and Paul Revere's silver collection.
Be sure to visit the Bancroft Tower. On the National Register of Historical Places, it's been around in Worcester since 1900. This fantasy medieval castle was built on a whim to honor a US Navy pioneer. It's a miniaturized castle in the middle of a park.
At night, you can take in a theater or music performance at the elegant Hanover Inn, Mechanics Hall, or Tuckerman Hall.
I hop you've enjoyed my guide to the best day trips from Boston. You may enjoy these other New England travel guides:
If you'd like to take some day trips from Boston, pin it for later.