Planning a trip to Lisbon Portugal? Here are my best tips and tricks for visiting Lisbon in an efficient and enjoyable way. I also tell you what tourist traps to avoid at all costs.
Lisbon is a feast for the eyes. It's an artistic ensemble of sparkling azulejos, eye candy vistas, pastels houses, and melancholic Fado music. Lisbon just exudes old world charm.
But like most popular capital cities, Lisbon has its fair share of tourist traps and suffers from overtourism. Many "must see" tourist sites are overhyped and can easily be skipped or viewed with a skeptical eye.
After a couple geographical cures in Lisbon, here are my takeaways and "what to skip" suggestions for Lisbon.
I know some of these Lisbon tips may seem counter-intuitive, but I'm just giving my advice. I dislike lines, crowds, and tourist traps, so that informs my POV.
If you don't want to waste time, money, or effort in Lisbon, here are the tourist traps you should avoid and things to do in Lisbon instead.
Tips For Visiting Lisbon
Here's my list of must know tips for visiting Lisbon and avoiding tourist traps.
1. Tram 28
My first Lisbon tip is to skip the famous yellow Tram 28. Yes, I know it goes through many famous neighborhoods of Lisbon.
But there will be long lines to hop on board. It's slow and insanely overcrowded with sweaty tourists and locals packed like sardines. You could be on it for an hour. Who wants that when you could just walk? Or use Uber; it's dirt cheap.
Tram 28 is also notorious for pick pockets. And you'll be squinting at lovely neighborhoods through dirty windows.
If you want a tram experience, hop on the Elevator da Glória in Restauradores Square or Elevator da Bica on Rua de São Paulo. Both are quick rides up to Bairro Alto.
You can also book a 3 hour guided Segway tour to get around and see the main attractions.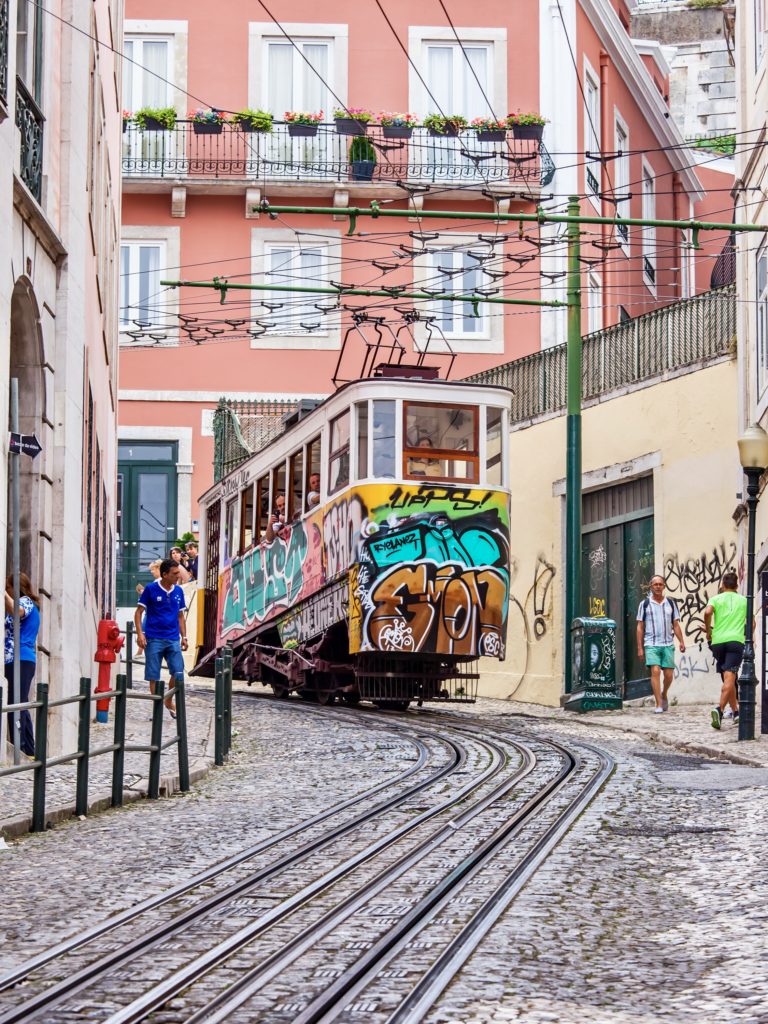 2. Santa Justa Elevator
I'm not sure why Santa Justa Elevator is billed as a must visit Lisbon attraction. The neo-Gothic wrought iron elevator is legendary and lovely, to be sure. But it can be easily admired from the street.
The lines are exceedingly long, deathly long. It's simply not worth your time in Lisbon to wait for an hour or two to go up and down. My advice is to snap a picture and go on your way.
If you must ride the elevator, you'll have to pay € 6 and arrive at 7:30 am when it opens. That's what I did, after gasping at the lines the day before.
I had a great view of Carmo Convent, which you can visit in the Chiado area. But I couldn't really see or photograph St. George's Castle because of sun glare.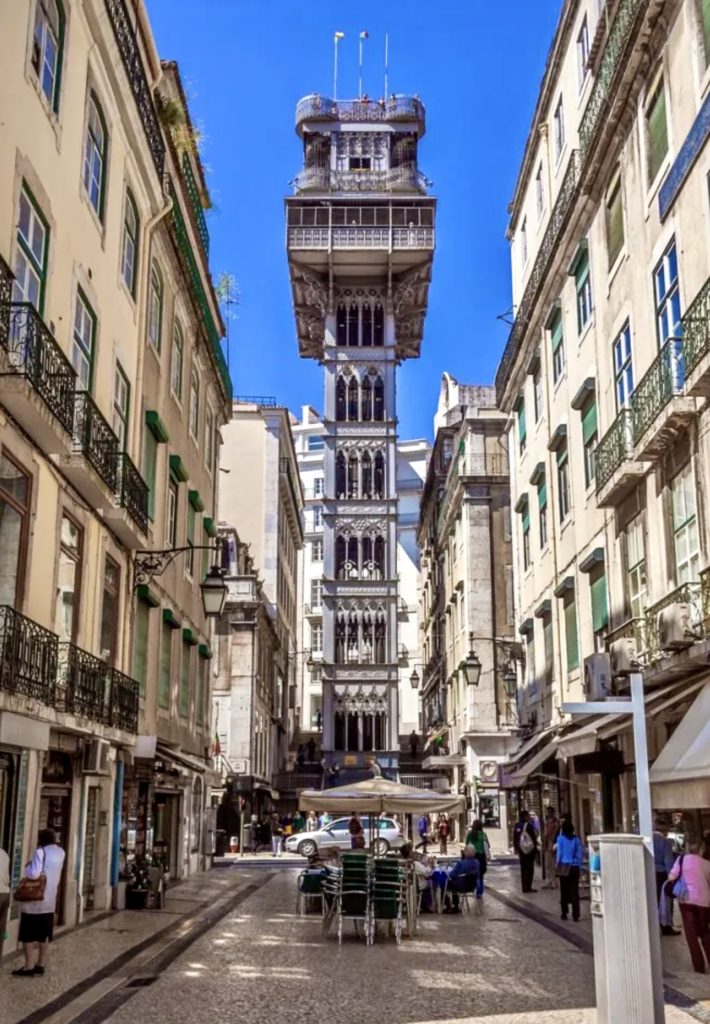 But there is another way to see the structure that avoids the lines. You can get to the elevator through Largo do Carmo. There is a tiny street on the right side of the Carmo Convent that leads to it.
You can actually go inside the elevator and see the views. If you want to go higher, you can pay like 1/2€ and go up the stairs to the very top. You'll have the same view you would have if you were waiting down in Rua Áurea.
You can also get the same view from the São Pedro de Alcântara miradouro, which can be accessed for free from Largo do Carmo square in Chiado.
There are also plenty of other Lisbon miradouros with lovely views. Here are the best ones.
3. St. George's Castle: Recreated Castle
Despite what you may have read, St. George's Castle in the Alfama district is not an "ancient" Moorish Castle. In fact, it's a mid 20th century replica built by dictator António de Oliveira Salazar in 1938-40.
It's rather atmospheric and has amazing views. But you have to wait in line and pay € 8.50 to see them.
There are other free miradouros in Alfama, including Largo das Portas do Sol and Miradouro da Graça.
The best thing about the castle is the showy peacocks. The castle itself is skip-able, especially if you're a genuine ruin luster.
4. Decoding Sintra, the Most Popular Day Trip from Lisbon
Nearby Sintra is rock star glamorous. It's got castles and palaces galore. It's dazzling, colorful, and romantic.
Even the town itself is quaint, filled with artisan shops, and well worth exploring. Sintra packs a punch and delivers on its hype.
It's also a popular place loaded with tourists, and it wasn't designed for congestion. Don't just day trip there. You'll only see a fraction of what's there.
Try to stay overnight unless you're severely pressed for time. The castles are spread out, and you can't walk to many of them.
Here are my tips for visiting Sintra and my one day in Sintra itinerary.
My favorite palace there is the mysterious Quinta da Regaleira, which has fabulous gardens filled with intriguing follies, beautiful stone spires, and a Masonic initiation well.
If you can't stay overnight, I recommend skipping Monserrate Palace (too far afield) or substituting Monserrate Palace for the overcrowded Pena Palace.
You can also skip the National Palace of Sintra in the center of town. You'll get a good look at it's exterior anyway, and it's the least impressive.
If you only like luxurious palaces, you can skip the 10th century Moorish Castle. But this castle has the best views in Sintra.
If you dislike crowds and lines, skip Pena Palace altogether. Although there is a reason for its popularity. It's a showstopper.
You can certainly skip the interior of Pena Palace and just explore the colorful exterior and the gardens. There's a separate queue to go inside, which does not have a skip the line ticket option.
Inside, the palace is filled with antique furniture and royal decorations. They give you a real feel for royal life back then.
On balance, though, I'm not sure it's worth the long wait. You shuffle at a snail's pace from room to room in huge crowds. The real beauty is outside.
That said, you can avoid the wait and lines, if you pre-book a guided skip the line tour. This may be the best way to see Pena Palace.
You can also book a guided tour day tour from Lisbon that includes Pena Palace and Quinta da Regaleira.
5. Sé Cathedral: Nothing To See Here
Another tip for visiting Lisbon is to skip going inside Lisbon Cathedral, often called simply the Sé. It's a Roman Catholic church with a fortress like exterior in Alfama.
Like St. George's Castle, it's been rebuilt to look authentic. The church and its imposing facade do fit in nicely with the vintage look of Lisbon.
But the church is nothing special inside. So don't bother waiting in long lines to access it, unless you are extremely serious about church interiors. The cloister also costs € 2.50.
6. Jerónimos Monastery: The Sticky Ticket Situation
This gorgeous 16th century Manueline structure, Jerónimos Monastery, is quite stunning and a UNESCO site. Personally, it's so unique that, on balance, I thought it was worth the rather hefty 12 € price tag to enter.
But it can be a difficult attraction to visit. Getting a ticket is the real problem. You can't buy tickets on the website online, that I could find.
But you can pre-book a skip the line ticket from a reseller like Viator. As I explain below, this is by far the best way to go even if it costs a bit more.
If you're buying a ticket once you've arrived, there's a long queue at the main entrance. At least there was in late April, somewhat to my surprise. I can't imagine what it would be like in high season.
But, don't be fooled and waste time. There's actually a separate line for purchasing tickets off to the left of the main entrance. And there's a huge line there as well.
You purchase tickets via a machine, and some people were befuddled by it. It can all be very time consuming.
If you're visiting in high season, you may want to skip the interior and just admire the exterior.
To speed up the arduous process, my daughter and I split up. She stood in the entrance line while I stood in the ticket line. I highly recommend this approach.
I didn't know this at the time, but if you are willing to pay 2 € extra, you can skip one line. Instead of waiting in the monastery ticket line, head over to the nearby Archaeological Museum.
There, you can walk right in and buy a combined 14 € ticket for both the museum and the monastery. If I had a do over, I would definitely have used that approach.
I also wouldn't have gone first thing in the morning. Though that made parking easy.
I would visit an hour or so before it closes when the day trippers have dispersed and gone back to the historic core of Lisbon.
The equally stunning Manueline church is free. There's a separate line for that too (to the right of the line at the main entrance), but it moved fairly quickly.
If you don't want to pay the high ticket price for the Jeronimos Monastery and want somewhere less touristy, my Lisbon tip is to try the jaw dropping 17th century Sao Vicente de Fora Monastery in the Alfama neighborhood of Lisbon.
The 16th century monastery is jaw dropping. It's richly decorated, with beautiful sun-dappled cloisters. It's inexpensive, crowd free, and has a killer rooftop view.
Here's my guide my guide to all the must see attractions in Lisbon's Belem district.
7. Belem's Famous Pastéis de Belém: Get Them Anywhere
Many tourists make the trip to Belem just to visit the Pastéis de Belém bakery on Rua de Belem, 5 minutes from Jeronimos Monastery. They come for the gooey egg custard tart known as the pastel de nata.
This bakery has a compelling back story. It supposedly has the "original" secret pastel de nata recipe passed on through many generations of monks from the monastery.
I'm sure they're quite delicious, and I do love baked goods. But there was no way I was queueing in that horrendously long take out line.
You can get pastel de nata everywhere in Lisbon. Unless you're desperately hungry or are a foodie determined to compare these tarts with other tarts you've had elsewhere, I'd skip it.
8. Belem Tower
I enjoyed casting my eyes on the Manueline-Gothic style Belem Tower, which is also part of Lisbon's UNESCO designation. It's just a 15 minute stroll down the road along the river from the Jerónimos Monastery.
There are plenty of places to sit and admire it. It looked very Game of Thrones-ish to my eye, which is always appealing.
You have to buy a separate ticket for the tower at the tower itself. It's no longer included on any combined tickets.
You might consider booking a 2 hour skip the line guided tour that includes the monastery and the tower.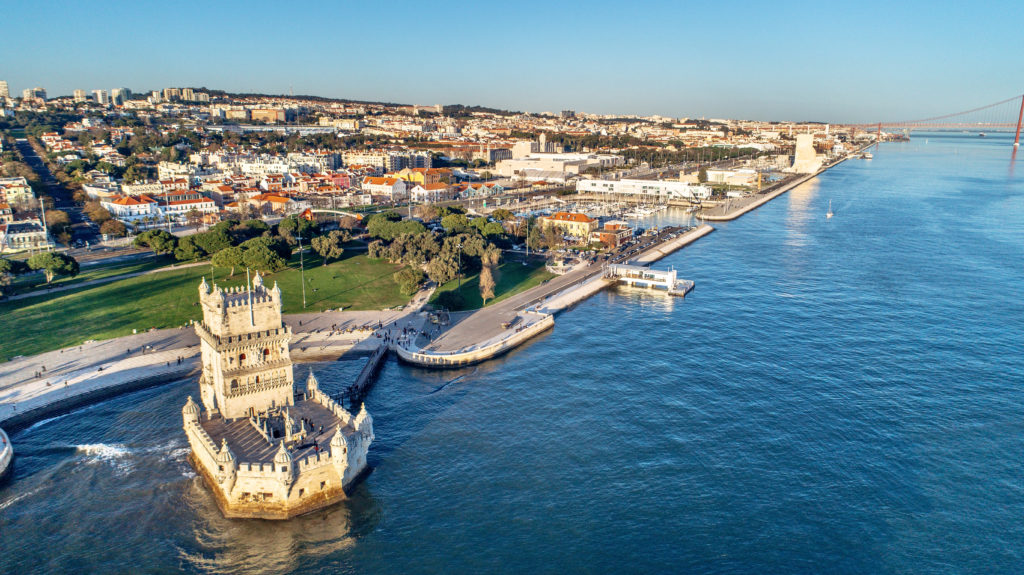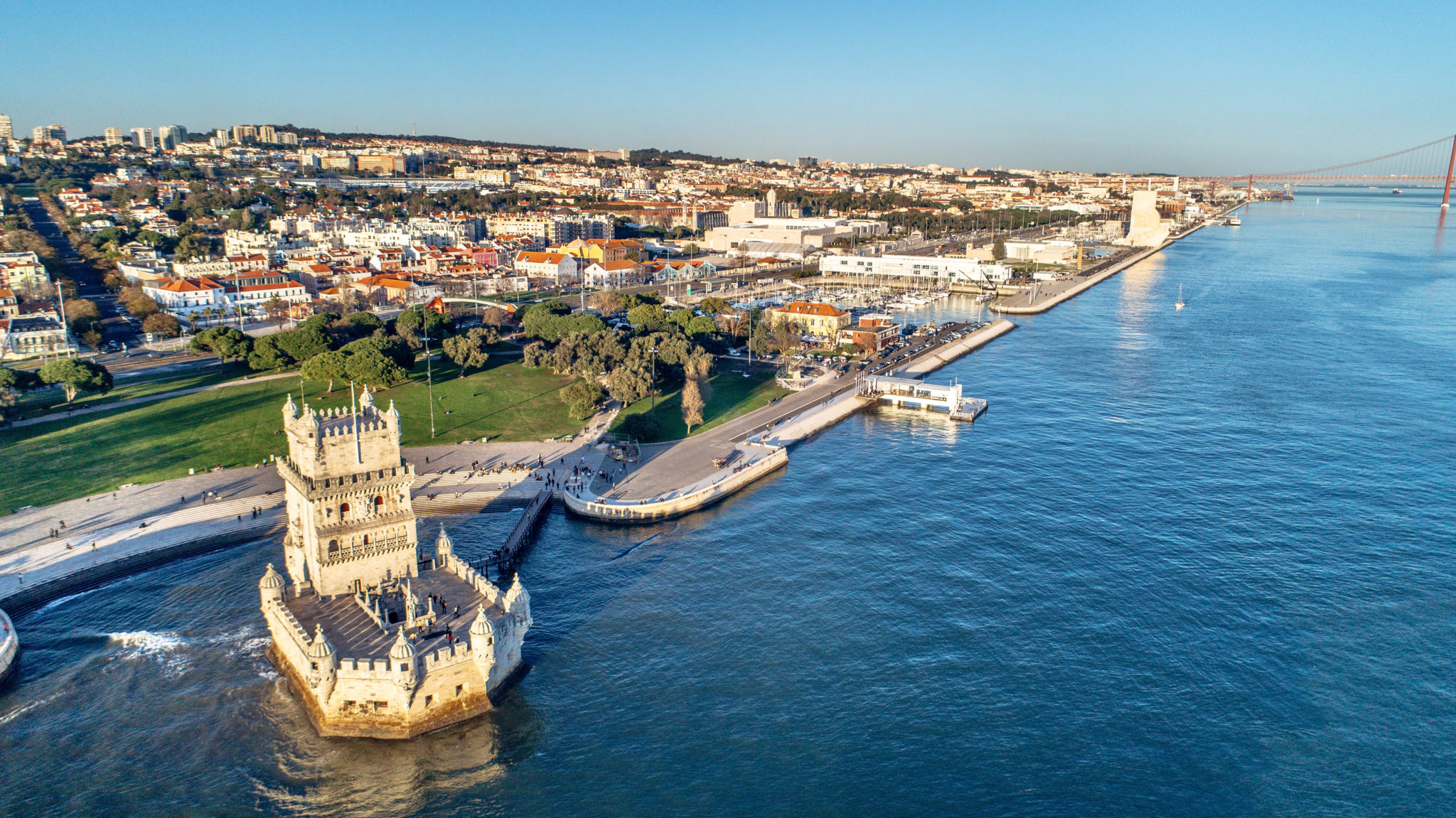 But there was a massive line to get in, a massive line in the blazing sun on a hot day. We didn't wait, and I'm glad.
I later read that it's a stony cramped experience. You can only move in one direction when you see the flashing green light.
If you must trudge inside a cramped monument, The Discoveries Monument is your better bet.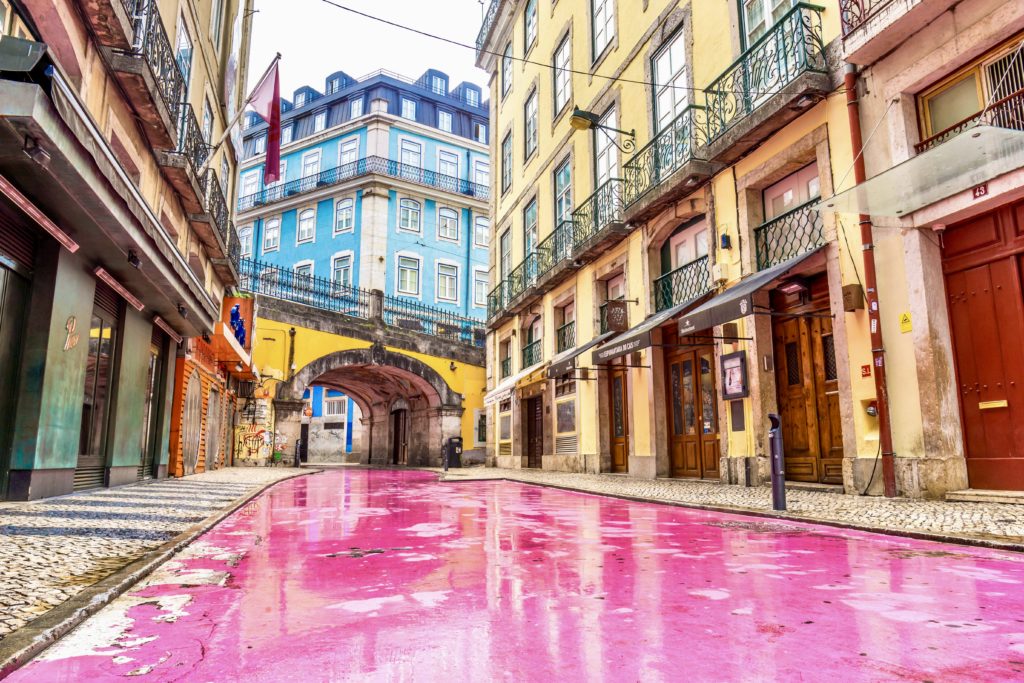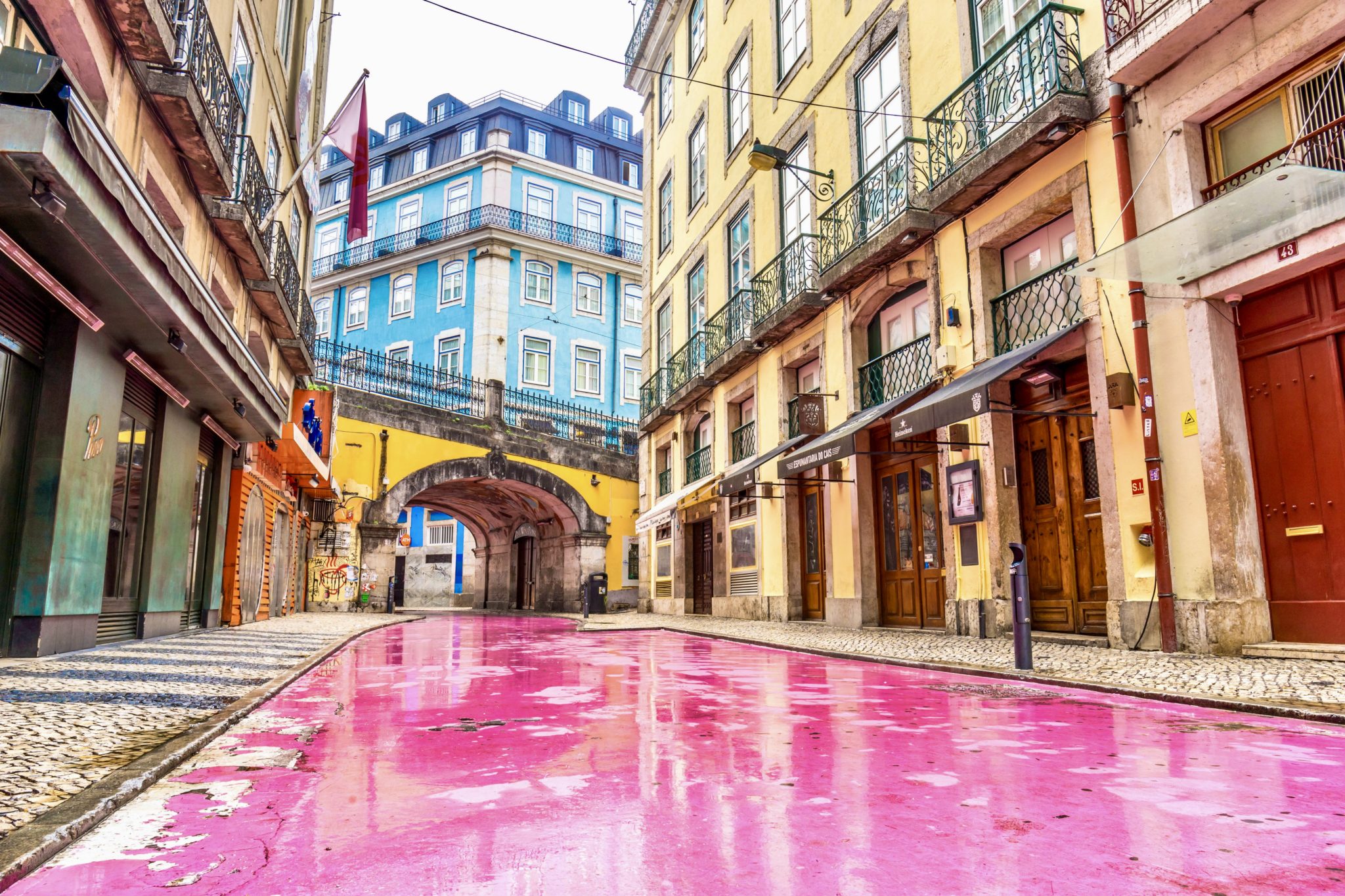 9. The Pink Street: Don't Believe Instagram
The famous Pink Street, or Rua Nova do Carvalho, in Bairro Alto is Instagram famous.
Many people seek it out for that reason alone. The street was once in a red light district.
Now it's just a clubbing hotspot. If you're looking for night life, by all means go there and enjoy the street.
If you're not, skip it. It's just a rather unattractive dirty street that's a tourist trap in Lisbon.
10. Time Out Market
I have somewhat mixed feelings about this Lisbon hotspot. On the one hand, it's not really an authentic Portuguese experience.
And it's always crowded. You may have trouble finding a seat.
On the other hand, it's in a cool converted warehouse. It's foodie heaven, with some of Lisbon's best chefs serving incredible food in the many food stalls.
There are also wine bars galore. Portuguese wine is cheap and tasty. IMO, it's better than France or Spain for the price.
I went to Time Out Market for dinner one night and tried two different places. I had some incredible shrimp and octopus.
Though it was crowded, it had an energetic, fun vibe.
11. Rua das Portas de Santo Antão
Another Lisbon tip is to avoid the pedestrianized Rua das Portas de Santo Antão near Rossio Square. It's full of tourist trap restaurants with pictures on the menus.
You'll be harassed by aggressive waiters urging you to sit down at their establishment.
I was, and I just can't stand the hustle. We beat a hasty retreat. Find a quiet spot on a quaint cobblestone side street instead.
12. Graça Instead of Alfama
If the lovely Alfama is crowded with tourists and tourist buses, skip it and head to neighboring Graça. It's off the usual tourist track and has an authentic local flavor.
Graça also has two of the best viewing points in Lisbon: the Miradouro da Graça and the Miradouro de Nossa Senhora do Monte.
Right next to the Miradouro da Graça is the Church of Convent of Graça, a rather large Baroque edifice that has been restored.
There's also a lot of cool street art in Graca. You can even book a 2.5-3 hour street art tour of Graca and other Lisbon neighborhoods.
13. Baixa District: Tacky Souvenir Shops
Another Lisbon tip is minimize your sightseeing time in the Baixa neighborhood.
The main square, the Praça do Comércio, is very striking. It's Neo-Classical buildings are impressive and should be admired. But that's about it.
Other than that, this area filled with tourist shops and tourist restaurants. It's not the place to buy souvenirs.
The best thing about Baixa is that is has tram, train, and bus connections to get to other places in Lisbon. Otherwise, make a quick stop and spend time elsewhere.
14. Pilar 7 Bridge
I'm not sure what the big deal is about a bridge. I guess it's fine to look at.
But to pay 6 € for another view that you could get elsewhere? And it's not that easy to get to either. Hard pass, unless you're a bridge fanatic or engineer.
One upside: it's included in the Lisbon Card.
15. Chiado
Instead of cruising Baixa or Bairro Alto during the day, another Lisbon tip is to try the Chiado neighborhood. I loved it during my visit. It's a rather arty upscale neighborhood with lovely squares.
Chiado is filled with lovely cafes, chic art galleries, and tony boutiques (though the restaurants are quite touristy). It also has a proud literary history. When I was there, there was an open air book market on Rue Anchieta.
Chiado is also where you'll find the Carmo Convent, probably the best historical site in Lisbon and a memorial to the worst day of Lisbon's history, when a 1755 earthquake demolished the city.
READ: Guide to Carmo Convent
And you can find the world's oldest bookstore, Livraria Bertrand. The bookstore opened its doors in 1732.
It was destroyed by the 1755 earthquake, but rebuilt in its current location on R. Garrett 73-75. Books are everywhere, tucked into odd shaped nooks. There's an ancient magic to its walls and vaulted ceilings.
You can book a 3 hour guided walking tour of Chiado and Bairro Alto.
16. Museums in Lisbon
There are quite a few museums in Lisbon. This isn't so much a "what to skip" tip, as what to pick if you only have a few hours for a museum.
If you have to pick one museum, my favorite is the Museu Nacional do Azulejo or National Tile Museum. It's housed in a beautiful 16th century convent.
The museum delves into the rich legacy of Lisbon's azulejo tiles. The convent is itself a piece of art. And the adjoining Madre de Deus Church is a glittering, riotous hunk of gold.
Azulejos are Portuguese to the core. And every inch of the museum is filled with azulejos from the 15th century to present.
The piece de resistance is a 75 foot long panel made of more than 1,300 tiles, created in 1738. It shows Lisbon in all its glory as it existed before the 1755 earthquake.
The museum is slightly off center. Take an Uber or catch the 794 bus from the river side of Praça do Comércio.
17. How To Get Around Lisbon
Lisbon is a very walkable city and easy to navigate with a map. You can also book a guided walking tour to get around and get a history lesson at the same time.
Still, Lisbon is still quite spread out and you may need to use public transport. On that score, Lisbon has loads of colorful vintage trams and funiculars rattling down the streets aside from Tram 28.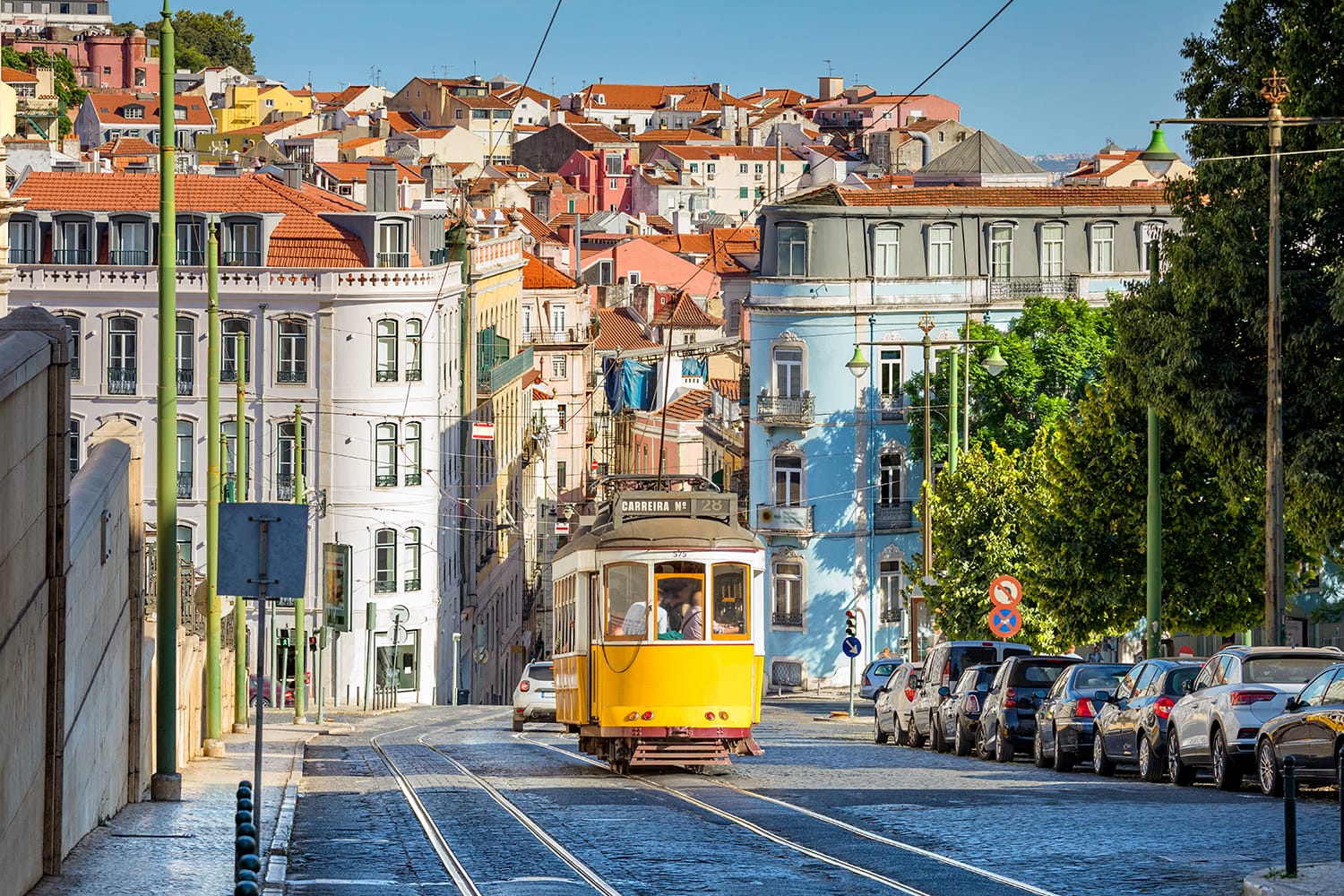 You can also take Uber and taxis, with Uber being slightly cheaper. Other fun ways to get around Lisbon include:
You can also take the hop on hop off bus.
18. Lisbon Card
If you're planning on seeing most of the popular attractions, you should consider purchasing the Lisboa Card.
You'll save money and the hassle of waiting in ticket lines. It also gives you free transportation. You can purchase it in 1, 2, or 3 days increments.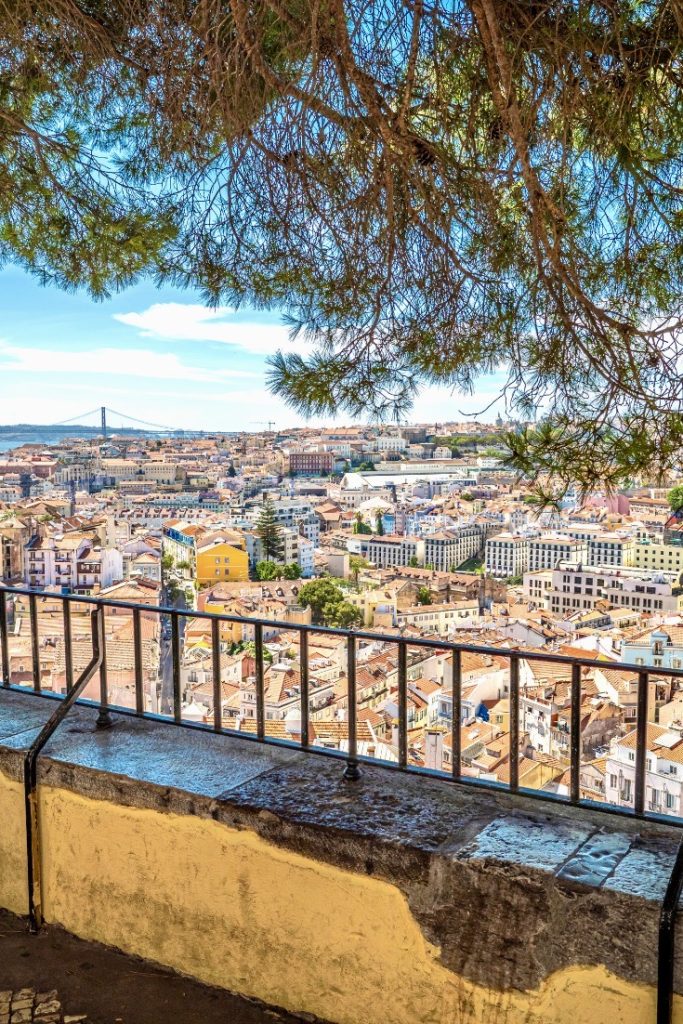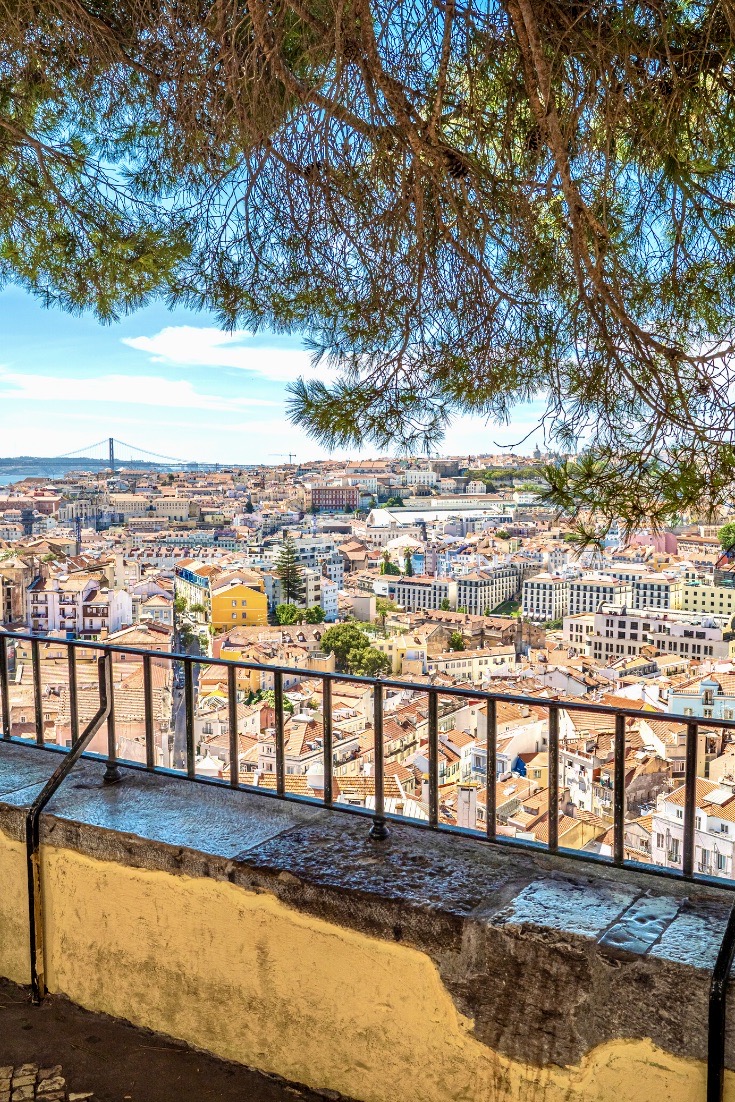 19. When To Visit Lisbon
If you have the flexibility, the best time to visit Lisbon is the shoulder season, in the spring or fall. In the summer, the city crammed jowl to jowl with tourists and swelteringly hot. You have to be a sun lover.
I've gone several times in May. But even then the temperatures were already in the high 80s.
Many tourist sites in Lisbon are closed on Mondays, so factor that into planning your Lisbon visit.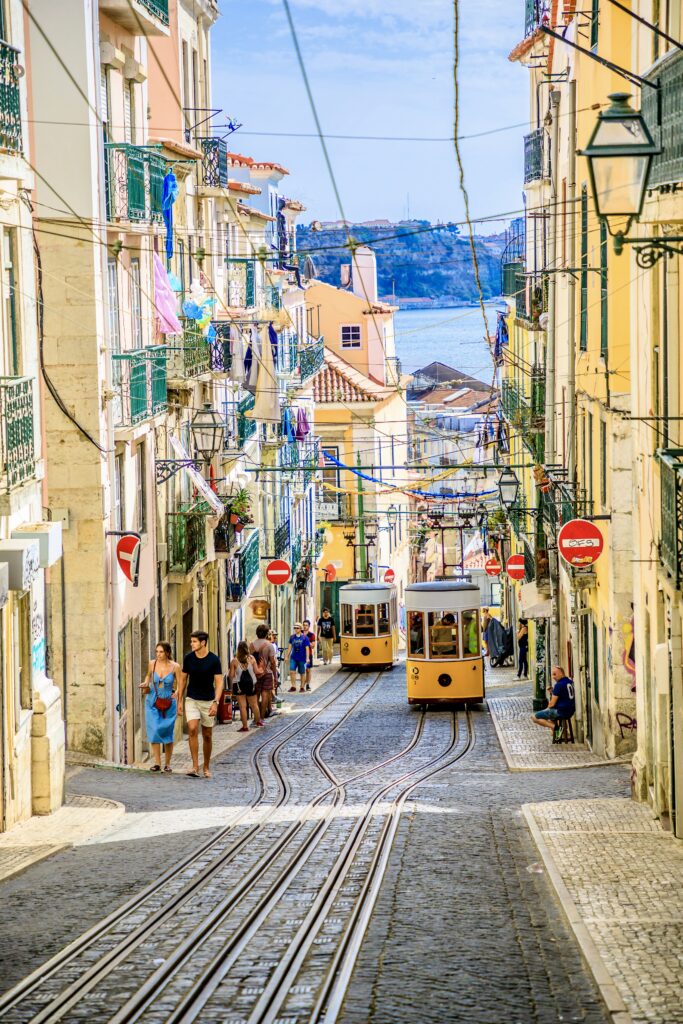 20. Is Lisbon Safe?
For a big city on the whole, Lisbon is a safe destination. Like all European cities, you need to be careful of pickpockets in busy or crowded areas and especially on the trams. I always carry a small PacSafe backpack.
I hope you've enjoyed my tips for visiting Lisbon. You may enjoy these other Lisbon and Portugal travel guides and resources:
If you'd like to avoid tourist traps and need tips for Lisbon, pin it for later.