Planning a vacation in northern Spain? Here's my guide to an epic one week road trip in northern Spain.
This itinerary starts and ends in the exciting cultural and culinary city of Bilbao. It covers all the top must visit attractions, towns, and historic landmarks in the Basque, Cantabria, and Asturias regions of Spain.
I fell utterly in love with northern Spain on a recent geographical cure. It earns its nickname of the "Natural Paradise."
I've written about Barcelona in many other posts.
This itinerary focuses on the less touristy and drop dead gorgeous regions of natural beauty — the Basque country, Cantabria, and Asturias.
If you're an "is it pretty?" person, northern Spain is for you.
Overview Of One Week In Northern Spain
Here's a quick snapshot of my recommended one week itinerary for a self drive road trip in northern Spain. It's a loop that starts and ends in Bilbao.
You'll have two bases, Bilbao and Oviedo. I give you tips on where to stay in each city.
Day 1: Explore Bilbao
Day 2: Day Trip To San Sebastian
Day 3: Day Trip To San Juan de Gaztelugatxe
Day 4: Drive To Oviedo, stops in Santillana del Mar and Comillas
Day 5: Explore Oviedo
Day 6: Day Trips to Cudillero and Gijon
Day 7: Drive Back To Bilbao, stop en route in coastal villages
One Week In Northern Spain Itinerary
I drove to northern Spain by car from southern France.
If you're doing the same, I stopped in two idyllic little towns on the way, the elegant town of Pau France in the French Pyrenees and the colorful Basque town of Hondaribbia just over the Spanish border.
READ: 10 Day itinerary for Southern France
Because I don't like to switch hotels or Air Bnbs every night, I based myself in two cities in northern Spain, Bilbao and Oviedo.
From there, I could access the best sites — spectacular coastlines and natural wonders, tiny medieval villages that seem stuck in time, and the cultural hotspots of the two cities.
If you've been to sunny Andalusia in southern Spain, you'll find that these two regions of Spain are utterly different. You'd hardly believe you were in the same country.
Andalusia is sunny and sand-baked with Moorish goodies galore. In contrast, Northern Spain is a glossy green, with mountains reaching to the sky and rocky coves and crescent beaches that beckon.
READ: Most Beautiful Towns in Andalusia
Here's my step by step guide to touring northern Spain by car in one week. A car will give you much more flexibility. It's not that expensive, if you can drive a clutch.
And it's perfectly safe and easy to drive, as long as you don't venture into a busy city center or a tiny medieval village with one way lanes. Most of the places on my itinerary can be accessed by bus, but it won't always be easy.
READ: Tips for Renting a Car and Driving in Europe
One Week In Northern Spain Itinerary
Here's how you should spend 7 blissful days in northern Spain
Day 1: Bilbao: Art and Starchitecture
On day 1, explore your starting point, Bilbao, pronounced Bilbow.
It's the cultural hotspot of the Basque region. Bilbao is beautifully situated amid rolling green hills and tucked between mountain ranges.
It's a surprising and avant garde place, casually combining historic Spanish flair with modern starchitecture.
Bilbao is no longer the industrial city that people think of from past decades, though it's still agreeably down to earth.
READ: Complete Two Day Itinerary for Bilbao
Bilbao is a great Spanish city to explore if you fancy art, culture, and ancient cobbled lanes. It's alive with local energy.
Bilbao is a hip haven for foodies, overflowing with fantastic restaurants, many of the Michelin variety.
While you're there, visit the iconic Gehry-designed Guggenheim Museum, stroll the "seven streets" of the historic center (Casco Viejo), and indulge in the inventive tapas.
Click here to book a guided walking tour of historic Bilbao. Click here to book a skip the line ticket and tour of the stunning Guggenheim Museum. Bilbao is also a fantastic place to take a guided gourmet food tour.
I have big love for Bilbao. Here's my complete guide to the must see sites in Bilbao.
Day 2: San Sebastian: International Culinary and Beach Capital
Bilbao is a great base for day trips in northern Spain. Your first point of call is San Sebastian.
This Basque city is objectively beautiful, and tourists flock there. It's renowned as a foodie resort town and beachy playground. Its stunning beach, La Concha, is world famous and considered one of Europe's best beaches.
If you're a food traveler, you'll be in seventh heaven.
San Sebastian is frequently called the "food capitol of the world. It boasts three restaurants with the rarest of accolades: a three star Michelin rating.
San Sebastian also has a thriving pintxos scene. Pintxos are the Basque version of tapas.
You can spend the day wandering around and indulging in these haute cuisine mini meals.
San Sebastian's historic center, Parte Vieja, is picturesque, though I found it fairly underwhelming. It's much tinier than Bilbao's Casco Viejo and the sites will be quickly exhausted.
It's also quite touristy. If you don't like crowds, try to visit San Sebastian in the off season.
While you're in San Sebastián, you may want to book a guided walking tour of the old town. If your'e a foodie, you should definitely consider a guided food tour when you're there. I booked this 3 hour I Travel Food Food tour and loved it.
You can get from Bilbao to San Sebastian by train or bus. You can also book a full day guided day tour from Bilbao. Or book a guided day tour that includes San Sebastián and winery visit.
Day 3: Gaztelugatxe: a Natural Wonder
On day 3 of your on week in northern Spain itinerary, take an easy day trip to the absolutely jaw dropping San Juan de Gaztelugatxe.
It's a magical spot only about 45 minutes from Bilbao. Gaztelugatxe is really a must see destination in the Basque Region. And now it's TV-famous.
In the wildly popular HBO series Game of Thrones, Gaztelugatxe appears as Dragonstone — the haunting ancestral home of Daenerys Targaryen, the Mother of Dragons.
In real life, Gaztelugatxe is a fantastical ancient stone foot bridge winding up to a tiny hermitage chapel on Spain's Bay of Biscay.
Here's my complete guide to visiting Gaztelugatxe, and hiking to the chapel.
It's easiest to drive to Gaztelgatxe. But you can also book a guided day tour from Bilbao.
When you're done with your hike, head to nearby Bakio beach to cool off. But if you want a more beautiful beach, drive a little further to beautiful Sopalena Beach. It's one of the best beaches in Basque Country, where cliffs drop into the ocean.
When you're done gasping over the ethereal place, head back to Bilbao. Tuck into some nummy food at one of its fine restaurants. Bilbao has 22 Michelin starred restaurants.
Like San Sebastian, it's considered a foodie haven. Azurmendi is the jewel of Bilbao and this restaurant alone is worth a trip to city. Restaurant Mina is also quite wonderful. You can also book an evening guided food tour.
Where To Stay In Bilbao
Bilbao has some beautiful hotels. Check out Vincci Consulado de Bilbao, a Riverside landmark with a nautical theme and views of the Guggenheim. The Occidental Bilbao has smart guest rooms and a massive swimming pool.
For a real splurge, check out the Hotel Carlton, a five star beauty with old world charm.
There are some nice boutique hotels too, like the artsy designer-styled Hotel Miro near the Guggenheim Museum. Gran Hotel Domine has sleek modern decor and views of Jeff Koon's Puppy sculpture.
Day 4: Drive to Oviedo with Beautiful Stops En Route
Now, it's time to head to your next base, Oviedo.
The distance between Bilbao and Oviedo isn't that far, about 2:45. So if you start early, you'll have time for two stops along the way.
To my mind, the best two places to spend half a day are Santillana del Mar and Comillas in the Cantabria region.
Cantabria is spectacularly beautiful, dotted with rolling hills and cows. It's so verdant and eye catching, you can almost imagine that you're in a Van Gogh painting.
1. Santillana del Mar: a Magical Medieval Village
There's a car park right outside Santilla del Mar. Park and take your pedestrian only stroll in the jewel of Cantabria.
Santillana del Mar is Cantabria's most charming hamlet and one of the prettiest villages in all of Spain.
It's a "living museum" — a delightful warren of dreamy cobbled streets, caramel colored architecture, and romantic wrought iron Juliet type balconies.
At the end of its main drag, Calle Santa Dominga, is the Collegiate Church, which is the most important religious Romanesque monument in Cantabria.
Here's my complete guide to Santilla del Mar. To see all the sites and secret spots, you may want to book a 2 hour guided walking tour.
By northern Spain standards, the town is somewhat touristy. But, hey, it's in rural Spain and nothing like busy Barcelona, so don't be put off. I wasn't even remotely fazed.
2. Comillas: Unexpected Architectural Gems
After you've fueled up on some hot chocolate and churros, it's time to head to Comillas.
The town isn't as picturesque as Santillana del Mar, though it has a wide beach for you to sun bathe when you're done site seeing.
But mainly it's impressive for its architecture. You'd never expect to fin such treasures in an unassuming, almost unknown, small town in Spain.
Comillas has two main sites, both architecturally interesting — Gaudi's El Capricho and Sobrellano Palace.
El Capricho is a rare Gaudi building outside his more well known Modernist architecture in Barcelona.
I like to think of El Capricho as Gaudi's sunflower villa. El Capricho was a youthful project for Gaudí.
In 1883, Máximo Díaz de Quijano commissioned Gaudí to build him a summer villa. Quijano, an amateur musician and botanist, chose the lilting name El Capricho, which means whim or folly in Spanish.
Gaudí designed the villa. But he'd also begun work on his famous opus, the Sagrada Familia. So his fellow architect Cristóbal Cascante supervised the villa's construction.
The villa became a museum in 2010. When you enter, you can sit down and watch an orientation video with English subtitles.
A short walk up the hill, not far from El Capricho, you'll find Sobrellano Palace.
The rather over the top Neo-Gothic palace was commissioned by Antonio López, the first Marques of Comillas, and designed by Juan Martorell.
The palace was a vanity project. It was the fashion for aristocrats to have fancy country estates. Interestingly, Sobrellano Palace was the first building in Spain to have electricity.
You can only visit the palace on a guided tour. There's hourly tours (in Spanish) that last 40 minutes.
But you can cast your eyes on Gaudi-designed furniture, magnificent fireplaces, paintings, and stained glass. Outside the palace is a beautiful chapel-pantheon, also Gothic in design.
Day 5: Fairytale Oviedo: Sculptures & Cider
I just loved storybook Oviedo. The sparkling clean capitol of the Asturias region of Spain is a vibrant and enchanting place.
Like a giant museum, it's filled with beautiful architecture and dotted with whimsical sculptures. It's surely one of the most beautiful and historic places in northern Spain. To see it all, you can book a guided walking tour.
Woody Allen famously loves Oviedo, which he describes as "a delicious, exotic, beautiful, clean, pleasant, tranquil and pedestrianised city, like it didn't belong to this world, like it didn't exist … Oviedo is like a fairy tale."
Allen filmed portions of his 2008 film Vicky Cristina Barcelona in Oviedo. There's a statue-monument to him on Calle Milicias Nacionales, created by the Spanish artist known as Santarúa.
Founded in the 8th century, Oviedo is also an ancient place. It's delightful old town makes you want to stroll endlessly through its parks and plazas, gazing in admiration at its colorful terraces and balconies.
During your walkabout, be sure to take in Oviedo's must see sites — the flamboyant San Salvador Cathedral, the Romanesque churches, the stately Plaza Alfonso II, and the university.
Of special note is the San Miguel de Lillo chapel, just outside Oviedo. It's a pre-Romanesque royal chapel from the 9th century used by King Ramiro I.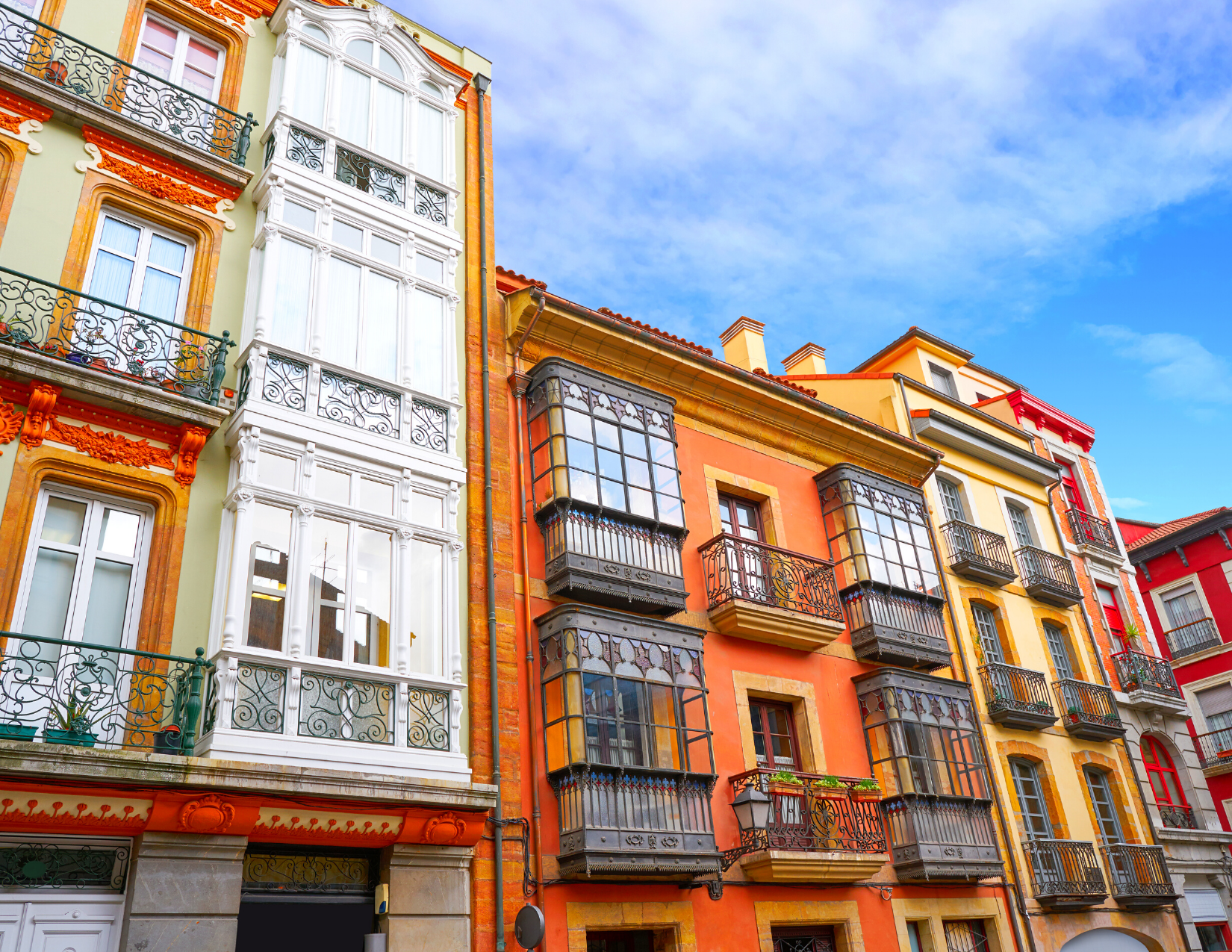 It was designated a UNESCO heritage site in 1985. It's a 30-40 minute uphill walk or 10 minute drive from the Oviedo city center.
Be sure to indulge in the local Asturias cuisine while in Oviedo. It's hearty, to say the least. Think meat, fish, and strong stinky cheeses.
Be sure to try fabada, which is a local dish made of beans, sausage, bacon, and ham. Oviedo has many fine restaurants. But I recommend La Corte de Pelayo or La Genuine de Cimadevilla.
Try the the local tipple, Asturias cider. For a proper Sideria, head to Calle Gascona to best sample the local drink. Cider is poured from an impressive height — performance art style — and meant to inject effervescence into a flat drink.
To me, it seemed a little bitter and acidic. I think it's best sipped with food.
Day 6: Cudillero: Color by the Sea
The next day you're off to the ridiculously eye catching fishing village of Cudillero, which might be Spain's prettiest seaside village.
Cudillero is just 40 minutes from Oviedo and well worth the detour. A place of hills, you'll have to park outside the teeny tiny town and walk in.
In Cudillero, white and pastel houses are piled in a mishmash on top of each other.
There's a pleasingly startling contrast between the terra cotta roofs and the blue sea. It's said that each house in the village matches the color of the owner's fishing boat.
There are ample cafes to rest your feet, feast on seafood, and take in the sweeping views of the village and the sea.
Picture perfect Cudillero is really a must see gem in northern Spain. Don't miss it; it only takes a half day.
If you're feeling ambitious, you can add nearby Gijon to your itinerary for Day 6. It's less than 40 minutes from Cudillero. Spend a half day there or relax over cocktails and dinner.
Or you can book a guided day tour from Oviedo that includes Cudillero and other villages in Asturias.
Gijon is a handsome oceanfront city. It's packed with buzzy cider bars, cafes, and fishing village vibes.
It doesn't have the crumbling old world charm of Cudillero. But it's definitely worth a visit.
If you have enough time, take a walk along Gijon's coastal path. Hugging the crystal clear Bay of Biscay, it goes from Playa de San Lorenzo, Gijon's main beach, towards La Nora.
Where To Stay In Oviedo
The Eurostars Palacio de Cristal is a luxury hotel with minimalist modern architecture and great city views. The Hotel and Spa Princesa Munia is a hotel fit for royalty. It has beautifully decorated rooms and a stunning spa.
Hotel Fruela is more low key luxury in the historic heart of Oviedo. Barcelo Oviedo Cervantes is in a handsomely restored mansion. It boats designer rooms and an excellent superfood oriented breakfast.
Day 7: Oviedo To Bilbao
On day 7 of your one week in northern Spain, you'll drive back to Bilbao. Ah, what a beautiful drive this is. The coast is spectacular.
My flight back to the US was from Bilbao, a much more central hub than Oviedo.
I stopped in 3 villages — Llanes, Ribadesella, and St. Vicente de la Barquero.
They were all incredibly lovely in their own distinct way. You could easily plop yourself down for a week to admire them, preferably in Llanes.
1. St Vicente de la Barquera: a Town Awash in Water
The beautiful village of St. Vicente de la Barquera had my heart at first sight. The drive toward the town is breathtaking.
The ancient Puente de la Maza, with its 28 arches over the river, welcomes you. St. Vicente is surrounded by gorgeous beaches — Meron, Tostadero, and Oyambre.
The pretty village dates from Roman times. For centuries, St. Vicente de la Barquera was a stop on the pilgrimmage to Santiago de Compostela.
Step back in history at the Castillo del Rey, San Vicente's 13th century medieval castle. From atop the hill, you have beautiful views of the town and, on a clear day, the Picos de Europe mountain range.
2. LLanes: Sophisticated Beach Resort
You don't necessarily expect sophisticated charm in Asturias, a Spanish region known mostly for its incredible natural beauty.
But LLanes is a cosmopolitan European town. In fact, I was quite captivated by Llanes.
Others adored the beachy town too, judging from the number of people strolling through the vibrant old center, eating and drinking at the many restaurants and cider houses.
Try Covadonga Restaurant on Street Manuel Cue, if you're hungry and need a lunch break.
Llanes boasts a well preserved medieval city with ancient palaces, still housed within the remains of crumbling city walls. It has a doughty defensive tower, an active harbor, fantastic beaches, and top notch views.
LLanes would make a good base for Asturias, if you want to settle in and relax. It has 32 beaches within its jurisdiction.
Walk out to the breakwater to see Los Cubos de Memoria or The Cubes of Memory. It's an installation of 66 cubes designed and painted by famous Basque artist Augustin Ibarrola.
The brightly colored work (which was a bit faded when I clapped eyes on it), is the artist's Andy Warhol-like unsettling contrast between art and nature.
3. Ribadesella: Pretty Port Town
Ribadesella is an old port city, and also very picturesque. Its beautiful broad beach makes it a popular holiday spot.
For a little history, take the 10 minute stroll inland to the UNESCO-listed Cueva de Tito Bustillo.
It's a series of connected caves with a veritable feast of prehistoric drawing. They date back 35,000 years to the Palaeolithic era.
More Than One Week In Spain?
If you have more than 7 days in northern Spain, there are some great things to add to your itinerary.
1. Picos de Europe
If you have extra time before landing in Bilbao or elsewhere, take a day or two to explore the Picos de Europe, a national park.
The park's quite large, covering the Asturias, Cantabrian, and Castilla regions. With its breathtaking scenery, it attracts mountaineers and regular adventurers alike.
There are mountains, gorges, verdant valleys, and the stunning Lakes of Covadonga. You may think you've fallen into Switzerland.
The atmospheric villages in the Picos de Europe are worth visiting too — Covadonga, Canga de Onis, and beautiful medieval Potas.
If you're brave, take the Fuente De cable car, named Teleferico Fuente De. You'll ascend to a rocky plateau, at an elevation of over 6200 feet.
Once there, from the Miradour del Cable, you'll have epic panoramic views over the Picos (if it's not a foggy day).
You can book a guided day tour to the Picos from Oviedo or Dijon.
2. Bilbao To Barcelona
Since you are landing in Bilbao at the end of this one week in Spain itinerary, you can keep on driving to Barcelona.
I have a 10 day itinerary that takes you from Barcelona to Bilbao. You can reverse the itinerary and trek from Bilbao to Barcelona.
3. Basque Spain
Alternatively, from Bilbao, you can explore more of Basque Spain.
Basque Spain is unexpectedly and energetically diverse. Every time I've traveled there, I've been seduced by its breathtaking landscapes, art-filled museums, and UNESCO landmarks, north to south.
This 10 days in Basque Spain itinerary coves Bilbao and San Sebastián. But it also take you to some beautiful small towns and wine regions in Basque Spain.
I hope you've enjoyed my one week in northern Spain itinerary. You may enjoy these other Spain travel guides and resources:
If you'd like to visit northern Spain, pin it for later.