Toledo is one of Spain's great historic cities. It's romantic too, spectacularly sited on a hilltop atop the Tajo River. The river wraps around it like a moat.
Toledo boasts incredibly well-preserved medieval architecture, a rich cultural heritage, and stunning vistas. It's dubbed the "City of Three Cultures" for its Christian, Muslim, and Jewish influences.
The city has echos of El Greco, its most famous native son, that will thrill art lovers. Besides that, the entire place is a designated UNESCO site and is well worth a visit.
Toledo is just a short 30 minute train ride from Madrid. So, it's a classic — and popular! –day trip destination. This itinerary features the city's greatest hits to help you make the most of your one day in Toledo.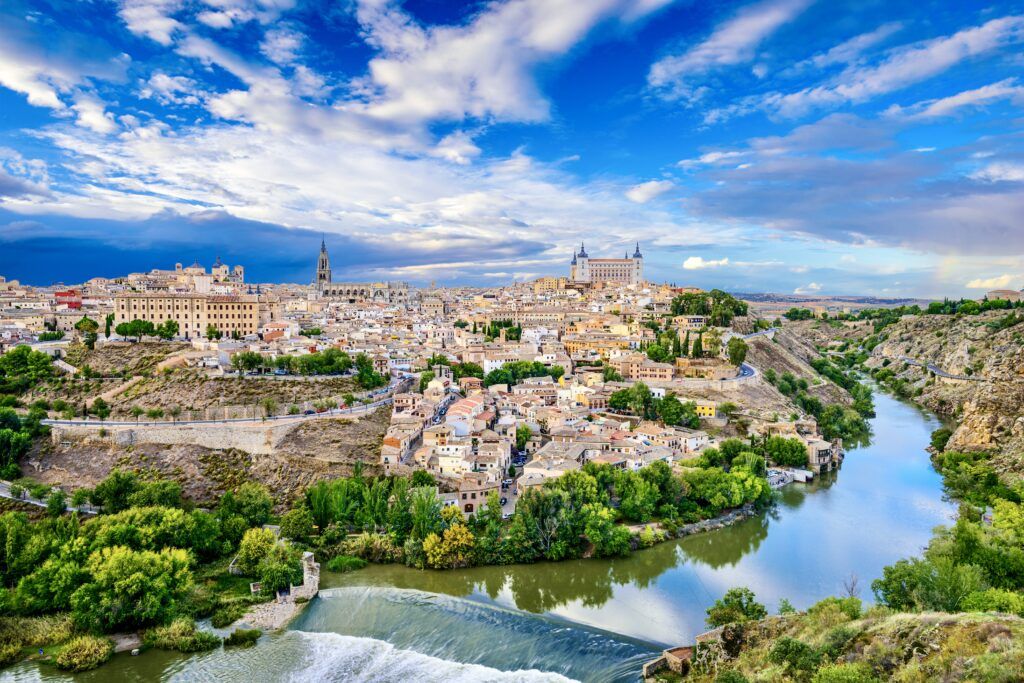 Overview of One Day In Toledo Itinerary
Here's a snapshot of what you can see in Toledo:
Historic Center
Alcazar
Toledo Cathedral
San Roman & Santo Domingo el Antiguo
Hospital y Museo de Santa Cruz
Jewish Quarter
El Greco Museum
Santo Tomé Church
Mirador del Valle
You can add or subtract things based on your pace of travel. And I give you an estimated timeline for how to spend your day.
I advise getting to Toledo as early as possible, as there are so many things to see and do. If you make a late start, you'll likely regret not having a few more hours to sightsee.
The biggies to see are Toledo Cathedral, the Santa Cruz Museum, and the El Greco Museum. If you don't have time for both museums, the Santa Cruz Museum is much larger and has more than just El Greco on display.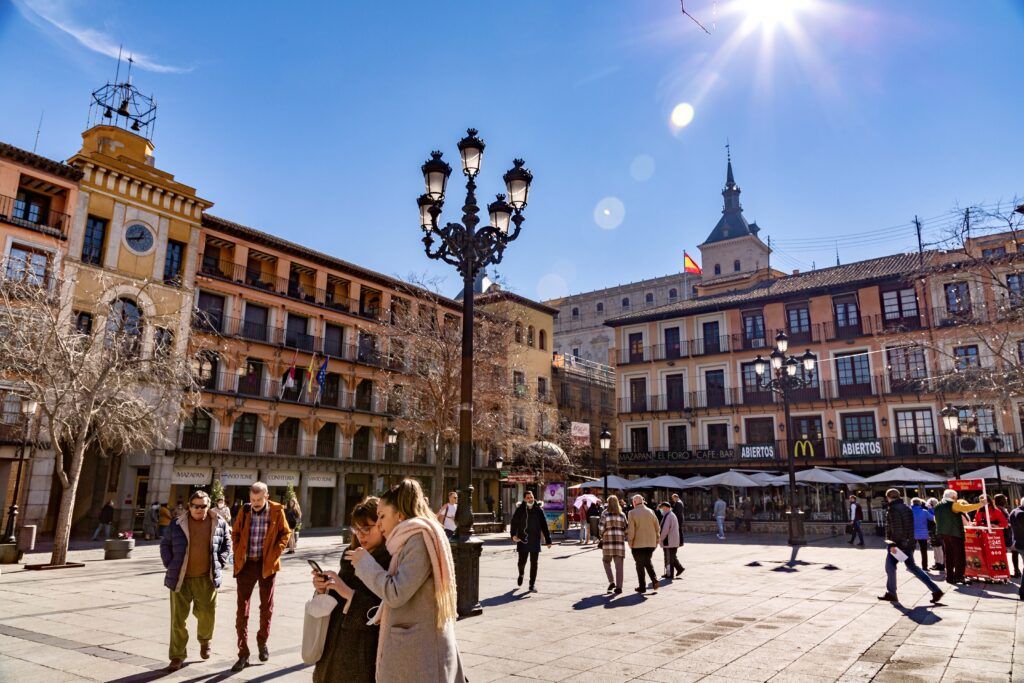 8:00 AM: Historic Center
Begin your day with a delicious Spanish snack in Toledo's charming Old Town. It's incredibly well-preserved, with tiny medieval streets.
You'll find cozy cafes and bakeries where you can savor traditional pastries, like churros or pulgas, paired with a strong cup of coffee.
Take a wander through the main squares — Plaza Zocodover, Plaza de la Magdalena, and Plaza de Santo Domingo el Antiguo. Magdalena is the closest the Alcazar, which is your first stop of the day.
9:00 AM: Alcázar of Toledo
Start your exploration at the Alcázar of Toledo, an iconic fortress that dominates the city's skyline.
Unfortunately, not much remains of the original structure. It's been destroyed and rebuilt countless times. Fires in the 18th and 19th century and Franco's forces in the Civil War did the most damage.
The Alcázar houses the Army Museum (Museo del Ejército). History buffs can delve into Spain's military history.
The best part? The amazing panoramic views of the city from its towers.
>>> Click here to pre-book an alcazar ticket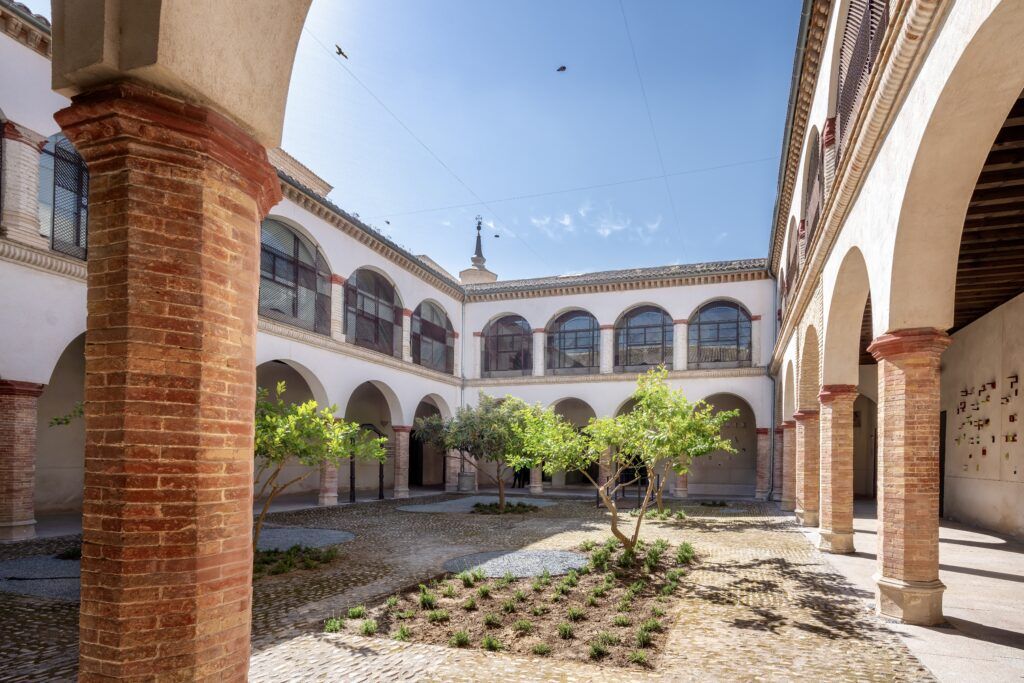 10:00 AM: Hospital y Museo de Santa Cruz
Head downhill, and you'll arrive at Plaza de Zocodover, a popular spot for tourists.
Pass through the horseshoe arch. Then, you'll come across one of Toledo's most stunning Spanish Renaissance structures, the Hospital y Museo de Santa Cruz.
Established in the 16th century by Cardinal Mendoza, a significant figure in Spanish history, the hospital had a dual mission of providing medical care to those in need and offering refuge to orphans.
The building boasts an intricately carved facade, lovely cloisters, and a remarkable staircase, all designed by Alonso de Covarrubias in the plateresque style. The courtyard garden offers a tranquil escape.
The hospital now houses Toledo's main museum of art and archaeology.
There are seminal El Greco painting, including The Assumption of the Virgin and The Immaculate Conception. There are also Roman mosaics, sculptures, tapestries, and giant tusks of a Paleolithic mammal.
The museum occasionally hosts special exhibitions and cultural events.
11:00 PM: Toledo Cathedral
Next, head to Toledo Cathedral. It's an extraordinary church that's a masterpiece of Gothic architecture and a mini art museum. I took this private guided tour that included the cathedral and it was amazing.
Marvel at its intricate facade before stepping inside the stunning interior. You'll find an art-filled space filled with works by El Greco and other Spanish masters.
Construction began in 1226, but it took 250 years to complete. This gives it what might be a jarring confluence of different styles.
The western portal has three heavily sculptured doors in the Moorish style. There's a Flamboyant Gothic spire to the left. To the right is a Renaissance dome.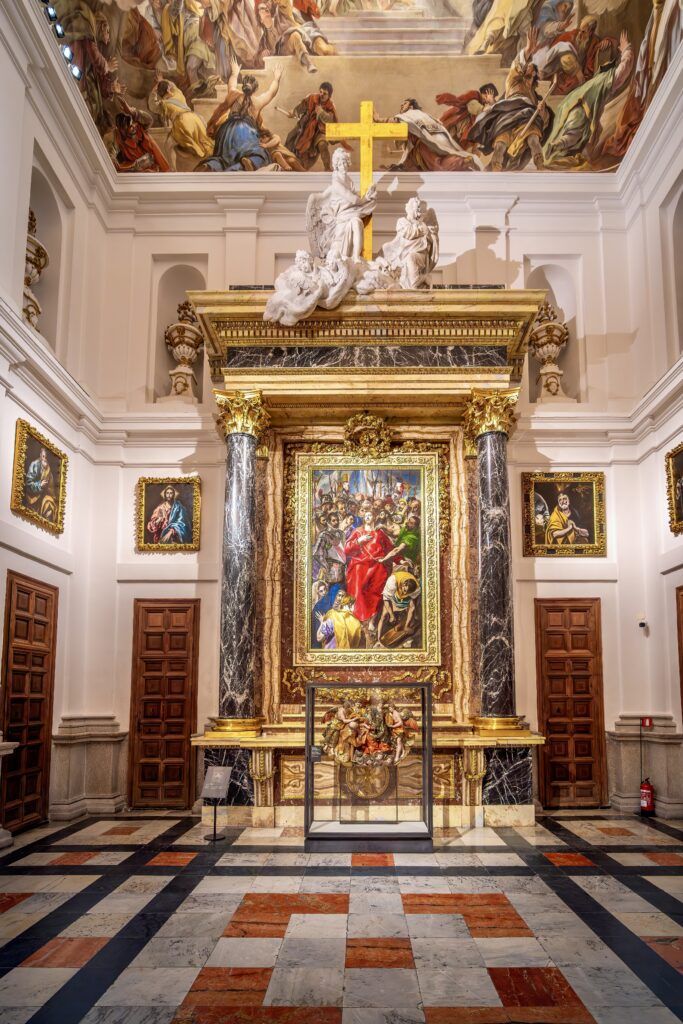 You enter the cathedral from a side entrance on Calle Cisneros. You buy a ticket from the shop opposite the entrance. You can also book a guided tour to see it all.
Inside, there is lofty ribbed vaulting and 800 stained glass windows. The wooden choir stalls are masterpieces from the 15th century.
The main altar is a gigantic Flamboyant Gothic polychrome carving. It's gold on wood. It depicts the story of Christ's life, conveying the message of salvation.
In the main chapel, you'll find a Baroque folly called the Transparente from 1732. It was designed to allow light to penetrate forth ceiling to illuminate the tabernacle. Below the skylight is a sculpted tableau that represents the Ascension of Christ.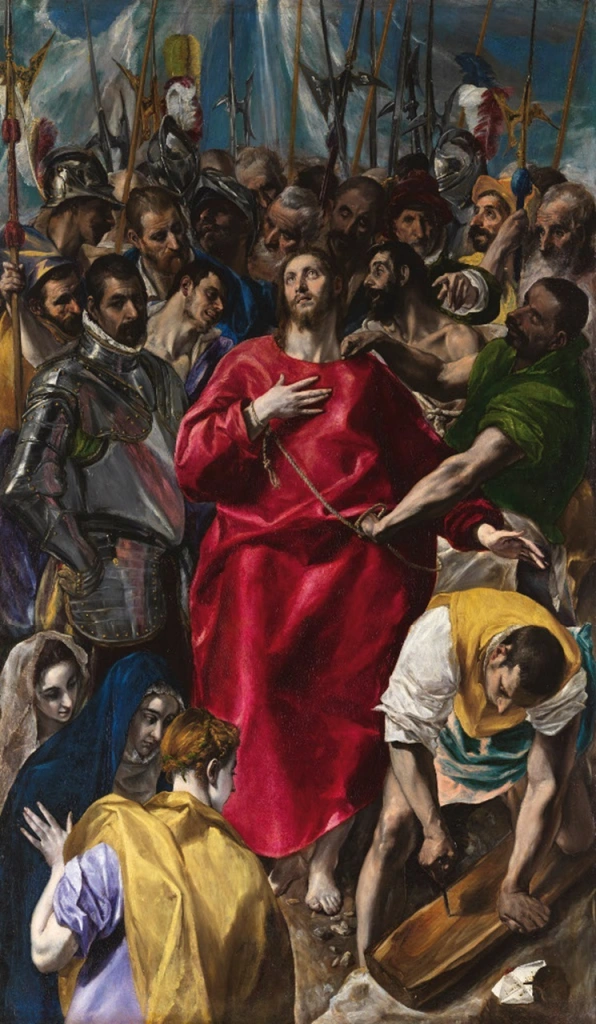 To the right is the Chapter House. It features magnificent coffered ceilings, one with gold leaf. There are frescos and portraits of Toledo's most powerful archbishops.
A highlight of the cathedral is the sacristy and museum. This is an art gallery in itself. There are works by El Greco, Zubbaran, and Goya. The showstopper is El Greco's Disrobing of Christ.
The Vestry displays more masterpieces, including artworks by Van Dyke, Titian, Velazquez, and Rubens.
You can also visit the Treasury. You'll find a 10 foot high gold and silver monstrance from the 16th century. It once held the consecrated host.
I think this is the top cathedral in Spain. Seville Cathedral may be larger. But, to my mind, this one boasts exceptional art and artistry.
>>> Click here to pre-book a skip the line ticket for the cathedral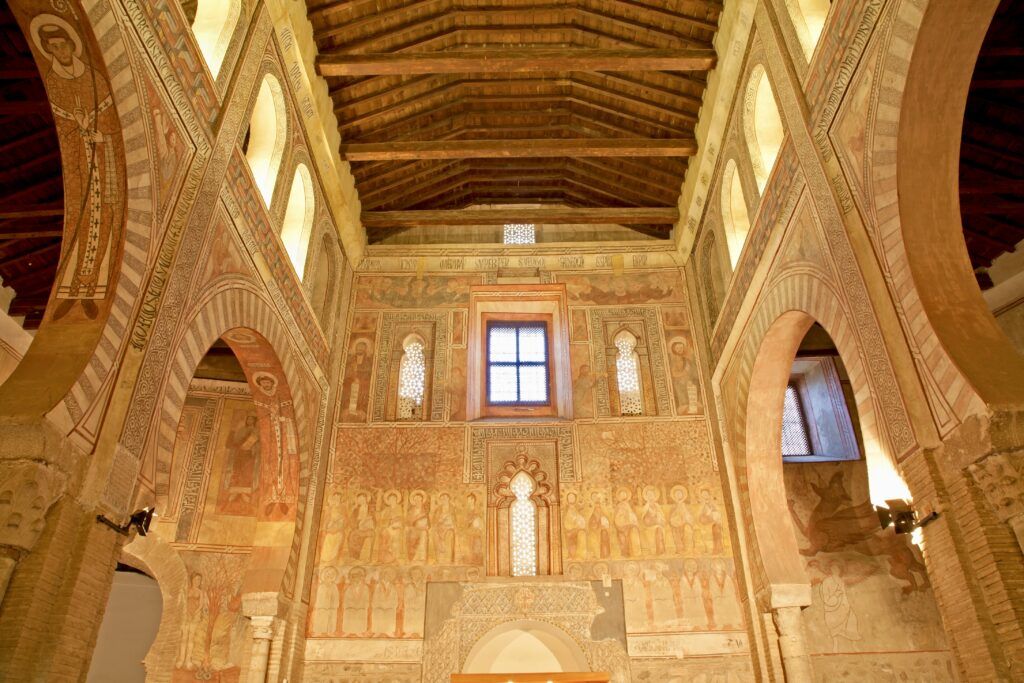 12:30: San Roman & Santo Domingo el Antiguo
San Roman is Toledo's oldest church, featuring Romanesque architecture. Originally of Visigoth origin, it served as a mosque before its reconstruction in the Mudejar style during the 13th century.
Today, it hosts a museum showcasing Visigothic culture. Inside, you'll encounter a unique blend of Caliphal arches, Roman columns, Visigoth capitals, and exquisite frescoes.
Next, head down the street to Santo Domingo el Antiguo. Established in 1085 by the Cistercians, it was Toledo's first convent.
The interior boasts Neo-Classical design and houses three El Greco paintings. It's also the final resting place of El Greco himself, with his tomb visible through a floor grill.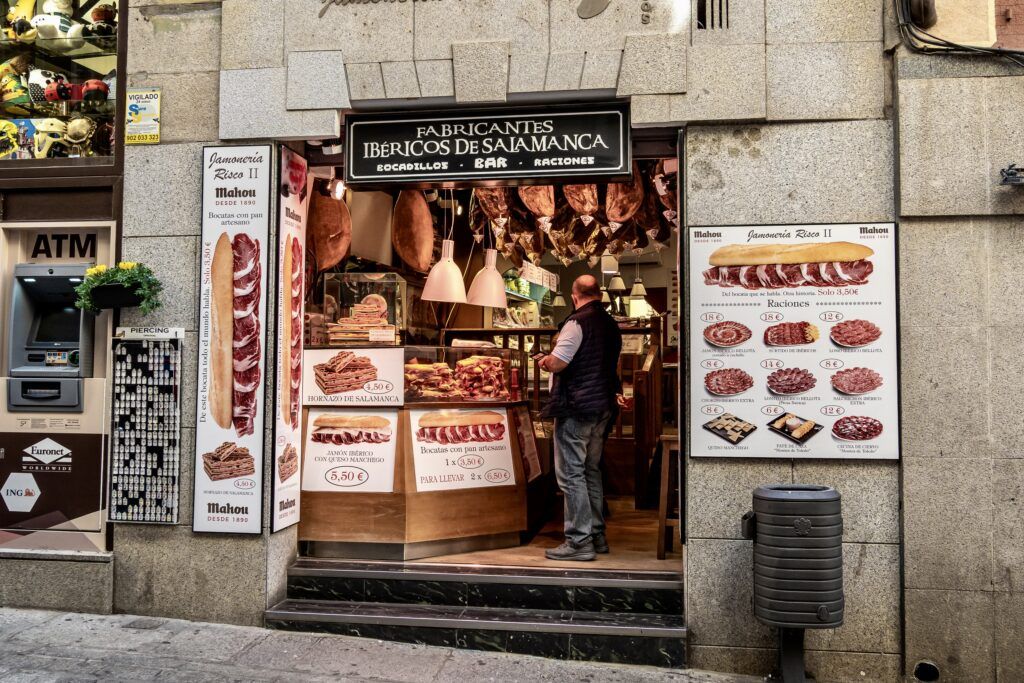 1:00 PM: Lunch in Toledo
Take a break for lunch at a local "mesón" or tavern. Toledo is known for its savory cordero (roast lamb) and carcamusas (stew).
Modern Toledo depends on tourism. So you may became jaded at the sight of so many bilingual menus. Steer into the steep cobbled streets for the best eats.
If you are in a rush you can always grab a sandwich to go, with Iberian ham or chorizo. That's what I ended doing just to save time.
If you have a sweet treat after lunch, I recommend sampling some marzipan. Toledo's specialty, at Santo Tome. It's a family business that has flourished since 1856.
They make it by combining Spanish almonds with sugar, honey, and water to make a thick paste. Once hardened, the marzipan is sculpted into ingenious shapes.
2:30 PM: Explore the Jewish Quarter
After lunch, stroll through the narrow winding streets of the Jewish Quarter, one of the best-preserved in Spain. Don't miss the picturesque Calle del Ángel and Calle de los Reyes Católicos.
If you have time, pop into the Church of Santa María la Blanca, the main synagogue in the Jewish quarter of Toledo in the late 12th century. It's immaculately restored.
It has an unusual design with five naves and horseshoe arches. It reminded me somewhat of the Mezquita in Cordoba.
The other synagogue is the Transito. Commissioned in the mid 14th century, it houses the Sephardic Museum. It's also been completely restored and features a Mudejar main worship hall.
>>> Click here to book a walking tour of the Jewish Quarter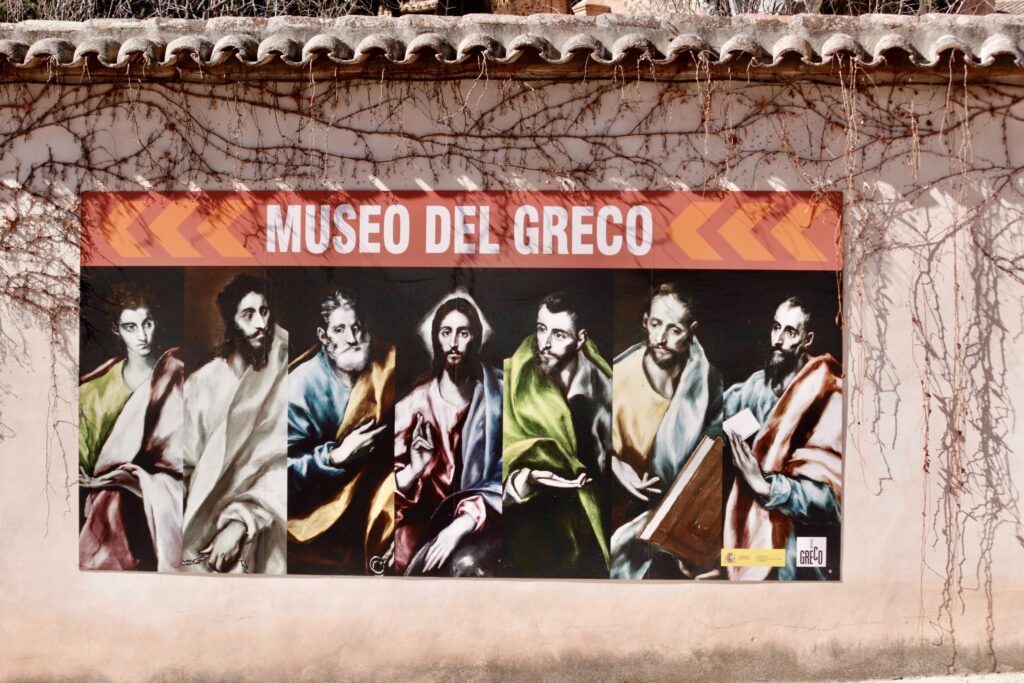 3:30 PM: El Greco Museum
Toledo is famously associated with the renowned Mannerist artist El Greco. He was a premiere artist of Span's Golden Age and the city's most famous resident artist. No visit to Toledo is complete with seeing his eponymous museum.
The Museo del Greco is the only museum dedicated to the renowned Greek painter. Its primary mission is to offer insight into El Greco's artistic contributions and the profound influence his works and persona had on early 17th century Toledo.
The museum is housed in an intimate museum. It boasts an extensive collection of El Greco's masterpieces. They all seem to ripple and writhe as if on the verge of ascension, with elongated bodies and elegant hand gestures.
You'll find notable works like View and Plan of Toledo (a variant of which resides in the Prado Museum), Portal, and Azulejos. The View is an extraordinary piece, giving you an aerial view of the city at the time.
The museum also features a meticulously curated series of portraits known as the Apostolate series. And is further backed up with 100+ painting by Spanish masters from the 16th and 17th centuries.
The museum also offers a display on the legacy of the Marquis of Vega-Inclán. The Marquis, an ardent El Greco enthusiast, acquired and meticulously restored El Greco's former residence to its period authenticity.
His efforts played a pivotal role in the resurgence of interest in El Greco's art and legacy.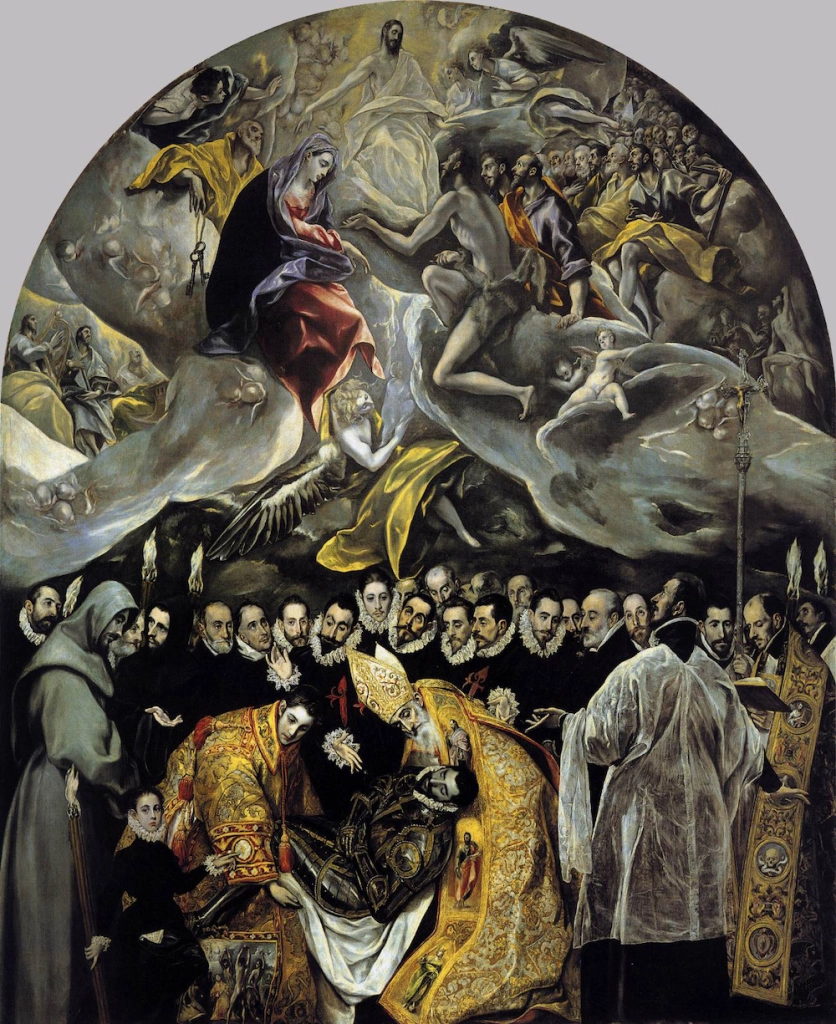 4:30 PM: Santo Tomé Church
Make your way to Santo Tomé Church. The church itself is a fine example of Spanish Gothic architecture and has a rich history dating back many centuries.
But what you come here to see is El Greco's finest and most beautiful masterpiece, The Burial of the Count of Orgaz. The painting is monumental, more than 15 feet hight.
The painting is divided into two sections by a row of noblemen's faces. Each one is a distinct portrait. El Greco even painted portraits of himself and his son.
The bottom half of the painting depicts the miracles surrounding the death of Don Gonzalo Ruiz, the Count of Orgaz. It's a variant of entombment paintings you may have seen by Raphael or Titian. Two dead saints, unexpected guests, appear to lower the count's body into the tomb.
In the top half, you see the heavenly realm and key religious figures. An angel guides the count's soul (the size of a baby) up for his judgment.
6:00 PM: Toledo's Mirador del Valle
As the sun begins to set, head to the Mirador del Valle. It's a viewpoint that offers the classic panoramic view of the city. It's a great spot for photographs and I highly recommend going.
It's about a 30-40 minute walk from the city center. Head towards the direction of the Alcázar of Toledo. As you approach the Alcázar, continue uphill along the road called Paseo de la Rosa to the mirador.
You can also take a taxi, drive there, or the Hop On Hop Off tourist bus stops there as well.
7:30 PM: Dinner in Toledo
For your final meal in Toledo, dine at one of the city's many fine restaurants. Try local dishes like the prized perdiz a la toledana (a long tailed partridge) and have marzipan for dessert. Check out Adolfo or Venta de Aires Restaurant for good eats.
Toledo is especially magical at night. If you have any time, take a stroll around the city when everything is illuminated. The last train back to Madrid usually departs around 10:30 or 11:00 pm.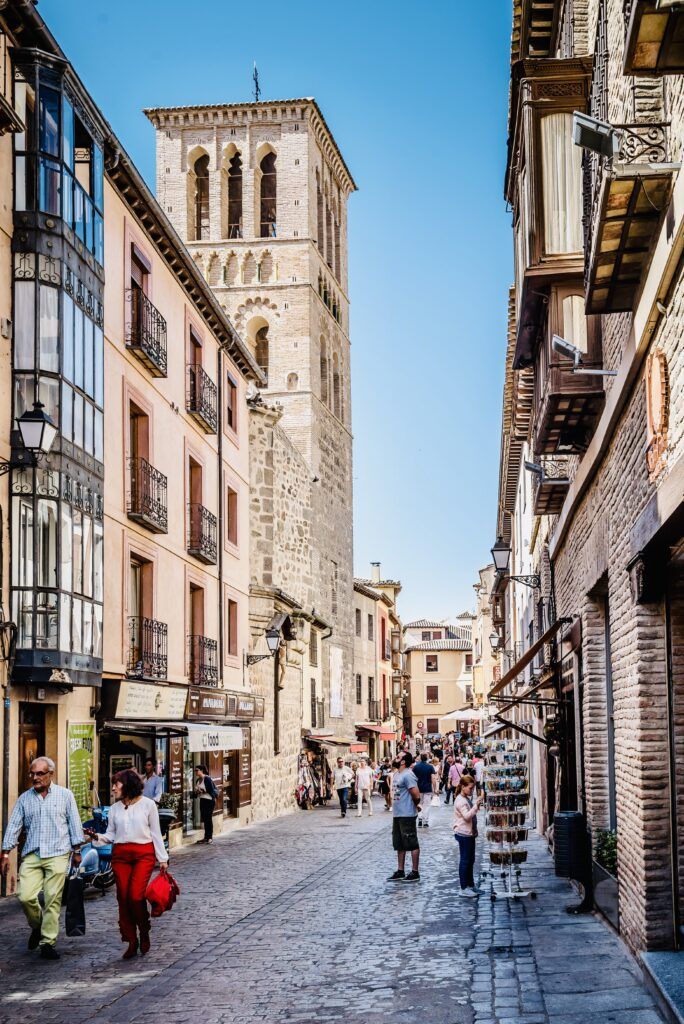 Practical Tips For One Day Trip In Toledo
Here are some must know tips for day tripping to Toledo:
1. How To Get To Toledo
Toledo is easily accessible from Madrid by high-speed train (AVE) or bus. Purchase tickets in advance, especially during peak tourist seasons.
You'll then have a bit of a steep climb to get to the historic center. Or you can grab a taxi.
Naturally, you can also get to Toledo on a guided day tour from Madrid. You can also book a tour that takes you to both Toledo and Segovia. To make things really easy, this private guided tour picks you up at the train station and takes you on a panoramic taxi tour of the city.
If you're driving to Toledo, you'll want to park your car in one of the designated parking areas outside the city's historic center. Don't drive in!
You can find spots in Parking Safont (north), Parking Cigarrales (south), or Parking Alcázar (near the Alcazar). A car has the advantage of allowing you to drive to the different viewpoints.
2. How To Get Around Toledo
Toledo is fairly small and walkable. You can get to most attractions on foot, if you're inclined to walk. You can also take the Hop On Hop Off tourist bus.
3. Tickets:
Consider buying the Toledo Bracelet Card, which gives you access to multiple attractions, saving you time and money.
4. Where To Stay In Toledo
Considering staying overnight in Toledo? If so, you have a range of hotel options.
The Eugenia De Montijo, Autograph Collection is a gorgeous luxury hotel with regal Renaissance decor. It's only 600+ feet from the cathedral, so well situated for sightseeing.
The Hotel del Cardenal is right next to the Gate of Alfonso VI, once the main entrance into Toledo. it's literally built in the city wall. It's quite reasonable, especially given the fountains, gardens, and patios it has on offer.
Parador de Toledo sits on a hill with an ideal vantage point over the city. It has a swimming pool and luxury amenities.
5. Pro Tips:
Many shops and restaurants close for siesta, usually from around 2:00 pm to 5:00 pm.
You'll also want to wear comfortable shoes for hiking up and down the steep hills and tromping on cobblestones.
6. Is One Day In Toledo Enough?
It's enough time to see the highlights, but not enough to see everything. But you can check off the top attractions and decided what you want to come back to see.
With more time, you can add on the Monastery of San Juan de Los Reyes and the Mezquita del Cristo de la Luz.
I hope you've enjoyed my one day in Toledo itinerary and day trip guide. You may enjoy these other Spain travel guides and resources:
If you'd like to spend one day in Toledo, pin it for later.