The Hirshhorn is Washington D.C.'s national museum of modern and contemporary art. It holds one of the world's most important post WWII collections of European and American art.
Opened in 1974, the museum was founded with a gift from Joseph H. Hirshorn, an oil and mining tycoon. He donated over 12,000 works of art amassed over 50 years of collecting — paintings, sculptures, drawings, and mixed media pieces.
The art is housed in a building that is itself an abstract work of art. It's a prime example of Brtualist architecture-like, designed by architect Gordon Bunshaft.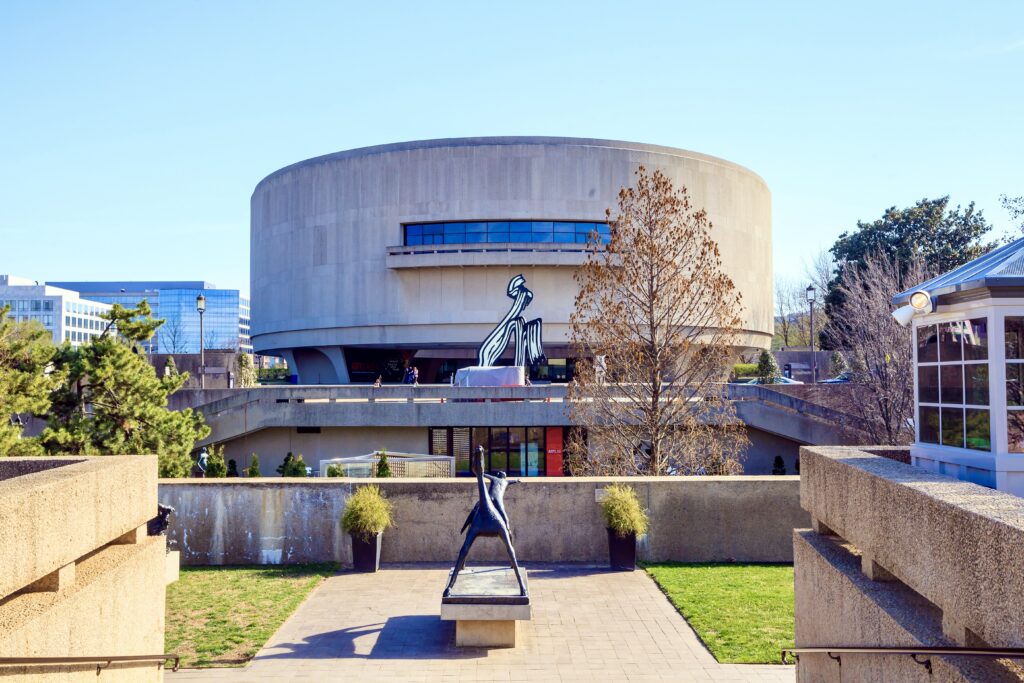 Overview Of The Hirshhorn Museum
The museum is a fortress-like donut-shaped cylinder elevated 14 feet above ground and set in a square.
The idiosyncratic shape led the museum to be derided as a movie screen, color wheel, race track, funerary tomb, and bomb shelter. Now, the unique design is the museum's calling card.
The inner courtyard of the building is open to the sky. It features a circular fountain 60 feet across.
Inside, there are four floors. The first floor is the entrance hall and houses the cafe and information desk. The basement level has an auditorium, lockers, and exhibition spaces.
Floors two and three are the main galleries. Each floor is divided into two circles, inner and outer.
Special exhibitions are held in the second level. I recently saw one on contemporary Chinese photography.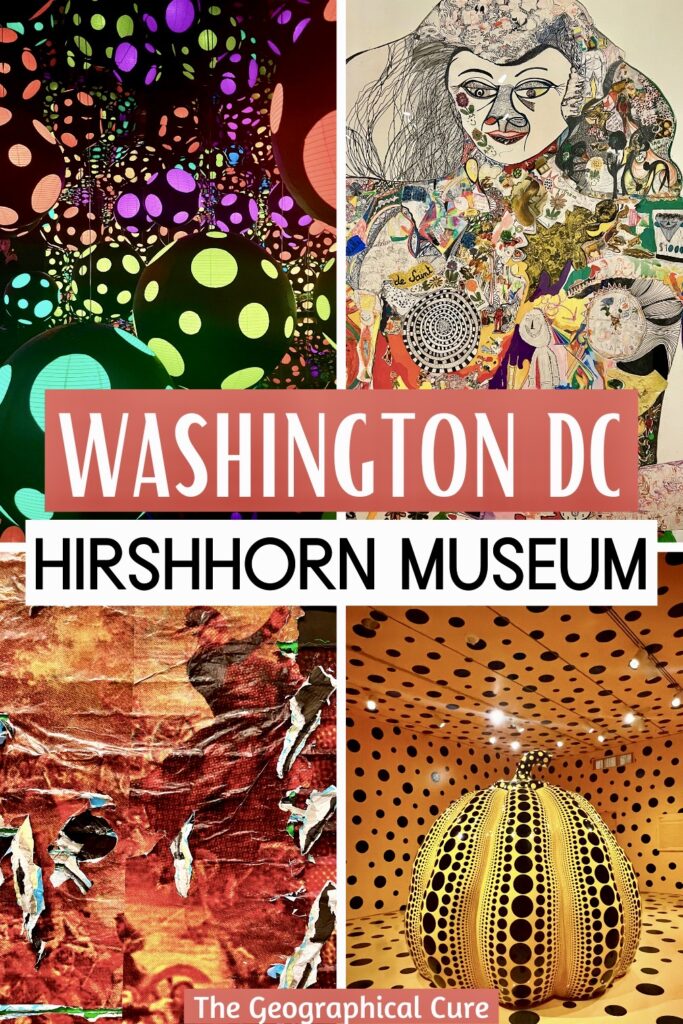 The museum's permanent collection includes modern and contemporary works of sculpture, paintings, digital media, photography, video, and performance-based pieces.
There are works by luminaries such as Picasso, de Kooning, Damien Hirst, Louis Bourgeois, Edward Hopper, Joan Mitchell, and Yayoi Kusama. The museum also collects cutting edge contemporary art.
Since Hirshhorn's original donation, the museum's collection has been expanded to include more female and non-Western artists.
The museum's permanent collection is currently hung in an exhibit labeled Put It This Way (Re)visions of the Hirshhorn. The exhibition displays a century of work by women and nonbinary artists in a range of media, mostly made in the past decade.
The museum is especially strong when it comes to sculpture, where it easily outpaces the National Gallery of Art.
Much of it can be found in the museum's absolutely splendid sculpture garden. You can read my review of it here.
Currently, the museum's holdings are rotated in short and long term exhibitions. I feel like I see something different each time I visit. You can check the website to see if a certain piece is currently on display.
Guide To The Hirshhorn Museum: What To See
Here are some of the masterpieces from the Hirshhorn collection.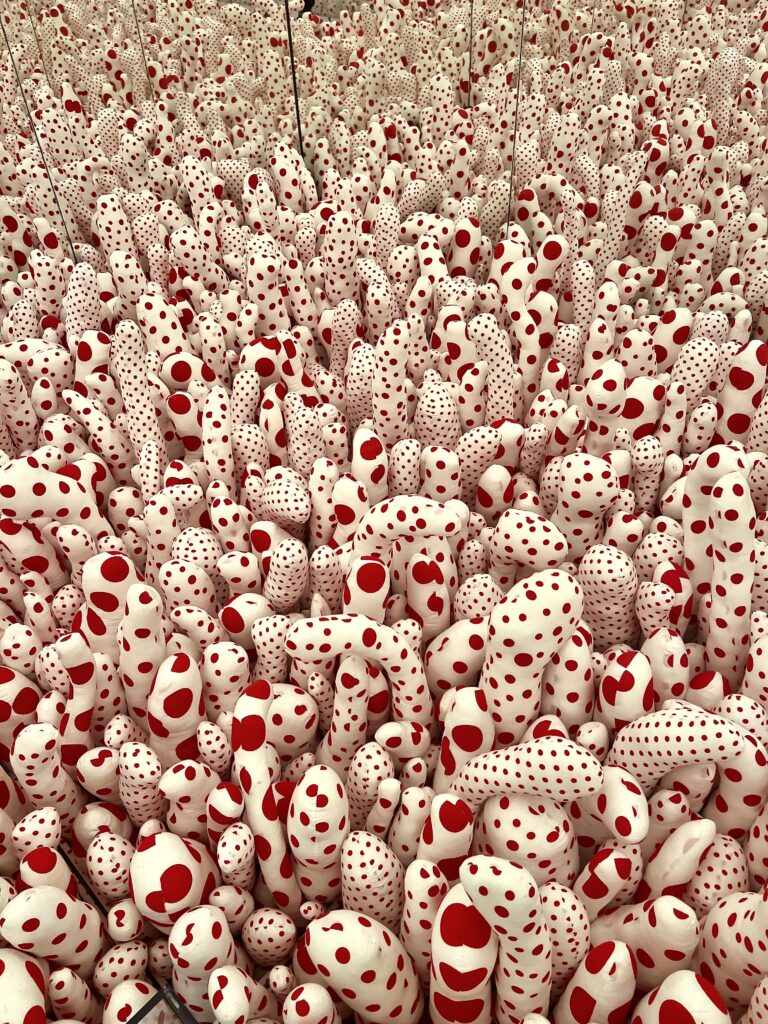 1. Yayoi Kusama's Infinity Mirror Rooms
Yayoi Kusama is a beloved artist affectionately known as the "the Princess of Polka Dots." If you are lucky, you will get to see her hugely popular Infinity Mirror Rooms. They are part of the museum's permanent collection, but aren't always on display.
Right now, they are part of a special small exhibition, One With Eternity. There are three works on dispay — Pumpkin, Phalli's Field Infinity Room, and My Heart Is Dancing into the Universe Infinity Mirrored Room.
In her works, Kusama aims for self-obliteration across large room sized installations.
Kusama has had a life long interest in pumpkins. This work, titled Pumpkin, presents a "living" pumpkin sculpture surrounded by black on yellow polka dot patterns on the walls and ceiling.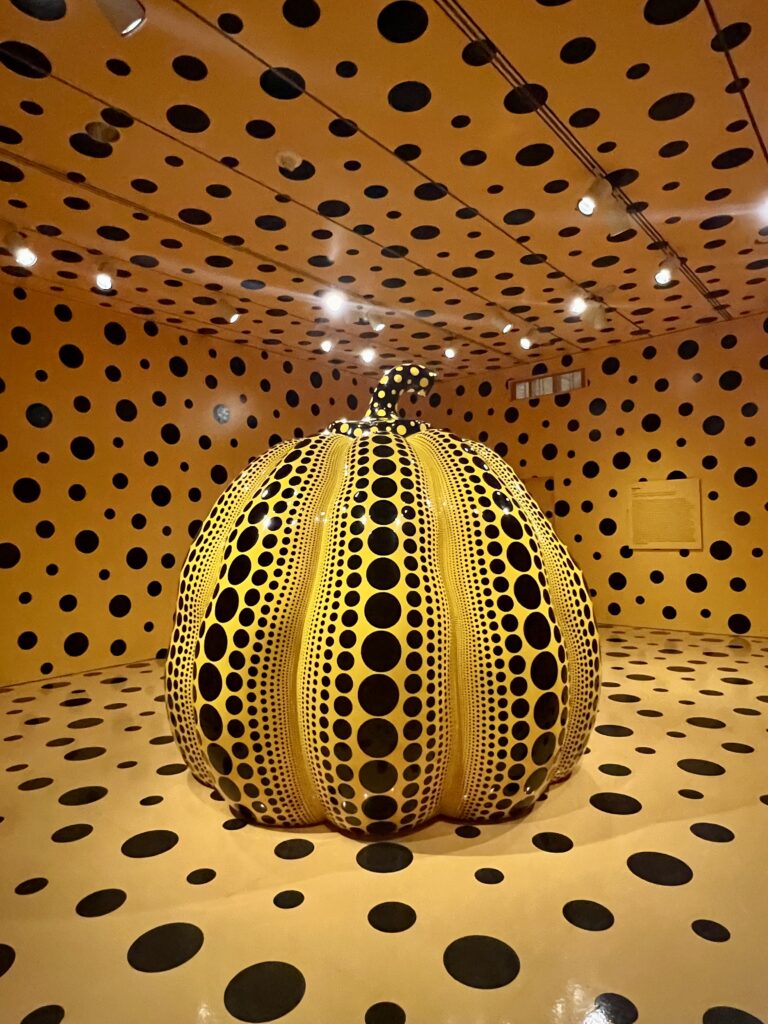 Phalli's Field is an infinity mirror room with soft phallic forms stitched together to form what the artist calls "Accumulation sculptures." My Heart Is Dancing Into the Universe is filled with mirrors and paper lanterns that have dots that change color.
When I visited, I was the only one in the infinity rooms. You go in individually or by couple and have between 30-60 seconds to view the mind-blowing exhibits.
Her Flowers-Overcoat is also on display. It's a bronze-colored coat hung against a white wall. The coat is artfully covered in flowers of the same bronze color. The flowers are designed to obliterate, or disappear into, the coat.
When the exhibition ends in Spring 2023, the works will be conserved. You need to book a (free) timed entry ticket to visit.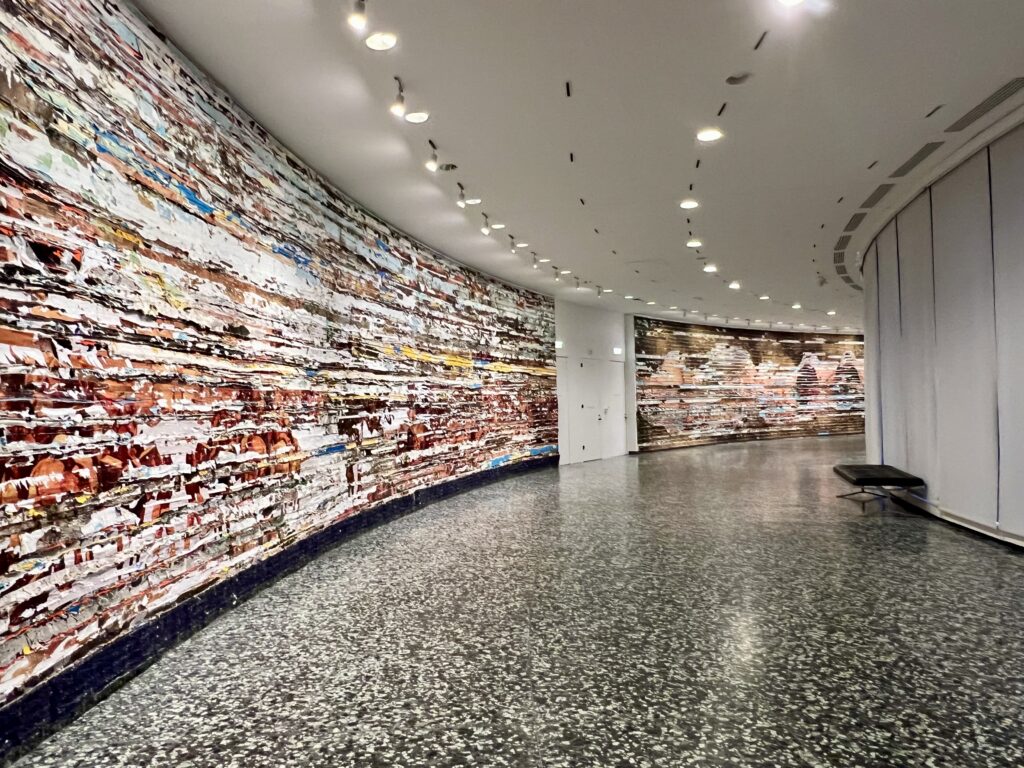 2. Mark Bradford's Pickett's Charge
Mark Bradford's installation piece, Pickett's Charge, can be found on the inner circle on the second floor.
Bradford is a Los Angles-based artist specializing in abstract art with political narratives. In this site specific installation, he challenges the viewer to reflect on the current political climate through the lens of a bloody Civil War battle.
It's a large scale panoramic painting that's a 360 cyclorama of 8 abstract mixed media paintings. Each painting is 45 feet long, covering 400 feet altogether.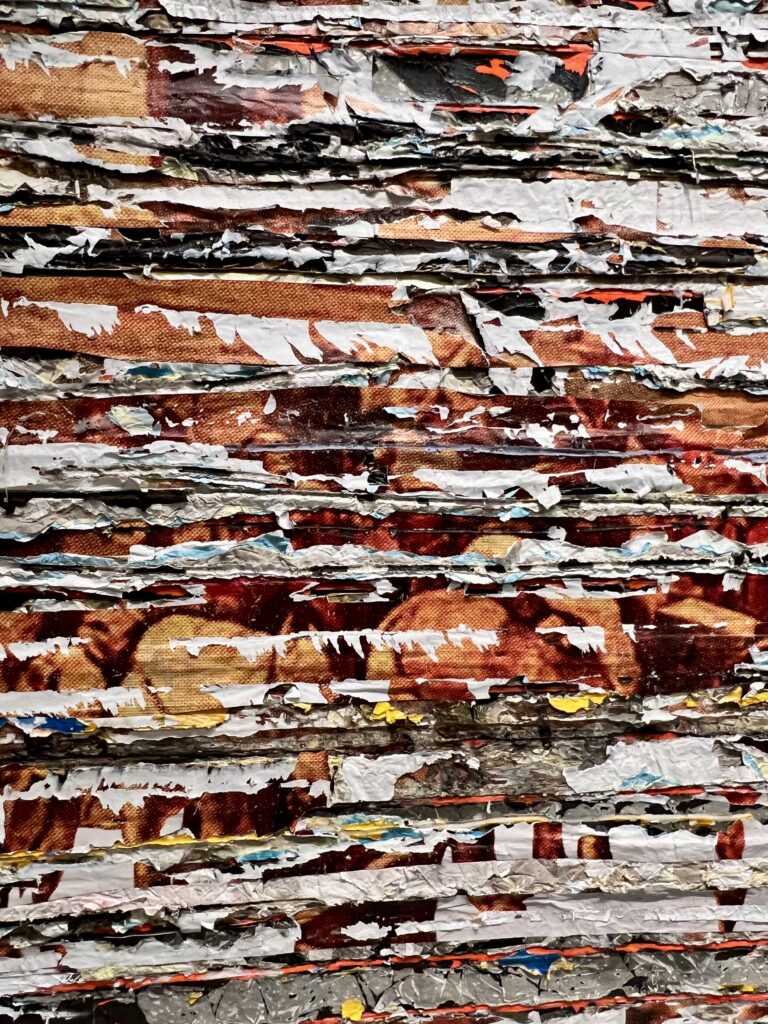 The inspiration was a cyclorama by French artist Paul Dominique Phillippoteaux from the Gettysburg Museum.
Bradford's work combines reproductions of fragments of that painting with layers of densely applied and tattered colored paper.
The Hirshhorn says it "weaves together past and present, illusion and abstraction, inviting visitors to reconsider how narratives about American history are shaped and contested."
It's such an immersive art work that battle veterans weep upon seeing it.
3. Ron Mueck's Big Man
Mueck is a London-based sculptor know for his hyperrealistic sculptures with astonishing detail. Typically, they are either over-size or under-size, confounding your expectations and creating an odd mix of realism and surrealism.
The Hirshorn's Big Man is simply startling. You'll walk by it convinced that the large nude man is real and somewhat malevolent or grumpy. It's hard to take your eyes off the sculpture.
The Big Man is sitting and yet still 7 feet high. If on display, he's displayed slumped against a corner wall. The size adds to the drama and you may wonder what would happen if he stood up.
4. Damien Hirst,The Asthmatic Escaped II
The controversial artist Damien Hirst specializes in taking on themes of life and death. His rather shocking art works were inspired by British artist Francis Bacon, known for his unflinching and gruesome portraiture.
Hirst burst on the scene in 1990s with displays of rotting corpses. His famous shark suspended in a tank of formaldehyde both attracted and repulsed audiences in 1991. Many critics thought he was cash hungry and pretentious.
The Hirshhorn's iconic installation uses found objects built around the themes of death and decay. Typical of Hirst's installations, the effect of the sculpture is dependent upon the viewer's presence in the space and ability to walk around it.
5. Edward Hopper, 11:00 AM
Edward Hopper was a master at capturing an individual within the setting of a bleak urban city. His works fall with the rubric of Realism. But they are more minimalist and enigmatic.
11:00 AM is one of his moody paintings. A women with clasped hands looks out the window, bathed in late morning light.
Her expression is disguised, creating an aura of mysery. The odd part is that, although she is naked, she wears dress shoes.
Like other Hoppers, it may represent the isolation and loneliness of American life.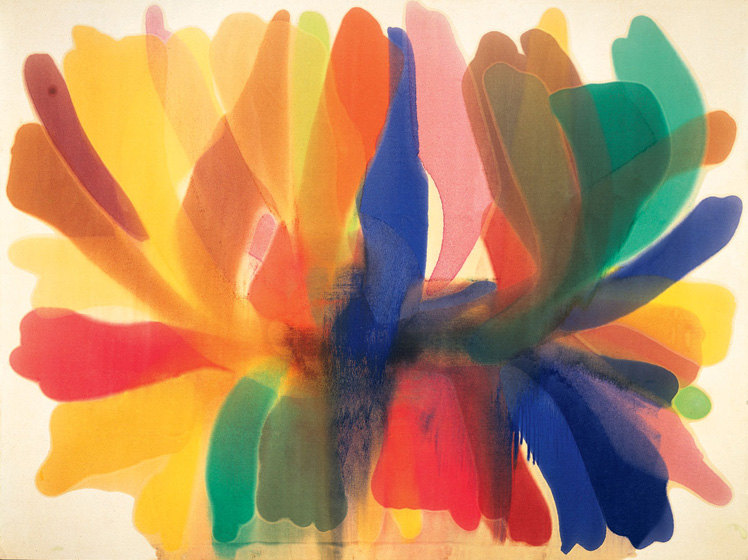 6. Morris Louis, Point of Tranquility
Morris Louis was one of the early exponents of Color Field painting in the 1950s. He rejected the gestural abstraction of artists like Pollock, de Kooning and Mitchell. Instead, he embraced free flowing color.
Point of Tranquility is one of his "Floral Veils," which I personally just adore. They were completed in the major series from 1954 and 1958–59. Louis destroyed many of them because they weren't "perfect."
The artist painted by pouring thinned acrylic paint on an unprimed canvas while bending and moving the canvas.
The acrylic paint is layered, in orderly elegance, to suggest a flower. It's simply gorgeous, both ethereal and radiant.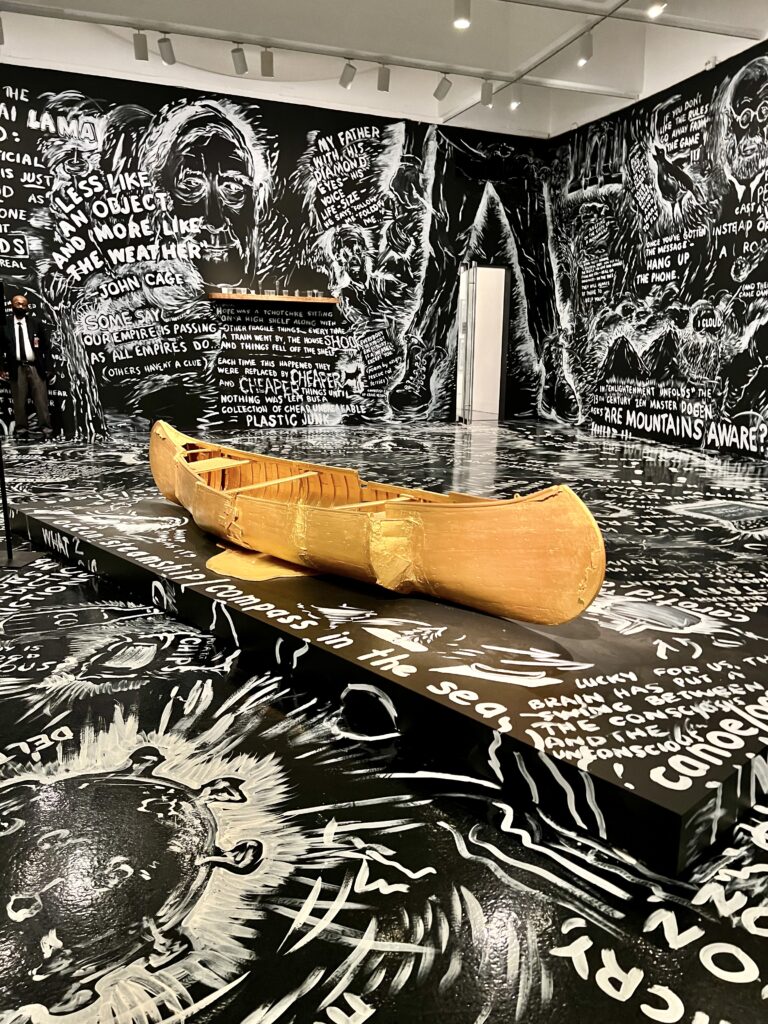 7. Laurie Anderson, Four Talks
Laurie Anderson is a multi-media artist who defies genres, tells stories, and makes observations about life in America. In 2021, the Hirshhorn invited her to create a work onsite in a dedicated gallery painted black.
She worked non-stop for 2 weeks in a stream of conscious manner, painting directly on the walls and floors.
The work's title, Four Talks, refers to the four scuptures in the rather disorienting room — a raven, an animatronic parrot, a canoe, and a shelf.
The immersive work takes viewers on a journey through her mind. Everywhere, you'll see white graffiti with words and phrases expressing her philosophy, including references to cultural icons like Balzac, Rodin, Edgar Allen Poe, and John Cage.
8. Michelangelo Pistoletto, Venus of the Rags
Pistoletto was also one of the leaders of Arte Povera movement in the 1960s. Arte Povera translates to "poor art." The movement combined conceptual and performance art with the use of ordinary or worthless materials.
Venus of the Rags is one of the Hirshhorn's most iconic works, and Pistoletto made several versions. The piece combines an oversize classical statue of the goddess of love with a heaping pile of colorful discarded clothes.
Venus has her back to the viewer. She's pressed into the pile, so that her front side is partly hidden and her face is veiled.
The juxtaposition of two contrasting motifs invites viewers to ponder their socio-political associations — that of aristocratic upper class values versus the struggling working class.
9. Barbara Kruger, Belief and Doubt
This 6,700 square feet work is in the lower exhibtion area. It's set in the lobby that connects the visitors with the smaller galleries and bookstore.
Kruger is a Conceptual artist known for her installations in bold black and white colors and text with political slogans. She came to prominence with her piece I Shop Therefore I Am.
In this exhibit, the walls, floor, and even escalators are wrapped in high contrast shades of black, white, and red vinyl. The text, sometimes 12 feet high, poses provocative or open ended questions.
It's the artist's attempt to encompass the viewer in language, creating a hall of voices.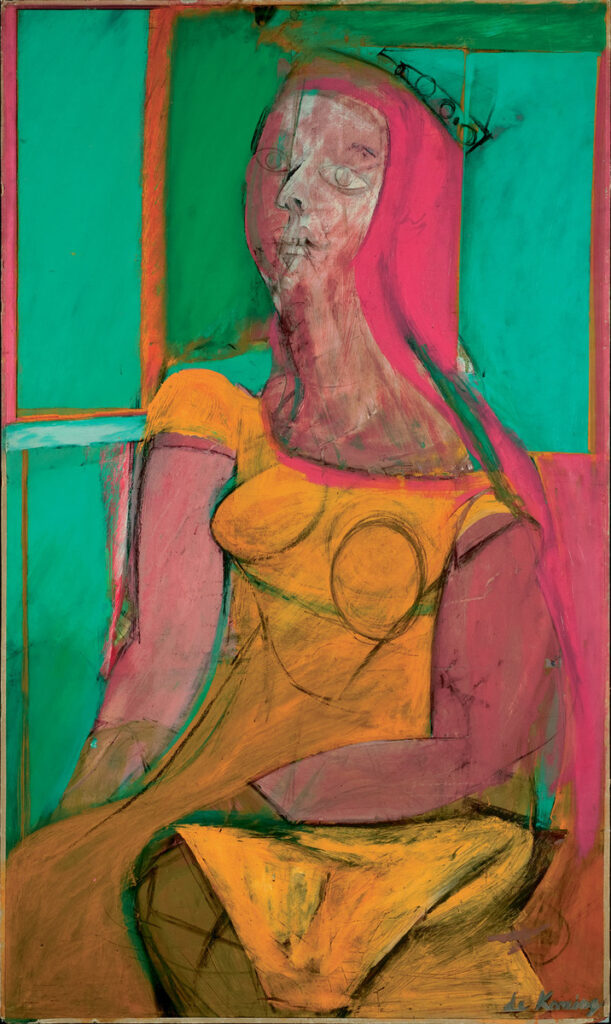 10. Willem de Kooning, Queen of Hearts
De Kooning is widely considered to be one of the most important and prolific artists of the 20th century.
His style combined Surrealism, Expressionism, and Cubism. Yet, he never really gave up depicting the human figure.
The Queen of Hearts is part of the first of three series of Women paintings produced by de Kooning. They are vaguely reminiscent of Picasso's portraits of Marie Therese Walter and Dora Maar from the 1920s and 30s.
It's a transitional painting foreshadowing his more signature anti-portraits of women from the 1950s. The strikingly colored portrait has a glossy surface.
The odds colors and obvious charcoal revisions signal a break from established pictorial conventions.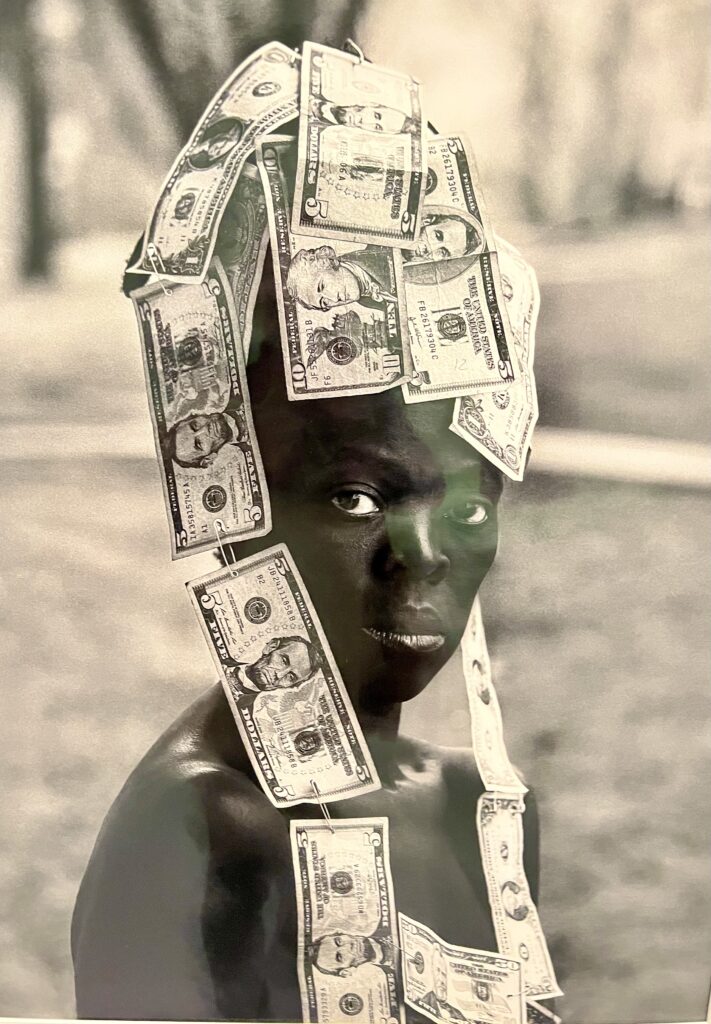 Hirshhorn Renovations & Closures
The Hirshhorn is showing its age. It's currently undergoing a three part renovation.
Its exterior concrete facade panels and roof are being replaced. During part of the process, the scaffolding was covered by a beautiful work by Nicolas Party, Draw the Curtain.
Next up on the multi-year renovation schedule is the Hirshhorn Sculpture Garden. In the spring of 2023, the garden will close for a $60 million renovation and reopen in 2024 or 2025.
The renovation is intended to add more grace to the space. Previously, the garden has been called a unshaded pit.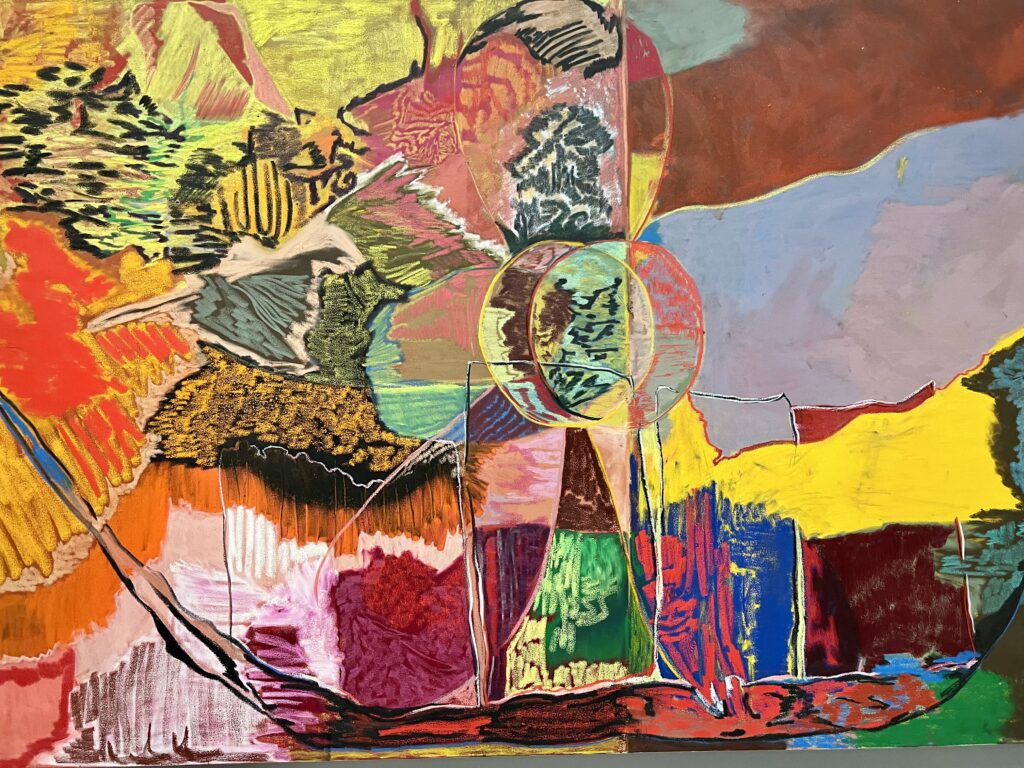 The museum would also like to attract more visitors. Previously, only 15% of museum attendees made it to the garden, which is filled with world famous sculptures that deserve attention.
But the proposed renovation was the subject of controversy due to preservationist objections. Nonetheless, Hiroshi Sugimoto's design was ultimately approved.
It will overhaul the original Brutalist design by Gordon Bunshaft, who as I mentioned also designed the museum. The revamp will add more open-air galleries, a reflecting pool, and improved access.
The sculpture garden renovations will take 18-24 months to complete. When that's done, a third renovation of the museum will begin.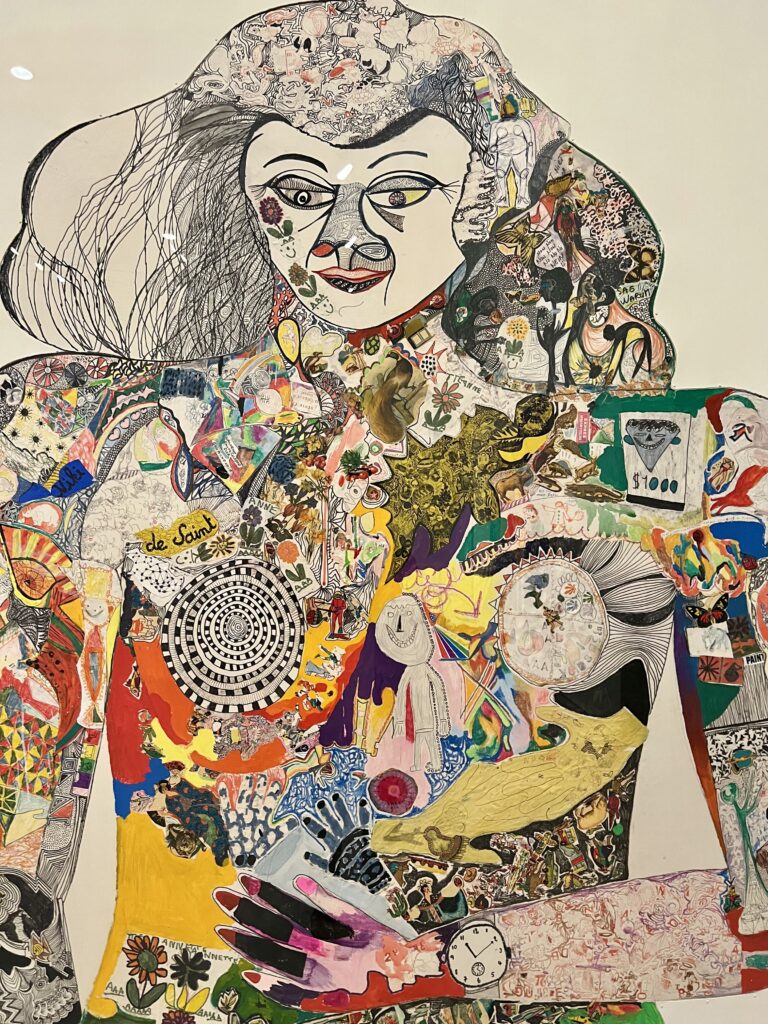 That will involve modernizing and revitalizing the interior spaces and infrastrucure, with sensitivity to maintaining the essence of the historic building. The museum may be closed up to 2 years during this process.
The Hirshhorn says the project boils down to "more art, more art, more art"
It will create more galleries to display more of the permanent collection at once and other spaces for larger art installations.
For example, the Hirshhorn would like to keep Kasuma's wildly popular infinity rooms on view full time instead of just showing them periodically.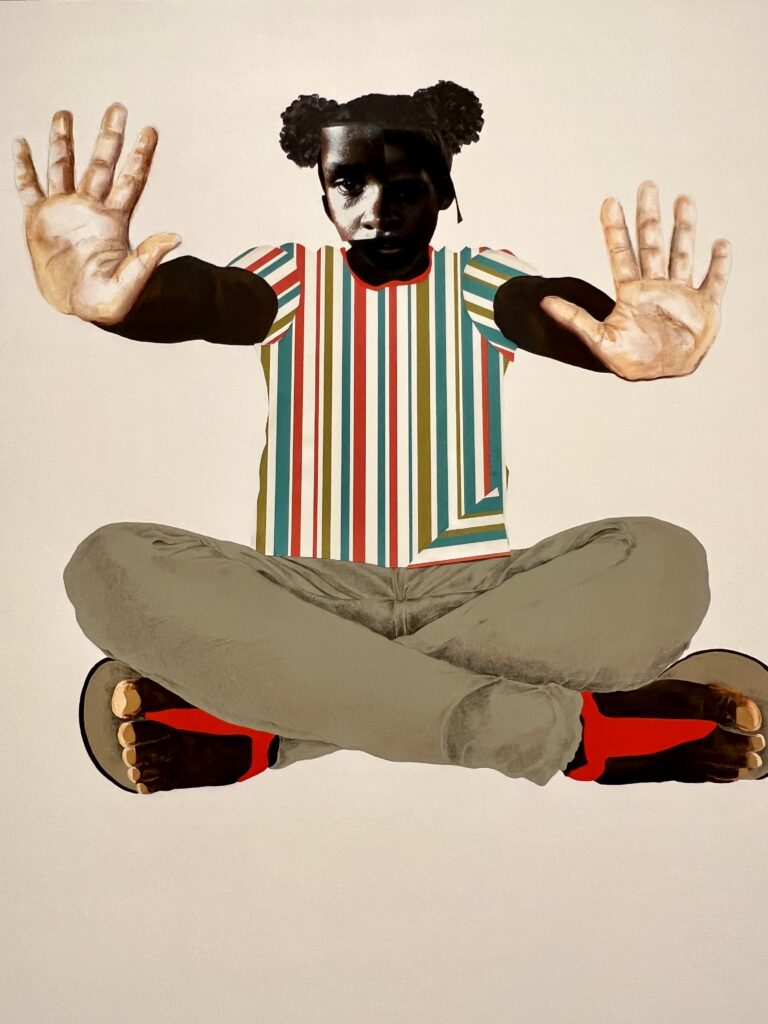 Practical Guide & Tips For The Hirshhorn
Here are some tips and must know information for visiting the Hirshhorn.
Address: Independence Ave SW &, 7th St SW
Hours: Open daily 10:00 am to 5:30 pm
Tickets:
Admission is free. But you do need to make a timed entry reservation for special exhibitions, which are also free. On a weekday in the winter, you may be able to schedule a same day visit on site. Otherwise, you can book a next day pass.
Pro Tips:
To get information on the exhibits, start by scanning the Hirshhorn Eye (hi for short) on signs in the museum. This allows you to point your phone at the art and hear videos of the artists.
To see what is currently on display, you can check the museum website.
The museum has a small cafe and coffee bar, Dolcezza Cafe, on the first floor. This is also where the information desk is.
There are free highlights tours twice a day at 12:30 pm and 3:30 pm. They last 45-60 minutes.
You should budget about 1.5 to 2 hours to see the Hirshhorn, more if you're attending the special exhibition. If you are visiting the sculpture garden, add another half hour or more.
I hope you've enjoyed my guide to the Hirshhorn Museum. You may enjoy these other Washington D.C. travel guides and resources:
If you need a guide to the Hirshhorn Museum, pin it for later.