Looking for some outdoor fun in Washington D.C.? One of the best things to do in D.C. is visit the magnificent Hirshhorn Sculpture Garden.
It's an outdoor art park filled with world famous, eye catching sculptures by some of the world's greatest artists. The museum is run by the Smithsonian Institute as part of the Hirshhorn Museum.
The Sculpture Garden is located right on the National Mall, which is home to the major cultural attractions in D.C. The best part about the Sculpture Garden? It's outdoors and absolutely free.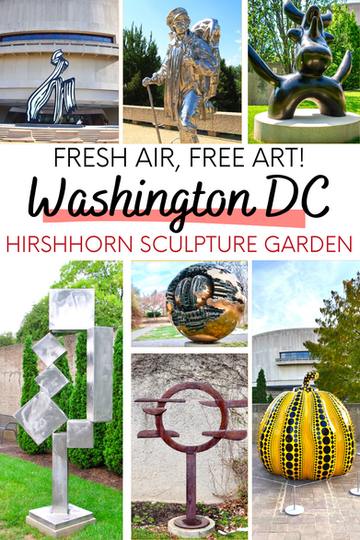 The Hirshhorn Museum and Sculpture Garden was founded by Joseph Hirshhorn. In 1966, he bequeathed nearly 6,000 works from his personal collection to the Smithsonian Institution. As a result, the spectacular and groundbreaking museum was built.
The museum itself is a circular building with an almost completely solid exterior face. It's a pure form raised on monumental pilotis.
The architect, Gordon Bunshaft, sought to create "a large piece of functional sculpture" where art could be exhibited "without architectural distractions." It allows the museum to present art in different ways.
The Hirshhorn Museum sits in a plaza. That's where you encounter the first permanent sculptures around, and interacting with, the museum: Alexander Calder's Two Discs, Kenneth Snelson's Needle Tower, and Lucio Fontana's Spatial Concept Nature. There are also rotating temporary exhibits.
First opened in 1974, the museum's Sculpture Garden is 197,000 square feet of beauty. In 1981, the garden was renovated. The landscape architect, Lester Collins, created a small jewel box, a "park within a park." The Sculpture Garden became shadier and leafier, with lawns and trees. It's considered one of the finest modern landscapes in Washington D.C.
The garden directly faces the mall. It houses approximately 60 sculptures dating from 180 to 1965. The garden is enhanced by natural elements, including a reflecting pool in its center.
This is where you'll find perhaps the Sculpture Garden's most famous sculpture, August Rodin's The Burghers of Calais. Rodin is considered the father of modern sculpture. He was absurdly talented, his works a torrent of expressive power.
The Burghers of Calais is an emotionally charged piece. It tells a romantic story from the siege of Calais in 1347, during the Hundred Years War.
Six leading citizens, the burghers, offered to die if the rest of their town were allowed to survive. King Edward III's wife, Queen Phillippa, heard the tale and persuaded her husband to spare them all.
In 1885, the City of Calais commissioned Rodin to create a sculpture commemorating the burghers' heroism. But, as usual, Rodin chose the extraordinary rather than the ordinary. He depicted the martyrs in a moment of angst, after their courageous sacrifice and when the threat of death was imminent.
The Burghers stand next to other works by Rodin (Walking Man, Crouching Woman). There are also pieces by 19th and 20th century luminaries such as Aristide Maillol, Emile-Antoine Bourdelle, Henri Matisse, Gaston Lachaise, Pablo Picasso, Joan Miro, Marino Marini, and Alberto Giacometti.
Yoko Ono's Wish Tree for Washington D.C., gifted by the artist herself in 2007, takes pride of place. The wish tree is a white-flowering Japanese dogwood.
Visitors are urged to whisper their wishes to the tree. In the summer months, the Wish Tree "blooms" when visitors hang paper tags with written wishes on the tree.
You'll also find several of Henry Moore's classic reclining figures. Jean Arp's ambiguous Evocation of a Form depicts different forms depending on your viewpoint. Other abstract or conceptual works include Alexandre Calder's mobile Six Dots over a Mountain, David Smith's Cubi XII and Voltri XV, and Yayoi Kusama's whimsical Pumpkin.
In short, the Hirshhorn Sculpture Garden is a free wonderland of sculpture, an art park that's both modern and innovative-edgy. It's the perfect place to get a dose of culture in a contemplative outdoor environment.
Practical Information for Visiting the Hirshhorn Sculpture Garden
Address: 700 Independence Avenue (corner of 7th Street & Independence)
Hours: 7:30 am to dusk
Entry fee: free
Pro tip: Although the museum itself is closed at the moment, the Sculpture Garden remains open.
Metro: The closest Metro stop is Smithsonian, on the Blue, Orange and Silver lines.
I hope you've enjoyed my guide to the Hirshhorn Sculpture Gallery. You may enjoy these other United States travel guides:
• Fall foliage around Washington D.C.
• 10 day itinerary for New Hampshire
• Hidden Gem Towns on the East Coast
• 10 day itinerary for coastal Maine
• 7-10 day itinerary for Vermont
• One week itinerary for southern New England
• Fall foliage road trip in New England
• 25 most beautiful towns in New England
• 45 amazing destinations in the United States
• Best places to visit in Massachusetts
If you'd like to visit the Hirshhorn Sculpture Garden in Washington D.C., pin it for later.