Looking for things to do in Montepulciano? Look no further!
Montepulciano is a medieval village located in southern Tuscany, famous for its velvety vino nobile red wine. However, even if you're not a wine lover, Montepulciano is still worth a visit.
The town is incredibly beautiful and is synonymous with the classic Tuscan landscape. It's perched on a limestone ridge and surrounded by vineyards.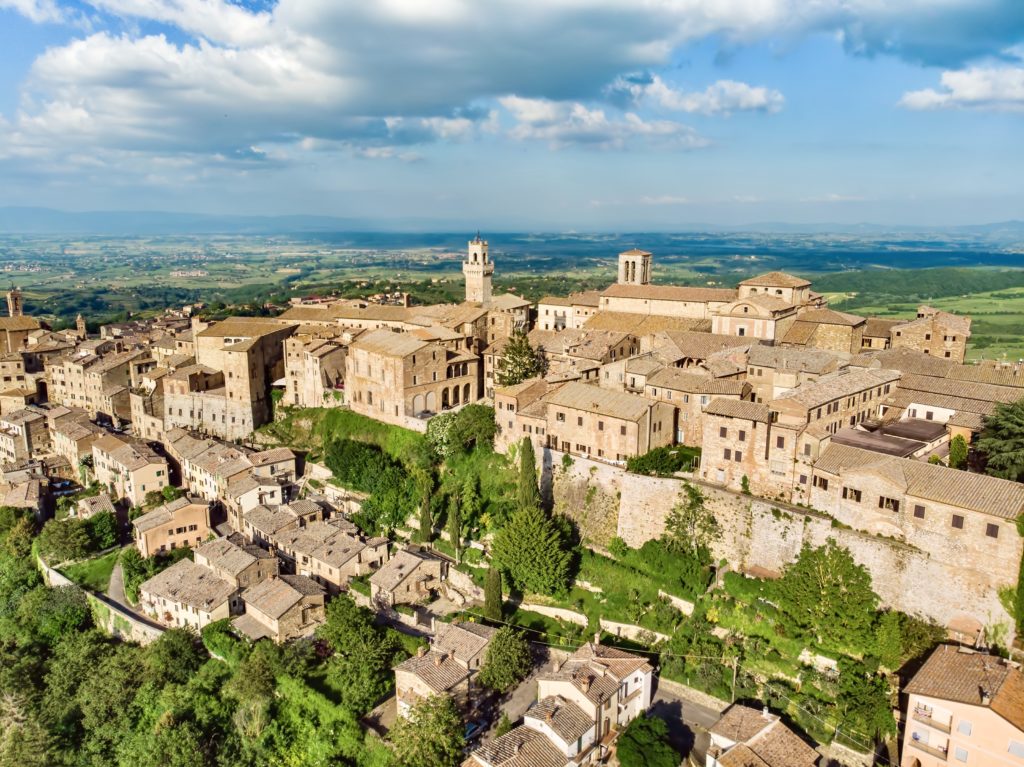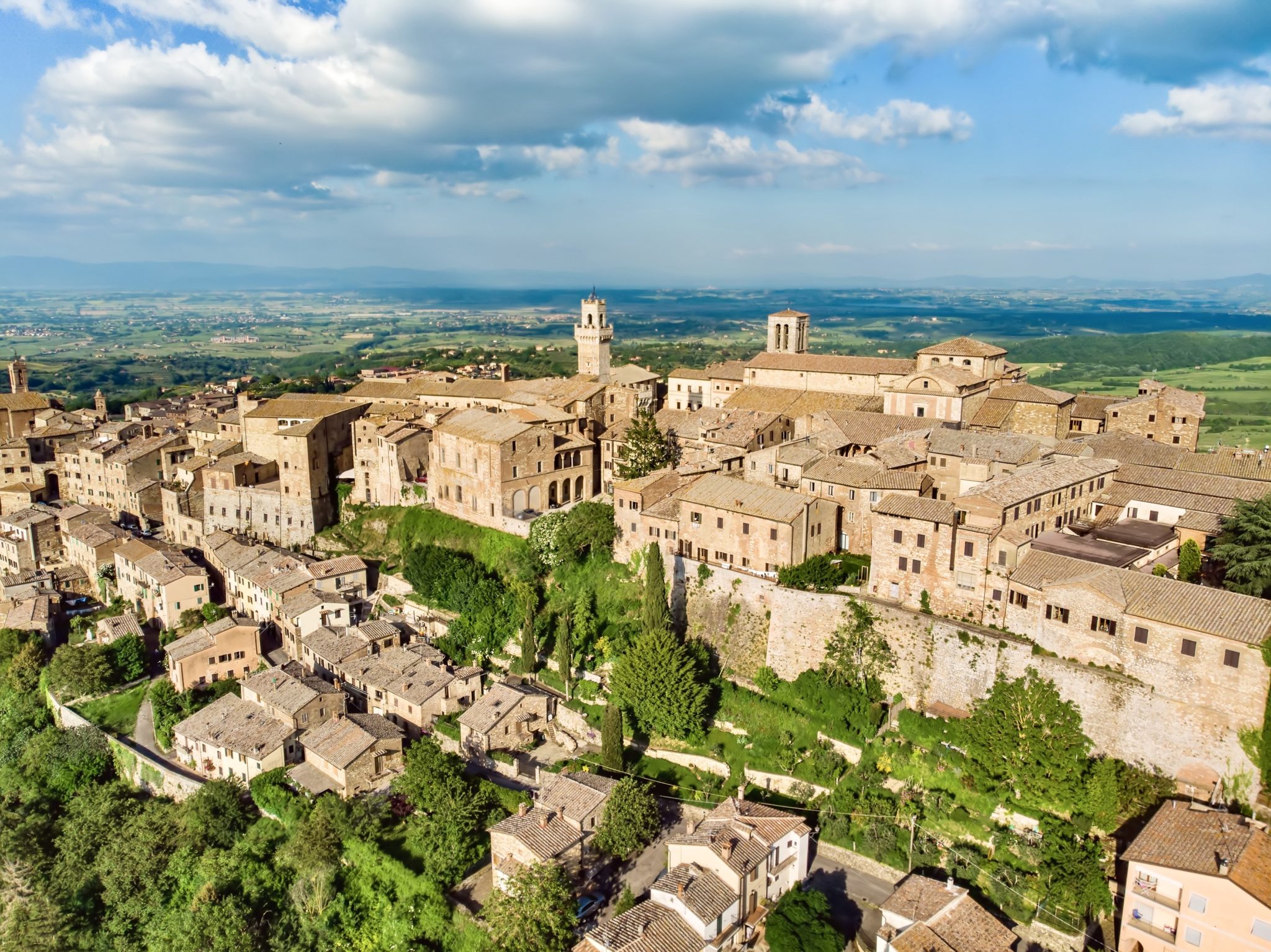 Montepulciano is renowned for its well-preserved medieval and Renaissance architecture, romantic nooks, and sun-bleached sandstone courtyards that offer panoramic views of the rolling Tuscan hills.
It's no surprise that the town is often referred to as the "Pearl of the 1500s."
As one of the highest hilltop towns in the region, most streets in Montepulciano are almost entirely vertical, providing a workout as you amble from one nostalgic wine shop to the next.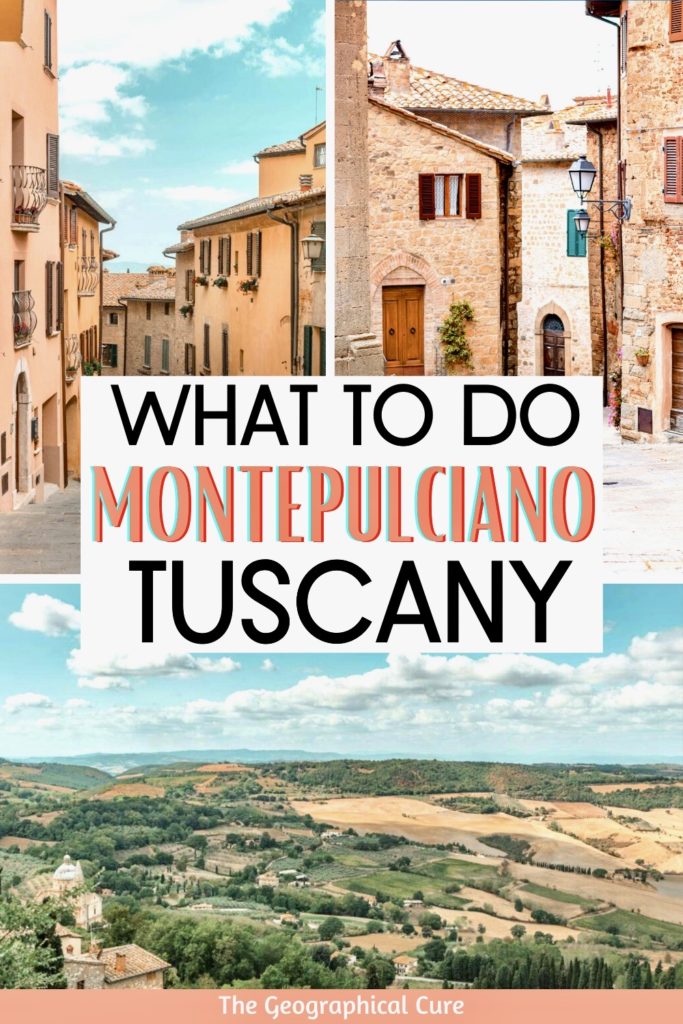 Short History Of Montepulciano
According to legend, the Etruscan King Porsenna expelled Tarquinius the Superb of Rome in 319 B.C. He settled in and founded the city of Montepulciano.
The Romans took over from the Etruscans. They established Montepulciano as a military camp.
After the fall of Rome in the 5th century, the barbarian Lombards seized control. They developed Montepulciano as a religious city.
Artifacts from both the Etruscans and Romans have been excavated. But not much detail is know about this period.
Throughout the 12th and 15th centuries, Montepulciano became a target of the city state of Siena. Montepulciano was strategically important because it was a valuable farming community on the main trade route.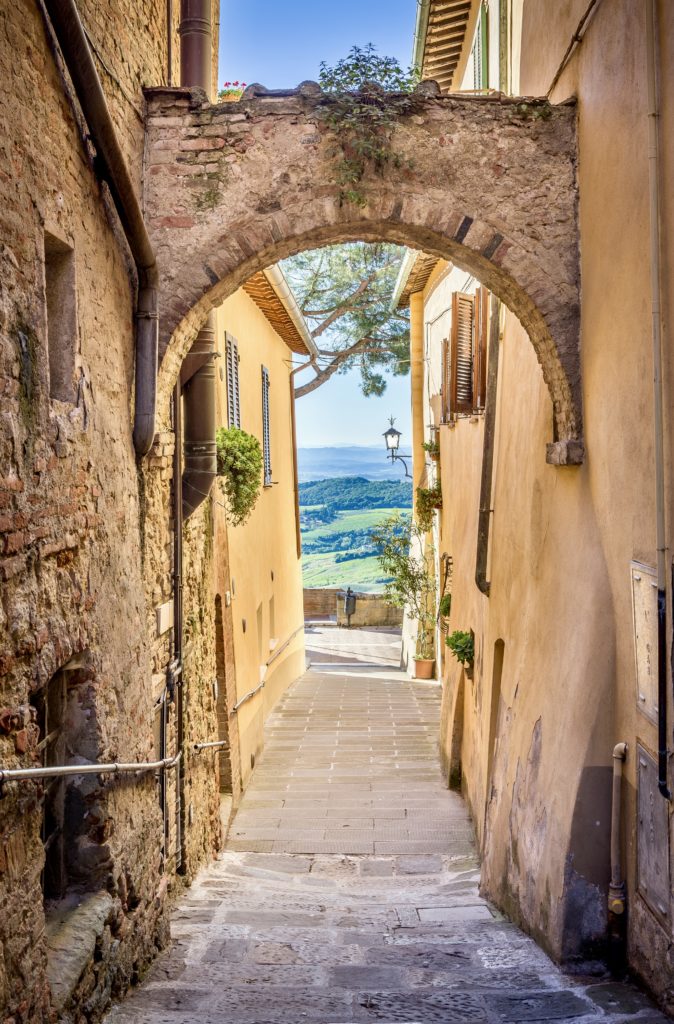 Montepulciano bounced back and forth between the control of Siena and Florence. But the town was always an ally of Florence.
By 1511, Montepulciano was under Florentine control for good until modern times, ruled by the Medici grand dukes of Florence.
READ: History of the Medici
Montepulciano flourished during this time from the Renaissance influence. The greatest architects and artists of the day came to Montepulciano — like Antonio da Sangallo the Elder, Michelozzo, Baldasarre Peruzzi, and Ippolito Scalza. Many important monuments were built.
With the unification of Italy in 1861, Montepulciano was classified in the Siena territory. Today, it's famous for its excellent wines and local produce, as well as its well preserved cultural heritage.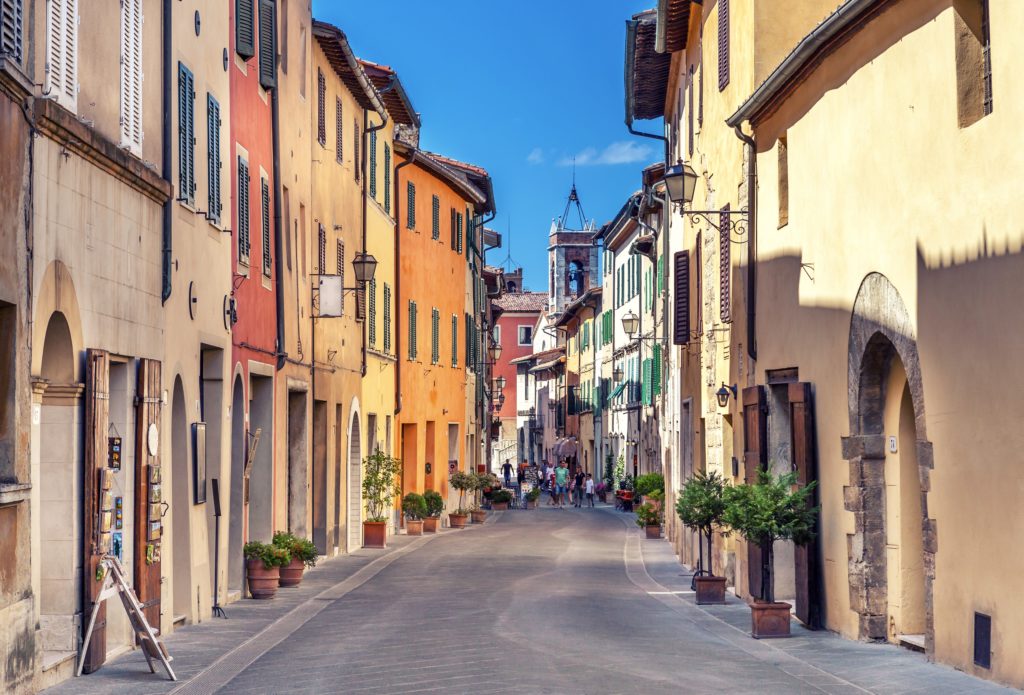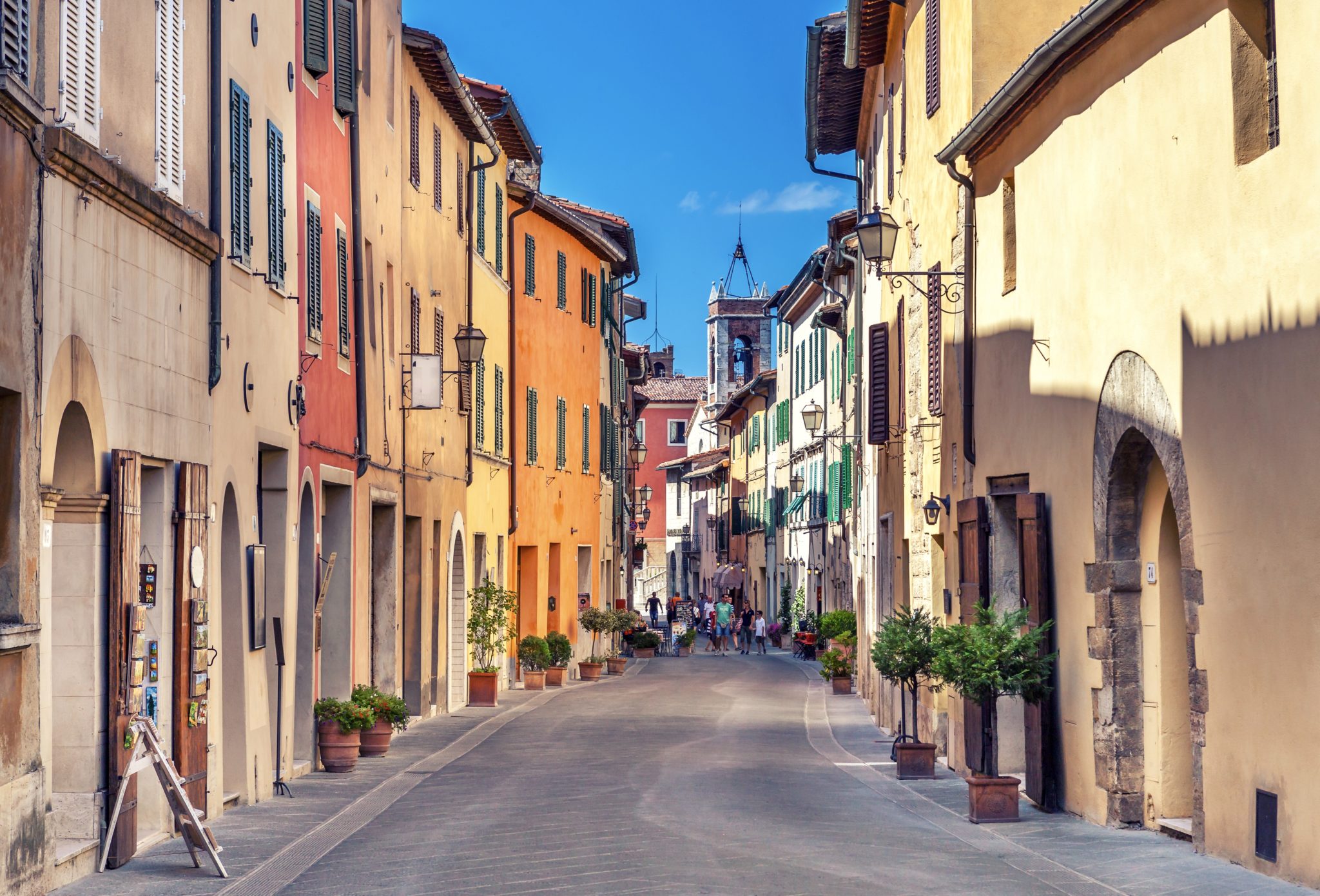 Top Attractions & Best Things To Do in Montepulciano
Here are my picks for the best things to do in Montepulciano. I also give you tips on where to eat, where to stay, and how to get to Montepulciano.
1. Stroll Il Corso
If you haven't been to Montepulciano before, you may want to book a guided walking tour to get the lay of the land.
If not, the first thing you should do is take a leisurely stroll along the charming main street, Il Corso. The street runs from Piazza Sant'Agnese to the Montepulciano Fortress and changes names as it winds its way up.
Il Corso is bustling with cafes, restaurants, and shops, making it the perfect place to find locally made souvenirs such as textiles, ceramics, pasta, clothing, and olive oil.
Along the street, you'll come across many historical Renaissance and Baroque palaces adorned with family coats of arms and symbols on their facades. Take a moment to appreciate the magnificent architecture that surrounds you.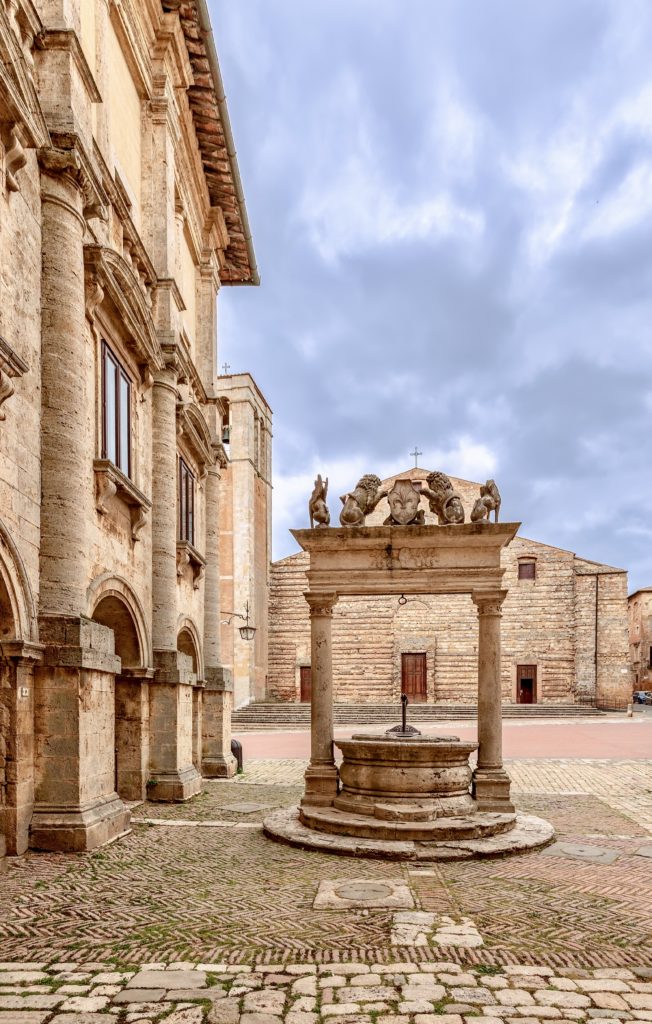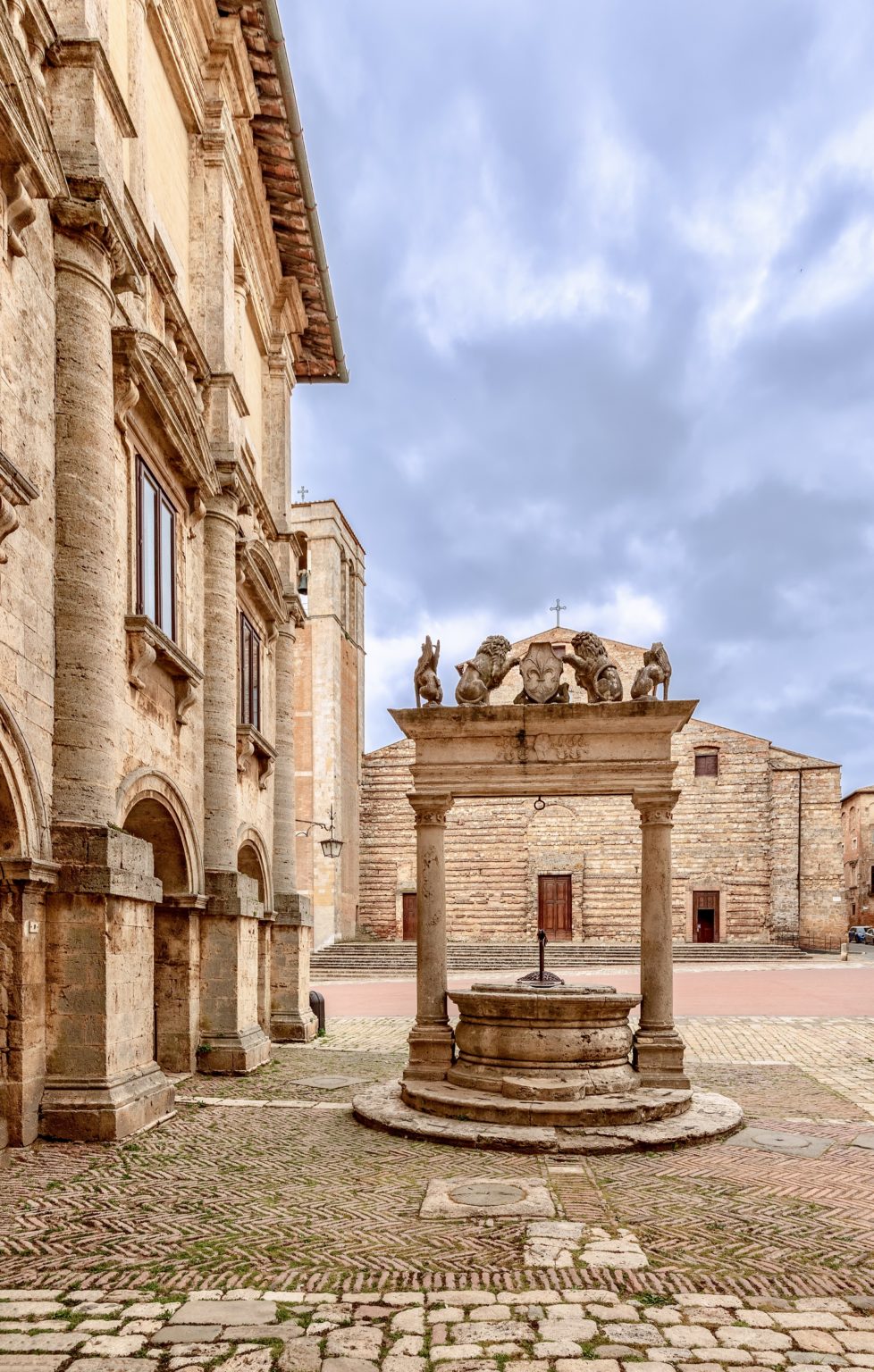 2. Piazza Grande
Piazza Grande is the monumental center of Montepulciano. This marvelous Piazza Grande dates from the 14th century and got a makeover in the 16th century. It's one of Tuscany's most magnificent squares.
It contains all of Montepulciano's most important Medieval and Renaissanace-architecture — a clock tower, the Duomo, Palazzo Contucci, and Il Pozzo dei Grifi e dei Leon.
Il Pozzo is a beautiful well adorned with griffins, lions, and a Medici coat of arms. Griffins are the symbol of Montepulciano.
Piazza Grande was a filming location for the Twilight series movie New Moon and Netflix' Medici series.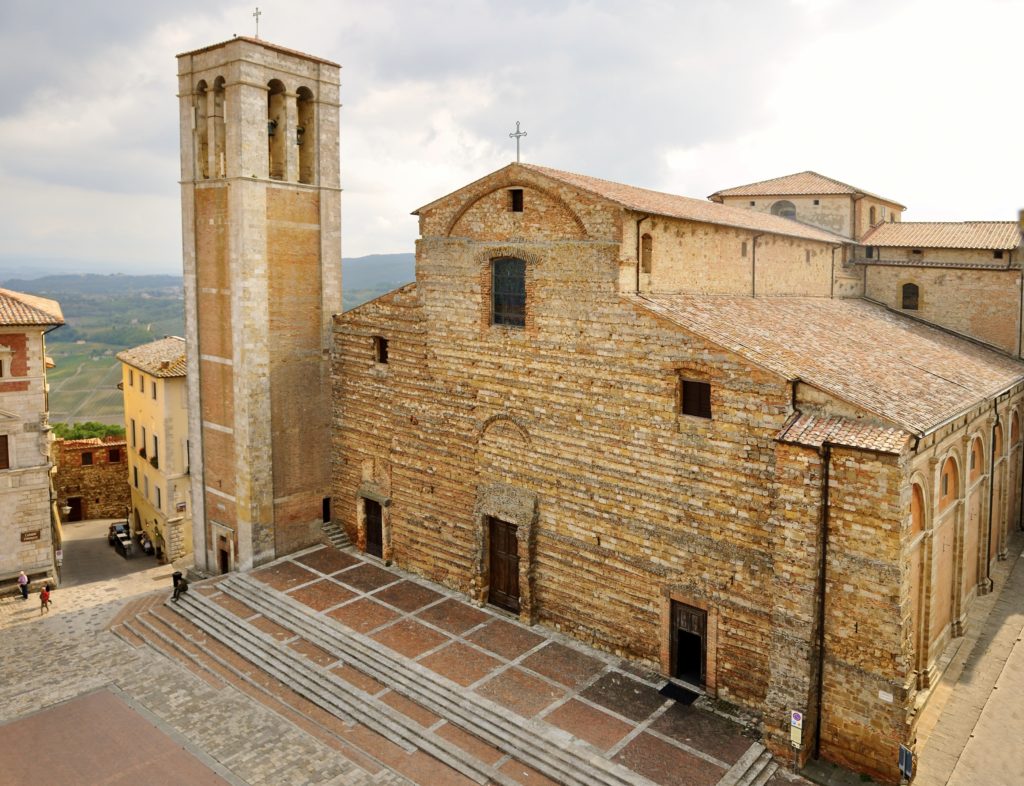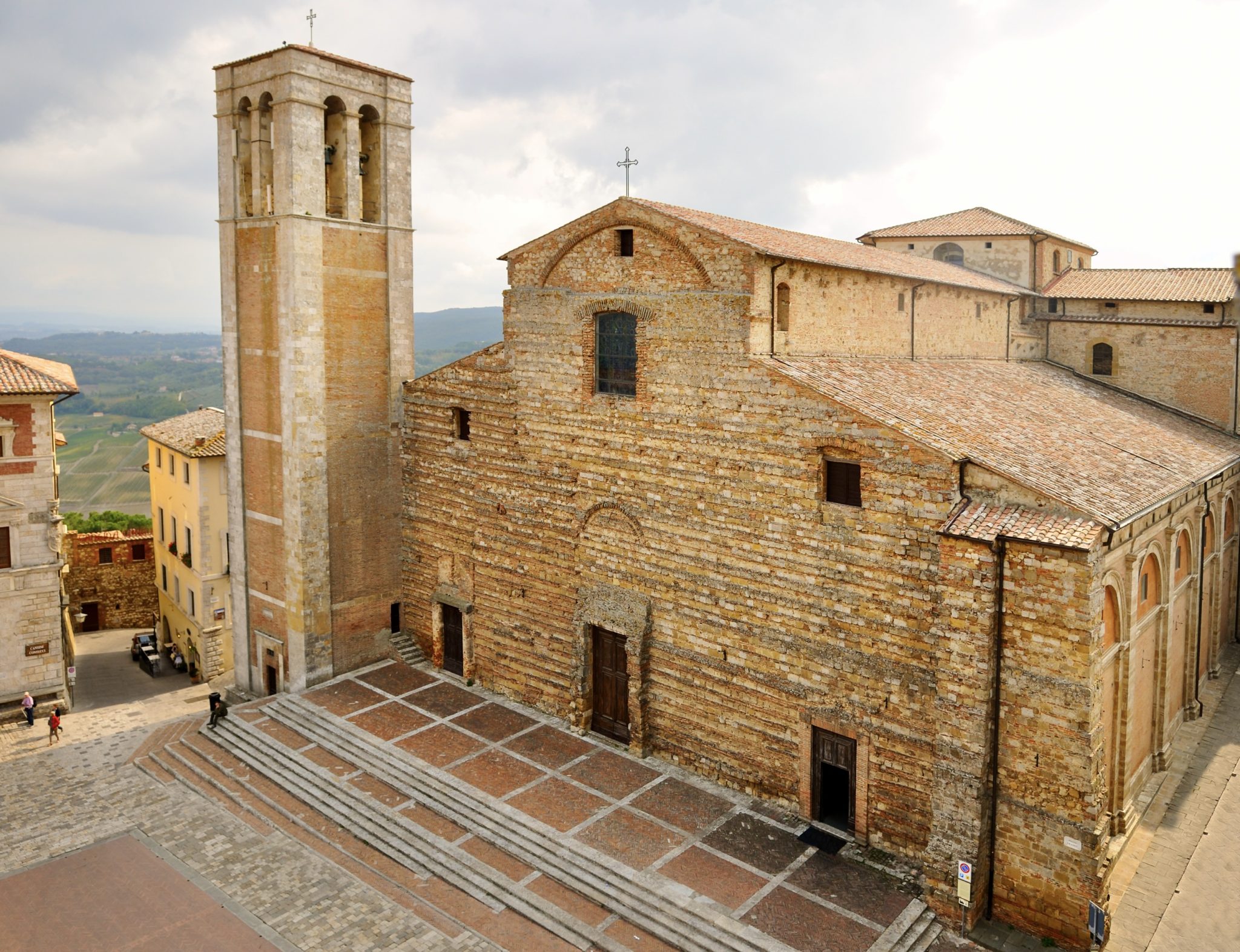 3. Duomo di Montepulciano | Cathedral of Santa Maria Assunta
The Montepulciano Duomo dominates the northern side of Piazza Grande. It was built to replace an old parish church on the site.
Though there was a pressing need for a new church, building didn't begin until 1594. It wasn't completed until 1680.
The town used a design by Orvieto architect and sculptor Ippolito Scalza. He won the design competition over the more famous Bartolomeo Ammannati from Florence.
The Duomo has an unfinished rusticated facade, similar to the Basilica of San Lorenzo in Florence. To the left of the facade is a bell tower built in brick with travertine stone corners.
There are three doors to the cathedral, which in turn lead to three naves symbolizing the holy trinity. The naves are connected and divided by pilasters and rounded arches, a motif you can also see on the sides of the facade.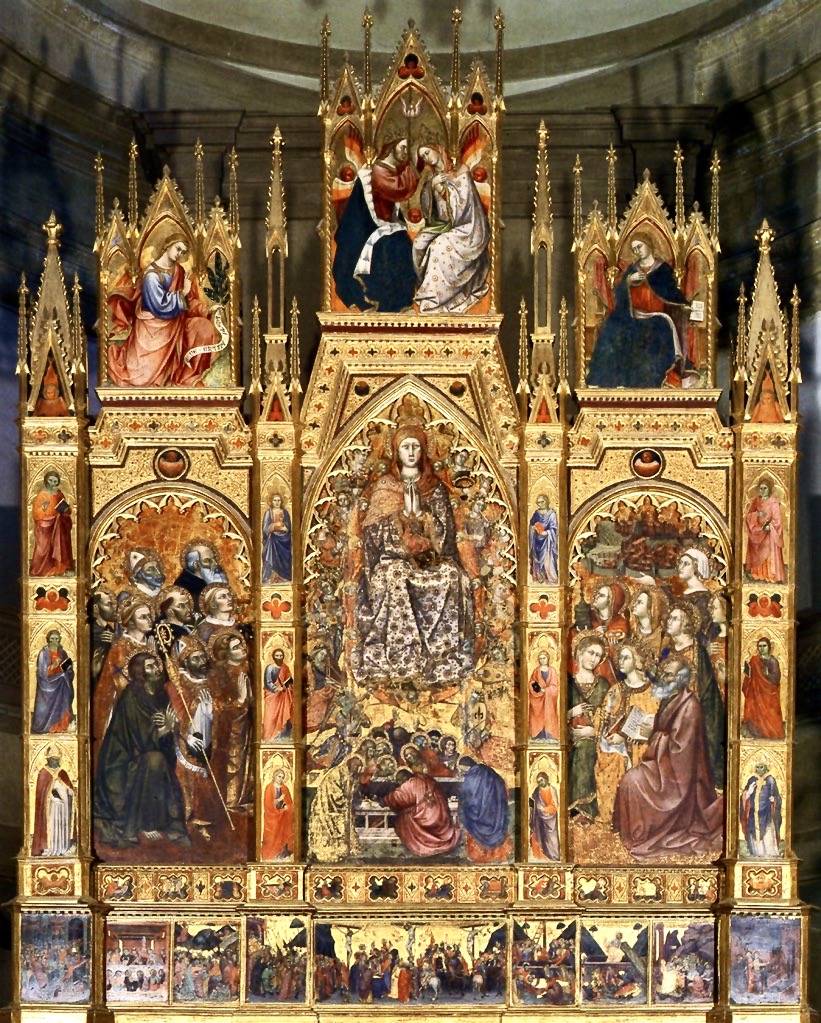 The aisle naves are lined with chapels. There are broad ribbed vaulted ceiling above.
The cathedral's most important work are pieces of the Florentine Renaissance funeral monument dedicated to the papal diplomat Bartolomeo Aragazzi. It's the work of the famous early Renaissance artist and architect Michelozzo.
The most famous painting in the Duomo is Taddeo di Bartolo's Assumption of the Virgin triptych. It's on the cathedral's high altar along with sculptures from the funeral monument.
The Assumption is the largest wood panel painting in the entire Sienese school. It's divided into three parts and crowned with pointed panels.
In the center, Mary is rising toward heaven asking for a blessing and then she is crowned. At the bottom is a frieze with scenes from the life of Christ.
You should also take a peak inside the first chapel on the left. There's an eye-catching terracotta piece known as the "Altar of the Lilies" created by Andrea della Robbia.
4. Palazzo Communale
Palazzo Communale is Montepulciano's town hall, made of travertine stone. It was almost certainly rebuilt and redesigned by Michelozzo in the 15th century.
If you've been to Florence, you can see that it's modeled after the Palazzo Vecchio. It was built in the traditional Tuscan Gothic design with a central tower.
There's a viewing terrace in the palace. But you should head straight to the tower for great views (as I discuss next).
The terrace and tower are open every day from 10.00 am to 6:00 pm.
5. Climb The Tower Of City Hall
Climbing the palace tower was one of my favorite things to do in Montepulciano.
You purchase a ticket on the ground floor. Then, you head upstairs through a document room on the second floor.
From there, you start your ascent. It's not very far to the top, just 68 steps. But the stairway is very narrow and steep with uneven steps. You've got to watch your head at times.
But it's worth the effort for the amazing panoramic views over the town, Piazza Grande, and countryside.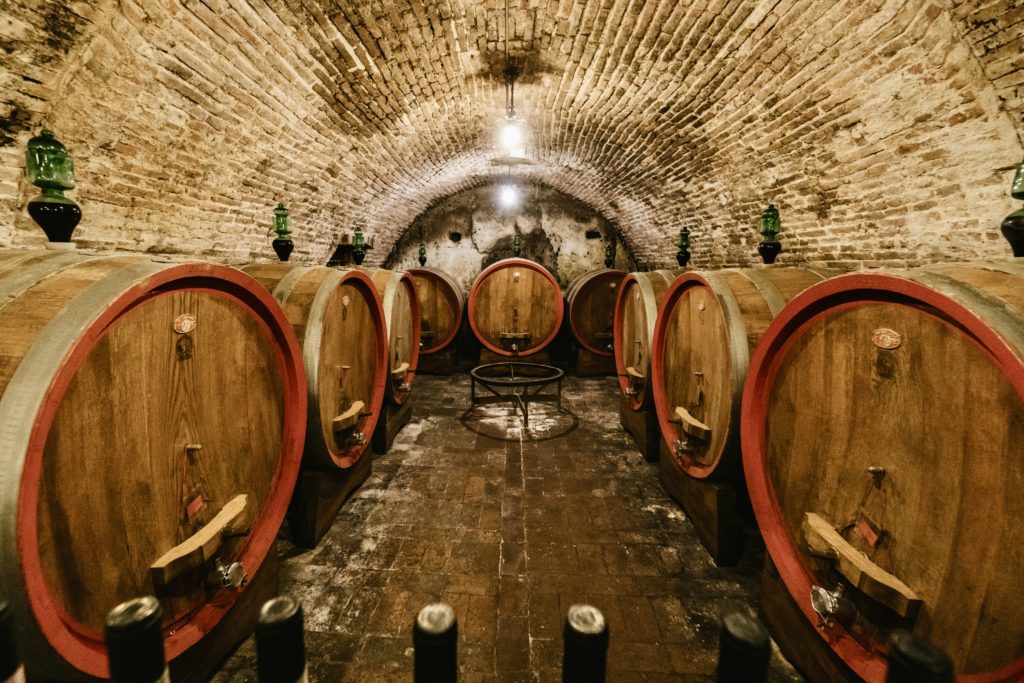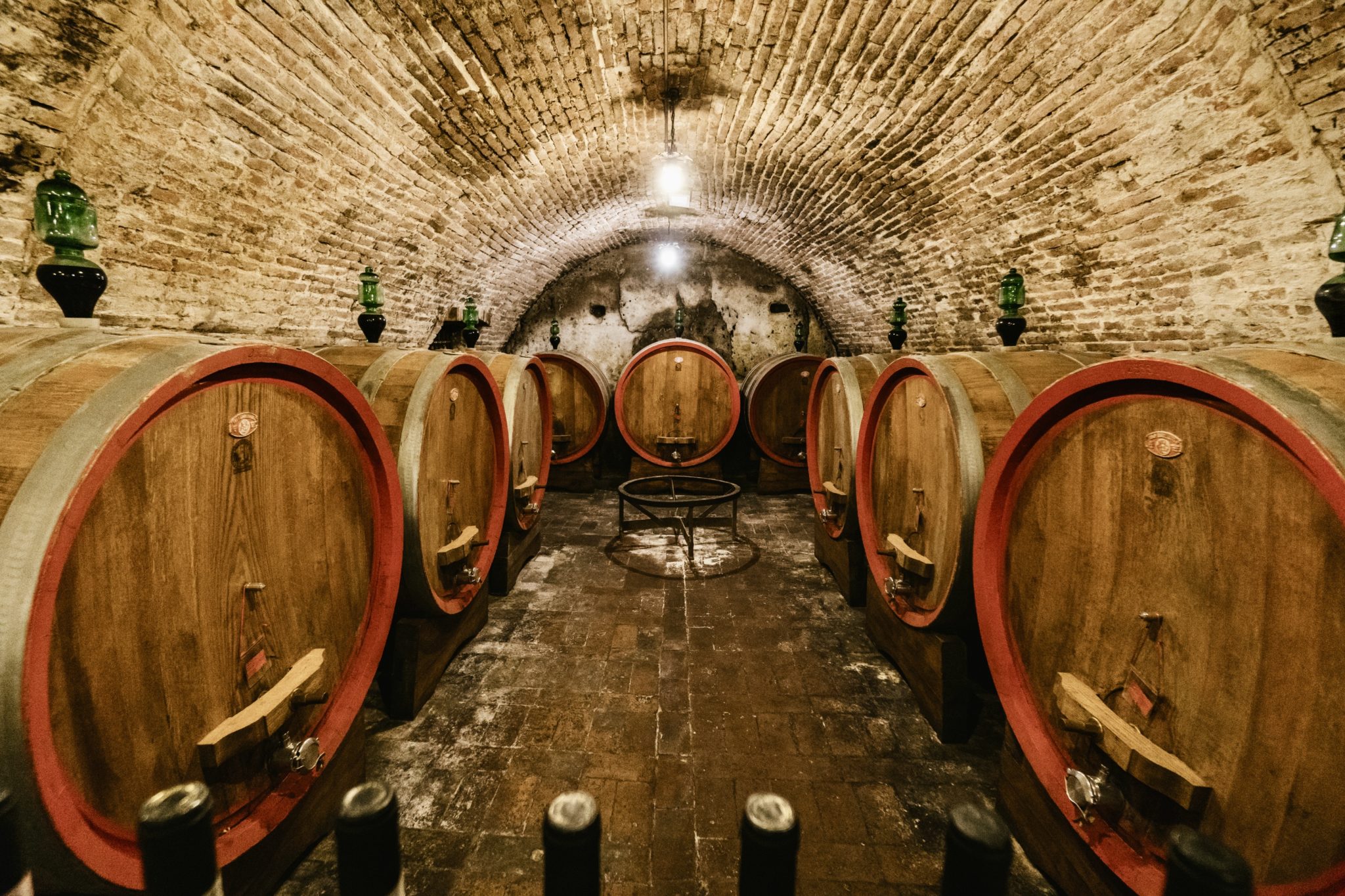 6. Wine Tasting
No visit to Montepulciano would be complete with tasting its luscious wines.
The wine bars are right in town, so you don't have to organize a tour or drive. Be sure to check the hours of each winery because some are closed for lunch.
Montepulciano is world famous for its rich red Vino Nobile di Montepulciano and, to a lesser extent, its fruitier Rosso di Montepulciano.
Vino Nobile is one of the great wines of the Tuscany region, known as the "king of the reds." It's made from the Sangiovese grape and one of the top sellers in Italy.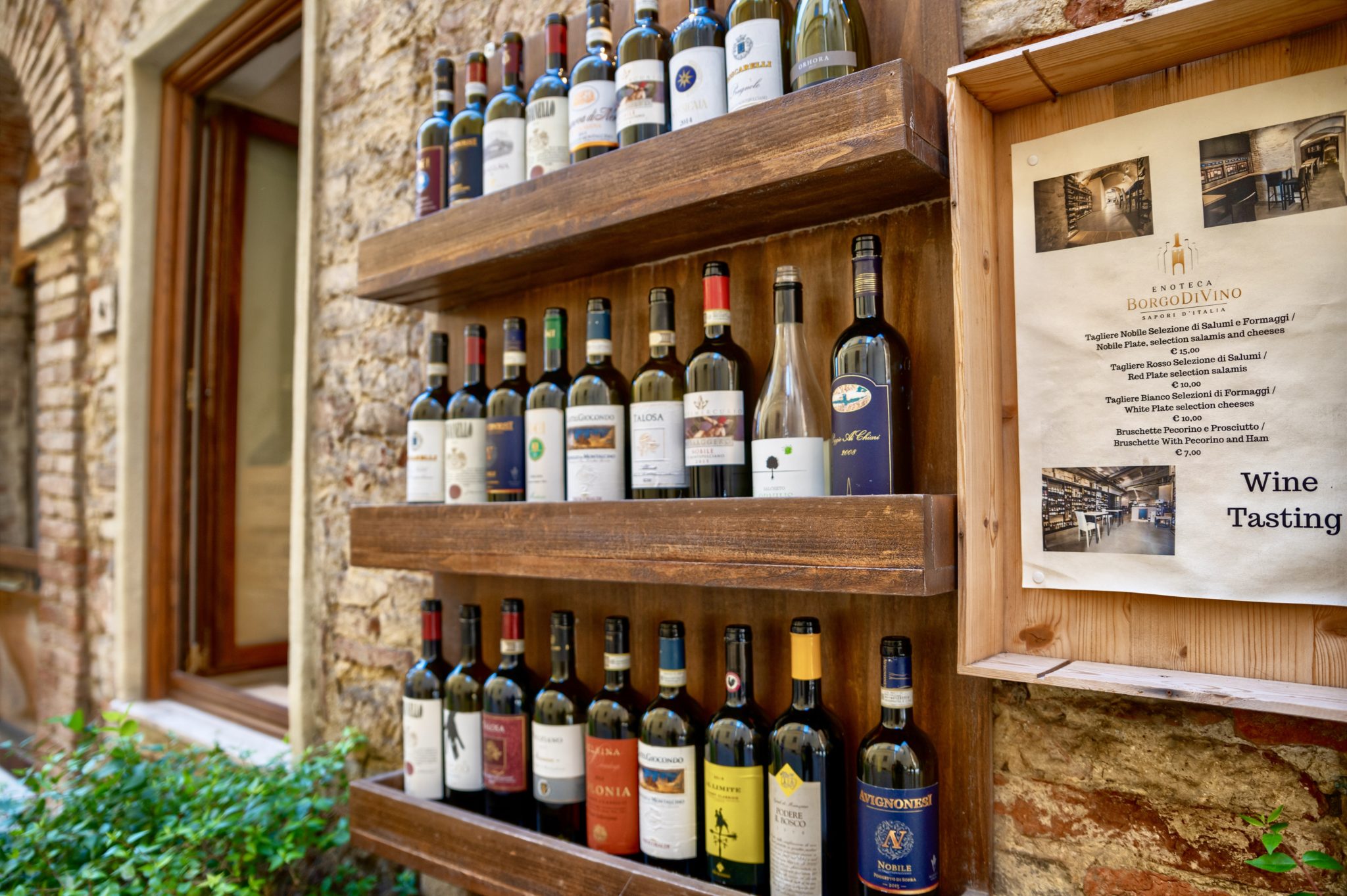 To qualify as vino nobile, the wine must be made from at least 70% of the Sangiovese grape and aged or 2 years. Vino nobile is dry and complex with a long finish, a good everyday drinking wine.
There are plenty of places in Montepulciano to taste and tipple. You can book a guided wine tour or go off on your own in search vino.
Gattavecchi Winery is a family run winery in the town center. You can tour the centuries old cellar in a former 12th century monastery.
Then taste wine along with prosciutto and cheese. There's also a restaurant, Cantina Gattavecchi, for lunch and dinner that comes paired with wine.
For cheese, try the Pecorino of Pienza. It's a sheep-milk cheese. It has a unique flavor because of the herbs the cheese graze on.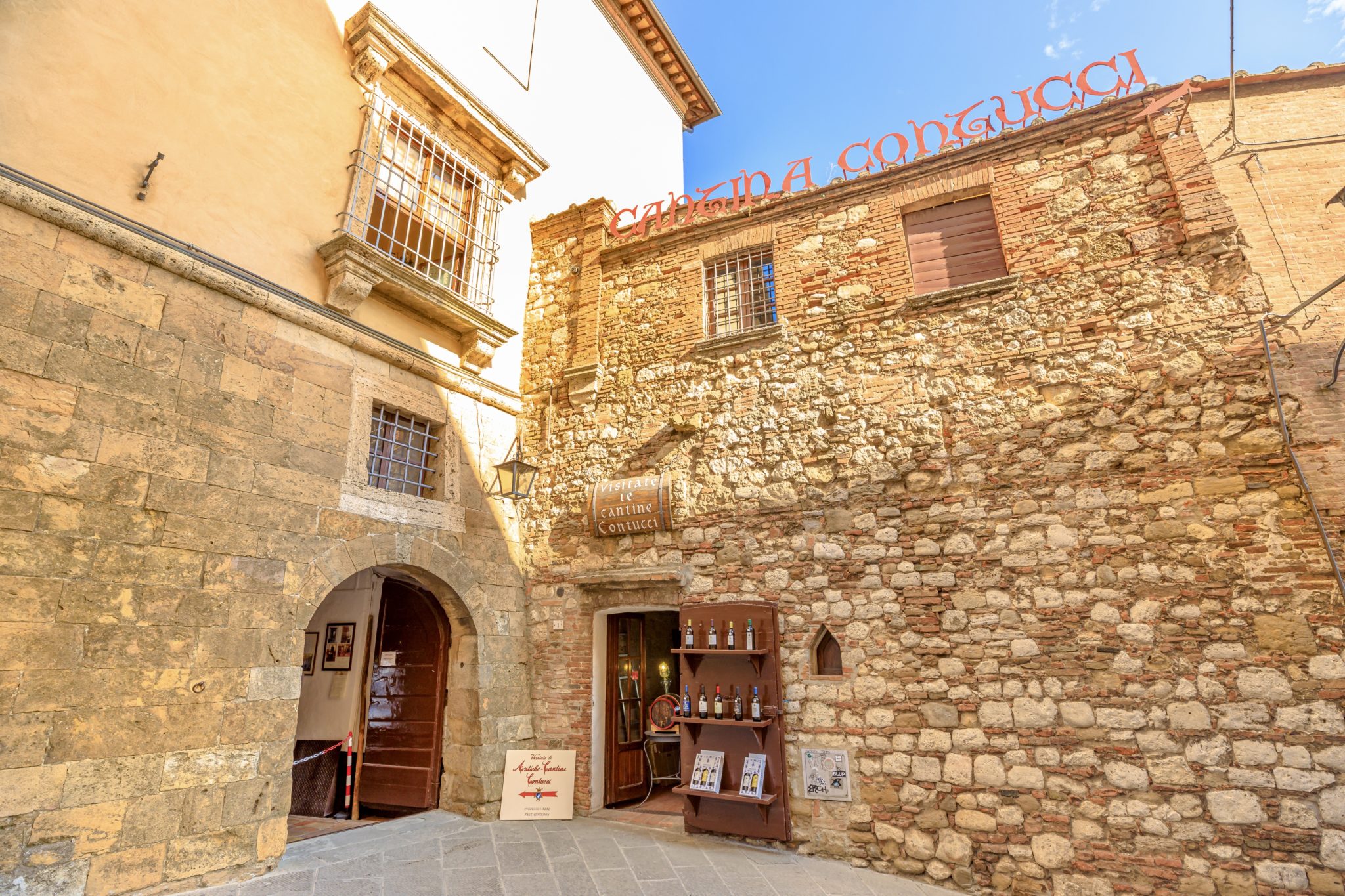 Contucci Winery is on Montepulciano's main square. You enter via the entrance on the side street. Contucci is a family run winery and one of the oldest in the region. While you're sipping, you can also take a tour of the underground cellar.
At De Ricci Winery, you head directly down steps into the cellar and tasting room. It has the distinction of being one of the coolest wine caves around, important if you're roasting under the Tuscan sun.
De' Ricci offers scheduled tours during the day. You'll have a choice of tastings. While you're at it, you can sample their olive oil.
La Dolce Vita is a beyond cute wine store, shop, and restaurant. It's housed in a medieval tufa building that dates back to the 13th century. You can sample wine and get snacks including pasta, olive oil, and honey.
7. Church of Sant'Agostino
This lovely little church was founded in 1285. It's the oldest church in Montepuolciano.
But it was largely rebuilt and restored in the 15th century by the architect Michelozzo. It's located on Piazza Manin.
The church has an austere white marble facade. Above the door is a delicate terracotta Madonna and Child with Saints carved by Michelozzo.
The inside has stark white walls, so it doesn't have the dark appearance of most churches. It was restored in the 18th century.
There are plenty of paintings and sculptures to admire, including a crucifix. For along time, it was attributed to the great early Renaissance artist Donatello. But seem art historians attribute it to Michelozzo.
It's definitely a good spot to pop into as you wind your way up into the main drag of the town.
8. Church of Sant'Agnese
This small church was built in the 13th century. Although the facade dates from the 20th century, the Gothic doorway is original. The circular stained glass window depicts the figure of St. Agnese.
Inside, in the Santa Caterina Chapel, there's a fresco attributed to Sienese master Simone Martini. The high altar holds a marble funeral monument with the body of St. Agnese.
The church has some lovely cloisters. Its travertine crossed vaults were built in the 18th and 19th centuries.
9. Church of the Madonna of San Biagio
The Church of San Biagio is definitely one of the best things to do in Montepulciano. It's one of the most stunning Renaissance churches in Italy.
The impressive church is a masterpiece designed by Anthonio da Sangallo the Elder in the 16th century. It was constructed between 1518-45.
The church has a creamy honey-colored travertine facade, which contrasts nicely with the surrounding cypress trees. The facade is flanked by a detached bell tower, though the design originally called for two symmetrical towers.
The church has a Greek cross plan. Each arm is covered with a barrel vault.
The church's simple and serene interior was "Baroque-ified" a bit and boasts an ornate marble altar with statues in the niches.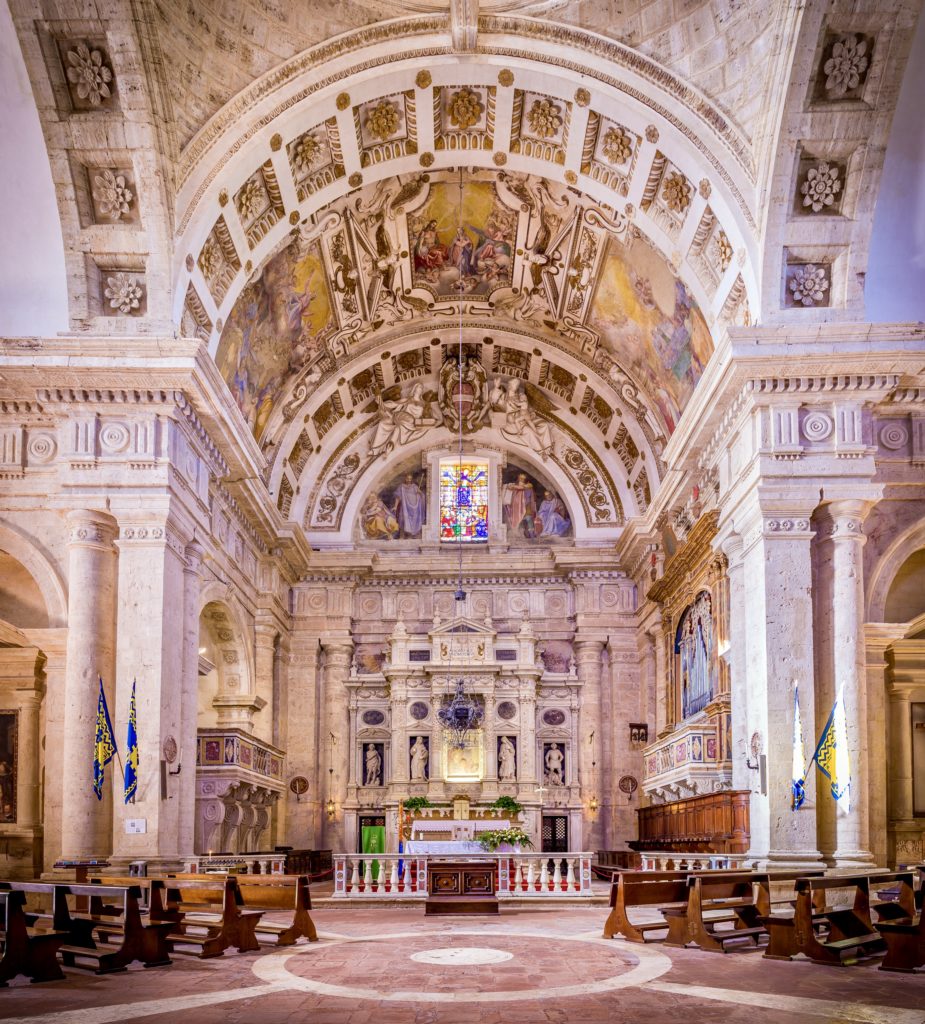 There's also a 14th century fresco of the Madonna of San Biagio, who reputedly had miraculous powers. Legend holds that, in 1518, an image of the Virgin appeared on a church wall, opening and closing her eyes.
The church is down in the valley in a dramatic and isolated spot below Montepulciano, offering stunning vistas.
You can get to the church via a 20 minute downhill walk from the Porta dei Grassi. If you have a car, there's a turnoff for it on Via San Biagio with a cypress-lined drive.
There's a wine tasting cellar and a restaurant, La Grotta, near the church. The church has incredible acoustics and sometimes holds free concerts.
Click here to purchase an entrance ticket for the church. There's also a 20 minute audio guide. There's plenty of free parking.
10. Torre del Pulcinella
The Torre del Pulcinell is next to the Church of Sant'Agostino as you first enter the old city and step into Piazza Michelozzo. It was built in brick in 1524.
This iconic bell tower is topped with a life-sized Pulcinella. He's a classic Italian puppet or clown character originating from 17th century commedia dell'arte and "Punch & Judy" shows.
Pulcinella carries a stick to strike the bell on the hour. This figure was likely based on the Sienese character "Mangia" who stood above the Piazza Pubblico in Siena.
Not much is known about who put the statue on the tower or why it was installed. Pulcinella was most likely a symbol of the theater.
11. Fortress of Montepulciano
The Fortress of Montepulciano is a medieval military fortress built in 1261, at a time when the city state of Siena reigned supreme. It's the highest point of the city.
The fortress was repeatedly destroyed and rebuilt due to frequent battles between Siena and Florence for control of Montepulciano.
The last reconstruction is attributed to Medici architect Antonio da Sangallo the Elder, so the fortress is called "Medicea." Renovations were ongoing for centuries.
In 1885, the architect Augusto Corci made significant renovations and created the fortress you see today. The most recent restoration reopened all three internal floors.
Today, the fortress is a venue for temporary exhibitions and events. You'll also have stunning views over the Val d'Orcia and the Valdachiana.
12. Torture Museum
Torture Museums seem to be all the rage in Europe these days. And Montepulciano is no exception.
The town's grisly Torture Museum is on the main drag. It's housed in the former residence of Robert Bellarmine, born in Montepulciano in 1542. He was involved in the inquisition of Galileo and others.
The museum houses actual devices used to torture heretics and other miscreants in the 15th to 17th centuries. In particular, many of them were used to torture women — spiked belts, chastity belts, gags, and breast rippers. You'll also see a spiked interrogation chair.
Only go in if you're a history buff or need a creepy fix and want to see the worst aspect of humanity and old school religion.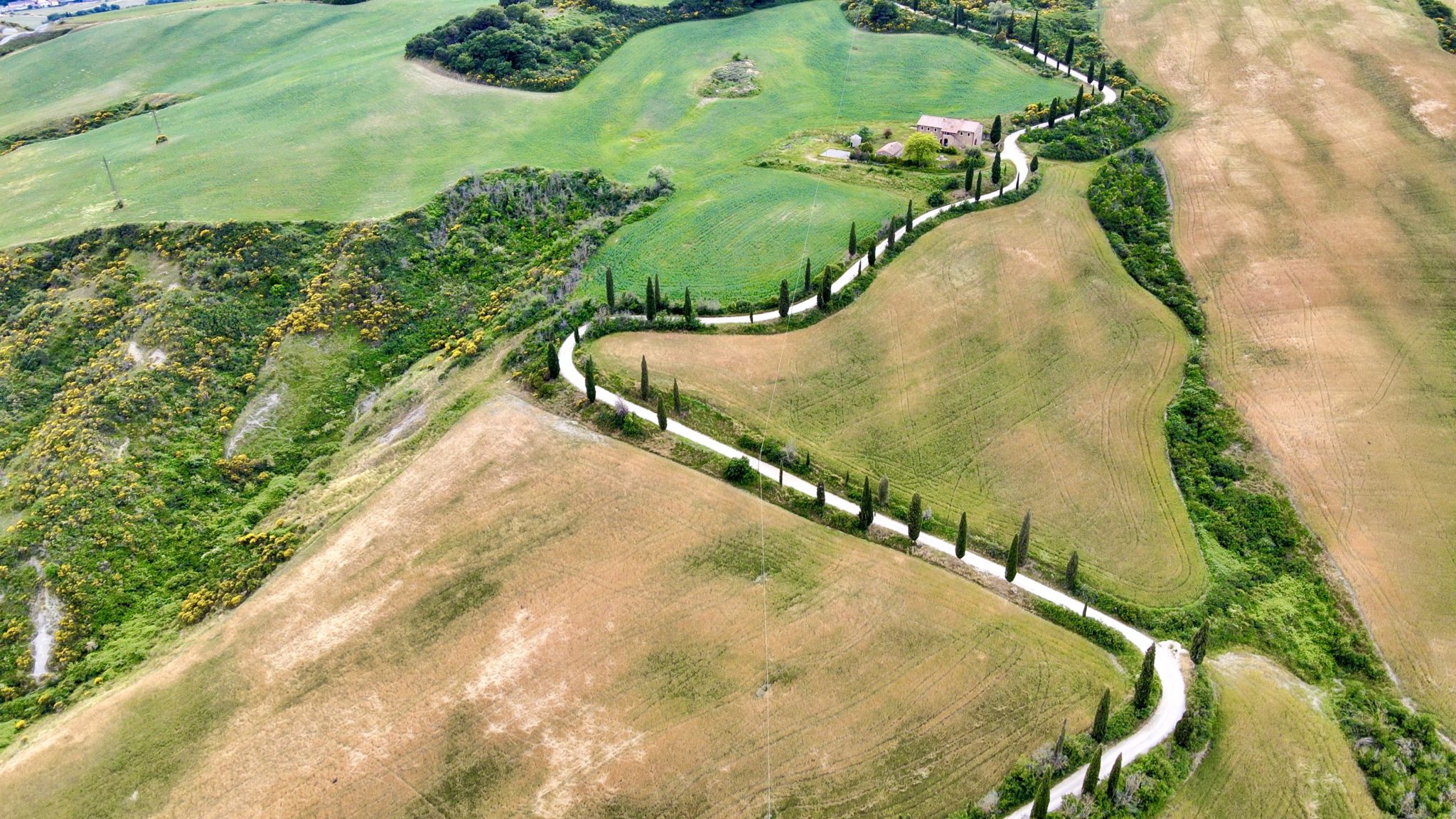 13. Walk To Monticchiello
Are you a hiker?
If so, there's a dirt road that takes you from Montepulciano to Monticchiello past gorgeous scenery. It's covered in the book Walking and Eating in Tuscany and Umbria.
The distance is approximately 6 miles and will take 2 hours. There's no map to guide you. The walk starts at San Biagio Church.
Monticchiello is a small fortified medieval village. You can continue your hike with a walk around the ruins of the city walls and towers.
After your walk, stop in for lunch or dinner at La Porta for some wine and tagliatelle with white truffles.
14. Attend The Bravio Delle Botti
If you're visiting in late August, a unique thing to do in Montepulciano is attend the Bravio dell Botti. This is a different spin on Siena's famous Palio horse race.
Like Siena, Montepulciano is divided into 8 different contrade or neighborhoods.
In this competition, the contrade compete for a painted banner depicting the town's patron saint. The city is bedecked in local flags.
Buff men from each contrade race up the main drag pushing heavy wooden wine barrels one kilometer uphill to the Piazza Grande. The winner gets the "bravio" (good) followed by rousing feasts and vino nobile.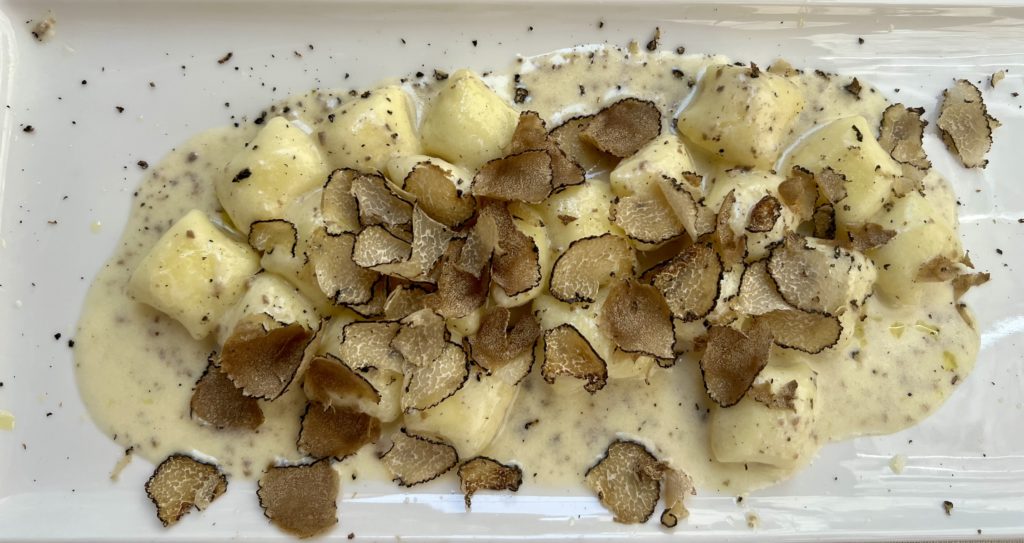 15. Go Truffle Hunting
This part of Tuscany is famous for its white truffles, one of the most unusual and prized of foodstuffs. You can actually go truffle hunting on a guided tour.
You'll set forth in the morning with a hunter and small dog. When the dog starts pawing at the ground, that's when you take your trowel and dig up a small dark nugget.
For your efforts, you'll be served a truffle-themed lunch.
16. Take A Vespa Tour
A classic Vespa motorbike is a fun and ideal way to visit Tuscan hill towns like Montepulciano. You can take a 5 hour guided tour or rent one yourself at https://www.vintagetours.it/web.
Tips For Visiting Montepulciano
1. How To Get To Montepulciano
Montepulciano is located in southern Tuscany in the Val d'Orcia region. It's accessible from both Tuscany and Umbria. Montepulciano is 1:20 from Florence, 53 minutes from Siena, 1 hour from Orvieto, and 1 hour from Perugia.
By far, the easiest way to visit Montepulciano is by car. If you are driving, know that the center is closed to traffic. You need to park outside the historic center.
You can park at the church of San Biago on the outskirts of town. It's about a 20 minute hike to the centro storico.
Or, you can opt for one of the parking lots one the edge of town that's a bit closer. Lots 1 and 8 are well located. I parked in P8 near the fortress at the southern end of the town. It just a quick walk uphill.
Montepulciano is also on a minor rail line. A small train station is 10 miles outside the town, so it's not terribly convenient. But you can hop on a bus from the station.
You can also get buses from some towns in Tuscany like Siena and Pienza.
2. Guided Tours For Montepulciano
If you don't want to drive to Montepulciano, there are plenty of options.
You can book an 8 hour guided wine tour of Montepulciano and Pienza from Siena or a shorter 6 hour guided wine tour to Montepulciano and Montalcino from Siena.
You can also book a guided food and wine tour of the Val d'Orcia from Florence that includes Montepulciano. Or, you could opt for a 10 hour guided tour of Montepulciano and Cortona from Florence.
Once you're in town, Montepulciano is the perfect place to visit a wine cellar in town. You can have lunch and wine at a nearby vineyard. Or, take a longer 3.5 hour vineyard tour.
You can even take a guided e-bike tour or guided vespa tour to visit the vineyards.
Foodies can take a cooking class to learn how to make pasta and tiramisu.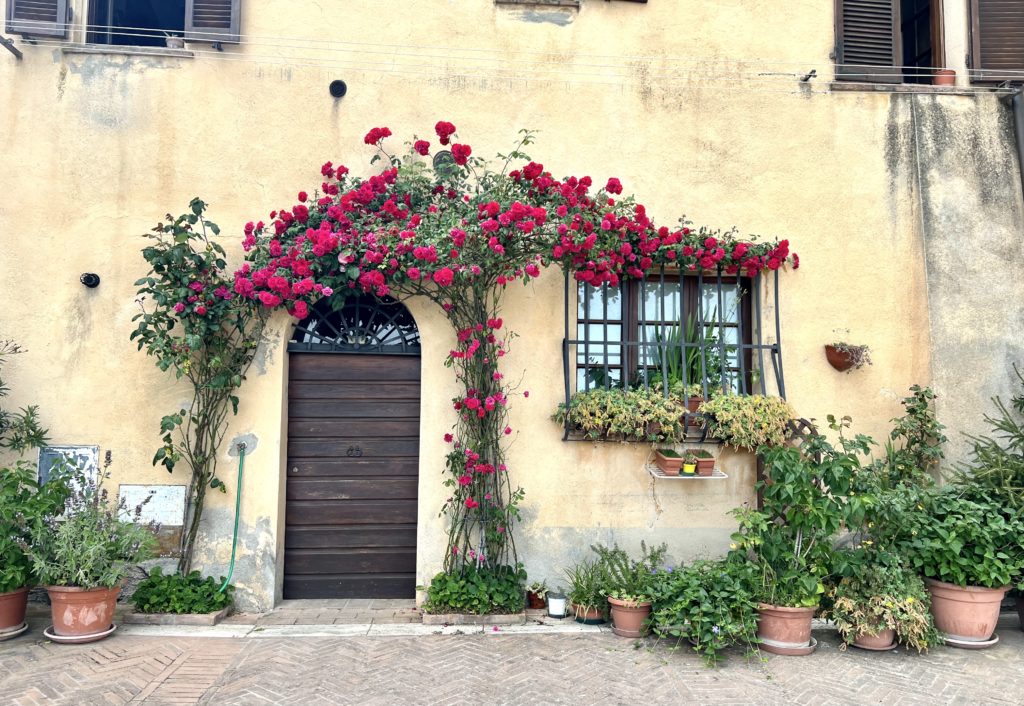 3. Where To Eat In Montepulciano
Montepulciano is better known for its wine than its food. But that doesn't mean you won't dine very well.
Osteria dell'Acquacheta is a cozy restaurant known for its grilled Florentine steaks, bistecca alla Fiorentina. The steaks come from the hormone free Chianina cows, a source of pride to the area. They are delicious!
This restaurant has been featured by Rick Steves. It has a lovely setting with terracotta floors and wood beamed ceilings. Be sure to make a reservation well in advance, especially for dinner.
I also loved Enoteca Porto di Bacco. (My Air Bnb host recommended it and said to ask for Andrea). The restaurant is set under vaulted stone ceilings.
You'll need a reservation in high season. This was one of the best meals I had in Tuscany.
I had the region's specialty — pici all'aglione (pasta in tomato and garlic sauce). Pici pasta is a thicker version of spaghetti made from water, flour, and olive oil with no eggs.
One place you want to avoid in Montepulciano is Cafe Poliziano. The ambience looks nice on the surface and the cafe has a panoramic terrace. But it's a tourist trap.
I had lunch there. The service was appalling and the food was mediocre. It was my worst meal in Italy.
4. Where To Stay in Montepulciano
Montepulciano has some lovely step-back-in-time hotels.
Il Tosco is an intimate renovated mansion in the heart of Montepulciano. The rooms are beautiful and a homemade breakfast is included.
Lupaia is a one-of-a-kind quiet countryside boutique hotel nestled in the hills outside Montepulciano. The hotel is just stunning, with gardens and a good restaurant.
Villa Cicolina is a charming restored villa with a infinity pool and views. The hotel will help organize wine tours and also offers cooking classes.
5. Day Trips From Montepulciano
Montepulciano makes an excellent base for day tripping in Tuscany and Umbria. There are scads of lovely towns nearby.
You can even combine a couple towns, by visiting one in the morning and one in the afternoon. Along the way, you'll be driving amid some incredible scenery.
Pienza
Only a brief twenty-minute drive from Montepulciano lies the captivating town of Pienza, which has the honor of being designated a UNESCO World Heritage site. The charming town owes its origins to a "dream of love and an idea of beauty" which gave birth to its beauty and splendor.
Pienza has been celebrated as the very first "ideal Renaissance town" due to the remarkable symmetry and harmonious layout of its buildings. The visionary behind Pienza was none other than Enea Silvio Piccolomini, who later became Pope Pius II.
Boasting of narrow streets, exquisite palaces, magnificent churches, and other awe-inspiring structures, Pienza is undeniably one of Italy's most stunning towns. The entire town is adorned with an abundance of flowers, providing the perfect finishing touch to this picturesque destination.
Here's my complete guide to visiting Pienza.
Montalcino
Montalcino is a pretty village of medieval perfection. It's crowned by a fairytale castle, blessed with magnificent views, and edged with vineyards.
It's known for its Brunello wine, one of the world's most beloved reds. The town is just a 45 minute drive from Montepulciano.
Montalcino is a superstar wine region, and a bit off the beaten track by Tuscany standards. While in Montalcino, you can have wine tasting and lunch at a medieval castle or take a 3 hour tour of the Brunello vineyards.
Montalcino's historical center has barely changed in centuries. The main square is the Piazza del Popolo, with a Gothic loggia and clock tower.
The town is dominated by the mighty and imposing Rocca fortress, which was built in 1361 when Montalcino was captured from Florence by Siena. From the ramparts, you'l have spectacular views. The fortress also has a tasting room for oenophiles.
Cortona
Cortona is a beautiful authentic Tuscan town close to the Umbrian border. It's just 40 minutes northeast of Montepulciano.
A former Etruscan town, Cortona was featured in the famous movie and book Under The Tuscan Sun. It's a quiet charmer, seated on a commanding hill with great views in every direction.
Cortona's main street is Via Nazionale, the only flat place in town. At one end of the street is Cortona's most famous piazza, the Piazza dell Repubblica, perfect for people watching. At the other lies the splendid Piazza Garibaldi.
Cortona has a wonderful little museum, the Museo Diocesano, located in Chiesa del Buon Gesù in the Piazza del Duomo.
The museum has some absolutely superb paintings — works by such Renaissance luminaries as Far Angelico and Luca Signorelli. It also houses the famed Cortona Altarpiece.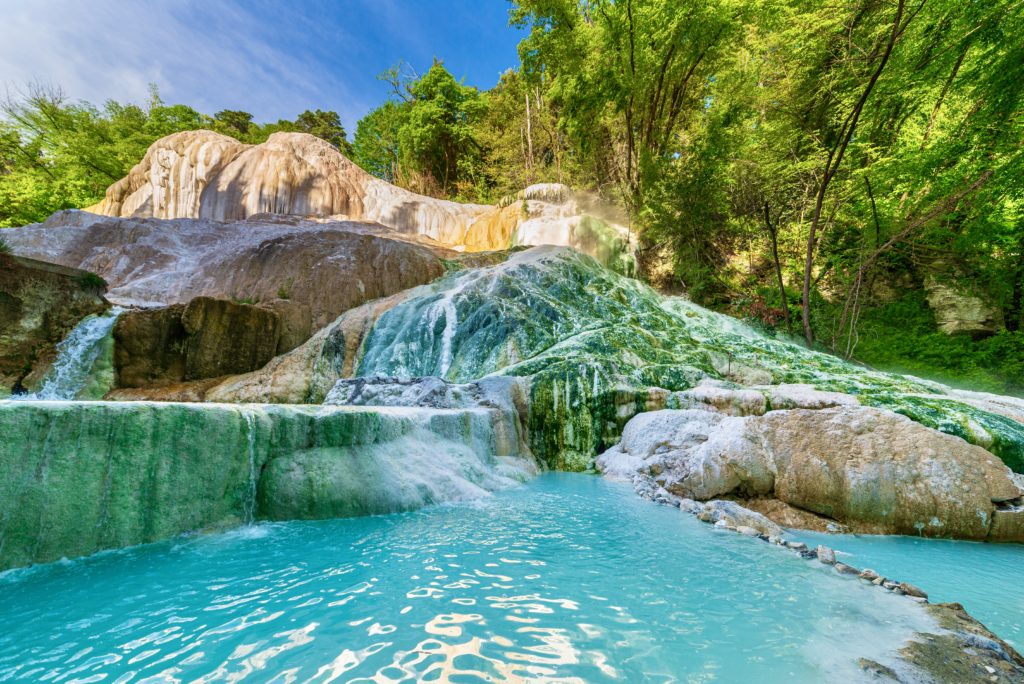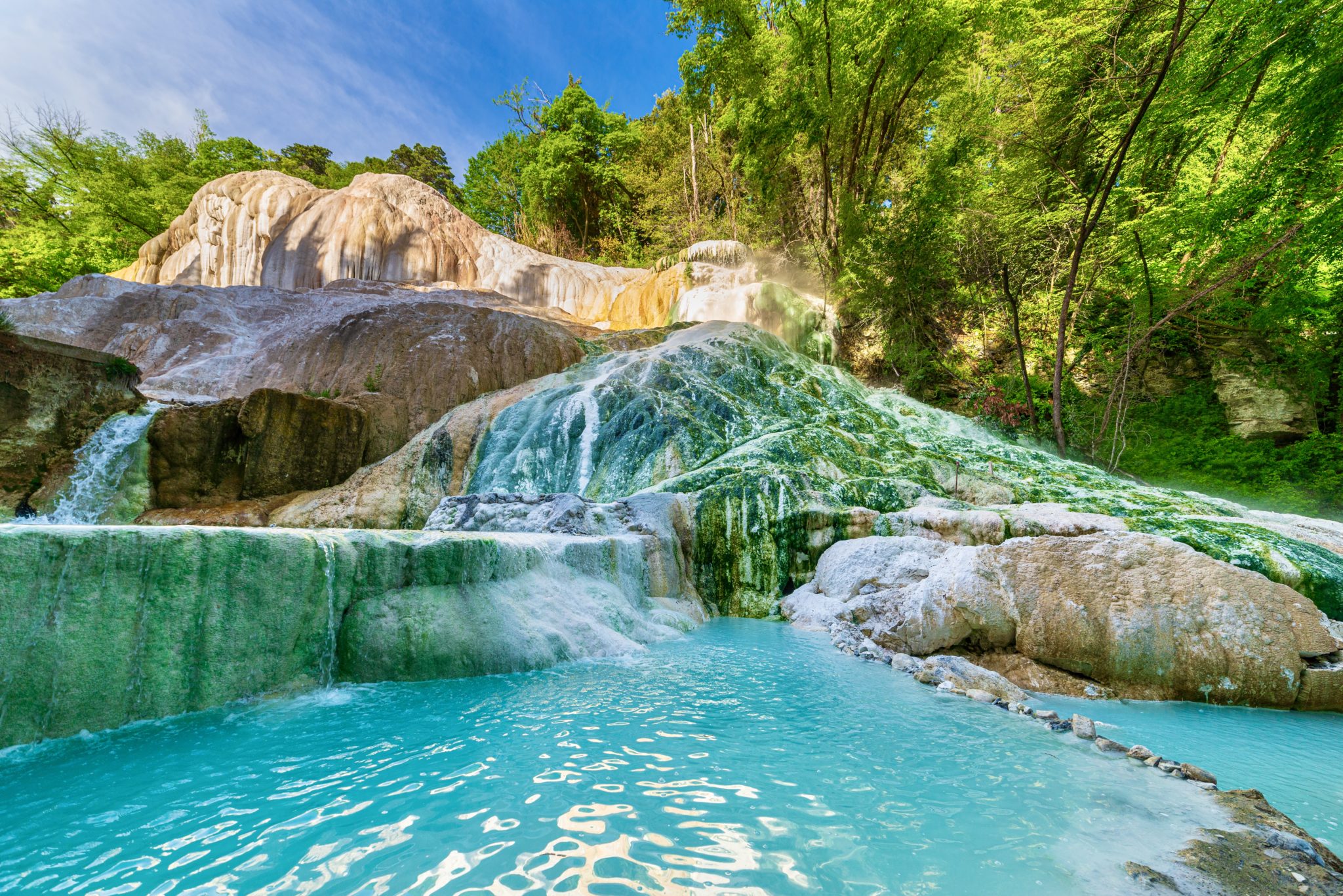 Bagni San Filippo
Need a good spa soak after all those hills? Check out Bagni San Filippo, just 16 miles from Montepulciano.
The natural thermal baths are rich in minerals and make for a perfect spa day. The waterfall (nicknamed the "White Whale") and hot pools are surrounded by forests. The springs are completely free to visit.
You can drive there in 30+ minutes from Montepulciano. Or, buses run three times a day from Montepulciano. So make sure to check the timetable and plan accordingly.
It's best to visit in the morning when the steam rises from the sulfurous springs. It's a magical sight.
I hope you've enjoyed my guide to the best things to do and see in Monetpulciano.
You may enjoy these other Italy and Tuscany travel guides and resources.
If you want to visit the top attractions in Montepulciano, pin it for later.