Thinking of visiting the tiny Tuscan town of Pisa? Most people visit on a day trip from Florence. They're drawn by Pisa's calling card, the mysterious Leaning Tower of Pisa.
If you need to check the Leaning Tower off your Italy bucket list, here are 19 tips and important things to know before visiting Pisa. Pisa isn't just about the (overrated) Leaning Tower.
There's actually quite a lot of amazing cultural things to see and do in Pisa, for art and history lovers. These Pisa tips will help you have an efficient day trip and avoid making mistakes in Pisa.
For starters, Pisa's Field of Miracles has a fantastic array of Romanesque, Medieval, and Early Renaissance art and architecture. The town itself is picturesque with a nice city museum, elegant piazzas, and pretty churches.
Best Must Know Tips for Visiting Pisa
Here's everything you need to know about traveling to and visiting Pisa, to plan and make the most out of your day trip.
1. What is the Field of Miracles?
Pisa's Field of Miracles, called Il Campo dei Miracoli in Italian, is located on the edge of town, not in the town center. It's considered one of the world's greatest medieval architectural assemblages.
The field was built when Pisa was a rising maritime and cultural powerhouse. The name was coined by Italian writer and poet Gabriele d'Annnunzio.
In 1987, the Field of Miracles became a designated UNESCO site. There are six sites to explore:
✔ Leaning Tower
✔ Duomo di Pisa
✔ Baptistery
✔ Monumental Cemetery
✔ Duomo Museum
✔ Museum of Sinopie
2. Tickets and Hours for the Field of Miracles
You can purchase tickets online for the Field of Miracles sites up to 20 days in advance. You choose your ticket based on which (or how many) sites you want to see.
If you wait to purchase tickets in person, the two ticket offices are inside the Sinopie Museum (near the Baptistery) and in the Palazzo dell'Opera del Duomo (behind the Duomo near the Leaning Tower).
The prices are € 5 for any single site, € 7 for any two sites, € 8 for any three sites, and € 9 for all sights. I recommend you see all four sites and visit the two museums, if time permits.
You can change or cancel your reservation up until 24 hours before your scheduled visit. The Duomo is free to visit and the Sinope Museum is 1 euro or included in the all-site combination pass.
3. The Leaning Tower of Pisa
Contrary to most people's expectations, the Leaning Tower (or Torre di Pisa) is the least impressive site on the Field of Miracles. It's a freestanding circular marble bell tower that's 8 stories high with exterior arched colonnades. It looks rather like a stacked wedding cake.
In fact, the Leaning Tower is just plain mediocre — a toxic combination of poor architecture, poor engineering, and mushy Pisan soil that's been in danger of collapsing for many centuries.
Without a proper foundation, the Leaning Tower settled unevenly in the ground below. It then proceeded to lean, and lean, despite repeated interventions.
And honestly, apart from this rather eye catching oddity, the Leaning Tower doesn't deserve its accolades and widespread fame.
The ornate Duomo, Baptistry, and Monumental Cemetery have the Leaning Tower beat for sheer beauty and importance by a mile! You might even look at the Leaning Tower, and then head out for an apertivo, it's so underwhelming.
But, if you're determined, you can take a virtual tour of the Leaning Tower here and see what all the fuss is about. Click here for the complete scoop on why the tower leans.
4. Climbing the Leaning Tower
A must know Pisa tip is that there will be long queues to climb the Leaning Tower. For European tower climbs, it's extremely expensive at 18 euros. If you want to do the climb, it's best to pre-book a time slot.
The tower is limited to 45 people in a 15 minute time slot. No one under 8 years is admitted for safety reasons. You can't take any bags up to the top, only your camera. But there's a free bag drop near the Fallen Angel statue on the Field of Miracles.
You climb the Leaning Tower via a fairly steep spiral staircase. It's almost 300 steps to the top. The steps are slippery, heavily eroded, and irregular. . And you'll be rewarded with bells and beautiful views of Pisa and the Field of Miracles.
5. Duomo di Pisa
Don't skip going inside Pisa's exuberant marble Duomo! It's officially called the Cathedral of Santa Maria dell'Assunta. It was just beautifully restored for its 900 year old birthday.
Inside, there's a spacious central nave and two flanking aisles on each side, with intricate Corinthian columns and arches. The church is mostly decorated with Renaissance art works, including pieces by Ghirlandaio and Giambologna.
The Duomo is free. If you've purchased a ticket to any other Field of Miracles site, you can use that to queue up for and enter the Duomo. Expect long lines in high season.
If you haven't purchased any tickets, you'll need to pick up a free fixed time slot ticket at one of the ticket offices. The best view of the Duomo is from a window on the second floor of the Baptistery. The Duomo is even more impressive inside than the Duomo in Florence.
6. Duomo Museum
Don't skip the Duomo Museum either, called the Museo dell'Opera del Duomo. This free museum houses a collection of art and artifacts by Pisan artists.
The works were removed and preserved from the Duomo and Baptistery. It offers superb views of the Leaning Tower from its second floor windows.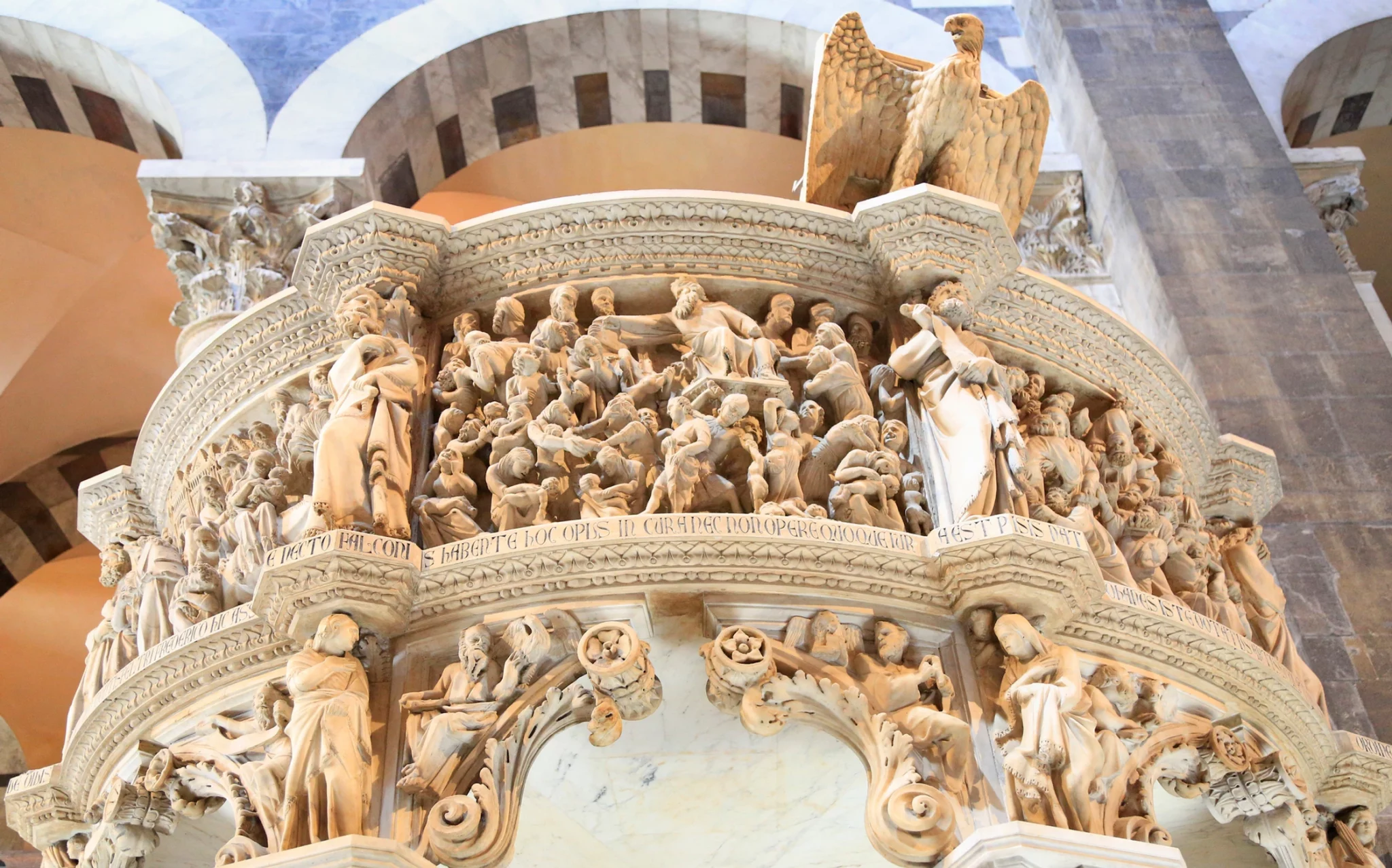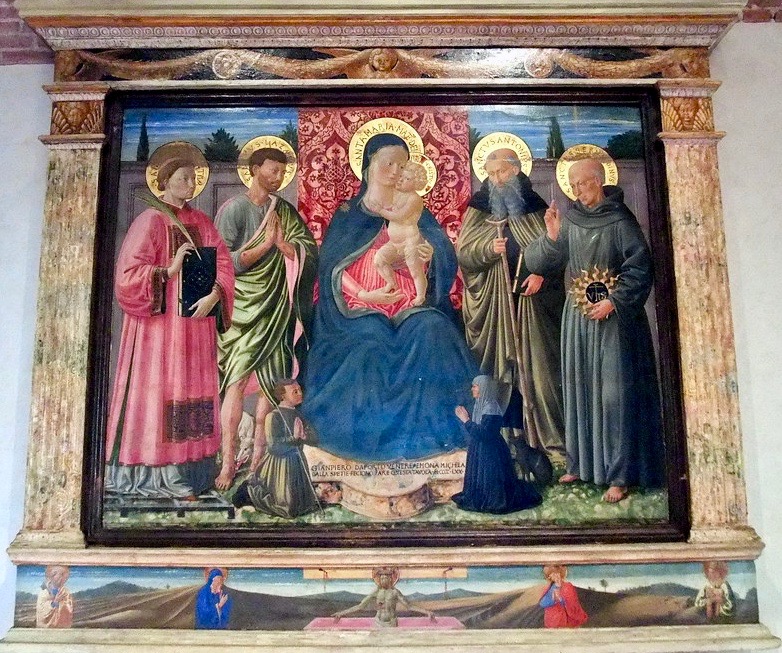 7. Baptistery of St. John
This is Italy's largest baptistery. Begun in 1153, the Baptistery appears to be dripping in lace on the exterior, it's so ornate. Inside, there's still a full immersion baptismal font, where Galileo was baptized.
Take note of the beautifully carved pulpit, created by Nicolo Pisano. It's considered one of the first works of Renaissance art.
Because of the excellent acoustics of the Baptistery, it's sometimes used for concerts. For a tip, the guards sing every couple hours to demonstrate the reverberating sounds.
8. Camposanto | Monumental Cemetery
The Camposanto is a beautiful enclosed monumental cemetery. If you want to visit a place without tourists, come here.
The serene cemetery was established in 1277 and completed in the 15th century. It served as the burial ground for the city's elite and has some beautiful frescos and sculptures.
9. Pisa Guided Tours
If you'd like a guided tour of Pisa's must see sites, Airotour Pisa offers several different tours. You just need to make advance reservations by clicking here.
10. Pisa's Historic Center
The town of Pisa is picturesque, with pretty piazzas, churches, and pastel colored buildings. The main squares are the Piazza dei Cavalleri (historic buildings), the Piazza delle Vettovaglie (nightlife), the Piazza Dante (less touristy and authentic), and Piazza Gambicorte (for the Church of Santa Maria della Spina).
Keith Haring's last mural, Tuttomondo, is painted on a wall of the Church of Sant'Antonio near Central Station.
11. Santa Maria Spina Church
Be sure to see the beautiful Gothic Church of Santa Maria della Spina perched on the Arno River. The white marble facade is ornate, decorated with statutes.
The church is reputed to have a reliquary in the form of a thorn taken from Jesus's crown of thorns. Inside is the Madonna of the Rose painting by Andrea and Nino Pisano.
12. Museums in Pisa
The Palazzo Blu is Pisa's premiere museum, housed in a distinctive blue building. It's free to visit and houses a collection of Pisan artworks. The museum also hosts temporary exhibits of modern art and has a cool cafe and bookshop.
If you love ceramics and sculpture, head to the Museum of San Matteo with works by Donatello, France Angelico, and Ghirlandaio.
13. Where to eat in Pisa?
If hunger calls, try some delicious Italian food at a Spaghetteria Alle Bandierine, away from the tourist sites. Another great escape from the crowds is Osteria di Culenga.
If you crave seafood, tucked away on a back street is Osteria del Porton Rosso. Or try Ristorante La Scaletta, for tasty oysters and crustaceans. For gelato, head to Fro Gelateria.
There's also a local market on Piazza delle Vettovaglie. If you want coffee, have it while standing at the bar. Cafes have a sit down charge and they will charge you extra for bread as well.
14. Where is Pisa?
Pisa is located 20 minutes from the Ligurian Sea in the western region of Tuscany. It's well connected from the major cities and towns in Italy via train and bus.
Pisa is a short train ride on Trenitalia from the Santa Maria Novella station in Florence. It's one of Florence's most popular day trips. If you are staying in Pisa for a few days, you could also day trip to nearby San Miniato, Montecatini, Lucca, or Viarregio.
15. Getting Around Pisa
As a small town, Pisa is eminently walkable. But if you need a taxi, they can be found at the Piazza della Stazione and the Piazza del Duomo.
16. Pisa Train Station
Most trains to Pisa arrive at Pisa Centrale. You can check your luggage at the station. The town center and the Field of Miracles are a 20-30 minute walk from the train station. Buses also run between the station and the Field of Miracles.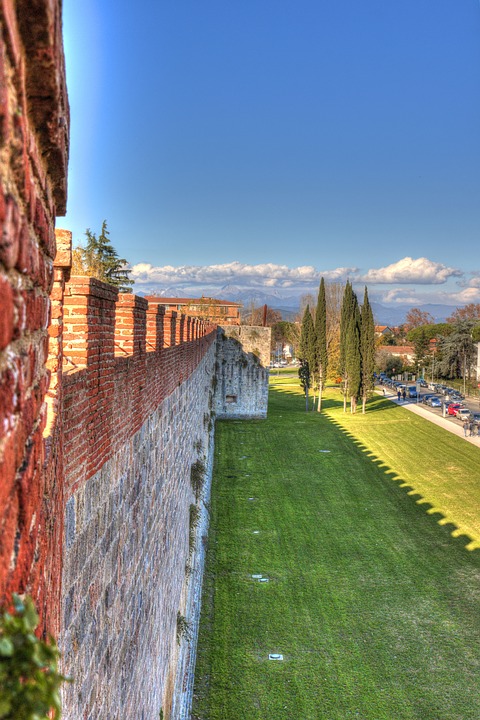 17. Flying to Pisa
If you're flying into Pisa, the high-spee Pisa Mover, an automated tram, shuttles people between the Pisa Airport and Pisa Central. It takes just 5 minutes, costs 2.70 euros, and runs every 5-8 minutes.
When planning your trip to Tuscany, you should also know that it can be cheaper to fly into Pisa than Florence.
18. Driving to Pisa
If you're driving to Pisa, there are plenty of affordable parking spots. Most tourists park on Via Pietrasantina, a 5 minute walk from the Field of Miracles.
The closest parking lot to the sites is the Parcheggio di Piazza dei Miracoli. But it's often full. With a car, you could opt to spend a half day in Pisa and a half day in nearby Lucca, another beautiful Tuscan town.
19. When To Visit Pisa?
Pisa is crowded and pricier in high season. So, it's vastly better to visit off season or during shoulder season. I think it makes sense to explore the town first and arrive at the Field of Miracles later in the day, when it will likely be less crowded with tourists.
20. How Long To Visit Pisa?
The answer to this question completely depends on your own predilections and interests. If you only want to see and climb the Leaning Tower take gag photos, maybe just a couple hours.
If you'd like to see all the Field of Miracles sites, budget at least a half day. If you're an art lover who wants to leisurely consume all the art and architecture Pisa offers, stay a full day and/or stay overnight. Here's my guide to all of Pisa's must see sites and attractions.
I hope you've enjoyed my must know tips for visiting Pisa. You may enjoy these other Tuscany guides:
Guide to Siena's Cathedral Complex
If you want tips for visiting Pisa, pin it for later.