Nestled in the heart of Tuscany, Cortona is a charming hill town renowned for its rich history and impressive Renaissance art and architecture. Whether you're a foodie, art lover, or history buff, a visit to Cortona is a must! With this one day itinerary, you can easily explore the town and soak up its unique charm.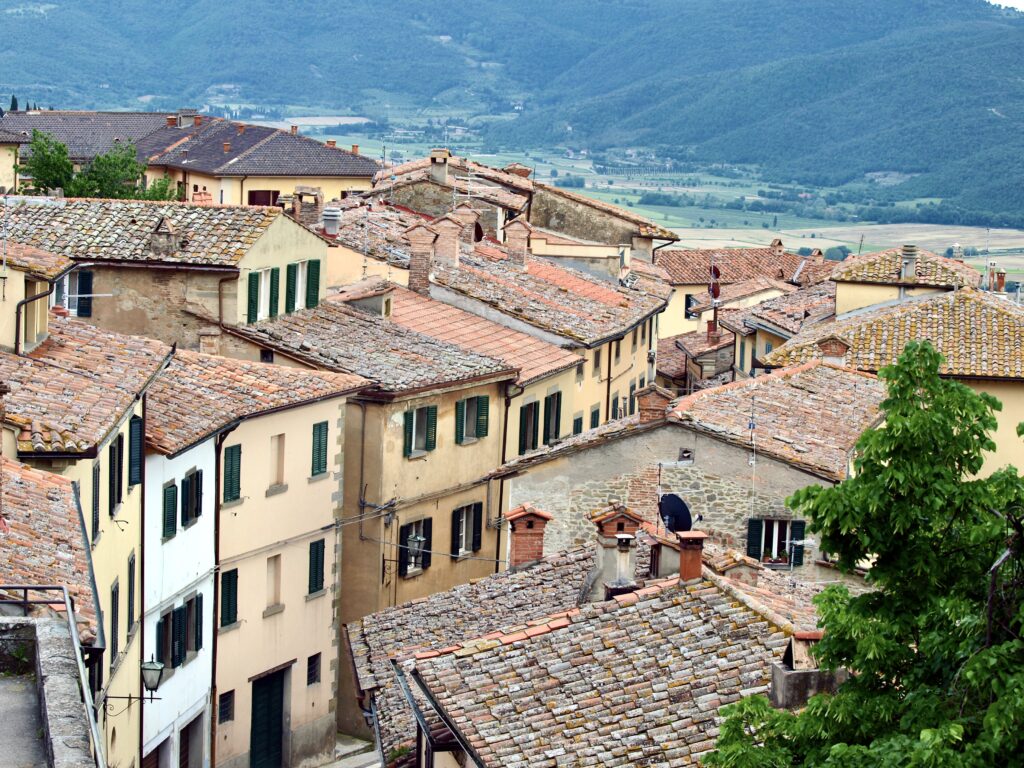 Short History of Cortona
Cortona is one of the most ancient of all Tuscan hill towns. Historians believe Etruscans founded the town in the 8th century B.C.
During this period, Cortona was known as Curtun and was one of the most powerful cities of the Etruscan League, a confederation of Etruscan city-states. Archaeological evidence suggests that Cortona was a thriving center of trade, with a diverse economy. Later, it became a Roman colony.
During the Middle Ages, Cortona was a prosperous city-state with a thriving textile industry, and was ruled by various local lords.
In the 14th and 15th centuries, Cortona was part of the Republic of Siena. As such, it played an important role in the ongoing political conflicts between Siena and Florence.
After Florence defeated Siena, Cortona was ruled by the Florence's Medici family. In the 19th century, Cortona became part of the newly-formed Kingdom of Italy.
Today, Cortona retains much of its medieval charm. Its well-preserved historic center has a medley of churches, two excellent small museums, and great eateries.
Overview Of One Day In Cortona Itinerary
Here's a snapshot glance of what you can see with one day in Cortona:
Via Nazionale
Piazza della Repubblica
Piazza Signorelli
Etruscan Museum
Piazza Signorelli
Teatro Signorelli
Duomo
Diocesan Museum
Eremo le Celle
Girifalco Fortress
If you're in a hurry, below are some of the top tours and experiences for Cortona. Don't forget to plan ahead when visiting, especially in high season.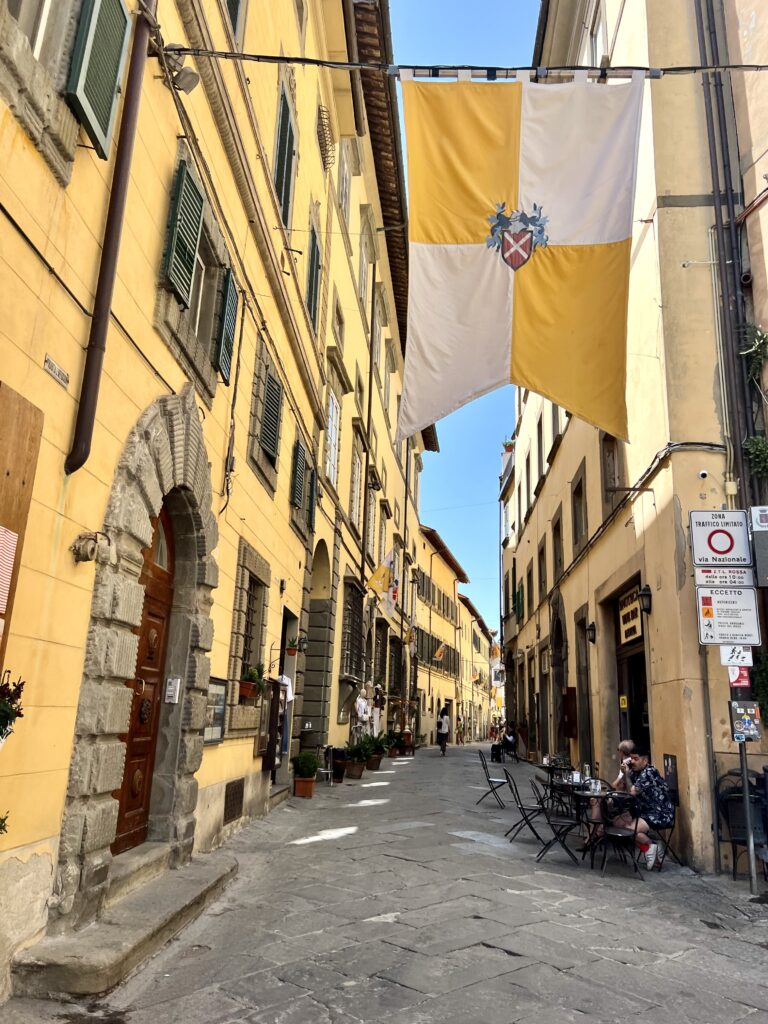 One Day In Cortona Itinerary
Here's my suggested 1 day in Cortona itinerary.
1. Via Nazionale
Start your one day in Cortona off with a stroll down Via Nazionale. It's the main street in town and connects two of the most popular piazzas, Piazza Garibaldi and Piazza della Repubblica.
Via Nazionale is the only flat part of town, which you'll appreciate because otherwise Cortona is very hilly. You'll find oodles of cute boutiques, shops, and cafes.
As you walk the small side streets, you'll bump into one small church after another. Most of the buildings are made of pietra serena. This is a type of limestone that famed Italian architect Brunelleschi liked to build with.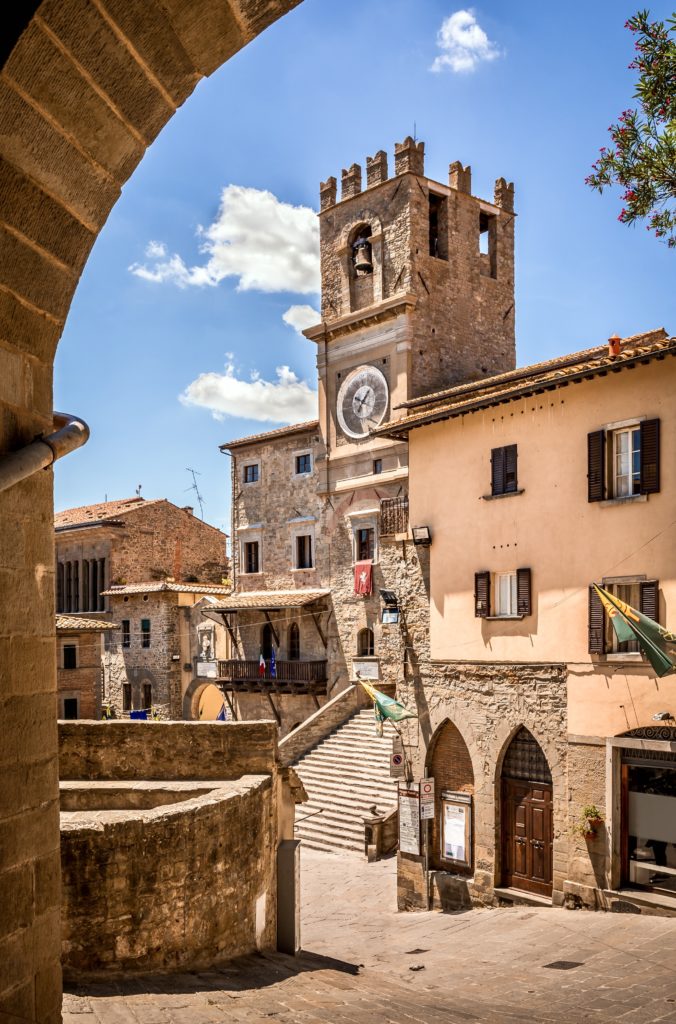 2. Piazza della Repubblica
Piazza della Repubblica is Cortona's most famous piazza. The square is particularly beautiful in the summer months when the outdoor seating areas of the cafes spill out onto the cobbled stones.
At the center of the square is a beautiful stone fountain, Fontana del Mercato. It dates back to the 15th century and is adorned with intricate carvings of animals and mythological figures.
Palazzo Comunale, the Town Hall, is also in the piazza. It's an impressive medieval building that dates back to the 13th century and features a tall tower with a clock on top. Inside you can admire some frescos.
Just around the corner from the piazza is another pretty square, Piazza Signorelli, where you'll find the town's Etruscan museum.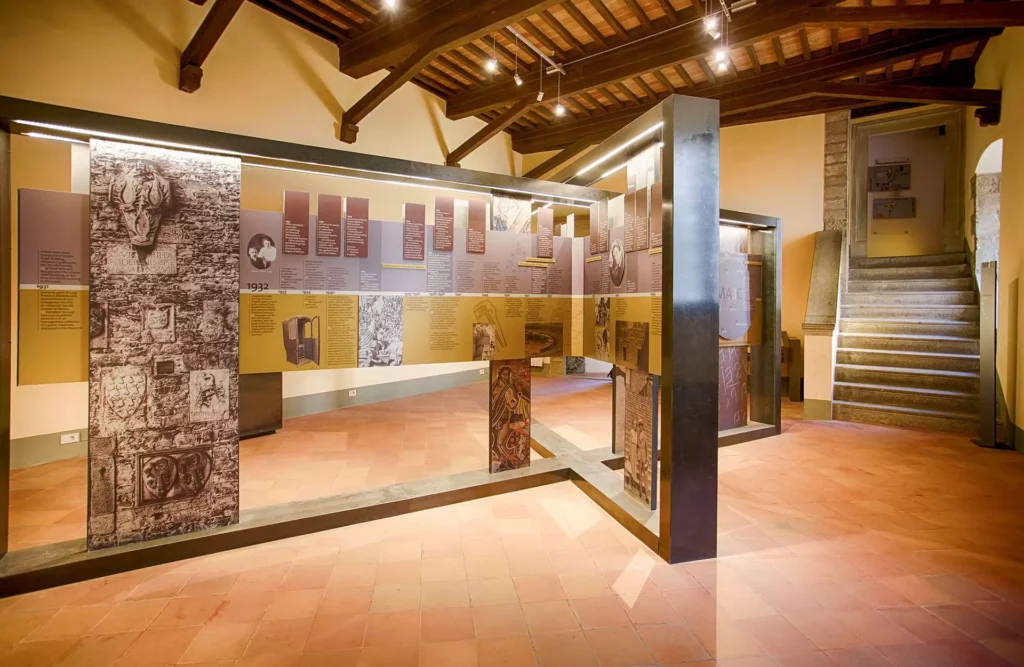 3. Etruscan Museum | Museo dell'Accademia Etruscan (MAEC")
Located in the 13th century Palazzo Casali, the Etruscan Museum is a must do with one day in Cortona if you are at all interested in ancient Etruscan civilization.
The museum houses a wide range of artifacts from the 8th to the 3rd century B.C. Collection highlights include funerary urns, bronze figurines, pottery, medallions, and jewelry.
One of the most famous pieces is the Lampadario Etrusco. lt's an enormous 5th century B.C. bronze lamp, whose extravagance would have been striking in any era.
The museum is open from Tuesday to Sunday and closed on Mondays. During high season (June to September), the museum is typically open from 10:00 am to 7:00 pm. However, during the low season (October to May), the museum may close earlier, usually around 5:00 pm.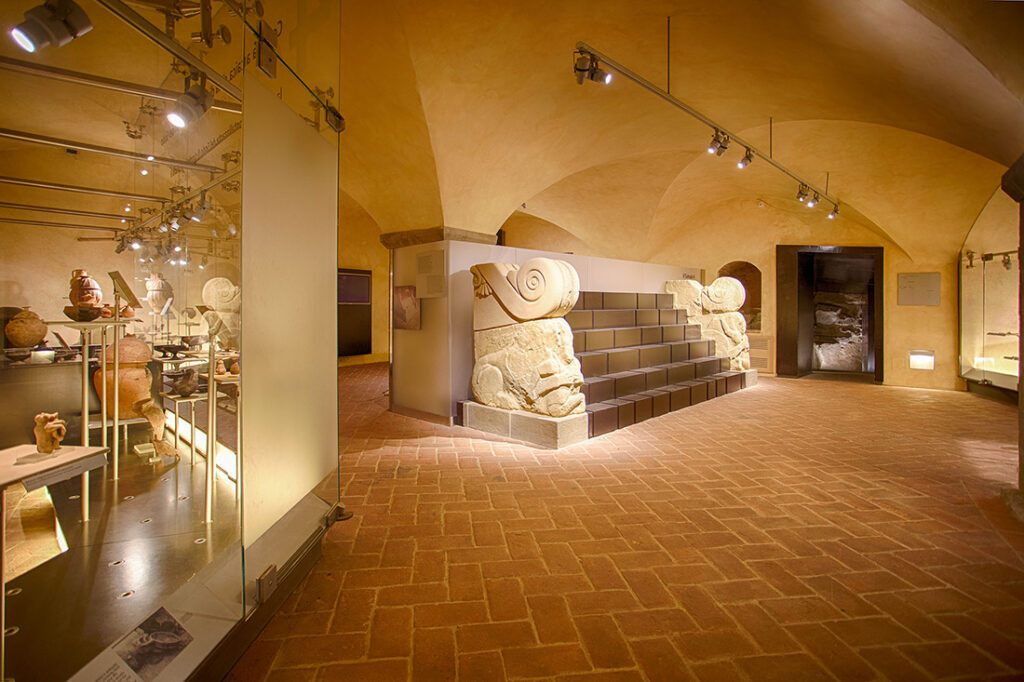 The ticket price is € 6.00, with an audio guide included.
4. Teatro Signorelli
Teatro Signorelli is a beautiful early 20th century theater in the same piazza. It's named after one of Cortona's most famous native sons, the Renaissance artist Luca Signorelli.
The theater hosts a variety of cultural events throughout the year, including concerts, plays, and dance performances
The theater's interior is decorated with stunning frescoes and is considered one of the most beautiful theaters in Tuscany.
5. Break for Lunch
You can pause for a lunch break in this area. I had a delicious lunch at La Logetta. With an outdoor terrace overlooking Piazza Repubblica, it has a film set location and an extensive menu.
You can dine on Cortonese classics, such as pici pasta with wild boar, fettuccine al tartufo, or caramelized figs with pecorino.
6. Piazza Garibaldi & Church of San Francesco
After lunch, head to the Church of San Francesco in Piazza Garibaldi.
Built in the 13th century, the church has a simple Gothic facade adorned with rose windows and a large bell tower. It's famous for its association with St. Francis of Assisi, who preached in the church in the 13th century.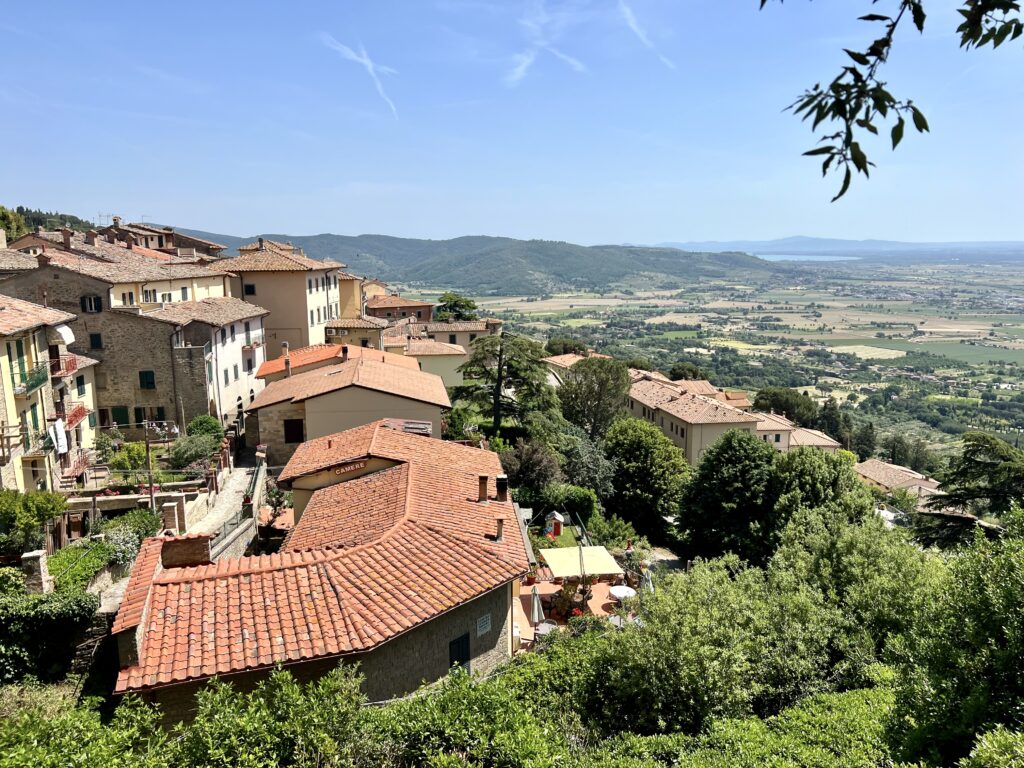 The church boasts an array of artworks and frescoes from different periods, including the Gothic and Renaissance eras. The church also houses a small museum with various religious objects, such as vestments, sacred vessels, and silverware.
While you're visiting, stop to admire the views from the piazza at the Belvedere di Cortona.
This is Cortona's most popular photo spot. From the terrace, you have stunning panoramic views of the Val di Chiana, including Lake Trasimeno and the town of Montepulciano.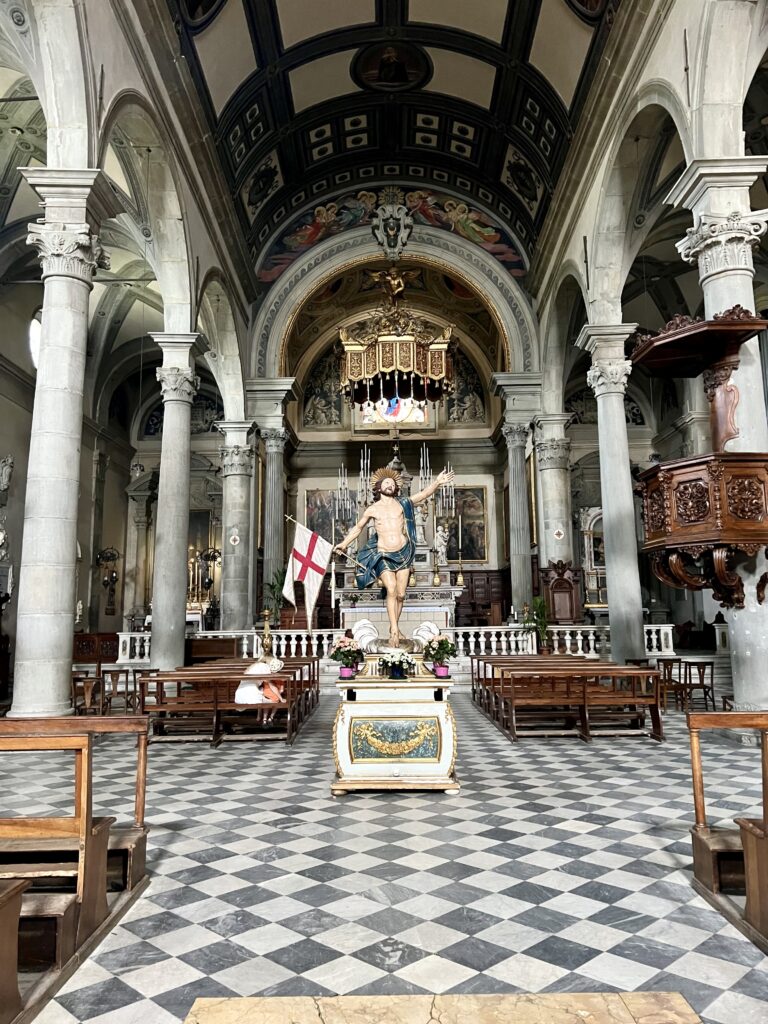 6. Duomo
The Cortona Duomo, also known as the Cathedral of Santa Maria Assunta, is a Renaissance-style church. It's not in the main square, but on the Piazza del Duomo.
The Duomo was built in the 11th century on top of a pagan temple. It has undergone several renovations and expansion over the years. Its current facade is from the 19th century.
The interior of the church is quite lovely, with a soaring nave and several side chapels. They feature beautiful 16th and 17th century paintings and frescoes.
Other notable features include an elegant marble pulpit, the 15th century choir stalls, and the ornate high altar, which is adorned with a beautiful altarpiece by Luca Signorelli.
The cathedral has a bell tower that you can climb for panoramic views of the town and the surrounding countryside. There are about 120 steps and the climb can be a bit strenuous. But the views from the top are well worth the effort.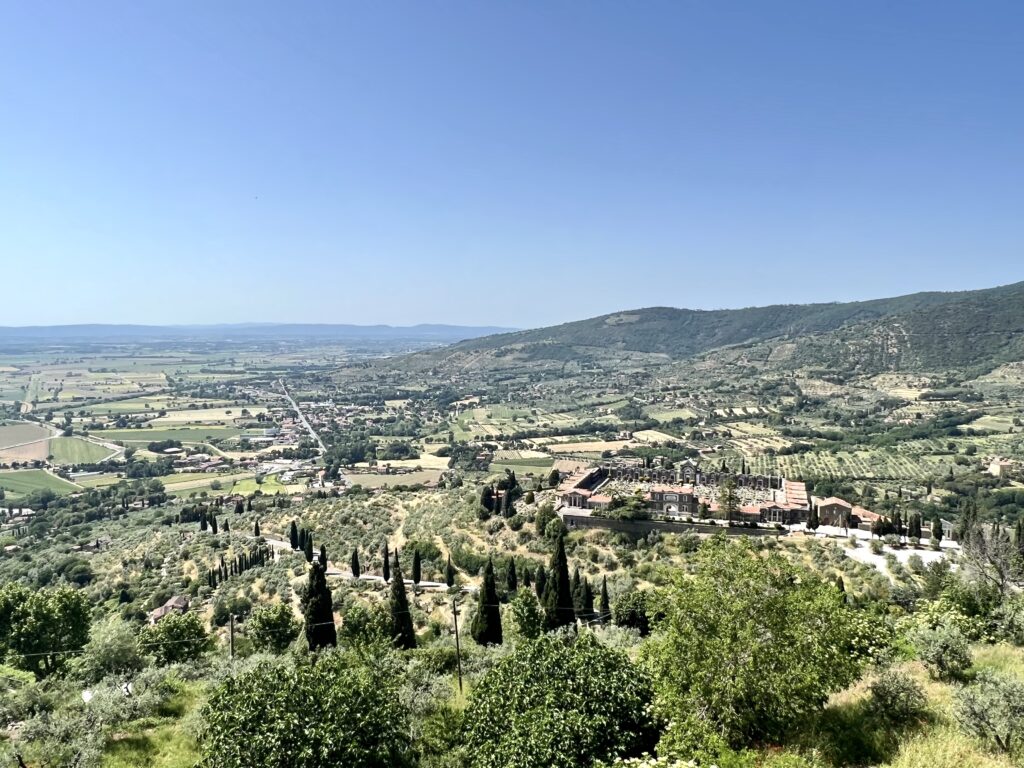 7. Diocesan Museum
For art aficionados, Cortona has a wonderful little museum, the Museo Diocesano. It's located in Chiesa del Buon Gesù across from the Duomo in Piazza del Duomo.
The museum has some absolutely superb paintings. There are works by Fra Angelico and Luca Signorelli, who were among the greatest painters of the early Renaissance.
The most famous piece is the Cortona Altarpiece, also known as the Annunciation. It's a masterpiece by Fra Angelico that depicts the moment when the Angel Gabriel announces to the Virgin Mary that she would give birth to Jesus.
The Annunciation is considered one of the artist's most important works. It's renowned for its exquisite detail, luminous colors, and overall beauty.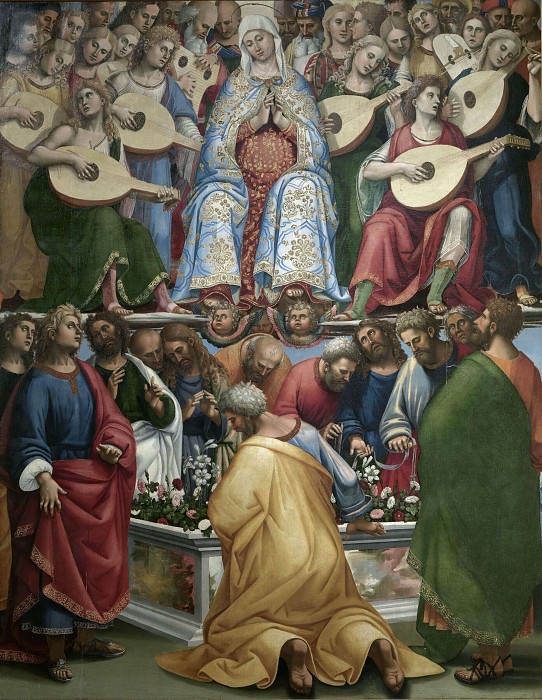 Yet the artist's second work in the museum, Madonna and Child with Saints, barely suffers by comparison.
You can also admire the Painted Cross, known as the Croce Dipinta. It's a masterpiece of medieval art that dates back to the 12th century. The cross is adorned with scenes from the life of Christ, including the crucifixion, the resurrection, and the ascension.
There's also a lovely Assumption by Signorelli. The painting has his distinctive muscular figures, dynamic poses, and rich colors.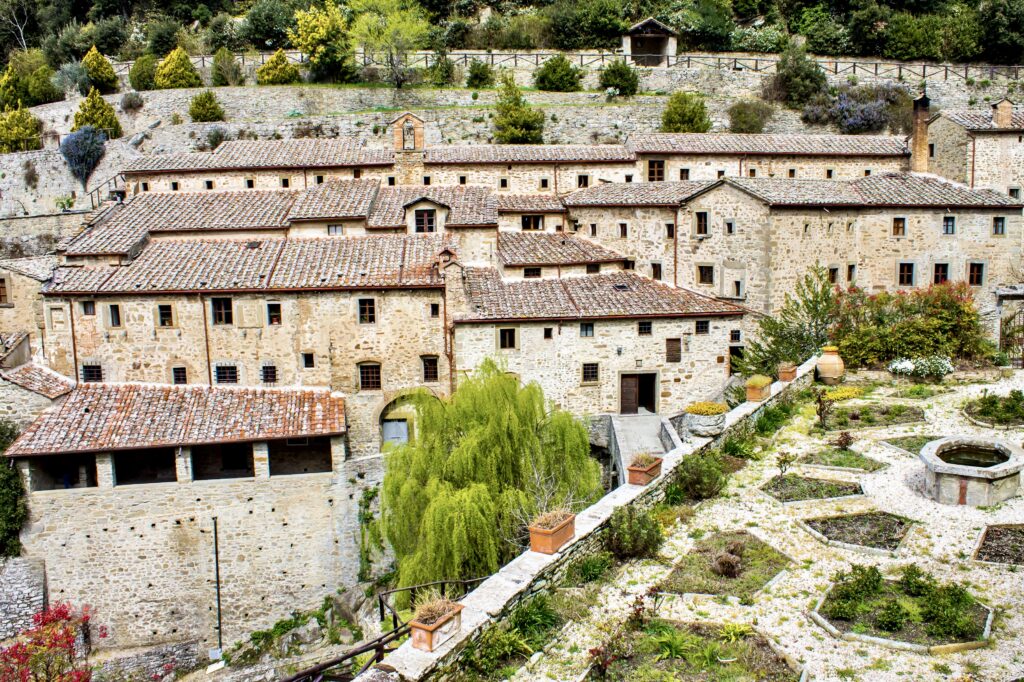 8. Eremo le Celle
Just outside Cortona is a small Franciscan monastery you can visit. Dating from 1211, it was the first monastery built by St. Francis of Assisi and where he once lived.
The monastery is known for its peaceful and contemplative atmosphere. It's surrounded by olive groves and has beautiful gardens.
You can take a guided tour of the site and learn about its history and architecture. On a tour, you'll can see St. Francis' spartan cell and the frescoes and artworks that adorn the chapel and monks cells.
READ: Guide to the Basilica of St. Francis of Assisi
9. Girifalco Fortress
For a breathtaking view of Cortona at sunset, consider hiking up to Girifalco Fortress. It's the highest point in the town and provides sensational panoramic views.
The path from Piazza Garibaldi is the quickest option, clocking in at around 20-30 minutes to reach the top. Alternatively, if you want more of a workout, the path from Piazza della Repubblica is longer and more scenic.
What you see today is a defensive structure from the 16th century. In the past, it's been used as a prison and observation post.
The fortress has been restored and transformed into a museum and cultural center open to the public. The museum features a collection of artworks and artifacts that showcase Cortona's history. Right below the fortress is the sanctuary of Santa Margherita.
The fortress is open daily at 10:00 am until 6:00 pm to 8:00 pm, depending on the season. The ticket price is € 5.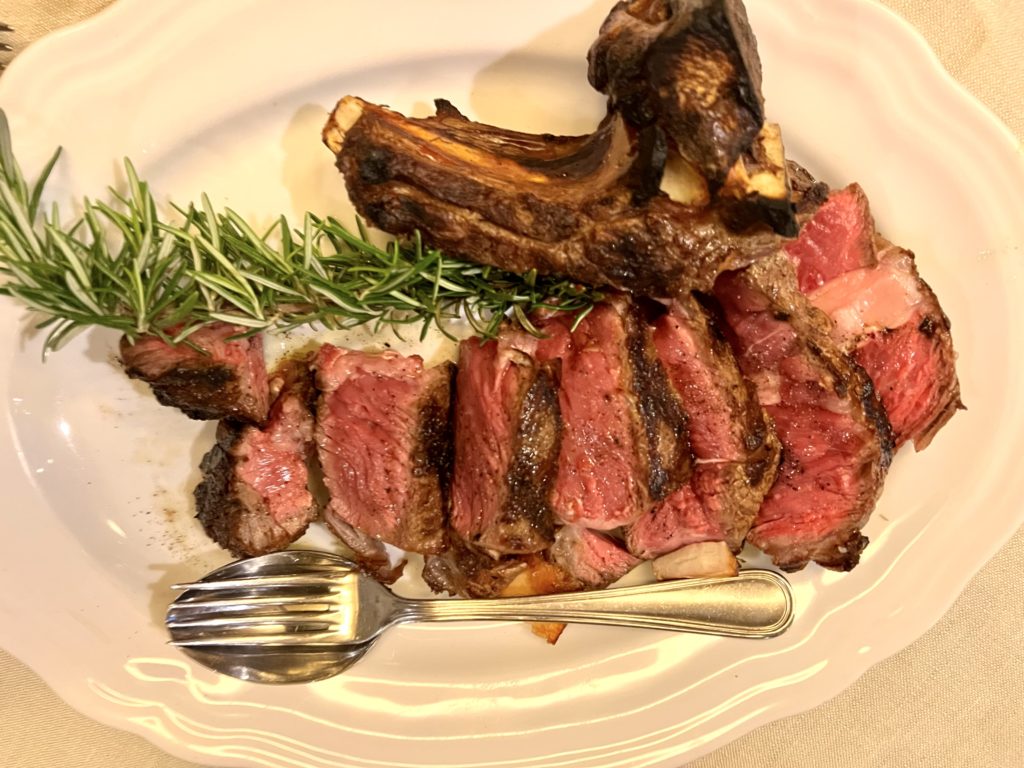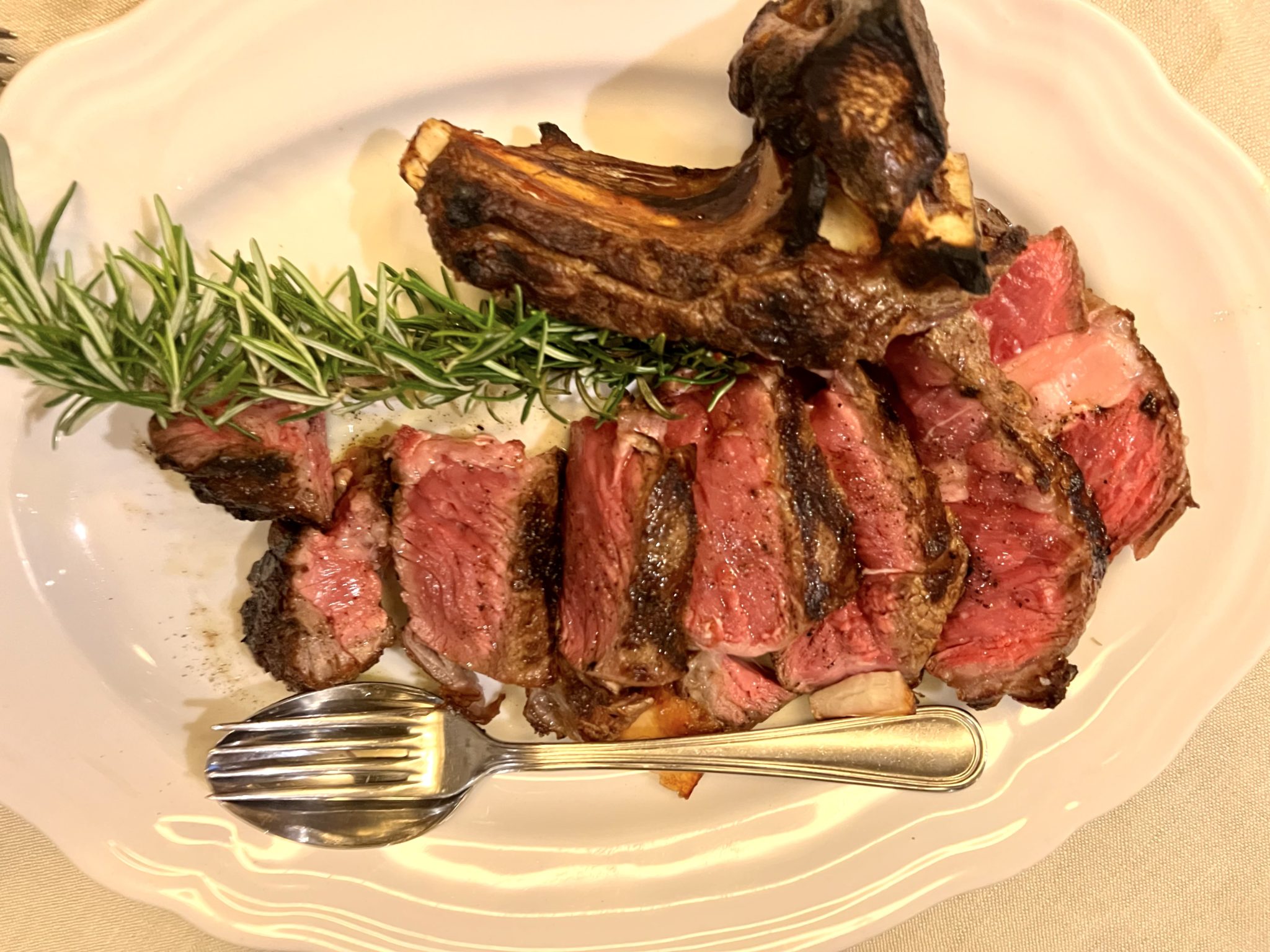 10. Cocktails & Dinner
As evening falls on your one day in Cortona itinerary, make your way back to Piazza della Repubblica. Soak in the local atmosphere at one of the cafes with an aperitivo in hand. Savor a glass of Tuscan wine paired with some bruschetta or crostini and unwind after a long day of exploring.
When it's time for dinner, you'll find no shortage of excellent restaurants in Cortona. So, treat yourself to a delicious meal and sample some of the region's specialties, like bistecca alla fiorentina (Florentine-style steak) or pollo alla diavola (spicy grilled chicken).
For specific restaurants, you can check out Ristorante Da Muzzicone, Osteria del Teatro, La Grotta, or Il Facioniere. Be sure to reserve ahead in high season!
After dinner, take a leisurely stroll around the town and admire the stunning views of the surrounding countryside beneath the twinkling stars.
Don't miss the chance to catch a concert in one of Cortona's churches, as they often host performances in the evenings.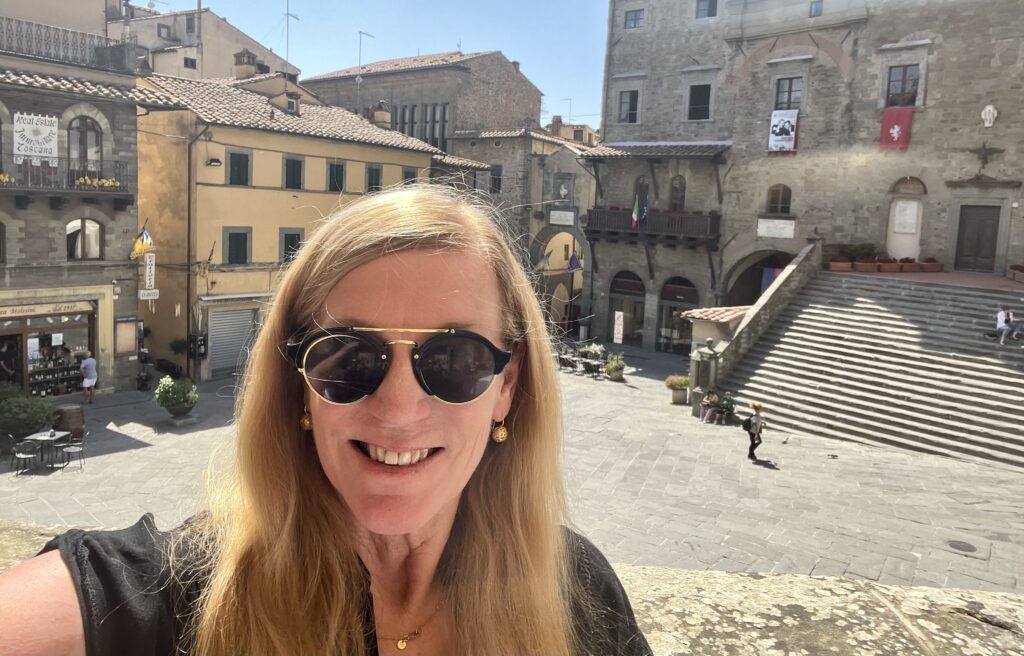 Tips For A One Day In Cortona Itinerary
Here are some must know things for spending 1 day in Cortona.
1. How To Get To Cortona
By Car:
The easiest way to get to Cortona is by car. There are exits for the town off the A1 Autostrada del Sole, which is the main highway in Italy.
Traffic is restricted in the historic center. So, you'll need to park your car and walk into town.
Here are the driving distances and times to Cortona from nearby destinations:
Montepulciano: 19 miles, 40 minutes
Montalcino: 41 miles, 1:10
Pienza: 31 miles, 55 minutes
Arezzo: 18 miles, 45 minutes
Assisi: 45 miles, 1 hour
Siena: 46 miles, 1 hour
Florence: 75 miles, 1.5 hours
Orvieto: 59 miles, 1:10
There is a public parking lot outside the town walls, which is about a 10-15 minute walk from the historic center. The parking lot is located on Via Gino Severini and it is marked by signs indicating Parcheggio Centro Storico.
There are escalators near the public parking lot. You can follow the signs for the scala mobili and take the escalators up the hill to the historic center. When you arrive at the top, you will be in Piazza Garibaldi.
I must confess that, when I was there, the escalators weren't operational. But you can still walk up or take a shuttle bus from the parking lot.
Be prepared for hills in the town! Cortona provides some very challenging walking.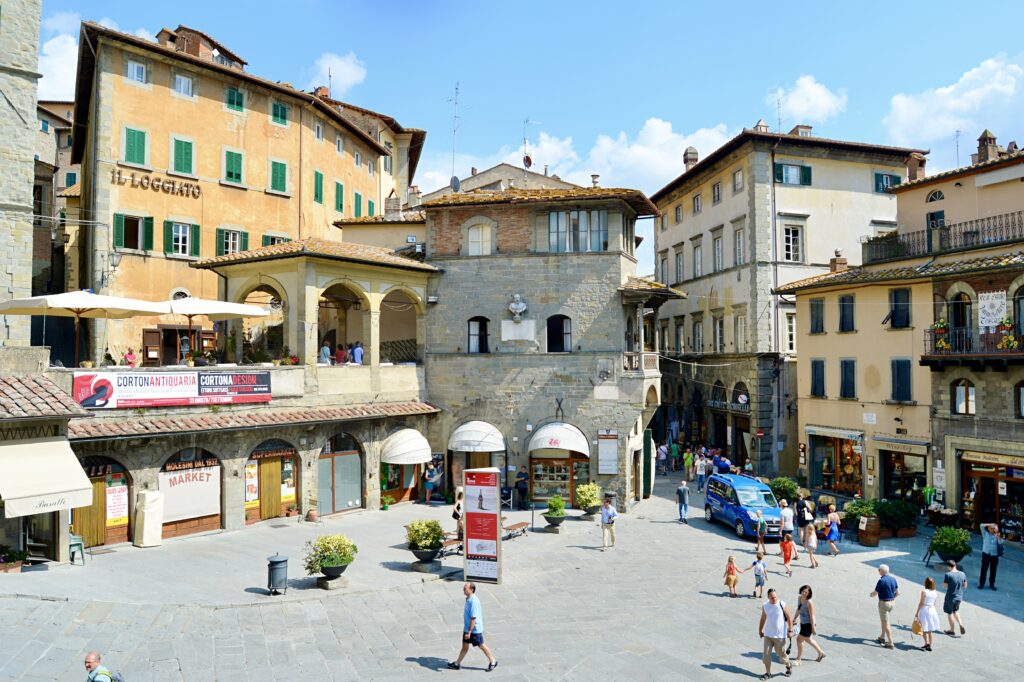 By Train:
Cortona is reachable by train from Rome, Florence, or Arezzo. The closest train station to Cortona is Camucia-Cortona station, less than 2 miles from town.
From there, you can take a taxi or a local bus to the historic center of Cortona. Taxis are usually available outside the train station. The ride to Cortona takes about 10-15 minutes.
Local buses also connect Camucia with Cortona and run every 30 minutes during the day.
By Guided Tour:
You have some options for guided tours to Cortona. You can visit:
2. Where To Stay in Cortona
If you want to stay overnight on your one day in Cortona, I recommend staying just outside the town in the countryside. Here are some great options:
Relais La Corte dei Papi is an elegant 5 star hotel located in a restored 17th century villa. It's about a 10 minute drive from Cortona and has beautiful gardens, an outdoor pool, spa services, and a restaurant serving Tuscan cuisine.
Il Falconiere is another lovely 17th century villa located in the countryside. It has a Michelin-starred restaurant, an outdoor pool, a spa, and beautiful views of the surrounding vineyards.
Borgo San Pietro is a luxurious 13 room hotel located in a beautifully restored medieval village outside the city. Like the other options, it has a pool and spa. It's restaurant is top rate, serving organic, farm-to-table cuisine.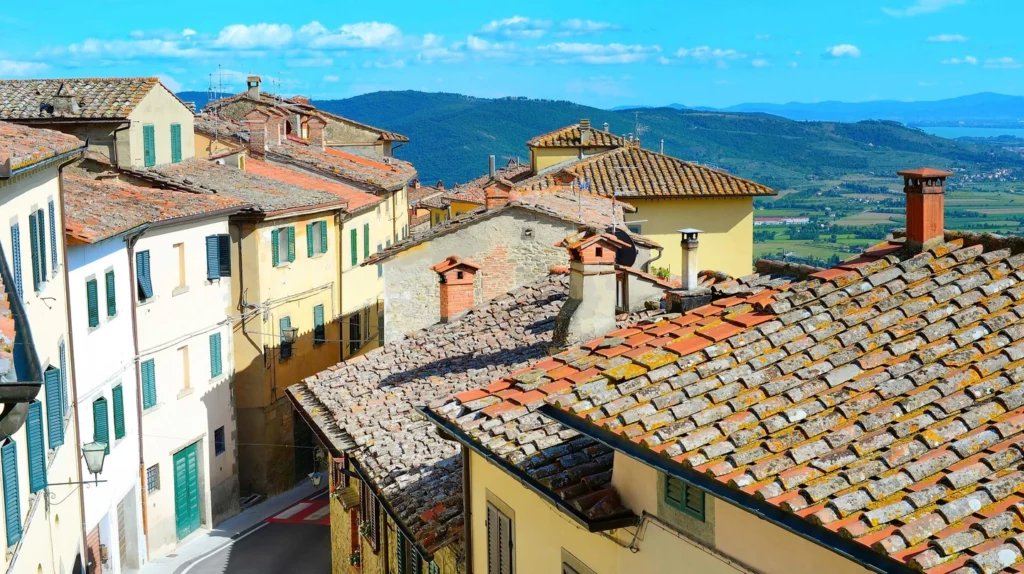 3. When To Visit Cortona
Cortona is at its best during spring and fall, with mild weather and fewer tourists. Winters can be chilly and rainy, while summers can be scorching. So plan your visit accordingly.
One of the most notable events in Cortona is the Medieval Archidado Festival. This festival takes place annually on the second Sunday in June and commemorates a medieval jousting competition held in 1397 to celebrate a wedding.
The festival sees the citizens of Cortona donning elaborate medieval costumes and reenacting the joust. It's an excellent opportunity to experience the city's rich history and cultural heritage.
Another festival worth visiting Cortona for is the Tuscan Sun Festival. It takes place for two weeks beginning in early August. The event was founded in 2003 by the best-selling author Frances Mayes.
It an eclectic celebration in honor of food, wine, art, literature, and music. Whether you're a foodie or a music lover, you're sure to find something to enjoy at this festival.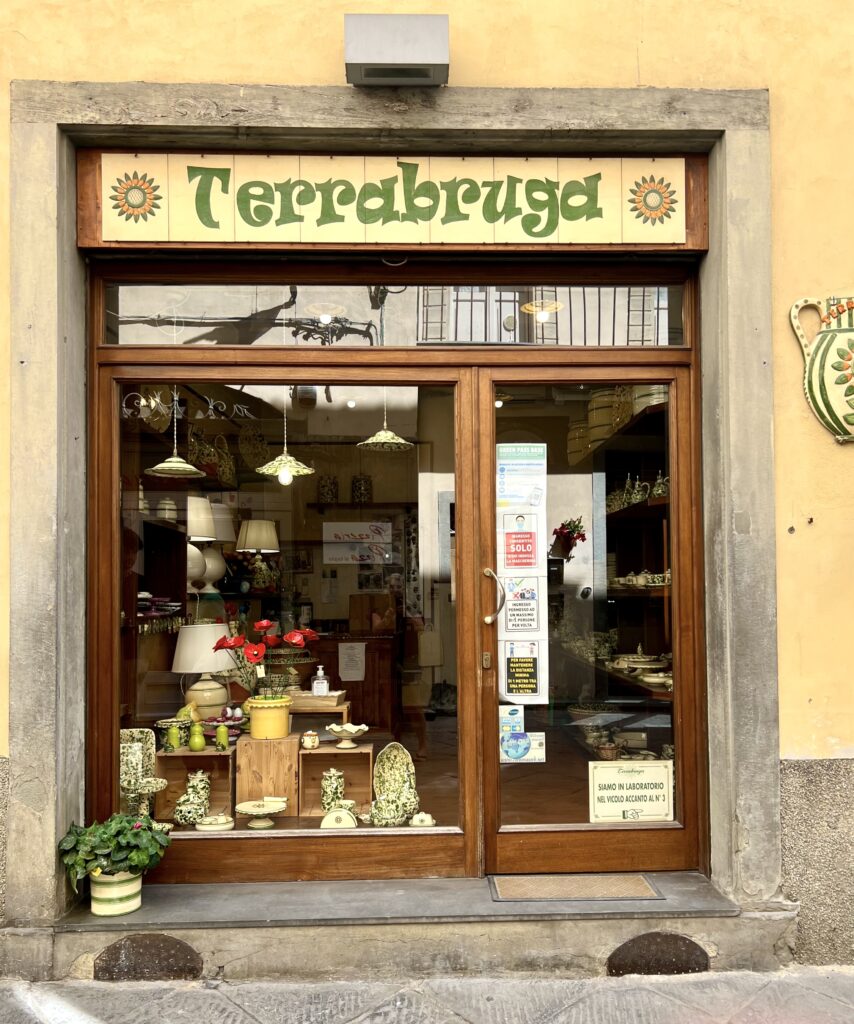 4. Shopping in Cortona
Cortona is a great place for shopping, with many boutiques and galleries.
You'll find a wide range of handmade pottery, clothing, leather goods, ceramics, and jewelry. You can also pick up truffles and other gourmet food items as well.
If you want to bring home some wine, there's some fantastic wine shops where you can purchase local wines, especially Enoteca Moleskins or Entoeca Il Pozzo. Cortona is most famous for its red wines made from Sangiovese and other local grape varieties, including Canaiolo and Mammolo.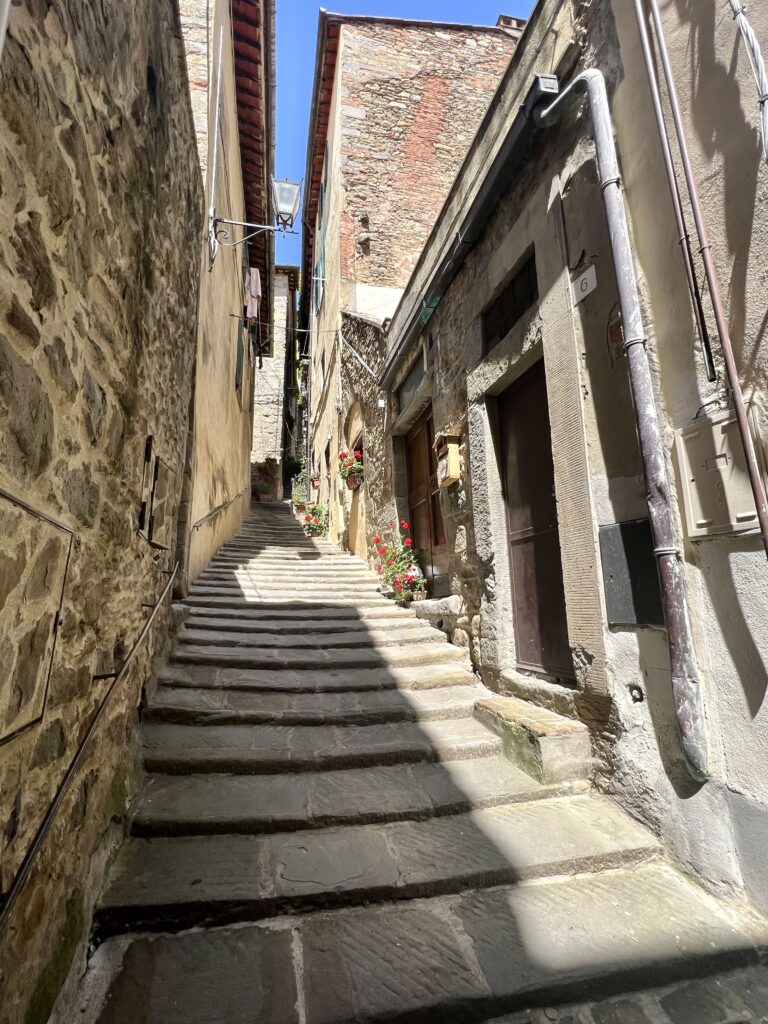 If you love ceramics (I know I do) you should check out the works by master potters at Terrabruga Ceramics. They specialize in the rustic yellow and green ceramics for which the studio is famous.
If you are visiting Cortona on a weekend, there's also Saturday morning market in Piazza Signorelli. You'll find fresh produce, food products, local crafts, and antiques.
5. How Much Time Do You Need To Visit Cortona?
If you want to see everything I've mentioned above, you would need one full day in Cortona. But if you don't have an entire day to dedicate to Cortona, you can still see the main attractions in the town in several hours. Add more time if you are stopping for a meal.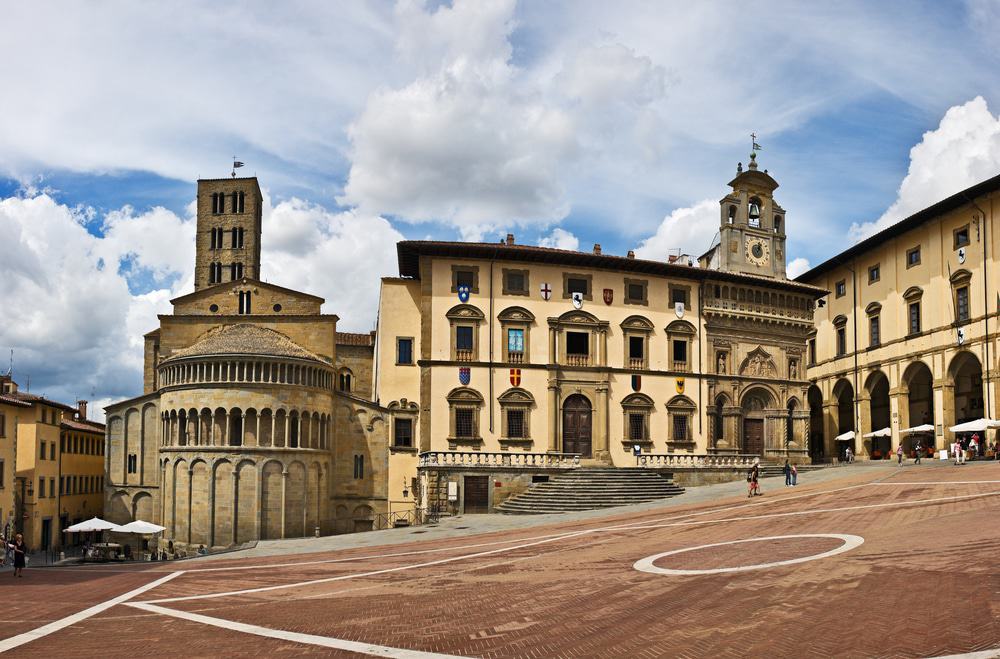 6. Things To Do Near Cortona
The best place to visit near Cortona is the town of Arezzo, about 30 minutes away. Arezzo is a mini-tsunami of high culture, architecture, and history all set amid a cobbled old town.
You can admire frescos of famed artist Piero della Francesca, visit Arezzo Cathedral, and wander through the beautifully frescoed house of artist-historian Giorgio Vasari.
If you're willing to drive further, you can visit the lovely towns of Pienza and Montepulciano in southern Tuscany.
Pienza is a picture perfect small town that was intended to be the ideal Renaissance town. As a result, Pienza is one of Italy's most beautiful towns with narrow streets, beautiful palaces, churches, and buildings.
Montepulciano is also an incredibly attractive hill town that's synonymous with the classic Tuscan landscape. It's perched on a limestone ridge and surrounded by vineyards.
Montepulciano is renowned for its well-preserved Medieval and Renaissance architecture, romantic nooks, and velvety vino nobile red wine.
I hope you've enjoyed my one day in Cortona itinerary. You may enjoy these other Italy travel guides and resources:
If you'd like to spend one day in Cortona, pin it for later.