Looking for a one day in Copenhagen itinerary? You've come to the right place!
Copenhagen is a city of culture and beauty. It's a place where old world charm meets sleek Scandinavian design.
The food and coffee culture are amazing. And there's beautiful neighborhoods and historic landmarks to boot.
Copenhagen is known for its hygge vibe. Hygee translates to coziness. It's an ethos that celebrates calm, comfort, and (most likely) candles.
Overview Of One Day in Copenhagen Itinerary
Here's a snapshot glance of what you can see with one day in Copenhagen:
Liltel Mermaid Statue
Amalienborg Palace
Marble Church
Round Tower
Nyhavn
Stroget
Chrisianshavn
Our Savior's Church
Canal Cruise
Tivoli
Food Tour
You may want to book the Copenhagen Card, which gives you skip the line access to over 80 attractions and free public transport. You can purchase the card in 1-5 day increments, so the one day option is perfect.
Before You Go: Here's How To Plan Your Visit To Copenhagen
Below are some of the top tours, hotels, and experience in Copenhagen. Donʻt forget to plan ahead, especially in high season!
Where To Stay:
Best Guided Tours:
One Day In Copenhagen Itinerary
Here's how to spend one perfect day in Copenhagen. You might not get to everything on this itinerary. But I wanted to give you all the options.
1. Little Mermaid Statue
The Little Mermaid statue is a popular landmark in the Osterbro neighborhood of Copenhagen.
The statue was inspired by Hans Christian Anderson's book of the same name. It depicts the mermaid who gazed out longingly at the sea and was merged into sea foam.
I would visit first thing in the morning before the crowds arrive. Personally, I don't consider this a mandatory stop with only one day in Copenhagen. But it likely will be if you are traveling with kids.
The statue is much smaller than you may expect. I found it a bit underwhelming. If you don't mind seeing it from afar, you can catch a glimpse on a canal cruise, which I discuss later.
About a quarter mile away, you can also see the Genetically Modified Little Mermaid. It's part of a Genetically Altered Paradise with other sculptures. They were created by Danish professor Bjorn Norgaard, who sees them as a humorous take on postmodern society.
2. Amalienborg Palace
Amalienborg Palace is home to the Danish royal family and has been since 1794. It's only a 15 minute walk from the Little Mermaid or you can taxi there in 5 minutes to save time.
If you're interested in royal history, you should definitely go inside. The palace consists of four 18th century Rococo-style buildings named after the monarchs. You can marvel at the elegant interiors and exquisite artworks on display.
There is also a museum, where you can see the private apartments and reception rooms of the kings and queens.
Similar to Buckingham Palace in London, every day at noon you can see the changing of the guard. If the queen (Margrethe II) is in residence, you'll see a swallowtail flying from the roof.
3. Marble Church
The Marble Church is just steps away from the palace, so you should stop by to at least have a peak. It's also known as Frederick's Church.
You can walk by and admire the largest dome in Scandinavia, held up by Corinthian columns and decorated with statuary. The interior is quite lovely and free to visit.
You can also climb the dome. But it can only be accessed on a guided tour at 1:00 pm.
So, for your one day in Copenhagen itinerary, you would have to skip this. But, now worries, because you'll have a couple other splendid viewpoints during the day.
4. Round Tower
The Round Tower was built in the 1600s by King Christian IV. It was first built as an observatory to honor Denmark's greatest astronomer, Tycho Brahe.
These days, it's a famous tourist attraction in the city, both for the attached church and the view from the top.
It's super easy to climb because you take a slowly spiraling ramp instead of a steep stairway. It was built this way to accommodate horses.
Once you get to the top, there's an observation deck that looks out on the historic city center. There's also an art exhibition hall and library in the tower.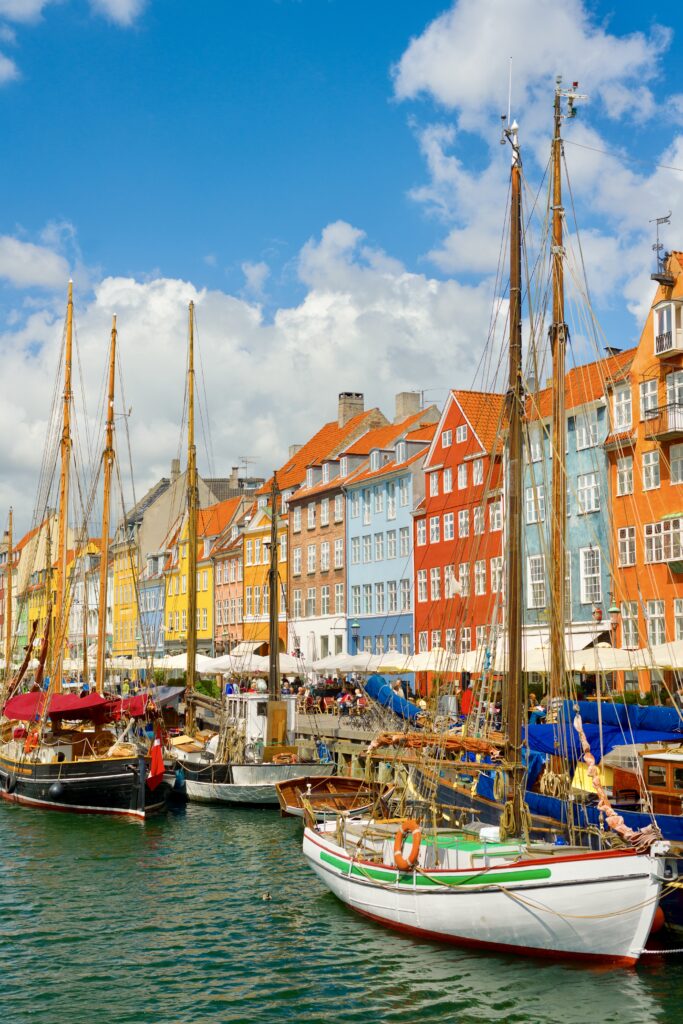 5. Nyhavn
Nyhavn is Copenhagen's most colorful and famous neighborhood and a must visit with one day in Copenhagen. It's famous for its series of colorful buildings. It's one of the most popular photo spots in the city.
You won't see many locals there. But it's a great place to grab a snack or ice cream. And there are countless cozy street cafes and bars, some lit with fairy lights at night.
At Nyhavn 20, you can visit the former house of Hans Christian Anderson. The author spend his life in Copenhagen and you can learn about his life and his beloved stories.
Don't forget to jump on the sidewalk trampolines near the harbor.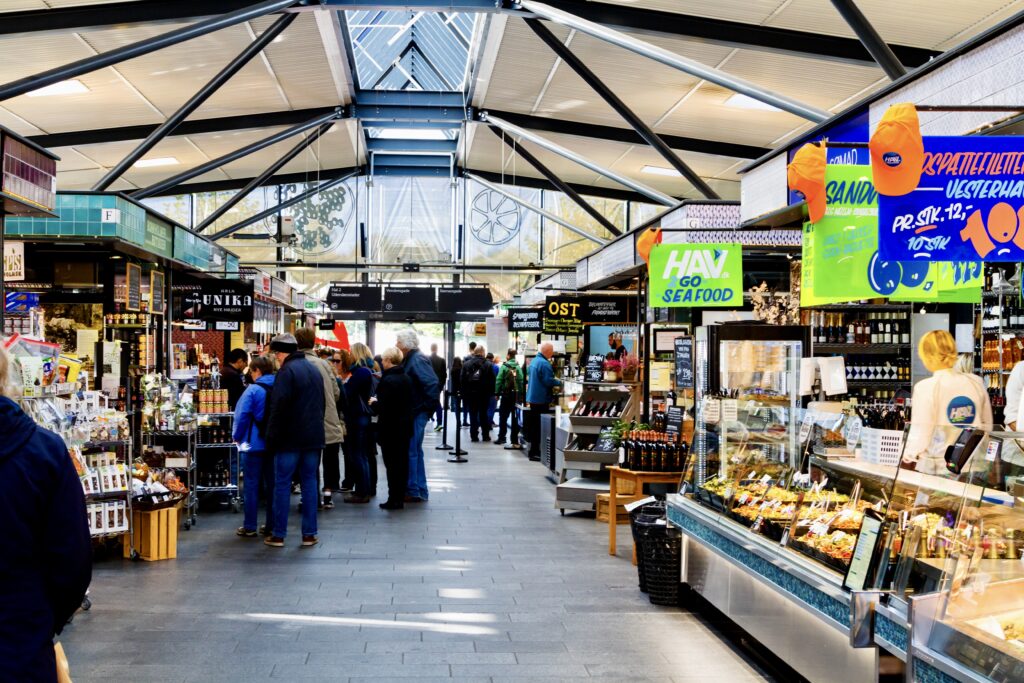 6. Lunch
Nyhavn is perhaps not the best place to stop for lunch. Everything will be overpriced. But you might want to sit down for a drink and enjoy the views.
You can also check out Torvehallerne. It's a popular glass enclosed food market situated right by Nørreport Station.
It offers more than 80 shops and there are picnic tables to sit down and eat. You can get Danish specialities, fresh produce, coffee, wine, and baked goods. Smag is a good food stall to get things to go.
A classic thing to have for lunch in Copenhagen is polser (hot dog) or smorrebrod. The latter is an Danish open faced sandwich, usually made on dark rye bread with various meats.
You can grab a polser from one of the myriad hot dog carts in the city. The restaurant Selma reputedly makes the best smorrebrod in the city and for takeaway you can grab one at Aamans Deli & Takeaway.
7. Stroget
Stroget is the picturesque main shopping street in Copenhagen. It stretches over half a mile.
Stroget is very touristy. But it's pedestrianized, lined with beautiful buildings, and the shops are unique.
You will find everything from chains to international luxury brands like Prada and Louis Vuitton. If you're looking for something distinctively Danish to buy, check out the ceramics, leather, or some skin care products from the Danish guru Olek Henriksen.
You can also find good street food here, if you haven't eaten lunch yet.
8. Christianshavn
This is another beautiful area of Copenhagen that's less crowded than Nyhavn. It started as an independent city within Copenhagen and is a colorful and quirky place.
The main entrance is marked by a large tree mural. Once inside, you can wander winding streets and check out the outdoor vendors. The neighborhood is also a paradise for street art aficionados.
Click here to book a guided walking tour of this pretty neighborhood.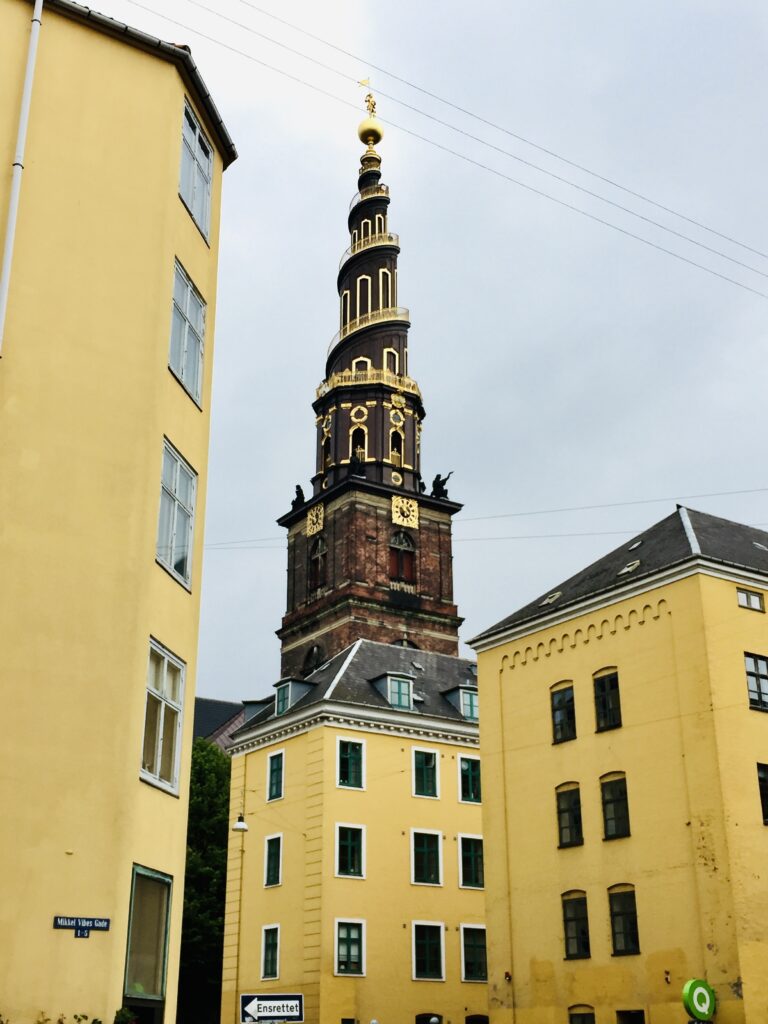 9. Our Savior's Church
You should stop into Church of Our Savior in Christianshavn. It's a beautiful Baroque church built in the 1680s. A bell tower was added 50 years later.
You'll definitely want to climb the bell tower. It's 400 narrow and spiraling steps to the top.
This is probably the best viewpoint in Copenhagen. Access is free with the Copenhagen Card.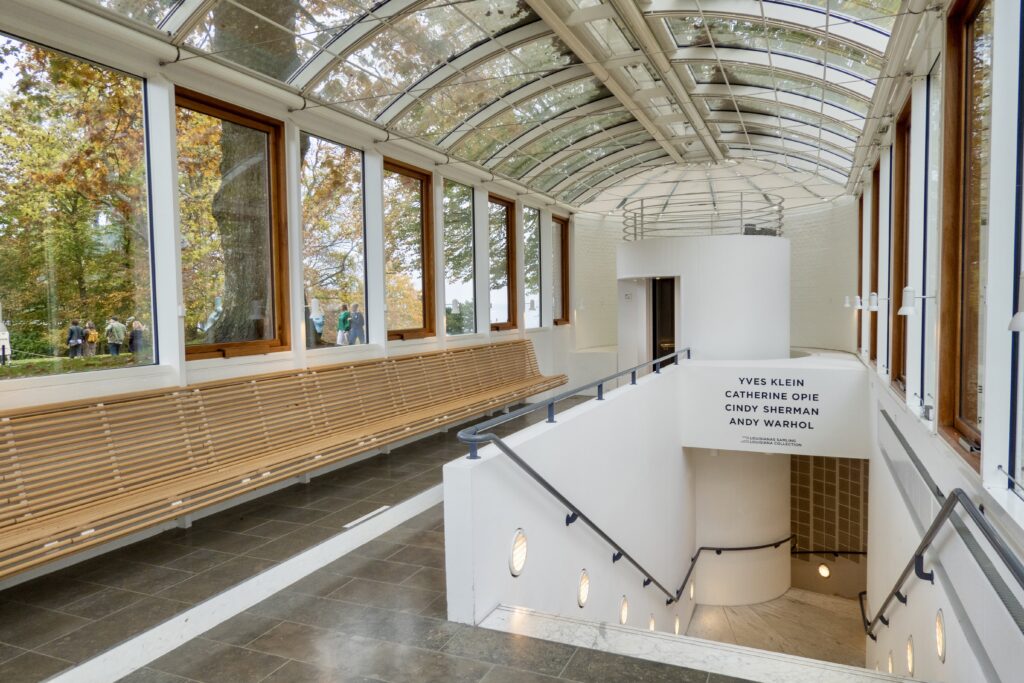 10. Louisiana Museum
If you want to add one museum to your one day Copenhagen itinerary, make it the Louisiana Museum of Modern Art. It's an eye catching museum that's a bit off center, but worth the effort to get to. You can take the train from Norreport Station.
Outside, there's a sculpture garden with over 60 works by Alexander Calder, Henry Moore, and Richard Serra.
Inside, the museum houses over 4,000 works of modern art that post date 1945. You'll find works by Picasso, Giacometti, Warhol, Lichtenstein, Dubuffet, etc.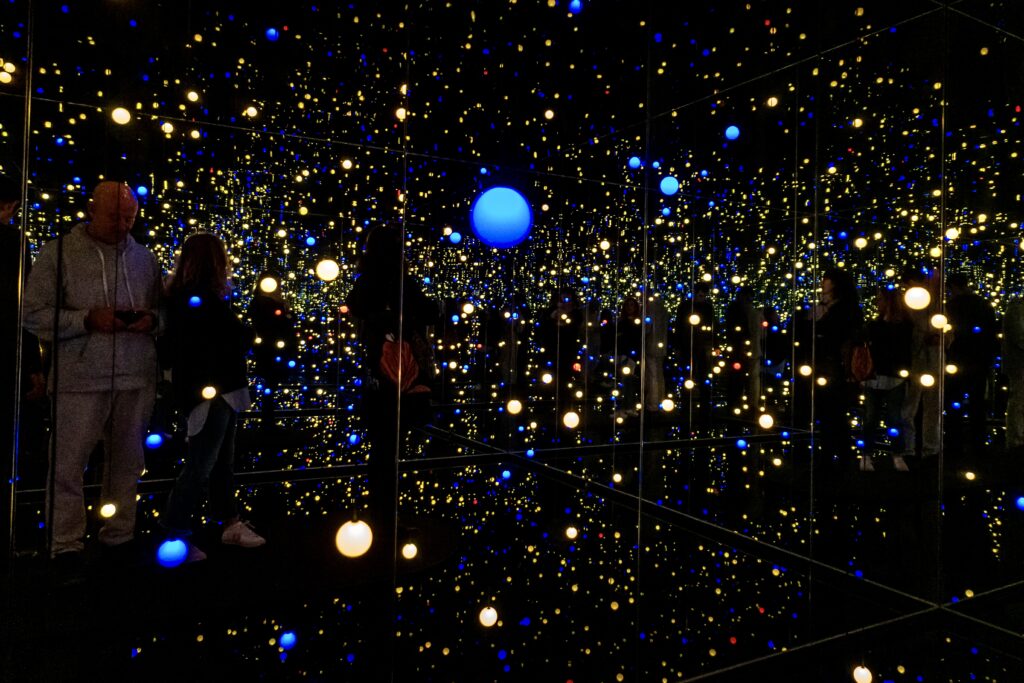 One of the most popular pieces is Yayoi Kusama's infinity mirror room entitled Gleaming Lights of the Souls. She's a Japanese contemporary artist known as the "Queen of Polka Dots."
If you've been in one of these, you know how cool they are. You step into a dark space covered in mirrors and colored lamps and stand on water.
If you are visiting Tuesday through Friday, the museum doesn't close until 10:00 pm. So, this is a good nighttime activity for art lovers.
11. Canal Cruise
In the late afternoon, take a canal cruise. It's a must do with one day in Copenhagen.
A cruise is a great way to see the city from a different perspective, while learning some history and resting your feet. The canals are flanked with gorgeous buildings that will keep you busy taking photographs.
As you glide, you'll spy Amalienborg Palace, the Opera House, the Little Mermaid, and the colorful houses and house boats of Christianshavn.
Cruises depart from Nyhavn throughout the day. Click here to pre-book a one hour canal cruise that leaves from Nyhavn. You can also check out this 2 hour hidden gems cruise.
You have three options for the evening of your one day in Copenhagen. You can (1) grab a gourmet meal or go on a food tour; (2) if you have kids, head to Tivoli; or (3) head to the city's ultra modern Opera House.
12. Dinner or Food Tour
Copenhagen is a culinary hotspot that's famous for its award winning cuisine and Michelin-starred restaurants.
If you want to splash out for dinner, reserve in advance at the 3 Michelin star Noma, the pioneering Danish restaurant. It's hard to get a reservation though. Tables are released only three times a year and you have to act fast.
Barr serves up Scandinavian hits with a modern twist. ARK is a 1 Michelin star restaurant that's totally vegan, with a 9 course tasting menu.
Want to eat in a lovely greenhouse? Check out Vaekst, where you'll find high end rustic food in a plant-filled airy atmosphere.
To sample all the city's trendy food, you could go on a guided food tour. This four hour gourmet food tour takes you to a market, local eatery, and microbrewery.
13. Tivoli
Founded in 1843, Tivoli Gardens is Copenhagen's iconic theme park and a prime attraction. It's the world's second oldest amusement park and heavily inspired Disneyland.
If you are traveling with kids, this is a must do with one day in Copenhagen. It's just a short jog from Stroget.
When you step past the wrought iron gates, you'll find an enchanted world of rollercoasters, immaculate gardens, a concert pavilion, a theater venue, Moorish and Venetian architecture, and the Oriented-style Balkonen Restaurant.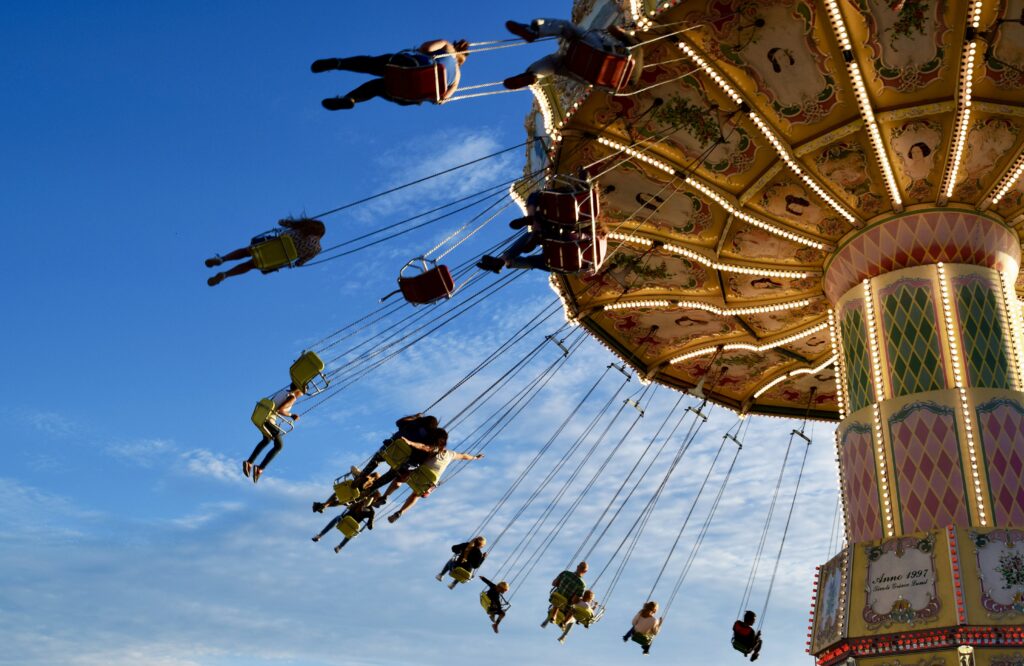 If you visit at night, which we did, everything is lit up like a fairy stage set.
My daughter's favorite ride was the Star Flyer, where you are flung up into the sky and have great views.
Click here to book a Tivoli admission ticket. There are some free attractions and you can also get a 24 hour unlimited rides ticket. Plus, there's a train that takes you around the park.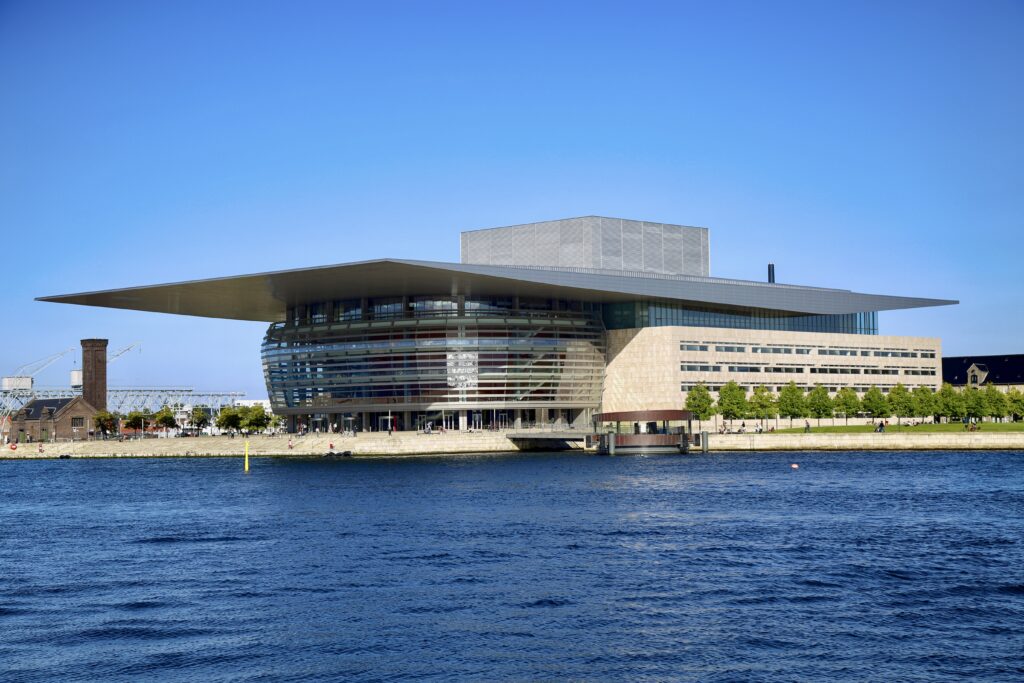 14. Opera
If you have a chance to see a show at the Royal Danish Opera, you should take it! It's a stand out piece of architecture across from Amalienborg Palace.
It's a beautiful building designed by Henning Larsen. Five floors are underwater.
If opera isn't for you, you can check out the shows at the Royal Danish Playhouse. It overlooks the water and has three stages.
Tips For Spending One Day in Copenhagen
Here are some must know tips for your 1 day in Copenhagen itinerary.
1. How To Get To Copenhagen
You'll like arrive in Copenhagen via a cruise ship or the international airport, Copenhagen Airport (CPH).
You can get to the city center by train, bus, metro, or taxi. You can also book a private transfer from the airport to your hotel or a private transfer from the cruise port to your hotel.
2. How To Get Around Copenhagen
Copenhagen is a very manageable city. I walked everywhere in Copenhagen, apart from taking a canal cruise.
The city's bus system is very efficient. Just make sure you're getting on a bus going in the right direction. And you can hail a taxi from any major hotel.
But if you like cycling, Copenhagen is a great town for biking and there are loads of bike lanes. You can rent bikes at Copenhagen Bicycles in Nyhavn.
Or, you can use the city's public bike share system called Bycyklen, with spots all over town. You can grab a bike from any kiosk in town and return it to another kiosk wherever you end up. Either sign up on the website or download the app to pay.
Alternatively, you can book a guided bike tour or guided Segway tour to get around the city. Or use the hop on hop off tourist bus-bus.
3. When To Visit Copenhagen
I've visited Copenhagen twice, both times in late spring. This is one of the best times to visit. The temperatures are warming up and the flowers are in full bloom.
Summer is a great season too, and the temperatures do not get ungodly hot as in other parts of Europe. You may have a whopping 17 hours of daylight.
Though summer in Copenhagen is an easy sell, winter tends to be long, cold, and dark with plenty of gray skies. Though if you like Christmas markets, Copenhagen delivers on that score.
4. Where To Stay In Copenhagen
Copenhagen is not a budget destination and the hotels don't come cheap. But there are some really beautiful ones that are design destinations in their own right.
Manon Les Suites is a suites only hotel in a renovated factory that looks like a Moroccan riad. At the center is an indoor pool.
Villa Copenhagen is an opulent hotel that's centrally located. It's housed in a historic landmark with a rooftop pool.
Opened in 2017, the Nobis Hotel is a modern luxury hotel near Tivoli. It's a place of serenity and Danishing stylings created by an in demand Danish design firm.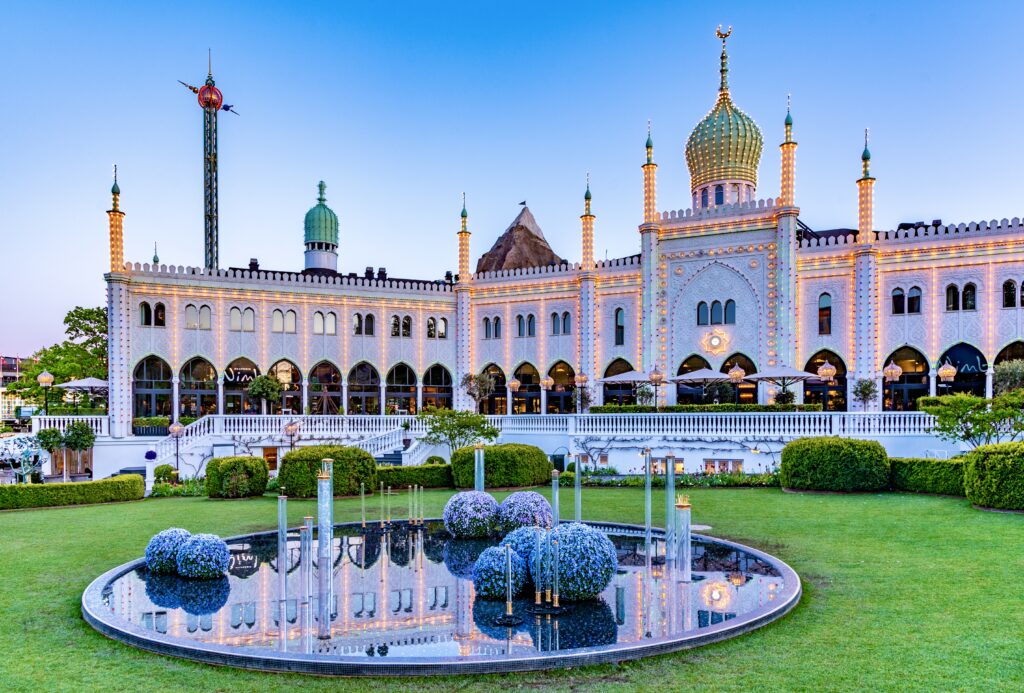 The Admiral Hotel is housed in a beautifully restored historic building near Amalienborg. You'll find lovely breakfasts and Danish styling.
The Hotel Nimb is a 5 star boutique hotel with a wellness area and rooftop pool. It's located in Tivoli and has a fairytale facade with Moorish arches, minarets, and domes.
Hotel Skt Petri is known for "relaxed luxury" and its soft color palette. Hotel Sanders has a similar vibe of hushed glamor in a newly renovated building with a prime central location.
Staying in an Air BnB is a good way to go too. And you'll get to experience a Danish neighborhood.
5. Is One Day Enough in Copenhagen?
I've visited Copenhagen several times for either 1 or 2 days. One day is enough to see the major attractions and scratch the surface.
But it's not enough to see everything. Ideally, you'd spend 2-3 days in Copenhagen.
Yet, one day may be all you have if you are about to hop on a cruise or you're visiting on a cruise stopover.
6. What Language?
The official language is Danish. But English is the unofficial second language. Almost everyone speaks it. So You should have no trouble communicating.
7. More Than One Day In Copenhagen?
If you have more than a day in Copenhagen, You could spread this one day in Copenhagen itinerary over 2 days and proceed at a more relaxed pace.
You would then have time to visit Christiansborg Palace. Dating from the 12th century, it's the former main residence of the royal family and home to the Danish parliament.
On a tour, you can check out the crown jewels, royal reception rooms, the throne room, the hall of carriages (one is coated in 24 carat gold!), and ruins under the castle. The tower is almost 350 feet high and you can access it for free.
Alternatively, you can head out on a guided day trip to Kronborg and Frederiksborg Castles. Or take a private tour of Kronborg castle.
Kronborg is the "Hamlet Castle." It's about 1.5 hour train ride. The castle is absolutely stunning.
It boasts a fine painting collection. And the creepy dungeons will keep you on your toes. You will see a statue of Holgar, the sleeping king who will wake up when it's time to protect his country.
You can also visit Malmo Sweden. It's just a 30 minute drive from Copenhagen dove the bridge. Or you can book a guided day tour from Copenhagen.
Malmo is a quaint city filled with historic buildings, art galleries, and excellent eateries. Canals ring the city center. There are beautiful half timbered buildings and Gothic church.
If you want a break from the city, you can head to Amager Strandpark. It's just 20 minutes from the city.
It has a beautiful beach and you can see windmills in the distance. It's a great place for a bike ride and there are plenty of little eateries.
I hope you've enjoyed my one day in Copenhagen itinerary. You may enjoy these other European city itineraries:
If you'd like to spend one day in Copenhagen, pin it for later.