Here's my armchair travel guide to Venice Italy. Via 15 virtual tours, you can visit Venice's famous landmarks, must see attractions, and world class museums from your couch or computer. You can feel like you're in Venice even if you're not.
La Serrenissima is one of the world's most beautiful and captivating cities. No other place looks anything like it. It's a magical floating city of grand palazzos, golden domes, picturesque canals, and labyrinthian lanes.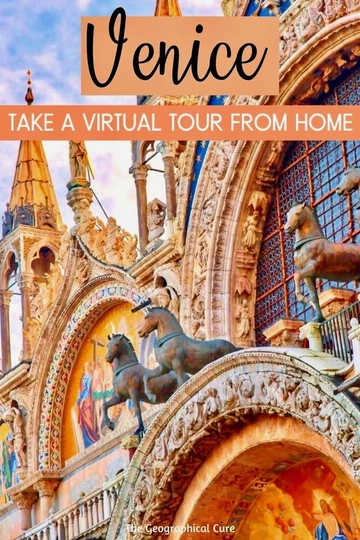 Venice has suffered lately — from overtourism, flooding, and now the world wide lockdown. If, like me, you had a trip to Italy planned and canceled, you may be feeling disappointed.
But thanks to the wonders of armchair travel, you can now take a virtual cyber vacation to Venice. To be sure, it's not nearly as fascinating as the real thing. But you can see the iconic place in a quiet and peaceful state, without crowd or queues. Perhaps the Venetians prefer it this way.
READ: 2 day itinerary for Venice
How to Enjoy A Virtual Venice Vacation Online
1. Google Earth | Google Maps | YouTube
Google Earth and Google Maps are perfect for an overview of Venice. These sites enable you to see different digital views of Venice – aerial views, street views, and panoramic views. You can navigate your way around online using your keyboard or mouse. In addition, you can explore Venice here or take this 360 tour.
There's also a brilliant live webcam on YouTube here. It shows Venice shut down, eerily quiet and empty. YouTube's "I Love You Venice" channel plays live footage to classical music. It claims to have the "most beautiful live cam" of Venice.
National Geographic also has a lovely 4 minute video about Venice.
2. Google Arts & Culture: Virtual Tours
Google Arts & Culture is a brilliant initiative for the travel starved. Google has partnered with museums and institutions around the world to bring masterpieces to you in high resolution or present thematic tours of important art and architecture.
If you're a culture vulture, it's one of the best online best resources. In addition to the specific Venice sites, Google Arts & Culture also has an online exhibition from the National Gallery in London of Impressionist Claude Monet's paintings of Venice.
3. Doge's Palace
The Doge's Palace or Palazzo Ducale is Venice's most iconic landmark. Set in St. Mark's Square, the palace is the very symbol of Venice. This pink and white marble Gothic-Renaissance building was the official residence of the doges, rulers of Venice for more than 1,000 years.
Now, from your armchair, you can explore the architecture of the building, the grand interior, and some of the fabulous Renaissance and Venetian art. The must see masterpieces are Veronese's Rape of Europe and The Triumph of Venice, paintings and ceilings by Tintoretto, and Tiepolo's Neptune Bestowing Gifts upon Venice.
You can tour the Doge's Palace virtually on Google Arts & Culture and take a 360 tour of the exterior and tour the interior here.
READ: Must see sites along the Grand Canal
4. Saint Mark's Basilica
St. Mark's is one of the world's most ornate churches, designed in an Italo-Byzantine style when Venice was a wealthy military power. It's right on the Piazza San Marco and connected to the Doge's Palace. The basilica used to be a smaller chapel for the doge.
It's called St. Mark because it holds the body, a relic, of St. Mark. St. Mark was hugely important as one of the authors of the New Testament. Venetian merchants actually stole the relic from Alexandria in 828.
St. Mark's is constructed in a Greek cross design, with each arm equal. The interior is like a golden jewel box. The walls are covered with mosaics, 40,000 square feet in total.
You can take a virtual tour of St. Mark's here and listen to a Smarthistory lecture here.
5. Peggy Guggenheim Collection
Ah, this is my favorite museum in Venice. And it's one of the finest modern art museums in the world. It was founded by Peggy Guggenheim, an eccentric American heiress with a nose for spotting talent.
The museum is housed in the Palazzo Venier dei Leoni, an 18th century palace on the Grand Canal. Peggy purchased it from another eccentric European personality, Maria Louisa Casati.
Peggy's collection includes works from the major movements of Cubism, Surrealism, Futurism, and Abstract Expressionism. There's an entire room dedicated to her beloved Pollack. You can see works by Picasso, de Chirico, Kandinsky, Miro, Klee, Ernst, Magritte, de Kooning, Dali, and Calder.
The Schulhof Collection, also on site, is also impressive. It's housed in a wing of the museum called the Barchessa. The collection features post-war American and European art, from the period following Guggneheim's works.
The focus is on minimalism, pop art, and post-painterly abstraction. It includes works by Frank Stella, Cy Twombley, Ellsworth Kelly, Jasper Johns, and Eduardo Chillada.
You can tour the Peggy Guggenheim Collection online here. Here's my complete guide to Peggy Guggenheim Collection.
6. Palazzo Rezzonico
Also located on the Grand Canal in the Doursoduro area, Palazzo Rezzonico is a shrine to 18th century Venetian artists. This period is sometimes called the "Age of Decadence." You'll find paintings and frescoed ceilings by Tiepolo, Longhi, Canaletto, Guardi, Molinari, and Lazzarini.
You can take a virtual tour of Ca' Rezzonico here. You can also take a Google Street View tour of the lovely palace and admire the beautiful furnishings, the paintings, the Throne Room, and the Grand Ballroom.
The palazzo also has an online exhibition on Canaletto, a painter renowned for his oil paintings of Venetian canals.
7. Ca' Pesaro International Gallery of Modern Art
Ca' Pesaro is a spectacular 18th century Venetian palace in Venice's Santa Croce area. While not as renowned as the Peggy Guggenheim Collection, the Ca' Pesaro is real a hotspot for modern art lovers.
It has a fabulous collection, spanning several movements from the 19th and 20th centuries with an especially rich collection of expressionists and surrealists.
The collection includes art works by works by Kandinsky, Chagall, de Chirico, Ernst, Matisse, Miro and Gustav Klimt. A highlight is Klimt's Judith II.
You can take a virtual tour here.
8. Palazzo Fortuny
Palazzo Fortuny is an intimate personal museum to check out. It was founded by the Fortuny family, who manned a successful company producing silk and velvet fabrics.
The visually stunning museum is filled with eclectic art — printed fabrics, drawings, and sculptures, paintings, and photography. They're all works created by Mariano Fortuny in the early 1900's.
You can take a virtual tour here. Touring virtually will quell the desire to reach out and touch the goods on display.
9. Museum of Natural History | Museo di Storia Naturale di
Venezia
This little museum is housed in the Fontego dei Turchi Palace on the Grand Canal. Its collection focuses on the natural history of the lagoon that surrounds the city. The museums conducts and coordinates scientific research.
Inside, you'll find dinosaur skeletons, big game taxidermy, fossils, insects, shrunken heads, etc. It's a perfect place for a history or science buff. You can tour the museum online at Google Arts & Culture here. You can take a Google Street View tour here and here.
10. Gallerie dell'Accademia
Located on the south bank of the Grand Canal, the must visit Gallerie dell'Accademia is housed in the former Santa Maria della Carità church and convent complex. It was built, in part, by famed Italian Renaissance architect, Andrea Palladio.
The Accademia was founded as an art school in 1750. In 1807, a conquering Napoleon opened the collection to the public.
The 24 galleries of the Academia are home to astounding artworks by pre-19th century Venetian artists. The Accademia boasts masterpieces by the likes of Canaletto, da Vinci, Veronese, Bellini, and Titian. This is where you can find Leonardo's famous Vitruvian Man.
You can tour the Accademia virtually here or on YouTube here.
11. Correr Museum | Museo Correr
This little museum is dedicated to the history of Venice. The sumptuously decorated rooms include an opulent ballroom, a Napoleonic loggia, a throne room, and a dining room. All have beautiful frescoed ceilings.
Amid the ornate rooms, you'll find beautiful Neo-Classical sculptures by one of my favorites, Antonio Canova. His themes were love and beauty. The museum also has an outstanding art collection, spanning the earliest days of Venetian painting up to the 16th century.
You can take a virtual tour of the Correr Museum on Google Arts & Culture.
12. Ride A Gondola Online
You can even take a gondola ride from home. Geneeo, a tech company, filmed a 20 minute virtual gondola ride through Venice's canals with 360 views. Sip a limoncello and enjoy the beautiful views here.
If you're ever in Venice, you can also learn how to row a gondola yourself. I did that the last time I was in Venice and it was fabulous.
13. Island of Murano Tour
Murano is a colorful island located in the Venice lagoon. It's a wonderful day trip from Venice proper. Murano is renowned for its exquisite glass products and glass blowing techniques.
Google Arts & Culture has a page devoted to Murano. You can learn about the ancient art of glass blowing here. You can also visit the Museo del Vetro online. The museum is devoted entirely to glass, from Roman to contemporary times.
You can even purchase authentic Murano glass souvenirs online from your couch or computer.
14. Thirsting In Place: the Aperol Spritz
A more unique and fun virtual tour is to make an Aperol Spritz, or Spritz Veneziano, online with Venice local Valerio. Venice lays claim to have invented the spicy European cocktail, which is a mixture of prosecco, Aperol, and soda water. The cocktail became wildly popular in the US starting in 2018.
If you want to learn how to make the aperitif and see lovely views of Murano at the same time, you can book an online course with Valerio here.
15. Films Set in Venice
Venice is an incredibly cinematic place, with its ancient crumbling palazzos and winding gondola-studded canals. Cue up these films for an armchair glimpse of Venice:
Death in Venice (thriller based on Thomas Mann's famous book)
Dangerous Beauty (period piece about courtesans in Renaissance Venice)
The Italian Job (thieves team together to steal gold)
The Tourist (Johnny Depp in a romantic thriller)
Moonraker (James Bond film with a gondola chase scene)
Indiana Jones and the Last Crusade (third installment of the series)
You may enjoy these other Italy travel guides and resources:
• 3 day itinerary for Florence
• 10 day itinerary for Tuscany
• 10 day itinerary for Italy's classic cites
• 10 day itinerary from Milan to Rome
• 1 week itinerary from Venice to Milan
​
If you'd like to visit Venice virtually from home, pin it for later.