Carlsbad is a picturesque coastal city in Southern California. It's a charming destination that offers a blend of natural beauty, cultural attractions, and laid-back vibes. It's the perfect place to spend a day and I have the perfect one day in Carlsbad itinerary.
Whether you're a local looking for a day of exploration or a traveler passing through, this 1 day itinerary covers the best the that town has to offer.
One Day in Carlsbad Itinerary
Start your day with a refreshing stroll along Carlsbad State Beach, known for its golden sands and rolling waves.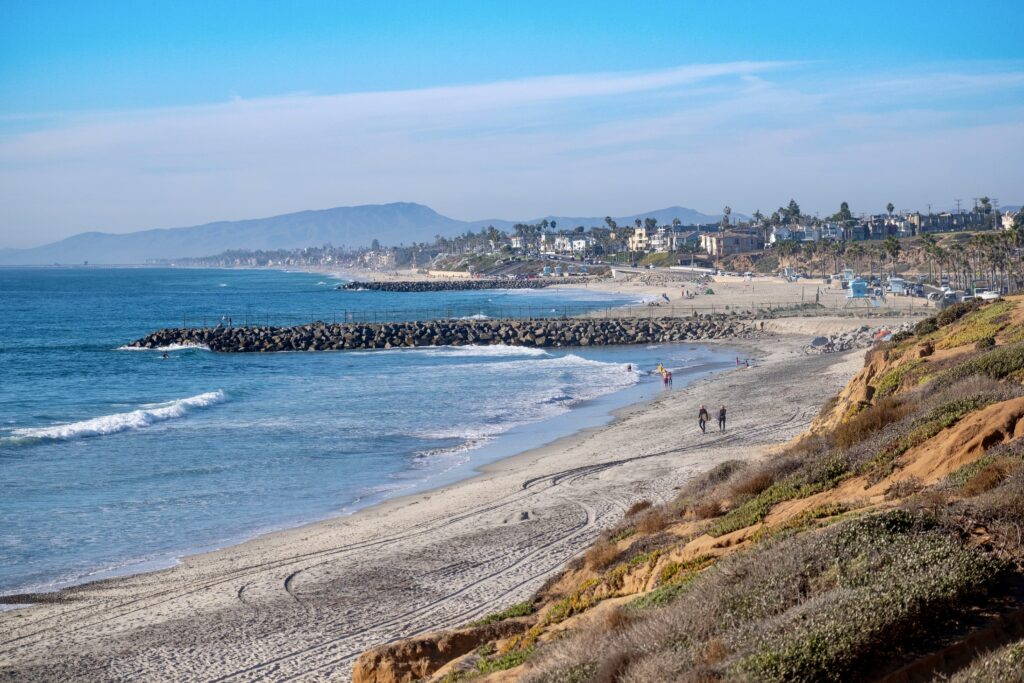 .
The sandy shoreline spans for miles. The gentle waves and clear waters make it a great spot for swimming and bodyboarding, while the beach's location near Carlsbad Village means visitors can easily access nearby shops, restaurants, and amenities.
In the early morning, it's tranquil and the perfect spot for a peaceful walk or even a barefoot jog along the water's edge.
After your beach time, head to a local favorite for breakfast. Cafe Topes is a popular spot known for its delectable brunch options and artisanal coffee.
You can eat in the cozy outdoor seating area, basking in the pleasant morning breeze. I recommend the chilaquiles and the burrata toast.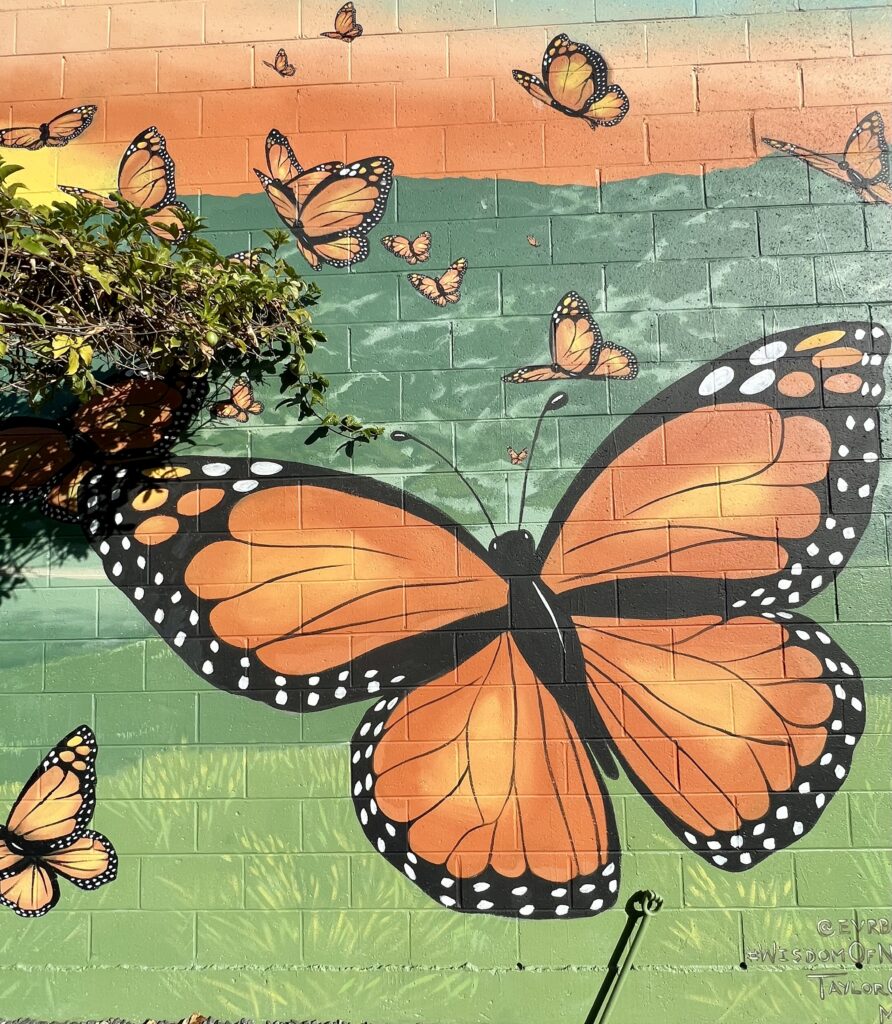 Carlsbad Village
Make your way to the iconic Carlsbad Village, where art galleries and boutiques line the streets. Carlsbad Village Drive and State Street are two of the primary streets that make up the heart of the village.
Spend some time exploring the many art studios and galleries that showcase the vibrant local art scene.
The Carlsbad Village Art Walk is a rotating outdoor mural project that showcases different artists' work on a designated wall, adding a new mural every few months.
Don't miss the chance to visit the William D. Cannon Art Gallery. It often hosts exhibitions featuring both local and renowned artists.
For shopping, pop into to the Village Faire Shopping Mall. It's an open air mall where you can explore a diverse range of offerings, from clothing and accessories stores to art galleries, gift shops, and specialty stores.
It's an ideal place to discover unique and locally crafted items, making it a great spot for souvenir shopping or finding one-of-a-kind treasures.
Before moving on, grab a photo in the colorful Instagram chair.
Lunch
For lunch, indulge in some delicious coastal cuisine at The Compass. It's a gastropub offering fresh seafood and ocean-inspired dishes. Enjoy your meal on their outdoor patio, soaking in the sun and ocean views.
As an alternative to Compass, you could take a guided food tour. It takes you on a stroll through the picturesque village. You'll have six food tasting with wine and beer.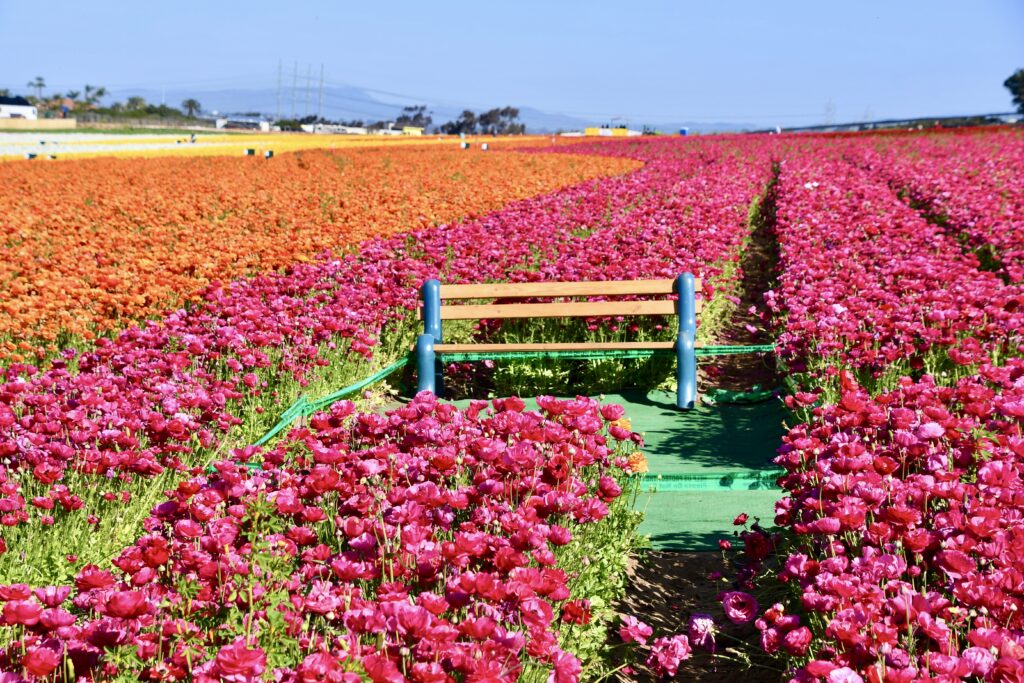 Carlsbad Flower Fields
After lunch, head to the Carlsbad Flower Fields, especially if you're visiting in the spring. Peak blooming season is typically for 6-8 weeks in early March to early May.
These expansive flower fields are a sight to behold, with rows of vibrant ranunculus blooms stretching as far as the eye can see. Take a leisurely stroll through the colorful fields, capturing the beauty of nature.
For kids, there's a sweet pea mazer, playground, and tractor rides.
In the late afternoon of your one day in Carlsbad, head to the Leo Carrillo Ranch Historic Park or LEGOLAND.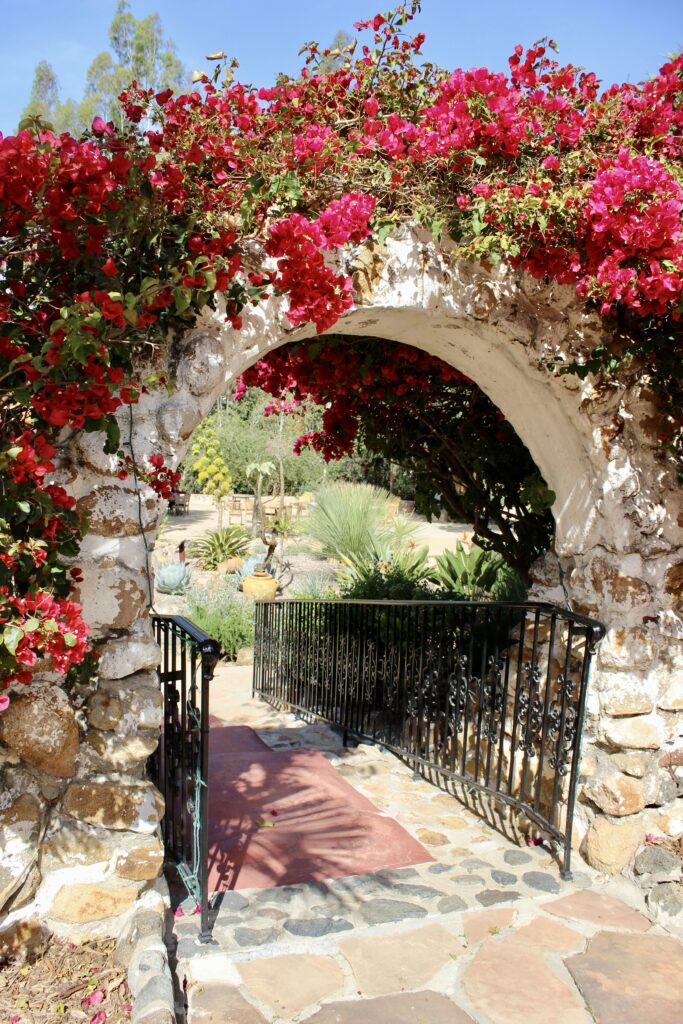 Leo Carillo Ranch
The Leo Carillo Ranch is a hidden gem that offers a glimpse into the past. Leo Carrillo is known for his role in the classic TV show The Cisco Kid.
The park is spread over 27 acres and features a variety of historic buildings, lush gardens, and scenic landscapes.
Visitors can explore the adobe-style hacienda, which was Carrillo's retreat, and learn about his life and contributions to the entertainment industry. The property also includes a reflecting pool, barn, windmill, and other structures.
A big highlight is the ranch's stunning peacock population. The park also offers guided tours that offer insights into the history, architecture, and ecology of the area.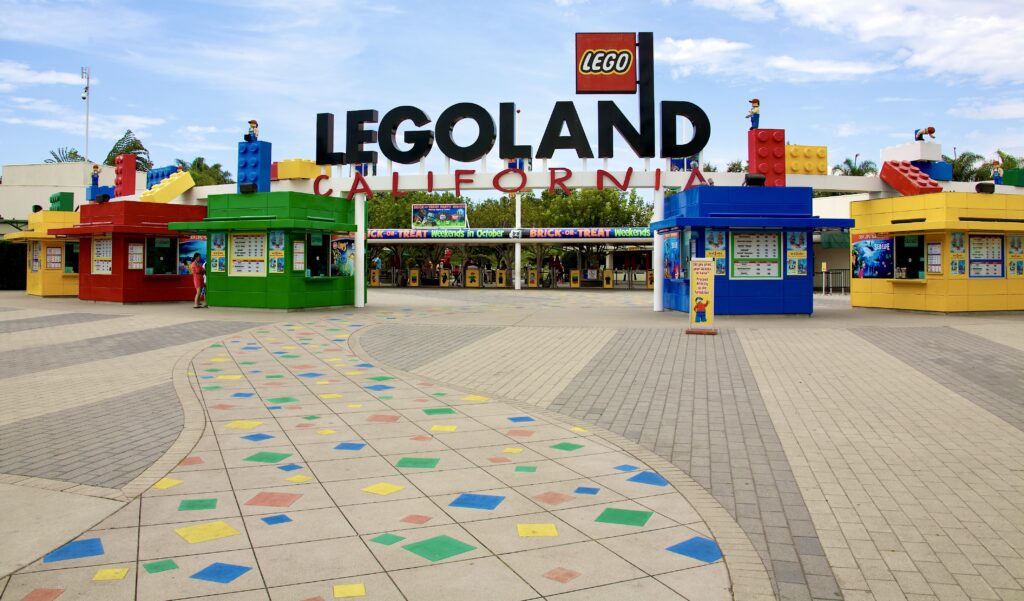 Legoland
Families with young kids will find endless delight at LEGOLAND California Resort. This renowned amusement park is a hub of LEGO-themed fun, with interactive exhibits, rides, and captivating shows. It's just 3 miles away from Carlsbad Village.
An absolute highlight of LEGOLAND is the enchanting Miniland USA. This section showcases meticulously crafted miniature replicas of iconic landmarks, cities, and scenes – all crafted from LEGO bricks. It's a mesmerizing sight that appeals to visitors of all ages.
For an interactive adventure, LEGO Ninjago World beckons with its immersive Ninjago ride. If medieval tales captivate your imagination, Castle Hill is a must-visit. This part of the park transports guests to a world of knights, dragons, and chivalry, complete with a dragon-themed roller coaster.
LEGO Friends Heartlake City is a vibrant area that brings the beloved LEGO Friends characters to life. Here, you'll find engaging attractions, entertaining shows, and the chance to meet your favorite characters.
Pirate Shores offers a watery oasis with thrilling water rides and a swashbuckling pirate theme. Additionally, LEGOLAND features an Imagination Zone, LEGO Movie World, and Aquarium Zone, ensuring an unforgettable experience for the entire family.
>>> Click here to book a skip the line ticket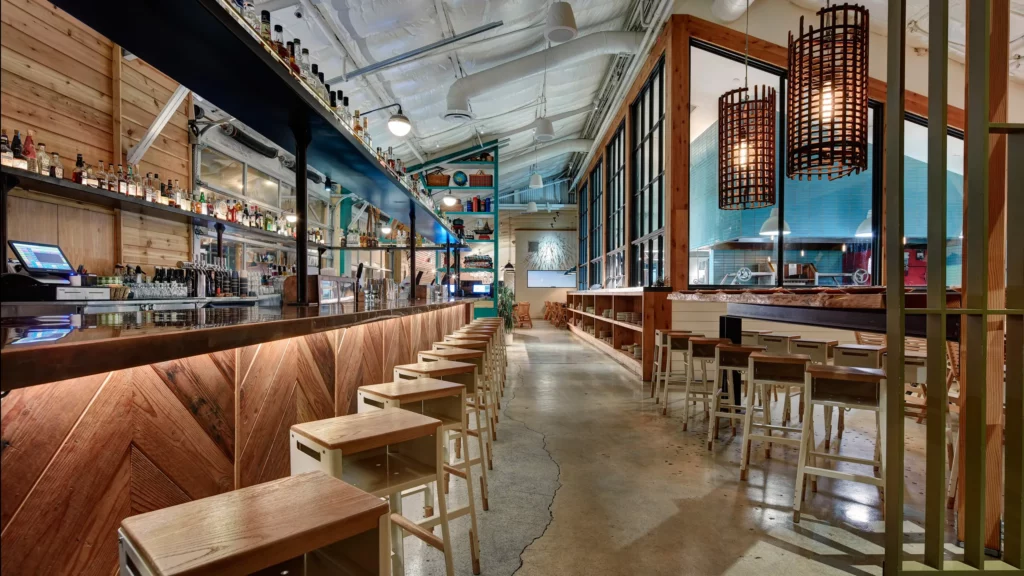 As the day draws to a close, head to the Carlsbad Sea Wall and catch a breathtaking sunset over the Pacific Ocean. The sea wall provides a perfect vantage point to watch the sun dip below the horizon, painting the sky with hues of orange, pink, and gold.
End your day with a memorable dinner at Campfire. It's an innovative restaurant that offers a farm-to-table dining experience. Everything is cooked over a blazing fire.
The decor is part rustic and part industrial chic, with soaring ceilings. The unique menu features wood-grilled dishes and creative cocktails.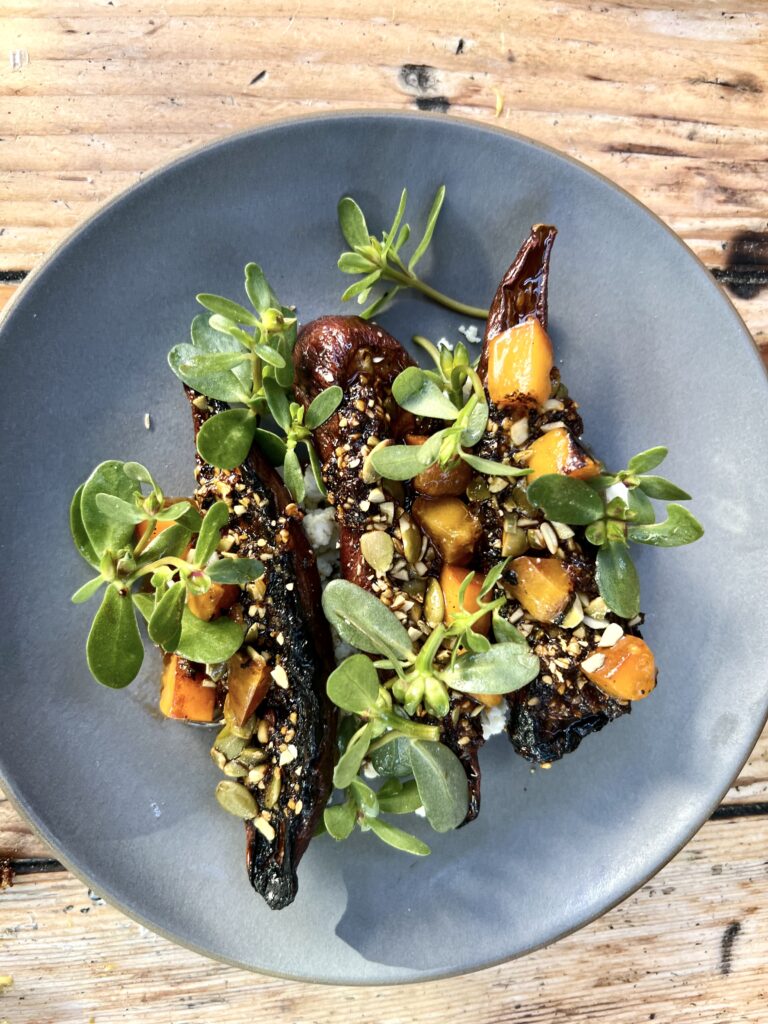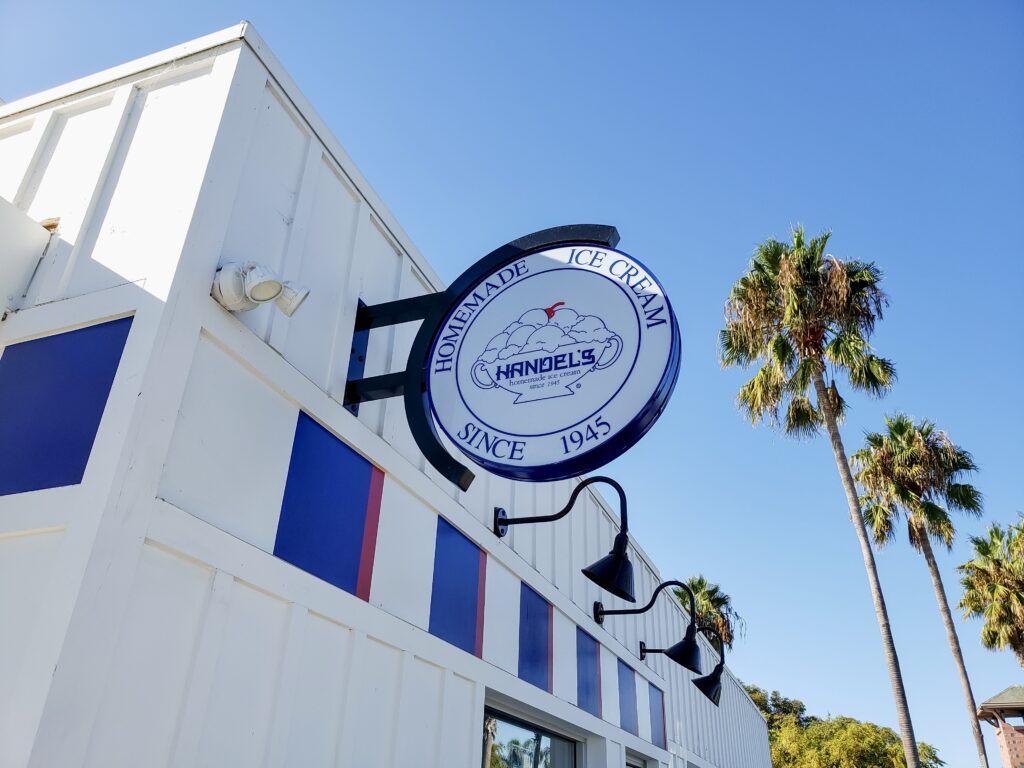 The menu changes by season. We feasted on the carrots, broccoli, octopus, and chicken. It was all delicious.
Another option is Jeune et Jolie. It's a chic Michelin-starred restaurant serving up French food in a whimsically decorated space.
For dessert, grab a homemade ice cream at Handels, a Carlsbad institution since 1945. In the summer time, expect long lines.
Before heading back, take a leisurely walk along Carlsbad State Beach once more. The nighttime sky offers a mesmerizing display of stars. Spread out a blanket on the sand and enjoy some stargazing by the sea, reflecting on your perfect day in Carlsbad.
Tips For A One Day in Carlsbad Itinerary
1. How To Get To Carlsbad
Carlsbad is located along Interstate 5 (I-5), which is a major north-south freeway that runs along the Pacific coast.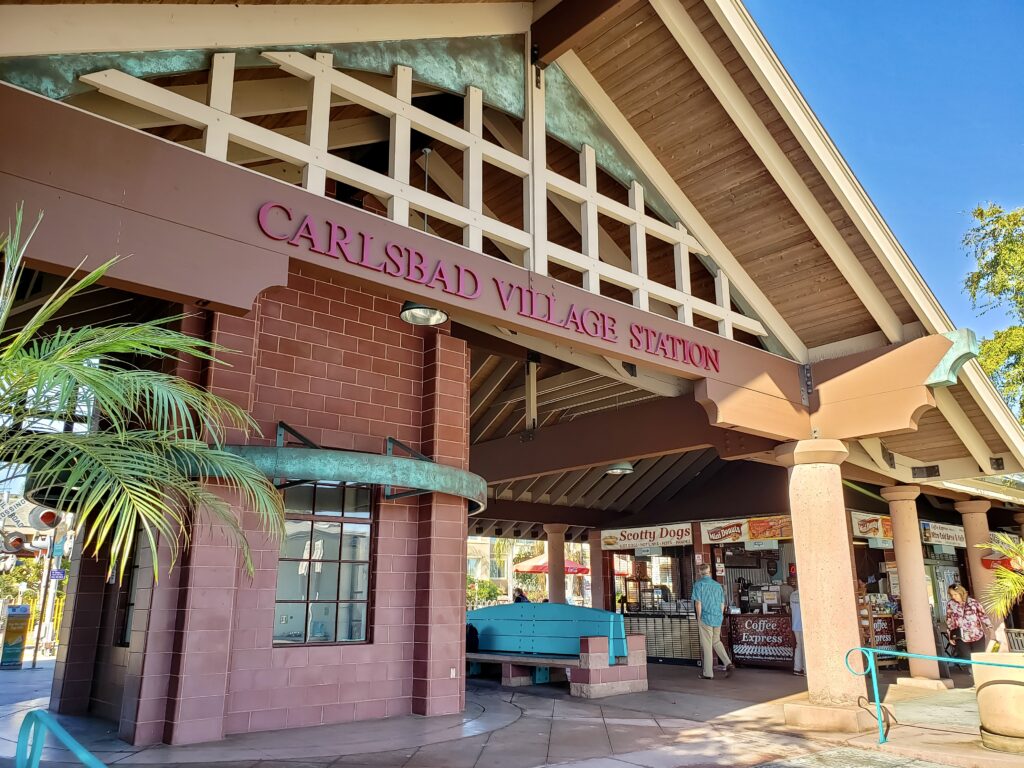 If you're driving from nearby cities like San Diego or Los Angeles, you can take I-5 to reach Carlsbad. The city is about 30 miles north of San Diego and approximately 90 miles south of Los Angeles.
The nearest major airport to Carlsbad is San Diego International Airport (SAN), located about 35 miles south of the city.
From the airport, you can rent a car or take public transportation to Carlsbad. (You can also book a private transfer.) You'll need to take a shuttle to the rental car area.
The Coaster train service connects Carlsbad to San Diego to the south and Oceanside to the north. Amtrak's Pacific Surfliner also stops in Carlsbad, offering a scenic coastal route between San Diego and Los Angeles. Carlsbad's train station is called the "Carlsbad Village Station."
2. How To Get Around Carlsbad
Having a car is handy to get to the various places in and around Carlsbad.
Carlsbad also has bike-friendly routes and lanes, making it a pleasant city to explore on a bicycle. You can rent an e-bike or rent a beach cruiser for the day.
Services like like Uber and Lyft are also available. And you can always rent a scooter, golf cart, or surrey.
3. Where To Stay In Carlsbad
You can always rent a beach house or condo in Carlsbad. But, because the city is a resort destination, there's an inviting selection of hotels.
The Park Hyatt Aviara Resort is an upscale resort that offers elegant rooms, a championship golf course, a spa, and multiple dining options. It also has beautiful views of the Batiquitos Lagoon and the Pacific Ocean.
The Omni La Costa Resort & Spa is known for its world class spa and wellness facilities. This resort offers spacious rooms, multiple swimming pools, tennis courts, and several dining choices.
The Cape Rey Carlsbad Beach is a Hilton Resort & Spa located near the beach. This resort offers comfortable rooms, a spa, ocean views, and easy access to Carlsbad's attractions.
The Westin Carlsbad Resort & Spa is a resort featuring contemporary rooms, a serene spa, and a private entrance to LEGOLAND California Resort.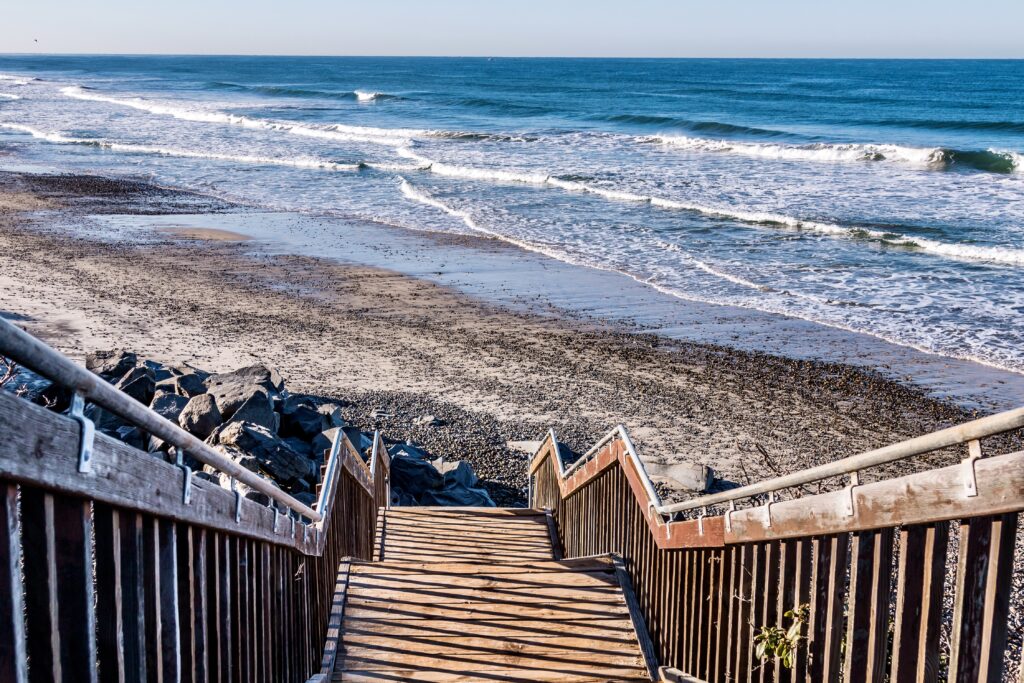 4. When To Visit Carlsbad
The best time to visit Carlsbad is during the spring and fall months. The weather is exceedingly pleasant with temperatures ranging from the mid-60s to mid-70s Fahrenheit.
Spring brings blooming flowers and lush landscapes, while the fall season offers a more relaxed atmosphere and fewer crowds.
Summer is a popular time for beach goers. Because it's peak tourist season, accommodations and attractions may be more crowded. So you'll want to book in advance.
Winter is mild and it's a great time to avoid crowds and score some reduced price lodging.
5. More Than One Day in Carlsbad?
If you're using Carlsbad as a base to explore the area, there are plenty of other things to do.
You can visit Oceanside, just a few miles down the road. Oceanside has sandy beaches, museums, gorgeous street art murals, and some top rate restaurants.
You could also take a day trip to La Jolla, 23 miles south of Carlsbad. La Jolla is one of most glamorous beach towns in the United States.
You can hit the beach, hike along the coastal trail, admire sea lions, and indulge at some of the fine eateries.
>>> Click here to book a 1.5 hour guided coastal walking tour in La Jolla.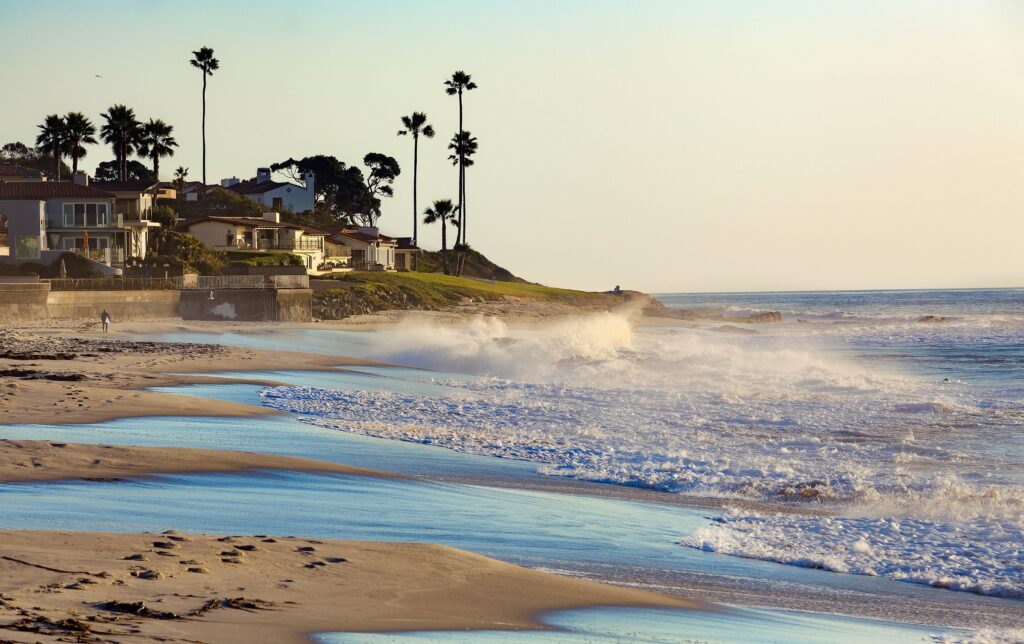 The San Diego Museum of Contemporary Art is also in La Jolla. That's a must visit for art lovers.
If it's a rainy day or you need a dose of culture, you could also head to Balboa Park in San Diego. It's a sprawling urban park in San Diego, known for its diverse array of museums, lush gardens, and historic Spanish architecture.
For wine enthusiasts, Temecula Valley Wine Country is nearby, offering vineyard tours and tastings at 40 wineries.
>>> Click here to book a wine tour to Temecula from Carlsbad
I hope you've enjoyed my one day in Carlsbad itinerary. Here are some other travel guides and resources for California:
If you want to spend one day in Carlsbad, pin it for later.