Wondering what to in Ojai California? Here's my detailed one day in Ojai itinerary, which covers all the best things to do and see in beautiful Ojai.
The town makes the perfect day trip from Los Angeles or Santa Barbara, but it's so enchanting you may want to linger longer among the palm trees and vineyards.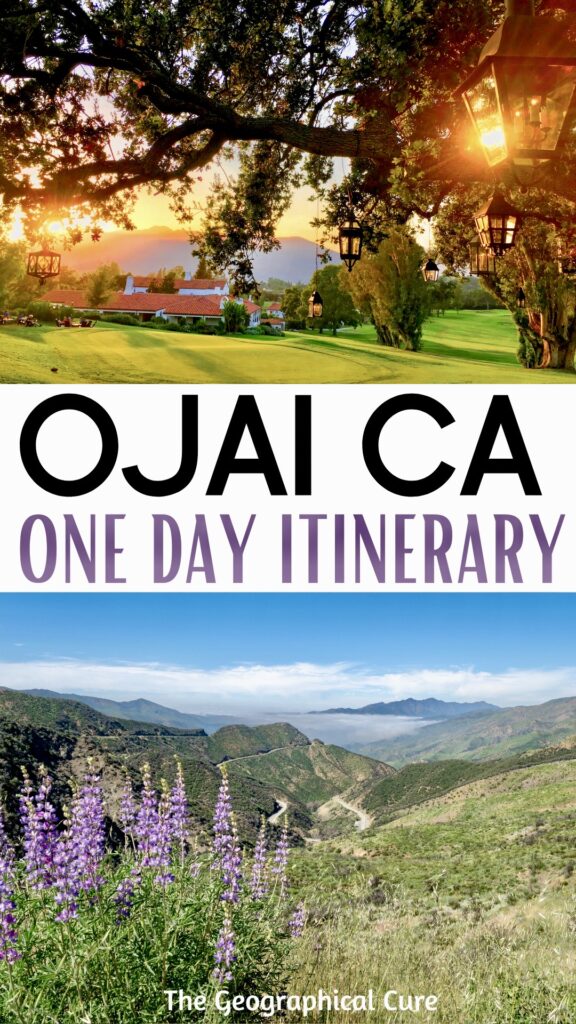 Ojai is a 4.3 square mile city with around 8,000 residents in Ventura County. It's a scenic recess in the Topatopa Mountains, connected to nature and serenely nestled in a valley full of orange groves and horse ranches.
Conde Nast Traveler calls Ojai a "nouveau hippie utopia" and that seems accurate. Ojai is the anti-LA, with a quaint walkable downtown and relaxed zen-like vibe.
It's chock full of wellness centers, spas, one-of-a kind boutiques, and (naturally) wine tasting establishments. It's also the home of the "pink moment," a fleeting time when the setting sun casts a rosy glow over the valley and mountains.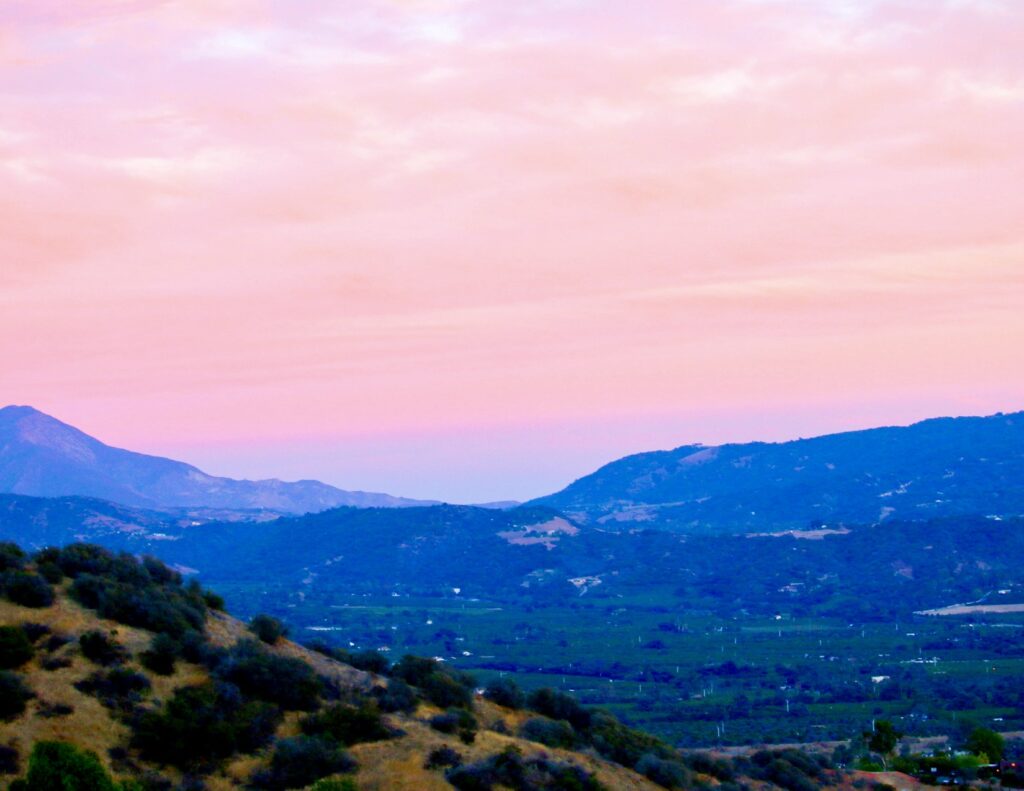 Ojai was settled 5,000 years ago by the Chumash. "Ojai" means moon in the Chumash language.
Since its inception, Ojai has been a place for spirituality and alternative models of healing. In fact, some claim that the Ojai Valley is itself an energy-exuding vortex.
READ: Guide To The Vortexes Of Sedona
If this is too "woo, woo" for you, never fear. Ojai has plenty of other "healing" activities for non-spiritual types — shopping, massages, and wine tasting. You can also do none of those things and just relax and breathe in the zen.
For a small town, Ojai also offers quite a bit for traveling foodies. You'll find plenty of wine tasting bars and eclectic farm to table eateries. So come with an appetite or work up one on Ojai's scenic trails.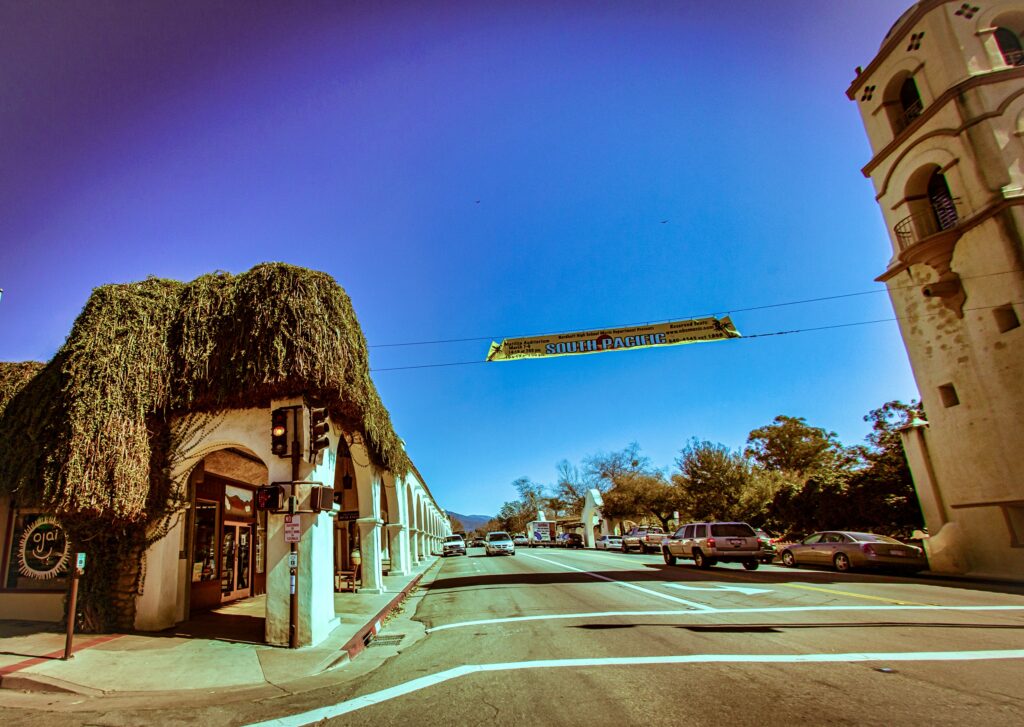 One Day In Ojai Itinerary
As with all of my suggested itineraries, you should use this one ay in Ojai itinerary as a guide. You can tailor it to suit your individual interests, needs, and pace of travel.
If you have extra time in Ojai, you can easily turn this 1 day in Ojai itinerary into a 2 day weekend itinerary by moving at a slower pace or indulging in more wineries or spas.
Morning Of One Day In Ojai Itinerary
Breakfast
If you arrive in Ojai in time for breakfast, head to Love Social for avocado toast or a breakfast burrito. Another healthy food option is Cafe Boku. It's a superfood cafe offering up plant-based nourishment, smoothies, and coffee.
If you just need some caffeine, check out the java at Ojai Coffee Roasting Co.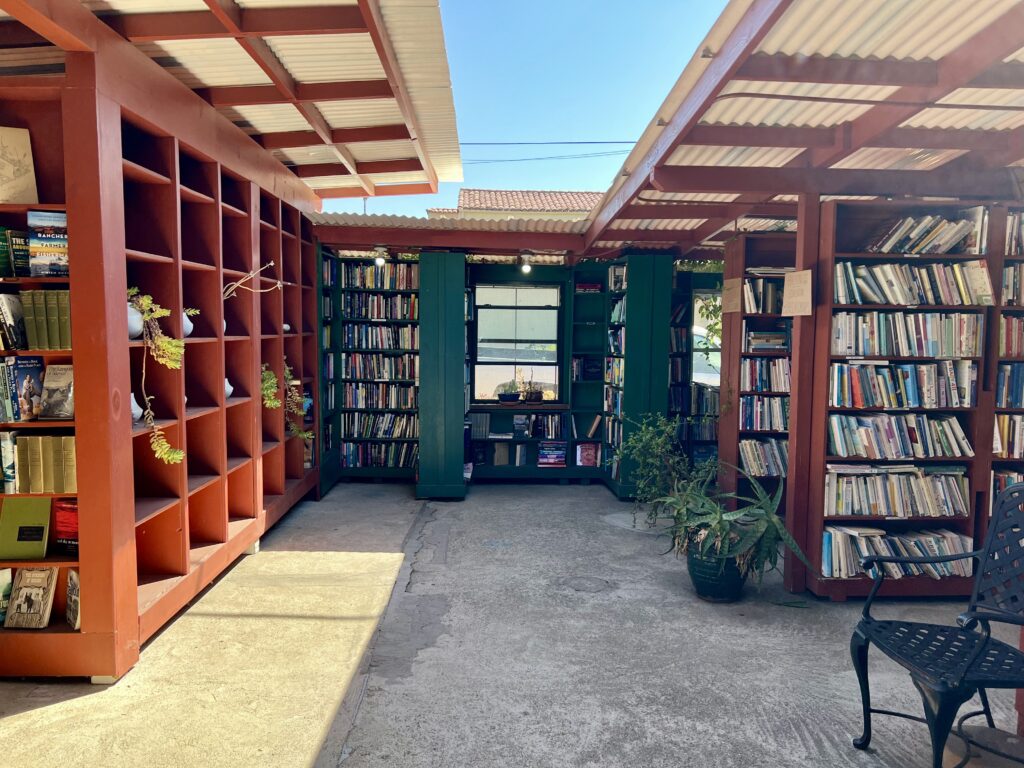 Bart's Books
No one day in Ojai would be complete without a stop at Bart's Books. Opened in 1964, the beloved shop is the word's largest outdoor bookstore. It was modeled after the famous book stalls along the Seine River in Paris.
If you're a bookworm, you could easily wile away a couple hours here. And the unique shop makes it easy.
Comfy chairs are scattered around and open air courtyards are filled to the brim with over 100,000 new and used books. It's almost impossible to leave empty handed. I know I didn't.
Ojai Valley Museum
Just down the street from Bart's Books is the Ojai Valley Museum. It's a small museum located inside a former church. It features ever-changing exhibits on local history, art, and culture.
The museum is only open Friday through Sunday. It also hosts walking tours of Ojai on Saturdays from 10:30 am (except during the hot months of July-September).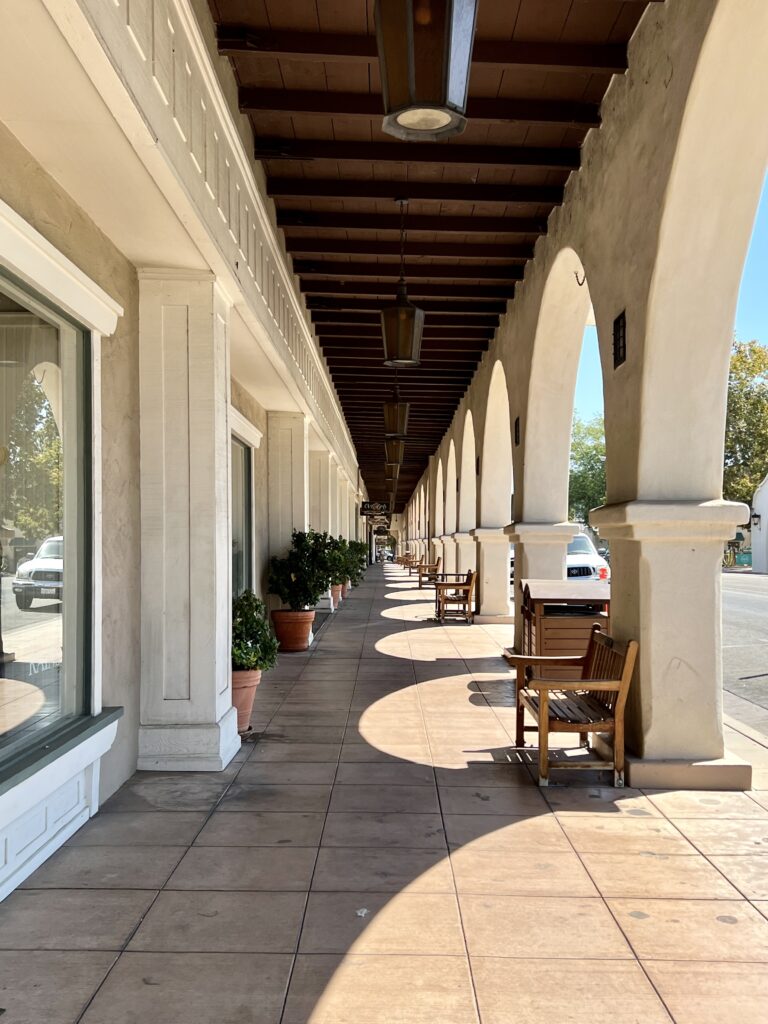 Shopping
Next, hit the Main Street and do some shopping in and around the Ojai Arcade. Depending on your interests, this could easily take up a few hours of your one day in Ojai.
For a small town, Ojai is a true shopping wonderland. From home decor to vintage books, you'll find it all here. Moreover, you won't find a single chain store, which is very refreshing.
In the Field has a great selection of boho-type clothing and vintage accessories. It's definitely one of the nicest shops in Ojai. Fig Curated Living is a cozy shop with a nice selection of crafts, gifts, and all thing home and garden.
You can do a raw honey tasting at the Heavenly Honey Company. Its specialty is Ojai Sage Honey, which is made from the Sagebrush that grows in the Ojai Valley. No worries, it doesn't taste earthy.
There's even an adorable toy store, Serendipity Toys, which was simply stuffed to the brim with unique quality toys.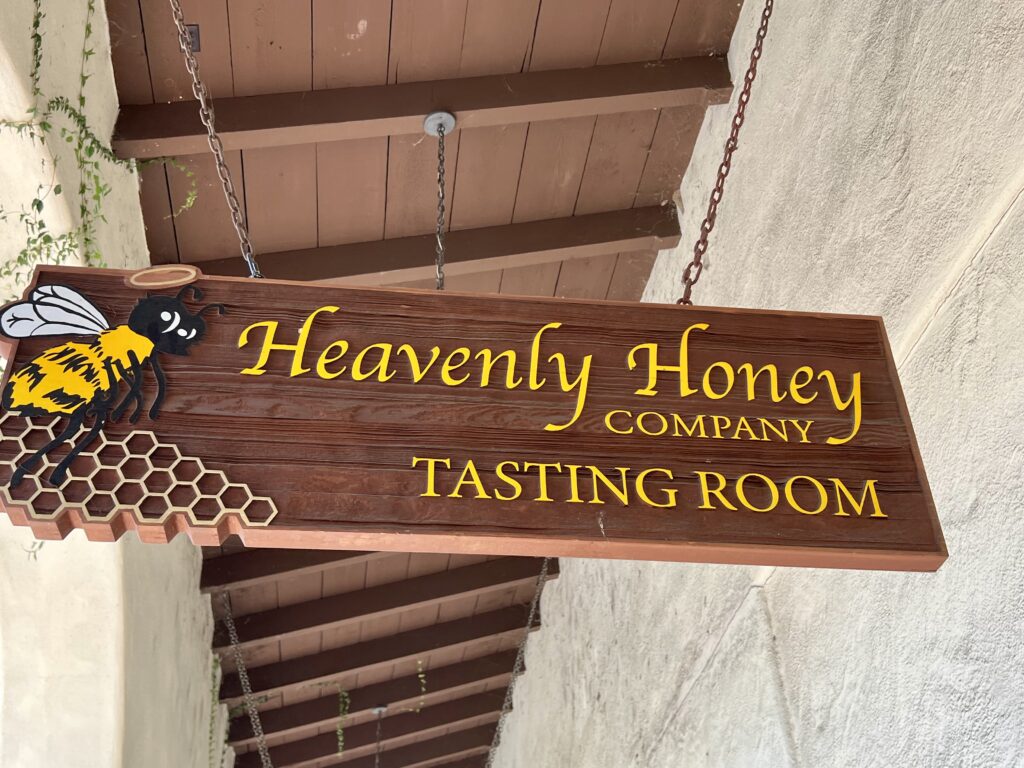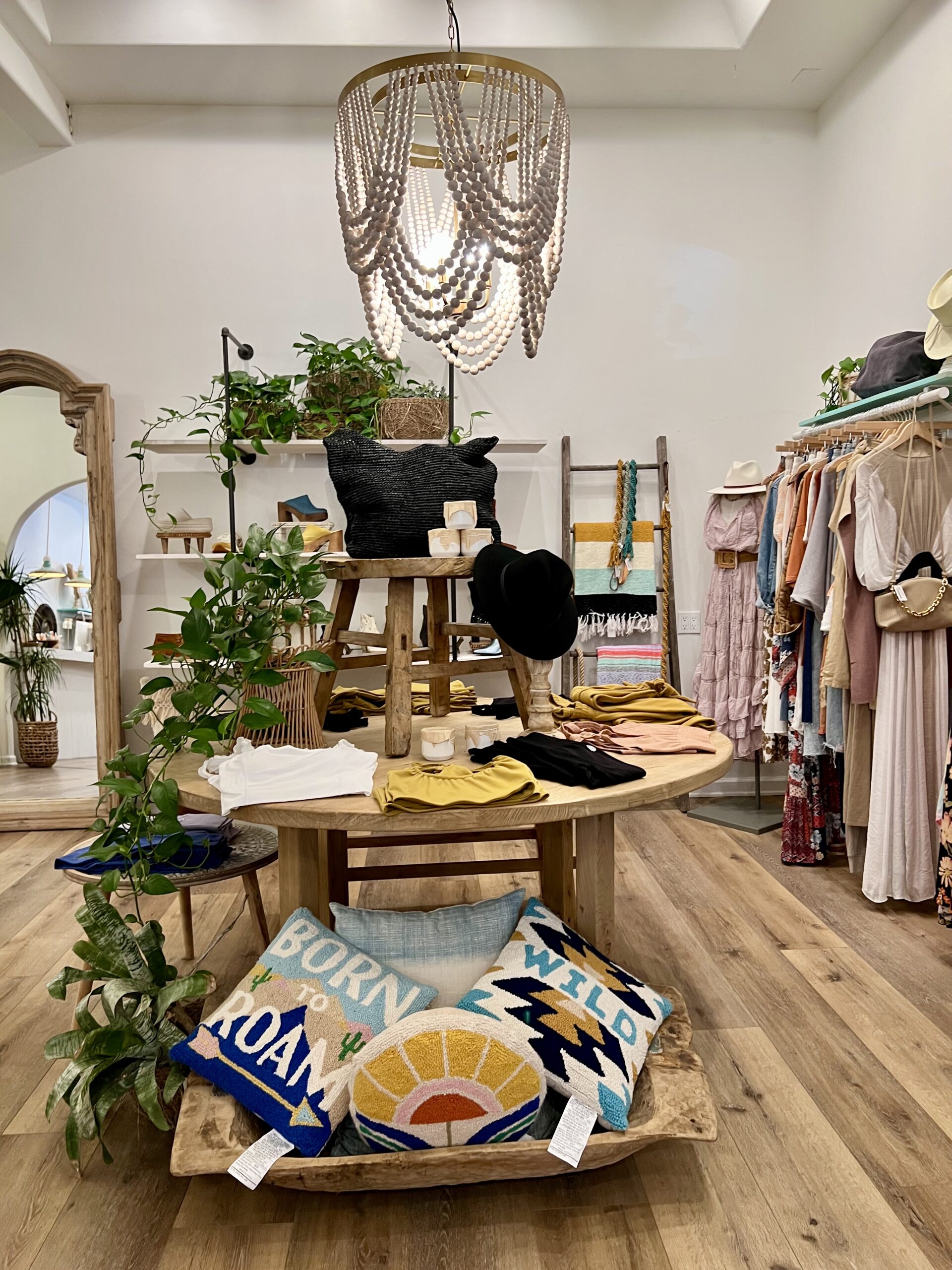 And, naturally since you're in Ojai, you can go crystal hunting at Crystal Corner. The shop says crystals "are a great tool for attracting abundance, providing protection, calming the mind, aligning the chakras, healing the spirit and so much more."
I personally did the most damage at Julie Rose & Co. and Cercana.
Julie Rose sells cool clothing from the top California designers. Think Frank & Eileen, Xirena, and Bella Dahl. They also stock some unique jewelry that will be hard to resist.
Cercana is the ultimate home goods store. They sell ethically sourced goods from around the world — blankets, pillows, ceramics, baskets. They ship too, which is good because I somehow came away with a tree with fairy lights for my daughter.
If you want something truly unique, head into Danski. It's a boutique that's a treasure trove of beautiful, unique artsy clothing. The New York Times describes the shop as a "must visit."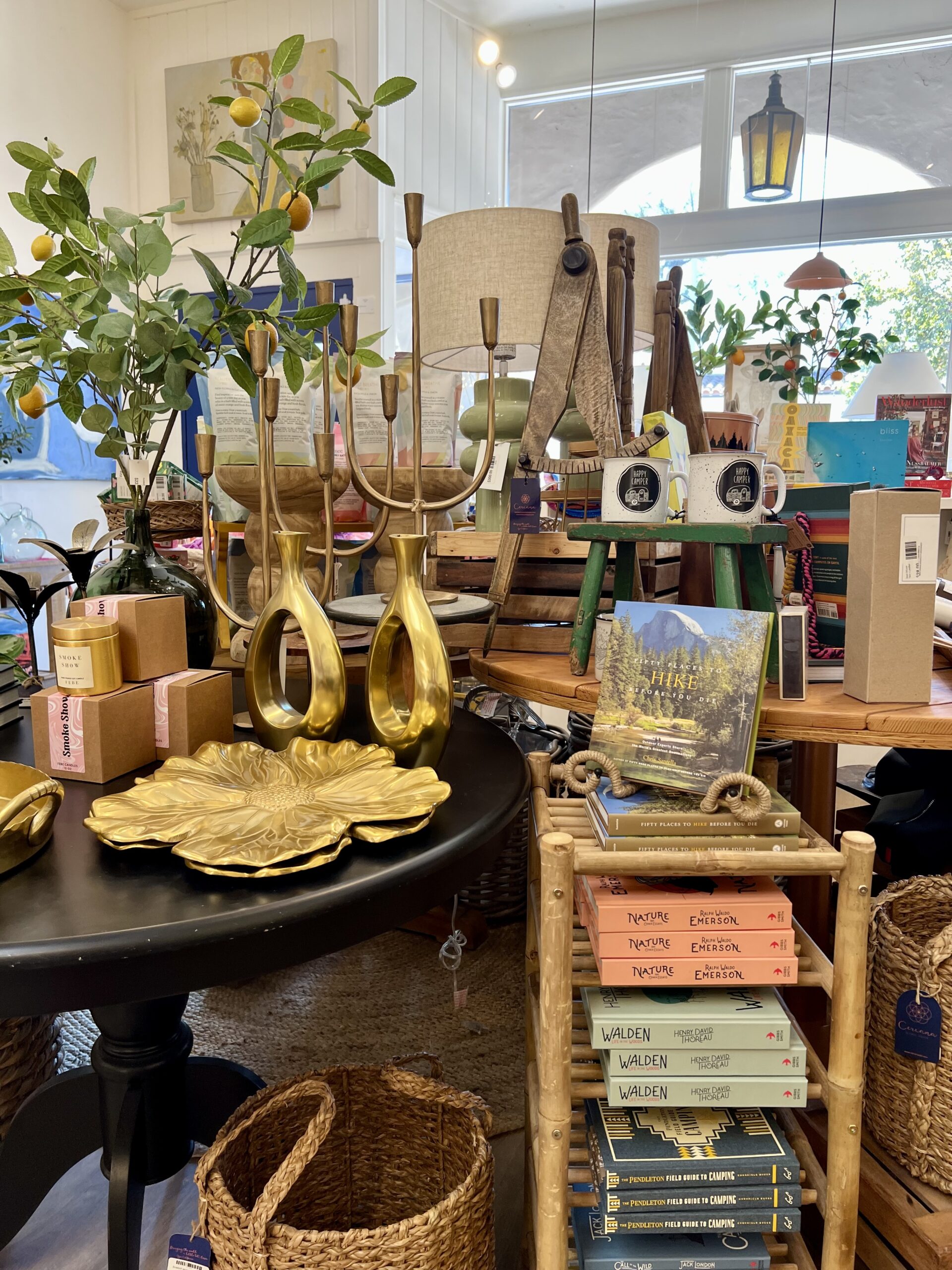 Lunch
For lunch, I recommend Farmer and the Cook. It's a Mexican-themed vegetarian spot. It has a sunny patio, with a market to boot. You'll have to drive there because it's just outside the town center.
If you don't want to get in the car, you can grab an acai bowl at Revel Kombucha Bar. Or try a Mexican-leaning sandwich or bowl at Hip Vegan, housed in a stylish minimalist setting.
You can also try Le Marche Gourmand. It's a European gourmet deli where you can nibble on foie gras and duck.
Want to keep it simple? Try the pizza at Boccali's Pizza and Pasta. The menu features their own fresh produce and the wood-fired crust is divine. You can dine alfresco on the outdoor patio. Don't miss the signature strawberry shortcake.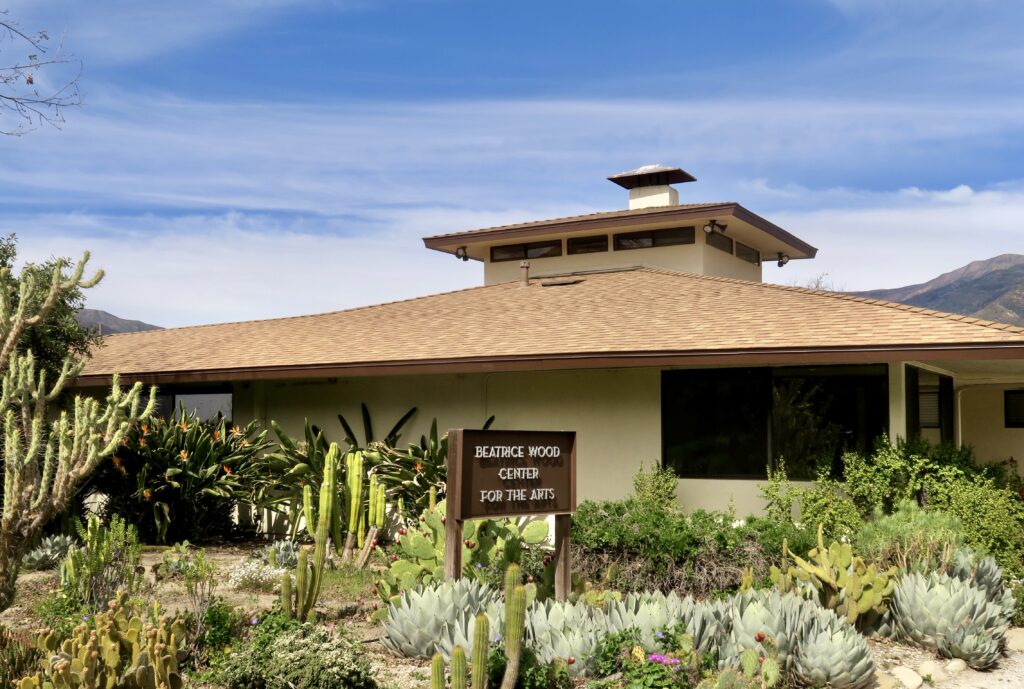 Afternoon Of One Day In Ojai Itinerary
There are plenty more things to do in Ojai in the afternoon. You can check out a museum, go bike or hiking, or do a wine or craft beer tasting. You can't fit them all into one day in Ojai, but I'm laying out all the options.
Beatrice Wood Center For The Arts
Are you an art lover? If so, after lunch, pop into the Beatrice Wood Center for the Arts. It's the former home and studio of the named artist, author and potter.
Known as the "Mama of Dada" and lover of Marcel Duchamp, Wood was a member of the New York Dada group and a pioneering sculptor. She worked primarily in luster-glazed ceramics. The museum offers a glimpse into the fascinating life of the cult artist and irreverent feminist.
You'll have to plan you visit on a weekend though. The center is only open Friday to Sundays from 11:00 am to 5:00 pm.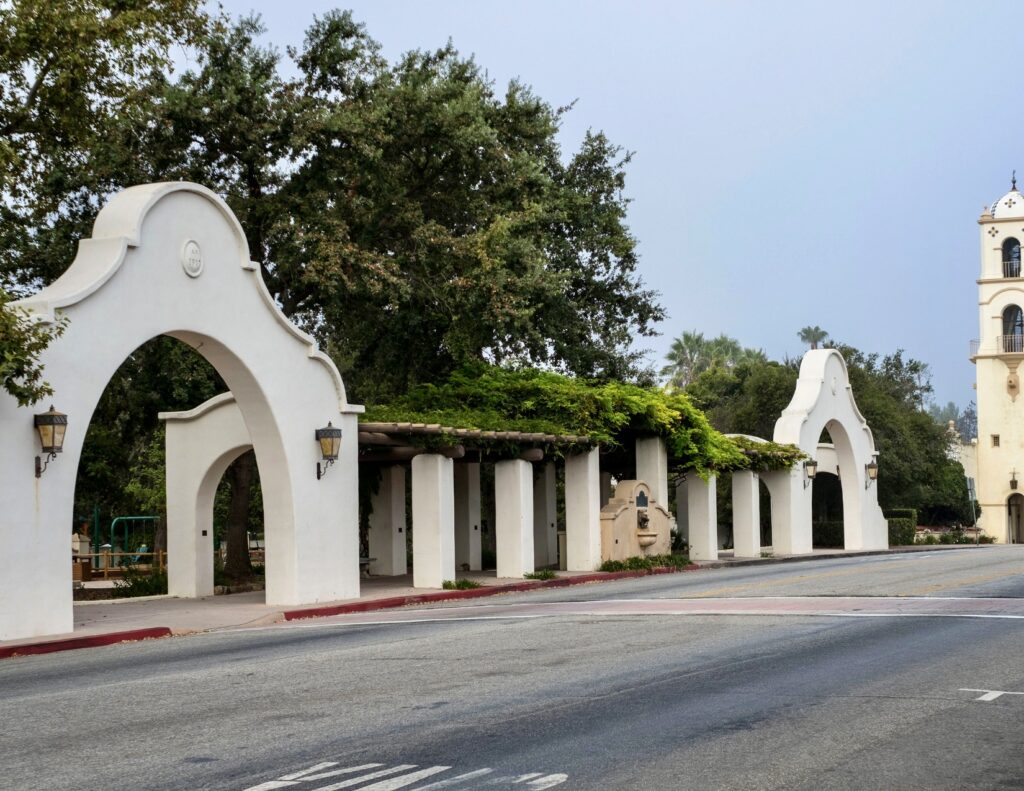 Libbey Park
If you are little ones with you, you might make a stop in Libbey Park. It has a fountain, tennis court, and a solid playground.
Libbey Park is also home to the Libbey Bowl. It's an amphitheater that hosts the annual Ojai Music Festival in June.
Spa Break
Feel like being pampered? It's one of the best things to do in Ojai. The town is loaded with magical spas.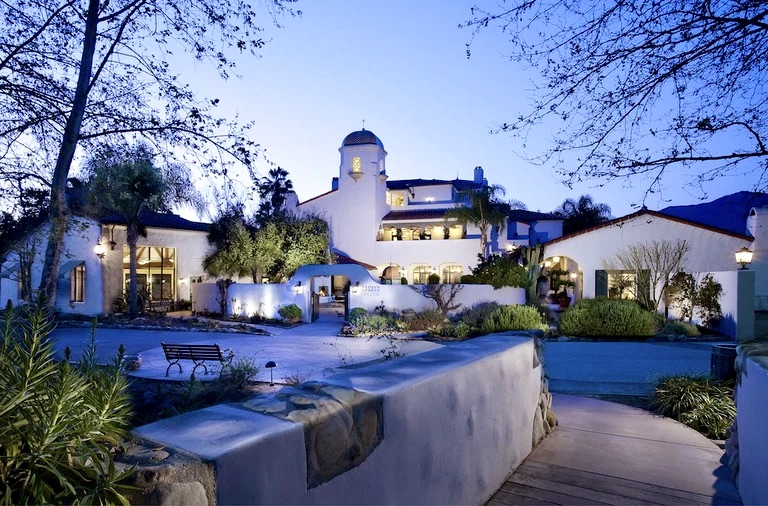 You can get anything from a casual foot rub to a Cumash-inspired detoxifying treatment.
Spa Ojai at the Ojai Valley Inn is the cream of the crop. It has an extensive list of treatments, including salt massages, sound therapy, and energy alchemy. The spa also offers yoga and meditation classes.
Earth Tonics Spa is anther great pampering option, focusing on skin care. This is the place to get a botanical facial.
Smack in the historic center of Ojai, the Lavender Inn Spa has a long list of facial and massage options, set in a cozy cottage dating from 1874.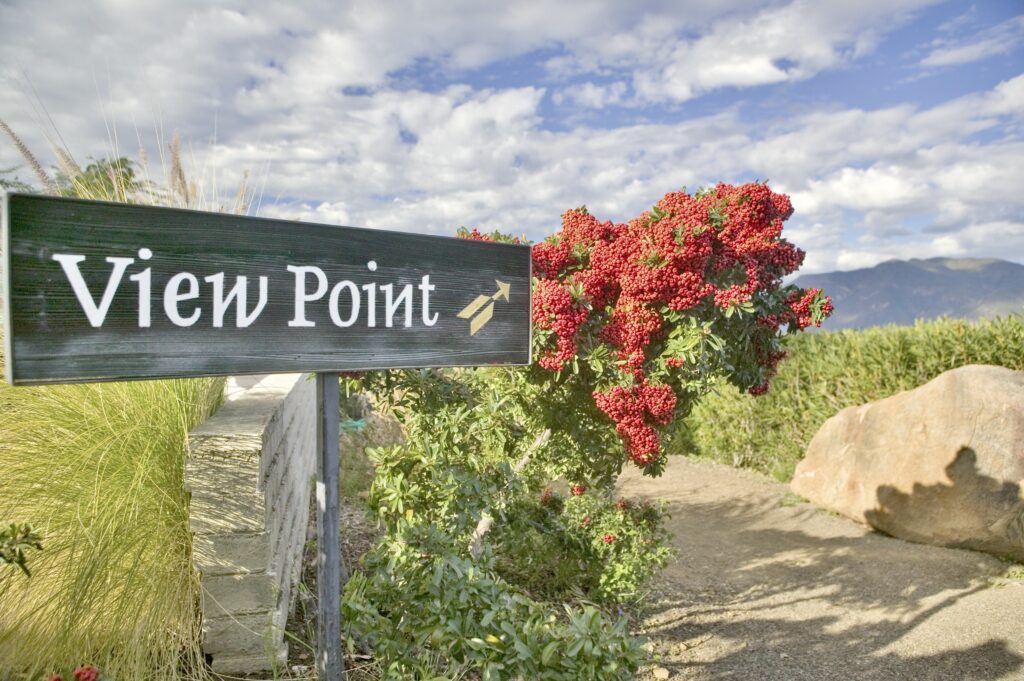 Meditation Mount
Need to decompress? Head to Meditation Mount. It's a non-profit meditation center plunked into the semi-wilderness.
It's a gorgeous, peaceful place. Meditation Mount is free to visit with a suggested donation of $10 for a 2 hour self guided meditation. You must pre-register online for your visit or to book a workshop.
You an also try to time your visit with the "pink moment." Meditation Mount has an ideal vantage point for catching the show.
Hiking & Biking
Need some exercise during your one day in Ojai? You have some options.
Shelf Road is an easy 3.5 mile out and back trail. It will take about 1:25. You'll see bikers, runners, and hikers on the trail.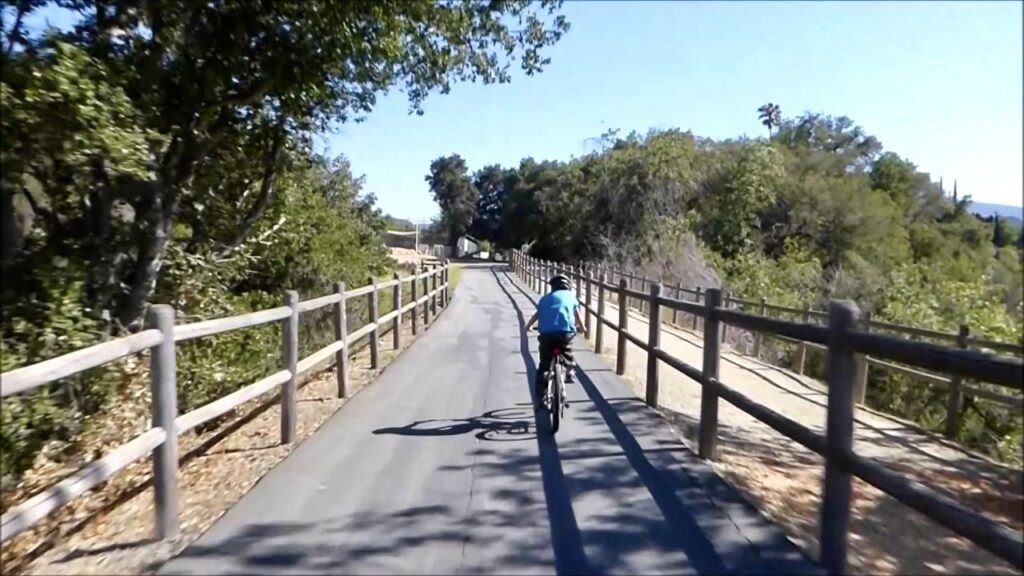 It's popular because it offers up sweeping views of the Ojai Valley. Park at the top of Signal Street to access the trail.
Bikers should head to the Ojai Valley Bike Trail. It's a moderately hard point to point trail of 15 miles. The trail start art Ojai's East End and winds around to Ventura's pier.
Would you rather ride a horse? Ojai is in prime horse country. You may even see riders sauntering through the town. For information, check out the Ojai Valley Trail Riding Company on Meyer Road.
Ardent adventurers may also want to book a guided hiking tour, a guided biking tour, or a rock climbing experience.
Farmer's Market
If your one day in Ojai falls on a Sunday, head to the Ojai Farmer's Market to stock up on fresh produce. It's held behind the Arcade at 300 E. Mathilda Street from 9:00 am to 1:00 pm (rain or shine).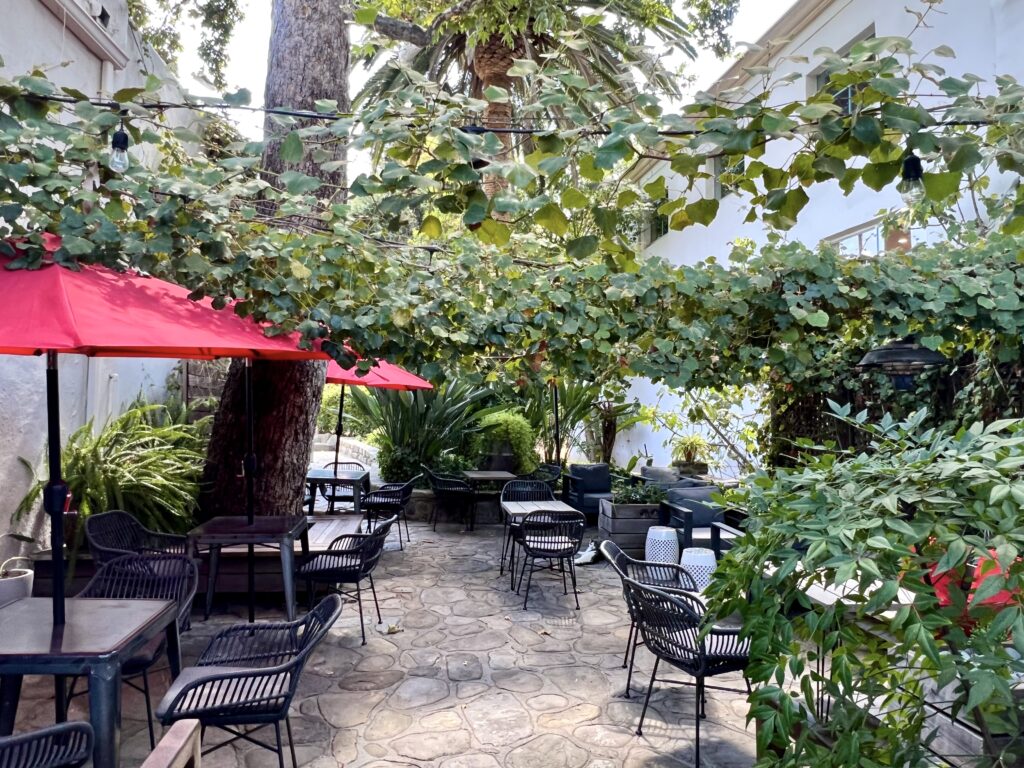 Wine Tasting
The Ojai wineries have a laidback and welcoming vibe. So round out your one day in Ojai itinerary with a fantastic wine tasting.
The Ojai Vineyard tasting room is housed in a redesigned Colonial Revival style building near the end of the downtown area. They've been producing delicate small batch wines since 1983.
The large tasting room is always full of oenophiles, sipping and swirling. 300 different wines that can be bought or enjoyed in the tasting room. A typical tasting flight includes 5 wines.
Casa Barranca is an organic winery located on the main street of Ojai. You can sit at the bar or nearby tables to enjoy the flight of 5 unique organic wines, including one of the regions best Pinot Noirs.
The Majestic Oak Vineyard is a small boutique family winery. The tasting room is located down a flight of stairs on Ojai Ave.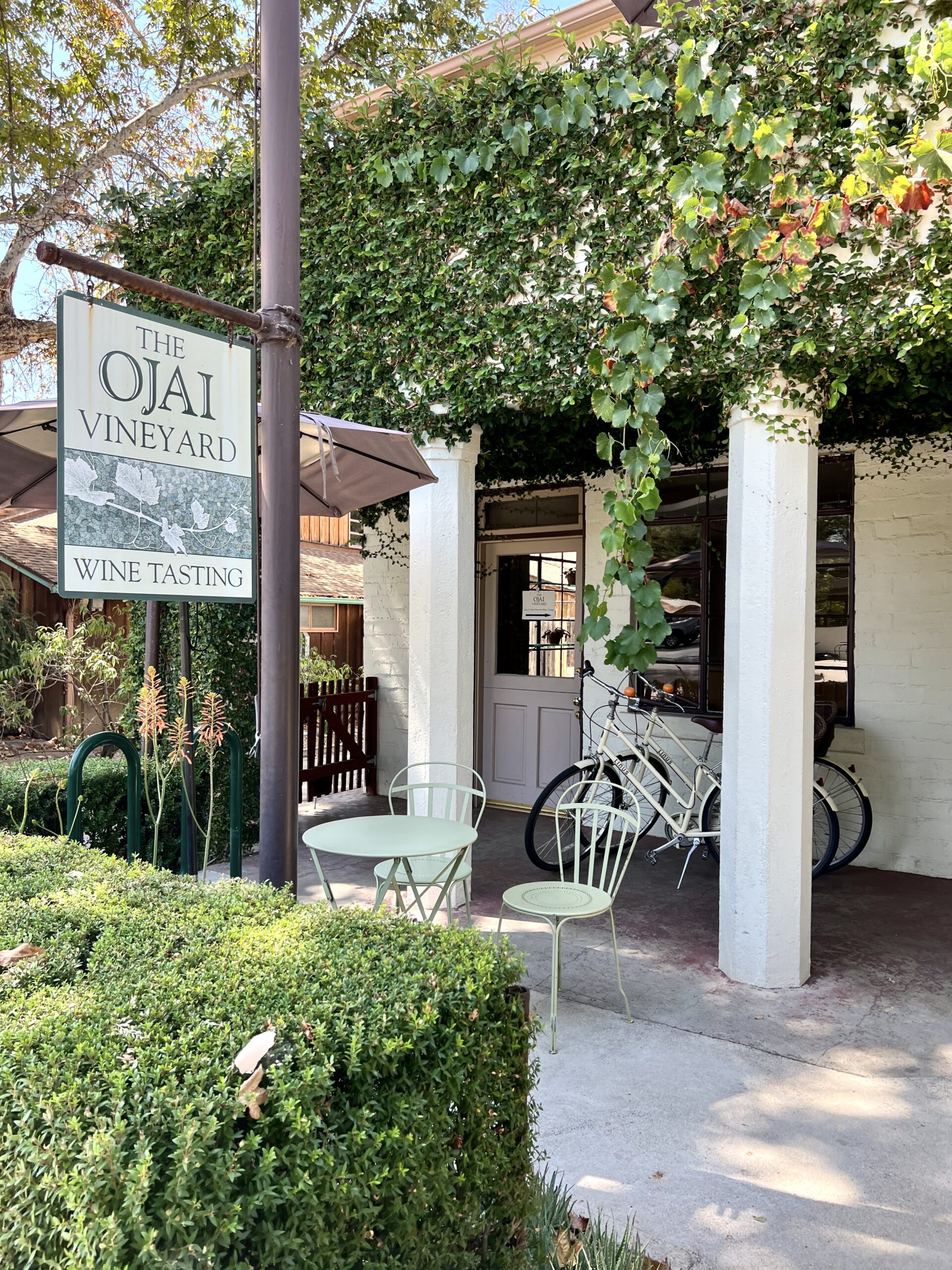 There's a lovely wine tasting patio where you can sip wine under grape vines. Tastings are first come-first serve, so you don't need to make a reservation.
You can also sip wine at Tipple & Ramble, along with a cheese plate or charcuterie board in a tranquil garden setting.
If you would rather sip a craft beer, Ojai has you covered on that score too. Head to Ojai Valley Brewery.
It's a tap room with tasty bar food that's distinctly California. There's a cafe style patio and bar area dedicated to beer geeks with a penchant for hoppy beers.
Ojai Olive Oil Company
If you don't want to sip wine, try an olive oil tasting instead. Ojai Olive Oil Co. is an organic olive oil farm just minutes from downtown. It's one of the most popular things to do in Ojai.
You'll feel like you've been transported to Tuscany. In the tasting room, you can sample olive oils for $10 per tasting, and learn about how olive oil is extracted, blended, and bottled. There are also free talks and tours on Wednesday and Saturday.
Evening Of One Day In Ojai Itinerary
Pink Moment
Don't miss the opportunity to bask in the glow of the Pink Moment, one of the best things to do in Ojai.
A good place to see the play of pink and violet on the mountains is at sunset on the Scenic Overlook of Ojai on the 150. Be sure to check sunset times in advance and get there a bit early to catch the show.
Dinner
Ojai may be small, but it has a well developed food culture and you will have plenty of dinner options. Just don't plan on eating late because Ojai is very sleepy after 9:00 pm.
Ojai Rotie is a casual French-Lebanese patio restaurant. You'll find a beautiful array of salads, dips, and flatbreads.
If you crave Italian food, head to Nocciola or Olivella. The 6 course tasting menu at Nocciola is superb! Olivella has a seasonal valley to table menu supported by the local Ojai valleys, ranches, orchards, farms, and ocean waters.
The Duchess is a fairly new restaurant serving up Burmese and Indian food., alongside market driven cocktails.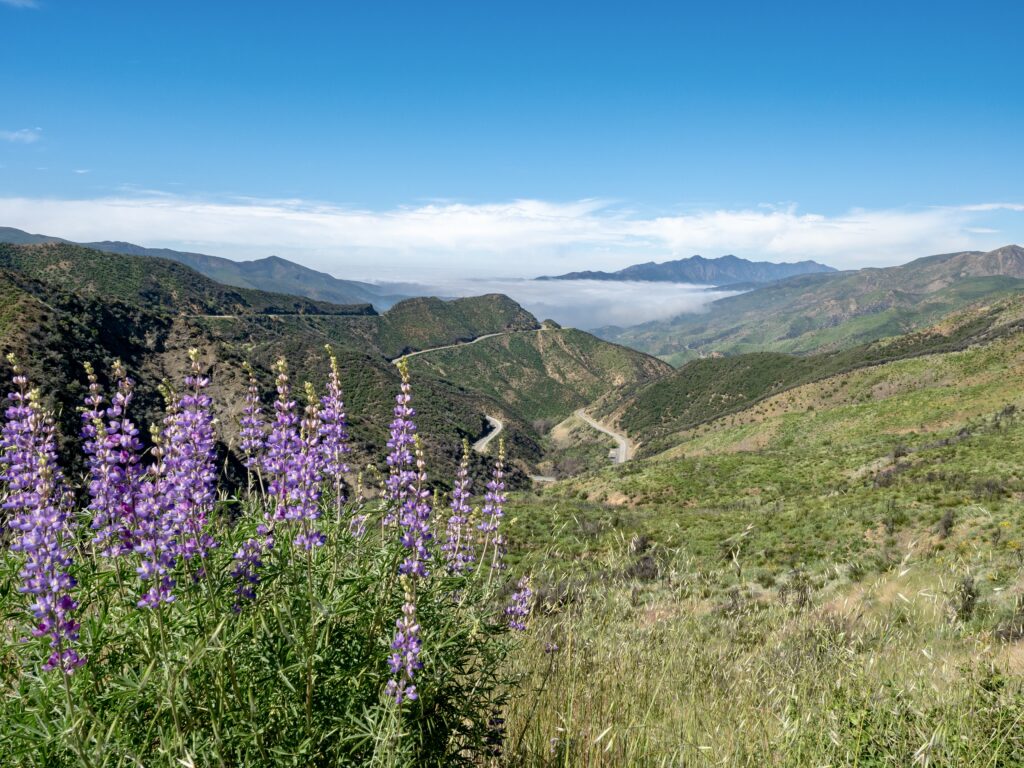 More Than One Day In Ojai?
If you have more than one day in Ojai, indulge in some water recreation at Lake Casitas. It boasts nearly 32 miles of shoreline and was the site of the 1984 Olympic canoeing and rowing events.
You pay $10 for a day pass. That allows you to hike, bike, fish, swim, boat and birdwatch. The blue lake is especially known for its world class bass fishing. Birders can expect to see bald eagles and blue herons.
Tips For Spending One Day In Ojai
Here are some must know tips for spending 1 day in Ojai.
1. How To Get To Ojai
To get to Ojai, take Highway 101 (north or south). Take Exit 33 north. Follow it for 15 miles past the Y intersection to get to the downtown.
Ojai is 88 miles north of Los Angeles and 30 miles south of Santa Barbara. The nearest airport is LAX.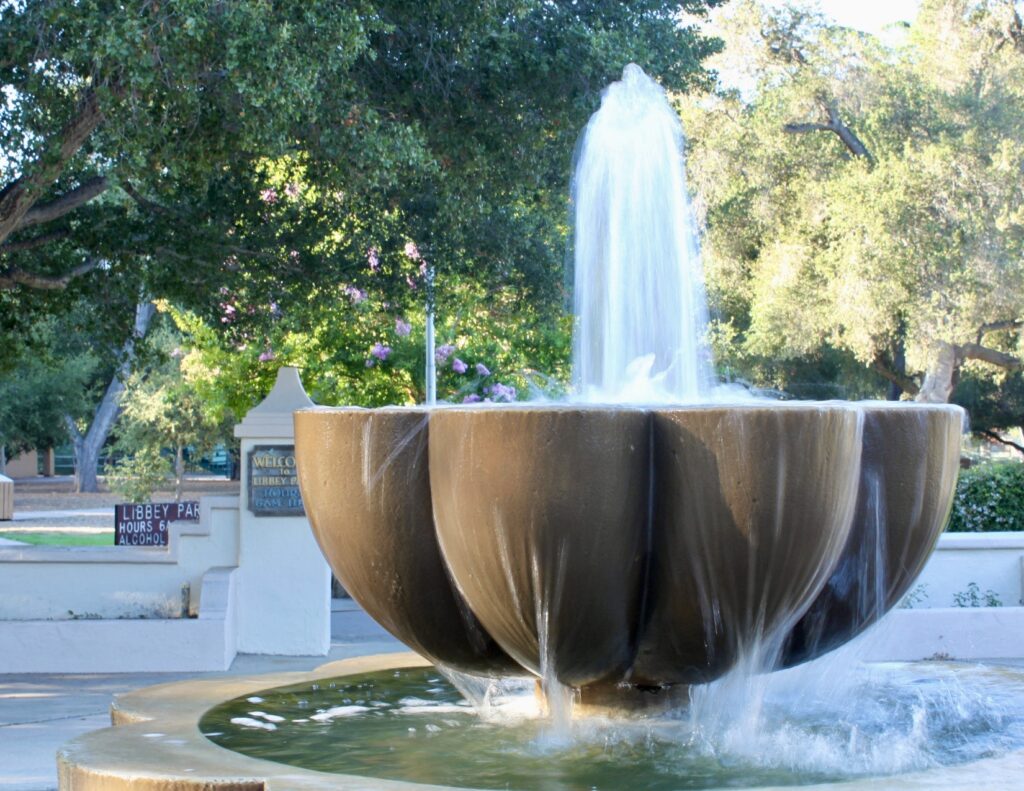 2. How To Get Around Ojai
Ojai's downtown is entirely walkable.
But you can also take the Ojai Trolley. Check the website for route stops and times. A single fare is $1.50 and a day pass is $4.00.
You can also rent an E-bike to get around Ojai. Ojai Electric Bikes is located right next to the Ojai Bike Trail.
3. When To Visit Ojai
With an average year round temperature in the 70s, there isn't really a bad time to visit Ojai.
But I think the best times to visit Ojai are April-May or September-October.
I last visited in mid-September. Even then, there was a heat wave and it was unexpectedly toasty. So, you may want to avoid the summer months if you're heat tolerant.
That said, in June, Ojai hosts the Ojai Music Festival and the Ojai Wine Festival. So you may want to pencil those in on your calendar.
The Ojai Wine Festival is the longest running wine festival in Ventura County, at 34 years and counting. It's held at Lake Casitas, an idyllic venue to taste award winning wines and craft beers.
Ojai is pretty in the winter too. But the temperature can range 40 degrees over the course of a day, so pack according if you visit then.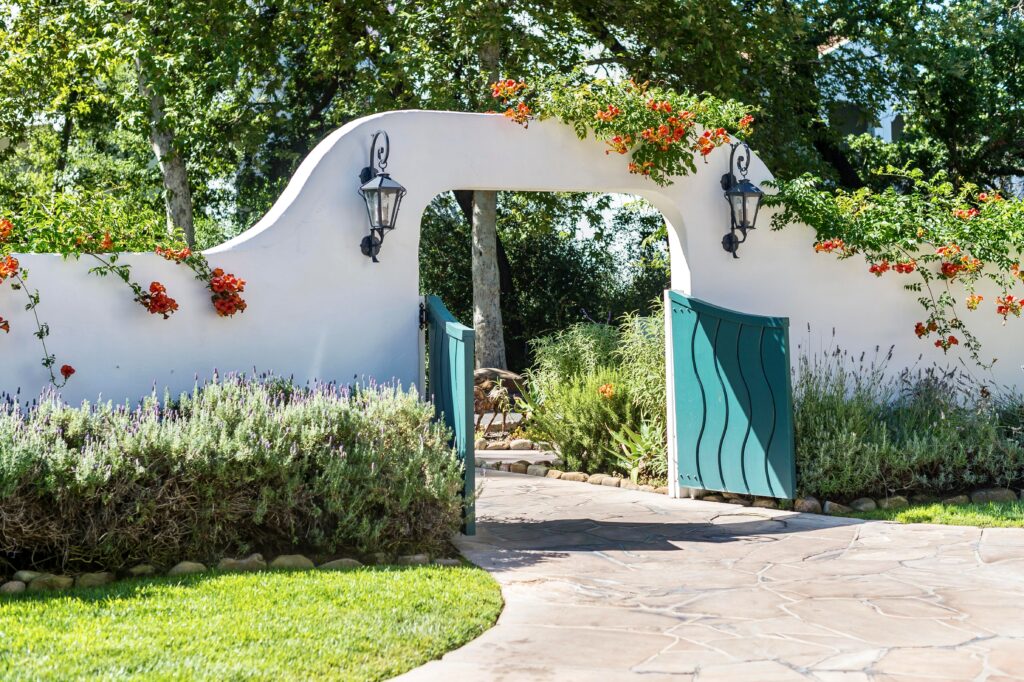 4. Where To Stay in Ojai
If your budget can afford it, splurge on the well-loved Ojai Valley Inn. It's a five star hotel with Spanish Colonial Revival style architecture just 1.5 miles from town. Some of the luxury rooms have balconies and fireplaces.
The resort's pool has scenic mountain views. The onsite restaurant, Olivella, is a push Italian eatery. The award-winning spa could keep you busy for a large chunk of your one day in Ojai.
If you can't stay overnight, you could see the place by having a cocktail at the Wallace Neff Heritage Bar. There's a lovely patio with views of the valley to boot.
Some other good contenders for hotels are Casa Ojai Inn, the Emerald Iguana Inn, or the Ojai Retreat & Inn.
You should also check out the Su Nidio Inn. It's a sleek luxury cottage style inn, with 10 cottages named after local birds.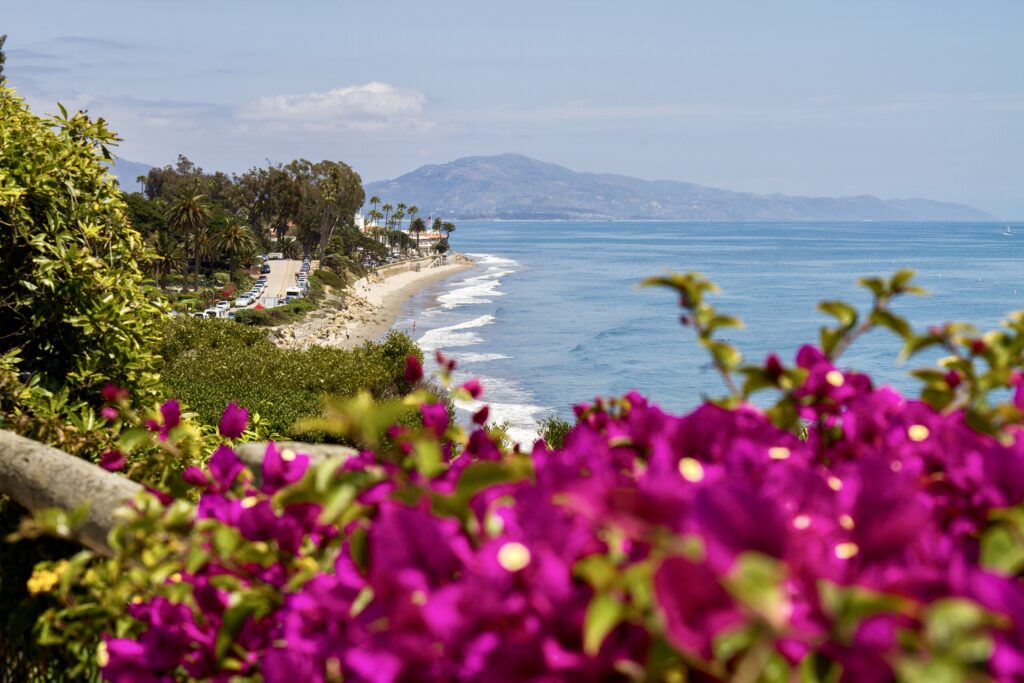 5. Places To Visit Near Ojai
Ventura is about 25 minutes south of Ojai. It's a fun surf town with good eateries. You can surf, swim, kayak, or sunbathe on pristine beaches that are often empty.
Ventura's Main Street is filled chockablock with Mexicali taco shops, casual cafes, eclectic cookeries, and gift shops.
Montecito is a tony enclave between the Santa Ynez Mountains and the Pacific Ocean on the "American Riviera." It's just a short nudge east from Santa Barbara and 45 minutes from Ojai.
Montecito is a retro-chic town with great food and shopping. It's sun soaked main drag is full of cute boutiques and eateries that can keep you busy for hours. And you can soak in the rays at beautiful Butterfly Beach.
Of course, Santa Barbara is just 50 minutes away. It's a natural movie set, with a spectacular coastline, beautiful beaches, Mission architecture, and hot foodie scene.
Santa Barbara could be a commercial for the good life. Everything is pristine and dripping with bougainvilla. You can continue your wine theme with this popular tour of Santa Barbara wine country.
I hope you've enjoyed my one day in Ojai itinerary. You may enjoy these other US travel guides and resources:
If you'd like to spend one day in Ojai, pin it for later.