Planning a visit to San Diego? If you're an art lover, don't miss the Museum of Contemporary Art San Diego ("MCASD") in in La Jolla! In this guide, I give you an overview of this "art with a view" museum, identify the must see masterpieces, and must know tips for visiting.
MCASD was founded in 1941 as The Art Center in La Jolla. It later expanded and evolved into the MCASD that we know today.
The museum has an impressive collection of modern art in all mediums. There are works by Yayoi Kusama, Roy Liechtenstein, Mark Rothko, Agnes Martin, Ellsworth Kelly, and Joan Mitchell.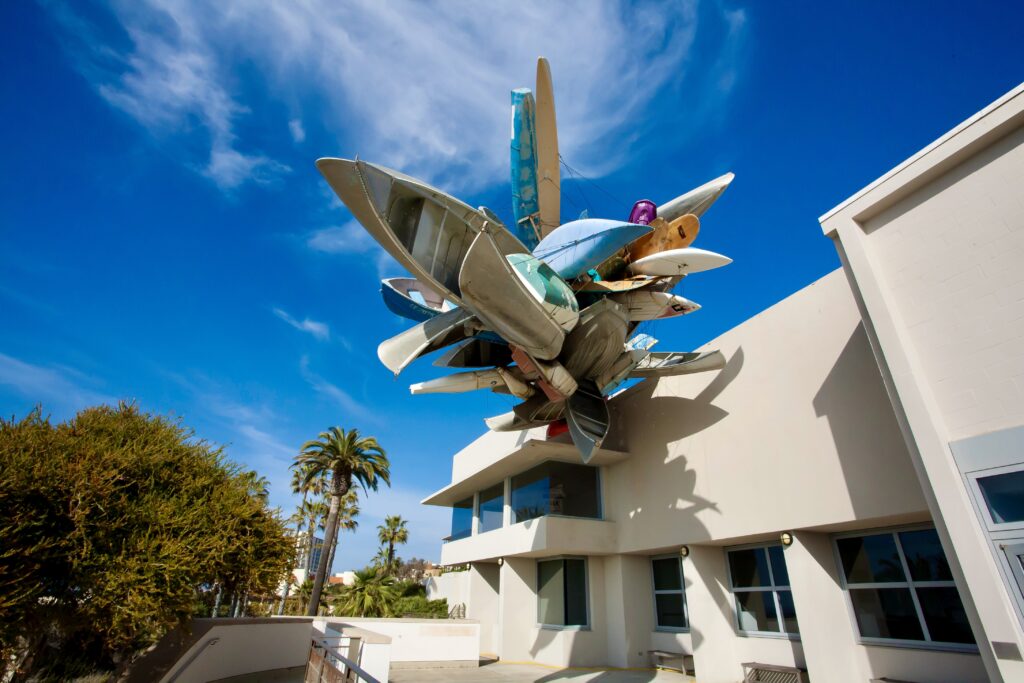 The museum's mission is to showcase and promote contemporary art, supporting regional artists, and providing a platform for innovative and thought-provoking artistic expression.
It has two locations in San Diego and La Jolla. But La Jolla is still the main branch and flagship.
MCASD plays a key role in the region's art scene by offering exhibitions, educational programs, and engaging with the local and global artistic community.
MCASD La Jolla is housed in a distinctive white stucco building designed by architect Irving Gill in the early 20th century. The minimalist building is full of windows, endless walls, 20 foot ceilings, skylights, and horizontal lines.
It beautifully harmonizes with its scenic coastal surroundings. You can step out onto one of the museum's many terraces and take in the views. Where else can you admire sea lions and contemporary art and then relax on the beach afterward?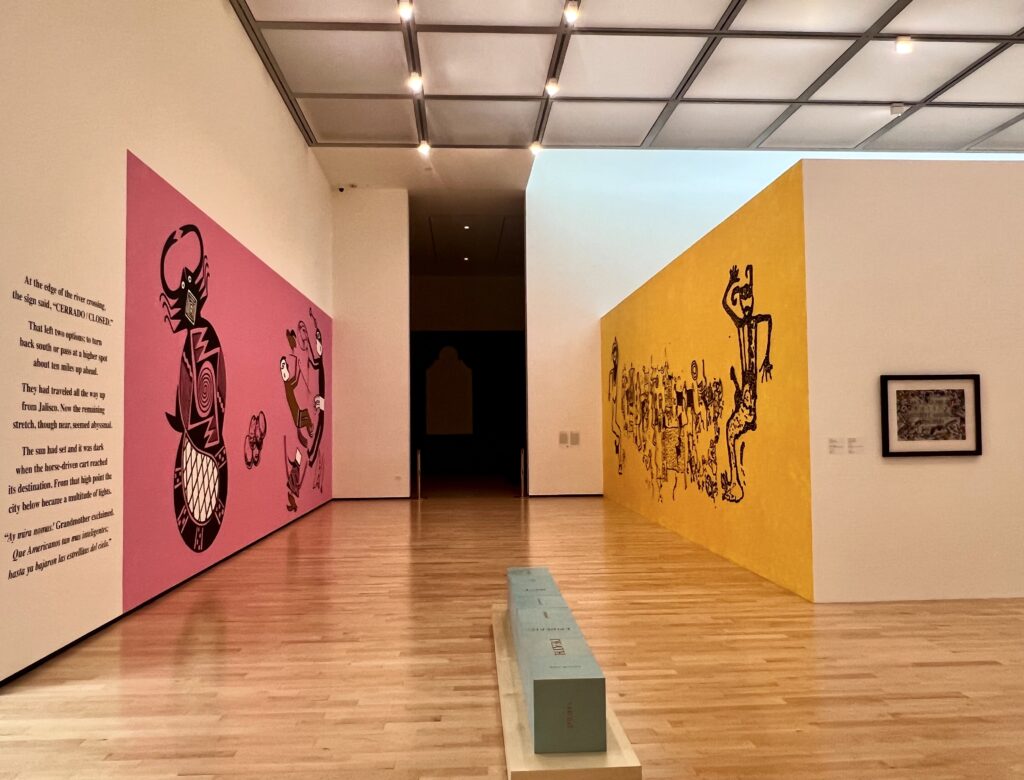 On top of that, MCASD is shiny new. In 2022, the museum completed a four year renovation. It quadrupled the museum's gallery space.
Guide To MCASD: What To See
The museum's galleries are spread out over three floors:
1st Floor: collection galleries, special exhibitions, and public spaces
2nd Floor: Prebys Leaening Center, Visitor Amenities, McGrath Terrace
3rd Floor: collection galleries, Jackson Hadfield Terrace, Palmer Terrace, and Edwards Sculpture Garden
Each room suggests a particular period or art movement. There's a generous collection of both 20th and 21st century art with some well known art stars and other contemporary, regional, and LatinX artists.
Here are some of the top highlights and things to see at MCASD: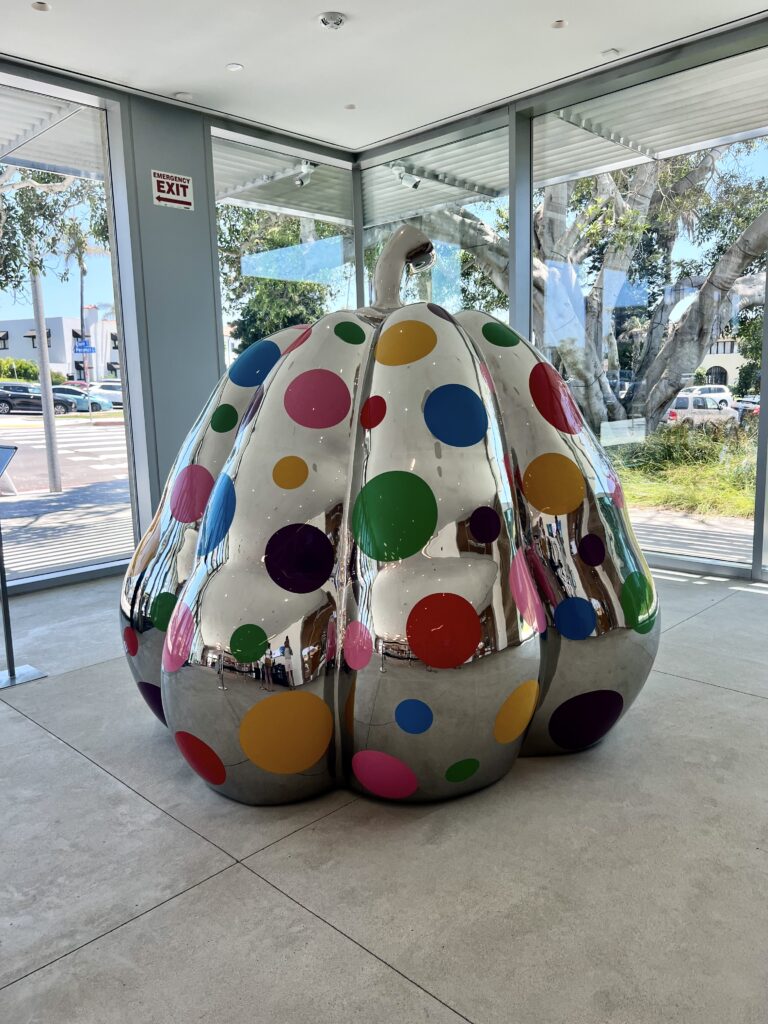 1. Yayoi Kusama, Dreaming Pumpkin
As soon as you step into the lobby, you'll see Kusama's Dreaming Pumpkin. The Japanese artist is affectionately known as the "the Princess of Polka Dots" and is world famous for her beautiful infinity rooms.
MCASD acquired Kusama's pumpkin in 2022, so it was new for me to see since my last visit.
Kusama has had a life long interest in pumpkins, producing sculptures of her beloved motif in many forms. This one is constructed of a reflective shiny stainless steel and covered in bright polka dots, which she considered a "way to infinity."
2. Joan Mitchell, Untitled
Joan Mitchell played a crucial role within the Abstract Expressionist movement centered in New York. This particular painting gained prominence during the groundbreaking Ninth Street Show in 1951.
Mitchell was renowned for her vivid and emotionally charged canvases. As evident in this piece, she employed a tactile and gestural approach. She squeezed paint from the tube and applied it with her fingers.
Her creations emerged from memory. She vividly layered colors to evoke nature's essence and evoke intense emotion.
During the early 1960s, her paintings took on a slightly more intense and violent appearance, displaying darker and more subdued hues. These canvases mirror her contemplative mood following her father's passing and her mother's cancer diagnosis.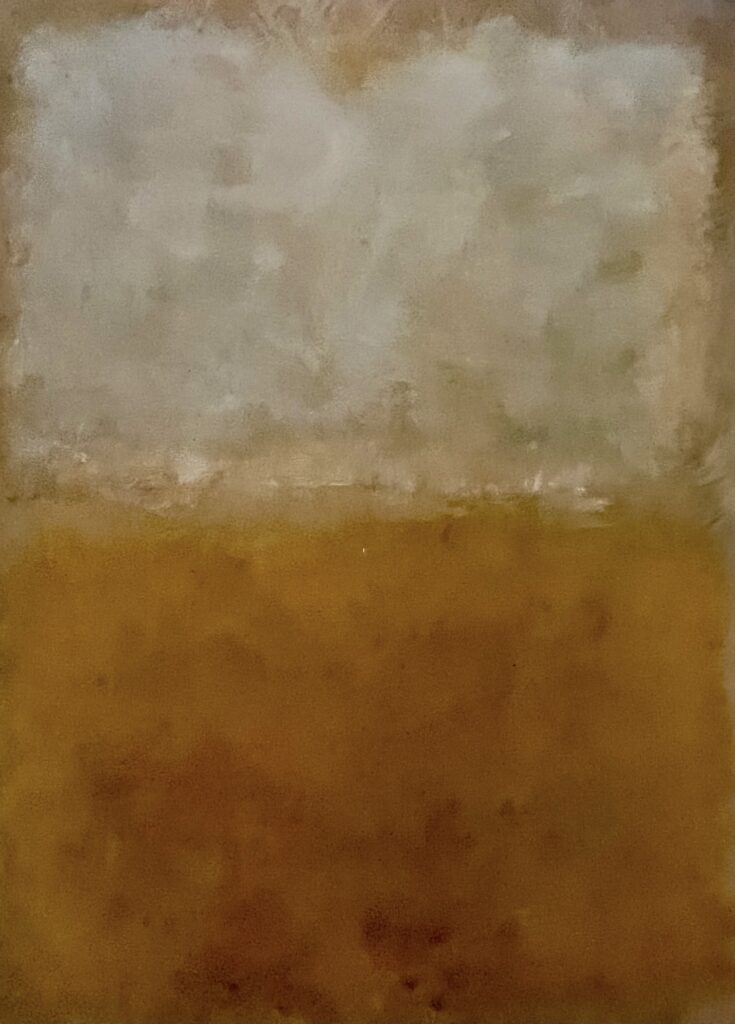 3. Mark Rothko, Untitled
Mark Rothko was a pioneering artist affiliated with the American Abstract Expressionist movement. He's known for his painterly and evocative rectangles, which the artist said expressed "tragedy, ecstasy, and doom."
Rothko's luminous rectangles, although seemingly simple, are rich in complexity and depth. They consist of two or more rectangular shapes that appear to float or hover on the canvas, creating a sense of depth and contemplation.
In Rothko's yellow and ochre paintings like this one, the colors themselves become protagonists. The layers of yellow and ochre pigments create a sense of luminosity. The soft transitions between shades evoke a feeling of depth and ethereality.
Rothko believed that his paintings were capable of eliciting deep emotions and connecting with the viewer on a spiritual level. To him, yellow represented warmth, energy, and happiness.
4. Ellsworth Kelly, Red Blue, Green
Ellsworth Kelly was a prominent American abstract painter, sculptor, and printmaker known for his contributions to minimalist and abstract art. His work features bold geometric shapes, vivid colors, and a focus on the interplay between form and space.
MCASD has several of Kelly's pieces. This one is considered a crucial fulcrum point in his career.
It exemplifies the artist's concern about the tension between the figure and the ground. Two red and blue forms balance against a contrasting green background. Kelly based his images on the memory of an architectural motif or something from nature.
5. Salomon Huerta, Untitled Figure
Salomón Huerta is a Mexican-American contemporary artist known for his distinctive portrait paintings. Born in Tijuana, Mexico, in 1965, Huerta later moved to Los Angeles.
He gained recognition for his unique approach to portraiture. He often depicts subjects with obscured facial features or seen from the back.
Huerta's signature style involves using a grid or monochromatic background to compose his portraits. This technique imparts a sense of anonymity to his subjects.
In this meticulously rendered portrait, an African American man sites on a folding chair with his back to the viewer. It's effectively an anti-portrait that draws on the bright palette of advertising. The effect is enigmatic.
6. Niki de Saint Phalle, Big Ganesh
Niki de Saint Phalle was a French-American artist known for her diverse body of work that encompassed sculpture, painting, and filmmaking. She's perhaps best known for her large scale sculptures.
Big Ganesh is a representation of the Hindu deity Ganesha. The god is revered as the remover of obstacles and the god of beginnings in Hinduism.
The massive sculptures reimagines traditional religious iconography. It reflects the artist's vibrant and playful artistic style. The sculpture has bold colors, intricate patterns, and dynamic forms.
It's definitely a big crowd pleaser in the museum.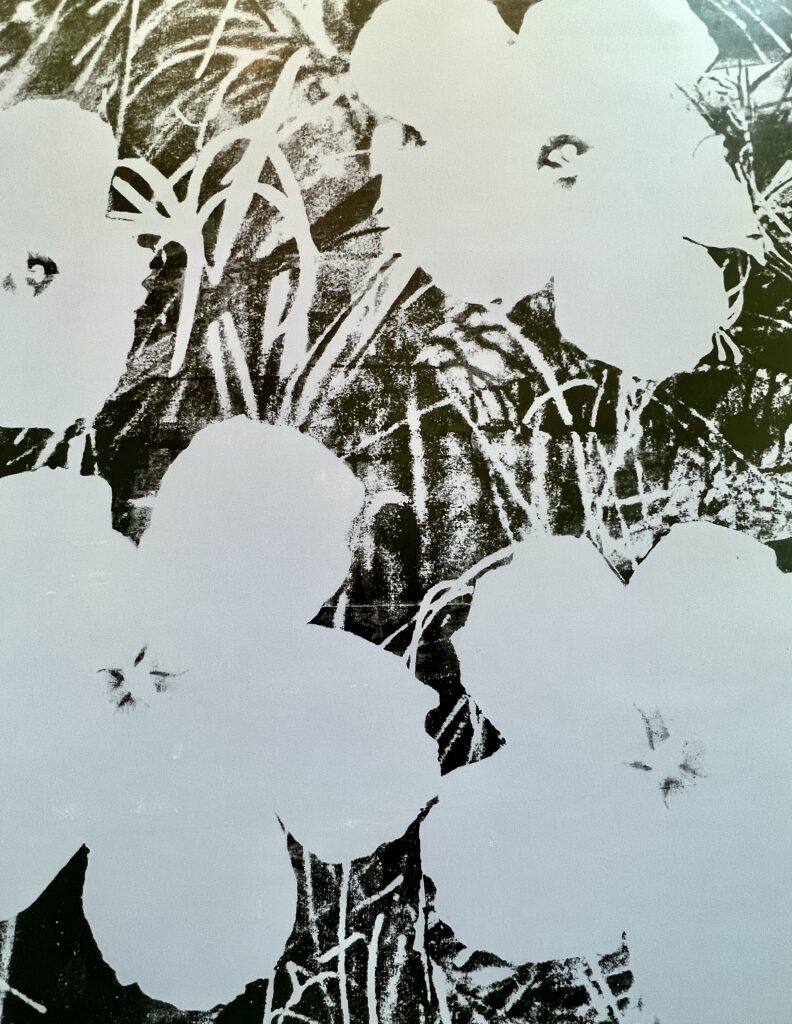 7. Andy Warhol, Flowers
Naturally, the museum has the requisite Andy Warhol silk screen. This one has pale lavender flowers set against a black background (although my photo doesn't show this well).
Warhol, an iconic performance artist, broke norms as the Prince of Pop in the 20th century. He fused beauty, fame, and shock value, blurring art's boundaries. By blending commerce and fine art, he pioneered mass-produced images with a robotic touch.
Created in the mid-1960s, Warhol's flower silk screen prints are a departure from his more iconic subjects like Marilyn Monroe or Campbell's Soup cans. The Flower series marked a shift toward a more joyful and vibrant aesthetic.
Some view them as a commentary on the nature of art and reproduction in an age of mechanical reproduction. Others see them as a departure from his more somber subjects, a celebration of the beauty of nature and a reflection of the 1960s counterculture's embrace of non-traditional aesthetics.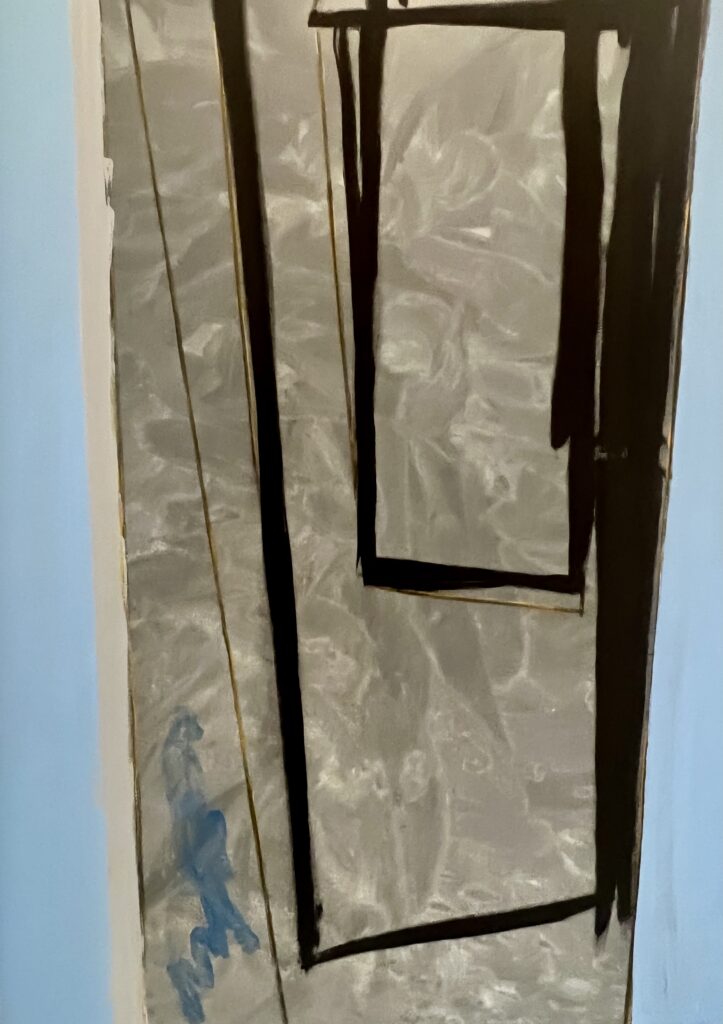 8. Robert Motherwell, Open #117
Robert Motherwell was an American abstract expressionist painter and one of the prominent figures of the New York School. He was known for his creating large-scale works characterized by bold colors, gestural brushwork, and emotion impact.
This acrylic painting was inspired when the artist was stuck by a series of stacked paintings of various sizes. it's part of a series called Open, which occupied the artist for 20 years.
Thin golden streaks and thick black lines compartmentalize the painting's composition, making parallel windows or nested canvases.
Despite the prosaic inspiration for this series, Motherwell oeuvre emphasized the metaphysics of abstraction. He wanted his paintings to be portals to other realms.
9. Adriana Varejao, Carpet Style Tile Work in Live Fresh
If you have ever been to Portugal, this painting will grab your attention.
Adriana Varejão is a Brazilian contemporary artist known for her compelling and thought-provoking artworks that explore cultural, historical, and societal themes. They combine elements of colonial art, Brazilian Baroque, and contemporary conceptualism.
In 1993, the artist began paining decorative tin-glazed tiles, also known as azulejos. They were inspired by the destructive colonial presence of Portugal in Brazil.
The artwork portrays a gruesome scene using azulejos, as though the still tiles were torn human flesh. The painted surface displays a rough cut that exposes the insides of the swollen center, revealing internal organs much like a sliced-open belly. In simpler terms, the intention is to recreate the brutal acts of colonialism.
10. Vija Celmins, Eggs, 1964
Vija Celmins is a Latvian-American artist. She's known for her meticulous and highly detailed paintings, drawings, and prints. They often explore themes of nature, memory, and perception.
Her work is often associated with the Photorealism movement, although her approach is distinct and highly personal.
Clemens sought to convey the mundane nature of her everyday life. In this painting, she captures crackling fried in an unadorned prosaic style. The gray background shows the artist's predilection for silvery hues, which permeate her mature works.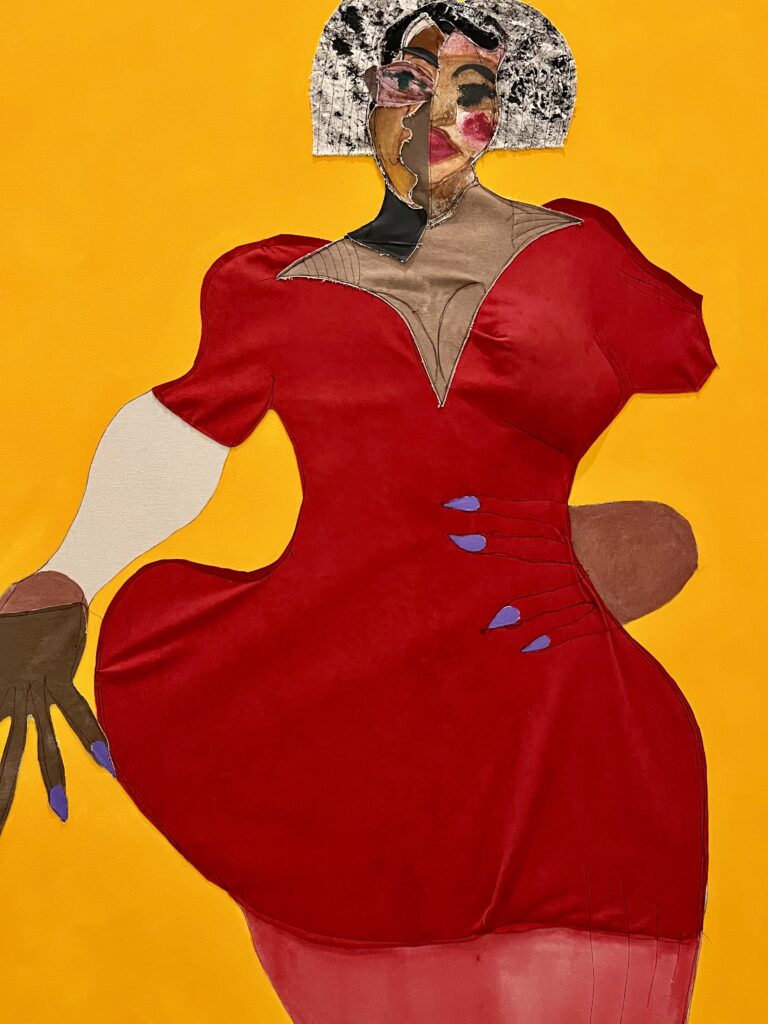 11. Tschabalala Self, Evening
Tschabalala Self is a contemporary American artist known for her vibrant and dynamic artworks that explore themes of identity, race, gender, and the human body.
Self's art is characterized by her use of collage-like techniques, incorporating found objects. Her artworks frequently feature exaggerated and fragmented figures, often black women like this one, that challenge conventional representations of the human form.
In this significant artwork, Self portrays a strong black woman, challenging the simplified portrayals often seen in media. Through assembling fragments, the artist reconstructs a fragmented body into a vibrant figure, where her impact goes beyond individual pieces.
12. Sam Gilliam, Dance Me, Dance You 2 (# 1, 2, 3)
Sam Gilliam is a renowned American artist known for his pioneering contributions to the Color Field movement and his innovative approach to abstraction.
Gilliam's works often evoke a sense of energy and movement, with colors blending and interacting to create complex visual experiences.
This artwork challenged the traditional notion of the canvas as a flat, static surface. These are a set of his "drape paintings." Gilliam would suspend painted canvases from the ceiling, allowing them to hang and twist freely.
Suspended from the ceiling, each piece consists of gathered polyester fabric drenched in layers of vivid and contrasting colors. The abstract composition exudes a sense of movement, swaying and dancing, possibly mirroring the jazz-inspired influences present in Gilliam's artistic approach.
Practical Guide & Tips For Visiting MCASD
Here are some must know tips for visiting MCASD in La Jolla.
Address: 700 Prospect Street, La Jolla CA 92037
Hours: The museum is open Thursday through Sunday from 10:00 am to 4:00 pm.
Ticket Prices: $25 for adults, $20 for San Diego residents, $15 for students and seniors, and free for under 17s. Admission is included in the Go City San Diego Pass.
Pro Tips: No food or drink is allowed in the museum. Please stay at least 3 feet away from the artworks. No flash photography or videos are permitted.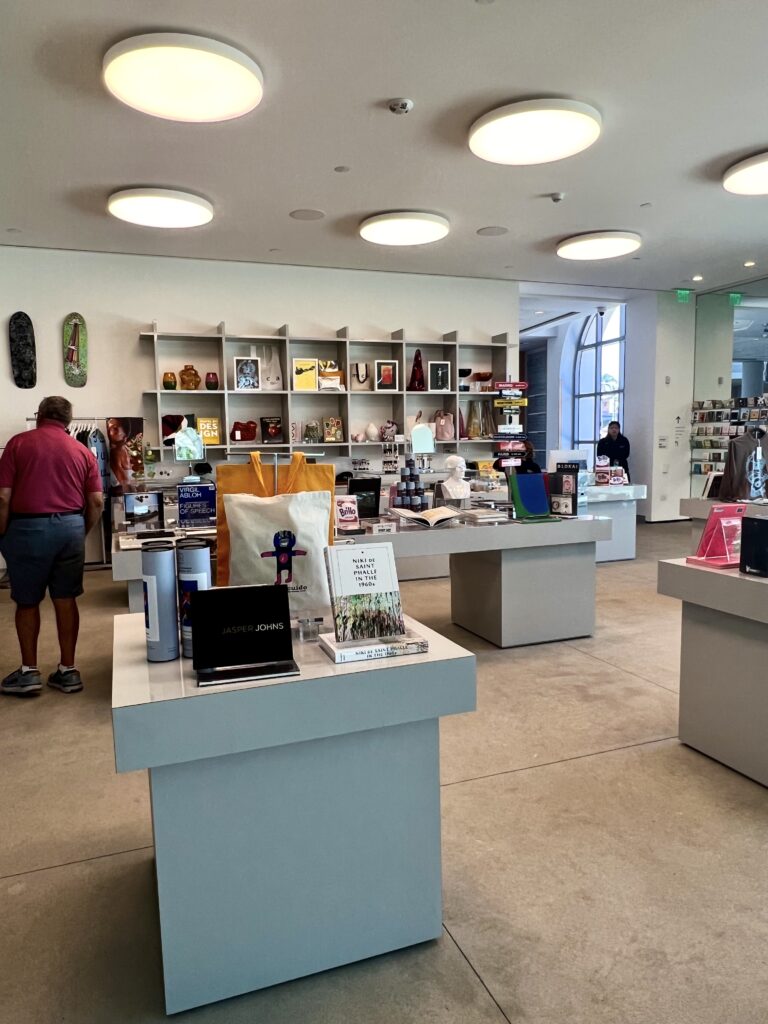 Shop at MCASD: The museum has a small shop featuring one of a kind selection of art supplies, housewares, accessories, and books.
Kitchen at MCASD: There is also a cafe on site. It serves breakfast and lunch from 8:30 am to 2:00 pm.
Is MCASD Worth Visiting?
Yes, the Museum of Contemporary Art San Diego (MCASD) is definitely worth visiting, especially if you have an interest in modern and contemporary art.
It's a beautiful and spacious museum that provides a great museum viewing experience. It's never crowded. There are also plenty of places to rest and take in the stunning views.
There are also changing exhibitions in addition to the permanent collection.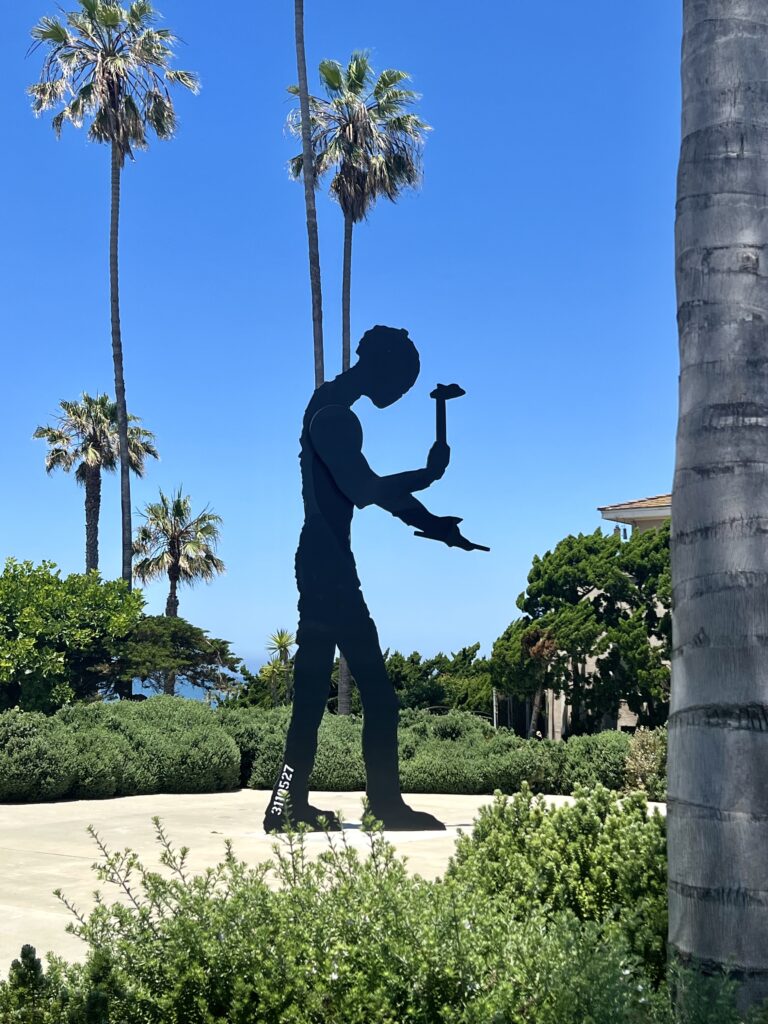 I hope you've enjoyed my guide to visiting the Museum of Contemporary Art San Diego. For more reading, check out my other California travel guides:
If you need a guide to MCASD, pin it for later.