Planning a trip to southern France?
Here's my guide to the top attractions in Albi, one of my favorite towns in the Occitanie region of France. This guide covers all the best thing to see and do in Albi — the must see sites, attractions, and landmarks.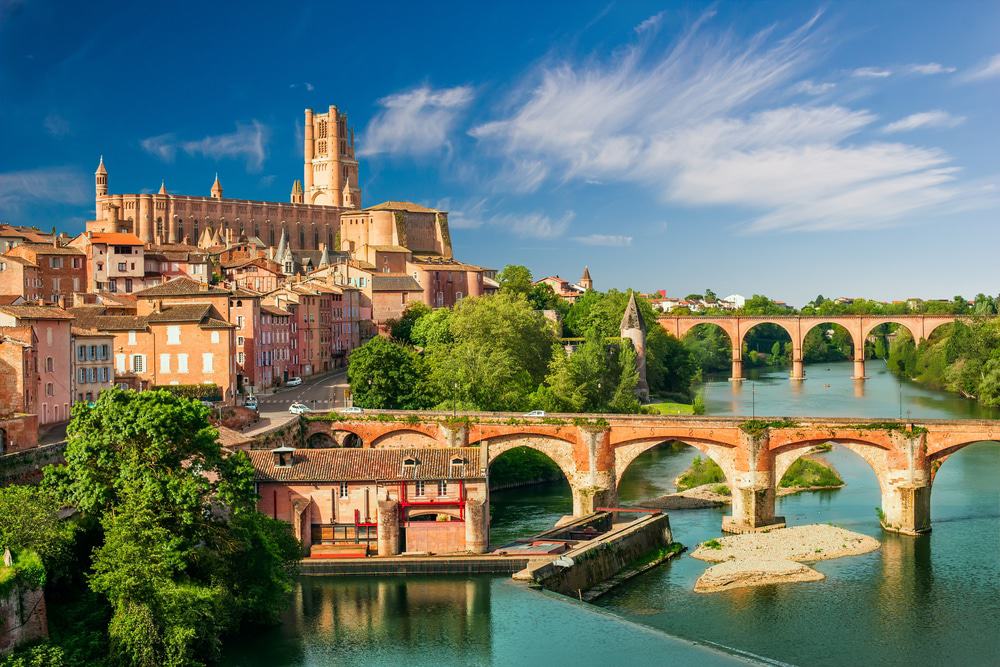 Situated on the Tarn River, Albi is a perfect combination of brickish medieval architecture and a vibrate urban center. Albi is an easy day trip from Toulouse, another beautiful UNESCO town.
As I strolled flaneur style through the "red city" of Albi, I was struck by the militaristic quality of its architecture.
Albi is a serious town and an unmissable destination in southwest France. It's a lovely, must must visit town with the suggestion of hidden treasure.
Albi isn't exactly undiscovered. But it's a place where you can largely escape hordes of tourists.
Albi was listed as a UNESCO site in 2010. It's a strangely affecting place, despite the weight of its past or perhaps because of it.
History of Albi: the Cathar Saga
Albi is dominated by the mighty Saint Cecilia Cathedral, a masterpiece of southern Gothic style. Built in the 13th century by the Bishop of Albi, it stands, ominously, as a symbol of Catholic domination and victory over the Cathars.
The anti-materialistic Cathars were a zealous religious sect. They believed that all earthly things (including themselves) were tainted and sinful.
Aspiring only to the purity of early Christianity, they were outraged by the worldliness of the medieval papacy and its debauched Catholic clerics.
Perhaps nothing has really changed all that much in the intervening centuries …
After a startling rise in Cathar popularity, the Catholic Church had had enough of the pesky rebels.
In 1208, Pope Innocent III announced a crusade to eradicate them. Led by the bloodthirsty Simon de Montfort, cross-bearing armies laid seige to the Cathars, who fought valiantly and had a long and agonizing demise.
Evidence of the Cathar struggle can be found in remnants of their castles, sprinkled throughout the Occitanie region of France.
Top Attractions And Landmarks In Albi
Here are my picks for the top attractions to visit in Albi.
1. Albi Cathedral
But back to Albi Cathedral. It is a place of superlatives both inside and out. The cathedral appears more fortress than church.
Located on Place Sainte-Cécile, Albi Cathedral is knicknamed the "crucible of faith." It's one of the largest brick structures in the world.
The cathedral has a stern unadorned exterior, befitting a symbolic threat, and a 78 meter tiered bell tower. The castle was built between 1282-1480.
You enter through a finely carved flamboyant canopied porch. The fearsome exterior gives no hint of the extravagant art and craftsmanship inside.
The interior is serenely blue and gold. The chancel is enclosed by a rood screen made of lace-like stonework and adorned with statues.
The ceiling is decorated with Italian Renaissance frescos of pastoral and biblical scenes. The side chapels, often neglected in cathedrals, are also elaborately painted.
The pièce de résistance is a 15th century doomsday mural, The Last Judgment, where monstrous demons punish human sinners.
When you've had enough of ruminating over sinners and medieval war crimes, there is lunch to be had. Albi is a bit of a dining dowager.
Knowing this in advance, we just ambled down the picturesque Rue de la Piale and plunked down at an available alfresco cafe.
The food was simple and wholesome (perhaps consistent with the Cathar tradition?). But the Gaillac wine was crisp, cool, and luscious.
The wine, much like the ancient cobblestones of Rue de la Piale, comes from the earliest wine-producing region in France and traces its viticulture heritage back to the Romans.
2. Berbie Palace
After a lunch break, we headed to the Palais de la Berbie, another unmissable site in Albi. It's an imposing fortress and symbol of the defeat of the Cathar heresy, located at 17 Place Sainte Cecile.
Like Albi Cathedral, the 800 year old Berbie Palace is an all brick affair with stout walls of extraordinary height and thickness. Aside from the Pope's Palace in Avignon, the Berbie Palace is one of the best preserved castles in France.
The palace was formerly the residence of the Albi's archbishops. Now, it's home to the Toulouse-Lautrec Museum, a world class single artist museum.
3. Musée Toulouse-Lautrec
The Musee Toulouse-Lautrec is a fantastic single artist museum that shouldn't be rushed.
After an extended 10 year renovation ending in 2012, it's also a work of art itself — with exposed brick, ribbed vaulting, a pavement of medieval terra cotta tiles, and ample space. During the renovation, 15th century mural paintings were discovered and they are now part of the d'Amboise Gallery.
The museum has the world's largest public cache of Toulouse-Lautrec's art, donated by his parents the Count and Countess de Toulouse-Lautrec.
The Post-Impressionist's works are organized in groups: works from his youth, works from his seedy stint in Montmartre — full of brothels and prostitutes, and works from his time as a poster designer. His 31 world famous posters are all gathered here.
Toulouse-Lautrec was born to a wealthy aristocratic family, descended from the Counts of Toulouse, in Albi in 1864. A childhood accident and possible genetic disability crippled him for life, stunted his growth, and likely propelled his immersion into art, alcoholism, and the gritty underbelly of fin de siècle Paris.
Iconographer of Montmartre
Toulouse-Lautrec became famous while living in Montmartre, frequenting the brothels and salons of the bohemian Parisian neighborhood. They were a magnet for struggling artists like Picasso, Modigliani, Braque, and Utrillo in late 19th century Paris.
READ: Best Things To Do and See in Montmartre
Toulouse-Lautrec was known for the swirl of energy, his freely handled expressive line, and his intense use of color. With psychological acuity and great sensitivity, he documented the bawdy personalities of Parisian night life.
If you look carefully, you can see, beneath their thick makeup, the world weary pathos and isolation of his female subjects. Some of them look sickly, as if they were about to die of consumption.
Aside from his innovative style, Toulouse-Lautrec was the first artist to elevate advertising to the status of fine art. He obscured the boundaries between fine art and low art long before the Conceptual artists were on the scene.
Some of his greatest masterpieces were posters for nightclubs, which in turn gave him a tidy income.
Once you've spent some hours with Toulouse-Lautrec, you can leaven your cultural enrichment with a dignified stroll in the formal 17th century Renaissance gardens, for which entry is free.
Take a walk along the ramparts under the magnificent grapevine. From there, you have great views of the Pont Vieux.
4. Pont Vieux, Albi's UNESCO Bridge
The Pont Vieux is an ancient bridge. Unlike everything else in Albi, it was made of stone. A brick cladding was only added in the 19th century. It was build between 1035-40 and is part of Albi's UNESCO site.
It's one of France's oldest bridges, and still open to pedestrians. I had a lovely stroll across it, taking in some spectacular views.
Flat-bottomed barges called gabarres glide along the Tarn River from June to September. You can hop aboard at the quay just below the Berbie Palace.
5. Albi's Historic Center
Albi is rightly proud of its medieval center. It's a traffic free maze of half timbered houses and quaint crooked streets, particularly the neighborhoods of Castelviel and Castlenau.
The peach toned Castelviel is tucked behind the cathedral. It's Albi's oldest neighorhood.
On our walkabout, I spied an amazing street art rendition of Michelangel's Creation of Adam spread writ large across a home.
In the neighborhood of Saint-Salvi, you'll find the 13th century Collégiale Saint-Salvi at 29 Rue Mariès. The Saint Salvi Church is a pleasing mixture of Romanesque and Gothic architecture, pale stone, and the classic Albi red brick.
Head straight for the small cloister and its beautiful garden, where tourists and students mingle together in relative quietude.
While the beginning of our day in Albi started with its ominous cathedral, the day ended with more sensual delights at the O Vent d'anges at 9 Place Saint Julien.
There, surrounded by the ubiquitous orange-red Albi brick and hunched over our glasses of Gaillac wine, we discussed the Cathar plight, the medieval charms of Albi, and plotted our return to the brick city.
Encore, encore!
Practical information for Visiting Albi France
Albi Cathedral:
Address: 5 boulevard Sybille
Hours: Monday – Saturday: 9:30 am – 6:00 pm, Sunday: 9:30 am – 10:15 am & 1:30 pm – 5:30 pm
Entry fees: €6, entry to the choir €5, free under 12
Musée Toulouse-Lautrec:
Address: Palais de la Berbie, Place Sainte-Cécile,
Hours: High season 9:00 am to 6:00 pm
Entry fees: Adults € 10, Students € 5, Children under 13 free
Getting there:
Albi is a 50 minute drive from Toulouse. You can also visit Albi on a guided day tour from Toulouse or on a private tour that combines Albi and Carcassonne.
I hop you've enjoyed my guide to the top attractions in Albi. You may enjoy these other guides to Southern France:
If you like to visit Albi, pin it for later.