Here's my guide to visiting the spectacular Musée d'Orsay in Paris. In this guide, I take you on tour of 25+ of the Musée d'Orsay's must see masterpieces and famous paintings.
The Musée d'Orsay is one of Paris' true treasures and a must visit site on the Left Bank. In 2018, it was named the "best museum in the world" in the TripAdvisor Travelers' Choice Awards.
There's good reason. The Musée d'Orsay is housed in a beautiful converted Beaux-Arts railway station.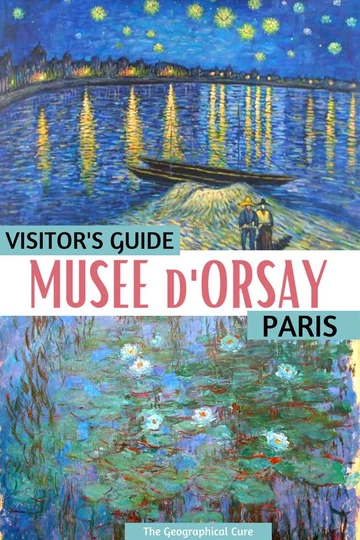 The museum has the world's largest collection of French paintings from 1848 to 1914, a period when Paris was the undisputed artistic capital of the world.
The Musée d'Orsay is where you'll find a spectacular cache of Impressionist and Post-Impressionist art, including many works by the movements' most revered figures, Claude Monet and Vincent Van Gogh. The Musée Orsay also has rich collections of the decorative arts, sculpture, and photography.
History of the Musée d'Orsay
In 1810, the Musée d'Orsay began life as a magnificent government palace. In the 1890s, much of the palace was destroyed by fire. It was rebuilt and, in 1898, re-inaugurated as a train station.
In 1939, technology had surpassed it. So, once agin, the building needed to be repurposed. Initially, the French State was stumped over what to do with the edifice. It was a cavernous barrel vaulted tunnel, after all.
In the 1970s, the concept of a museum was floated. The Louvre was overflowing with art work, much of it in storage.
The Louvre proposed to relocate its collection from the second half of the 19th century art to a dedicated new museum.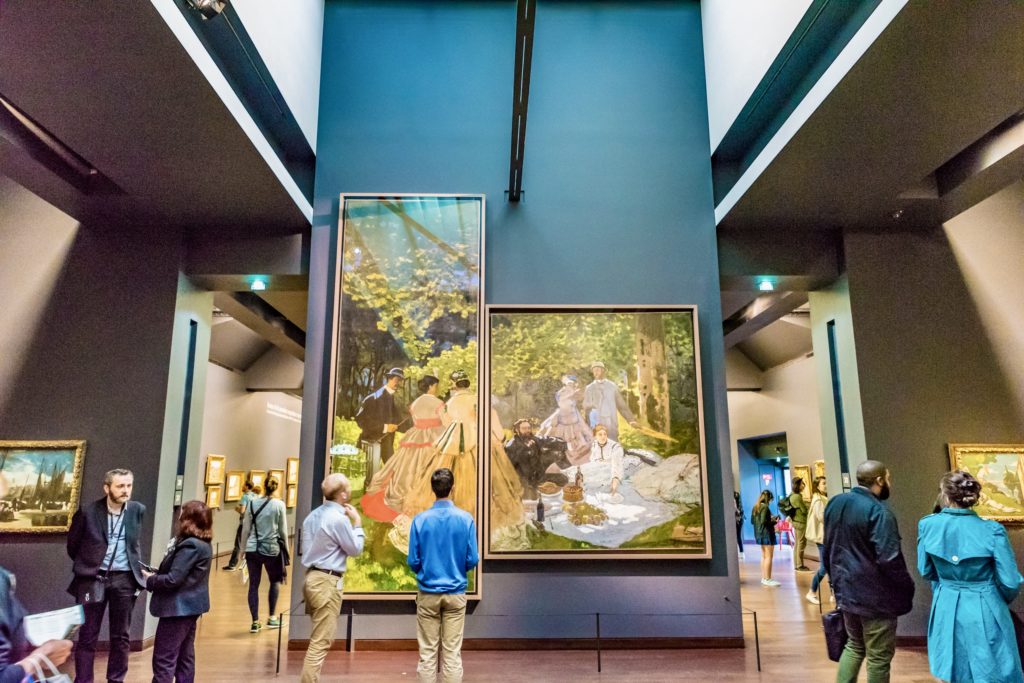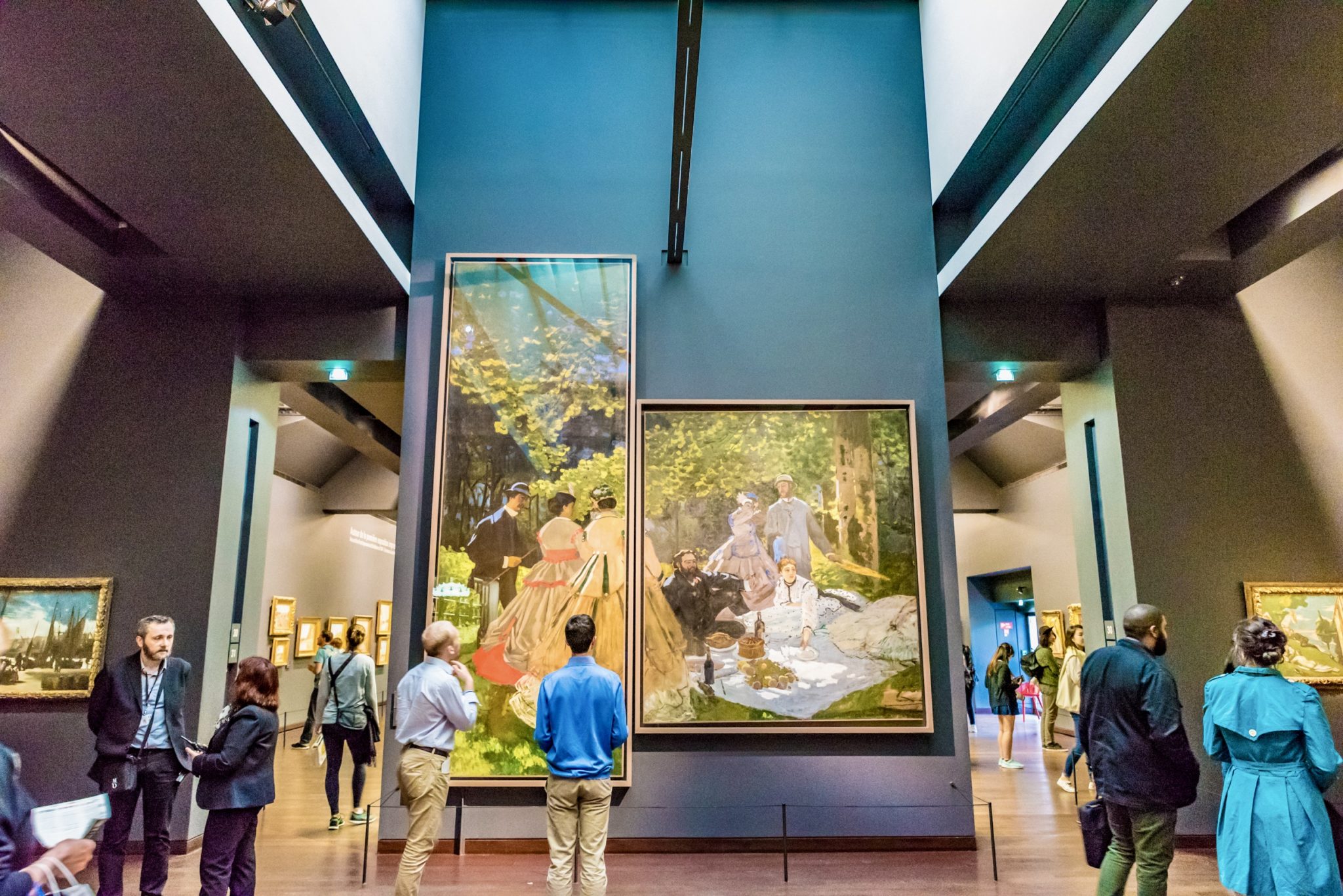 In 1981, Italian architect Gaetana Aulenti was hired to design and renovate the museum interior. The Musée d'Orsay was founded in 1986. It was an immediate success.
Today, millions of entranced visitors flood the popular museum, which has since expanded beyond purely French art into Western art.
In March 2020, the Musée d'Orsay received an anonymous € 20 million donation through the nonprofit American Friends of the Musée d'Orsay.
The Orsay plans a redesign, to be finished by 2026. It will convert fourth floor administrative offices into more gallery space to accommodate its growing collection.
The Rise of Impressionism
The Musée Orsay is synonymous with Impressionism. The Impressionists were a renegade group of 19th century artists that painted what they (not the Salon) thought was art. They ere perhaps the first distinctively modern art movement.
Claude Monet's painting, Impression Sunrise, gave birth to the name of the movement. It was first shown at what was derogatorily dubbed the "Exhibition of the Impressionists" in 1874.
The painting is now a highlight of the Musée Marmottan Monet, a Paris hidden gem.
The Impressionists aimed to "instantly paint what you see." They sought to capture the ephemeral, sensory effect of a scene — the impression — objects made on the eye in a fleeting instant.
They used loose brushwork, a lighter palette, and tried to capture the effects of light. They often painted outside in "plein air."
The Impressionists stopped exhibiting at the government-sanctioned Salon. They organized their own independent exhibitions. Their style was initially viewed as unfinished, scandalous, and horribly ugly. Now, it's one of the most adored forms of painting.
Tickets & Tours For The Musee d'Orsay
It's essential to make an advance reservation at the Orsay. Click here to book a skip the line ticket. You also have skip the line entry to the Orsay if you purchase Paris Museum Pass.
You can also book a 2 hour guided tour of the Orsay with an expert. You can also book a 2.5 hour private tour of the museum.
The museum also hosts spectacular temporary exhibitions. I just attended one on Edward Munch. You'll need to pre-purchase tickets in advance for these as well. A ticket also gives you access to the permanent collection.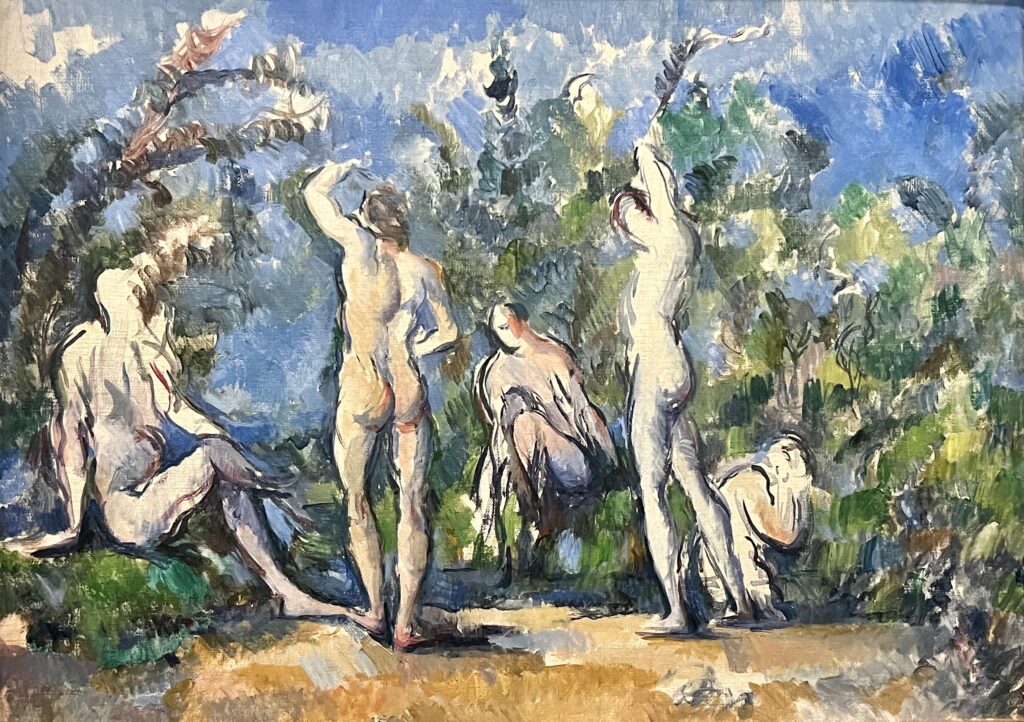 Masterpieces of the Musée D'Orsay
What should you see inside the Musée d'Orsay?
There are thousands of famous paintings and sculptures that are so important, so beautiful, and so groundbreaking. I couldn't limit myself to a top 10 list.
Instead, I give you an overview of my favorite 25+ art works in the Musée d'Orsay, some of which changed the course of art history.
1. Edouard Manet, Luncheon on the Grass
I just adore Manet. He's known as the "Father of Impressionism," though he really preceded and overlapped with the movement.
Manet had a huge impact on the development of modernism. He led a bohemian life and scandalized the official Salon with his utter disregard for academic conventions and his strikingly modern images of urban life.
This large scale painting, inspired by Titian's Pastoral Concert, is a modern masterpiece. But it was initially rejected by the Salon. What is it about exactly? It is a luncheon scene or a bathing scene? Manet intentionally refused to provide a clear narrative.
The anonymous female nude was deemed shocking at the time. She wasn't based on a mythological figure, as was the prevailing fashion. She stares straight at the viewer without quibble. Manet's brushstrokes are loose and unfinished. The perspective is off, intentionally so.
2. Edouard Manet, Olympia
Like Luncheon on the Grass, Manet's Olympia is a masterpiece of there Orsay that sparked an uproar of disapproval and an overwhelmingly negative critical response. Manet lamented that the critics were "raining insults upon me."
Olympia features a nude woman reclining on a lounge brazenly looking back at the viewer. Critics thought the painting mocked academic traditions, robbing the nude of imaginary mythological scaffolding found in iconic paintings like Titian's Venus of Urbino (which inspired Olympia).
Unlike Titian's masterpiece, Manet's nude was washed out, flat looking, appeared rapidly executed, and (horrors) was likely a trashy prostitute. In creating Olympia, Manet traded in illusionism and fussy controlled paint for a frankness of expression and a radically modern subject.
3. Vincent Van Gogh, Starry Night Over the Rhone
Vincent Van Gogh has cast almost a religious spell on art history and his avid fans. We're spellbound by the unstable artist who locked himself in a Provencal asylum and may have killed himself. I say "may" because there's a strong theory that his death was the result of murder or accidental manslaughter.
Van Gogh's Post-Impressionist work is beloved — notable for its swirling line, emotional honesty, and bold vivid color. Van Gogh had a profound impact on 20th century art. Who else do you think inspired Edvard Munch's The Scream?
Starry Night is perhaps Van Gogh's most famous work. The most famous iteration is in MoMA in New York. The Orsay owns Starry Night over the Rhone.
In it, a powerful sky sits above a waterscape, though it's a more mellow version of the one at MoMA in New York. Some critics argue that Van Gogh's turbulent quest for sanity is reflected in the surging splashy lines. Others view it as a reflection of the artist's acceptance and possibly hope.
4. Vincent Van Gogh, The Bedroom
In 1888, Van Gogh traveled to Arles, in southern France. There, Van Gogh painted The Bedroom in his "Yellow House." It may be the most famous painting of a bedroom in art history.
Van Gogh told his brother Theo that he sought to evoke tranquility. His bright colors and straight lines were meant to express absolute repose, simplicity, and serenity. He wanted the blocks of color to "do the job" of composition.
Despite this, The Bedroom seems to teem with nervous energy, instability, and turmoil. The effect is heightened by the sharply receding perspective. This perspective was a deliberate choice
5. Vincent Van Gogh, Self Portrait
Van Gogh painted over 43 self portraits. This one, one of his last, is a true masterpiece in the Orsay.
It was created at a time when Van Gogh was feeling healthier. He had just checked himself out of the St. Remy asylum and was headed north to Auvers-sur-Oise outside Paris.
The background is filled with waves and spirals. The painting has tense brushstrokes. The dominant colors are mint green and turquoise.
His features are gaunt and grizzled, framed in contrasting orange shades. Van Gogh himself is immobile, but everything else in the painting is like an undulating force field.
6. Claude Monet, The Gare Saint-Lazare
Many visitors come to the Musée d'Orsay just to see the work of Claude Monet. Monet had a long and prolific career.
He was the most famous of the Impressionists. Monet is known for his pastel palette, quick brushstrokes, and intensely lit landscape paintings.
In Gare Saint-Lazare, the painting is engulfed in steam and smoke on a sunny day at one of Paris' biggest terminals. It's part of a series of 12 paintings and was exhibited at the Third Impressionist Exhibition in 1877. Monet shows his keen skill in handling light and paint.
READ: Guide To the Monet Museums in Paris
7. Claude Monet, London Houses of Parliament, The Sun Shining Through the Fog
Monet's House of Parliament series of paintings isn't as famous as his vaunted water lilies, the best of which are found at Paris' Marmottan Museum. But they should be.
Monet painted the Houses of Parliament over five years. He enjoyed capturing a static subject under different lighting and weather conditions.
The paintings are noticeable for their extreme lack of detail. They're almost abstract. The daubs of paint subtract, rather than add, detail. The site is only a reference point for his experimentations with light and color.
In this version, as others, Westminster looms eerily above the Seine. The sky blends into the river. The stone architecture is rendered weightless.
8. Berthe Morisot, The Cradle
Berthe Morisot was (and is) an underrated Impressionist artist, working during a time when men dominated the art world. When the second Impressionist exhibition opened in 1876, the critics described the artists as "five or six lunatics, one of which is a woman."
But she had the good fortune to be married to Eugene Manet, Edouard Manet's brother, who helped advance her career.
The Cradle is one of Morisot's early canvases, but probably her most famous piece. In it, she gives us an intimate and closely cropped scene of her sister with her new baby.
It's a depiction of the affection (and perhaps responsibility) of motherhood. The Cradle is beautifully drawn. The collar of the dress and the drapery show virtuoso talent.
9. Gustave Courbet, Burial at Ornans, 1849-50
Gustave Courbet was a pioneer of mid-19th century French Realism. He was an immediate predecessor of Manet. Courbet strove to move painting away from the academic strictures of Neo-Classicism.
He advocated for a socially-aware aesthetic, one grounded in the actual world and which featured the peasant class. And he put in on par with the highbrow subjects from mythology and history. Courbet's was a radical vision.
Burial At Ornans is a massive painting. For the first time in history, the poor were depicted on a grand scale front and center. \Courbet's painting subtly raises the increasing secularization of France, with clergymen depicted as crude caricatures with their backs turned Christ. They go seemingly unnoticed by the mourners.
10. Gustave Courbet, The Origin of the World
Now for a far more shocking Courbet. The Origin of the World was probably the most controversial painting of the 19th century. Even Facebook and Google have censored it. You can see it here.
Commissioned by a client with a penchant for expensive erotic art, Khalil Bey, Courbet created a portrait of an unknown mystery woman. The painting is an unvarnished depiction of her lower genitalia, blurring the line between fine art and pornography.
The Origin of the World has an odd backstory. In 2010, a private collector made an interesting discovery. He theorized that the painting had been sliced in two and that he owned the top half of the painting (shown above). Experts spent years splitting hairs, but eventually most declared he was correct.
In 2017, the identity of the woman — an ongoing art history mystery — was ferreted out. She was originally suspected to be Courbet model and lover Joanna Hiffernan.
Except that she was a redhead, which obviously ruled her out. Later, correspondence between French writers Alexandre Dumas Fils and George Sand pointed to Parisian ballet dancer Constance Queniaux as the model.
11. James Whistler, Whistler's Mother
James Whistler was an expat from the United States. He settled in England, struck up a friendship with Monet (when he was there), and led a generally disreputable life. In this Musee d'Orsay masterpiece, Whistler gives us a meticulous study of his mother, staring enigmatically into the distance. His preferred model was unavailable.
Whistler's Mother actually has a conceptual title, Arrangement in Grey and Black No. 1. On the surface, the painting appears traditional. It's sometimes dubbed the "Victorian Mona Lisa." And it's become an icon for that reason. But looks can be deceiving
Whistler actually had no interest in painting something "motherly." Or even in portraiture. Rather, his work is characterized by the radical use of simple coloring.
In this painting, he explores the interplay of back and gray. Though Whistler's real life mother was a model of moral rectitude, perhaps in revenge, Whistler painted her with cumbersome peasant feet.
12. Paul Cezanne, The Card Players
Card games have typically been depicted as tawdry affairs, moralizing about the pitfalls of drinking and gambling. A prime example is Georges de la Tour's The Cheat With the Ace of Diamonds at the Louvre.
But Cezanne broke that mold, with a simple quiet scene. It's a traditional subject that Cézanne renders unconventionally.
Both Matisse and Picasso have remarked that Cézanne "is the father of us all." In this painting, Cezanne experiments with modern devices — composition, geometry, and tension. Cezanne painted slowly and this painting is similar to his well-admired still lives.
The best and most complex version of The Card Players is in the Barnes Foundation in Philadelphia.
13. Henri de Toulouse-Lautrec, Jane Avril Dancing
Toulouse-Lautrec became famous while living in the Paris neighborhoods of Montmartre and South Pigalle. Back then, they were seedy bohemian places filled with brothels and unsavory salons.
They were a magnet for struggling artists like Picasso, Modigliani, Braque, and Utrillo in late 19th century Paris. Toulouse-Lautrec's career was spent largely among prostitutes.
READ: Guide To the Musee Montmartre
He was a lucid and uncompromising observer and painter of the seamier side of Parisian life. Toulouse-Lautrec was known for his dancing swirls of paint, his expressive line, and his intense use of color. With psychological acuity and great sensitivity, he documented the bawdy personalities of Parisian night life and brothels.
The dancer Jane Avril was one of Toulouse-Lautrec's favorite subjects and best friends. She danced at the Moulin Rouge and the Folies Bergeres. Using oil paint diluted with turpentine, the artist caught the movement and liveliness of the dancer's acrobatic kicks.
14. Jean-Auguste-Dominque Ingres, The Spring
Ingres was the leader of the French Neo-Classical movement. Neo-Classicism prioritized idealized beauty, ultra finished surfaces, and fine brushwork and lines.
Ingres was inspired by Renaissance painter Raphael, after making a trek to Rome to see Raphael's paintings in person. Ingres was considered one of painting's best draftsman, called a "miraculous technician."
Ingres worked on The Spring for almost three decades. The painting almost looks like a marble statue. He deviated a tiny bit from strict Neo-Classical dictates by using slightly more velvety brushstrokes and a subtle line.
15. Edgar Degas, The Absinthe Drinker
Degas' paintings bear many similarities to the Impressionists. But although he participated in their exhibitions, Degas was never an official or committed member of the group.
For one thing, he had no interest in plein air landscape painting, preferring figurative painting. He viewed himself as a realist, saying "no art is less spontaneous than mine."
The Absinthe Drinker is a melancholic painting in somber hues of black, gray, white, and yellow. It shows a couple seated side by side in a cafe, looking hungover after a long night of drinking absinthe. Absinthe was a popular drink in fin de siecle Paris. It was highly addictive and known to cause hallucinations.
Degas' painting appears to be painted onsite at the cafe where it's set, La Nouvelle Athenes. But Degas actually created it in his studio using friends for models. The reputation of the pair depicted suffered from the tawdry nature of the painting. Degas had to publicly aver that they weren't alcoholics.
16. Auguste Renoir, Moulin de la Galette
Renoir was a prolific French artist and a key founder of Impressionism. His work has the movement's characteristic pastel colors and loose brushwork. Renoir is most known for his depictions of women, Parisian society, domestic scenes, nudes, and dance paintings.
The Moulin de la Galette is one of the Orsay's most famous masterpieces. It's a pleasure scene. People are socializing, flirting, and dancing, most likely at a beer hall.
There is no central focus, an unusual choice. Rather, there are many vignettes, capturing intimate moments. What made the painting radical at the time was the kaleidoscope of colors, sun dappled and loosely brushed.
READ: 3 Day Impressionism Trail in Paris
17. Gustave Caillebotte, The Floor Scrapers
Gustave Caillebotte bridged the gap between Realism and Impressionism. He was fascinated by the impact of industrialization and modernization on Paris and its inhabitants. He developed a style called photographic naturalism.
In The Floor Scrapers, Caillebotte paints the working class world of work. In it, three workers, naked from the waist up, scrape away old layers of varnish in what was Caillebotte's first studio in Paris.
Caillebotte submitted the painting to the Salon of 1875. But it was rejected and decried as a vulgar and unheroic image. In fact, while other artists had painted peasants, this was the first painting of the "urban proletariat."
18. James Tissot, Evening
Tissot isn't as well known as other artists at the Orsay. But he's a major artist of the second half of the 20th century. He was an enigmatic man, living in both France and England.
Tissot became famous as a genre painter of women at various social events. I've always enjoyed his beautiful images of balls, even if they are somewhat decorative.
In Evening, also known as The Ball, Tissot paints a young woman clad in a glamorous yellow ball gown. He depicts her as extremely feminine — with a wide fan, ribbons, lace fabric, and flounced dress train.
She's with a more senior companion. But he's irrelevant. The woman has the face of Tissot's mistress and muse, Kathleen Newton.
19. Henri Rousseau, The Snake Charmer
Rousseau became a full time artist at the age 49, after retiring from the Paris customs office. The job prompted his famous nickname, "Le Douanier Rousseau," which means "the toll collector."
Rousseau was a self-taught naive artist. His best known works, like this painting, are lush jungle scenes.
Some derided him as untalented. But others, like Picasso and Kandinsky, hailed him as a genius for exposing the "new possibilities of simplicity." Rousseau's works have an oddly appealing exoticism and uniqueness.
Some critics say his bright colors and dream-like themes inspired the Surrealist Movement.
20. Georges Seurat, Circus
Seurat was a pioneer of Neo-Impressionist painting, also called Divisionism or Pointillism. He considered himself a scientist.
He wasn't interested in the Impressionists' obsession with capturing the fleeting moment. With intentional precision, his small dots of color converged to form a coherent whole.
In Circus, Seurat reveals his interest in spectacle and the night life of Paris. This painting was Seurat's last. He died suddenly in 1891 at just 31 years old. It was left unfinished and sold to his friend Paul Signac.
21. Camille Claudel, The Age of Maturity
Now, on to the Orsay's marvelous sculpture collection. The ground floor features mostly academic sculpture by artists like Claudel, Carpeaux, Maillol, and Clesinger. Upstairs on the terrace level, there's a wing dedicated to Auguste Rodin.
I'll kick it off with my decided favorite — Camille Claudel's masterpiece, The Age of Maturity. Claudel was the lover and muse of famed French sculptor Auguste Rodin. When he refused to abandon his wife, Rose Beuret, Claudel broke off their long term affair.
The Age of Maturity can be interpreted as an allegory on aging or as a wrenching autobiographical love triangle. It depicts three naked figures. A young woman on her knees implores an older man not to be led away by a hooded older woman.
The painting could portray a reluctant Rodin being led away from a devastated Claudel. Or, it could show a mature man leaving his youth and moving towards the inescapable forces of old age and death. Either way, The Age of Maturity is a thought-provoking symbolic work.
22. Auguste Rodin, Fugitive Love
What a beautiful composition. This small sculpture, Fugit Amor or Fugitive Love, is one of Rodin's most evocative. Although one wonders if a rock is the best place for an amorous encounter.
The sculpture is supposedly a depiction of lovers, Paolo and Francesca from Dante's Divine Comedy. It's a tragic story of adulterous lovers put to death. But it also seems to be another depiction of the Rodin-Claudel affair, with Rodin trying hard not to lose his true love.
Fugitive Love is inspired by dance-like movement. Two bodies strain in one flowing movement, appearing pulled by opposing forces. Francesa's position is especially strenuous as she tries to escape. Paolo is depicted with a wide mouth and closed eyes, mimicking a Bernini sculpture in Rome.
READ: Guide to the Rodin Museum
23. Edgar Degas, Little Dancer of Fourteen Years
Degas unveiled this beautiful sculpture at the Impressionist Exhibition of 1881. He intended to portray a young girl dreaming of becoming an illustrious ballet dancer at the Palais Garnier.
But she's rendered as an everyday person from the streets, not idealized or heroic. Degas placed her in a glass case, asserting the Dancer's status as a work of art.
Degas fitted the sculpture with found objects — real hair, bodice, tutu, and dancing slippers. The sculpture is extremely naturalist, almost anthropological.
The critics hated Degas' attempt at hyperrealism, calling the urchin girl "bestial" and a deliberate "image of ugliness." Now, she's beloved and one of the Orsay's most famous masterpieces.
24. François Pompon, Polar Bear
Polar Bear is one of the Musée d'Orsay's most iconic works. Francois Pompon was once a valued assistant of both Claudel and Rodin.
Rodin's expressionistic works inspired him to strike out on his own. Eschewing realism, Pompom created minimalistic animal-inspired works.
He sought to convey "the very essence of the animal" — a sense of timelessness, permanence, and universality. To do this, Pompon used rounded forms, no geometric shapes, and pale stone materials. He provided a striking counterpoint to the Cubist deconstruction popular at the time.
25. Jules Cavelier, Pénélope
This beautiful sculpture was the toast of the 1949 Salon, debuting to a chorus of critical praise. It tells a story from Homer's Odyssey. During Odysseus' twenty year absence, Penelope remained loyal to him, despite being besieged by pretenders to the throne.
To put off her suitors, Penelope engaged in a delaying tactic. She declared that she would select a husband only after she finished weaving a burial shroud. But each night she undoes her work, until a servant reveals her secret.
The sculpture captures her in sleep, having succumbed to fatigue after her nightly ritual. What captured my attention the most is the exquisite detailing of her clothing. Cavelier was inspired by a similar sculpture in Rome's Capitoline Museums.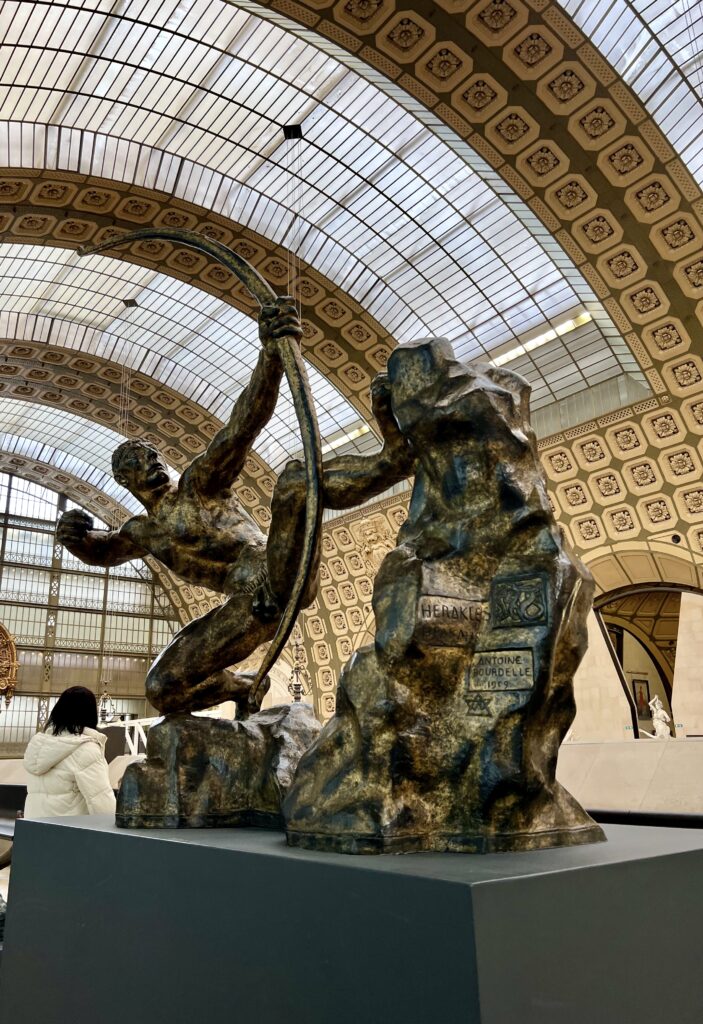 26. Antoine Bourdelle, Hercules The Archer
Bourdelle was a pupil of Auguste Rodin and a mentor to Alberto Giacometti and Aristide Maillol. Though influenced by Rodin, beginning in 1905, Bourdelle began to simplify his lines.
Hercules the Archer is his most famous work, which put him on the map and immortalized him. Inspired by Greek mythology, Bourdelle chose as his subject one of the labors of Hercules, the shooting of the Stymphalian birds.
The sculpture's impassive face is consistent with classical origins. But the pose is far more sinuous and the musculature more exaggerated. It's notable for its tension and balanced construction.
There is also an entire row of busts by Bourdelle in the museum.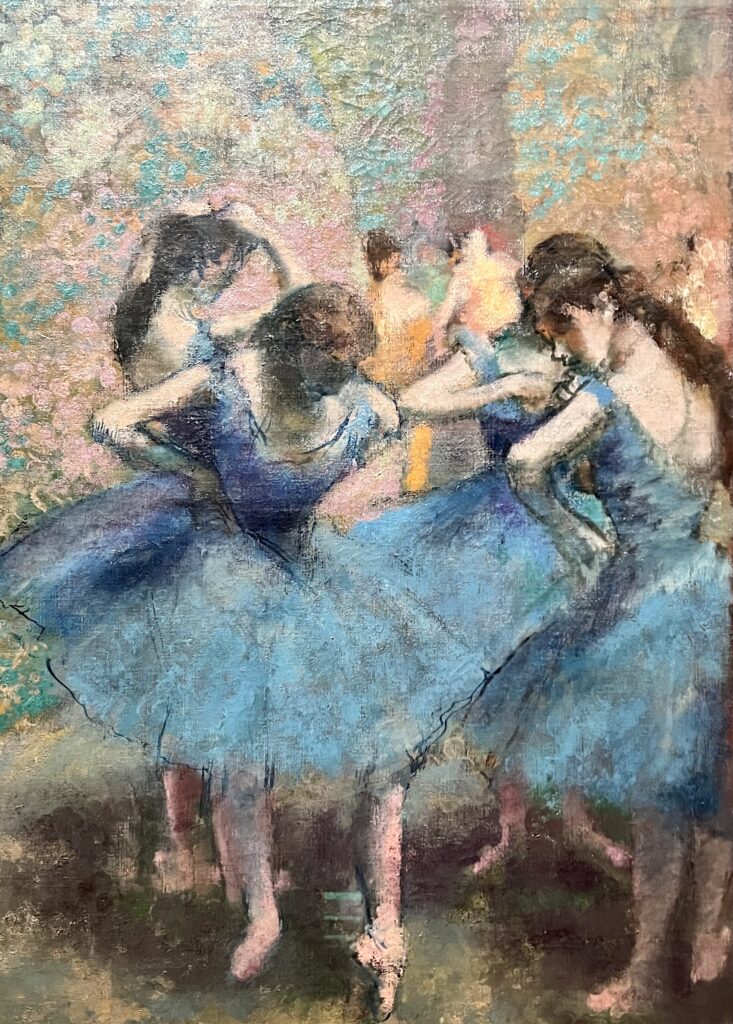 Virtual Tour of the Musée d'Orsay
If you want to discover even more of the Musée d'Orsay, you can take a virtual tour on Google Arts & Culture here. On this Google Street View virtual tour, you can get an eyeful of all the art.
The Orsay also has an online exhibition describing the building's transformation from train station to museum.
Practical Information for the Musée d'Orsay:
I've written a separate guide with tips and tricks for visiting the Musée d'Orsay.
Address: 1 Rue de la Legion d'Honneur Hours: 9:30 to 6:00 pm, except closed Mondays. Open until 9:45 pm on Thursdays
Entry fee: € 16. You pick up your audio guide after you go through the ticket line.
Metro: Solferino
Online tickets. If tickets on the museum website are sold out, you can try to purchase one on a reseller like Get Your Guide or

Viator

.
I hope you've enjoyed my guide to the masterpieces of the Musee d'Orsay. If you're interested in visiting more of Paris' amazing museums, here are some my other guides:
If you'd like to visit the Musée d'Orsay in Paris, pin it for later.