Scoping out some day trips from Rome? Here's my guide to the 25 best day trips from Rome. I give you an overview of each day trip destination and tips for getting there.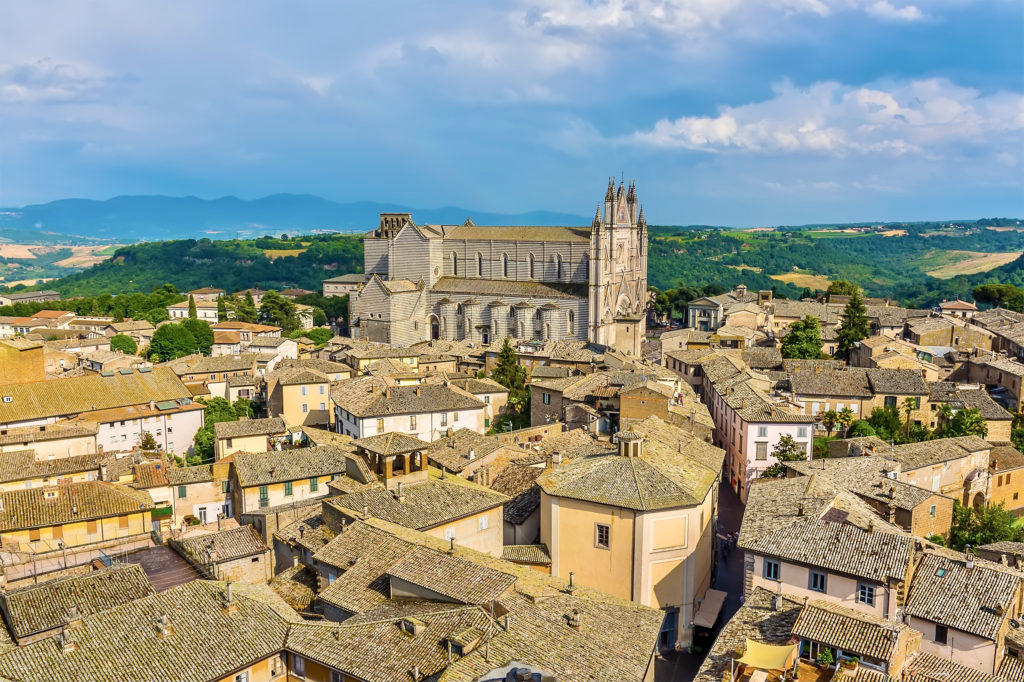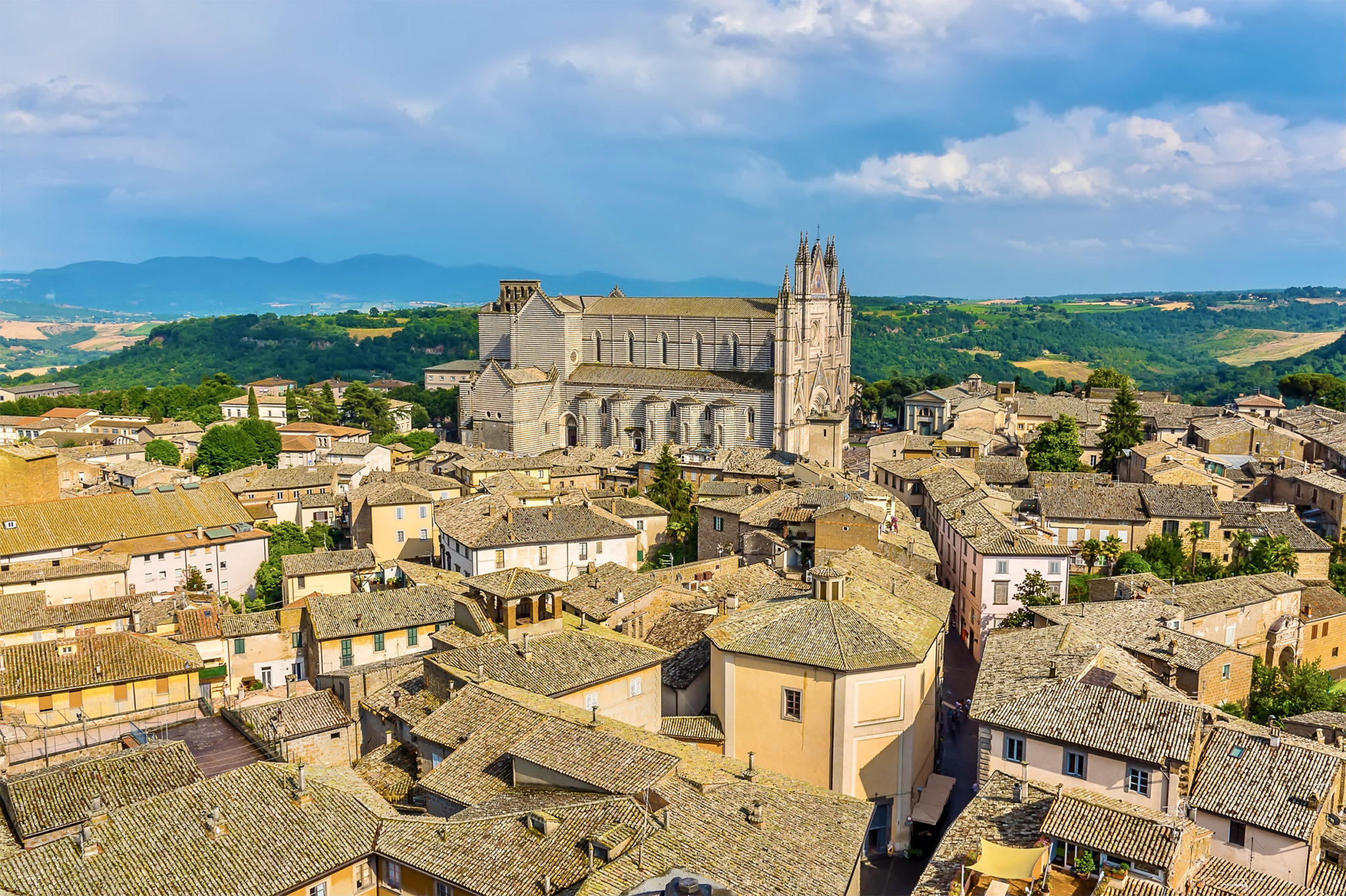 Rome is one of Europe's most beautiful and popular cities. There are so many things to do in Rome, you could move in for a month and not see them all.
But sometimes you need a break from the hustle and bustle of Rome.
If so, Rome makes a splendid long term base for day trips to other must visit destinations in Italy. Rome is centrally located and well-connected to other towns and cities.
On a day trip, you can escape Rome's adoring (and sometimes maddening) crowds. And you don't have to switch accommodations every day to see a new place in Italy.
This guide covers all the best places to visit near Rome. It also gives you tips on how to get to these Rome day trip destinations by car or public transport. Usually the high speed train or is the best mode of transportation.
I also suggest some guided tours, if you'd rather save time on transport and have someone else plan the details.
Best Day Trips From Rome
Here are my picks for the 25 best day trips from Rome. The options are incredibly varied.
There's something for everyone, from culture vultures to history buffs to nature lovers. You can choose from evocative ruins, picturesque medieval towns, UNESCO sites, and verdant garden getaways.
Many of these Rome day trip destinations are secret hidden gems in Italy. Others are among the most stunning landmarks in Italy.
1. Hadrian's Villa, Tivoli
Hadrian's Villa (Villa Adriana) in Tivoli lies just 20 miles east of Rome on the edge of the Sabine Hills. The villa is the perfect easy day trip from Rome, especially for archeology lovers and history buffs.
Hadrian's Villa is an important archeological complex. It's the largest and most spectacular villa of ancient Rome, three times the size of Pompeii.
The villa is a testament to the power and glory of ancient Rome and the world's most important leader, Emperor Hadrian.
The villa was designed by Hadrian himself. It comes complete with its magnificent edifices, beautiful mosaics, and ancient statuary.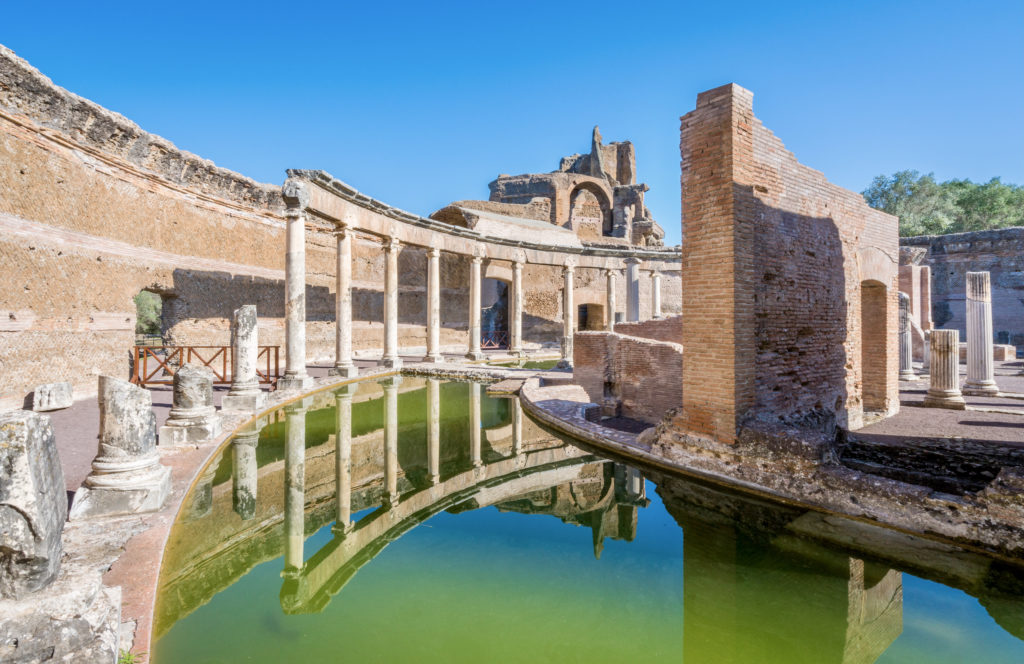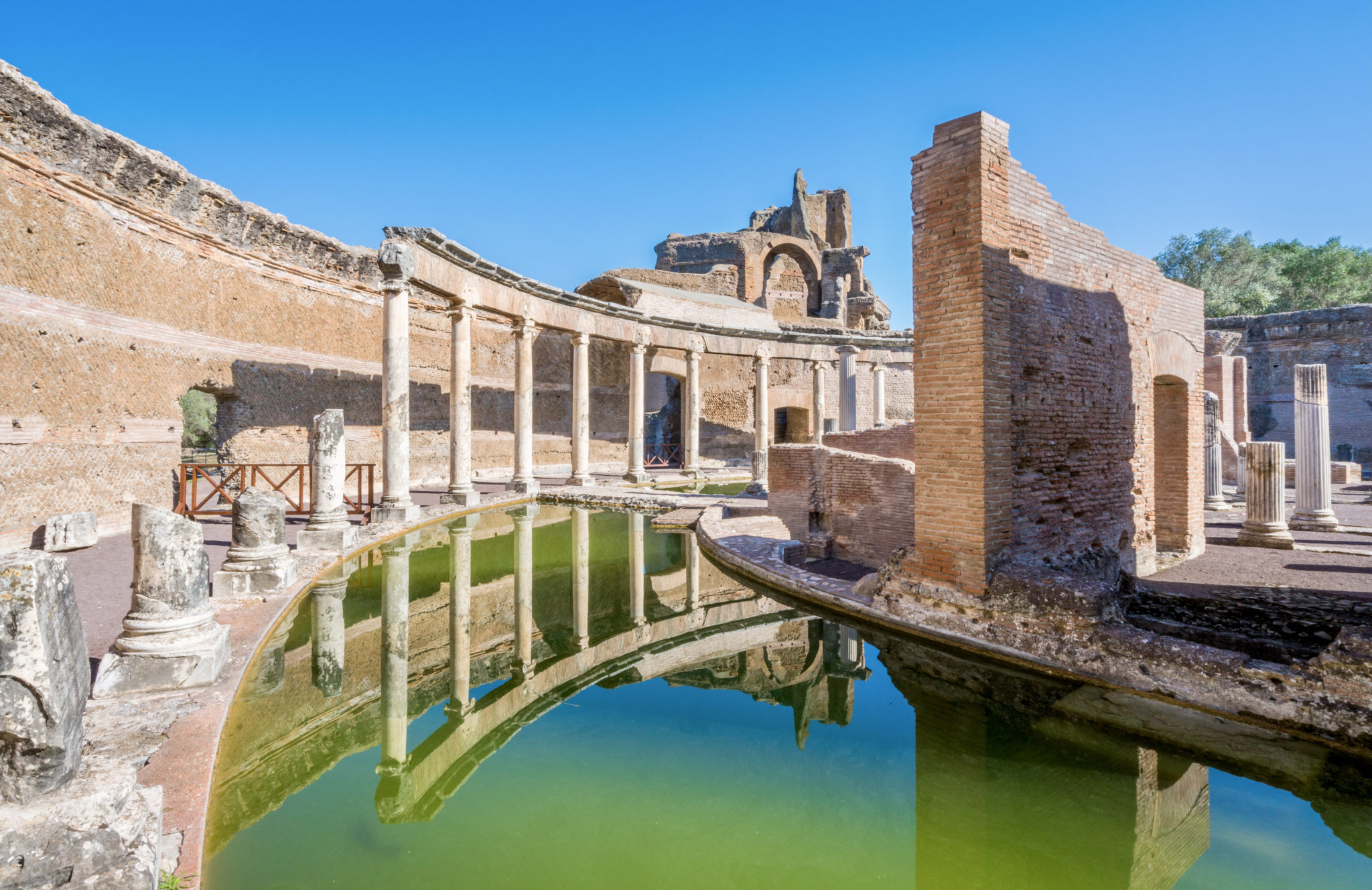 Hadrian's sprawling theme park is called a "villa." But it's more accurately a miniature Rome that covers nearly 300 acres.
It's dotted with 30 large structures — palaces, libraries, baths, living quarters, dining pavilions, and sculpture gardens.
Hadrian incorporated foreign landmarks and marvels of the classical world into Villa Adriana. It became a diorama of sorts of his vast empire.
Hadrian's Villa is now an evocative ruin. The opulent accoutrements are long gone. Many were looted. But some ended up in the Vatican Museums.
Hadrian's Villa became a UNESCO site in 1999. Archaeologists, architects, and historians have been working at Hadrian's Villa for decades.
It's still only half excavated. So new discoveries are made all the time.
Here's my complete guide to Hadrian's Villa. I visited Hadrian's Villa on an organized day tour from Rome, which I highly recommended, as it will make travel logistics easier.
Getting There: Day Trip from Rome to Hadrian's Villa
The easiest way to get to Tivoli on a day trip from Rome is by train. Direct trains leave regularly from either Roma Termini or Roma Tiburtina and take less than an hour.
From Tivoli train station, catch bus number 4 to get to Hadrian's Villa. Alternatively, you can take the metro Line B from Rome to Ponte Mammolo and then catch the bus bound for Via Prenestina.
If you're driving, it will take approximately 50 minutes.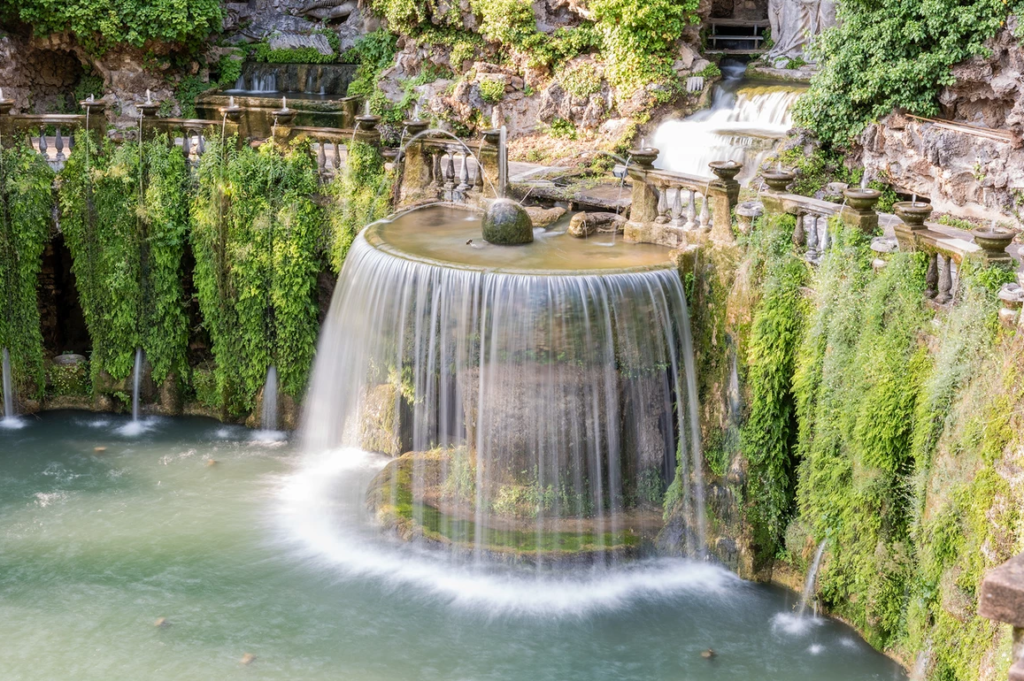 2. Villa d'Este, Tivoli
The UNESCO-listed Villa d'Este in Tivoli is a must visit landmark in Italy. The villa is the lush and watery country estate and gardens of a Catholic cardinal.
Villa d'Este makes the perfect day trip escape from Rome. It's just a half hour away. You can also combine it with a visit to Hadrian's Villa.
The sumptuous late Renaissance estate is a playground of whimsy, topped with a frescoed villa. Built into a cliff, Villa d'Este's terraced gardens are one of Europe's most beautiful green spaces.
There are waterfall fountains, ornate staircases, spiky cypress trees, and the gentle murmur of water everywhere.
The villa itself is a bit of an empty shell, with the furnishings and decor long gone. But most of the vibrant frescos and painted ceilings remain.
Off the Central Room, a small loggia offers the first dramatic views of the main event — one of the world's most beautiful landscaped gardens. A double stairway leads you down to this bucolic retreat.
Set over 35,000 square meters, the verdant gardens will blow you away. You'll see thundering fountains, placid pools, grottos, waterfalls, and natural beauty.
The 50 large fountains and 250 water jets are all gravity powered, a miracle of Renaissance plumbing. Statues of ancient deities complete the enchanting ensemble.
READ: Complete Guide to visiting Villa d'Este
Getting There: Day Trip from Rome to Villa d'Este
If you have a car, Villa d'Este is less than an hour drive from Rome. You can also take a bus from Ponte Mammolo or the train via Roma Tiberutina. The bus is the faster choice.
If you are going solo, there's a bus that connects Villa d'Este and Hadrian's Villa. But the easiest way to see these two spots in one day trip from Rome is to book a day tour like this one.
3. Orvieto
Medieval Orvieto is a popular day trip from Rome and perhaps my favorite. Beautiful Orvieto is the capitol of Umbria.
It's set high above a volcanic outcropping and chock full of medieval buildings. Nothing much has changed in this rustic fairytale town in 500 years.
The main drag in Orvieto is the Corso Cavour. In the town center, the Torre del Moro, a 13th century civic landmark, towers above. An elevator and another 171 steps get you to the top where you'll have panoramic views.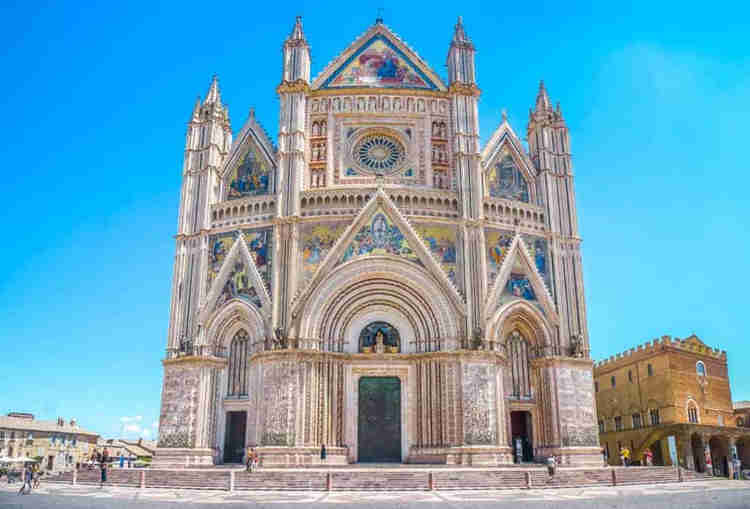 The hilltop town's piece de resistance is its magnificent cathedral, a marvel of theatricality. Orvieto Cathedral is one of the most beautiful and ancient churches in Italy.
Begun in 1290, Orvieto Cathedral took nearly 400 years to complete. The cathedral is a riveting ensemble of spires, spikes, golden mosaics, statuary, stained glass, and black and white striped marble. And that's just the facade.
Inside, the Chapel of San Brizio boasts one of the Renaissance's greatest fresco cycles by Luca Signorelli. The frescos depict the usual religious themes — temptation, damnation, and salvation.
READ: Guide To the Most Beautiful Chapels in Italy
They're a searing vision of the end of the world, executed with fiendish exuberance. Michelangelo came to inspect the chapel before beginning his own master work, the Sistine Chapel.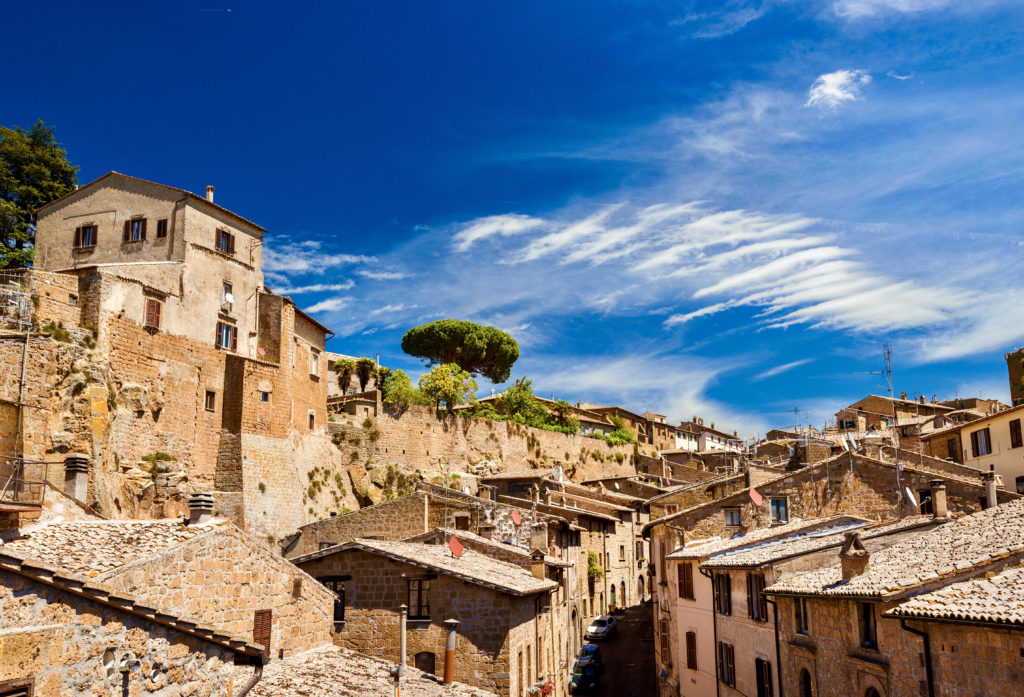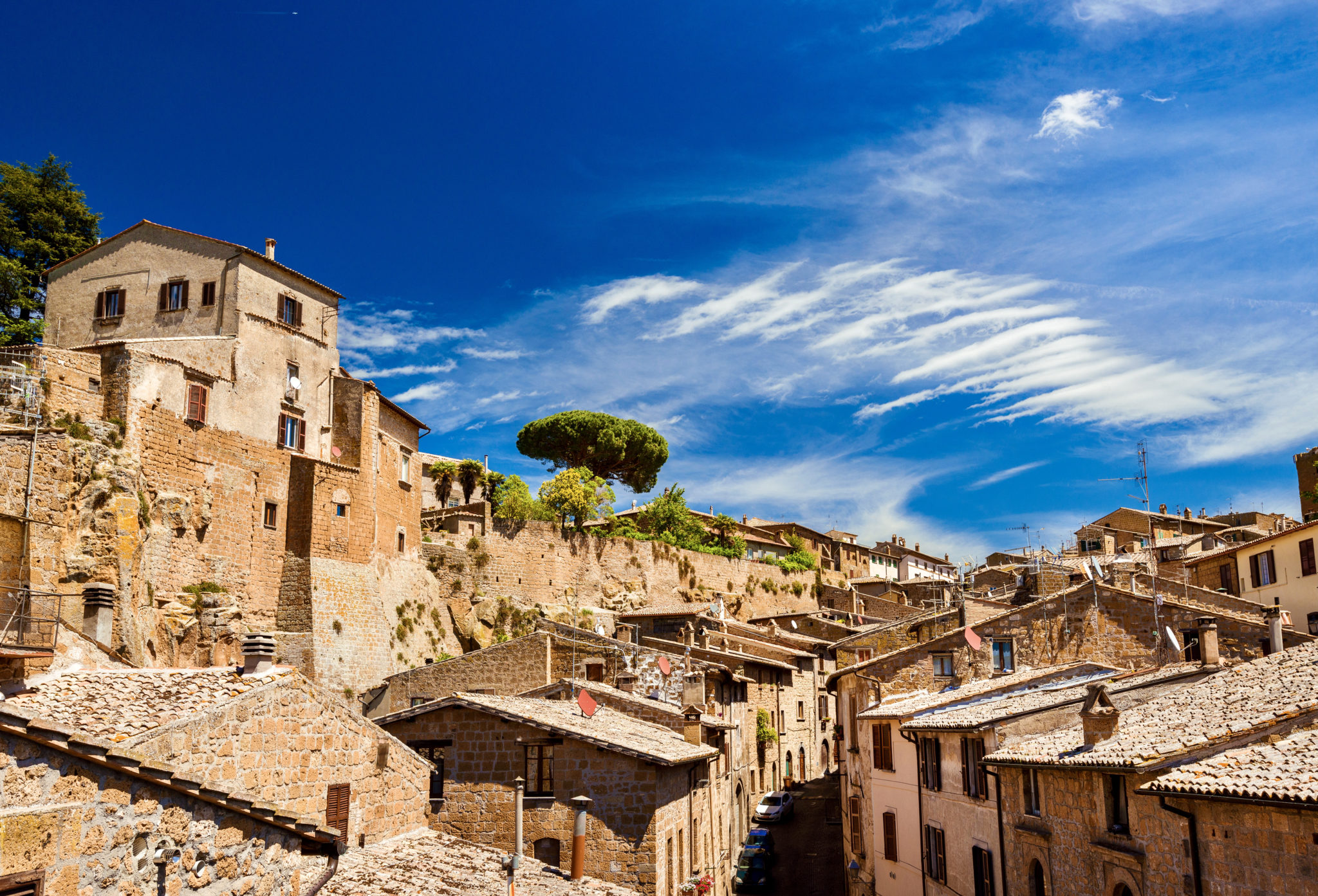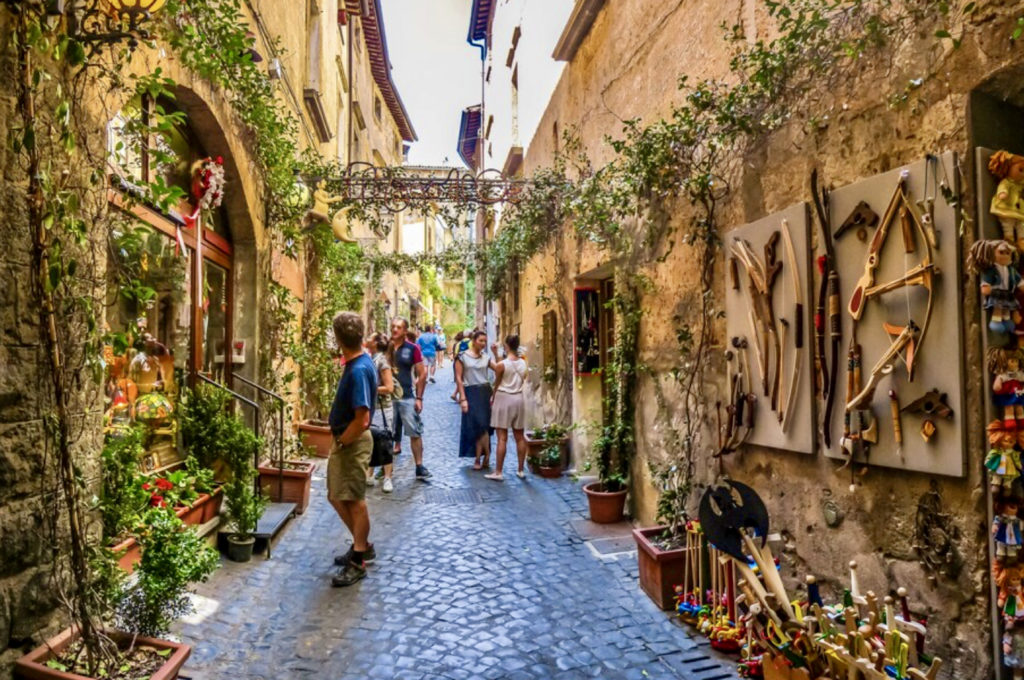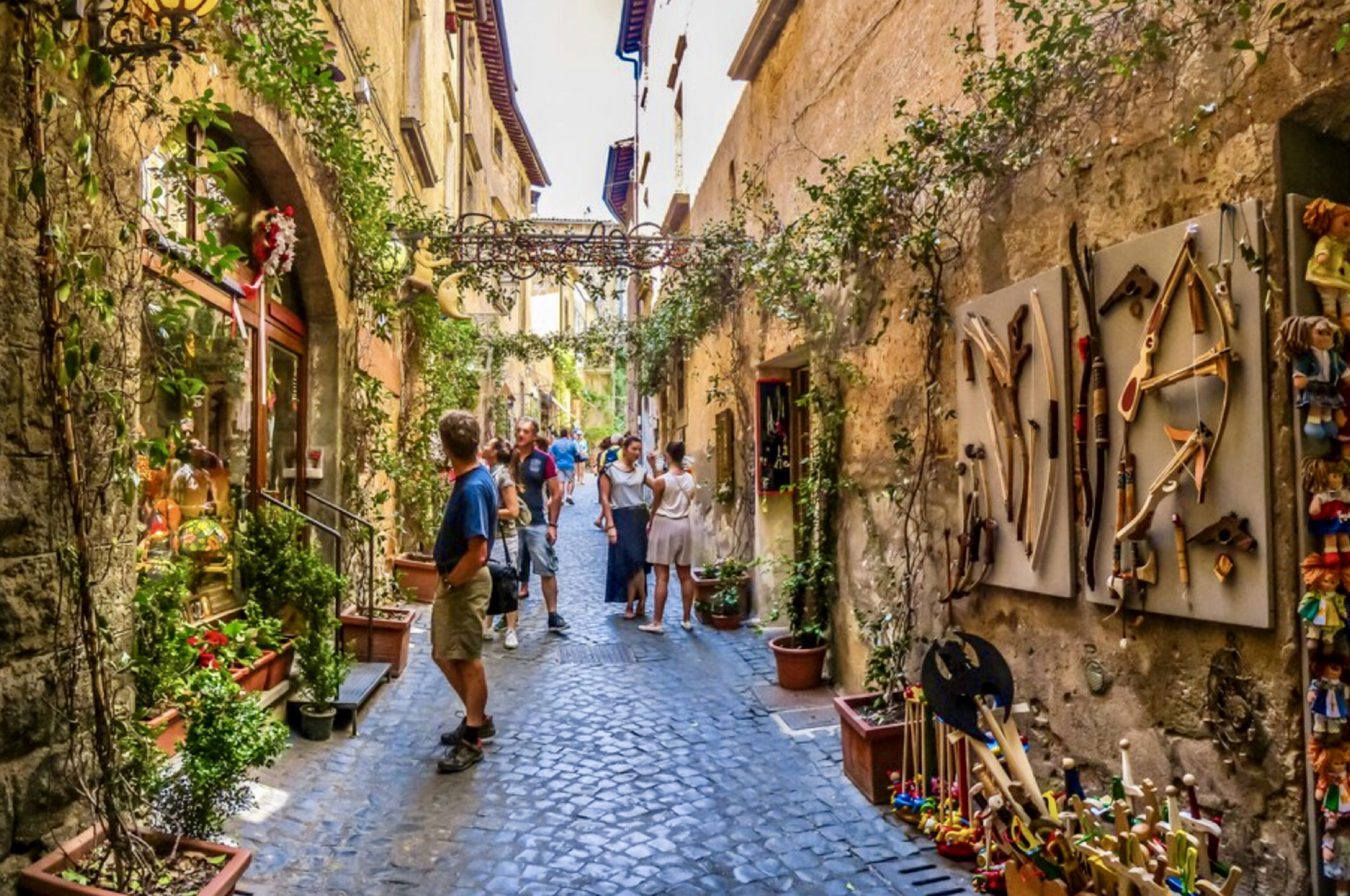 Click here to book a 2 hour guided tour of Orvieto Cathedral. You can also book a guided tour of the cathedral and the town.
I took this tour and it was fantastic. The tour guide gave me a tutorial on all the chapel frescos,
Getting There: Day Trip from Rome to Orvieto
Frequent trains run between Rome and Orvieto from Rome Termini. Fast trains take about 50 minutes. Regional trains take about 90 minutes, but are much less expensive.
When you arrive at the station in Orvieto, cross the road to take the funicular up to the town. From the funicular drop off point, you can either walk into the town center or take a local bus.
If you'd prefer a guided tour, this is an excellent tour that takes you to both Orvieto and Assisi.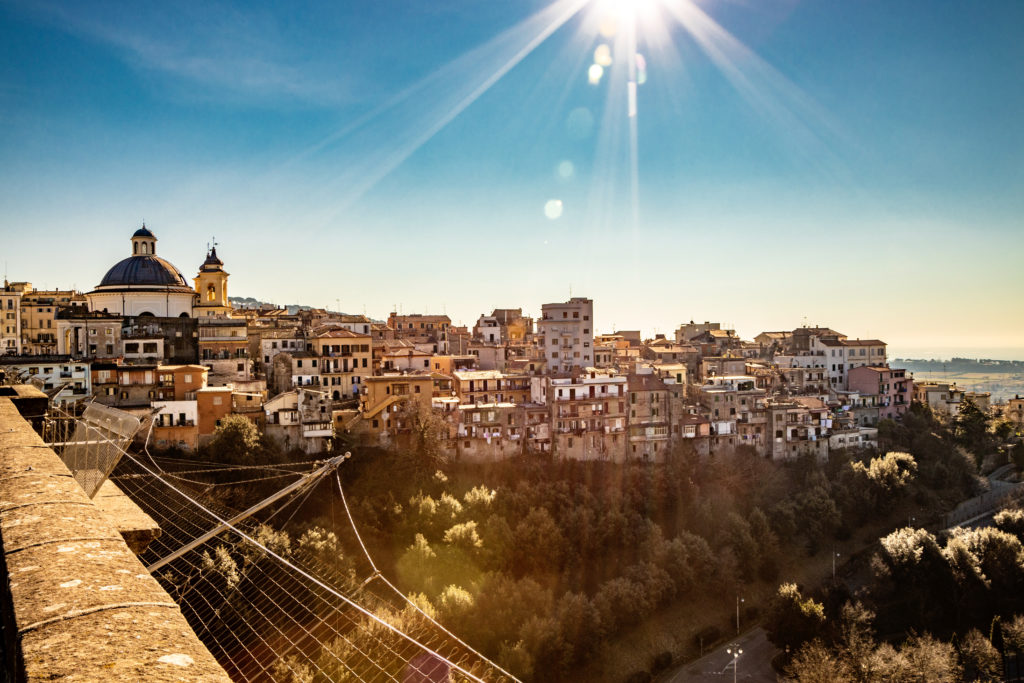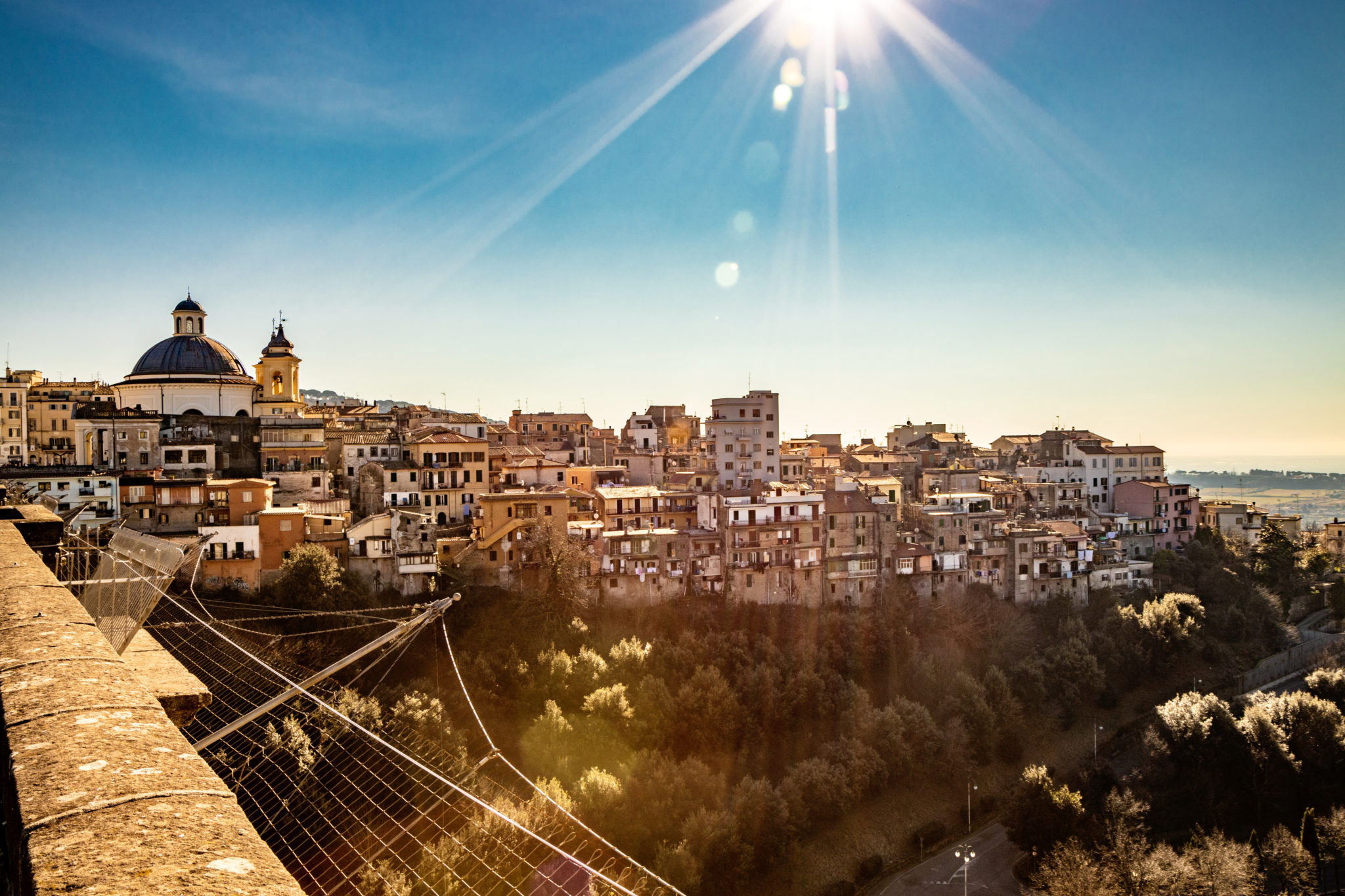 4. Ariccia
Ariccia is an artistic treasure in the Castelli Romani region, an area beloved by Romans. For centuries, Ariccia was a refuge for artists who came to these hills for inspiration.
Ariccia's natural beauty captivated many wealthy Romans during the Renaissance. They were patrons to artists and architects such as Gian Lorenzo Bernini, the greatest sculptor of the Baroque era.
As a result, this small town is filled with architectural gems such as Palazzo Savelli Chigi, the church Santa Maria Assunta, and the Ponte di Ariccia. If you're an art lover, Ariccia is a great day trip from Rome.
The Palazzo Chigi is an impressive Baroque palace. It was renovated by Bernini for the Chigi family. They were a papal dynasty who also owned Villa Farnesina in Rome.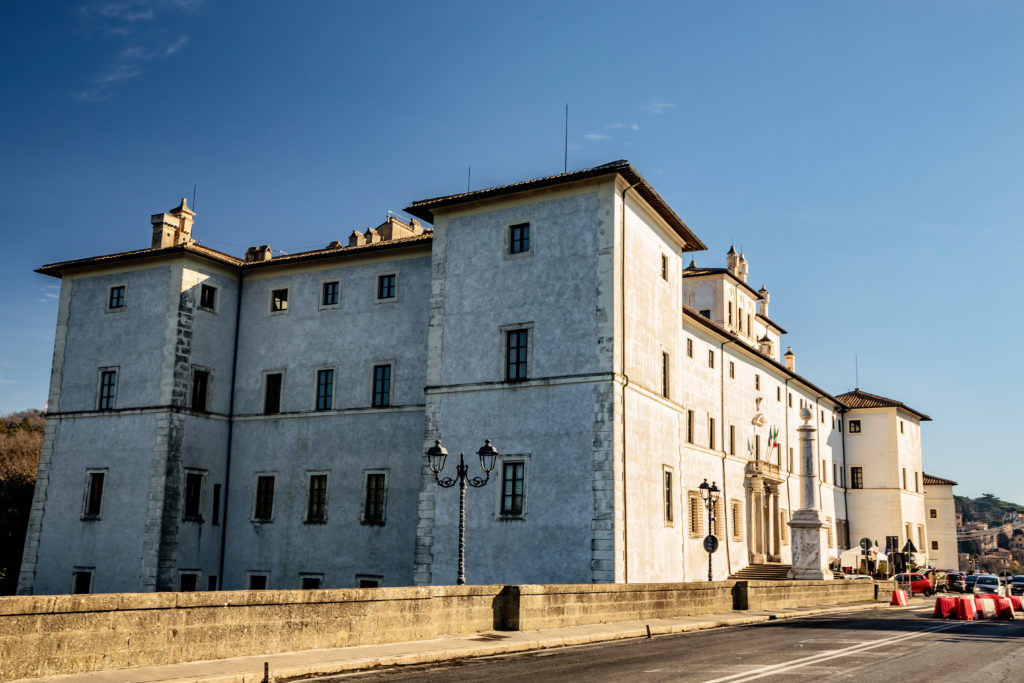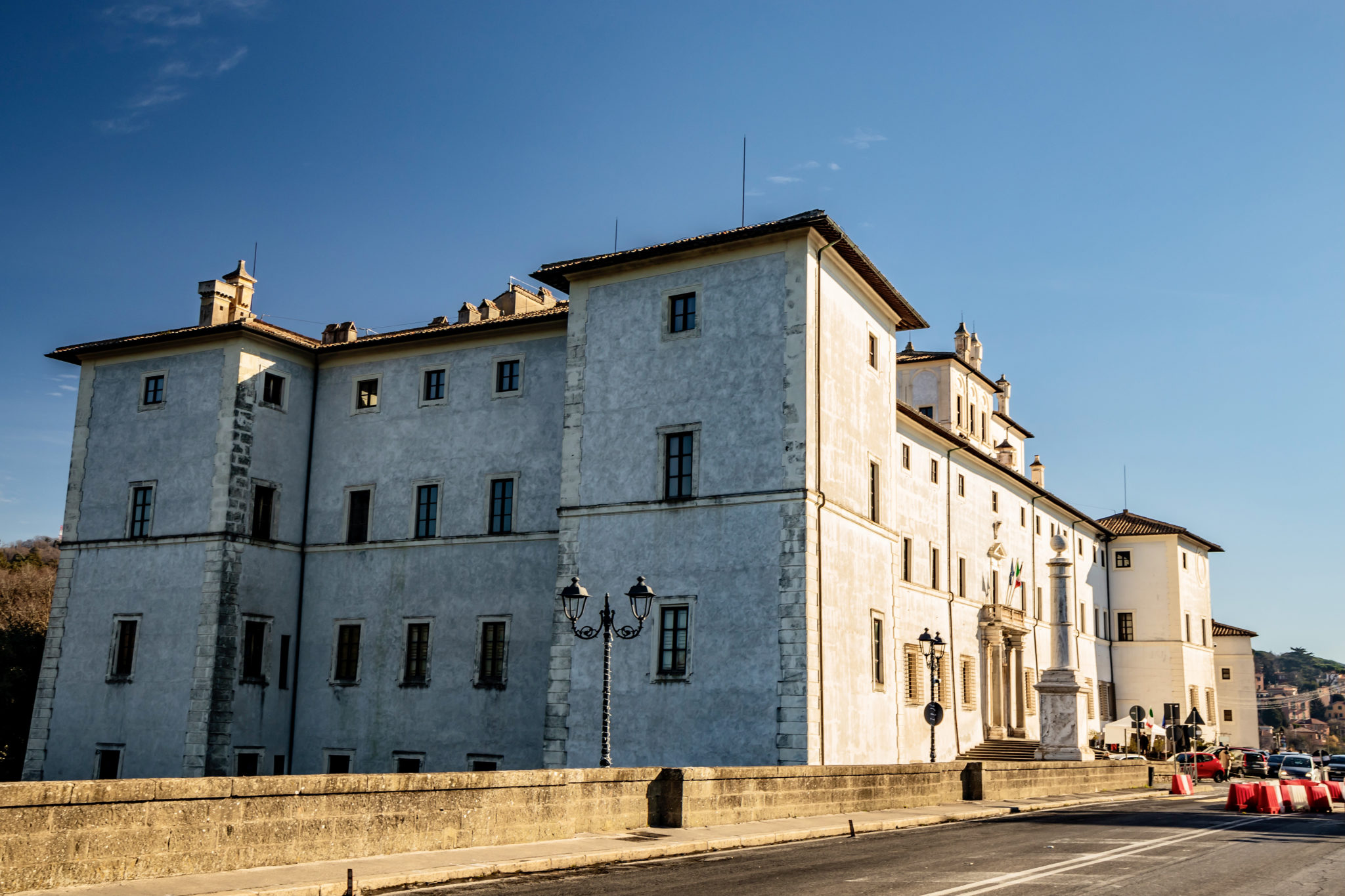 You can only visit the palace and see its grand rooms on a guided tour. The opulent palace is loaded with Baroque paintings and sculptures.
It's been a filming location for many famous films, including the Visconti masterpiece The Leopard.
The Church of Santa Maria Assunta was designed by Bernini. It was one his last works, inspired by Rome's Pantheon.
Foodies will like Ariccia for its porchetta (roasted pork) and Romanello wine.
Getting There: Day Trip from Rome to Ariccia
It's a 30 minute drive from Rome to Ariccia. You could also take a taxi in the same amount of time. By train, it's less than an hour from Rome Termini.
5. Ostia Antica
Founded in 4th century BC, Ostia Antica is an ancient harbor town about 40 minutes outside Rome. It's a pretty adorable town too, with warm orange stone buildings.
In ancient Rome, Ostia served as a naval base. Later, it became important commercially.
The town was home to a cosmopolitan population of rich business men and wily merchants. This was where food and grain supplies arrived to feed Roman citizens.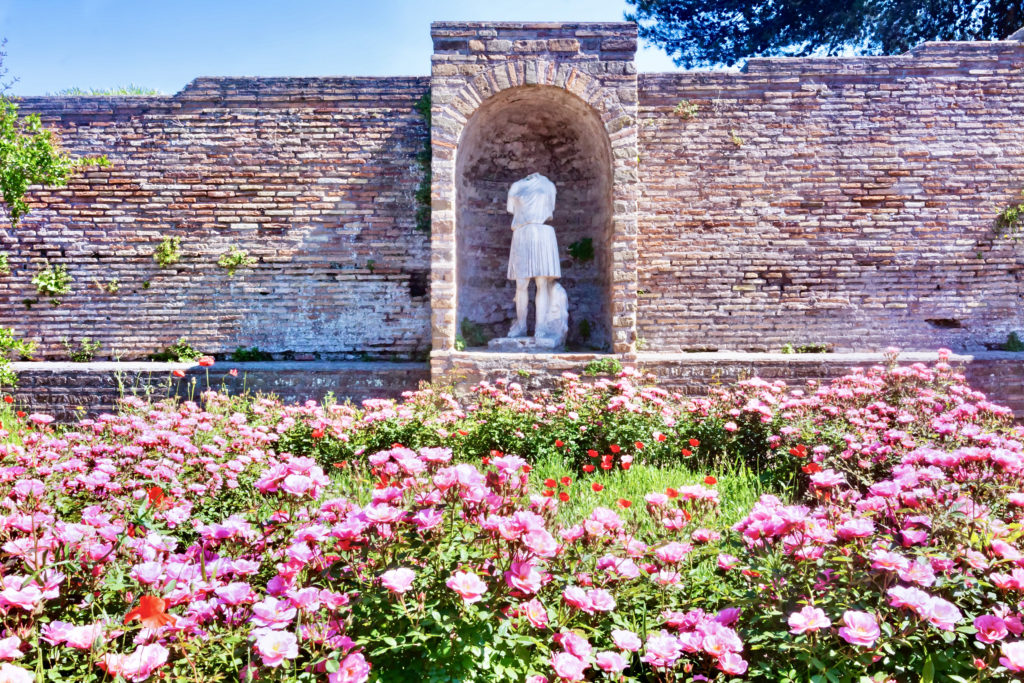 There are some impressive preserved ruins. It's similar to Pompeii — the excavation of an entire ancient city.
You get to wander around the ancient town at will. Along the way, you'll see a necropolis, an amphitheater, ancient temples and gates, the Baths of Neptune, statues, mosaic floors, and the forum.
The mosaics were used to inform illiterate Romans about the purpose of a given building — tavern, baths, brothel, etc.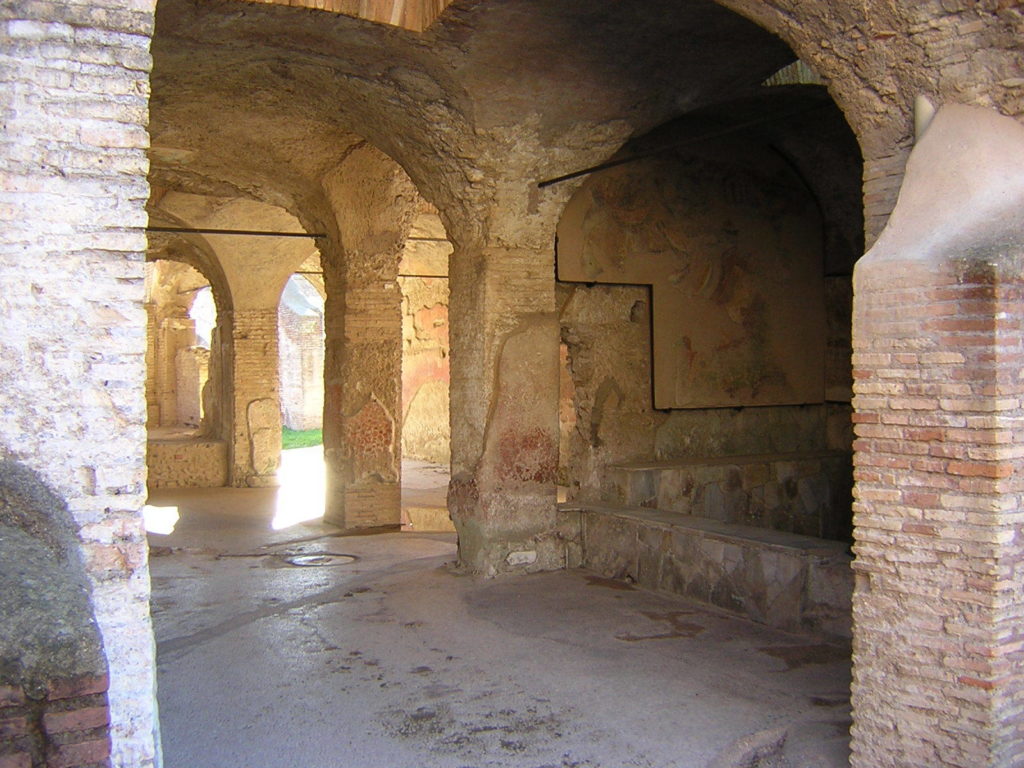 Before exploring the ruins, consider stopping in for a tour of the Castello della Rovere. It was built by Pope Julius II when he was still a cardinal. There are some faded frescos by Michelangelo's pupil Baldassare Peruzzi.
Getting There: Day Trip from Rome to Ostia Antica
Ostia Antica is easily accessible on a day trip from Rome by public transport. Take the Roma-Lido train from Roma Porta San Paolo station.
You'll arrive in Ostia Antica in 40 minutes. You can drive there in 40 minutes as well.
If you'd like a guided tour of this magnificent ruin, you can book this half day tour to Ostica Antica from Rome. Or, once you arrive, you can take this local tour with an archaeologist to really get the full scoop.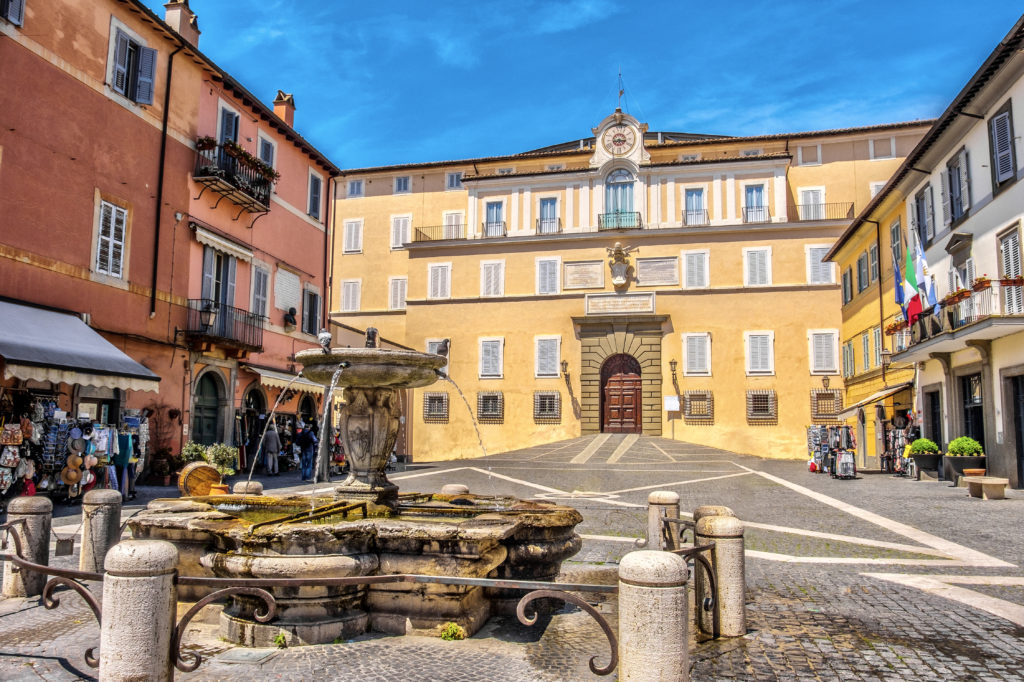 6. Castel Gandolfo
Castel Gandolfo is one of easiest day trips from Rome. It's also one of the most picturesque and bucolic escapes from the capital's chaos.
The town is set amid the Alban Hills, with lush wooded hillsides. It looks out over the tranquil Lake Albano.
For centuries, the town has been home to the the pope's summer palace. The Pontifical Villas cover almost 136 acres (more than Vatican City).
You may remember the palace and its magnificent gardens from the Netflix movie The Two Popes.
The 17th century Apostolic Palace is a sight to behold. Inside, it's ornate and richly decorated. Pope Francis opened the palace as a museum in 2014. There are seven rooms open for visitors to explore.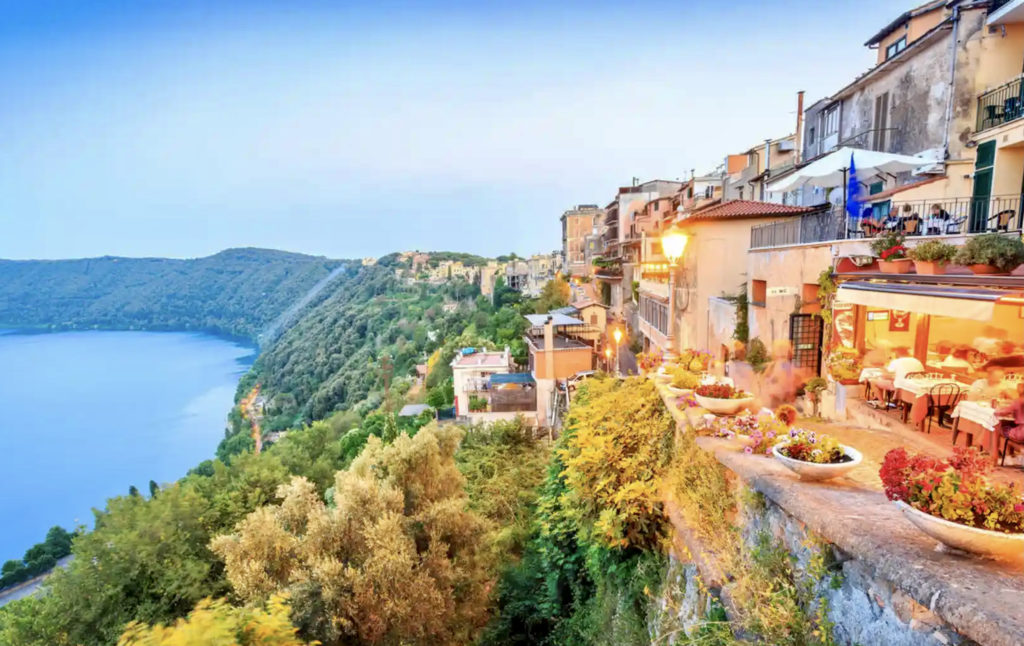 There are several stunning papal gardens, including the Barberini Gardens, Giardino della Madonna, and the Belvedere Gardens.
The Belvedere is the most famous. It even has an ancient Cryptoporticus built by Emperor Domitian.
There are some other landmarks in town to admire. In particular, Bernini designed the Church of San Tommaso da Villanova.
Getting There: Day Trip fro Rome to Castle Gandolfo
There are daily trains to Castel Gandolfo. The trains takes approximately 38 to 45 minutes, depending on which train you take. Be sure to buy a return ticket because there are no ticket machines in the town.
You can also drive to the castle in 50 minutes. But parking near the castle is difficult.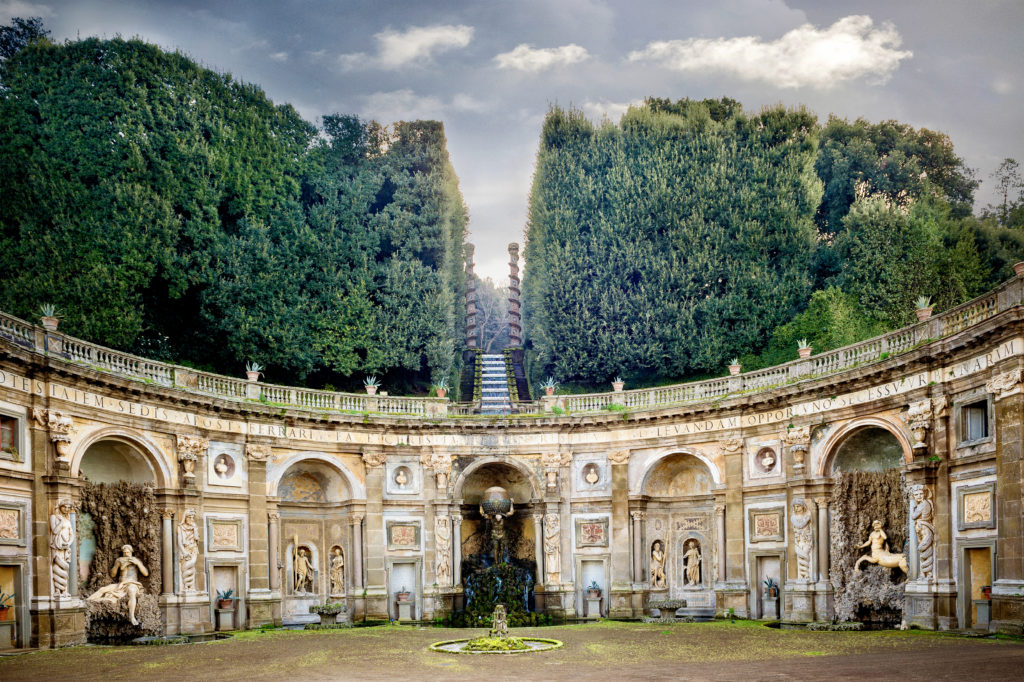 7. Frascati
Frascati is the best known of the 13 Castelli Romani region towns. The town is set on a hill between rolling rows of grapevines.
Frascati used to be a popular summer escape for Roman nobility. The town has a pretty historic center. It comes complete with steep streets and views of Rome. Frascati is also know for its porchetta and wines.
Patricians built many villas in Frascati. Unfortunately, many of them were destroyed during World War II.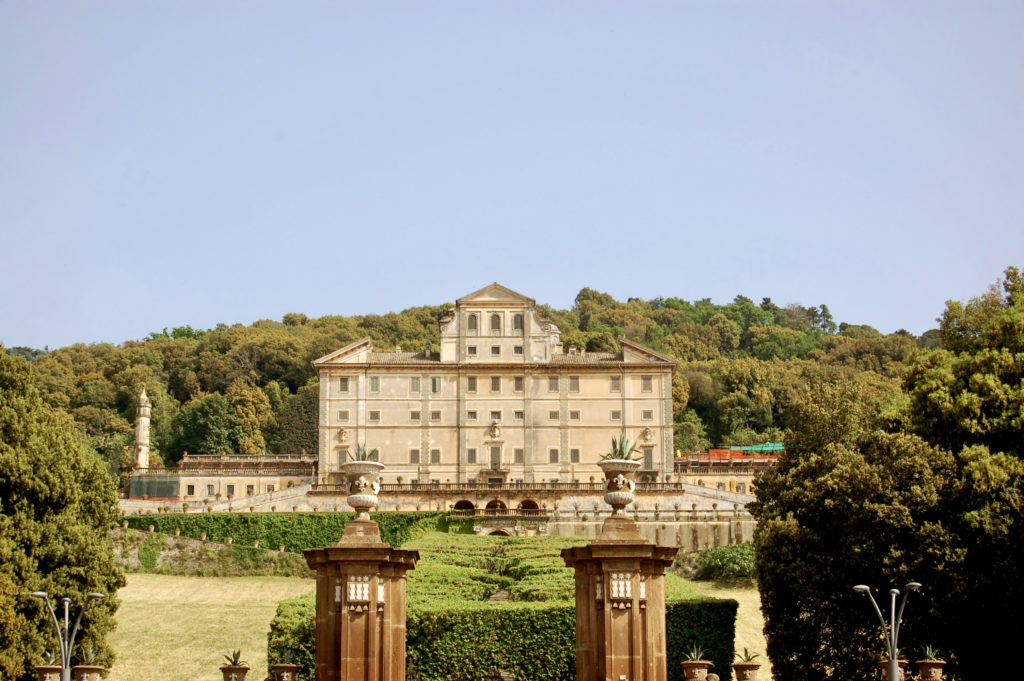 But the impressive Villa Aldobrandini still stands, overlooking the town. While a bit dilapidated, the villa is a famous example of early Italian Baroque architecture.
The villa is still privately owned by the Aldobrandini family. But the gardens are open to the public. You can tickets from the tourist office in Piazza Marconi.
The gardens are terraced and sculpture-filled. You can explore the pretty grotto-like Water Theater behind the villa. The views of Rome from the garden alone are worth the visit.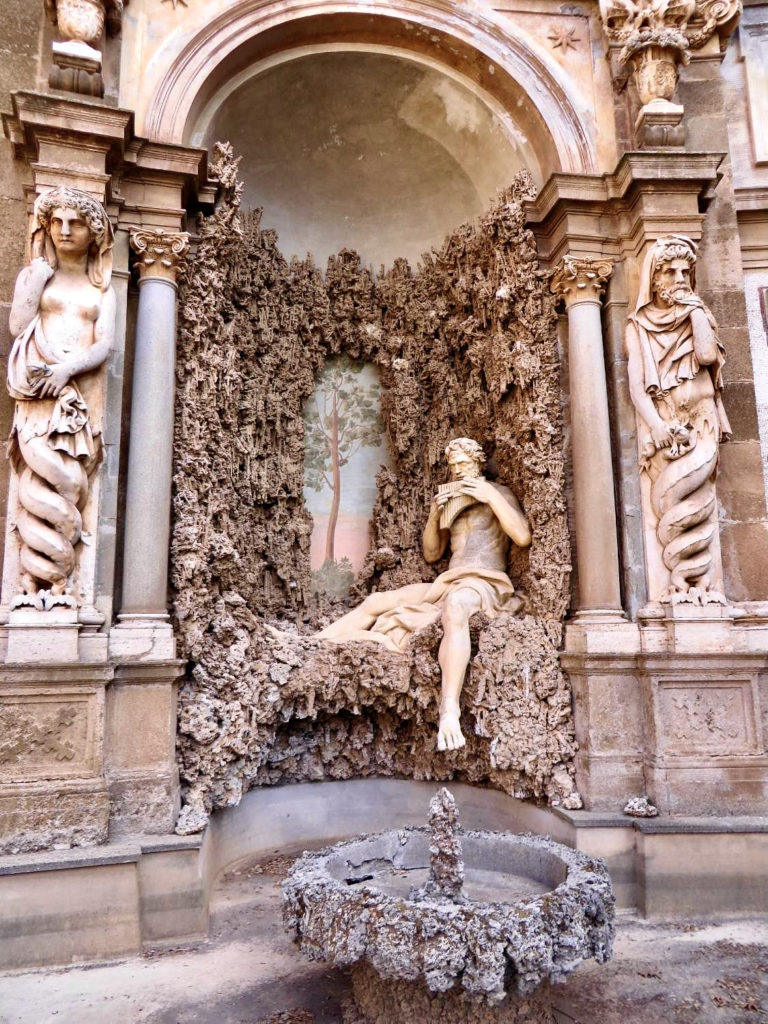 The garden is only open on weekdays and is closed at lunch time (1-3 pm). A trip to this tiny town is a great (and easy) activity to escape the summer heat of Rome.
Frascati is a lively town. There's plenty of shops and night life. A popular spot is the "Bar of the Mirrors," where your reflections are distorted and transformed.
Getting There: Day Trip from Rome to Frascati
Frascati is directly connected to Rome by regional train, making it easy to get to. It's only a 30 minute ride.
You can also book a guided half day wine and food tour from Rome to Frascati. Or a half day tour that includes pasta making, wine, and dinner.
8. Tarquinia
It's worth a taking a day trip from Rome to Tarquinia just to see the UNESCO-listed Necropolis of Tarquinia. It's one of Italy's most magnificent Etruscan sites.
In Tarquinia, you can find the distant past brought to life. The "city of the dead" is pre-Roman. It dates back to the 7th century B.C.
For 300 years, until 500 B.C., Tarquinia was the master of Rome and central Italy. Tarquinia boasts some of the best preserved Etruscan sites in the world.
Since 1489, nearly 6,000 tombs have been excavated. The most important tombs are the Tomb of the Shields, the Tomb of the Lioness, and the Tomb of the Warrior.
There are 140 fantastic large scale wall frescos behind plexiglass. Press a button to light them up. The necropolis was popular with Roman artists. Raphael and Michelangelo ventured there to study the frescos.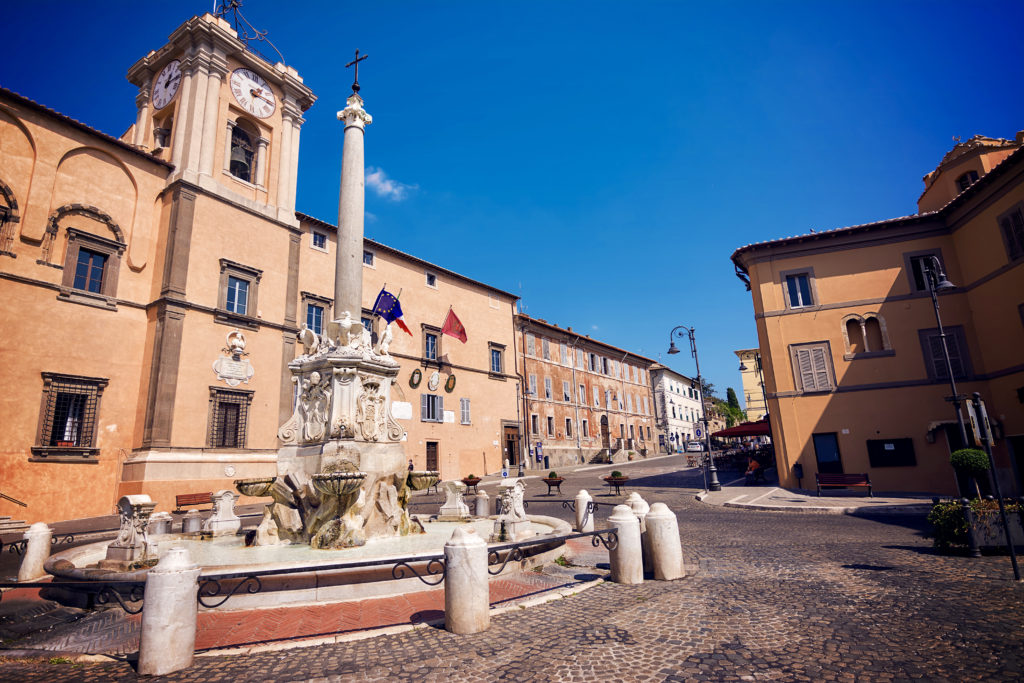 The medieval town of Tarquinia is itself quite charming, sprawling on a hill overlooking the sea. You can visit the National Museum of Tarquinia.
It's housed in the Palazzo Vitelleschi. The Gothic-Renaissance palace is a masterpiece of architecture.
At the Piazza del Duomo you can admire the town's Cathedral of Santa Margherita. The Romanesque Church of St. Francis also deserves a visit.
Getting There: Day Trip from Rome to Tarquinia
Tarquinia is fairly easy day trip from Rome. It's 60 miles northwest of Rome.
It's a 1:10 drive by car. But you can also take the train from Roma S. Pietro station. The ride is a speedy 55 minutes.
You can also book a guided day tour from Rome.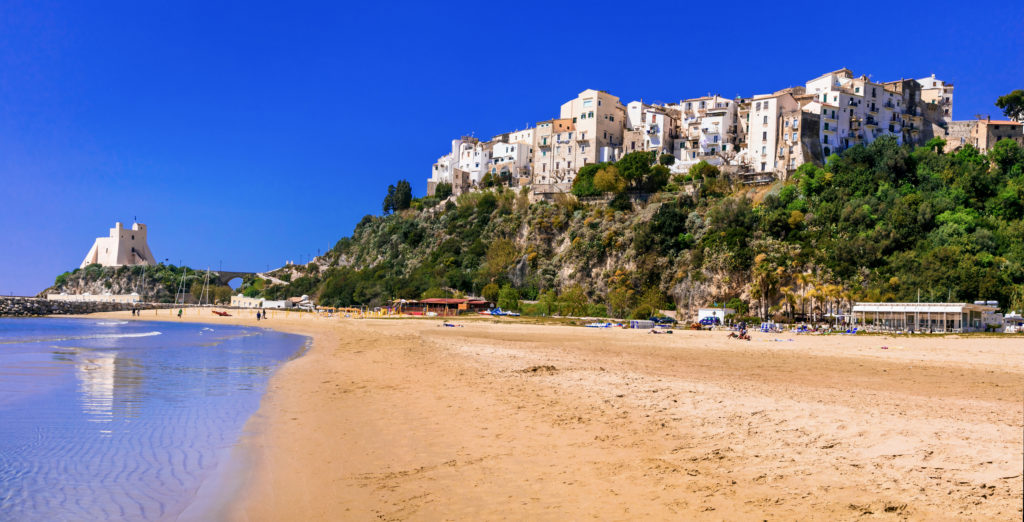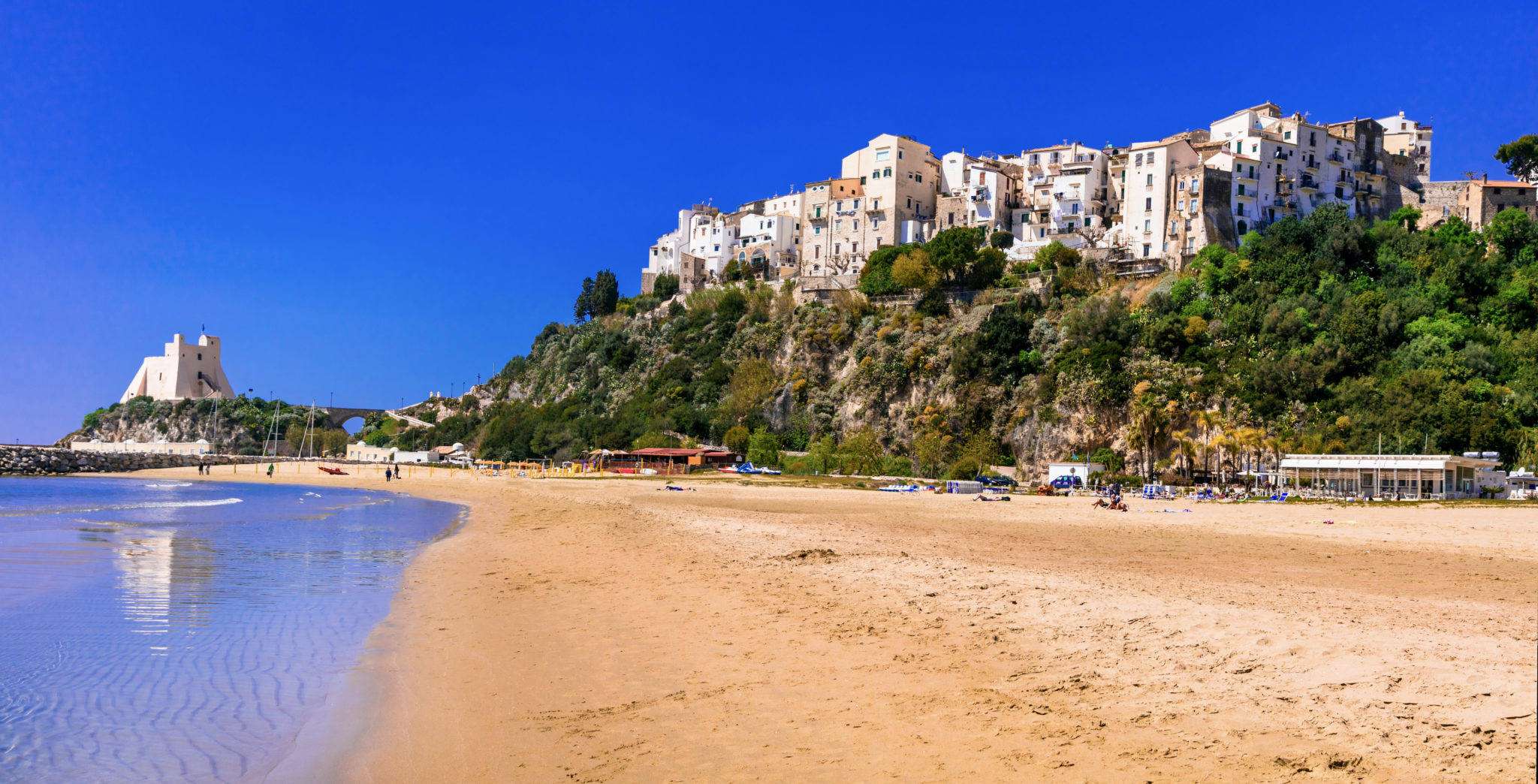 9. Sperlonga
After the quick pace of Rome, perhaps you feel like hitting the beach. If so, day trip from Rome to Sperlonga.
Sperlonga is an extremely pretty "do nothing" beach town. It's about 80 miles south of Rome in Italy's Lazio region. Most Americans haven't heard of it. But the locals love it.
The old town is a whitewashed warren of passageways and staircases. You'll find cafes and shops, decked out in flowers. There's a view of the broad sandy beaches from a piazza at the very top.
The first summer tourist to Sperlonga may have been the Roman Emperor Tiberius. He built the grandiose Villa of Tiberius.
Ruins of the villa weren't discovered until 1957, when the Italian government was building a highway.
Among the ruins was a grotto with colossal statuary. Most of it dedicated to the Greek hero Ulysses. A connected museum now holds the ancient sculptures.
Tiberius and his court likely enjoyed the natural cool of the grotto cave. You can find the ruins at the far end of Sperlonga's Levante Beach.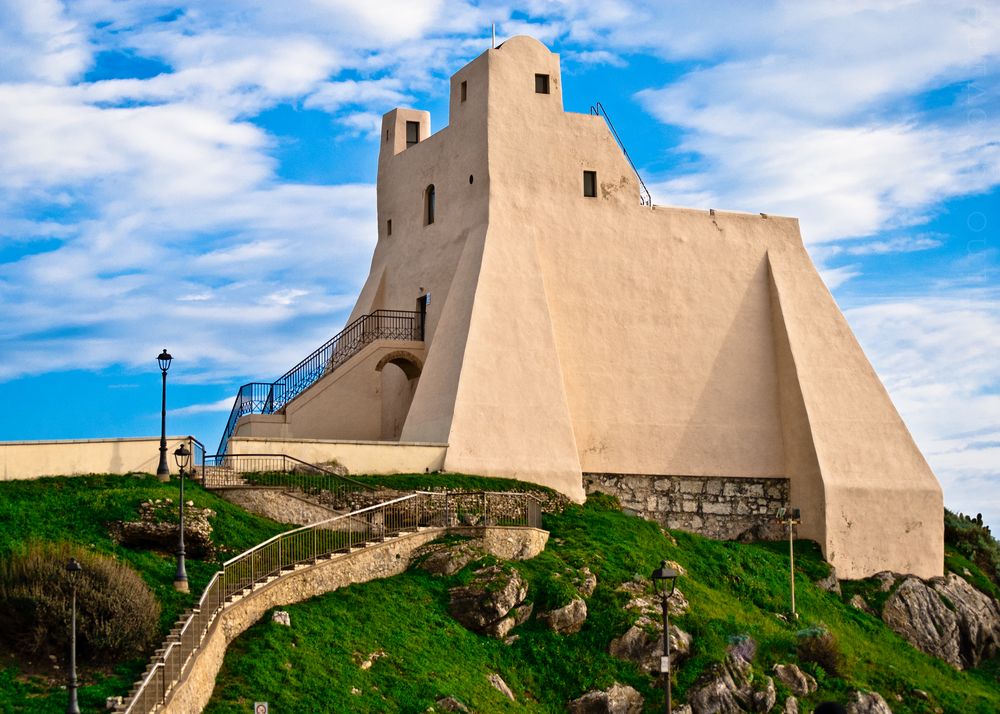 You can also hike up to the Truglia Tower. This medieval tower was built in the 17th century to protect Sperlonga from pirate attacks.
The tower stands out like a strange, geometric sentinel atop a hill overlooking the Tyrrhenian Sea. The vantage point offers spectacular views of the sea and beaches below.
Getting There: Day Trip from Rome to Sperlonga
Sperlonga is one hour south of Rome by car. Trains for Sperlonga depart from Rome Termini.
The train drops you at the train station in the village of Fondi. From there, you take a bus to Sperlonga.
10. Florence
Florence is one of my favorite towns in Italy. It's an overwhelmingly beautiful city that really deserves multiple days.
But, if you're pressed for time, it's certainly possible to visit Florence as a day trip from Rome.
Florence is nicknamed the "Cradle of the Renaissance." With the best Medieval and Renaissance art in Europe, Florence is a veritable art lovers paradise.
Florence's entire city center is a designated UNESCO site. There are scads of must visit attractions in Florence.
You have your choice of frescoed churches, Medici palaces, majestic cathedrals, elegant piazzas, and world class museums. You can tread on the same flagstones as Leonardo, Dante, and Galileo.
READ: 3 Day Itinerary for Florence
Florence Cathedral is the most prominent landmark in Florence. It was built over 172 years, beginning in 1296.
Florence Cathedral is Gothic in style, but not in the light and elegant way you think of Paris' Notre Dame. It's made of brown sandstone and beautifully frosted with pink, green, and white marble.
You may want to book a guided tour of the Duomo itself. You can also book a guided tour of the Duomo that includes access to the dome and secret terraces that you wouldn't see on a regular visit.
Spend some time lingering in the Piazza della Signoria, Florence's free outdoor sculpture gallery.
Head inside the Palazzo Vecchio, former home of the Medici dynasty, and admire the frescos by Giorgio Vasari.
You can't leave Florence without visiting the Uffizi Gallery. Click here to book a timed entrance ticket.
The Uffizi is a bastion of Renaissance art. The museum houses one of the world's most famous paintings, Birth of Venus by Sandro Botticelli.
If you're a real art lover, plan to see Michelangelo's iconic David in the Galleria dell'Accademia and the sculptures of the Bargello Museum.
Or, if you like to travel with a theme, you can follow the Michelangelo trail in Florence.
Getting There: Day Trip from Rome to Florence
For a Rome to Florence day trip, take the high speed train from Roma Termini station to Florence. It takes less than 1.5 hours.
Florence is an eminently walkable city.
But to avoid hassle and make the most of your one day in Florence, you might consider going with a guided tour. Otherwise, at a minimum, you'll want to have a skip the line ticket for the Uffizi and it's absolutely essential to pre-book a ticket to climb Brunelleschi's dome.
11. Pompeii
One of Italy's most fascinating destinations is the ancient buried city of Pompeii. There's really nothing quite like it in the world.
Pompeii is Rome's most famous archaeological site, a living museum. In 79 A.D., Mount Vesuvius erupted and buried the city in 60 feet of ash.
The city was entombed and preserved for many centuries. Beginning in 1748, archaeologists began painstakingly excavating the ruins.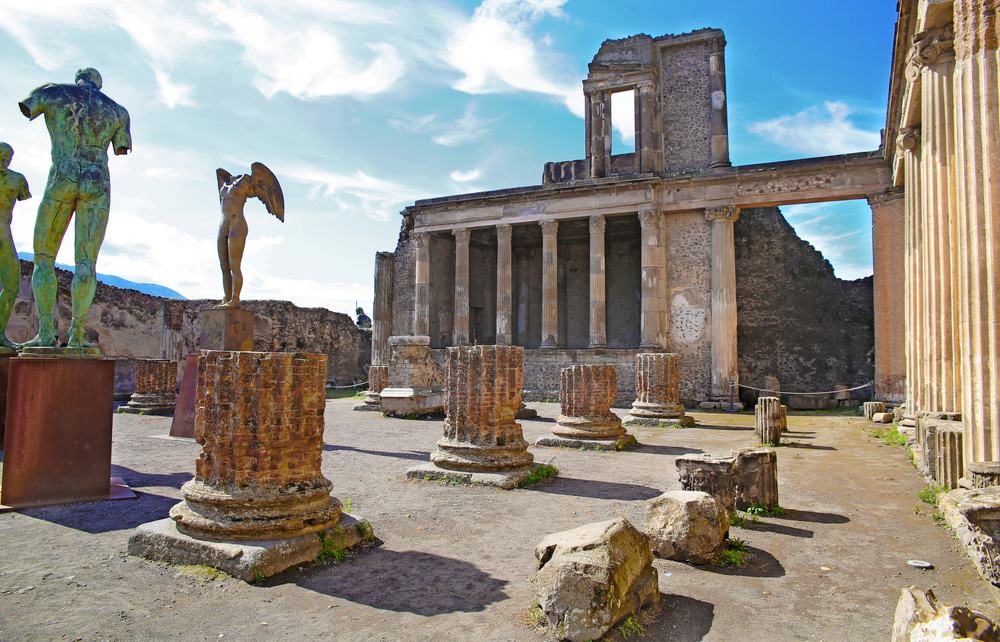 The ruins are a remarkable evocation of everyday Roman life. You can get a vicarious thrill sharing living space with ancient Romans.
In the complex, you'll find roman baths, a roman forum, brothels, basilicas, a grand theater, and the oldest Roman amphitheater in the world. The most important monuments are the Temple of Apollo, the city bathhouse, and the villas of the nobility.
The Villa of the Mysteries is probably the most important home. It contains one of the most famous frescos from all of Ancient Rome, The Mysteries of Dionyus, which covers three walls.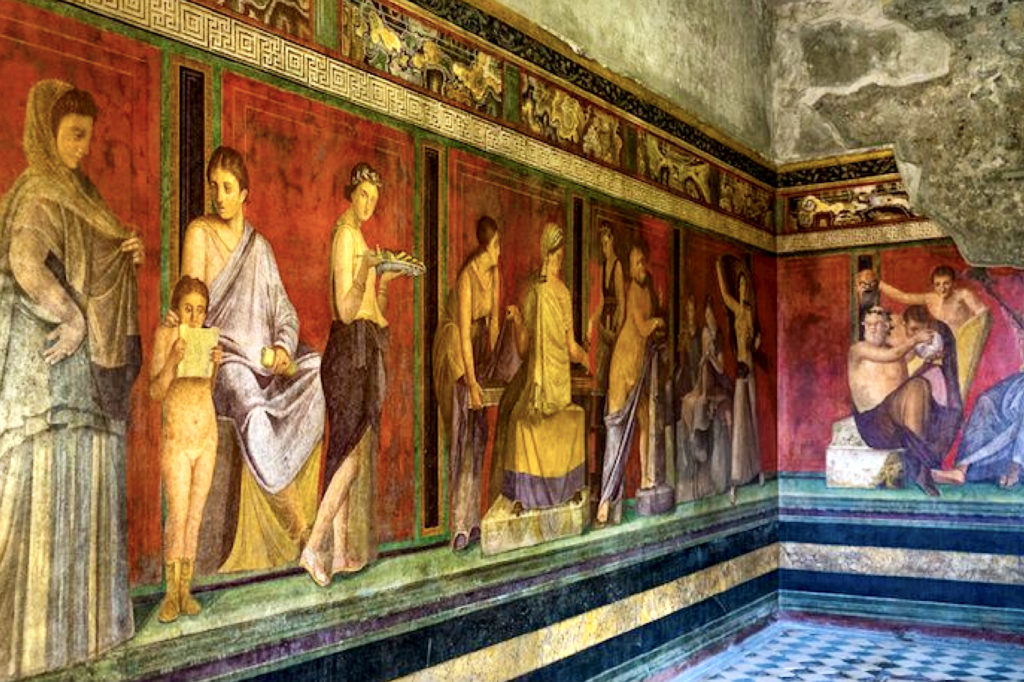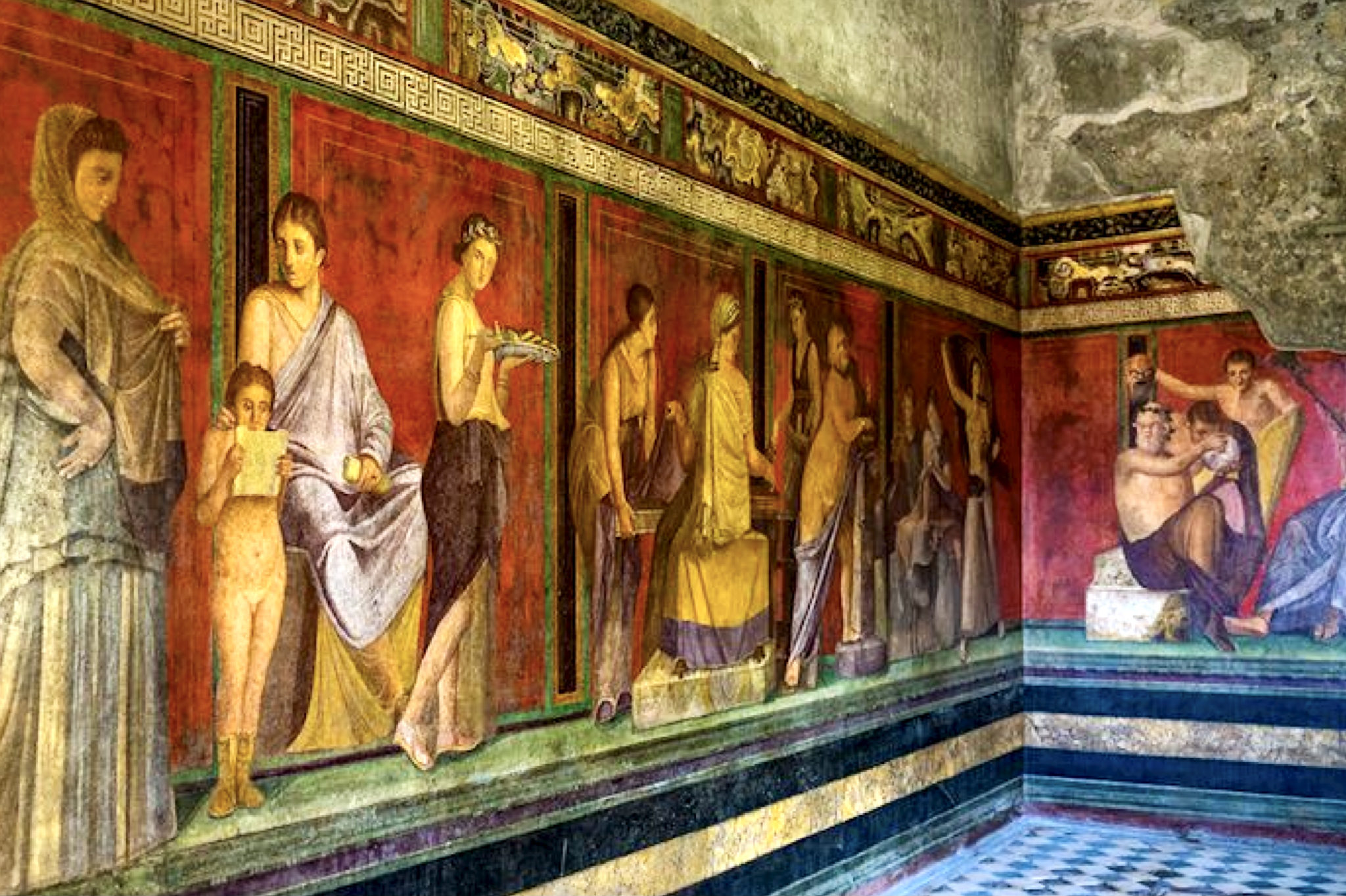 Pompeii is the gift that keeps on giving. New finds are made all the time, including recently unveiled frescos in the House of the Vettii and other spots. When you're done exploring the ruins, head to a vineyard or restaurant on the nearby Mount Vesuvius.
Click here to book an entrance ticket for Pompeii.
Getting There: Rome Day Trip to Pompeii
Pompeii is a hugely popular day trip from Rome. To get there, it's easiest to book a tour. I recently did this tour and really enjoyed it. You can also a book a tour that includes wine tasting and lunch.
Otherwise, you'll want to make the 2 hour long journey by train, which requires you to change through Naples.
For more information, here's my complete guide to visiting Pompeii.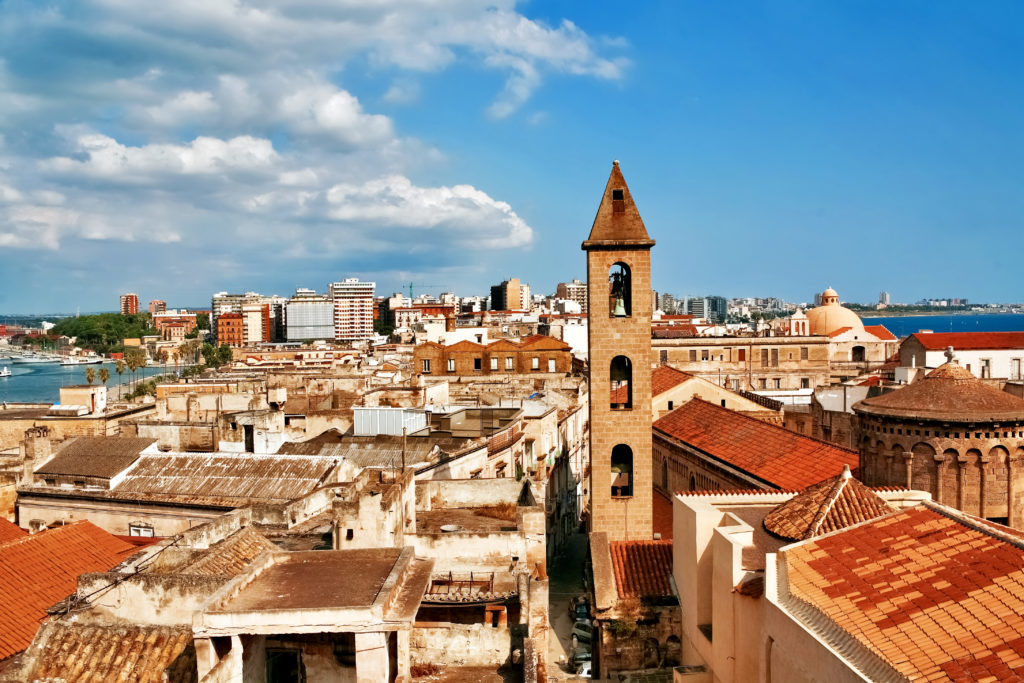 12. Naples
Vibrant Naples is the birthplace of pizza. The old town is chaotic, brash, colorful, and very authentically Italian.
Naples is a big sprawling city that's slightly rough around the edges. Most of its attractions are in the historic center. Naples boasts stunning churches, beautiful palaces, great art, and some epic foodie eateries.
Naple's top attraction is the Naples National Archaeological Museum. If you're a history buff, it's worth a day trip from Rome just to see this great world class museum.
The museum houses Greco-Roman artifacts from Pompeii and Herculaneum. These are the two towns that were buried by ash, and hence preserved, when Mount Vesuvius erupted in 79 A.D. You will also find ancient statuary in the Farnese Collection.
Click here to book a ticket and guided tour to the museum.
Located in the stunning pink Capodimonte Palace, the Capodimonte Museum is another must visit attraction in Naples. It's one of Italy's best museums.
It houses a collection of fine and decorative arts, mostly from Naples. The core of its collection was compiled by the powerful Farnese and Bourbon families.
The Capodimonte Museum features works by Caravaggio, Masaccio, Titian, Raphael, El Greco, Bruegel, and Sebastiano del Piombo.
Click here to book an entrance ticket.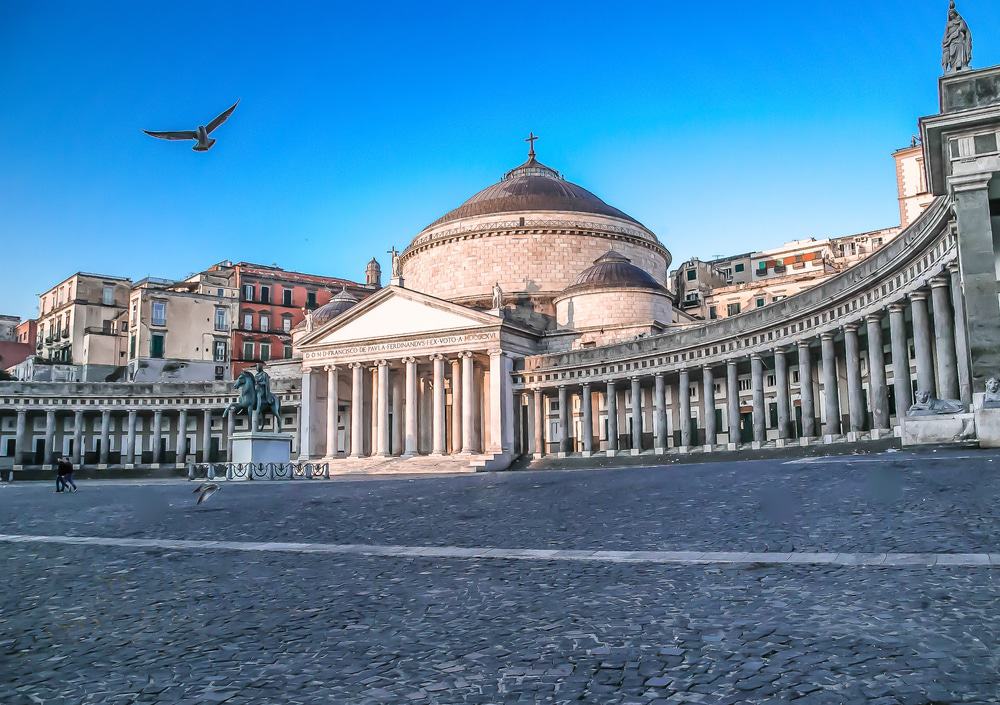 The Piazza del Plebiscito is the main square in Naples. It's flanked with important historic buildings. These include the Royal Palace, the Royal Basilica, and Salerno Palace. The colonnade mimics St. Peter's Square in Vatican City.
The beautiful San Francesco di Paola steals the show. You can tell it was inspired by the Pantheon in Rome. The bright airy interior is decorated in white marble, with an altar that has gorgeous lapis lazuli inlay.
If you're on the UNESCO trail in Europe, you may want to carve out time for he incredible Palace of Caserta. It's a UNESCO site just 30 minutes north of Naples.
The palace was built by King Charles VII of the House of Bourbon. It was used as the main residence of the kings of Naples.
With over 1200 rooms, the palace was one of the largest palaces in 18th century Europe. The sprawling palace complex was built on a grid with four outer wings.
You enter via the Grand Staircase of Honor, surrounded by marble. The palace is lavish inside, especially the gold filled throne room.
Getting There: Rome Day Trip to Naples
Getting to Naples from Rome is easy, if you go by train. The high speed trains leave from Rome Termini, making the journey in 1:10.
If you go by car, the journey takes over twice as long. So if you really want to day trip from Rome to Naples, you should take the train.
You can also book a private transfer from Rome to Naples. Or go on a small group guided tour.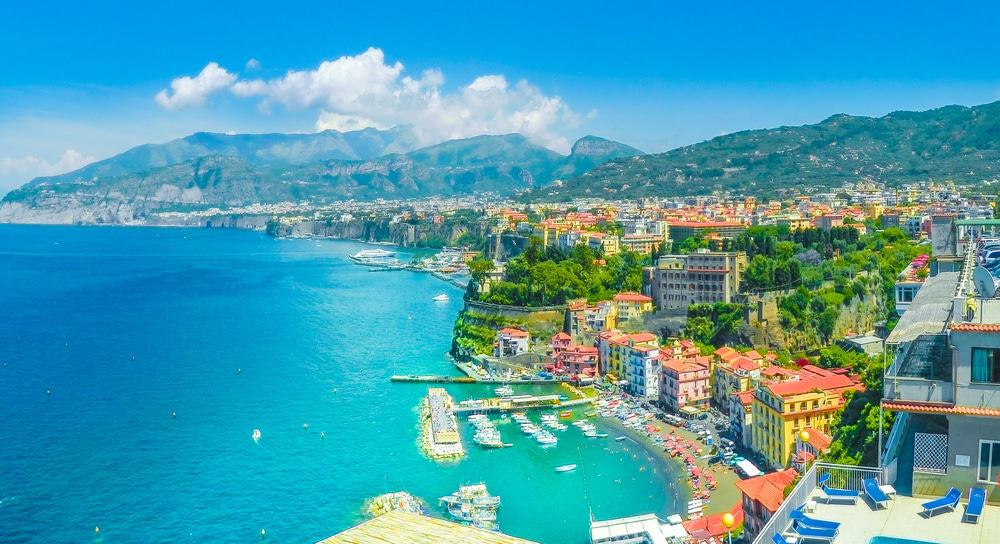 13. Sorrrento
Sorrento is the quintessential Italian resort town. It lies on the Amalfi Coast, facing out to the Bay of Naples.
Wedged on a ledge over the sea, the cliff top town of Sorrento can be done as a day trip from Rome. If you're staying longer than a day, Sorrento makes a perfect springboard for visiting the Amalfi Coast.
Start your tour of Sorrento on Piazza Torquato Tasso. Named after an Italian poet, this is the center of life in Sorrento.
Tasso's statue sits in the Piazza Sant'Antonio. But the hidden back lanes of Sorrento are the most tantalizing. They're filled with shops selling gelato, limoncello, prosecco, leather goods, and more.
If you're ready to sit down and sip, the Hotel Belair Sorrento offers stunning views overlooking Sorrento and Mount Vesuvius. There's also good views from La Pergola Bar a Champagne.
If you need some beach time, head to Marina Grande Beach. Sorrento is also famous for its lemons and filled with lemon groves.
Getting There: Rome Day Trip to Sorrento
To get to Sorrento, you will need to take the train to Naples. Be sure to book in advance as the high speed trains can sell out.
There, you will need to transfer to the Napoli Garibaldi station next door and purchase a ticket for the local Circumvesuviana train for the remainder of the journey to Sorrento.
Total travel time is around two hours. If you'd like to see more of this region during the day then a guided tour is a better way to go.
14. Viterbo
Underrated Viterbo is a beautiful medieval gem just an hour from Rome. Viterbo was at its zenith in the 13th century, when it overshadowed Rome itself as a center for papal power.
The main reason to visit Viterbo on a day trip from Rome is to admire the beautifully intact medieval town center.
Viterbo is almost entirely surrounded by incredibly well kept walls. The San Pellgrino district is one of the best preserved neighborhoods in Italy.
In the 13th century, Viterbo was the seat of the Pope for 24 years. The Gothic Palazzo Papale was built in the 13th century as a residence for popes looking to get away from Rome.
At the time, Rome was a place of plague and rampaging factions of rival barons. The escape palace was the site of the first ever conclave to elect a new pope.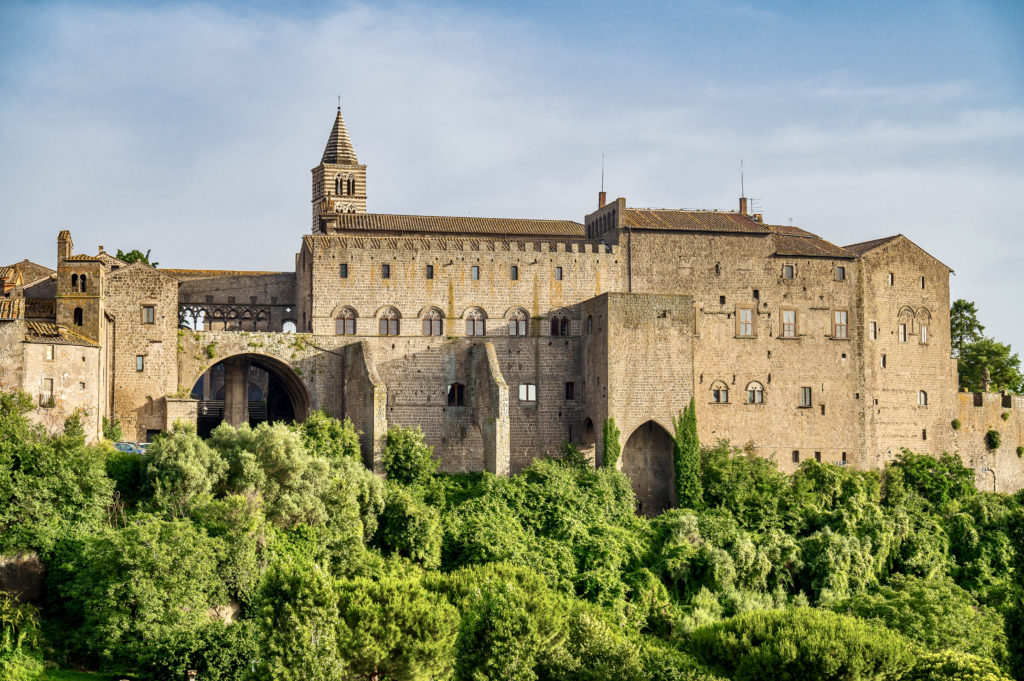 The interior isn't always open. But you can climb the stairs to admire what was once the loggia.
Viterbo is also a spa town. You can have a local volcanic mud bath or steam in an ancient cave at Terme dei Papi.
For sustenance, you can grab lunch at Cantina Palazzo dei Merchant. The casual eatery shares a kitchen with one of the best wine cellars in Italy, Enoteca la Torre.
Getting There: Rome Day Trip to Viterbo
Viterbo isn't well enough known yet for there to be day tours from Rome. Instead, you'll need to take one of the hourly trains. They reach Viterbo in around 1:40. It's a 1:15 drive by car.
15. Civita di Bagnoregio
Just 30 minutes from Viterbo is Civita di Bagnoregio. It's a magical, almost surreal, hill town. You could do both towns on a day trip from Rome.
The Etruscans founded Civita di Bagnoregio over 2500 years ago. It's largely unaltered ever since.
The isolated and picturesque Civita teeters on a hilltop in a vast canyon, north of Rome. The topography scares away most tourists.
To access this little hamlet, you'll have to ditch your car, walk across an elevated and steep 300 meter pedestrian bridge, and enter via a massive 12th century stone arch called the Porta Santa Maria.
What could be more dreamy and surreal?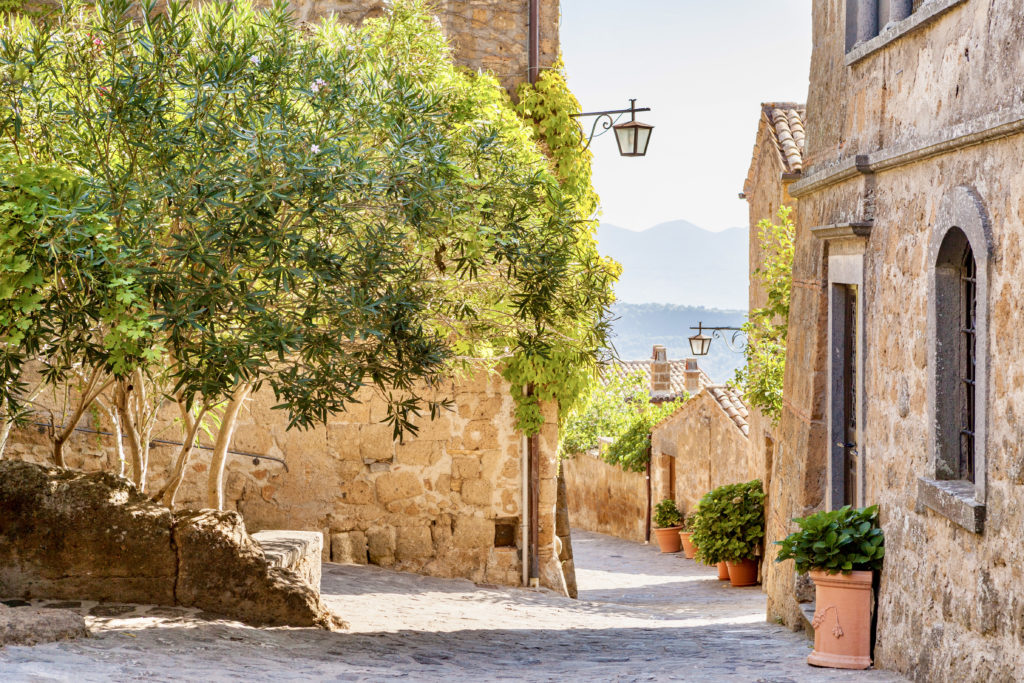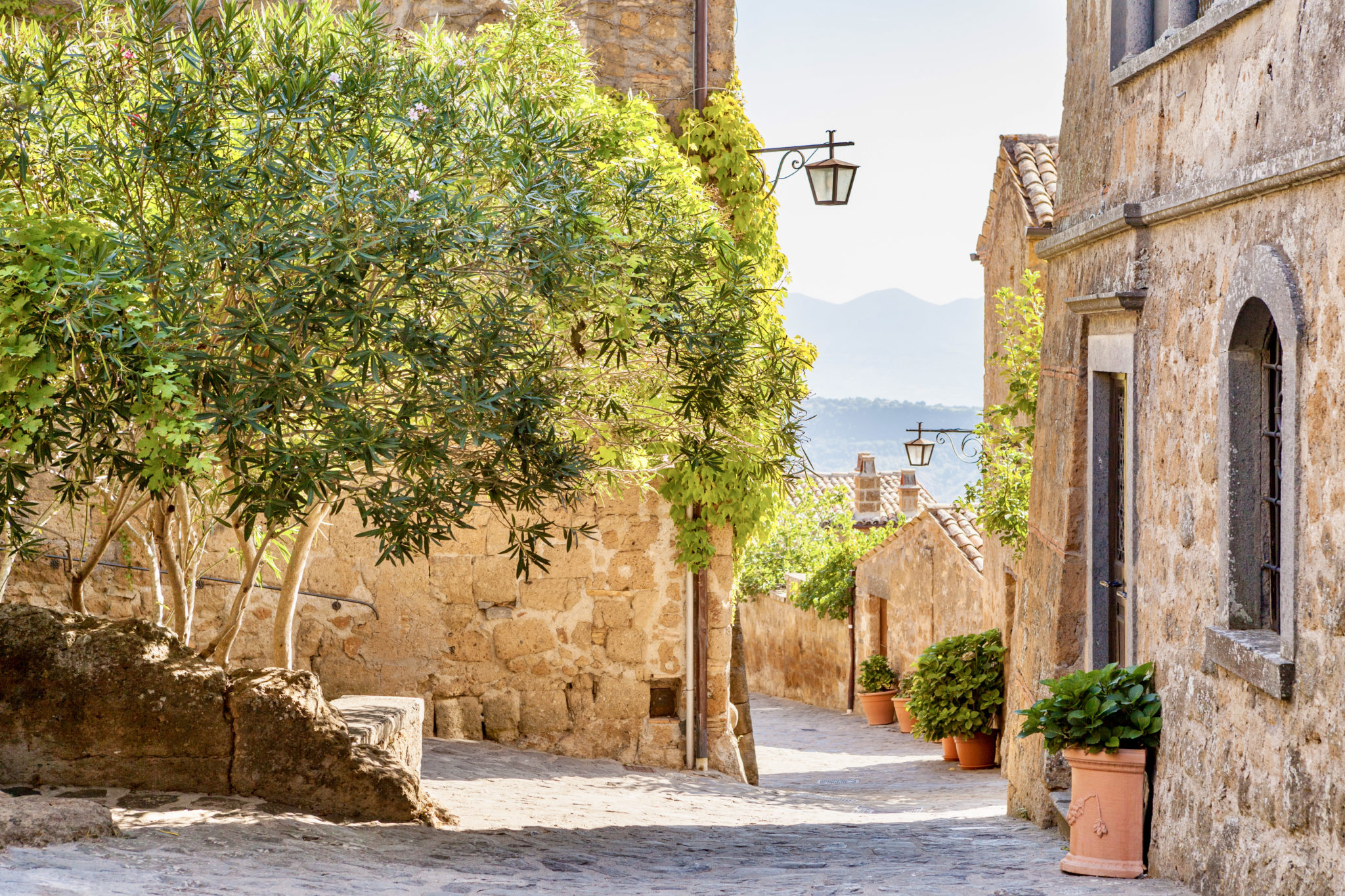 Once inside, the charms of Civita are subtle. There's nothing special to do but wander around in this enchanting rural village.
Civita is just unadulterated old world Italy. The warm stone walls glow in the sunshine. Have a seat on the steps of San Donato Church, be suspended in time, and admire the flowerpots.
Here's my complete guide to Civita di Bagnoregio.
Getting There: Day Trip from Rome to Civita
It's easiest to drive to Civita. The drive takes 1:45. You park in the adjacent town of Bagnoregio. You'll see signs for the parking lot.
If you're using public transport, you can take the train from Rome to Orvieto. In Orvieto, you can buy a ticket for the Cotral bus that goes to Civita. However, bus service isn't exactly plentiful in this remote area.
16. Assisi
Located in Umbria, the saintly and stunning hill town of Assisi is a destination for art lovers. Assisi was the home and final resting place of St. Francis.
Hence, it's a pilgrimage destination. In fact, the 13th century Basilica of St. Francis of Assisi is one of Italy's best known churches and a landmark UNESCO site.
There are two parts to the church — the lower church (for pilgrims) and the upper church (for clergy). The frescos in the lower church mark the pivotal transition in art history from the Gothic period to the early Renaissance era.
The highlight is the frescos attributed to Giotto in the Chapel of Santa Maria Maddalena. He reputedly painted a 28 panel cycle called The Life of St. Francis, between 1297 and 1300.
That chapel also has a fresco cycle by Pietro Lorenzetti, with a haunting Depostion.
The upper church houses paintings by Cimabue, the greatest Italian painter of the 13th century International Gothic style. Giotto was Cimabue's protege.
For more info, here is my one day in Assisi itinerary and my guides to the best things to do in Assisi and my guide to the Basilica of St. Francis of Assisi. But the town and this complex are so fascinating, you may want to book a guided tour.
Getting There: Day Trip from Rome to Assisi
A high speed train ride from Roma Termini to Santa Maria degli Angeli takes about 1:45. It drops passengers off at the foot of the hill town Assisi. From there, you can opt to take a taxi or a bus.
You can also book full day guided tour from Rome to Assisi.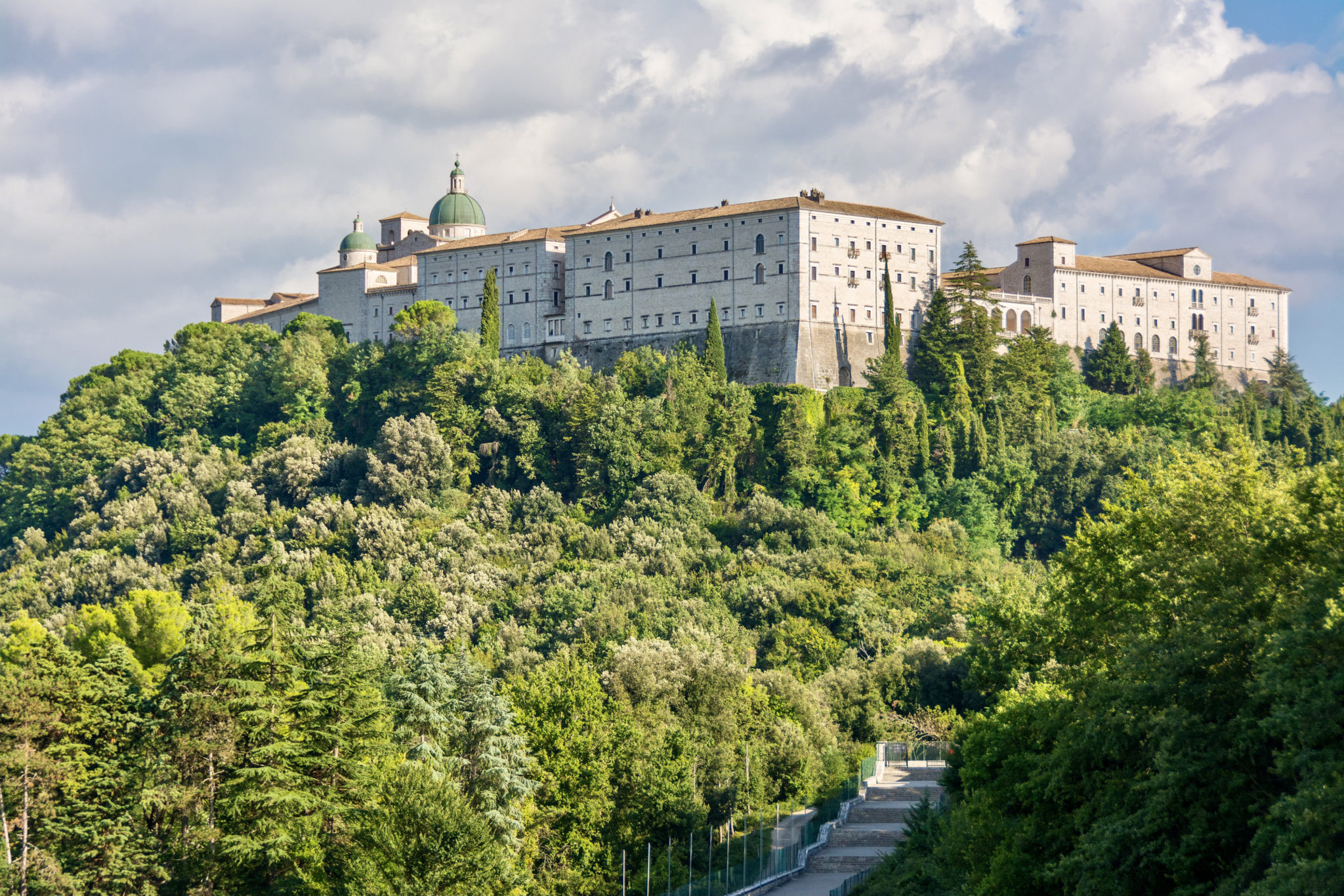 17. Montecassino Abbey
Montecassino Abbey is one of the most famous abbeys in the world. For a sacred place, the abbey has a rather bloody history of destruction and rebirth. The abbey has been invaded, sacked, burned, and bombed.
In 529, Saint Benedict built a monastery home for the monks from Subiaco. At the time, he was the patron saint of Europe.
In 577, Montecassino Abbey was destroyed by the Langobards. In 887, the Saracens attacked. The abbey was rebuilt again in 949.
In 1944, the abbey was the scene of a hugely divisive battle in WWII. In anticipation, the abbey moved its treasures to the Vatican and Castle Sant'Angelo. Then, it was bombed when the Allies mistakenly suspected that Germans were hiding there.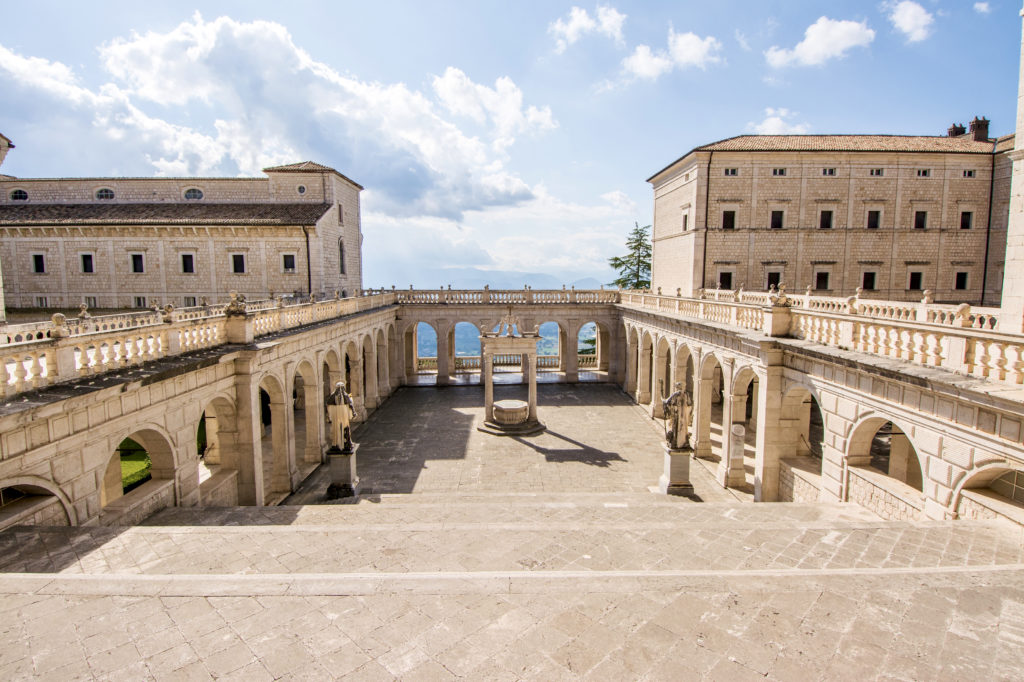 After WWI, a massive decade long project to restore and rebuild Montecassino began. The monks' motto was "where it was, as it was." The abbey is now a major destination in Italy for tourists, pilgrims and history buffs.
To visit, you need to book a guided tour in advance. In winter, the abbey is only open on Sundays.
You can visit the cloisters, an ornate church, library, crypt, museum, and war cemeteries. The museum houses magnificent paintings, mosaics, coins, manuscripts, and ancient books.
Getting There: Rome Day Trip to Montecassino
If you're traveling between Rome and Naples, the beautiful Abbey of Montecassino is the perfect stop. It's a 2 hour drive from Rome.
High speed trains depart from Rome Termini and take approximately 60-79 minutes. A bus outside the train station deposits you at the top of the mountain. Or you take a taxi up.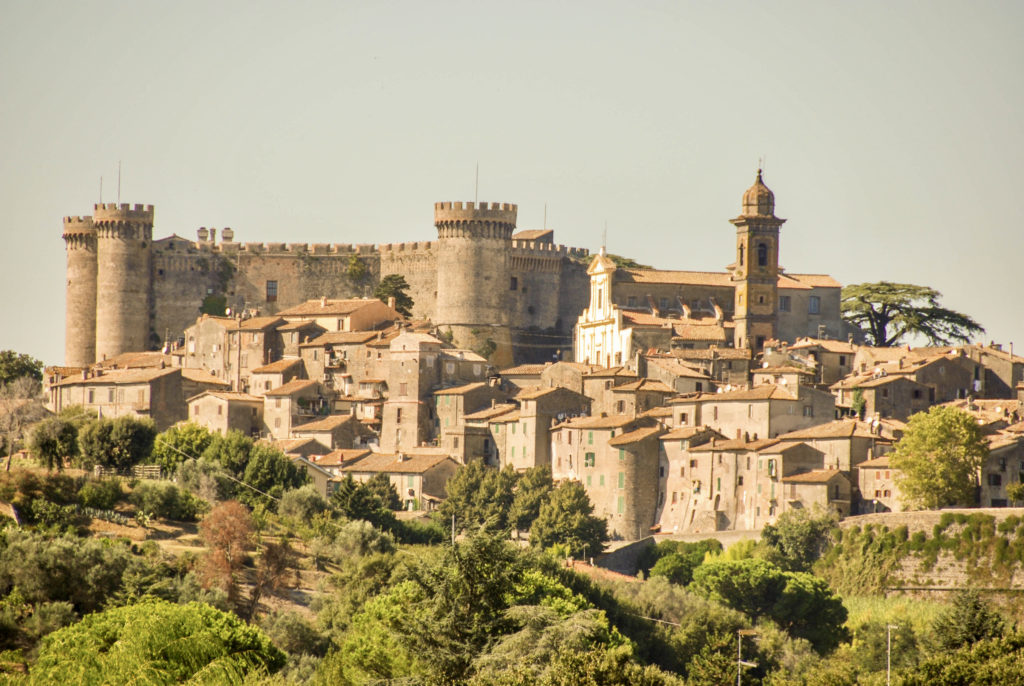 18. Bracciano
Bracciano is located on the shores of the volcanic Lake Bracciano. It's a lovely small medieval town. Piazza IV Novembre is the main square.
Bracciano used to be a simple fishing and farming village. But in the 15th century, the pope gifted the town to the powerful Orsini family. They built the local castle, now known as Odescalchi Castle.
This castle is one of the few Renaissance castles in Italy. You'll find medieval interiors, artifacts, and period furniture. From the top, you'll have beautiful views of Lake Bracciano.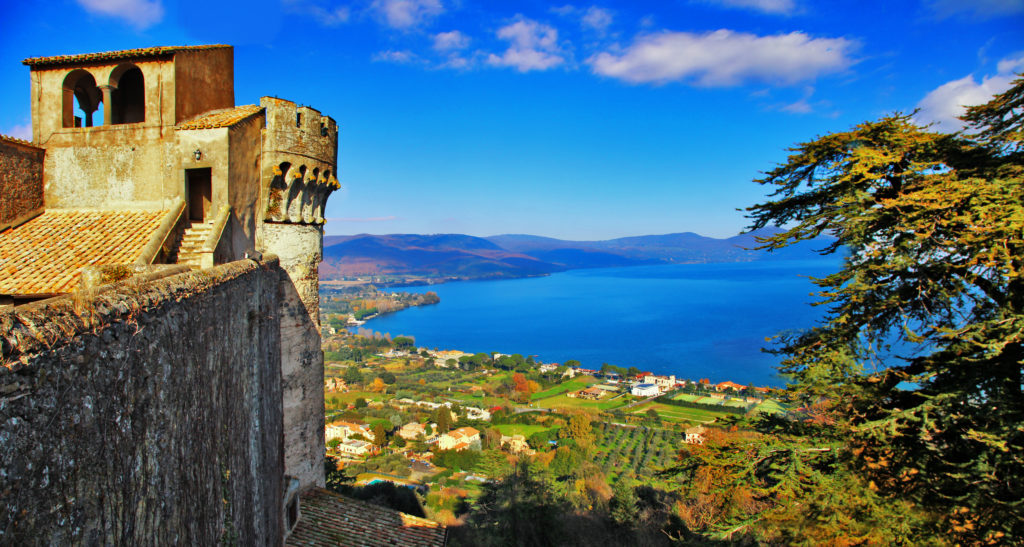 Other attractions in Bracciano include the beautiful Santo Stefano Cathedral and Church of St. Liberato. The lake and nature reserve are a perfect place for a relaxing walk.
Getting There: Rome Day Trip to Bracciano
Trains to Bracciano leave roughly every half hour from various stations in Rome – Trastevere, Ostiense, San Pietro or Valle Aurelia. All trains stop in Bracciano en route to Viterbo.
19. Pisa
Pisa ia a beautiful little town in Tuscany with a rich architectural heritage.Most travelers to Pisa understandably come for Pisa's calling card — the famous and mysterious Leaning Tower of Pisa.
But Pisa is so much more than a one site "hit and run" town, especially for art and history lovers. The Field of Miracles is a true spectacle. It's a simply splendid assemblage of Romanesque, Gothic, and Early Renaissance art and architecture.
You can visit the Duomo, the Baptistery, the Monumental Cemetery, and several museums. You may want to book a guided walking tour to see all the attractions and get the historical backdrop.
Straddling the Arno River, the town of Pisa itself is a charming (if very small) town. There are pretty pretty piazzas, historic buildings, and museums.
Here's my guide to the top attractions in Pisa and my tips for visiting Pisa.
Getting There: Rome Day Trip to Pisa
To get to Pisa, you will have to travel to Florence's Santa Maria Novella station and then change trains for Pisa. The overall journey will take you slightly more than two hours.
Once there, you may want to book a local guided tour to get the most out of your day trip from Rome.
Some tours combine Pisa and Florence. If you just want to see the cathedral and the leaning tower, you can book that here.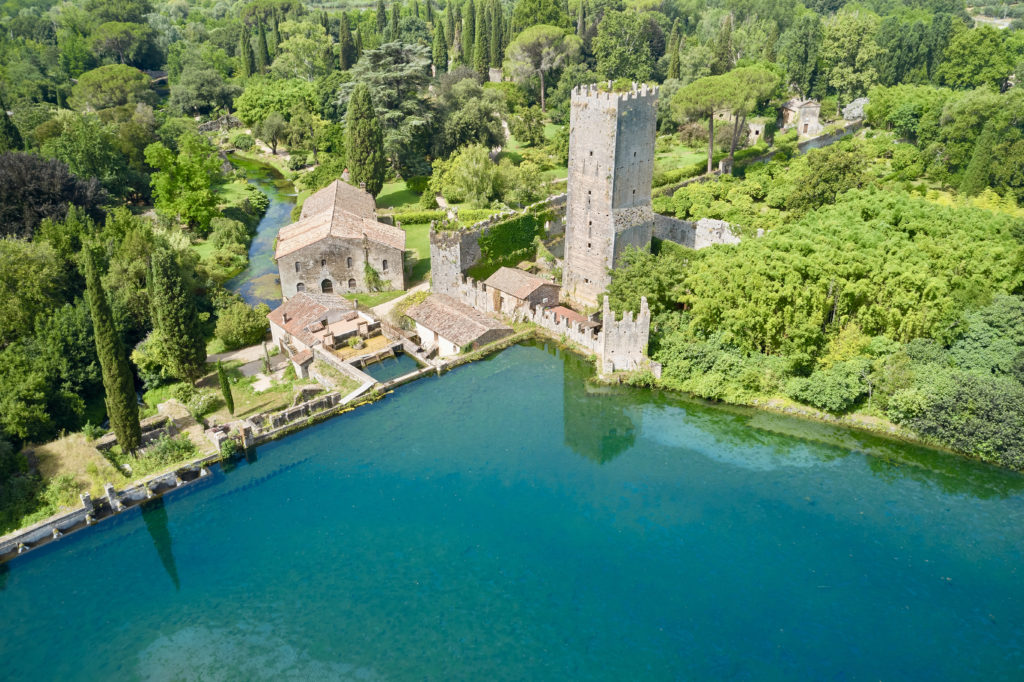 20. Gardens of Ninfa
If nature beckons, day trip from Rome to the secret Gardens of Ninfa. The legendary garden is a noble family's fairytale garden.
The gardens are immersed in nature and scattered with centuries old ruins. Though Rome is just an easy hour drive away, Ninfa feels like a remote, happily isolated world.
You park your car in a sunny olive grove, buy your ticket, and step through a stile onto a path of fine gravel.
The park occupies a full 20 acres, of which 16 are open to the public. The crystalline river Ninfa, hardly more than a healthy stream, winds through the property.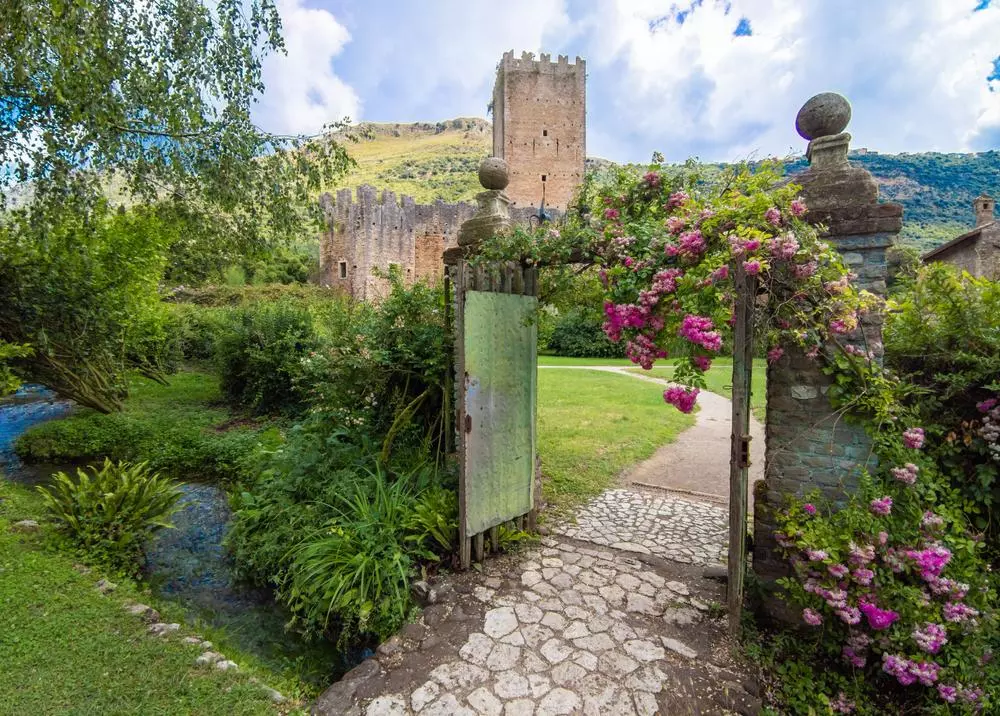 The garden is said to be the world's most romantic garden. It was created in 1921 by the Caetani family. It's designed in the English garden style.
The garden features thousands of exotic plants and trees. The gardens are informal, with an impressionistic messy style.
As any fancy garden, the Ninfa Garden is never the same from one month to the next. Depending on the season, you'll find a profusion of climbing roses or heavy wisteria vines.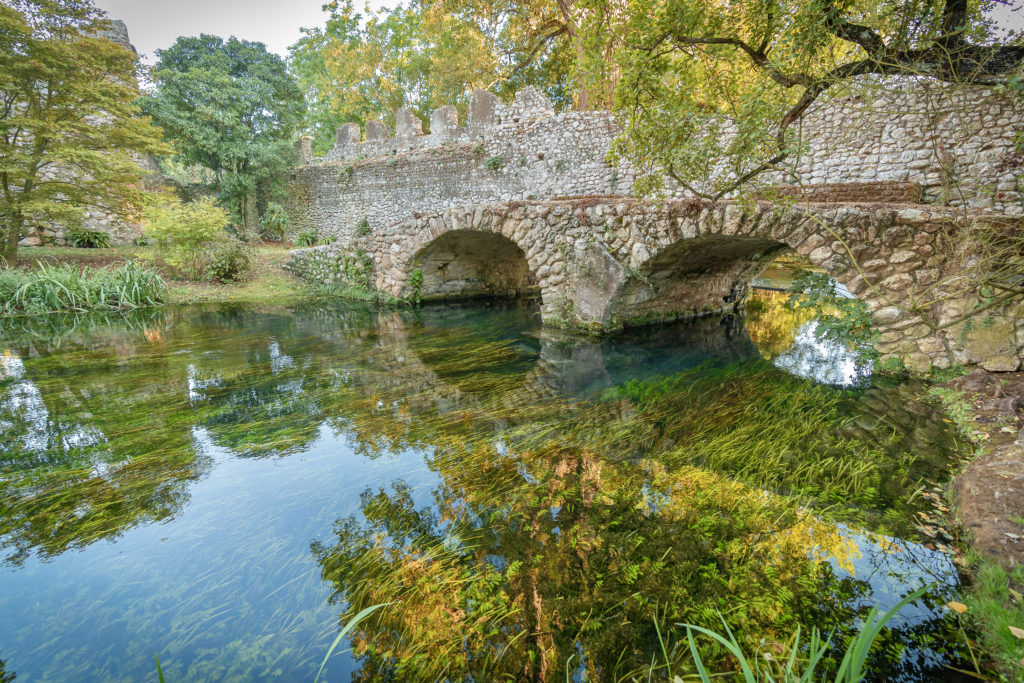 To protect the gardens, access is limited. The garden is open from April through October on the first Saturday and the first Sunday after the first Saturday of each month, as well as the third Sunday in April, May and June.
You can only visit via a guided tour.
If you're day tripping from Rome, buy tickets in advance at the Fondazione Camillo Caetani.
Getting There: Rome Day Trip to Ninfa Gardens
Ninfa is 40 miles south of Rome. It's best to drive. Alternatively, you can hire a taxi. There's parking at the entrance to the gardens. Or, you can book a full day tour.
21. Palestrina
Palestrina is another good day trip from Rome for history buffs and ruin lusters. The entire town is built over and into the ruins of an enormous ancient temple.
Originally a significant Etruscan town, Palestrina became renowned for its massive Temple of Fortuna Primagenia. The shrine dates from the 2nd century B.C. In antiquity, this temple was one of the largest and most visited temples in Italy.
The temple ruins were only discovered after WWII bombings exposed the ancient foundations.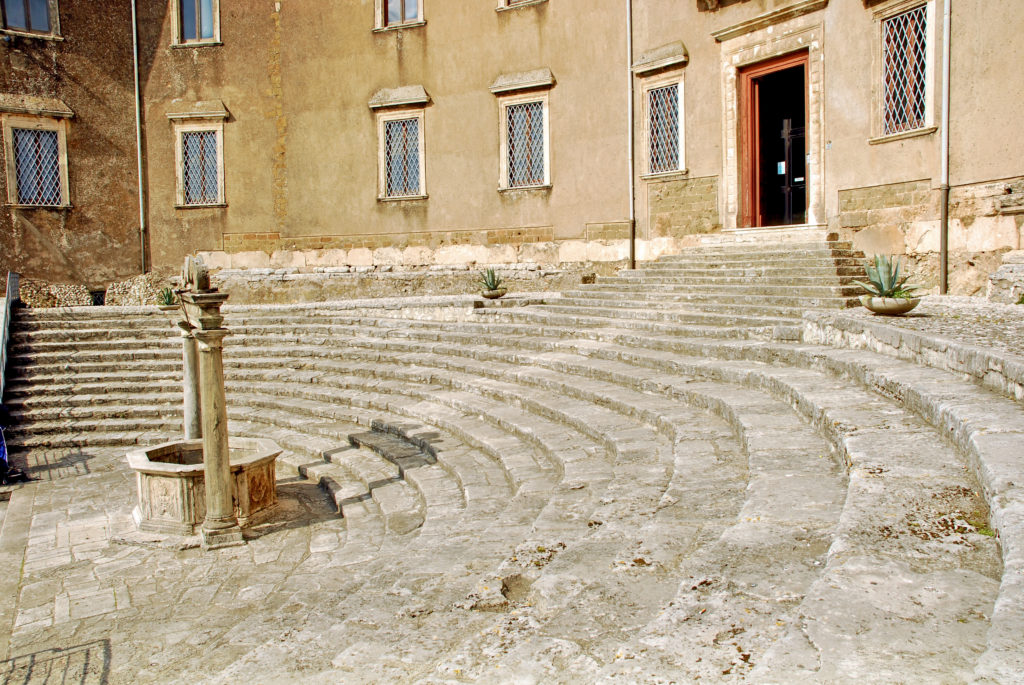 The former sanctuary of the temple was later transformed into the Palazzo Colonna-Barberini. The 17th century palace now houses the very fine Museo Archeologico. It's situated at the highest point of the town and is hard to miss.
It's worth a visit for the museum alone. It houses a large and well-labeled collection of Etruscan bronzes, terra cotta statuary, pottery, and some Roman artifacts. The star of the show is a 1st century B.C. mosaic representing the river Nile in flood.
Getting There: Rome Day Trip to Palestrina
By car, it's a 40 minute drive from Rome to Palestrina. Buses leave every four hours from Termini Station in Rome.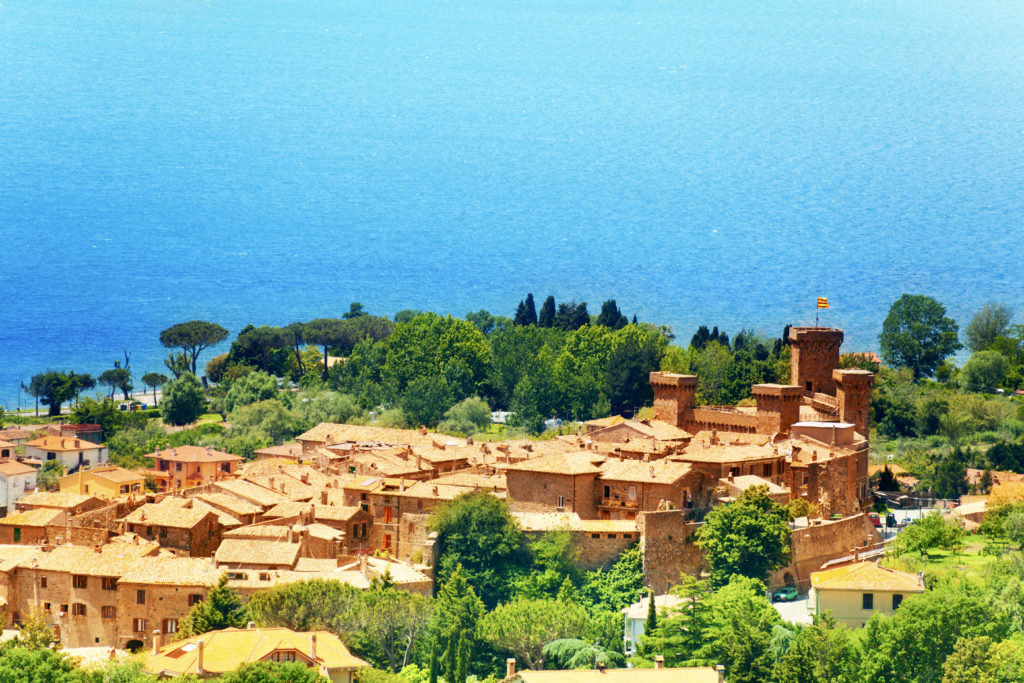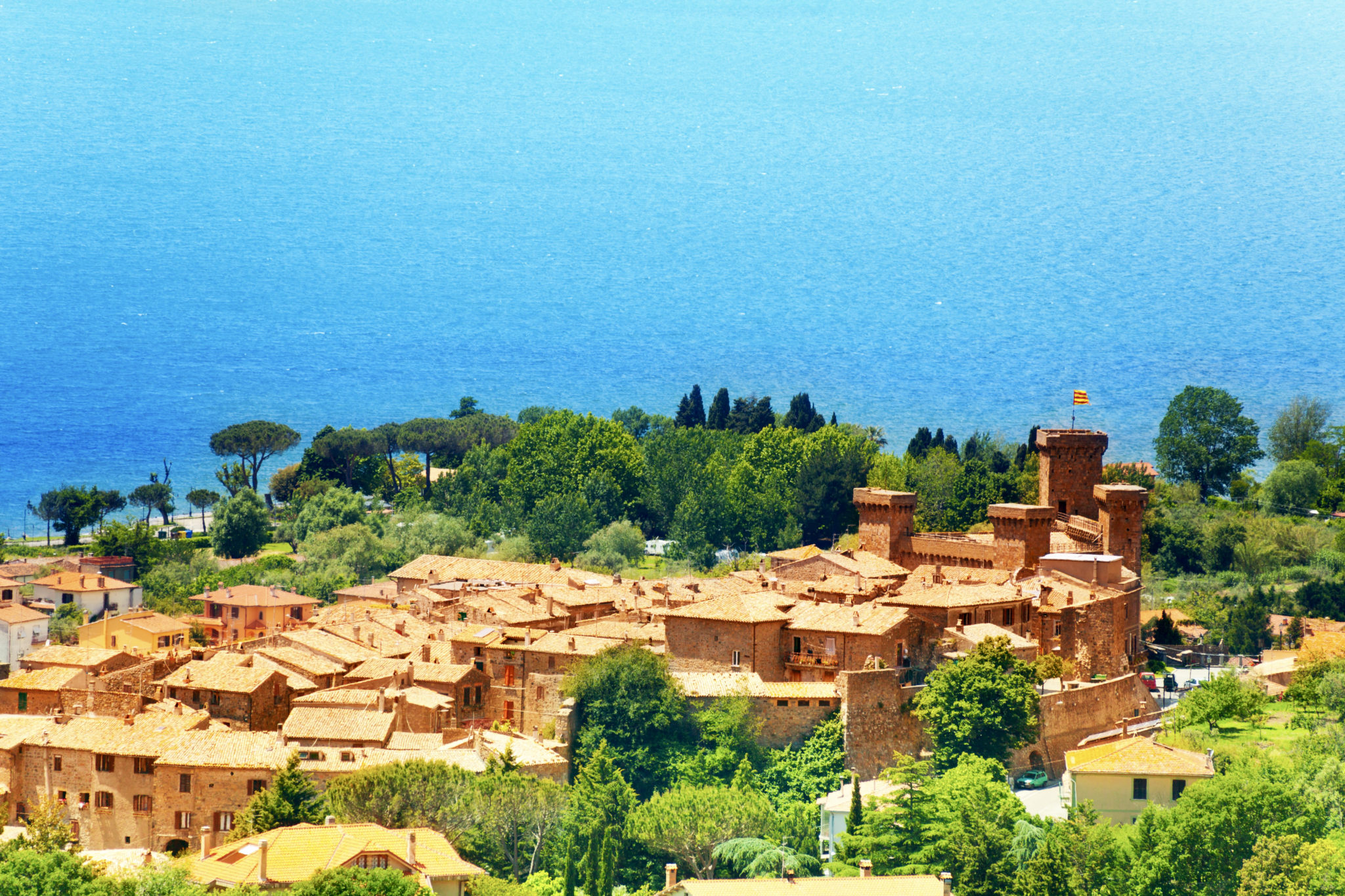 22. Bolsena
Bolsena is a pretty hidden gem town on Lake Bolsena. Bolsena is a town where it's possible to enjoy a wide range of activities, depending on your interest.
Set on Italy's largest volcanic lake, Bolsena has a relaxing and romantic quality. The town is secluded and close to nature. You can hike, swim, or just relax.
Bolsena is also an ancient Etruscan settlement. It's home to a large necropolis with tombs and funerary ornaments, which attracts history buffs and archaeologists.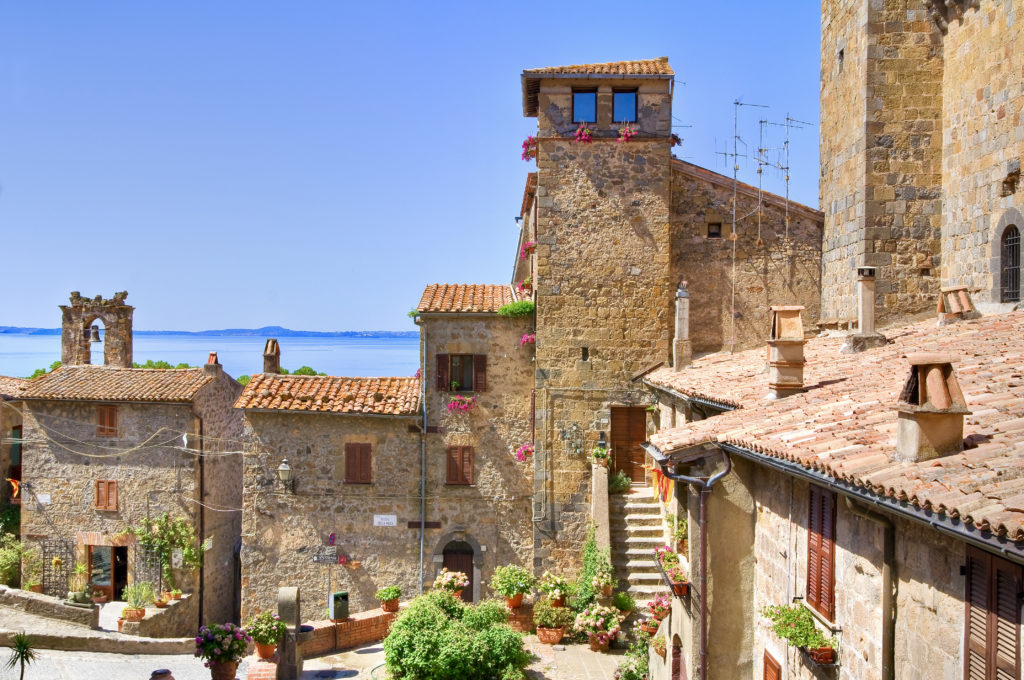 The historic center is picture perfect. Bolsena's main monument is the Cathedral of St. Cristina. It's dedicated to an 11 year old girl who was martyred during the reign of Roman emperor Diocletian.
You can also visit the Castello Monaldeschi. The castle was built during the 12th and 14th centuries.
It now houses the Lake Bolsena Museum. The museum gives you an overview of the region's history.
Getting There: Rome Day Trip to Bolzano
Both by car and high speed train, Bolsena is about 1:40 from Rome. If you're driving, leave your car in the parking space in the central Piazza Matteotti.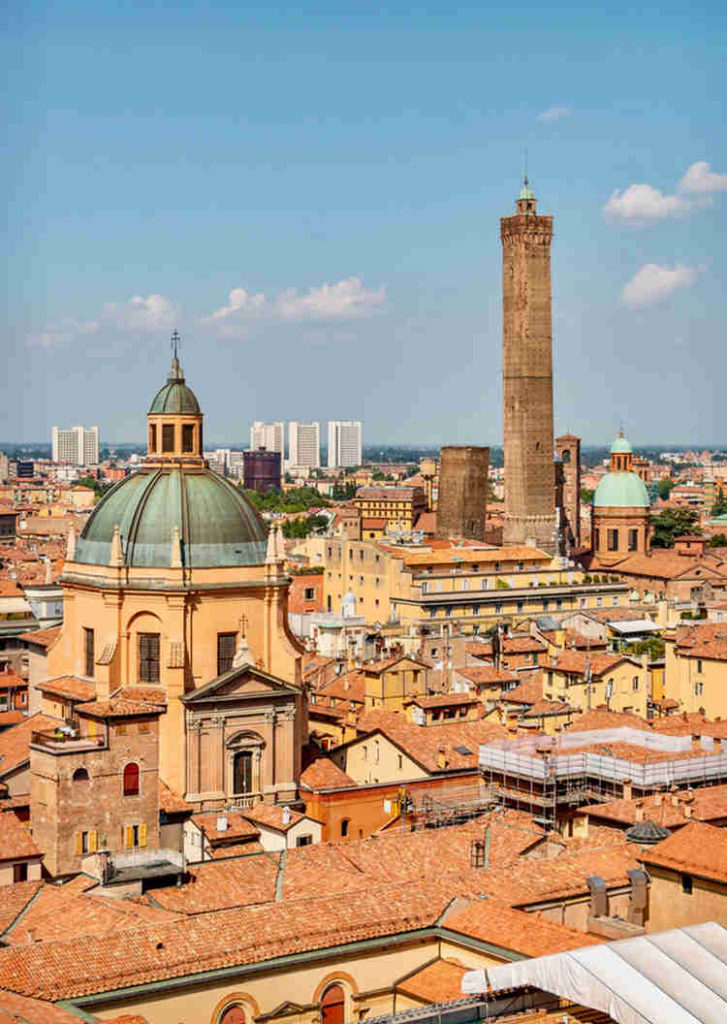 23. Bologna
Nicknamed La Grassa, or the Big Fat, for its delicious food, Bologna just oozes medieval charm. Bologna is a bit of a hidden gem in Italy. But it shouldn't be.
Bologna is a historic city filled with striking architecture, beautiful piazzas, a swathe of palaces and towers, and gourmet restaurants.
Bologna's must visit attractions are found in the city's main square, Piazza Maggiore. You'll be greeted by a huge statue of Neptune atop a fountain.
It was created by one of the great late Renaissance sculptors, Giambologna. He was an artist second only to Michelangelo in skill.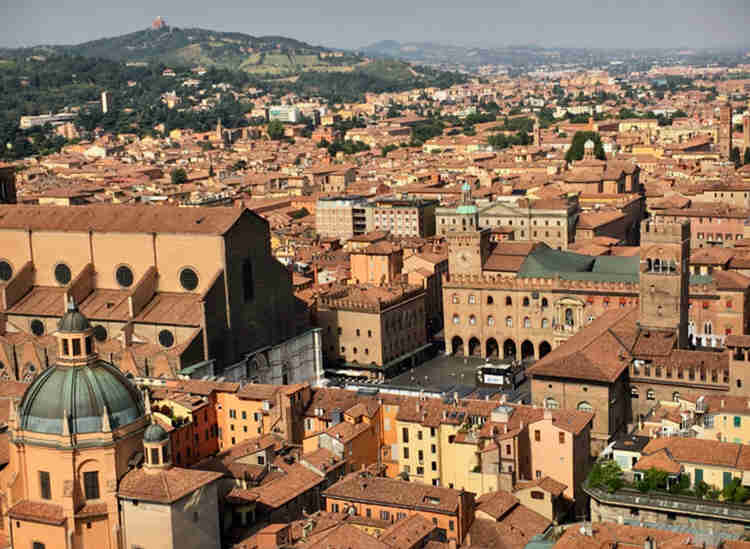 On one end of the piazza is the massive Basilica of San Petronio, honoring Bologna's patron saint. On the other is the swishy Palazzo dei Rei Enzo.
Bologna's most famous site and most beautiful church is the Santo Stefano Church. It's a complex of seven churches, founded by Petronio atop a Roman temple.
Legend holds that, when Dante was expelled from Florence for his politics, he wiled away time in the Romanesque cloisters.
When you've seen the main sites, head to the Piazza della Mercanzia. There, you'll find Bologna's leaning tower, Asinelli Tower.
You can climb 500 steps to the top for panoramic views. Then have a gelato or meal in the pretty piazza.
Then head to Bologna's medieval Quadrilatero and meander through the medieval lanes filled with shops. Be sure to walk under the famous 666 Portico, the beautiful terra cotta arcades.
In Bologna, you may want to guided walking tour of the city or a guided food tour.
Getting There: Rome Day Trip to Bologna
Bologna is a bit of a hike from Rome. Your best bet is to take the high speed train, which clocks in at around 2 hours. Be sure to book online in advance.
You can also book a guided day tour from Rome, if that's easier.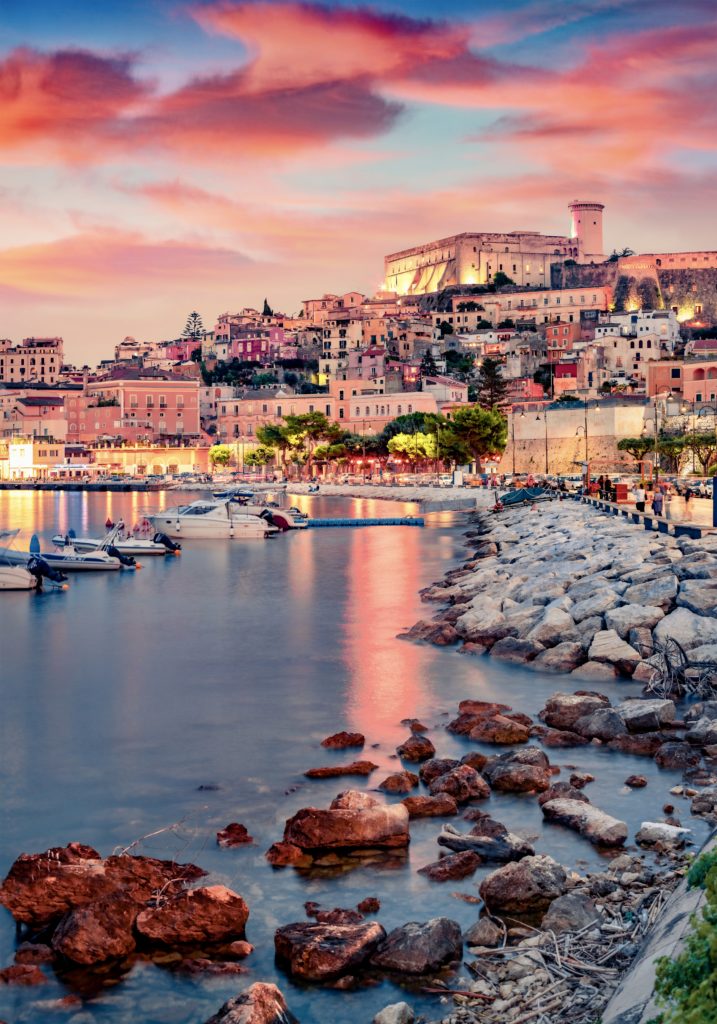 24. Gaeta
Gaeta is a pretty town that's the perfect seaside day trip from Rome. Gaeta has a well-preserved medieval historic center and a beautiful natural setting overlooking there Tyrrhenian Sea.
Serapo beach is a fantastic gold sand beach, definitely one of the best beaches near Rome. Sant'Agostino Beach is a great place for surfing.
The 6th century Aragonese Castle is the most distinctive feature of the Gaeta skyline.
Gaeta is also known as the "city of 100 churches." The Byzantine-style Church of St. Francesco is the most stunning one. Geata's duomo has some beautiful art inside and an elegant Norman bell tower.
Gaeta is also home to Mount Orlando. If you hike up, you can explore the Sanctuary of the Split Mountain and a famous grotto. You'll have stunning views of the Mediterranean. There's an entrance to the park on Serapo Beach.
Getting There: Rome Day Trip to Gaeta
Gaeta is located halfway between Rome and Naples and is well connected by the road network and public transport. Trains take about 1:40. You may want to book a guided walking tour for your visit.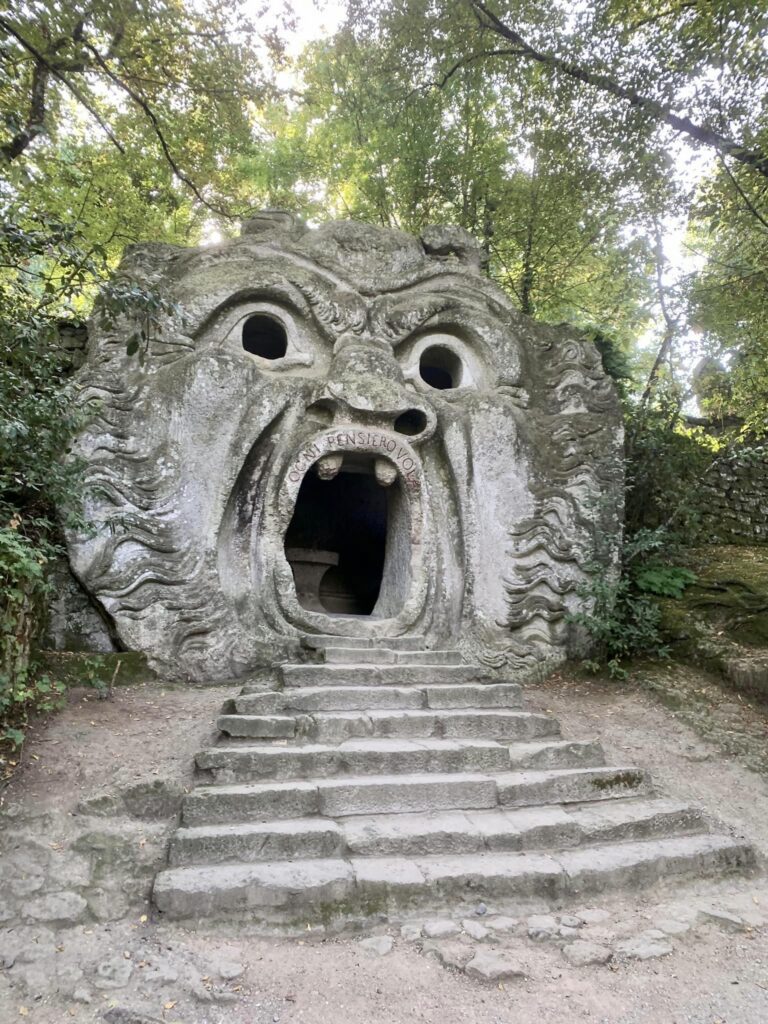 25. Sacred Park of Bomarzo
The Sacred Park of Bomarzo, located in the Lazio region of Italy, is a one-of-a-kind garden that offers a truly unique experience. More commonly referred to as the Park of Monsters, it was commissioned by Pier Francesco Orsini, an Italian nobleman from the 16th century.
The main sculptures in the park, which number around 30, were created by the architect and sculptor Pirro Ligorio. Ligorio also played a role in the design of the renowned Villa d'Este.
These sculptures portray mythical creatures, monsters, and other surreal figures and are interspersed throughout a natural landscape of hills, trees, and flowers. Some of the most famous sculptures include a giant elephant with an obelisk on its back, a dragon, a massive turtle, and a house with tilted walls.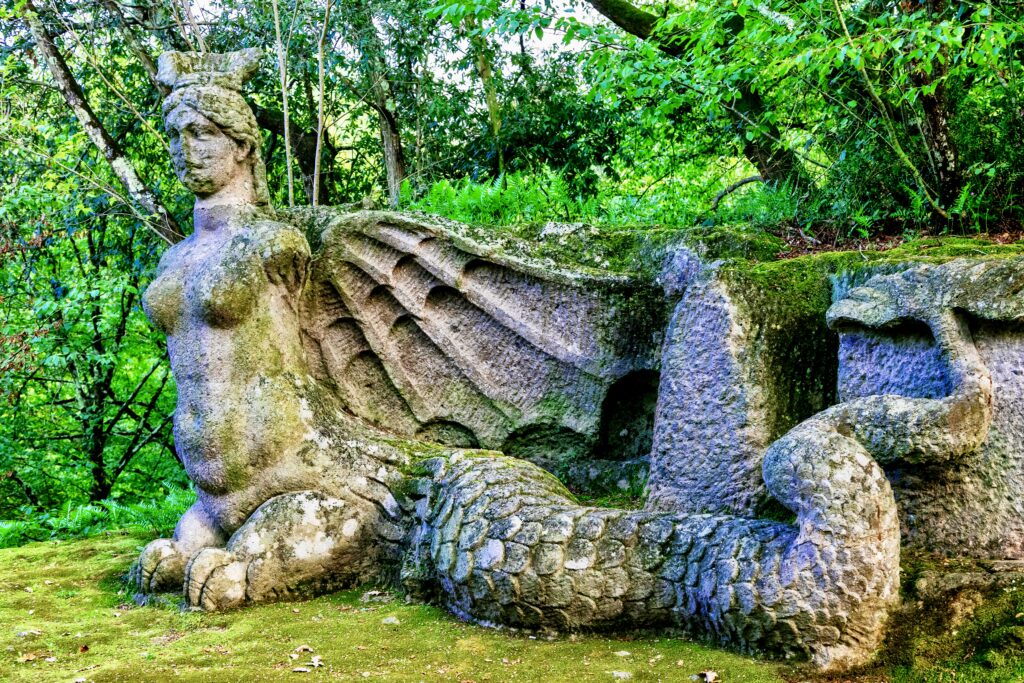 The park was designed to inspire wonder and contemplation. It's a must-visit Rome day trip anyone interested in art, history, or the bizarre and unconventional. It's truly an unforgettable hidden gem in Italy that shouldn't be missed.
Getting There: Rome Day Trip To Sacred Park of Bomarzo
You can get to the park by car taking the A1 highway. The journey takes about an hour.
Alternatively, you can take a train from Rome's Termini Station to Orte and then hop on a local bus to Bomarzo. You can also book a guided day tour from Rome.
26. Vatican City
Last but certainly not least, I end with the easiest day trip from Rome, Vatican City. The Vatican isn't just a walled city. It's home to one of the world's greatest art collections, housed in former wings of the Vatican Palace.
The Vatican Museums are one of the world's most visited sites. They attract millions of visitors annually. The works in the Vatican are invaluable crowning glories of Western art.
A museum path leads you through the long corridors and wings of the Vatican Museums.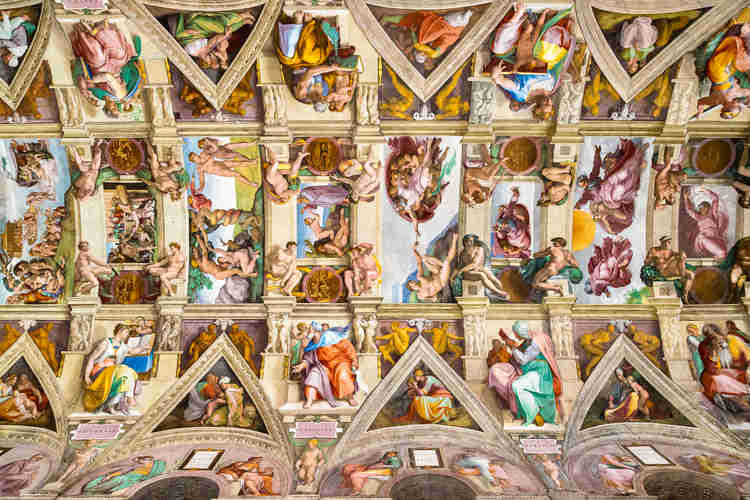 Most of the fine art, as opposed to decorative art, is in the Vatican Pinacoteca (painting gallery), the Pio-Clementine Museum (sculpture gallery), the Raphael Rooms, the Borgia Apartments, and the Sistine Chapel.
Michelangelo's Sistine Chapel frescos are the undisputed highlight of a visit to the Vatican. They're among the most famous paintings in the history of art.
20,000 people visit daily to cast their eyes upward to the glorious ceiling. Michelangelo spent 4 years toiling away on the 9 ceiling panels.
They depict scenes from Genesis and seem to open up the chapel to heaven.
While in Vatican City, you also have to visit St. Peter's Basilica. It's the most famous church in Christendom.
The basilica is the burial place of Saint Peter and past popes. This is where you'll find the famous Bernini Baldachin canopy and Michelangelo's tragically beautiful Pieta.
Designed by Bramante, Raphael, and Michelangelo, the basilica is a true Renaissance masterpiece.
It may be the most ornate space you've ever stepped foot inside. The basilica showcases an intense visual array of precious treasures and grandiose decoration. Think gold and marble everywhere.
The basilica is a treasure trove of Bernini sculptures. You can also climb the dome. As a reward, you'll have the iconic view of St. Peter's Square and a panoramic view of Rome.
Here's my guide to spending one day in Vatican City. You can pre-book your ticket here.
If it's your first time visiting the Vatican, you will probably want to book a guided tour, which lasts between 2-3 hours. Last time I visited, I took a guided tour and then went back on my own to see the rest.
Getting There: You can walk right into Vatican City. Or take a taxi, if you're in a hurry.
I hope you've enjoyed my guide to the best day trips from Rome. You may enjoy these other Italy travel guides and resources:
If you'd like to day trip from Rome, pin it for later.