Of all the stunning hill towns in Italy, Civita di Bagnoregio may be the most dreamy and surreal. Because of its unique topography and fantastical setting, the town is frozen in time and has escaped modernity.
The word "fairytale" is often overused when describing villages. But in this case, it's entirely apt!
The isolated and picturesque Civita di Bagnoregio is like an architectural stage set suspended in midair. It's a marvel that teeters on a tufa hilltop in a vast canyon, north of Rome.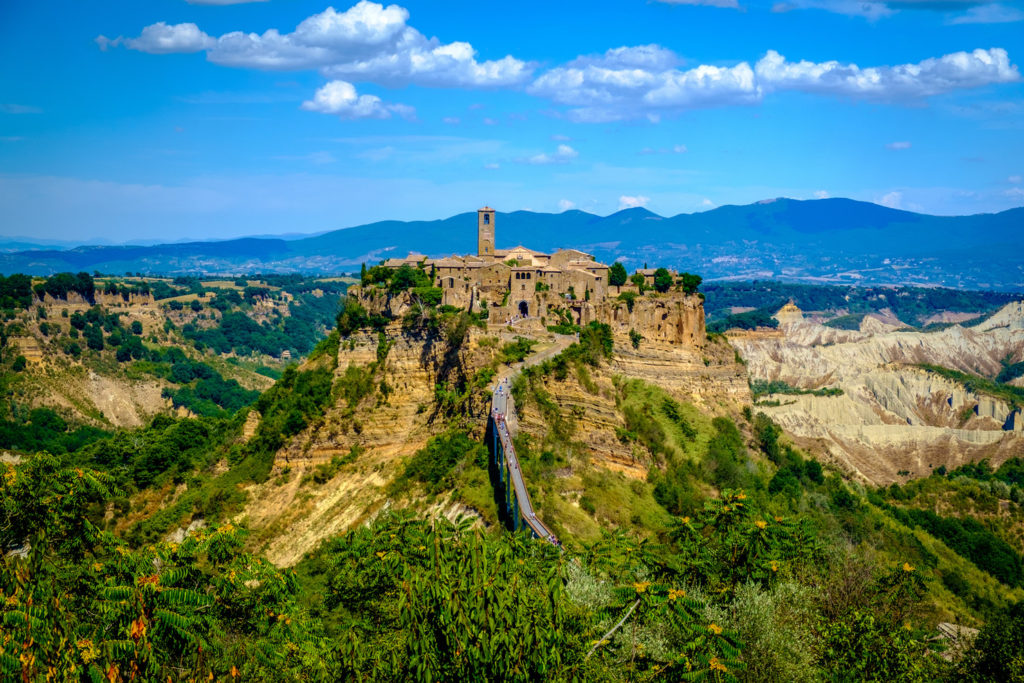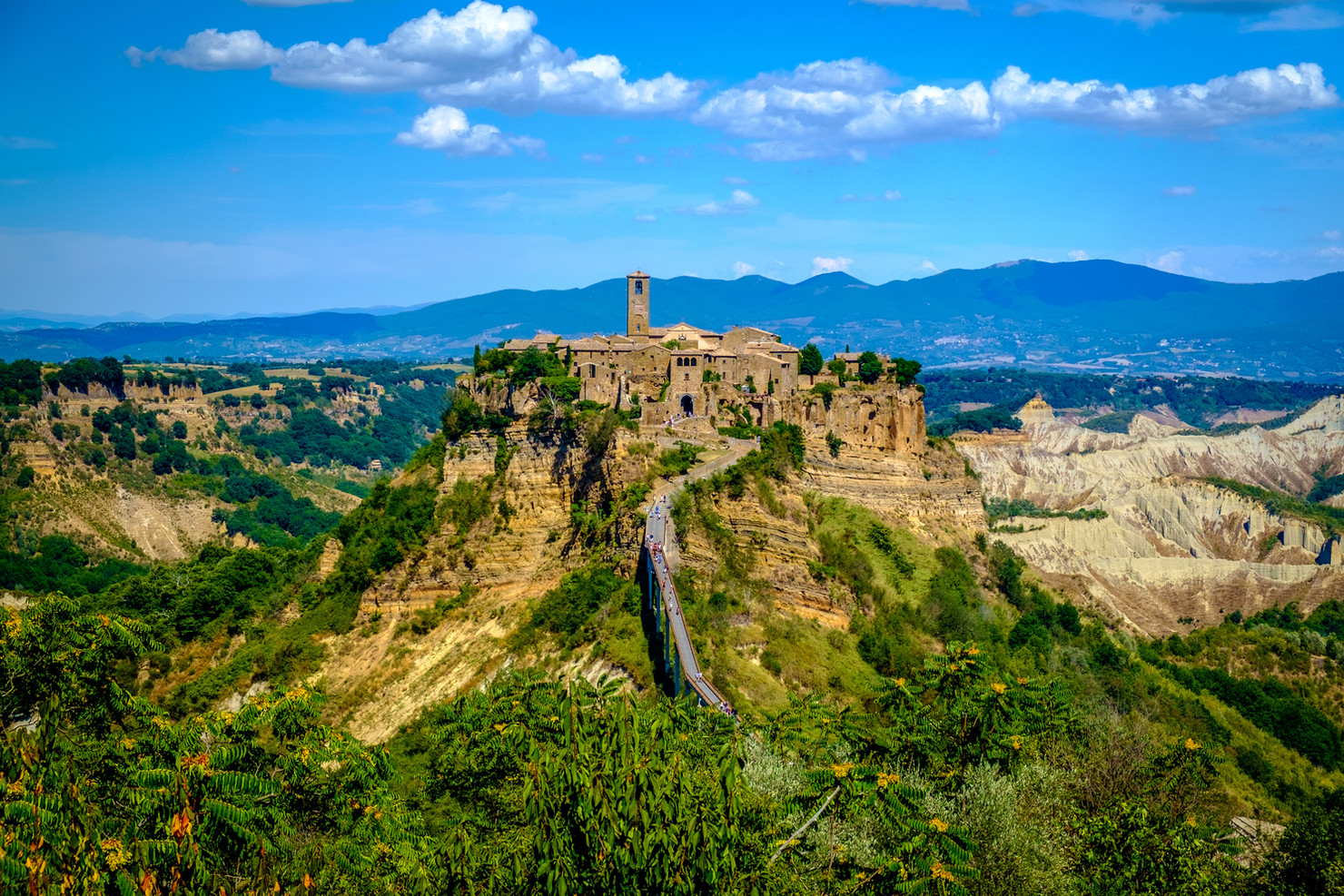 You can only reach the ancient village via a dramatic cantilevered bridge, which rises steeply to meet the village walls. It's an Instagrammable site.
In this Civita di Bagnoregio travel guide, I tell you the best things to do and see in the town and give you must know tips for visiting and planning your trip.
History of Civita di Bagnoregio
The Etruscans founded Civita di Bagnoregio over 2500 years ago and it's largely unaltered ever since.
In the Middle Ages, Civita was operated as an independent entity or was under under the control of nearby Orvieto. It was annexed by Pope Alexander VI in the XVI century.
As the centuries passed and warfare ended, the village became more isolated and people started moving out.
Today, the village is know as the "Dying City," although officials like to call it the "Village That Wants To Live." But it is fighting a war against geological attrition.
The town has this grim nickname because the land on which the village stands is slowly crumbling from beneath it. It's a fragile earth made of tufa atop clay and sand.
Rain is the main problem. it gets into fissures in the rock and creates alterations.
Moreover, the terrain is friable and unstable. Landslides are commonplace. The town's mayor says the earth "falls away like fresh ricotta."
Civita di Bagnoregio is eroding at a pace of one centimeter a year. Experts estimate that the town will collapse and vanish through erosion in 250 years.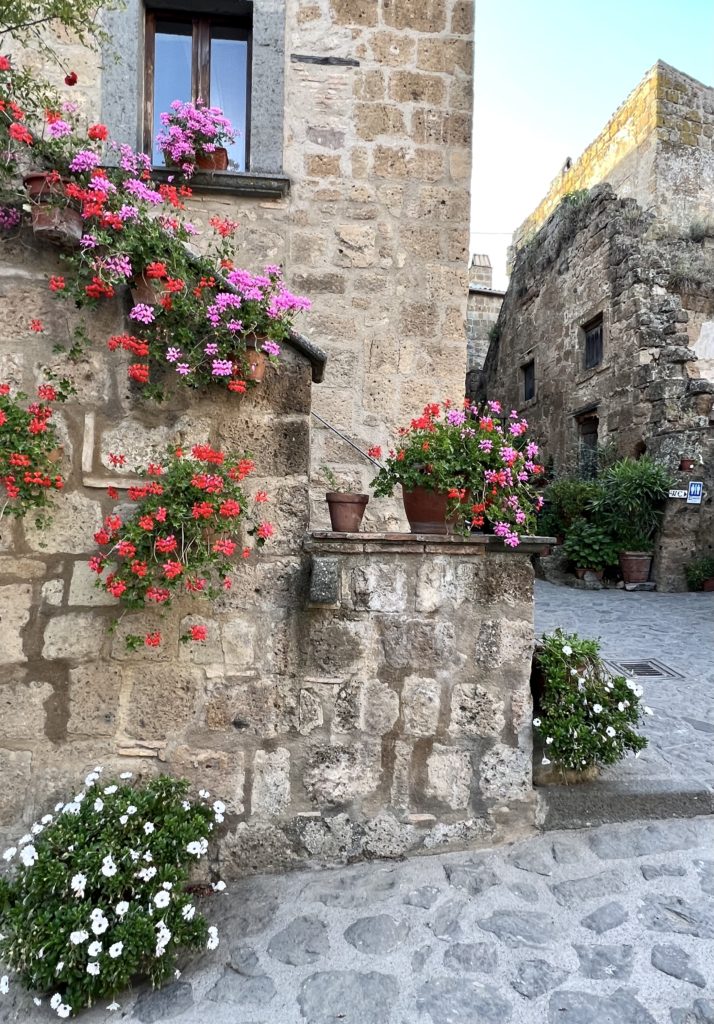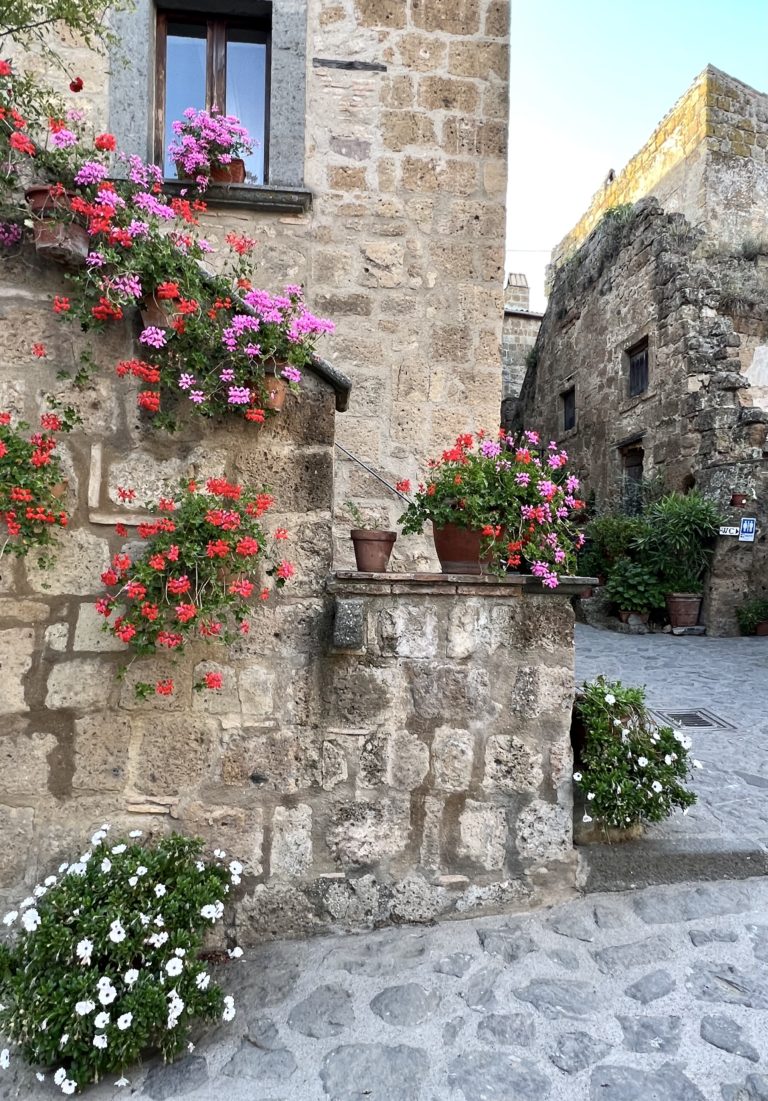 Only 11 people live in Civita di Bagnoregio right now. The main residents are a cadre of cats, who like to hang out at the local restaurants.
In 2013, the village began charging an entry fee. The current price is €5.
>>> Click here to book an entry ticket to Civita
Somewhat counterintuitively, visitors started to come, sometimes in droves. In high season, there may be 15,000 visitors in a single day.
Civita has applied for UNESCO heritage status, which would give it more protection, conservation, and maybe even financial aid.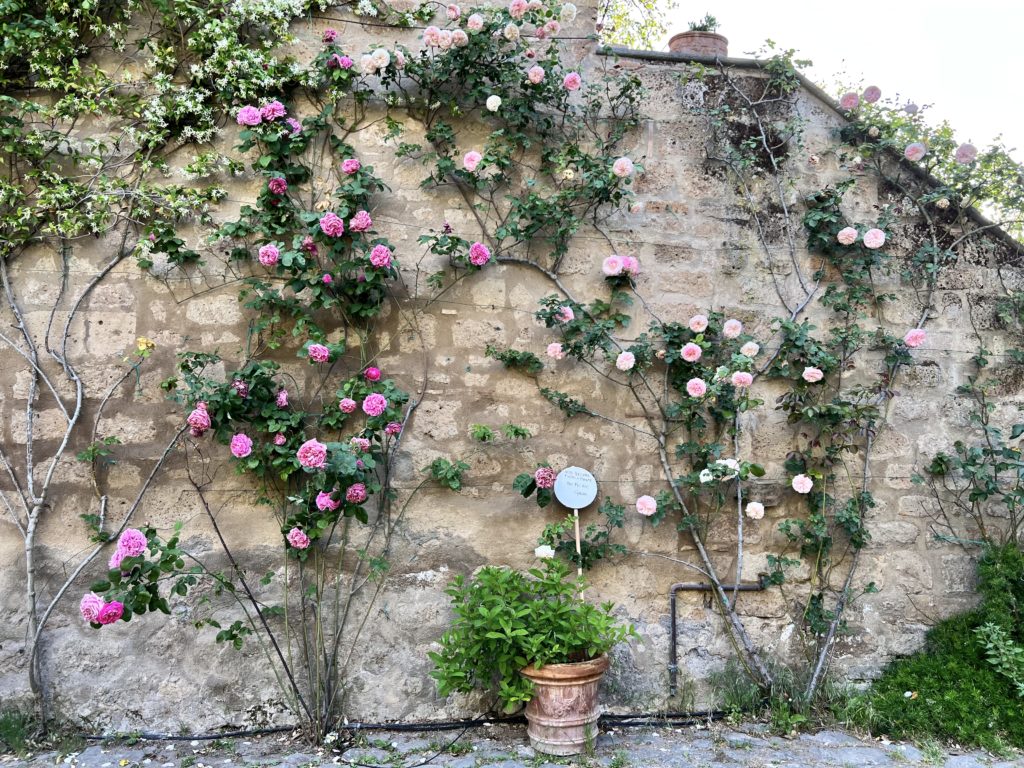 Guide To Civita di Bagnoregio: Things To Do
Once inside the village, the charms of Civita are subtle. There's nothing special to do but wander around in this step-back-in-time rural village. It's just romantic and unadulterated old world Italy.
The tiny village has just one main street, two bars, a few restaurants, and some quaint shops.
Stroll aimlessly down charming lanes, where every nearly every inch of space is festooned with flowers. Have a seat on the steps of San Donato Church. Admire the flowerpots and warm stone walls that glow in the sunshine.
If you'd like a guided tour of the town's sites and history, you can check out this 1.5 walking tour.
Aside from swooning over the scenery, there are a few things to see and do in Civita di Bagnoregio.
Porta Santa Maria
After you cross the bridge, you'll enter Porta Santa Maria. It was carved directly into the tufa by the Etruscans 2,5000 years ago and originally called Porta Cava.
Now it features a Romanesque arch and is the main gateway into the city. The door is decorated with bas reliefs and tiny markings from pilgrims. At the top, you'll see lions clawing humans.
Piazza Colesanti
You'll then pass through the pretty Piazza Colesanti. The square is home to Palazzo Colesanti, the Renaissance style home of the Colesanti family.
Btw, there are public bathrooms in the square, if you need them.
Church of Saint Donato
Piazza St. Donato is your next port of call. It's the historic center of the village. Wild donkey races are held there twice a year.
The square is dominated by the Church of San Donato and the Town Hall. The church dates back to the 7th century. But its current appearance sports a Renaissance facade from the 16th century.
Inside the church you'll find a 15th century wooden crucifix by the school of famed early Renaissance sculptor Donatello. There's also find a fresco by the Renaissance painter Pietro Perugino.
Museum of Geology And Landslides
In the same piazza is Civita's ominously named Museum of Geology and Landslides, the Museo Geologico delle Frane.
Visitors can learn about the landscape and the new ideas professionals have to stabilize it.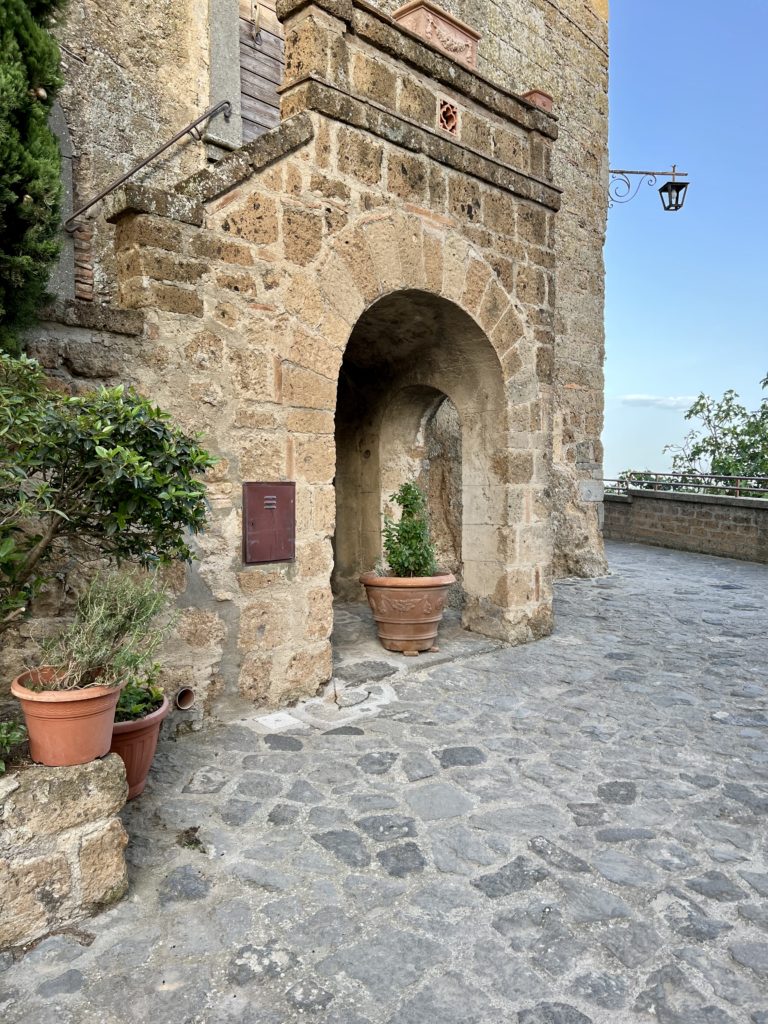 Photos show how the geology has changed over time, a steady shrinkage from erosion. The museum is housed in the Palazzo Alemanni, which is itself a beautiful palace.
When you're done in the village and back cross the bridge, pay a visit to the Grotta di San Bonaventura. It's near the Belvedere Terrace, which is a lookout point to take pictures of the town.
The grotto was a place where St. Bonaventure was miraculously healed by St. Francis of Assisi as a child.
This ancient grotto is actually much older than its Christian name suggests. In fact, this is an Etruscan-era tomb dug directly into the tufa. It's named after the friar, who was a biographer of St. Francis.
READ: Best Things To Do In Assisi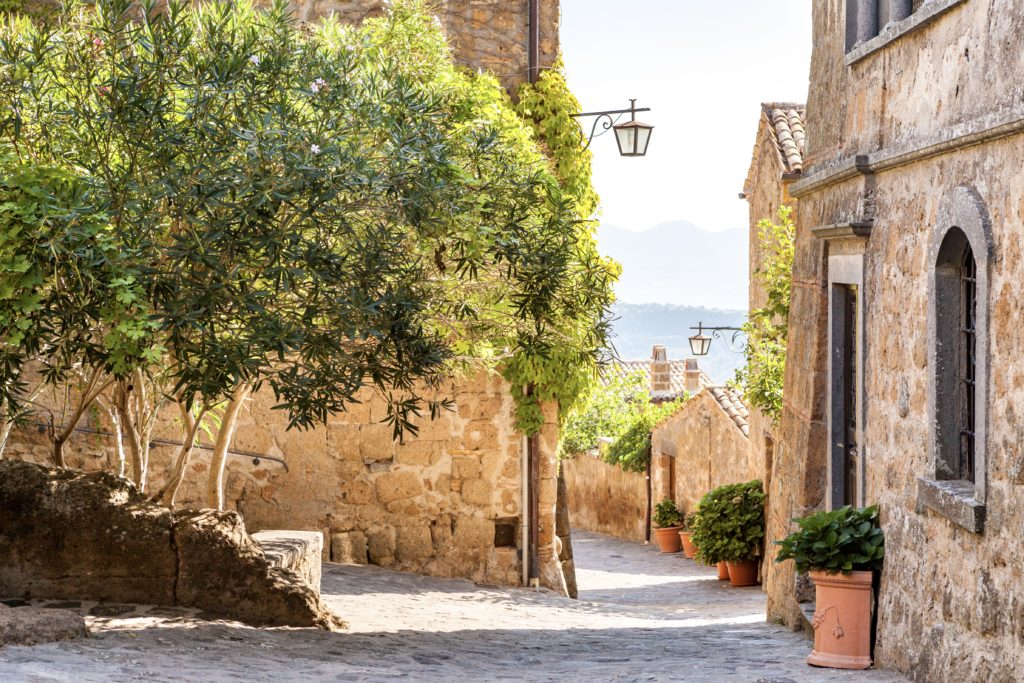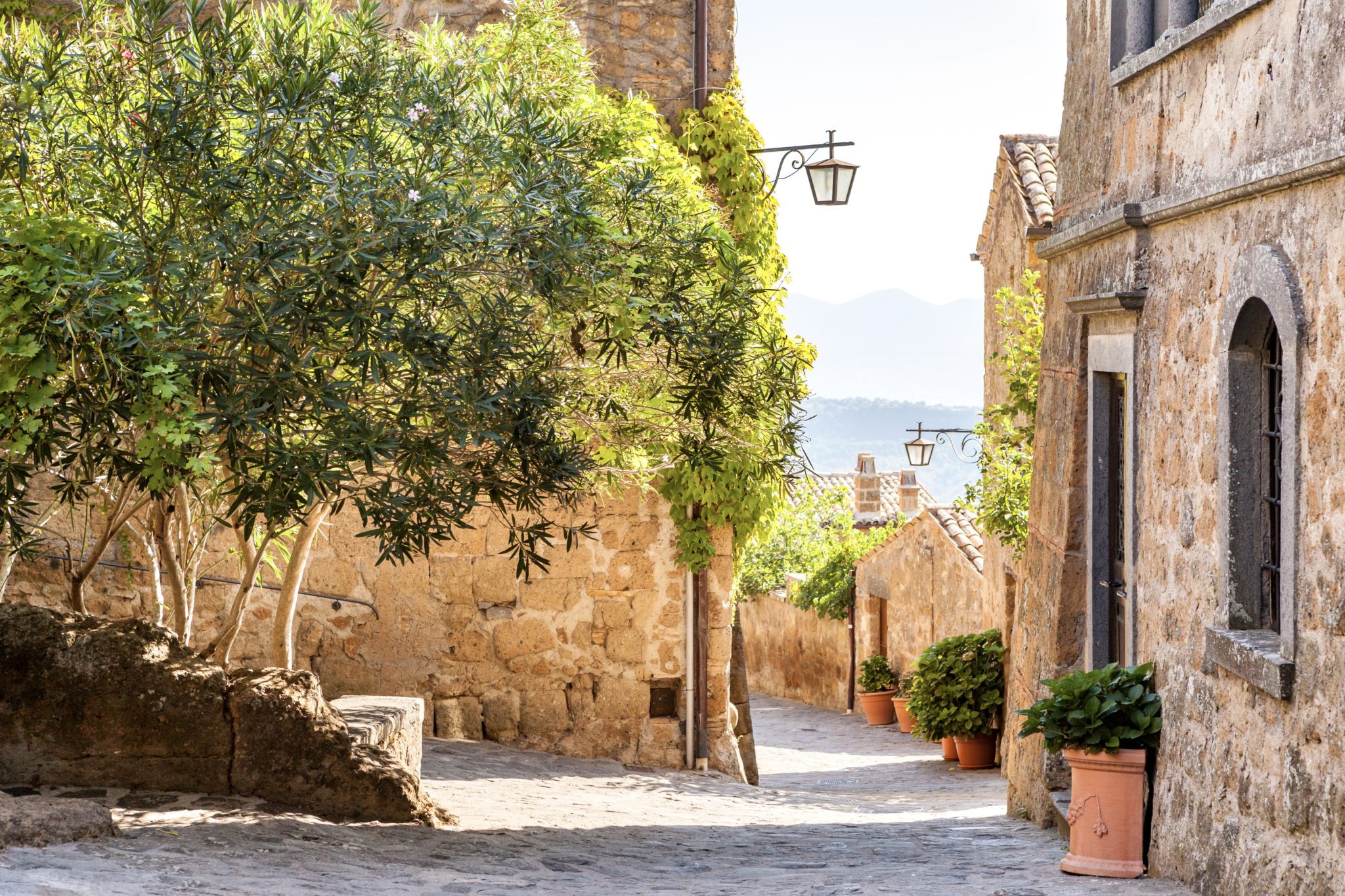 Tips For Visiting Civita di Bagnoregio
1. How To Get To Civita di Bagnoregio
Civita di Bagnoregio is located in Italy's Lazio region just across the border from southern Umbria. It's accessible from both Rome and Umbria.
Civita is 1:40 drive from Rome and 30+ minute drive from Orvieto and Viterbo.
By far, the easiest way to visit Civita di Bagnoregio is by car. If you're driving, you need to park outside the historic center. You'll see signs for the main parking lot.
From the lot, it's about a 20-25 minute hike to access the hamlet. Pay attention when walking on the road to the village as part of it has no pavement or sidewalks.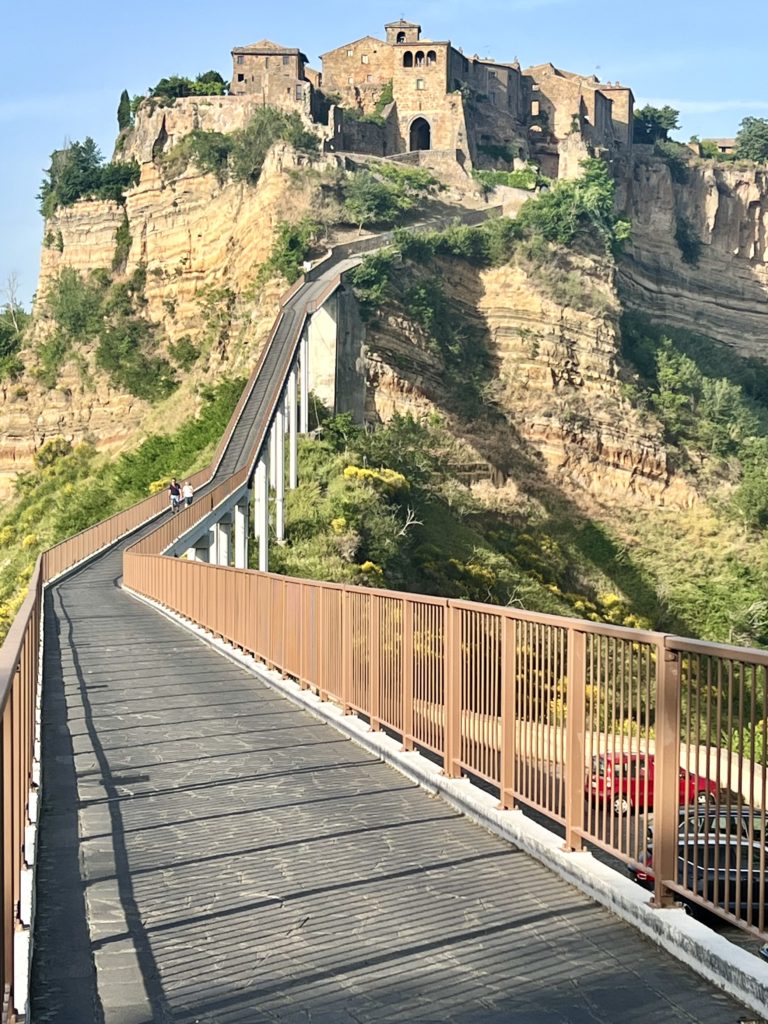 As you are walking, the village will suddenly pop into view out of nowhere into view. You'll feel like you're seeing the faraway Land of Oz.
You have to buy a 5 euro ticket to access the town.
You'll walk across an elevated and steep 1,000 feet meter pedestrian bridge, the Ponte Panoramico di Civita. It's cantilevered over a void.
It's a fairly easy hike. If you leave at night, which I did, the pathway is lit up.
You can stop along the way to admire the stunning views of Calanchi Valley. The hills in the valley look white because they're topped with a thick layer of marble dust.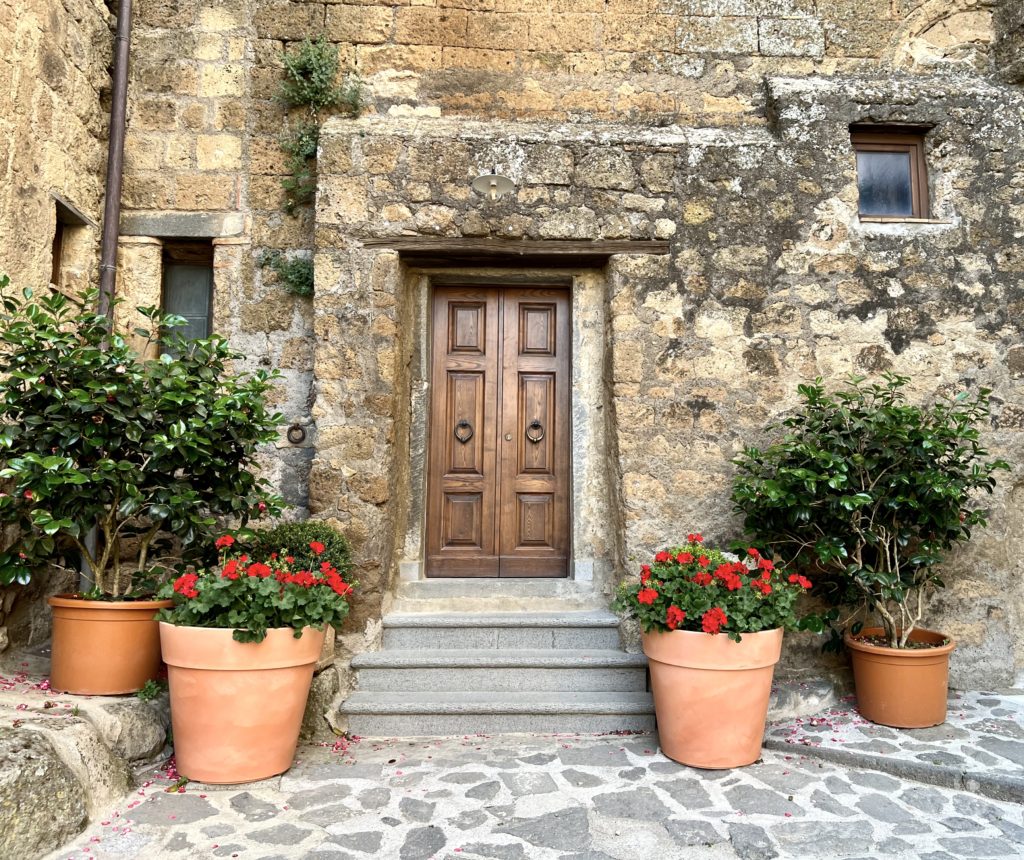 2. Guided Tours
If you don't have a car, no problem.
You can visit Civita di Bagnoregio on a guided tour from Rome that includes both Orvieto and Civita. You can also visit on a full day private tour from Rome.
READ: Best Day Trips From Rome
You can also book a tour from Orvieto, which includes a walking tour of the top attractions in Orvieto and a visit to Civita. And you can book a 1.5 hour guided walking tour once you're there.
READ: One Day In Orvieto Itinerary
3. Tickets For Civita di Bagnoregio
Civita di Bagnoregio tickets are € 3 on weekdays and € on Saturdays.
You can buy tickets to enter the village on arrival, either in the main car park in Bagnoregio or at the start of the footpath before the bridge. Click here to book a ticket online in advance.
In May, I bought tickets at the bridge entrance and there was no line.
But there may be a line in high season. If you want to avoid waiting, you should just book in advance. Simply option download the Civita di Bagnoregio app (available on Google Play).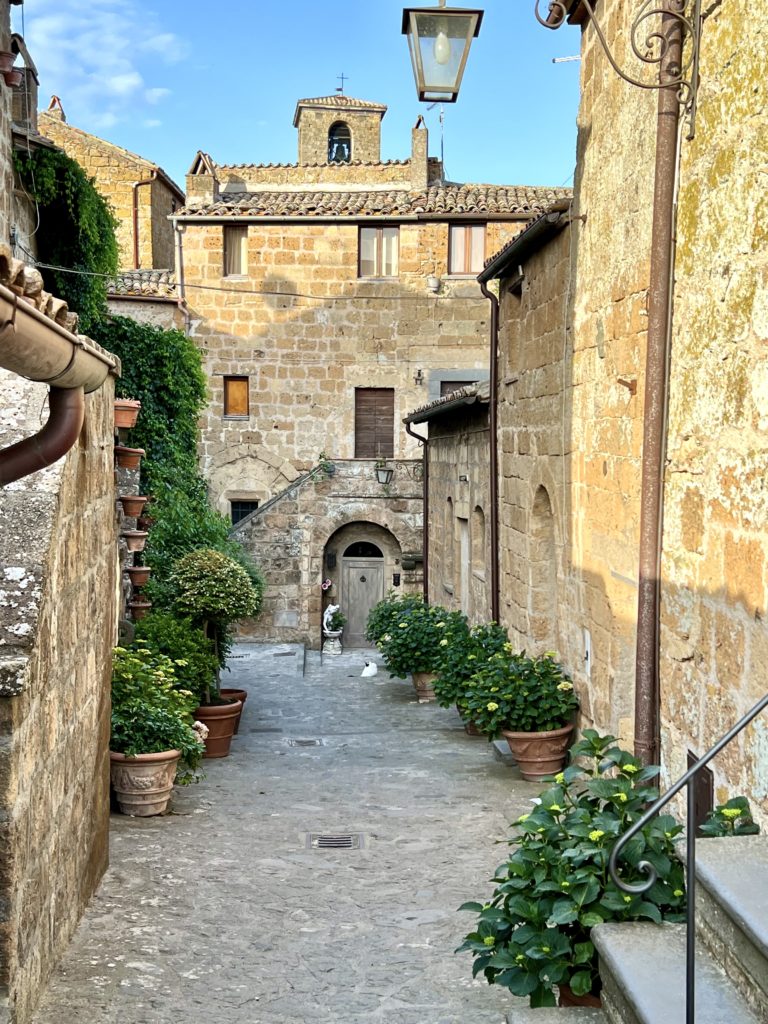 4. When To Visit Civita di Bagnoregio
Like most places in Italy, it's best to visit during shoulder season (spring or fall) to avoid the crowds.
Another way to avoid the crowds is to avoid visiting on a weekend, when the number of day trippers skyrockets.
It's best to arrive early in the day, if you can. Though the late afternoon is also very pleasant.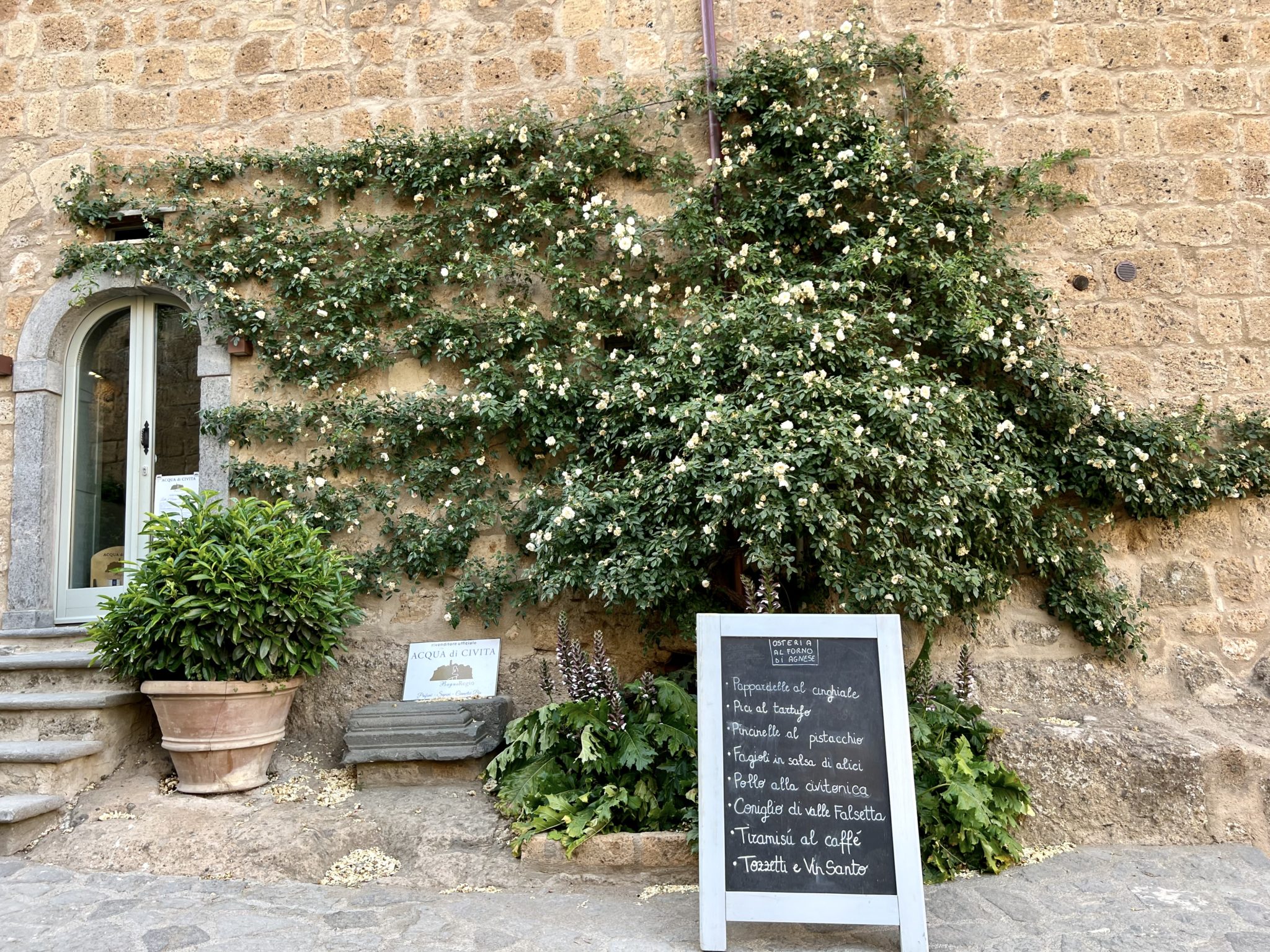 5. How Long To Visit Civita di Bagnoregio
Civita is super small. You could visit in just a couple hours.
But it might be nicer to linger longer over a glass of wine or meal. Civita is, understandably, not particularly fond of "hit and run" tourists who take snaps but don't contribute to the village's economy.
Plus, you can just take your time and see every nook and cranny and swoon over the views.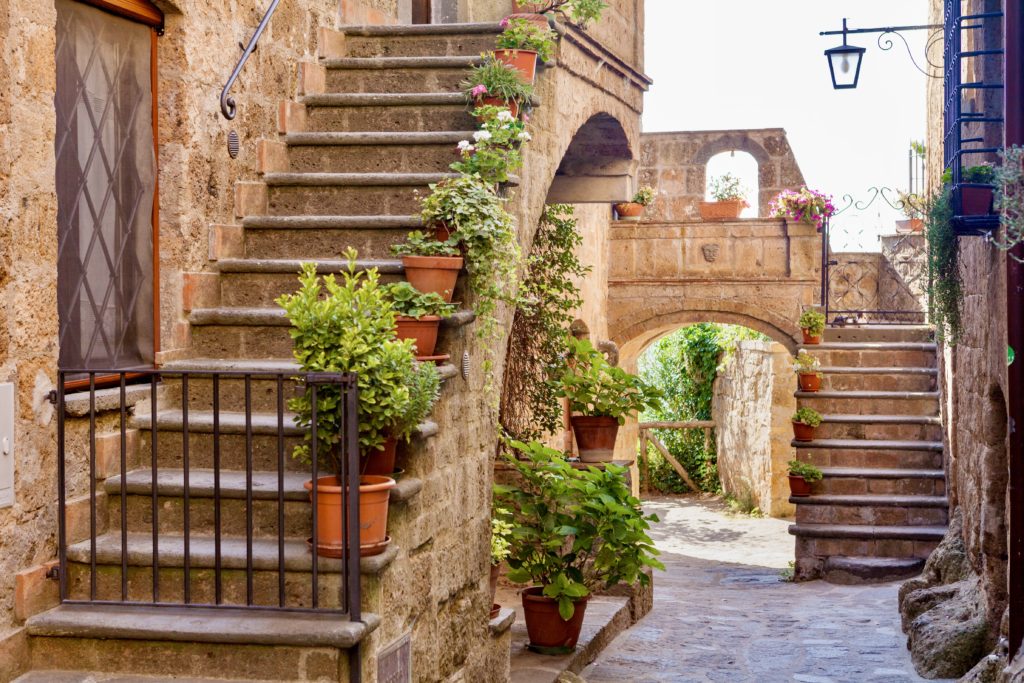 6. Is Civita di Bagnoregio Worth Visiting?
Civita di Bagnoregio is one of the most beautiful towns in Italy. It's definitely worth visiting.
It will likely be love at first sight because it's a one-of-a-kind village. You should visit before it's erased by the elements.
My only caveat is transportation. If you have a car or take a guided tour, you're fine. But if you are relying on public transportation, it may not be worth the journey.
Local buses connect the town to Orvieto and Viterbo. However, there is no direct line connecting Civita to Rome.
Civita di Bagnoregio is very difficult to navigate for people with mobility issues due to the long, uphill bridge and the narrow and uneven alleys in town.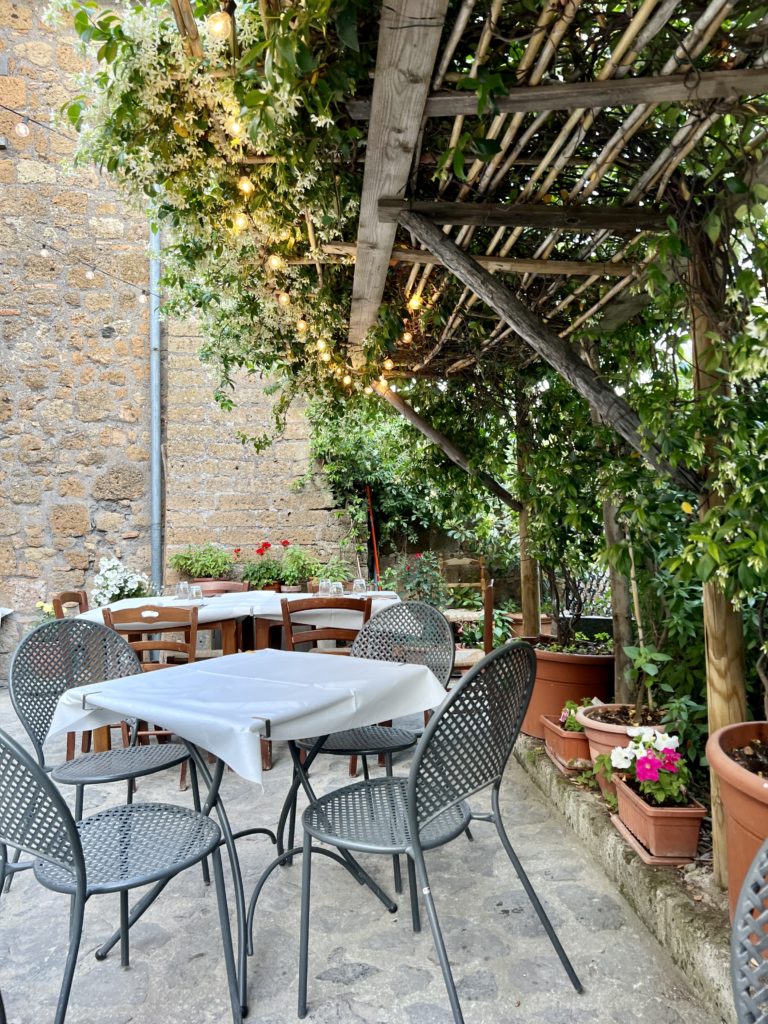 7. Where To Eat In Civita Di Bagnoregio
Bar La Piazzetta is in the main square and you can relax over a glass of wine there. I recommend the Orvieto Classico Superiore.
But, for such a teeny place, you can also have an excellent meal.
Alma Civita is inside an underground Etruscan cave and probably the best restaurant in town. It serves up inventive cuisine like agnolotti pasta stuffed with ricotta, pear, and cave-aged pecorino.
Osteria al Forno di Agnese, La Cantina Di Arianna, and Il Pozzo dei Desideri serve up great food in charming settings.
I did not see a gelato shop. But I have read that the town serves ricotta cheese as "ice cream."
8. Where To Stay Near Civita di Bagnoregio
If you want to overnight in the town, the Corte della Maestà Antica Residenza is a small luxury hotel onsite.
If you are also visiting Orvieto, just 20 minutes way, check out the historic La Badia. It's a few miles outside Orvieto amid nature.
The luxury hotel is housed in a splendidly restored 12th century abbey, complete with a church and Romanesque bell tower.
I hope you've enjoyed my guide to Civita di Bagnoregio. You may enjoy these other Italy travel guides and resources:
If you'd like to visit Civita di Bagnoregio, pin it for later.