Here's my guide to visiting Villa Farnesina in Rome Italy.
Designed by artist-architect Baldasarre Perruzi, Villa Farnesina is a magnificent off the beaten path museum, located in Rome's lovely Trastevere neighborhood. It's home to torrid love stories and secret Raphael paintings.
If you know me, you know I hate crowds. Blissfully, this small museum on a human scale doesn't have any.
It's a quiet oasis of in situ art and architecture. The villa was the Renaissance pleasure palace of Agostino Chigi, Rome's richest man.
It's decorated with racy mythological frescos by Renaissance painters Raphael, Baldassare Peruzzi, and Sebastian del Piombo. They delighted many a pope and international rulers.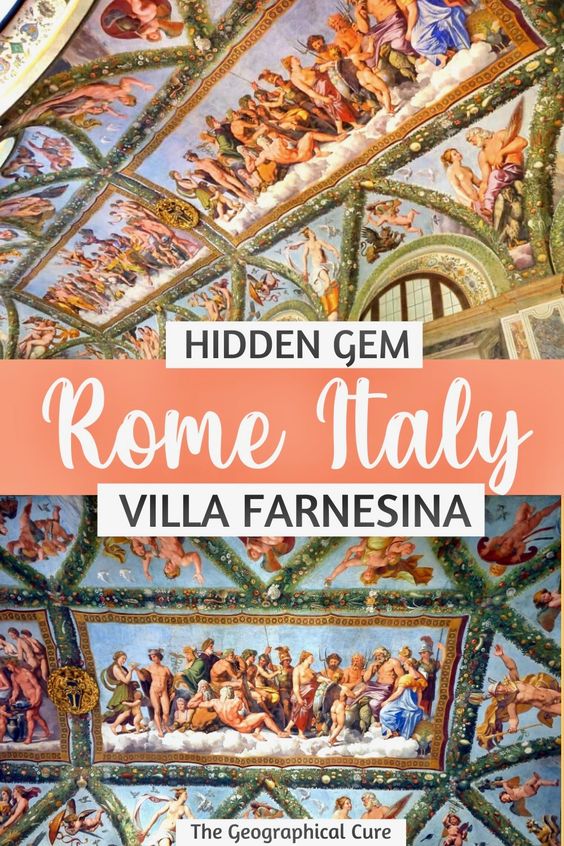 I think Villa Farnesina may be Rome's most underrated museum. If you're a Renaissance art lover, Villa Farnesina should be on your itinerary for Rome.
It's small and an interesting alternative to the crowded Vatican Museums. You don't even have to budget much time for it.
History of the Villa Farnesina
1. The Villa: Architecture And Purpose
Between 1506-11, the wealthy banker Agostino Chigi from Siena built Villa Farnesina, then titled Villa Chigi. Chigi was the richest man in Rome and maybe all the world.
He was known throughout Europe. He lent money to kings, princes, and cardinals. Chigi was especially cozy with the popes, especially Julius II.
He was nicknamed "Il Magnifico" because of his luxurious lifestyle and flamboyant personality. With unlimited resources and good taste, he aimed to create a sumptuous Renaissance jewel and temple to true love.
Chigi's Villa Farnesina wasn't intended for casual teas. This was a show-offy party pad where Chigi escaped the hustle and bustle of Rome.
Chigi wanted to entertain Roman VIPs in a beautiful space that was bright, airy, and infused with Renaissance beauty. He wanted the villa to evoke the classical world — with star-studded art, rare plants, marble, and antique statues.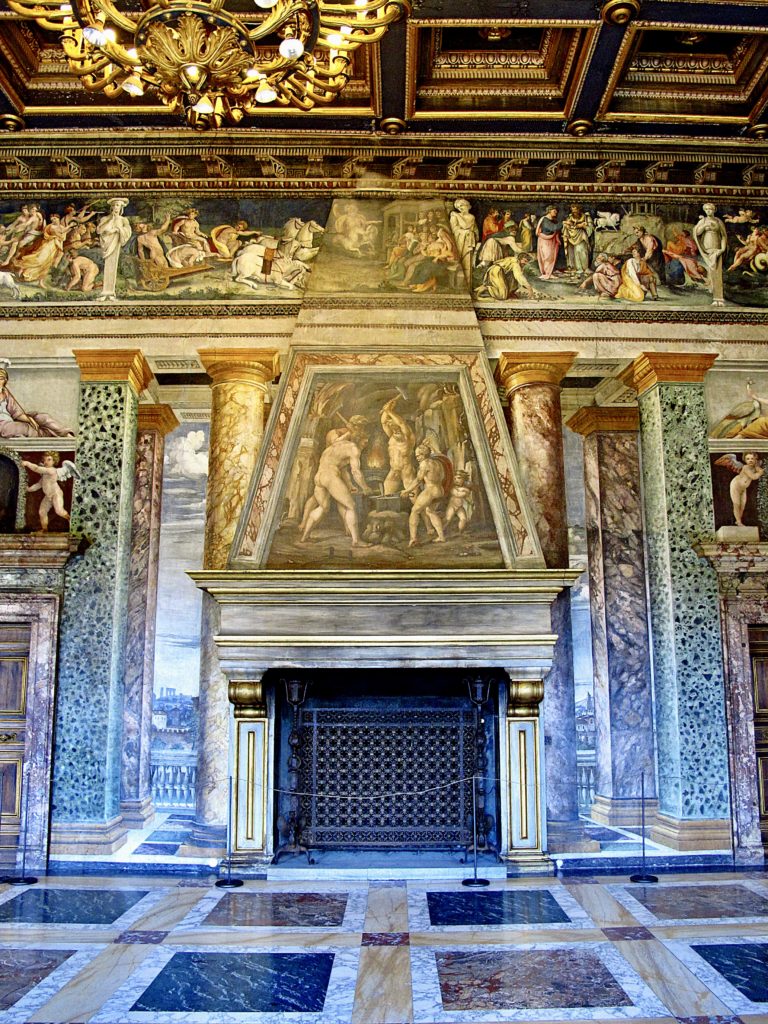 Chigi hired the celebrated architect Peruzzi, a pupil of Donato Bramante, to design his pleasure palace. The villa was made of brick and then covered with marble.
He chose an unconventional style. Villa Farnese was a two story building with a central block, two wings, open loggias, and an elaborate terraced garden.
Chigi also hired a fleet of artists who came over from the Vatican, including Raphael, to paint scenes of secular art. Only one painting is entirely attributed to Raphael.
His workshop painted the frescos based on Raphael's cartoons, or designs. Raphael oversaw the execution.
Peruzzi located the villa just outside the city walls. It became the first Renaissance suburban villa and a prototype for many others.
The sumptuous villa was purely for pleasure and hedonistic activity.
It was nicknamed Viridario, which means "Roman pleasure garden" in Latin.
Chigi's bed was made of ivory and gold, which cost more than the plot of land on which the villa was built.
2. Agostino and Francesca, A Love Story
At the time, Chigi was married to the aristocrat Margherita Saracini. It was a marriage of convenience, intended to increase Chigi's social rank. Margherita died childless in 1508.
Chigi was a notorious ladies man, cavorting with many women, including the famous courtesan Imperia. But, in 1511, Chigi fell madly in love with a a poor girl from Venice, Francesca Ordeaschi.
Francesca moved into Villa Farnesina. To inaugurate their new love nest, Chigi hired Raphael to paint the story of Cupid and Psyche, a narrative referencing his love for Francesca.
Chigi and Francesca would go on to have 5 children.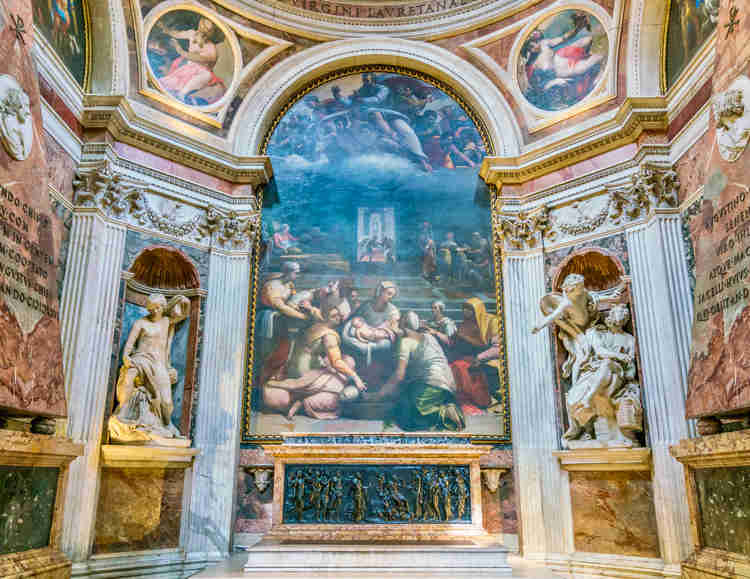 The pair were finally married in 1519 by Pope Leo X, who baptized and legitimized their children.
When Chigi died in 1520, he was buried in his Raphael-designed tomb in the Basilica of Santa Maria del Popolo. Francesca died 7 months later, possibly by her own hand (or, more treacherously, poison).
After Chigi's death, his wayward heirs squandered the family fortune.
In 1579, the villa passed into the hands of the powerful Farnese family. To differentiate it from their own Villa Farnese across the river, Villa Chigi was renamed Villa Farnesina.
Guide To Villa Farnesina: Highlights of the Museum
Here's what to see at the Villa Farnesina:
1. Loggia of Cupid and Psyche: Love and Drama
The highlight of the ground floor is the Loggia of Cupid and Psyche. Make this the first thing you see in the villa.
The beautiful and animated frescos will take your breath away. Cavorting gods and goddesses cover every inch of the walls. The theme is "love conquers all."
The room was intended to be a continuation of the garden. It was initially a loggia, or covered exterior gallery. Now, glass walls protect the frescos, separating the villa's interior from the exterior.
The room was designed by Raphel. The paintings are the work of Raphael and his workshop.
Most of the figures were painted by Raphael's assistant Giulio Romano. The frescos were painted to appear like tapestries suspended from the ceiling by garlands.
There's a marked absence of religious iconography. This was a pagan setting for pagan frolicking.
The paintings depict the myth of Cupid and Psyche from the Golden Ass, a story in Metamorphoses, an ancient Roman novel by Apuleius. The frescos are colorful, fleshy, and erotic.
Psyche was the beautiful daughter of a king, whose looks aggrieved the goddess Venus. A jealous Venus asked her son Cupid to pierce Psyche with a love arrow, plotting to have Psyche see a monster when her eyes opened.
But Cupid pierced himself instead. He falls deeply in love with Pysche.
To disguise himself, Cupid becomes Psyche's unseen lover and visits her only at night. When Psyche disobeys his order not to look at him, she loses him.
To win Cupid back, Psyche is given a set of difficult tasks by a vengeful Venus. When Cupid can bear Psyche's torture no longer, he pleads their case to a council of gods.
The gods grant Cupid's wish. Psyche becomes immortal. The happy and reunited pair are married in heaven. This tale mimics Francesca overcoming obstacles to be with and marry Chigi.
The paintings are separated by a festoon of flowers and trees. They were executed by Giovanni Udine, the foremost botanical painter of his time and also a student of Raphael.
The garlands show 170 different species of exotic plants, a botanical dictionary of the time. Even the plants were erotic. For example, there's a large zucchini with an eggplant head breaking open a fig.
Raphael's frescos later became the model for the racy frescos in the Te Palace in Mantua Italy.
Te Palace is one of the world's most unique and beautiful buildings, a wildly inventive and theatrical feat of both architecture and decoration. The frescos were executed Raphael's best pupil, Giulio Romano, between 1525-35.
2. Raphael and Fornarina, Another Love Story
But wait, there's another torrid love affair involving the frescos! Involving another famous ladies' man — Raphael.
While Raphael was painting the Villa Farnesina frescos, he began having a torrid affair with Fornarina, the baker's daughter who lived down the street.
She was later immortalized in his famous painting (above), on display at the Palazzo Barberini.
Raphael's infatuation consumed him. He began to skip work to see Fornarina. Chigi grew frustrated.
He even had Fornarina kidnapped to prevent Raphael from seeing her. But then a lovestruck Raphael simply grew depressed.
This all stalled Chigi's grand project. Finally, Chigi gave up and had Fornarina move in to keep Raphael content.
In 1520, Raphael died abruptly at just 37. The diagnosis back then?
Art historian Giorgio Vasari said is was "too much sex," which caused him to spike a fever. His bedmate on his last happy night? Most likely, Fornarina.
Legend holds that Chigi used to host lavish banquets in the Loggia of Cupid and Psyche.
To impress guests with his wealth, he would toss the gold and silver dishes in the Tiber River when dinner was over. After this party trick, his servants fished them out with nets.
At Chigi's most lavish banquet, he served guests rare birds or fish from their own countries on silver dishes decorated with their coats of arms.
Chigi had plays performed in the loggia. His "court" of Renaissance men met there to read classical poetry and discuss philosophy and astrology.
3. Hall of Galatea
This room is striking in vivid blue and gold, colors intended to demonstrate Chigi's wealth and power.
The room was originally known as Loggia di Gardino. But then, in 1650, the arches that were open to the exterior gardens were closed.
Piombo painted the lunettes in 1511. Chigi brought the promising young painter back to Rome after meeting him in Venice. Peruzzi decorated the ceiling frescos.
The room's claim to fame is Raphael's Triumph of Galatea. It's a mythological scene of erotic pursuit based on a poem. It's a rare secular painting by Raphael.
According to the Greek tale, Galatea was a beautiful sea nymph with whom the mortal Acis fell in love. But he had a jealous rival, the clumsy cyclops Polyphemus, whom Galatea shunned.
When Polyphemus killed Acis with a boulder, Galatea turned her lover into an immortal river spirit.
Peruzzi's ceiling frescos in the Hall of Galatea contain astrological themes. You'll see zodiac symbols in frescos of The Rape of Europe and Leda and the Swan.
But it wasn't until the 20th century that art historians realized that Chigi's birth date was cleverly hidden in the ceiling.
The 7 planets and 12 zodiacal constellations are painted as they appeared in the sky over Siena at Chigi's birth on November 30, 1466.
4. Raphael's Galatea
Galatea is the piece de resistance of Villa Farnesina. It's one of the most beautiful paintings in history. It's the most classical of all Raphael's paintings.
In Raphael's painting, Galatea is shown driving a shell-chariot pulled by some sinister looking dolphins to escape Polyphemus. The face of Galatea may be the face of Chigi's lover Francesca.
She's surrounded by mythological sea creatures and cupids shooting arrows.
The painting is reminiscent of Botticelli's Birth of Venus in the Uffizi Gallery. Both of them share a low relief effect with the curls and movement.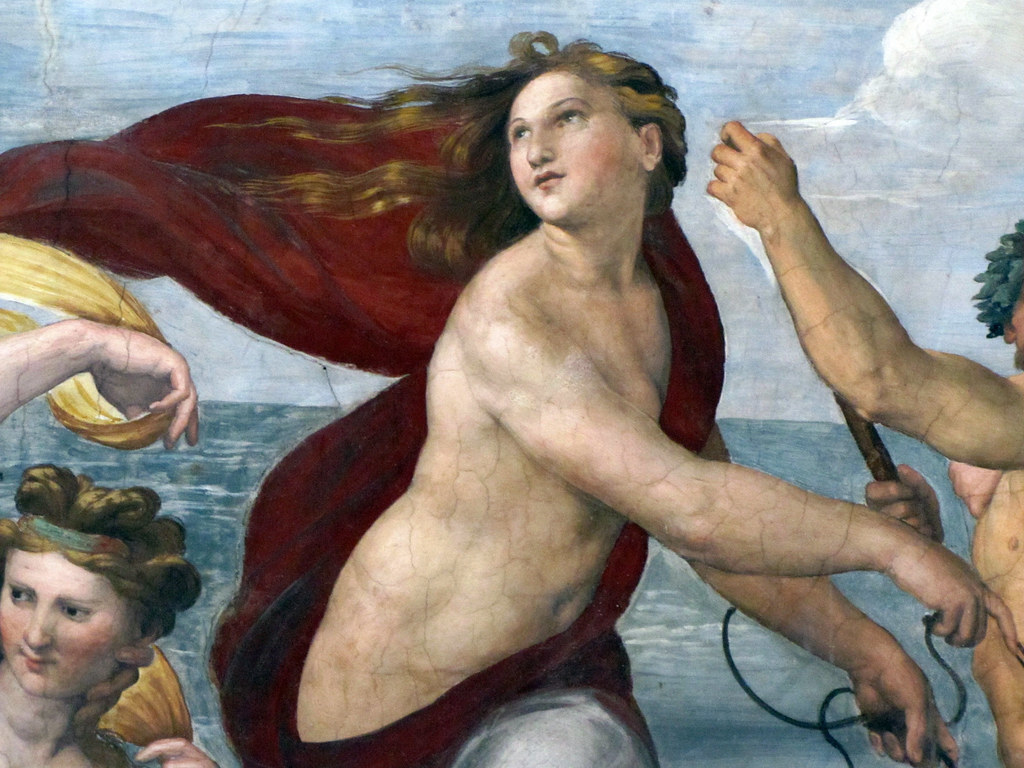 The painting also seems influenced by Michelangelo, given the physicality of the figures. Michelangelo was working in the Sistine Chapel at the same time Raphael was toiling away in the Raphael Rooms.
Galatea is in a complex posture — windblown hair, twisting body, and limbs wielding the reins. Everything in the painting points to Galatea's face.
In a funny bit, there's a little putti (angel) peaking out from behind a cloud at the top. And a dolphin biting an octopus in the bottom right corner.
In an ancient treatise, dolphins were said to represent love and octopuses to represent lust.
5. Monochrome Fresco
Near the top of one wall, there's a mysterious monochrome fresco of a young man, possibly a figure from mythology. It's done in charcoal.
It almost looks like a giant head. The fresco was originally attributed to Michelangelo. But the figure is the subject of much debate.
According to legend, Michelangelo — a fierce rival of Raphael — snuck into Villa Farnesina to check on Raphael's progress when the artist was gone. It was speculated that Michelangelo drew the portrait during his break in.
That's very romantic, of course. And it does resemble Michelangelo's frescos in the Sistine Chapel.
But, later, during cleaning, the initials BP were found on the painting. It was tentatively reattributed to Peruzzi.
6. Polyphemus Fresco
The Polyphemus fresco is in the niche to the left of Triumph of Galatea. It's attributed to Piombo.
The fresco depicts the one eyed cyclops. As I mentioned, the cyclops was in love with a nymph called Galatea.
Mythologically speaking, the fresco of Polyphemus and Galatea are companions. But stylistically they are very different.
Polyphemus is rendered in the softer Venetian style, while Raphael's Galatea is very linear.
7. Room of the Perspectives
Then you make your way upstairs.
The first floor features the astonishing trompe-l'oeil Room of the Perspectives, completed by Peruzzi. It's a spectacular work of art that's a virtual reality type of experience. Chigi even held his wedding banquet in this room.
The walls are painted to resemble a illusionistic colonnaded loggia. It allows the viewer to gaze out on an idealized landscape of ancient Rome with balustraded terraces. The view apparently corresponded with what was right outside.
You might think you can actually walk out on the terraces the perspective is so fine. The effect is a painting away of the actual walls.
Around the walls are mythological gods. A centerpiece is the dominating fireplace.
Above the fireplace is an image of Vulcan's Forge. So the fire in the fireplace is connected to the Vulcan's Forge above.
8. Master Bedroom
One room over, high Renaissance painter Giovanni Bazzi, known as Il Sodoma (the sodomite), left his mark in the master bedroom.
In 1519, he painted frescoes depicting scenes from the life of Alexander the Great. So Chigi Il Magnifico was conflating himself with Alexander the Great.
The most famous scene depicts his marriage to Roxanne (though it looks more like the honeymoon, than the wedding). Chigi compared himself to Alexander, bestowing a crown on Roxanne. Roxanne has the face of Francesca.
The quality of the frescos isn't great, not Il Sodoma's best. Apparently Chigi was stingy about paying him.
9. The Grotesque Frescos
You'll also see some "grotesque" frescos in a charming (blocked off) passageway connecting the Hall of Perspectives to the domestic areas of Villa Farnesina.
The grotesque frescos owe their name to Nero's Domus Aurea or Golden House.
The ancient palace was accidentally discovered in the 15th century, when a boy fell through a crevice and found himself in a frescoed grotto-like cave. The word grotesque comes from the word grotto.
READ: Guide To Rome's Archaeological Sites
The frescos were full of fantastical and whimsical decorations, with hybrid monsters twirling amidst a white background. The grotesques attracted the attention of Renaissance artists, who went spelunking to see them. The ancient grotesques then became a popular form of decoration in the 16th century.
Practical Information & Tips for Visiting Villa Farnesina:
Address: Via della Lungara 230
Hours: 9:00 am to 2:00 pm, closed Sunday
Guided Tours: You can book a 2 hour private tour of the Villa Farnesina or a guided tour of Villa Farnesina and walk through Trastevere.
Entry fee:
10 euros. The audio guide is included in the entry fee. There's a guided tour in English at 10:00 am on Saturday. You can buy tickets online here.
Pro tips:
There are very few places to sit down, only a few chairs in the Cupid and Psyche loggia. You can take photos without flash.
I hope you've enjoyed my guide to the Villa Farnesina. You may enjoy these other travel guides and resources for visiting Rome:
If you need a guide to Villa Farnesina in Rome, pin it for later.