"Shall we begin?" — Daenerys Stormborn of the House Targaryen, First of Her Name, the Unburnt, Queen of the Andals and the First Men, Khaleesi of the Great Grass Sea, Breaker of Chains, and Mother of Dragons
Shall we begin?
If you're in the mood for some scenic and cinematic travel, here's my guide to the absolutely jaw dropping San Juan de Gaztelugatxe, a magical spot in northern Spain. Gaztelugatxe is a must see destination in the Basque Region of northern Spain and an easy day trip from Bilbao.
What is Gaztelugatxe?
In the wildly popular TV series Game of Thrones, Gaztelugatxe appears as Dragonstone — the haunting ancestral home of Daenerys Targaryen, the Mother of Dragons. In real life, Gaztelugatxe is a fantastical ancient stone foot bridge winding up to a tiny hermitage chapel on the Bay of Biscay.
The hermitage church has been attracting day trippers and pilgrims for years. Thanks to Game of Thrones, there are a few more there now. I was extremely excited to visit the magical place.
How to Get to Gaztelugatxe
For nature lovers, San Juan de Gaztelugatxe is by far the best day trip from Bilbao, about 30 minutes away. Because of its remote location, Gaztelugatxe is most easily accessed by car. From Bilbao, take the B1-631 highway.
You can day trip from San Sebastian too, if you're staying there. But it's much further afield, about 1:40 drive.
Follow the signs and park on top of a hill off the main road and walk 1 kilometer down to the site.
If you don't have a car, your journey may be more difficult. From Plaza Moyua Square in Bilbao, take A3518 green Bizkaia bus to Bakio. Buses run every 30 minutes and the ride is approximately 45 minutes.
From Bakio, you have a 4 kilometer hike along the coast to get to Gaztelugatxe. Or you can try to take a second mini bus, A3524, from Bakio to Bermeo, which passes by the entrance to Gaztelugatxe. The schedule is quite difficult to find on the internet and it only runs every 2 hours, so hoofing it may be the better option.
That Visceral Thrill: the Ethereal Beauty of Gaztelugatxe
Spain's Basque Country is known for its riveting landscapes, but it's hard to prepare for the visceral thrill of seeing Gaztelugatxe for the first time. It still feels untouched and wild. It's a small adventure that packs a big punch and lives up to the hype.
Gaztelugaxte means "castle rock" in Basque. The "castle" is actually a tiny church hermitage dedicated to John the Baptist. Stories say that he visited the island and his footprint can be found along the many steps of the foot bridge.
Originally built by the Knights Templar, the church has a calamitous history. It's been burnt and destroyed several times, by nature, pirates, plunderers, and Sir Francis Drake among others. Drake looted the hermitage and allegedly killed the poor hermit – throwing him off of the cliff!
Each time it was destroyed, it was been rebuilt and re-inaugurated.
Today, Gaztelugatxe is part of the Camino del Norte route along northern Spain's Atlantic coastline, from Basque country to Galicia.
The church's rocky outcropping is accessed by a 10th century stone bridge, which is somewhat reminiscent of the Great Wall of China.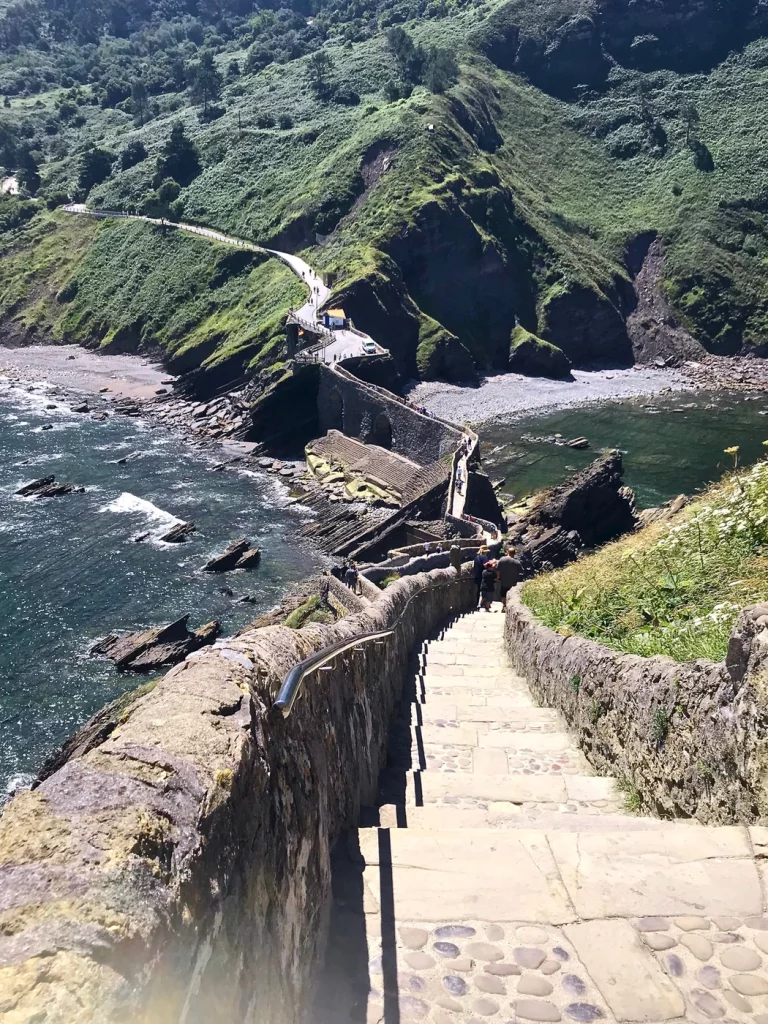 Gaztelugatxe, the Hike to the Hermitage Church
Bring sturdy and comfortable shoes and plenty of water to hit to the island. The bridge is eminently walkable for all ages. You'll definitely want to stop, linger, and absorb the stunning views on the ascent. Along the bridge are smaller staircases that lead down to reflecting spots at the edge of the water.
231 steps later, you arrive at the island church.
If you're feeling superstitious, ring the church bell three times and make a wish. Legend also holds that ringing the bell banishes evil spirits. Though undaunted by such received nostrums, I had a tug anyway, Pascal's Wager flitting across my mind.
There are benches outside the church. There, you can rest and take in views of the Bay of Biscay. I admired the carved cliffs and arched tunnels circled by seagulls, meditatively listened to the waves crashing on the rugged stone coast, and tuned out any unwanted background noise.
From the soles of my feet to the top of my wind blown head, I was peaceful and happy, cumulative demons exorcized by the power of nature and by the heady Game of Thrones overlay. If you're in need of a geographical cure, this is the ideal spot in northern Spain.
But hunger had set in.
You don't have much choice of food in Gaztelugatxe. The closest and easiest place to eat is Restaurant Eneperi. The tapas, known as pintxos (pronounced peen-chos), are just barely average, but there is outdoor seating and the mood was pleasant enough. Be prepared to speak Spanish or Basque or else point to your preferred snacks.
Gaztelugatxe, a Filming Location for Game of Thrones
Dragonstone is a real place. And the famous staircase, were Jon Snow first meets a dragon, is real.
San Juan de Gaztelugatze was featured in Seasons 7 and 8 of HBO's hit series Game of Thrones. You'll recognize it as Dragonstone.
There, Daenerys makes a triumphant return to Westeros from Esso. Like her ancestor Aegon Targaryen, she plots to take the Iron Throne and battles white walkers with Jon Snow in tow. By landing in Dragonstone, she instantly changes the balance of power in Westeros.
From Dorne to the Iron Islands to the North, visitors arrive to bend the knee. Jon Snow journeys from Winterfell to seek her help in fighting the dead looming in the far north. He also wants her stash of dragonglass buried at Dragonstone.
Jon advises Daenerys against using her dragons to burn "cities and castles." He eventually persuades her to join him in fighting the "Great War" in the north. You probably know the rest.
What To Do After Visiting Gatelugatxe? Bakio Beach Detour
After my dreamy visit, I hopped back in the car and drove to Bakio Beach to cool off. Compared to Gaztelugatxe, Bakio is a bit soulless with high rise apartment buildings and unappealing touristy beach cafes. But the beach was relatively uncrowded in late June.
I walked the across the sandy shores, dug my toes into the sand, and enjoyed the healing properties of the water.
Is Overtourism a Threat at Gatzelugatxe? Not Quite Yet …
As for Game of Thrones, it's a given that any filming location from the show will become a hot tourist destination. And there is concern already that that the sharp influx of tourists will erode or crumble the bridge's rocky steps. In the future, the number of tourists could be capped or an entry fee charged.
But when I visited, there was no Game of Thrones' footprint in Gaztelugatxe — no signs, no advertising, no junky trinket shops, and no one dressed in costume.
I could re-live the romantic fantasy show in my mind, to the extent I wanted, without being inundated with banal pop culture references or souvenir hawkers. It's gorgeous and remote, and a reminder of an era when calls to a monotheistic God included plenty of prayer for sailors to return from a sea.
And so, as I stood in the beautiful hermitage, I bent the knee like the humble supplicant Jon Snow and succumbed to the beauty of Gaztelugatxe, the Basque dragon castle.
Practical Information and Tips for Visiting Gaztelugatxe
If you're wondering how to visit Gaztelugatxe, here are the answers:
Hours: The path to the island is always open. The church is usually closed, but it will have the following opening times during the months of July and August:
Tuesday to Saturday: 11:00 am to 6:00 pm, Sundays and Holidays: 11:00 am to 3:00 pm
Address: 48130 Gaztelugatxeko Doniene, Biscay, Spain, GPS coordinates: 43°26'51.0 / 2°47'06.0
Entry fee: It's still free to visit. You're given a "free access ticket" when you arrive.
How To Get To Gaztelugatxe:
By Bus:
Several Bizkaibus lines take you to San Juan de Gaztelugatxe. In the summer, line A-3517 runs from Bilbao (Plaza Moyúa or Termibus) to Bermeo, where it has a stop near Gaztelugatxe. Several bus lines serve the Bermeo-Bakio road all year round. Check timetables when planning your tour.
By Car
It is a 45 minutes' drive from Bilbao. Take road BI-631 to Bilbao Airport (Loiu). Past Mungia, drive onto the BI-2101 in the direction of Bakio. When you reach Bakio, drive across town and you will come to San Juan de Gaztelugatxe.
Bilbao Spain
You may enjoy these other travel guides and resources for northern Spain:
• 10 day itinerary from Barcelona to Bilbao
• 1 week itinerary for northern Spain
• 10 day itinerary for Basque Spain
• Day and weekend trips from Bilbao
​• 3 day itinerary for Barcelona
If you'd like to visit Gaztelugatxe in northern Spain, pin it for later.