Are you a fan of the Italian Renaissance art? The Renaissance was a period of unparalleled artistic innovation, which left an indelible mark on the world of art.
While much Renaissance artwork originated in Italy, the United States currently boasts an impressive collection of such masterpieces. Surprisingly, you don't need to travel to Italy to appreciate remarkable Renaissance art.
The Gilded Age, a period from 1877-1900, witnessed a remarkable increase in wealth and cultural enthusiasm among American industrialists and collectors, including prominent figures like Isabella Stewart Gardner, Henry Clay Frick, and Andrew Mellon. They enthusiastically started traveling abroad and acquiring Renaissance artworks.
This period marked the beginning of significant collections being formed and displayed in museums across the United States. But collecting continues to this day.
From the hallowed halls of renowned institutions like National Gallery and the Getty Center, this guide explores the 20 of the top Renaissance paintings and masterpieces in the United States.
Best Renaissance Paintings In The United States
Here's my compilation of my personal favorite Renaissance paintings in the United States, in no special order.
1. Artemisia Gentileschi, Lucretia
Artemisia Gentileschi's Lucretia is in the Getty Center, surrounded by works of her father, Orazio Gentileschi. The Getty acquired the painting in 2021.
Gentileschi is mostly known as a Baroque artist. But she was active during the transition from the Renaissance to the Baroque period, so I've included this remarkable painting in my list.
In this piece, Gentileschi captures the poignant moment before the suicide of Lucretia, a Roman noblewoman who chose death over dishonor after being raped. It was a topic of significance to the artist because she, too, had been raped and sought legal redress.
Unlike other artists' depictions of Lucretia, Artemisia's portrayal exudes determination as Lucretia aims the dagger at her chest. The translucent skin and pearls, typical of Baroque art, contrast the gravity of the scene, making this painting a rare and powerful testament to Gentileschi's unique style.
READ: Life and Paintings of Artemisia Gentileschi
Where: Getty Center, Los Angeles
2. Raphael, Alba Madonna
Raphael's Alba Madonna is a beautiful Renaissance artwork in the US. It's presented in a circular tondo format that was popular at the time. Mary's depiction exudes a Roman-like presence, complete with sandals.
The composition forms a graceful pyramid with Mary, Christ, and John the Baptist gazing towards the cross, set against the serene Tuscan landscape.
Notably, the painting showcases a newfound grandeur and intensity in Raphael's artistry, distinct from his earlier works.
Symbolism abounds, as Mary's radiant portrayal in a blue mantle and sandals symbolizes the church, while her red dress and a subtle cross evoke Christ's profound sacrifice.
Where: National Gallery of Art, Washington DC
3. Titian, Rape of Europa
Titian's Rape of Europa is the most prized artwork in Boston's Isabella Stewart Gardner collection. It's a gorgeous piece that was successfully restored in 2020 and is now gleaming and full of painterly texture.
The vibrant painting was one of six mythology paintings originally commissioned for Phillip II of Spain. Titian drew inspiration from a myth in Ovid's Metamorphoses.
The tale features Jupiter, the king of gods, captivated by Europa. He transforms himself into a docile bull to kidnap and seduce her. A sense of sensuality is emitted by her scarcely clad body.
Titian stands out as a prominent figure in the 16th century Venetian school of painting. Acquiring this masterpiece, Gardner achieved a then world record in her purchase, surpassing bids from the Louvre and London's National Gallery.
READ: Famous Paintings In Venice
Where: Isabella Stewart Gardner Museum, Boston
4. Botticelli, Tragedy of Lucretia
This Botticelli masterpiece, The Tragedy of Lucretia, is a captivating tempera and oil painting on wood. Remarkably, this painting marked the first of Botticelli's works to arrive in the U.S., as most of his renowned pieces are in Florence's splendid Uffizi Gallery.
Vividly painted, the artwork portrays the distressing event of Lucretia's assault and subsequent suicide that I mentioned above. The anguish and disbelief of the onlookers are vividly captured as they witness Lucretia's lifeless form with a dagger lodged in her chest.
Botticelli's use of luminous colors is complemented by his skillful application of linear perspective, creating a convincing sense of depth.
Esteemed art historian Laurence Kanter lauds it as "undoubtedly one of the foremost masterpieces of Florentine art from the closing years of perhaps its most illustrious period, the golden era of the fifteenth century."
Where: Isabella Stewart Gardner Museum, Boston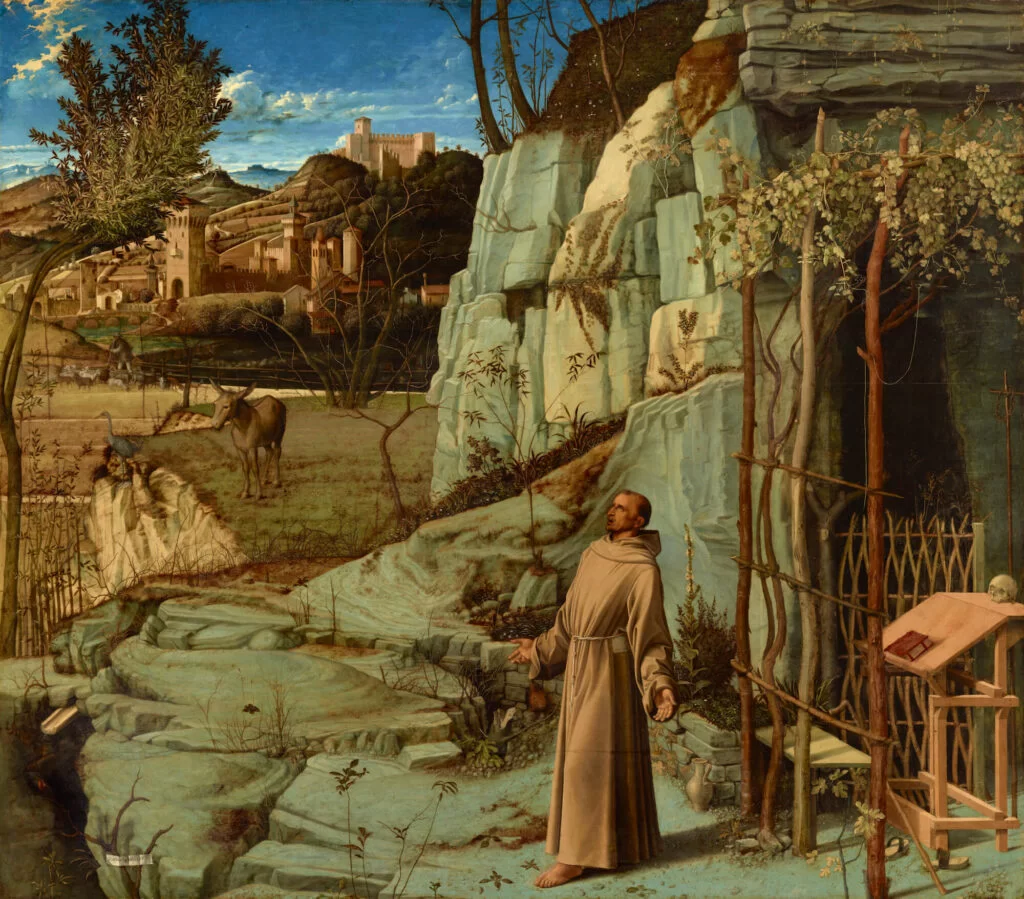 5. Giovanni Bellini, St. Francis in the Desert
Giovanni Bellini's painting St. Francis in the Desert, located at The Frick Collection in New York, is a renowned masterpiece of Renaissance art in the US.
Created around 1480, this exquisite work depicts St. Francis of Assisi in a serene and contemplative setting. The painting showcases Bellini's exceptional skill in capturing the play of light, texture, and natural elements.
In the painting, St. Francis is portrayed in a moment of spiritual connection with nature. He stands in a rocky landscape, surrounded by lush vegetation and animals, symbolizing his devotion to the natural world and his affinity with all living beings. The play of light filtering through the trees adds a sense of mysticism to the scene.
St. Francis in the Desert reflects the Renaissance fascination with the interplay between the sacred and the natural. The meticulous attention to detail, the harmonious composition, and the emotional depth in the portrayal of St. Francis make this painting a testament to Bellini's mastery of his craft.
Where: The Frick Collection, NYC
6. Caravagggio, Card Sharps, 1595
This Caravaggio is in the beautiful Kimball Art Museum, designed by Louis Kahn.
Caravaggio was a pivotal artist who invented and used a darker, dramatically lit palette. He produced naturalistic and emotionally-charged raw works that were viewed as morbid, bluntly realistic, and shocking at the time.
The Card Sharps was one of Caravaggio's works that made him famous and introduced him to the late 16th century world of art in Rome.
He didn't just paint religious scenes, but created works from everyday life like this one. This is an image of two card shapes taking advantage of an affluent boy.
They've just finished playing one game and they try to convince him to play more to win some money back. The young card sharp holds a dagger and the older one has torn gloves and cheats by peaking at the young boy's cards.
Where: Kimbell Art Museum, Ft. Worth Texas
7. Leonardo da Vinci, Ginevra de' Benci
This is THE most famous Renaissance painting in the United States, bar none. It's an early Leonardo portrait from when he was just 22, one of only 15-16 paintings in total.
It's the only Leonardo painting in the Western hemisphere. As the sole Leonardo Renaissance painting in the U.S., she's affectionately known as the "Washington D.C. Mona Lisa." And she is beautifully preserved.
Ginevra marks a pivotal moment in Italian Renaissance portraiture. Ginevra was the daughter of a wealthy Florentine banker. She serves as a canvas for Leonardo's early exploration of oil paint and psychological depth.
Her 3/4 pose is a Renaissance innovation. The work is full of psychological depth, translucent features, and an evolving naturalism of the era.
Defying tradition, Ginevra gazes directly at the viewer. Leonardo defies norms, placing Ginevra in an open, vibrant landscape, not a confined room.
The surrounding blue isn't static; it breathes life. The detail is astounding. You even see the reflection of the trees in the water.
READ: Guide To the Paintings of Leonardo da Vinci
Where: National Gallery of Art, Washington D.C.
8. Correggio, Madonna and Child with St. John the Baptist
This is a very beautiful Correggio painting. Correggio was a late Italian Renaissance painter.
He was known for his erotic mythological paintings and was a master of chiaroscuro (dark-light contrasts). A majority of his masterpieces are located in the city of Parma Italy.
This painting is an early work by the artist. It's perhaps the finest of Corregio's early Renaissance artworks in the United States.
The work was influenced by other High Renaissance masters, including Raphael and Leonardo. It's a triangular arrangement and the figures are all interacting.
There is a sublime delicacy in their features. You can see the softness of the contours (the sfumato technique) and the gold reflecting off her hair.
Where: Art Institute of Chicago
9. Filippino Lippi, Madonna and Child
Filippino Lippi was the son of the more famous Fra Filipo Lippi, a notoriously sex craved monk-painter. There's a similarity between his work and that of Botticelli, his teacher.
This painting has a gorgeous Virgin Mary. She wears a blazing blue mantel. The Christ child is a playful figure, who turns the pages of an Old Testament book.
They appear to be in a domestic setting in a palace. The building in the distance is the Villa Strozzi. The Strozzi family was Lippi's patron.
The painting was restored in 2011 to remove the varnish. The result? A stunning work of art with rich color, emotional tenderness, refined beauty, and a naturalistic observation.
Where: Metropolitan Museum of Art, NYC
10. Fra Angelico, Virgin Annunciate
Fra Angelico was an early Italian Renaissance painter renowned for his ethereal and spiritually-infused artworks. This Renaissance painting in the United States is just utterly beautiful.
It's a small painting, part of a pair. But it exudes beauty. A young figure of the Virgin Mary looks poignant and has a look of humility on her face.
The colors are gorgeous, even if the gold background is not very Renaissance.
Where: Detroit Institute of Arts
11. Duccio, Madonna and Child
Duccio stands out as a pioneer in Western art's foundation.
While his pieces had conventional Byzantine elements, the Sienese master infused his works with a lyricism and genuine human emotions. His figures exude a unique tenderness, foreshadowing the High Renaissance's later trends.
The Metropolitan Museum of Art acquired this work for the cool sum of $45 million in 2004. It's a small devotional painting that was the last remaining work created by Duccio.
There aren't many extant autograph Duccios in the world, so this is a rare painting. Most of his work is found in Siena.
In the painting, the Madonna and Christ child look at each other. He pushes away his mother's veil. The drapery is beautiful modeled with a 3D feel.
Where: Metropolitan Museum of Art
12. Titian, Venus and the Lute Player, 1565-70
This is another Titian Renaissance painting in the United States. Venus, the goddess of love, is receiving a floral crown from her son Cupid. To the left, a well-dressed man admires the scene and plays the lute.
Titian was renowned for his ability to capture the complex personalities of his female subjects. Within this painting, Venus isn't a mere object of desire.
She has a profoundly self-assured stance, which suggest she's a symbol of female dominance over men.
Titian explored this amorous theme in various renditions. This particular one is incomplete, aside from the artist's fully executed landscape background.
Where: Metropolitan Museum of Art
13. Caravaggio, Crucifixion of St. Andrew
While technically in the Baroque period of art history, I wanted to include this masterpiece by Caravaggio in the Cleveland Museum of Art.
This painting is the only altarpiece by the artist in the United States. It was painted when Caravaggio was a fugitive on the run in Naples for having killed a man in Rome.
It's a depiction of St. Andrew on the cross. He was persecuted for spreading Christianity.
Caravaggio's painting is hyper realistic. He depicts the scene as an intimate and intense event, not a gruesome spectacle (although there are grisly details).
Where: Cleveland Museum of Art, Cleveland OH
14. Giotto, Madonna and Child
Giotto was a prominent artist from Florence. He played a pivotal role in shaping the Early Renaissance art movement.
Unlike his contemporaries, Giotto dared to step away from the conventional and rigid style of medieval art. He departed from the conventional gray and gold religious depictions and used vibrant colors, a radical choice for his time.
But what truly set Giotto apart was his portrayal of real people within lifelike 3D settings that mirrored everyday life. Gone were the mask-like faces typical of Gothic art, replaced by expressive countenances reflecting a newfound depth of emotion.
In this particular painting, Giotto's Madonna stands as a testament to his mastery. Overflowing with emotion and gravitas, she cradles the Christ child while presenting him with a tenderly held rose. This work captures both Giotto's innovation and his ability to infuse his subjects with genuine feeling.
Where: National Gallery of Art, Washington DC
15. Michelangelo, The Torment of St. Andrew
The is the only known Michelangelo painting in the United States. The Kimball purchased it and restored it in 2009, removing layers of varnish.
Some art experts claim it was the artist's first ever painting, created at just age 12-13, when he was training in Ghirlandaio's studio.
The painting depicts the martyrdom and crucifixion of Saint Andrew, as he's attacked by demons. It's set in a landscape that resembles the Arno River Valley in Florence, his home at the time.
The creatures are pretty life-like and the colors are idiosyncratic for the time. The composition and execution show an immense young talent emerging.
READ: Famous Sculptures of Michelangelo
Where: Kimball Art Museum, Ft. Worth Texas
16. Artemisia Gentileschi, Judith and Her Maidservant
After completing her most famous painting Judith Beheading Holofernes, (in the Uffizi), Artemisia Gentileschi revisited the same theme in the painting Judith and Her Maidservant.
Here, she captures the aftermath of the beheading with remarkable realism. The two women are depicted in a moment of quiet collaboration, their connection palpable.
Gentileschi's portrayal of Judith is powerful, evoking a warrior-like presence as she stands illuminated by the glow of a candle, creating a striking play of light and shadow.
The artist's signature use of vibrant colors and skillful handling of light shines through in this work. The dramatic effect achieved through chiaroscuro enhances the intensity of the scene.
Where: Detroit Institute of Arts
17. Fra Angelico, Dormition and Assumption of the Virgin
This is another beautiful Fra Angelico Renaissance painting in the United States. It's a small painting in a chapel-like space in the Early Italian room of the Gardner Museum.
This vertical panel was one of four reliquary paintings that the artist created for the sacristy of Santa Maria Novella in Florence.
It's a scene of high drama and storytelling. Yet, it's also a very detailed and delicate scene. It has a miniaturist's sense of focus and astonishing lapis lazuli paint.
One the lower panel, the Virgin appears to be dying. The assumption into heaven is above. The Virgin is surrounded by angels.
Some critics have derided the painting as overly sweet. To me, it just looks beautiful and harmonious.
Where: Isabella Stewart Gardner Museum
18. Andrea Mantegna, The Adoration of the Magi
Andrea Mantegna played a pivotal role in connecting the Early and High Renaissance epochs in art history.
Renowned for his innovative spatial illusionism, Mantegna utilized visual distortions to achieve captivating effects that bridged the gap between 2D and 3D representations on flat canvases. His artworks are a testament to his meticulous attention to detail and perfectionist approach.
This Renaissance painting in the US presents a composition of half-length figures set against a subdued backdrop. Drawing inspiration from ancient Roman reliefs, Mantegna masterfully captures the essence of this private devotional artwork.
Likely commissioned for his patron, the Gonzaga family of Mantua, the piece exemplifies Mantegna's distinctive style and his ability to infuse his works with historical and artistic influences.
Where: Getty Center, Los Angeles
19. Piero della Francesca, Hercules
Piero della Francesca was a brilliant and foundational artist of the Quattrocento or early Renaissance.
His works exude a highly linear and calculated style, characterized by a tranquil aura and geometric precision. Through his use of cool tones and composed figures, Piero creates an almost dream-like ambiance of timeless serenity.
His masterpiece Hercules can be found in the Early Italian Room of the Isabella Stewart Gardner Museum. In this artwork, Hercules is identifiable by his iconic club and lion's skin, both symbols of his legendary prowess.
The portrayal of Hercules is intriguingly enigmatic, with his expression possibly conveying either confidence or hesitation. Notably, a strategically placed knot preserves modesty, a reflection of the norms of that era.
While most of Piero's works remain in Italy, this painting originally adorned a fresco in the artist's own residence. Isabella's acquisition involved detaching it along with a part of the supporting wall. As a result, this artwork stands as the sole Piero fresco located outside of Italy.
Where: Isabella Stewart Gardner Museum, Boston
20. Parmigianino, Virgin and Child with St. John the Baptist, and Mary Magadalene
This painting is simply gorgeous! Parmigianino is a Mannerist artist who gives us an exercise in painting virtuosity. This painting is a master work of the later Renaissance.
This painting was acquired by the Getty Center in 2017. It's the museum's only Parmigianino work.
The painting's unconventional iconography is typical of the artist. The composition is divided into two groups. Like most Parmigianino works, it has a glossy polished surface with meticulous attention to detail.
READ: 13 Famous Italian Mannerist Artworks
I hope you've enjoyed my guide to Renaissance paintings in the United States. You may enjoy these other United States museum guides:
If you'd like to admire the best Renaissance paintings in the US, pin it for later.